As a remote team building software products, it's essential for us to maintain a high level of security here at Venture Harbour. This is one of many reasons you might want to use a virtual private network (VPN), something we recommend to all of our staff while they're working on projects.
We've tested a lot of VPN services over the years and we continue to do so. The quality of these services can change over time – sometimes drastically – and a string of buyouts in recent years has raised some security questions about big providers.
In this article, we review the best VPN services for remote working, which requires a careful balance of performance (speed, stability, etc.) and security.
What are we looking at in this article?
As explained above, we're discussing the best VPNs for remote working in this article. As a result, we're mostly interested in technical performance and security. We're not so worried about accessing streaming services and we're more concerned about protecting sensitive data than hiding our browsing history.
This is an important point because there are many reasons to use a VPN and you need to choose a provider that caters for your priorities. We'll explain this in more detail in the next section but, first, let's take a quick look at what's coming up in this article:
What is a VPN? A quick definition of VPN services and the key features to look out for.
Express VPN review
NordVPN review
Proton VPN review
Surfshark review
Mullvad review
IPVanish review
CyberGhost review
Comparison: We help you choose the best VPN by comparing pricing, features and usability.
First up, we explain what a VPN service is and discuss the most important features you should look out for. We'll also explore the most common reasons for using a VPN service and how this determines which features are most important to you.
Then, we move on to the reviews where we take a closer look at our favourite VPN services. We discuss their key features, pros and cons, and break down their pricing models so you know what to expect for your money.
Finally, we end the article with a comparison section to help you choose the best VPN service for your needs. We compare key features, pricing and usability with handy comparison tables (like the one below) to help you make the right choice.
| Tool | Free plan? | Starting price | Top plan |
| --- | --- | --- | --- |
| ExpressVPN | – | $6.67/mo | $12.95/mo |
| NordVPN | – | $3.69/mo | $14.29/mo |
| Proton VPN | ✔ | $4.99/mo | $9.99/mo |
| Surfshark | – | $2.49/mo | $12.95/mo |
| IPVanish | – | $3.99/mo | $11.99/mo |
| Mullvad | – | €5/month/ | €5/month |
| CyberGhost | – | $2.03/mo | $12.99/mo |
So let's kick things off by explaining what a VPN is and discussing some of their most important features.
What is a VPN?
A virtual private network (VPN) is designed to protect your privacy online by creating an encrypted tunnel between your connection and your internet service provider (ISP).
This jargon-free explanation from NordVPN is one of the best I've come across:
"Typically, when you try to access a website, your ISP (Internet Service Provider) receives the request and redirects you to your destination. But when you connect to a VPN, it redirects your internet traffic through a VPN server first, before sending it over to your destination."

NordVPN
Most VPN services change your IP address and mask your location. This can protect your online identity and, depending on the technology used, allow you to access geo-restricted services. A VPN service with quality encryption technology will also protect your data from attackers and even your ISP (many sell your browsing history to third parties).
Many VPN services also include protection against malware, web trackers, online ads and a variety of other privacy and security hazards.
Why do people use a VPN service?
There are many different reasons you might want to use a VPN service – some more extreme than others. Here's a quick look at some of the most common reasons:
Using public WiFi: Accessing public internet connections always comes with security risks and a quality VPN service can provide multiple forms of protection.
Data privacy (from ISPs): Many people use a VPN service to protect their privacy from internet service providers – eg: their browsing histories.
Data privacy (from big tech): Increasingly, people are using VPNs to stop tech companies like Google and Facebook from accessing their IP addresses.
Data privacy (from governments): Anyone concerned about government access to private data may use a VPN to protect themselves – whether in your home country or travelling abroad.
Security: Modern VPN services can protect you against a variety of attacks and data leaks.
Internet access: Masking your location with a VPN can help you access services and content not available in your current location.
Remote working: A VPN can protect sensitive information, allow you to access services/content unavailable in your current location and reduce the security risks of using public networks.
As we're focusing on remote working in this article, our priorities are security and performance. Essentially, we want to protect sensitive data, collaborate freely and use a VPN service that has minimal impact on connection speeds.
Connection stability is also important for us and overseas remote workers may want to access service/content not available in their location.
We're not doing anything that would concern the authorities so we're less concerned about hiding our browsing history from ISPs. We're also not too worried about hiding our identities from advertisers or accessing international versions of Netflix.
That being said, privacy is one of the most common reasons to use a VPN service – and it doesn't necessarily mean you're up to anything dodgy. Let's face it, tech companies are constantly being caught out doing dodgy stuff with people's data so privacy protection is one of the most legitimate reasons to use a VPN.
So, even though privacy isn't one of our top priorities, we'll take the time to discuss each provider's track record with security and privacy.
What are the most important VPN features?
While all VPN services are designed for the same purpose, in general, the features and quality of features can vary from one service to another. It's worth understanding the key features available across different services so you can choose one that matches your priorities.
Here's a quick preview of the key features we're discussing in this section:
IP address change
Encryption
VPN protocols
No-log policy
Server coverage
Split tunnelling
Bandwidth
Kill switch
Leak protection
Malware & ad blockers
Simultaneous connections
You'll also want to check for other details like OS support to make sure your platforms are covered and keep an eye out for browser extensions if you want quick control for turning your VPN on and off.
Also worth doing some homework on customer support because VPN providers can disappoint in this regard. Many don't provide phone call support and response times to emails can be poor, too. If you're using a VPN for important tasks (ie: work), you want fast and reliable support – ideally, with phone, email and live chat options.
Before we get too far into this article, let me specify a common factor with VPN pricing to keep in mind.
IP address change
When people think of a VPN, the main feature they probably imagine is IP address changes. An internet protocol (IP) address is a unique code allocated to devices on a specific network. This code is normally assigned by the internet service provider (ISP) in question, which means every device connected to the same network uses the same IP address.
This IP address contains detailed location information (city, area, country), your time zone and the name of your ISP. When you visit and interact with websites, the browser sends requests to them for information and they use your IP address to send this information to you.
More importantly, third parties can access your IP address for a variety of purposes, from geo-tracking and ad targeting to more nefarious, such as accessing sensitive information.
As a result, changing your IP address can significantly improve security and protect your data from trackers. This is crucial for remote workers who may be dealing with sensitive information outside of secured company networks, including home internet routers.
Another common reason remote workers may need a VPN is for living or travelling in foreign countries. For example, if you ever need to access the US version of a website or you're in a country where certain sites are blocked, you can change your IP address to the desired location to overcome these issues.
AES-256 encryption
VPNs use encryption protocols to scramble your data and keep it secure using an encryption key. The most common encryption protocol used by modern VPNs is AES-256 although you may find some VPNs using other protocols, including AES-128, RSA-4096 and ChaCha20.
As a general rule, AES encryption protocols are the most secure methods used by VPN services and AES-256-bit encryption delivers the fastest performance.
VPN protocols
VPN protocols determine how your VPN "tunnels" a secure connection for you. Some protocols prioritise security while others prioritise speed and some try to strike a balance between the two. The most common VPN protocols used by modern VPNs include:
OpenVPN: The most popular protocol used by major VPN providers – one that prioritises security but also does very well in terms of speed.
WireGuard: Another popular VPN protocol, often regarded as the gold standard for security, speed and stability.
IPSec/IKEv2: A highly stable, fast VPN protocol with solid encryption quality, even if it's not a top security performer.
SSTP: Moderate speed and decent encryption but not the most stable protocol.
L2TP/IPSec: Moderate speed and encryption with decent stability but poor for streaming and P2P.
PPTP: Fast and relatively stable but not great for encryption, streaming or P2P.
As you can see, each protocol has its strengths and weaknesses but the most capable protocols are OpenVPN, WireGuard and IPSec/IKEv2. So we recommend looking for these protocols in the specifications of any VPN services you consider signing up for.
No-logs policy (one that you can trust)
Privacy and security are the key selling points of a VPN service. So, you would hope the company you're dealing with isn't going to share your data or suffer any leaks. The only way to 100% avoid these issues is to not collect this data at all and you'll find most major VPN providers offer a no-logs policy that promises not to log your online behaviour, to begin with.
Unfortunately, there's no way to know for sure whether a provider keeps its promise. All you can do is check whether providers are authenticated by third parties and check the history of each provider for any concerning news.
For example, IPVanish – one of the providers we're looking at in this article today – was scrutinised in 2018 after it was revealed the company handed over logs to the US Department of Homeland Security in 2016, despite claiming to have a no-log policy.
The 2016 IPVanish controversy
This was a pretty explosive revelation in the VPN community at the time, raising many questions – namely, how can you hand over logs if you have a strict no-logs policy that shouldn't collect such data in the first place?
It also raised the question of how customers can trust claims made by providers and the honest answer is, you can. You simply have to do due diligence and look into the companies you're dealing with before you sign up for anything, which is true for any system that handles sensitive data.
We should clarify that the 2016 IPVanish data handover took place under different ownership and the new owners insist it's a different company now, complete with a new executive and legal team. In fairness, no leaks or news stories about logging or data exchanges have emerged since but the episode highlighted some valid concerns.
If data security and privacy is the core reason for choosing a VPN service, you'll want to do plenty of homework and speak to companies directly so you can be as confident as possible about your decision. This is something we'll keep coming back to as we review the VPN services featured in this article.
ExpressVPN sets the example for VPN providers
It's not all bad news when it comes to VPN providers and no-logs policies, either. In 2017, ExpressVPN – another VPN provider featured in this article – faced pressure from Turkey and Russia to release user logs when the assassin of the Russian ambassador to Turkey was found to use the product to cover their tracks online.
Despite the pressure from two international states, ExpressVPN didn't release any user data and couldn't because it doesn't keep any user logs. In response to the request, the company revealed details about the RAM-based servers it uses to run its product are incapable of storing user data.
ExpressVPN's genuine no-logs policy and its handling of the situation showed that VPN providers can live up to their claims. It was also a positive PR scenario for the VPN industry as a whole, proving that it does have trustworthy companies and that one of the biggest names is true to its word.
Server location coverage
Outside the security and privacy benefits of using a quality VPN service, having access to international server locations is one of the most useful features. Plenty of people rely on VPNs for streaming and accessing services only available in specific territories but we're more interested in remote working in this article.
Even still, there are plenty of reasons you might want to connect to a server in specific countries:
Travel: You're travelling or living abroad and you want to use the internet as you would back home.
Geo-targeting: You want to bypass geo-location detection to control, which language/territory version of a website you access.
Google searches: You want to control the language or local of results in Google Search and other search engines.
Censorship: If you're in a country that blocks access to certain websites, you can get around this by connecting to an international server (with the right encryption).
Research: Sometimes, the information you need might only be available on a specific language version of a website – for example, if you want to compare the US and UK pricing of a product.
Purchases: If you're buying a product or service while overseas, you may need to visit the home territory version of a website to match payment details.
Many people also use VPNs to try and get cheaper prices on software, flights and other purchases. However, these days most companies require your payment card to match your location. Even still, if you're often working while travelling abroad, having the ability to choose your connection location can help with important purchases. Likewise, if you've migrated to another country but still have a bank account back home, a VPN can give you more options and greater control.
Generally speaking, the more server locations a VPN service provides, the better. Firstly, this gives you more connection options if your first choice is unavailable or unreliable. Secondly, it's helpful to have as many nearby connection options as possible when speed is more important than the specific location.
Split tunnelling
Split tunnelling allows you to send traffic from some devices or apps through an encrypted VPN tunnel while others through your internet connection. This gives you the security and privacy protection of your VPN service on devices and apps that need it while retaining top connection speeds for those that don't.
This is particularly valuable for remote teams that need to protect specific apps without encrypting everything they do on their device. For example, you can send an app like Slack through your VPN connection and leave the browser running through your direct connection. And, if your VPN service includes a browser extension, you can encrypt your connection at the click of a button when needed.
Bandwidth restrictions
Many VPN services place a limit on the bandwidth you can use while connected to one of their servers. Bandwidth determines how much data can pass through your connection at once, which is important for intensive online actions like streaming high-quality video or uploading files.
Most of the top VPN providers offer unlimited bandwidth on paid plans but this is always something to check if you handle large file sizes or need to stream content. Bandwidth limits could result in poor video playback (when you're already at a disadvantage when using a VPN) or restrict the speed of file uploads and downloads.
Kill switch
A VPN kill switch is a valuable feature that blocks web access in the event of your VPN connection dropping. Should your connection drop, the kill switch automatically cuts internet access until the secure connection is restored, ensuring your data is always protected. Every VPN will run into connection issues from time to time and some connections will be more stable than others. So a kill switch is an invaluable tool to have if privacy and security are your priorities.
Leak protection
VPN services can include a variety of leak protection features designed to keep your data secure. The two most common features of this kind of DNS leak protection and IP leak protection:
DNS leak protection: Protects against OS flaws and ISP technologies that can force your device to access ISP DNS servers rather than your VPN service provider's.
IP leak protection: Protects against a vulnerability in major browsers that can reveal your IP address to ISPs and snoopers.
Take a look at this article by vpnMentor for more information on these two vulnerabilities and leak protection features. Neither of these vulnerabilities reflects the quality of a VPN service provider; they're technology issues with ISP and browser providers respectively.
Likewise, no VPN can fully protect you against either vulnerability but they can reduce the frequency and risk of leaks.
Malware & ad blockers
You'll also find many VPN providers include malware and ad blockers as part of their products. These aren't essentials, by any means, and we wouldn't suggest choosing a specific one on the basis of whether they provide them. It's more a case of deciding whether you want to use dedicated malware and ad-blocking tools or if you're looking for one system that can do it all.
Simultaneous device connections
Simultaneous device connections allow you to use a VPN on multiple devices at the same time without paying for more than one account. Obviously, this is important if you want to protect more than one device at once but it's also a key consideration for remote teams. Most VPN providers limit the number of devices you can connect simultaneously so it's worth checking this detail before you sign up for anything.
Some VPN providers also offer dedicated plans for teams that may support more simultaneous connections.
Now that we've covered the most important features to look for in a VPN, let's take a look at our first provider.
Third-party audits
Technically, this isn't a feature but third-party audits are so important we simply have to discuss them. It's probably obvious from the name, third-party audits mean a VPN service provider has been audited and verified by third-party authorities. In other words, you're not simply taking the word of the VPN provider itself that it lives up to its claims with data logging and security.
Let's be clear, third-party audits are not foolproof – in fact, they're not all the same or always carried out by the same body. Generally, there are two types of audit: one that simply looks at the logging history of the company and another that takes a more comprehensive look at its security history.
Some companies will publish these audits for public viewing but many do not. Keep in mind that companies can easily claim to have third-party audits without publishing any details – and this audit may have only looked at the provider's logging history.
The ups and downs of VPN pricing
As with any article of this type, we try to include as much pricing information as possible and with as much accuracy as possible. We want to help you make informed software decisions and pricing is always a key consideration. Obviously, SaaS pricing changes all the time and we can only provide information that's accurate at the time of publishing and try to update as often as we can.
This can be especially difficult with VPN prices because many providers run promotions for Black Friday, Christmas, the New Year and various other times of the year. Some providers always seem to have some kind of promotion running. With others, the pricing can jump up and down throughout the year – so keep this in mind.
Also, keep an eye out for price creep if you sign up for one or two-year contracts because many providers will jack up their prices at the end of your agreement.
Now that we've gotten that out of the way, let's get on with our first VPN service review.
From $6.67/month
ExpressVPN is one of the biggest names in the VPN community with a solid reputation for speed, reliability and security. As it happens, this is my main VPN (I also use the free version of ProtonVPN as a backup) and it often tops the list of recommendations among trusted sources in the industry.
On the whole, VPN services have improved a lot across the board in recent years but I find ExpressVPN provides one of the best balances between server locations, connection speeds, connection reliability and security.
With hundreds of server networks across 94 countries around the world, ExpressVPN offers some of the best international coverage among the providers we're looking at today. Many countries include multiple server locations, which is great if you have connection issues with one specific server. ExpressVPN also seems to update its servers regularly to get around new technologies used by ISPs and websites to detect VPN use.
I'm yet to experience a case where I couldn't access anything online. The closest I've come to was one particular service I was signing up for where two out of three US server locations initially didn't work but the third one I tried did the trick. Days later, the other two server locations were also working for the same service, suggesting ExpressVPN had updated these servers between sessions.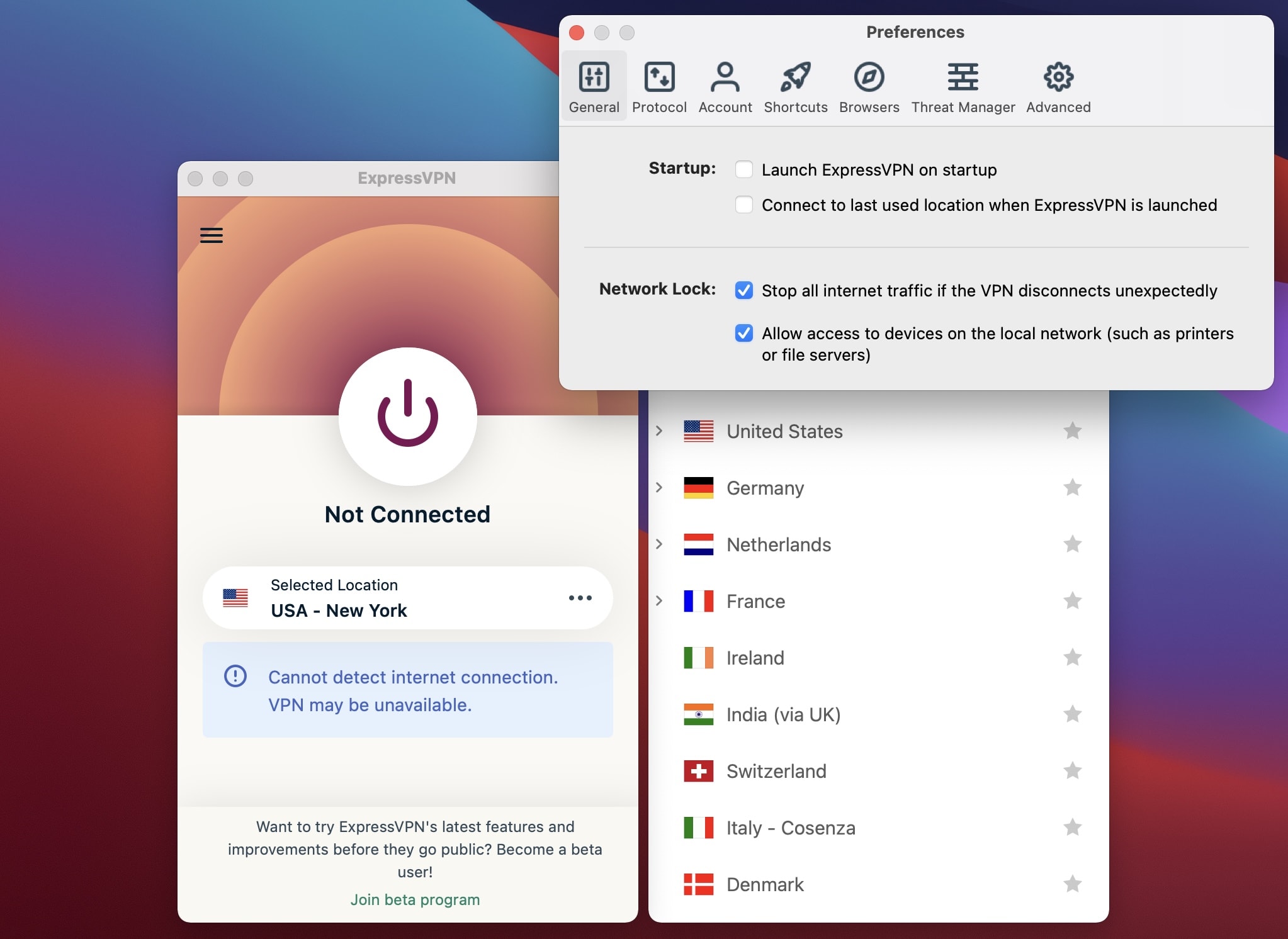 Key features:
VPN servers in 94 countries: Connect to hundreds of VPN servers from 94 countries around the world.
IP address masking: Hide your location and protect your privacy through an encrypted connection.
IP address check: Check how private your location is and if the websites you visit can track your IP address.
Network lock kill switch: Keep your data safe if your VPN connection drops, automatically blocking traffic until the connection is restored.
VPN split tunnelling: Route some traffic from a device through a VPN connection while sending the rest to a direct network.
AES-256 encryption: Protect your data with industry-standard encryption using advanced mathematics in AES-256.
Connection speed test: Find the VPN servers with the fastest connections by measuring latency and download speed.
Unlimited bandwidth: Download as much as you need while connected to a VPN network.
Threat manager: Block apps and sites communicating with trackers and malicious third parties.
Cross-platform: Use ExpressVPN across Mac, Windows, iOS, Android, Linux, routers, game consoles and smart TVs.
Chrome extension: Activate ExpressVPN in Chome and select which network to connect to.
In terms of security, ExpressVPN is also one of the most reputable names in the business. On the technical level, ExpressVPN offers all of the security features you would hope for from a commercial VPN.
The only feature really missing is multihop connections, which bounces you between multiple server connections – great for security but not so good for speed.
The company itself has a clean past with no reports of security issues or dodgy behaviour. However, the company was bought up by Kape Technologies in 2021 – a company that changed its name from Crossrider in 2018 to distance itself from a questionable history with malicious adware.
The big question is, does this harm our trust in ExpressVPN? The short answer is: not really. Crossrider was a developer platform used by tens of thousands of independent developers, some of whom used the platform to develop adware and malware. As explained in this breakdown by Restoreprivacy.com, Crossrider didn't produce any of this malware or adware itself.
Kape Technologies rebranded itself to move away from adware into cybersecurity and it bought one of the most secure VPN services with a clean history. The company has also bought out other VPN services, including Private Internet Access and ZenMate, so it makes sense to protect their reputations.
ExpressVPN remains an independent entity from Kape's other brands so – in theory – it should be as reliable as ever. As we'll explain in a moment, ExpressVPN has also been verified by third-party audits. This doesn't mean Crossrider's history isn't a concern. It's just a bit of a jump to assume ExpressVPN is now less secure after being bought out by a rebranded company that's under new ownership.
Is ExpressVPN audited by third parties?
ExpressVPN has been audited by several third-party bodies, including PwC and Cure53. These are some of the most trusted and reputable auditors in the industry. Both audits are the more comprehensive type (not only looking at data logging) and they are available for public viewing. You'll find links on these two articles on the ExpressVPN blog:
As mentioned earlier, third-party audits aren't foolproof but ExpressVPN earns top marks in this category.
How much does ExpressVPN cost?
The most common complaint you'll hear about ExpressVPN is that it's not the cheapest service of its kind. In all honesty, it's very competitive with the other industry leaders the pricing for a 12-month contract is very reasonable – with the obvious downside of committing to a full year.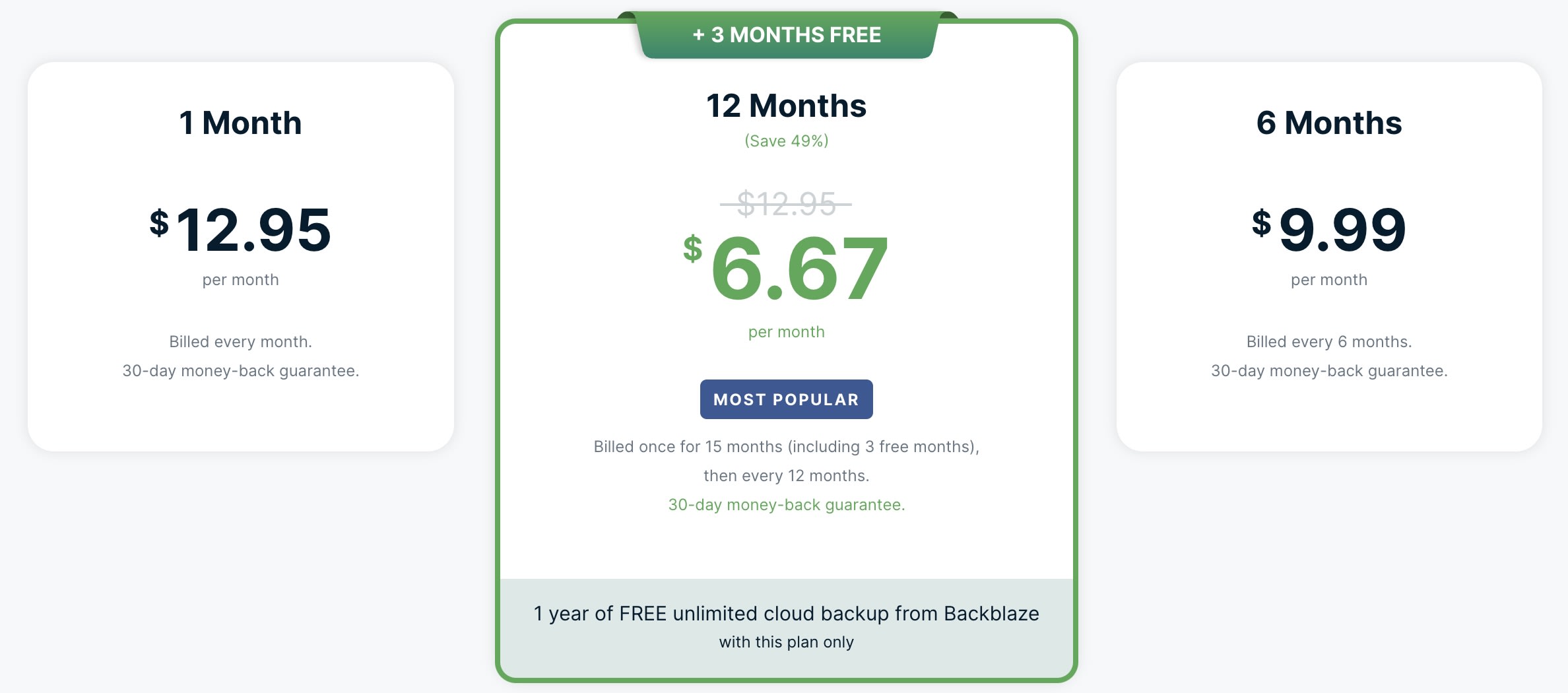 The company runs three contract lengths that offer better value for longer commitments. If you want to pay each month, Express VPN will cost you $12.95 per month. This drops to the equivalent of $9.99 if you commit to six months and $6.67 if you sign up for a full year.
Yes, this puts ExpressVPN among the more expensive services of its kind, if you're paying each month. That being said, you're getting the best balance of speed and security I've found in the current crop of VPN services and some of the best coverage of server locations available.
ExpressVPN pros & cons
Pros
Fast, reliable connections: ExpressVPN offers the best balance of fast connection speed and robust security that I've found in a modern VPN.
Server locations: With hundreds of service locations across 94 different countries, this is some of the best location coverage you'll find.
Router installations: You can install ExpressVPN on supported routers for constant connections, enhanced security, unlimited devices and seamless casting.
Third-party audits: ExpressVPN has been comprehensively audited by leading third-party authorities.
Cons
Connection limits: You're limited to five simultaneous connections (without router installation).
No multihop connections: ExpressVPN neglects multihop connections in pursuit of faster speeds.
Kape concerns: The history of Kape Technologies (as Crossrider) may raise concerns for some users.
ExpressVPN verdict
ExpressVPN offers some of the fastest connection speeds among the major VPN providers. Impressively, it barely makes any security sacrifices to achieve these speeds with the exception of multihop connections.
If you spend all of your time in countries with high internet speeds, you might want to place more emphasis on security with a VPN provider. However, if you're travelling between countries with faster connections and slower speeds (like myself), you'll appreciate a VPN that has minimal impact on speed when you're trying to connect from a remote island off the coast of somewhere tropical.
If you want the absolute best in security, a few alternatives offer a slight edge but you'll start losing connection speeds for minimal gains.
From $3.69/month*
NordVPN is probably the biggest name in the VPN industry and for good reason – many, in fact. It's one of the few providers that does even better than ExpressVPN in terms of security and it manages to maintain impressive connection speeds. In fact, many reviews suggest NordVPN is the faster of the two although I've found ExpressVPN to be faster, more often as I've travelled through various countries.
Either way, speeds are similarly fast with both providers but the bigger difference I found was ExpressVPN connections being more reliable. Keep in mind, your experience may differ, especially if you're always using a VPN in a controlled setting with fast connection speeds or only using server locations that tend to be more reliable anyway.
The good news is, most VPNs offer free trials that you can use to test them out for your specific use cases.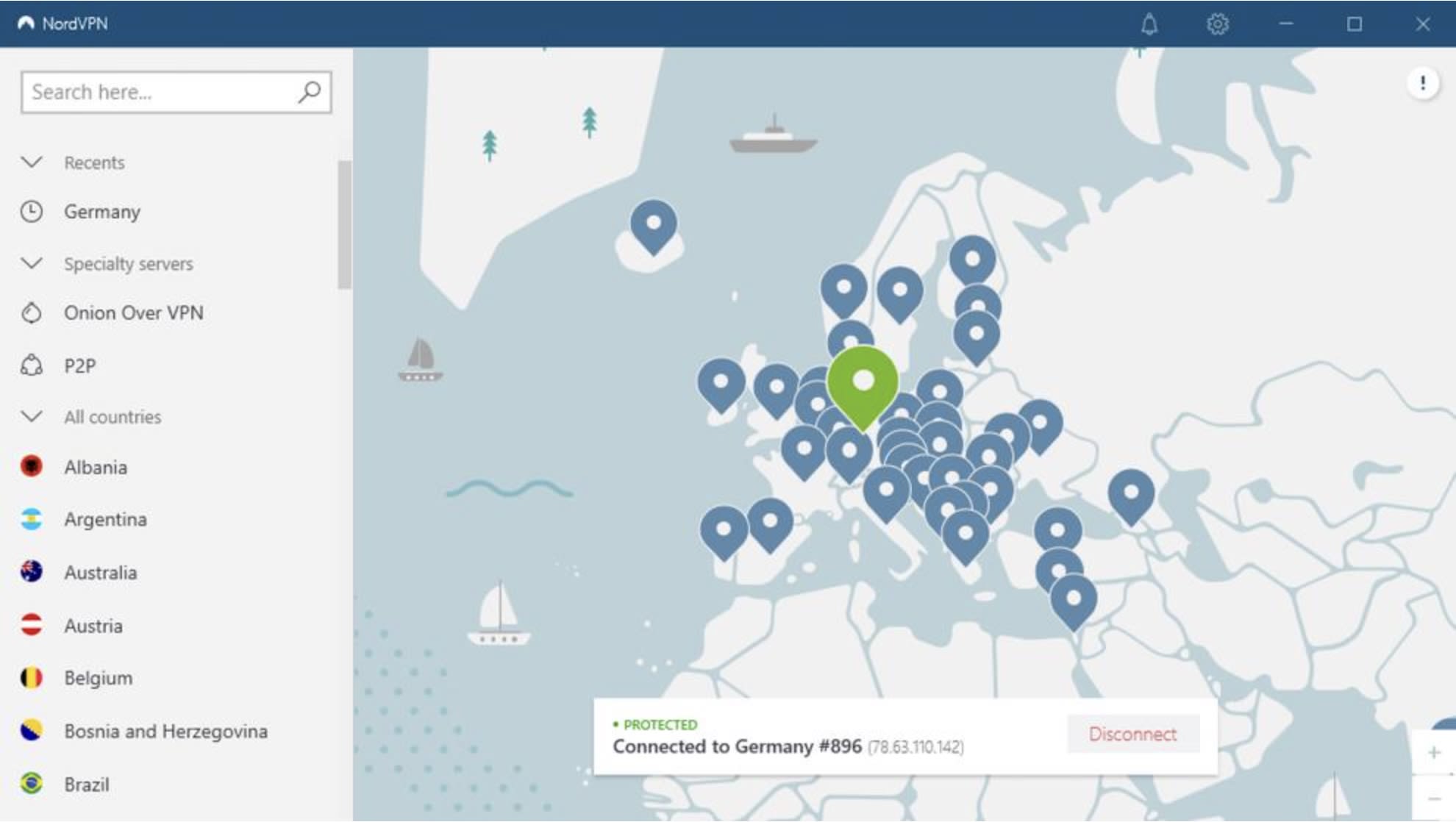 Key features:
VPN servers in 59 countries: Choose from thousands of server connections from across 59 countries around the world.
Split tunnelling: Choose which traffic connects via your VPN server and send everything else directly through your internet connection.
Obfuscated servers: Hide the fact you're using a VPN to get around environments blocking access to them.
Threat protection: Avoid online hazards like trackers, viruses and compromised websites.
Kill switch: Protect your data if your VPN connection is interrupted, blocking internet access until safe connections are restored.
IP masking: Instantly hide your IP address, protect your identity and secure yourself against malware.
Double encryption: Change your IP address twice and cover your web traffic with an extra layer of security.
Browser extensions: VPN proxy extensions for Chrome, Edge and Firefox.
NordVPN definitely wins the race when it comes to features. Unlike ExpressVPN, NordVPN gives you multihop connections, which adds an extra layer of security to your connections. Impressively, the speed compromise (if there is any at all) is absolutely minimal. NordVPN also packs its own kit of security features, including CyberSec (threat protection) and SOCKS5 (location spoofing), that brings additional protection.
In terms of security features and technology, NordVPN is up there with the best.
What about its track record on security, though? Well, the company was hit by a major security breach in 2018 – something that only came to light through leaks on Twitter in 2019. As reported by TechRadar, the hack affected a single server in Finland and the company's own servers were never compromised (according to NordVPN itself).
As a result, the hacker never accessed user credentials, billing details or sensitive account info. That being said, the hacker did access data that could have been used to create a fake NordVPN website and trick users, customers and other visitors – something the hacker never did.
Although NordVPN played down the incident it was a serious breach that could have been significantly worse.
Most importantly, the company took measures to avoid any similar breaches happening again in the future. Essentially, it stopped renting third-party servers and replaced the majority of third-party servers with connections owned and maintained by the company itself.
Is NordVPN audited by third parties?
NordVPN has been audited by several trusted third parties, passing two audits in a row by PwC looking into its no-log policy. In 2021, it also completed an advanced application security audit carried out by cybersecurity consulting firm, VerSprite.
You can find details about this audit here.
How much does NordVPN cost?
Unlike ExpressVPN, NordVPN runs three plans with different feature sets: Standard, Plus and Complete. You get the same fast connection speeds on each plan but the security features included steadily improve on each tier.
In addition to running three plans, NordVPN also offers three payment options allowing you to pay monthly or sign up for one-year and two-year plans at lower equivalent monthly fees.
As a result, NordVPN prices start from as little as $3.69/month but this is for the cheapest Standard plan if you pay for two years up-front.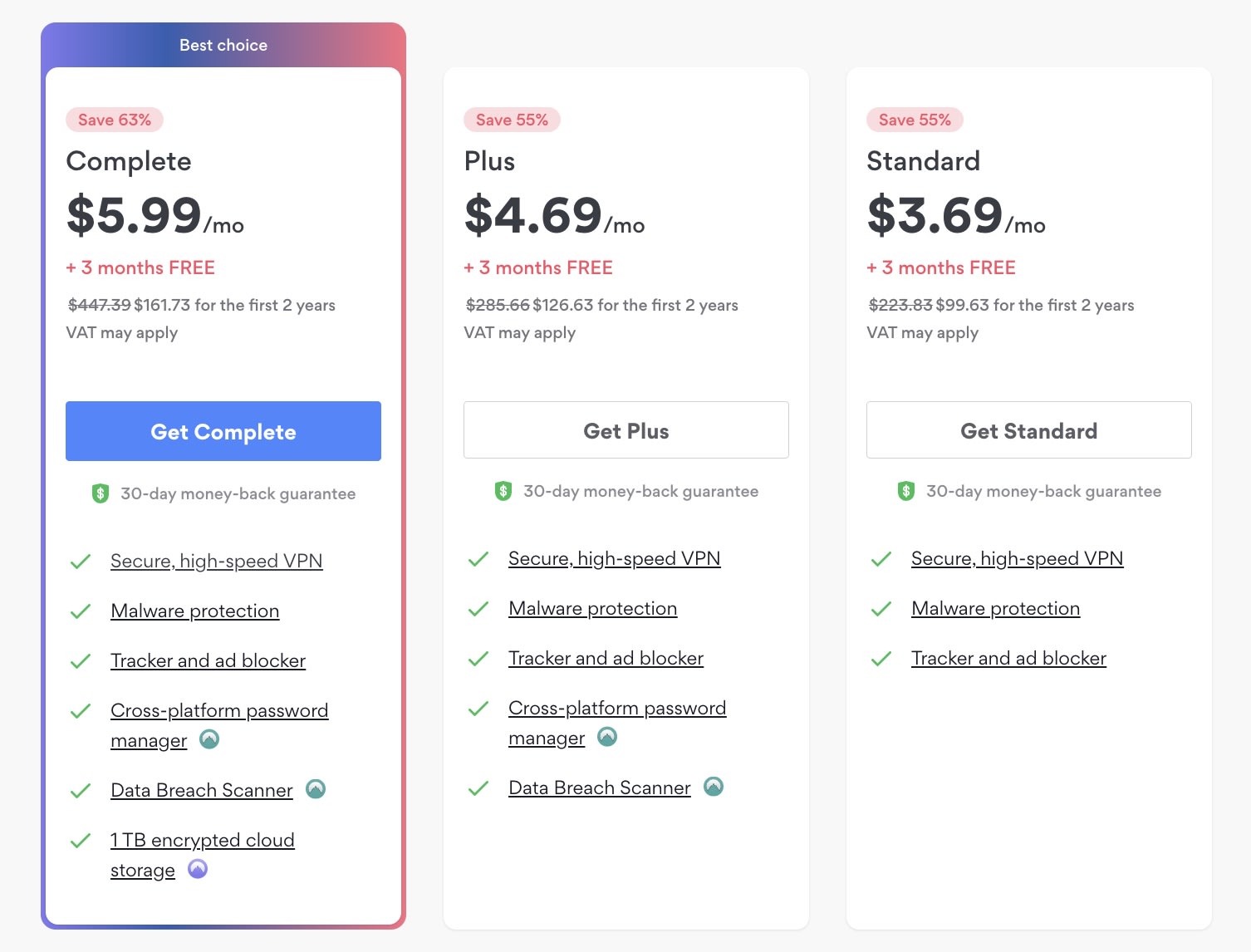 Signing up for two years up-front also means you can get access to NordVPN's best features for the equivalent of $5.99/month.
Alternatively, you can sign up for a one-year contract and access the Standard plan for the equivalent of $4.49/month, the Plus plan for $5.49/month and the Complete plan for $6.79/month.
You can also pay a monthly software fee and cancel your subscription at any time but pricing starts from $11.99/month for the Standard plan and up to $14.29/month for the Complete plan.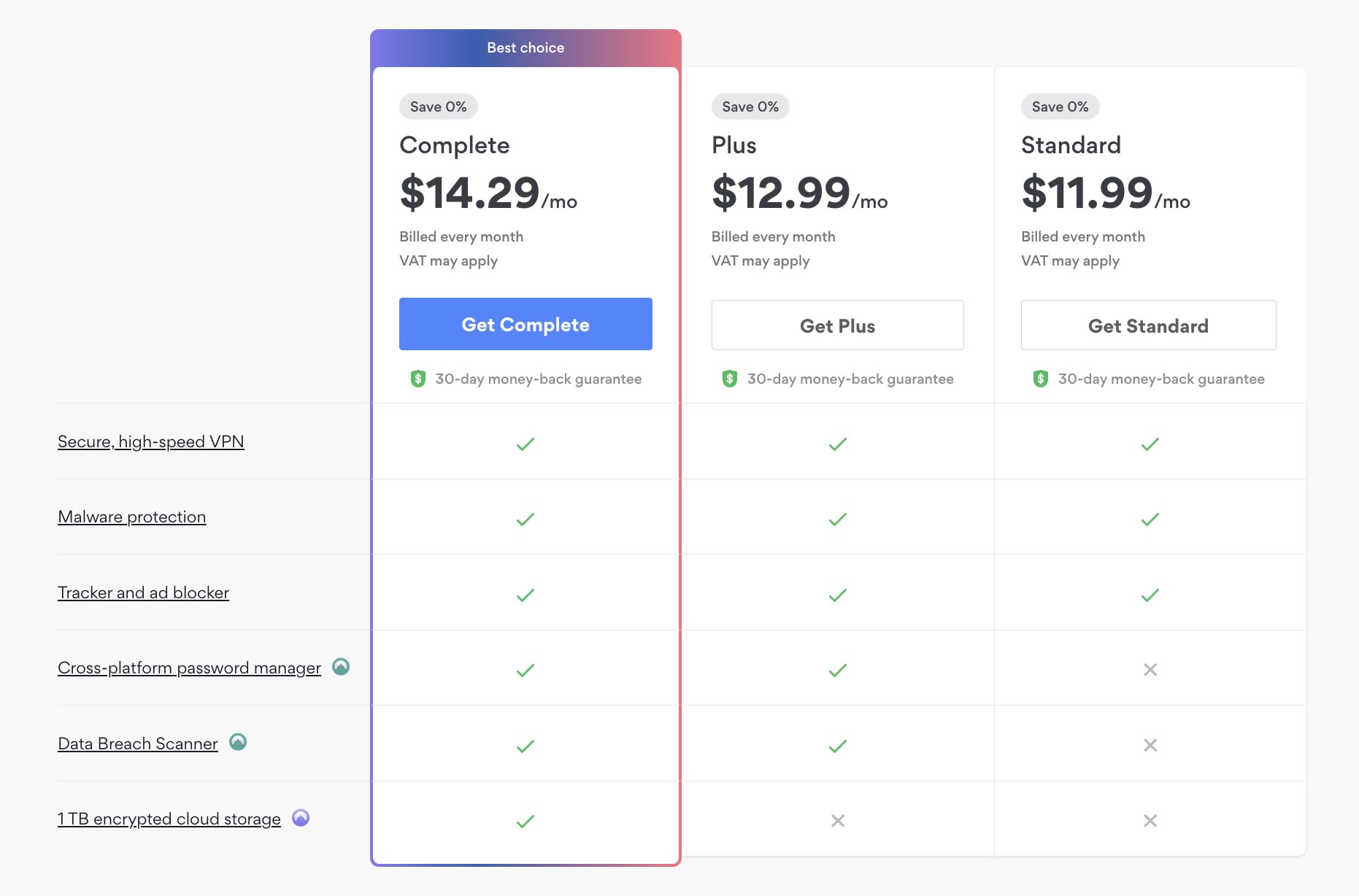 As a result, NordVPN can be the cheaper alternative to ExpressVPN if you sign up for a two-year contract. However, if you're not interested in such a long contract, then the price difference quickly vanishes and NordVPN starts to look expensive – especially if you want the best of its security features.
The bigger problem with NordVPN's pricing model is the price creep you'll experience at the end of your contract. For example, if you sign up for the Complete plan on a two-year contract, you'll pay $161.73 up-front (the equivalent of $5.99/month) but this multiplies to $447.39 (the equivalent of $18.64/month) at the end of your two-year contract.
Worse still, if you sign up for the one-year plan, you'll be looking at the equivalent of $20.66/month for the second year. As things stand, the Complete plan "only" costs $14.29/month if you pay on a monthly basis but the company can increase these prices at any time.
NordVPN pros & cons
Pros
Security: NordVPN sets the standard for security features and the company has shown it knows how to respond to breaches.
Multihop connections: NordVPN adds an extra layer of security to your connection with little or no speed penalty.
Router installations: Install NordVPN on your router to run unlimited connections.
Cons
Not the cheapest: Once you break down the cost of NordVPN's plans, it's not as affordable as it first appears.
Price creep: NordVPN becomes considerably more expensive at the end of contracts.
Server coverage: NordVPN has a lot of servers but not the best coverage in terms of countries.
Disconnections: I've experienced more disconnections than I would like with a tool of this calibre.
NordVPN verdict
NordVPN is the industry standard when it comes to security – not only when it comes to features but also in dealing with a security breach. No VPN provider is 100% secure but it's reassuring to see NordVPN take strong action to prevent history repeating itself.
Aside from security, NordVPN delivers impressive connection speeds. Some will tell you it's the fastest VPN around while others are less convinced. My experience says ExpressVPN is the faster of the two but there are so many variables at play that you really have to try these things for yourself.
Personally, I continue to use ExpressVPN because I have more confidence in its connection speeds and stability. Let's be clear, though, the margins are fine between two of the top VPN providers around. A bigger issue may be NordVPN's pricing model – the product isn't as affordable as it first appears and the price creeping touches a bit of nerve.
#3: Proton VPN: Top security & best free plan available
From $4.99/month (free plan available)
Proton VPN is an ultra-secure service based in Switzerland, one of the most privacy-centric countries in the world. As you might expect, this means the company prioritises security above all else and the noticeable downside to this is connection speeds. So, if you're looking for a VPN service that put security above all else, this is a good place to start looking.
As mentioned earlier, I use ExpressVPN as my go-to service because I find it offers the best overall balance of speed and security for most situations. However, I also use Proton VPN as a backup for a few reasons:
A client may ask me to use a VPN for security reasons and I don't want to make any compromises – eg: when logging into their system.
If, for any reason, I can't connect to the server location I require on ExpressVPN
The free version of Proton VPN offers a great backup option at no extra cost
I'm signed up for Proton VPN's free plan and I can honestly say it's the best free VPN service I've ever used. You don't get the fastest connection speeds but the app is super easy to use and it covers the most common server locations that I need like the US and UK.
Every now and then I'll also upgrade to the paid version for a month or so if I'm working on something that requires its more advanced security features.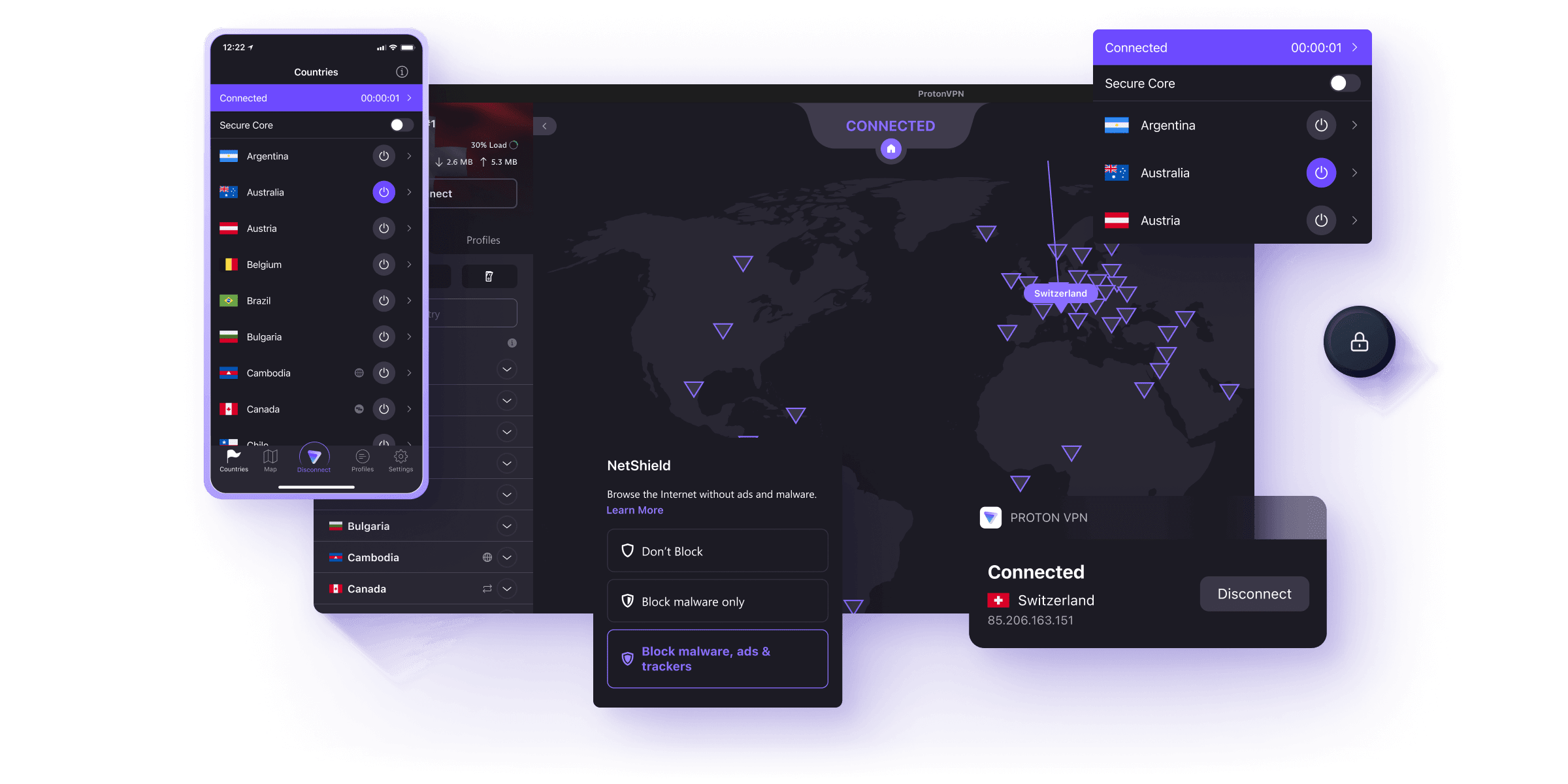 Key features:
VPN servers in 66 countries: Choose from 1,800+ servers across 66 countries around the world.
Secure core servers: Protect against network-based attacks by routing your traffic through multiple servers before leaving our network.
Industry-standard encryption: All your network traffic is encrypted with AES-256, key exchange is done with 4096-bit RSA and HMAC with SHA384 is used for message authentication.
Stealth: Bypass most firewalls and VPN blocking methods with ProtonVPN's unique stealth protocol.
Safe file sharing: Protect your IP address when you share files and download torrents with fast download speeds and unlimited bandwidth.
VPN Accelerator: Increase your VPN speeds by 400+% by overcoming CPU limitations.
NetShield: A DNS filtering feature that protects you from malware, blocks ads, and prevents website trackers from following you as you surf the web.
Kill switch: Protect your data in the event of losing VPN connections by blocking traffic until a secure connection is re-established.
DNS leak prevention: Prevent your browsing data from being compromised by DNS leaks with ProtonVPN's encrypted tunnel.
Once you get Proton VPN set up, it's one of the most usable tools of its kind. I hear the Chrome OS integration isn't as good as macOS and Windows but I haven't used a Chromebook in many years now so I can't comment. I can say the experience on macOS is excellent but make sure you follow the setup process correctly.
The download process gives you all of the information you need so just follow the recommended steps and you'll be fine. Essentially, you need to allow some security permissions, otherwise it won't be able to connect to any networks – a mistake I made when rushing through the setup process on macOS.
Once you're done, you can connect to networks at any time within a couple of clicks.
Personally, I rarely use a VPN for streaming or anything of that nature but I ran Proton VPN through a few different streaming services for the purpose of this article and it never struggled. Admittedly, I'm currently in the UK where you tend to get decent internet connections but nowhere near the fastest in the world, especially when using a VPN.
In terms of security, Proton VPN is about as good as it gets. On the paid version, you're getting military-grade protection with advanced features like full-disk encryption, which keeps data on the company's servers unreadable, even if they're compromised.
Is Proton VPN audited by third parties?
In 2022, IT security firm Securitum audited Proton VPN's no-logs policy and published its findings for public viewing. You can read the report for yourself here (PDF) but the summary is Proton VPN passed with flying colours.
"As a result of the audit, it was confirmed that ProtonVPN offers high privacy with its No-Logs approach, and the audit did not detect any issues that could make a negative effect on the user's privacy."
This confirms that Proton VPN's no-logs policy is solid as of 2022 but the audit didn't perform a comprehensive analysis of the company's security credentials as a whole. I can't find any evidence of a more comprehensive audit. This doesn't necessarily mean anything, of course, but it's always more reassuring to see results from a comprehensive audit.
Does this make me trust Proton VPN any less? No, not at all. Mainly because company has so many other credentials that support its strict stance on security measures.
The company itself is owned by Proton AG, which is based in Switzerland with all of the country's data protection regulations. The VPN service was first designed to protect people using the company's emailing system, Proton Mail, back in 2017.
In 2020, the company made all of its applications open-source, allowing tech giants like Mozilla to fully inspect the system. Mozilla now partners with Proton VPN as its top recommendation, based on security, reliability and ease of use.
How much does Proton VPN cost?
Proton VPN offers a free plan that gives you access to 100+ servers across three countries (the US< Netherlands and Japan). You're limited to one VPN connection on this plan and you're not going to get its fastest connection speeds. You're also not going to get its most advanced security features but you do get protection from Proton VPN's strict no-logs policy.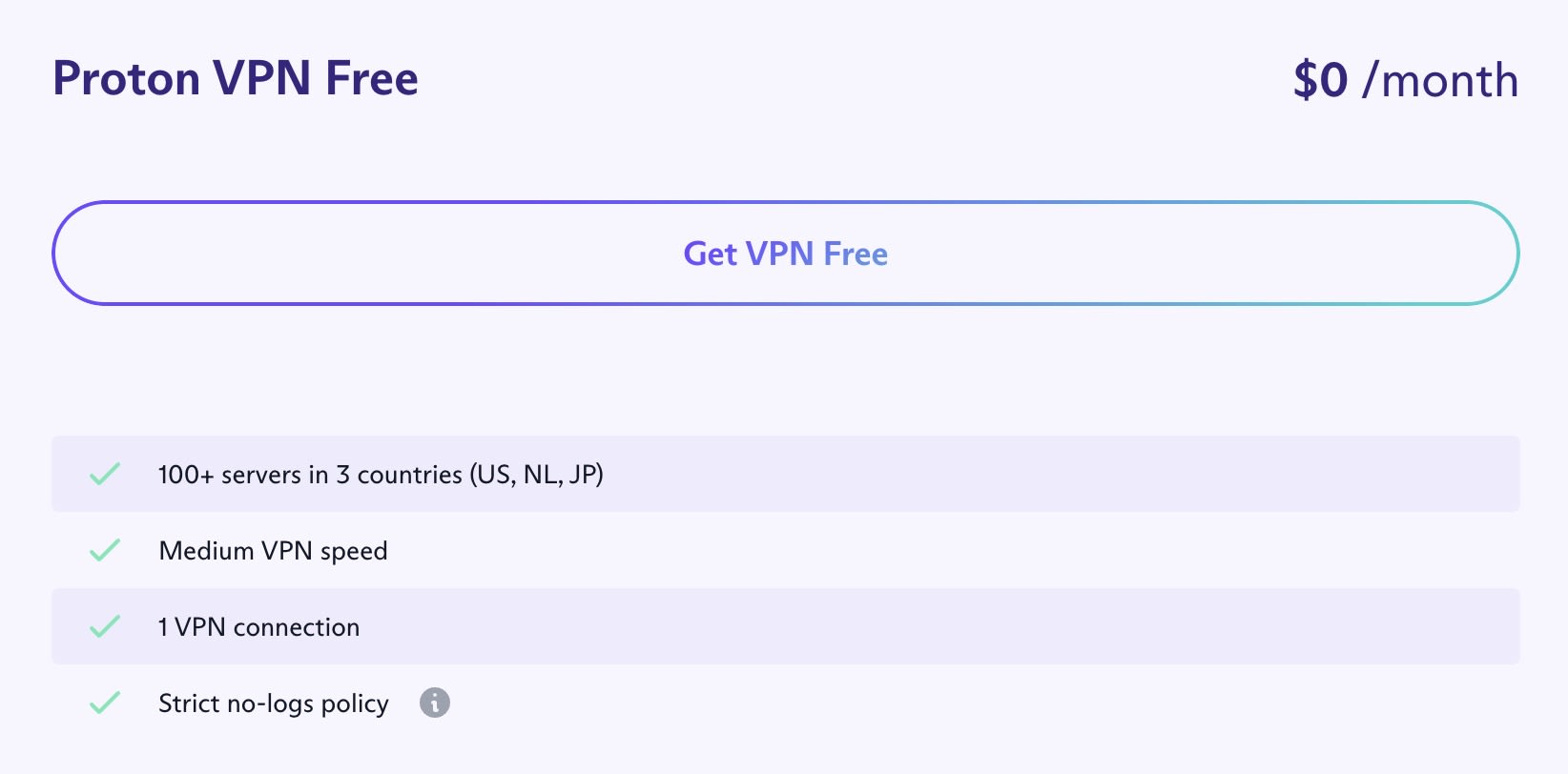 Like many providers, Proton VPN runs three paid plans at different price equivalences, depending on how long you sign up for. If you truly want to pay on a monthly basis, it'll cost you $9.99/month and this drops to the equivalent of $5.99/month if you pay for a year up-front.

If you're willing to sign up for a two-year plan, this will get you the best long-term value at the equivalent of $4.99/month.
At these price points, Proton VPN easily competes with the likes of ExpressVPN and the other big names in the industry.
Proton VPN pros & cons
Pros
Security: Proton VPN is one of the most reputable and secure VPN services available anywhere in the world.
Usability: As long as you set up the apps correctly (unlike me), the apps are wonderfully easy to use.
Free plan: Proton VPN's free plan is the best free option I've used over the past five years or so.
Cons
Connection speeds: Proton VPN can't quite compete with the likes of ExpressVPN for connection speeds, especially if you're in a country located far away from the server connections.
No browser extensions: If you want a VPN service that includes handy browser extensions for rapid connections, Proton VPN doesn't currently provide any.
Server coverage: Proton VPN doesn't have the best server coverage among the providers we're looking at today but the most common locations are covered.
Proton VPN verdict
If security is your priority when choosing a VPN service, then Proton VPN is hard to beat. The company puts military-grade security at your fingertips and the applications couldn't be much easier to use. Proton VPN isn't going to give you the fastest connection speeds but it's no slouch, either.
As long as you're in a location with relatively good internet speeds and you're either connecting to another country with decent speeds or not too far away from the connecting server location, I doubt you'll have any real problems.
Proton VPN's free plan is great, too, giving you the confidence of its strict no-logs policy, although connection speeds are limited. I use the free version as my backup VPN and I often upgrade to the paid version for a month or two when I need the best of its security features.
From $2.05/month*
Surfshark comes in with some aggressive pricing and a bunch of features that catch the eye. First of all, the tool gives you access to 3,200+ servers across 100+ countries around the world, which is some of the best server coverage I've found among reputable VPN services.
The other feature that instantly catches my eye is the unlimited device connections – something most providers restrict.
Combine this with Surfshark's solid security features and you're looking at an impressive VPN service. The company is a relative newcomer to the industry, only launching in 2018. It's never produced the best connection speeds but this is one area where the service has improved in recent years. You're still not going to match the speeds of ExpressVPN and some of the other fastest providers but Surfshark does a respectable job.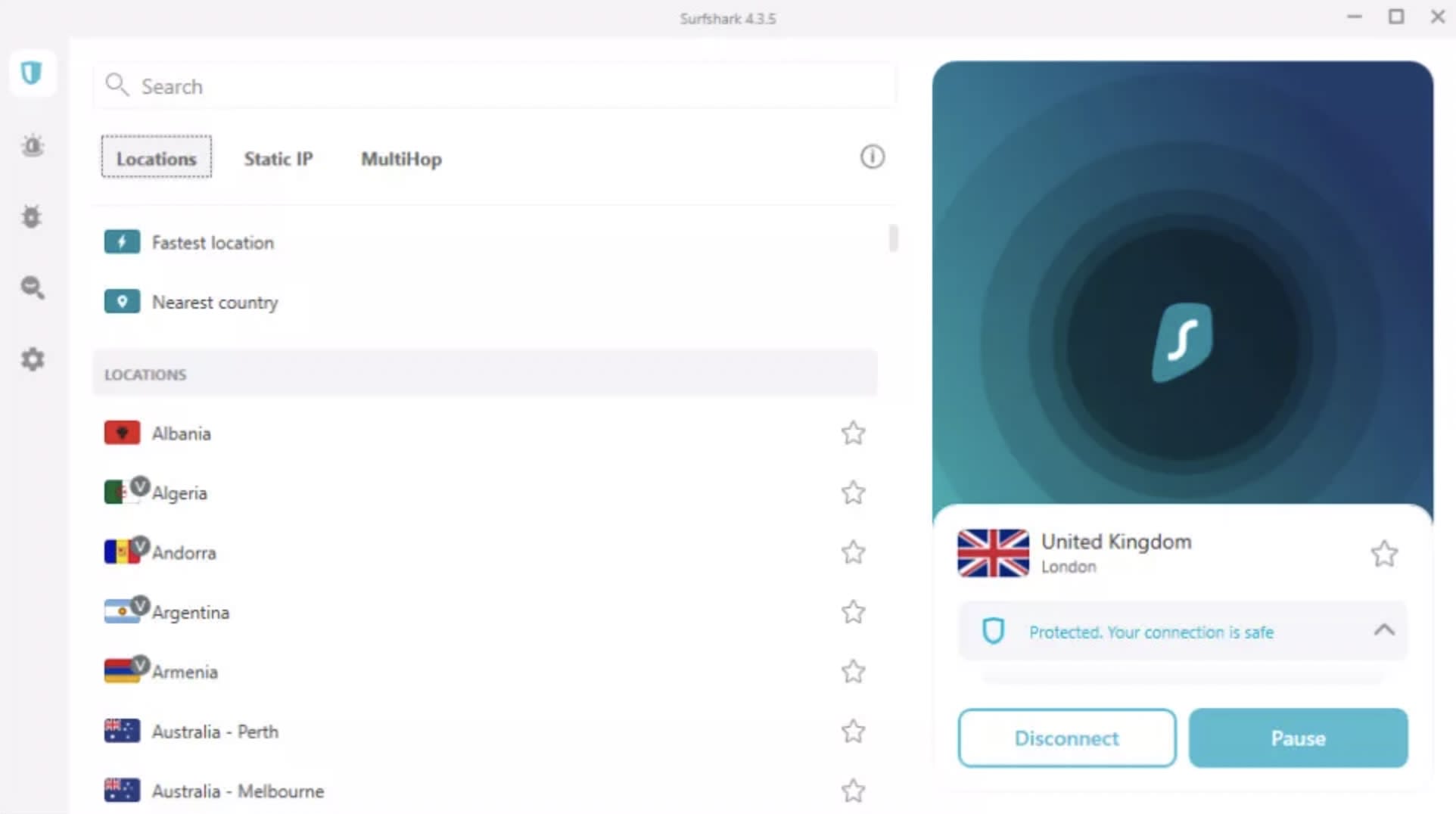 Key features:
VPN servers in 100+ countries: Choose from 3,200+ servers across 100+ countries around the world.
Unlimited devices: Connect & use all your team's devices simultaneously.
IP rotator: Change your IP without disconnecting you from the VPN.
Multihop connections: Increase your security by connecting via two different virtual private network servers at once.
Camouflage Mode: Makes sure that even your internet provider can't tell that you're using a VPN.
CleanWeb: Block annoying ads, banners and trackers.
Kill switch: Make sure your internet traffic is not exposed if the connection with a VPN server is lost.
Auto-connect: Feel confident that your data is protected at all times and on all networks automatically.
Bypasser: Browse with confidence, knowing Surfshark doesn't log any sensitive data.
Browser extensions: Use Surfshark VPN directly from the browser with extensions for Chrome, Edge and Firefox.
Surfshark is located in the Netherlands and operates under Dutch Law. The country has some of the best privacy protections in the world although companies can be forced to share customer data when necessary. As a result, it's worth getting to know Surfshark's no-logs policy if you're concerned at all about what kind of data it collects from users.
The privacy policy page on its website does a good job of explaining this in conversational language. Essentially, the company insists it never collects any information about what you're doing online:
"We do not collect any information about what you do online (your visited IP addresses, browsing history, session information, used bandwidth, connection time stamps, network traffic or any other similar information)."
However, its servers do collect user IDs and connection time stamps – both of which are automatically deleted after 15 minutes. The company says this is to prevent users taking advantage of its unlimited connections feature by connecting an unreasonable number of machines at the same time.
"Our servers do store information about your connection to a particular VPN server (user ID and connection time stamps), BUT this information is automatically deleted within 15 minutes after termination of your session."
The policy emphasises the point that "no information is stored about the websites you visit".
This will concern some people more than others. For my purposes, this wouldn't be a concern provided Surshark genuinely deletes this data after 15 minutes, as it claims. Whether this is a suitable solution to preventing the exploitation of its unlimited connection feature is another question altogether.
I was more concerned by reports in April 2022 about Surshark being among several VPN providers failing a security test carried out by research firm AppEsteem. As reported by TechRadar, Surfshark, TurboVPN and VyprVPN were among the apps found to install root CA certificates on user devices – a practice that could allow attackers to forge their own certificates, imitate websites and intercept communications.
To Surfshark's credit, the company responded by cooperating with AppEsteem to resolve the issue. While it's always concerning to discover vulnerabilities, I feel the response from VPN providers is more important – providing the issue is a genuine mistake rather than deceptive tactics.
Is Surfshark audited by third parties?
Surfshark commissioned its first audit in 2018 with web security firm Cure53 and its second with the same company in 2021. You can read about the latest audit in this Surfshark blog post, which includes a link to Cure53's audit summary.
The audit specifically investigated Surfshark's server infrastructure and detected no serious issues. At the time of publishing, Surfshark is yet to publish results from a no-log audit but the company said it is working on one back in May 2021.
How much does Surfshark cost?
If you want to pay for Surfshark on a monthly basis, you're looking at $12.95 per month. Alternatively, you can get a better equivalent deal by signing up for a one or two-year subscription. The two-year subscription works out at the equivalent of $2.05/month with two extra months included for free – make sense?
What this really means is you're paying $53.28 up-front and this covers you for 26 months ($53.28 / 26 months = $2.05).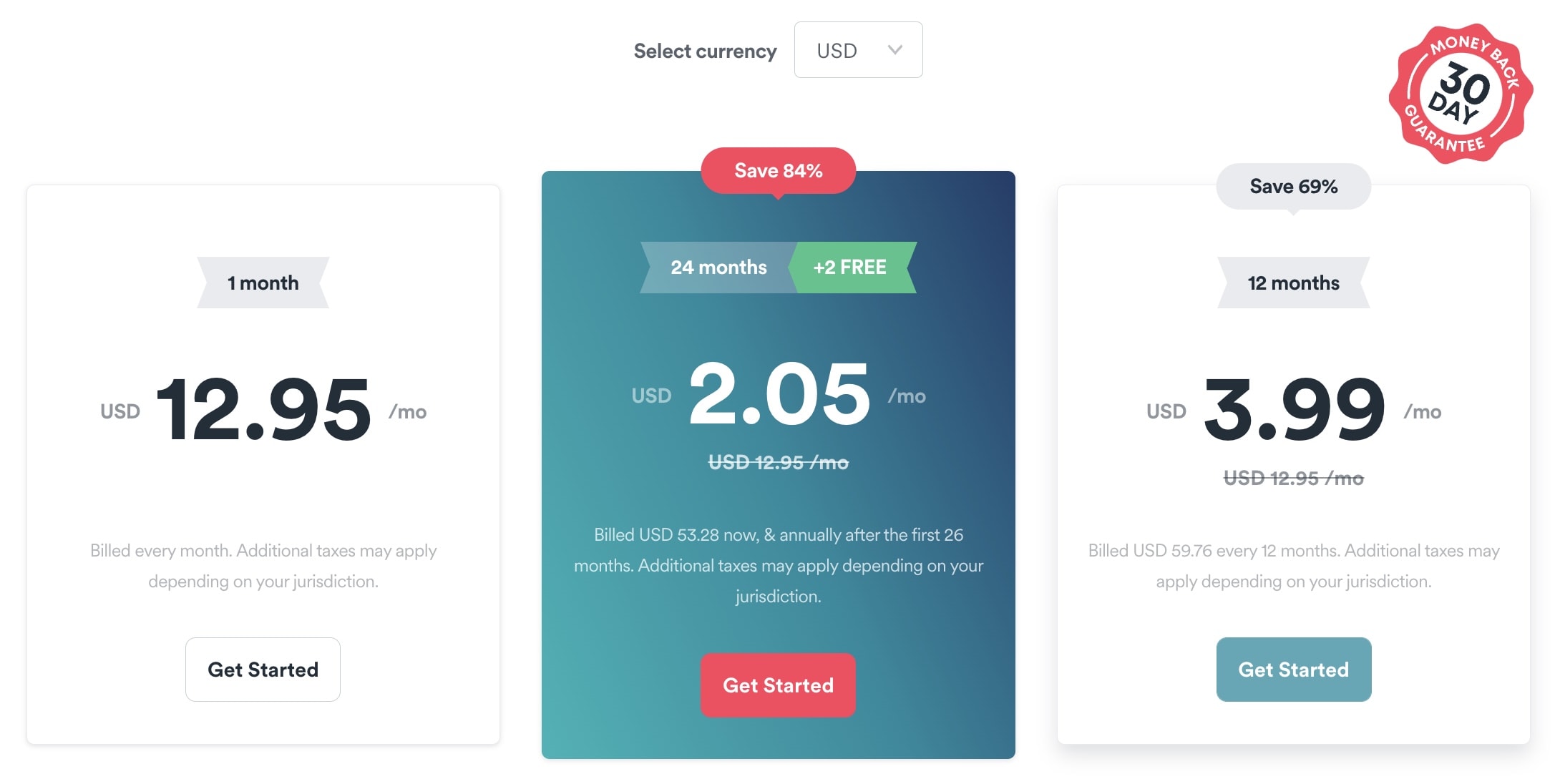 The other option is to sign up for a one-year subscription, paying $59.76 up-front at the equivalent price of $3.99 per month.
Surfshark pros & cons
Pros
Unlimited connections: Within reason, you can run unlimited simultaneous connections from one account.
Server locations: Surfshark offers some of the best server location coverage available.
Fast & lightweight: The app is lightweight and connection speeds are generally pretty quick.
Cons
Disconnections: I experienced some unexpected disconnection issues while using Surfshark but the kill switch appears to do its job.
Speed consistency: Although Surfshark is speedy overall, I noticed a bit more inconsistency across server locations than ExpressVPN and NordVPN.
Surfshark verdict
Surfshark brings an interesting VPN service to the industry. You can get a really good deal by signing up for a two-year subscription, too, especially if you sign up during a promotion (it always seems to have one).
There are a couple of security questions hanging over the company's VPN service, though. First of all, the lack of a third-party audit on its no-log policy is a bit of a concern, particularly when the policy itself isn't as robust as some other providers. Then, you've got the CA certificate issue that was raised in early 2022 but the company's response to this was reassuring.
All in all, Surfshark could be a good option if you want a fast VPN service with excellent location coverage at an affordable price point. I can't say Surfshark is any less secure than the likes of ExpressVPN and Proton VPN but the company doesn't provide quite as many assurances.
From $3.99/month
IPVanish follows up with another VPN service offering unlimited device connections and it matches this with some impressive speeds. Its network spans 2,000+ server locations in over 75 countries around the world.
The company is based in the United States and subject to privacy laws in the country. This includes being part of the 5 Eyes jurisdiction, which includes Australia, Canada, New Zealand, the United Kingdom and the US. This means the company is legally obliged to release its data records if requested to by the authorities.
This is true for any VPN provider based in one of the 5 Eyes countries and nine other countries have joined to create larger alliances over the years. This raises obvious questions about user privacy that will concern some users more than others. IPVanish insists it doesn't log user activity and it anonymises any data it collects for purposes like customer service and product optimisation.
You can see what data IPVanish collects in its privacy policy and decide for yourself whether this is information you wouldn't want authorities to have access to.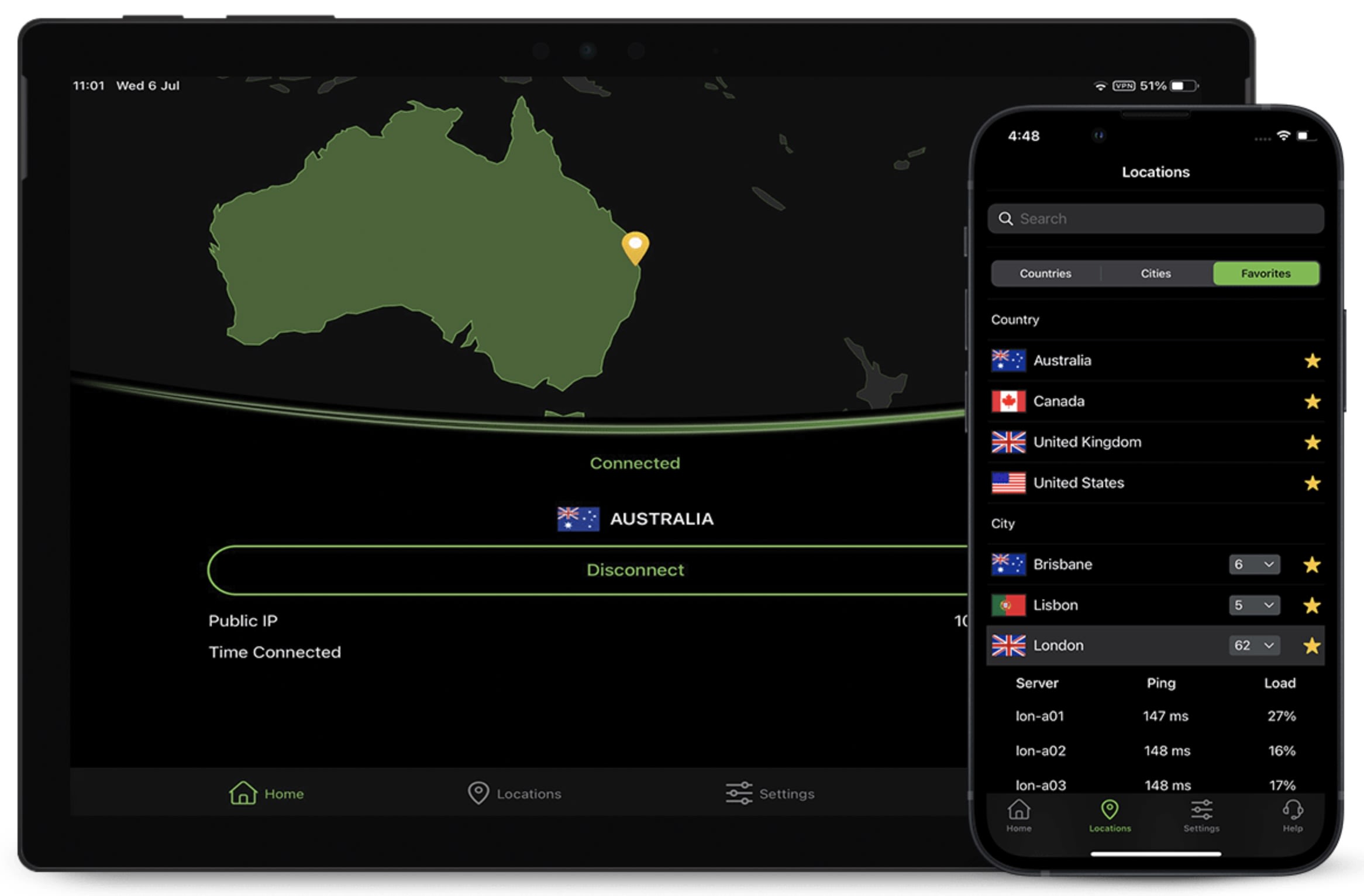 Key features:
VPN servers in 75+ countries: Choose from 2,000+ servers across 75+ countries around the world.
Connection protocols: Select from multiple connection protocols, including WireGuard®, OpenVPN, IKEv2 and IPSec.
Split tunnelling: Select the apps you want to be filtered through a VPN – and those you don't for a customised connection setup.
VPN kill switch: Shut down all internet traffic if your VPN connection ever stops suddenly to prevent outsiders from exploiting lapses in your protection.
DNS leak protection: Built-in DNS leak protection is enabled by default to always keep your traffic and true location details secured inside the private network.
Shared IP addresses: Increase your anonymity and mask your true online identity and location with more than 40,000 IPVanish IP addresses.
High-speed surfing: Enjoy all the benefits of a VPN without sacrificing your speed in the process.
Secure media access: Keep your media consumption private and safely access the websites and services you rely on.
Unmetered connections: Connect as many devices as you want at the same time.
Aside from the legal aspects of its US headquarters, IPVanish offers robust security features, including 256-bit AES encryption, split tunnelling and a kill switch for protecting your data when connections drop. Speaking of connections, I find the stability is pretty good with IPVanish but I'm definitely experiencing more disconnections than I get with ExpressVPN and NordVPN.
Unlike most VPNs, IPVanish allows you to choose from several encryption protocols for different scenarios: WireGuard®, OpenVPN, IKEv2 and IPSec. This means you can choose between protocols that prioritise speed when required and security when you can't accept any compromises.
This level of customisability is great if you want more control over how you're connecting to a VPN service, but it's not for everyone. You need to invest a little time into learning IPVanish and setting it up, especially when many security features aren't activated by default. If you want a VPN to simply activate at the click of a button without having to change any settings, this probably isn't the service for you.
On a related note, usability isn't one of IPVanish's biggest strengths and you'll get a sense of this as soon as you start using the apps. The interfaces are dated and the volume of settings makes the apps a little more convoluted than the clean, minimal experience of using Proton VPN. None of this is a deal-breaker as we're mostly talking about cosmetics in terms of UI design and the settings all serve a purpose.
It really comes down to whether you want to connect with a single click or you want control over settings like the protocol being used.
Is IPVanish audited by third parties?
IPVanish joined the list of VPN providers with no-logs policies verified by third-party audits. Leviathan Security Group performed the audit and you can read up on the details in this IPVanish summary post. Referring to the company's privacy policy, the company describes its no-logs policy as follows:
"In order to keep our users truly safe while they use our service, we do not log or store any data about your connections or your activity. This means that we don't know where or how you're connecting to the internet or what you are doing online when using our VPN."
While the company stores some functional data (email addresses, billing information, etc.), it never logs any identifying traffic data or info about your online activities.
This is important because the company has been caught sharing customer data under previous ownership. More specifically, the company handed over information to Homeland Security in 2016 related to a child pornography case – something it is required to do as a US-based provider.
However, prosecutors in the subsequent court case provided detailed user data that proved – among other things – that IPVanish' was lying about its no-logs policy. To be clear, the company is now under new ownership and its current no-logs policy has been verified by a robust third-party audit.
How much does IPVanish cost?
Like many VPN providers, IPVanish runs three subscription plans but you don't have to sign up for two years to get the best value. Paying monthly will cost you $11.99/month but you can cut this to the equivalent of $3.99/month by signing up for a year and paying $47.89 up-front.
Keep in mind, this price only applies to the first year and you'll be paying roughly $90 for the second year of an annual subscription.

You can also get a modest saving by signing up for three months, which works out at $10/month with an up-front fee of $29.99.
At these price points, IPVanish competes with the monthly subscriptions with ExpressVPN, Proton VPN and the other big names. It also competes at the lower end with its annual subscriptions while many providers force you to sign up for two years to get below the $5/month equivalent pricing.
The savings are shorter-lived, though, because the pricing essentially doubles after the first annual subscription.
IPVanish pros & cons
Pros
Unlimited connections: IPVanish allows you to run unlimited device connections on one account.
Connection speeds: Despite some inconsistency across servers (common with VPNs), connection speeds are impressively fast, for the most part.
Cons
US-based: Being subject to US law, IPVanish is obliged to share data with authorities upon request.
Price increases: The price jump on the annual subscription sours the deal after the first year.
VPN detection: IPVanish isn't the best at getting around firewalls and VPN detection methods.
No browser extensions: You can't activate the VPN directly from the browser using extensions.
IPVanish verdict
IPVanish is an interesting alternative to the likes of ExpressVPN and NordVPN. As a relative newcomer, it doesn't have the same brand power as some of its peers. The company is also at a disadvantage being based in the US, which will always raise some security concerns among users who want maximum privacy protection.
The company's 2016 no-logs policy fiasco didn't do its brand image any favours, ether. However, under new ownership, the company has steadily improved its product and built a stronger reputation in the industry. Now, IPVanish is one of the first services people will often recommend as an alternative to the top providers and the recent audit of its no-logs policy puts most security concerns to bed.
Pricing: €5/month
Mullvad isn't going to win any awards for best VPN service but it will feature in plenty of articles like this by offering something truly different. What it lacks in usability and headline features (eg: server locations), it makes up for with transparency and privacy protections. It also offers one of the simplest and most affordable pricing models among the VPN services we're looking at today.
Based in Sweden, the company is located in a country with some of the most robust data protection laws. Mullvad doesn't simply comply with privacy laws by doing the bare minimum, though. Instead, it has innovated a customer experience that tackles the inherent privacy concerns of signing up for any software service.
When you sign up for Mullvad, you're not asked to provide an email address, name or any personal information of any kind. You simply click a button to generate a unique customer number and you can start using the VPN service right away. You can even pay by cash and cryptocurrencies (as well as traditional methods) to avoid any personal data being connected to the company at all.
The fact that Mullvad never collects this data in the first place means you can trust its no-logs policy with confidence. More importantly, even if the company suffers a security breach, attackers will never get their hands on your personal information.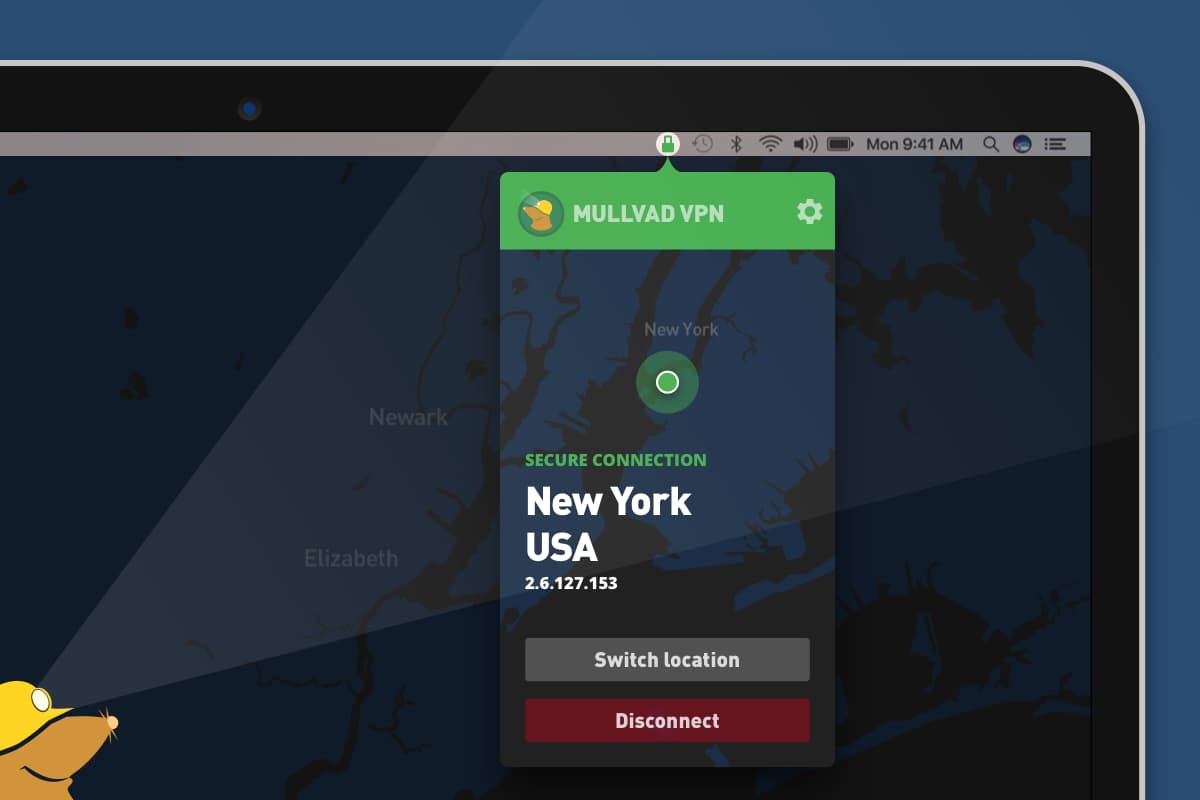 Key features:
VPN servers in 39 countries: Choose from 891 servers across 39 countries around the world.
Anonymous account: Sign up without providing any personal data – not even your email address.
VPN kill switch: If you have connectivity issues while Mullvad VPN is on, the built-in kill switch will automatically stop all network traffic.
Split tunnelling: Route some traffic from a device through a VPN connection while sending the rest to a direct network.
Multihopping: Increase your security by connecting via two different virtual private network servers at once.
Port forwarding: Allow incoming data to get around your NAT firewall.
Shadowsocks proxy: Get around firewalls and access blocked sites in countries that censor internet access.
Ad & tracker blocking: Block ads and malicious trackers as you browse the web.
The first limitation you might notice with Mullvad is the relatively small collection of server locations. Still, the company provides almost 900 connection options across 39 different countries. In terms of global coverage, this is one of the smallest offerings among the VPN services in this article.
You're still covered for the most common territories, though, and plenty more. Also, you're getting quite a lot of connection options across those locations. This means that, while the list of countries is smaller, you've got a lot of connection options to choose from if any of them are unavailable or unreliable.
For the most part, I've found Mullvad connection speeds impressively quick. Streaming live events and downloading files works flawlessly, as long as you're starting off with a decent connection, to begin with. The only issue I ran into was accessing geo-blocked services. Netflix detected the VPN and I also tested it on BBC iPlayer, which also detected the VPN and blocked access.
Streaming probably isn't a priority for remote teams but it's likely you wouldn't be able to access other geo-blocked services – eg: Twitter in China or Vietnam.
Mullvad packs plenty of security features into its VPN service, most of which you should be familiar with by now: split tunneling, kill switch, port forwarding, etc. The apps do lack some of the convenience features you might be used to from other providers, though.
For example, Mullvad doesn't include an auto-connect feature for trusted networks. While this is a minor inconvenience, the company makes a valid point in justifying this feature commission. It argues automatic connections are a vulnerability because hackers could duplicate trusted networks and trick the app into connecting them.
Is Mullvad audited by third parties?
Mullvad was audited by Cure53 in 2020 and you can find details about the findings in this blog post, including a link to the final audit report. The audit found seven issues in total, two of which were classified as "Medium," another two as "Low" and the remaining three as "Info".
Considering the depth of the audit, performed by six testers over 20 days, the results were promising. Better yet, Mullvad addressed five of these issues as soon as they were flagged up, before Cure53 published its final report.
The company determined that the remaining two issues were of no concern to its users (read the report linked to above for more details).
Mullvad was audited again in 2022 – this time by Gothenburg-based security consulting firm, Assured AB. The audit found no issues in the "critical" or "high" categories. You can find details about the audit in this blog post, including a link to the final report.
How much does Mullvad cost?
Mullvad keeps the innovation coming with its pricing model. The company charges a flat fee of €5/month, regardless of how long you sign up for. it doesn't try to lure you in with money savings if you sign up for contracts or pay larger fees up-front.
You simply pay €5/month for every month you want to use the VPN service and you're free to walk away at any point.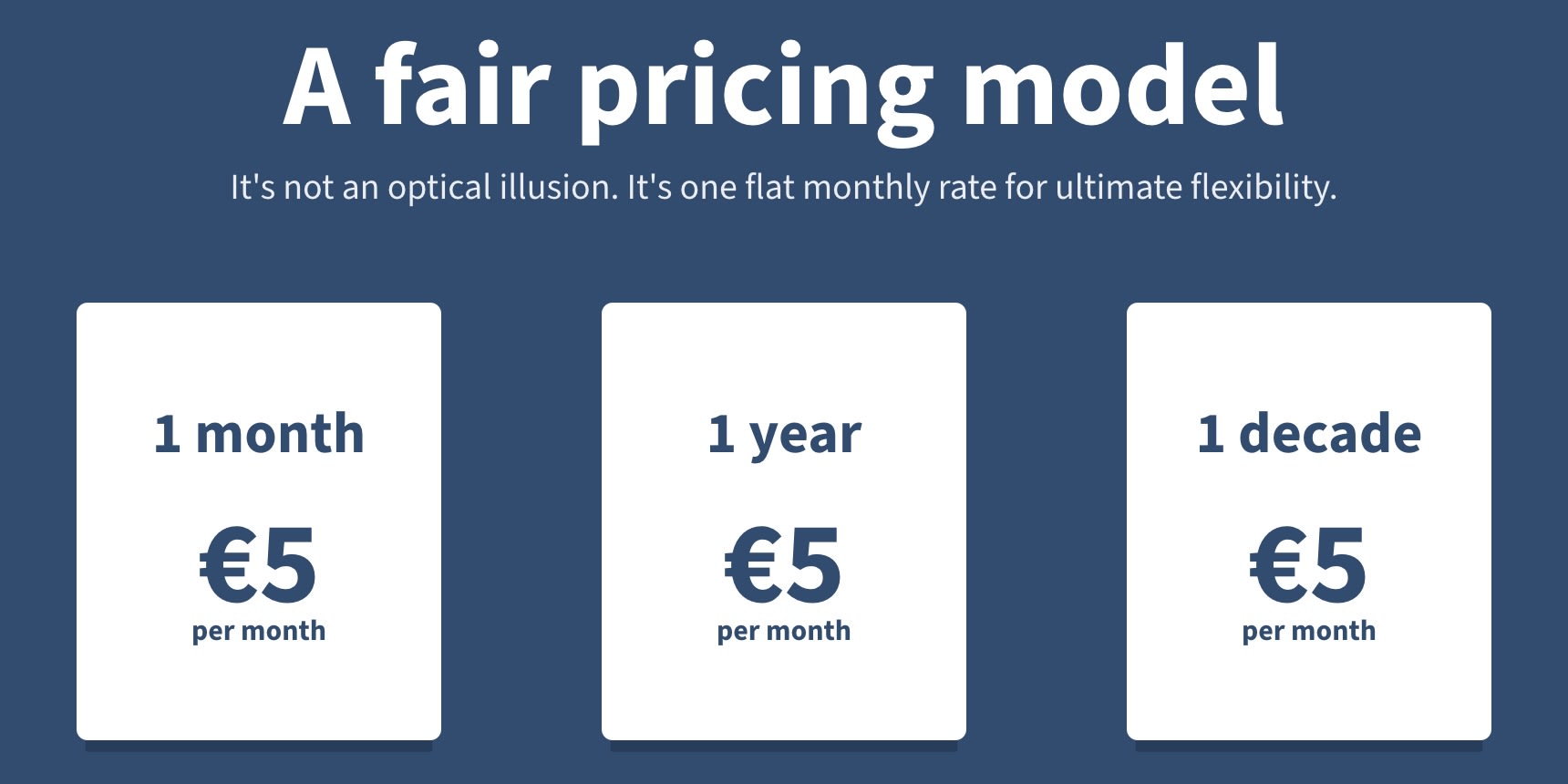 If you only need a VPN service from time to time, this could be one of the most affordable options. Keep in mind, that Mullvad doesn't automatically renew your service at the end of each month so you'll need to manually make each payment.
Mullvad pros & cons
Pros
Fast & lightweight: Mullvad's VPN service offers fast, secure connections.
Privacy: No email or account information is requested when you sign up.
Pricing: The simple pricing model leaves no room for confusion, hidden fees or subscription lock-in.
Cons
Usability: Functionally, the apps perform well enough but the interfaces aren't as intuitive as we would like.
Geo-blocking: This isn't the best VPN for getting around geo-blocked services.
Limited server options: This is one of the smallest collections of server locations we're looking at today.
Mullvad verdict
Mullvad is an unconventional VPN service with plenty of quirks in terms of software design. However, it's the most transparent provider I've come across in more than a decade of testing out different VPN services.
It's also one of the most privacy-centric services of its kind and the account system requiring no personal data is a real bonus. Obviously, this will appeal to users who want as much anonymity as possible but it's also a big win for data privacy in general. All software providers are vulnerable to attacks but Mullvad can't lose data it doesn't collect in the first place.
Pricing will please some customers more than others. I'm a big fan of the company's honest pricing model but long-term users will get better value from some of the two-year subscriptions we've looked at today. Keep in mind, most of these longer subscriptions jack up the prices upon renewal, though – so the savings are often short-lived.
From $2.03/month*
CyberGhost is a Romania-based VPN provider that puts the service in one of the world's most privacy-friendly jurisdictions. Unfortunately, a complex ownership history kills any enthusiasm for the company's roots. German entrepreneur Robert Knapp founded the company in Bucharest to take advantage of the relatively low-wage labour in Romania, compared to San Francisco.
In 2017, he sold the $114,000 startup for $10.5 million to a UK-based company called Crossrider. The company would rebrand as Kape Technologies the following year to distance itself from a history of adware and malware. The company went on to buy ExpressVPN in 2021.
Earlier, I explained why Kape owning ExpressVPN didn't dent my confidence in the service (I still use ExpressVPN as my main VPN). However, the situation with CyberGhost is a little different. While ExpressVPN has a robust security infrastructure verified by third-party audits, CyberGhost's security credentials are more questionable.
For example, the company's ad blocker uses a method of traffic manipulation that no VPN service provider should ever be associated with. In 2016, the company also made headlines for installing its own root certificates on a user's computer. While the company no longer does this, the incident was akin to a VPN provider performing a Man-In-The-Middle attack.
Tests have also found CyberGhost to reveal the use of its VPN service to users' ISPs, which is a big problem if you're in a country where using VPNs is illegal.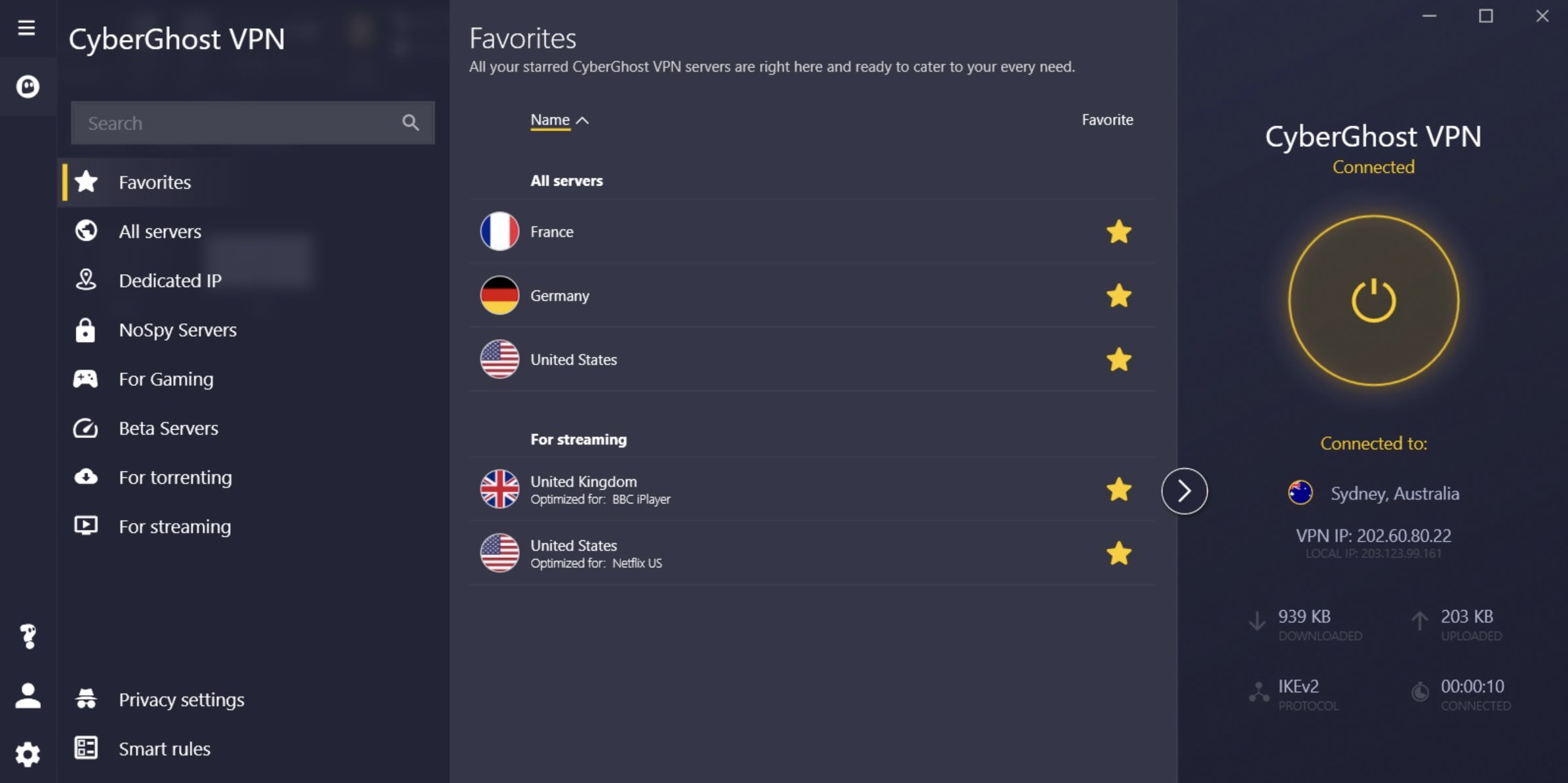 Key features:
VPN servers in 91 countries: Choose from 8,200+ servers across 91 countries around the world.
Unlimited bandwidth & traffic: Download as much as you need while connected to the VPN with no traffic restrictions.
Automatic kill switch: Protect your data if your VPN connection is interrupted, blocking internet access until safe connections are restored.
DNS & IP leak protection: Built-in DNS and IP leak protection to keep your traffic and location data safe.
ID guard monitoring: Receive alerts for any email or password data leaks.
AES 256-bit encryption: Protect your data with industry-standard encryption using an asymmetric key system.
Multiple devices: Protect up to seven devices at a time from the same account.
Cross-platform: Dedicated apps for macOS, Windows, iSO, Android, ChromeOS and more.
Browser extensions: Use CyberGhost from your browser with extensions for Chrome and Firefox.
CyberGhost's questionable past makes the current Kape Technologies ownership more concerning. Unlike ExpressVPN, which has an exemplary history in terms of security, CyberGhost inspires less confidence. In theory, ExpressVPN remains separate from other Kape brands and all evidence suggests the VPN is as secure and transparent as ever.
In the case of CyberGhost, the company has worked hard to improve performance and security in recent years. The problem is, it's playing catch-up and you have to wonder whether Kape Technologies will have the strict demands required to get the VPN service up to par as soon as possible.
It's also worth noting that Kape Technologies bought CyberGhost before rebranding to distance itself from the notorious Crossrider days. It seems the security questions surrounding CyberGhost at the time weren't all that concerning – so how much has changed since then?
On a brighter note, CyberGhost has improved the quality of its service in recent years. Slow connection speeds have improved but consistency is a problem with many servers overloaded by users. The lightweight infrastructure is easy on CPU and helps connections speeds along, especially if you're connecting to local servers. However, I've found servers in the UK can be some of the most overloaded, which hurts connection speed and consistency.
Is CyberGhost audited by third parties?
CyberGhost's no-logs policy was audited by Deloitte in 2022. You can find details about the audit in this blog post but the headline is that no major issues were detected. This was a helpful PR boost for the company but many people in the tech industry are still sceptical about the service due to its Kape Technologies ownership.
ExpressVPN doesn't face the same level of scrutiny, though, despite now being owned by Kape Technologies itself. On the one hand, Kape insists ExpressVPN will remain a separate brand from its other products. Although, I'm inclined to think it's the combination of Kape ownership and CyberGhost's own questionable past that will make it difficult for the company to build a stronger reputation.
How much does CyberGhost cost?
CyberGhost is one of those VPN providers that always seem to have some kind of a promotion running on its two-year plan. You'll often see a countdown timer telling you how long you've got left to save big by paying up-front.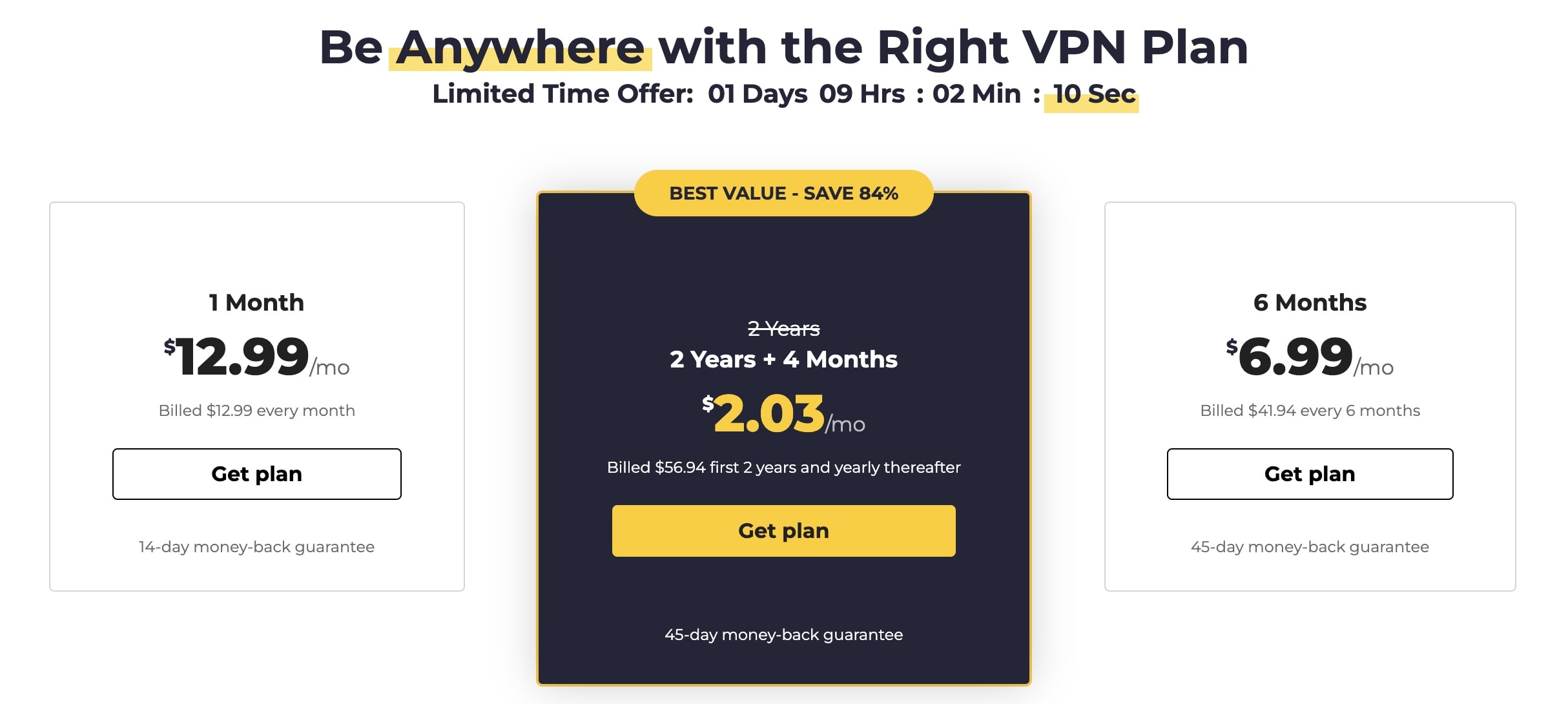 At the time of writing, you can sign up for a two-year plan that includes four additional months for free. This will cost you $56.94 at the equivalent of $2.03 per month for the first 16 months. Alternatively, you can pay $41.94 for six months at the equivalent of $6.99 per month or simply pay $12.99 each month.
CyberGhost pros & cons
Pros
Server coverage: CyberGhost offers some of the best server coverage with plenty of options for most locations.
Lightweight: The VPN's lightweight code is gentle on CPUs, browsers and internet connections.
Cons
Consistency: Connection performance can vary quite a bit – both in terms of speed and reliability (ie: disconnections).
Privacy concerns: While the company is working hard to improve its service, its history of privacy and security concerns is difficult to forget.
Kape ownership: CyberGhost's questionable history makes the Kape ownership more concerning.
No obfuscation: ISPs will know you're using a VPN if you're using CyberGhost.
CyberGhost verdict
CyberGhost reviews are a real mixed bag. The company has improved its services significantly in recent years, boosting connections and expanding its network of servers. Memories of its traffic manipulation, excessive tracking and other concerns are still fresh for many people in the tech industry.
The company has resolved most of these issues in recent years but the lack of obfuscation will worry anyone who doesn't want ISPs to know they're using a VPN. Then, you've got the whole Kape Industries saga, which hangs heavier over CyberGhost's reputation than it does with more reputable alternatives like ExpressVPN.
Honestly, we debated whether CyberGhost should feature in this article but we decided to include it for several reasons. First of all, the quality of its VPN service has improved a lot in recent years. Secondly, CyberGhost receives more criticism about its Kape Industries ownership than other brands owned by the same parent company. At the same time, CyberGhost features in a lot of VPN recommendation articles that tend to gloss over or ignore legitimate concerns.
So we decided to include CyberGhost in this article and offer a more balanced review by addressing the concerns many people have. At the same time, we want to put these concerns into context compared to other VPN services.
What is the best VPN service for remote teams?
To help you choose the best VPN service for your needs, we've put together this comparison section. We'll see how all of the VPNs we've reviewed in this article compete in the following three categories:
Pricing
Features
Usability
For the pricing and feature comparisons we've put together a couple of tables that make it easier for your to scan and quickly compare each service. For usability, we select the best three VPN services and explain why they make our top picks for UX design and everyday use.
Best value for money
SaaS pricing is always a little complex but VPN services often have some of the simple pricing models in the industry. Many providers only offer one plan, with access to all of its features, and charge based on how long you sign up for.
Generally speaking, the equivalent monthly fees get lower as you sign up for one or two years in advance (you have to pay the full fee upfront).
As a result, most* of the entry price fees in the table below reflect the equivalent monthly price if you sign up for a longer period and the top-tier price indicates how much the service will cost you if you pay one month to the next.
| Tool | Free plan? | Starting price | Top plan |
| --- | --- | --- | --- |
| ExpressVPN | – | $6.67/mo | $12.95/mo |
| NordVPN | – | $3.69/mo | $14.29/mo |
| Proton VPN | ✔ | $4.99/mo | $9.99/mo |
| Surfshark | – | $2.49/mo | $12.95/mo |
| IPVanish | – | $3.99/mo | $11.99/mo |
| Mullvad | – | €5/month/ | €5/month |
| CyberGhost | – | $2.03/mo | $12.99/mo |
NordVPN is one exception we've looked at in this article. The company offers multiple plans so pay attention to the feature limitations on its cheaper offerings. If you want the best security features, you'll want to sign up for its Complete plan, even if this means signing up for a longer period.
Keep in mind that NordVPN (and many other providers) hike their prices up after the initial contract period.
Best for features
Choosing a VPN based on features comes down to where your priorities lie. If you want the best security with no compromise – even if it means slower connection speeds – you'll choose a different service compared to someone who needs a balance between speed and performance.
To help you make this choice, we've put together a comparison table for these five key features.
Connections: The VPN offers fast and reliable connections.
Security: The VPN provides industry-standard security features.
No-log policy: The provider's no-logs policy has been audited by third parties.
Data protection: The VPN and service provider protect your data from ISPs, authorities and potential attackers.
Extensions: The VPN includes browser extensions for quickly enabling and disabling connections.
All of the VPN services in this article provide most of these features so the table below focuses on quality. A tick (✔) means the VPN service in question offers some of the best features in this category – ie: this VPN is among the best for security, connection speeds, etc.
| Tool | Connections | Security | No-logs audit | Data protection | Extensions |
| --- | --- | --- | --- | --- | --- |
| ExpressVPN | ✔ | ✔ | ✔ | ✔ | ✔ |
| NordVPN | ✔ | ✔ | ✔ | ✔ | ✔ |
| Proton VPN | – | ✔ | ✔ | ✔ | – |
| Surfshark | – | – | – | – | ✔ |
| IPVanish | ✔ | – | ✔ | – | – |
| Mullvad | ✔ | ✔ | ✔ | ✔* | – |
| CyberGhost | – | – | ✔ | – | ✔ |
As you can see, ExpressVPN and NordVPN stand out as the best overall options – a common consensus in the VPN industry. However, you might notice we've marked data protection with an asterisk (*) for Mullvad. This is because the company offers the best data protection features and measures among all of the providers in this article.
So, if data protection is your absolute priority, Mullvad might be the better option.
Likewise, if you're looking for a more affordable VPN service, even at the expense of connection speeds, security and data protection, alternatives like CyberGhost start to look more compelling.
Best for usability
Usability is important with any software product, especially something you're going to use on a daily basis. VPN services and apps are a mixed bag when it comes to UX design so let's take a moment to discuss day-to-day usability.
When we're trying out a new software product, we pay close attention to the following characteristics to determine whether they meet our usability demands:
Smooth operation: The software runs smoothly without lags or slowdowns as you interact with elements.
Navigation: Elements, tools, settings and everything else you interact with are easy to find.
Minimal clicks: Simple actions require no more than 1-3 clicks to complete and more complex actions (eg: settings changes) within a reasonable number of clicks.
Action completions: The quantity of meaningful actions you complete vs time spent interacting directly with the software.
Based on these factors, three VPN services featured in this article stand out when it comes to usability:
ExpressVPN
Proton VPN
NordVPN
Now, let's take a closer look at these three services and explore the qualities of their UX design.
#1: ExpressVPN
ExpressVPN delivers the best user experience among the more feature-rich VPN services. The only that bugs me about the ExpressVPN experience is the mobile-centric design of the desktop app. It's a superficial complaint, though, especially given the fact I rarely use the app, thanks to the excellent browser extensions provided.
If you're regularly switching VPN connections on and off or trying out a bunch of different connections, a browser extension makes life so much easier. Then again, if you're simply connecting to the same server for extended periods of time, opening the app and connecting as needed isn't a big deal.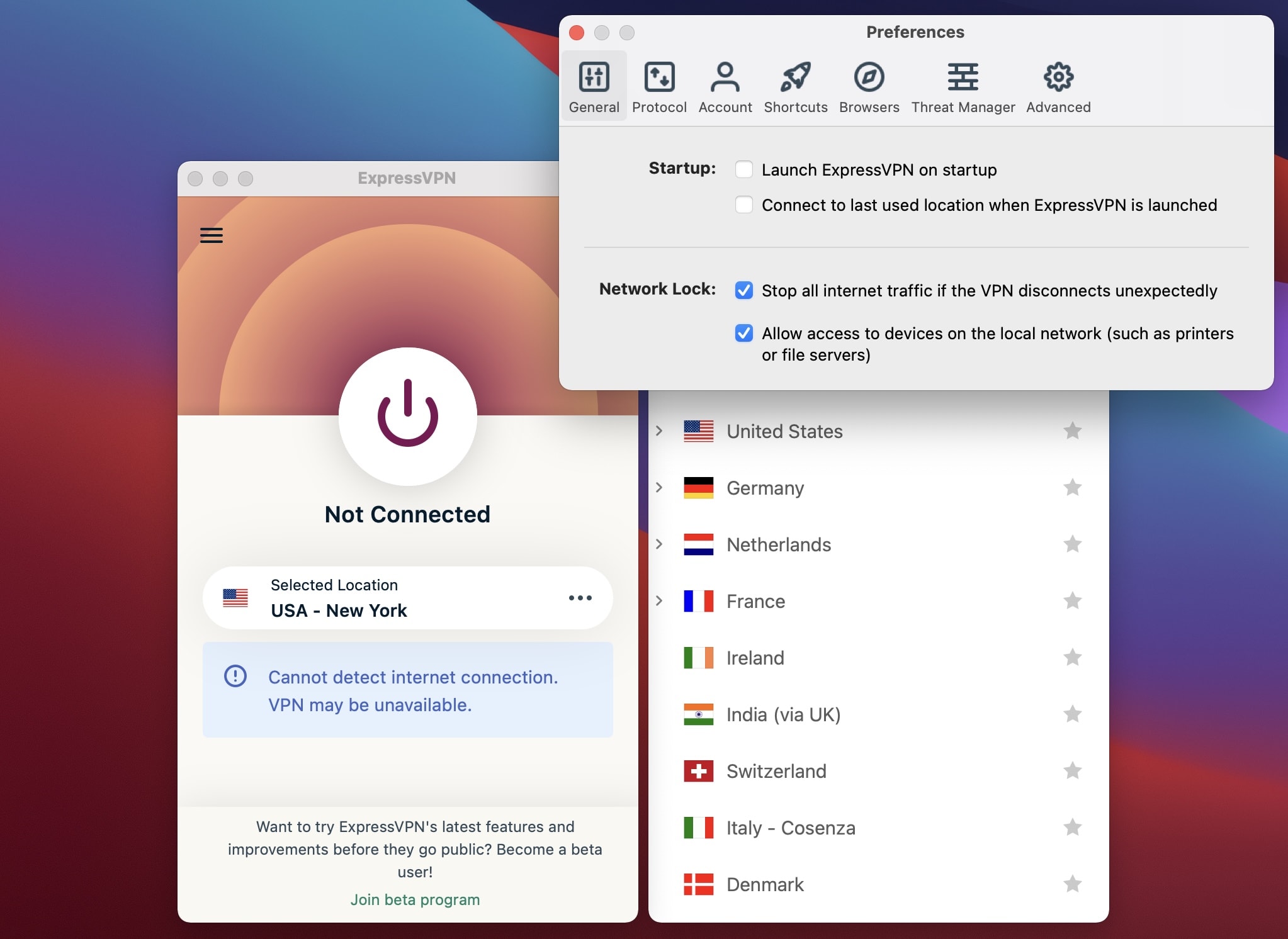 ExpressVPN packs a lot of features into its app but everything is packed into a logical system of menus for locations, preferences and other settings. The default interface simply included a connection button and a location selector – not even a hint of clutter.
Even new users with no experience of using a VPN service can open the app and connect right way.
One of my favourite usability features of ExpressVPN's desktop app is that you can add shortcuts to access websites and apps with a single click. The shortcut links show as soon as you connect a network, which is great if you regularly use the VPN for specific sites – a common thing with remote working.
#2: Proton VPN
ExpressVPN delivers an impressive user experience considering the features and controls it gives you. However, if we're talking about pure simplicity and ease of use, Proton VPN jumps to the top of our list when it comes to usability.
The caveat to this is that you don't get any browser extensions with Proton VPN, which will matter to some users and not so much to others.
Either way, the desktop app for Proton VPN is a real joy to use, especially if you have experience using VPN services that aren't so great in terms of UX. The interface is spotlessly clean and the connection map is a great system for selecting networks, especially if you want to try out different connections.
All you have to do is click on a server connection and the app automatically establishes the connection for you. You can also zoom in and out with the zoom control at the top-right of the interface or simply use touch commands on a trackpad or your mouse to zoom in on locations with multiple connection options.
I only use the free version of Proton VPN, as a backup to ExpressVPN, which helps simplify connections even further. However, testing out the full version of Proton VPN while travelling proved how helpful the map tool is when you want to jump between connection options.
Overall, the interface may be more overwhelming than ExpressVPN's to new users, simply because it puts more controls and setting in the primary view. Even still, everything it only takes a few moments to figure everything out and having one-click controls for features like the kill switch and NetShield is great for heavy users.
Coincidentally, I also have a favourite usability feature with Proton VPN: the ability to create connection profiles.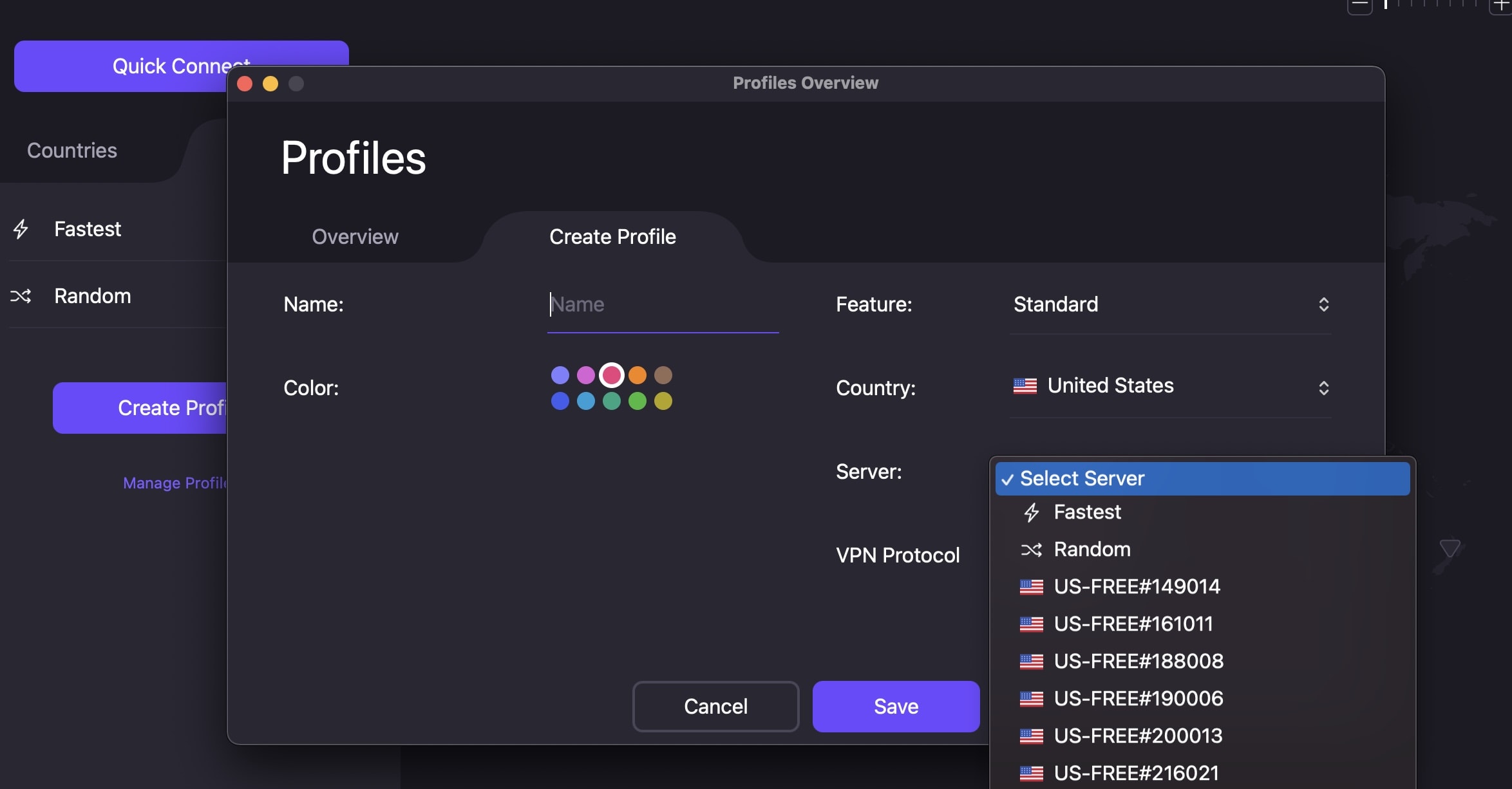 By default, the system comes with a "Fastest" profile that will automatically connect to the fastest network for you. But you can also create custom profiles with different connection settings, locations, specific servers and protocols.
#3: NordVPN
NordVPN crams even more features and settings into its apps than ExpressVPN, which always makes UX design more challenging. There's not denying that usability suffers as a result of this but – all things considered – NordVPN does a commendable job.
Like Proton VPN, NordVPN implements a map interface for selecting server locations but the interface lacks the simplicity and smoothness of its counterpart. This is hardly a deal breaker, which is true for all of NordVPN's UX quirks – very much first-world problems in the grand scheme of things.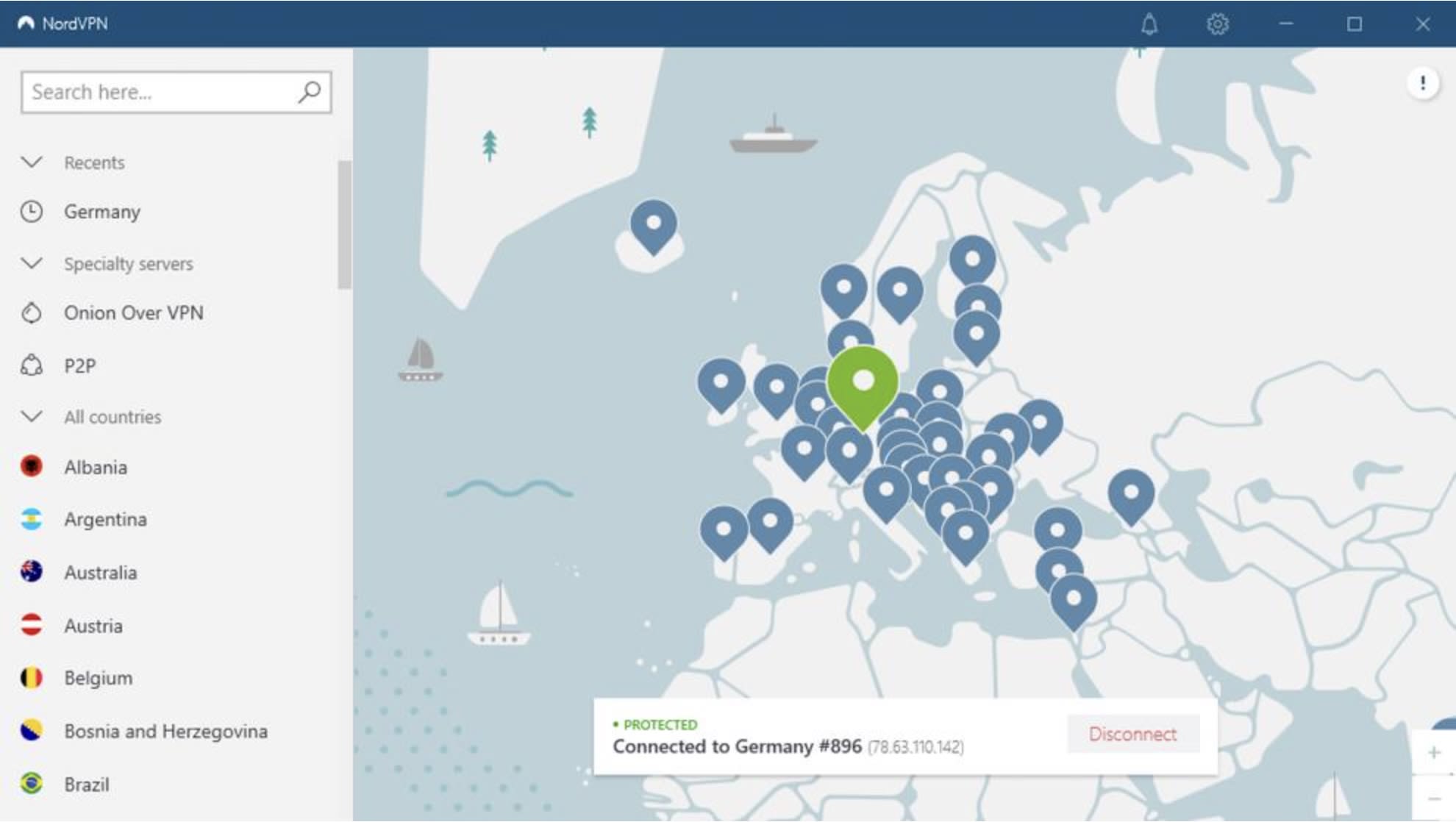 For example, disconnecting from a server requires two clicks, rather than the single click you would expect from a VPN. The app also relies on icons only for previous connections, instead of including the name of the connection location. This isn't a problem if you stick to common locations or your flag knowledge is on-point but it can make it harder to remember certain connections.
Regardless, using icons only for territories is poor practice in app localisation and UX design.
In fairness, we're being highly critical here but this shows how well these three VPN services perform in terms of usability. This is an area where a lot of VPN services fall short and the other apps featured in this article could learn from the three apps in this section.
Which VPN service is right for you?
Hopefully, this article has helped you choose the right VPN service for your needs. Even if you don't choose any of the VPNs featured in this article, we hope this has helped you clarify your priorities and understand the features that are most important to you.
As a team of remote workers, security and data protection are the most important characteristics of a VPN service for us. At the same time, we also need fast and stable connections so we can work without sacrificing too much speed or constantly having to change connections.
Luckily, the latest versions of ExpressVPN and NordVPN offer excellent connection speeds and stability with minimal compromise on security. Historically, the compromise between speed and security was much larger but technology has gradually narrowed the gap.
This makes it easy to recommend ExpressVPN and NordVPN as the best overall services for the vast majority of users. The only obvious exceptions would be if you need the absolute best security available or a cheaper alternative to the biggest names in the field.