Artificial intelligence (AI) and machine learning are dominating the tech scene right now and you only have to look at how much the likes of Google and Amazon are investing in these technologies to see how big a role they're going to play in our future lives – both professionally and personally.
However, there's always a lot of hype surrounding emerging technologies (if you can still call these emerging) and it's sometimes difficult to know where we really stand. So here are 37 marketing AI and machine learning stats to give you an idea of where the industry is, in plain numbers.
Strategy Statistics
1. 61% of marketers say artificial intelligence is the most critical aspect of their data strategy
Source: MeMSQL
2. 61% of Companies With an Innovation Strategy Are Using AI to Identify New Opportunities
Source: Narrative Science
3. Large Businesses With More Than 100,000 Employees Are Most Likely to Have an AI Strategy – but Only 50% of Them Currently Have One
Source: MIT Sloan Management Review
Productivity Statistics
4. 80% of Business and Tech Leaders Say AI Already Boosts Productivity
Source: Narrative Science
5. Current AI Technology Can Boost Business Productivity by up to 40%
Source: Accenture Future Growth Report
Technology Statistics
6. 97% of Mobile Users Are Using AI-Powered Voice Assistants
According to Creative Strategies, only 2% of iPhone users have never used Siri and just 4% of Android users have never used Google Assistant.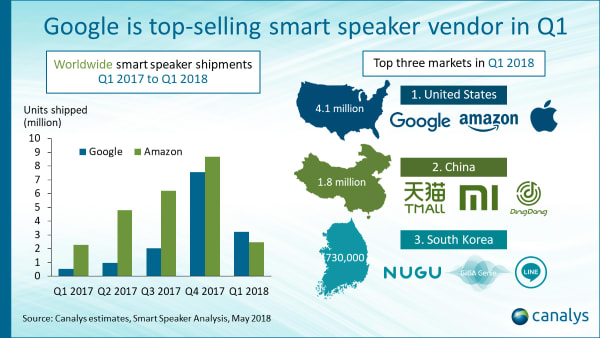 7. Smart Speakers Are the World's Fastest-Growing Technology Segment
Research from Canalys shows that the US, China and South Korea are the top three markets welcoming AI-powered devices into their homes.
8. the Washington Post's AI Writer (Heliograf) Wrote More Than 850 Stories During the Rio Olympics and US Presidential Election
Source: The Washington Post
9. Machine Learning Is Better Than Humans at Lip-Reading (in Controlled Environments)
This is one of many situations where machine learning is beating humans at complex tasks (statbot.co) but these tests are normally in highly controlled environments that favour machine learning.
10. When AI Is Present, 49% of Consumers Are Willing to Shop More Frequently While 34% Will Spend More Money
Source: PointSource
Team Statistics
11. Only 20% of Executives Feel Their Data Science Teams Are Ready for AI, While 19% Have No Data Science Team at All
Source: SAS
12. Netflix Saved $1 Billion in 2017 by Using Machine Learning to Make Personalised Recommendations
Netflix has reduced the number of people switching to rivals by improving the quality of its recommendations, according to Statwolf.
13. 83% of Early AI Adopters Have Already Achieved Substantial (30%) or Moderate (53%) Economic Benefits
Source: Deloitte
14. Marketers Waste 5 Hours and 36 Minutes Trying to Improve Their Data Processes (and Fail)
Research from Callcredit shows that 96% of senior marketers waste an average of five hours and 36 minutes every week trying to improve their data analysis processes.
15. 41% of Consumers Believe AI Will Improve Their Lives
Source: Strategy Analysis
16. AI Will Boost Profitability by 38% and Generate $14 Trillion of Additional Revenue by 2035
Source: Accenture
17. 20% of the C-Suite Is Already Using Machine Learning
Source: McKinsey
18. the Three Most in-Demand Skills on Monster.com Are Machine Learning (ML), Deep Learning and Natural Language Processing (NLP)
Source: Towards Data Science
19. 72% of Business Leaders Say AI Can Enable Humans to Concentrate on More Meaningful Work
Source: PWC
20. Business Execs Are Turning to AI to Cut Out Repetitive Tasks Such As Paperwork (82%), Scheduling (79%) and Timesheets (78%)
Source: PWC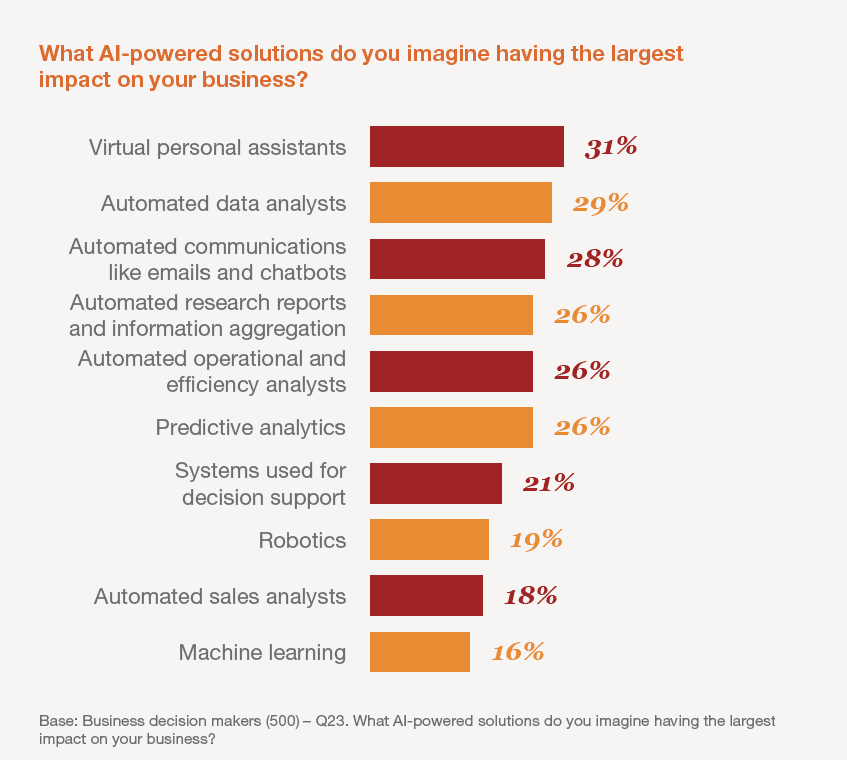 21. Execs Expect AI Personal Assistants (31%) and Data Analysis (29%) to Make the Biggest Impact on Their Businesses
Source: PWC
22. 44% of Consumers Don't Even Realise They're Already Using AI Platforms
According to Pega, only 33% of consumers think they're using AI-powered technology while 77% are already using AI platforms.
23. 43% of Millennials Would Pay a Premium for a Hybrid Human-Bot Customer Service Channel
Source: PWC
24. Amazon Reduced 'click to Ship' Time to 15 Minutes
With machine learning, Amazon has reduced the time between users clicking the buy button and their items being shipped to just 15 minutes on average – a 225% reduction, according to Wolfstat.
25. 44% of Organisations Fear They'll Lose Out to Startups If They're Too Slow to Implement AI
Source: Microsoft
26. There's Been a 14X Increase in Active AI Startups Since 2000
Source: Stanford University
27. 84% of Enterprises Believe Investing in AI Will Lead to Greater Competitive Advantages
Source: Statista
28. 87% of Current AI Adopters Said They Were Using or Considering Using AI for Sales Forecasting and for Improving E-Mail Marketing
According to Statista, 61% of companies using AI are already using the technology – or plan to use it – for sales forecasting.
29. Investment in AI Will Increase More Than 300% Over the Next Year
Source: Forrester
30. 67% of People Already Expect to See/use Messaging Apps When Talking to a Business
Source: Chatbots Magazine
31. 40% of Adults Now Use Voice Search at Least Once Per Day
Source: Location World
32. 30% of Market-Leading Companies Could Have Their Revenues Syphoned Off by AI
Source: Gartner
33. Only 17% of Email Marketers Planning for AI
This is despite more than half of email marketers planning to innovate with automation, according to Econsultancy.
34. AI Could Prevent 86% of Cyber Attacks and Security Threats
Source: MIT's Computer Science and Artificial Intelligence Laboratory
35. 45% of End Users Prefer Chatbots As the Primary Mode of Communication for Customer Service Inquiries
This is according to Grand View Research, which tells us we can't give up on chatbots despite their stuttering start to "life".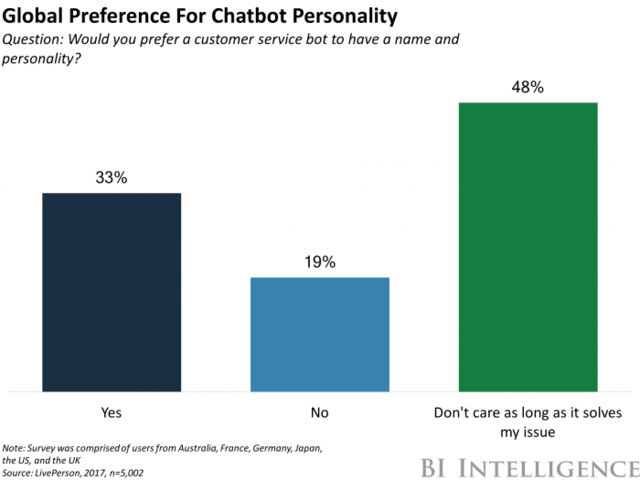 36. 33% of Consumers Like Using Chatbots Vs 19% Who Don't and 48% Who Are Indifferent
Source: LivePerson, BI Intelligence
37. 75% of Executives Say AI Will Be "Actively Implemented" in Companies Within the Next Three Years
Source: The Economist Intelligence Unit
What does all this mean for AI and machine learning?
Machine learning is here to stay – there's no question about this. As for AI, things are a little more complex as the technology has a lot of growing up to do. Tech companies are going to be selling AI features aggressively over the next decade (and beyond) but they're not all going to be that intelligent.
Marketers need to keep in mind that the current breed of AI is essentially machine learning and automation combined with the goal of discovering and implementing insights that human teams aren't capable of doing as quickly or on such a large scale.
Using the technology for this purpose is already a requirement for companies that want to make the most of data, create efficient workflows and boost productivity. What AI isn't ready to do yet (and may never be) is make highly creative decisions or anticipate complex emotional responses.
This is where AI is going to create more jobs that it steals by handling more of the menial repetitive tasks that dominate marketers' workloads, allowing us all to spend more time on the creative decisions that truly make an impact.