Maintaining a social media presence is essential for any business today. Platforms such as Twitter, Facebook, YouTube, TikTok, and Instagram give you the opportunity to build a relationship with existing customers and connect with new ones.
In fact, social media is the single biggest source of inspiration for purchasers, and 71% of consumers say they would recommend a brand based on positive social media interactions.
In other words, social media is anything but a waste of time.
That said, taking care of multiple social media profiles can be a time-consuming task. It's easy to spend hours searching for content to post and replying to comments. Most smaller teams simply don't have that kind of time for tweeting.
One way to make the process more efficient is by using specialist social media management tools.
There are literally hundreds of these apps to choose from, all offering something different. Some allow you to schedule posts in advance. Others respond to messages automatically and track important stats.
The trick is finding the option that best suits your needs and your budget.
At Venture Harbour, we don't like to leave you hanging. To help you start reaping the rewards of social media marketing, we have put together a comprehensive guide to the best tools for every use-case and budget.
What Makes a Great Social Media Management Tool?
The main purpose of any social media management tool is to supplement the features of each network to save time or improve engagement.
In simple terms: these apps help you work smarter, not harder.
Social networks are diverse, and there are many ways for companies to utilise them for marketing. As a consequence, social media tools are equally diverse in terms of functionality.
Common tasks that these tools can assist with include:
Creating content
Publishing and scheduling posts
Planning content strategy
Monitoring replies and comments
Tracking live trends
Measuring engagement
Managing multiple profiles
Some tools are generalists, while others focus on specific tasks or networks. In both categories, the shining examples can help you build an audience, increase engagement, connect with potential customers, and drive traffic to your website.
The Best Social Media Management Tools
For every social media management tool available today, there are five more capable apps that can fill the same role.
To help you find the best option for your business, we have put together a list of our favourites:
(Note: Unless specified, all prices reflect annual billing)
Best social media management tool for startups and entrepreneurs
In an ideal world, you don't want to be hopping between different tools to manage different networks. That's why we like Crowdfire.
Billed as "the only social media manager you'll ever need," this platform lets you handle Twitter, Facebook pages, LinkedIn, Instagram, and Pinterest in one workflow.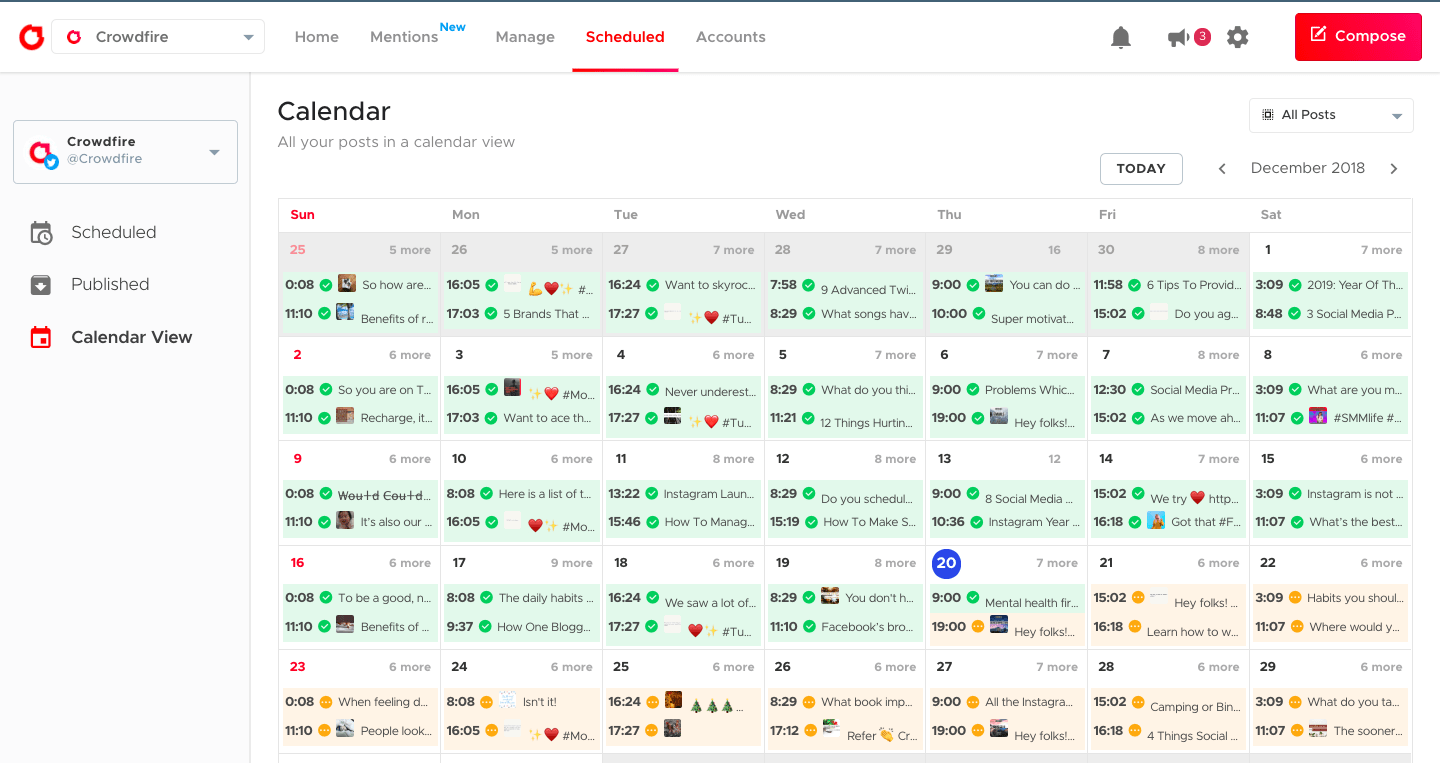 The main purpose of this tool is posting and scheduling. Crowdfire helps you find relevant content from around the web, with a curation feature that can filter content by topic.
Alternatively, you can convert existing content on your website into shareable posts. This is really useful for promoting blogs and new products.
The platform has a pop-up calendar to help you schedule posts in advance, or you can allow Crowdfire to suggest the best time to share. Before you publish, tailored previews provide a sneak peek of how your post will look on each platform.
To help you figure out your return on investment, Crowdfire offers detailed analytics reports. Along with views, likes, and other standard metrics, the app helps you track your competitors.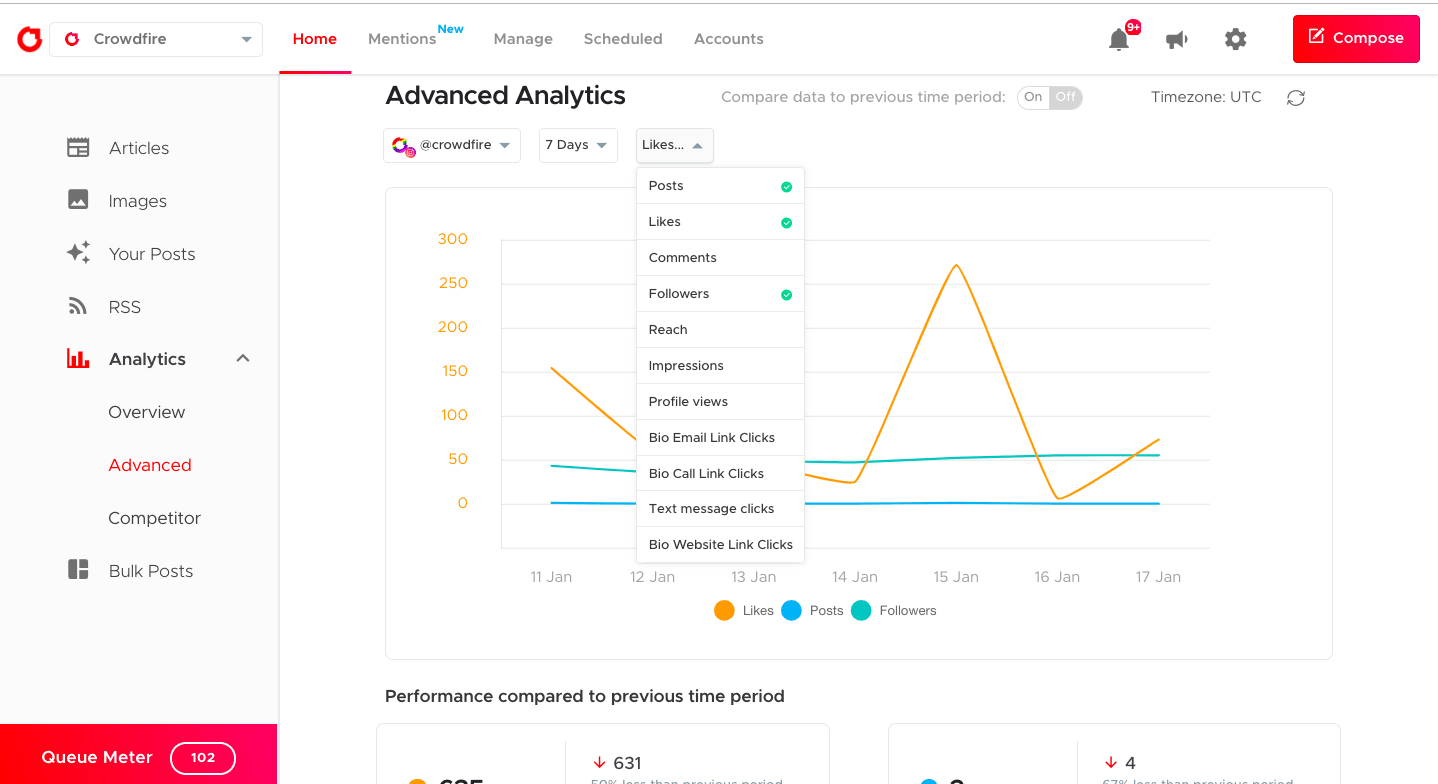 Crowdfire also allows you to manage incoming replies, comments, and messages. Through one inbox, you can reply to people on all your networks.
For startups and small businesses looking for a complete solution, Crowdfire is probably the best option around right now.
Key features:
Manage Twitter, Facebook, LinkedIn, Instagram, and Pinterest
Powerful curation and scheduling features
Share content directly from your website, blog, or online store
Detailed analytics reports incl. competitor analysis
Handle comments and messages in one workflow
Pricing: Crowdfire is free for three social accounts and 10 scheduled posts a month. There are three paid-for plans.
Plus – $7.48/month for five accounts and 100 posts per account each month
Premium – $37.48/month for 10 accounts, bulk scheduling, and calendar view
VIP – $74.98/month for 25 accounts, 800 posts per account, all features
Check out Crowdfire to learn more.
Best for Instagram marketing
If your social media marketing efforts focus on visual content, we would recommend Iconosquare.
This premium tool only works with Instagram business accounts and Facebook pages, but it has features you won't find anywhere else.
In particular, Iconosquare excels at stats. The platform collects an impressive array of metrics, from average engagement to organic reach. Tracking posts and stories, demographic data provides valuable information about your audience.
Use promoted posts? You will get a before-and-after comparison. You can even see how your posts are performing against the big names in your niche, with 100 industries to choose from.
Iconosquare has good scheduling options, too. You can upload images in bulk and share posts, Stories, and Facebook updates across multiple accounts.
We particularly like the calendar view. Here you see a preview of the images scheduled for each timeslot, meaning you can plan out your posts visually.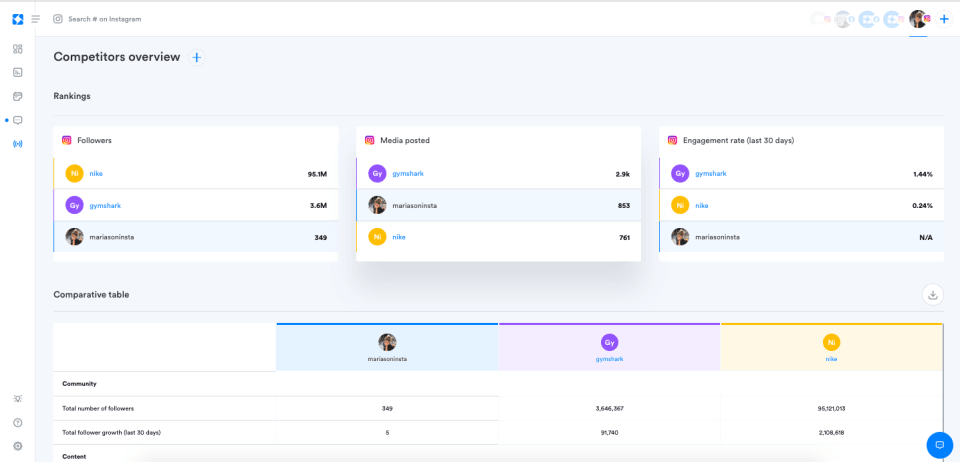 Hashtags play an important role on Instagram, and Iconosquare lets you track them. This makes it easier to run promotions and curate user-generated content. In addition, the platform tracks every mention and every time you are tagged.
Used by brands such as L'Oréal and National Geographic, this platform is the real deal when it comes to Instagram marketing.
Key features:
Works with Instagram and Facebook
In-depth stats incl. promoted posts
Compare your performance with leaders in 100 industries
Schedule in bulk for multiple accounts
Track hashtags and mentions
Pricing: After a 14-day free trial, pricing for Iconosquare starts with a Pro account at £29/month (~$38). Teams wishing to collaborate will need the Advanced plan at £59/month (~$77) or a custom Agency plan.
Check out Iconosquare to learn more.
Best for easy post scheduling
At Venture Harbour, we like tools that are simple yet effective. Buffer definitely falls into this category.
Whereas many social media platforms ask you to schedule posts individually, Buffer acts like a queue. You simply create a schedule for the week and load your content. The app does the rest, pushing posts out of the door at every designated time slot.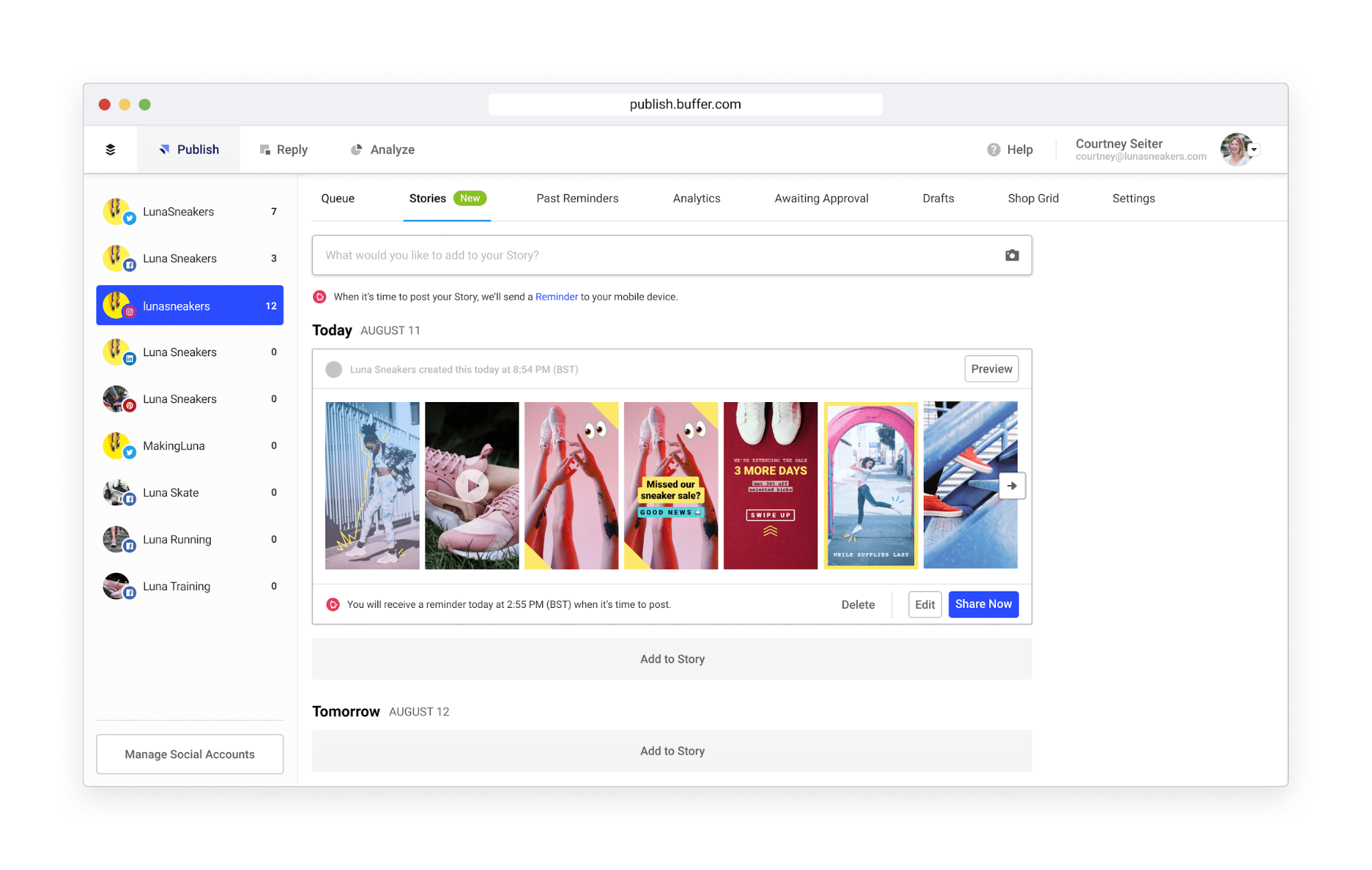 This system works well for solopreneurs and small teams with limited time. Install the Buffer Chrome extension or mobile app, and you can share whatever you are reading with a couple of taps.
It's a great way to maintain an active social media presence with minimal effort.
With Buffer, you can schedule for Twitter, Facebook, Instagram, Pinterest, and LinkedIn. The interface is clean, and you won't need to spend hours learning how to use this app.
For businesses that want to spend more time on social media marketing, the Pro and Premium plans unlock some more powerful features.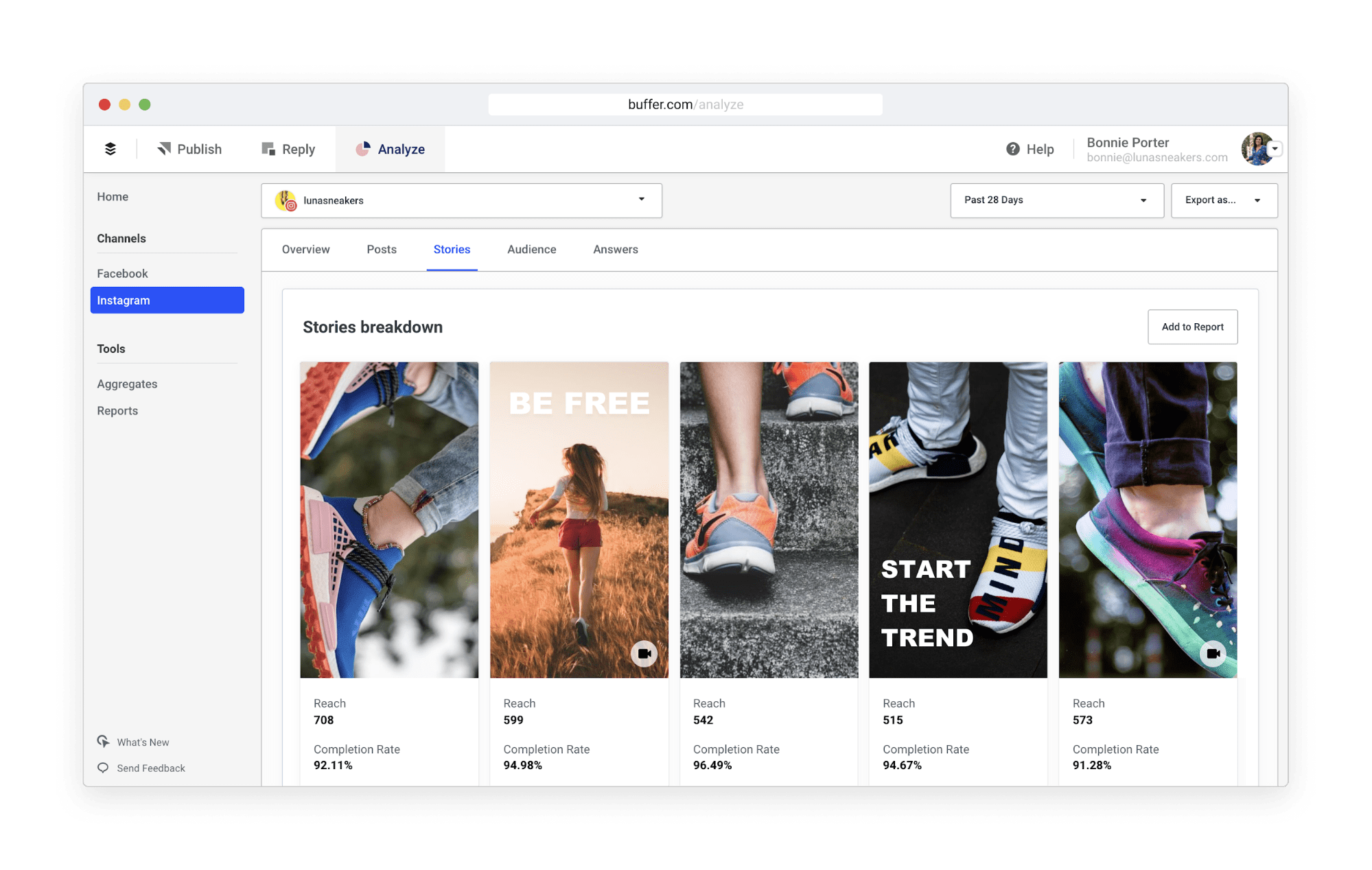 This list includes visual post planning, user-friendly analytics, custom reports, and collaboration features — all delivered with a sense of style.
We are not alone in our admiration for Buffer; notable companies that use this platform include Spotify and Shopify.
Key features:
Scheduling for Twitter, Facebook, Instagram, Pinterest, and LinkedIn
"Set it and forget it" queuing system for content
Clean interface and easy to use
Powerful analytics for larger businesses
Collaboration features for teams
Pricing: Buffer is free for three accounts and 10 scheduled posts a month. There are three premium "Publish" plans.
Pro – $12/month for eight social accounts and 100 posts
Premium – $56/month for two users and 2,000 posts
Business – $85/month for 25 social accounts and six users
To unlock analytics, you will need the Analyze Pro ($35/month) or Premium ($50/month) plan.
Check out Buffer to learn more.
Best for curating engaging content
Most small businesses have to rely on curation to drive social engagement. We think Post Planner is the best tool for this job.
Aimed mainly at startups and freelancers on a tight budget, this platform helps you line up like-worthy posts in three easy steps.
To help you find content that will interest your audience, Post Planner has an intelligent discovery engine. You just type a subject, and the app will offer a selection of links that are drawing clicks online.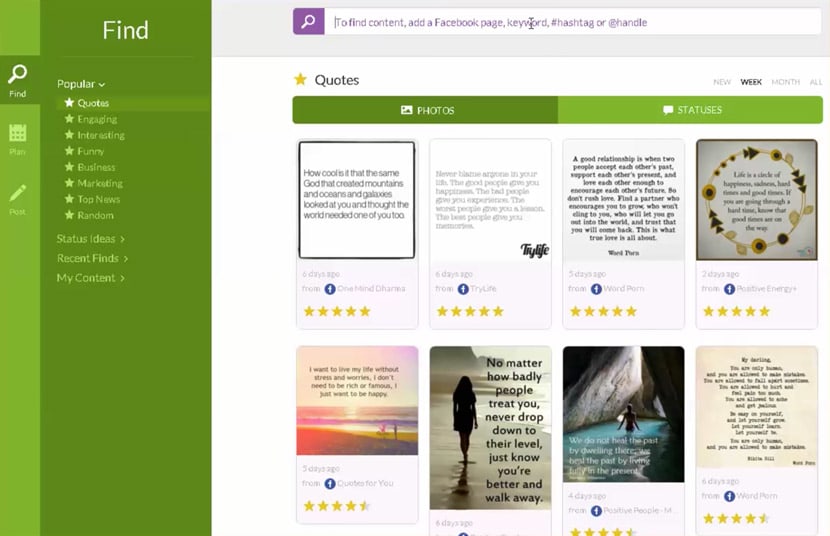 The Pinterest-like masonry interface allows you to scan quickly. In addition, Post Planner has a 5-star rating system that predicts the likely impact of posting any given link.
Having collected some content, you can set up a posting schedule. One nice feature is the option to specify what kind of content (article, image, video, etc.) to share in each timeslot.
When it comes to posting, Post Planner optimises content for each network and collects key performance stats. This tool currently works with Facebook groups and pages, and Twitter; others are coming shortly.
For individuals and small businesses, the impact of this app is impressive. A huge study conducted by Buzzsumo and Buffer found that Post Planner delivered 510% better engagement on Facebook pages than its nearest competitor.
Key features:
Works with Facebook groups and pages, and Twitter
Powerful discovery engine for finding content to post
5-star rating system predicts popularity
Simple scheduling with option to sort by content type
Very affordable
Pricing: Post Planner is one of the most affordable tools on this list, with three standard plans on offer.
Starter – $3/month for three social accounts and 30 posts per day
Love – $9/month for 10 accounts and 100 posts per day
Guru – $19/month gives you 25 accounts, 500 posts, and five users
For larger businesses, there are Enterprise plans ranging from $49 to $199 per month.
Check out Post Planner to learn more.
Best for automation
As the owner of a small business, you probably won't have the budget to hire a full-time social media manager. Instead, you might want to try Edgar.
Instead of merely publishing your tweets, Edgar actually helps to write them. The platform utilises machine learning technology to extract key quotes from your existing content, which you can share or schedule with a click. It's pretty obvious how this will save time.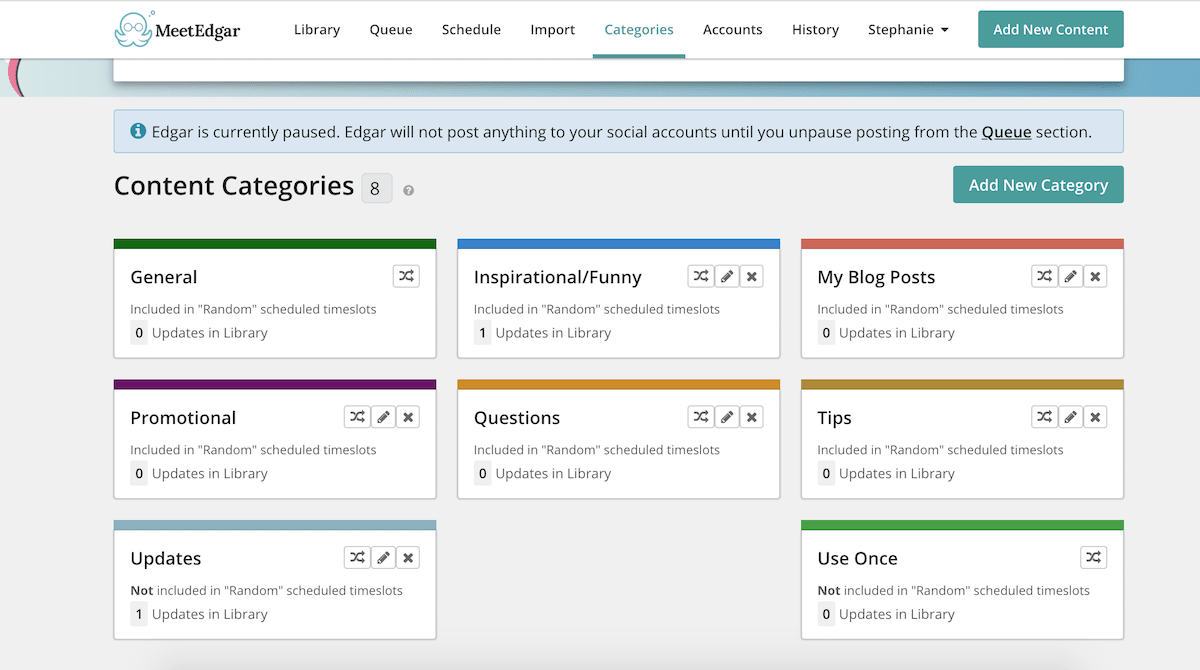 Edgar can pull wise words from pages, blog posts, and even audio-visual content such as podcasts and YouTube videos. Your library can save anything you don't use initially for later use.
To maximise the impact of your posts, Edgar runs automatic A/B split testing. For anyone still figuring out social media, this feature is mighty helpful.
Edgar posts to Twitter, Facebook, LinkedIn, and Instagram, and the platform supports a huge range of content sources.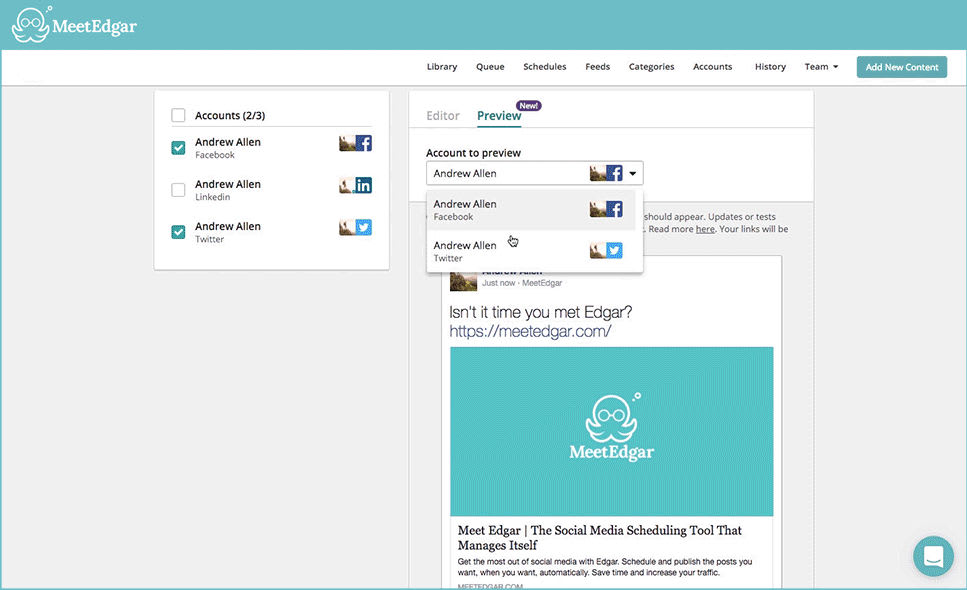 The thing we like most about this platform is that you can set up rules for everything. For instance, you can ask Edgar to recycle content or post only once for a promotion. It's a tool that maximises your impact and minimises effort.
Just as importantly, the team behind Edgar offers impressive live support.
Key features:
Schedule posts for Twitter, Facebook, Instagram, and LinkedIn
Turn existing content into shareable updates
Continual posting of new content and recycled updates
Automated A/B testing
Detailed rules for scheduled posting
Pricing: You get 30 days free, and then you can upgrade to one of two tiers.
$19/month for three accounts and 10 scheduled posts per week
$49/month for unlimited accounts and posts, plus the full feature list
Edgar doesn't offer annual discounts, so these prices come without a 12-month commitment.
Check out Edgar to learn more.
Best for visual sharing
Pinterest has a fast-growing community of highly engaged users who are ready to buy. At Venture Harbour, we regard Tailwind as the best tool for sharing content on this visual discovery network.
Designed specifically for managing Pinterest and Instagram accounts, Tailwind lets you schedule pins and posts in bulk. Content is published when your audience is online, and evergreen posts are automatically recycled.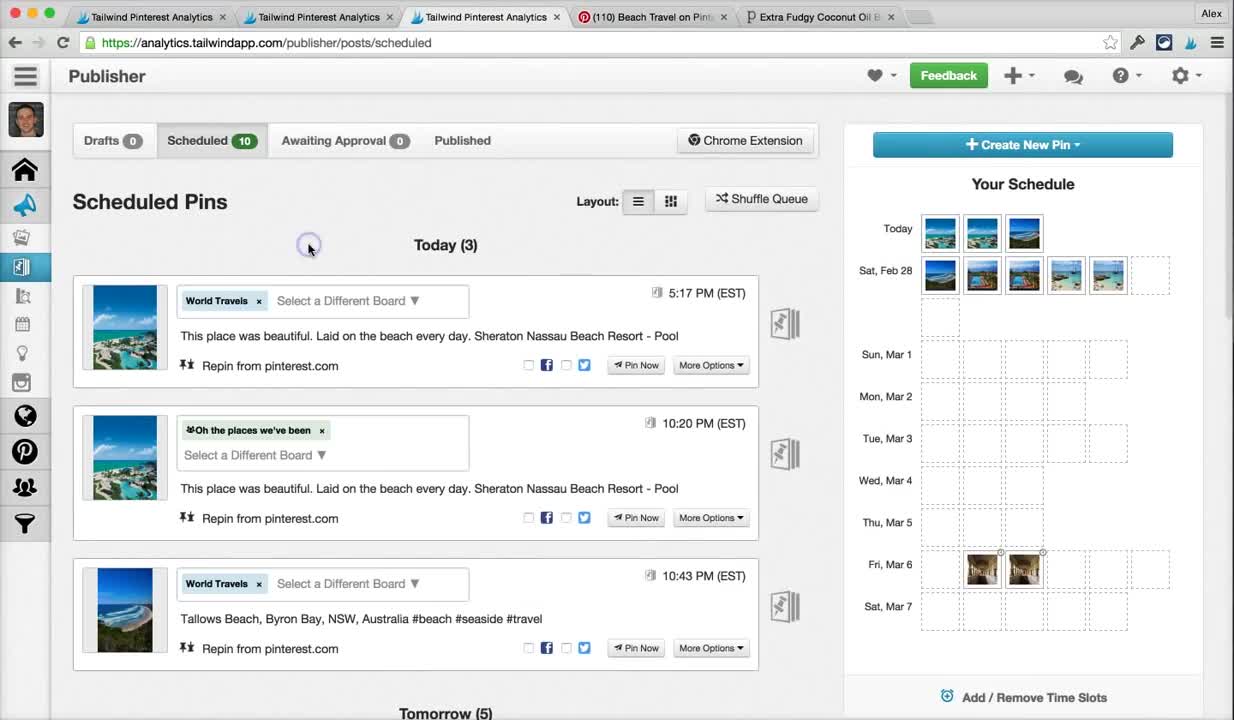 Tailwind also allows you to create groups of Pinterest boards. This means you can share pins on multiple boards with one click.
To boost your Pinterest marketing further, you can join Tailwind Tribes. These are small communities of users who share common interests and work together for their common benefit.
As an official partner of Pinterest, Tailwind provides guidance on best practices. Regular on-screen hints tell you whether you are doing just fine or overstepping the mark.
Tailwind is an official partner of Instagram, too. The platform provides an attractive visual calendar for planning posts in advance, with a layout that mimics the Instagram grid. This means you can preview how your profile will appear before you share.
Other useful features include caption templates and formatting tools, relevant hashtag suggestions, and mental cues to get your creative juices flowing.
Key features:
Works with Pinterest and Instagram
Smart scheduling for pins and posts
Share pins to multiple boards at one time
Get social with 4,000+ niche communities
Visual planner and caption templates for Instagram
Pricing: You can try Tailwind free for your first 100 pins and 30 Instagram posts. After that, it's $9.99 per month for each Plus account (Pinterest or Instagram).
Pricing for SmartLoop (content recycling) and Tailwind Tribes starts at $4.99 per month.
Check out Tailwind to learn more.
Best for keeping track of multiple networks
You can't really go wrong with Hootsuite. This social media management platform has been around forever, but it's still a versatile and powerful tool.
Hootsuite was one of the first apps that allowed you to schedule content across multiple accounts. This feature still works well, with support for Facebook, Twitter, LinkedIn, Instagram, YouTube, and more than 30 other social media platforms.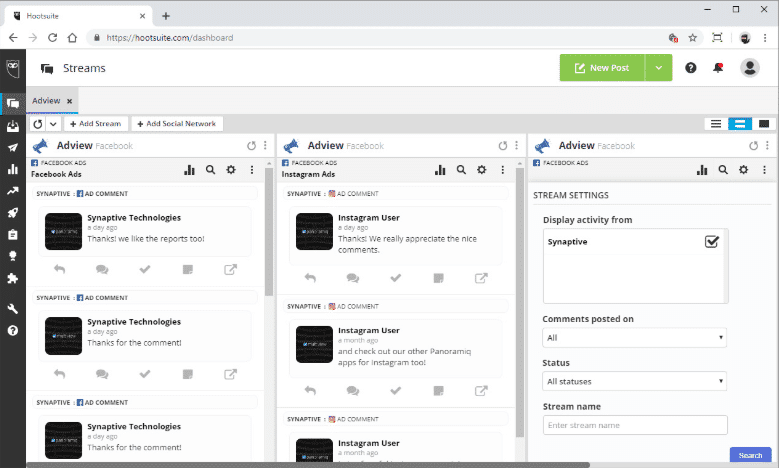 However, the greatest strength of Hootsuite is monitoring. The app allows you to create feeds from all your social accounts, and view them in a single side-scrolling dashboard. This includes your timeline, mentions and replies, lists, specific topics, and even individual users.
This makes it very easy to see when people are talking about your company, so you can join in the conversation.
Another standout feature of Hootsuite is the way this platform works with other tools.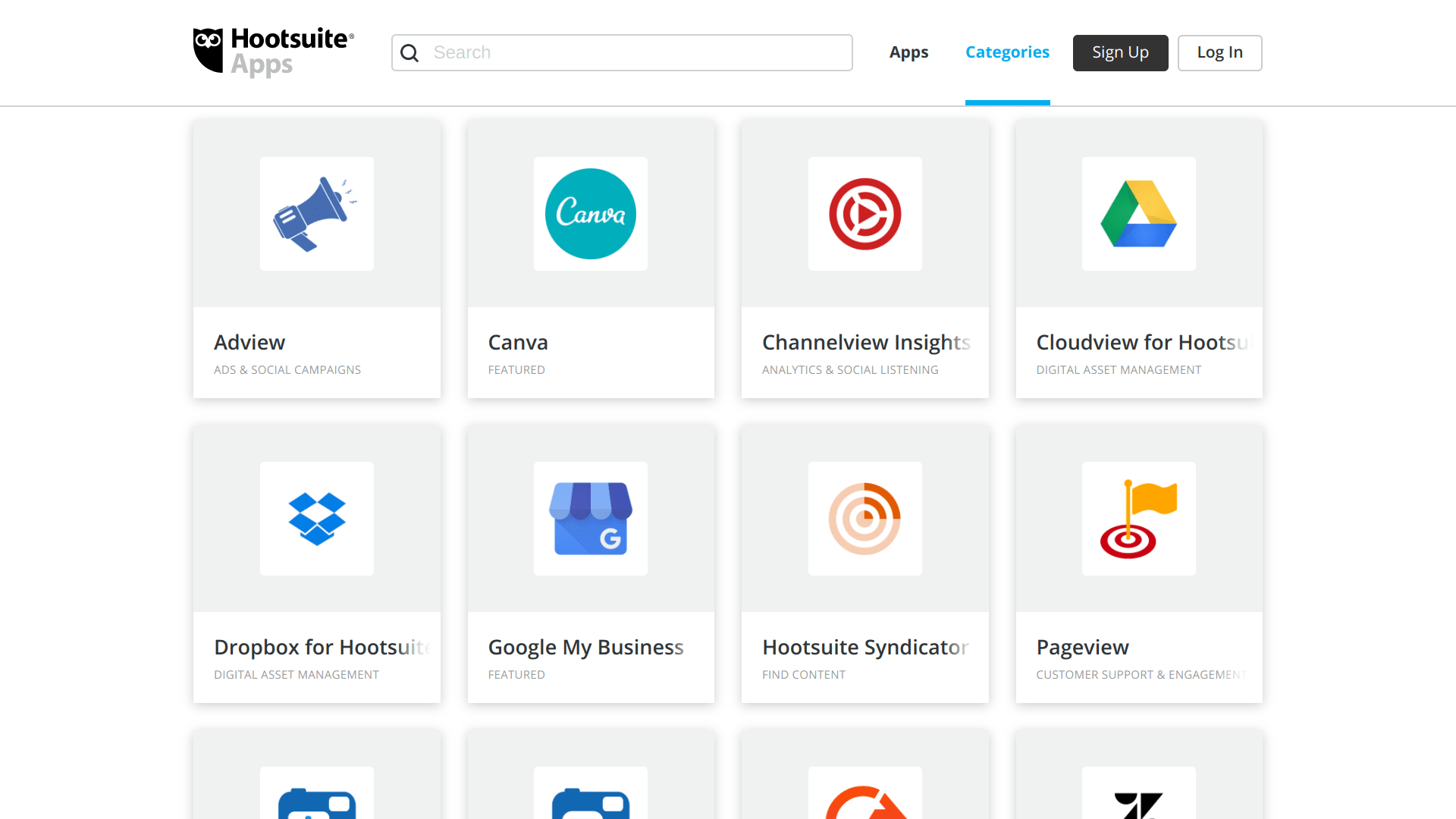 The official app directory includes 250 integrations, from Adobe Stock to Zendesk. This is really useful for automating replies, syncing social interactions with your CRM, and importing content.
To help teams work together, Hootsuite also has some really nice collaboration features. The app offers a range of team management options, such as the ability to assign tasks to colleagues.
It might not be the prettiest app, but Hootsuite is brimming with functionality.
Key features:
Works with Facebook, Twitter, Instagram, YouTube, and many more popular platforms
Scheduling for multiple accounts
Great layout for monitoring interactions and topics
Integrates with 250 third-party apps
Collaboration features for shared social media management
Pricing: Hootsuite is free for one user, three social profiles, and 30 scheduled messages. You then have two options.
Professional – $29/month for 10 profiles and unlimited scheduling
Team – $129/month for 20 profiles and three users.
For larger companies, the Business plan ($599/month) provides 35 profiles and five or more users.
Check out Hootsuite to learn more.
Best for posting blog content
Perfect for individuals and the smallest startups, Revive Old Posts reduces the amount of time you have to spend on promoting your blog.
This premium WordPress plugin automatically retrieves the featured image and title of existing posts on your website. The plugin shares this content on a rolling basis, according to a schedule you choose.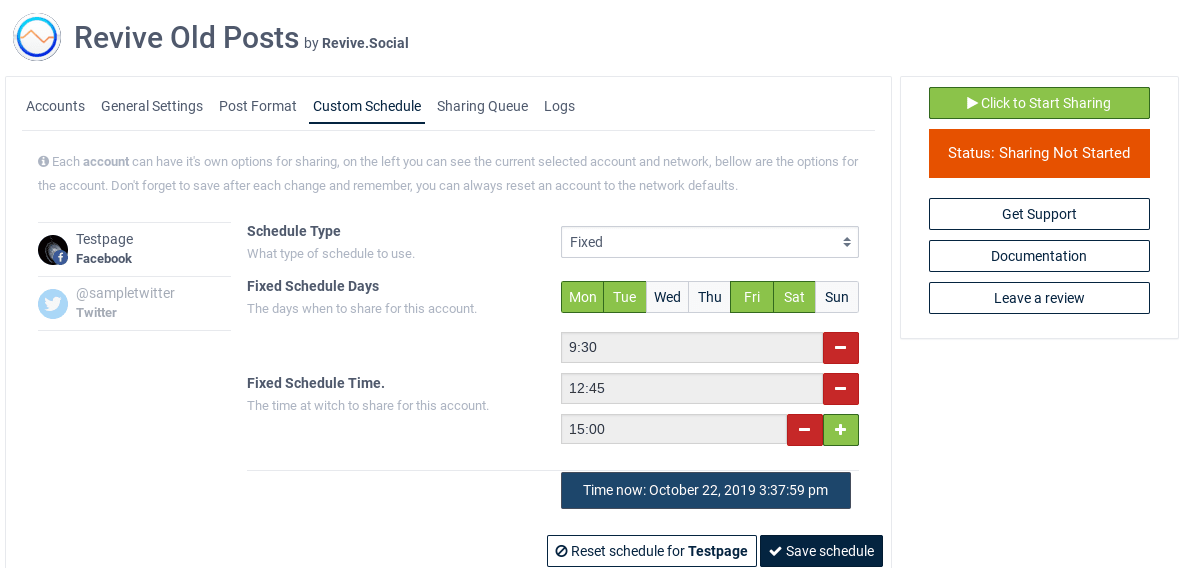 This ensures your social profiles are never quiet for long, even if you are occupied with other things. Just as importantly, people who follow you on social media are less likely to miss your best content.
Revive Old Posts works with Twitter, Facebook, LinkedIn, Instagram, Pinterest, Tumblr, Buffer, and Google My Business. You have complete control over what is shared, and the plugin can grab hashtags from WordPress tags or categories.
Along with blog posts, you can use the plugin to promote media, products, pages, and other content on your website.
Revive Old Posts supports most popular link shorteners, so it's fairly easy to see what is earning clicks. Based on this data, you can then choose whether to repeat sharing content.
It's a very useful little tool.
Key features:
Plugin for WordPress
Connects with Twitter, Facebook, Instagram, LinkedIn, Pinterest, Tumblr, Buffer, and Google My Business
Automatically retrieves and shares content from your site
Custom posting schedule and tags
Compatible with popular link shorteners
Pricing: The plugin is free to install and use. To unlock most of the social integrations, you can pay $75 for a Personal licence.
A Business licence ($149) covers three sites with custom scheduling, while the Marketer licence ($299) supports unlimited sites. All three tiers include one year of support and updates.
Check out Revive Old Posts to learn more.
Best for building a content calendar
It would be fairer to describe CoSchedule as a full marketing suite rather than just another social media tool.
This platform focuses on planning ahead, with an interface that is dominated by calendar views. In one view, you can see all your content for the month.
As your strategy takes shape, you can schedule content within the app. CoSchedule lets you share to all the big social platforms, and there is a WordPress plugin for publishing blogs.
To speed up the process, you can create reusable schedules known as social templates.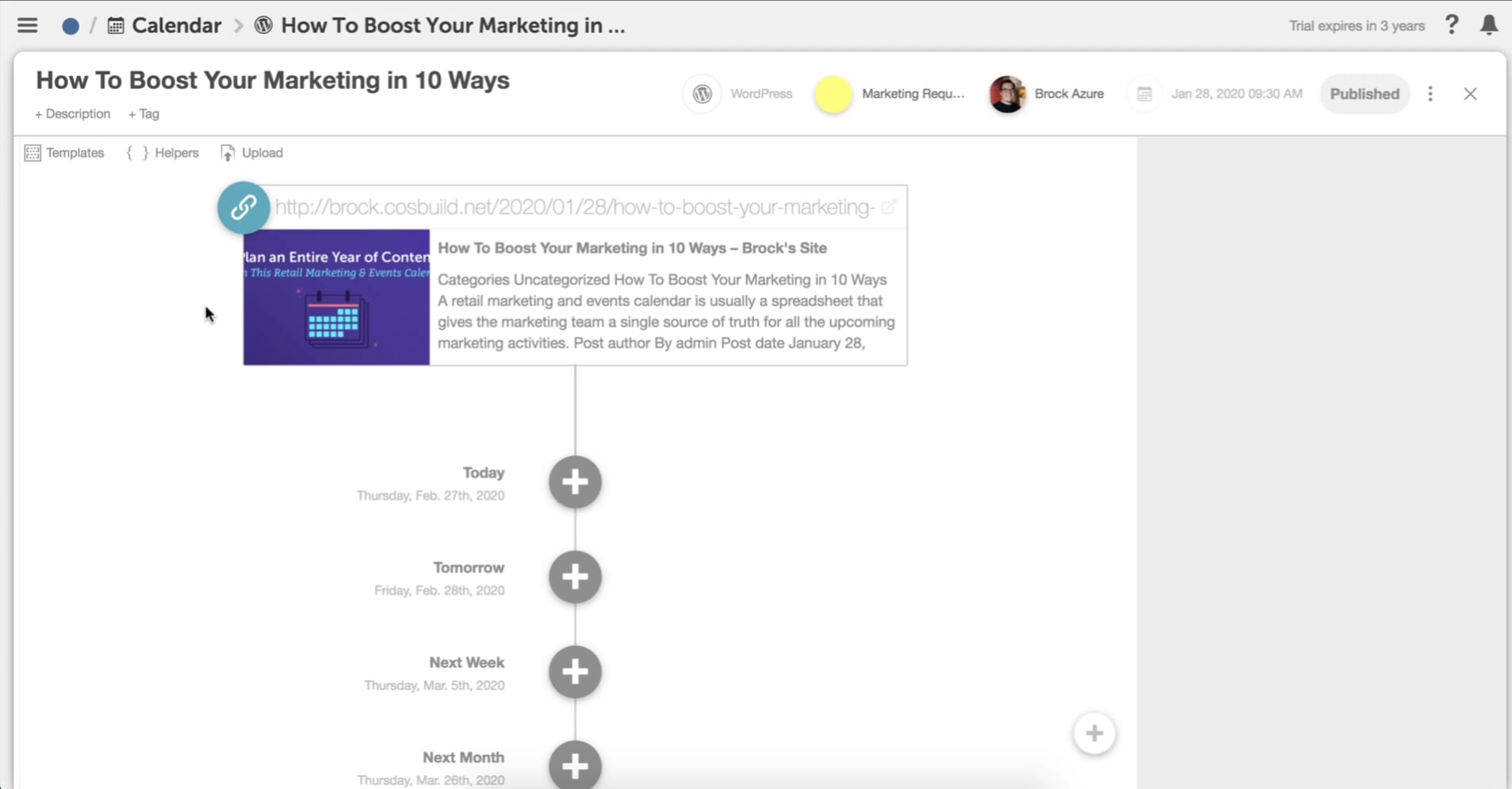 Suppose you want to promote a blog post. You might wish to schedule multiple tweets, pins, and status updates in the days after the post is published.
Rather than doing this manually for every post, you can create a social template and use it over and over again. This is a huge time saver, particularly for startups that produce a lot of content.
Another thing we particularly like about CoSchedule is the intuitive interface. Once you add content to your calendar, you can drag and drop it wherever you please.
Best-time scheduling helps you reach your audience, and CoSchedule offers a range of powerful reporting options to track your performance on each social platform.
Key features:
Works with Facebook pages and groups, Twitter, Instagram, Pinterest, LinkedIn, and Tumblr
Calendar-based interface for content planning
Manual and best-time post scheduling
Option to create template schedules for social promotion
Easy-to-read reports
Pricing: Starting at $14/month for each user, CoSchedule is very affordable for small outfits.
For $29/month, the Marketing Calendar plan adds a social inbox, email marketing, advanced metrics, and other benefits.
Check out CoSchedule to learn more.
Best for creating eye-catching posts
Most Instagram tools focus on hashtags and scheduling. Sked Social has both of these bases covered — but we like this app because it helps you create great content.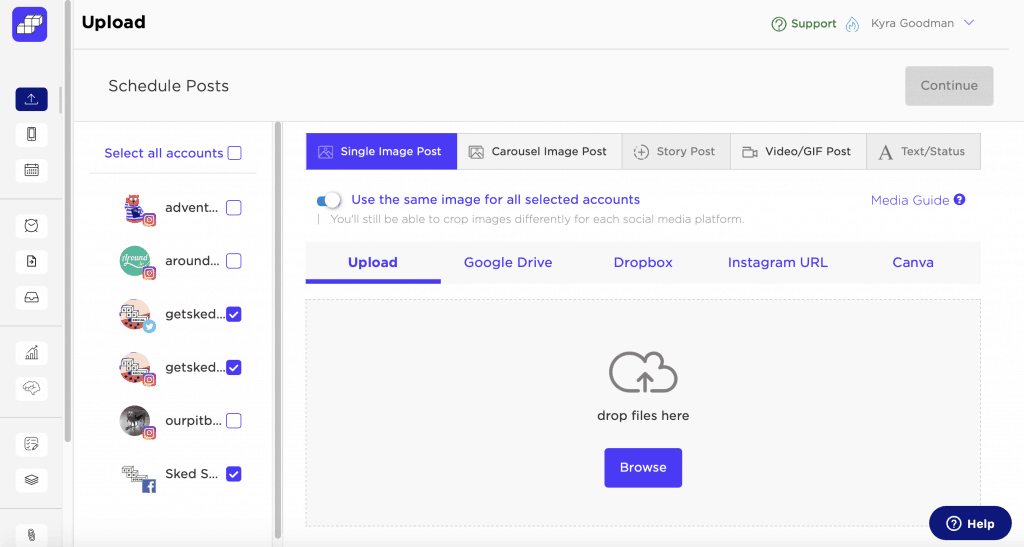 The built-in image editor lets you play with more than 60 filters. You can also crop photos to the perfect size, add text overlays, and slap on some stickers.
If you prefer to use Canva, you can import images and videos directly from your account there.
Once you are satisfied with your work, you can add content to your Sked Social queue. As with other apps, you can set a custom schedule and drag posts into your desired order.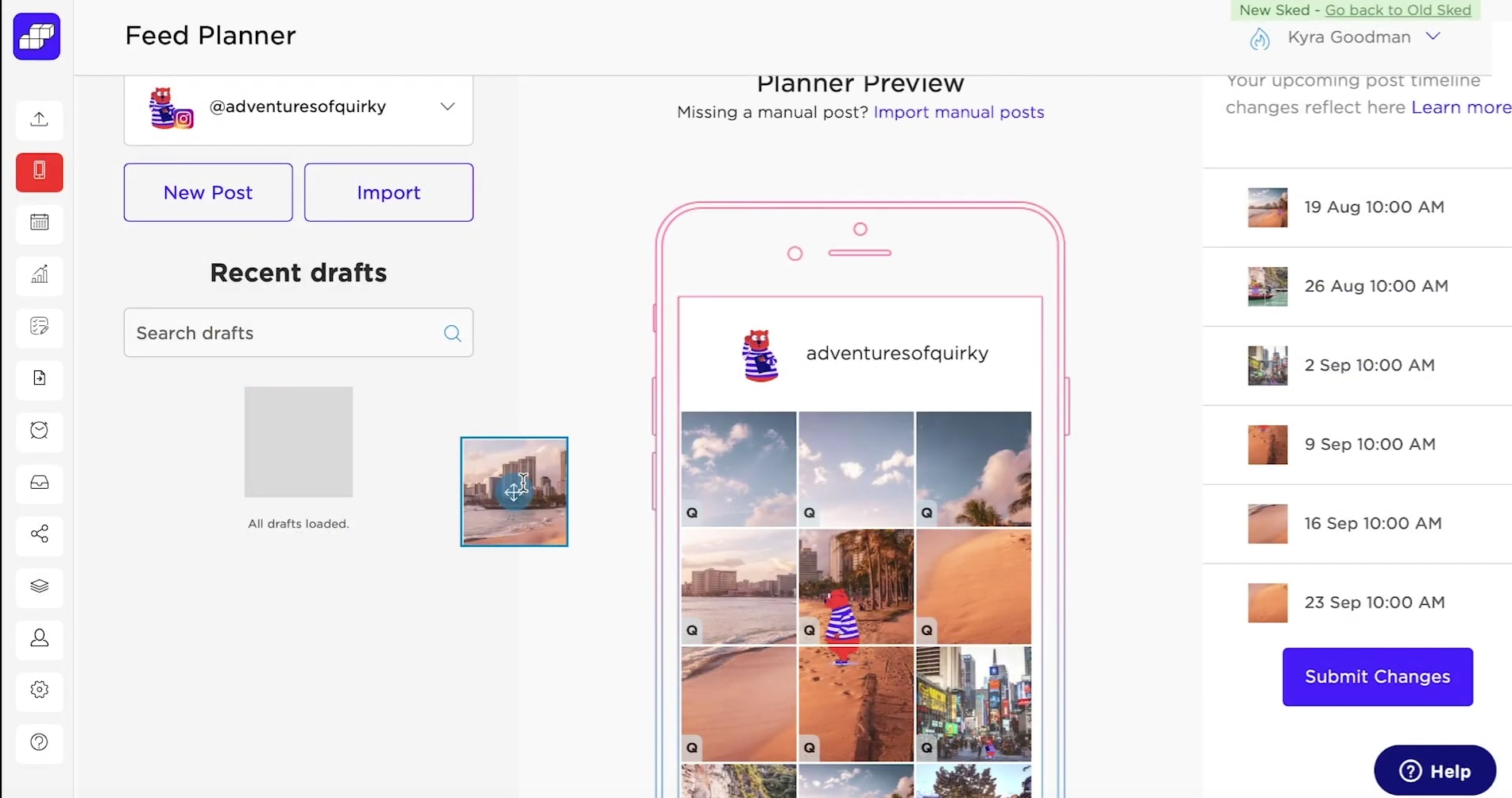 This platform also offers a full calendar planner, with views for months, weeks, and days.
Sked Social helpfully populates the calendar with notable events — #nationaldonutday or #weinerdogweek, for example. This ensures your social profiles are always posting timely content.
To speed up the scheduling process, Sked Social allows you to create post templates. This means you no longer have to tag the same accounts and type out the same hashtags on every post.
For teams, Sked Social also offers some nice collaboration tools. Marketing managers can review posts created by colleagues before they go live, while the in-house commenting system encourages quick revisions.
Key features:
Works with Instagram, Facebook groups and pages, LinkedIn, and Twitter
Built-in photo editor helps you create eye-catching posts
Import directly from Canva
Visual planning calendar with notable events
Review and comments system for teams
Pricing: There are three pricing tiers that suit small businesses.
Fundamentals – $21/month for one Instagram account and two other profiles
Essentials – $63/month for three Instagram accounts and six other accounts, with unlimited users and most features
Professional – $113/month for five Instagram accounts and 10 other accounts
For a small fee, you can add extra profiles to each of these accounts. For big brands, Sked Social also offers a $219/month Enterprise tier.
Check out Sked Social to learn more.
Best for tracking your most shared content
This super-simple tool reveals how many times any webpage has been shared and liked on two key platforms: Facebook and Pinterest.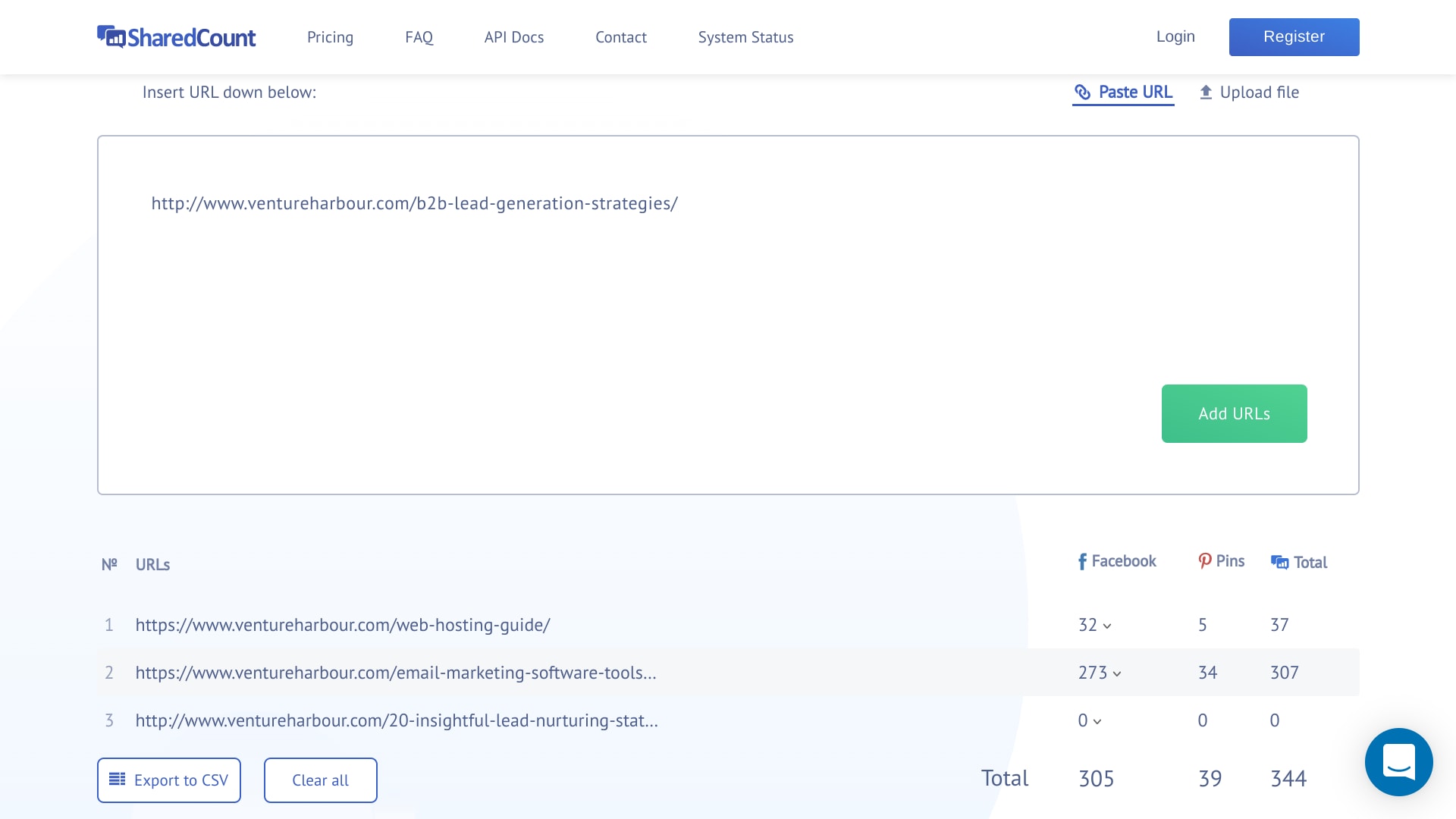 With the web version, you simply paste in URLs; SharedCount also has an API that is used by sites like Moz and SEMrush.
Key features:
Works with Facebook and Pinterest
Finds the number of shares, likes, comments, and reactions for any URL
Web interface for checking lists of links
API for bulk stats
Pricing: The web version is free to use for 500 queries per day. API plans range from $40 to $640 per month, providing huge quotas.
Check out SharedCount to learn more.
With a dazzling array of features, Sprout Social is probably overkill for small operations. However, this platform helps you manage every part of your social media strategy — from scheduling to monitoring replies. It's particularly suited to marketing teams who need to collaborate on campaigns, and sales teams who want to connect with clients.
Key features:
Works with Twitter, Facebook, LinkedIn, Pinterest, Instagram, and YouTube
Option to create automations that promote engagement
Deep analytics and monitoring tools with granular filtering
Scheduling and planning options including a visual calendar
Collaboration tools for marketing and sales teams
Pricing: As you might expect with this level of functionality, Sprout Social isn't cheap. After a 30-day free trial, there are three plans:
Standard – $99/user/month for five profiles
Professional – $149/user/month for 10 profiles + custom workflows
Advanced – $249/user/month for digital asset management, chatbots, and more
There are no annual payment options, so you don't have to commit.
Check out Sprout Social to learn more.
This stylish platform supports every major social network along with Google My Business — useful for enhancing your search visibility. Content suggestions from Google Alerts help you stay relevant, and a built-in editor helps you create content.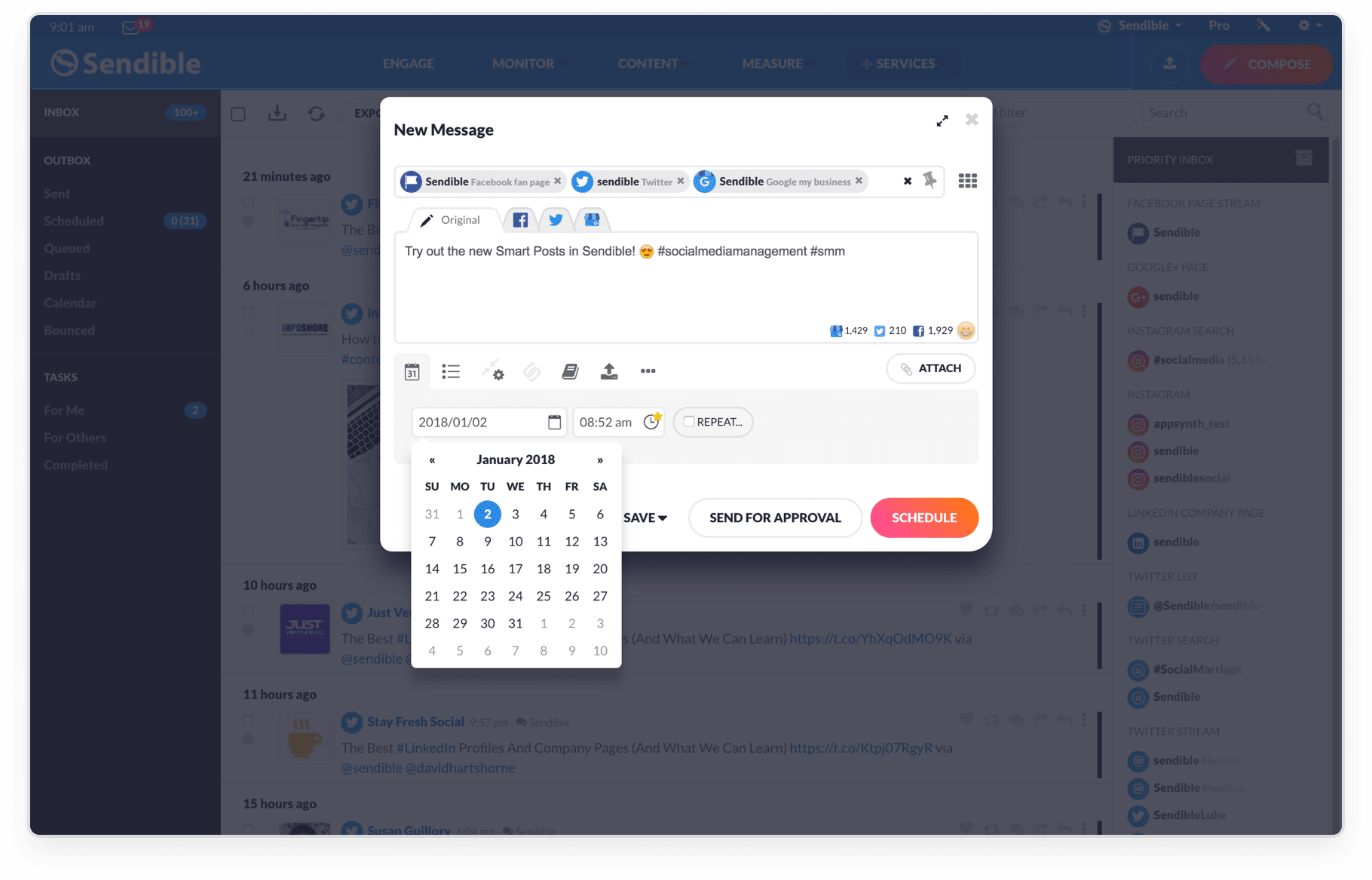 The only reason Sendible doesn't rank higher on this list is that the platform is mostly targeted at agencies and larger companies.
Key features:
Supports Twitter, Facebook, LinkedIn, Instagram, Pinterest, and Google My Business
Create and schedule content through a stylish interface
Approval system and collaborative workflows for teams
Manage paid promotions via Google My Business
Extensive monitoring and analytics tools
Pricing: Sendible offers four plans, although only the first will appeal to small businesses and individuals:
Starter – $24/month for 12 services
Traction – $84/month for three users and 48 services
Growth – $169/month for seven users and 105 services
Large – $254/month for 12 users and 192 services
Check out Sendible to learn more.
MavSocial is not unlike Hootsuite, with good scheduling features and a multi-column layout for monitoring. It also offers an array of analytics and support for more than the usual social media suspects.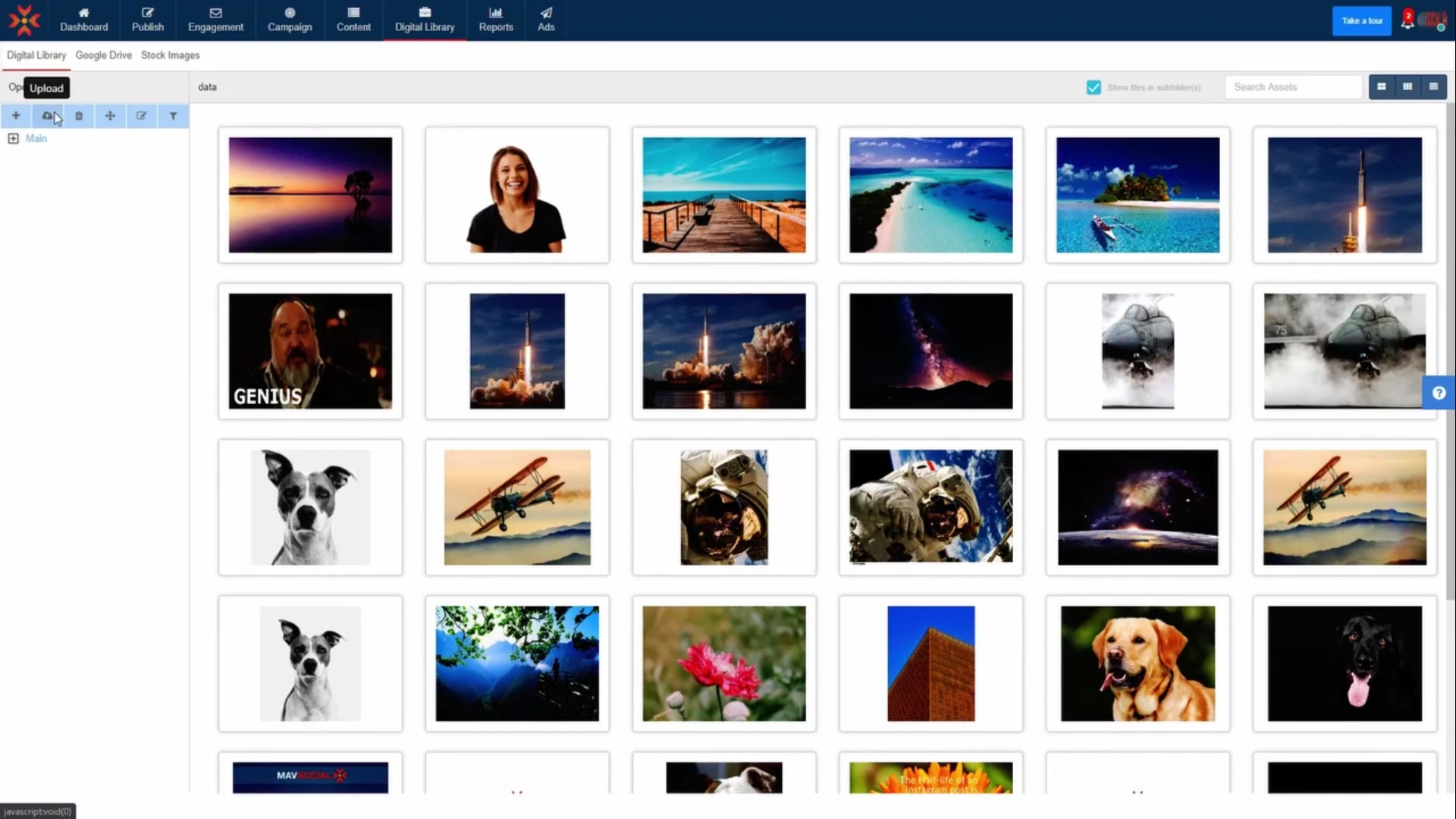 Where this platform excels, however, is when you need to find some visual content to share. You can search for stock images and attach them to your posts without leaving the app.
Key features:
Works with Twitter, Facebook, Instagram, LinkedIn, YouTube, Google My Business, and more
Straightforward tools for scheduling and re-using content
Single inbox allows you to reply on multiple platforms
Multi-column layout helps you track specific topics
Search stock images libraries inside the app
Pricing: After a 14-day free trial, there are two plans to choose from with MavSocial.
Advanced – $16/month for 10 profiles
Pro – $65/month for three users, 30 profiles, 1-on-1 training, sentiment analysis, and more
Check out MavSocial to learn more.
Although Falcon largely focuses on the fundamentals of social media management, this platform has more to offer.
Along with calendar-based scheduling, a unified social inbox, and a dazzling choice of data, Falcon can handle your social ads. The platform also creates a profile for every single person who interacts with your brand.
Key features:
Works with Facebook, Instagram, Twitter, LinkedIn, and Tumblr
Campaign planner featuring visual content calendar
Full support for Facebook and Instagram ads
Automatically creates profile for every social media contact
Collaboration tools for teams and landing page builder
Pricing: Pricing for Falcon suits medium-sized businesses and up, starting from $108/month for five channels.
The full suite is only available on custom packages, so you will need to contact the company for details.
Check out Falcon to learn more.
Everything about e-clincher feels very clean and efficient. This platform is another multi-faceted service, handling all aspects of social media management.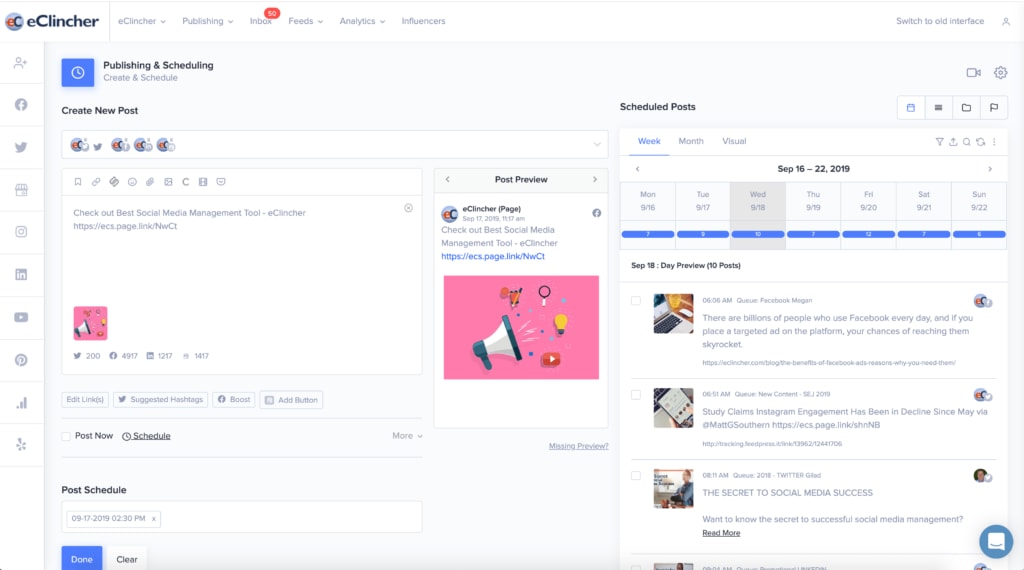 The highlights here are advanced image and video editing, and the option to recycle evergreen content at an appropriate rate. In addition, e-clincher integrates with Google Analytics to provide stats that mean something to your business.
Key features:
Works with Facebook, Twitter, Instagram, LinkedIn, YouTube, Pinterest, and more
Calendar for planning content and advanced scheduling options
Image and video editors built in
Real-time monitoring with unified inbox
Meaningful stats via Google Analytics integration
Pricing: After a 14-day free trial, you have three plans to pick from (15% annual discounts are available after you join).
Basic – $59/month for 10 profiles
Premier – $119/month for three users and 20 profiles
Agency – $219/month for six users and 40 profiles
In addition to these prices, you can pay for the following add-ons
Influencer discovery and engagement – $20/month
Five more profiles – $20/month
Extra user – $20/month
Check out e-clincher to learn more.
Choosing Social Media Management Tools: Which Is Right for You?
As this guide proves, there are now many different social media management tools that can handle any given task.
When you come to choose between them, you will need to consider:
Price
Features
Supported networks
Integrations
Complexity
Weighing up all these factors is not necessarily straightforward. To make things a little easier, here is a visual comparison.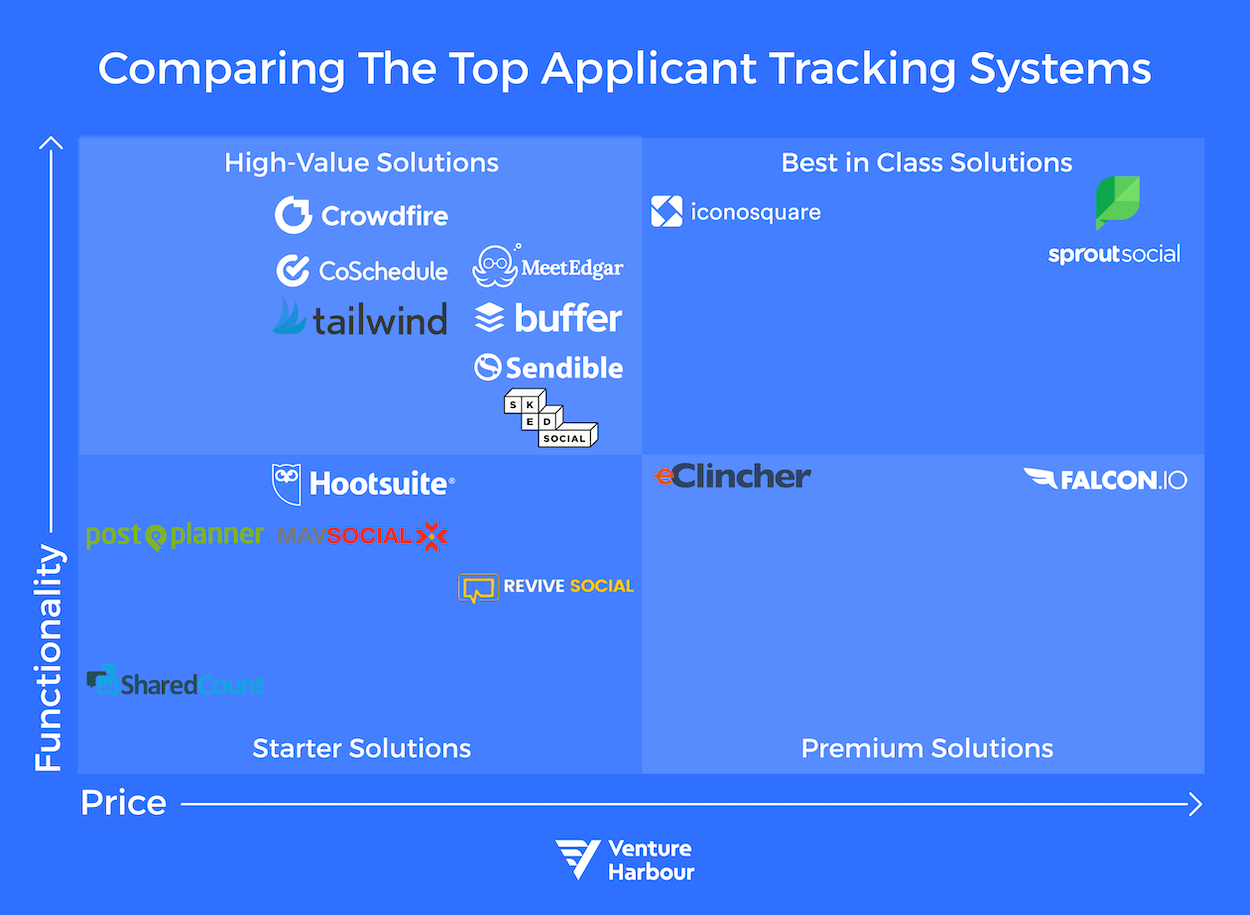 There is a good chance you will be using your chosen app every day. Before committing, we recommend creating a shortlist and then trialling the leading candidates.
Whichever solution you choose, expect to see a notable uptick in traffic and engagement with your brand.
We look forward to reading your tweets!