There's no shortage of advice on growing e-commerce sales, but most of the advice is quite generic and, in many cases, outdated.
In this post, I want to avoid the obvious and share some of the more advanced strategies that forward-thinking e-commerce businesses are using to gain a competitive advantage. While I don't expect all of them to be relevant to everyone, I hope you'll get at least a few good ideas to take away and experiment with.
So, let's start off with one of the biggest emerging trends this year; mCommerce.
1. Go from mobile ready to mCommerce optimised
According to IBM, in the week around last Thanksgiving, 26% of all online sales referred by affiliates were made from mobile devices. Needless to say. we're past the point of mobile commerce being an upcoming trend – it's here to stay.
While having a responsive website is a good start, optimising for mobile commerce requires a more proactive approach to improving your website's mobile user experience.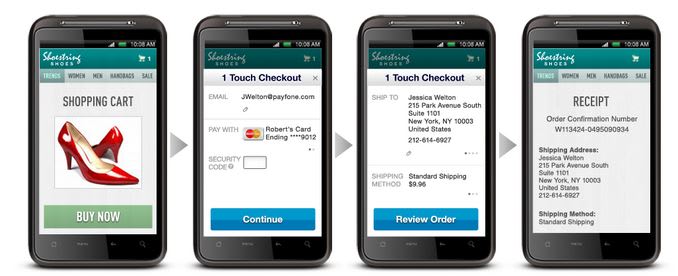 From using simple mobile payment processing to testing the design of your mobile checkout, mCommerce optimisation is an ongoing process that will surely pay off as mobile adoption rates continue to rise.
2. Setup post-purchase automation to upsell, collect feedback, and keep customers coming back
If you run an e-commerce website and haven't adopted marketing automation, this might be one of the most valuable points you read in this post.
Marketing automation tools like ActiveCampaign allow you to set up 'sequences' that can nurture, educate, and upsell to customers based on their actions and behaviour.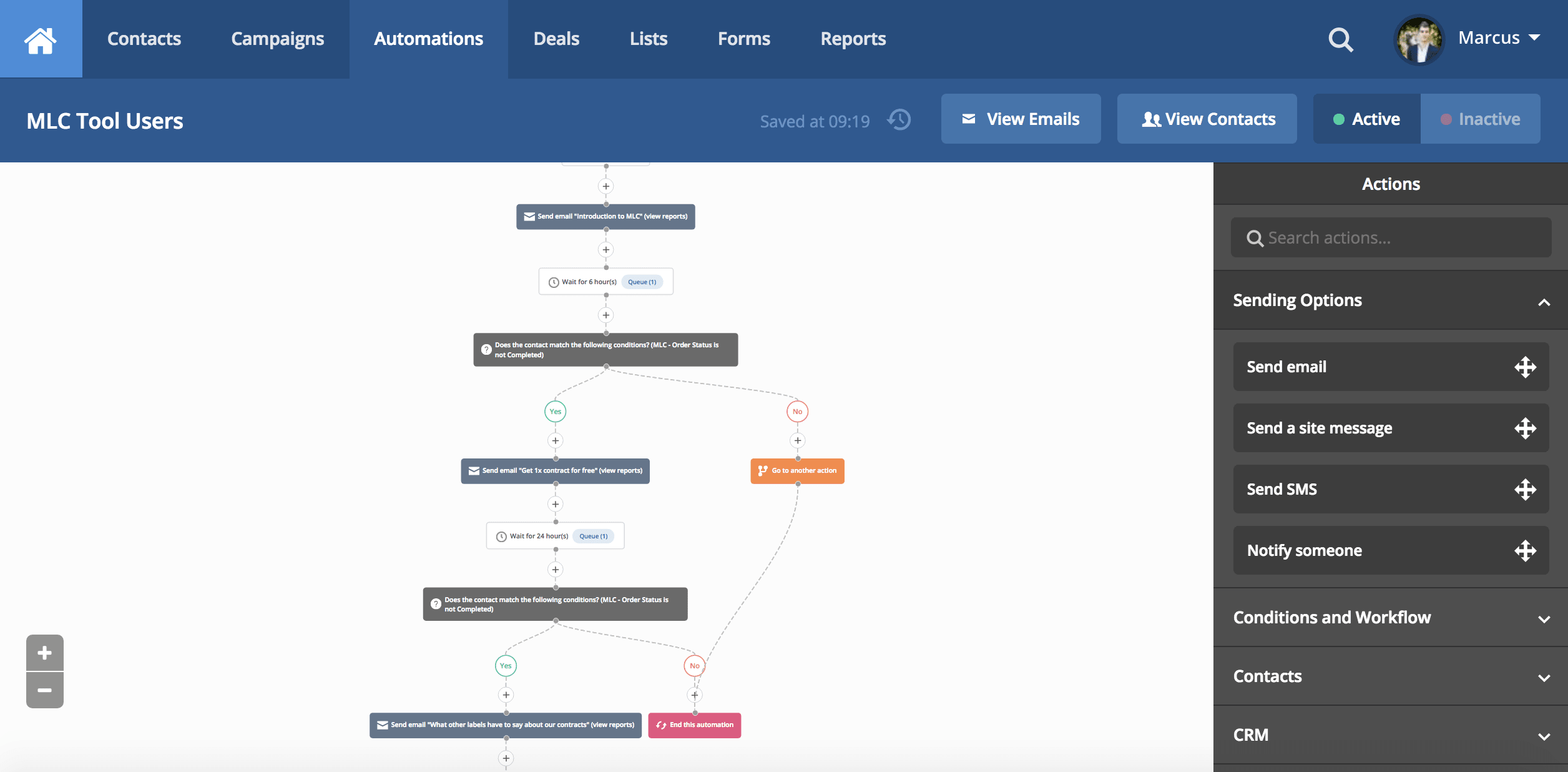 Let's say, for example, you run an e-commerce website aimed at brides. If a customer bought some wedding invitations from your site, they could automatically be placed into a 'pre-wedding' sequence of emails that walk them through the wedding planning process, recommending products like bridal shower gifts and thank you cards along the way.
In fact, one wedding e-commerce site called Paper Style actually did this, raising their revenue by 330%.
The scope of what you can achieve with post-purchase automation is only limited by your imagination. At Venture Harbour, we use ActiveCampaign to drip feed coupons and trust-building content to our e-commerce leads, which significantly increased our conversion rates.
From sending a personalised email out to customers twelve months after their purchase, to cross-selling related products, this is by far one of the most powerful tactics you can adopt to grow your e-commerce business.
3. Use Facebook Exchange retargeting to reduce lost sales
Thanks to the level of segmentation, Facebook Advertising can be enormously effective for acquiring new customers and re-activating old ones.
For e-commerce sites specifically, Facebook Exchange is particularly effective in reducing shopping cart abandonment.
Facebook Exchange works by dropping a cookie on a user's computer when they visit certain pages on your site. If a user adds a product to the shopping cart but doesn't purchase, a cookie can be dropped on their computer, signalling Facebook to display an advert on their timeline encouraging them to complete their order.
In combination with standard Facebook Ads, this technique is extraordinarily powerful. In a study of $1.2M in e-commerce sales, Nanigans found that customers who entered FB Exchange remarketing pools after first viewing a standard Facebook ad purchased 89% more in sales revenue than those who entered FB Exchange remarketing pools from other channels, such as organically or through search.
4. Automate birthday, anniversary, and seasonal cash discounts
One of the simplest ways to boost customer loyalty and lifetime value in a personalised and automated way is to set up anniversary, birthday, and seasonal discount coupons.
Using a marketing automation tool you can set up sequences that send each customer a personalised message on their birthday, and at specific intervals after purchasing from your site.
In a study of 10,000 birthday and anniversary emails, Experian found that personalised birthday emails had almost five-times the transaction rate of standard bulk birthday mailings.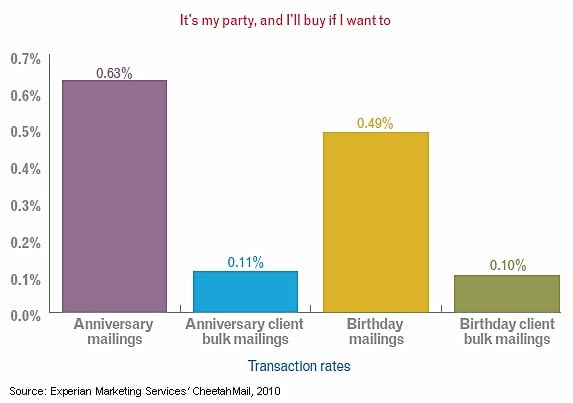 Ideally, these should be dollar-off coupons e.g. $10 off your next order.
In the same study as above, Experian found that when compared to other popular discounts, such as a %-off or free shipping coupon, dollar-off discounts generated the highest redemption rates and revenue per mailing.
5. Use long-form content marketing to boost SEO traffic, social engagement, and drive sales
As outlined in yesterday's post, one of the tactics that we've experimented with extensively at Venture Harbour s long-form content marketing.
After testing a variety of formats, and content lengths, we found that producing highly visual 3,000-8,000 word guides was one of the most consistently high performing content mediums for increasing social engagement, search traffic, email subscribers, and revenue.
When created around specific product categories, e-commerce content marketing provides a great opportunity to acquire targeted traffic for the one-off investment in producing the content.
I'd argue that this is among one of the biggest opportunities for thousands of e-commerce businesses.
6. Plug the biggest gaps in your conversion funnel
Do you know where potential customers are dropping out on your website?
If you use Google Analytics conversion tracking or a tool like KISSmetrics, you should be able to see a visual representation of where the leaks in your website's conversion funnel are.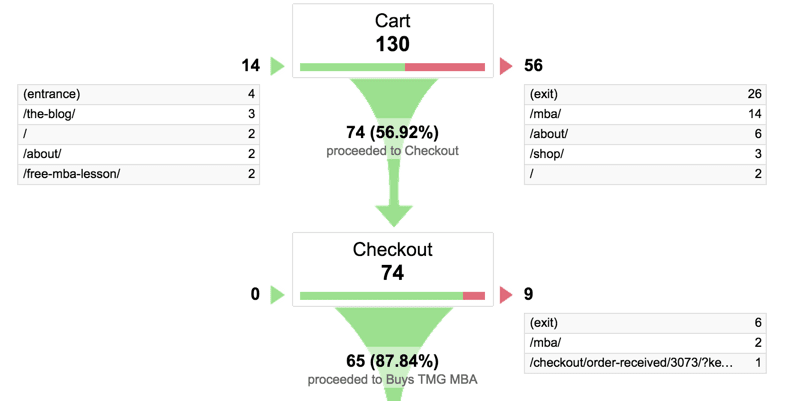 With this information to hand, you can begin to research what the cause of these leaks. By surveying customers, commissioning user tests, and even watching a customer use your site, you should start to see ideas for improving the areas of your site that will translate into increases in conversions.
Once you have a set of ideas to test, you can use a tool like VWO or Optimizely to run a split test experiment. By repeating this process, you can systematically improve the user experience and increase the value of all other marketing activity by reducing the barriers for customers to give you money.
7. Expand into new territories
An often overlooked strategy for growing an online business is to translate the site and begin targeting customers in multiple countries.
While there are dedicated translation plugins and add-ons for most major e-commerce shopping platforms, it's often best to hire specialised translation services in the countries you wish to expand into.
If you do decide to target new markets, be sure to also take into account the implications on SEO (e.g. geo-targeting URLs and using the Hreflang tag), as well as ensuring that your payment processor accepts payments from the country's main currencies.
8. Focus 80% of effort on your best products
According to Pareto's Law, it's likely that 80% of your profits are derived from 20% of products.
By focusing on the small number of products that disproportionately contribute towards your website's success, you can achieve exponential growth.
Why? Because It's typically easier to grow a product generating £100,000 / month to £200,000 / month than it is to get a £5,000 / month product to £10,000 / month. You're better off focusing on the £100,000 improvement than the £5,000 improvement.
As a side note, I highly recommend reading The One Thing by Gary Keller, and Essentialism by Greg McKeown. Both books highlight the importance of focusing on the single most important thing that contributes to your growth at any one time.
9. Offer the best affiliate program in your industry
Pareto's Law applies to more than just what products you should focus on. It also applies to which products affiliates in your industry will promote.
In the majority of cases, 80% of affiliates in a given niche will promote the best / highest paying products and affiliate programs in that niche.
First of all, if you don't have an affiliate program setup, it's probably worth investigating. Not only do affiliates do a lot of your marketing for you, a good affiliate program acts like a moat around a castle. If all the affiliates in a niche are promoting your business, it makes it harder for competitors to gain market share from your business.
If you do have an affiliate program, the next question is – would you rush to promote it if you were an affiliate?
While you might not be in a position to compete with the 6-8% payouts offered by sites like Amazon, there might be other ways to sweeten the deal for your affiliates. The first opportunity is to have a better conversion rate than your competitors.
Most affiliates would rather promote a program that offered a 3% commission and had a 5% conversion rate, than a product offering a 5% commission and a 2% conversion rate. In fact, they'd be silly not to as the first program would generate them 33% more income.
Another technique is to run affiliate contests. Many companies give away iPhones, iPads, free holidays, and other gifts to their affiliates to keep them loyal.
10. Send an urgent specific discount to your customers
While the results of this campaign are unknown, I was impressed when I came across this email campaign sent out by Petflow.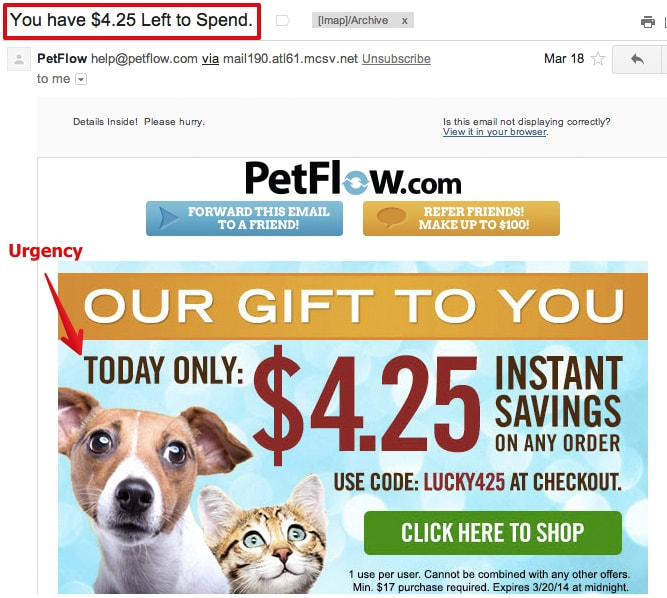 By providing customers with a specific discount of $4.25 that was valid for only 24 hours, they gave existing customers a compelling reason to take action quickly. For a site like Petflow, where pet owners will always likely need something, I imagine this offer was incredibly successful.
Could you test a similar tactic for your website?
11. Use multichannel marketing to impress customers and stand out from the crowd
It's said that conventional thinking leads to conventional results. If you want to stand out from the crowd, consider how you can appear where no one else does.
How could you use SMS messages or postcards to engage your customers, solve their problems, and increase their loyalty to your brand?
While there are numerous companies that will integrate with your CRM system to enable you to send personalised SMS and personalised messages to your customers, some automation tools like Ontraport are beginning to offer this as standard.
12. Turn your likes into leads with social contests
Running a contest on social media sites is one of the most rapid, affordable and scalable tactics I've ever come across for capturing email addresses and potential leads.
In a campaign that I ran for a client last year, I managed to collect 681 email addresses of potential leads, 75 of which signed up for their service for a total cost of $37.
If you have a large following on Facebook or Twitter, it might be worth using a social contest tool to turn some of your likes into paying customers.
13. Upgrade your e-commerce software
Sometimes you need to take one step back to take two steps forward.
If your e-commerce software is outdated or prevents you from taking advantage of powerful techniques like automation and multichannel marketing, it might be time to reconsider your backend software.
Last year, I made the decision to migrate an e-commerce site that I run in the music industry from our clunky bespoke software to one of the mainstream e-commerce software providers.
After a 2-month dip in sales, the site reached double the revenue it was previously turning over, simply due to the fact that it was easier for us to get more value out of our CRM, implement automation sequences, and make rapid split testing changes.
In Summary
At any point, your business is either stagnating or growing. To ensure that you're is always growing, it's important to understand what your customers want that you're not offering them, and to experiment with technology that can improve the overall experience and process in which you do things.
I hope that this post has given you at least a few ideas to think about. If you have any other tactics worth sharing that you've found particularly useful, please share them in the comments below.