Ask any startup founder who's made it to the point of managing a growing team their biggest challenge and you'll likely hear the same answer—hiring.
Most aren't using an applicant tracking system, and many are operating without any formalized system for recruitment at all.
Hiring is great when it works out, awful when it doesn't, and if we're being candid here, it's not exactly the most popular activity among founders—hiring can be a pain in the ass.
An applicant tracking system (ATS) that's perfectly moulded to your organisation's processes, needs, and culture can be an absolute game-changer for a startup. The proper tool can add structure to a haphazard process, streamline HR workflows, and help you spend less time adding better-fit team members to your growing company.
At Venture Harbour, we've spent a good deal of time creating our recruitment process, including building out a lot of automation via our applicant tracking system, Breezy.
Now, however, we're going to dive into the best applicant tracking systems that we've come across. Of course, any tool is only as effective as the plan you use to operate it and to that end, let's start with some context around the purpose and definition of an applicant tracking system.
What is an Applicant Tracking System (ATS)?
An applicant tracking system is software designed to handle (and improve) the entire recruitment process for an organisation. By design, this will be a centralized database of all the applicants you come into contact with, as well as any contextual data generated during the screening process.
While the ATS feature set will vary greatly depending on which software solution you choose, most will provide much more capability than simply storing applicant names and details in a database. Some common features include:
Creating and distributing assessments
Customized data import and export
Candidate comparisons
Scheduling interviews
Search and filtering
Job postings
Messaging
Basically, an ATS is designed to help hiring managers and companies recruit, screen, shortlist, communicate, and hire talent with an all-in-one system designed to increase efficiency, reduce time spent on manual recruitment tasks, and increase the value an organisation receives from their recruiting efforts.
Top Applicant Tracking Software
One important thing to note about ATS software is that you're not limited to choosing from a small group of providers—there are lots of solutions to choose from, each with different feature sets, price points, and the niche it's designed for.
We've chosen some of our favourites for specific mention:
Now, let's dive into the full list of the best applicant tracking systems.
Best ATS for small to medium-sized companies hiring quickly.
Our personal pick for hiring at Venture Harbour is BreezyHR.
This is the system we use for finding and hiring qualified candidates internally and it lines up (nearly) perfectly with our needs as an organisation.
We especially like that Breezy has a familiar interface. It feels similar to a CRM or Trello board, where you're able to define clear steps in your hiring process. Then you can apply automation for each of the stages, saving time and creating a consistent workflow for all of your hiring decisions.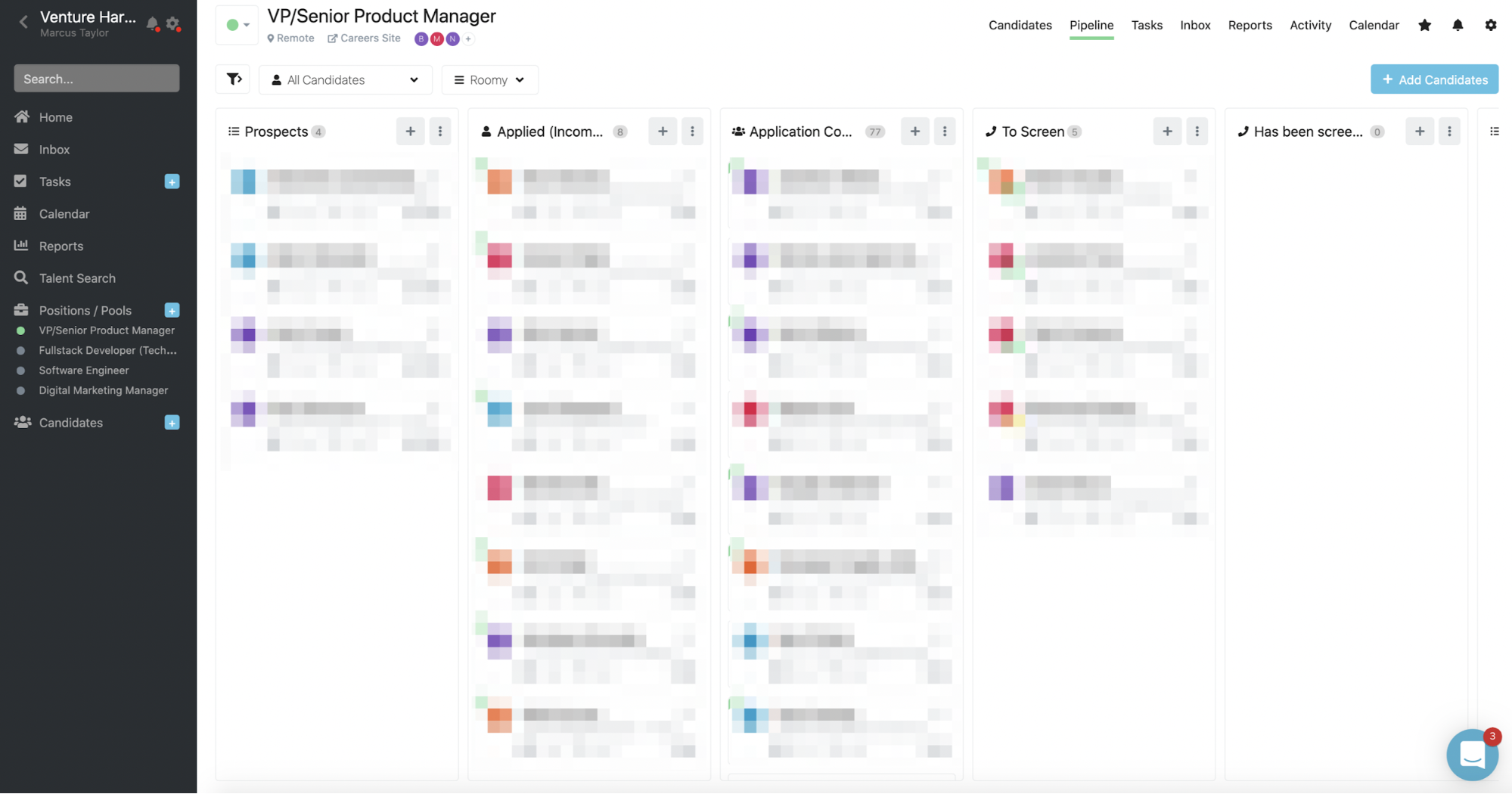 Breezy offers "stage actions" that automatically trigger events like sending emails or questionnaires as you move candidates from one stage to the next.
For example, when someone applies for a job at Venture Harbour, we automatically send them a screening questionnaire to ensure they're a good fit. This automatically rules out about 15-20% of candidates who we can identify early on aren't a good fit.
Breezy offers several essential integrations to automate assessments, background checks, aptitude tests and job post distribution on third-party sites like Indeed.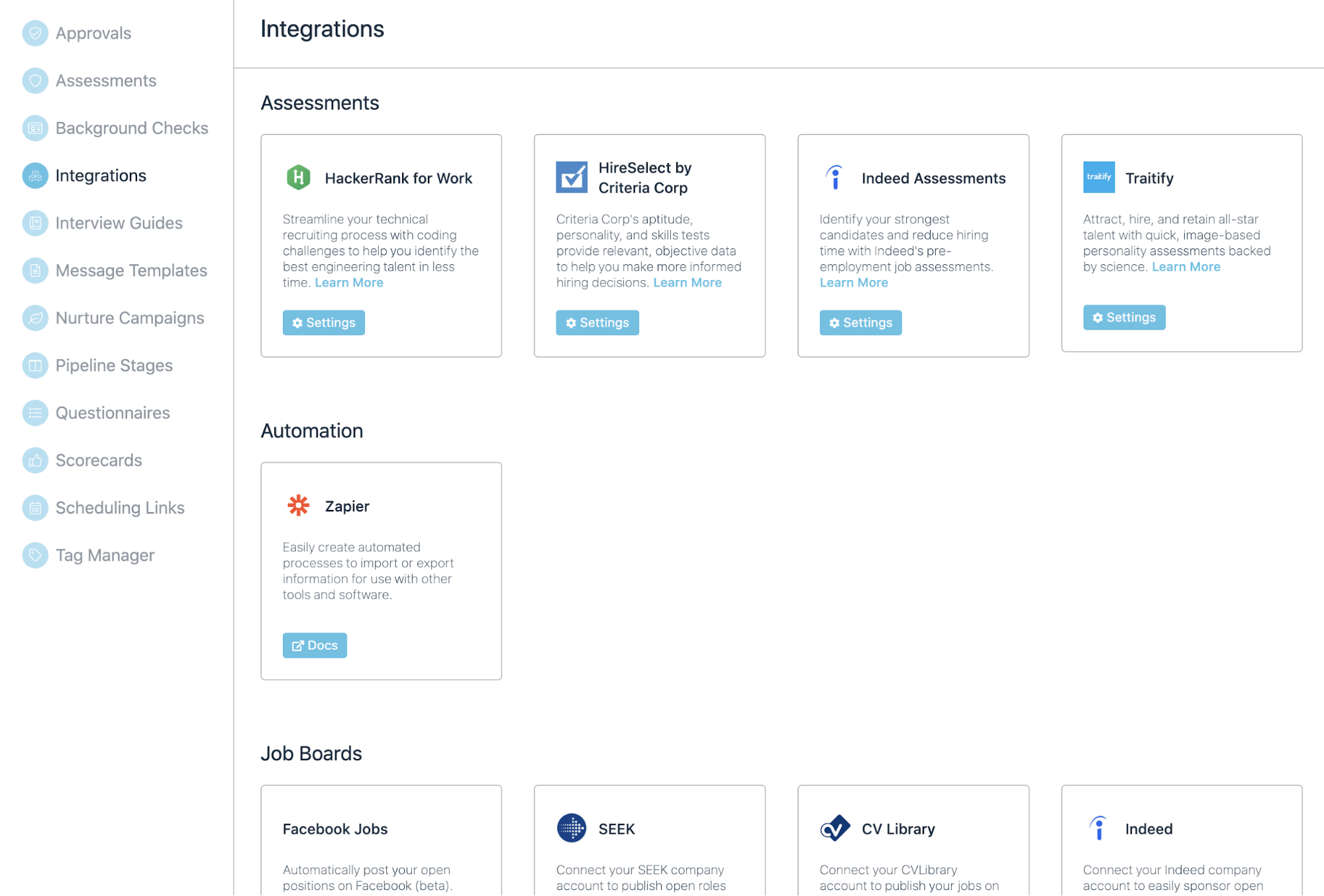 One of the few issues we have with Breezy internally is that some of the advanced features—like creating interview guides—aren't all that intuitive at first glance.
Nevertheless, it's been a solid solution for our team and helped us grow our team with relative ease.
Key features:
Visual hiring pipeline and candidate tracking
Notes, comments, and @-mentions for collaborative hiring workflows
Automated job postings
In-app communication via email and SMS
Pricing: Breezy offers a free tier to get started, but the Startup tier—which unlocks unlimited positions—is $157/month.
Unlike many other ATS solutions, Breezy doesn't charge by the seat. But, if you need more advanced features, they offer a Growth tier with extra team management tools and other features for $273/month annually.
Check out Breezy to learn more.
Best ATS for small companies and startups.
GoHire finds a sweet spot in the ATS space by offering the most popular features of other tools at a very competitive price point.
At Venture Harbour, we've considered making the jump to GoHire because it's such a powerful tool in an easy-to-use package. It offers much of the same functionality as our current solution.
GoHire allows you to build a branded careers page and post job descriptions to your company socials as well as 15+ third-party job boards.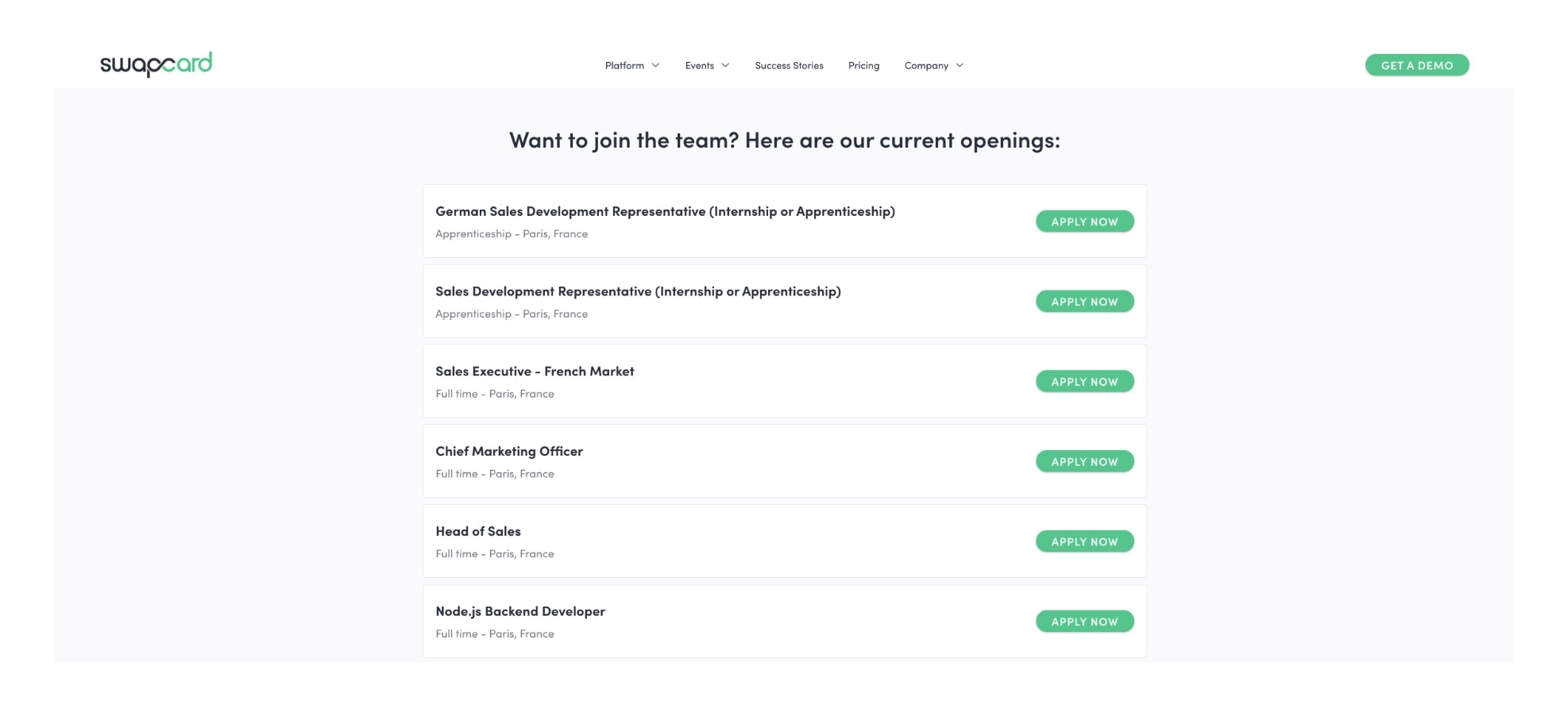 That's, of course, a relatively small number of job board integrations compared to some other ATS options. But, it's indicative of GoHire's focus on startups and special emphasis on hiring for software companies.
GoHire offers a familiar, multi-step hiring workflow with defined stages and a snapshot of all candidates at each stage. It's a bit more complex than the simplified view in a solution like Breezy, but also allows your team to rate and score candidates.
You can also automate messages and tasks within each stage and create templates for consistent messaging and workflows.
It's important to note that GoHire is specifically geared towards startups and small to medium-sized companies. If you're looking for a full-blown enterprise suite, this probably won't fit the bill.
Key features:
Visual pipeline and candidate management
Candidate reviews and ratings
Branded hiring pages
Social and job board integration
Pricing: The Starter package costs just £69/mo (~$89) and is limited to 3 active jobs.
The GoHire Growth plan unlocks unlimited postings at £99/mo (~$150).
Check out GoHire to learn more.
Best end-to-end HR solution for startups.
One more application tracking system that's near and dear to our hearts is BambooHR.
For startups and small businesses that are looking to really button up their hiring and onboarding process—perhaps in one fell swoop—BambooHR is likely to check all of the boxes for your team.
The functionality extends beyond the common ATS and borders on an all-in-one HR suite, but in a much more accessible package (and price range) than many of the enterprise solutions out there.
On the hiring front, BambooHR offers a strong set of tools to build branded job pages, create listings, collect applications, and then build a candidate funnel to fill each role.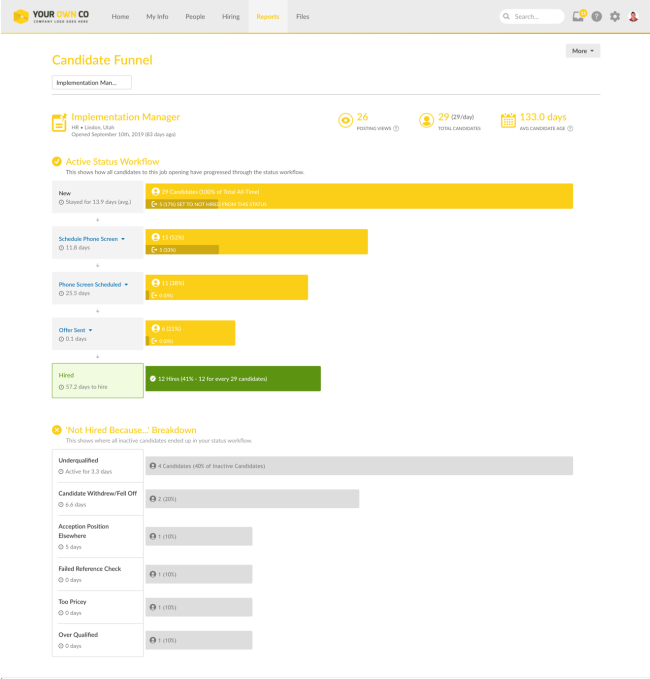 The features here are roughly equivalent to what you'll get with solutions like Breezy or GoHire. But, Bamboo does offer some extended functionality that dips into the realm of employee experience, HR, and performance management.
This platform covers the most obvious next step in the hiring journey—employee onboarding.
From sending and storing offer letters to building customizing onboarding workflows, BambooHR packs a powerful suite of tools that can help you not just find and hire talent but bring them into the fold with less stress and headache.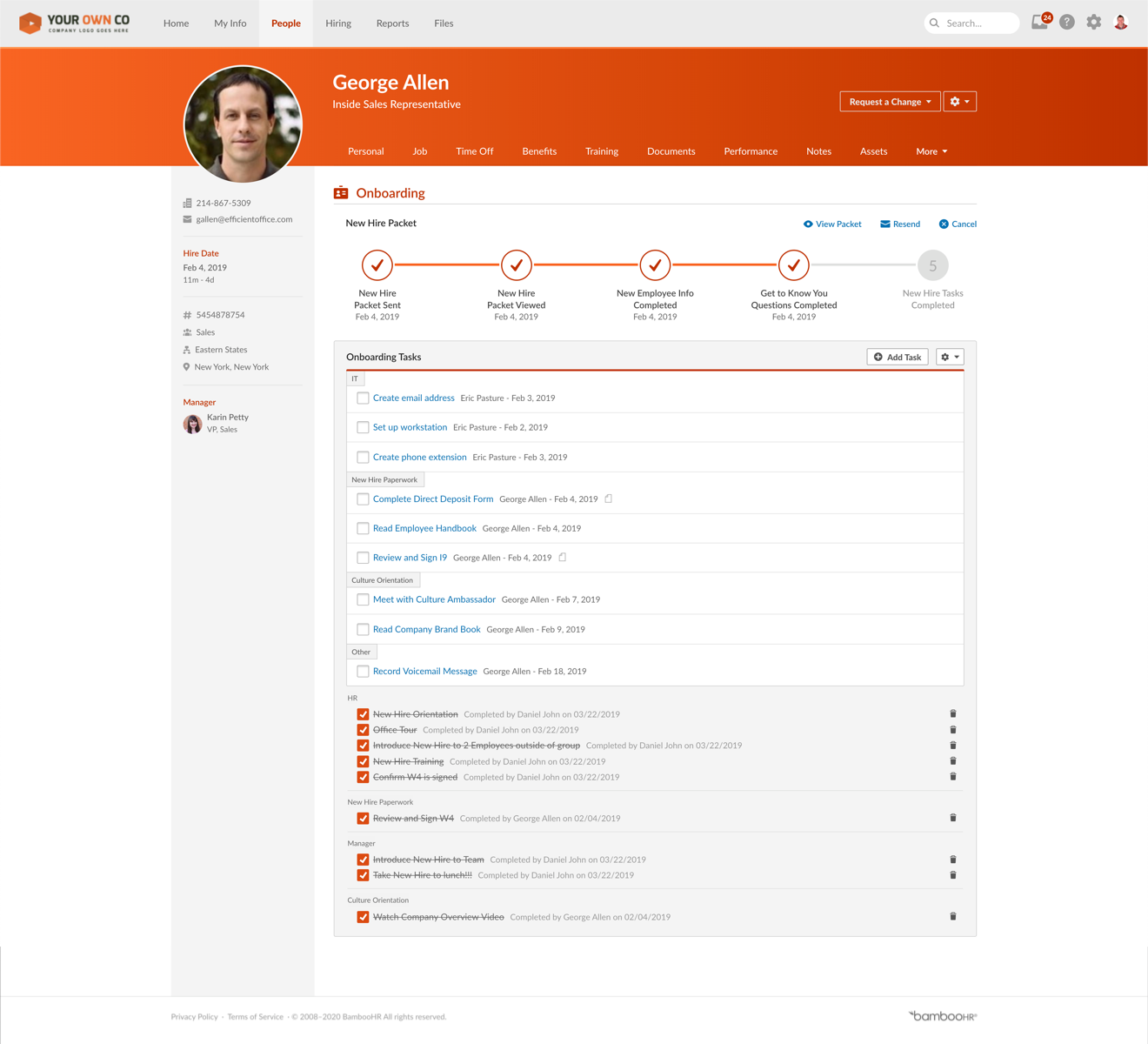 This is important for startups because establishing a consistent onboarding flow is just as important as filling empty seats. And when you're growing fast, you need a system in place to make sure that each new hire is ready to kick arse right away.
BambooHR extends even further, offering time tracking, paid time off, benefits administration tools, employee satisfaction surveys, and more.
It's the Swiss Army knife of hiring and managing employees.
One thing to consider here is that, in some cases, when platforms attempt to do it all, it comes at the expense of doing any one function particularly well. For what it's worth, BambooHR boasts an average review of 4.5/5 on Capterra and they have hundreds of glowing reviews. But, some users have noted that the nitty-gritty HR features like benefits management are not as intuitive as you might expect.
Key features:
Branded jobs pages and listings
Candidate funnels and applicant tracking
Automated employee onboarding
Employee records, benefits administration, time tracking, and more
Performance management tools and employee satisfaction surveys
Pricing: BambooHR does not list public pricing. But, customer reviews peg the cost as starting at $4.95/employee/month.
Get a price quote from BambooHR.
Best ATS for building in-house tools on top of the platform.
Recruitee offers a tiered pricing alternative that offers different functionality for its multiple packages.
This could be an attractive option for startups who need an immediate solution to their most pressing applicant collection and tracking needs and may want to grow into a more advanced solution as they scale.
The "Launch" package packs a similar feature set to other ATS solutions, including branded job listings and career sites, an application inbox, and a KanBan-style candidate tracking interface for moving folks through the hiring process.
It also has integrated email sync and other third-party integrations that allow you to connect with HR systems like assessments and background checks.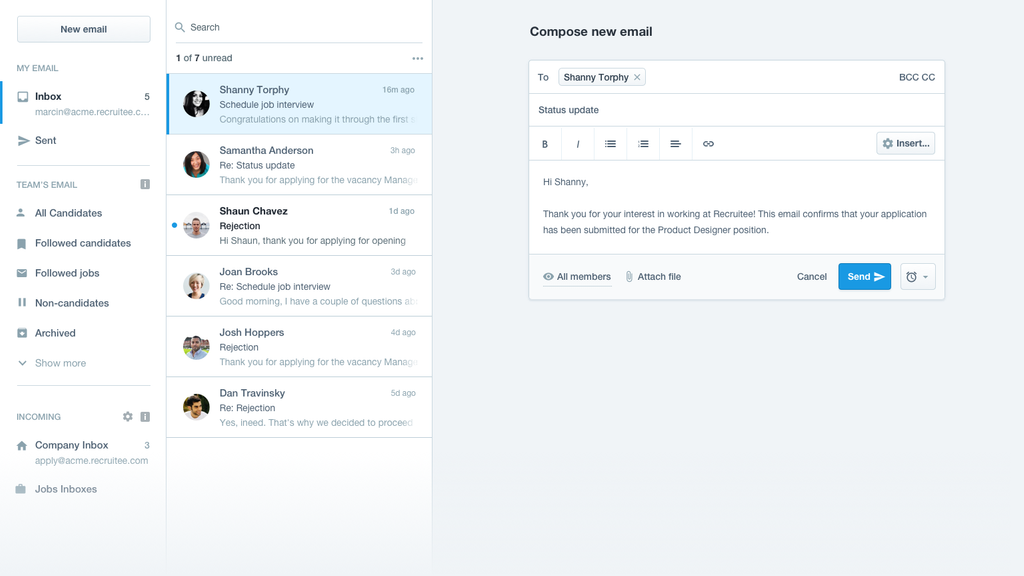 If you opt for the "Scale" package, you'll unlock more advanced features—most notably, automation.
You'll be able to perform or schedule automated tasks based on candidate triggers, like sending pre-configured emails as you move an applicant into the screening phase. You can also create reminders and prompts for your team to make sure they're staying on top of the candidate pipeline.
At this level, you'll also be able to create standardized questionnaires and evaluation forms to solidify your hiring workflow.
Lastly, they offer a premium tier called "Lead" that unlocks API access and a host of other customisation options that aren't available at the lower tiers.
All-in-all, this could be a good solution if you're looking for something that can grow with your company and possibly plan to roll your internal systems or connect multiple platforms together to build an in-house solution.
Key features:
Branded job listings and career site
Collaborative candidate reviews
Built-in video chat
Automated workflows and reporting
Pricing: The Launch package offers 5 open jobs at $109/month when paid monthly. Their most popular package, Scale, is $399/month and offers 10 "or more" job slots and the automation features mentioned above.
Check out Recruitee to learn more.
Best ATS with built-in sourcing tools.
Boasting, "Enterprise-grade hiring, for everyone," Workable offers a robust solution in a pretty low-cost package and with flexible options for scaling up your recruiting efforts.
They break down their features into 3 main categories:
Find
Evaluate
Automate
Their platform offers many of the features you'd expect, allowing you to build branded career portals and job listings, sync with job boards, and share listings via social media.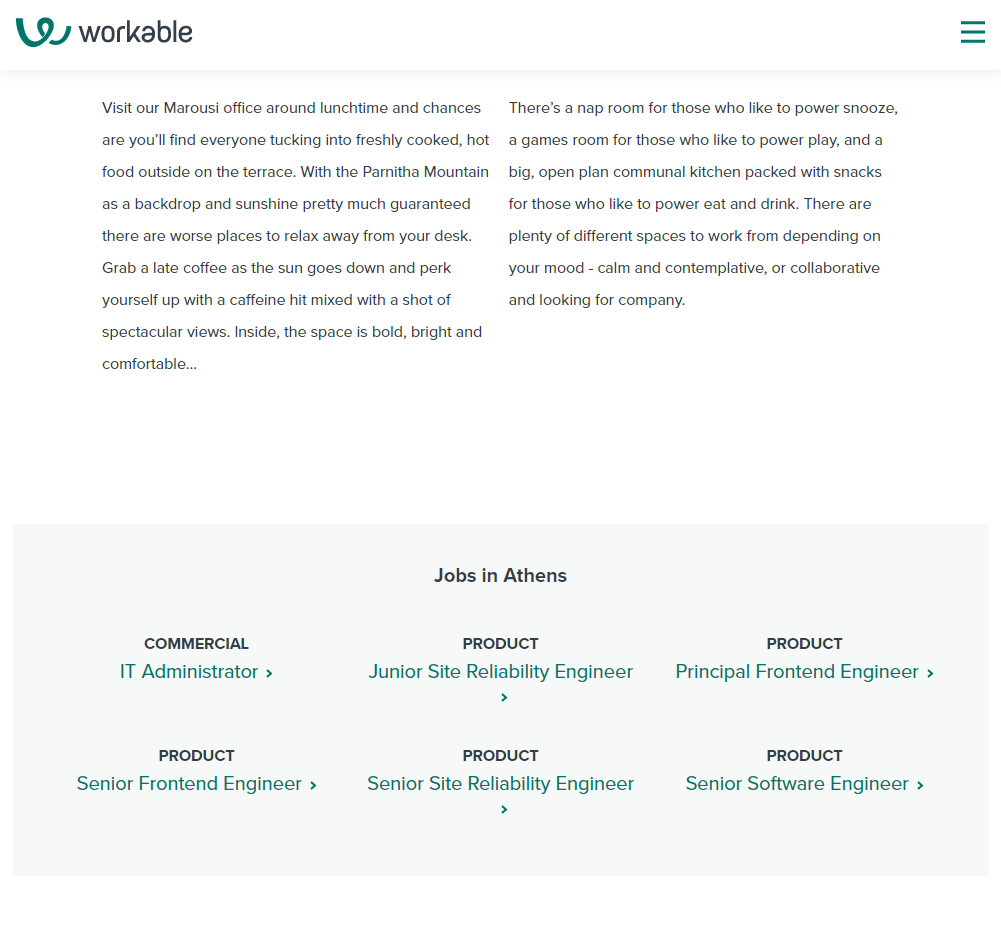 But, what makes Workable really stand out is their built-in database of over 400 million candidates, which is searchable by employment history, roles, and specific skills.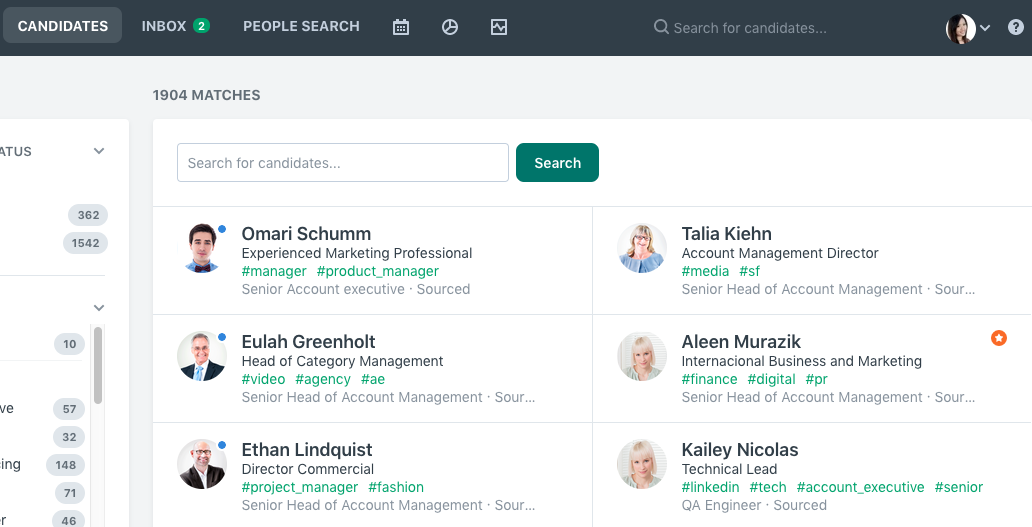 This gives your team the ability to proactively source candidates and build automated outreach campaigns to drive applications. Workable also makes AI-powered candidate recommendations based on your job listings. Note: Access to the candidate database appears to only be available for annual plans and not pay-as-you-go solutions.
In addition to these powerful tools, Workable has built-in features to drive internal referrals, including gamification, rewards, and leaderboards.
They have collaborative evaluation tools so your hiring team can score and discuss specific candidates.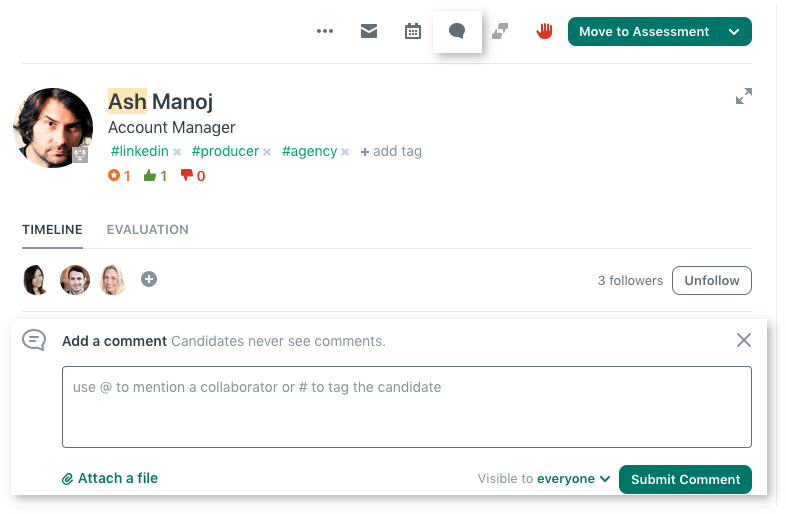 And, one more unique feature, is what Workable calls "one-way video interviews", which allow candidates to record video responses to specific prompts. They bill these as a replacement for a traditional phone screen. These require integration with third-party video tools.
Workable gets rave reviews for the ability to quickly build and deploy hiring workflows, including automation for candidates at various stages in the hiring process.
All told, Workable offers a pretty unique platform that offers features beyond many ATS solutions. Perhaps the only drawback is that they are only focused on sourcing and hiring, but don't offer the same onboarding and employee management features of an HR suite like Greenhouse or BambooHR.
Key features:
Branded careers and job listings pages
A searchable database of more than 400 million candidates
Gamified internal referral features
One-way video interviews
Powerful automation functionality
Pricing: Workable is the only ATS on this list that offers per-job pricing, which is $99/mo/job.
For companies who want a flexible option, this could be a great way to trial the software and see if Workable is the best solution.
They do not offer specific pricing details on their website for annual plans. But, customer reviews seem to indicate that these plans are priced at $2,500/year for up to 10 job slots and $4,000 per year for up to 20 job slots.
Best ATS for tech companies.
The goal of this ATS is twofold—allow you to scale your recruitment processes during times of growth, and empower you to refine them during off-peak times.
Greenhouse has quickly become a recruitment and hiring platform du jour for tech companies and startups. In part, because it offers all of the core features you'll need to rapidly scale your team in a well-designed and intuitive package. But, it's also especially well-suited for industries that prioritize candidate experience and compete to hire top talent.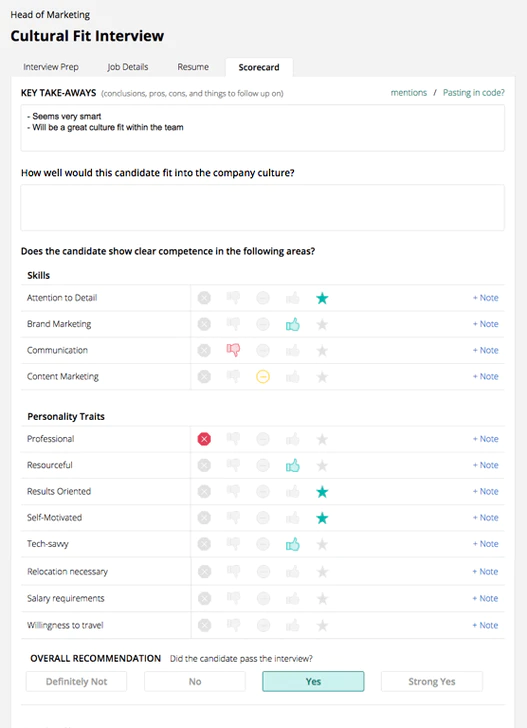 The UI and UX for both applicants and internal teams are truly second to none.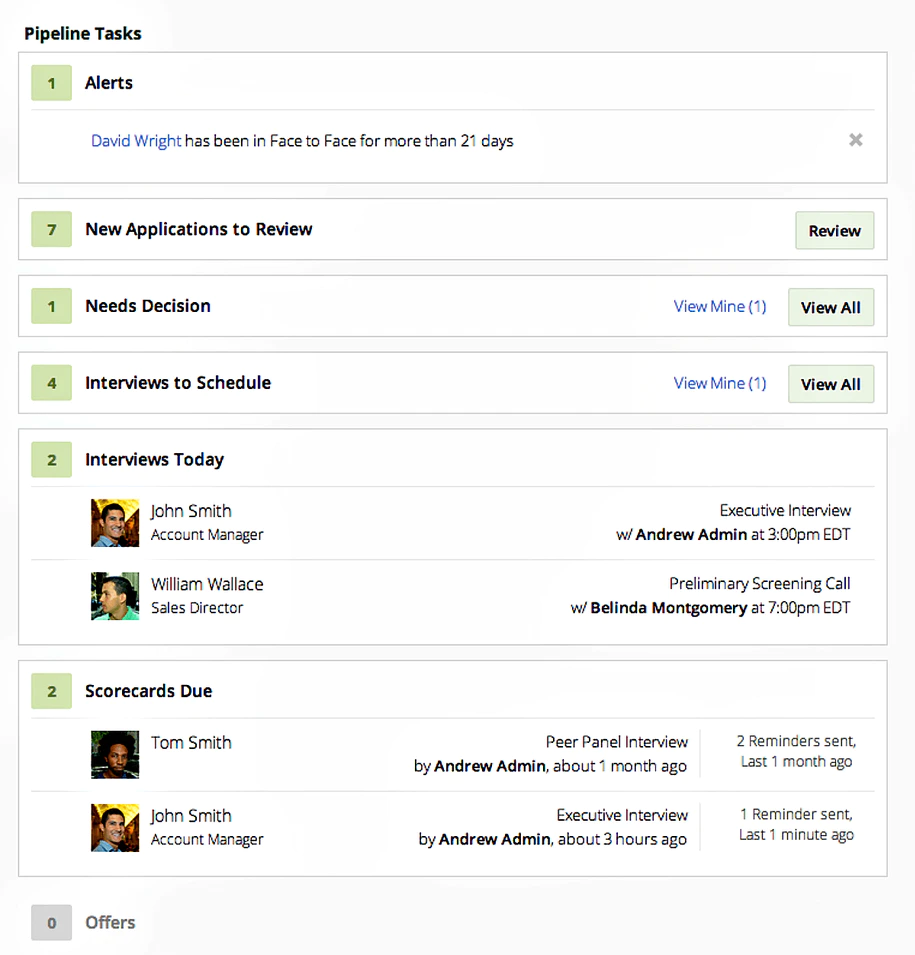 Greenhouse also offers best-in-class features for creating and managing diversity, equity, and inclusion (DE&I) initiatives. They offer specific tools designed to combat hiring bias like in-app prompts for hiring teams, anonymous candidate reviews, and pre-defined decision criteria.
Key features:
Best-in-class user interface and candidate experience scores
Standardized interview scorecards
Diversity, equity, and inclusion features
Onboarding workflows with personalized welcome sequences
Pricing: You'll have to contact Greenhouse to get their exact pricing for their three tiers (Core, Pro, and Enterprise), but expect to pay upwards of $6,000/year for the Core tier.
Request a demo with Greenhouse.
Best free ATS and HR suite.
Freshteam is an all-in-one HR suite that offers a similar set of features to BambooHR.
But, it offers a free tier for up to 50 employees and the package options that stratify specific functionality based on your company's needs.
This ATS offers job listings and branded career pages. It also syncs with an email inbox to create a unified candidate pool from any inbound application, submitted either via the listings or sent directly to an email inbox.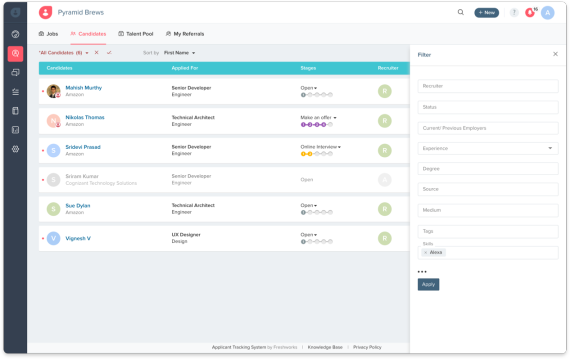 One of the most unique features of Freshteam is that their platform parses applications to create a detailed candidate profile based on the information that's been provided.
This could be a helpful feature for quickly screening resumes and identifying best-fit candidates at a glance.
It also offers a robust set of features for onboarding and managing employees once the hiring decision is made.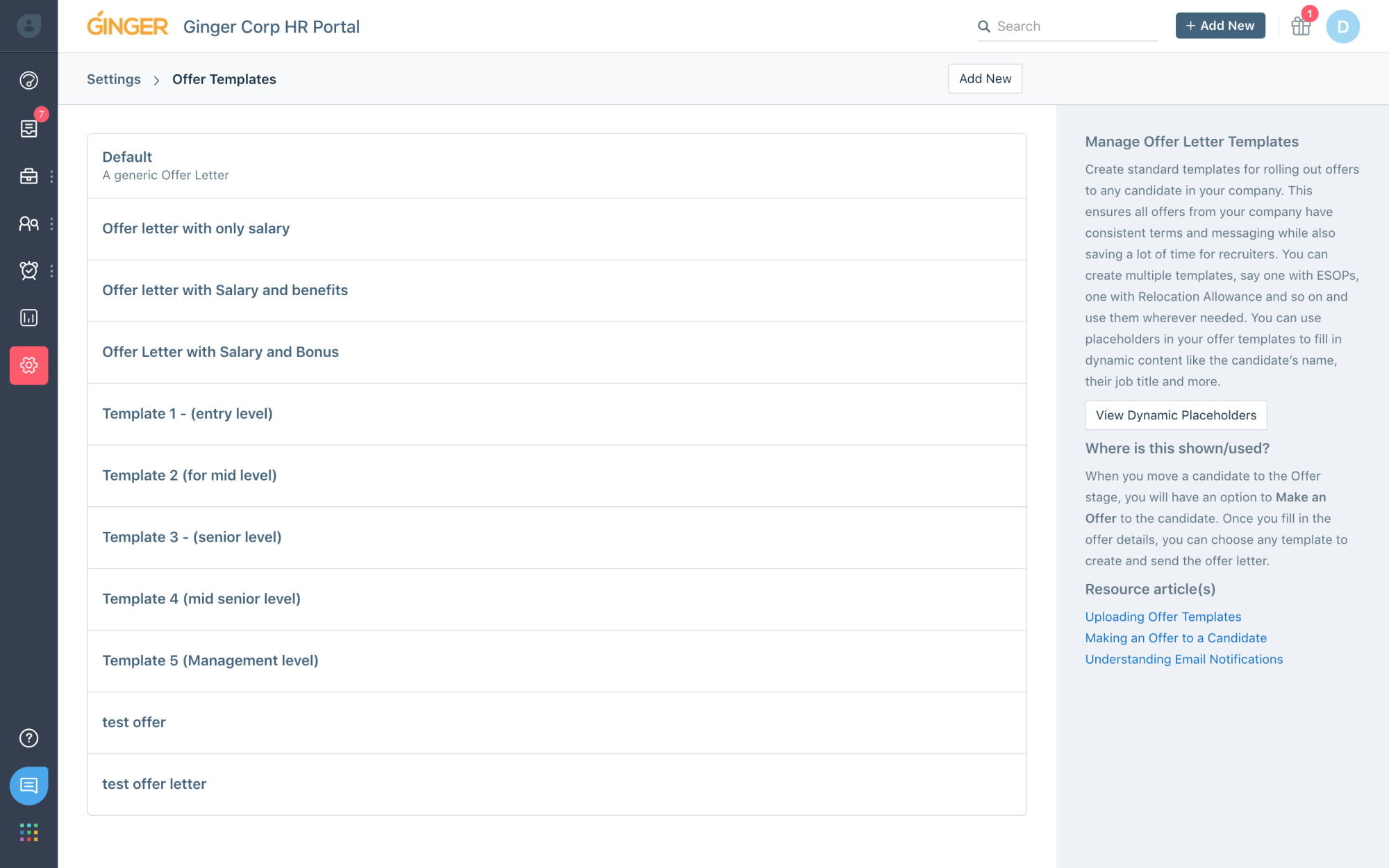 Lastly, it integrates with third-party assessments and screening tools, Skype and Google for setting up video interviews, and free job boards and social profiles.
Users who have left reviews remark about the intuitive nature of the UI and the ease of the platform. But, some have also mentioned that the customer support is less than stellar. So, it may be best to take the tool for what it is out of the box and avoid trying to use Freshteam to power an edge case or bend it to fit a more complex workflow.
This makes Freshteam a great option for companies who need a quick solution but are still considering their forever-ATS or HR suite.
Key features:
Consolidated application inbox
Detailed candidate profiles
Integrated candidate communication
Full-featured HR suite with onboarding and employee management
Pricing: Free for up to 50 employees with limited functionality.
Tiered pricing, billed annually:
Blossom – $50/month/50 users
Garden – $100/month/50 users
Estate – $200/month/50 users
Check out Freshteam to learn more.
Best ATS for home service businesses
ViVAHR is a purpose-built application tracking system for companies in cleaning, landscaping, and HVAC industries.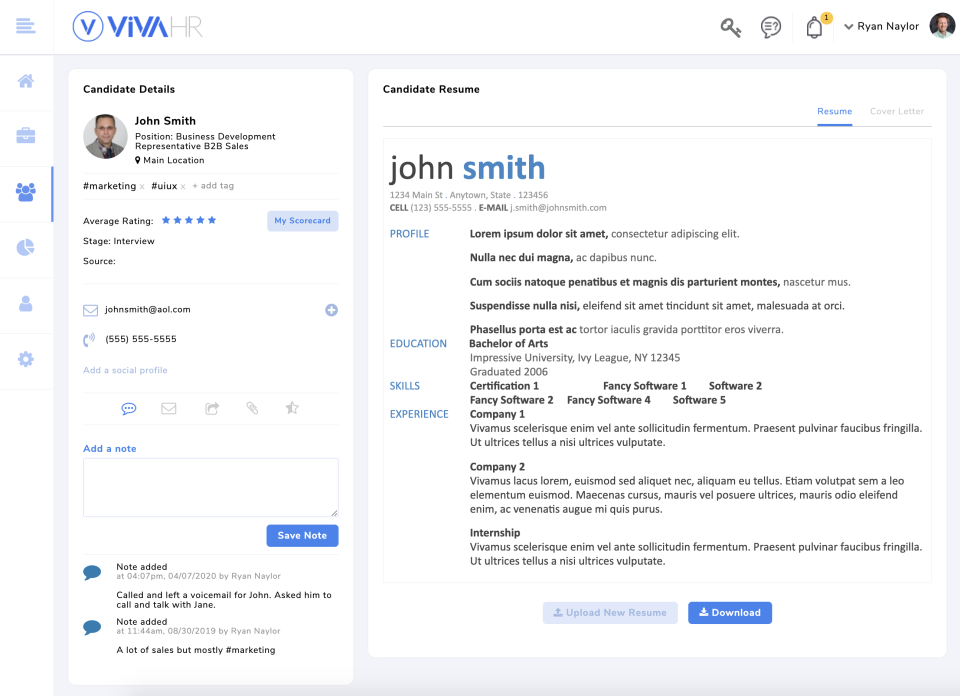 It's designed to meet the needs of home service businesses looking to hire at scale.
While it doesn't offer some of the advanced features of other ATS systems, it's a massive time-saver for companies who simply want to post their jobs to as many online job boards as possible. That's really the heart of ViVAHR's platform—it posts job listings to every major, free job board online and has integrations with premium job boards as well.
Key features:
Job listings and branded career websites
Integration with free and premium job boards
Candidate review, screening, and evaluation tools
Pricing: ViVAHR offers 3 pricing tiers.
Starter – $65/mo (3 job listings)
Grow – $115/mo (unlimited job listings)
Pro – $199/mo (unlimited job listings)
All prices reflect annual billing.
Recruiterbox offers a solid feature set and is a capable option for any size company looking for a true applicant tracking system.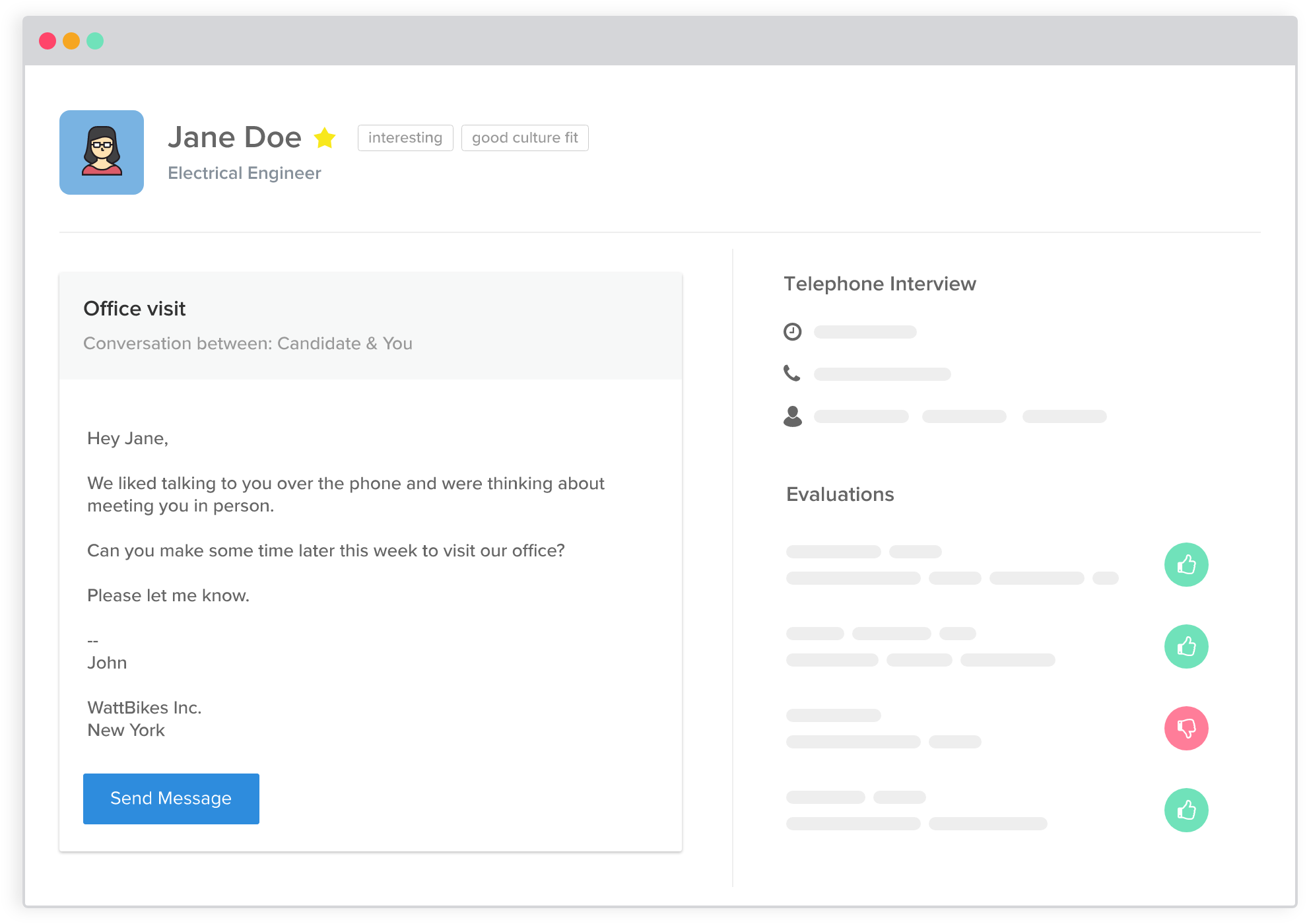 From the basic job board and listing functionality to collaborative evaluation tools, it checks all of the boxes and offers a clean and intuitive UI. The only reason we wouldn't consider Recruiterbox one of our top picks is because while it offers similar capabilities of the other ATS options we've evaluated, the pricing seems a bit steep and opaque. In particular, charging based on the number of employees at the company seems a bit arbitrary and could end up costing a pretty penny as your company grows.
Key features:
Branded job listings and career site
Collaborative candidate evaluation workflows
Build-in reporting and metrics
Pricing: Varies based on the size of the company and plan.
Starter plan for 10 employees is $199/mo, Pro runs $279/mo, and Pro Plus is $309/mo.
All prices reflect annual billing.
Get customized pricing from Recruiterbox.
ApplicantStack is an attractive option for companies looking for both an ATS and onboarding solution. Like some of the other tools on our list, they offer both.
But, what's unique here is that ApplicantStack allows you to opt for just applicant tracking, just onboarding, or both.
So, it's a more modular solution that can be customized to meet your needs, even if they change as your company grows.
On the feature and functionality front, we liked that it has pretty much every feature that we use in our current solution. Although, the ApplicantStack UI is a bit less polished than some of the leaders on our list.
Key features:
Unified job listing management
Prescreen and knock-out questions
Test communications
Onboarding functionality and checklists
Pricing: $135/monthfor both Recruit and Onboard functionality. Or, $95/monthfor just one.
Learn more about ApplicantStack.
Another interesting contender here is JazzHR.
With a host of critical features for creating and managing job postings, this is a perfectly capable tool for businesses of all types. It doesn't offer any truly standout features, and some of the customer reviews indicate that the UI can be a bit confusing at times.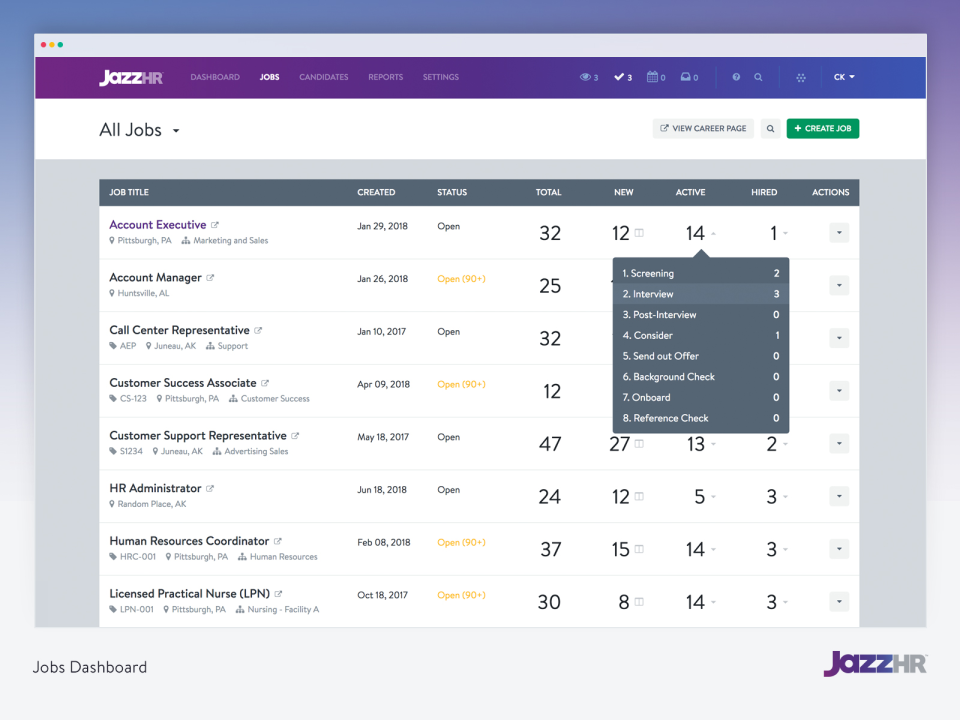 Nevertheless, for an entry-level ATS to create, manage, and share job listings—JazzHR is worth checking out.
Key features:
Branded job listings and candidate experience
Integration with third-party job boards
Visual candidate pipeline
Pricing: $39/monthfor up to 3 jobs or $219/monthfor unlimited jobs, each with annual billing.
Best ATS for recruiting agencies.
With more than 8,000 recruitment agencies in its customer base, Bullhorn is specifically built for third-party recruiting agencies. The company spends more than $1 million per month on product development, mainly focusing on increasing the speed of its cloud-based application—a useful benefit for recruiters executing dozens of recruitment tasks every hour.
Key features:
Easily post to job sites from within the app
CRM for tracking communication with candidates
Automated, online onboarding for new candidates
Flexible, customisable contact records
Centralized cloud database keeps records updated in real-time across devices
Pricing: Bullhorn offers four different pricing tiers to fit companies of all sizes—Team, Corporate, Enterprise, and Enterprise Plus. The pricing depends on how many users you need, and the company requires your contact info to obtain your quote. According to reviews on third-party websites, the Team pricing starts at $99/month.
Best ATS for inbound hiring workflows.
Perhaps one of the more well-known ATS software companies, Jobvite boasts an impressive online review portfolio by being named a Leader in six different categories on G2.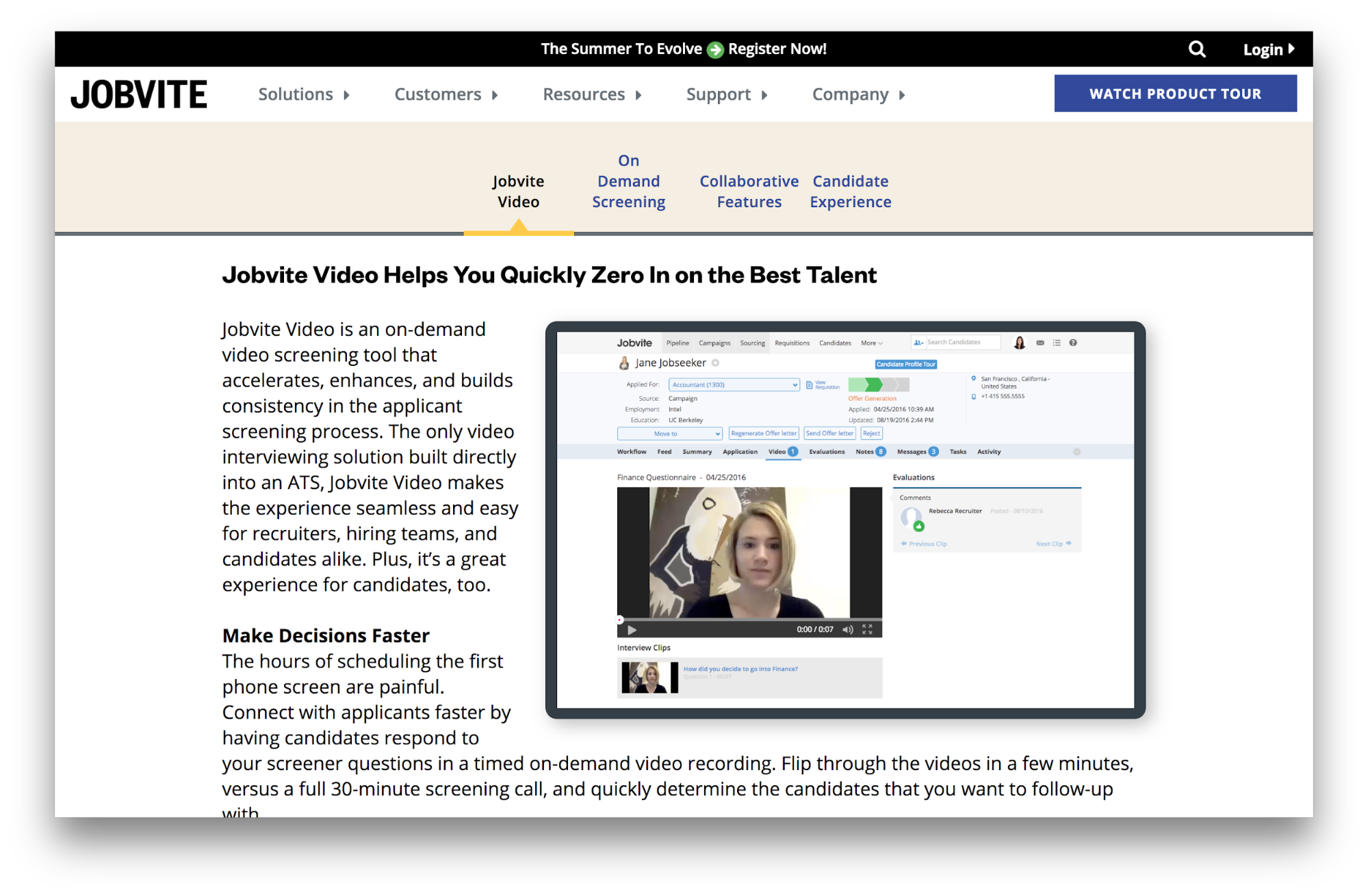 Taking a cue from companies like HubSpot, Jobvite uses an inbound marketing approach to recruitment with an emphasis on tracking candidate actions and metrics that can be compiled into useful and actionable reports.
Key features:
Artificial intelligence powers their sourcing, targeting, screening, and messaging functionality
Video calling is available within the app itself, providing a sleek interface that increases context with every candidate interview
Ability to build "career sites," which are white-labeled microsites optimized for mobile
Deep reporting and analytics to measure recruiting performance
Pricing: You must contact the company for a custom quote, but online reviews indicate pricing starts at $4,000/year and may cost more than $100,000/year for companies with 2,500+ employees.
This is an enterprise-focused ATS designed to increase the quality of new hires through recruitment workflow optimisation. The product features advanced technology, enabled with artificial intelligence to provide an engaging experience for candidates and valuable efficiencies for recruiters.
Key features:
Ability to post open positions to all job boards through their interface
Community of 2,500+ recruitment professionals to share tips and advice
Creation of high-converting, mobile-optimized landing pages for candidates
Offer management tools including eSignature integration
Pricing: SmartRecruiters does offer a free version that organisations can use for their first 10 hires to get a feel for the system. You'll have to contact the company to get a custom quote, but online reviews suggest an enterprise-level plan will run you upwards of $10,000/year.
Learn more about SmartRecruiters.
A reputable player in the human resource and recruiting industry, iCIMS is a powerful tool that serves a wide range of industries and verticals. iCIMS has helped more than 4,000 companies find, recruit, and hire candidates in more than 200 countries. The company prides themselves on their ability to integrate seamlessly with dozens of other applications.
Key features:
Provides candidates with 'text-to-apply' functionality
Create one job posting internally and send out to various job sites
Customize and automate workflows to cut down on manual tasks
Advanced scheduling features allow for hassle-free calendar coordination
Pricing: Their pricing is not publicly listed, however past customers mention that the cost is based on the number of employees at your company and generally starts around $6,000/year for small businesses.
How to Choose the Best ATS for Your Company
When it comes to choosing the right ATS for your company, several factors will come into play.
To break it down, you'll want to consider:
Pricing
Features
Extendability
Integrations
Complexity
Hiring stack
The most fundamental question to ask when evaluating solutions is which type of hiring software you truly need for your current and future hiring needs.
Most of the applicant tracking systems here can be divided into 2 main camps:
Purpose-built ATS designed to simply create job postings and track candidates in the pipeline
All-in-one HR solutions with ATS functionality plus onboarding, employee management, compliance, and more
If you're looking for option 1, then a solution like BreezyHR or GoHire are likely to be best suited for your needs.
Under option 2, we love the full suite of features offered by Workable, BambooHR, and Greenhouse.
ATS Price Comparison
Finally, there's the question of bang for the buck.
Based on our evaluation of dozens of options—and our top picks listed here—we've broken down the full range of options by their pricing and have followed this with a comparison that takes into account features.
| Tool | Monthly price for 1 job/user | Monthly price for 3 jobs/users | Monthly price for 10 jobs/users |
| --- | --- | --- | --- |
| Breezy | Free | $157 | $157 |
| GoHire | $89 | $89 | $150 |
| Recruitee | $269 | $269 | $269 |
| Workable | $149 | $299 | $299 |
| BambooHR | Custom | Custom | Custom |
Here's a high-level comparison mapping relative pricing and functionality of all the different applicant tracking systems.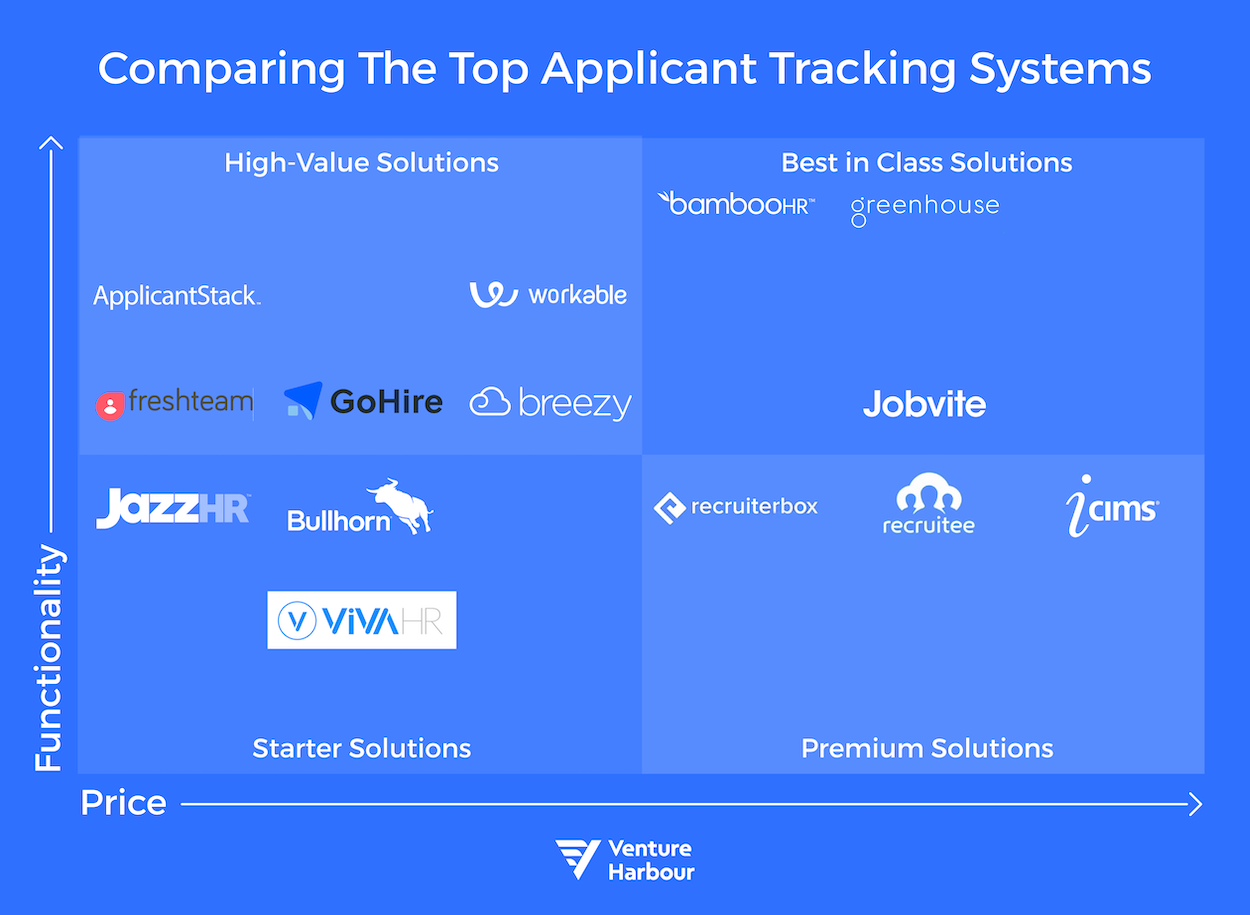 You'll notice that no matter your budget or the complexity of the solution you're looking for, one of these tools is almost certainly right for your needs.
Based on the above criteria, you can safely decide whether you're looking for a high-end solution with more end-to-end HR features, or a simpler solution that might come at a more affordable price. Or, most likely, you'll want to look for something in the middle—an affordable solution with all of the features you need, but nothing more.
Again, our top picks here include:
Each of these solutions seems to hit a sweet spot in terms of pricing and functionality, with the more comprehensive HR suites demanding a higher price but also including a fuller range of features for talent management.
No matter which ATS you choose, you'll likely be grateful to have a system in place to make hiring faster, easier, and more organized.
Take a few options for a test drive, figure out which one meets your needs, and then forge ahead.
Happy hiring!