I first used ActiveCampaign, a Chicago-based marketing automation tool, back in 2012 when they quietly pioneered a radical rethink of how to send emails.
Ironically, with little marketing, ActiveCampaign's relentless focus on building a great product led them to where they are today – serving 180,000 customers.
Across our portfolio of ventures, we've captured data on the experiences of ~2,000 customers. While the majority of ActiveCampaign reviews are glowing, I'll also touch on why people leave ActiveCampaign and who ActiveCampaign is and isn't suitable for in this review.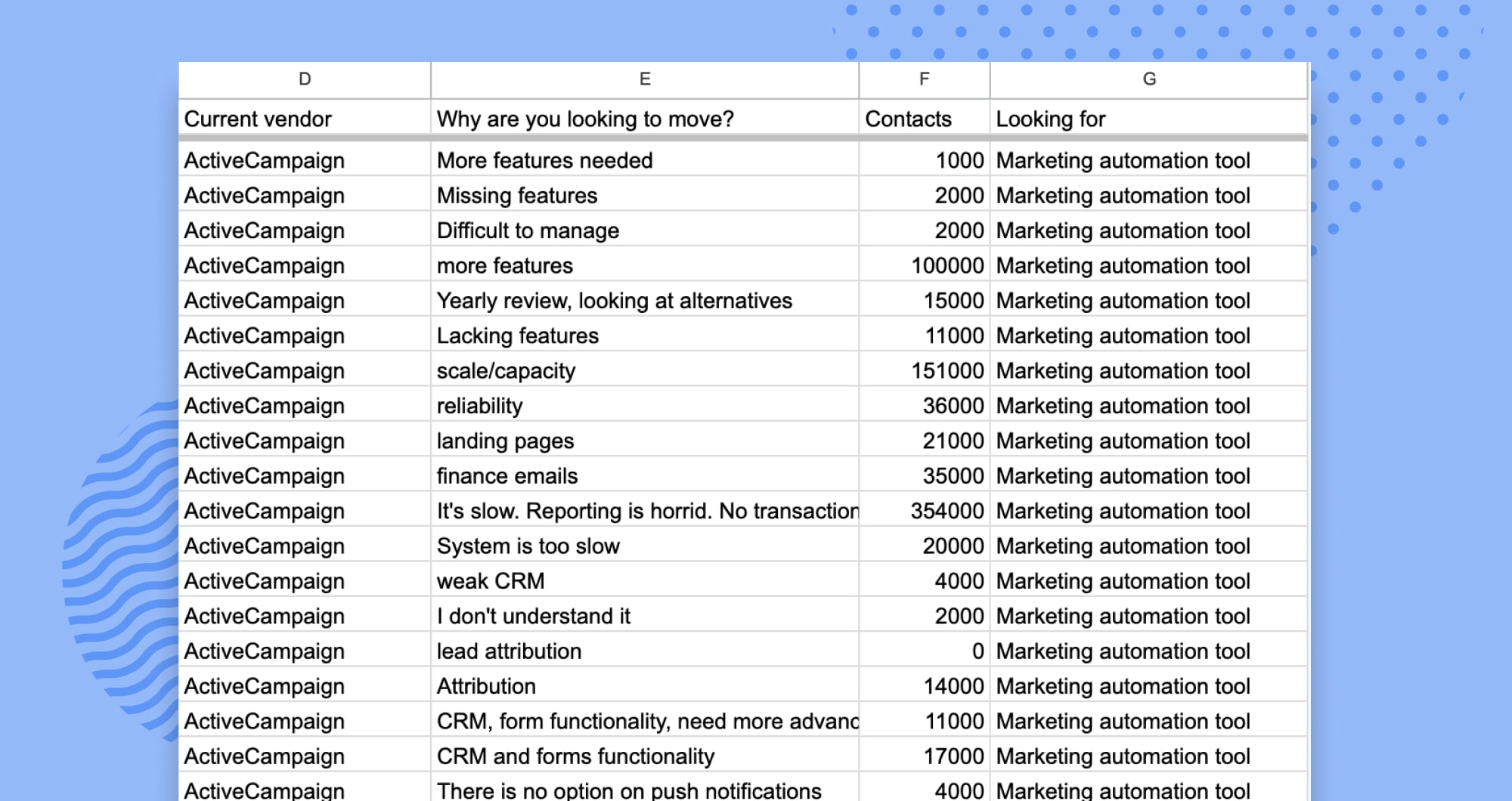 If you're considering ActiveCampaign, this review has one goal: To help you make a decision whether it's right for you based on real user experiences.
As a side-benefit, you'll also fast-track your ActiveCampaign knowledge as I'll be walking through features, example workflows, and some of the lesser-known ways to save money with them. Let's dive in.
Review Summary
The reason ActiveCampaign makes most marketing team's shortlist is down to its marketing automation offering, which is second-to-none.
If you're looking to save time building automated email and SMS workflows, you'll be hard-pressed to find an easier-to-use and more powerful tool out there. ActiveCampaign has its own CRM, enabling you to trigger emails based on where a deal is in your pipeline, setup appointments, tailor product recommendations and much more based on a deal or contact's behaviour. I'll unpack this in more detail later in the review.
ActiveCampaign also get the basics right. Everything from deliverability, compliance, integrations, security, email testing, to user support is industry-leading. Again, we'll cover these in detail later.
But this does come at a cost. ActiveCampaign is slightly more expensive than the simpler email marketing tools. ActiveCampaign may also be too powerful for your needs. If you're just looking to send email newsletters to your audience, there are more affordable options out there.
With that said, let's take a closer look at ActiveCampaign's platform.
Plans & Pricing
ActiveCampaign recently introduced bundles, allowing you to buy the sales and marketing features independently – or together as a bundle at a discount.
In addition, ActiveCampaign also has four tiers – you can work out which tier is best using this side-by-side comparison, but as a general overview:
The best way to find out how much you'll pay is using this calculator, but we've also broken down the pricing below for different list sizes for just the marketing automation features.
If you were looking to buy a bundle that also included the sales CRM, the following pricing would apply.
ActiveCampaign's pricing isn't the cheapest for marketing automation, but given the range of features offered the pricing is fair and reasonable – especially when compared against similarly advanced tools.
Screenshots
Pros & Cons
As part of our annual email marketing software research we survey thousands of email marketing software users every year. The pros and cons below summarise the five most commonly highlighted pros and three cons based on 2,000+ ActiveCampaign user responses.
Of those, we also asked 56 former ActiveCampaign users for the main reason why they decided to leave the platform.
Detailed Platform Review
We meticulously tested seven areas of ActiveCampaign's product to help answer this and help you gain a feel for the product.
Marketing Automation
With 135+ triggers and actions to build your automation sequences from, ActiveCampaign's automation builder is leaps and bounds beyond those offered by competitors like HubSpot and Mailchimp.
It's also the easiest automation builder we've used. In fact, new staff have been able to use ActiveCampaign in their first week with no training or onboarding needed. This is largely down to the flowchart style automation builder that's visually self-explanatory.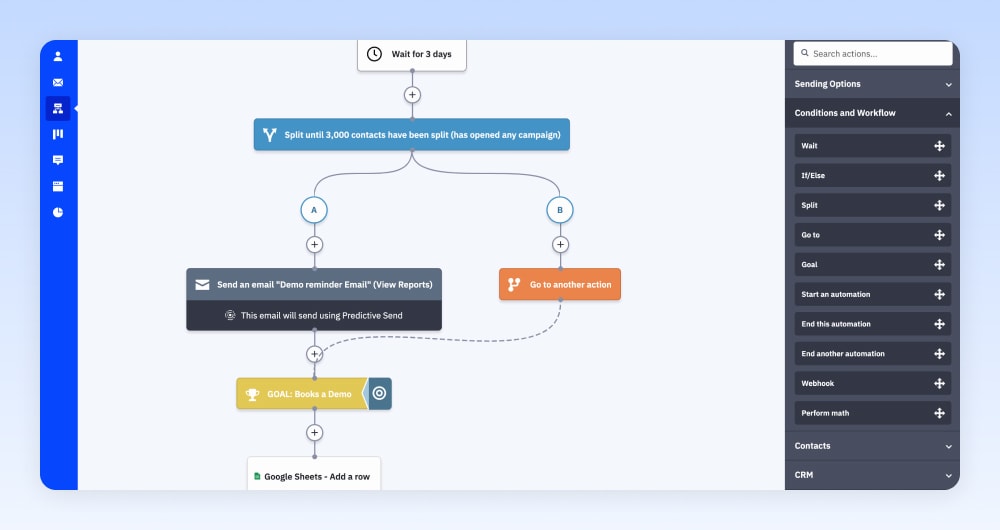 If you're just getting started, ActiveCampaign has over 500 pre-built automation recipes. These are particularly good for eCommerce businesses, as you can integrate your eCommerce platform (e.g. Shopify or WooCommerce) and use automation sequences that run when someone buys a product, abandons a checkout, or uses a discount code.
Triggers and actions
You can trigger an automation to start when almost anything changes to a contact or deal. While not exhaustive, these include when:
A contact submits a form, joins a list, visits a web page, opens/clicks an email, achieves a goal, has a tag added/removed, a field change or lead score updated.
A deal in the CRM changes status, deal stage, value, owner or has a task added.
A conversion occurs, or a person abandons a cart.
A date arrives (useful for birthdays, contract renewals, and holiday promotions).
You can then build out your automation workflows with a combination of conditions and actions. Conditions tend to comprise mostly of "If/Else" rules, waits, and go-to's, while actions broadly fall into three channels for communicating with your contacts – email, SMS, and site messages (notifications that appear on your website).
Here's an example of a SaaS onboarding sequence we built showing each of these steps. This sequence is triggered when a contact subscribes to a list. We then have a condition to wait until the time is 2pm on a weekday (when we have the highest open rates). We then send a series of educational emails on how to use the software.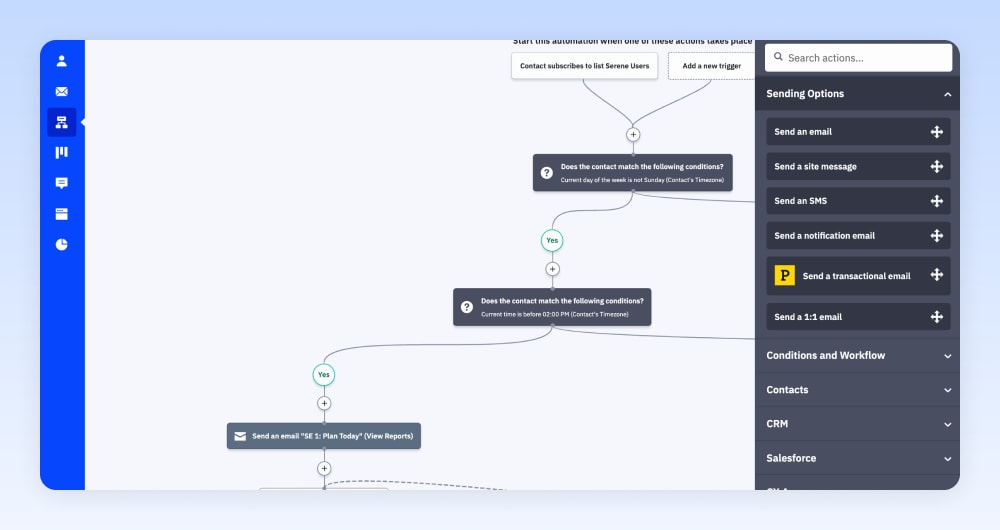 Split testing
While email split testing is nothing new, few marketing automation tools allow you to split test paths of an automation sequence. ActiveCampaign was among the first to do this, and in my opinion it's one of the best features in its platform.
This is because you can test hypotheses like "Does sending 10 emails vs. 5 emails, sending the emails over a week vs. a month, or combining SMS and email vs. just email improve your conversion rate?"
This also means that your automated email sequences can improve over time because you can set up unlimited split tests to refine your automation sequences while you focus elsewhere.
By running all of our emails as split tests, we've been able to increase the open rates of some of our key email campaigns by up to 300%.
Email Marketing
ActiveCampaign's email builder is one of the few we've used that's as good for beginners as it is for advanced marketers. It's drag and drop, auto-saving, and it just works.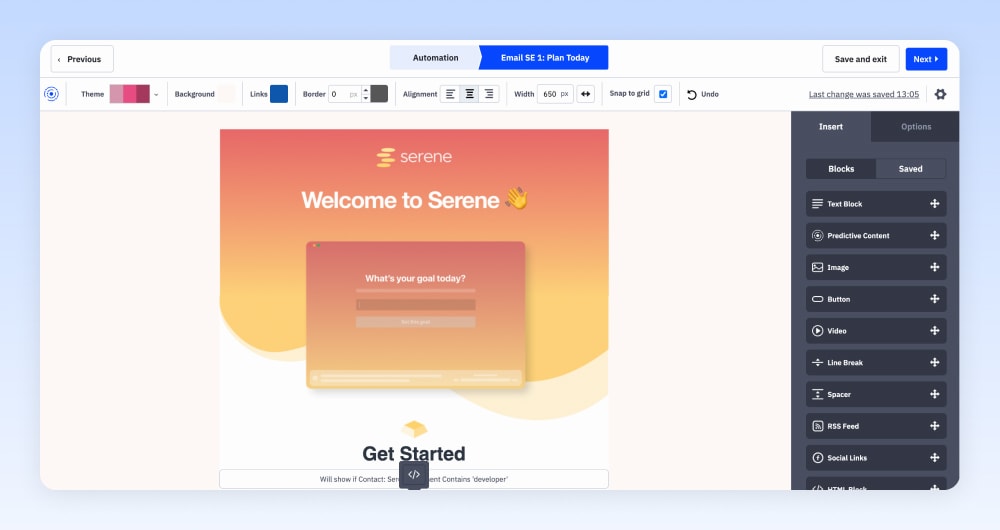 But it's not simplistic either. You can edit the HTML, insert content blocks that would usually require a developer (e.g. countdown timers, videos and eCommerce products), and split test almost anything you can think of.
One of my favourite things about ActiveCampaign is the ability to optimize your marketing with personalization and split testing.
For example, you can create conditional content to display different content to contacts based on any field (saving you from sending out lots of variations of the same email). For critical emails, you can even create variations of the content and let ActiveCampaign's predictive content algorithm show the most-likely to convert content to each contact for you.
When it comes to templates there are four options. You can choose from the 150+ pre-designed templates, use a basic template (i.e. a layout with no design), a past campaign, or start from scratch. For those looking to send emails that look personal, you can also choose between plain text and HTML.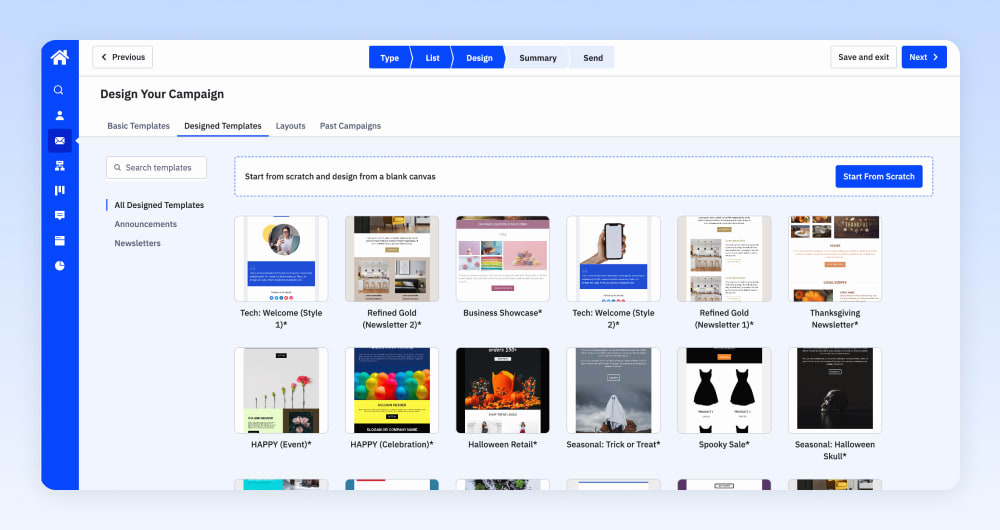 To help you improve deliverability, ActiveCampaign has a handy range of checks for spam filters, email client compatibility and you can preview how your email appears on different devices.
When it comes to sending emails, one feature I like about ActiveCampaign is that you can segment who your email is sent to based not only on a contact's list but on any condition – from whether they've visited a certain page on your website, to their geography, or based on company information.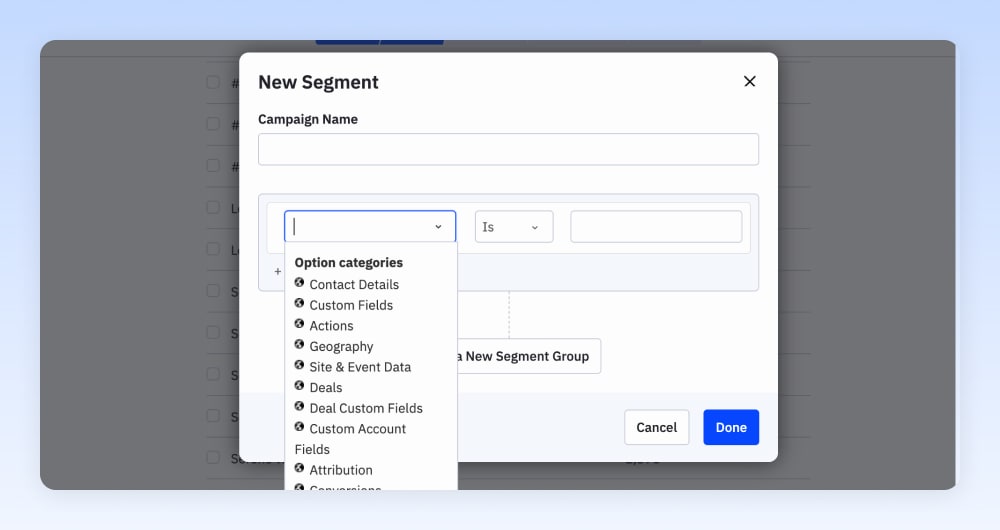 The segmentation options will of course depend on what information you collect about your contacts – which brings us onto the next part of ActiveCampaign's platform.
CRM
Combining your email marketing software and CRM is one of the best decisions you can make when choosing a tool, as your CRM is generally the source of truth when it comes to information about your contacts.
This provides invaluable opportunities to trigger emails when your leads change statuses, buy products, or take actions on your website.
This is all achievable with ActiveCampaign's CRM, which is built around an intuitive deal pipeline.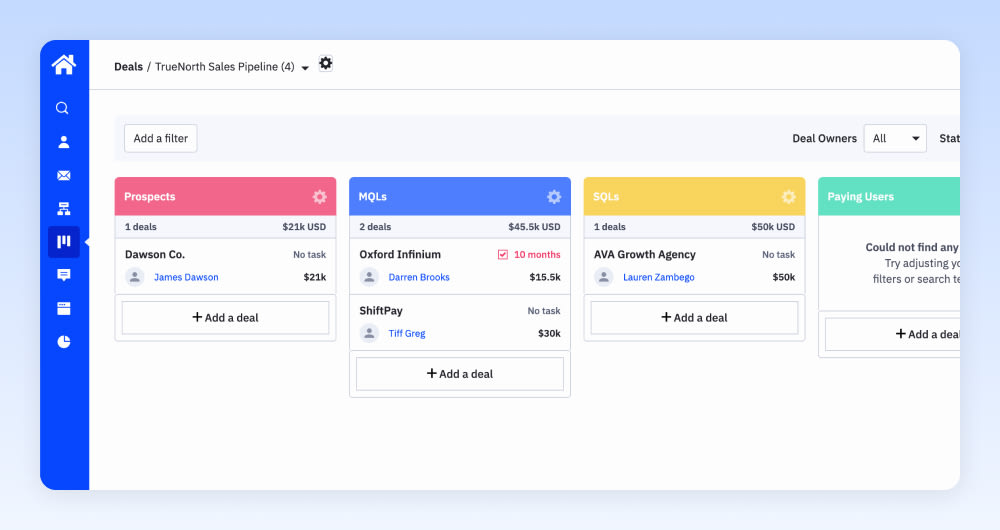 When you click into any deal on your pipeline you can see the information about that company and the associated contacts. If you've installed site tracking, you'll see every action they've taken on your website, as well as a history of interactions made with your email campaigns and automation sequences.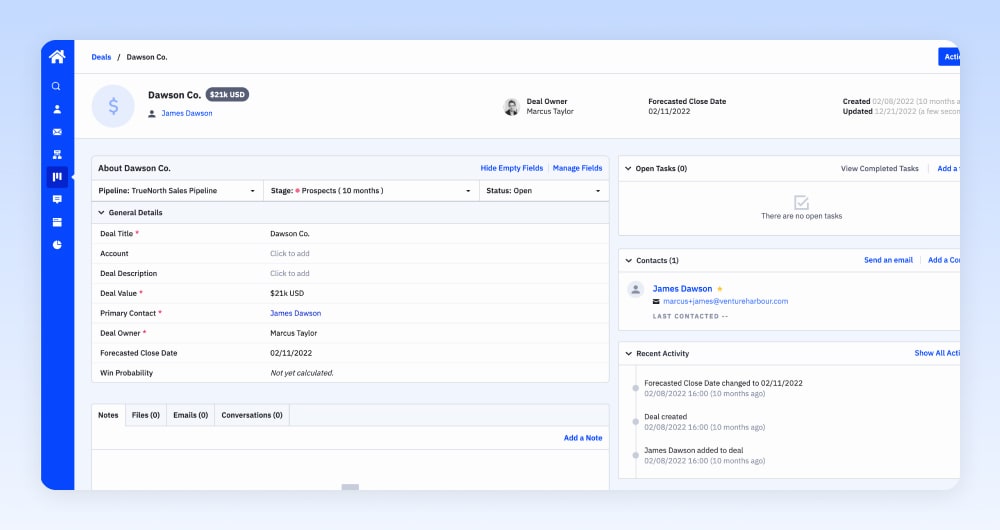 Contacts (i.e. people) have a similar view, though with more emphasis on the specific information you've captured about that person. It's here that you can also see which lists, automations, and tags are applied to that contact.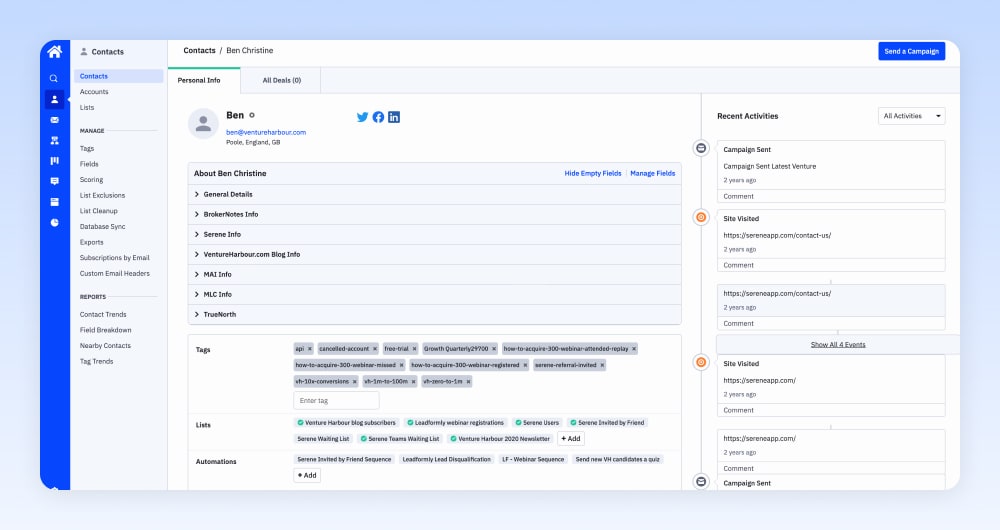 It's also here where you'll find lead scoring. This is one of those features that can make or break your entire sales process. When it's set up correctly, it creates clarity around which leads your people should focus on and how good a job your marketing team is doing at nurturing cold leads into warm leads.
For one of our ventures we use lead scoring to determine whether a lead is cold, marketing qualified, or sales qualified. We also use it to measure the health of existing customers.
Cold lead (has a lead score below 7 points)
MQL (has a lead score between 7-14 points) – We apply points when people register for our webinars, visit key pages on our site, and engage with our emails. The purpose of this is to separate engaged leads from unengaged leads.
SQL (has a lead score above 14 points) – We use the BANT (budget, authority, need, timeframe) methodology for this. Once we know all four of these criteria and they've above our agreed thresholds, the lead is considered sales qualified.
Setting up lead scoring in ActiveCampaign doesn't take long and makes it much easier to set clear KPIs for marketing and sales. You can also identify whether the % of leads that you're converting into marketing-qualified or sales-qualified leads is increasing or decreasing over time and more.
Our verdict on ActiveCampaign's CRM
While the CRM is great for small teams, our experience with ActiveCampaign's CRM has been that it tends to get a little bit cumbersome when you have a large number of deals and contacts. Where we've tried to collaborate with larger sales teams, they've often ended up using Salesforce instead and integrating this with ActiveCampaign to manage the automations in ActiveCampaign.
On the whole though, this is more of a cautionary tale to set clear guidelines with your team on how to use tags, custom fields and other CRM data, rather than a specific critique of ActiveCampaign's CRM.
Reporting
ActiveCampaign's reports have always been a little too reminiscent of a dull powerpoint presentation for my liking, and there's a lot of room to improve the data organization and visualization.
With that said, reporting should be judged on whether or not it provides answers to questions, and how actionable the insights are. To be fair to ActiveCampaign, the data is actionable and insightful – thanks to Goals, integrations, and attribution.
Goals
One action I didn't cover in the section on marketing automation is goals.
In essence, you can trigger a goal being achieved in ActiveCampaign when a contact does something – whether that's buying a product, completing an automation sequence, or opening an email.
This enables the goal and conversion attribution report, which shows who's achieved the goal, the conversion rate, touchpoints and, my favourite – time-to-completion. This means you can track how long, on average, it takes to get a lead to convert, buy a product, or anything else. This is a great metric to then try and reduce.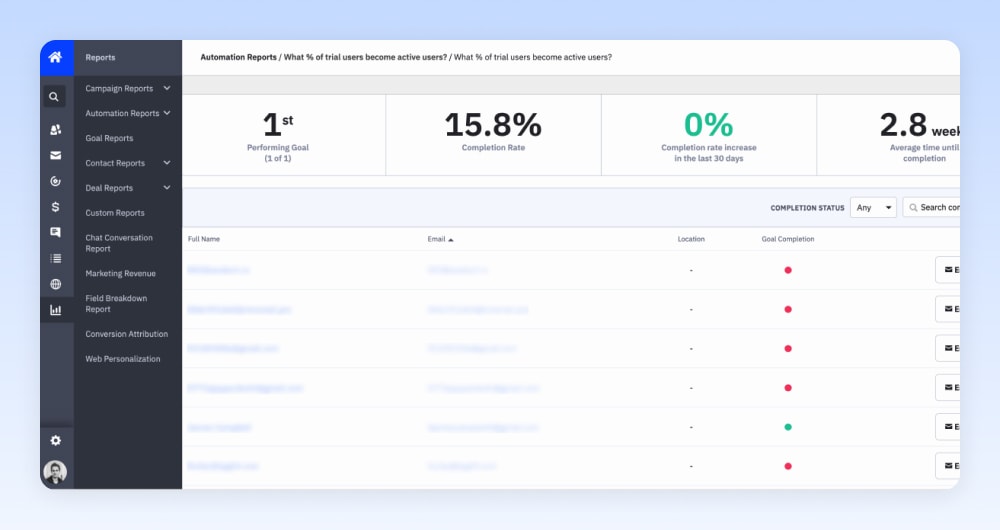 One habit I recommend is ensuring every automation sequence you build has a goal. This allows you to see how all of your automation sequences are performing at a glance.
eCommerce revenue reporting
For eCommerce users, ActiveCampaign is able to integrate with your store and work out how much revenue is generated from your campaigns and automation sequences, enabling you to assign a clear ROI to every email campaign and automation.
ActiveCampaign currently offers deep data integrations with BigCommerce, Shopify, WooCommerce, and Square.
Campaign reporting
ActiveCampaign also offer all of the standard reports for tracking campaign performance including list growth tracking, open/click through rate tracking, as well as reports to identify when your open rates are highest and how they vary by different mail clients.
Our verdict on ActiveCampaign's reporting
ActiveCampaign's reporting can be summed up as function over form. You'll find everything you need to optimize your email marketing, but just don't expect them to look great.
Landing Pages
If you're after a simple landing page builder to webinar, event or simple one-page microsite landing pages, ActiveCampaign's landing page builder will do the trick. But if your needs are more complex then you'll likely be better off using dedicated landing page software.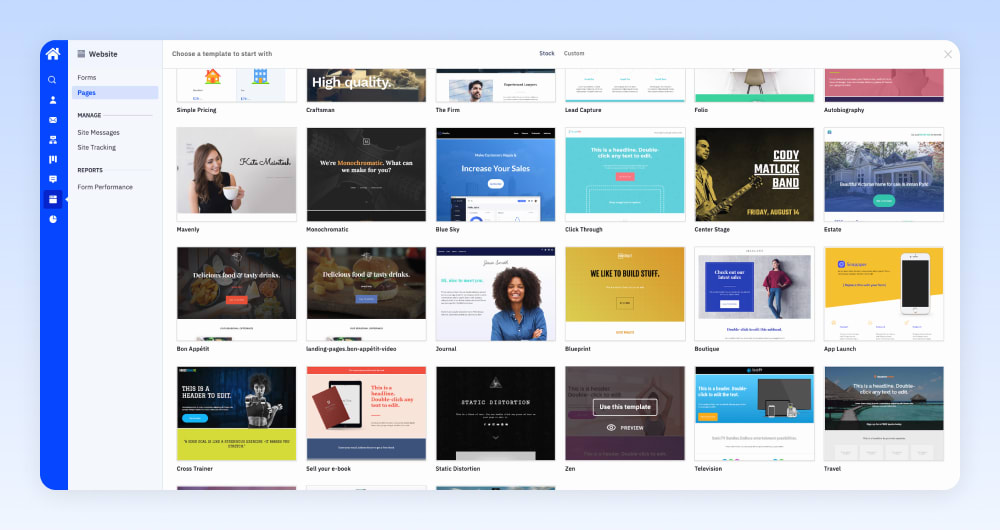 While the landing page builder itself is easy and intuitive to use, it lacks any kind of advanced functionality for personalizing your pages. I'd say this is a missed opportunity for ActiveCampaign given they have an in-built CRM, but I'm not convinced that ActiveCampaign users are likely using this feature to build dozens of PPC landing pages or run their websites from here (as is sometimes the case with HubSpot users).
Instead, this area of ActiveCampaign is little more than a lightweight page builder for publishing simple landing pages without the need of a developer.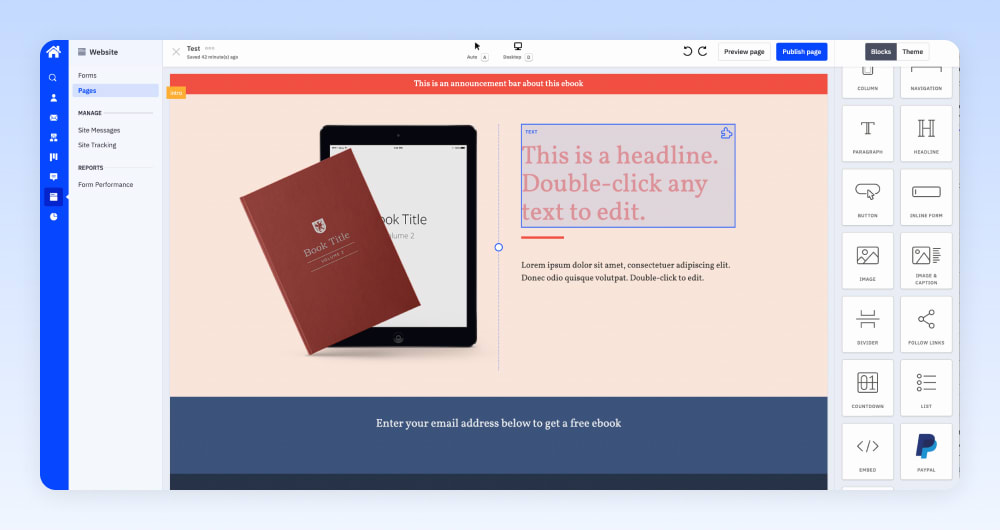 Forms
Forms play a crucial role in capturing leads to build your list. ActiveCampaign offers four types of forms – inline, floating bars, modals, and floating boxes.
ActiveCampaign's form builder is easy to use and offers a variety of ways to share and embed your forms – with the CSS and HTML fully editable to ensure it matches your website.
One handy feature when designing forms is the ability to load a preview of the website URL the form is going to display on, so that you can match colours and ensure it looks good in situ.
Finally, If you use Zapier, you can also connect your ActiveCampaign forms to your other tools easily to ensure that your contact data gets piped to the right place.
Customer Support
In ten years as a user, I've had to contact ActiveCampaign's support a total of three times. Each time, someone based from the US has responded within 24 hours – with a solution.
That is to say, while ActiveCampaign's support is good – you probably won't need to use it because they put so much emphasis on prevention and over cure. For example, you get access to:
ActiveCampaign University – a series of videos and guides to get started
Free 1-to-1 strategy sessions
In-person events and workshops
An active community forum, Slack community and Facebook group
A help center with a huge range of how-to guides
But if you do run into an issue, they do have phone, email and live chat support.
Our Verdict
There are few tools that I wholeheartedly recommend – ActiveCampaign is one of them. If you're still on the fence – they offer a 14-day free trial, which I'd recommend giving a try. If your experience is anything like ours, you won't be disappointed.
After collecting 2,074 reviews of ActiveCampaign, the average rating was 4.6 out of 5 which firmly places ActiveCampaign in the top 0.1% of email marketing tools by user satisfaction.
Alternatives
When friends and family have asked which email automation platform I'd recommend, there are only three instances where I've recommend a different tool to ActiveCampaign:
If you're an eCommerce business you may want to consider Omnisend, which is dedicated solely to eCommerce email marketing.
If you're a B2B service business with high-value leads (and a decent budget) you may want to consider HubSpot.
If you're a coach, trainer or educator looking to build out sales funnels with a membership site or gated content you may want to consider ClickFunnels.
As mentioned at the start of this review, ActiveCampaign is unique in that it's easy-to-use, feature-rich and affordable. Most of ActiveCampaign's competitors make a trade-off in at least one of these areas that make it difficult to whole-heartedly recommend.
Getting Started
ActiveCampaign have recently removed the credit card barrier allowing you to try their platform free of charge to see whether or not it's right for you. To do so, you can enter your email address below which will take you drop you straight into the platform after answering a few questions about your business.
If you have any questions about ActiveCampaign that we haven't covered in this review feel free to drop them in the comments below.
FAQ