A marketing calendar keeps you organised, aligns expectations and guides your team in the right direction.
This is far better than the reality most marketing teams face; Messy spreadsheets, haphazard roadmaps and marketing campaigns fragmented between project boards, ad platforms and documents.
The deeper you fall into this chaos, the more budget and productivity is wasted. Yet the looming deadlines, budget quotas, and goals do not go away.
Marketing calendar or planning software can be the solution to help you ditch the inefficiencies, and rest easier knowing all of your marketing processes, communication, and people are all in one place, and easy to access. Organised marketing increases productivity, and allows you to move faster and achieve your ROI goals without chaos.
What to look for in a marketing calendar?
Marketing calendar software has less to do with scheduling and more to do with simplification, planning, and alignment.
It connects, aligns and streamlines marketing activities, so the entire organisation (even external stakeholders) has visibility into your marketing processes. And that's just the beginning.
Essential Features:
Unlike project management tools, marketing calendar software needs to simplify your marketing process and helps you plan your marketing activities and campaigns from goal and initial planning to delivery and tracking.
The software provides:
Internal and external visibility – Your entire team should be able to view your marketing calendar, from top-level to multi-channel activities, with permission levels for security. Also, the software should make it easy to share data and communicate with external stakeholders.
Team organisation – Your marketing calendar software should also allow you to see who manages each aspect of your marketing campaigns. If a team member creates an idea, the software should assign the idea to the person and keep assignments visible throughout the platform.
Goals – A successful marketing strategy starts with goals, so the software should give you the ability to set goals for your campaigns and organise your data according to those strategic initiatives. So in addition to a calendar view, you also want to view activity from a business perspective so you can determine whether the campaigns are meeting (or not meeting) company goals.
Team collaboration – The platform should focus on team collaboration so all users can keep relevant discussions inside the platform, instead of in many different external locations, which causes confusion and wastes time.
In addition to the above features, ensure the marketing calendar software is user-friendly, intuitive, easy to navigate, and comes with premier support.
Below we will go into more detail on nine of the best marketing calendar software tools designed to help you organise and streamline your marketing activity.
TrueNorth is the only marketing planning tool built for marketing teams.
Unlike the generic calendars and project management tools we've covered in this post, TrueNorth's designed to help marketers hit their growth goals by tying your marketing activity to results and growth goals.
As you can see, TrueNorth goes beyond just mapping your marketing activity on a timeline. It also helps you keep track of marketing spend, how your campaigns contribute to your larger marketing objectives, and your overall progress.
How does it work?
With TrueNorth, you start by building a growth projection from where you are to achieving your goal. This is an essential step, as it creates a series of monthly milestones that help you stay on track.
TrueNorth has many handy features that you won't find in any of the generic marketing calendar tools, such as integrations with marketing tools to automatically pull in results (and auto-detect campaigns that you forgot to add to your marketing calendar).
To keep your marketing calendar full of high-ROI ideas and experiments, TrueNorth has a unique feature called Ideation Sessions, which allows you to request and prioritise ideas from your team virtually.
TrueNorth Features:
Growth projection
Easy-to-use marketing timeline
Deep

Google

Analytics integration
Integrations inc. Google Ads, Bing Ads, Facebook Ads & more
Ideation tools
ICE prioritisation
Campaign collaboration
ROI tracking
Goal progress tracking

Monthly milestones & check-ins
TrueNorth Pricing:
TrueNorth is $99/month for teams of all sizes and has no per-user fees.
You can learn more and start a free trial here.
Wrike is a work management platform that helps teams collaborate and work through tasks. Though Wrike does not focus on just marketing teams, its marketing capabilities provide businesses with the tools to organise and collaborate on campaigns.
Wrike offers varying project management styles depending on the users' preference. You can customise workflows to suit your style and see all of your team's activity at a glance. Keep all of your activity in one place, making it easy to collaborate and move quickly on projects.
View all of your marketing campaigns' results in one place, where stakeholders can review and collaborate without switching back and forth between several spreadsheets and tools. Bring all of your marketing campaigns together under one roof.
Wrike also provides templated forms, workflows and roadmaps for campaign management, marketing operations, go-to-market planning, agile marketing, content creation, and event management.
Wrike Features:
Agile features
Gantt charts
Kanban boards
Workflow and campaign templates
Analytics dashboard
Unified dashboard
Team collaboration
Automated workflows
Software integrations
Wrike Pricing:
Wrike offers a Free limited plan for up to five users, including basic task management, file sharing, a spreadsheet view, real-time activity stream, cloud storage integrations and 2GB of storage space.
The Professional plan starts at $9.80 per user / month for up to 15 users. It adds on Gantt charts, advanced integrations, shareable dashboards, collaborators, task and subtask management, and 5 GB of storage space.
If you want some of Wrike's advanced features such as custom fields and workflows, report templates, user groups and permissions, advanced user access controls, and more space, you will need to purchase the Business or Enterprise plan. The Business plan is $24.80 per user / month for up to 200 users. The Enterprise plan allows unlimited users, and pricing is available with a custom quote.
Kapost is a product of the Upland Software suite. Similar to Wrike, it helps marketing teams plan and manage content from ideation to ROI. Upland offers multiple products to help organisations plan and manage their workflows. In this section, we will discuss Kapost for content management.
Similar to other software, Kapost provides campaign marketing calendars so users can view all of the active campaigns and activities.
Kapost also helps marketing teams create and manage content for customers at all stages of their journey. In addition to seamless collaboration and workflows, Kapost enables you to align your content with your personas, their buying stages, and interests, among other factors. Map content for each stage of the buyer's journey.
Kapost also provides automated workflows to streamline marketing activities and make processes more efficient. In addition, it integrates with social media platforms and provides an analytics dashboard that can track all relevant content metrics (leads, links, views, conversions, etc.)
Kapost Features:
Workflow and campaign templates
Content calendar
Analytics dashboard
Unified dashboard
Team collaboration
Automated workflows
Social media integration
Content publishing
Software integrations
Kapost Pricing:
Kapost does not publish pricing on its website, but you can request a free demo.
Curata is another marketing calendar focused on content marketing planning, management, and tracking. The platform provides an editorial calendar, account-based marketing, analytics and reporting, data-driven insights and content curation software to help you find trusted, industry-leading content.
Curata's customisable editorial calendar keeps all content-related tasks organised and visible to all team members, making it easy to streamline your content programs and incorporate data-driven insights.
Use Curata's content analytics to dig deeper into the results to evaluate marketing tasks by activity and funnel stage. Discover which type of content works best at a particular stage of the sales funnel. Create customised reports by content type, writer, buying stage, and more.
Curata Features:
Editorial calendar
Content templates
Analytics dashboard
Unified dashboard
Team collaboration
Customisable reporting
Content curation software
Account-based marketing
Software integrations
Software integrations
Curata Pricing:
Curata pricing is available by custom quote. Contact Curata to get a demo of the software.
CoSchedule is a work management software platform for marketers. The solution consists of two separate products based on your needs: Marketing Calendar and Marketing Suite.
Marketing Calendar includes a real-time marketing calendar where you can schedule projects and automate your social content publishing. Marketing Suite organises your projects and processes, monitors their progress, and automates team workflows.
CoSchedule's marketing calendar allows you to quickly reschedule, get a full view of your marketing projects and progress, reschedule them easily, and share your progress with stakeholders.
CoSchedule's Marketing Suite elevates your marketing calendar and organises your content so you can maximise resources and boost output. Create custom workflows your team can follow and collaborate on, while tracking project progress.
Note that CoSchedule is more of a content planning and project management tool. It includes five agile marketing tools: marketing calendar, social organiser, content organiser, work organiser, asset organiser.
CoSchedule Features:
Agile features
Workflow and campaign templates
Unified dashboard
Social publishing and scheduling
Team collaboration
Automated workflows
Software integrations
Digital asset management
CoSchedule Pricing:
CoSchedule's Marketing Calendar is $39 per user / month, with a 20% discount for annual billing. The plan includes up to 10 users and 10 social profiles and offers a real-time marketing calendar, task and workflow templates, social publishing and scheduling, social campaign templates, and numerous integrations.
The cost of CoSchedule's Marketing Suite is available upon request and includes all Marketing Calendar features plus automated team workflows, team calendar sorting, asset and file storage, team progress tracking, and management of marketing requests.
CrossCap is comprehensive marketing planning and workflow software that can serve as a central hub for your retail or ecommerce MarTech stack. The software offers four separate products: Marketing calendar, Distro, Promo Planning, and Online Proofing.
Multi-channel campaigns can be challenging to track without switching from different interfaces and dashboards. CrossCap solved this problem with its multi-channel calendar view that can be customised with filters and tags for user preference and visual style.
Distro enables stores and franchisors to manage vendors and bids more efficiently, integrate reorder and shipment tracking, and unify communication across internal and external teams with its end-to-end distribution tool.
Promo Planning is an omnichannel promotion management platform for marketing and merchandising teams that includes customisable workflows with seamless SKU management.
Organise and fast-track approvals with CrossCap's Online Proofing which provides easy management of proof cycles (can run more than one simultaneously) and the changes, tracking, and approvals that accompany it.
CrossCap Features:
Marketing calendar
Promotions management
Distribution management
Online proofing management
Analytics dashboard
Unified dashboard
Team collaboration
Automated workflows
Software integrations
CrossCap Pricing:
CrossCap does not advertise its prices on the website. You can request a free demo to learn more about the product suite.
Monday.com provides workflow management capabilities for many different departments: project management, marketing, task management, construction, CRM and sales, creative and design, software development, IT, and more.
Create boards, which are customisable tables where you can create multiple workflows trackable by your entire team. Use the pre-done templates or customise them for your organisation. You can also view the data in different ways (bar charts, kanban, etc.).
Monday.com provides automated workflows for marketing teams to speed up processes and workflow. For example, send a notification to your team when you achieve a campaign goal.
Monday.com also provides a real-time analytics dashboard that reports data on your campaign metrics so you can monitor progress and spot bottlenecks. All team members can gain visibility into what's working and what needs to improve.
Monday.com Features:
Agile features
Marketing calendar
Gantt charts
Kanban boards
Workflow and campaign templates
Analytics dashboard
Unified dashboard
Team collaboration
Automated workflows
Software integrations
Monday.com Pricing:
14-day free trial
The Basic plan costs $10 per seat / month with discounts for annual billing. The Basic plan offers unlimited boards with templates, 20 column types, and a dashboard for one of your boards.
The Standard plan is priced at $12 per seat / month with discounts for annual billing. It includes all Basic plan features plus timeline and Gantt views, calendar view, automations (250 actions per month), integrations (250 actions per month), and a dashboard that combines up to five boards.
The Pro Plan costs $20 per seat / month and adds on private boards, chart view, time tracking, up to 25,000 actions per month each for automations and integrations, and a dashboard that combines up to 20 boards.
The Enterprise plan cost is available by custom quote and adds on premium support, enterprise-level automations and integrations, security, multi-level permissions, advanced reporting and more.
8. Welcome (Formerly Newscred)
Welcome is a full content marketing management platform. Over the years it has transitioned from a more focused content platform (Newscred) to a rebranded all-inclusive CMP (content management platform), MRM (marketing resource management), and DAM (digital asset management) tool.
Welcome helps you keep track of all of your marketing activities and the people who are managing them. Project management happens inside a unified workspace with integrated workflows and the ability to duplicate processes to make future work more manageable.
Welcome is known for its content marketing platform, the foundation upon which the platform was built. The content calendar allows you to streamline operations and measure results to align with your business goals. Its features include SEO and keyword research, content optimisation and distribution, content scoring, advanced tracking and analytics.
In addition to marketing resource management and digital asset management, Welcome also serves as a data orchestrator, an iPaaS that connects your MarTech stack, enabling seamless integration.
Welcome Features:
Marketing calendar
Gantt charts
Kanban boards
Workflow and campaign templates
Analytics dashboard
Unified dashboard
Team collaboration
Automated workflows
Digital asset management
Software integrations
Welcome Pricing:
Welcome does not advertise pricing on its website, but you can get a free account to try most of its features, and request a demo.
Airtable is a project management and collaboration workspace platform that can help anyone plan and manage projects and campaigns. While you can use Airtable for multiple purposes, we will discuss its application for management and editorial planning.
The editorial calendar template keeps track of your content and task assignments. You can also switch between different views depending on your preference: kanban, grid, calendar, and gallery.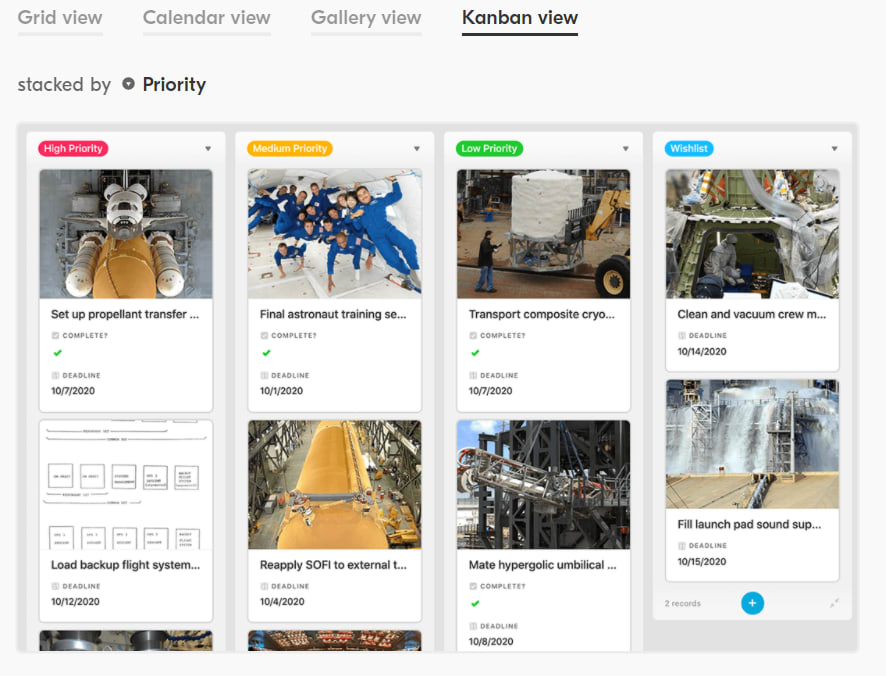 Input your Google Analytics into Airtable's marketing campaign template to get a holistic view of your campaign variables, results, ad creative, and more. Compare results from each campaign and review your progress to prioritise the ones that bring you the highest ROI.
Airtable also offers workspace automation capabilities and over 50 prebuilt apps (SendGrid, Gantt, page designer, scripting) to enhance your experience and build out the platform's functionality.
Airtable Features:
Gantt charts
Kanban boards
Workflow and campaign templates
Analytics dashboard
Unified dashboard
Team collaboration
Automated workflows
Software integrations
Airtable Pricing:
Airtable offers a Free plan that includes 1,200 records (rows) per base (database), 2 GB attachment space per base, 100 automations per month, real-time collaboration, and more.
The Plus plan costs $12 per user/month and adds on 5,000 records per base, 5 GB of space, 5,000 automations per month, and more.
The Pro plan is $24 per user/month and adds on more records and space as well as advanced applications, calendar features, custom branding, permissions, among other features.
There is an Enterprise plan available which includes some advanced admin and security features. Cost is available by custom quote.
How to Choose the Right Marketing Calendar Software
Ultimately, trying each tool will help you decide which one is right for you. While most of the tools above have similar functionality, each offers varying features, and your choice will depend on your preferences.
Note that if the tool you want does not have a specific functionality, it may provide integration with your other software tools. Most of the marketing planning software market integrates seamlessly with other tools in your MarTech stack.
If you are focusing more on content planning and management, start with researching Kapost, Curata, Welcome, and Airtable.
If you are looking for a tool for your ecommerce, retail, or franchises, CrossCap is one to research. Note that the other tools will also cater to ecommerce stores, but CrossCap focuses on capabilities that transition into retail and franchises.
If you are looking for a marketing planning and operations platform for your marketing campaigns, try TrueNorth, Monday.com, Wrike, or CoSchedule.
Note that all of the solutions can function in some way as workflow and project management software to organise your marketing processes and streamline collaboration.