According to research from Google, it can take anywhere between 20 to 500+ touchpoints for people to complete an online purchase. Not only that, but the number and type of touchpoints can vary greatly, depending on the purchase in question and the individual needs of each buyer.
The modern sales process is a complex and highly personal journey, which makes it difficult for marketers and sales teams to deliver the right messages, in the right places, at the right time.
Luckily, there are some tools that will help you achieve this:
CRM: A customer relationship management (CMS) system allows you to compile data about prospects, track their progress along the buying cycle and send targeted messages to them along the way.
Lead generation: The tools to create landing pages, web forms and other lead generation essentials easily.
Email marketing: Still the most reliable and effective way to keep leads/customers engaged, before and after the initial purchase.
Multi-channel marketing: With leads coming in from search, social, email and multiple other sources, you need a space where you can bring them together and manage them collectively.
Marketing automation: Cut out the manual workload of data-driven marketing so messages are automatically delivered, based on the actions and changing interests of your prospects.
Customer support: To keep those customers happy and coming back for more.
Optimisation tools: To constantly improve results and grow your business.
That's a lot to expect from any marketing toolkit but there are plenty of all-in-one CRM and marketing automation platforms that promise to deliver everything on the list above – and more.
In this article, we look at the top 10 options available right now.
Which tools are we looking at today?
Obviously, claiming one piece of software is better than another is highly subjective. My needs are different from yours and we all have our own opinions, experiences and biases that influence our decisions.
To ensure this guide is objective and reliable, we're not only offering options but also insights based on comprehensive data, surveys and feedback from other users.
We've taken the same data-driven approach in our 10 Best Email Marketing Software & Email Automation Tools of 2020 guide and, at the end of this article, we'll explain how you can access the raw data we've compiled to create these guides.
Based on this data, the top 10 all-in-one email marketing, automation and CRM platforms are:
These are the 10 highest scoring platforms in our extensive dataset, meaning they all provide excellent email marketing solutions with built-in customer relationship management (CRM) systems and automation features to power your campaigns.
However, each of these platforms is geared towards different types of businesses, projects and budgets. So the focus of this guide is to help you choose which all-in-one system is the right choice for you.
First, we'll look at the top 10 platforms in more detail and explain why they scored so well across every category. Then, we'll help you decide which platform is for you by looking at the top performers in each category.
#1: ActiveCampaign – best for small & enterprise businesses at every price point
Key features:
Email marketing
Marketing automation
Excellent automation builder
Advanced website tracking
Sales & CRM
Landing pages
Email, SMS, Facebook & on-site messaging
Multichannel campaigns
Predictive lead scoring, analytics
ActiveCampaign is a true all-in-one marketing automation and CRM platform – one that provides almost everything you need from a tech stack. We've been using ActiveCampaign as our CRM here at Venture Harbour for more than five years now and it remains our primary email marketing and automation platform after all these years, too.
There aren't many platforms on the market that offer such a depth of features and tools with such consistent quality.
With ActiveCampaign, you get a true CRM platform that helps you integrate sales and marketing to closer more leads. You also get extensive email marketing features, multi-platform messaging, as well as predictive lead scoring and analytics, powered by machine learning – all of which is pulled together by the platform's excellent automation capabilities.
While you would normally need dozens of separate marketing tools to achieve this functionality, ActiveCampaign has built its own suite of products over many years to offer (almost) the only marketing tool you'll ever need.
We should also talk about ActiveCampaign's pricing for a moment because this is an enterprise piece of software that doesn't charge like one. A common problem you'll find with enterprise software is that price jumps between plans increase significantly and you find yourself suddenly paying thousands more to use the same tools.
ActiveCampaign's pricing structure incrementally increases as your business (and budget) grows so you're never caught out by hefty bills.
This is one of the key reasons we recommend ActiveCampaign as the top all-in-one solution for businesses of all sizes. While there are several platforms worthy of the top spot, ActiveCampaign is the only one that offers enterprise quality at a low entry point with prices that scale so reasonably.
This is crucial for smaller businesses that want a serious marketing suite, knowing they will be able to continue affording it as their business grows and their goals become more ambitious. We were once in the same position and ActiveCampaign simply offered more than any other provider at the same price point. Now, it's the quality of ActiveCampaign's product that keeps us using the platform.
Having used ActiveCampaign for so long now, we're in the privileged position to be able to offer our readers an exclusive partnership offer will save you up to $5,000 over the course of two years – including free implementation and migration, your second month free of charge, free CRM with sales automation and more.
Important: Make sure you use this link to unlock the exclusive offer and you can find out more about the ActiveCampaign suite of marketing tools here.
#2: Moosend – best for small agencies, non-profits & NGOs
Key features:
Email marketing
Marketing automation
A/B testing
Personalisation
User tracking
Lead generation tools
CRM integration
Smaller businesses have often been neglected when it comes to marketing technology and ActiveCampaign made its name by offering a truly accessible platform for smaller and larger businesses.
Things couldn't be more different in 2020 and smaller businesses now have a wealth of options to choose from – perhaps too many now.
In fact, one of the common issues you'll find with all-in-one marketing solutions aimed at smaller businesses is they now oversimplify things. This is great if you're new to strategies like email marketing but the problem is you'll quickly outgrow a basic platform and have to migrate to something else.
You're not going to have this problem with Moosend.
Moosend is as easy to use as any of the simplest email marketing tools on the market but it packs powerful features, including predictive analytics, advanced automation and lead generation tools. It even makes marketing automation impossibly easy to work with, thanks to its excellent automation workflow designer.
Aside from an impressive list of features, Moosend also offers a free version of its software that's genuinely useful to new and small businesses. This isn't some gimmick to get you signed up so they can force you into paid plans; you will grow your business using the free version of Moosend and upgrade to a paid plan when it's financially rewarding to do so.
Once you're on paid plans, price scaling is reasonable and still geared towards smaller business. This isn't an enterprise offering in the same vein as ActiveCampaign but it is an excellent all-in-one solution for small businesses that want to kick-start early growth.
It's also a great option for small agencies, non-profits and NGOs that need to maintain growth without paying enterprise software fees.
#3: Hubspot – best for enterprise B2B companies
Key features:
Free CRM
Extensive marketing & sales features
Marketing automation
Landing page builder
Email marketing
Excellent customer service tools
Hubspot is one of the biggest names in marketing software, offering a comprehensive suite of tools for brands of all sizes. First of all, you get its excellent CRM for free although the company splits its marketing hub (landing pages, automation, analytics, etc.), sales hub and customer service hub into separate products – each of which you have to pay for separately.
In terms of quality, HubSpot's software products are industry leading, not only when it comes to features but also the usability and design of its platforms. In fact, HubSpot is just about unrivalled when it comes to offering a true all-in-one solution for sales and marketing teams that unifies your cross-channel strategies at every touch point.
If you're a HubSpot customer, you can get almost every sales and marketing tool you'll ever need from the same supplier, knowing all of them integrate with each other seamlessly.
The only real downside is that you have to pay for the convenience and HubSpot definitely comes with an enterprise price tag.
Pricing can get quite complex and your final monthly bill can easily end up costing more than you expected. Price increases between different plans are pretty steep, too, although Hubspot's enterprise pricing is still competitive with the more expensive names in marketing software.
In return for your money, you get one of the best marketing automation suites on the market and certainly one of the most pleasant to use. A common trend you'll find with enterprise-grade marketing software is that the overall design and usability of platforms can be surprisingly sub-par – especially from some of the older, more established names.
This isn't a problem with HubSpot and, if you're willing to pay for a well-designed all-in-one solution, there aren't many better options currently available.
#4: Omnisend – best for eCommerce brands
Key features:
Capture leads with landing pages, popups & forms
Email marketing for eCommerce
Website tracking
Abandonment campaigns
Cross-selling & upselling
Customer retention tools
Omnisend is a bit of a newcomer on the marketing software scene but the company has quickly built a reputation of being a modern system for modern brands – something often lacking in this niche.
We just talked about many of the older, established names not always delivering on design and usability but new kids like Onmisend are bringing a fresh generation of user-friendly software options for newer and smaller businesses that don't have the time to get bogged down in complex software.
In the case of Omnisend, we're talking about a platform designed especially for modern eCommerce brands that want to automate as much of the sales process as possible, nurture more leads into paying customers and optimise campaigns to improve crucial KPIs like conversion, abandonment and churn rates.
Traditionally, marketing software has focused on B2B brands with a heavy emphasis on enterprise businesses. Omnisend breaks this outdated trend by providing a platform for eCommerce brands with a pricing structure that scales up for the smallest of retailers looking to build an online empire.
Omnisend offers a free plan that small retailers can use to spark real growth. This isn't merely a bait tactic to lure you in; you can make real things happen on the free version of Omnisend and upgrade to a paid plan once your business demands further growth.
Sign up to the standard plan (starting from $16/mo) and you unlock most of Omnisend's marketing automation features, including its excellent workflow builder and cross-channel campaigns for email, SMS, push notifications and specialist eCommerce campaigns.
You also get a range specialist eCommerce personalisation features, including product recommendations, discount codes, gift boxes and competitions.
At these price points, Omnisend's software offerings are nothing short of remarkable in a space where eCommerce brands have historically been overlooked.
#5: Rejoiner – best for managed email marketing
Key features:
Email marketing
Native CRM
Marketing automation
Advanced lead scoring & segmentation
Customer journey optimisation
Managed email marketing service
Rejoiner was the biggest surprise entry in our marketing software ranking – a new name that we didn't know a great deal about.
This is another platform that specialises in eCommerce marketing but it doesn't come with the friendly pricing structure of Omnisend. A quick look at the features built into this platform offers a lot of clues as to why this might be the case: it provides some serious features for strategic planning and campaign optimisation across the entire customer journey.
That's not all, either.
When Marcus reached out to Rejoiner CEO, Mike Arsenault, to find out more about the company, he learned just how different the company is from other marketing software providers.
With Rejoiner, the software is only half of the story. While the platform is packed full of advanced email marketing and automation features, it's the company's managed email marketing service that really sets it apart from other providers.
Rejoiner is the email marketing platform for eCommerce brands that don't want to get involved in email marketing at all. Instead, they get all of the benefits without the workload because Rejoiner provides the email marketing service to go with its excellent software platforms and the company's in-house experts know exactly how to get the best results from its own software.
This explains why Rejoiner has such a strong profile of positive reviews from major retailers. Mike Arsenault told us that their typical client pays $4,000 – $6,000/month for an all-in-one service and the majority of these companies are eCommerce brands generating between $5M – $50M revenue every year.
With powerful, innovative features, quality products design and excellent customer feedback, Rejoiner fires itself into fifth place on our marketing software ranking, despite being a highly-niche product.
It just goes to show that excelling at something very specific can be a powerful business strategy.
#6: ConvertKit – best for bloggers, affiliate marketers & publishers
Key features:
Email marketing
Simple email builder
Email automation
Landing pages
eCommerce campaigns
Lead qualification & nurturing
eCommerce brands aren't the only businesses overlooked by marketing software providers until recently. In fact, smaller businesses in general have been left wanting while providers target enterprise businesses with large marketing and software budgets.
Thankfully, things have changed a lot in recent years with a growing number of new companies realising there's serious money to be made in providing software platforms for smaller businesses, which make up more than 99% of all private companies.
ConvertKit understands the collective power of small businesses and the marketing challenges they face. Its platform is geared towards the smallest and newest of businesses that need to build a growth strategy as quickly as possible.
This is one of the only platforms on the market that provides a comprehensive offering for solopreneurs, bloggers, affiliate marketing and individuals looking to turn their best ideas into viable businesses.
ConvertKit is another provider that offers a free plan that you can actually use to make things happen. For $0 per month, you can build unlimited landing pages, run basic email campaigns and tag subscribers to increase the relevance of your messages.
Paid plans start from just $29/month. opening up marketing automation features, premium support and integrations while the Creator Pro plans starts at just $59/month to access Facebook custom audiences, deliverability reports, lead scoring and a bunch of other "pro" features.
You can also sell digital products using ConvertKit, which is ideal for entrepreneurial software developers or individuals who want to create an automated stream of revenue – eg: photographers selling photo editing presets.
#7: SendinBlue – best for transactional emails
Key features:
Email marketing
Marketing automation
Transactional emails
Built-in CRM
Customer chat
Landing pages
We've been using SendinBlue here at Venture Harbour for many years now, mainly because it offers the best transactional email features in the game. The platform has been integral in our marketing efforts for Leadformly and Serene, especially in the EU where the company's European servers help with GDPR compliance.
The company's strong reputation with ISPs is invaluable, too, and we've currently got a deliverability rate of 98%.
When we first signed up to SendinBlue, it was the transactional email features that won us over – and this is the primary reason we still use the platform today.
Back then, SendinBlue was a more simplistic email marketing platform but the company has expanded aggressively over the past five years to build a stronger offering in the face of increased competition.
Now, SendinBlue is a serious all-in-one email marketing platform and, if we were a new business in the marketing for this kind of platform, SendinBlue would be a serious contender.
Five years ago, SendinBlue may have struggled to feature in a list like this, unless you were focusing specifically on a select few features like transactional emails. However, in 2020, a comprehensive set of multichannel features and impressive customer feedback put in the top ten of our survey.
#8: Autopilot – best for small business email automation
Key features:
Marketing automation
Email marketing
Lead management
CRM
Multichannel marketing
Autopilot is a relative newcomer to the CRM and marketing automation game and, as we've mentioned a couple of times in this article, the younger flock of marketing software innovations couldn't be more welcome.
You can sense this as soon as you start using the platform. Everything is designed with usability in mind and this feels like a modern piece of marketing software with every click.
Autopilot aims to open the power of marketing automation to businesses of all sizes and there's a heavy emphasis on attracting small businesses with excellent features and low entry prices.
On every Autopilot plan, you get unlimited access to all of the platform's features and you can send unlimited emails regardless of how much you pay. Pricing is purely based on how many contacts you have:
Silver: $49 / mo – up to 2,000 contacts
Gold: $149 / mo – up to 5,000 contacts
Silver: $249 / mo – up to 10,000 contacts
There's another modern twist on Autopilot's pricing with a bunch of optional add-ons, including expert setup & training, VIP support, Salesforce integration, custom IPs and real-time data streams.
This means you get access to all of Autopilot's core features on every plan and you only pay for add-ons if you need them.
#9: MailerLite – best for freelancers, solopreneurs & personal projects
Key features:
Email marketing
Marketing automation
Website builder
Subscriber management
Segmentation & targeting
A/B testing
While most marketing software providers cater to businesses, MailerLite is the perfect option for freelancers, solopreneurs and personal projects. The platform basically provides the full set of tools any website owner needs to promote their services: a free website, landing pages, email marketing, marketing automation, a built-in photo editor and more.
Best of all, the free version of MailerLite gives you access to most of these features and also allows you to send up to 12,000 emails per month to 1,000 contacts. This is one of the most generous free plans you'll find and a key reason why MailerLite is the perfect choice for individuals looking to build their online presence.
Paid plans start from as little as $10/month and scale reasonably as your list of contacts grow so that you'll be looking at $50/month for 10,000 contacts and $210/month for 50,000.
To cap it all off, MailerLite also delivers one of the best code-free experiences on the market with excellent drag-and-drop builders and a number of editing tools to create all of the marketing resources you need.
#10: MoonMail – for developers & SaaS entrepreneurs
Key features:
Email marketing
Unlimited contacts
Send time optimisation
AI-powered engaged recipients filter
Event-based automation
Event-based segmentation
Custom events
A/B testing
Throughout this article, we've praised email marketing providers for the design and usability of their platforms. We've lauded the convenience of drag-and-drop builders, code-free marketing and ease-of-use. We recommended tools based on how much easier they make it to manage and run marketing campaigns without fuss.
MoonMail offers none of these things – and that's OK – because this is the email marketing platform for developers that prioritise control over convenience.
Make no mistake, this isn't an email platform for people with basic coding knowledge. But you're fluent in terms like GraphQL API and AWS SAAS, this could be the email dev tool for you.
Basically, MoonMail aims to provide all of the benefits of Amazon's Simple Email Service (SES) without the drain on resources. It provides a multichannel framework for you to manage across email, SMS, voice platform, messaging apps and a range of other networks to cover the entire consumer journey.
The platform is built on the back of Amazon SES and Lambda, providing the performance benefits of Amazon's email service in a more user-friendly UI. When I say "more user-friendly," though, keep in mind that I'm talking in relative terms to Amazon SES.
In short, MoonMail is the ideal choice for developers and technical startups with a team fluent in AWS.
Which is the best all-in-one email marketing automation & CRM platform?
We surveyed more than 10,000 marketers to compile our ranking of email marketing platforms across a broad range of criteria. After compiling all of our data, some clear trends emerged, revealing nine key areas that separate good email marketing solutions from the great:
Unfortunately, every software provider's website hypes up their own product as the best, claiming to deliver on all nine fronts. So we asked thousands of marketers who were switching email marketing platforms why they wanted to move – so that we can build an honest picture of how they perform.
You can access the dataset we use to determine the top 10 email marketing software providers at the end of this guide.
For the remainder of this article, we look at the top three email marketing software providers for each of the nine factors listed above, so that you can compare them and choose the ideal platform, based on your own needs.
Best for ease of use
With a lot of email marketing tools, you'll find it takes a lot longer to complete tasks than you anticipated before signing up. Sure, that email builder looked really slick in the demo video you watched but turning one of those templates into a responsive email design can be a lot trickier when it's your turn.
A good email marketing platform should make it fast and easy to create epic email campaigns and a solid email builder is crucial to this. But so is ease-of-use, in general, and three platforms top our list for usability:
For this section, we'll let some screenshots of the top three platforms do the talking:
Best for affordability
Affordability is a difficult thing to gauge with marketing software. In many cases, it's true that you get what you pay but there are always those platforms that offer a great deal of value for much less than comparable products.
At the end of the day, though, it all comes down to what you need, what you value and how much you're willing to pay.
For example, HubSpot is indisputably one of the best marketing software platforms available but it charges 10X more than many of its competitors. The higher price tag gets you a comprehensive, all-in-one solution that will cover 90% of your marketing needs. If that all-in-one system justifies the price tag for you, then the higher fees pay for themselves.
Then we have a platform like ActiveCampaign that offers most of the same features HubSpot provides at a fraction of the price. It's not as comprehensive as HubSpot but the price difference is significantly larger than the difference in features. This represents great value – unless you value the all-in-one convenience of HubSpot more than the difference in monthly fees.
Another key factor in affordability is the price increases between different plans, as your list of contacts grows. Platforms that appear cheap in the early days can end up costing a fortune – so here's a breakdown of what to expect from each of the tools we've looked at in this article.
As you can see, these platforms scale at very different rates and you have to keep in mind that these products are designed to help your business grow. In other words, you should find yourself upgrading to the more expensive plans of whichever platform you choose – otherwise, you're growing at the rate you should be.
So consider this in your choice of software.
This doesn't mean you should opt for the cheapest software product overall because it's more about how much value you get in return. Just keep in mind that your software fees are going to increase over time and you need to make sure you choose the platform that's going to help you achieve growth relative to the asking price.
Plan for the long-term
Take it from us, changing your email marketing software multiple times is an expensive habit – both in terms of time and money.
Sometimes, you simply have to make a clean cut and start over with something new but you're going to save yourself a lot of trouble if you can pick the right platform from the beginning and stick with it.
So try to look at how these platforms will cater to your needs in the future, not only now, and choose the software tool that can deliver for the long-term. You'll save yourself some money and the headache of switching providers, which is never as straightforward as we would like.
Best for deliverability
Deliverability is a crucial characteristic of any good email marketing software because you want to know your messages are going to reach their target. Messages that end up in the spam folder are no use to anyone and the more this happens, the worse your reputation becomes with ISPs.
Take a look at this article by Moosend for a good look at the factors that determine the deliverability of your emails.
As explained in the article, your choice of email marketing software plays a key role in this and all of the tools we've looked at in this article perform well when it comes to deliverability.
They wouldn't be featured in the article if they didn't.
That being said, there are three tools that just about edge it in terms of deliverability: ActiveCampaign, MoonMail, and Rejoiner.
ActiveCampaign is now one of the old guard in email marketing software and 17 years of building and maintaining its reputation have achieved excellent deliverability performance.
The platform also has a 'spam check' tool for predicting how likely your emails are to land in the inbox. If your score is too low, it provides recommendations on how to keep your emails out of the spam folder.
MoonMail is another excellent performer with deliverability, thanks to the platform being based on Amazon's SES system. In the case of Rejoiner, the company's hosted email marketing service has allowed it to build a solid, consistent reputation in a short space of time where other providers have little control over the quality of emails being sent on their platforms.
Best for email marketing features
All of the platforms we've looked at in this article provide the basic email marketing features you need to automate business growth but there are a few that excel in some more advanced areas – such as campaign builders, email templates and advanced automation.
There are three tools, in particular, that really go the extra distance in providing enterprise-level email marketing features that will continue to drive growth, no matter how large your business becomes:
Automation A/B Testing – Split testing email campaigns, templates, subject lines and other specific email features is a relatively standard feature for these platforms, but ActiveCampaign is one of the only providers that allow you to split-test automation sequences.
With this feature, you can test entire email marketing strategies such as drip campaigns or the timing of your re-engagement emails. You can also test and learn from automated processes to determine, for example, how many follow-up emails should be sent to achieve the highest conversion rate.
This is a massive feature that helps you experiment with advanced email marketing strategies and find out what works.
Conditional content – ActiveCampaign is still one of the only email marketing services that allow you to use conditional 'IF X is true, show Y' content blocks inside email campaigns to create personalised experiences.
While more providers are including this feature, it's still pretty rare and most alternatives lack the same maturity as ActiveCampaign's – not to mention the fact, you often have to pay through the roof to get this from other providers.
We use this feature extensively here at ActiveCampaign to improve the relevance of our emails for every reader.
For example, we use it to localise pricing (eg: $USD in the United States, £GBP in the UK, and €EUR in Europe) and show unique article recommendations to customers, based on factors like the plan they're signed up to or their engagement level.
Global variables – As your email marketing strategy matures, you reach a point where making global changes becomes unmanageable. We have hundreds of automated emails on our ActiveCampaign account so what happens if we want to change the header content, the email signature or the pricing of our plans.
What we don't want to do is make these changes globally across hundreds of campaigns and, luckily, we don't have to because ActiveCampaign allows us to make changes once, globally, and automatically apply them to every campaign.
This is such an important feature for automated email marketing at scale but it's amazing how many email marketing platforms neglect to provide it.
Downloadable automation recipes – Another ActiveCampaign feature we couldn't live without its library of automation 'recipes'. Without this, we could spend days building automation workflows for fairly simple tasks like routine email sequences or sending notifications via third-party integrations.
These recipes are also a great way to learn more about automation and the kind of tasks you can create workflows for. One of the most difficult things to get your head around, if you're new to automation, is the difference between what you can and what you should automate.
You can learn a lot from the examples in ActiveCampaign's workflow library, even from the automations you don't use.
Smart Content – Similar to ActiveCampaign's conditional content feature, Smart Content allows you to show or hide content in your email campaigns based on which lists prospects are on or their current location along the sales funnel.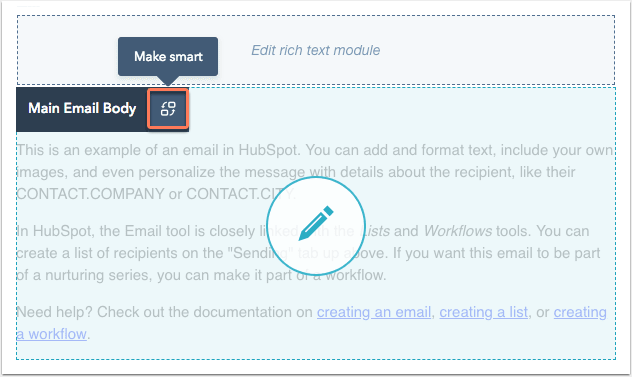 Subject line emojis – Using emojis in subject lines have been found to increase open rates by as much as 45%. HubSpot was one of the first providers to recognise this trend and include an emoji button next to the subject line box.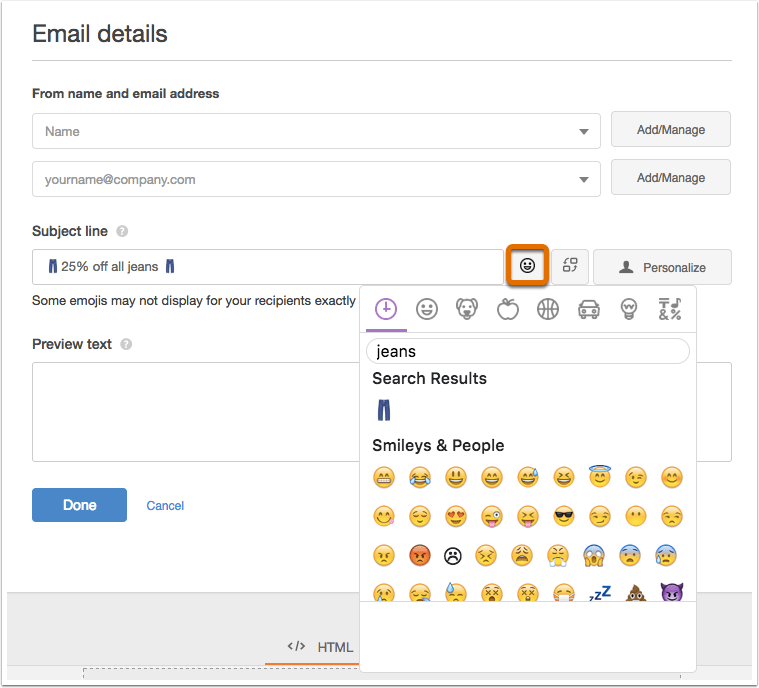 Progressive Profiling – This feature allows you to show different page content to visitors who return to your site after already signing up to one of your email lead generation strategies.
So, let's say a user visits your site and downloads one of your free guides in exchange for their name and email address. With Progressive Profiling, you can show this visitor a different offer rather than repeating the same message, which they've already bought into.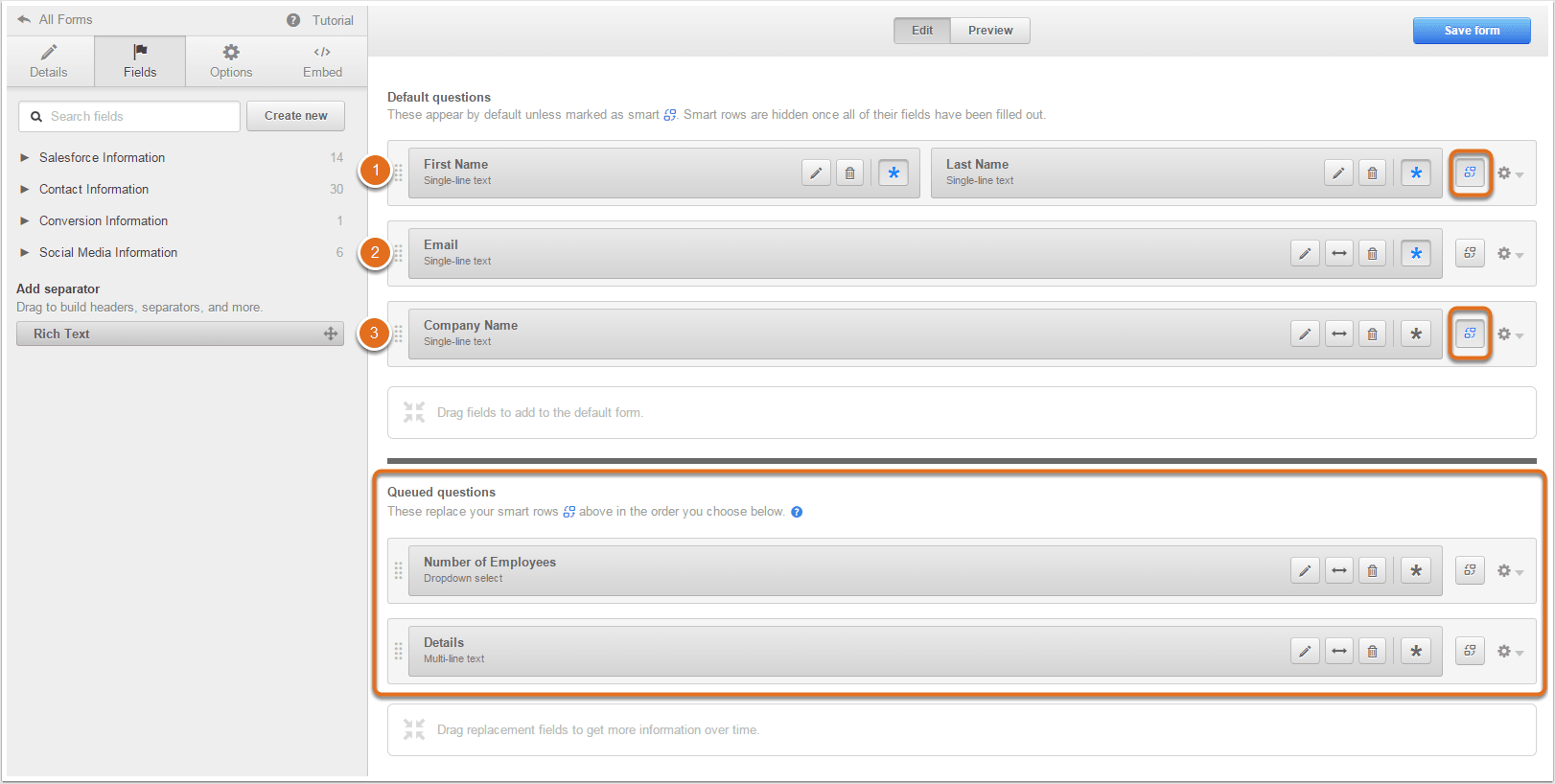 Better yet, you can deliver a new offer that's more relevant to their needs after having already downloaded your free content.
Campaign Booster – Omnisend's campaign boosters automatically resend emails to subscribers who haven't opened them to provide you with another chance to get your message across.
Omnisend says this feature alone can increase email sales by up to 30%.
Product Picker – This tool allows you to drag-and-drop products from your store into emails, automatically including product images, descriptions, prices and the link to each product.
If you've ever had to manually add products into emails using HTML, you'll know how invaluable this feature is for eCommerce email marketers.
Discount codes – Another important strategy for eCommerce brands is using discount codes to incentivise sales and email engagement. Ominsend makes it easy to create discount code emails with its code generator that automatically creates unique codes with a single click.
Best for CRM & marketing automation features
To really maximise the performance of your email marketing campaigns and guide prospects along the entire customer journey, you're also going to need a customer relationship management (CRM) platform included in your email marketing platform.
This is especially important if you want to integrate your marketing and sales teams into a single, synchronised force without them tripping each other up.
While many of the platforms we've looked at in this article offer dedicated CRM tools, some fall a little short by offering CRM-like features without the dedicated software itself.
If you really need that dedicated CRM platform included in your email marketing software, there are three clear winners from our survey:
HubSpot
ActiveCampaign
SendinBlue
Here's a summary of what makes their CRM offerings so impressive.
Hubspot is the clear winner in this category. As an all-in-one sales & marketing platform, it offers a full CRM system with all the built-in tools you need to turn customer data into marketing and lead generation strategies.
This is one of the most powerful CRM platforms on the market and, technically, it's 100% free to use. However, you're not going to unlock the full power of your customer data without signing up to one of HubSpot's paid plans so this is also an excellent lead generation strategy from a company that excels at the art.
Even still, you can do some impressive things with the free version of HubSpot's CRM but it's not a realistic long-term option for serious businesses.
Once you're signed up to a paid version of HubSpot's Marketing Hub, you'll start to realise the full power of its CRM, which integrates perfectly with its entire software offering.
ActiveCampaign's CRM is the closest thing you'll find to HubSpot's powerful customer relationship management tool. In fact, the biggest difference is that ActiveCampaign doesn't provide a free version of its CRM but this is negated by the fact its software is so much cheaper than HubSpot's
You can track your lead's activity on your website (or app), automatically move leads to different email lists, based on their position along your pipeline and send targeted emails based on purchases, page visits, email engagement and an advanced range of user actions.
You can also delve into customer/lead profiles to view a full history of interactions with your business and find new opportunities to bring them closer to the next sale.
Use ActiveCampaign's CRM alongside its marketing automation builder and this is where it really starts to shine, even outdoing HubSpot when it comes to building fast, effective automation with your customer data.
If you want 99% of the power HubSpot's class-leading CRM has to offer at a fraction of the price, ActiveCampaign jumps ahead as the clear winner of this category.
When we first started using SendinBlue for our transactional emails, the company didn't offer a CRM as part of its email marketing software. However, SendinBlue has expanded its platform generously over the past few years into a far more sophisticated option for SMEs.
This includes a relatively simple but easy-to-use CRM that's ideal for smaller businesses looking for something more advanced than MailChimp. You're not going to get advanced CRM features available from HubSpot or ActiveCampaign but you are going to get the core essentials smaller businesses need to manage a comprehensive email marketing strategy with SME-friendly pricing.
If you find SendinBlue's built-in CRM falls short of your needs, you can integrate with more advanced options, such as PipeDrive, Microsoft Dynamics 365 or Salesforce.
Best for reporting & analytics
One area where a lot of email marketing and CRM platforms fall short is reporting. This can be frustrating, especially when a platform provides all of the tools you need, except the analytics and reporting features to prove what does/doesn't work.
Without this data, you're never going to maximise the performance of your email marketing campaigns. So it's only right that reporting and analytics has its own dedicated scoring category in our study and here are the top three platforms, based on our findings.
HubSpot offers some of the most extensive analytics and reporting features you'll find from any marketing software provider. The company's all-in-one system covers almost every possible aspect of inbound marketing and sales, pulling in valuable data from every avenue.
As a result, you get comprehensive reports that allow you to build a 360-degree view of your marketing efforts.
Quality is certainly no issue with HubSpot but these insights do come at a price. You could get all of the same reporting and analytics functionality from other providers and integrate with a platform like ActiveCampaign, which would save you a lot of money each month.
However, HubSpot provides the option of getting all of your marketing tools and the reporting from the same platform. You don't need to spend time integrating third-party tools or creating every report from scratch HubSpot delivers extensive reports and powerful visualisations for all of its tools right out of the box.
Autopilot is designed around data and automation so it shouldn't come as a surprise to learn that it delivers on the reporting and analytics front.
The platform encourages you to set goals for every automation workflow you create, which means you're collecting relevant performance data from the moment your automation starts running.
For example, I can create a workflow designed to nurture leads and set a conversion goal of 20%. Then, I can create a report to track my goals, which should look something like this:
With Autopilot's built-in reporting, you can also compare email campaign performance across different channels and create reports for mobile-first campaigns.
Compared to HubSpot, Autopilot's reporting and analytics is fairly basic but it offers some powerful unique features and integrates with third-party options, should you need something more comprehensive.
ActiveCampaign is more like a HubSpot alternative than Autopilot so you would hope it can compete on reporting and analytics. Sadly, the gap is still there and you have to give HubSpot credit because its reporting simply is that good.
This doesn't mean ActiveCampaign is poor but the platform competes with enterprise options like HubSpot in so many areas that it's a shame it hasn't quite pulled it off in the reporting department.
The good news is ActiveCampaign's reporting is getting better all the time and its biggest downfall in 2020 is that its data visualisations aren't all that visual at all.
All of the data you need is there and – much like HubSpot – ActiveCampaign's all-in-one system is ideal for capturing data at every stage of the customer journey.
Unfortunately, it's just not compiled in the same visual, user-friendly format and this means you have to spend more time navigating data and separating meaningful insights from vanity metrics.
On the plus side, ActiveCampaign does at least provide this extensive data and, if you're willing to build custom reports or integrate with a more sophisticated analytics tool, ActiveCampaign provides all of the raw data you need to create powerful reports.
Best for integrations
With tools like Zapier so widely available now, a lot of marketing software providers neglect to provide extensive integration options with third-party platforms.
This can be a problem because, even though Zapier is excellent for integrating and automating simple tasks between apps, there's no replacement for dedicated integrations when you want to important/export significant amounts of data between – for example, all of your CRM data into Google Ads remarketing lists.
Thankfully, there are some exceptions that still offer extensive integration options, allowing you to expand the functionality of your email marketing software.
Here are the top three are:
First, let's talk about Zapier integration because this opens up free data exchanges with everyday apps like Google Sheets and Gmail. Every "zap" consists of two parts that automate actions between different apps: a trigger that event that kick-starts the automations and the action that's automatically performed when this trigger event occurs.
For example, the trigger might be someone signing up to your email list and the action might be automatically adding their data to a spreadsheet.
Basically, the more Zapier triggers and actions your marketing platform supports, the more you're going to get out of Zapier for free. Here's a quick comparison of the tools we've looked at in our survey:
As you can see, HubSpot and ActiveCampaign are instantly ahead in this table, both offering significantly more triggers and actions than the other platforms.
ActiveCampaign steps even further ahead when you look at its third-party integrations outside of Zapier with more than 340+ apps included on its extensive list of integrations. Admittedly, HubSpot might not need so many integrations because it aims to provide everything itself but it's always helpful to have more third-party options.
Autopilot also jumps up the rankings when you look at its impressive list of built-in integrations with the likes of HubSpot CRM, Trello, Facebook, Google Ads and more.
Best for customer support & training
As a long-time ActiveCampaign customer, we can say that one of its strongest assets is the company's excellent customer support and training system. While a lot of providers focus all of their attention on new customers, ActiveCampaign shows you the same quality service in your seventh year as they do in your seventh month.
This is an important characteristic of a software provider that's supposed to help your business grow.
ActiveCampaign is also the only provider to offer a Customer Success Commitment, outlining its standards of support and education. This starts with the implementation and migrations process at the very beginning of your time as an ActiveCampaign customer and carries on through its online community, online and in-person events and pre-built automation recipes.
ActiveCampaign also offers an extensive range of online support material, ranging from videos and guides to documentation and step-by-step tutorials.
A lot of new people have joined the Venture Harbour team over the past seven years and they've been able to pick up ActiveCampaign and start building their own automations by simply using the online documentation.
That says a lot about how easy ActiveCampaign is to use and the quality of its online resources.
In terms of person-to-person support, on the few occasions we've needed to contact ActiveCampaign's team, they've responded quickly and solved technical issues within a couple of hours.
HubSpot is another company that excels at providing online documentation for its users.
HubSpot pioneered the term "inbound marketing" and built its entire business model around using content as a lead generation strategy – and this includes its excellent library of tips, guides and documentation showing how to get the best from its extensive range of software.
As a HubSpot customer, you get access to world-class training material, as soon as you sign up. There are complete courses and certifications, eBooks and extensive guides, plus the company's annual INBOUND conference for marketers to get the latest insights from industry leaders.
Once again, HubSpot matches its online support with excellent person-to-person customer service via phone, email and live chat support. Responses are quick and issues should be fixed in good time.
Keep in mind that Hubspot charges additional fees for its onboarding services. We're not going to complain about the fees because this does require several hours of a technician's time but there was no onboarding fee with ActiveCampaign – so it's only fair to mention this.
Moosend offers a tired system of customer support that includes email and chat support even for users signed up to a free account. You also get access to the company's extensive library of online resources, including guides, courses, webinars and insights to help you get more from the product and your email marketing strategy.
Moosend really delivers with its online documentation.
Paid customers also get phone support and enterprise customers get their own account manager, onboarding and migration included, plus premium campaign performance and deliverability and strategy optimisation as part of their plan.
Best for security & compliance
When you collect personal data from users, you're obliged to provide certain security measures to protect the privacy of your customer and anyone else identifiable as an individual, based on your data.
Security and compliance with privacy regulations may not be the most exciting aspect of analysing marketing software options but it is crucially important – increasingly so as data regulations around the world become more strict.
Here are the top three performers in this category:
As you might expect, the more established names in marketing software provide the most robust security and compliance measures. Especially in the case of ActiveCampaign and HubSpot, their all-in-one marketing platforms oblige them to do everything they can to protect your data (and theirs) while giving you all the documentation you need to do the same.
Here's a more detailed comparison of which security/compliance certifications and features these three marketing platforms offer:
| | ActiveCampaign | Hubspot | MailerLite |
| --- | --- | --- | --- |
| ISO 27018 (cloud privacy) | Yes | No | No |
| ISO 27001 (information security) | Yes | Yes | Yes |
| ISO 27017 (cloud security) | Yes | No | No |
| EU-US Privacy Shield | Yes | Yes | Yes |
| GDPR Compliant | Yes | Yes | Yes |
| CAN-SPAM Compliant | Yes | Yes | Yes |
| HIPAA Compliant | Yes (enterprise account only) | No | No |
| TLS encryption | Yes | Yes | Yes |
| Segmented accounts | Yes | Yes | No |
It's worth taking the time to learn a bit about the measures taken by these companies because these are the same measures you need to take as a business handling personal data.
You should find everything you need to know on the following two pages:
Wrapping up: Which is the all-in-one platform for you?
This guide is crafted from our own survey and hundreds of hours of research from real user data. The aim of this research isn't to help you find the perfect marketing software platform because no such thing exists. Instead, the aim is to help you find the best platform for your current and future needs, as quickly as possible, so you can start making things happen.
The emphasis is on maximising progress, not chasing perfection.
By making it this far through our guide, you've already done more research than 99% of marketers who buy into an email marketing and CRM platform – and certainly more than we did the first time around.
If for whatever reason you're still not sure which email marketing tool is right for you, you can try the tool below, which will recommend the best email marketing software for you based on your specific requirements.
Hopefully, you can benefit from our hindsight (and data) to choose the right system for you. Above all, you don't want to waste time and money switching providers because you realise later on that you made the wrong choice to begin with.
If you're unsure which is the best all-in-one solution for you, complete our interactive form below for personalised recommendations on the ideal platform for your needs.
You'll also get a copy of our raw dataset sent to your email address so that you can make your own comparisons.
If you've found this guide useful, we'd appreciate a share on LinkedIn or Twitter and, if you think this guide could be improved, we'd love to know how we can make it better.