To get better business performance from your website, you need to test your way to success because best practices and the latest design trends aren't always going to work for your users.
This means A/B testing and you're going to need a few things to make this happen: the right KPIs, access to the necessary data and a good set of CRO tools it takes to run successful tests. In this article, we're going to help you with the last item on that list by running through the best A/B testing tools on the market right now.
Here's a summary list of the top A/B testing tools:
The free option for almost all of your A/B testing needs
Pricing: Free versions available, paid versions will make your eyes water
Key features:
A/B testing
A/B/n testing for multiple versions of a page
Multivariate testing for multiple elements on the same page
Redirect tests
Server-side experiments
Personalisation
Google Analytics and Google Optimize offer one of the best data collecting and A/B testing solutions around and you can get just about everything you need for free. Enterprise brands with large teams will probably want to sign up for the Google Analytics 360 suite – which includes Optimize 360 – but it's amazing how much you can get done with the free versions of these tools.
In terms of features, there isn't much you can't do with Google's offerings. In fact, they're capable of far more than the other tools in this list, if you have the engineers on board who know how to set up advanced tracking.
This is the key downside to the Google option: You really need to know the platform and how to get the best out of it and this might be more technical than you're interested in.
If you're after a more straightforward A/B testing solution, keep reading.
Enterprise A/B and CRO tools at competitive prices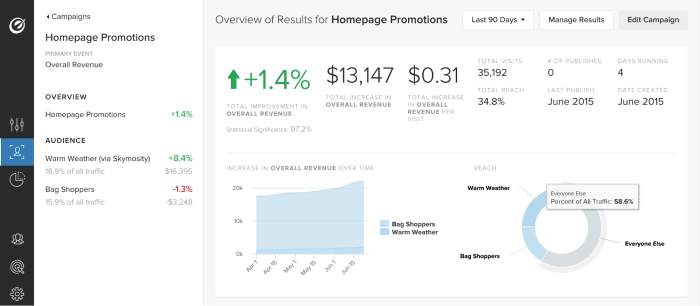 Pricing: POA
Key features:
A/B testing
Multi-page testing
Visual editor for building variations without any code
Advanced targeting & segmentation
Full Stack for optimising mobile apps and digital products
Optimizely is one of the industry's leading CRO platforms with a comprehensive suite of CRO tools that should cover you, no matter how much your business grows.
Optimizely offers a range of products but it's Optimizely Web which provides the A/B testing and other features for optimising web pages. You can expand on this with Optimizely X Personalisation to deliver personalised messages to different audience segments and Recommendations for Amazon-style product and content recommendations.
You've got some seriously powerful tools at your hand with Optimizely and they're all easy to implement without any of the development skills you need to do the same via Google Analytics and Optimize.
Pricing is quoted upon application and you have to remember that Optimizely aims to be an enterprise-level system at competitive pricing – so don't expect bargain bucket quotes here.
Without giving too much away, you're looking at five figures on your annual bill for the lower-to-mid plans.
A lot like Optimizely but a lot more budget-friendly
Pricing: Start at $199/monthfor plans with A/B testing
Key features:
A/B testing
Multivariate testing
Split URL testing
Visual editor for building variations without any code
Widgets for testing/adding pop-ups, banners and other prompts to generate leads
Behavioural segmentation
Asynchronous code reduces loading times while tests run
VWO aims to provide a full suite of CRO tools, in the same way Optimizely does, but without the enterprise price tag. Once again, you get extensive testing tools for A/B, multivariate and split URL experiments; a visual editor for building variations without any code and advanced targeting and segmentation options.
In fact, VWO's behavioural segmentation allows you to target audiences in a way that a lot of more expensive tools don't.
Another enterprise feature VWO brings to the table is its asynchronous coding, which improves the performance of your tests to avoid slower loading times and flickering that is common with a lot of A/B testing software.
In short, if you're looking for an almost-enterprise CRO system for a fraction of the price, VWO is the first tool to try out.
Ultra-affordable, scalable CRO & personalisation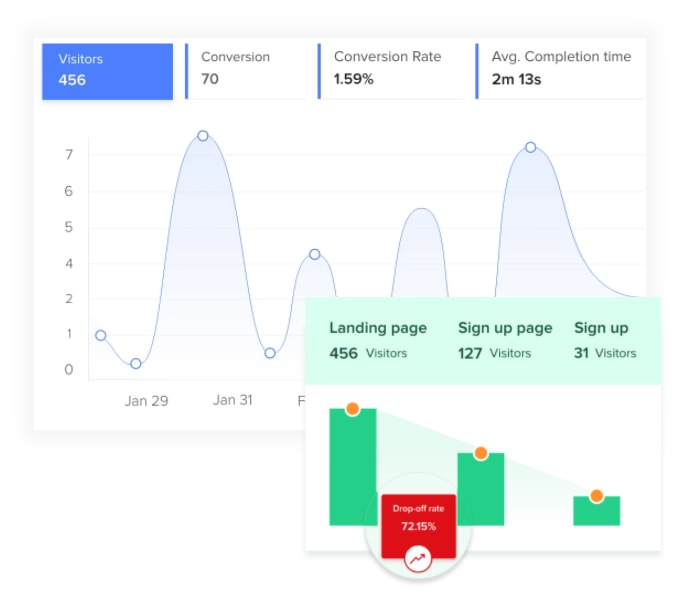 Pricing: Starts from $17/mo
Key features:
A/B testing
Split URL testing
Visual editor
Advanced targeting & segmentation
Flexible reporting
Heatmaps
Funnel analysis
Personalisation
Zoho PageSense is a two-in-one conversion optimisation and personalisation platform with some of the lowest entry prices in the game. Zoho doesn't restrict prices on its plans so you get access to everything the platform has to offer and your fee depends on how many monthly visitors you have.
Prices start at an ultra-affordable $17 per month for up to 10,000 monthly visitors and the Enterprise plan maxes out at $599 per month, which is still cheaper than the entry prices of many tools featured in this article.
For smaller businesses, there aren't many options at this price point offering the same set of features that Zoho packs into PageSense so this has to be my top recommendations for SMEs and new startups.
The all-in-one marketing & CRO platform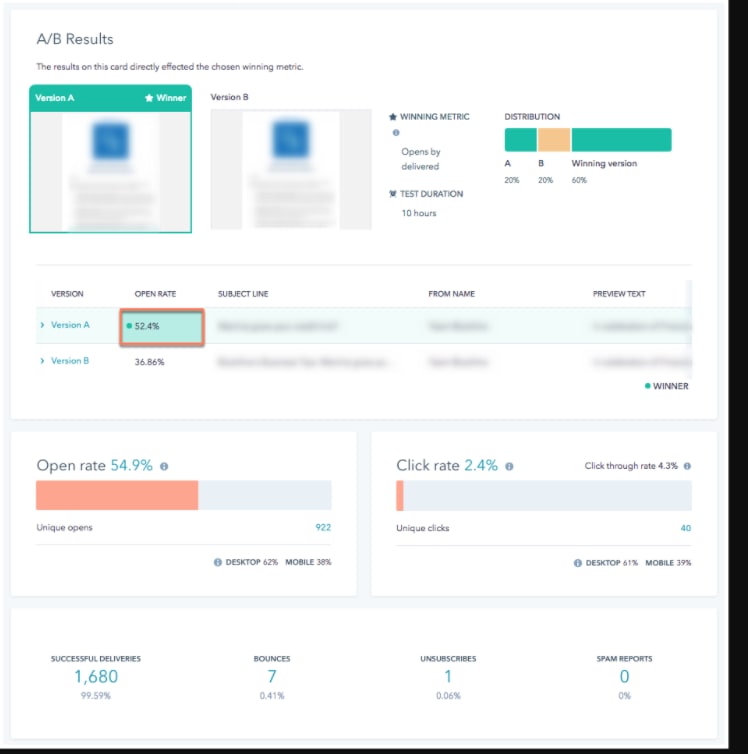 Pricing: Starts at $800/mo
Key features:
A/B testing
CRM
Lead management
Email marketing
Live chat
Marketing automation
HubSpot isn't the platform for you if you simply want an A/B testing tool. This is a full suite of marketing software divided into four key products. First, there's the CRM for handling customer data and then you have Marketing Hub, which includes a range of tools for creating content, landing pages, managing leads and running A/B tests – among other things.
HubSpot also offers its Sales Hub with a range of specialist tools for improving and automating your sales processes and the Service Hub, which helps your team provide a higher quality of customer service.
All of HubSpot's software is industry-standard and you don't need to worry about quality.
To unlock HubSpot's A/B testing features, you'll have to sign up to the Professional plan of its Marketing Hub and this is going to cost you a minimum of $800 per month for 1,000 CRM contacts, plus a $3,000 onboarding fee and an extra $50 per month for each additional 1,000 CRM contacts – so the annual fees quickly stack up.
HubSpot tends to work out as an expensive option but you get a lot of tools built into a single system and this does mean you spend less time moving between different software.
Landing page A/B testing from the most popular landing page builder in the game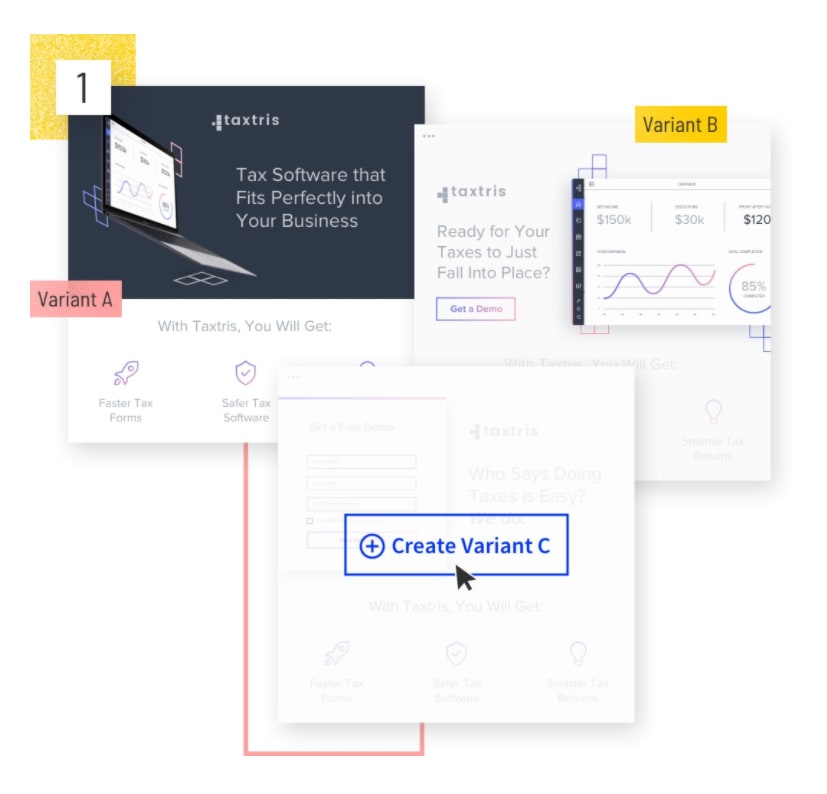 Pricing: Starts from $120/mo (for plans including A/B testing)
Key features:
Basic A/B testing
Visual builder
Landing page personalisation
Popups & sticky bars
Extensive integrations
Landing pages are another key component for maximising conversions and you've already got a landing page A/B testing tool if you're using Unbounce. In fact, most of the top landing page builders include some kind of A/B testing features (some are better than others) and, while these aren't as feature-rich as the other tools we've looked at, they make landing page testing incredibly easy.
So, if you're after the simplest approach to A/B testing a combination of A/B Tasty, Leadfoormly and Unbounce could be the ideal place to start.
Affordable A/B testing & personalisation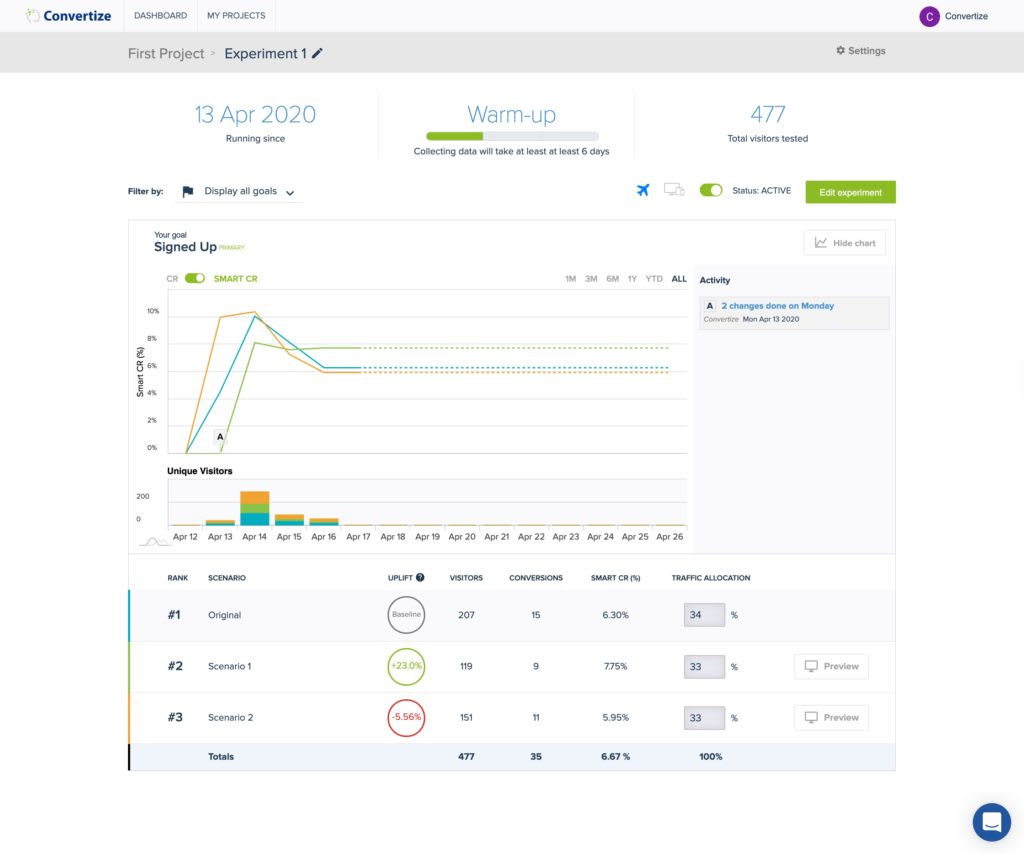 Pricing: Starts at $49/mo
Key features:
Smart Editor: A drag-and-drop visual editor for creating code-free experiments.
Autopilot: Automatically manages your traffic to shift more traffic to your best-performing pages.
Lightning mode: Keeps your pages loading quickly during tests.
Statistics Engine: Provides all the insights you need to make meaningful design improvements.
Dynamic Text: Personalise headings and key text to match user intent.
Nudges: Nudges, social proof and FOMO messages to increase conversions.
Convertize is a truly affordable A/B testing and personalisation platform with plans starting from $49/monthfor up to 20,000 visitors per month. If you're looking to run serious CRO campaigns, though, you'll want to sign up to the Team plan, which starts at $199/monthfor up to 100,000 visitors per month.
To put that into context, the $199/monthstarter plan on VWO is only good for up to 10,000 monthly visitors so Convertize is delivering a lot of value at the same price tag – as well as delivering a budget starter plan for basic needs.
With the Team plan, you can run unlimited projects and test across an unlimited number of websites – as long as you stay within the monthly visitor limit. You get extensive testing features, too, and a solid set of targeting options, allowing you to define audiences for each experiment.
As a bang-for-buck A/B testing and personalisation platform, Convertize is hard to beat.
Easy-to-use A/B testing & personalisation for enterprise brands
Pricing: POA.
Key features:
A/B testing
Multivariate testing
AI personalisation
Visual editor
Advanced targeting & segmentation
Client-side for web and mobile sites
Full-stack for testing web, mobile apps and digital products
Kameleoon is an A/B testing and personalisation platform that uses artificial intelligence to help you optimise digital experiences. You can trigger personalised experiences based on each visitor's conversion probability, which is calculated in real-time, based on user actions.
This is a truly enterprise piece of software but it's designed to be intuitive and easy to use, which isn't something you can often say about enterprise CRO tools. You're going to feel the benefit of this every time you use Kameleoon but the best thing about the software's UX is that it's easy for new team members to get to grips with.
Kameleoon doesn't display any pricing on its website but they are competitive for this level. Starting prices are somewhere in the mid-region but you're looking at lower-enterprise fees by the time you unlock the platform's best features.
The testing platform designed for agencies and CRO experts
Pricing: Starts at $699/mo
Key features:
A/B testing
Split testing
Multivariate testing
Multipage experiments
WYSIWYG editor for building code-free experiments
Unlimited tests & variations
Extensive integrations
Convert is an advanced testing platform designed for agencies and CRO experts looking to optimise their clients' websites and digital products. You can sense this from using the software, which feels like a tool designed for experienced professionals.
Yes, there's a visual builder creating variations without any code but you're only ever a right-click away from adding custom code or using developer shortcuts, such as selecting containers, selecting child elements or hiding elements.
As a result, Convert gives you more freedom to build variations and tests your own way while providing tools like the visual builder to make the whole process faster. If you've got the CRO and developer expertise to make the most out of this platform, most other A/B testing tools will feel too restrictive once you get used to the freedom of Convert.
Convert lists pricing for each plan on its website and you can also contact the sales team for a custom quote if any of the plans are too restricted. Pricing starts at $699/mo (paid annually) for the Kickstart plan, which is designed for companies getting started with A/B testing. This still gets you unlimited tests across five domains for up to 500,000 users per month – not bad for an entry plan.
Pricing maxes out at $3,499/monthfor up to three million users per month across unlimited domains and you'll have to call for an enterprise quote if you expect to exceed that number. The price increases between plans is very reasonable, too, so you're going to have a financial crisis if you inadvertently jump up to the next plan.
Affordable CRO for developers & startups
Pricing: Starts at $167/mo
Key features:
A/B testing
Split URL testing
Stacked tests
Personalisation
Overlays & pop-ups
Unlimited CSS & JS editor
CDN bypass
Advanced segmentation
Experiment debugger
Omniconvert provides a number of software tools to help digital brands turn data into growth strategies. Its conversion optimisation platform is called Explore and Omniconvert calls this "the CRO tool for developers," which is justified by a number of its specialist features.
The first of these features you'll probably notice is the unlimited CSS and JS editor that gives you complete control over how your variations are coded. Not only developers get complete control, they also can also optimise their code to keep loading times as fast as possible while tests are running.
Explore also comes with a CDN cache bypass, which means you can ensure your tests run live immediately, instead of some users seeing older cached versions of your site – bad news for reliable data.
Stacked testing is another great feature, which sets the winning variation from a test as the default so you can continue running the same test to collect more data and ensure your results are reliable.
Pricing starts at $167/monthfor up to 50,000 tested visitors per month and max out at $4,658/monthfor up to five million tested users. Omnconvert's pricing model couldn't be more straightforward and features aren't limited on any of the plans – you simply pay based on the number of visitors you test per month.
Aside from A/B testing, you also get some excellent personalisation features, advanced segmentation, web surveys and triggered overlays – as well as the option to integrate with Omniconvert's other software tools for analytics, automation and customer experience.
An affordable marketing automation & CRO combo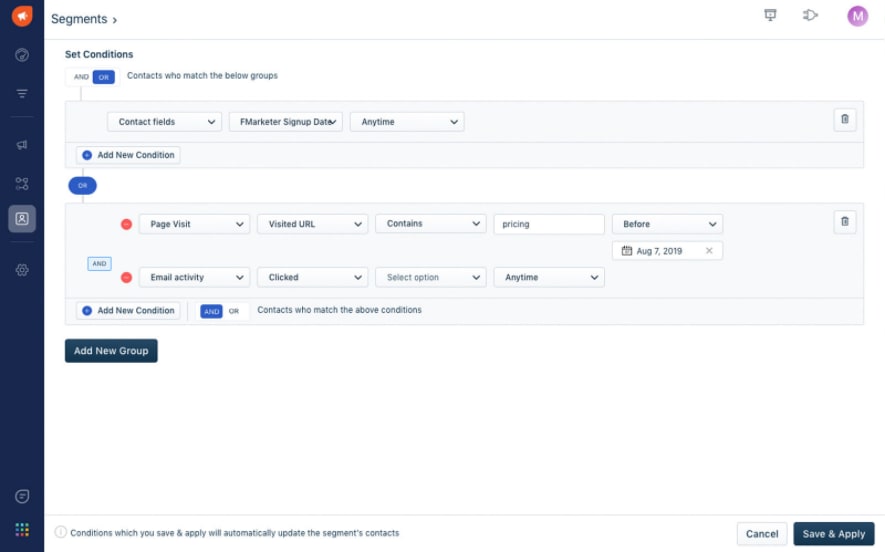 Pricing: Starts from $49/mo (free version available but it doesn't include A/B testing)
Key features:
A/B testing
Split testing
Visual editor
Personalisation
Dynamic heatmaps
User feedback
Email marketing
Marketing automation
Integration with Freshworks apps
Freshmarketer is the automation and CRO tool provided by Freshworks, which also offers a full suite of marketing and sales tools in separate software products that integrate seamlessly.
As a testing system, Freshmarketer provides a visual platform for creating A/B tests and split URL tests using its WYSIWYG editor and reporting interface. While this isn't the most advanced testing platform available, it's probably one of the easiest to use and certainly one of the most affordable.
You also get heatmaps and session replays to help you diagnose UX issues and determine what actually needs testing on your website. Funnel analytics helps you track visitor drop-offs and identify where conversions are being lost, too. This alone gives you all of the basic tools you need to identify issues on your website and run experiments to test out potential solutions.
As an entry platform into conversion optimisation, Freshmarketer is a great option for newcomers or online businesses with modest needs.
You also get some basic personalisation features and tools to capture customer feedback through polls and triggered messages. And, to round things off, you get some solid automation features although you'll need to integrate with Freshworks' CRM (Freshsales) or another customer relationship management platform to make the most of them.
Advanced testing & personalisation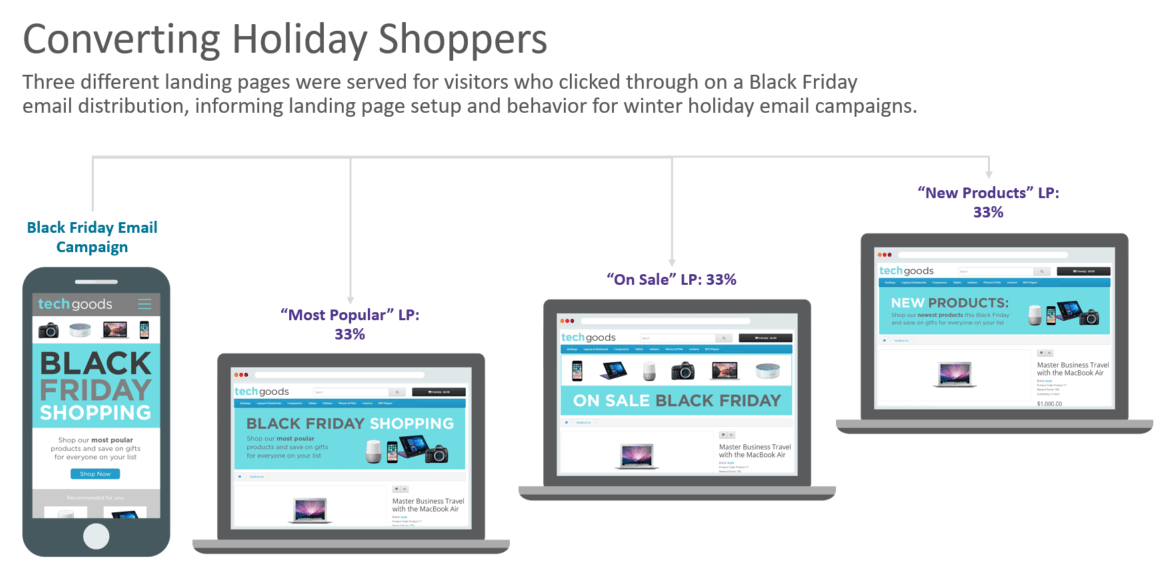 Pricing: POA
Key features:
A/B testing
Multivariate testing
Funnel optimisation
Personalisation
Predictive analytics
Advanced targeting & segmentation
Heatmaps
Extensive analytics & reporting
Oracle Maxymiser is the testing and experience optimisation system that makes up part of the wider Oracle Marketing Cloud software offering. This was one of the first platforms to open up testing to non-programmers and it continues to release some of the most innovative features for conversion optimisation and personalisation.
At the same time, Oracle has a tendency for not updating its interfaces and certain features to keep up with industry standards. For example, the visual builder could do with an update and the recommendations made by its machine learning algorithms are relatively basic but they do help you make progress.
All that being said, Oracle's system is robust where it really counts. Most importantly, client-side loading times are nice and fast so tests don't cripple page speed and you shouldn't see any flickering or broken content while tests run. Also, the test length calculator is impressively capable at estimating how long your tests need to run before reaching statistical significance, which is a great feature.
Enterprise testing & personalisation for online retailers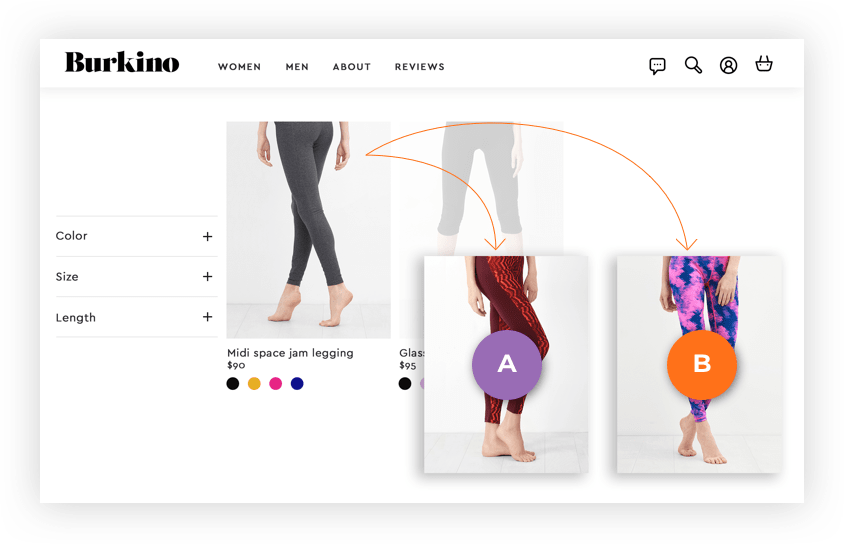 Pricing: POA
Key features:
A/B testing
Multivariate testing
Dynamic testing allocates more traffic to winning variations
One-to-one personalisation
Advanced targeting & segmentation
Audience insights
Smart recommendations
Monetate offers a suite of marketing software for retail brands, including AI product recommendations, hyper-personalisation, customer data management and so much more.
Its testing and optimisation software brings some advanced features to help busy retail brands optimise their online platforms without interrupting the customer experience. The platform's dynamic testing system automatically sends more traffic to winning variations, allowing you to keep tests running while hitting more targets.
The platform also packs its own technology to reduce flicker, keep loading times as fast as possible and avoid content breaks while your tests are running.
Monetate is very much an enterprise platform and this is reflected in the pricing. Unfortunately, the company doesn't list any pricing on its website and your monthly/annual fees will be priced on application. Be prepared for monthly starting fees well into the four-figure region but rest assured that you're getting a premium testing platform designed especially for online retailers.
An Enterprise A/B Testing and Personalisation Platform
Pricing: POA
Key features:
A/B testing
Multivariate testing
Visual editor
Advanced targeting & segmentation
AI automation
Omnichannel personalisation
Feature
Adobe Target is an enterprise personalisation platform and A/B testing comes as standard. You also get automated personalisation, mobile app optimisation and recommendations based on your customers' behaviour and data.
The platform basically guides you through a three-step process for experimentation, where you create your variant, target your audience segment and then customise your goals and settings for the test.
The software itself isn't particularly handsome or quite as straightforward as the likes of Optimizely and VWO but it's the Target self-learning algorithms that make this a favourite platform with enterprise brands. Target continually and automatically adjusts itself to make associations between visitor behaviour and content in order to give you the best results possible, adapting your content in real-time to meet user needs.
Impressive stuff.
A/B testing and AI personalisation
Pricing: POA
Key features:
A/B testing
Multivariate testing
CRM
AI Personalisation
Behavioural tracking
Advanced targeting & segmentation
Smart recommendations
Analytics & attribution
Evergage keeps us on the topic of experimentation and personalisation, powered by machine learning. If this is beyond your needs from an A/B testing tool then the likes of Adobe Target and Evergage might not be for you – and that's ok.
That said, if you're looking to create the best possible customer experiences, based on user behaviour and all the data at your disposal, then tools like Evergage are what you're after.
Evergage empowers you to create unique customer experiences for individuals, across multiple platforms, to meet their specific needs and expectations. Once again, it's calling upon the power of machine learning to crunch the vital data, track user actions and automate optimisations based on these patterns.
You get a highly advanced set of A/B testing features included and so much more with Evergage. This is one of the most advanced experimentation, personalisation and optimisation tools on the market – only you can decide whether you need all of that from a single platform.
Advanced A/B testing & CX optimisation
Pricing: POA
Key features:
A/B testing
A/B/n testing
Split testing
Multivariate testing
Funnel testing
Advanced testing & segmentation
AI-powered personalisation
Dynamic widgets
Extensive analytics & reports
AB Tasty brings us back to the reasonably-priced and simple side of conversion optimisation tools. As the name suggests, the focus is on A/B testing here and this is where the platform excels, even though it does include other features, such as heatmaps, page flow reports and basic personalisation.
On the testing side of things, you get the usual A/B, split and multivariate testing options, plus an interesting funnel testing feature that allows you to experiment with changes across multiple pages.
The best thing about AB Tasty, though, is the drag-and-drop editor that makes the platform so wonderful to work with. Sure, there are plenty of editors like this on the market now but AB Tasty's editor just works without getting in the way of your workflow.
AB Tasty is another company that withholds pricing information on its website but the monthly fees are pretty competitive. You can expect four-figure starting prices, but at the very low end of the spectrum, and that's reasonable for a system of this caliber.
Keep in mind that some of the more advanced testing features are only available on the mid-tier plan and higher. You can get a full breakdown of AB Tasty's features here but you'll have to request a quote to get your custom pricing.
The best A/B testing plugin for WordPress
Pricing: Starts from $29/mo
Key features:
A/B testing
Unlimited tests
Test scheduling
Automatic implementation updates your site with the winning variation
Heatmaps
WooCommerce integration
With WordPress powering 30% of all websites on the internet, it would be dismissive to not include a WordPress plugin option for A/B testing on this list. Luckily, Nelio A/B Testing happens to have developed a plugin worthy of recommendation and it's probably the only WordPress A/B testing plugin that I would recommend.
You can set up and manage your A/B tests from within the WordPress interface, view basic analytics feedback, check heatmaps and improve results without needing to leave WordPress. Nelio is also compatible with WooCommerce if you're running an e-commerce store with the plugin.
The A/B testing and optimisation tool for mobile-centric experiences
Pricing: POA
Key features:
Cross-platform A/B testing
Phased rollouts for experiments
Holdout experiments to exclude groups
Personalisation
Feature flags for controlling feature testing & rollout
Instant updates for rolling out updates without app store delays
Apptimize is an A/B testing tool designed for mobile-centric brands. If your business revolves around mobile apps and sites that prioritise the mobile experience, then Apptimize is tailored specifically to your testing needs.
You can run truly cross-platform experiments, create personalised experiences, roll out new products and features, as well as launch new versions and updates without hassle.
Tying all of these features together is Apptimise's data system that collects insights from multiple platforms so you can see how behaviour on mobile affects decisions made on web – and vice versa – or how server-side changes impact the front-end mobile experience.
Apptimize doesn't show any pricing on its website but you're looking at the lower end of four-figure monthly fees as a starting point. For a specialist piece of kit like this, pricing is very reasonable.
If you're after the specialist A/B testing and optimisation solution for mobile, Apptimize is it.
Which is the A/B testing tool for you?
In this list, we've covered the top 10 A/B testing tools for just about every possible need you could have – from the free options, to fully enterprise solutions and the easiest-to-use optimisation tools available right now. All of these platforms are great in their own right but the best choice for you is going to depend on your specific needs.
Hopefully, we've pointed you in the right direction and making an informed choice for yourself will be easier after reading this. Let me know if you think any other A/B testing tools should have made this list.