Webinar marketing is a vital strategy for B2B businesses and a lot of consumer brands are also turning to it for their own B2C marketing efforts.
Especially right now – with COVID-19 forcing so many businesses to move in-person events and sales meetings into a virtual environment.
Webinars give you the chance to build a more personal relationship with your audience, delve deeper into the topics that concern them and build your brand as a place people can come to for important info.
We're not here to talk about what makes a great webinar here today, though. Instead, we're going to run through some of the best webinar marketing platforms available right now to get your own webinar strategy up and running.
We'll be running through the features, pros and cons of each platform, plus a brief explanation on what purpose each platform is best suited to – everything you need to choose the best webinar platform for your needs.
Demio is one of the best webinar platforms available today. While many other platforms are outdated and have failed to keep up with the times, Demio offers a modern and powerful platform.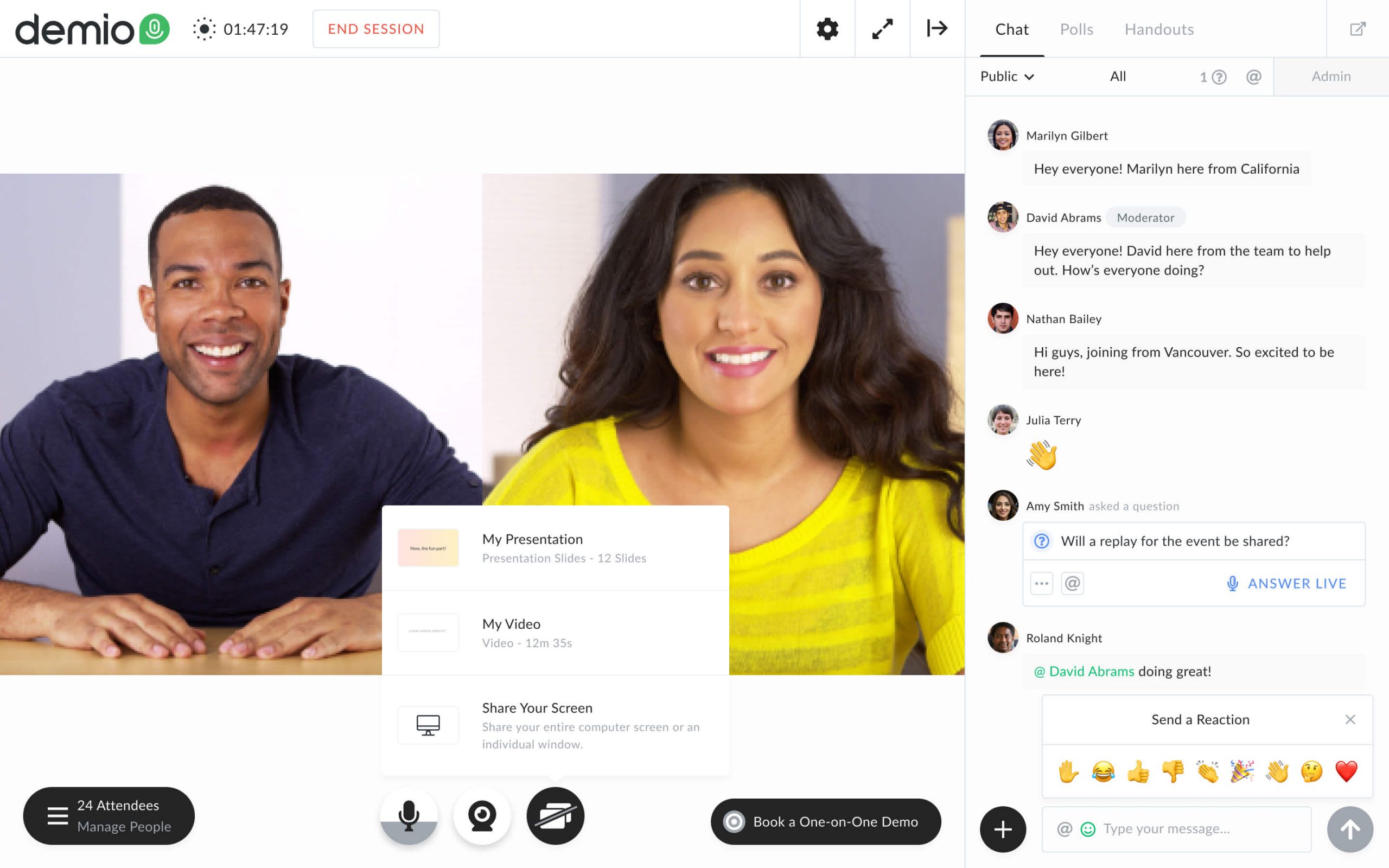 Unlike many webinar platforms, which offer automated or live webinars, Demio offers both, as well as an option for hybrd mixes of pre-recorded and live recordings.
At Venture Harbour, we use automated webinars for many of our ventures. As you can see below in the far column, we were able to double the percentage of attendees on our webinar from 39% to 80% by switching from live webinars to automated and hybrid ones.
Throughout your webinar, Demio also allow you to run interactive polls, launch offers with call-to-action buttons, share live document handouts, run Q&As and much more.
Demio features:
"Stay registered" series: Allow people to signup once for an ongoing series of webinars.
Private chat: Users have the option to send private messages to event coordinators or public messaging visible to everyone.
Branded registration page: To keep things consistent with your brand.
Like Live Replays: Automate replays of your webinars to build email lists.
Analytics: Insights into your webinar performance.
Who is Demio for?
Marketers who want a dedicated webinar tool with automated replays but put more emphasis on the live events.
Finally, for non-profits and education companies that have been forced to run their operations online due to coronavirus, Demio are offering a 50% discount for those companies.
You can see Demio's pricing and features here.
Of all the tools in this post, WebinarNinja gives Demio the biggest run for its money.
Used by the likes of AppSumo, BareMetrics and John-Lee Dumas, WebinarNinja have nailed all of the little details that you wished for in a webinar platform
From integrations with every major CRM system, to timed offers, and built-in email notifications, WebinarNinja is designed to do one thing extremely well; Help you convert attendees into customers.
The platform is extremely well-designed, and while many webinar software platforms skimp on their landing pages, WebinarNinja offer a beautiful variety to choose from.
WebinarNinja features:
Paid events: Run free webinars or paid virtual summits
Ad Tracking: Insert your Facebook Ad tracking pixel
Automated & hybrid webinars: Run fully-automated replays on a schedule, or combine live and pre-recorded elements.
Integrations: Integrate with over 1,000+ apps via Zapier
Multiple presenters: Have one or multiple presenters
Analytics: Reporting on your live webinar performance.
Who is WebinarNinja for?
Frankly, it's another great option for marketers and businesses looking for a modern and reliable webinar platform.
If you're running a small webinar for under 100 attendees, WebinarNinja is slightly more competitive on price, but if you're running a virtual summit or have a larger audience up to around 500 users, I would err towards Demio.
If you're running a webinar even larger than that, or require extremely low-latency, our next option may be an even better option.
JetWebinar is another modern option for hosting virtual conferences and webinars.
What's particularly impressive about their platform is how it handles scale – they claim to have less than 300ms lag for events with over 10,000 attendees!
Having hosted webinars in the past with 50-100 attendees that have a 5-10 second delay, I can attest that this alone earns JetWebinar a place above many more traditional platforms (that are stuck on old technology).
If I'm honest, JetWebinar isn't the best looking platform, and while it does have most of the key features (like automated webinars, on demand replays, and landing pages), it's not quite as polished as Demio.
JetWebinar features:
Automate webinars: Schedule webinar to replay at set times throughout the day – eg: every hour.
Just-In-Time Webinars: Tells users there's a webinar just about to start, encouraging them to sign up on the spot.
Block night-time viewing: Stops playing your webinar through the night to keep the illusion of live webinars realistic.
Interactive live chat: Speak to live attendees in real time
Time zone auto-detection: Automatically sets your webinar plays to different time zones so you only have to schedule things once.
Free training: In-depth resources on creating webinars
Analytics: Insights on the performance of your webinar strategy.
Who is JetWebinar for?
JetWebinar is the platform for large scale webinar events where latency is a key consideration. If you've used other well-known services, you know how painful delayed connections can be when attendee numbers increase – and this is precisely the problem JetWebinar have solved.
However, it's important to consider that this isn't the slickest platform, nor is it the most up to date with marketing and sales tools. If you want that, you'll want a platform like Demio.
GoToWebinar is a popular alternative to Demio that allows you to stream live webinars and send recordings to attendees once it's finished. It's a solid platform but it comes with fewer features than Demio or WebinarNinja and you don't get any of the automation or scheduling features of them. The main frustration with GoToWebinar is the restrictions you get on its packages. For example, on the Starter plan, you're limited to 100 participants per webinar and prices drastically increase if you want to increase your limits.
GoToWebinar features:
Live webinars: Host live webinars and share recordings with participants later on.
Custom landing page forms: To encourage people to sign up for your webinars.
Email notifications: To remind people about your webinar event.
Engage: You can use live chat, polls and send files to audience members during your webinar.
Analytics: Reporting and analytics on our webinar performance.
As a platform, GoToWebinar is easy to use and a solid all-round tool for webinar marketing. But, for marketing and sales purposes it falls behind in comparison to Demio and WebinarNinja.
Who is GoToWebinar for?
Corporates who only need live webinar hosting.
WebEx is more than a webinar platform, combing a wider range of features for holding online meetings, events, training sessions, interactive presentations and team collaboration. This sets it apart from the tools we've looked at so far, although the pricing is very similar. So you get a lot of features for your money compared to GoToWebinar and a completely different set of features to Demio.
WebEx features:
Webinars and video conferencing: So you can host a wide range of live events, meetings and training sessions.
Chat and brainstorming tools: Interactive whiteboard and other tools for collaboration.
File sharing: The ability to share files and apps for a better workflow.
Call back: Automated calls inviting people to attend your webinar.
What you don't get with WebEx is a dedicated webinar marketing tool. This is primarily a video conferencing suite that also caters for webinars and other live events. It's far more than a webinar tool but perhaps not the best webinar marketing tool.
Who is WebEx for?
Businesses that want a single, powerful video communication system without the marketing features.
GetResponse is an email marketing platform by trade but it also comes with decent webinar features on most of its plans. So if you're after a single platform that provides email marketing, webinar marketing and basic automation, this could be a good choice for you.
Get Response webinar features:
Quick scheduling: Select your dates, times and create custom URLs for your webinars in moments.
YouTube integration: Boost your audience with YouTube integration.
Recordings: Record your webinars, download and share with whoever you want.
Engagement: Engage viewers with dynamic presentations, interactive whiteboard, videos and live chat.
Security: SSL-encrypted URLs and you can choose whether your webinar is open to everyone or password-protected.
Analytics: Reports and analytics on your webinar attendance rates and other metrics.
GetResponse offers up some impressive webinar features – particularly for a platform that's primarily an email and marketing automation tool. It's not up there with some of the specialist webinar marketing tools but it was never designed to. Either way, it's a good option if you're after a general purpose marketing automation tools with some decent webinar features.
Who GetResponse for?
Marketers who want email, marketing automation and webinar features from a single platform, but don't demand industry-leading tools.
ClickMeeting is another dedicated webinar tool and it pretty much offers all the features you would expect at this stage. The only major thing lacking is the automated relay feature, once again – but you can record webinars and download them for sharing.
ClickMeeting features:
Subaccounts: Assign webinar duties to different individuals in your team.
Customisation: Customised invitations, branded webinars and "waiting rooms".
Recordings: Record your webinars, download and share with whoever you want.
Engagement: Engage viewers with dynamic presentations, interactive whiteboard, videos and live chat.
Analytics: Reports and analytics on your webinar attendance rates and other metrics.
ClickMeeting gives the best webinar tools a run for their money, offering some unique features you won't get elsewhere. How useful they'll be to you really depends on what you're looking for but I wouldn't say any of these additional features are essential. That's for you to decide, though.
Who is ClickMeeting for?
Serious webinar marketers should definitely take a look at this one.
Livestream is by no means webinar platform but rather a system designed to create studio-like live streaming. The idea is to use multiple cameras, professional audio equipment and lighting for high-end productions, including corporate webinars. So Livestream doesn't come with any of the webinar marketing features we've focused on so far in this article. Instead, it provides a platform for streaming live productions of the highest quality and how you use that is up to you.
Livestream features:
High-end production: Livestream a professional production suite for film crews and production exports.
Advanced editing: Including autofades, graphics overlays, pictures within pictures and green screen.
Social media integration: Reach your audience across Facebook Live, YouTube, Twitch and Twitter.
Engage audiences: With a moderated chat feed.
Analytics: Insights into viewership and other key metrics from your Livestream productions.
Once again, this isn't a webinar platform and you don't get any of the marketing features we've looked at so far. But you do get a level live event production software that none of the other options in this list come close to.
Who is Livestream for?
Brands that produce professional grade live video content for streaming across online platforms – webinars optionally included.
Webinars OnAir positions itself as a tool that provides "all the webinar features you need" from a platform of this kind. It's a bold claim for sure, but it's backed up by a lot of the key features we've been looking for in this selection of tools – plus a few unique ones to brag about.
Webinars OnAir features:
Tracking pixels: A new feature that sets you up for remarketing via AdWords.
Automated webinars: So you can replay your webinar footage as evergreen content.
Monetisation options: Prompt viewers to convert with popup-style product offers.
Engagement: Polls, surveys and chat functions to engage with your audience.
All in all, Webinars OnAir offers up an impressive list of features against any of the other tools in this list. Yet it still manages to lack a few vital marketing features and never really feels like a professional grade platform.
Who is Webinars OnAir for?
Brands who need to do webinar marketing on a budget.
Zoom is a general purpose video conferencing tool that caters for business meetings, collaboration and dedicated webinar solutions. There's no webinar automation available with Zoom but you get a reliable system for an incredibly modest price tag if all you need is live webinar hosting. Low prices come at a cost, though, and there's very little in the way of webinar marketing features with Zoom.
Zoom features:
Interactive: Up to 100 interactive video participants for webinars with large panels of speakers.
Integration: Broadcast your webinars to Facebook Live and YouTube.
Controls: Mute/unmute speakers for full control over participants.
Interactive: Polls, Q&As and live chat for engaging viewers.
Closed captioning: Provide text captions for hard-of-hearing audiences or people using devices on mute.
As a video conferencing platform, Zoom is a feature-rich platform that'll meet the needs of most corporate businesses. As a webinar tool it caters well to live broadcasts, especially if you have a large panel of speakers waiting for their turn to speak.
Who is Zoom for?
Businesses that need an all-in-one video conferencing tool that includes live webinar broadcasting.
Which is the right webinar tool for you?
There are some great webinar platforms on this list and a few outside bets that cater to more specialist needs. For us, Demio and WebinarNinja came out on top as we were looking for a webinar marketing platform specifically. Few platforms can match these two in terms of marketing features and automated/hybrid webinars.
The right webinar platform for you, depends on your specific needs, of course. However, I can fully recommend taking a closer look at the options we've covered today by trying out a few free trials.