Building a complete marketing tech stack takes time, experimentation and more money than most of us would like. Here at Venture Harbour, it took us roughly five years of testing hundreds of different tools to cover the core essentials with our MarTech stack and we've been gradually adding to it ever since, even developing our own tools when nothing suitable is on the market.
We know how expensive this journey can be for SaaS companies and how prohibitive it is to spend money on the wrong software tools. So, to help you build the perfect MarTech stack for your company, this article reviews the best tools we've used over the past decade.
What are we looking at in this article?
In this article, we're building the ultimate MarTech stack for SaaS companies with our top three picks in the following categories:
Marketing planning
Marketing management
Go-to-market tools
Product roadmapping
Customer experience (CX) optimisation
Subscription & billing management
Product analytics
In each section, we review our top three systems and we'll point you in the direction of more alternatives where possible. Our aim today is to cover all of the essentials for SaaS marketing and implementing strategies into the product development cycle.
First up, we're looking at the best software tools for planning SaaS marketing strategies and campaigns.
Best marketing planning tools for SaaS
In our first round of reviews, we're looking at marketing planning tools that will help your team come up with better campaigns.
Here are the tools we're looking at in this section:
TrueNorth: The intelligent marketing planning system.
MarketPlan: The visual marketing planning system.
monday.com: Marketing workload planning & management.
TrueNorth and MarketPlan are designed specifically as marketing planning products while monday.com is more of a project management system that's incorporated a lot of features for marketing teams over the years.
#1: TrueNorth: The intelligent marketing planning system
$99/month (all features, unlimited users)
Furthermore, instead of managing campaign data across multiple channels (Google Analytics, Google Ads, CRO software), TrueNorth pulls all of this data together so you can plan and optimise with 360-degree visibility.
TrueNorth is an intelligent growth marketing system that helps your team plan, implement and optimise multichannel marketing campaigns. Instead of planning campaigns with several different tools (meeting software, a project management system, etc.), TrueNorth provides a data-driven platform for planning campaigns.
The system turns data into a productivity asset, cutting out the most draining inefficiencies of agile marketing – essential for any SaaS company.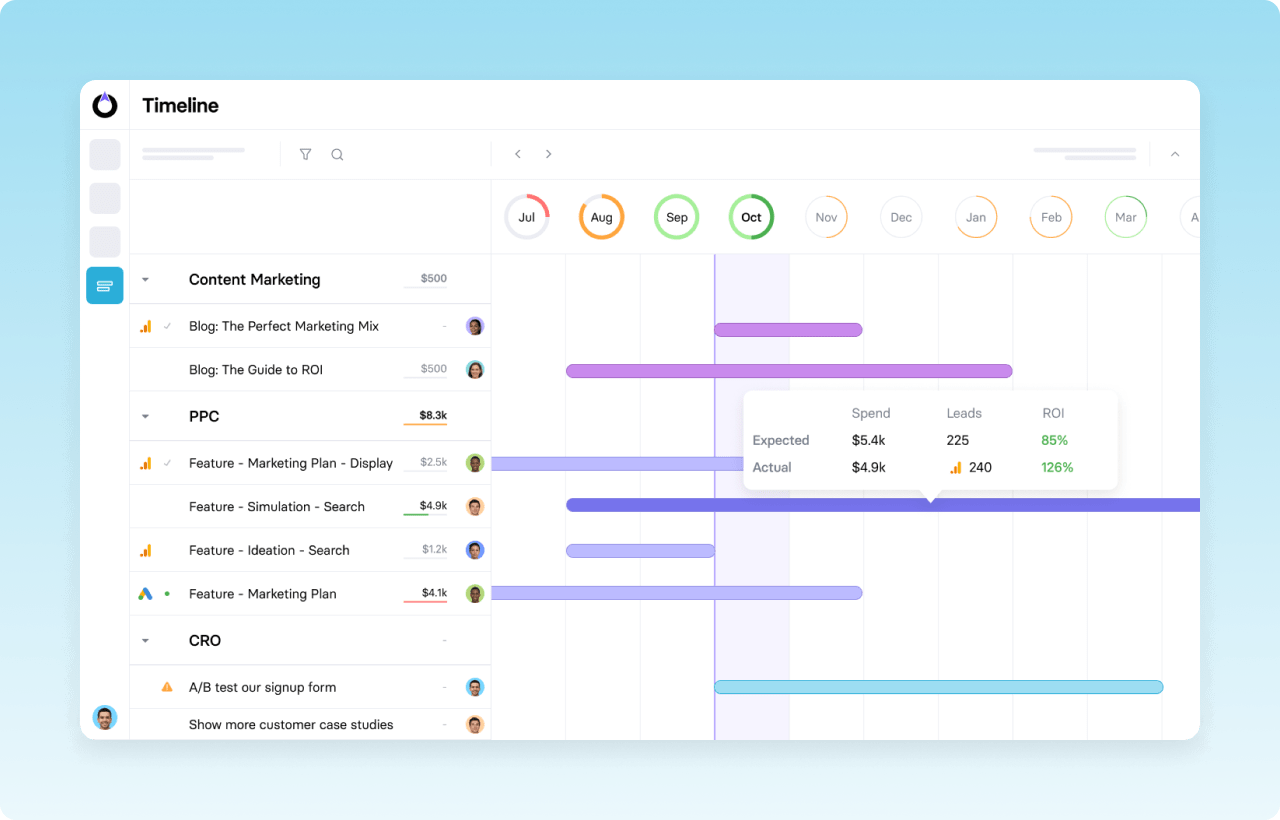 Key features:
Campaign planning: Develop winning marketing ideas faster with built-in tools for each stage of the creative process.
Marketing timeline: Map out your marketing timeline and assign tasks to get the best out of your team.
Campaign tracking: Stay on top of everything with a single view. All campaigns – whether running now or upcoming – across all channels.
Growth projection: Guide your team to the right decisions with data-driven predictions.
Campaign simulator: Predict the outcome of campaign ideas and select the best strategies.
Milestones: Set milestones for campaigns, based on data-driven projections, and optimise campaigns to constantly hit targets.
Campaign reporting: Measure campaign performance vs simulations, make adjustments and resimulate to identify the changes that'll maximise performance.
Campaign ideation: Generate winning campaign ideas faster with collaborative ideation and simulation.
Idea capture: Collect ideas from your team outside of meetings so you're ready to develop the strongest concepts right away.
Prioritise ideas: Quickly prioritise strategies and campaign ideas using the Impact, Confidence and Ease (ICE) framework, backed up by your data-driven campaign simulations.
Historical comparisons: Compare new ideas with what you've tried before to build new campaigns based on what really works, not just gut feeling.
Agile analytics: The Analytics interface makes it easier than ever to adapt fast when a campaign isn't working – or double down when it is.
TrueNorth is built for marketers by marketers who understand the day-to-day bottlenecks getting in your way. You can see this in the platform's meeting-less ideation system that removes the time drain of arranging and running in-person meetings.
This allows you to create a collaborative meeting in moments by simply inviting the relevant team members and specifying a goal for the meeting – eg: "Give me 10 ideas to increase conversion rates by +30% in Q2".
You don't have any email back-and-forths to worry about or schedule conflicts to deal with. Likewise, you're creating convoluted meeting agendas for simple brainstorming sessions or wasting time for everyone to arrive and say hello.
Team members make their contributions and move on to the next task.
You can also give team members time to come up with ideas ahead of your ideation sessions. This allows team members to finish whatever they're working on and put some ideas together at a time that suits them.
This means you're not interrupting their workflow but it also speeds up the productivity of the ideation sessions. With traditional ideation meetings, team members gradually arrive and it always takes time for people to get warmed up and start coming up with workable ideas.
With TrueNorth's meeting-less ideation system, everyone comes to the session with ideas ready and everyone gets the chance to put them across. As a result, you're putting ideas on the table right away and you can move on to selecting the best ideas and developing them further right away.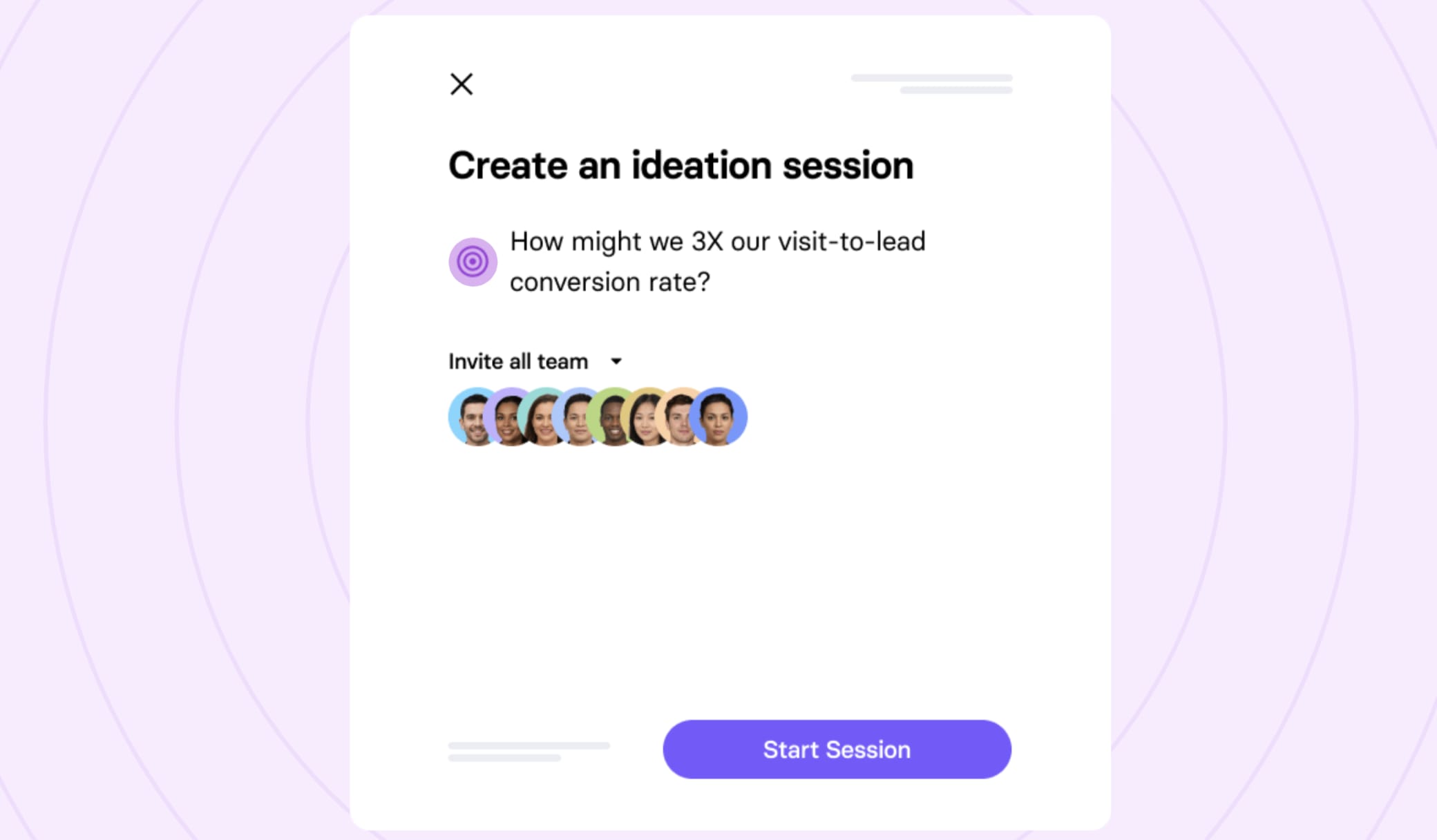 Once you've got a list of ideas to work with, TrueNorth helps you pick the best of them – based on data, not intuition alone.
The platform's campaign simulator uses existing campaign data to predict the outcome of campaign ideas. For example, if you're coming up with ideas to increase conversion rates, the simulator will use your current conversion rates and other metrics like traffic volume, bounce rates, avg. time on page, etc.
Aside from predicting the outcome of campaign ideas, this will tell you how much you need to improve certain metrics (eg: bounce rates) to achieve your goals.
You can change campaign parameters in the simulator and re-run ideas to see how changing budgets, duration and other factors impact the outcome. This allows you to test ideas before putting any budget on the line and get a more accurate sense of what's required to make a campaign succeed without spending a thing.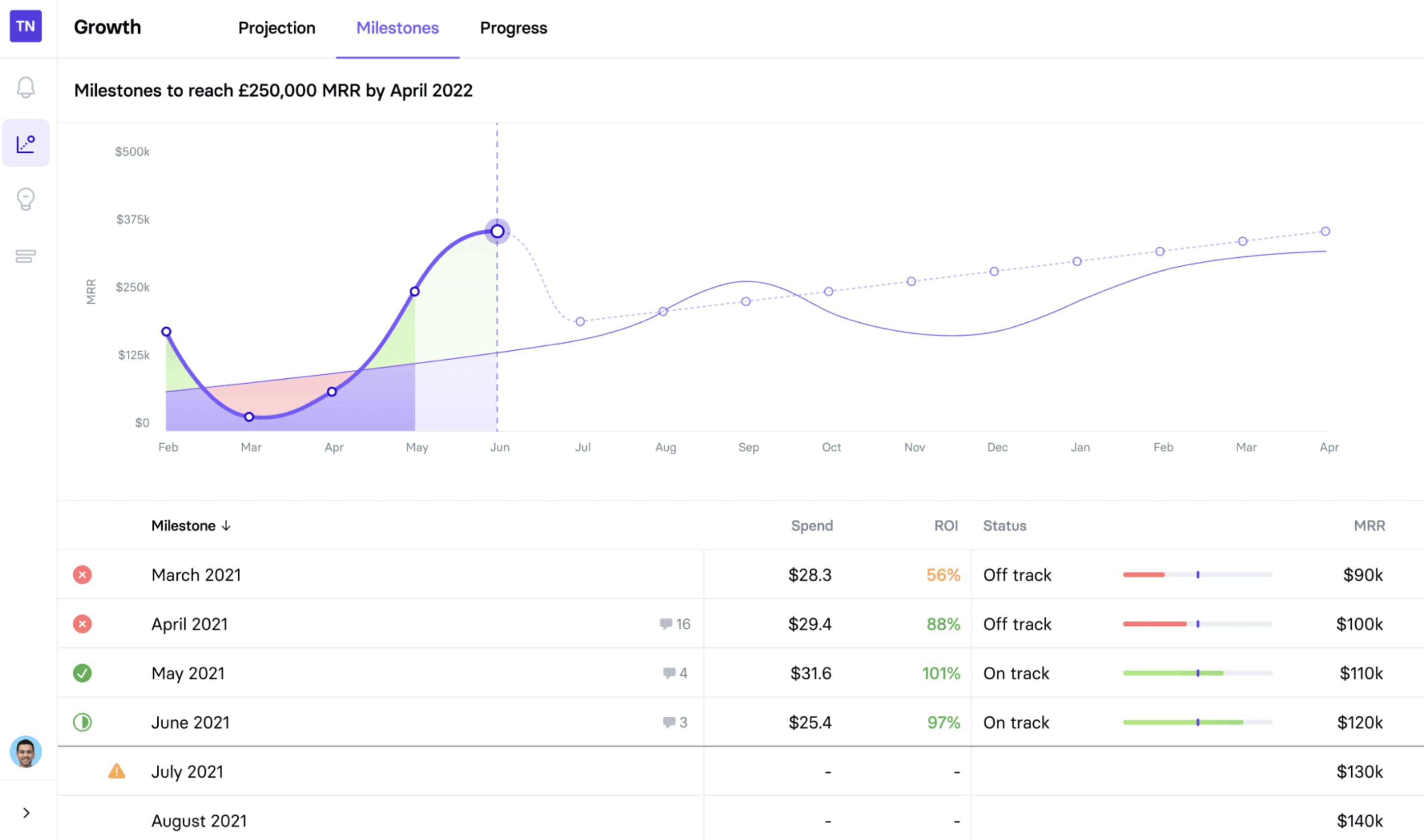 After running your campaign ideas through the simulator, TrueNorth automatically prioritises them for you. It orders campaign ideas based on their outcomes and the ICE model (Impact, Confidence and Ease). This way, you can run with the campaign ideas that will have the strongest impact with the current resources available to you.
Testing campaign ideas also gives you predictive benchmarks before you launch. This helps you measure performance from day one, instead of waiting days, weeks or months to collect data and see if campaigns are hitting targets.
This also allows you to intervene in underperforming campaigns faster. You can identify campaigns and specific channels falling short of expectations and test fixes before they start hurting your bottom line.
Likewise, you can identify campaigns performing better than expected and direct more budget towards them to maximise ROI.
As your campaigns run, TrueNorth continues to pull in performance data for analysis. You can re-run simulations at any time, update your predictions and take action to ensure you hit your marketing goals.
TrueNorth is finely tuned to avoid time wastage. In this regard, the features TrueNorth doesn't include are just as important as the ones it does. Most collaborative systems include features like team chat, file sharing and notifications.
Used properly, these features are great but, for the most part, we've found them to be counterproductive over time. Notifications interrupt people's workflow and group chat places pressure on people to reply instantly. We've actually found that removing – or limiting – these features is more beneficial for productivity and team well-being.
TrueNorth is selective with its collaborative tools. Many "productivity" tools require you to spend so much time using their features that you gain very little – if anything at all.
How much does TrueNorth cost?
TrueNorth isn't priced like most SaaS products. It doesn't run multiple plans, charge for multiple users or try to lure you into long-term contracts. It simply charges a flat fee of $99/month and this gives you access to all of its features for everyone on your team.
TrueNorth is designed for high-achieving marketing teams and its pricing strategy reflects this.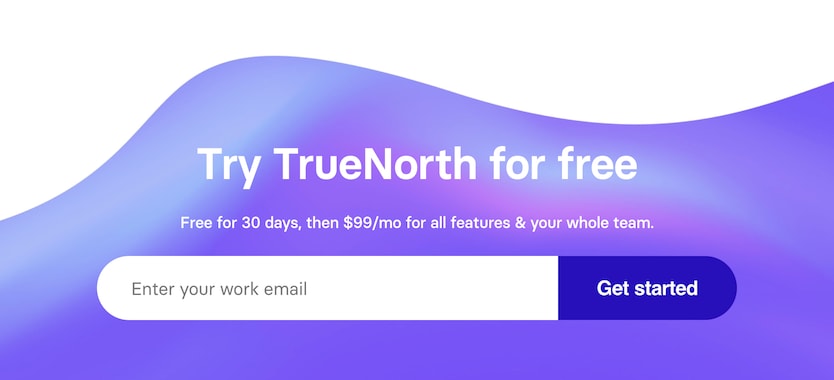 Most companies would run a free or cheap plan to get you signed up and restrict their most important features for more expensive plans, forcing you to upgrade. Many will also list low monthly prices but charge for every user on the account so that $45/month price tag jumps up to $450/month for a team of 10.
With TrueNorth, everyone on your team gets access to all of the platform's features. You don't have to worry about upgrades or paying extra for additional users as your team grows.
TrueNorth pros & cons
Pros
Built for marketers by marketers: TrueNorth is the only dedicated marketing management software we're aware of that's built specifically for marketers, by marketers.
Campaign simulator: TrueNorth's innovative campaign simulator helps you prioritise campaign ideas, choose the best creatives and optimise performance with greater precision.
Simple pricing: For $99/month, you get access to all of TrueNorth's features for your entire team – no hidden fees, user-based pricing or upgrade expenses.
Usability: TrueNorth is optimised to help you launch and optimise campaigns faster without spending unnecessary time fiddling with features and settings in the software.
Cons
Marketing focus: If you're primarily looking for a project management system that moonlights as marketing management software, the other options in this list may be more suitable.
No free plan: As part of TrueNorth's simple, flat-rate pricing model, there's no free plan available (but you can try it for 30 days, for free).
TrueNorth verdict
If you spend more time planning and managing campaigns than getting results, TrueNorth will put you back on track. By cutting out the inefficiencies of marketing logistics, the systems keep everyone on your team moving towards goal completions. It'll help you come up with winning campaign ideas faster, test them before spending any budget and prioritise your best ideas using predictive data.
As your campaign runs, TrueNorth keeps running to collect data and recalculate outcomes. You get multichannel analytics in one system and intelligent insights that reveal optimisation opportunities. You can identify the best and worst performers faster, allowing you to direct more budget to your top campaigns and reduce spend on underperformers while you test improvements.
With TrueNorth, you're not simply optimising for marketing performance but the best ROI from your budget at all times.
#2: MarketPlan.io: The visual marketing planning system
From $9/month (free plan available)
MarketPlan is a different kind of marketing planning system. It places more emphasis on funnel mapping and planning lead generation campaigns for each step (as well as lead nurturing campaigns to move leads along the funnel).
Funnels are a staple principle in marketing planning and MarketPlan is great for teams that don't have much experience with this approach. The platform keeps everything centred around marketing funnels, making it almost impossible for anyone on your team to lose sight of funnel goals in their marketing activities.
MarketPlan's core feature is its drag-and-drop funnel builder, which acts as the centre of your marketing planning toolkit. The system also includes a customer journey planning tool for mapping marketing out the customer cycle.
The focus on funnels and customer journeys, combined with MarketPlan's visual planning tools, set a solid foundation for new SaaS companies. If you're getting a new venture off the ground, funnels and customer journeys are probably the best place to start – as long as you understand they don't cover everything in SaaS marketing.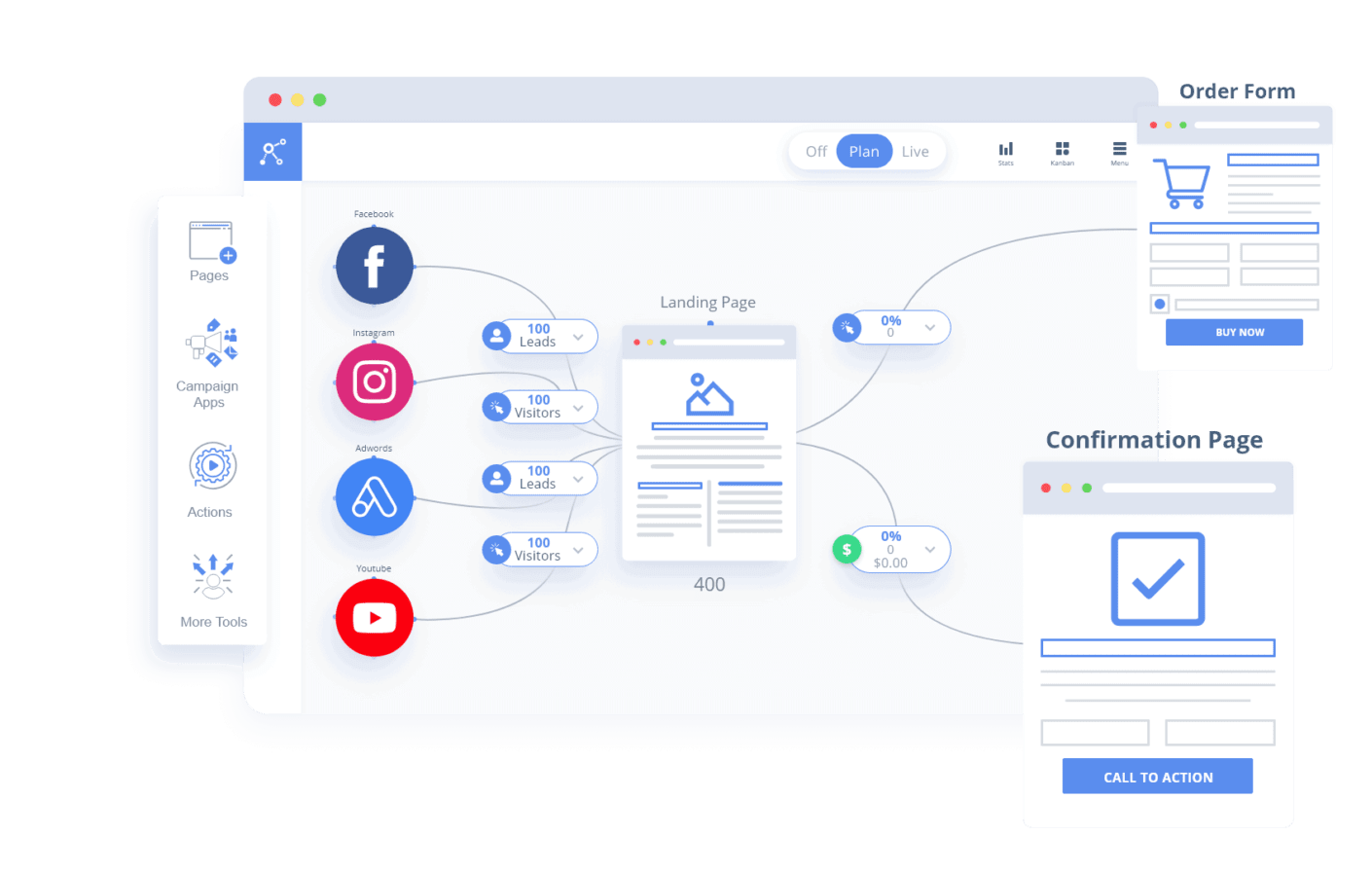 Key features:
Campaign planning: Visually plan campaigns with the same drag-and-drop builder.
Funnel mapping: Build funnel maps with MarketPlan's dedicated builder.
Team collaboration: Send messages, leave comments and collaborate remotely on projects.
Team chat: Chat with team members in real-time using MarketPlan's instant messaging system.
Cost & sales forecasting: Project funnel performance, campaign results, sales outcomes and expenses.
Templates: Plan marketing projects faster with pre-built templates.
Live analytics: Pull data in from Google Analytics and other sources for a live, all-in-one reporting system.
With TrueNorth, we looked at a system that will help your team come up with better marketing ideas faster. MarketPlan is more of a visual planning tool that helps your team apply campaign ideas to the customer journey and marketing funnels. As a result, you get a completely different set of features that will appeal to a different kind of team.
In our TrueNorth review, we talked about the lightweight implementation of collaboration features. MarketPlan comes in heavier with the traditional collaboration features you might expect from a team planning system.
If you want team chat and notifications for everything, Maketplan has you covered.
The downside of this is you might run into notification fatigue and you're opening up another channel of team chat. If you're already using something like Slack for team communication, having another channel within a planning system can be problematic.
Then again, if you don't have a system like Slack or you don't want to pay for a chat tool separately, MarketPlan's built-in system may sweeten the deal. For us, we prefer to keep Slack as our only chat system and limit notifications to minimise interruptions. We also automate a bunch of statuses so we don't have team members sending messages to each other while we're busy working on something. The right balance for your team could be completely different – so test some options out and see what works for you.
Getting back to MarketPlan, the system offers more than TrueNorth in terms of project management features. You can create and assign tasks with more control and set deadlines with status updates. However, you're still not getting enough to fully replace a project management system so you're probably still going to use either TrueNorth or MarketPlan alongside a more traditional project management tool.
Alternatively, you could use all three – especially if you sign up for one of MarketPlan's cheaper plans, even just to access its funnel building tool.
On paper, the biggest similarity between TrueNorth and MarketPlan is they both have their own forecasting systems. TrueNorth's campaign simulator allows you to test campaign ideas, predict performance and prioritise your best marketing ideas.
MarketPlan's forecasting system is a little different. Like most of the platform, it focuses on predicting campaign performance across the marketing funnel and customer journey. The idea is to help you plan and set realistic budgets across your multichannel marketing strategy.
It's a great concept but you have to use it with a bit of caution. Each campaign you forecast adds another calculation into the outcomes across the entire funnel and/or customer journey. Viewing forecasts at a cumulative level can result in big inaccuracies.
If the forecast for a single campaign is out by 5% and you spend $1,000, you can accept the odd $50 discrepancy and make it up elsewhere. If you're out by 5% on a $1,000,000 multichannel marketing campaign, then a $50,000 waste of budget is harder to take – especially if you don't have time to recoup it.
How much does MarketPlan cost?
MarketPlan's pricing model is far more complex than TrueNorth's. In fact, it's more complicated than most SaaS products but we'll do our best to break it down clearly.
MarketPlan offers a free plan for individual users, which isn't much help for teams but it could give you an idea of what the platform's like to use. Unfortunately, the company doesn't offer any free trials to get full access to its product and all of its features before you sign up for a more expensive plan.
The Starter plan starts at $9/month for up to three users and you can pay for additional users for an extra $3/month each.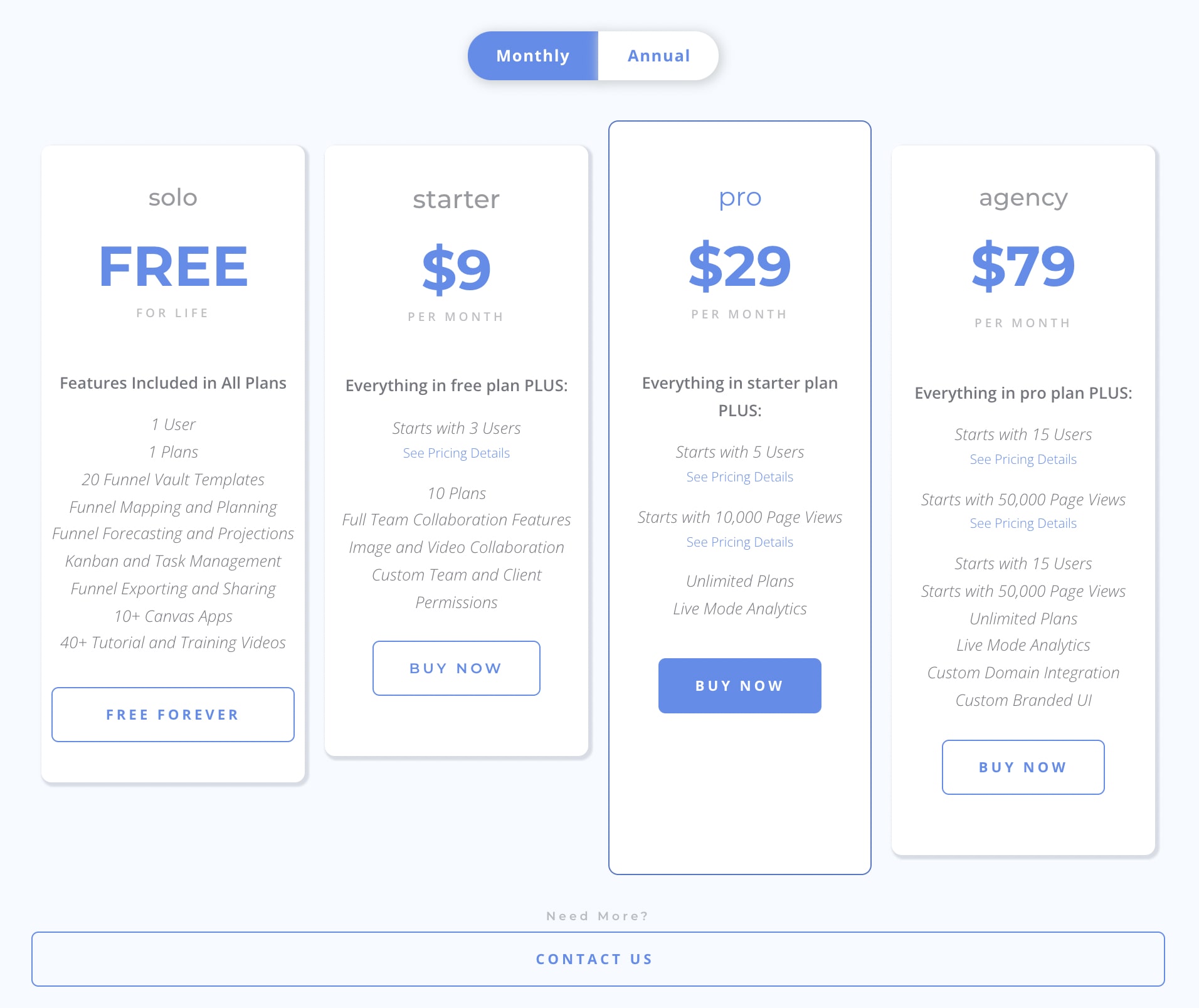 The Pro plan starts from $29/month and this covers you for up to five users with additional seats costing an extra $3/month each, once again.
That's not too complicated but MarketPlan throws another variable into the mix with its Pro and Agency plans. The Pro plan covers you for 10,000 page views as standard but you have to pay an additional fee once you exceed this standard limit.
Here's a quick look at what you'll pay for different page view brackets on the Pro plan.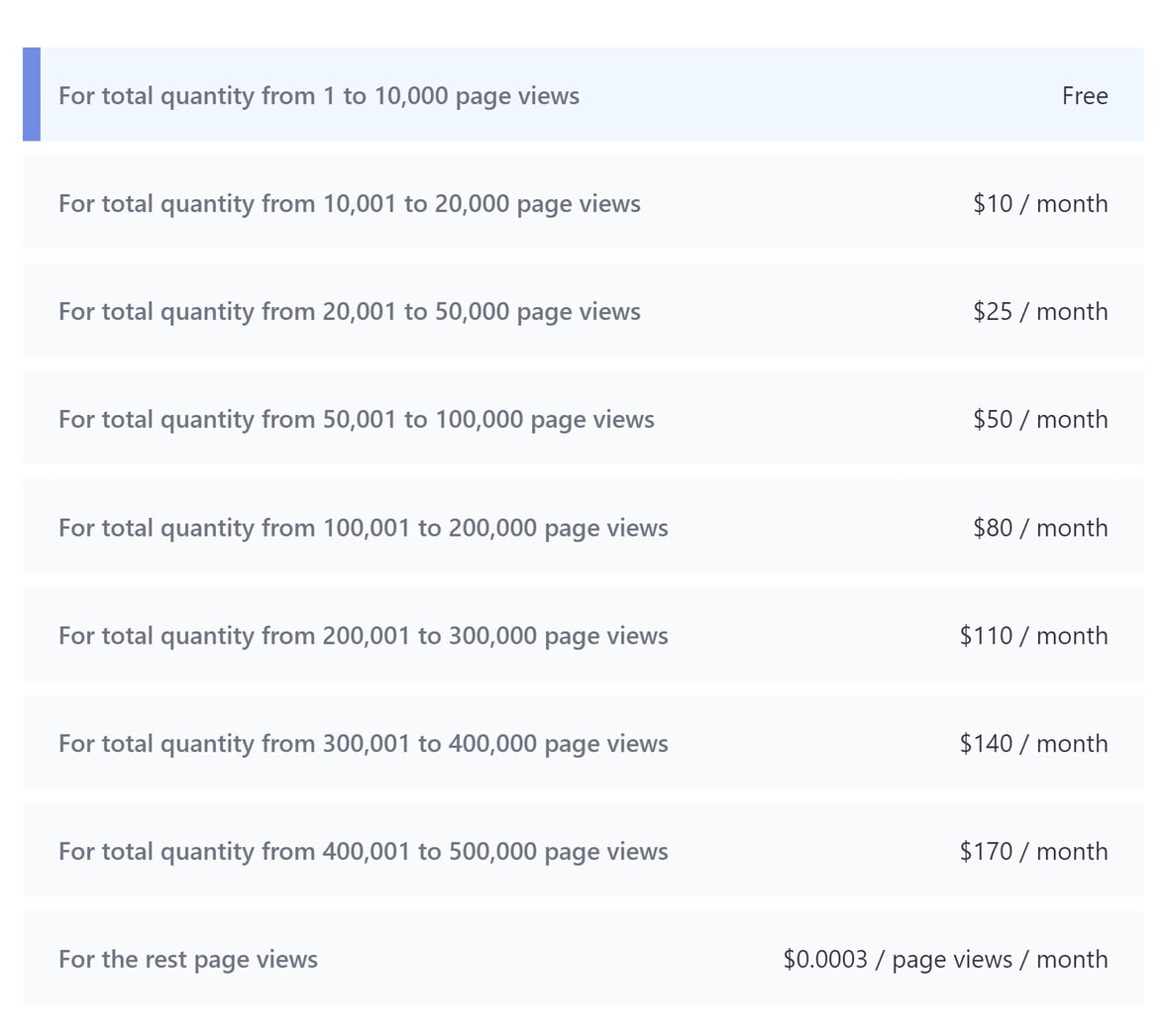 The Agency plan starts at $79/month, covering you for up to 15 users as standard. Once again, you can add more users at $3/month each and you also get up to 50,000 page views for free on this plan.
You get slightly better value for money on additional page views with the Agency plan, too.
MarketPlan openly includes all of the pricing information on its website but you'll want to do your sums before signing up. Adding users and multiplying page views can skyrocket your monthly software fees.
So make sure you know what you're getting into before you sign up.
If you have any doubts, take a look at MarketPlan's pricing page where you'll find a complete breakdown of its pricing info and the features available on each plan.
MarketPlan pros & cons
Pros
Funnel mapping: An excellent funnel mapping tool that no other platform in this article offers.
Projections: Predict the outcome of campaigns and optimise results ahead of launch.
Reporting: MarketPlan's analytics and integrations create a powerful reporting dashboard.
Cons
Complex pricing: The page view pricing system on the Pro and Agency plans could catch you out if you're not aware of it.
Speed: MarketPlan suffers some slowdowns, especially when working on large plans.
Usability: Some minor UI and UX issues in the builder and software that could be solved with a good update.
MarketPlan verdict
MarketPlan is a visual marketing planning tool that's great for teams basing their strategies around the marketing and customer cycle. This approach covers a lot of bases for SaaS companies and it's a great way for new ventures to get started with multichannel marketing.
The only danger is you're not going to cover everything you need to with this tool alone. Prioritising funnels and the customer cycle may get you ~80% of the way but that last 20% or so is crucial for maximising revenue.
All this aside, MarketPlan's visual funnel and customer journey tools are some of the best we've used. Ideally, you would use these alongside a more complete marketing planning system – like TrueNorth – rather than relying on it as an all-in-one platform.
None of this is a problem, as long as you know what you're buying into and have realistic expectations. Pricing, on the other hand, could be a bigger problem for some teams. MarketPlan's entry prices are highly affordable for smaller teams but the monthly fees can multiply heavily on the more expensive plans.
#3: monday.com: Marketing workload planning & management
From $24/month* (free plan available
As we've already mentioned a few times, you might want to run a dedicated project management platform alongside tools like TrueNorth and MarketPlan. The tools we've looked at so far will help you plan campaigns and strategies but you may want a separate system for planning workloads, schedules and tasks.
This is where a system like monday.com comes in – and you'll find more recommendations in our project management software comparison.
A good project management system is particularly helpful if you're managing large teams or team members have to juggle a lot of different tasks or projects. A system like monday.com will help team leaders organise projects, workloads and tasks to ensure deadlines are met. Crucially, it will also help you hit your targets without overwhelming individuals or distributing tasks unfairly on some more than others.
Likewise, monday.com will help everyone on your team keep up with their workload. With tasks, they'll always know what they should be working on at any given time, when they need to complete the current task and what's coming up in their schedule.
Team members can update task statuses as they progress, raise any issues they encounter along the way and collaborate with colleagues to find solutions faster.
Key features:
Project management: Manage projects, including marketing campaigns, product launches and more.
Campaign planning: Plan your marketing campaigns in one organised workspace.
Task management: Manage tasks at the team and individual levels throughout your campaigns.
Advanced views: View and manage projects across multiple views, including Kanban, timeline, calendar, Gantt, map view and more.
Content calendar: From digital publications to social media, manage your publishing schedules and coordinate all content initiatives in one visual calendar.
Automation: Automate repetitive work by setting customisable actions in your boards.
Performance insights: Visualise project performance and workflows so you know what's working and what's not.
Time tracking: Track and monitor the time spent on each task.
Templates: Use and create project templates to get things moving faster.
Collaboration: Send messages, attach files, run video chats and collaborate via digital whiteboards.
The issue with project management tools is they're not always designed with marketing teams in mind. However, monday.com has put a lot of effort into adapting its platform over the years to cater for marketers.
Its monday marketer system now comes with dozens of marketing project and dashboard templates. This includes a content calendar, social media planner, marketing strategy template, campaign planning dashboard, digital asset management (DAM) interface and plenty more.
You can also track campaigns in monday.com and import data into customisable reporting templates. It's not much of a replacement for the multichannel reporting you get from TrueNorth but it's another sign that monday.com is catering to the needs of marketing teams.
As welcome as the new marketing features in monday.com are, the platform is still a project management system at heart. It's at its best when helping team managers plan projects down to every task and managing the workloads of everyone on your team.
You can view and plan projects in the standard Kanban view or use Gantt views, calendars, task lists, chart view and many more, depending on which plan you're signed up to. You can also invite guests onto projects, giving them view-only access, without paying for additional users.
This is great for dynamic teams that outsource tasks to freelancers. You can simply invite them to gain access to their workload and submit files as they complete tasks.
Regular team members can update task statuses as they work through projects. You also get some decent collaboration features that allow team members to send messages, attach files, run video calls and use monday's built-in collaboration whiteboard.
The good news for team leaders is, they don't have to constantly update tasks statuses. Team members are responsible for this (as long as they actually remember to update statuses), which means managers spend far less time chasing people up.
The downside to this is that team members have to manually update task statuses, upload files, send messages, raise issues and interact with the system in other ways. Sometimes it feels like you spend more time using monday.com than actually getting on with tasks but this is an issue with all project management systems.
All in all, it is more productive for team members to take up their share of the logistics and lighten the load on team leaders and managers. Thankfully, monday.com eases the burden on team members as much as possible by allowing you to automate repetitive tasks.
How much does monday.com cost?
Pricing is the first issue we have to raise with monday.com. It's not how much the system costs that we have a problem with, but how it presents the pricing information on its website. Glancing over its pricing page, you see these highly affordable price tags on each plan. Then, you realise the company is showing the per-user price on the basis that you have to pay for a minimum of three users.
So that $8/month starting price actually starts from $24/month for up to three user seats. Earlier, you might remember MarketPlan lists the total price and includes pricing information for additional users – a far more transparent way of doing things.
Also, unlike MarketPlan, you can't choose how many users you pay to have on the system. You can only choose between preset limits of three, five, 10, 15, 20 seats and so on. In other words, you're probably paying for seats you won't use – as many as nine seats if you have 31 or 41 team members.
All in all, monday.com is a reasonably-priced system but the format of its pricing model leaves a sour taste, especially if you fall the wrong side of a user seat limit.
monday.com pros & cons
Pros
Task management: monday.com prioritises task management, building your projects around individual task lists.
Visual simplicity: The interface is a little harsh on the eyes but its visual simplicity communicates information effectively.
Collaboration: The in-app notes, messaging and notification system aids collaboration without being intrusive on individual workflows.
Cons
Time-consuming: While monday.com is excellent for task management, you spend a lot of time creating task lists, structuring projects and updating statuses.
Lack of marketing features: This is a great tool for planning schedules and workloads but it offers few marketing-specific features for the more strategic aspects of campaign planning.
Complicated pricing: The monthly prices displayed on the website are a little misleading because you have to pay for a minimum of three users and the per-user pricing multiplies the total fee.
monday.com verdict
If you want a project management system to use alongside tools like TrueNorth or MarketPlan, monday.com is a great option. There are plenty of project management tools on the market these days but few of them cater for the needs of marketing teams.
In truth, monday.com isn't designed specifically for marketers, either. However, the company has adapted its system over the years with tools and templates to help marketing teams get things done faster.
At its core, monday.com is one of the best project management systems available these days. It's particularly effective for team managers, even if it requires team members to spend a bit of time interacting with the system (eg: updating statuses, attaching files, etc.).
And, although we don't like the way monday.com presents its pricing information, the platform is good value for money.
Want more marketing planning tool recommendations?
If you want more recommendations and reviews for marketing planning tools, we've got a complete article featuring all three of the systems in this section and plenty more:
Best marketing management tools for SaaS
Marketing management systems will help you run campaigns more effectively and automate repetitive tasks so your team members can achieve more, faster.
The top three marketing management platforms we've used are:
ActiveCampaign: The best marketing automation system.
Wrike: The best for real-time workflow management.
ClickUp: The ultra-collaborative marketing management system.
ActiveCampaign is by far the best marketing automation system we've used over the years (and we've tested a lot of them). Wrike is more suitable for real-time workflow management and getting the best out of your team without running into problems with burnout.
Then, you've got ClickUp, which aims to maximise productivity by putting collaborative tools in the hands of everyone on your team.
#4: ActiveCampaign: The best marketing automation system
From $9/month
If you search for marketing management software, most of the options you'll come across are essentially adaptations of project management systems. Essentially, they're an adapted version of project management tools designed specifically for marketing teams.
ActiveCampaign doesn't brand itself as a marketing management tool but, in many ways, it's a more effective tool than anything that does. This is the best marketing automation system we've used at Venture Harbour and we continue to use this platform after more than five years.
As you'll see from the other tools we discuss in this section, marketing management tools offer a variety of automation features. Yet, none of them come close to the extensive multichannel automation system you'll get from ActiveCampaign.
You don't get any of the project management features the other tools in this section offer. Instead, you get something more practical in an automation system that reduces the management workload of running each marketing campaign.
Key features:
Email marketing: Everything you need to manage winning email marketing campaigns – email builder, templates, campaign workflows, reporting and more.
Marketing automation: ActiveCampaign delivers some of the best marketing automation features around.
Lead nurturing: Turn leads into paying customers by nurturing them through the buying process.
Customer cycle management: Manage campaigns at every stage of the customer cycle, from lead capture to the first purchase and beyond.
Predictive technology: Predict lead scores, customer value and send predictive content in your emails.
Website tracking: Build hyper-relevant campaigns by tracking website activity and automatic email delivery.
Personalisation: Create personalised customer experiences across multiple channels.
Built-in CRM: Manage all of your customer data in ActiveCampaign with its built-in CRM.
Marketing reporting: Track campaign performance and optimise results.
ActiveCampaign's platform centres around its customer relationship management (CRM) system. A CRM keeps all of your customer data in one place but ActiveCampaign's system is designed for integrating marketing, sales and CX into a complete business strategy.
Instead of key departments like marketing and sales working separately, ActiveCampaign can bring them together. For example, you can create lead nurturing campaigns that convert marketing leads into sales ready leads and automatically hand them over the relevant team.
By using customer data to automate campaigns, you can guide prospects along the marketing and sales funnels. Email marketing is one of the most effective channels for doing this and ActiveCampaign includes a comprehensive toolkit for email marketing automation.
You can segment audiences and create hyper-relevant campaigns to pinpoint their motivations and concerns.
ActiveCampaign's predictive technology uses intelligent insights to enhance the effectiveness of your campaigns. The system automatically calculates the value of leads, using your existing customer data to predict things like how likely they are to convert and how much they'll spend.
The same predictive system also calculates customer health scores and flags up customers at risk of churning. You can create automated re-engagement campaigns that automatically trigger when customer health scores drop below your chosen threshold.
With ActiveCampaign's CRM, predictive insights and marketing automation features, you can manage powerful campaigns at every stage of the customer cycle.
How much does ActiveCampaign cost?
ActiveCampaign's pricing structure is quite complex but its pricing page does a good job of breaking this down.
The company breaks its ecosystem down into multiple bundles:
Marketing: Email and marketing automation.
Sales: CRM and sales engagement.
Bundles: Marketing and Sales products combined
Transactional emails: A dedicated system for sending transactional emails.
Prices start from $9/month for the Lite version of the Marketing system but this only covers you for one user and up to 500 contacts. You also miss out on ActiveCampaign's most powerful features on this plan.
In all honesty, you want to sign up for the Plus or Professional plans as a minimum. Keep in mind the $49/month and $149/month price points are starting prices and the monthly fees quickly increase as your list of contacts grows.
That being said, ActiveCampaign is significantly better value for money than similar alternatives like HubSpot.
To get the best value from ActiveCampaign, SaaS companies will want to look at the Bundles option, which currently includes three plans.
The Bundles plans include both Marketing and Sales products with varying features, depending on which version you sign up for.
The Plus plan starts from $93/month and covers you for up to five users and 1,000 contacts. Once again, pricing increases as your contact list grows and you're missing out on the most advanced features of ActiveCampaigns Marketing and Sales products on this plan.
Upgrading to the Professional plan starts from $386/month and this covers you for up to 10 users and 2,500 contacts, as standard. You also unlock most of the system's advanced features, including the best of its predictive insights.
The Enterprise plan is priced on application with cover for up to 15 users and 2,500 contacts.
ActiveCampaign pros & cons
Pros
Marketing automation: ActiveCampaign is the best marketing automation system we've used and far more affordable than similar products.
Built-in CRM: Manage all of your customer data in one place and use it to maximise sales.
Lead nurturing: ActiveCampaign excels at nurturing leads into paying customers and customers into repeat buyers.
Low entry price: ActiveCampaign's pricing model allows small and growing businesses to buy into growth software only enterprise companies can normally afford.
Cons
Complex pricing: The downside to ActieveCampaign's pricing model is complexity – you have to know what you're signing up for and understand your future software fees.
Learning curve: Given the depth of features available in ActiveCampaign, it's going to take time for your team to get familiar with everything.
ActiveCampaign verdict
ActiveCampaign isn't a "marketing management tool" by definition but it does more of the heavy lifting than any system calling itself one. Automation powered by customer data helps you create campaigns that manage themselves, freeing up time and resources for the marketing activities that require your attention.
The other tools we're looking at in this section are better when it comes to planning campaign timelines and team workloads. However, none of them can compete with ActiveCampaign's automation system that takes the lead when you launch campaigns in the wild.
#5: Wrike: The best for real-time workflow management
From $9.80/month (free plan available)
Unlike ActiveCampaign, Wrike is one of the first platforms you'll come across if you search for "marketing management software". In this sense, it has more in common with monday.com than ActiveCampaign, expanding upon the traditional project management concept with a system designed specifically for marketing managers and team leaders.
Like monday.com, you can plan campaign timelines, manage tasks and workloads for everyone on your team.
The platform's drag-and-drop timeline calendar is great for quickly creating, assigning and scheduling tasks. Team members can access their workloads in to-do lists, campaigns and other views with a similar status system that updates tasks throughout projects.
Wrike also includes its own library of marketing templates to help you plan campaigns faster – including a marketing calendar, competitor analysis, release plan and several others.
The system ramps it up with collaboration features with built-in docs editing, messaging and team chat. Team members can work on items together in real time, provide feedback and access the latest version of documents without uploading a thing.
Key features:
Live activity stream: Real-time activity management at the global, project and task levels.
Interactive boards: View workloads in Kanban boards, spreadsheets and tables.
Interactive Gantt charts: Easily schedule and visualise project plans and deadlines with a simple drag-and-drop interface.
Custom workflows: Build customised workflow stages for projects and campaigns.
Resource management: Ensure the right resources are available for each campaign.
Real-time reports: Track campaigns in real-time and build custom reports from scratch or using built-in templates.
Time tracking: Track the time spent on tasks and automatically produce timesheets for activities and workloads.
Automation Engine: Automate repetitive tasks with trigger actions and responses.
Campaign templates: Launch campaigns faster, using templates, and edit them to meet your own requirements.
Wrike's accelerated approval system is another key feature for planning and completing marketing tasks faster. It condenses the approval and feedback cycle into a single tool where team members can tag the relevant colleague(s) and request or provide feedback on text docs, images, videos, PDFs and other formats without leaving the app.
This removes the endless loop of feedback requests, message threads and email back-and-forths. You also don't have to worry about old versions of files or docs making it into campaigns because the whole editing process takes place in the software.
Given that Wrike is essentially a project management system adapted for marketing teams, it's no surprise the system is aimed at team leaders and managers. However, the company understands that workload management isn't only about maximising output.
Avoiding burnout is crucial for achieving long-term, sustainable productivity and Wrike has implemented a resource management system into its platform. This helps you get the best out of your team – collectively and individually – as well as your marketing assets.
The system allows you to manage workloads to ensure everyone is getting a fair share of the work without overloading anyone. You can track and manage the amount of time people spend on tasks, optimise workloads to assign tasks to the best individuals and identify burnout or other productivity issues faster.
How much does Wrike cost?
Wrike offers five different plans for different team sizes. First up, you've got the Free plan, which is designed for teams just starting out. You can have unlimited team members on this plan and access the platform's basic set of project and workload management features.
You're not getting the best of Wrike's automation and collaboration features on the free plan but it's a decent enough system for teams working on their first batch of marketing campaigns.
The best thing about Wrike's new free plan is that you can now have unlimited team members so you can get started with this plan – regardless of how big your team is – and upgrade to the right paid plan when the time is right.
Wrike's paid plans start from $9.80/month per user for the Team plan, which covers you for up to 25 team members. You get most of the platform's project and workload management features, including most of the view options available.
You also get a bump in automation features over the free plan but you're still not getting its resource management system, asset management tools or the full set of workflow automation features.
Upgrading to the Business plan will cost you $24.80/month per user for up to 200 team members. This opens the full set of project and workload management features, including all of the view options and standard reporting features (except enhanced BI reporting).
The Business also unlocks Wrike's full set of workflow automation features, its resource management system and the best of its collaboration tools.
This is where you start to see the best of Wrike's capabilities as a marketing management product.
The Enterprise and Pinnacle plans are priced on application for enhanced security and intelligent reporting.
Wrike pros & cons
Pros
Features: Wrike packs plenty of project and campaign management features into its software, making it one of the most flexible tools available.
Real-time feedback: If you need real-time updates, reporting and feedback across campaign activity and performance, Wrike's system provides the live insights you need.
Workload management: With real-time feedback, time tracking, collaboration and automation, you can manage teams and individual workloads to maximise productivity and eliminate burnout.
Cons
Speed: Wrike's web app can be a little sluggish at times, especially when you're mapping out complex timelines.
Navigation: Moving around the interface, finding features and accessing dashboards isn't particularly intuitive and the search function isn't much help, either.
Learning curve: With more features than your typical project management system, the learning curve is a little steeper.
Wrike verdict
Wrike is one of the most complete project management systems currently available and the company caters for marketing teams more than most. The work management features are a major asset for teams dealing with complex workloads and pressing deadlines.
The built-in approval system is excellent for campaign planning and content production, too.
A common contradiction with productivity tools is that many of them demand so much interaction that any time savings are partially cancelled out. Wrike's intelligent implementation of productivity tools and approach to UX design maximise time savings without unnecessary interaction – eg: changing settings, repeating the same actions, etc.
The only real exception to this is the time it will take many team managers and leaders to fully learn the system. This is simply a consequence of Wrike being as feature-rich as it is and the productivity benefits only increase once everyone is fluent with the platform.
Overall, Wrike is competitively priced with its direct rivals although you have to sign up for the Business plan to start unlocking the best of its capabilities. Keep this in mind if you're comparing the platform with similar alternatives.
#6: ClickUp: The ultra-collaborative marketing management system
From $5/month (free plan available)
ClickUp wants to be the only marketing and project management system SaaS teams need for the whole product lifecycle. The platform incorporates one of the most extensive sets of project management features into a highly collaborative ecosystem with editable templates for marketing, product design, development and plenty more.
The platform promises to help you develop better products faster with goal-centric planning and workload management.
Crucially, you can bring everything together in one management system using ClickUp's built-in dashboards for each stage of the development and marketing cycles – or customise your own. You also have 20+ different views built into the system for managing projects, marketing campaigns and workloads for the whole team and individuals.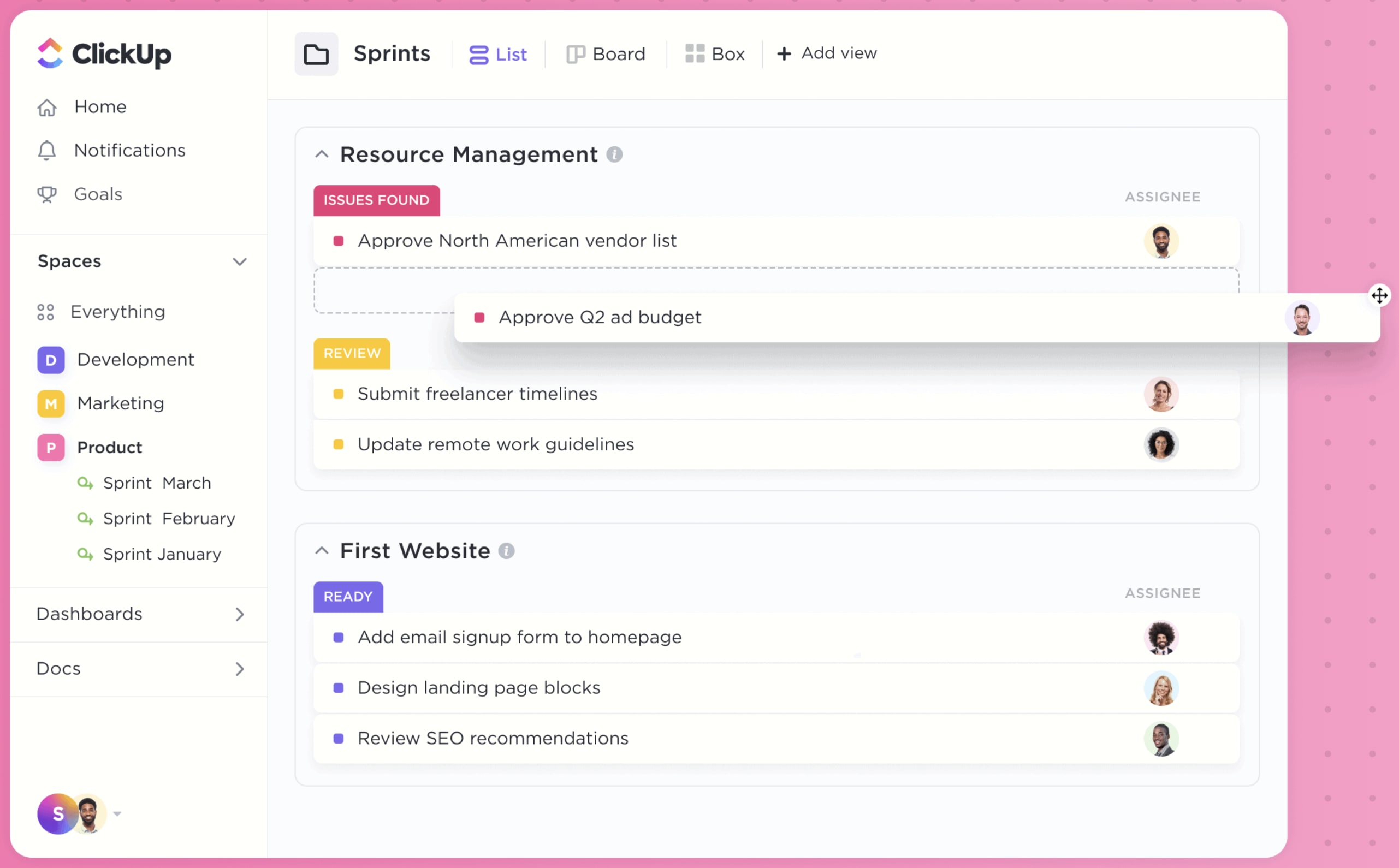 Key features:
Project planning: Plan campaigns and other projects with ClickUp's collaborative system.
Collaboration: Plan and manage projects at every level as a team with email, chat, comments, docs collaboration and more.
ClickUp Docs: Create, manage and collaborate on documents inside ClickUp.
Sprints: Plan and manage marketing sprints with the native Sprint App, available on all plans.
Task management: Create and manage tasks for teams and individuals.
Spaces: Organise teams and departments into Spaces where you can group projects into folders.
Views: Plan and manage your campaigns across 15 different views, including lists, boards, calendars and more.
Reporting: Set goals and track progress with built-in reporting.
Time management: Track time, estimate task durations and analyse team performance.
Marketing templates: Plan campaigns and marketing projects faster with ClickUp's library of templates.
Automation: Cut out repetitive tasks using 50+ actions, triggers and conditions with pre-built, customisable recipes.
ClickUp goes further with collaboration than most project and marketing managing systems. Aside from the usual file sharing and chat features, you get a collaborative whiteboard system for team members to plan projects in real time. You can also record video messages in the app and store them for team members to access or send messages to groups or individuals.
Sometimes, providing feedback by text or comments is insufficient so this is a great feature in scenarios when you need to provide face-to-face feedback – no separate video messaging app required.
Once you've planned your next campaign or project, you can get things moving faster with ClickUp's extensive library of project templates: campaign plans, timelines, content calendars, campaign reports and dozens more.
You set your goals for the campaign/project, select the most appropriate template for key tasks and customise them to suit your needs. Once your campaign is live, you can track performance using dozens of reporting templates and integration options to pull in your most important data.
ClickUp also includes one of the most comprehensive docs editing systems available from any project management tool. It's like having Google Docs fully integrated into the platform itself, ensuring everyone has access to the document they need. This makes docs collaboration completely seamless without team members ever needing to move between platforms or move files around unnecessarily.
How much does ClickUp cost?
ClickUp runs five different plans, starting with its Free Forever plan designed for individuals and small teams. The big limitation on this plan is that you only get 100MB of storage space, which limits how many resources you can work within the system at any one time.
Aside from that, you can have unlimited users on this plan and manage unlimited tasks with access to some impressive features, including docs collaboration, whiteboards, sprint management, time tracking and plenty more.
The storage limit will force you to upgrade pretty quickly but, aside from that, ClickUp's free plan is an impressive offering.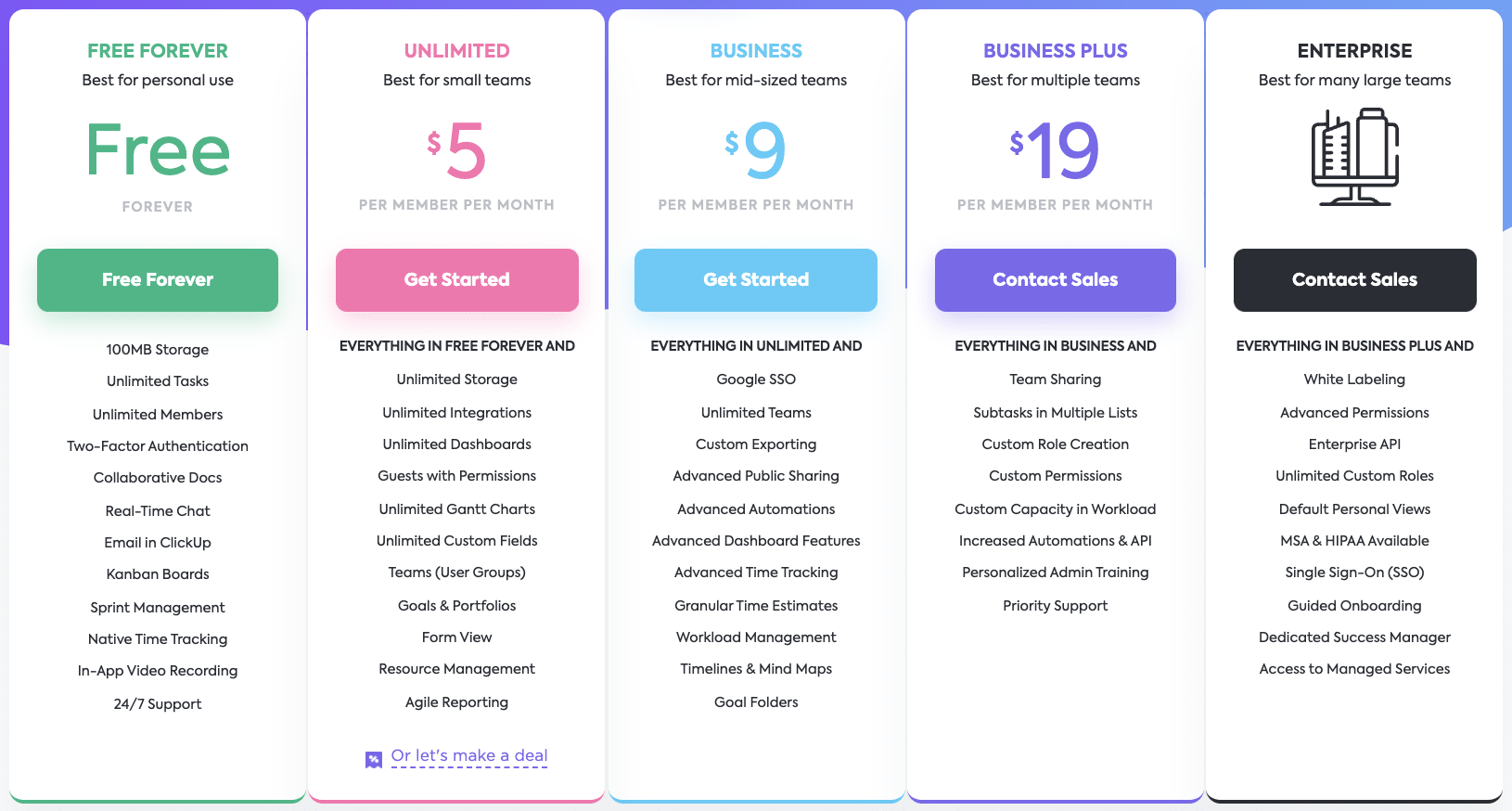 Upgrading to the Unlimited plan will cost you $5/month per user and this gives you unlimited storage space to work with. You can also create unlimited dashboards on this plan, invite guests with custom permission settings and send emails within ClickUp.
The Unlimited plan also allows you to manage teams and access its resource management system. You get more views to work, unlimited custom fields, enhanced reporting features and a better all-round system for planning and managing campaigns.
The Business plan costs $12/month per user and starts to open ClickUp's most advanced features. You can manage unlimited teams on the system, save custom export settings and take advantage of its best automation features. The Business plan also enhances dashboard features, the platform's time tracking system and workload management tools for maximising productivity without any burnout.
Next, you've got the Business Plus plan for $19/month per user and you're mostly getting greater security, support and customisability. Finally, the Enterprise plan is priced upon application, allowing you to white-label the system and unlock ClickUp's strongest security, customisation and team productivity features.
ClickUp pros & cons
Pros
Collaboration: ClickUp provides one of the most collaborative systems we've used without compromising productivity.
Usability: Despite the depth of features worked into its platform and the extent of collaboration tools, the standard of usability ClickUp achieves is impressive.
Marketing planning: While it doesn't compete with TrueNorth when it comes to marketing planning, ClickUp offers more in this regard than the other alternatives.
Cons
Mobile apps: As good as the web app experience is, the UI design on the mobile apps isn't as intuitive.
Learning curve: The depth of features comes with an inevitable learning curve that you're not going to get from simpler tools like Trello.
ClickUp verdict
ClickUp is one of the most complete project management systems on the market with plenty of features designed specifically for marketing teams. It's the only platform of its kind we've used that includes a built-in sprint management system for planning and running sprints – essential for SaaS marketing and development.
It's also the most collaborative system we've used and you get a lot of features for your money, whichever plan you sign up for. Usability is impressive, especially considering how much the company crams into one system. Admittedly, you do have to sign up for its Business plan or higher to start getting the best out of ClickUp, but even its more expensive plans are excellent value for money.
Want more marketing management software recommendations?
If you want more recommendations and reviews for marketing management tools, we've got a couple of articles featuring the three systems in this section and plenty more:
Best go-to-market strategy tools for SaaS
SaaS companies have to develop a winning go-to-market strategy for every product release to make sure demand exists, generate pre-release buzz and hit the ground running on launch day.
These are the top three go-to-market tools we recommend:
Brandwatch: Find your target audience and key selling points.
ZoomInfo: Identify high-value B2B prospects.
Partnerstack: Find partners and manage your affiliate marketing strategy.
These are three very different tools so it's not necessarily a question of choosing between them but finding the right combination.
#7: Brandwatch: Find your target audience & key selling points
From $108/month
Brandwatch is an advanced social monitoring system that gives you direct insights into market and consumer insights. The platform connects you with billions of voices around the world, revealing what they talk about and care about the most.
In practical terms, you can use the system for market research, brand monitoring, competitor analysis and tracking audience responses to key events like new campaigns or product launches.
SaaS companies can use Brandwatch to identify audience pain points, analyse the market and differentiate their product from the first stage of development. You can pinpoint your audiences, identify winning selling points (features to include, UX issues to avoid, etc.) and power every marketing campaign with granular consumer insights.
In the build-up to product launch, you can track key metrics like brand mentions to see how much excitement your campaigns are generating. You can also gain qualitative insights to see what people are saying about products, new features or updates.
Crucially, once you release something new to market, you can monitor consumer sentiment to see how much people are talking about it and how new releases are being received.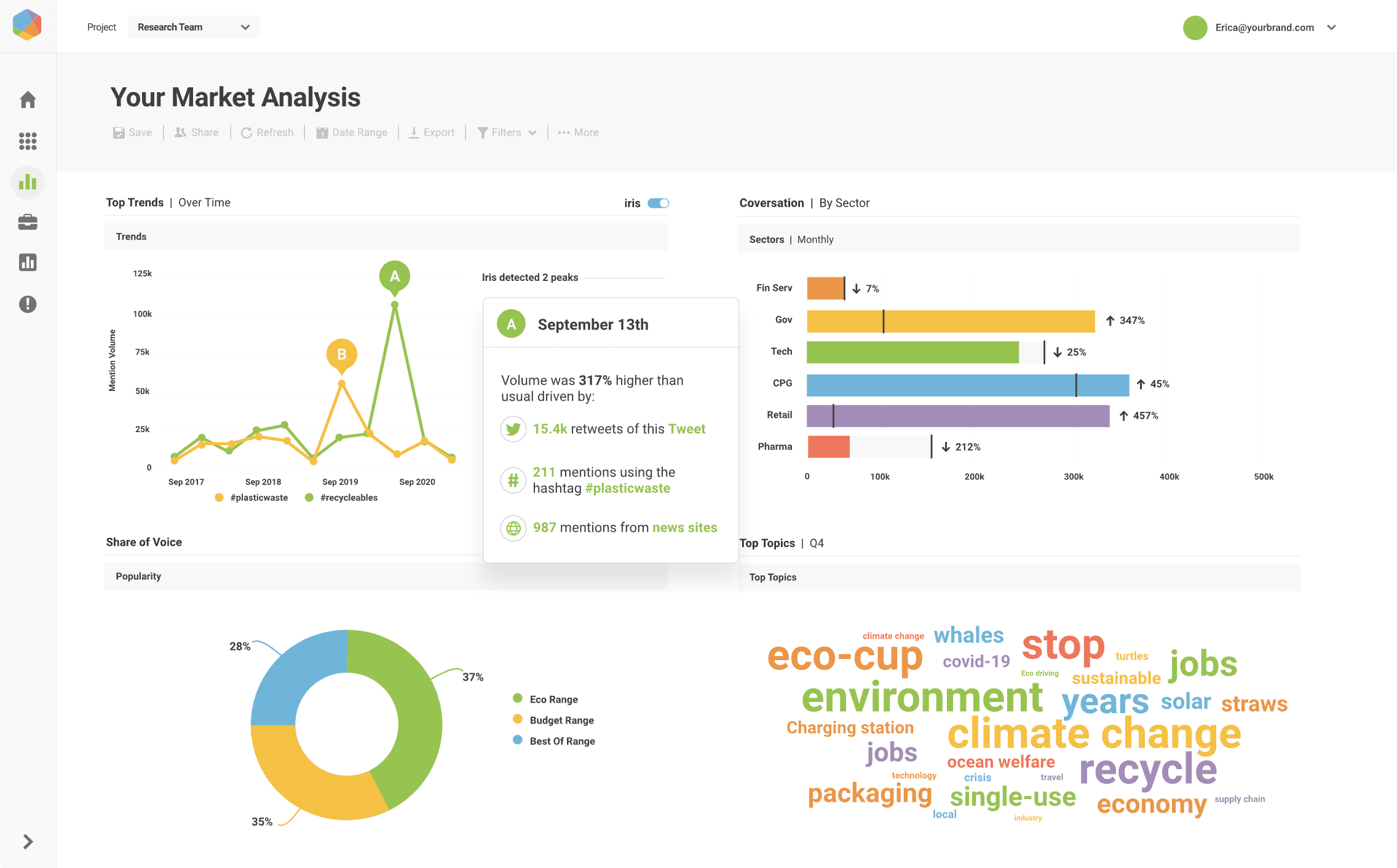 Key features:
Market Research – Survey billions of people around the world for fast, real-time market insights.
Trend Analysis – Identify consumer needs, gaps in the market, and new product opportunities.
Competitor Analysis – Benchmark your performance, brand awareness, and market share against your rivals.
Brand Management – Track conversations about your brand, find out what your customers think, and take informed action.
Crisis Management – Protect your brand by getting on top of issues and potentially negative press quickly.
Data Democratisation – Build a data-driven culture and understanding of your customers at every touchpoint.
Real-Time Data – Track data and collect results from surveys, focus groups, and more, as they happen.
AI Analysis – Gather insights without getting drowned in data by letting Brandwatch's AI technology do the heavy lifting.
Brandwatch is an intelligent analysis system capable of measuring the current demand for a product. Better yet, it can predict future demand trends and you can compare this with competitor analysis to predict demand vs supply and market saturation.
For example, you can check how demand for your next product has changed over the past five years and see how the number of providers has changed over the same period. So, if the number of providers has multiplied in recent years, you can predict whether there's enough demand for you to claim a place in the market, even as competition increases.
If the outlook isn't so good, Brandwatch could save you from investing in a product that doesn't have the market potential you initially hoped.
Throughout the marketing process of your go-to-market strategy, you can use Brandwatch insights to measure responses to campaigns. As you tease release dates, features and other announcements, you get real-time feedback telling you how excited your audience is and what they're most excited about – as well as any concerns they might have.
For example, you might discover forum discussions from people using one of your rivals' products where they raise potential selling points that could tempt them to switch over.
Similarly, these insights are invaluable once your product hits the market, providing real-time insights into product reception. You can see how people are taking to your new release, identify any early issues users are running into and start planning for the first round of updates with qualitative insights.
How much does Brandwatch cost?
Brandwatch doesn't list any pricing information for its core system so we can't give you any specific numbers here.
You'll have to speak to the company's sales team to get pricing details. We were given two plan options to choose from and the pricing of each was based on the amount of analysis we need to perform.
You should also expect enterprise-level pricing with Brandwatch's full system.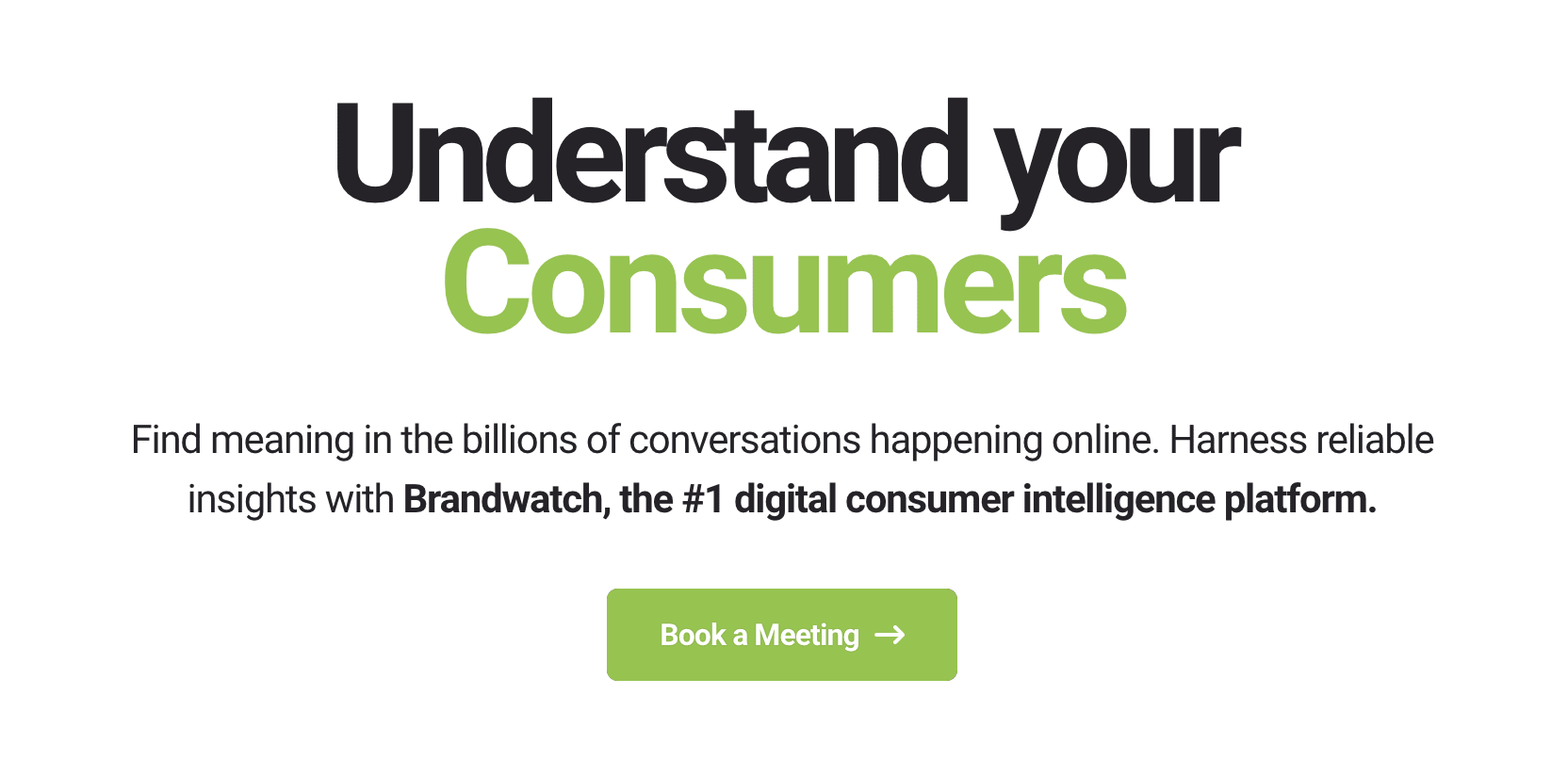 Brandwatch also offers an Essentials plan designed for smaller businesses with pricing from $108/month. This gives you access to one social media content calendar, a content asset library and the system's basic set of campaign management features.
The Essentials plan also includes a centralised social inbox for managing all of your messages in one place. You can use message templates to speed up interactions and automate responses with built-in automation rules.
You get limited reporting features on this plan, too. All in all, this is a fraction of what you'll get from the complete version of Brandwatch but also at a fraction of the price. However, the Essentials plan isn't particularly good value when alternatives like Hootsuite give you more for your money.
With Brandwatch, it's a case of signing up for its complete system or not at all.
Brandwatch pros & cons
Pros
Data Access: Brandwatch gives you access to vast amounts of data for monitoring the market, finding your target audiences, analysing competitors, and managing your brand.
Real-Time Insights: Collecting results from surveys and focus groups normally takes time, but Brandwatch cuts out most of the delays with its real-time data.
Usability: Considering the depth of features and tools, Brandwatch delivers an impressive user experience – once you figure everything out.
Cons
Learning Curve: It takes time to get the most out of Brandwatch's comprehensive analysis platform.
Cumbersome Queries: Advanced queries can be challenging, due to no feedback on how changing parameters will affect the results.
Limited Exporting: Brandwatch limits the data you can export, which can be an issue for reporting in other tools.
Lack of SEO Insights: The big hole in Brandwatch's analysis system is the lack of search marketing insights.
Brandwatch verdict
Brandwatch is a powerful market analysis system capable of providing valuable insights across your go-to-market strategy. You can pinpoint your target audience, identify their needs, confirm the viability of your product ideas and measure real-time responses to every release, announcement and campaign.
The most common complaint we hear about Brandwatch is its pricing. Given that it's essentially a social listening system, the cost of its complete product may seem steep. However, Brandwatch pulls in data from a lot of sources (social posts, comments, reviews, forums, etc.) and its reporting system provides a greater depth of insights than your typical social listening tool.
For SaaS companies, this can make the difference between a product that perfectly aligns with the needs of its target audiences and one that doesn't have much of an audience at all.
#8: ZoomInfo: Identify high-value B2B prospects
POA
ZoomInfo is an enterprise B2B prospecting system, ideal for SaaS companies looking to find corporate software buyers. We've been using ZoomInfo as our primary (not only) B2B prospecting tool for several years now and it's still our preferred system to this day.
This is partly because ZoomInfo is one of the most complete prospecting systems on the market. However, it's also got a lot to do with the fact that it's designed with the needs of SaaS companies in mind.
The system helps you find prospects based on your existing customer data, audience targeting settings, the software products they're already using and so much more. One of our favourite prospecting features is that you can find audiences who are researching specific topics.
This can include valuable prospects you may never find by simply targeting demographics, company profiles or existing software purchases.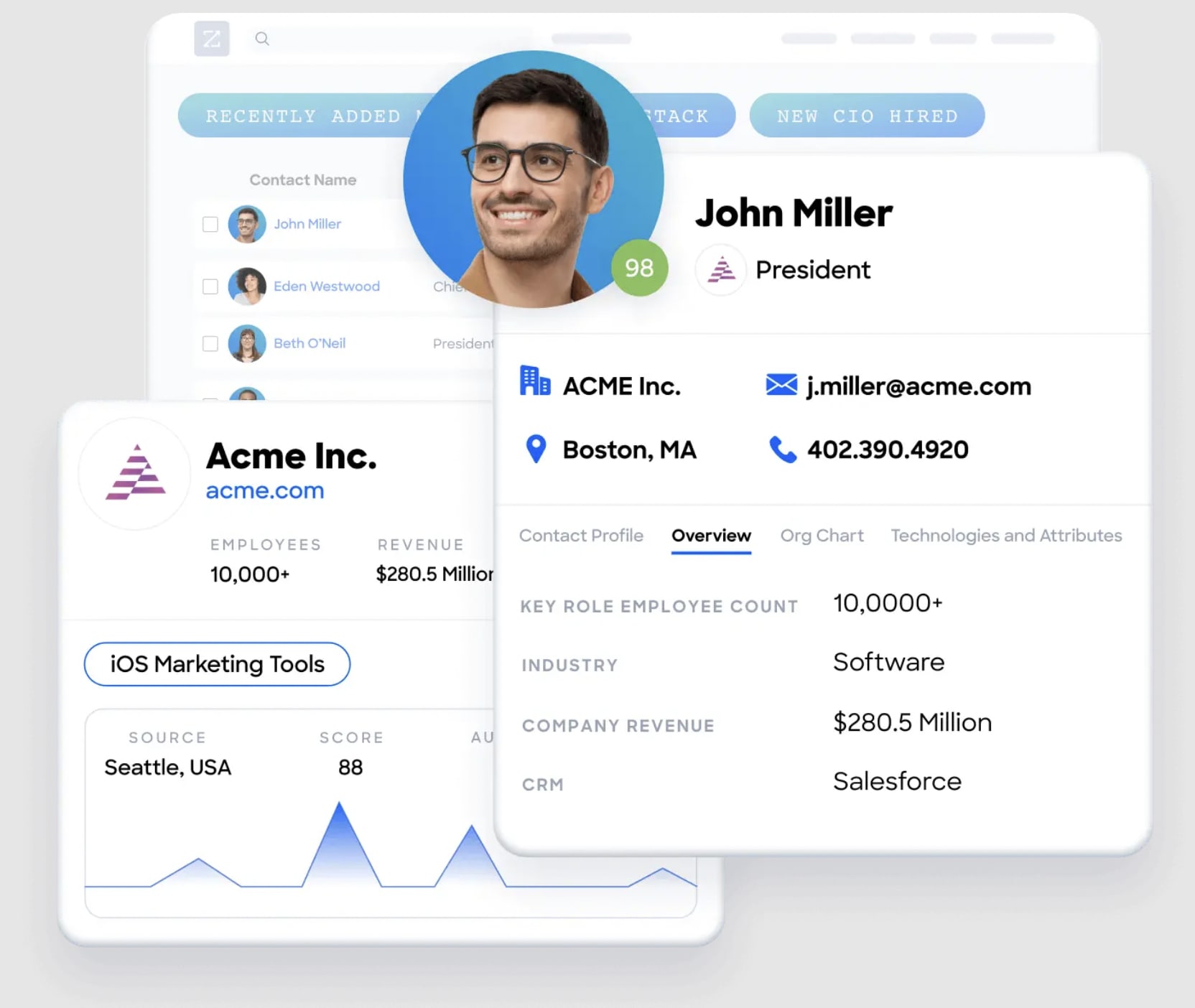 Key features:
Contact and Company Search: Get the most accurate B2B contact data, including direct dials to verified email addresses.
Contact Tracking: Easily track your account champions and key contacts to stay informed of where your best relationships are.
Predictive Scoring: Predict an account's buying interest based on a predictive model.
Website Visitor Tracking: Convert more traffic using real-time insights and on-page behaviours.
Display Advertising: Target high-value accounts and buyers within your addressable market.
Form Complete: Maximise lead conversions and improve data quality with low-risk, email-only web forms.
Data-Driven Workflows: Instantly trigger actions based on the signals that matter most to your business.
These buyer personas will also help you build better products. By connecting with the people you want to call customers, you can discover which features they need the most. More importantly, you can determine which features actually convince your target audiences to make purchase decisions – because these aren't necessarily the features they need the most.
For SaaS companies, this is crucial for developing a go-to-market strategy that attracts customers from launch day (convincing). While, at the same time, it's just as important for building sticky products that keep customers paying their monthly or annual fees (needs).
Speaking of long-term plans, ZoomInfo's AI system helps you identify the ideal target customers at every stage of growth. It automatically generates buyer personas as you hit growth targets and identifies new prospects that will help you achieve your latest goals.
ZoomInfo connects you with prospects who are ready to buy and its automation engine helps you close more leads faster.
How much does ZoomInfo cost?
ZoomInfo offers three core products: SalesOS, MarketingOS and TalentOS. SalesOS is the prospecting system that helps you find potential software buyers while MarketingOS helps you turn more prospects into paying customers.
These are two core products that are most important in your go-to-market strategy.
Like Brandwatch, ZoomInfo doesn't publish any pricing information on its website so you'll have to contact the company's sales team for details.
Once again, we're talking about an enterprise system so you'll have to expect enterprise-level fees. Ultimately, it's worth the investment for B2B SaaS companies that need to reach corporate buyers to drive meaningful growth.
ZoomInfo pros & cons
Pros
Contact Data: The accuracy of ZoomInfo's contact data is as good as we've found among ABM systems.
Data Filters: Excellent filters and controls to segment data and refine results and find the info you need from searches.
Product Improvements: ZoomInfo is constantly improving its product and acquiring other products to improve its system.
Cons
Pricey: ZoomInfo is an enterprise system and priced accordingly – but it pays for itself if it helps you close at least one deal every year.
Learning Curve: It takes time to start getting the best out of the system.
Customer Service: Not the fastest response times from technical support.
ZoomInfo verdict
If you need a B2B prospecting system for finding corporate software buyers, ZoomInfo should top your list. It's one of the most reliable prospecting systems we've used and its targeting options can pinpoint the most specific target audiences.
Not only does this help you develop a winning go-to-market strategy, but also informs key strategic decisions throughout the development cycle.
#9: PartnerStack: Manage your affiliate marketing strategy
POA
PartnerStack is an affiliate marketing system for B2B SaaS companies. The platform connects you with relevant publishers, content creators and influencers to recommend your product to their audiences.
Affiliate marketing is particularly effective for SaaS companies because potential buyers rely on advice, reviews and feedback to make purchase decisions. They can't walk into a store and try a SaaS product; they need help from reliable sources to choose the best product for their needs.
With PartnerStack, you can develop an affiliate programme on your own terms. You set the targets and the rewards for affiliates and use the system to connect with suitable partners. Crucially, PartnerStack is built specifically for B2B SaaS companies, which means the network connects you with quality SaaS publishers with relevant audiences that can grow your business.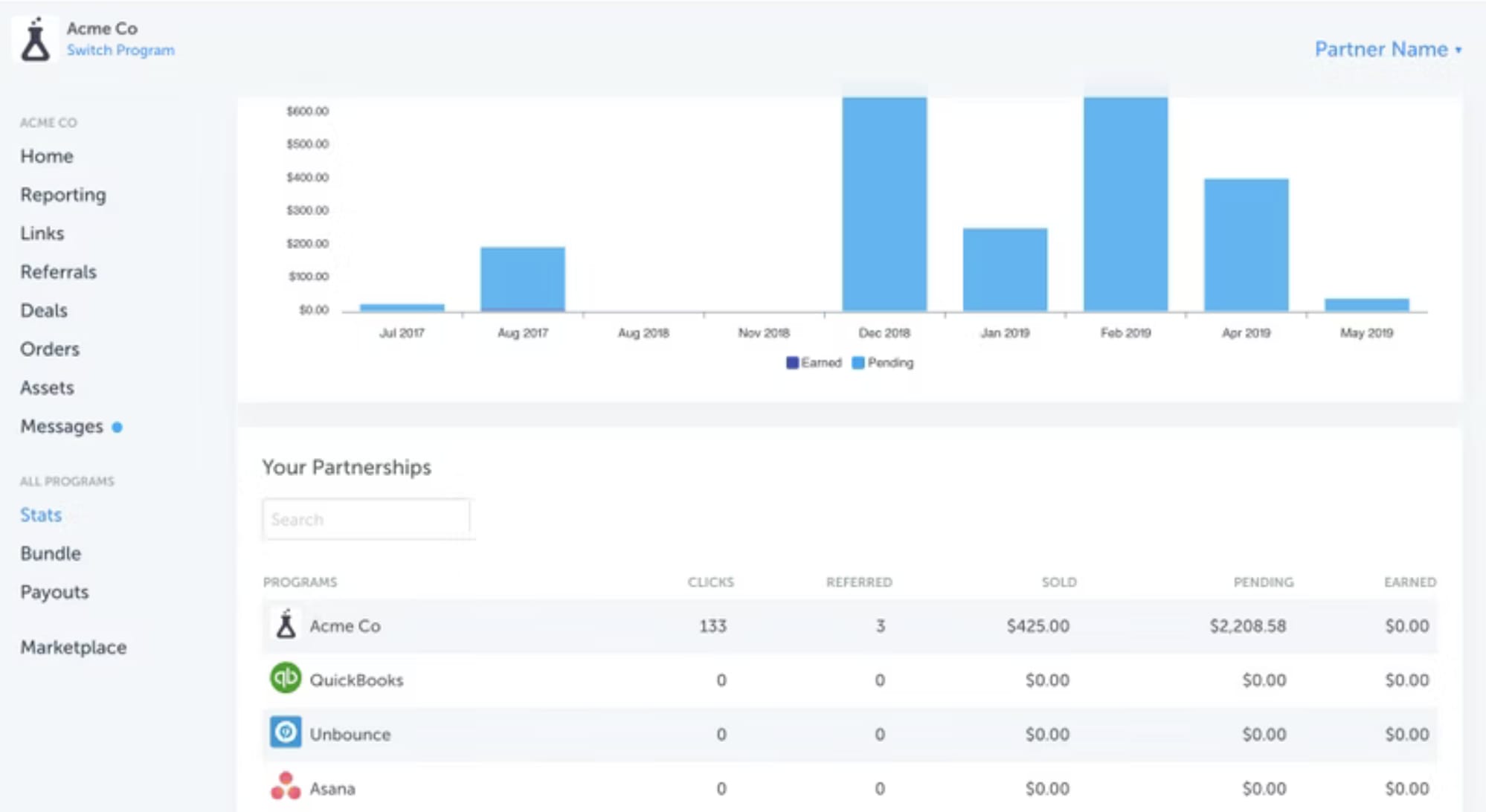 Key features:
PartnerStack Marketplace: Find the best SaaS partner programmes through an exclusive network of software companies.
Automate Programmes: Find new partners, automatically trigger new offers, and create automated email campaigns.
Custom Referral Links: Create custom referral links to include your brand name or social media handle.
Dynamic Referral Links: Create unlimited custom referral links for any partner page.
Link Tracking: Use subIDs to track links and optimise promotions.
Partner Recommendations: PartnerStack recommends new opportunities based on your existing partnerships.
Partner Teams: Work with teammates and other people on programs by creating partner teams.
Easy Payments: Withdraw your rewards using Stripe or PayPal.
With PartnerStack, you have full control over your affiliate programme. You can set flat rewards for partners, recurring percentage-based rewards and other incentives to attract the best partners for your budget.
The platform also includes its own reporting system so you can identify your most profitable relationships and prioritise the partners adding most value to your business.
PartnerStack's intelligent networking system automatically connects you with the most relevant partners and helps you optimise your programmes to attract them. The system helps you maximise your affiliate income by identifying your most valuable relationships and giving them the right incentives to continue promoting your product.
How much does PartnerStack cost?
Like the other tools we've looked at in this section, PartnerStack also withholds pricing information on its website.
The pricing model incorporates a monthly standard fee plus a percentage of payouts made to partners. For more details, you'll have to contact the company's sales team to discuss your needs.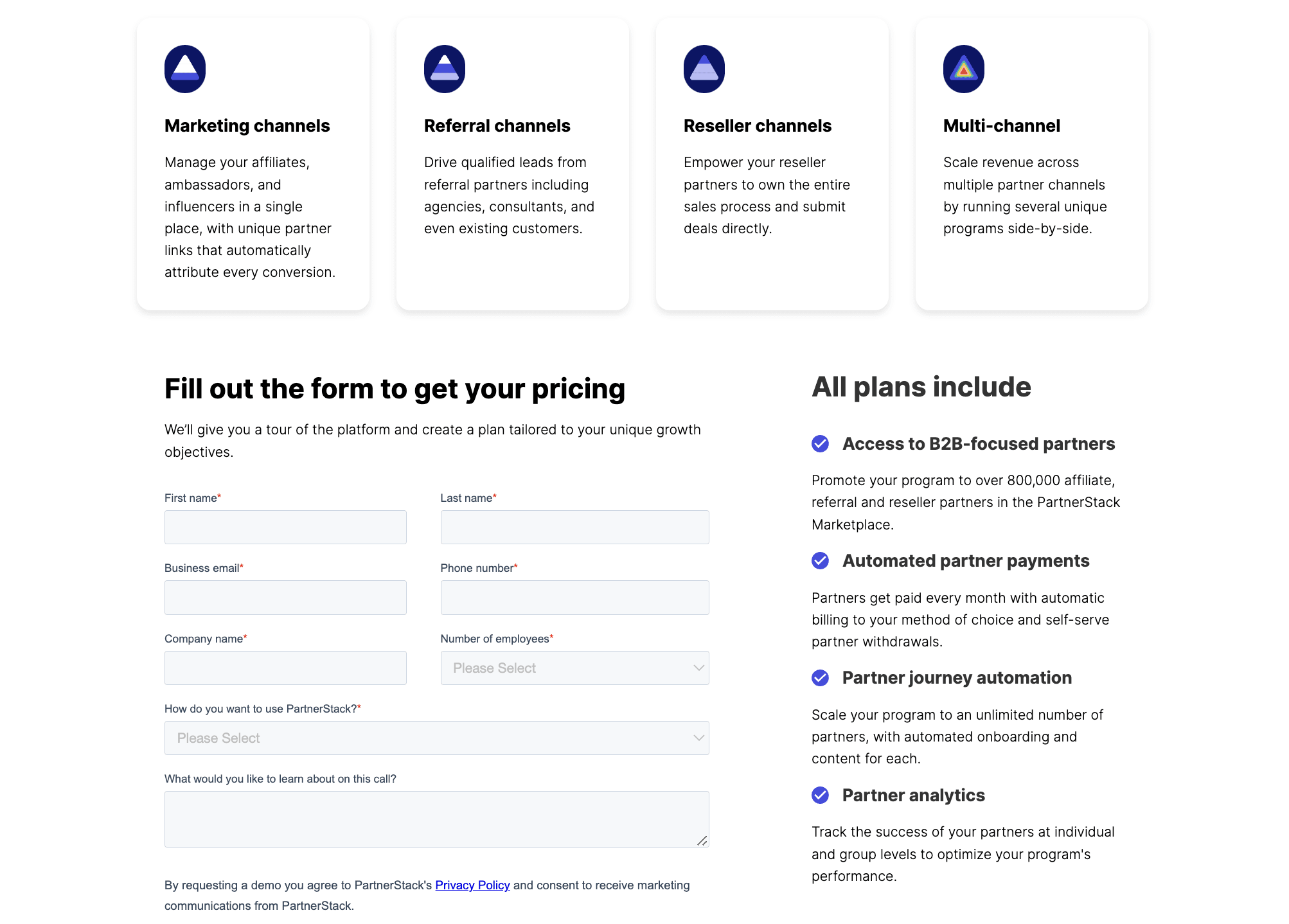 This is a common pricing model for affiliate marketing systems. You'll also find most affiliate marketing systems withhold pricing information from their websites.
All we can say is that PartnerStack is an enterprise solution and you should expect enterprise prices when you speak to its sales team. This certainly isn't the cheapest affiliate marketing system available but it's designed specifically for SaaS companies it's the best option in this niche.
PartnerStack pros & cons
Pros
Automation: PartnerStack helps you fully automate affiliate partnerships.
Usability: The system is intuitive, easy to use, and smooth in operation.
Customer Service: From onboarding to technical support, PartnerStack's customer service teams are one of the company's biggest assets.
Cons
Pricing: PartnerStack doesn't disclose its pricing publicly, but it's firmly in the enterprise price bracket.
Partner Vetting: It would be helpful to see affiliate profile scores, relevant industries, and historical performance data.
Limited Payment Gateways: Currently, PayPal and Stripe are the only payment gateways supported.
PartnerStack verdict
PartnerStack is the affiliate marketing platform for SaaS companies, one of the only specialist networks to connect you with established software publishers. These are content creators with the experience and target audiences you need for an affiliate marketing strategy that recommends your product to real potential buyers.
Affiliate marketing is still one of the most important elements of the post-launch phase of your go-to-market strategy and PartnerStack will connect you with publishers who can drive real growth.
Want more go-to-market software tools?
If you want to add more tools to your go-to-market strategy, we've got plenty more recommendations in this article:
Best product management & roadmap tools
Product management and roadmapping tools help you manage every stage of the development cycle and make informed decisions about feature rollouts and updates.
We've selected the following three product management tools as our top picks:
Productboard: the best roadmapping tool we've used.
Craft: Product management for the whole team – plus stakeholders.
airfocus: The collaborative, modular product management system.
Each platform takes a different approach to product development so it really comes down to choosing the system that fits best with your team.
#10: Productboard: Product management with the best roadmap tool we've used
From $20/month (free plan available)
We've used Productboard to manage the development of multiple products at VentureHarbour and its roadmapping tool is one of the best we've tried. With its intuitive drag-and-drop builder, you can build roadmaps in a matter of minutes.
You can save roadmaps into multiple tailored formats for different departments: dev teams, team leaders, stakeholders and customers – so everyone has access to the appropriate information.
One of the most important features for us in Productboard's roadmap tool is the filtering system that allows you to group product features into different categories. We can group them by sprint, release date, time scale, now/next/later buckets and manage feature groups throughout the development cycle.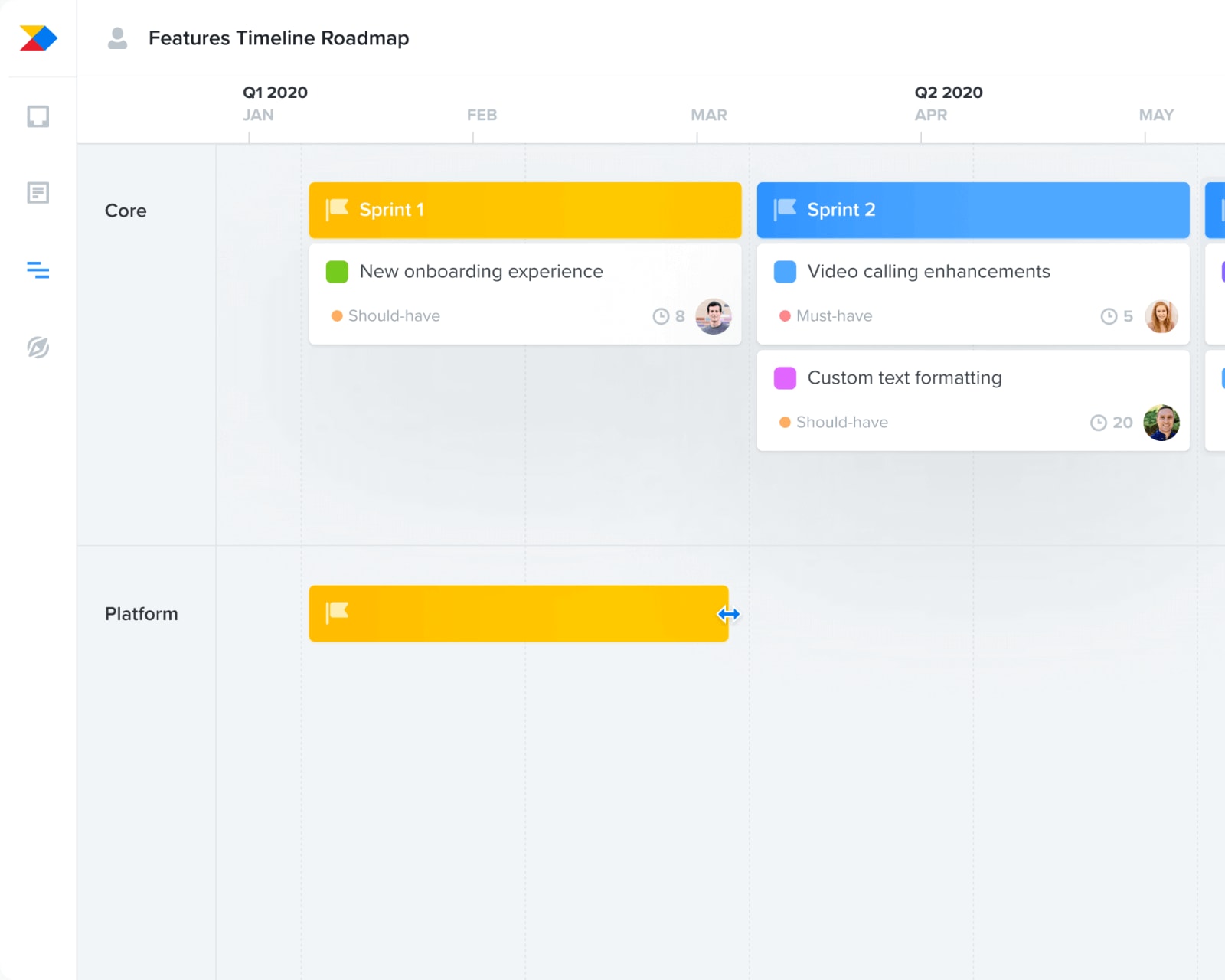 Key features:
Roadmaps: Align everyone on your teams and easily tailor roadmaps for anyone in a few clicks.
Product engagement: Engage your customers throughout the product lifecycle.
Product feedback: Easily capture every product idea, request, and piece of feedback from colleagues and customers in one place.
Feedback analysis: Analyse feedback from any angle with granular & high-level views to guide product decisions.
Feature requests: Dig deeper to understand why users are requesting certain features so you can deliver the optimal solution.
Feature validation: Collect feedback on your ideas from customers and see which ones resonate the most.
Feature prioritisation: Use data to help prioritise what's best for your customers and business.
Customer portals: Create multiple portals for different audiences and decide which ideas to post on each.
Insights: Understand your customers by centralising all sources of feedback in one place.
Engagement: Share what's planned and close the feedback loop with your customers.
Productboard incorporates user feedback seamlessly into feature management and product development. Generally, we'll start by prioritising features based on user data but Productboards helps us to collect qualitative user feedback so we can consider this in our development plans.
The system pulls data from customer support tickets, feedback surveys and other channels to build a more complete picture of user priorities.
You can analyse feedback on existing features, new feature rollouts, product updates and feature requests from users. If you sign up for the Enterprise plan, the platform's machine learning system provides smart feature suggestions, compiles feedback trends and automates feedback insights.
The only complaint we have is that we feel these features should also be available on the Pro plan, even if they're restricted in some way – eg: X number of users.
Without these automated insights, the other plans require you to perform more analysis manually and make changes to your roadmap accordingly. Given that AI and machine learning features are becoming something of a standard in modern software tools, we hope productboard will make more of these available to the Pro plan in the near future.
How much does Productboard cost?
Productboard runs four plans with prices starting from $20/month per "maker," which the company describes as a user with "full access to edit, update, add, create and prioritise feature ideas, insights, and roadmaps".
Every plan allows you to have an unlimited number of contributors who "can share ideas, requests, and customer feedback and access feature data and roadmaps, but cannot make updates" and viewers who can access any roadmaps and portals shared with them on a view-only basis.

The Pro plan starts from $60/month per maker and includes plenty of feature upgrades to justify the price jump. You can capture unlimited customer feedback on this plan, use advanced feature filtering and prioritisation scores, create custom fields and gain full access to the Customer Feedback portal.
As mentioned earlier, you don't get smart product recommendations or any real automation, both of which are reserved for the Enterprise plan.
Before that, you've got the Scale plan – which is also priced on application – designed for managing multiple teams and products.
With heavy feature upgrades between plans, the price increases are pretty steep if you've got a lot of "makers" on your account. You can already see the fees triple between the Essentials and Pro plans so we recommend speaking to the sales team about potential upgrade costs before you invest in the system.
Productboard also recently launched a free plan for creating a single product roadmap.
The Starter plan allows you to collaborate with unlimited "makers" on a single roadmap and share with unlimited viewers.
Productboard pros & cons
Pros
Product roadmaps: Productboard makes it easy to create and manage feedback-driven roadmaps.
Feature prioritisation: Feature insights help you determine the most important features for your customers.
Combined feedback: You can collect feedback and compile feedback from team members and customers in one place.
Cons
Lack of project management: Productboard is heavy on roadmapping features but light on project management.
Feedback analysis: The best feedback insights features are only available on the Enterprise plan.
Upgrade path: A reshuffle of features and limitations would create an easier upgrade path with smaller jumps.
Productboard verdict
Productboard is still our favourite product management system with the best roadmap tool we've used to date. The system places a lot of emphasis on feature prioritisation and using customer feedback to inform decisions – and this aligns well with our strategy at Venture Harbour.
You don't get so much in terms of project and task management features so you'll need to get these from elsewhere. But there are so many project management systems offering that kind of stuff and native integrations with Jira, Trello and plenty of other tools makes this a non-issue for us – your priorities my differ, though.
The only thing we would really change about Productboard is the feature division across its plans. We'd like to see a few of those Enterprise features like smart feature recommendations nudged over to other plans, even if usage limits are placed on them.
#11: Craft: Product management for the whole team – plus stakeholders
From $39/month
Craft is an ultra-collaborative product management system designed to help everyone on the team achieve more together. Normally, product management systems are designed from the perspective of product managers but Craft places more emphasis on the needs of the whole team.
It even brings stakeholders closer to the development cycle – and we'll let you decide if that's a good thing.
Unlike Productboard, Craft wants to replace the project management platform in your tech stack and it does a pretty good job of this. In truth, you'll still get a more capable system by integrating something Productboard with a dedicated project management system like Jira but you're also paying for two separate systems.
Craft aims to be an all-in-one management system for product teams and – if the features go far enough for you – this could be the cheaper alternative.

Key features:
Product roadmaps: Create tailored roadmaps that seamlessly connect strategy to features.
Roadmap views: Connect strategy to execution with views that allow you to visualise how objectives and key results/KPIs relate to specific features.
Status monitoring: Get an instant snapshot of progress status, feature completion, and how features connect to OKRs.
Prioritisation engine: Build your own automated prioritisation engine for features, updates, bug fixes and other improvements.
Strategic input: Create a central repository of all product information and seamlessly connect each element to your ideation and planning processes.
Spec editor: Create detailed product specs that reflect what you're building, using best-practice templates.
Tailored stakeholder views: Customise and share tailored views with stakeholders to get buy-in, communicate updates, and bring clarity to your product decisions.
Capacity planning: Manage resource availability, prioritise your most important items and assign tasks without overloading your team.
Feedback portal: Capture, organise and connect feedback to epics/features to prioritise what matters most for your customers.
With Craft trying to be so many things at once, the platform is a little overwhelming when you first start using it. Productboard certainly comes with a wilder learning curve and Craft's overall user experience isn't quite as polished but it's still impressive, especially when you consider how much the platform can do.
The drag-and-drop roadmap builder is a perfect example of what to expect from Craft. It's packed full of functionality and takes a while to figure out but, once you're familiar with everything, it provides a lot of flexibility over roadmap designs.
Craft also includes an extensive library of templates and elements to help you create roadmaps faster. Collaborating on roadmaps gets a little intense if you have too many people working together at the same time but it helps to limit the number of contributors working at the same time.
The platform's intelligent prioritisation engine allows you to define your own prioritisation model for scoring features and updates. This means you can decide how prioritisation scores are determined.
If you sign up for the Pro plan or higher, you also get 10+ built-in prioritisation methodologies that you can choose from.
Arguably, Craft's most innovative feature is its Capacity Planning tool. It tracks the progress of your development cycle in real time, using this data to calculate how long future tasks will take and which resources they'll require. Ultimately, the system calculates the weight of tasks in your roadmap and helps you manage workloads and resources to set more realistic goals and deadlines.
How much does Craft cost?
Craft offers three plans, starting with its Essentials plan costing $39/month per user. Unlike Productboard, this means you'll have to pay for every user on the account but upgrading to the Pro or Enterprise plan allows you to have unlimited contributors and viewers.
To clarify, Craft defines contributors as "any team members who can view and/or comment on any unit built in craft.io (user story/epic/feature/roadmap)". That's far less generous than Productboard's definition of contributors so this is something to keep in mind if you're comparing the two systems.

The Essentials plan also excludes most of the platform's feedback capabilities and many of its team management features. However, you still get access to most of its roadmap tool, planning features and prioritisation system.
You'll find everything you need to know on the company's pricing page.
Upgrading to the Pro plan will cost you $89/month per user and this unlocks all of the platform's capabilities. The only remaining upgrades on the Enterprise plan are enhanced security and customer support.
Craft pros & cons
Pros
Product management: Craft is an excellent all-in-one product management system, covering the whole product cycle.
Roadmap views: Advanced roadmap views allow you to manage product development by OKRs, KPIs, features and more.
Resource management: The Capacity Planning feature helps you maximise the output of your team without overworking them or double booking resources.
Cons
Convoluted UI: The overall architecture of the software produces crowded interfaces with nested menus and too many options within the view at any one time.
Learning curve: It will take time for team members to get used to the system and some of its tools, particularly the Specs Editor.
Craft verdict
If you're looking for an all-in-one product management system for the whole team, Craft is hard to beat at this price point. The platform helps you plan the whole product cycle and manage resources at every step with intelligent insights and it offers just enough workload management features to potentially replace the traditional project management system.
You also get an intelligent prioritisation engine available on the Pro plan (are you listening, Productboard?) and its excellent Capacity Planning tool.
The main drawback with Craft is the learning curve involved with the system, as a whole. Interfaces are a little crowded and the overall architecture of the platform feels bloated if you're used to using lighter tools, such as Productboard and a separate project management system.
#12: airfocus: The collaborative, modular product management system
From $15/month
If you want a simpler product management system than Craft that still puts all of the essentials at your fingertips, airfocus could be the ideal alternative. Instead of trying to incorporate every feature you could ever need into a single platform, airfocus offers a modular system that allows you to piece together the features you choose and leave everything else out of the way.
This modular design keeps the system as light as possible while still giving you the flexibility to create customised workspaces that meet the needs of your team.
You'll find simplicity in many of airfocus' features, too. The roadmap builder isn't anywhere near as capable as Craft's in terms of tools, options and settings but it's a faster and easier tool to use, as a result – provided you don't need the added capabilities of Craft's roadmap tool.
Likewise, airfocus isn't trying to replace your project management system so you're not getting the same workload and task management features you can expect from Craft. Instead, you'll have to integrate with a dedicated project management system and airfocus comes with native integrations for Jira, Trello, Asana and a few others.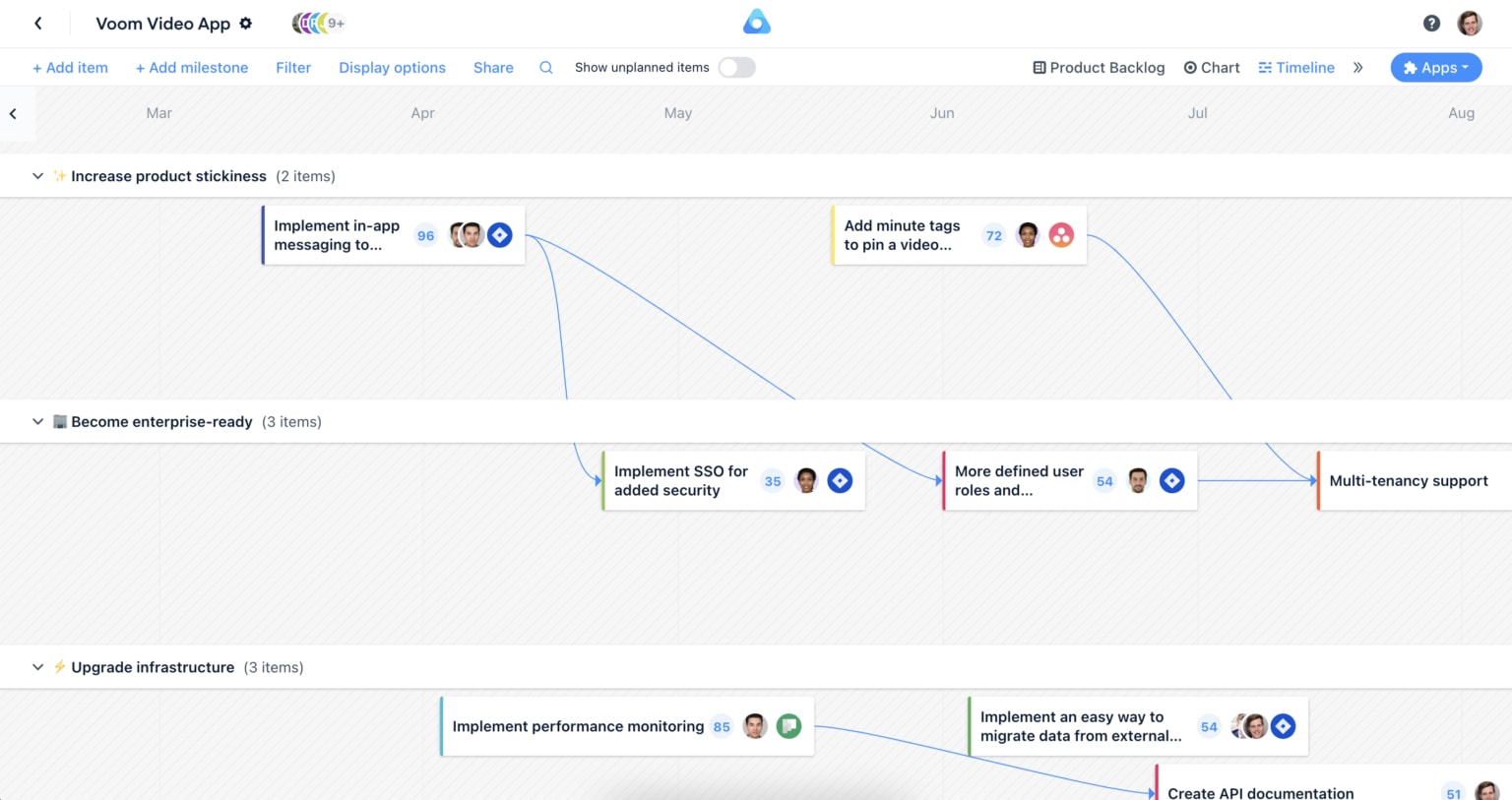 Key features:
Roadmaps: Build roadmaps in minutes with airfocus' drag-and-drop roadmap builder.
Modular workspaces: Organise your team, product, or unit in workspaces – use views, fields, apps, integrations and permissions to define a home that makes sense for you.
Custom views: Create the perfect views that are right for you, whether it is on a table, board, chart, or timeline.
Prioritisation: Create a scoring framework that works for your team and allows you to frame your decision-making process into a conversation everyone can join.
Priority Poker: An interactive, collaborative, and inclusive way to prioritise as a group and make decisions in the most time-efficient manner.
Release timelines: See how your strategy is developing with a timeline view and move or edit items with the drag-and-drop interface.
Customer feedback: Centralise feedback from email, chat, support, and other channels in one organised inbox and turn it into helpful insights.
Feedback insights: Highlight and create insights from feedback – link them to ideas and opportunities to inform your discovery while keeping customers at the centre of your product.
Feature prioritisation in airfocus is similar to Craft in many ways. You can create your own custom formula for prioritising features, using a built-in tool that essentially simplifies the same process as creating formulas in a spreadsheet app.
Alternatively, you can select from multiple formula templates and customise them to meet the needs of your team. If you want to learn more about feature prioritisation in airfocus, take a look at this documentation page, which breaks down the formulas and how you can use/edit them.
Once you've set up your feature prioritisation model, you can view feature ideas in different categories at any time: quick wins, strategic, low-value items, items to cut out, etc.
When it comes to collaboration, airfocus takes a different approach to bringing team members together. The company wants you to use a feature called Priority Poker where lead leaders create sessions (or games) and invite team members to provide input on tasks, feature ideas and other contributions.
For example, you could call in developers to explain how long a specific feature would take to implement, sales reps to discuss the demand for the same feature and the UX team to flag up potential usability issues.
Team leaders can control the criteria "players" are able to contribute towards, ensuring everyone stays on-topic.
To be honest, the feature sounds a little gimmicky but it's surprisingly effective as a tool for managing quick meetings.
How much does airfocus cost?
airfocus offers four different plans, starting with the Essentials plan at $19/month per editor with five contributors included on the plan. Editors "can manage workspaceas and edit items" while contributors "can read selected workspaces and comment on items".
With the Essentials plan, you're limited to a single workspace but you can create unlimited items and share roadmaps with as many viewers as you like.
The Advanced plan is priced at $69/month per editor and you can have unlimited contributors on this plan.
The upgrade also unlocks airfocus' advanced feature prioritisation and user feedback tools. Integration options expand to include Jira, Trello and other project management systems, as well as Intercom, Slack and Zendesk for collecting customer feedback.
The Pro and Enterprise plans are priced on application so you'll have to speak to the company's sales team about pricing.
The Pro plan unlocks that innovative Priority Poker feature everyone's so excited about and additional integrations for Jira Server, Azure DevOps and Salesforce. This is the first plan that allows you to use Webhooks for automating responses in other apps.
The Enterprise plan mainly improves security, onboarding and customer support. You'll find a complete breakdown of features and pricing on the company's pricing page.
airfocus pros & cons
Pros
Modularity: The modular architecture of airfocus makes almost everything customisable.
Usability: Strong UX design is reinforced with heaps of customisability freedom, creating a clean but capable product management system.
Priority Poker: Although the name sounds a bit gimmicky, Priority Poker allows you to create a customised, collaborative system for prioritising ideas and making data-driven decisions.
Cons
Timeline view: This is a useful tool but setting up a lot of tasks is more cumbersome than it could be – perhaps this will improve with further development.
Collaboration: Some standard collaboration features are missing – eg: tagging, comment notifications, etc.
airfocus verdict
If you're looking for a simple product management system for creating roadmaps and prioritising features, airfocus is a compelling option. Its feature prioritisation formulas and feedback system combine with an interesting take on collaboration with a modular design architecture that removes any features you don't want.
It doesn't provide the same feature depth as Craft – or, to a lesser extent, Productboard – but it could offer a faster, easier-to-use alternative.
This level of simplicity won't suit every team, especially if you need more comprehensive control over projects and more collaboration tools. airfocus is probably most suitable for smaller, dynamic product teams that want to spend less time on planning and more time on action.
Want to see more product management systems?
If you want to take a look at more product management and roadmapping tools, we've got some more recommendations and reviews in this article:
Best customer experience (CX) tools for SaaS
Every SaaS company needs an effective customer experience (CX) strategy to maximise recurring revenue through renewals, upgrades and engagement.
We've selected the following three platforms as our top CX optimisation tools:
Userpilot: Affordable onboarding and engagement optimisation.
Pendo: Product experience, adoption & customer support.
Heap: Increase conversions, engagement & retention.
Userpilot and Pendo are comparable CX platforms at different price points with Pendo's more expensive plans also being the more powerful offerings between the two. Heap is more of a web and product insights platform that lifts the lid on user data across the customer cycle – a different kind of tool, but equally important.
#13: Userpilot: Affordable onboarding & engagement optimisation
From $249/month
Userpilot is a product optimisation system that helps you enhance the customer experience for users inside your software product or mobile app. The platform is broken up into three core toolkits designed for optimising the user experience with a combination of analytics, in-app messaging and user feedback:
Growth Insights: Track and analyse your product's growth – understand feature usage among different segments across the user journey and get actionable product analytics and insights.
Engagement Layer: Help new and existing customers discover more value – engage users with personalised in-product experiences to drive user activation, feature adoption and retention.
User Sentiment: Get qualitative user feedback, at scale – run micro surveys in-app to gather user feedback insights at scale.
Userpilot's standout feature is its in-app messaging system that allows you to create guided onboarding experiences and feature recommendations to maximise adoption, as well as notifications and other touchpoints to encourage action, improve engagement and drive revenue through renewals and upgrades.
Using in-app prompts, you can help users complete the onboarding process at every step, reducing the number of users lost to churn at the first hurdle. You can also point new users to the most important features in your product or guide existing users to new features that they haven't discovered yet or may not be using as often as they could.
The messaging system also allows you to target users with personalised prompts, directing them towards the features most important to their needs and actions that deliver the most value for them. You can help new customers find value faster and existing customers achieve bigger results, more often.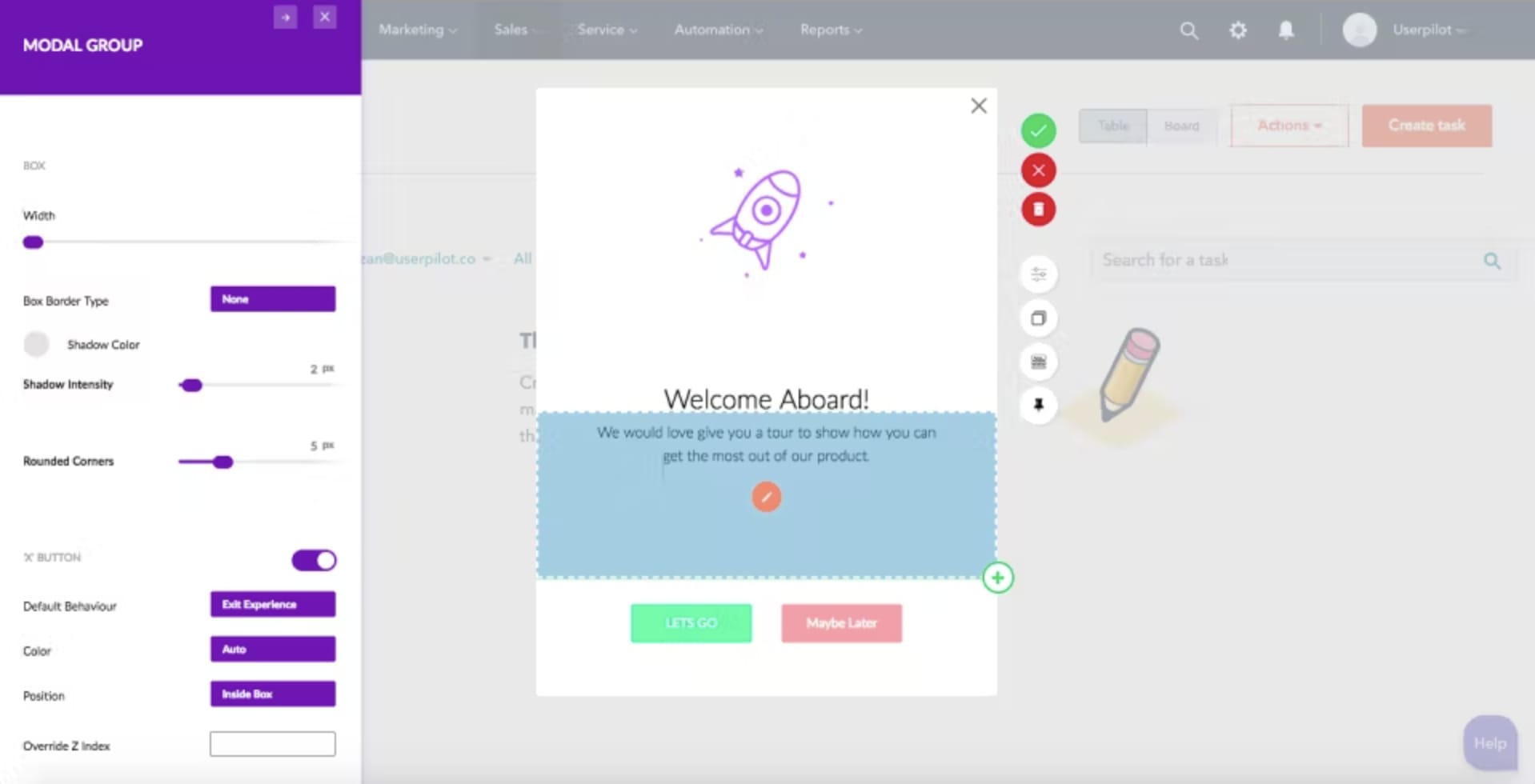 Key features:
Product Analytics: Gain insights into product usage, feature adoption, and goal completions in your software.
Goal Tracking: Define and track goals throughout the customer journey.
Usage Trends: Identify user trends, changes in behaviour, and roadblocks to goal completions.
In-App Messaging: Deliver messages inside your product to personalise and enhance the experience.
Onboarding Optimisation: Maximise the number of new signups who complete the onboarding process and start using your software.
Contextual Messaging: Deliver in-app messages based on user behaviour to guide them towards features and goals.
Software A/B Testing: Test changes with in-app experiments.
User Feedback: Collect feedback from users for qualitative insights on customer satisfaction.
Net Promoter Scores: Measure your net promoter score (NPS) to calculate how likely customers are to recommend your product.
As you use in-app messaging to maximise product engagement, Userpilot tracks session data and key metrics like feature adoption rates, time per session and sessions per week. You can track usage data over time and measure responses to your CX strategy, feature rollouts and updates.
You can also segment insights to analyse different user groups and track how different cohorts respond to CX campaigns and product optimisations.
With personalised in-app messaging, you can guide users through the customer experience, starting from the onboarding process through to the retention stage of the cycle. You can intervene when customers start using your product less often or start showing signs of churn.
Likewise, you can identify user groups who are completing fewer valuable actions per session and take action to help them start getting the kind of results that will convince them to renew at the end of their current subscription.
How much does Userpilot cost?
User pilot runs three plans starting with the Traction plan from $249/month, which covers you for up to 10 team members, one software product and gives you access to most of Userpilot's CX optimisation features.
This starting price covers you for up to 2,500 monthly active users and prices increase as your user base grows. So, the same Traction plan will cost you $349/month for 2,500-10,000 monthly active users, $499/month for up to 20,000 users and $549 for up to 50,000. After that, you'll have to speak to the company's sales team to work out a custom quote.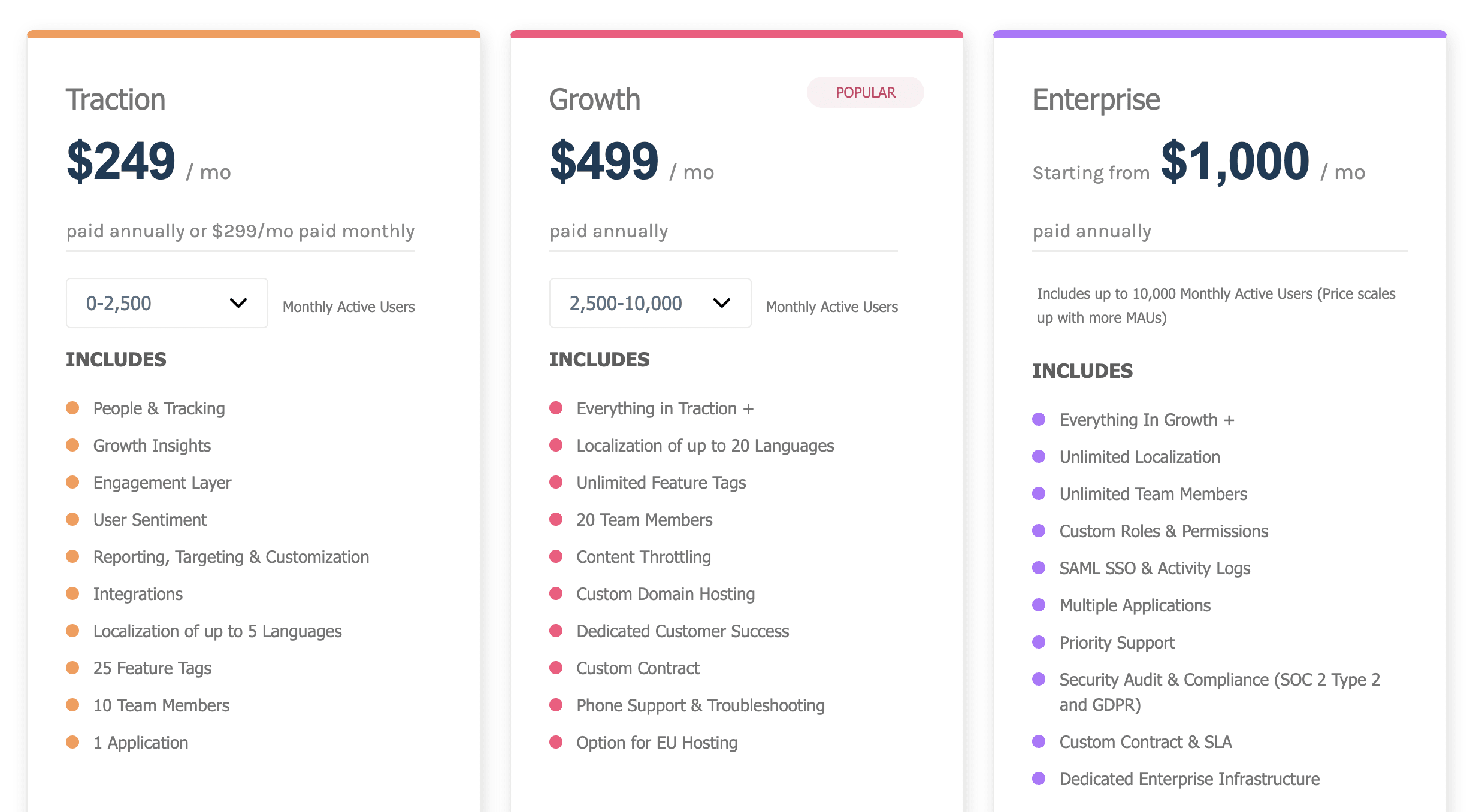 The Growth plan starts at $499/month and this covers you for up to 20 team members and 2,500-10,000 monthly active users as standard. Once again, prices increment by a further $100 per month for the same user brackets as the Traction plan and you also get additional features, including unlimited feature tags, content throttling and a dedicated customer success rep.
The feature differences between each plan are relatively minor, though. Userpilot gives you access to most of its key features and tools across each plan and pricing is mainly determined by active monthly users. The company has done a great job of making the best of its platform available to users on every plan and its pricing is very reasonable for this software category.
The Enterprise plan starts at $1,000/month and this covers you for 10,000 monthly active users with pricing increasing incrementally, once again. You're also covered for unlimited team members on this plan while gaining priority support, custom roles and permission, support for multiple applications and other incentives.
Userpilot pros & cons
Pros
Product optimisation: Userpilot is one of the best platforms we've used for optimising software experiences.
In-app messaging: The ability to interact with users in your software products with non-intrusive messages is a huge asset for crafting the experience you want users to enjoy.
Engagement reporting: Userpilot makes it easy to track usage metrics, understand how much value users are getting from your products and measure the impact of your optimisation efforts.
Cons
Limited to product CX: Userpilot is great for optimising the in-product aspects of customer experiences but it's not going to help you outside of this.
Qualitative feedback: While the platform includes feedback collection features, these aren't anywhere near as advanced as SurveySparrow.
Userpilot verdict
Userpilot is an affordable solution for personalising the in-product experience and giving you a direct channel to optimising your CX strategy. Instead of simply hoping new users complete onboarding, Userpilot allows you to create personalised sessions that guide new users through the setup process – and reach out to any users who still fail to complete onboarding.
Once users are fully set up, you can use in-app messaging to help them find value faster and keep them engaged with the product.
Userpilot isn't a complete CX optimisation platform but it tackles some of the most challenging aspects of product retention and provides an effective method of reaching users while they use your product.
#14: Pendo: Product experience, adoption & customer support
POA (free plan available)
Pendo is an analytics and CRO system for optimising every stage of the SaaS customer cycle – from lead generation and onboarding to engagement and customer retention. If you're looking for a more complete CX optimisation system than Userpilot, Pendo is the first system we'd recommend.
The platform is built around four key solutions:
Product analytics
In-app guides
Feedback
Roadmaps
Pendo's analytics system can track activity on your website and in your software product to cover the whole customer journey. You can use it to optimise your most important web pages, such as landing pages and your pricing page, as well as product performance and CRO campaigns across your website and software products.
The system doesn't include any A/B testing features for running experiments but it provides insights across your website and software apps.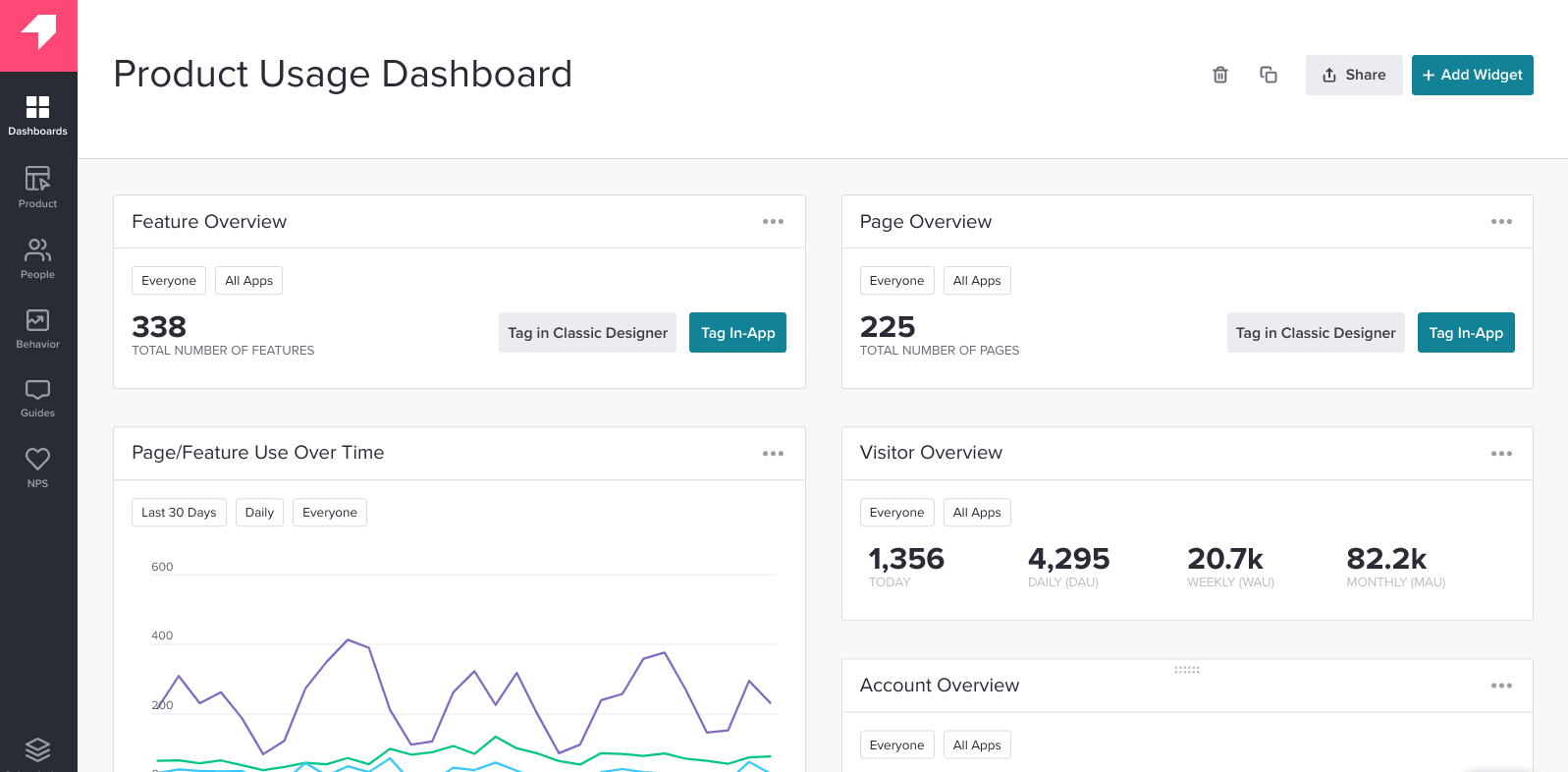 Key features:
Website & product analytics: Empower your teams with comprehensive product analytics to inform data-driven decisions.
Product engagement: Understand which features customers embrace, which ones they ignore and increase awareness of valuable (but underused) features.
Onboarding optimisation: Personalised user onboarding and in-app training.
In-app messaging: Help customers get the most out of your product with in-app guides and prompts.
In-app support: Support your users when and where they need it.
Feedback: Make it simple to collect and digest feedback.
Growth analytics: Identify revenue-driving activities, increase trial conversions and build features customers are willing to pay for.
Like Userpilot, onboarding optimisation is a key factor in Pendo and the system also takes the approach of using in-app messaging to minimise dropouts. Once again, you can deliver targeted, personalised messages to users throughout the onboarding process to guide them through the experience and point them towards value faster.
Pendo takes in-app messaging a step further than Userpilot, though. Aside from in-app messages and prompts, you can also deliver in-app guides and help documentation to users if they run into any problems.
Overall, this is the more suitable solution if your software products are complex, have a lot of features for users to get to grips with or the learning curve, in general, is causing problems for some of your customers.
Once you guide users through their personalised onboarding experience, the attention turns to optimising the CX to keep users engaged and satisfied with your product.
The onboarding phase ends with new customers completing their first valuable action and the engagement phase of the customer cycle focuses on sustaining that value to motivate continued usage.
Pendo's analytics system tracks engagement metrics, starting with the usual stuff like time per session, sessions per week, valuable actions per session, etc. You can also see which features customers are using (and not using) and where different cohorts are getting the most value from your product.
This all feeds back into your in-app messaging system so you can point users towards features they could get more value from.
By helping customers to gain more value from your product, you're building incentive to keep using it and renew at the end of their subscription period or upgrade to achieve even bigger things.
Pendo also includes a feedback collection system that you can use to collect valuable feedback from users while they're active in your software. And, one of my favourite Pendo features, is the in-app customer support you can provide to solve user issues while they're experiencing them – so they can get back to making things happen with your software.
How much does Pendo cost?
Pendo is aimed at enterprise software companies so don't expect any bargains before you sign up. Userpilot is definitely the more "affordable" platform on a per user basis but endo is also the more comprehensive CX optimisation system.
Pendo runs four plans, split into two separate tiers – one for companies starting out and another for companies at the growth stage.
This starts with a free plan that covers you for up to 500 monthly active users (MAUs) and gives you access to Pendo's core analytics features and in-app messaging.
The Starter plan costs $7,000/year, which works out at $583.33/month, and this covers you for up to 2,000 MAUs. By comparison, Userpilot covers you for up to 2,500 MAUs on its most basic plan at $249/month and you actually get more features for your money.
So, if you're on a budget, Userpilot might be the better option. Pendo is more suitable if you're looking for a more powerful system overall and you're willing to sign up for its more expensive plans – or progress through the upgrade path.
Pendo's Growth and Portfolio plans are priced on application so you'll have to speak to the company's sales team to discuss pricing for these.
The Growth plan opens Pendo's sentiment analytics system for measuring customer satisfaction and the ability to target users with in-app guides. Finally, the Portfolio plan is designed for optimising customer experiences across multiple applications with cross-app reporting and analytics at the portfolio level.
Pendo pros & cons
Pros
Product analytics: Pendo gives you web and product analytics for tracking the whole customer journey.
In-app messaging: Robust in-app messaging features help you maximise engagement and drive growth by delivering more value to each customer.
Engagement tracking: In-depth engagement metrics power your CX strategy by showing how users are really interacting with your product.
Cons
Automation: Pendo could really benefit from some more automation – eg: automatically grouping similar users into groups for faster segmentation.
Limited customisation: You don't get much flexibility to customise the system or analytics reports.
Expensive: Pendo is an excellent product but you really need to sign up for its pricier plans to get the best out of it.
Pendo verdict
Pendo is an excellent product optimisation system that captures insights across the whole customer journey and helps you optimise the in-app experience. It's a step up from Userpilot in every regard but the added quality comes at a cost and you have to sign up for Pendo's more expensive plans to get the best out of it.
At this price point, we would like to see more automation baked into Pendo's Growth and Portfolio plans. Tasks like manually creating audience segment groups are time-consuming and plenty of systems are capable of automatically grouping similar users into recommended segments.
At some point, Pendo probably needs to integrate this level of automation into its platform to keep up with its rivals.
#15: Heap: Increase conversions, engagement & retention
POA (free plan available)
Heap is a complete analytics system for websites, web apps and software products. If you want full visibility of the whole customer cycle, this is one of the few platforms that can capture key insights at every stage of the journey.
In its own words, Heap says it "helps SaaS companies understand their users, get advanced insights on customer behaviour and build products that convert and retain".
This starts with web analytics for tracking marketing funnels, signups and other conversion goals. Next, Heap tracks users through the onboarding process so you can identify friction points to maximise completions and identify the first actions that deliver the most value to new users.
With Userpilot and Pendo, you're intervening in the onboarding process to guide users through each step. With Heap, you're analysing this process without intervention to gain insights that can fuel your optimisation campaigns.
This includes a dedicated system for identifying the early valuable actions in the customer experience, helping you to guide new users to the most important features and tools in your product.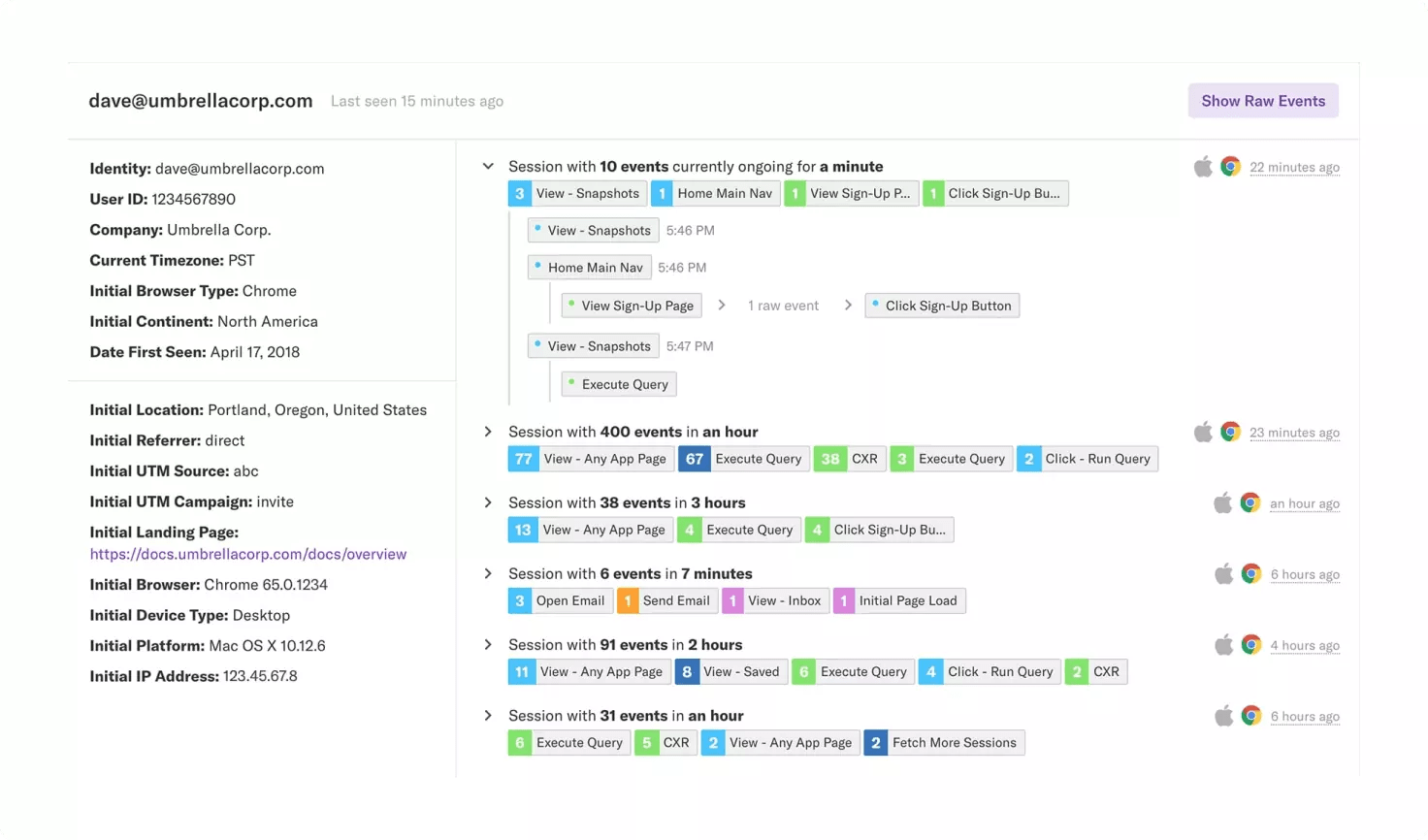 Key features:
Product analysis: Understand how people interact with your product, increase acquisition and retention, reduce your engineering burden, and create a powerful product experience.
Heap Illuminate: Automatically analyses digital user behaviour in the background, evaluating conversion paths of every visitor to identify the most important points of friction.
Autocapture: Automatically capture all user data on your website, from the moment of installation forward.
Data sources: Import data from other sources to compile all of your insights in one platform.
Event visualiser: A point-and-click tool for creating and tracking user events on your website without writing any code.
Data dictionary: Keeps data clean, organised, and understandable for everyone in your team.
Data governance: Control permissions for viewing, modifying, and reporting with default user roles.
Playbooks: Dashboard templates you can personalis to generate reports and see relevant insights faster.
With the onboarding process complete, Heap helps your product team track user behaviour at each stage of the customer cycle. You can monitor usage and engagement metrics, identify friction points, segment users into relevant cohorts and reinforce your quantitative analytics with qualitative insights.
In addition to product analytics, Heap includes a session recording and replay system for you to analyse important sessions.
For example, you can review a collection of sessions from users who didn't use specified important features within the first hour of using your product. You can look for patterns like navigational issues, distractions, friction points or other problems that could be getting in the way.
You can also track user engagement as you roll out new features and update your product. You'll see which features users are taking to and which ones aren't making the kind of impact you were hoping for, allowing you to step in and take action to increase adoption rates and usage.
Earlier, we mentioned the lack of automated features in Pendo as a potential issue. Heap is a perfect example of a product that incorporates intelligent automated features to help your team achieve more, faster.
The system can automatically recommend audience segments for you, identify the most common events between steps in the funnel and a range of other insights across the customer cycle.
How much does Heap cost?
Heap runs four plans but it doesn't publish any pricing information on its website so you'll have to speak to its sales team directly. Like Pendo, we're talking about an enterprise system here so you should expect to pay for one.
The company does offer a free plan for up to 10,000 monthly sessions, which isn't all that much compared to monthly active users.
To get an automated estimate of how much the Growth plan will cost by signing up and installing a free code snippet on your website/app. However, it's worth speaking to the company's sales team to discuss potential upgrade costs, feature incentives and other details before signing up for such a comprehensive platform.
Heap pros & cons
Pros
Product analytics: Heap provides extensive visibility for both web and product analytics.
Auto-capture: Heap can automatically capture data from every event for you so you can analyse anything you need to at any time.
Intelligent insights: If you're signed up for the right plan, intelligent insights help you optimise product experiences faster.
Cons
Implementation: Heap can take a while to set up and implement, especially if you're using it for web and product analytics.
Learning curve: As a comprehensive analytics system, Heap comes with a certain learning curve that you have to overcome.
Heap verdict
Heap is one of the most complete analytics systems available for SaaS companies. With its ability to collect user insights across the whole customer journey (website and application), you gain extensive visibility of every moment that matters to you and your customers.
Data auto-capture (if you use it) automatically captures data for every event so you don't need to manually create tracking for each event. This also means you can retroactively analyse events you didn't think about previously, instead of having to create the event in question and wait to capture enough data for analysis.
The downside to this is you can end up with a lot of data on your system and, potentially, never use much of it.
Either way, Heap gives you the option and this is one of the few analytics platforms currently on the market equally capable of capturing insights across the marketing funnel and the in-product customer experience.
Want to see more CX optimisation tools?
We've got plenty more recommendations and reviews of the best customer experience (CX) optimisation tools in this article:
Best subscription & billing tools for SaaS
SaaS companies can have some of the most complicated pricing models to manage and optimise. Finding the perfect pricing strategy to maximise revenue and, then, manage subscriptions and recurring payments across multiple plans is a hurdle for any software company.
To help you manage this, we've selected the top three subscription and billing management tools for SaaS companies:
Paddle: The complete revenue management system for SaaS companies.
Chargebee: Scalable revenue software for every stage of growth.
Chargify: The events-based billing platform for B2B SaaS companies.
We use Paddle for products targeting multiple markets where tax compliance starts to get complicated. Chargebee is a more affordable alternative that manages to provide powerful features at a lower price point while Chargify specialises in events-based pricing models, particularly for B2B software providers.
#16: Paddle: Complete revenue management for SaaS companies
POA
Paddle is an all-in-one revenue delivery platform for SaaS companies targeting users across multiple markets. The platform helps you integrate and test subscription models on your website, covering all four stages of the software payment process:
Checkout: Global checkout support allows you to take payments from new customers anywhere in the world.
Subscriptions: Subscription management helps you maximise monthly recurring revenue (MRR).
Invoicing: Get paid faster and follow up missed payments with built-in invoicing and dunning.
Compliance: Paddle handles tax, payment and data compliance on your behalf – so you don't have to worry about them.
We use Paddle to manage payments and subscriptions for one of our software products: Serene, an innovative productivity app for remote workers. Paddle isn't the cheapest revenue management system on the market but it offers a greater depth of features than any comparable system we've come across and the company's tax compliance service is a huge win for software companies operating in multiple markets.
Key features:
SaaS subscriptions: Paddle offers extensive subscription features specifically designed for SaaS companies and software products.
Managed payments: Instant access to established international banking infrastructure for easy payments in every country and currency.
Billing models: Smart subscription logic helps you create recurring, metered, on-time and other billing models in a matter of clicks.
Upgrades & downgrades: Manage customers with ease as they upgrade or downgrade from plans.
Free trials & freemium: Manage free trials, free plans and freemium strategies within Paddle.
Integrated checkout: Take payments by card and PayPal using Paddle's built-in checkout.
Invoicing: Create and send invoices to customers automatically.
Automated sales tax: This platform calculates, files and remits your software sales taxes on your behalf – based on your customers' location.
End-to-end dunning: Paddle automates dunning across the entire customer journey to recover lost revenue.
Paddle Data Core: Advanced data capture and reporting for insights on your business performance and your rivals.
Managed support: Paddle's excellent support team helps you set up your payment strategy, deal with any technical issues and handle tax compliance for you.
Paddle is more than a subscription management platform; it's an all-in-one revenue system designed to help SaaS companies maximise revenue from multiple target markets. We're yet to find a more comprehensive platform for managing every aspect of revenue for us, including subscriptions, managed payments, payment recovery and tax management.
That last point is important because Paddle is the only provider we've found that fully manages tax compliance for you across every market. International taxation is complex and violations can get you into a world of legal and financial trouble.
Paddle takes complete control of this for you and, crucially, it assumes full legal responsibility over tax compliance on your behalf. This means that, if there's an issue with tax compliance in any territory, Paddle is legally responsible – not you.
This is a huge deal if you're targeting multiple markets and you don't have the in-house legal team to guarantee compliance everywhere.
Elsewhere, Paddle's end-to-end subscription management system gives you all the tools you need to implement new billing models, test new pricing strategies, create new upgrade flows and manage your existing customers to maximise lifetime value.
SaaS pricing strategies can get pretty complex but Paddle will help you simplify and manage the most intricate pricing strategy across multiple plans and price points.
For example, you can set up tiered pricing plans for multiple customer profiles and create flexible enterprise pricing/quotes using rules to determine how much customers pay, based on their needs/usage – all while giving sales reps the freedom to customise quotes for deals that deserve a little more flexibility.
The main drawback with Paddle is the system can take a while to set up and implement with your website. Luckily, the company's excellent support team steps in to help you get everything set up how you need it.
The support doesn't end with the onboarding process, though. Paddle is a managed service software and service package that helps you get the best out of the platform and maximise revenue at every stage of growth.
How much does Paddle cost?
Paddle runs a simple pricing model that charges 5% of your revenue, plus $0.05 per transaction on its pay-as-you-go plan. This is only slightly more than you would pay per transaction for something like PayPal (+ 2.5 – 3% +30¢) without getting any of the payment management, revenue tools or tax management Paddle is offering.
When you add up the numbers, Paddle is remarkable value for money and you may get an even better rate if you're a high-volume SaaS company. If this sounds like you, then you can call the company's sales team to discuss custom pricing and it might be worth making this call anyway to find out what the company considers "high volume" and what kind of numbers you could expect.
Paddle pros & cons
Pros
Pricing Management: Paddle provides extensive tools for managing, testing, and optimising your pricing strategy.
Automated Tax: Paddle is the only provider we're aware of that takes full control and responsibility for taxation.
Global Coverage: Excellent coverage for international payments and managed taxation allows you to go truly global.
Dunning: Paddle's advanced, automated dunning features help you recover revenue from missed payments.
Cons
Monthly Payouts: Some platforms are faster when it comes to payouts.
Fees: The transaction fees can make Paddle a little pricey for mid-to-high volume companies.
Paddle verdict
Paddle is the ultimate revenue platform for SaaS companies. It's not only one of the best subscription management platforms around, but also the only provider we've found that offers a comprehensive tax manager service.
The platform also includes some of the best dunning features we've ever used to help you recover revenue from failed payments. You can test different pricing strategies and experiment with plans and feature incentives until you find the perfect upgrade path for maximising retention and revenue.
If you're targeting multiple markets with your software product, Paddle is the obvious choice for managing your pricing strategy, payments and finances.
#17: Chargebee: Scalable revenue software for every stage of growth
From $99/month (free plan available)
Chargebee is the revenue management platform for companies operating subscription-based models. SaaS is the obvious example here but an increasing number of consumer brands are hitting the market with subscription models for everything from food and fishing to personal hygiene and healthcare.
Chargebee features in our guide to the best subscription billing platforms, thanks to its extensive support for subscription management, billing automation, recurring payments and reporting – as well as its accounting and taxation features.
Key features:
Subscription management: Create, test and optimise your subscription model to maximise revenue.
Billing automation: Set up your recurring billing workflow and automate invoicing logic.
Recurring payments: Collect, manage and maximise recurring payments.
Accounting & taxes: Simplify SaaS accounting, finance and taxes.
Enterprise billing: Manage enterprise plans and customised quotes to meet the unique needs of your highest-paying customers.
Smart Dunning: Reduce involuntary churn with a configurable Smart Dunning for recurring payment failures.
Customisable checkout: Create a smooth checkout experience by customising Chargebee's built-in checkout without writing any code.
Multi-decimal support: Accurately track product usage and reflect taxes and charges in your invoices.
SaaS reporting: Comprehensive analytics and reporting specifically for SaaS companies.
We've used Chargebee to handle subscription payments on our own software products here at Venture Harbour. The platform makes it easy to manage multiple plans, automate billing and chase up any missed payments (eg: if your customer's payment details change halfway through an annual contract). With extensive support for payment methods, integrations for multiple payment gateways and tax management tools, Chargebee helps you sell to customers across multiple markets without currencies or tax regulations getting in the way of growth.
Chargebee offers a free Launch plan that covers you for your first $100k in revenue so you can get your business up and running before you start worrying about software fees. Pricing then starts at $99/month on the Launch plan, once you've invoiced a total value of $100k with an additional 0.5% overage fee if you're generating more than $25k in monthly revenue.
How much does Chargebee cost?
Speaking of pricing, let's take a closer look at Chargebee's free plan and what you get for your money on the paid versions. As mentioned earlier, the free plan is no gimmick, providing a capable revenue platform for new and small SaaS companies.
The free Launch plan covers you for up to $100,000 in revenue and, once you hit this threshold, you're automatically bumped up to a $99/month fee with a 0.5% overage fee if your revenue exceeds $25k per month.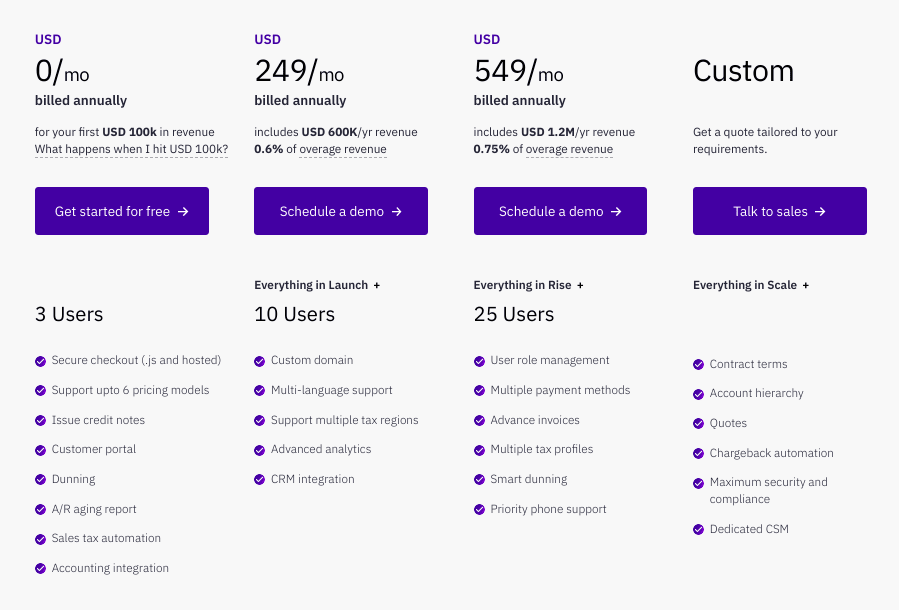 The Launch plan covers you for up to three users and gives you access to most subscription management features, the essential payment, checkout and dunning features, plus all of the tax features (you're limited to one tax region, though).
So this is a feature-packed plan that you can use for free, until you hit $100,000 in revenue and, even then, the $99/month fee is great value. Once you're paying for the Launch plan, this covers you for a good amount of growth, too, before you'll look to upgrade.
The Rise plan costs $249/month and this covers you for up to $600,000 annual revenue, after which a 0.6% overage fee is applied. You can have up to 10 users on the system and you open up some advanced invoicing features, custom domains, abandoned cart tracking and a range of other features.
Most notably, the Rise plan covers you for multiple tax regions.
By the time you upgrade to the $549/month Scale plan, you're covered for up to $1.2 million annual revenue with a 0.75% overage fee and access to pretty much every feature on the platform (the main thing missing at this point is enterprise support).
Given the features available on each plan, Chargebee is aggressively priced at every level and the company lays out a clear growth path with upgrades that empower you to drive more revenue without ever holding you back.
Chargebee pros & cons
Pros
Subscription management: Chargebee is an excellent solution for managing subscription payments and multiple plans.
Affordability: Chargebee's powerful features and competitive pricing model make it a good-value option at each price point.
Taxation features: Chargebee does not take responsibility for taxation for you but the system includes plenty of tools and features to help you manage taxation for yourself.
Cons
Onboarding: The onboarding and setup process takes time – but this is inevitable for a system of this calibre.
Usability quirks: Overall usability is fine but it's hampered by odd navigational quirks, interfaces occasionally failing to load and other minor inconveniences.
Technical support: Support can be a little slower to respond than we would like from a revenue-oriented service.
Chargebee verdict
Chargebee verdict is a feature-rich revenue management platform that offers great value for SaaS companies at every stage of growth. Its free plan is a complete system that covers the needs of startups and small software providers with ease and the paid plans leave plenty of room for growth so that you're never held back by usage limitations or expensive fee hikes.
If you're looking for a revenue and subscription management system to grow with your SaaS company – from launch to rockstar status – Chargebee is the platform that'll help you get there and keep up with you, every step of the way.
#18: Chargify: Events-based billing platform for B2B SaaS
From $599/month
Chargify is a subscription and billing platform for B2B SaaS companies running an events-based pricing system. It allows you to create complex, usage-based plans that charge your customers for the events they value most – for example, conversions and purchases for a piece of e-commerce software.
The idea is that you identify the metrics that deliver real value for your target customers and charge them for the actions that make a real difference to their business.
Chargify streams your customers' usage data in real-time and allows you to charge for the most granular events. So let's say automation is a key part of your SaaS product and you want to charge for every automated action. You could create billing rules for event triggers and webhooks so that you're not simply charging customers for workflows they create but seldom use.
Essentially, this is a more accurate way to manage usage-based pricing but it also helps communicate the value of your product with greater clarity – and justify your pricing in a more demonstrable way.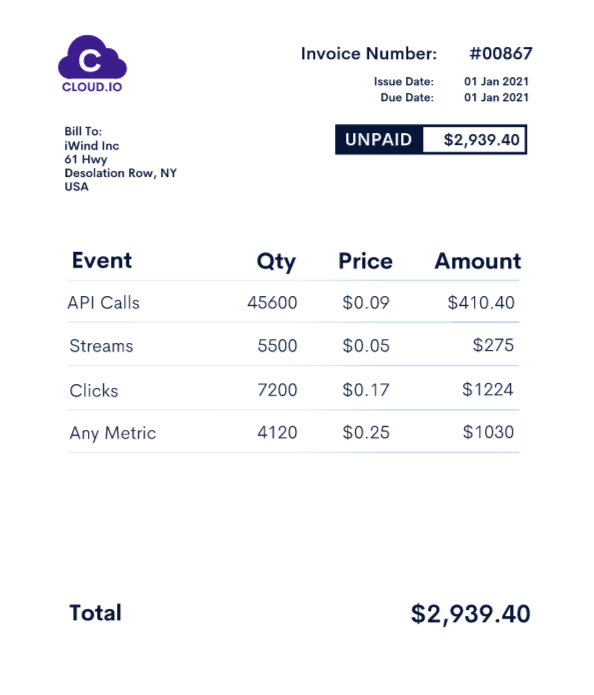 Key features:
Subscription management: Track and manage subscriptions throughout the customer lifecycle. Strengthen relationships, decrease churn and increase lifetime value.
Events-based billing: Create multidimensional billing models with real-time data streaming and analytics.
Revenue retention & dunning: Reduce customer churn caused by failed or delinquent payments.
Billing scenarios: Experiment with different recurring billing models to align your pricing strategy with how customers consume your products.
Offer management: Elastic Billing™ provides the flexibility and agility to deliver the right offer, to the right customer, at the right time.
Payment gateways: Integrate with major payment gateways, including Stripe and Braintree.
Analytics & insights: Say goodbye to dated spreadsheets and wild guesses with real-time, reliable SaaS insights.
The headline feature in Chargify is its events-based billing system that helps B2B SaaS companies manage a sophisticated usage-based pricing system based on the actions that matter most to their customers.
Chargify doesn't limit you to events-based billing, though. You can run and test a range of subscription models including freemium plans, free trials, one-time fees, monthly subscriptions and every major SaaS pricing strategy.
This is important because you want the flexibility to test different pricing models and you may even run different strategies for different customer profiles – or usage-based add-ons.
How much does Chargify cost?
Chargify plans start at $599/month for the Essential plan, which covers you for up to $250k of revenue through events-based billing with a 0.9% overage fee on anything over that.
Plans are mostly priced on revenue and usage so there isn't much feature differentiation between plans. This means you get access to the majority of Chargebee's features and tools on the Essentials plan without feeling any pressure to upgrade until you're generating enough revenue to justify it.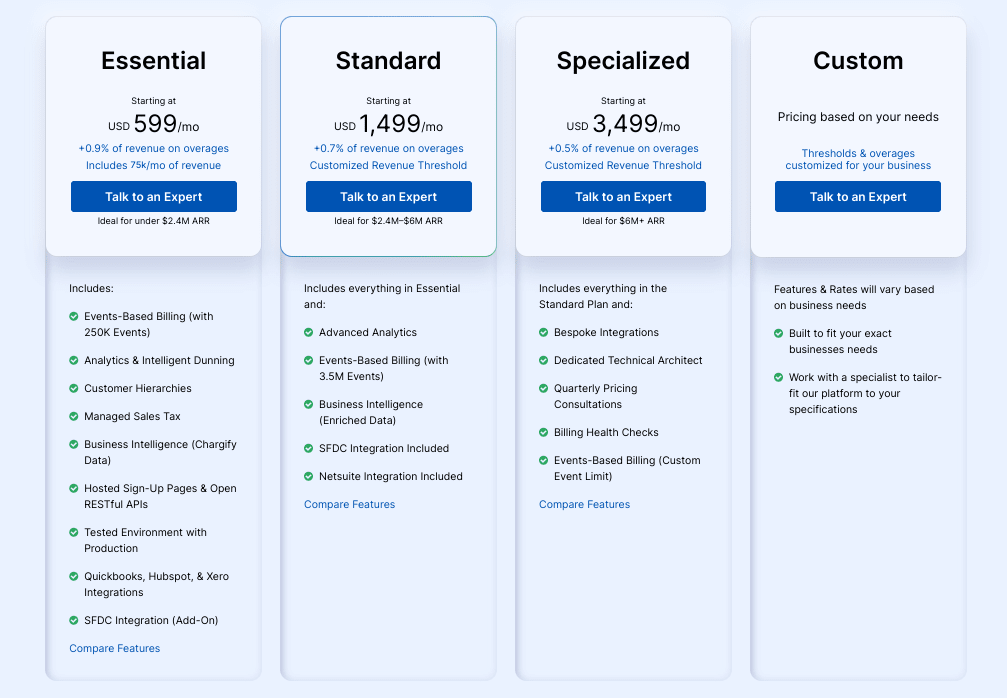 Chargify positions its Essentials plan as ideal for B2B SaaS companies generating under $2.4 million annually repeated revenue (ARR) and, at these prices, the Essentials plan certainly isn't a budget option for smaller companies.
One potential sticking point is the team members restriction on the Essentials plan. The limit of 10 team members seems disproportionately restrictive compared to coverage for five live sites, especially for SaaS companies generating millions in ARR that could well have different teams for each of those products/sites.
Chargify pros & cons
Pros
Events-based billing: Chargify's event-based billing system is excellent for subscription models priced around feature usage.
Price testing: If you want to test or optimise your pricing strategy, Chargify will help you run experiments with pricing plans and pricing.
Support team: Chargify's support team is fast, responsive and knowledgeable enough about the product to help you with almost any issue.
Cons
Reporting: We ran into some inaccuracies in revenue reporting where annual subscriptions weren't being considered in MRR calculations.
Price creep: Chargify has increased its prices a few times recently and it seems to be experimenting with different pricing strategies – something to keep an eye on.
Chargify verdict
Chargify is a powerful subscription management platform for enterprise B2B SaaS companies running an events-based billing model. If you want to take usage-based pricing to the next level and charge customers for completing actions that drive real value to their business, then Chargify captures the data and provides all the tools you need.
Looking for other subscription management tools to compare?
If you're still not sure whether any of the three subscription management tools in this section are right for your company, we've got a complete article reviewing and comparing the best 10 systems currently available:
Best analytics & reporting tools for SaaS
In this final section, we look at some of the best analytics and reporting tools for SaaS companies. It's easy enough to find analytics programmes for websites but software companies need tools that can capture data from web apps, mobile apps and native applications.
Our top picks for SaaS analytics tools are:
Mixpanel: Deep analytics across the SaaS customer cycle.
LogRocket: Session recordings, performance monitoring and product analysis.
Amplitude: Product analytics, personalisation and testing.
Now, let's get into the reviews of our last recommendations for your MarTech stack.
#19: Mixpanel: Deep analytics across the SaaS customer cycle
From $25/month (free plan available)
Mixpanel is an advanced analytics system designed for software development and optimisation that promises to help you "build better products". The platform is used by some of the biggest and most exciting names in SaaS, including Twitter, Uber, Expedia, GoDaddy and plenty more, providing key insights for product development at every stage of the customer cycle.
The key benefit of using MIxpanel over something like Google Analytics or other generic analytics platforms is it comes with reports, tracking and everything you need to measure software performance right out of the box. Instead of spending weeks or months setting up Google Analytics to build the custom reports, conversion goals and tracking, Mixpanel has all of this set up and ready to go.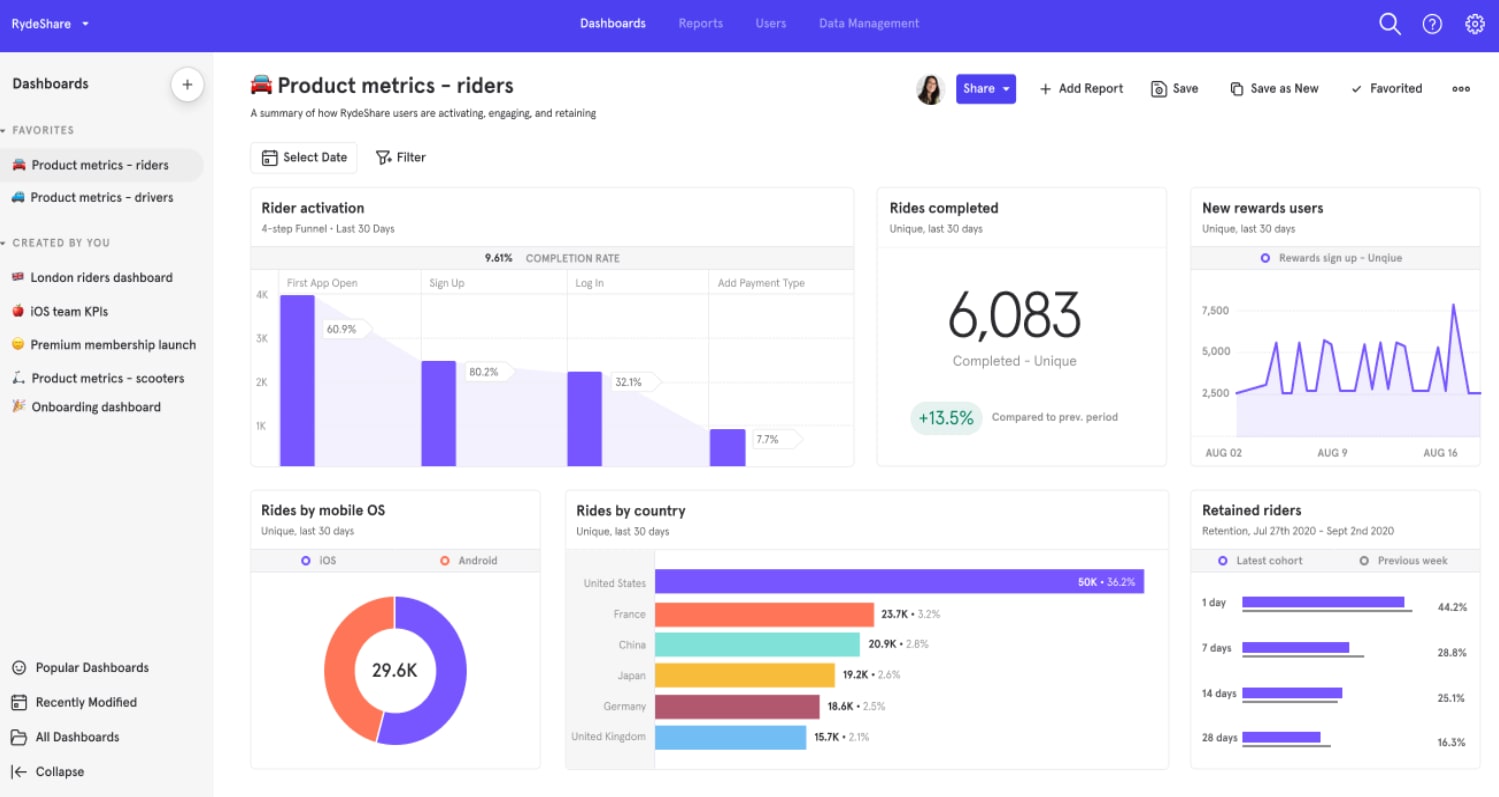 Key features:
Conversion analysis: Advanced conversion reports and churn analysis right out of the box.
Engagement analysis: Track engagement through the entire customer journey to maximise renewals and upgrades.
Retention analysis: Find out why customers renew, upgrade and churn.
Interactive reports: Visualise trends, build funnels, interact with your data and see the impact of experiments and launches.
Behavioural insights: Gain deep insights into user behaviour with your software – how often they use your product, how often they perform meaningful actions and more.
Identify user flows: See which actions users take after signing up, before making a purchase and other important actions to understand what makes your most valuable customers tick.
Limitless segmentation: Work with your own data any way you want to unearth actionable insights.
With conversion analysis, you can uncover conversion trends, see where users drop out of the funnel and find opportunities to re-engage lost leads. You can delve deeper into your conversion data and create custom segments to see how different audiences are responding to messages and view the path to conversion for each segment. Mixpanel says its conversion analysis can help you increase conversions by up to 58% and it's got the case studies to back this claim up.
Then, you've got Mixpanel's engagement analysis for measuring active usage of your products, re-engage users who spend less time in your software track campaigns designed to maximise/increase engagement. You can track users and organise them in cohorts, such as "new," "resurrected," "dormant" and "retained" to identify trends, timelines and triggers for engagement changes.
Retention analysis helps you test campaigns for holding on to customers and upselling campaigns while measuring results to identify the touchpoints that keep customers paying for your software and working along your upgrade path. You can also identify churn triggers and patterns leading up to cancellations, non-renewals and failed payments.
How much does Mixpanel cost?
You can get started with Mixpanel for free with access to unlimited data history and seats, its core reports, the full set of data tracking features and coverage for up to 100,000 monthly tracked users (MTUs). Paid plans start at just $25/month, which gives you access to more advanced analysis and unlimited saved reports with custom pricing available for higher MTU counts.
If you're looking for a comprehensive SaaS reporting system that doesn't require extensive setup, but still gives you the freedom to customise, Mixpanel is the first platform to look at – and it costs nothing to try it out.
Mixpanel pros & cons
Pros
Reporting templates: Mixpanel makes it easy to create and customise dashboards to suit your needs.
Usability: Once you're over the initial learning curve, Mixpanel is intuitive, powerful and highly customisable.
Affordability: Mixpanel is one of the most affordable SaaS analytics tools available at this level.
Cons
Speed: Mixpanel isn't always the fastest system, especially when loading up extensive reports.
Learning curve: It takes time to get the most out of Mixpanel but it's a much faster process than learning Google Analytics from scratch.
Intelligent insights: With limited automation and a lack of predictive analytics, some companies may outgrow the platform.
Mixpanel verdict
Mixpanel isn't the most advanced product analytics system on the market but it is one of the most affordable. It strikes an excellent balance between power and value for money, especially for new and smaller ventures that may not have the finances for enterprise software analytics systems (or even need their most advanced features).
You'll only run into the limitations of Mixpanel when you start to need advanced automation and intelligent reporting features. We're talking about things like predictive analytics, customer health scores, churn predictions and customer lifetime value estimations.
Mixpanel isn't going to provide this level of insight but the system is best suited for products at earlier stages of growth – the kind of products that don't have enough user data to get reliable predictions anyway. The biggest risk with Mixpanel is that, if all goes well, you might outgrow the system but this could be the analytics tool that helps you reach that stage of growth faster.
#20: LogRocket: Session recordings, performance monitoring & product analysis
From $99/mo (free plan available)
LogRocket is a product analysis system that has a lot in common with UXCam, except it's designed with web apps in mind. As we touched on in our UXCam review, you can use LogRocket to analyse mobile sessions and compare them with web app sessions on desktop but the system doesn't offer the same kind of insights for touchscreen interactions.
However, LogRocket provides a more in-depth and technical breakdown of application performance with its session replay system. It records every DOM event for comprehensive analysis of sessions – not only what users are getting up to but how your app is responding to their actions. This includes network requests, JavaScript exceptions and performance monitoring for loading times, response times (including Core Web Vitals) and an array of performance insights.
This integrates seamlessly with LogRocket's frontend performance monitoring system that not only tracks loading times, but also network speed, CPU and memory usage, browser crashes, React component rendering and time between events – as well as custom metrics that you can define and track.
Crucially, you can also set alerts to notify team members when performance metrics drop below minimum requirements so they can take action faster.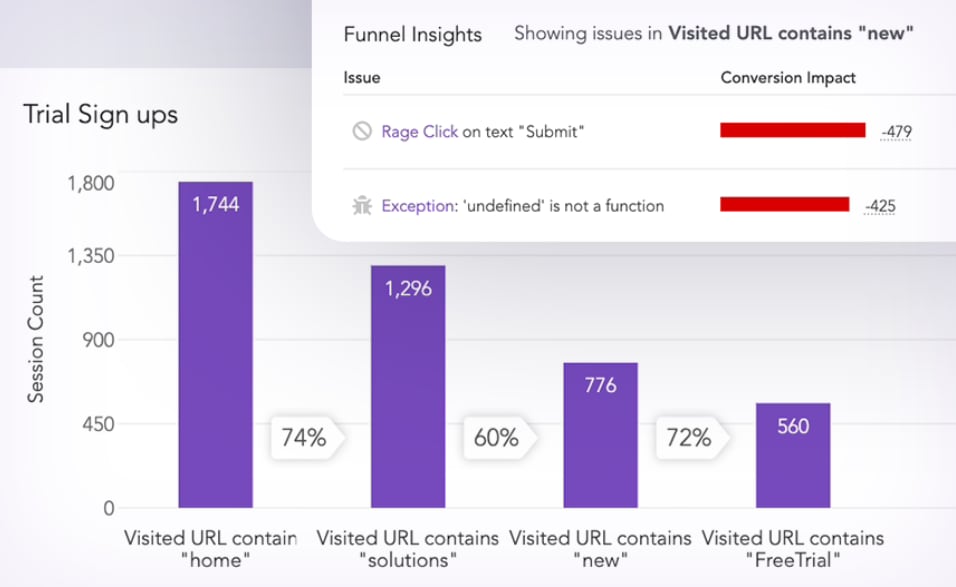 Key features:
Session replays: Record user sessions to see how they're interacting with your website and web app.
Product analysis: Track usage and engagement to learn what customers love about your product and what needs improving.
User experience analysis: Increase engagement and improve the design of your app by identifying frustrations, such as rage clicks, dead clicks and session quits.
Page analysis: Use heatmaps, click maps and scroll maps to see how users are interacting with key pages.
Frontend monitoring: Monitor page load times, browser crashes, CPU/memory usage, rendering, etc. the impact on conversions and other business goals.
Custom funnels: Build custom funnels, time series charts, tables and other visualisations to break down every data point to the individual user.
Error tracking: Monitor Javascript errors, network failures and other performance issues hurting the user experience.
Intelligent alerts: Get notified of issues that impact your users before they report them.
Prioritise issues: Automatically surface and categorise your highest-priority bugs and issues.
With LogRocket's product analysis system, you can create custom metrics to track conversions, user flows and events to attribute interactions to engagement, revenue and other KPIs. You can create custom dashboards with data visualisations prioritising the metrics you care about the most, speeding up analysis for everyone on your team.
You can pick anything LogRocket's analysis and error detection picks up as a metric – anything ranging from conversion events and engagement metrics to bugs and browser crashes.
LogRocket has expanded its funnel insights system, allowing you to set revenue values for conversions and key events. This enhances your ability to forecast revenue performance, set more realistic goals and optimise funnels to maximise the interactions that add the most value to your business.
The platform also includes a dedicated user experience analysis system, complete with heatmaps, click maps and scroll maps for analysing individual pages. It also includes a path analysis tool for viewing user flows through your product and identifying gaps in user behaviour, such as underutilised features.
These page analysis tools integrate seamlessly with LogRocket's funnel analysis system that gives you a top-level view of actions tied to revenue, allowing you to hone in on specific user flows and pages that require attention.
How much does LogRocket cost?
Unlike many of the providers we've looked at today, LogRocket is very transparent with its pricing information. The company offers a free plan covering you for 1,000 sessions per month with access to the platform's core features: session replays, frontend logs, error tracking, debugging, network requests and plenty more.
Even still, you're missing out on the best of LogRocket's features and the bad news is that upgrading to the Team plan doesn't unlock anything new. Starting from $99/month, the Team plan's starting price covers you for up to 10,000 monthly sessions and up to five team members but you don't get any additional features on this plan.
To unlock LogRocket's full capabilities, you have to sign up for its Professional plan where prices start from $500/month. This covers you for up to 25,000 monthly sessions and opens up most of the platform's features: product analytics (funnels, user flows, etc.), front-end performance monitoring, alerting and the full suite of heatmaps, click maps and scroll maps – and plenty more.
Upgrading to the Enterprise plan mainly enhances the security and customer support options with prices varying on the number of monthly user sessions, user seats and data retention period required.
LogRocket pros & cons
Pros
JavaScript debugging: LogRocket includes a dedicated toolkit for debugging server-side and front-end JavaScript for websites and web apps.
Frontend monitoring: You get in-depth insights on the front-end performance that affects user experience and its impact on conversions, business goals, etc.
Error tracking: LogRocket is an excellent system for tracking errors and bugs in your app and user browsers.
Cons
Pricing: Feature restrictions set a high entry price for accessing LogRocket's best features.
Usage limitations: Aside from feature restrictions, limits on users, sessions and data retention restrict the value of cheaper plans – including the so-called Team plan.
LogRocket verdict
LogRocket is a powerful system for tracking the performance of web and mobile apps. It places more emphasis on technical performance and error tracking than events and engagement, which is the focus for most of the systems we've looked at today. Even still, LogRocket is capable of tracking events, user sessions and key metrics with qualitative insights coming from heatmaps, user flows and a variety of analysis tools.
All in all, LogRocket offers a rounded set of analysis tools for product teams that prioritises technical performance but ties everything to revenue and marketing goals. Unfortunately, you can't take full advantage of the platform's capabilities until you sign up for the Professional plan where prices start from $500/month for teams of under five and up to 10,000 monthly sessions.
#21: Amplitude: Product analytics, personalisation & testing
POA (free plan available)
If you're looking for a more advanced product analysis tool, Amplitude is one of the first Mixpanel alternatives you should consider. This system is more suitable for bigger software companies and products with larger user bases, let's say a minimum of 25,000-100,000 monthly active users.
While Amplitude also offers a free plan, paid plans are significantly more expensive than Mixpanel's – but also more capable in terms of features.
The biggest advantage Amplitude has over Mixpanel is its intelligent analysis capabilities that can identify key behaviours and attribute them to actions that affect revenue, such as renewal and churn. Machine learning maps out usage patterns with the most important metrics for your product, helping you to identify valuable trends faster. The system is also capable of predicting future outcomes by analysing behaviour trends across audience cohorts – so you can respond to opportunities and risks before it's too late.
Aside from Amplitude's more intelligent analysis features, you also get all of the core essentials Mixpanel has to offer: funnel analytics, engagement tracking, retention analysis, lifecycle analysis, etc. The only feature Amplitude really lacks that Mixpanel has to offer is the alerting and notifications offered by the latter. However, it offers a range of features you won't find in Mixpanel: A/B test analysis, user personas, stickiness reports, anomaly detection and plenty more – without mentioning any of the predictive analytics features.
Key features:
A/B testing: Run tests on your website, mobile app and software.
Feature flags: Configure experiences remotely, manage release risk, and deploy faster.
Behavioural analysis: Target customers based on actual or predicted behaviour without extra engineering work.
Funnel Optimisation: Remotely reorder or remove steps in a funnel to experiment with improvements to conversion.
Form Optimisation: Test adjustments to form setup based on acquisition channels and sources.
CTAs by Segment: Try different CTAs for premium plans for new users versus existing subscribers.
Propensity-driven experiences: Use predictions to test changes in the UI based on users' likelihood to use a feature or make a purchase.
Predictive analytics: Use the power of machine learning to forecast behaviour patterns over time.
Collaborative reporting: Create team spaces and dashboards for collaborative analysis and reporting.
Another key benefit of using Amplitude as your SaaS analytics system is the company also provides several other products to help you drive growth and revenue. So far, we've talked about Amplitude Analytics but the company also offers the following three additional products:
Amplitude Audiences: Push behavioural audiences to other tools or take personalisation further with predictive segmentation and recommendations.
Amplitude Experiment: Turn insights from analytics into action for your customers with the first end-to-end experimentation platform powered by product analytics.
Amplitude CDP: Power your data-to-insights-to-action loop with the first insights-driven CDP.
By signing up for Amplitude's analytics system, you get access to several core features available in Amplitude Audiences – namely, user ID tracking, behavioural cohorts and audience data exports (to push data to other marketing tools). You can enhance this further by signing up for Amplitude Audiences, which makes the predictive capabilities and data export options available to you.
Then you've got Amplitude Experiment, which provides extensive testing capabilities for A/B and multivariate testing. The system also incorporates feature flagging into testing and rollouts that fit perfectly with Amplitude Analytics for tracking adoption and engagement.
Finally, Amplitude CDP gives you advanced data management and integration features to incorporate Amplitude's products into your wider tech stack.
How much does Amplitude cost?
Amplitude doesn't provide any pricing information for its products but the entry prices on its paid plans are higher than anything you'll pay for Mixpanel, unless you've got millions of monthly active users.
Amplitude offers a free plan for its analytics system that covers you for up to 10 million events per month. How far this free plan will take you depends entirely on how many actions your users tend to complete on a monthly basis. For example, if you've got 25,000 monthly active users, the free plan will cover you for up to 400 events per user every month. Likewise, if you've got 100,000 MAUs, the free plan will cover you for up to 100 monthly events each.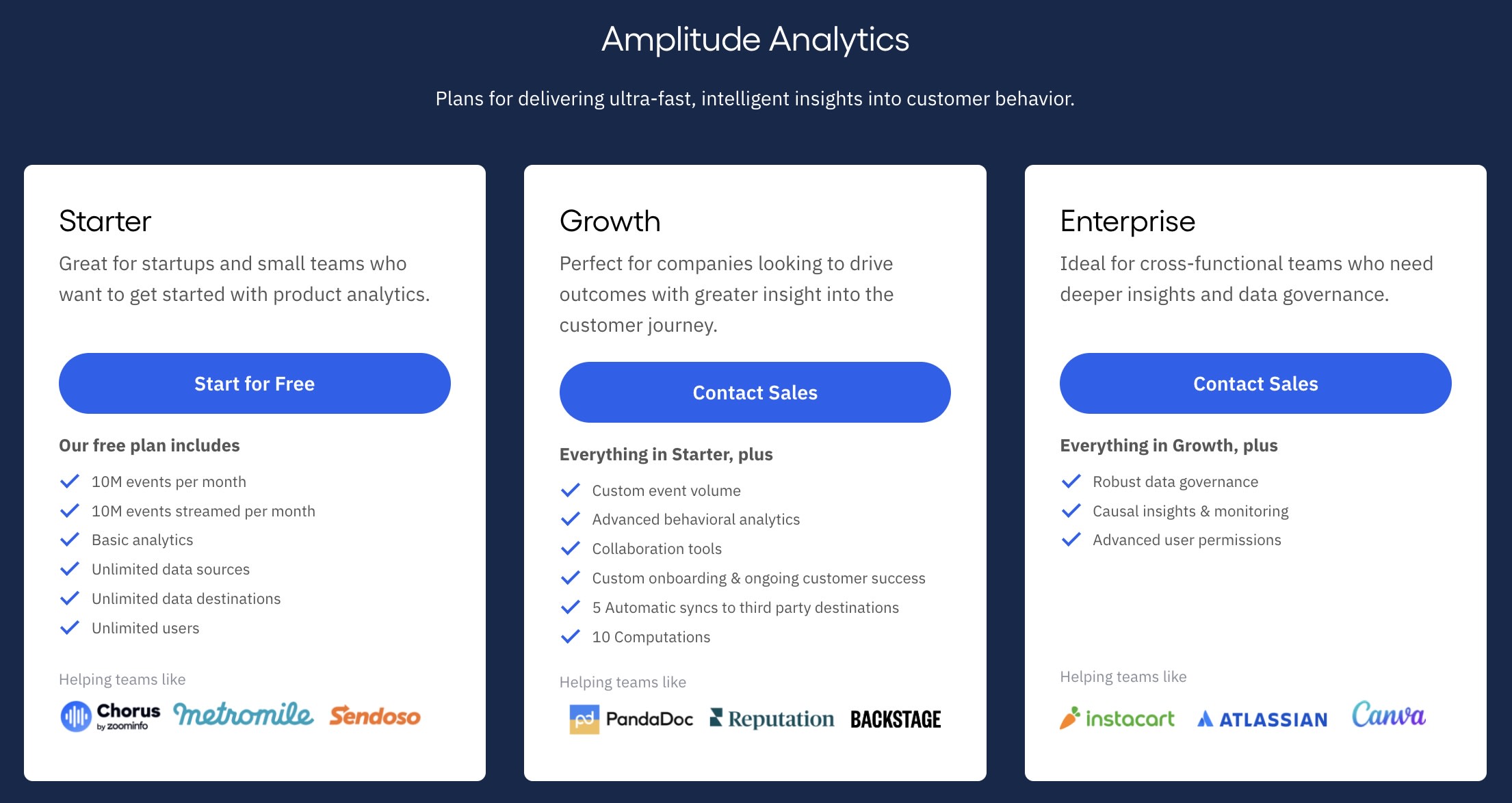 If you're signing up for the Growth plan (or upgrading), you should expect starting prices in the lower thousands. Obviously, this covers you for more than 10 million events per month and pricing scales depending on the amount of data you work with through the system. This is directly linked to the volume of monthly active users you have although growing software companies may refine the volume of events they track per user over time, as they refine their metrics and KPIs.
This event-based pricing model is a smart approach as it means you're paying for insights, not the growth of your user base.
Amplitude pros & cons
Pros
Advanced product analytics: Amplitude is a comprehensive product analytics system that provides in-depth insights, tools and features – as long as you're willing to pay for them.
Behavioural analysis: The ability to optimise experiences based on both actual and predictive behaviour is a huge asset.
Free plan: Amplitude also offers a free plan that allows you to track 10 million events per month, even if you don't get the platform's most advanced features.
Cons
Pricey: Get ready to open your wallet if you want to access Amplitude's most advanced features.
Learning curve: It takes time and technical knowledge to set up the kind of in-depth analysis Amplitude is designed for.
Amplitude verdict
Amplitude isn't a direct competitor with Mixpanel; the two systems are aimed at entirely different companies. Mixpanel is a great option for smaller software companies that need an affordable system for optimising products with relatively small user bases – eg: 1,000-20,000 MAUs.
Amplitude is more suitable for companies managing products with larger user bases, starting from 20,000-100,000 active users. The system is far more capable as an analytics system, largely thanks to its intelligent insights capabilities and data management features. Aside from this, Amplitude also provides the option to implement its other products for enterprise-level experimentation, feature rollouts and optimisation – as long as you're ready to pay for it.
Looking for more SaaS analytics tools?
If you want to explore other SaaS analytics tools, we've got an article with plenty of other options at different price points:
What's the ultimate SaaS MarTech stack?
Hopefully, this article will help you choose the ultimate MarTech stack for your needs. We can't tell you which software tools to buy but we can recommend our top picks and our ultimate SaaS tech stack would look something like this:
TrueNorth: The ultimate marketing planning system for SaaS companies.
ActiveCampaign: The best marketing and CX automation platform.
ZoomInfo: Identify high-quality B2B software buyers for your go-to-market strategy.
Productboard: The best for product management and roadmapping.
Pendo: The ultimate CX optimisation platform for SaaS.
Paddle: The complete revenue management system for SaaS.
Amplitude: The best web and product analytics system.
In fact, we use all seven of these tools (and several others featured in this article) as part of our full MarTech stack.
You'll find plenty of other recommendations in the articles we've linked to throughout this post and you can others on our blog page. We'd also recommend taking a look at the article below for a comprehensive list of the tools we used to skyrocket our growth by 300%: