A go-to-market strategy is crucial for any product launch. Having one will help you to define your target audience and ensure your product meets their needs.
Without a go-to-market (GTM) strategy, you risk developing a product that has no demand. Not to mention launching into an overcrowded space. Or misfiring with your marketing efforts, and a long list of other potential problems.
A comprehensive go-to-market strategy informs every stage of pre-launch product development. This includes your marketing efforts and the launch itself. But it also provides the framework for your ongoing sales strategy, as well as product optimisation and development – long after the launch date.
In this guide, we explain how to develop an optimal go-to-market strategy. We'll also share the best tools for planning and implementing your GTM roadmap. This will all help you to drive revenue across the lifecycle of your product.
The Top Go-to-Market Tools
The aim of this article is to help you develop a go-to-market strategy and choose the right tools to help you implement everything. We start by explaining what a go-to-market strategy is and you need one for your next product launch.
We're also going to share our reviews of the 11 best GTM strategy tools:
We'll run through the key steps you should follow when developing a go-to-market strategy. All of which will carry over into your ongoing marketing and sales strategies.
What Is a GTM Strategy?
A go-to-market strategy is a data-driven planning process that defines the roadmap for launching a product to market. This includes your audience research, marketing and sales planning, and anything else that informs the development of your product.
Here's a quick definition from Stefan Groschupf for HubSpot:
"A go-to-market (GTM) strategy is a step-by-step plan created to successfully launch a product to market. While each product and market will be different, a GTM strategy should identify a market problem and position the product as a solution."

The Proven Process for Developing a Go-to-Market Strategy – Stefan Groschupf, HubSpot
Whether you're launching a new product or an existing product to a new market, a GTM strategy is crucial for setting and achieving your goals.
Paddle, one of the software providers we're looking at later in this article, has its own guide to developing a go-to-market strategy that's worth a read. As the guide explains, there's no standard format for a GTM strategy.
You have to consider your company's priorities, growth goals, existing presence in the market, and of course, your target audience.
If you don't already have this information defined, clarifying these details will be the first step in your go-to-market strategy. For example, if you're in the early stages of planning a brand-new venture.
These insights will indicate your product's features, UX design, any pre-launch marketing efforts, and the launch date itself. This info also helps you to define your pricing model, as well as an optimal upgrade path.
Why do you need a go-to-market strategy?
Broadly speaking, there are two key reasons to develop a go-to-marketing strategy. You're either launching a new product or launching an existing product to a new market.
Here are some of the most common examples:
A startup launching its first product
An established company launching a new product
Launching an existing product internationally
Rebranding after an acquisition
Upgrading a product to compete with rivals
Relaunching a product for a new or larger audience
Expanding a product as part of your growth strategy
The purpose of your launch will determine the structure of your GTM strategy. For example, the launch of a new product requires extensive research. On the other hand, expanding a product to attract a specific audience can build on previous planning and performance data.
We're going to discuss go-to-market strategies for the launch of new products, as this will cover all of the key steps. At that point, you can pick and choose the relevant steps for more specific launch types.
On this basis, the key reasons you need a go-to-market strategy are:
Audience Targeting: Identify the groups of people who need your product.
Buyer Personas: Create specific sales and marketing strategies to target.
Market Analysis: Build a complete picture of your product's ideal market.
Demand Assessment: Determine how much your product is needed.
Competitor Info: Learn the strengths and weaknesses of your competition.
Product Differentiation: Determine how to make your product stand out from the crowd.
Unique Selling Points: Define what will encourage your target audience to choose your product.
Product Development: Your GTM strategy should inform your product design and development.
Launch Schedule: Planning out the scheduling of all aspects of launching your product to market.
Distribution Channels: Select the most effective channels for your sales and marketing strategies.
Marketing and Sales Strategies: Plan your pre-launch and post-launch marketing and sales.
Product Roadmap: Lay out your ongoing product development and optimisation strategy.
Your GTM strategy will perform all of these tasks, and the benefits won't end on the launch date. These insights guide every decision you make throughout the product development cycle, including marketing strategies, sales processes, and everything else.
Without a comprehensive go-to-market strategy, you'll be doing a lot of guesswork. You won't truly know that your product is needed, who needs it, or how you're going to get any sales.
How to Develop a Go-to-Market Strategy
There are five key components every go-to-market strategy requires:
Audience Research: Information about your target audience, buyer personas, pain points, budget, etc.
Value Matrix: A cross-reference of buyer personas, pain points, product value, and marketing messages.
Development Roadmap: A clear plan for product development and optimisation, before and after your launch.
Launch Plan: A detailed schedule of your product launch, including future updates and feature rollouts.
Marketing and Sales Strategy: An integrated plan for your sales and marketing strategies for pre-launch, launch, and post-launch.
That's a short list, but those five components contain a lot of research, planning and strategy. That's why it's so important to develop a comprehensive go-to-market strategy.
An effective GTM strategy doesn't only guide the launch process of your product. It also provides key insights into your ongoing product development, marketing strategies, and customer systems.
These 11 steps will help you to develop a high-level GTM strategy:
Identify your buyer personas to help you pinpoint the people who will benefit the most from your product.
Create your value matrix to establish the value your product provides for each pain point of your potential buyers.
Define your Unique Selling Points (USPs) with market and competitor analysis to give your product an edge over the competition.
Develop a pricing strategy that attracts customers, keeps them engaged, and encourages them to upgrade throughout the customer cycle.
Map the customer journey, including marketing funnels, the buying process, customer onboarding, and buyer retention phases.
Build a solid marketing plan using all of your GTM insights to plan marketing for the product and customer cycles.
Implement a dedicated sales process that leads buyers through every possible touchpoint on the purchase path.
Set out your customer support systems in advance to maximise customer satisfaction, retention, and value.
Focus on product optimisation by setting out a roadmap for optimising the onboarding process and product experience.
Maximise customer value with targeted plans for buyer retention, upselling, and cross-selling.
Maximise lead generation with inbound marketing, product reviews, affiliate marketing, comparison sites, etc.
By following these 11 steps, you'll create a go-to-market strategy that helps you build products for success. They'll also guide you through the marketing and sales planning that translates into revenue at each stage of growth.
Select the right tools for the job
To complete the steps listed above, you'll need the right toolkit to perform the research and planning involved. But the right go-to-market strategy tool won't just help you to plan – it should also give you what you need to take action.
We've hand-selected a set of GTM strategy tools for researching, planning, launching, and managing your product.
Our top 11 choices for the best go-to-market software are:
Brandwatch: Find your target audience and USPs.
Similarweb: Analyse your SEO and PPC competitors.
TrueNorth: Plan and manage your multichannel marketing strategy.
ZoomInfo: Identify high-value B2B prospects.
Miro: Visually plan your GTM strategy with built-in templates.
Funnelytics: Map out your funnels and customer journey.
ActiveCampaign: Integrate sales, marketing and customer support.
PartnerStack: Find partners and manage your affiliate marketing strategy.
Paddle: Manage and optimise your product pricing strategy.
Userpilot: Optimise onboarding and product experiences.
VWO Fullstack: Run experiments across your website, software, and apps.
Let's take a look at our favourite tools, and how they might help your product, before and after your launch.
1. Brandwatch Review
Brandwatch is a social monitoring system that provides key market insights. All based on real comments and conversations that your target audiences are having online.
You can use the platform to find out what people are saying about your industry, brand, and competition. Brandwatch connects you with billions of social posts, reviews, and direct interactions with brands.
In terms of developing your go-to-market strategy, you can use these insights to perform key market research. You can identify your target audience, analyse their pain points, and gain an understanding of the demand for your product.
You can learn which features people love, the features they want, and the strengths and weaknesses of your competitors.
The best Brandwatch features are:
Market Research – Survey billions of people around the world for fast, real-time market insights.
Trend Analysis – Identify consumer needs, gaps in the market, and new product opportunities.
Competitor Analysis – Benchmark your performance, brand awareness, and market share against your rivals.
Brand Management – Track conversations about your brand, find out what your customers think, and take informed action.
Crisis Management – Protect your brand by getting on top of issues and potentially negative press quickly.
Data Democratisation – Build a data-driven culture and understanding of your customers at every touchpoint.
Real-Time Data – Track data and collect results from surveys, focus groups, and more, as they happen.
AI Analysis – Gather insights without getting drowned in data by letting Brandwatch's AI technology do the heavy lifting.
With the Trend Analysis tool, you can analyse and predict consumer needs. This will allow you to find gaps in the market and inspire new product ideas.
The Competitor Analysis tool can check how much demand there is for your product, and predict future supply demand.
These insights can guide the product development phase and ensure your product is built for the right audience. You'll also be able to address their needs and stand out from any competition.
Using a pre-launch marketing strategy will maximise demand and generate early interest. You'll have a list of potential customers lined up when your product hits the market.
Once your product has launched, you can use the Brand Management tool to monitor the perception of your product. You'll also be able to benchmark early product performance against your competitors.
You can see how real customers are talking about your product. You'll see what they're saying online and whether your marketing efforts are generating the hype you want and need.
How much does Brandwatch cost?
Brandwatch doesn't publicly list pricing, so we can't give any specific numbers, but we did speak to their sales team.
We discussed two different plan options. Each is based on the amount of analysis performed, so it's very much a usage pricing model.
While we can't give any numbers, the pricing we discussed with Brandwatch fits into the enterprise pricing category. This isn't a complaint – Brandwatch is an enterprise platform and the best system of its kind that we've used.
The insights you gain from Brandwatch would take years to collect through other channels. At that point, the data would be useless, so it all comes down to how much you value market research.
If you're going to perform an in-depth analysis using Brandwatch, you can expect to pay thousands every month. But this tool alone could make the difference between hitting a product bullseye or a total misfire.
Brandwatch Pros
Data Access: Brandwatch gives you access to vast amounts of data for monitoring the market, finding your target audiences, analysing competitors, and managing your brand.
Real-Time Insights: Collecting results from surveys and focus groups normally takes time, but Brandwatch cuts out most of the delays with its real-time data.
Usability: Considering the depth of features and tools, Brandwatch delivers an impressive user experience – once you figure everything out.
Brandwatch Cons
Learning Curve: It takes time to get the most out of Brandwatch's comprehensive analysis platform.
Cumbersome Queries: Advanced queries can be challenging, due to no feedback on how changing parameters will affect the results.
Limited Exporting: Brandwatch limits the data you can export, which can be an issue for reporting in other tools.
Lack of SEO Insights: The big hole in Brandwatch's analysis system is the lack of search marketing insights.
Brandwatch Verdict
Brandwatch is one of the most powerful analysis tools you can use for developing your go-to-market strategy. The platform will help you find your niche in the market and define your target audiences.
You'll also be able to identify customer needs for a product that makes the right kind of impact upon launch. The biggest downside for many companies will be pricing. But you have to weigh the cost against your potential ROI, because the insights can be invaluable.
Keep in mind that Brandwatch is essentially a social listening platform. It's great for analysing conversations, comments, reviews, and other social interactions. But it doesn't provide the more SEO-focused market insights you might be used to getting from search marketing analytics tools.
2. Similarweb Review
Similarweb is a website analytics system that provides market insights based on your competitors' online presence. It helps you to identify your competitors by the keywords they target in their SEO and PPC strategies.
You can also see where they're generating traffic and how their content marketing strategy works. Similarweb offers five products, although we're mainly interested in the first two for the purposes of this article.
Digital Research: Website and app analysis, industry research, and audience insights.
Digital Marketing: Competitor analysis, SEO and PPC data, and affiliate marketing research.
eCommerce: Customer journey, product optimisation, and on-site search.
Sales: Lead generation, lead enrichment, sales engagement, and more.
Investing: Investment ideation, investment monitoring, forecasting, due diligence, etc.
With the Digital Research tool, you can analyse search data to explore market trends. You'll also be able to measure demand and identify your competitors.
Similarweb allows you to analyse online behaviour to pinpoint your target audience. And the Competitor Analysis lets you see the inner workings of the SEO and PPC strategies of similar brands.
This is particularly valuable when it comes to identifying weaknesses in the marketing efforts of your competition.
The best Similarweb features include:
Competitor Analysis: Learn from your rivals' successes and failures.
Keyword Research: Discover the top competitor keywords, plus new and trending keywords.
Referral Info: Find new referral opportunities and earn quality backlinks.
Market Intelligence: Explore your market, discover industry trends, and analyse competitive performance.
Audience Research: Find buyers and understand their behaviour.
Consumer Journey Tracking: Understand the complete customer journey to better define your digital strategy.
Similarweb also has its own sales prospecting system, which you can use to identify potential buyers. This shows you prospects who have a real need for your product. Or lets you find similar products that lack your key selling points.
One of Simialrweb's most important features is its referral research system. It helps you to identify link building and external content opportunities. You can see which websites your rivals are generating traffic (and links) from.
Once your product has launched, you can monitor the performance of your website and landing pages in Similarweb. You can measure your SEO and PPC strategies against the competion.
You can analyse how similar brands generate leads across the consumer journey. This allows you to emulate their best strategies, or to counter them through differentiation.
How much does Similarweb cost?
Similarweb offers a free version of its Research Intelligence tool for a single user with limited historical data and reporting.
It's a useful tool for basic analysis and a great demonstration of what you can expect from the premium version. All in all, it's definitely worth taking a look at.
To get pricing for Similarweb's Premium Research Intelligence tool, you'll have to contact the company's sales team.
Similarweb is more open about the pricing for its Digital Marketing Intelligence system. There's no free tool, but the Essential plan gets you access to most features on the platform.
The Essential plan is $249 per month, and the Advanced plan runs $449 a month. Upgrading to the Advanced plan doesn't give you any new features, but it allows you to analyse more data.
For example, on the Essential plan, you can view up to 50 website results per report. You'll get 100 websites on the Advanced plan.
Likewise, you can view 100 web page results on the Essentials plan. And this is increased to 500 on the Advanced plan.
You'll find more details on Similarweb's pricing page, but here's a quick preview of some of the differences.
Similarweb also offers a customised Ultimate plan that lifts most restrictions and gives you 12+ months of data to analyse.
Similarweb Pros
Depth of Data: Similarweb offers some of the most comprehensive datasets for competitor analysis and marketing insights.
Ease of Use: Even on its advanced plans, Similarweb makes using their platform easy.
UX Design: Despite being one of the oldest systems of its kind, Similarweb delivers an excellent user experience.
Similarweb Cons
Pricey: Paid plans are on the expensive side.
User Limits: The Essential and Advanced paid plans are both limited to one user licence.
Data Accuracy: Similarweb's data isn't as accurate as some of its competitors.
Similarweb Verdict
At a glance, Similarweb and Brandwatch may look like similar tools. But they're built around different technologies and designed for different purposes.
Similarweb's website analysis lifts the lid on your competitors' performance. You can learn from leaders in your niche and identify their weaknesses.
Similarweb is also a capable tool for market and audience research, and it offers insights you won't get from Brandwatch. That being said, Brandwatch's conversation analysis provides more depth in terms of audience sentiment. But Similiarweb tells you more about what users actually do online.
In an ideal world, you would use both systems alongside each other, especially in the early stages. Of course, you'll need to take your go-to-market budget into consideration first.
3. TrueNorth Review
TrueNorth is an intelligent planning and management system. It brings all of your marketing data into one system. This gives you the ability to optimise multichannel strategies from the same place.
TrueNorth offers a complete toolkit for implementing your marketing strategies. You'll be able to create early product demand and a lead generation system, split across four key areas.
Growth Projection: Guide marketing decisions and benchmark performance with data-driven predictions.
Experiments: Produce and prioritise better marketing ideas using data, not a gut feeling.
Timeline: Plan, track, and test campaigns seamlessly from one platform.
Results: Track and measure results, and capture optimisation insights.
Sick of being bogged down with marketing meetings? TrueNorth's innovative ideation features will help your team to develop winning marketing ideas, without adding to your already full schedule.
Simply create ideation sessions on the platform and invite relevant team members. You can work with teammates or individually, and then request feedback when finished.
This means you walk into the first meeting with a list of potential ideas to discuss. No more asking everyone to think of something on the spot.
Once you've got your list of ideas, you can run them through TrueNorth's intelligent prediction engine. You'll then be able to simulate campaigns and predict their outcomes.
All you need to do is apply the relevant campaign settings. Then the simulator will use your existing performance data (traffic, conversion rates, revenue, etc.) to predict their outcomes.
TrueNorth uses the Impact, Confidence and Ease (ICE) framework. Then it takes your results and automatically prioritises the best marketing ideas.
Some of the best TrueNorth features are:
Campaign Planning: Develop winning marketing ideas faster with built-in tools for each stage of the creative process.
Marketing Timeline: Map out your marketing timeline and assign tasks to get the best out of your team.
Campaign Tracking: Stay on top of everything with a single view – whether running now or upcoming – across all channels.
Growth Projection: Guide your team to the right decisions with data-driven predictions.
Campaign Simulator: Predict the outcome of campaign ideas and select the best strategies.
Milestones: Set milestones for campaigns, based on real data, and optimise campaigns to constantly hit targets.
Campaign Reporting: Measure campaign performance and make adjustments to identify the changes that'll maximise performance.
Campaign Ideation: Generate winning campaign ideas faster with collaborative ideation and simulation.
Idea Capture: Collect ideas from your team outside of meetings, so you're ready to develop the strongest concepts, right away.
Prioritise Ideas: Rank strategies using data-driven campaign simulations.
Historical Comparisons: Compare new ideas to what's already worked.
Agile Analytics: Adapt fast when a campaign isn't working – or double down when it is.
With your list of marketing campaigns prioritised, you can use your predictions to benchmark performance. You can spot performance deviations as soon as they're higher or lower than projections.
This means you can respond to underperforming campaigns (and test fixes) faster. You'll be able to easily bring campaigns back in line with projections. You can also and increase spending to take full advantage and maximise your ROI.
TrueNorth's data-driven approach helps you to manage and optimise your marketing budget. This gives you the ability to invest in the most effective channels and strategies.
How much does TrueNorth cost?
Unlike many of the tools we're looking at today, TrueNorth is fully transparent with its pricing information. It also employs one of the simplest and most affordable pricing models you'll ever come across.
There are no plans, upgrades, or usage limits to worry about and you're not paying for each team member. You pay a flat fee of $99 per month. This gives your whole team access to all of the platform's features.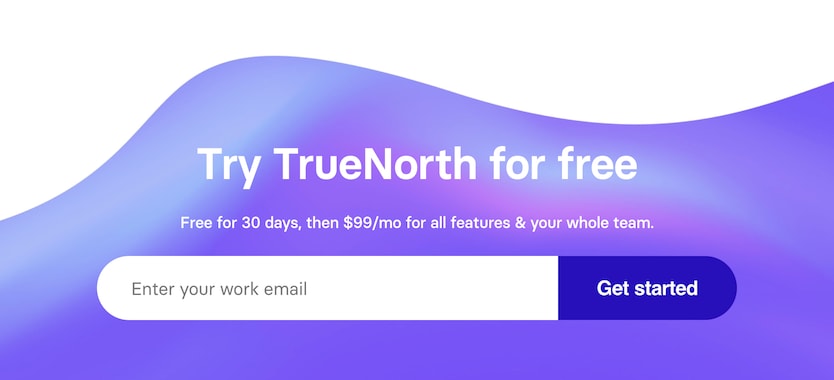 You can try the product for free for 30 days with no obligation or credit card details required. And you'll continue to pay the same amount that you sign up for on day one.
TrueNorth Pros
Built for Marketers: TrueNorth is a dedicated marketing management software that's built specifically for marketers, by marketers.
Campaign Simulator: Prioritise campaign ideas, choose the best creatives, and optimise performance with greater precision.
Simple Pricing: For $99/month, you get access to all of TrueNorth's features for your entire team.
Usability: Optimised to help you launch and optimise campaigns without unnecessary features and settings.
TrueNorth Cons
Marketing Focus: This is not a project management system that moonlights as a marketing software.
No Free Plan: TrueNorth's flat-rate pricing doesn't provide a free plan, but you can try it cost-free for 30 days.
TrueNorth Verdict
TrueNorth is the only product of its kind on the market. It's a complete system for planning, implementing, and managing multi-channel marketing for your whole team.
While there are plenty of project and marketing management platforms available, they always fall short in the marketing planning stage.
TrueNorth brings innovative features to the table with its meeting-less ideation system and campaign simulator. And thanks to the simple pricing, it takes the crown as the best-value product on this list.
4. ZoomInfo Review
While other tools offer prospecting tools, ZoomInfo is the class-leading system for finding software and product buyers. As of this writing, it's our preferred B2B prospecting system.
With ZoomInfo, you can pinpoint the people making purchase decisions, and reach out to prospects who are ready to buy. You can find audiences researching specific topics or looking at rival software tools.
For developing your go-to-market strategy, ZoomInfo helps you create ultra-detail buyer personas. You can also pinpoint the interests, pain points, and USPs that will convince them to buy.
The best ZoomInfo features include:
Contact and Company Search: Get the most accurate B2B contact data, including direct dials to verified email addresses.
Contact Tracking: Easily track your account champions and key contacts to stay informed of where your best relationships are.
Predictive Scoring: Predict an account's buying interest based on a predictive model.
Website Visitor Tracking: Convert more traffic using real-time insights and on-page behaviours.
Display Advertising: Target high-value accounts and buyers within your addressable market.
Form Complete: Maximise lead conversions and improve data quality with low-risk, email-only web forms.
Data-Driven Workflows: Instantly trigger actions based on the signals that matter most to your business.
ZoomInfo will help you create a more effective go-to-market strategy. It will also help you develop a more successful product by connecting you with the people you're going to target.
With detailed buyer personas, you'll gain a deeper understanding of what they need from your software. Uncover the features that really matter, buyer expectations, and the price points you have to satisfy.
The platform's AI technology will help you pinpoint your ideal customers at every stage of growth. On top of that, ZoomInfo will automatically generate new buyer personas as your business matures.
ZoomInfo is an excellent planning tool, but it's an even more powerful marketing and sales system. Once your product is released, and you need to turn insights into paying customers, ZoomInfo is there for you.
The platform will connect you with prospects who are ready to buy, help you refine your pipelines, and streamline your sales strategy to close more deals with less effort.
How much does ZoomInfo cost?
Unfortunately, ZoomInfo doesn't share any pricing details on its website. But you can request pricing information for the company's three core products by providing a business email address.
ZoomInfo is an enterprise B2B marketing system, and this should tell you to expect enterprise fees.
But you'll use all of ZoomInfo's tools long after the launch of your product to maximise revenue at each stage of the customer and product lifecycle. Keep this in mind if you're worried about pricing.
ZoomInfo Pros
Contact Data: The accuracy of ZoomInfo's contact data is as good as we've found among ABM systems.
Data Filters: Excellent filters and controls to segment data and refine results and find the info you need from searches.
Product Improvements: ZoomInfo is constantly improving its product and acquiring other products to improve its system.
ZoomInfo Cons
Pricey: ZoomInfo is an enterprise system and priced accordingly – but it pays for itself if it helps you close at least one deal every year.
Learning Curve: It takes time to start getting the best out of the system.
Customer Service: Not the fastest response times from technical support.
ZoomInfo Verdict
If you're looking for a B2B prospecting tool to help you find high-value buyers, ZoomInfo is a solid choice.
This platform will not only help you plan a winning go-to-market strategy. It will also guide you through developing high-performance products, maximising growth, and targeting the biggest-spending buyers.
5. Miro Review
Miro is a collaborative whiteboard platform that helps teams visually plan projects, strategies, and resources. Once you've completed the analysis stages of your GTM strategy, Miro helps your team to plan its implementation.
Essentially, this is a collaborative productivity platform, but there's something a little more specialist that deserves our attention. Miro also comes with an extensive library of templates to help your team plan projects faster.
In fact, it even has a dedicated go-to-market strategy template. You'll also find templates for creating a value matrix, buyer persona, and product roadmap.
In truth, Miro isn't the best project planning tool, but this isn't why we're recommending it. The platform's team whiteboard experience, productivity tools, and dedicated GTM templates are what earn it a spot in this article.
The key Miro features are:
Diagram Builder: Create funnels and other diagrams with an intuitive drag-and-drop builder.
GTM Templates: Dedicated templates for planning your GTM strategy and many other projects.
Custom Templates: Build, share and reuse custom templates with your team (paid only).
Video Chat: Run video meetings to collaborate via Miro (paid only).
Timer: Keep on schedule with a built-in music timer (paid only).
Integrations: Strong third-party integration options on all plans.
Miro's standout feature is its digital whiteboard that helps your team to plan projects and tasks from anywhere. Your team can use the system to plan their own tasks or work together in real-time.
You can collaborate with teammates as live editors or through video sessions, where ongoing feedback and brainstorming are required.
Aside from the dedicated GTM templates, you can also create and save your own templates. Miro also allows you to duplicate, edit, and save existing templates to suit your own needs.
Team members can share boards, request or provide feedback, and seek approval before implementing plans. You can even have team members anonymously approve or disapprove of ideas.
How much does Miro cost?
Miro offers a free plan that includes basic features for unlimited team members. It also gives you access to Miro's library of templates and covers you for up to three editable boards.
The Team plan costs $8 a month per user and opens the video chat feature. It also allows you to have unlimited editable boards, create custom templates, and invite public collaborators.
The Business plan costs $16 a month per user, and it opens up Miro's Smart Diagramming and Smart Meetings features.
With Smart Diagramming, you can quickly create some of the most common diagram types, like data flows and process models.
Miro's "advanced shape packs" help you to spend less time creating custom shapes, so you can put plans together faster.
Smart Meetings help you with effective collaborations by allowing you to control what participants see and which tools are available.
If you invite someone to create a diagram, you can make sure they have the right tools without added clutter.
Miro Pros
Free Plan: Miro's restricted free plan still gives you the essential basics for funnel mapping.
Affordability: The paid plans are competitively priced and offer some advanced features.
Collaboration: Miro excels at collaboration, especially with the advanced features available on the paid plans.
Usability: The drag-and-drop builder provides a quality experience.
Integrations: Even on the free plan, you get a depth of integration options to enhance functionality with other apps.
Miro Cons
No Funnel Mapping: Miro is an excellent diagramming tool, but it's not designed for the specific role of funnel mapping.
Missing Features: Miro doesn't offer some of the features available from dedicated funnel mapping tools.
No Funnel Analytics: Among the missing features, the lack of funnel analytics is the most problematic.
Miro Verdict
Miro will help your team visually plan each stage of your go-to-market strategy. And its library of GTM templates will get you there faster.
While the free plan limits collaboration features, Miro is still a capable tool. As long as you can plan everything in three editable boards, you can use it for unlimited team members.
That being said, you'll probably want to upgrade to one of the paid plans sooner than later. You can manage unlimited editable boards and take advantage of video sessions. This is extra helpful if you're team is working remotely or on flexible hours.
6. Funnelytics Review
Funnleytics is a funnel mapping tool for visualising and optimising customer journeys throughout the product cycle.
The core feature is the funnel builder, which is essentially a diagramming tool. It's designed specifically for planning and visualising funnels, touchpoints and customer journeys.
Unlike a general-purpose diagramming tool (something like Miro, for example), Funnelytics comes with all of the elements you need to visualise funnels.
This will help you build out marketing channels, landing pages, interactions, etc. You won't need to spend any time designing elements from scratch.
You can simply use the drag-and-drop interface to pull these elements from the Funnelytics library and insert them into your visualisation.
That's not the only trick Funnelytics has up its sleeve. The platform also allows you to import marketing and customer data into your funnel maps.
You can track the flow of traffic along the customer journey and optimise your funnels to maximise sales.
Funnelytics also has its own funnel simulation feature. It uses your data to predict the performance of new funnels and gives optimisation opportunities for existing ones.
The best Funnelytics features are:
Funnel Mapping: A drag-and-drop builder designed for funnel mapping.
Customer Insights: Import customer data from multiple sources to see how they move along your funnel.
Funnel Analysis: Create segments, campaign results, and channel performance across your funnels.
Customer Journeys: Map out customer journeys for different audiences.
Funnel Optimisation: Identify bottlenecks and better segment your customer base.
Templates: Use a funnel design repeatedly, without having to start from scratch every time.
Funnel Simulations: Forecast the performance of your funnel maps to determine whether they'll work.
With Funnelytics, you can build and test customer journeys based on data-driven insights. You'll be able to optimise the user experience to maximise sales, engagement, and retention.
You can identify gaps in your funnels where leads are slipping through touchpoints and intervene to plug the leaks.
By tracking the path users take from your inbound channels, you can prove which marketing strategies are converting leads. This will allow you to reallocate funds to generate the highest ROI.
Despite the user interface being a little dated, Funnelytics is intuitive and responsive, but more importantly, it's highly functional.
The data import, analytics, and forecasting features help you craft high-performance funnels that nurture leads into paying customers.
How much does Funnelytics cost?
Funnelytics no longer shows pricing information on its website, but here's what it looked like when we signed up.
They do offer a "free forever" Starter plan that you can sign up for today and start using.
We can't guarantee the current pricing is the same. Or that the feature limitations on the Starter plan haven't changed since we first tested Funnelytics.
But the above info should give you an idea of what you'll be looking at if you decide to upgrade.
Funnelytics Pros
Free Plan: The free Funnelytics plan gives you an excellent funnel mapping tool, without the platform's more advanced features.
Usability: The funnel mapping tool itself provides a great experience, even if the platform is a bit tricky to use.
Advanced Features: Funnel analytics, customer data, and funnel simulator are all available on paid plans.
Funnelytics Cons
Exclusive Access: Funnelytics has set up exclusive access to the full version of its software in recent years.
Pricey: Funnelytics no longer provides pricing info, but it wasn't the cheapest tool when we first tried it out.
Funnelytics Verdict
Funnelytics topped our list of the best funnel mapping tools earlier this year. It's an intelligent funnel visualisation and optimisation system that's hard to beat.
Far more than a funnel diagramming tool, the platform also allows you to import your marketing data. You can analyse the performance of your funnels and optimise the customer experience to maximise sales and retention.
It's not the cheapest tool in its category, but Funnelytics is the best choice for go-to-market strategy planning funnels.
7. ActiveCampaign Review
ActiveCampaign is an all-in-one CRM, email marketing, and automation platform that integrates your sales, marketing, and customer support systems.
Customer journeys can be complex, which makes nurturing leads tough in every sales stage. A platform like ActiveCampaign can help you keep customers happy, engaged, and paying.
With class-leading automation technology, ActiveCampaign takes the hard work out of nurturing prospects through the buying process.
You can fully automate marketing campaigns, sales processes, and customer support systems. You're also able to create email marketing campaigns to maximise customer engagement and reduce churn.
The best ActiveCampaign features include:
Email Marketing: Everything you need to manage winning email marketing campaigns – email builder, templates, campaign workflows, reporting, and more.
Marketing Automation: ActiveCampaign delivers some of the best marketing automation features around.
Lead Nurturing: Turn leads into paying customers by nurturing them through the buying process.
Customer Cycle Management: Manage campaigns at every stage of the customer cycle.
Predictive Technology: Predict lead scores and customer value, and send predictive content in your emails.
Website Tracking: Build hyper-relevant campaigns by tracking website activity and automatic email delivery.
Personalisation: Create bespoke experiences across multiple channels.
Built-In CRM: Manage all of your customer data in ActiveCampaign with its built-in CRM.
Marketing Reporting: Track campaign performance and optimise results.
With built-in website tracking, you can see how users interact with your website, and which lead generation campaigns inspire conversions.
As soon as prospects convert, their data is stored in ActiveCampaign's CRM. You can then use their profiles to trigger automated lead nurturing campaigns.
For example, you can target leads to complete specific actions with tailored email campaigns. This will increase incentives and encourage subscribers to take the next step toward purchasing.
ActiveCampaign has its own intelligent predictive technology to enhance your marketing actions. The system automatically scores leads based on their likelihood to convert. It also provides their expected value as a customer, so you can prioritise your leads.
The system can also calculate customer health scores, which predict the likelihood of churning. This allows you to intervene before you lose buyers.
On the customer support side, you can manage email support and online documentation on your website. But ActiveCampaign doesn't include any phone call system. You'll have to get this from elsewhere (Zendesk is a good option).
Despite this, ActiveCampaign offers one of the best marketing, sales, and customer support systems available. Their class-leading automation helps you manage prospects throughout the customer cycle.
How much does ActiveCampaign cost?
ActiveCampaign has an interactive pricing page. There are four plans, but prices are determined by the number of contacts you have stored on the built-in CRM.
The benefit of ActiveCampaign's contact-based pricing system is the low entry point. Comparable systems typically cost hundreds or thousands per month.
But ActiveCampaign ensures its platform is affordable for smaller companies with fewer contacts to manage.
ActiveCampaign is an affordable way to grow in the earliest stages, and it stays that way as your company matures.
Yes, you have to deal with more price increases than you might with other providers. But you're only charged as your customer list grows and you're generating more revenue.
By the time you have 25,000 contacts, you're looking at 4,900% growth. Yet your software fees are still only $229 a month on the Lite plan.
ActiveCampaign's pricing takes a little time to get your head around, but it keeps the platform affordable throughout business growth.
ActiveCampaign Pros
Marketing Automation: ActiveCampaign is the best marketing automation system we've used, and far more affordable than similar products.
Built-In CRM: Manage all of your customer data in one place, and use it to maximise sales.
Lead nurturing: ActiveCampaign excels at nurturing leads into paying customers, and customers into repeat buyers.
Low Entry Price: The pricing model allows growing businesses to access software that's normally reserved for enterprise companies.
ActiveCampaign Cons
Complex Pricing: You have to know what you're signing up for and understand your future software needs.
Learning Curve: Given the depth of features, it's going to take time for your team to get familiar with everything.
ActiveCampaign Verdict
ActiveCampaign is the enterprise-grade marketing, sales, and customer support system designed for businesses of all sizes.
Low-entry pricing makes it affordable for companies at every stage of business development. And mild price increases keep the software fees reasonable, even as the platform drives more revenue.
If you're looking for a highly-automated system that tames the workload of business growth, ActiveCampaign is a very solid choice.
8. PartnerStack Review
PartnerStack is an affiliate marketing platform designed specifically for connecting software subscription companies with affiliate partners.
Affiliate marketing is a great way to increase awareness of your product after launch. You can also tap into the reach of established publishers to send qualified traffic to your website.
With PartnerStack, you can create an affiliate programme on your own terms. You'll be able to set your rewards and find relevant partners for your product.
Potential partners can also find your programme by using PartnerStack's exclusive marketplace.
As the platform is specific to SaaS, you're networking with publishers who understand the industry. They have the technical knowledge to promote your product and have experience with companies like yours.
The best PartnerStack features include:
PartnerStack Marketplace: Find the best SaaS partner programmes through an exclusive network of software companies.
Automate Programmes: Find new partners, automatically trigger new offers, and create automated email campaigns.
Custom Referral Links: Create custom referral links to include your brand name or social media handle.
Dynamic Referral Links: Create unlimited custom referral links for any partner page.
Link Tracking: Use subIDs to track links and optimise promotions.
Partner Recommendations: PartnerStack recommends new opportunities based on your existing partnerships.
Partner Teams: Work with teammates and other people on programs by creating partner teams.
Easy Payments: Withdraw your rewards using Stripe or PayPal.
PartnerStack gives you full control over managing your affiliate programmes. You can set flat rewards, recurring percentage-based rewards, and other incentives to attract (and keep) the best partners.
The platform also has its own reporting system, so you can keep track of the performance of your programmes. You can also identify your most profitable partnerships and use these insights to find similar affiliates.
ParnterStack works automatically to match you with relevant partners and help you optimise your offers to attract more publishers.
PartnerStack isn't only designed for SaaS companies looking to network with affiliate marketers.
The platform is also designed to help partners maximise their affiliate income. You'll get your own dashboard with access to resources, reports, and easy withdrawal payments.
This system attracts the best SaaS affiliate marketers and motivates them to continue working with partner companies.
How much does PartnerStack cost?
PartnerStack doesn't provide any pricing information on its website. But you're looking at the lower end of enterprise starting prices with this platform.
Pricing is based on a monthly standard fee, plus a percentage of payouts made to partners. We suspect the payout fee may depend on the volume of payouts you're making each month. But you'll have to contact the company's sales team for more details.
It's quite typical for affiliate marketing platforms to keep their pricing details under wraps. This can be frustrating when you have to talk with multiple providers before you can even make a comparison.
All we can say is that PartnerStack won't be the cheapest option you'll come across. But it's the best system for SaaS companies (and SaaS affiliate marketers). So, we have no reservations about recommending it.
PartnerStack Pros
Automation: PartnerStack helps you fully automate affiliate partnerships.
Usability: The system is intuitive, easy to use, and smooth in operation.
Customer Service: From onboarding to technical support, PartnerStack's customer service teams are one of the company's biggest assets.
PartnerStack Cons
Pricing: PartnerStack doesn't disclose its pricing publicly, but it's firmly in the enterprise price bracket.
Partner Vetting: It would be helpful to see affiliate profile scores, relevant industries, and historical performance data.
Limited Payment Gateways: Currently, PayPal and Stripe are the only payment gateways supported.
PartnerStack Verdict
If you have a SaaS product, PartnerStack is the place to find and manage high-quality affiliate partners.
The platform is a dedicated SaaS marketplace that connects you with thousands of expert partners. And it automatically helps you to develop long-term working relationships with promoters.
PartnerStack is also the best platform for partners to find SaaS affiliate programmes. The software provides them with their own interface to manage their end of the partnership.
By taking care of both sides of the relationship, PartnerStack attracts the best SaaS affiliate marketers. It helps them maximise their own revenue, which keeps them incentivised to continue generating opportunities for you.
9. Paddle Review
Paddle is a subscription management and revenue delivery platform for SaaS companies that want to maximise global revenue.
If you're launching in multiple markets, you have to make sure your company remains compliant in every territory. This can be a major hurdle for SaaS companies selling to overseas customers.
This is where Paddle's Sales Tax Agony Index can be a lifesaver. It lists the most "painful" tax jurisdictions around the world.
Paddle isn't trying to put you off from launching your product in international markets. In fact, it's encouraging you by handling global tax compliance for you.
And Paddle takes full legal responsibility, so you're 100% protected if anything ever goes wrong.
This means you can forget about any international tax agony and concentrate on selling your product. All while enjoying the confidence of knowing tax compliance is all taken care of for you.
You can find more details on the company's tax and compliance page. But the short version is Paddle assumes the role of Merchant of Record on your behalf. They take the responsibility for maintaining tax compliance for all revenue generated with Paddle.
Tax management isn't the only role Paddle's software plays. It also helps you create, manage, and optimise your pricing strategy across four key stages of software payments.
Global Checkout: This allows you to take payments from new customers, anywhere in the world.
Subscriptions: Subscription management helps you maximise monthly recurring revenue (MRR).
Invoicing: Get paid faster and follow up on missed payments with built-in invoicing and dunning.
Compliance: Paddle handles tax, payment, and data compliance for you.
We've already discussed tax compliance, but Paddle also takes the pain out of subscription management. You'll be able to easily maximise monthly recurring revenue (MRR).
Some key Paddle features include:
SaaS Subscriptions: Paddle offers extensive subscription features specifically designed for SaaS companies and software products.
Managed Payments: Instant access to established international banking infrastructure for easy payments in every country and currency.
Billing Models: Smart subscription logic helps you create recurring, metered, on-time, and other billing models in a matter of clicks.
Upgrades and Downgrades: Manage customers with ease as they upgrade or downgrade from plans.
Free Trials and Freemium: Manage free trials, free plans, and freemium strategies within Paddle.
Integrated Checkout: Take payments by card or PayPal using Paddle's built-in checkout.
Invoicing: Create and send invoices to customers automatically.
Automated Sales Tax: Paddle calculates, files, and remits your sales taxes.
End-to-End Dunning: Paddle automates dunning across the entire customer journey to recover lost revenue.
Paddle Data Core: Advanced data capture and reporting for insights on your business performance.
Managed Support: Paddle's excellent support team helps you deal with any technical issues and handle tax compliance for you.
With end-to-end subscription management, you can test and optimise your pricing model. You'll be able to find the perfect price points for each plan.
You can craft an upgrade path that keeps users subscribed, engaged, and working towards the next upgrade.
The platform gives you complete control over product pricing, no matter how complex. For example, you can set up tiered pricing plans for multiple customer profiles. You can also give sales reps the freedom to customise quotes.
Once users are signed up for your product, you keep complete pricing control. There are options for increasing your fees for new customers only. You can inform existing customers of pricing changes and chase missed payments with automated emails.
With this level of control, setting up Paddle and getting to grips with the system can take some time. But the company's support team is excellent.
How much does Paddle cost?
Until recently, Paddle didn't share any pricing details on its website, but this has changed in the past few months.
The company runs a simple pricing model that charges 5% of your revenue, plus $0.05 per transaction.
If you're a high-volume company, you might be able to negotiate a better rate by speaking to the sales team.
Much like TrueNorth, Paddle doesn't run plans or charge you for users. You don't have to worry about upgrade fees or hidden charges.
Paddle Pros
Pricing Management: Paddle provides extensive tools for managing, testing, and optimising your pricing strategy.
Automated Tax: Paddle is the only provider we're aware of that takes full control and responsibility for taxation.
Global Coverage: Excellent coverage for international payments and managed taxation allows you to go truly global.
Dunning: Paddle's advanced, automated dunning features help you recover revenue from missed payments.
Paddle Cons
Monthly Payouts: Some platforms are faster when it comes to payouts.
Fees: The transaction fees can make Paddle a little pricey for mid-to-high volume companies.
Paddle Verdict
Paddle is the ultimate subscription management system and so much more. It's the only provider that fully manages international tax compliance for its customers. This is a huge gain considering the minefield that is tax compliance for SaaS products.
Beyond taxation, the system gives you complete control over your pricing strategy and subscription management. You can find the right balance of pricing, plans, upgrade, and retention to maximise revenue.
Industry-leading dunning features automatically chase up missed payments for you. You can recover lost revenue and re-engage customers who might otherwise churn.
10. Userpilot
Onboarding is one of the most important processes in the customer journey for software products. It's also one of the most difficult to optimise.
Convincing prospects to sign up on your website is hard enough. Getting them to complete the setup process and actually use your software is another challenge entirely.
Until customers are using and paying for your software, your go-to-market strategy isn't generating any ROI. You need an onboarding system that guides users through setup and helps them use your product as quickly as possible.
Userpilot is a product optimisation system that helps you refine the experience of your software. You'll be able to maximise engagement, and ultimately, recurring revenue. The platform is built around three key feature sets:
Growth Insights: Track and analyse your product's growth.
Engagement Layer: Help new and existing users discover more.
User Sentiment: Get qualitative user feedback at scale.
Within the second feature set, Userpilot includes a toolkit for optimising the onboarding process. You'll be able to maximise successful completions and turn conversions into paying customers.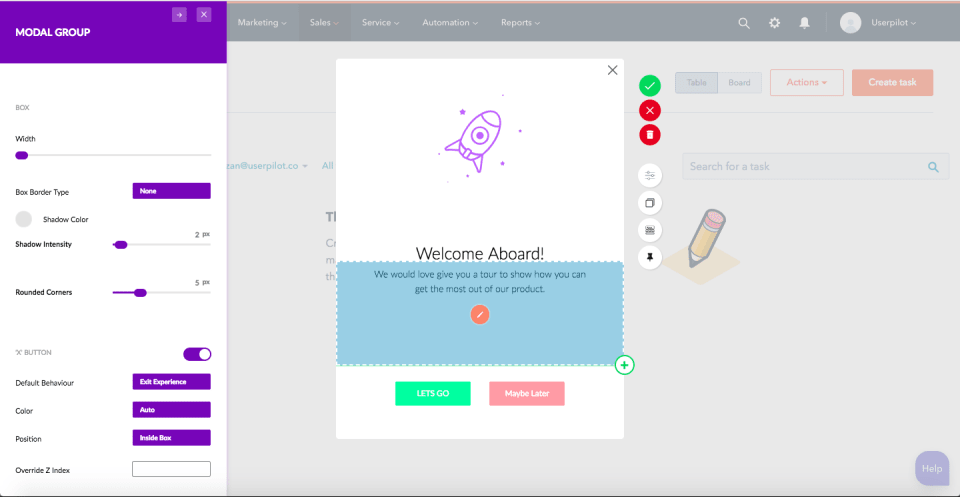 The best Userpilot features are:
Product Analytics: Gain insights into product usage, feature adoption, and goal completions in your software.
Goal Tracking: Define and track goals throughout the customer journey.
Usage Trends: Identify user trends, changes in behaviour, and roadblocks to goal completions.
In-App Messaging: Deliver messages inside your product to personalise and enhance the experience.
Onboarding Optimisation: Maximise the number of new signups who complete the onboarding process and start using your software.
Contextual Messaging: Deliver in-app messages based on user behaviour to guide them towards features and goals.
Software A/B Testing: Test changes with in-app experiments.
User Feedback: Collect feedback from users for qualitative insights on customer satisfaction.
Net Promoter Scores: Measure your net promoter score (NPS) to calculate how likely customers are to recommend your product.
While there are plenty of product optimisation and user feedback platforms, Userpilot's onboarding toolkit is the best we've used.
You can create and test unique onboarding experiences for different buyer personas to satisfy the expectations of different customer types.
You can extend the onboarding experience with prompts, in-app tutorials, and contextual hints and tips.
This creates an engaging process that points new users to the most relevant features and helps them get value faster.
Beyond the onboarding experience, Userpilot provides extensive tools for optimising the wider experience of your software. You'll get help with maximising engagement, customer retention, and in-app marketing.
Userpilot is the most comprehensive system we've used, and not only for optimising software products. It also supports the customer cycle as the relationship matures beyond the initial conversion.
How much does Userpilot cost?
Userpilot's Growth plan starts at $249 a month for up to 2,500 monthly active users. It maxes out at $549 a month for up to 50,000 users. At that point, you have to speak to the sales team for custom pricing.
Product optimisation software doesn't come cheap and, considering everything Userpilot has to offer, these prices are more than reasonable.
Userpilot Pros
Experience Optimisation: A comprehensive toolkit for analysing, testing, and improving product experiences.
Onboarding: Userpilot provides an excellent toolkit for maximising successful signups.
Usability: Userpilot leads by example with an excellent user experience.
Userpilot Cons
Starting Price: While competitively priced against similar products, Userpilot's starting fees may be too high for smaller ventures.
Online Documentation: New users could benefit from having more online documentation available.
Userpilot Verdict
Userpilot is a comprehensive product optimisation system with competitive pricing that makes it relatively affordable in a typically expensive field.
It provides an extensive toolkit for every stage of product development in one system. The onboarding optimisation features are the best we've ever used.
11. VWO
VWO is a comprehensive optimisation platform for running data-driven experiments across websites, mobile apps, and software products.
This provides a crucial toolkit for implementing your go-to-market strategy after launch. You'll be able to maximise website conversions and product engagement, and enhance the customer experience.
VWO splits its system into five key products:
Testing: A system for running A/B, multivariate, and split URL tests.
Insights: Analyse user behaviour with heatmaps, funnel tracking, session recordings, and more.
Fullstack: Test software products and optimise experiences with mobile and server-side testing.
Engage: Maximise website engagement with push notifications, cart abandonment campaigns, and Facebook Messenger.
VWO Plan: Discover growth opportunities and ways to optimise your multi-channel strategies.
For GTM strategies, the first three products are particularly important, but all five could add to your post-launch ROI.
The best VWO features are:
FullStack: Run experiments inside your software to maximise engagement, conversion goals, and renewals.
A/B Testing: Run experiments on web pages to maximise conversions.
Software Testing: Run experiments inside your app or software to increase engagement and retention.
Lead Capture: Add hello bars, modals, pop-ups, and other lead generation tools to your website.
Retargeting: Reach out to lost prospects with relevant, contextual messaging to bring them back into your sales funnel.
Onboarding Optimisation: Close the gap between conversion and adoption by optimising your onboarding process.
Heatmaps: See how users interact with your web pages and key elements.
Pricing Strategies: Test different pricing strategies to maximise revenue.
Form Optimisation: Reduce form abandonment by identifying possible drop-off causes.
On-Page Surveys: Collect feedback as users interact with your website.
Feature Rollout: Deliver new features confidently and efficiently by rolling out in stages.
With VWO Testing, you can run experiments on your website to increase conversion rates. The product makes it easy to set up and manage tests with dedicated tools.
VWO's intelligence engine can segment traffic for you, based on user behaviour. This allows you to enhance the accuracy of your tests. You can also manually choose how traffic is divided.
With VWO Insights, you can easily learn more about user behaviour. Funnel analysis, session recordings, and heatmaps identify UX issues and conversion killers on your website.
Combined with VWO testing, this gives you the complete toolkit for optimising your website to maximise conversions and user numbers.
Then, you've got VWO Fullstack, which allows you to run server-side experiments for web or mobile apps. You can launch experiments from any major platform or language, including iOS, Android, Python, and Node.js.
You can test new features, manage rollouts with feature flags, test updates, and optimise churn factors from one system.
How much does VWO cost?
Unfortunately, VWO doesn't list any pricing details on its website. It's still worth visiting the pricing page to get a breakdown of what's available on each plan.
All we can really say is that VWO is enterprise-grade optimisation software. Don't expect bargain fees when you request a pricing quote.
Conversion optimisation software tends to be expensive, so VWO isn't going to be the cheapest platform in your GTM toolkit.
That being said, VWO is competitively priced (bordering on aggressively priced) for its category. And it delivers excellent value in relation to its direct rivals.
VWO Pros
Complete CRO System: One of the most comprehensive conversion optimisation platforms on the market.
Usability: Intuitive interfaces and navigation make the system easy to use.
VWO Cons
Pricing Info: VWO no longer provides any pricing information, so you have to contact the sales team for details.
Learning Curve: A/B testing is tricky and it takes time to get the best out of a system like this.
VWO Verdict
As far as we're concerned, VWO offers the best value for a comprehensive conversion optimisation system.
The platform doesn't earn its place in this recommendation because it's the best CRO or software optimisation product available.
But because it competes with the best at a lower price point – sometimes significantly lower.
Build Your GTM Strategy
We've carefully selected platforms that will continue to add value to your product after launch.
All of the tools we've looked at fill different roles in developing and implementing a go-to-market strategy. Whichever tool you choose, we hope this guide will help you build the right go-to-market strategy for your team.