You want to grow your business – and need email marketing software that's easy to use, affordable, and will turn your leads into customers – right?
It sounds simple enough, but with an overwhelming 450+ email marketing tools to choose from, in a rapidly-changing market, and with every email marketing company's website saying the same thing, it's anything but.
Which is why we created this guide; the only comparison of email marketing software that's objective, regularly updated, and based on a comprehensive amount of surveys, experience and data – lots of data.

You can access the dataset we use to identify the top 10 email marketing software providers at the end of this guide.
The following top 10 list is the result of hundreds of hours of research, that I hope will assist you in choosing the perfect email marketing software for you.
The 10 Best Email Marketing Software
Below, we've outlined a candid review of each tool's pros and cons. We then break down the factors that define great email marketing software, with a head-to-head comparison of all ten email marketing tools across all nine factors; from affordability and ease of use to integrations and deliverability.
______

Best for small businesses & enterprises
Once an underdog, ActiveCampaign is now one of the most popular email marketing tools with over 90,000 small businesses customers.
Impressively, they've achieved this organically by building a product that's both easy to use and one of the most affordable in the email marketing space.
ActiveCampaign pioneered the visual automation builder which, unlike other tools that require expensive consultants and training to use, enables anyone to craft powerful email automation sequences with no prior experience needed.
And despite being so easy to use, ActiveCampaign is rich in revenue-boosting features. From predictive sending and predictive content to triggering SMS messages or site messages on your website, ActiveCampaign provides an exceptional toolkit for small businesses to grow their business.
One of my favourite features in ActiveCampaign is the ability to run A/B split tests inside of automation sequences, enabling you to sit back and let your automation sequences optimise themselves while you focus on more important things.
In 2016, we decided to move all of our ventures' email marketing onto ActiveCampaign away from a tool called GetResponse (which was becoming outdated and failing to meet our email marketing needs).
Since then, we've automated our entire sales process (meaning we haven't needed to hire any sales staff), virtually all of our lead nurturing, customer onboarding, and even our internal processes like employee onboarding.
ActiveCampaign is an all-in-one sales and marketing tool for small businesses, so it comes with an in-built CRM system to manage yours sales, live chat, and of course email marketing automation.
And, incredibly, they've done all of this with a price tag that's literally 1/10th of many email marketing tools featured in this guide.
There aren't many bad things to say about ActiveCampaign, particularly as they are constantly innovating and improving the product, but one area where I've always felt ActiveCampaign is lacking is their reporting.
While it has improved in recent years with the introduction of goal tracking and attribution, ActiveCampaign's reporting isn't quite on par with the likes of Hubspot or Autopilot. It's worth pointing out, though, that they cost significantly more.
For the vast majority of small businesses looking for a great email marketing tool that's easy to use and affordable, ActiveCampaign is likely the best balance of power, affordability and ease of use.
Best for non-profits and small agencies
There are many email marketing tools designed for beginners, but most come at the cost of being over-simplified and lacking in features.
Not so with Moosend.
While you'd be hard-pressed to find an easier-to-use tool than Moosend, their platform offers all of the essentials, from well-designed templates to a visual campaign builder, to some unexpectedly advanced features, like weather-based email triggers and AI cross-selling recommendations.

While Moosend's feature set is less robust in comparison to ActiveCampaign, you do get access to virtually all features from $10/month.
This makes Moosend a good option for small agencies, where having a tool that doesn't require much internal or client training is key, yet must also be powerful enough to drive results without breaking the bank.
Moosend also enables agencies to white label the platform and set a markup for clients to earn a small profit from licensing the software to clients.
Moosend offers one of the most generous discounts for non-profits at 25%, making it a great choice for non-profits looking for a simple tool to send newsletters.
On the downside, Moosend is fairly weak on reporting. In contrast to a tool like Hubspot, which I'll elaborate on next, Moosend's analytics are limited to basic email insights (like open rates and unsubscribes), whereas many of the tools in this guide focus more on showing email's impact on sales and revenue.
Best for B2B Service Businesses & Large Agencies
Hubspot is world-class in offering businesses an all-in-one sales and marketing platform, that includes a CRM, landing pages, email marketing, marketing automation, chat, forms, and everything in between.
While some argue that 'trying to do everything' is Hubspot's downfall, it does enable them to do one thing exceptionally well; Reporting.
"Half the money I spend on advertising is wasted; the trouble is I don't know which half."

– John Wanamaker
Mr Wanamaker, obviously, didn't use Hubspot.
By using Hubspot as the backbone of your marketing and sales, you can easily attribute every dollar in revenue back to the marketing campaign, newsletter, or blog post that influenced each sale. In this sense, Hubspot is more of a CRM that offers email marketing and automation, rather than vice versa.

A word of caution about Hubspot's price-creep.
Hubspot position themselves as an affordable option for small businesses by offering (very limited) free versions of their products – but don't be fooled by the Hubspot gateway-drug. Their platform becomes exponentially expensive as your list or feature requirements grow.
One business owner I spoke with started on a $50/mo plan, and within a year needed a $2,000/mo plan that had to be paid annually. The only difference was an extra 15,000 contacts and adding marketing automation, yet they jumped from seeing $50 leave the bank to $24,000.
This is where I feel conflicted about Hubspot.

On the one hand, you could get the same functionality for one-tenth of the price using ActiveCampaign, MooSend, or half of the tools in this guide. On the other hand, if the value of knowing what influenced each sale is a problem worth paying a five-figure sum to solve, then Hubspot is a strong contender.
This is why we suggest that Hubspot is an ideal choice for B2B service companies, where the value of winning an extra one or two clients a year would easily cover the cost of Hubspot. This extends to larger, or more sophisticated, agencies that must provide clients with in-depth reports on their marketing funnel.
If you just need email marketing software, Hubspot is probably overkill. But if your search for email marketing software is part of a wider plan to raise to your marketing game and improve performance across your entire sales and marketing funnel, Hubspot is a strong contender – but don't expect it to be cheap.
Best for eCommerce
They may be the new kid on the block, but Omnisend is quickly becoming the leading marketing platform for eCommerce.
Designed to help eCommerce brands control their marketing across multiple channels, Omnisend offers automated email, SMS, push notifications, and most impressively, integrations with Google Ads, Instagram, Facebook Ads, Messenger, and Whatsapp – which they claim have 10X higher click-through rates than email.
By focusing purely on eCommerce, Omnisend has built innovative email templates designed to reduce cart abandonment and drive repeat buyers. From 'wheel of fortune' offers to virtual scratch cards and birthday discounts, it's evident that Omnisend's built by a team intimately aware of what works in eCommerce.
As you'd expect of an eCommerce email marketing tool, Omnisend hooks into most eCommerce platforms, including Magento, Shopify, and BigCommerce. Where Omnisend goes one step further is in integrating with review, loyalty and help desk platforms, such as Yotpo, Smile.io, and ReCharge.
This not only enables Omnisend to report on how your campaigns impact sales, but enables you to trigger email, SMS and social campaigns based around your customer behaviour to reduce cart abandonment, increase return buyers, drive more product reviews, and more.
If you want the features that make Omnisend stand out, you'll need a PRO account which starts at $199/month for up to 10,000 contacts. While not the cheapest, nor the easiest to use, Omnisend is a good option for eCommerce brands that want one multi-channel platform to rule them all.
Another consideration with a tool like Omnisend is the time required to get it up and running as. For larger eCommerce brands, this is no small task and is where our next email marketing software company offers an interesting proposition.
Best for managed email marketing
When I saw Rejoiner appear so high in our ranking, I thought there was a mistake.

For starters, I hadn't heard of them. Their pricing was off the charts, and yet they had countless glowing reviews from customers. Something wasn't adding up.
After doing some research and speaking with their CEO, Mike Arsenault, I realised this was, in fact, a very different kind of email marketing company.
Unlike the other self-service email marketing platforms in this guide, Rejoiner offers a managed email marketing platform.
They effectively become your outsourced email marketing department, offering à la carte services on everything from email marketing strategy to the copywriting, design and deliverability testing of email campaigns.
As you'd expect, this comes with a hefty price tag. In fact, Mike told me that a typical client pays $4,000 – $6,000/month for their platform and services, and most clients tend to be eCommerce brands in the $5M – $50M revenue range.
For 99% of our readers, this is definitely not the right tool, but for those where email marketing represents a huge revenue opportunity but don't want it to use up precious internal resources, it's a dream come true.
What I most like about Rejoiner is the shared accountability over results. Many brands spend large sums of money on email marketing software, only for the accountability of results to be on their internal team. With Rejoiner, this is flipped on its head, where the company providing the software shares the responsibility for driving incremental revenue.

Best for bloggers
ConvertKit is a relatively simple email marketing tool used almost exclusively by bloggers and online course instructors to develop their personal brands.
Their platform has no bells or whistles. It doesn't even have email templates, as ConvertKit encourages its users to send plain-text emails to increase engagement. As most of its users are individuals trying to build a personal brand this makes sense, but it does make ConvertKit a poor-fit for other use cases.
If you're a creator that just needs a simple tool to serve your audience with regular content, there's no better tool.
If you're just starting out, ConvertKit has kindly offered our readers the ability to open a free account with the ability to send emails to up to 100 contacts (their free plan doesn't normally offer email sending).
Best for transactional email
SendinBlue is best-known as one of the leading transactional email services. Building on this reputation they built an email marketing automation product.
We use SendinBlue to send transactional emails for two of our ventures (Leadformly and Serene), as they're one of the few email marketing providers with servers in the European Union (which helps with our GDPR compliance) and they have good deliverability rates (we're currently at 98%).
While I can't comment on their marketing automation features from first-hand experience, it's evident from our customer surveys that it's good, but perhaps not as powerful as some of the other tools we've featured here.
If you need an email marketing tool with a solid API to get your emails into the inboxes with a good deliverability rate, SendinBlue is an excellent choice.
Best for marketing automation
Gone are the days where email marketing is about sending bulk newsletters.
In today's digital landscape, it's essential for email marketing to be smart; sending the right messages to the right leads at the right time, automatically.
That's why all of our top ten email marketing providers provide marketing automation. As the name would suggest, this is Autopilot's forte. To boot, they have one of the best-designed canvases for building email automation sequences.
Anyone who has ever built an email automation sequence knows how quickly they can become confusing. Autopilot solves this in a rather quirky way, allowing you to annotate your automation sequences with emojis, stickers and explanations, making it easy for teams to collaborate on building sequences.
Yes, it can get messy – but I'd rather that and be able to understand what's going on, than having beautiful automation sequences that take half an hour to interpret.
Another feature I love about Autopilot is its ability to trigger actions in your other tools inside Autopilot. This saves having to configure integrations using a tool like Zapier and makes your sequences much easier to understand.
Autopilot's reporting is also excellent, though, I'll go into this in more detail in our section on reporting and analytics below.
Starting at $49/month for 2,000 contacts, Autopilot is far from the cheapest option, particularly considering that Autopilot does not offer an in-built CRM. However, Autopilot is extremely intuitive and great for teams that need to collaborate on powerful email automation sequences. If we had to move from ActiveCampaign, this is likely where we'd go.

Best for personal projects
At the opposite end of the price spectrum, we have MailerLite, which is among the best email marketing tools for value for money (it's free for sending up to 12,000 emails/month to less than 1,000 contacts).
Unlike the other beginner email marketing tools out there, MailerLite is a universally good tool irrespective of industry. Whether you're growing a small charity, a side-hustle, or are a freelancer starting out, MailerLite offers everything you need to send bulk email marketing campaigns.
If you're a small business, I'd suggest that a tool like ActiveCampaign may be a better fit, as they offer an in-built CRM and more advanced marketing features for roughly the same price.
For beginners and personal projects, where you just need to send beautiful email campaigns to engage your audience, MailerLite is ideal.
If you want to give MailerLite a spin, the folks there have kindly offered Venture Harbour readers an extended 30-day trial (instead of 14 days) via this link.
Best for developers
I'll warn you now, it's about to get technical.
If you're not a developer, jump ahead to this next section on how to pick the best email marketing software for your business, as MoonMail is definitely not going to be the right tool.
But if you know what a GraphQL API is, then you're going to love this one.
The benefits of Amazon SES, without the drawbacks
Amazon's Simple Email Service (SES) is unbeatable from a cost perspective, and the deliverability is world-class. But it creates a huge bottleneck if used to send your marketing campaigns.

Every campaign, typo fix, and email sequence must be briefed as a development task, diverting scarce design and development resources to something that, frankly, is a flagrant waste of developer time.
MoonMail closes this gap. Built on the back of Amazon SES and Lambda, MoonMail gives you the infrastructure benefits of AWS, while enabling you to build your email campaigns in a friendly UI.
And yes, it's an open-source project. Yes, you can upload the software into your AWS instance. Yes, the API is good.
Another upside of using MoonMail is that they do accept clients working in some of the more contentious industries, such as those in the crypto & ICO industry (most email marketing services blacklist these companies).
The main downside of MoonMail is its simplicity. Good luck updating your CRM, running A/B tests, or triggering emails when someone visits your pricing page. While these things are technically possible, it'll take 10X as long achieving them in MoonMail compared to doing the same thing in any of the tools above.
MoonMail would be perfect for a small technical startup, where everyone on the team is fluent in AWS and needs the flexibility and power of SES without the creation of the emails themselves needing to be coded.
Having covered the pros and cons of our top ten email marketing tools, we'll now compare them head-to-head in nine areas that define a great email marketing tool.
What is Great Email Marketing Software?
Your email marketing software must grow your business by saving you time and converting your leads into customers, and those customers into repeat customers, automagically, while you sleep.
From surveying over 10,000 marketers in the process of changing their email marketing software about why they're moving and what's important to them, we discovered nine factors that separate the good from the great:
Of course, every email marketing tool will tell you that they nail all nine, yet by analysing data and observing why marketers leave different email platforms, we're able to capture a far more honest picture.
You can access the dataset we use to determine the top 10 email marketing software providers at the end of this guide.
In this next section, we'll outline the top three email marketing software providers for each of the nine factors, so that you can compare between three solid choices, based on the factors that are most important to you.
1. Best for ease of use
With some email marketing tools, it's taken me three hours to make an email marketing template look acceptable on a mobile device. While all the email marketing tools featured offer visual email builders & easy-to-use interfaces, some are better than others.
While some are easy to use because they offer few bells and whistles, others strike a balance of being powerful while easy to use. The following three tools do the latter:
Rather than explain how easy to use these three tools are, I'll let screenshots of their email editors do the talking.
2. Best for affordability
What differentiates a $100/month tool from a $20/month tool?
Sometimes very little, sometimes a lot. Hubspot, for example, may charge 10X more than most email marketing tools but they offer an all-in-one marketing & sales platform that includes everything from landing pages and live chat, to a social media management tool and CRM. On the other hand, ActiveCampaign offers an enormous amount of value while remaining one of the most affordable email marketing tools on the market.
Comparing email marketing software based on cost alone is a dangerous game. That's why it's important to look at all nine factors in this article to ensure that you're buying the right tool for the job, rather than the cheapest.
"There is hardly anything in the world that some man cannot make a little worse and sell a little cheaper, and the people who consider price only are this man's lawful prey."

– John Ruskin
Caveats aside, here's a detailed comparison of the monthly cost of all ten email marketing tools at three account sizes ordered from most affordable to least.
It would be remiss not to point out that cost and value are not the same thing. Hubspot, ActiveCampaign and, to some extent, Omnisend all offer all-in-one marketing & sales platforms with many features beyond email marketing, while the rest are primarily just for managing and automating email marketing.
Don't let the tail wag the dog
Your email marketing tool is something that you ideally don't want to change often, therefore it pays to choose a tool that offers not only what you need today, but what you'll need for the next few years.
Above all, choose the tool that gives you the best opportunity to grow your business.

3. Best for deliverability
An email marketing tool is worthless if your emails end up in the spam folder. That's why, as dull as it may be, deliverability is a crucial factor.
In order to get the best deliverability rates, there are a few things email marketing services need to do:
Flag clients for review if they receive too many complaints or bounced emails
Remove problematic clients
Monitor blacklists
Manage the reputation of their IP addresses.
All of the email marketing tools in our top ten do all of these. Regardless of which tool you choose, you can expect deliverability rates in the 98-99.9% range.
But if it's particularly important to you to have the highest deliverability rates imaginable, there are three tools in particular that go above and beyond; ActiveCampaign, MoonMail, and Rejoiner.
ActiveCampaign's impressive deliverability is the result of 17 years of optimisation and helping customers write better emails. They offer a very handy 'spam check' tool for predicting how likely an email is to land in the inbox, and if a score is too low it suggests what changes you should make.
MoonMail's high deliverability is a result of it being based on Amazon's SES. The team at Rejoiner have also built numerous tools around deliverability optimisation and also provides services to their clients specifically on improving deliverability.
If you want to take deliverability into your own hands, you may wish to buy a dedicated IP for sending emails. This is a feature offered by all three companies.
4. Best for email marketing features
If you try any of the email marketing tools in this article, you'll find that they all offer the standard features that you'd expect from an email marketing tool, such as visual email campaign builders, pre-designed email templates, and autoresponders.
Only a handful go above and beyond with additional email marketing features designed to save you time and get better results. Here are our top three email marketing tools that go above and beyond with features.
Automation A/B Testing – While most email marketing tools allow you to split-test subject lines, send times, and content, ActiveCampaign is one of the only services that allow you to split-test automation sequences.
This means you can split test radical changes like sending ten emails to new leads versus only four, to see which sequence has the highest conversion rate.
Conditional content – ActiveCampaign is one of the only email marketing services that allow you to include conditional 'IF X is true, show Y' content blocks inside email campaigns.
We use this for localising pricing (i.e. show $ in the United States, £ in the UK, and € in Europe), and displaying different recommended articles to different customers based on their plan or engagement level.
Global variables – We have over 200 automated emails setup in our ActiveCampaign account. What happens if, for example, I want to change something in my email signature? Or update the pricing of one of our plans?

With other email marketing tools, you'd have to go into each email and manually update the changes one-by-one. This is where global variables are a big time saver. Instead of inserting the actual price in an email campaign you can enter %price% and it will replace all variables with the actual price when the email is sent out.
Downloadable automation recipes – ActiveCampaign is one of the only email marketing tools to offer a range of automation 'recipes'. Instead of spending days building an elaborate sequence of upsell emails, you can just use one they've already made, and then adjust the content so that fits your brand.
In addition to saving a lot of time, these recipes are a great source of inspiration.
Smart Content – Similar to the conditional content feature offered by ActiveCampaign, Smart Content allows you to hide and display blocks of content in your email campaigns based on where a contact is in your buying cycle, or which lists they are in.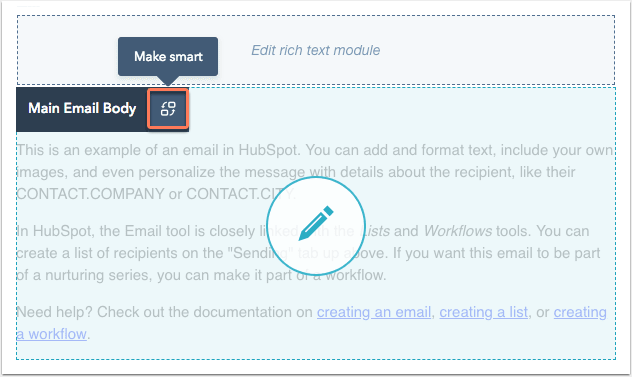 Subject line emojis – Using emojis in subject lines have been found to increase open rates by as much as 45%. While you can technically put emojis in the subject line using almost any email marketing tool, Hubspot makes it a little bit easier by having an emoji button next to the subject line box.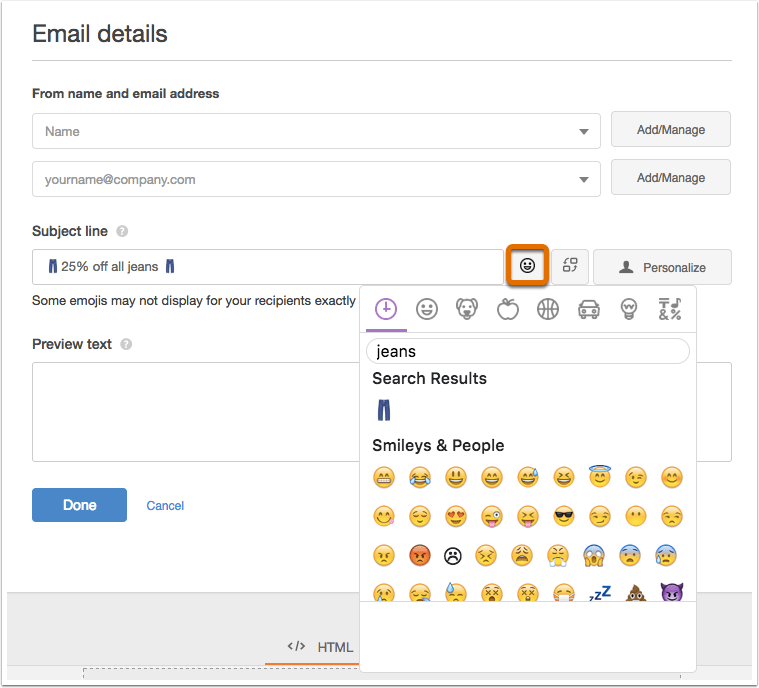 Progressive Profiling – Let's say a lead visits your website on day one and exchanges her name and email address to download a whitepaper. The next day, they come back to your website to learn more.
Instead of showing the same form asking for their name and email address, Hubspot allows you to identify this lead and show a different offer, or ask a different set of questions to learn more about them over time. This is called Progressive profiling – and it allows you to send more personalised email campaigns as you gather more information on your leads.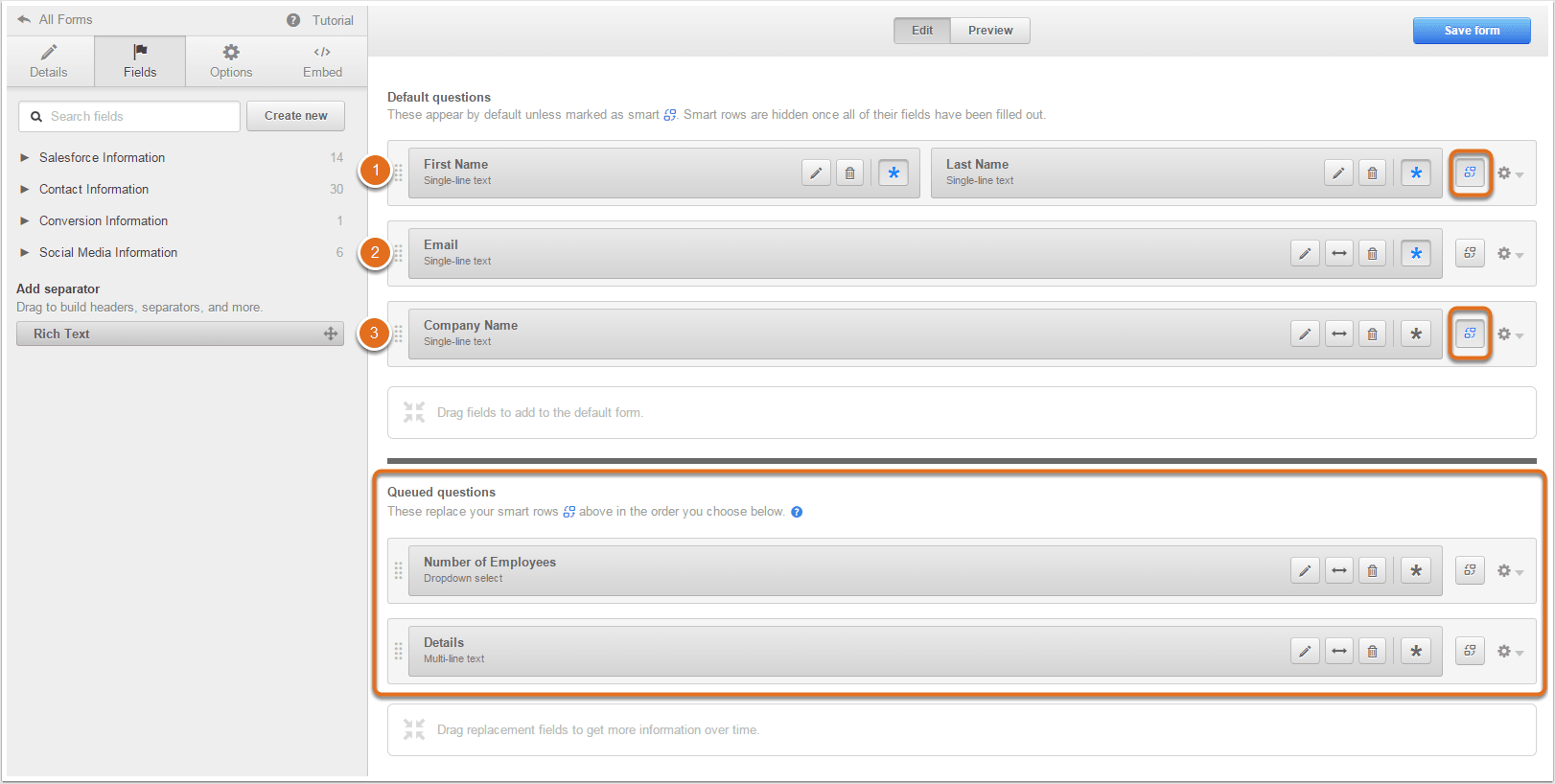 Omnisend offers an impressive range of eCommerce email marketing features.
Campaign Booster – Omnisend has a 'campaign booster' feature that automatically resends campaigns to subscribers who haven't opened an email campaign (a quick-win that Omnisend state boosts email sales by up to 30%).
Product Picker – In addition to being able to drag and drop products from your store directly into email campaigns (a huge time saver), Omnisend also has a handful of CTR boosting email templates, such as scratch cards and gift boxes.
Discount codes – One final feature that's a nice touch for eCommerce users is Omnisend's discount code generator, which connects to your eCommerce store and automatically generates unique discount codes to incentivise customers to buy again from you.
5. Best for CRM & marketing automation features
Unless you're a large enterprise it probably makes sense to use an email marketing tool that also has an in-built CRM (customer relationship management) and marketing automation functionality.
The reason for this is that email marketing works best when emails are triggered to the right people at the right time – and the data required to enable this is often stored in a CRM system. While you can make this work with a separate CRM, integrating the two is an extra step that could be avoided.
This requirement technically rules out all but two of our top ten, with Hubspot and ActiveCampaign remaining. We have also included Autopilot here, which despite not having a CRM has exceptional native integrations with the most popular CRMs and has the best marketing automation features we've seen.
Hubspot is the undisputed leader in this category. As an all-in-one sales & marketing platform, they offer a full CRM system, as well as in-built tools for blogging, social media management, landing page creation, and… well, you name it they probably offer it.
Their CRM system is extremely powerful, yet straightforward to use. You can view deals in a pipeline format (as shown above) or as one long list in a table.
Because Hubspot contains so much data on each of your leads, you can use their marketing automation platform to build email sequences that use CRM data to trigger emails to contacts based on their behaviour.
Frankly, Hubspot's email marketing automation builder is not the best I've seen – but in tandem with their CRM, it's a powerful feature.
As you can see below, ActiveCampaign's CRM is very similar to Hubspot's in design and functionality.
Similarly to Hubspot, ActiveCampaign tracks your lead's activity on your website (or app) and can automatically move leads into different stages of your pipeline based on which pages they've visited, whether they've bought a product, clicked on an email etc.
You can also deep-dive into any lead or customer's profile to see a full history of every interaction that person has had with your company since they first gave you their email address.
Where ActiveCampaign shines is with its marketing automation builder. We've already touched on this in previous sections of this article, so I won't go into much more detail here.
While Autopilot doesn't have an in-built CRM, its marketing automation platform is second to none, and it integrates natively with a handful of the most popular CRMs (including Hubspot CRM, PipeDrive, and Salesforce).
If you use a CRM that's not listed above, Autopilot also offers a Zapier integration, as well as a native integration with Segment, allowing you to keep your CRM in sync, and trigger your automation sequences from updates in your CRM.
6. Best for reporting & analytics
Most email marketing tools offer very little when it comes to reporting functionality, to the point that understanding what emails are generating a positive return on investment can be a surprisingly difficult question to answer.
In our review of the top ten email marketing tools, we were most impressed by the email analytics and reporting offered by these three companies.
Hubspot has an unfair advantage.
As an all-in-one marketing platform, it should come as no surprise that they offer a huge variety of reports, answering every marketing question imaginable. To give credit where it's due, these aren't vanity metrics either; Hubspot does a very good job at answering the difficult questions that actually provide actionable insights.
Of course, this kind of reporting comes at a cost (Hubspot's not cheap, as we've already covered) but you do get a lot more insight compared to just knowing how many people opened or unsubscribed from your email campaigns.
Their campaign reports are easy to digest and surprisingly insightful. Interestingly, Hubspot is one of the only email marketing tools to report on the time people spend reading an email.
What I particularly like about Autopilot is that you can set the goal of each automation journey and view reports around whether that automation journey is hitting its goal.
For example, I can set a goal that my lead nurturing journey should convert 20% of contacts that enter it to buy my product and then produce a report like this.
Beyond this, Autopilot's reporting is fairly basic, with the usual reporting on campaign performance and contact list insights.
In some ways, I'm reluctant to feature ActiveCampaign in this section, as their reporting is definitely not their strong point. But, credit where it's due, it's come along way in the last year and it's still much better than many other tools for the same reason as Autopilot above – it focuses on goal tracking.
The big difference is that, while Autopilot has managed to make this look beautiful, ActiveCampaign's visualisation of these reports is a bit convoluted.
ActiveCampaign's reporting can answer almost any question you throw at it – but you need to be quite mindful of knowing what that question is.
Where Hubspot and Autopilot serve up high-quality answers on a platter, ActiveCampaign's approach is more akin to vomiting data across 20 or so pages, making it difficult to decipher value from vanity metrics.
7. Best for integrations
These days, most email marketing tools integrate with Zapier (a third-party tool that allows you to then send data to over 1,000+ third-party apps & tools) rather than building their own smorgasbord of integrations. There are some exceptions, such as Autopilot, which has an enormous variety of native integrations.
The best email marketing tools for integrating with third-party tools are:
When it comes to Zapier integrations, not all of them are created equal. Every 'zap' (integration) has two parts: A trigger and an action. For example, let's say you want to build an integration so that every time someone subscribes to your mailing list (the trigger), they're automatically added to a Google Spreadsheet (the action), this can be built in minutes using Zapier.
Broadly speaking, the more triggers and actions an email marketing tool provides, the easier it is to automate tasks. Below is a list of the top ten email marketing tools, ranked from highest number of triggers, actions and searches to lowest.
8. Best for customer support & training
ActiveCampaign is the only email marketing tool to offer a Customer Success Commitment, which outlines a set of standards around education, support and trust that you can expect from ActiveCampaign.
Needless to say, it's world-class. From implementation and migration support, to access to ActiveCampaign's community, in-person events and pre-built automation recipes, you can be confident you're in safe hands.
It's also worth pointing out that, while ActiveCampaign offers an extensive range of videos, guides and documentation, we've had numerous team members join Venture Harbour and be able to build automation sequences with no training, thanks to how easy the platform is to use.
As a customer, I've only had to contact ActiveCampaign's support a handful of times over the last four years, and each time I've had a response within a couple of hours with a solution.
Hubspot has arguably built its entire business around education.
Hubspot invented the phrase 'inbound marketing' and went on to acquire tens of thousands of customers by eating their own dog food, so to speak. By blogging, running events, and becoming a thought leader in inbound marketing, leads came to them – rather than them having to rely on traditional outbound marketing.
As such, you can expect world-class training when you sign up to Hubspot. From courses and certifications to eBooks, and their annual INBOUND conference, Hubspot provides its customers with plenty of opportunities to level-up.
One cautionary note is that Hubspot charges additional fees for onboarding services. While this isn't too unreasonable (as you're effectively paying for several hours of a Hubspotter's time), it does highlight to me just how generous ActiveCampaign is by offering onboarding free of charge.
On the support side, Hubspot is also exceptional. With phone, email and live chat support, you can be confident that if any issues arise, they'll be resolved quickly.
As it stands, Moosend offers all customers access to its customer success team, who offer agency-level support around deliverability optimisation, strategy and technical support – free of charge.
I've been warned that this may not always be the case, but if this does ever change – I'll see if I can twist their arm to keep this in place for Venture Harbour readers.
In addition to this, Moosend offers an abundant range of webinars, presentations, and tools aimed at turning beginner email marketers into pros.
9. Best for security & compliance
If you capture sensitive personal data or, due to your industry or size, require an email marketing provider that has particular security and privacy compliance certifications, we'd suggest either:
As you'd expect, these larger and older email marketing providers tend to be the best option when it comes to security and compliance. All three of the services above provide extensive documentation on their websites about their security and compliance measures.
For a more detailed comparison of which security/compliance certifications and features these three email marketing tools offer, we've created the table below.
| | ActiveCampaign | Hubspot | MailerLite |
| --- | --- | --- | --- |
| ISO 27018 (cloud privacy) | Yes | No | No |
| ISO 27001 (information security) | Yes | Yes | Yes |
| ISO 27017 (cloud security) | Yes | No | No |
| EU-US Privacy Shield | Yes | Yes | Yes |
| GDPR Compliant | Yes | Yes | Yes |
| CAN-SPAM Compliant | Yes | Yes | Yes |
| HIPAA Compliant | Yes (enterprise account only) | No | No |
| TLS encryption | Yes | Yes | Yes |
| Segmented accounts | Yes | Yes | No |
Here are some useful links to learn more:
Wrapping up: Which will you try?
My business coach often reminds me "progress over perfection".
His point is that it's more important to take action and make progress, rather than waste an indefinite amount of time trying to find the perfect result. Computer scientists call this 'optimal stopping'.
If you've read this far, you've already absorbed hundreds of hours of research, which means you've done more research than 99.99% of marketers choosing an email marketing tool. In short, you're probably ready to make a decision and choose your email marketing tool.
If for whatever reason you're still not sure which email marketing tool is right for you, you can try the tool below, which will recommend the best email marketing software for you based on your specific requirements.
You'll also get a copy of our raw dataset sent to your email address so that you can make your own comparisons.
I truly hope this guide has helped you find the right email marketing tool for you. We spend hundreds of hours each year keeping this guide up to date, so if you did find it valuable, I'd be grateful if you could share it on your LinkedIn or Twitter.
And if it didn't help you, I'd love to know how we can make it better.