Growth marketing is the life force of companies determined to build bigger, faster. It combines customer acquisition and retention to develop an increasing stream of new customers while holding on to as many existing ones as possible and developing band/product loyalty and advocacy.
This long-term strategy has built some of the biggest names in tech startups, SaaS and a range of other industries where rapid growth is the best way to establish brand power. As industries become increasingly competitive, growth marketing allows new companies to build brand power quickly, establish their place in the market and fend off competitors – both existing and future ones.
It's easy to talk about the merits of growth marketing but implementing a comprehensive strategy is a real challenge. In this article, we look at 10 of the best growth marketing software tools that will help you plan, implement and optimise campaigns across the entire customer journey – all with the aim of maximising growth to achieve your business goals.
What are we looking at in this article?
In this article, we're looking at 10 essential growth marketing tools for companies and marketers looking to build bigger enterprises. We've used each of these tools extensively here at Venture Harbour and dozens of others to determine which ones earn the status of top recommendations for this article.
Here's a quick preview of the tools we'll be looking at today:
TrueNorth: Growth marketing management and forecasting.
ActiveCampaign: The all-in-one CRM, email marketing and automation system.
Zapier: Connect apps to automate time-draining tasks.
Hunter: Find the email addresses of prospects at target companies.
SimilarTech: Find prospects using specific software technology.
Drift: The conversational growth platform.
UsabilityHub: Drive growth through positive UX.
Userpilot: User growth, retention & experience optimisation.
VWO: CRO for websites, apps and software products.
Chargebee: Revenue and subscription management.
Each of these tools plays a different role in our growth marketing strategy and we've chosen the best tool for each purpose. So this isn't a list of 10 tools that are all basically the same; this is more of a 10-tool tech stack for growth marketers.
For each tool, we explain the role it plays in our growth marketing strategy, show the pricing information and list the key features. We've also got a mini-review of each platform to explain the pros and cons, plus the reasons it makes it into our list of top-10 recommendations.
Later, we also have a comparison section featuring tables for you to quickly compare the key features and pricing of each platform to give you a better idea of what you're getting for your money.
Before we get into the software tools, let's quickly take a moment to explain what growth marketing is – just to make sure the intention of this article is 100% clear.
What is growth marketing?
As the term itself suggests, growth marketing is the prioritisation of business growth through all marketing efforts, meaning all of your campaign goals, ideas and strategies aim to increase the size of your business. We've explained this before in our list of 30+ growth marketing strategy examples, which is worth a read if you're looking to learn more about growth marketing from practical examples or get some inspiration for campaign ideas.
Here's how we describe growth marketing in that article:
"Growth marketing is an evidence-based approach to marketing that prioritises maximising business growth by focusing on the entire funnel. This contrasts to traditional marketing, which is often opinion-based and siloed around specific areas of the funnel (e.g. marketing must drive X many leads)."
You may measure growth in revenue, customers, user numbers or a combination of KPIs but growth marketing is all about scaling towards bigger things. For many companies, growth marketing is purely aimed at maximising revenue and profit through customer growth but things aren't always so straightforward.
Some companies prioritise growth above revenue and profit, working to maximise customer volume, user numbers and leads to attract investment and spend almost all of their income on driving further growth – a key characteristic of the tech startup boom where companies constantly work towards securing the next investment drive.
While this model of growth at all costs isn't sustainable for most companies, it's important to understand that growth marketing doesn't necessarily always align with profit. However, it should always align with your core marketing goals (whatever they may be) and this leads us perfectly into our first growth marketing software recommendation.
Growth marketing platform
TrueNorth is the growth marketing platform that brings all of your campaigns, data and forecasting into one, easy-to-use platform. When international agency Vital asked thousands of companies and marketers about their top marketing challenges, there were generally two types of responses: the most challenging marketing goals and the top marketing management challenges.
If we remove the marketing goals (getting more leads, generating brand awareness, increasing my website's overall traffic, etc.), the remaining challenges include:
Planning a comprehensive marketing strategy
Keeping up with the latest trends
Staying organised and productive
Content creation
Increasing, reporting and proving marketing ROI
These are the problems TrueNorth is designed to solve by streamlining the strategic planning, execution and optimisation of your growth marketing strategies.
Key features:
Idea collections: Brainstorm and prioritise how you'll deliver growth with meeting-less ideation.
Simulation: Visually forecast how you'll grow from where you are to where you want to be.
Prioritise campaigns: Score and prioritise campaign ideas based on performance projections.
Milestones: Break your simulated growth into achievable weekly or monthly milestones.
Campaign tracker: A birds-eye view planner and tracker of all campaigns, across every channel.
Campaign results: Centralise the results and ROI of every campaign in one place.
Progress tracking: Stay on track by monitoring your actual growth against simulated growth.
Analysis: Integrate with Google Analytics, Google Ads, Facebook Ads and more for multichannel analysis.
Unlimited team members: Pay the same monthly fee, no matter how big your team is.
TrueNorth makes multichannel marketing management easier by bringing all of your planning and execution into a single platform. You start by defining your marketing goals and, then, you can create campaign ideas to achieve them with the software's meeting-less ideation system that saves you from needing to hold a meeting every time you need to come up with creatives.
One of TrueNorth's headline features is growth projection, which forecasts your growth from where are now to achieving your goal. This is then used to create a series of monthly milestones that you must hit to stay on track.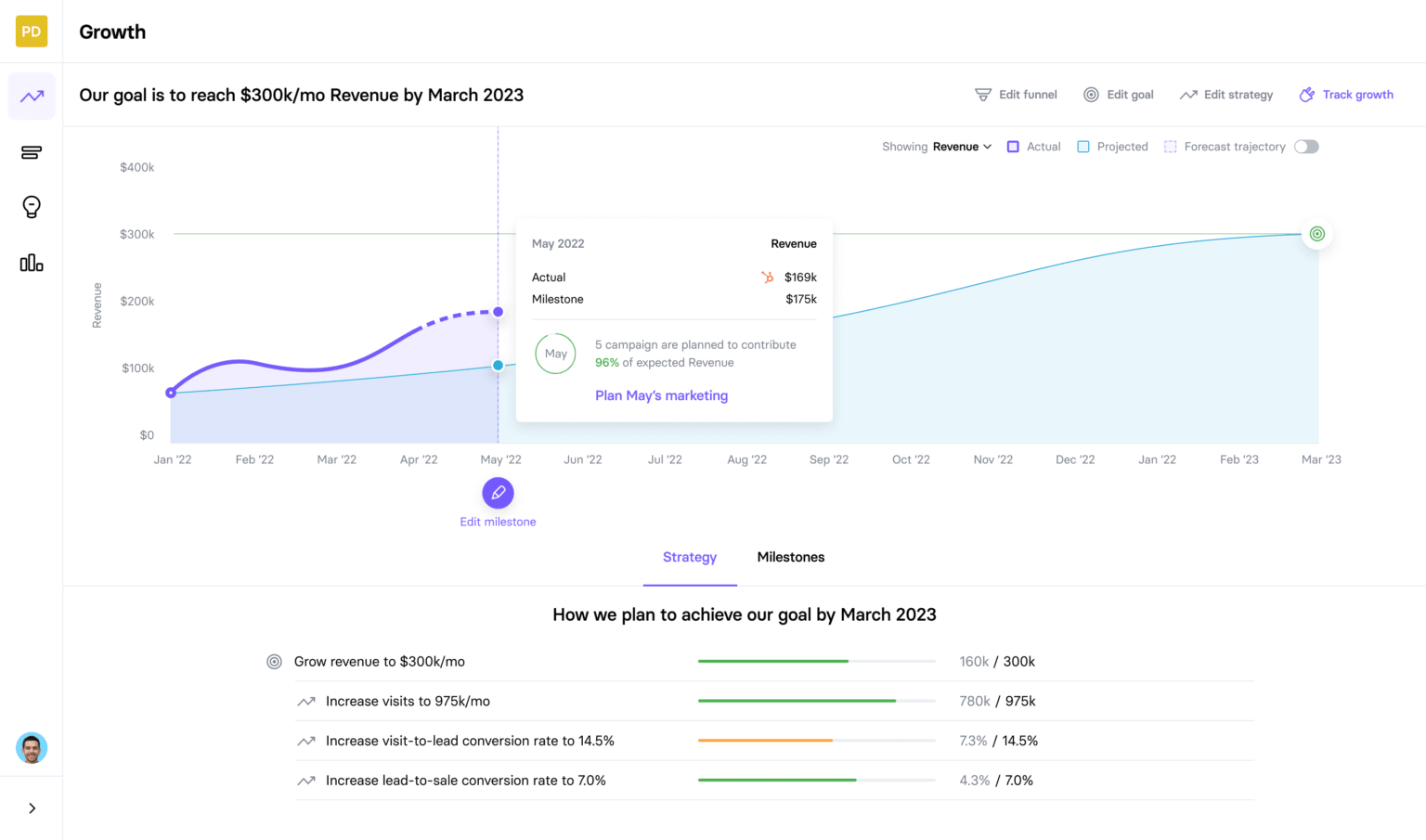 With this ongoing process of testing and forecasting, you can set marketing budgets with greater confidence and re-adjust your spend as campaigns mature, investing more funds into the campaigns achieving your goals most effectively. From the early planning stage, all the way to goal completions, TrueNorth keeps you working towards your marketing goals, predicting the effectiveness of your campaigns and helping you to optimise results on the fly while always having a clear view of ROI and your other KPIs.
This platform solves all of the marketing management issues listed above while the campaign simulation and optimisation features help you achieve the goals marketers commonly list among their biggest challenges.
You can start a free trial with TrueNorth here.
The all-in-one CRM, email marketing and automation system
While TrueNorth excels at marketing planning, forecasting and optimisation, ActiveCampaign is an all-in-one platform for executing growth strategies at every stage of the customer journey. With a built-in CRM, you can store and use customer data to automate marketing campaigns, using the platform's industry-leading email marketing and marketing automation technology.
This allows you to grow your business on autopilot by triggering lead nurturing campaigns in response to user actions, helping you guide prospects along each stage of the customer journey – all the way from lead capture to customer retention.
We've been using ActiveCampaign for more than five years now and it regularly tops our list of recommendations for CRMs, email marketing and marketing automation software. You can read our full ActiveCampaign review for a comprehensive look at its strengths and weaknesses but the conclusion is this: we're still convinced this is the best all-in-one CRM, email marketing and marketing automation platform.
Key features:
CRM: Manage contact and customer data throughout the marketing and sales journey.
Email marketing: Nurture leads and retain customers with automated email marketing.
Marketing automation: Create automated campaigns to grow your business on autopilot.
Automation builder: Create custom automation workflows with ActiveCampaign's drag-and-drop builder.
Email builder: Build visual emails that inspire action or use templates to get a head start.
Lead scoring: Qualify and score leads to prioritise high-value prospects across the funnel.
Segmentation: Deliver relevant messages to contact groups to increase conversion across the customer journey.
Customer service: Manage customer support with chat, email and social media.
ActiveCampaign is a complete marketing and sales system designed to help you close more leads and retain more customers. Its advanced automation technology allows you to deliver targeted messages to audience segments, encouraging them to take the next step along the customer cycle: conversions, purchases, upgrades, renewals and everything else.
With ActiveCampaign's automation builder, you can create workflows for almost any workflow or use the thousands of pre-built recipes from the Marketplace to set up the most common processes in no time.
With lead scoring and customer health scores, you can prioritise leads that have the greatest potential to convert and customers showing signs of churn – two crucial strategies for maximising growth at opposite ends of the customer journey.
ActiveCampaign also includes a Service Suite for providing customer service and support via chatbots, email and Facebook Messenger. You can manage customer cases, resolve issues and all of their data is automatically updated and stored in the CRM. The only big feature missing from this is a dedicated system for providing phone support so you'll have to get this from elsewhere.
Still, ActiveCampaign delivers 90% of the tools any company needs to deploy growth marketing strategies, providing almost everything you'll ever need from one platform.
Connect apps to automate time-draining tasks
Compared to the other tools we're looking at in this article, Zapier is pretty basic but it allows you to automate millions of basic tasks that free up hours every week – possibly every day. Essentially, Zapier connects apps together so they can exchange data and perform tasks automatically without you switching between different tools and manually completing actions.
For example, if you want to automatically share new blog posts to your social media channels or send new leads a personalised message as soon as they sign up, you can do this – and so much more – with Zapier. This simple tool connects thousands of the most widely-used software products and apps, everything from Gmail and Dropbox to Microsoft Office, Facebook, Slack and ActiveCampaign.
Typically, the automations are quite simple, such as automatically uploading email attachments to a Dropbox folder or send notifications to a Slack channel when a new file is created in a specific Google Docs folder, but these little workflows can save you a lot of time when you're automating simple, repetitive tasks. By the time you've automated a few dozen tasks with Zapier, you'll never want to go back to completing these actions manually.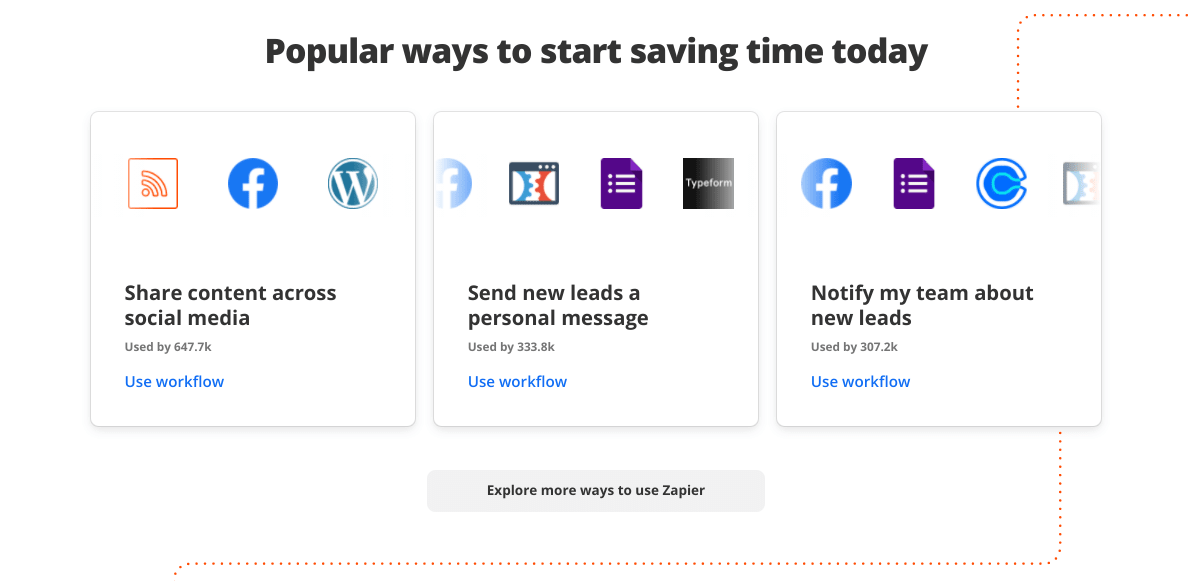 Key features:
Automate: Connect 3,000+ of the most popular apps to automate time-consuming tasks.
Pre-built workflows: Use thousands of pre-built workflows to automate common tasks
Automation builder: Quickly link apps and create automation in seconds.
Extendable workflows: Automate multiple tasks with a single trigger.
Branching logic: Build intelligent workflows that take action based on conditions you set.
Unlike ActiveCampaign, which allows you to automate very complex workflows, Zapier is only suitable for very basic tasks. You can create multi-step workflows and use branching logic to set conditions for successive actions, but you're still only sending information to spreadsheets or notifications to a platform when something important happens elsewhere.
Whatever way you look at it, these are basic tasks but they're also the tasks that can really bog you down and eat into the day: copy-and-pasting, information, switching between apps, manually sending messages, scheduling events, etc. With Zapier, you can automate these mundane, time-zapping tasks and concentrate your efforts on actions that have a bigger impact on your growth marketing strategies.
The automations are simple, but the impact can be huge.
You can also use Zapier to integrate tools that don't support native integrations, allowing you to quickly sync tasks between multiple platforms without using APIs or writing any code. You'll still get better results from native integrations or custom syncs via APIs but Zapier is the best alternative when neither of these options are viable.
If you're looking for a simple, affordable way to improve the productivity of your marketing activities, Zapier is a great place to start.
Find the email addresses of prospects at target companies
Hunter helps you find the email addresses of prospects with a set of tools for pulling contact details from websites, articles and other online sources. This allows you to identify target companies you want to target with your outreach email campaigns and find the right email addresses of individuals who make the purchase decisions at these companies.
The platform has four main tools for finding corporate email addresses:
Domain Search: Find email addresses associated with a company by typing in the domain.
Email Finder: Find the email addresses of individuals by typing in their full name and the domain.
Author Finder: Find the email address of article authors by typing in the URL of an article.
Email Verifier: Verify the email addresses you find on Hunter.io before you send any emails.
So you've got three primary tools for finding email addresses and a verifier, which helps you check email addresses are valid and still in use so you don't harm your sender reputation. If you're engaged in account-based marketing (ABM) to win clients outside of your inbound marketing strategies, Hunter will help you find the valuable leads you're looking for – and the all-important contact details.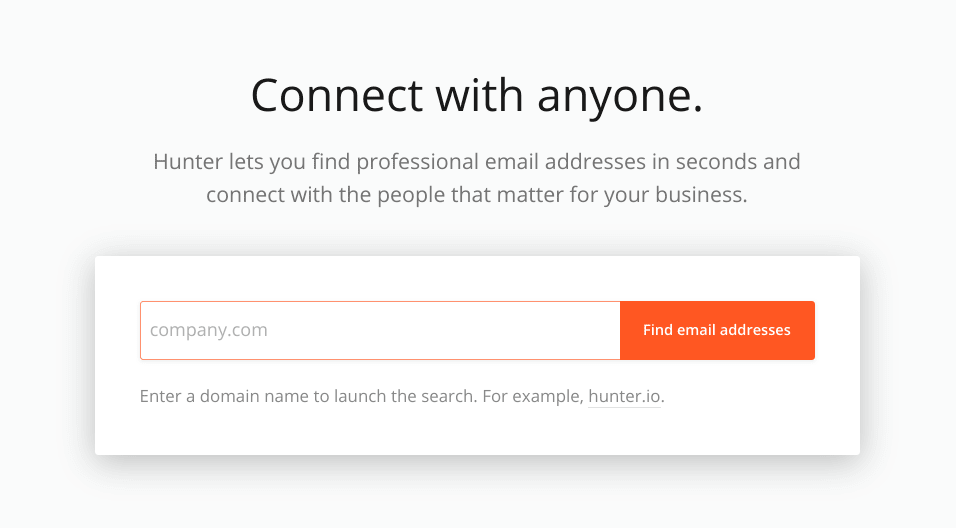 Key features:
Domain search: Find the email addresses of a company.
Email finder: Find the email address of a professional.
Author finder: Find the email address of an article author.
Email verifier: Verify emails found using Hunter.io.
Chrome extension: Find emails with a couple of clicks in Chrome browser.
Google Sheets add-on: Import data into Google Sheets documents.
Tech lookup: Find websites using software technologies.
Bulk tasks: Search or verify lists of email addresses in minutes with the powerful bulk tasks.
Email campaigns: Create cold email campaigns and schedule follow-ups in Gmail.
In addition to the email search tools, Hunter also offers a Chrome extension, which you can use to find prospects' email addresses while you browse web pages (a Firefox add-on is also available). You can import data into Google Sheet with a single click, too, by using a dedicated add-on and Hunter includes several CRM integrations, which you can expand through a native Zapier integration.
With bulk tasks and email campaigns, you can quickly create email lists, verify contacts and send out automatic campaigns, including scheduled follow-ups in Gmail. Hunter also includes a tech lookup tool, which helps you identify companies using specific software products to understand their needs and send relevant campaigns (although we've got a more advanced tool for this in our next recommendation).
Hunter offers a free plan, which covers you for up to 25 searches per month and 50 verifications while paid plans start at €49/month for 500 monthly searches and 1,000 verifications. To clarify, a verification is registered every time you verify one email address but multiple verifications of the same email address during one billing month are only counted once (but counted again in following months).

The Enterprise plan covers you for up to 30,000 monthly searches and 60,000 verifications for €399/month but custom plans are available if you pass those limitations. Given the nature of cold email marketing, you will have to spend a bit of money to get valuable leads from Hunter.io but, on a more positive note, the returns from ABM leads tend to be much higher than inbound leads because tools like this allow you to specifically target high-value prospects.
Another important point to consider on pricing is that you can have unlimited users on every account (you're only limited by search and verification volumes) so you don't have to worry about software fees being multiplied for every user.
Find prospects using specific software technology
As mentioned in the previous section, Hunter.io includes a Tech Finder tool that allows you to find customers using specific software technology and SimilarTech is a dedicated, more capable tool for this precise purpose. With SimilarTech, you can type a technology name into the search bar (eg: HubSpot) to find a list of the websites using that product or type a website domain to see a list of all the technology tools they're using.
Again, this is a powerful tool for B2B companies engaged in account-based marketing or any business that wants to identify target customers by understanding the technologies they're using. For example, if you're selling business productivity software, you might look for companies using rival tech or other software that integrates with your own products. You might also look for companies using industry-specific software (eg: training management software) to target them, even if you're selling the same kind of product yourself.
Whatever line of business you're in, you can learn a lot about companies by understanding which technologies they rely upon to keep the business running day-to-day.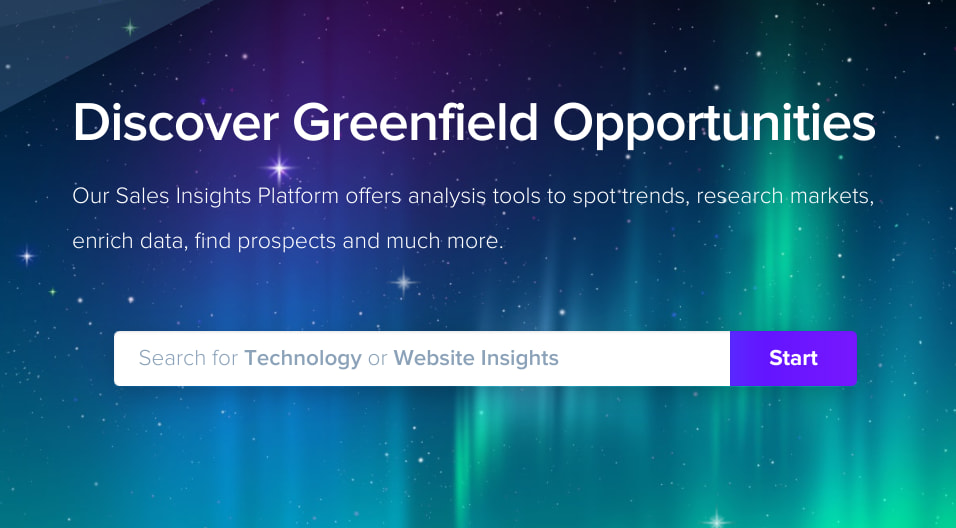 Key features:
Technology search: Find prospects that are using specific software products.
Company search: Find out which software products specific companies are using.
Product analysis: View usage stats for software products.
Product comparison: View and compare related software products.
Industry verticals: View industry breakdowns for adoption of products.
Geographic adoption: See which countries or regions use products the most.
Tech trends: Track software adoptions and emerging trends.
With SimilarTech, you can also learn about the software products themselves to see how popular they are, how much market share they have and insights for specific industries, locations and emerging tech trends. Obviously, this is a powerful lead generation and research tool for software companies but any B2B business can benefit from SimilarTech.
Let's say you're a marketing company and you want to target medium-to-large businesses as prospects. You can find companies using enterprise marketing software (eg: HubSpot, Oracle, Marketo, etc.) and target them with content relevant to the needs associated with those products: inbound marketing tips, hacks for getting more out of HubSpot, etc.
SimilarTech has four plans, starting from $199/month for one user account, 10 monthly reports and other limitations but the $299/month Pro plan gives you unlimited reports.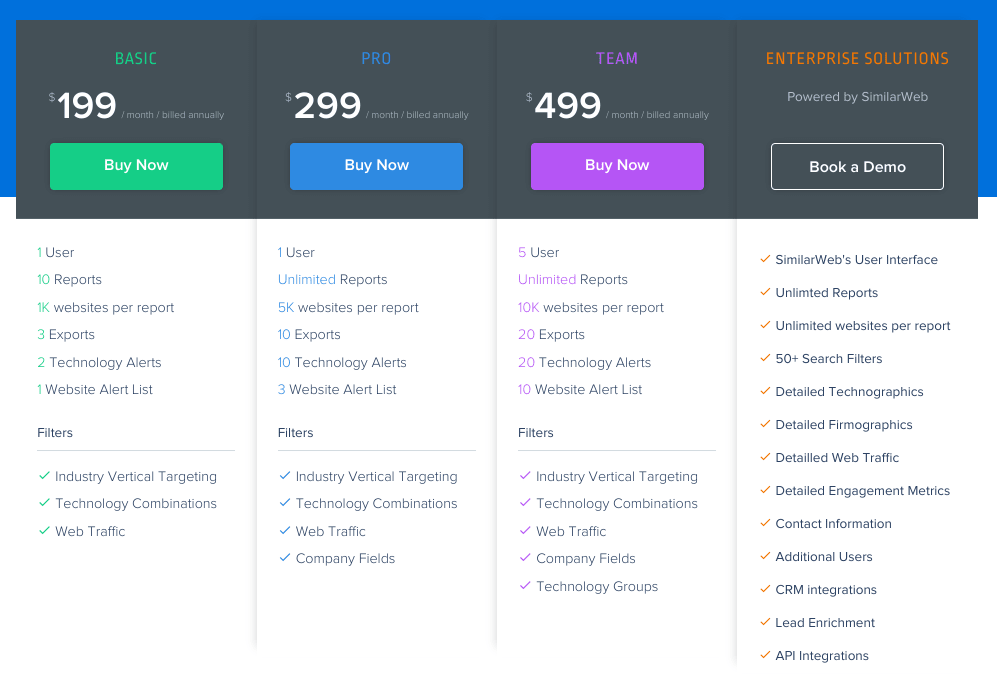 The conversational growth platform
Drift now calls itself a "revenue acceleration platform", which sounds very exciting, but fails to describe the conversational nature of its product. Basically, this is a chatbot platform from a company that has excelled at growth marketing to establish itself as a market leader and expect its product beyond the confines of a chatbot tool.
While the new Drift has more to offer than chatbots, this remains a conversational marketing platform with chat being the headline feature. The revenue acceleration product essentially comprises two core feature sets: conversational marketing and conversational sales. Drift has enhanced its technology significantly over the years, integrating artificial intelligence deeper into the conversational UIs and using proprietary behavioural databases to personalise the experience further.
The system adds conversational bots and widgets to your website but also incorporates a multichannel conversational setup that also includes email, voice and video communication.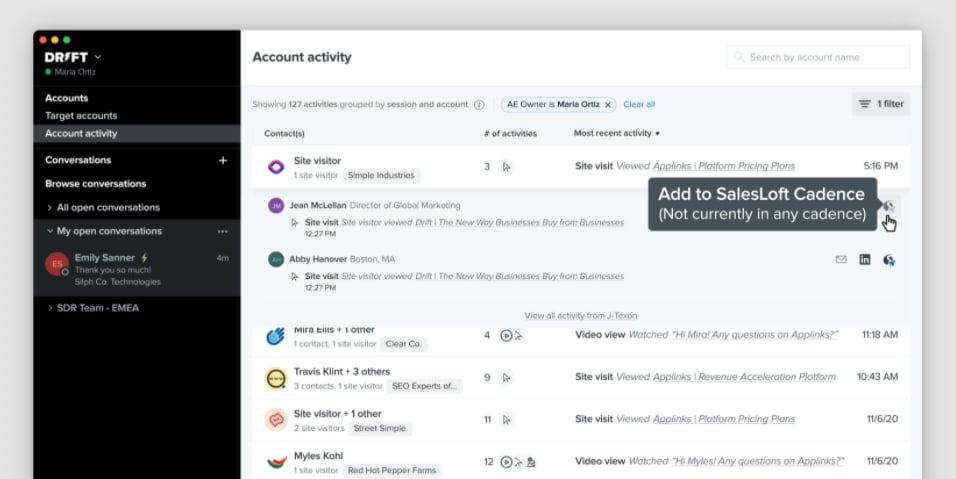 Key features:
Revenue acceleration: Drive more revenue with Drift's conversational marketing and sales platform.
Conversational marketing: Generate leads from chatbots and conversational UIs.
Conversational sales: Close more deals with chat, email and video.
Personalisation: Create personalised experiences for prospects with targeted interactions.
Pipeline management: Guide prospects along the funnel and deliver messages at every stop.
Drift Intel: Start the right conversations with potential customers on your site by uncovering who they are and alerting their sales reps in real-time.
Virtual selling assistants: AI-powered chatbots that talk to your site visitors like your best reps, at all hours of the day, helping you build the qualified pipeline you need to hit your number.
Prospecting: Automatically prioritise the most interested accounts, centralise insights on visitors from each account, and follow up – all from a single interface.
Drift Email: Route qualified email replies to the right person on your team, so you can book more meetings and drive more pipeline from your email marketing programs.
You can implement automated chatbots on your website with seamless support for live chat, allowing team members to jump in at the key moment for conversations that require human input. The email integration is equally seamless and the video call functionality is genuinely impressive (I admit, I felt this was going to be a gimmick until I saw it in action for myself).
With video calls, you can record sessions, share clips, track views and continue to type via live chat while the conversation is going – perfect for sharing links or typing out phrases that could be misinterpreted orally.
Obviously, the AI chatbots have their limitations but Drift's logic is up there with the best and the platform never tries to convince people they're chatting with a real person. It's clear when users are interacting with a bot and when they're speaking to a team member so expectations are always set accordingly. Even still, Drift's bots are pretty capable and the Virtual Selling Assistant is particularly effective at helping potential customers choose the right product for their needs.
Drift incorporates conversational marketing and sales across the entire customer journey and this is a great benefit to the customer service end of growth marketing, too. This is reinforced with the multichannel system and solid reporting and analytics features that help you analyse the effectiveness of each channel across the funnel. With access to plenty of data, you can also target leads and customers with personalised messages to encourage further conversions or – at the very least – help users access the information they need faster.
Drive growth through positive UX
UsabilityHub is an online user research platform that helps you test and optimise user experiences without creating your own testing lab. The platform makes it easy to recruit testers to take part in remote experiments so you can gain qualitative feedback from real users to improve your website, mobile apps and software products.
You can recruit your own participants by inviting existing customers or pulling them in from third-party recruitment platforms, but you can also recruit from UsabilityHub's panel of 340,000+ participants with – or a mixture of both. You can invite your own participants for free (you still need to pay the monthly plan fee) or pay to recruit users from UsabilityHub's panel.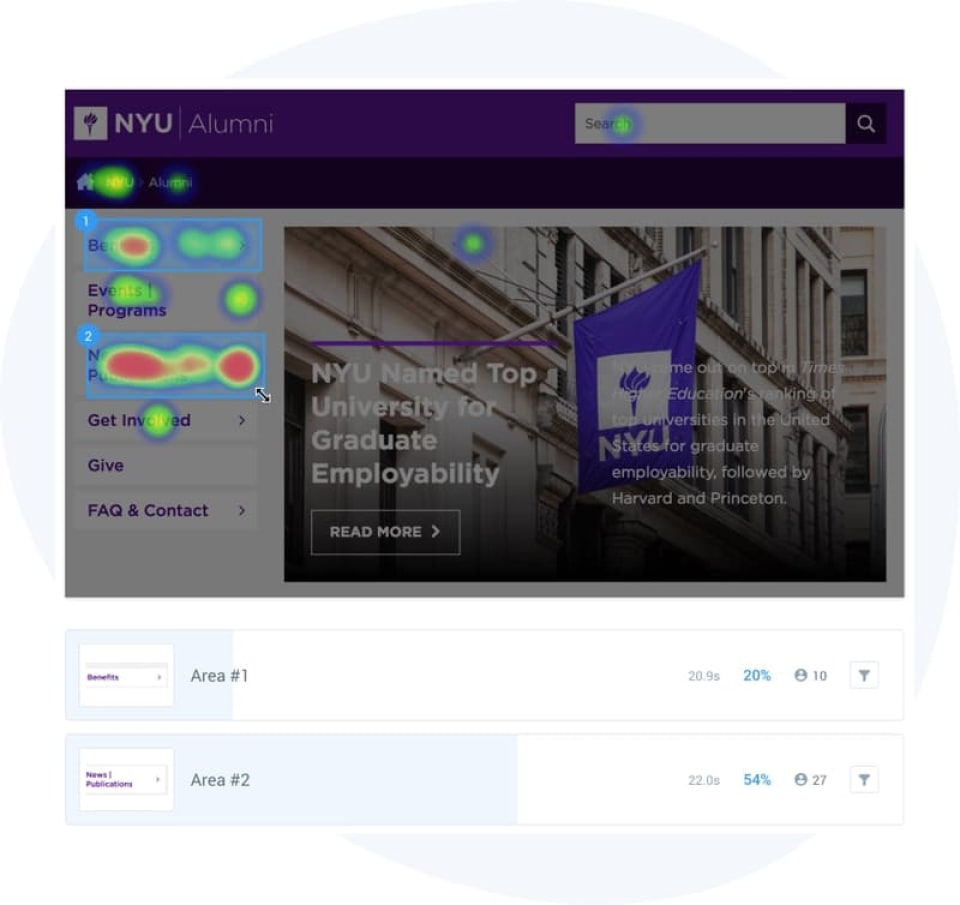 Key features:
First click tests: Assess the effectiveness of the links and content hierarchy by measuring how people complete tasks using your designs.
Design surveys: Put an end to internal debates by asking your users questions, validating assumptions and avoiding missteps.
Preference tests: Participants choose from multiple design options in response to your specific question.
Five-second tests: Optimise messaging on landing pages and reduce bounce rates by measuring people's first impressions of your designs.
Recruit participants: Invite your customers to participate in tests, recruit from UsabilityHub's 340,000+ testers or integrate with third-party participant panels.
Audience split testing: Ensure each participant on a test is unique to iterate on designs with fresh data every time.
Funnel analysis: Identify which step in an interaction flow causes the greatest drop-offs and user frustration.
Device targeting: Add validity by specifying which device tests can be taken on, more closely emulating your design's intended platform.
Logic: Ask questions based on how participants answered previous questions.
With UsabilityHub, you can run five different tests: first click tests, design surveys, preference tests, audience split testing and five-second tests. This isn't the most comprehensive set of CRO tests but USabilityHub gives you a simple, affordable platform to test the core essentials with real users. For example, you can use the five-second test to show landing pages to users for five seconds only and, then, ask them questions about the page they viewed to measure the effectiveness and memorability of your message.
Usability offers a free plan, which you can use to run basic tests for up to two minutes and paid plans start at $79/month, which allows you to run tests for up to five minutes.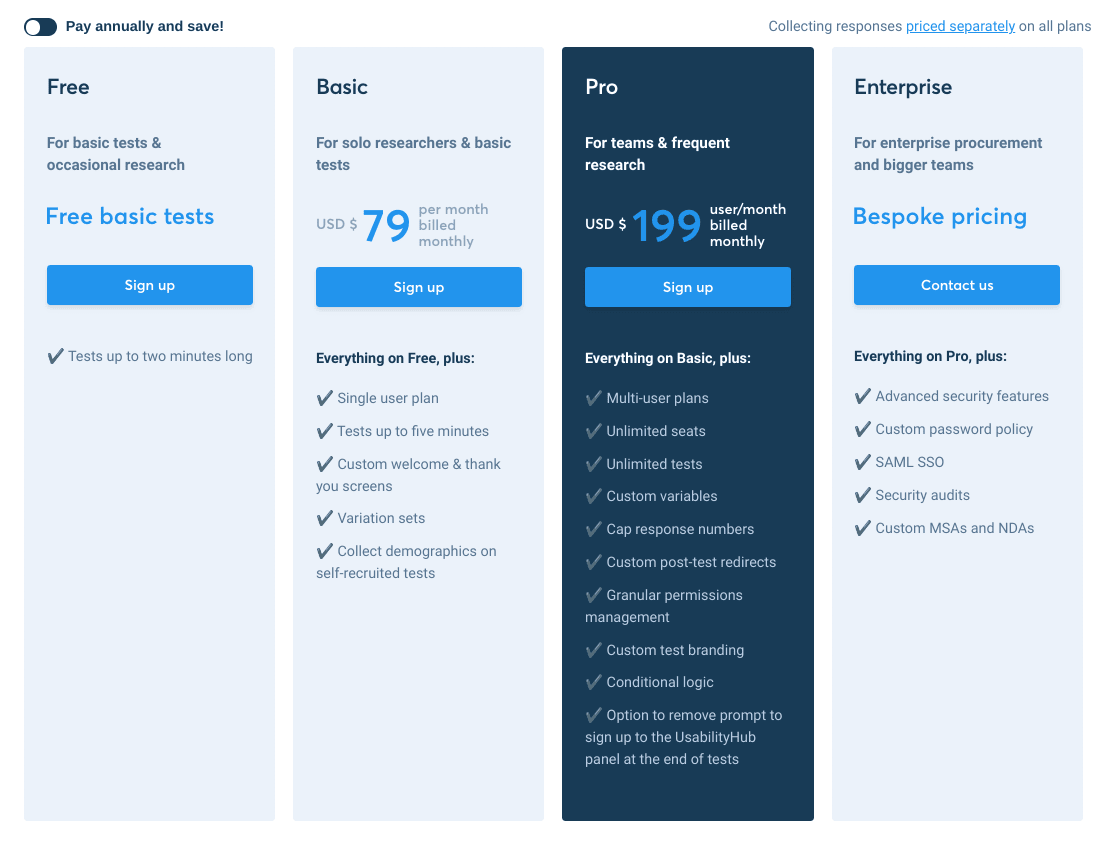 The $199/month Pro plan gets you almost unlimited testing privileges and the Enterprise plan mainly offers enhanced security. Keep in mind that you have to pay to order responses from participants recruited via UsabilityHub's panel. Running the tests is covered by your monthly fee but you have to pay additional fees to get responses from UsabilityHub participants and the fees depend on the duration of your test.
As you can from the pricing guide above, fees start from $1 per response and vary depending on the number of questions asked and the duration of the test, in minutes. For short tests running for 1-2 minutes with up to five questions will cost you $2 per panellist while longer tests running for 5-7 minutes with up to 15 questions cost $6 per panellist.
User growth, retention & experience optimisation
Userpilot is a different kind of testing platform altogether – one that helps you optimise in-app and software experiences to maximise onboarding completions, engagement and customer retention. To be clear, this isn't a CRO platform for optimising websites (UsabilityHub is more suitable for that); Userpilot is a specialist platform for optimising in-app and software experiences.
Userpilot will help you optimise user onboarding, product adoption, feature adoption, upgrades, customer retention and other key growth goals for software companies. In-app messaging plays a key role in Userpilot's optimisation philosophy, allowing you to create immersive onboarding experiences that guide users through the setup process.
You'll use similar in-app messages to guide users towards important features, tasks and updates/new features as you roll them out. The platform also provides extensive in-app tracking and analytics so you can test changes to maximise usage, manage engagement and keep customers primed for renewals and upgrades.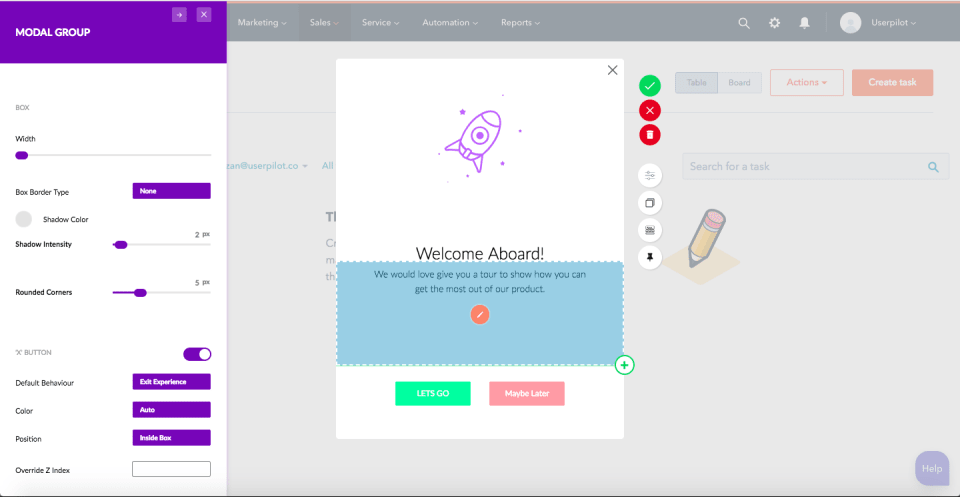 Key features:
Product analytics: Gain insights into product usage, feature adoption and goal completions in your software.
Goal tracking: Define goals throughout the customer journey and track progress.
Usage trends: Identify user trends, changes in behaviour and roadblocks to goal completions.
In-app messaging: Deliver messages inside your product to personalise and enhance the experience.
Onboarding optimisation: Maximise the number of new signups who complete the onboarding process and start using your software.
Contextual messaging: Deliver in-app messages based on user behaviour to guide them towards features and goals.
Software A/B testing: Test changes in your products with in-app experiments.
User feedback: Collect feedback from users for qualitative insights on customer satisfaction.
Net promoter scores: Measure your net promoter score (NPS) to calculate how likely customers are to recommend your products to others.
Userpilot incorporates three key elements into its optimisation platform: Growth Insights, Engagement Layer and User Sentiment. With Growth Analysis, you can track, analyse and optimise the growth of your product in terms of user numbers, engagement, retention, revenue and other crucial KPIs (plus hundreds of more metrics).
The Engagement Layer helps you maximise engagement by guiding new and existing users to gain more value from your product – eg: using features effectively, achieving goals, completing meaningful actions, etc.
Then, you have the User Sentiment system, which is where you can capture qualitative user feedback from inside your software to identify friction and test optimisations.
Userpilot pricing starts at $249/month for the Growth plan (there's no free plan available) while pricing for the Enterprise plan starts at $749/month.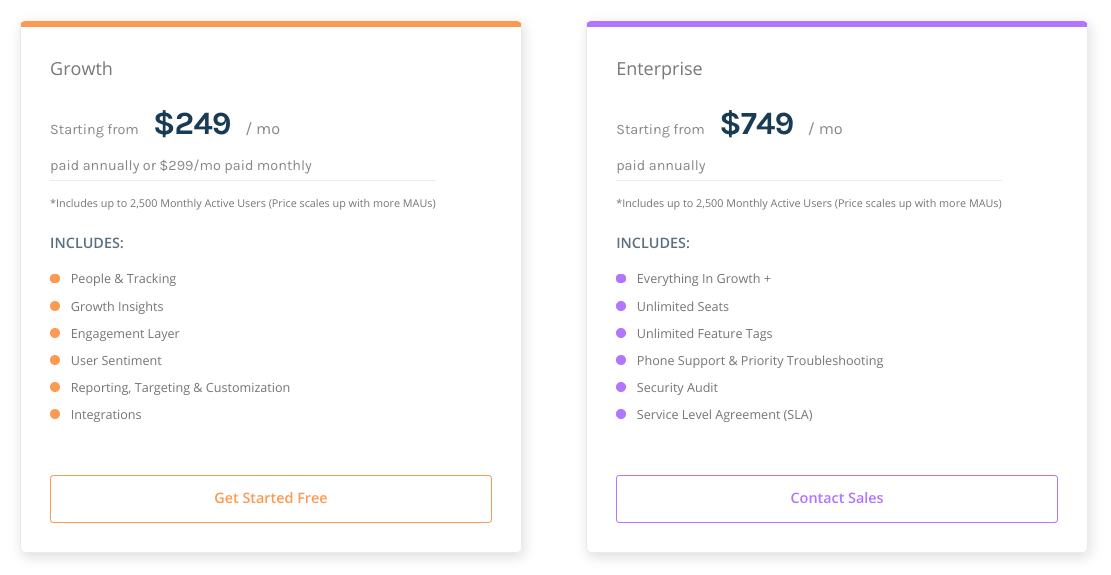 The starting prices on both plans cover you for up to 2,500 monthly active users (MAUs) and pricing scales upwards as MAUs increase. The main differences between the Growth and Enterprise plans are related to customer support with the Enterprise plan giving you phone support, priority troubleshooting, a dedicated customer success manager, a technical implementation specialist and advanced security – none of which is available on the Growth plan.
The two other big differences are the Enterprise plan gives you unlimited seats (users) and feature tagging while the Growth plan limits you to five users and 25 feature tags.
CRO for websites, apps and software products
VWO is a complete conversion optimisation suite for websites, apps and software products. The platform is divided across four key products: one for running tests, one for website analysis (heatmaps, surveys, etc.), a dedicated product for optimising software and another for engagement optimisation (web-focused).
This divided architecture means you can buy into the products you need and forget about everything else. So, if you're only interested in optimising your website, you don't need to worry about the FullStack product for testing mobile apps and software products. At the same time, if you're a SaaS company running web, mobile and native applications, you can optimise all three with VWO's optimisation suite.
Key features:
VWO Testing: A/B testing, multivariate testing and split URL testing for websites and web apps.
VWO Insights: Funnel analysis, session recordings, heatmaps, surveys and form analytics.
VWO Fullstack: Server-side testing and mobile app testing for software products.
VWO Engage: Web push notifications, cart abandonment and Facebook Messenger campaigns.
VWO Plan: Collaborate and scale your growth marketing roadmap.
VWO Deploy: Make quick edits to your website without involving IT.
VWO Platform: The complete set of VWO products.
VWO Services: Call upon VWO's in-house team of experts to deliver results for you.
There are too many VWO features for us to squeeze into a single bullet point list so we've had to list the company's products in bold above and include as many features as we can in the description. You'll find a more comprehensive breakdown of the system by visiting the platform page on VWO's website and clicking on each product to see the full list of features and capabilities.
The short answer is this: VWO is one of the most complete conversion optimisation platforms on the market with dedicated products for testing websites, mobile apps and software products – so you're not going to find many more capable platforms than this one.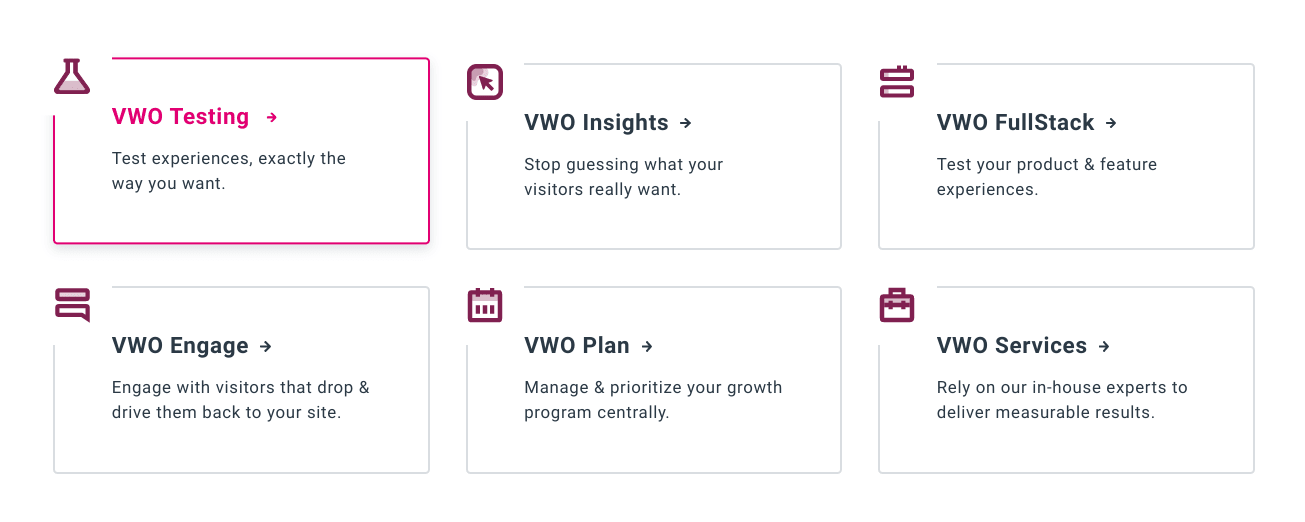 Unfortunately, VWO doesn't list any pricing on its website so you'll have to request a quote from the company to get specific figures. Most of its products run with three different plans (Growth, Pro and Enterprise) and you'll find a complete feature comparison of each product on the pricing page – the one that doesn't actually include any pricing.
VWO also has extensive documentation to help you optimise experiences using its software and general guides for learning about key topics – everything from A/B testing and customer retention to session recordings and server-side experiments.
There are plenty of free tools available, too, including an A/B test significance calculator that helps you determine how long your experiments should run to achieve statistical significance and a landing page analyser to assess the performance of your landing pages.
Revenue & subscription management
Chargebee is the revenue management platform for companies operating subscription-based models. SaaS is the obvious example here but an increasing number of consumer brands are hitting the market with subscription models for everything from food and fishing to personal hygiene and healthcare.
Chargebee features in our guide to the best subscription billing platforms, thanks to its extensive support for subscription management, billing automation, recurring payments and reporting – as well as its accounting and taxation features.
Key features:
Subscription management: Create, test and optimise your subscription model to maximise revenue.
Billing automation: Set up your recurring billing workflow and automate invoicing logic.
Recurring payments: Collect, manage and maximise recurring payments.
Accounting & taxes: Simplify SaaS accounting, finance and taxes.
Enterprise billing: Manage enterprise plans and customised quotes to meet the unique needs of your highest-paying customers.
Smart Dunning: Reduce involuntary churn with a configurable Smart Dunning for recurring payment failures.
Customisable checkout: Create a smooth checkout experience by customising Chargebee's built-in checkout without writing any code.
Multi-decimal support: Accurately track product usage and reflect taxes and charges in your invoices.
SaaS reporting: Comprehensive analytics and reporting specifically for SaaS companies.
We've used Chargebee to handle subscription payments on our own software products here at Venture Harbour. The platform makes it easy to manage multiple plans, automate billing and chase up any missed payments (eg: if your customer's payment details change halfway through an annual contract). With extensive support for payment methods, integrations for multiple payment gateways and tax management tools, Chargebee helps you sell to customers across multiple markets without currencies or tax regulations getting in the way of growth.
Chargebee offers a free Launch plan that covers you for your first $100k in revenue so you can get your business up and running before you start worrying about software fees. Pricing then starts at $99/month on the Launch plan, once you've invoiced a total value of $100k with an additional 0.5% overage fee if you're generating more than $25k in monthly revenue.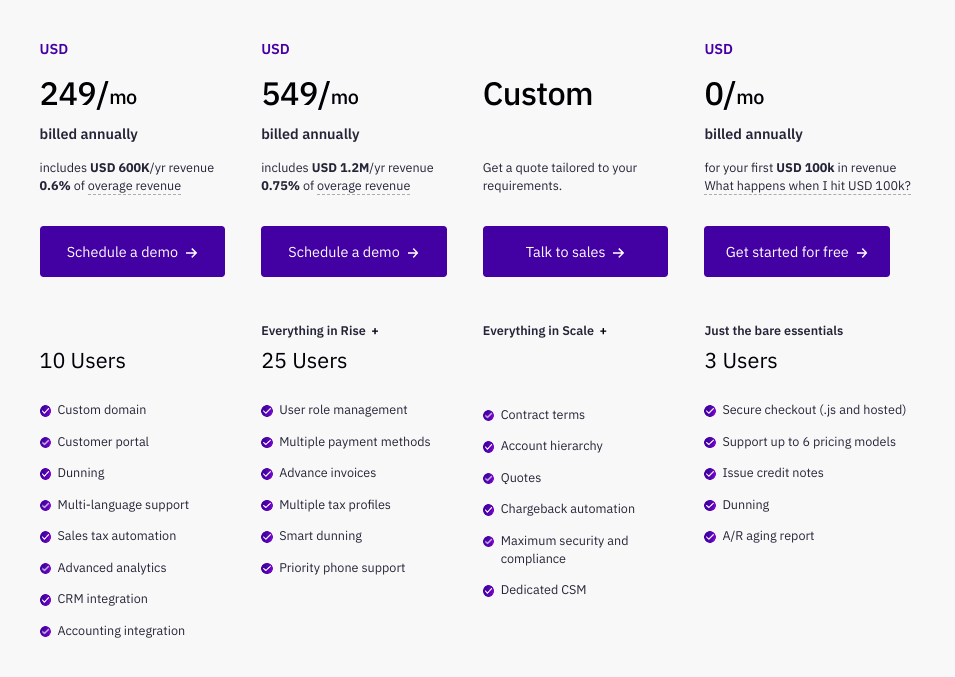 Each plan upgrade gets you more advanced features and a higher revenue limit before you're charged an overage fee. For example, the $249/month Rise plan covers you for $600k annual revenue with a 0.6% overage fee on any revenue generated above that threshold. This pricing model makes Chargebee incredibly scalable for subscription-based businesses, allowing you to manage your finances for free until you reach your first $100k in revenue and, even then, the monthly fees scale moderately from the initial $99/month for a comprehensive revenue management platform.
How do these growth marketing products compare?
In these recommendation lists, we like to offer comparisons to help you choose the best tools for your needs. So, in this section, we're going to take a look at a couple of comparison tables so you can quickly assess the price and features available on each platform.
As mentioned at the beginning of this article, we're not comparing 10 like-for-like tools so it's not a case of choosing software A vs software B. Each of these tools plays a different (but equally important) role in our growth marketing strategy and you'll benefit from using several or, possibly, all of them in your marketing tech stack.
That said, we can still use comparisons to give you an idea of what you're getting for your money with each of these tools and reinforce the roles they play in your growth marketing strategy.
Pricing comparison
Most of the products we've looked at today disclose pricing information on their websites so you can compare the complete plans and feature sets available on each. Several of these companies also offer free plans to help you get things up and running before you start paying any software fees.
This comparison table shows which companies offer free plans and the starting prices of paid plans to provide an overview of the entry-price affordability of each product.
As you can see, there's a wide variety of starting prices in the table above but there are few things to keep in mind here. For example, unlike most software providers, TrueNorth gives you unlimited users so your monthly fees aren't multiplied by every user account you need to add to the system and the company only runs one plan – so your fees stay at $99/month.
Also, keep in mind that ActiveCampaign's monthly fees increase pretty quickly although it remains very affordable compared to similar products like HubSpot that charge thousands per month (or more) for very similar feature sets.
Even still, you can build a powerful growth tech stack for very little here with the likes of TrueNorth, ActiveCampaign and the free plans available with Zapier, Hunter, UsabilityHub and Chargebee. Yes, you'll have to upgrade to paid/more expensive plans (with the exception of TrueNorth) but any successful growth marketing strategy will quickly earn more than enough revenue to keep up with the monthly fees of all of these tools combined.
The point is, even the smallest businesses can get started with the low entry prices and free plans offered by most of the providers in the list. The only real exception is VWO but you can afford to wait a little before you invest in this kind of conversion optimisation suite.
Feature comparison
Next up, we've got a feature comparison table and, given how different the software tools we're looking at in this article, it's difficult to create a feature comparison that reflects each platform fairly. We simply don't have space to include too many features and, in many ways, these products aren't all that comparable.
However, we can list some of the broad features/purposes of each platform to compare the role each tool has to play in your growth marketing strategy.
Some of these software platforms help you capture leads while others are more effective at marketing campaign management (or aspects of campaigns) and others focus more on optimising the experience. All of these roles are important and none of the tools we've looked at today can do everything – but they all do one or multiple things very well.
If you're not in a position to invest in all of these tools at one, you should prioritise the tools that help with lead capture, campaign management and marketing automation because these are the tools that will make the biggest early impact. You can concentrate more on optimising for conversions and improving the experience later when your marketing campaigns are getting results at the earlier stage of the customer cycle.
Build bigger, faster with growth marketing
In this article, we've looked at the 10 most essential growth marketing software tools for businesses looking to build big and fast. From marketing strategy and campaign management to automation and conversion optimisation, we've covered the entire funnel with our software recommendations.
Now, it's up to you to take the tools available and use them to drive meaningful, measurable growth – and we'd love to hear your thoughts if you think any other software tools should have made it into this list.