Subscription-based pricing transformed the software industry and opened up a new avenue of growth and revenue for SaaS companies. However, managing subscriptions, complex pricing structures and customer cycles is a real challenge – especially when you're running multiple plans.
To maximise revenue, you have to convert free users into paying customers, keep them paying their software bills, upsell customers to more expensive plans and chase up missed payments. You also need to find the most profitable pricing strategy, test out new pricing models and comply with tax regulations in every market you're selling to.
In this article, we look at the best subscription billing platforms that'll turn your SaaS pricing model into a growth asset.
What are we looking at in this article?
In this article, we're looking at the 10 best subscription billing platforms for SaaS companies. We've got enterprise systems for established software companies to free tools for SaaS startups and everything in between – the best subscription billing and management tools for SaaS companies of every size.
The purpose of this guide is to help you choose the best platform for your needs. First, we review all 10 platforms and, then, we compare them for pricing and key features.
Here's a preview of the section in this article:
As we review each platform, we list their key features and we take an in-depth look at how they handle tax compliance, dunning (to recover failed payments) and reporting – because these are especially important with subscription billing platforms.
We also look at the pricing of plans and, after we're done with the reviews, we compare the price of each platform and the features with tables like this for quick comparison.
| Tool | Subscriptions | Taxes | Dunning | Card checks | Customer portal | Payment processing |
| --- | --- | --- | --- | --- | --- | --- |
| Paddle | ✔ | Complete | ✔ | ✔ | ✔ | ✔ |
| Chargebee | ✔ | Strong | ✔ | | ✔ | |
| Chargify | ✔ | Medium | ✔ | | ✔ | |
| Billsby | ✔ | Basic | ✔ | | ✔ | |
| Recurly | ✔ | Basic | ✔ | ✔ | ✔ | |
| Zoho Subscriptions | ✔ | Basic | ✔ | | ✔ | |
| Fusebill | ✔ | Weak | ✔ | | ✔ | ✔ |
| Braintree | Basic | | | | | ✔ |
| PayKickStart | ✔ | Medium | ✔ | | ✔ | |
| Stripe Billing | ✔ | Basic | ✔ | | ✔ | ✔ |
By the time we're done, you'll know which subscription billing platform is right for your SaaS business. So let's get started with our first review and take a look at what Paddle has to offer.
#1: Paddle: The premium revenue platform for SaaS companies
Pricing info: POA
Paddle is the all-in-one revenue delivery platform for SaaS companies targeting global growth. The system helps you integrate and test subscription models on your website, covering all four stages of the software payment process:
Checkout: Global checkout support allows you to take payments from new customers anywhere in the world.
Subscriptions: Subscription management helps you maximise monthly recurring revenue (MRR).
Invoicing: Get paid faster and follow up missed payments with built-in invoicing and dunning.
Compliance: Paddle handles tax, payment and data compliance on your behalf – so you don't have to worry about them.
We use Paddle to manage payments and subscriptions for Serene, our innovative productivity software. And, while there are cheaper options out there, Paddle's comprehensive offering saves you so much time and potential headaches (especially with tax compliance) that you never question the value of the platform.
Key features:
SaaS subscriptions: Paddle offers extensive subscription features specifically designed for SaaS companies and software products.
Managed payments: Instant access to established international banking infrastructure for easy payments in every country and currency.
Billing models: Smart subscription logic helps you create recurring, metered, on-time and other billing models in a matter of clicks.
Upgrades & downgrades: Manage customers with ease as they upgrade or downgrade from plans.
Free trials & freemium: Manage free trials, free plans and freemium strategies within Paddle.
Integrated checkout: Take payments by card and PayPal using Paddle's built-in checkout.
Invoicing: Create and send invoices to customers automatically.
Automated sales tax: This platform calculates, files and remits your software sales taxes on your behalf – based on your customers' location.
End-to-end dunning: Paddle automates dunning across the entire customer journey to recover lost revenue.
Paddle Data Core: Advanced data capture and reporting for insights on your business performance and your rivals.
Managed support: Paddle's excellent support team helps you set up your payment strategy, deal with any technical issues and handle tax compliance for you.
If you're looking for an all-in-one revenue platform to help you maximise profit and global growth, you probably don't need to read the rest of this guide. Give Paddle a call, get a quote and try this system out for yourself because this is the most comprehensive and robust system around.
End-to-end subscription management gives you all the tools you need to implement new billing models, test new pricing strategies, create new upgrade flows and manage your existing customers to maximise lifetime value.
No matter how complex your pricing strategy is, Paddle simplifies delivery and management at every level.
For example, you can set up tiered pricing plans for multiple customer profiles and create flexible enterprise pricing/quotes using rules to determine how much customers pay, based on their needs/usage – all while giving sales reps the freedom to customise quotes for deals that deserve a little more flexibility.
The only downside with Paddle is that it can take some time to get everything set up and integrated with your website but this is where Paddle's excellent team steps up. You see, you're not only getting a revenue delivery system with Paddle, you're getting a managed service from a team that helps you get everything working and provides ongoing support at every stage of growth.
If you run into any technical problems, Paddle's team is on call to resolve issues before they start hurting your revenue.
However, the biggest aspect of support you'll notice as a Paddle customer is the managed compliance services, which is called Paddle Comply. We'll look at this in more detail later but, basically, the company takes care of global tax, payment and data compliance for you – so you can focus on building your business without worrying about regulations in different territories.
This allows you to define your target markets, calculate your tax obligations with ease and set your pricing to ensure you're making enough revenue in each territory after tax to hit your growth targets, knowing that Paddle's financial team are keeping you compliant and up-to-date with changing regulations.
How much does Paddle cost?
Unfortunately, Paddle doesn't disclose pricing on its website and you'll have to call the company to get a quote. It wouldn't be fair for us to reveal how much we're paying to use the platform for Serene but, equally, it wouldn't necessarily give you an accurate idea of what to expect.
Pricing is largely determined by your annual revenue, the number of customers you have, your current growth rate and other factors such as the number of markets you're targeting customers in. In fact, we wouldn't be surprised if some markets are more costly for Paddle to cover than others (we know they are for us).
Either way, Paddle isn't the budget option for subscription management. This is a premium, comprehensive revenue platform with managed compliance services included and you have to pay for this level of quality.
How does Paddle handle tax compliance?
Paddle's platform shines in so many areas but tax compliance is where it really stands out from the competition. When you sign up to its revenue platform, Paddle assumes the role of the Merchant of Record on your behalf, which means the company takes legal responsibility for maintaining tax compliance for all revenue generated through the platform.
In other words, you outsource legal responsibility to Paddle and focus on growing your business without the fear of reprisal from tax organisations on the other side of the world (or your own country for that matter).
If tax laws change overnight or it turns out you haven't been paying enough tax for the past five years, Paddle is investigated – not you.
As Paddle's tax agony index shows, tax compliance is one of the biggest barriers to SaaS growth. If you're operating in the US, state tax variations alone are a nightmare to deal with and software companies working on the international stage need to comply with tax, payment and data regulations for every country and, in some cases, regional and state regulations.
With regulations constantly changing, even keeping up with the latest requirements is a challenge – let alone adapting to them and complying at every turn.
Of course, you can work with experts in every territory to maintain compliance but this adds further complexity. Paddle removes this by assuming responsibility for compliance and taking care of all the documentation for you.
How does Paddle handle dunning?
Missed payments are another major barrier for SaaS revenue and Paddle provides comprehensive dunning features that not only chase up missed payments but help you prevent them from happening in the first place.
As Paddle put it: "dunning is more than just sending automated emails" and this really is the case with its software.
The platform automatically checks for credit card updates before subscription renewals are due to prevent payments failing due to expired or cancelled cards.
If any changes are detected, you can send pre-billing notification emails to prompt users to update their details before the next payment is due.
If the payment still fails, this is where dunning emails are automatically sent out but the platform doesn't stop there. It continues attempting to take the payment to resolve instances where unavailable funds or technical issues have been resolved.
The platform also uses a system of "waterfall" attempts with different payment processors to rule out any technical problems on their end.
You can customise your own dunning sequences – for example, to control when the first pre-billing email is sent, how many are sent before the due payment and how many follow up emails to send, including the time delays between each email.
This allows you to test different sequences, measure the results of your dunning campaigns and pinpoint the best strategy for maximising retained revenue.
How good is reporting?
With the depth of payment, billing and management features built into Paddle, you also get a comprehensive set of reporting and analytics tools. You get monthly recurring revenue (MRR) reports and trend reports highlighting MRR movement over time, which helps you optimise monetisation and retention/churn to keep hitting your growth targets.
You can also view your "top company" customers who are most likely to respond to upselling campaigns and upgrade to team or enterprise plans. Another important report for SaaS companies selling acroschars multiple countries is the top geographies report, which provides insights on revenue performance in different locations and helps you optimise pricing to local currencies and expectations.
Paddle verdict
Paddle is a serious revenue delivery platform aimed at established SaaS companies with equally serious growth ambitions. It's not the most affordable option we'll be looking at today but, in terms of pure quality, it is the best all-in-one solution and you get what you pay for.
New startups and bootstrapped ventures may want to look elsewhere but even smaller established SaaS companies that are selling across multiple countries might want to give Paddle a call and get a quote – you might be surprised by the numbers you hear.
Paddle approach to tax compliance alone will save you all kinds of money and hassle – before you even consider optimising pricing plans to increase revenue or the excellent dunning features that prevent payments from slipping away.
#2: Chargebee: Scalable revenue software for every stage of growth
Free plan available; pricing starts at $99/month
While Paddle is most suitable for established SaaS companies and products, Chargebee is the scalable revenue platform for every stage of growth – from launch to hitting enterprise status.
We use Chargebee to manage payments for Leadformly and this product was particularly innovative upon launch. We almost had to educate our target audiences about the problems Leadformly solves because they weren't being discussed at the time. Now, these issues are widely understood and multi-step form builders are quite common but we really had to start from nothing with Leadformly and having a payment solution like Chargebee was invaluable for this.
Key features:
Subscription management: Create, test and optimise your subscription model to maximise revenue.
Billing automation: Set up your recurring billing workflow and automate invoicing logic.
Recurring payments: Collect, manage and maximise recurring payments.
Accounting & taxes: Simplify SaaS accounting, finance and taxes.
Enterprise billing: Manage enterprise plans and customised quotes to meet the unique needs of your highest-paying customers.
Smart Dunning: Reduce involuntary churn with a configurable Smart Dunning for recurring payment failures.
Customisable checkout: Create a smooth checkout experience by customising Chargebee's built-in checkout without writing any code.
Multi-decimal support: Accurately track product usage and reflect taxes and charges in your invoices.
SaaS reporting: Comprehensive analytics and reporting specifically for SaaS companies.
We'll take a closer look at pricing shortly but let's start by mentioning that Chargebee offers a free plan to help SaaS companies launch new products. This isn't a token free plan that tries to lure you in and upsell you to paid plans right away; it's a solid plan for new software ventures that's designed to drive early growth and provide an upgrade path to support your businesses at every stage.
For new startups, bootstrapped ventures and SaaS companies on a shoestring budget, having this kind of a free plan is invaluable and Chargebee focuses on building a long-term relationship with your business.
Chargebee is a good option for established SaaS companies, too. It doesn't have the same premium feel as Paddle – and you certainly don't get the same level of tax compliance features – but Chargebee delivers a powerful set of features on every plan and remains an affordable choice at every stage of growth.
Every Chargebee plan allows you to create, manage and test subscription plans, including free trials and custom pricing for high-use or enterprise customers. There are some really helpful features worked into the subscription management section of the software, too – such as "grandfathering" that allows you to keep all (or selected) existing customers on the same pricing, even as you update your plans.
Another good example is multi-decimal support, which helps you set usage-based pricing more accurately by removing "rounding errors".
For example, businesses in the telecommunication domain may want to track data consumption in multiple decimals like 1245.3587 MB and the pricing could be $0.015 per MB. Inaccurate billing in the absence of multiple decimal support can lead to considerable deficit in your company's overall revenue.

The multi-decimal support feature helps you avoid compromising your price and unit values, and ensures more accurate billing. With multi-decimal pricing enabled, you can use up to 20 decimal places while specifying the price and units for your plans and addons.
Every plan also includes a customer portal where your customers can manage their subscription.
Here, they can see which plans they're signed up to, when their next payment is due, which payment details are stored and other details about their subscription. They can also update their payment details and, depending on the permissions you've set, update their plan or change the payment frequency.
For a full look at the features available on each Chargebee plan, take a look at the pricing page.
How much does Chargebee cost?
Speaking of pricing, let's take a closer look at Chargebee's free plan and what you get for your money on the paid versions. As mentioned earlier, the free plan is no gimmick, providing a capable revenue platform for new and small SaaS companies.
The free Launch plan covers you for up to $100,000 in revenue and, once you hit this threshold, you're automatically bumped up to a $99/month fee with a 0.5% overage fee if your revenue exceeds $25k per month.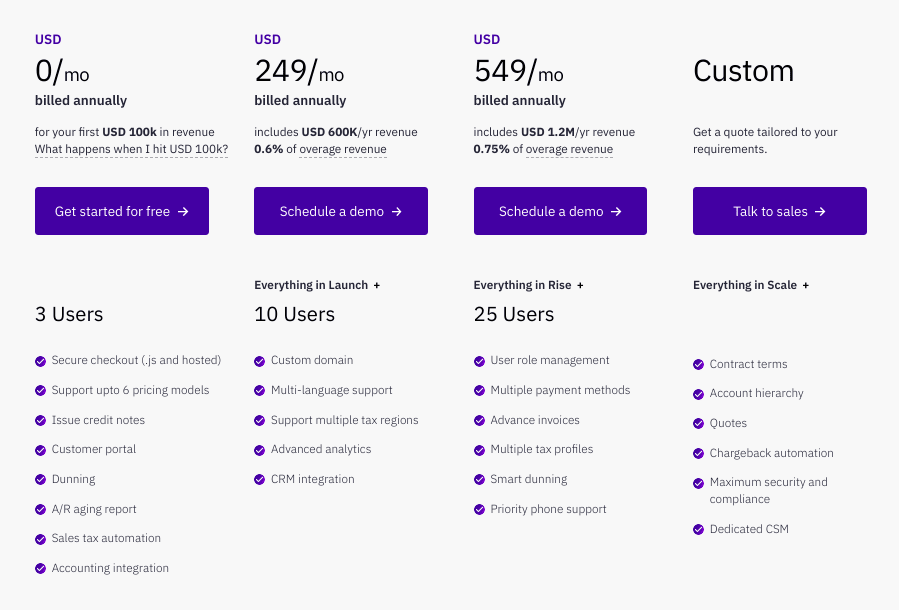 The Launch plan covers you for up to three users and gives you access to most subscription management features, the essential payment, checkout and dunning features, plus all of the tax features (you're limited to one tax region, though).
So this is a feature-packed plan that you can use for free, until you hit $100,000 in revenue and, even then, the $99/month fee is great value. Once you're paying for the Launch plan, this covers you for a good amount of growth, too, before you'll look to upgrade.
The Rise plan costs $249/month and this covers you for up to $600,000 annual revenue, after which a 0.6% overage fee is applied. You can have up to 10 users on the system and you open up some advanced invoicing features, custom domains, abandoned cart tracking and a range of other features.
Most notably, the Rise plan covers you for multiple tax regions.
By the time you upgrade to the $549/month Scale plan, you're covered for up to $1.2 million annual revenue with a 0.75% overage fee and access to pretty much every feature on the platform (the main thing missing at this point is enterprise support).
Given the features available on each plan, Chargebee is aggressively priced at every level and the company lays out a clear growth path with upgrades that empower you to drive more revenue without ever holding you back.
How does Chargebee handle tax compliance?
After reading our review of Paddle above, you might be wondering whether Chargebee is going to take care of taxation for you in a similar way. Well, that's not the case and Paddle's approach to tax compliance is not the norm – so you can understand why it's such a big deal.
Instead, Chargebee has developed a system that makes it easier to manage tax compliance in every market you're selling to. So the responsibility lies firmly on you but you can use Chargebee's tax management system to configure tax rules and automatically apply them when an invoice is generated.
You have to configure everything yourself but Chargebee guides you through the process by asking you to define the markets you're selling to (regions, countries and states, depending on regulations) and this documentation page explains the process in detail.
For the most part, Chargebee provides all of the tools you need to comply with tax regulations around the world but you're reliant on the system keeping up to date with changes.
Something else to note: Chargebee doesn't produce SAF-T files with its invoices so, if you're operating in countries that require these, you'll need another invoicing solution to automatically generate these for submission to the relevant tax authorities.
How does Chargebee handle dunning?
Chargebee gives you complete control over your dunning strategy by setting the duration and frequency of retries and defining actions for failed payments – e.g.: invoice statuses and subscription statuses.
You can test and optimise your dunning strategy to find the combination that works for you and Chargebee has a couple of unique features to help you recover more revenue.
First of all, Chargebee decouples failed payment notices from your regular emails to help you stay out of the spam folder – and you can test the number of follow-up emails that generates the best results.
You've also got Smart Payment Retries, which identifies the failed payments that are worth pursuing to avoid multiple, unnecessary failures hurting your reputation with payment gateway providers.
How good is reporting?
Chargebee has a built-in SaaS analytics platform called RevenueStory that includes 11 different dashboards as standard:
Critical Business Metrics: A real-time dashboard to understand critical metrics related to growth, retention, and leakage and to stay on top of business growth in the uncertain times of COVID-19.
Finance Watch: This dashboard helps you understand how much revenue your company is actually making as compared to monthly recurring revenue (MRR) which is a notional value. By using the metrics in this dashboard you can also get visibilityme into your cashflow, payments & refunds, and credit card expiry.
Business Highlights: Provides a birds-eye view of all the key metrics revolving around MRR, growth, subscriptions and churn, on a monthly and quarterly basis. This dashboard helps you understand the health of your business and see if you are on track.
Executive Watch: You can view historical trends with metrics around MRR, MRR growth, retention and Churn broken down over the course of several months. This dashboard provides insights into your performance today, in comparison with the same metrics from the previous month. Use this for a detailed view of your growth for stakeholders and investors.
Marketing Watch: This dashboard displays the metrics that impact the top of the funnel, like sign-ups, activations, and new revenue. This dashboard also includes insights about more long-term activities like subscription retention and MRR growth cohorts, and net dollar expansion that allow marketing teams to see the impact of their acquisition strategies over a longer time frame, and identify emerging markets.
Sales Watch: Consists of top revenue metrics like New MRR, Expansion MRR, Upgrade MRR, and ARR, segmented by plans, geographical territories and verticals. This dashboard allows the Sales team to identify which industries, geographies, plans and even sales reps contribute to the most revenue.
Customer Success Watch: You can use this dashboard to monitor and track your customer success initiatives. It displays the subscription and revenue churn, upgrade and downgrade MRR, net churn rate and a cohort view of customer churn, in addition to a time-based breakdown of when customers churn.
Monthly Watch: It displays all the components that affect your MRR on a month-on-month basis, like New MRR, MRR from free to paid conversions, expansions, and the loss of revenue due to Cancellations, Downgrades, and Scheduled Cancellations. This dashboard also gives you an insight into your Metered Charges, LTV and CAC, and monthly churn both in terms of customer count and lost dollar value.
Subscription Watch: Shows a collection of all the core KPIs to provide a holistic perspective into your subscription lifecycle, like sign-ups, activations, churn, and so on. Use this dashboard to understand how your business metrics have evolved on a weekly or monthly basis. This dashboard is useful when you have to compare the dynamic and long-term trends in your subscriptions simultaneously.
Churn Watch: This dashboard displays all the metrics and trends you need to track with respect to churn.
Weekly Watch: Shows the more dynamic KPIs that you would need to track on a week-on-week basis, like sign-ups, activations, MRR addition, and churn. This dashboard shows if you are on the right track to meeting your monthly targets.
You can also create your own dashboards and custom reports to compile the metrics that matter most to your business. RevenueStory comes with 150+ ready-made reports and, if you can't find one that meets your needs, you can build your own, without writing any code, using the dedicated Report Builder.
Chargebee verdict
Chargebee verdict is a feature-rich revenue management platform that offers great value for SaaS companies at every stage of growth. Its free plan is a complete system that covers the needs of startups and small software providers with ease and the paid plans leave plenty of room for growth so that you're never held back by usage limitations or expensive fee hikes.
If you're looking for a revenue and subscription management system to grow with your SaaS company – from launch to rockstar status – Chargebee is the platform that'll help you get there and keep up with you, every step of the way.
#3: Maxio: Events-Based Billing Platform for B2B SaaS
Pricing starts at $599/month
Maxio is a subscription and billing platform for B2B SaaS companies running an events-based pricing system. It allows you to create complex, usage-based plans that charge your customers for the events they value most – for example, conversions and purchases for a piece of e-commerce software.
The idea is that you identify the metrics that deliver real value for your target customers and charge them for the actions that make a real difference to their business.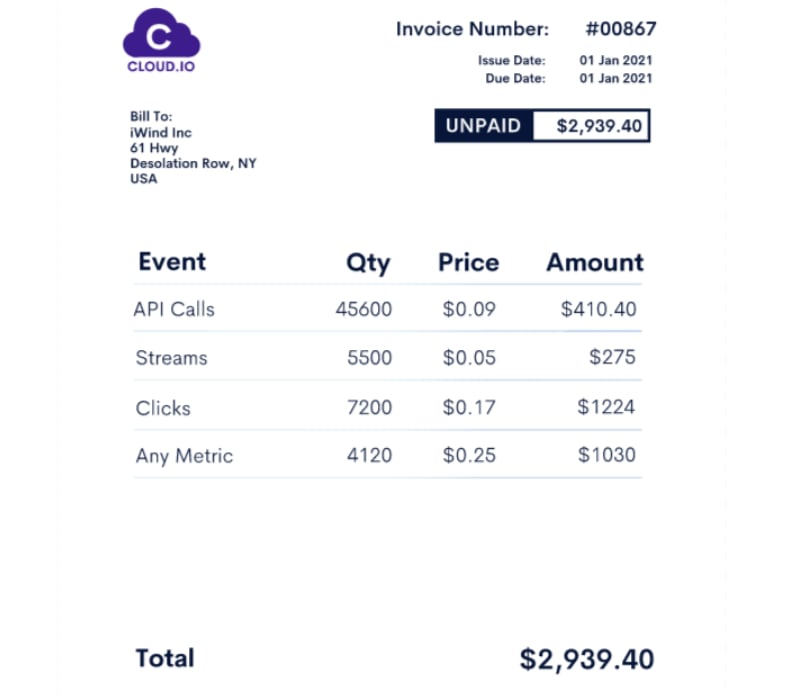 Maxio streams your customers' usage data in real time and allows you to charge for the most granular events. So let's say automation is a key part of your SaaS product and you want to charge for every automated action. You could create billing rules for event triggers and webhooks so that you're not simply charging customers for workflows they create but seldom use.
Essentially, this is a more accurate way to manage usage-based pricing but it also helps communicate the value of your product with greater clarity – and justify your pricing in a more demonstrable way.
Key features:
Subscription management: Track and manage subscriptions throughout the customer lifecycle. Strengthen relationships, decrease churn and increase lifetime value.
Events-based billing: Create multidimensional billing models with real-time data streaming and analytics.
Revenue retention & dunning: Reduce customer churn caused by failed or delinquent payments.
Billing scenarios: Experiment with different recurring billing models to align your pricing strategy with how customers consume your products.
Offer management: Elastic Billing™ provides the flexibility and agility to deliver the right offer, to the right customer, at the right time.
Payment gateways: Integrate with major payment gateways, including Stripe and Braintree.
Analytics & insights: Say goodbye to dated spreadsheets and wild guesses with real-time, reliable SaaS insights.
The headline features of Maxio is its events-based billing system that helps B2B SaaS companies manage a sophisticated usage-based pricing system based on the actions that matter most to their customers.
Maxio doesn't limit you to events-based billing, though. You can run and test a range of subscription models including freemium plans, free trials, one-time fees, monthly subscriptions and every major SaaS pricing strategy.
This is important because you want the flexibility to test different pricing models and you may even run different strategies for different customer profiles – or usage-based add-ons.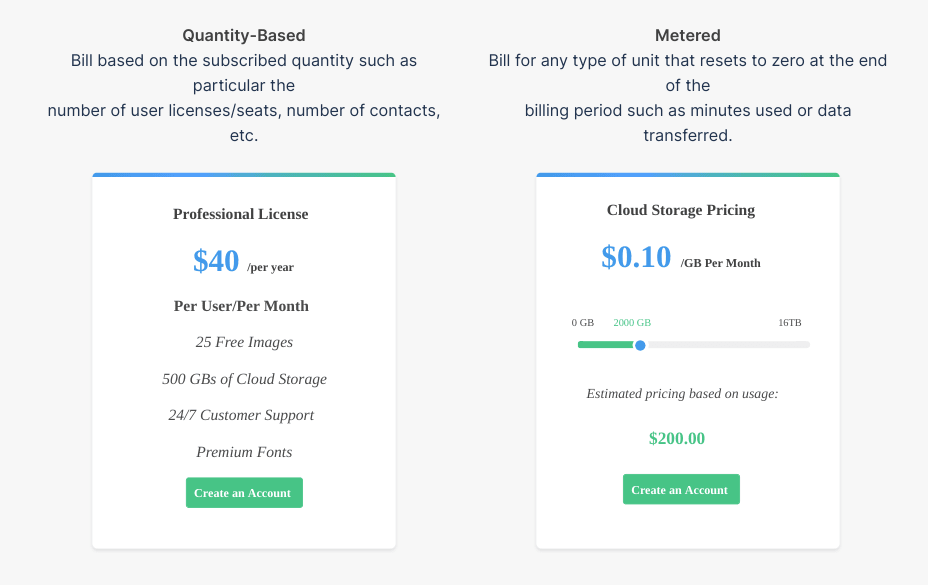 Either way, the key selling point of Maxio is its events-based billing capabilities and these are the features that should determine whether this is the subscription and billing platform for you, even if you're testing and combining with other payment strategies.
Maxio's user tracking puts the data you need at your fingertips and its drag-and-drop builder makes it easy to visualise plan pricing as you add events and price points.
You can set prices for individual events and units to price for quantities, create plans with volume limits or ranges, and build usage-based upgrade paths that incrementally increase prices as your customers gain more value from your software.
How Much Does Maxio Cost?
Maxio plans start at $599/month for the Essential plan, which covers you for up to $250k of revenue through events-based billing with a 0.9% overage fee on anything over that.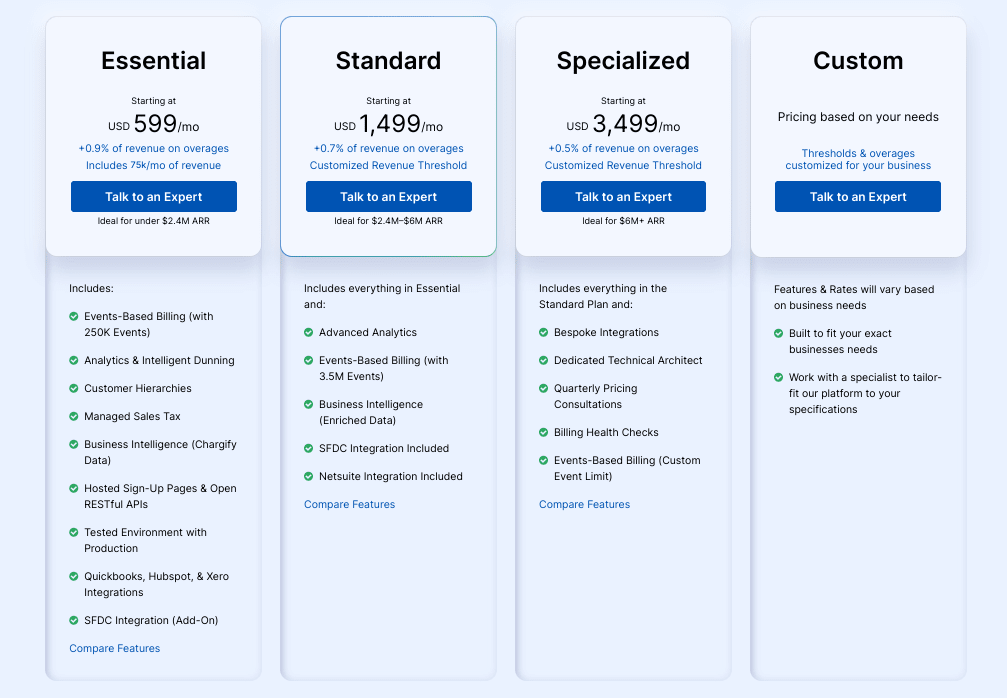 Plans are mostly priced on revenue and usage so there isn't much feature differentiation between plans. This means you get access to the majority of Chargebee's features and tools on the Essentials plan without feeling any pressure to upgrade until you're generating enough revenue to justify it.
Maxio positions its Essentials plan as ideal for B2B SaaS companies generating under $2.4 million annually repeated revenue (ARR) and, at these prices, the Essentials plan certainly isn't a budget option for smaller companies.
One potential sticking point is the team members restriction on the Essentials plan. The limit of 10 team members seems disproportionately restrictive compared to coverage for five live sites, especially for SaaS companies generating millions in ARR that could well have different teams for each of those products/sites.
How Does Maxio Handle Tax Compliance?
Maxio offers three tax services/settings for different use cases. You can find detailed information on this documentation page but here's a summary of the three options available:
If you want to retain full control over taxation, you can set custom tax rules for every territory you're selling to. Alternatively, you can take advantage of Chargify's partnership with Avalara, which gives you access to all the tools you need to manage tax for the US, Australia, Canada and VAT in the European Union.
Whichever approach you take, you retain the ability to mark customers as tax exempt by adding an exemption rule, which overrides any other tax settings you have applied globally.
How Does Maxio Handle Dunning?
All Maxio plans include the same customisable dunning features and tools to help you reduce unintended churn and recover lost revenue. Unlike Paddle, Maxio doesn't automatically check cards to ensure they're still valid but it does give you several tools to prevent failed payments before they happen.
You can send end-of-trial emails and renewal notices to give customers a heads-up that payments are soon required. Maxio also uses the expiration date your customers provide (if they choose to save their card) so you can send credit card expiration notifications, prompting customers to update their payment information.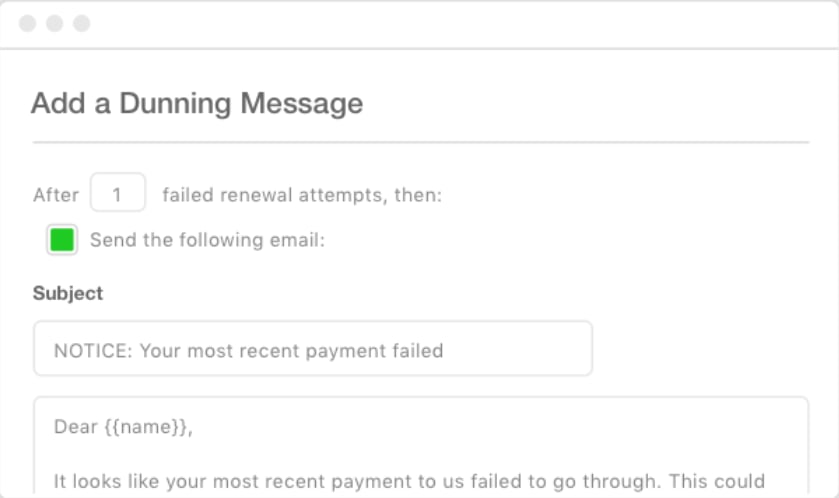 Maxio also allows you to send and schedule sequences of dunning emails to re-engage with customers in the event of failed payments. You can define how many emails are sent and create rules to send different messages after any quantity of renewal attempts – for example, a cancellation warning.
Finally, you can set actions for failed payments, such as subscription cancellations or marking subscriptions as unpaid after a set number of renewal attempts.
How good is reporting?
Given the data-driven approach to Maxio's event-based billing system, you would expect extensive reporting from the platform. In terms of data volume, Maxio doesn't disappoint, allowing you to monitor usage, subscriptions, billing and revenue in great detail.
Subscription management tools don't normally provide this level of insight into usage analytics and even fewer correlate them to revenue in such detail.
The issue with Maxio's reporting is that, despite the volume of data available to you, there's a frustrating lack of filters to help you segment data and create custom reports.
This is a missed opportunity for a platform that has access to granular data and the reports available by default show the company knows how to present insights effectively – it just needs to give customers the freedom to do it on their own terms.
Maxio Verdict
Maxio is a powerful subscription management platform for enterprise B2B SaaS companies running an events-based billing model. If you want to take usage-based pricing to the next level and charge customers for completing actions that drive real value to their business, then Maxio captures the data and provides all the tools you need.
#4: Billsby: The free, unlimited subscription platform for SaaS
Pricing starts at $0/month
Billsby is the first subscription management platform we're looking at that really caters for the smallest of SaaS ventures.
Whether you're an entrepreneur with a big idea, in the middle of starting a new software company or rolling out a new product on a shoestring budget, Billsby makes subscription management software accessible to everyone.
The company runs the most generous set of free plans out there, alongside a premium managed service for larger SaaS companies – ideal for new SaaS ventures and growing companies that need to build momentum while keeping expenses to a minimum.
Key features:
Subscription management: Create and manage unlimited products, plans and cycles.
Hidden plans: Create hidden plans that you can offer to certain customers or hold back for your customer service team.
Add-ons & allowances: Increase MRR with usage-based billing by setting allowances and cross-sell additional features with paid add-ons.
Billsby Checkout: Customise the checkout experience on your website.
Tax & compliance: Automatic tax calculations and integration with TaxJar if you're selling to markets around the world.
Invoices: Stop sending static PDF invoices to customers and start sending Billsby Advanced Invoices that reduce churn, deflect payment failures, provide proactive customer service and upsell new products and services.
Retention & dunning: Stop failed payments in their tracks, recover revenue and reduce customer churn.
Reports & insights: Your Billsby Dashboard collates all of the facts, figures and information you need to run your subscription business in one place – so you can always keep on top of what's going on and how it'll impact your company.
With Billsby, you can create unlimited products, plans and customer cycles to accommodate any pricing strategy. You can also have unlimited team members signed up, sell to unlimited countries, manage unlimited tax profiles and integrate with unlimited payment gateways.
If you haven't guessed it by now, this is as close as it gets to a truly unlimited subscription management system and we're still talking about the free Complete plan here.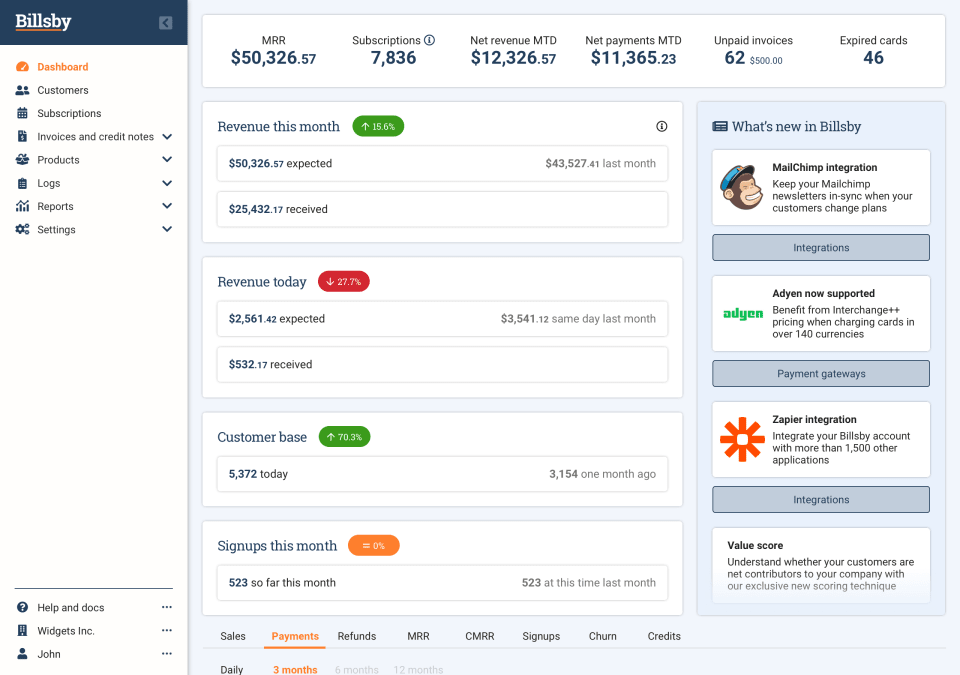 As you might expect, Billsby isn't as advanced as the more enterprise-focused platforms we've looked at so far but it covers all of the essentials for new and growing SaaS ventures:
Subscription management
Invoicing and emails
Rax compliance
Dunning and retention
Payment gateway integration
Revenue reporting
The relative simplicity of Billsby makes it easier to use, too, and you appreciate this most when you're creating new plans to test to run alongside your existing subscriptions.
The interface is pretty basic but this works to its advantage when you're setting up new plans and customer cycles or testing new variations.
The platform is incredibly open, too, with integration support for just about every payment gateway solution out there. This, combined with the unlimited nature of Billsby, helps you sell in every target market and currency of your choice.
How much does Billsby cost?
The biggest talking point with Billsby is the company's Complete plan, which is 100% free until you generate your first $5,000 in revenue. Once you hit this threshold, the Complete plan is priced at $0/month but a 0.4% transaction fee is applied to every invoice paid.
Previously, this plan was limited to one payment gateway, one tax region, five currencies and five team members but these restrictions have all been lifted to unlimited usage.
The company also offers a Managed plan costing $2,000/month with the same $0.4 transaction fee added after your first $5,000 of revenue.
Billsby runs different versions of these plans for a range of business types.
The Complete for Startups plan is exactly the same as the regular Complete plan, except it covers early-stage startups for $10,000 before transaction fees are applied.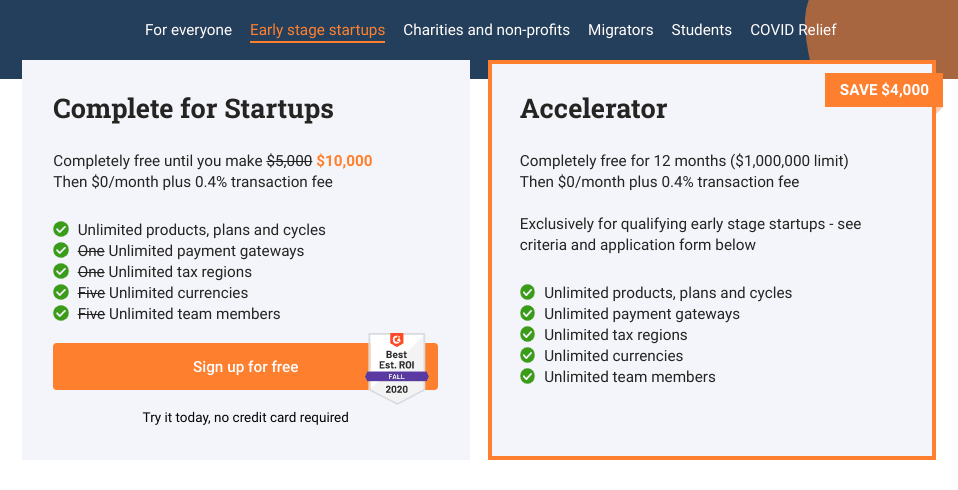 There's also an Accelerator plan for startups that's completely free for 12 months (up to $1,000,000) and, then, $0/month with the 0.4% transaction fee applied.
There are also plans for charities and non-profits, students, a Covid-19 relief plan and a bonus for companies migrating from other platforms.
You can find all the information you need about these plans and feature comparisons (they're basically all the same) on the Billsby pricing page.
How does Billsby handle tax compliance?
In Billsby's words, "taxes and compliance are probably the biggest barrier to your business going global" so what does the company offer to help you manage these challenges?
The platform offers two solutions for managing taxes. First, there's an integration with TaxJar that automates taxation and compliance for prices starting at $19/month, which Billsby recommends for more complex taxation requirements.
You can also use Billsby's Automatic Tax Calculations to figure out your obligations in different territories and adjust your pricing accordingly. Billsby recommends this approach for new businesses or SaaS companies with relatively simple tax requirements.
Billsby charges $0.02 for every calculation performed through this service.
How does Billsby handle dunning?
With Billsby, you can create custom dunning flows to deal with failed and declined payments. When payments fail due to a technical error or issue beyond the cardholder's control, Billsby continues to attempt taking the payment every few hours to overcome any potential issues on the bank or payment processing end.
If payments repeatedly fail, they're marketed as declined payments where your dunning flows are triggered.
With custom rules, you can determine when email reminders are sent, when customer accounts are suspended or cancelled and when to write off unpaid invoices.
The first automated action is to inform cardholders as soon as a payment is declined and request an alternative payment method. Billsby allows you to reattempt payments up to three times before taking action on the account, which might be a tad restrictive but it does protect your reputation with payment gateway providers.
If you don't want to lock users out of your software too quickly, you'll have to set a suitable time period between each payment attempt.
You also can choose whether subscriptions remain active, how many emails to send, the time period between each reminder and at which point accounts are suspended or cancelled.
How good is reporting?
Billsby provides reporting for customers and subscriptions to help you manage long-term revenue and spot trends in customer acquisition, upgrades (or downgrades) and churn.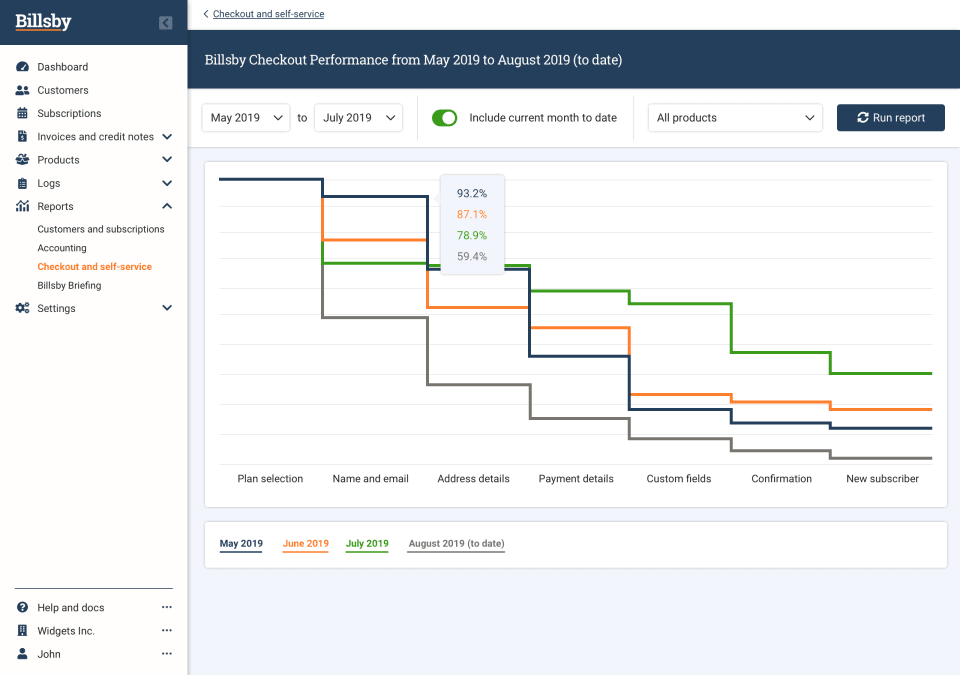 Under the Checkout and self-service tab, you'll also find the Exit Reasons reports showing responses from customers leaving your product, revealing the most common reasons why people stop using your software platform.
Billsby also provides a pretty extensive set of accounting reports for tracking revenue, sales, discounts, tax, write-offs, payments and refunds – all of which helps you build a more accurate picture of revenue.
Billsby verdict
If you're looking for the best free subscription management platform, Billsby's Complete plan is as good as it gets. In fact, if you want a lesson in disruptive product positioning and pricing, look no further. Billsby isn't the most advanced or polished subscription management platform but shoots right to the top of the consideration list with its open, unlimited free plan, offering more than you get from a lot of paid alternatives.
#5: Recurly: The complete subscription management & analytics platform
Pricing starts at $149/month
Recurly is used by some of the world's biggest SaaS names and streaming platforms, including Twitch. Its subscription management platform promises to help you maximise revenue by refining your pricing strategy, optimising payments and reducing churn.
This is a feature-rich platform delivered by a company known for providing excellent customer support and you'll be joining good company if you choose Recurly as your subscription management system.
Key features:
Subscription management: Increase revenue with a range of plans and sophisticated subscriber acquisition tools.
Flexible pricing models & testing: Test and optimise your pricing strategy to find the perfect balance between user numbers and revenue.
Payment optimisation: Provide a frictionless subscriber experience with the most preferred payment options around the world.
Billing & accounting: Collect revenue faster with a variety of billing options and streamlined accounting.
Subscriber retention: Recurly uses advanced statistical models and machine learning to reduce churn, increase subscriber retention and capture more revenue.
Dunning management: Chase up missed payments with automatic dunning.
Global payment methods: Streamline the checkout experience and increase conversions by letting subscribers pay using their preferred payment method.
Global tax support: Meet your tax compliance requirements through our integration with Vertex and Avalara, leading tax solutions for subscription businesses.
Reporting & analytics: Recurly Analytics provides a clear overview of the state of your business.
Recurly puts almost every tool you could ever need for implementing and optimising subscriptions on your website and managing customers. You can create, test and manage plans to find the ideal pricing model for your products, including free plans and free trials as a growth strategy.
You can also manage coupons, discounts and gift subscriptions in Recurly, too, even if these are more common for consumer goods subscriptions.
With users signed up, Recurly helps you upsell existing customers to more expensive plans and manage customer lifecycles to prevent churn as your pricing strategy and product evolve.
As you would expect from any subscription management platform of this quality, revenue retention is an important part of the system and Recurly packs plenty of tools to help you prevent revenue slipping away.
Above all, the platform aims to help you prevent churn and failed payments before they happen with its Revenue Optimization Engine. With the company handling payments for some of the biggest subscription businesses in the world, it can utilise this data to identify churn dangers that could prevent renewals.
The platform also includes some of the most advanced dunning features we're looking at in this article (on par with Paddle) and we'll look at these in more detail shortly).
How much does Recurly cost?
Recurly is an enterprise platform designed for established SaaS companies and startups with financial backing. As a result, the company doesn't need to lure customers in with free plans or particularly affordable pricing.
That said, the Core plan is priced at $149/month with an additional 0.9% of revenue charged on top of that. This certainly isn't the most affordable entry plan but price isn't really the factor here.
If you're going to choose Recurly as your subscription management platform, you want to sign up for the Professional or Elite plan to access its best features, such as proactive credit card updates and Smart dunning.
Recurly doesn't list prices for these plans on its website so you'll have to call the company's sales team to get a custom quote. Your monthly fees depend on your revenue history, transaction volumes, the number of user accounts you need and a whole bunch of other factors.
From our experience, we would suggest you're looking at enterprise prices but the more reasonable end of the spectrum.
How does Recurly handle tax compliance?
Recurly doesn't get involved in tax compliance itself and if you visit the documentation for tax on its website, the company is honest in saying that "Recurly are not taxation experts".
The platform does offer basic tax support, including calculations for the United States, Canada, Europe, Australia, New Zealand, Israel and South Africa.
For more advanced taxation support, Recurly integrates with Avalara and Vertex – both of which can automate tax collection for you. Recurly recommends using Avalara if your customers are located in North America and the European Union. On the other hand, if your customer base is spread out across countries beyond these regions, Recurly suggests integrating with Vertex.
How does Recurly handle dunning?
Recurly has built a capable revenue recovery system into its platform but the company does everything it can to prevent failed payments in the first place. Proactive credit card updates check that your customers' cards are still valid and send out automated notifications to them, asking them to update their payment details once an expired card is detected.
In the event of a failed payment, Recurly automatically sends out notification emails to the customer, asking them to update their billing information. These emails are sent as soon as a payment fails and you can configure dunning sequences to determine how many follow-up emails are sent and how often.
Meanwhile, Recurly will reattempt the payment to rule out any technical issues with the customers' bank or your payment gateway.
You can also include manual payment prompts in your dunning sequence, asking customers to update their payment details or make the payment manually with multiple payment options available.
You can customise email templates and automate every stage of the sequence and any payment updates are automatically applied to the customer's account.
Unfortunately, some dunning sequences are doomed to fail and all Recurly can do at this point is automatically update the status of the customer's subscription and invoice. You can choose to suspend or expire their subscription and invoices are marked as failed by default.
How good is reporting?
With Recurly's extensive features and impressive list of customers, the company has access to plenty of data – and this is reflected in the platform's reporting and analytics tools.
The Analytics Dashboard is packed with reports for customers, subscriptions and revenue, each of which opens up a wealth of future reports and insights.
Within the Customers section, you can access reports for subscribers, net subscriber changes, churn rates, average revenue per subscriber (ARPS) and plenty more.
Click through to the Revenue section and you'll find reports for average revenue per customer, billings, monthly recurring revenue (MRR), recovered revenue and customer numbers.
The Revenue section includes two charts: the total subscription numbers for all plans (the top five and all others) and the subscription growth of your top five plans.
You can access more reports from the left-hand navigation menu, including subscriber growth, plans report, trial performance report, MRR report, MRR growth report, subscriber retention report, churn analysis and more.
Recurly verdict
Recurly is almost the complete package as a subscription management platform. The only where it disappoints is a lack of built-in tax compliance features but the integrations with Avalara and Vertix can fill this gap – at an added cost.
Aside from that small complaint, Recurly hits the mark at every level with comprehensive features for managing plans, pricing models, subscriptions and customer lifecycles. Recurly's dunning features are as good as any platform we've tested and only Chargee offers more extensive reporting and analytics.
#6: Zoho Subscriptions: Simple, affordable subscription management
Free plan available; pricing starts at $49/month
Zoho Subscriptions is a simple subscription management platform for small SaaS companies. If we were to run a race between the platforms in this article, to see which one gets you set up with a subscription and payment system on your website, our money would be on Zoho every time.
It's not as flexible as the other options we've looked at and this isn't the platform for SaaS companies looking to manage and test complex pricing structures. However, if you've got a fairly simple pricing strategy in mind, Zoho helps you set everything up quickly so you can start taking payments sooner.
Key features:
Subscription management: Create products, plans, add-ons, and manage the complete customer subscription life cycle.
Recurring billing & invoicing: Take care of your billing and invoicing with minimal manual effort.
Discount management: Increase sales by running, testing and managing discounts.
Free trial management: Capture more leads and nurture free users into paying customers.
Metered billing: Charge users based on how much they use your software product.
Recurring payments & accounting: Ensure payments come on time by facilitating payments through multiple methods.
Subscription metrics & reports: Stay updated about your subscription business metrics with comprehensive reports.
Subscription automation: Automate billing and subscription-related tasks with the help of workflow rules and webhooks.
Dunning management: Reduce churn and recover lost revenue with automated dunning features.
Hosted payment pages: Help your visitors take that final step by providing a simple and secure payment experience.
Customer portal: Provide customers with a handy self-service portal to help them view invoices and make payments.
Zoho's software is a little light on features and flexibility compared to the rest of the platforms in this article but simplicity is its biggest asset. You can create plans and pricing models in minutes and the software itself takes very little time to get used to.
Zoho Subscriptions also offers extensive support for payment gateways and integration with third-party platforms, including the full suite of Zoho software.
With Zoho Subscriptions, you can create and manage plans, automate billing, target customers around the world and tackle involuntary churn. On the face of things, Zoho covers pretty much everything you would need from a subscription management system but there isn't a great deal of depth to these features – for example, the customer retention features are pretty basic.
How much does Zoho Subscriptions cost?
Zoho Subscriptions offers a free plan that covers you for up to 20 subscribers or customers (whichever is higher) and one user with hosted payment pages, multi-currency support, Stripe integration, offline payments and subscription reporting.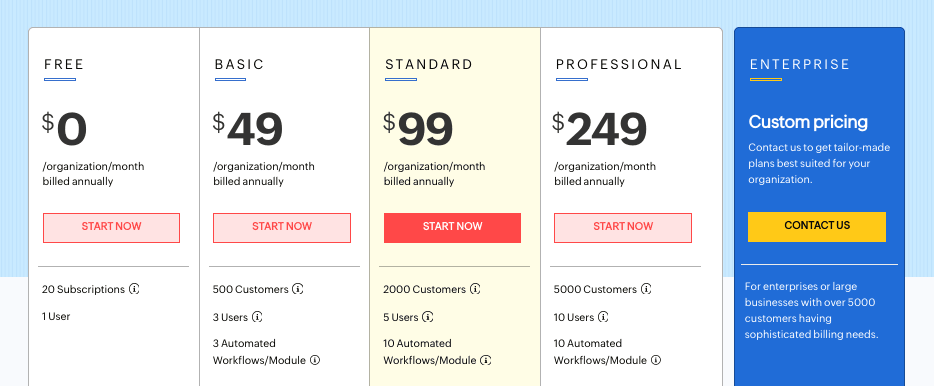 That 20 subscription limit means you're bumped up to the $49/month Basic plan pretty quickly and this comes with a significant price increase. You're covered for up to 500 customers, three automated workflows and three users. You also get access to Zoho's dunning features and support for multiple payment gateways.
This pricing model isn't really suitable if you're running free plans or a freemium model where you're not generating revenue from the majority of subscribers.
How does Zoho Subscriptions handle tax compliance?
Zoho has basic taxation functionality built into its subscription software, allowing you to add new taxes, set rates and create tax groups. You can also edit and delete taxes but that's all you really get natively – there's no tax calculation or notable support with compliance.
However, like many of the platforms we've looked at, Zoho Subscriptions integrates with Avalara so you can bring in more advanced taxation compliance features.
How does Zoho Subscriptions handle dunning?
Zoho automates repayment attempts, reminders and follow-ups to take the manual workload out of chasing up failed payments. You can set rules to control the schedule of retries and the automated actions if payments fail multiple times.
You can edit your email templates and send manual reminders to priority customers worth chasing up an extra time or two. All in all, Zoho's dunning features are fairly basic (like most of its features) but you get all of the essentials for a relatively affordable asking price.
Our only complaint is that there aren't any dunning features available on the free plan.
How good is reporting?
Zoho Subscriptions includes reporting for more than 40 metrics and you can customise reports with a surprising amount of freedom.
Reports are compiled into seven categories:
Subscriptions: Signups, activations, active customers, churn rate, renewals and more.
Revenue: Net revenue, M=monthly recurring revenue (MRR), revenue by country and more.
Sales: Sales by plan, sales by addon, sales by coupon and more.
Churn: Under risk, non-renewing profiles, churn rate, churned after retries and more.
Receivables: Customer balances, ageing summary, ageing details, bad debts and more.
Transactions: Invoice details, credit note details, payment details and more.
Reporting is Zoho Subscriptions' strongest feature, purely because it offers up more depth here than anywhere else. Interestingly, you get full access to reporting on every plan of Zoho Subscriptions, which leaves us wondering whether some reports could be kept for higher plans to make room for other features on the free plan – e.g.: basic dunning.
Zoho Subscriptions verdict
For the right kind of SaaS company, Zoho Subscriptions can be a simple, affordable subscription management platform that takes the complexity out of tiered pricing strategies. The simplicity of some features is a factor to consider, though, and the pricing system isn't workable for everyone – especially if you're running a free plan or freemium model.
#7: Fusebill: Flat pricing, no overage charges & full features access
Pricing starts at $295/month
If you've made it this far through our guide, you should have a good idea of what to expect from a subscription management platform and Fusebill isn't reinventing the wheel here – at least, not in terms of features.
However, Fusebill is going something different with its pricing and plan structure. While most platforms charge a monthly fee with an overage charge applied on top, Fusebill charges a flat monthly fee, based on your recurring revenue, with no overage charges applied.
You also get full access to all of the features available on Fusebill on every plan.
Key features:
Subscription management: Flexible subscription catalogue to accommodate the needs of all your target customers.
Recurring billing: Automated recurring billing, invoicing and payments to keep your revenue coming in every month.
Fusebill Payments: Integrate payment processing directly into your subscription billing and lifecycle management platform.
Recurring revenue: Automated recurring revenue recognition helps you keep track of finances.
Payment management: Provide multiple payment options for customers while tracking and managing everything in Fusebill.
Tax & compliance: Fusebill's advanced tax engine simplifies compliance in every target market.
Analytics & insights: Monitor performance, spot trends and optimise your pricing strategy to maximise revenue.
With Fusebill, you can create pricing plans and subscription models, automate recurring billing and manage customers throughout their lifecycle. The platform has a native payment gateway with tools for tracking recurring revenue, payment management features and some basic analytics and reporting features.
All of this is to be expected but the big surprise with Fusebill is that you get access to all of the same features across every plan. The only major difference between the Startup, Rapid-Growth and Enterprise plans (aside from the pricing) is the level of onboarding and support you receive.
In terms of features, you get access to everything, regardless of which plan you're signed up to.
Fusebill is a mature subscription management platform and a quality system but there's plenty of room for automating more features. For example, the software makes it easy to create subscription plans but there's a lack of basic editing capabilities if you want to remove, swap, edit and experiment with plans.
You pretty much have to create or recreate everything from scratch when there should be a simple option to pause, remove or save plans.
Aside from these niggles, the platform is intuitive and relatively easy to pick up for a platform, despite the outdated interfaces and a few navigational quirks.
How much does Fusebill cost?
Fusebill operates on a flat pricing model with fees determined by your annual revenue. Prices for the Startup plan start at $295/month and max out at $894/month, covering you for up to $1 million annual revenue.
Fusebill doesn't charge any overage fees on any of its plans.
Once you're generating more than $1 million in annual revenue, the Rapid-Growth plan starts at $895/month and this covers you for up to $10 million in annual revenue with prices gradually increasing up to $3,200/month.
There are no feature upgrades between plans but you do get enhanced onboarding on the Rapid-Growth plan.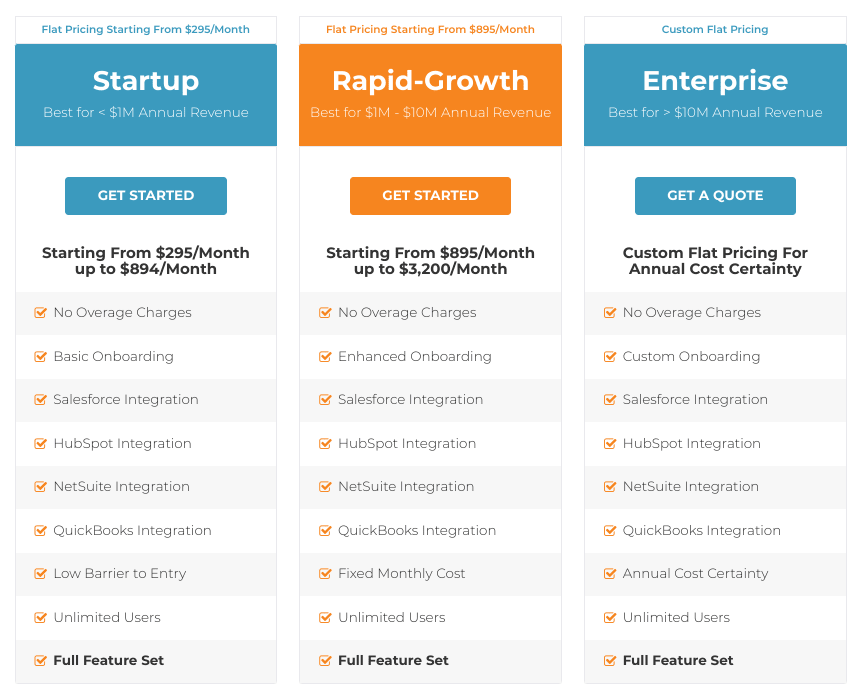 You'll have to call Fusebill's sales team to get a quote for the Enterprise plan if you're generating more than $10million in annual revenue and you can also arrange custom onboarding to adapt the system to your needs.
Fusebill also runs its own payment processing service, called Fusebill Payments. The service covers Visa, Mastercard, Discover and American Express card payments with transaction fees of 2.85% + $0.30.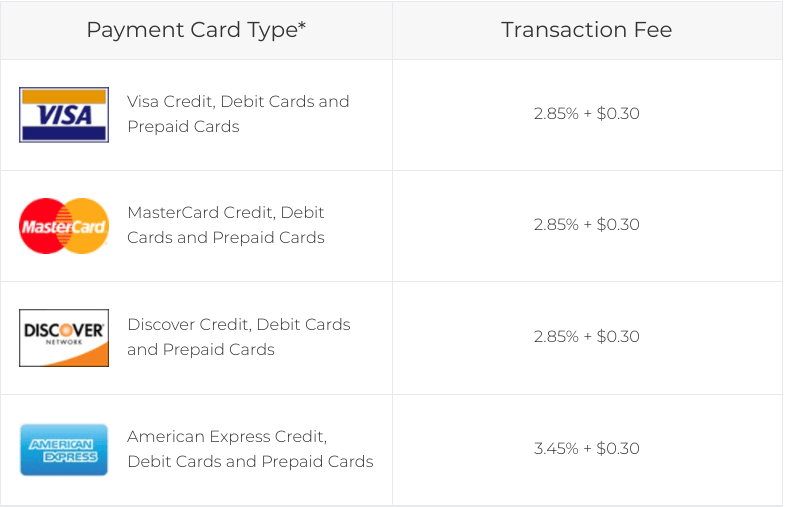 The only exception is American Express where the transaction fees are slightly higher at 3.45% + $0.30. These transaction fees are competitive with the likes of Stripe and Braintree (PayPal) although you'll often get the best rates from established merchant account providers that cater for high-volume transactions.
How does Fusebill handle tax compliance?
Fusebill offers basic taxation features for companies based in the US and Canada that helps you calculate tax obligations at the provincial/state and federal levels.
You can also use this system if your company is based outside of North America and not subject to European VAT taxation rules. However, Fusebill is very clear that it "does not proactively monitor changes to tax rates and rules in any jurisdiction"
"It is your responsibility to monitor the tax rates as they apply to your customer base and to maintain your tax rules accordingly."
This is good advice for using any taxation software where the legal responsibility remains on you. Paddle is the only platform we've looked at that assumes this responsibility for you – otherwise, you need to ensure your company is compliant with tax obligations in every market you operate in and sell to.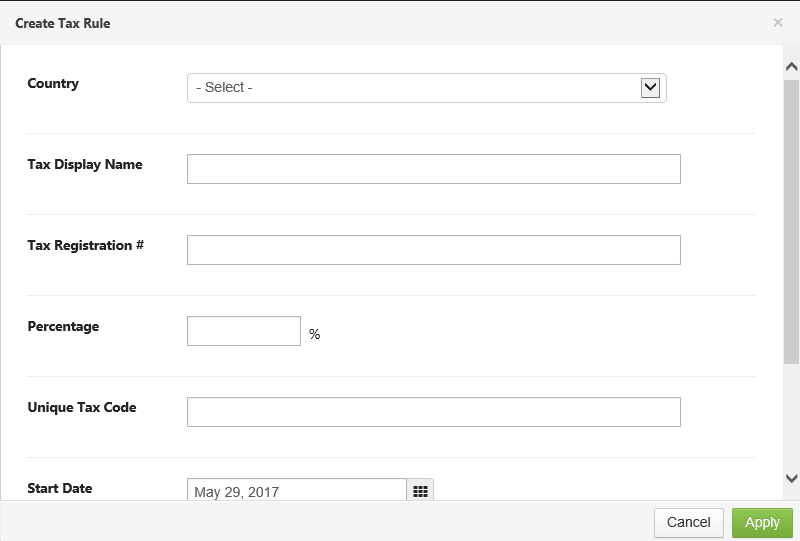 For more advanced taxation features, Fusebill integrates with Avalara, which provides tax calculations for every market, including those subject to European VAT tax requirements.
How does Fusebill handle dunning?
Fusebill automates dunning sequences and you can customise rules to determine the quantity and timing of follow-ups. When a payment fails, the sequence begins with up to three retries and automatic status updates in the event of payment or continued failures.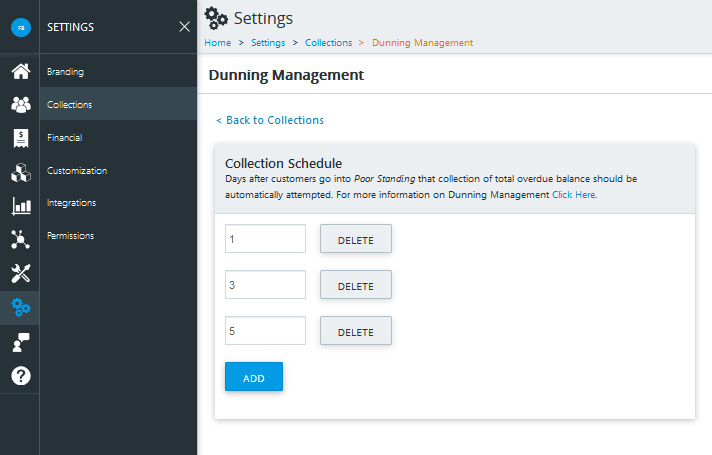 Notification emails are sent out as soon as a payment fails, asking users to update their payment details. By default, accounts are suspended if the final retry attempt fails but you can control how long this grace period by setting the collection schedule for each payment attempt.
How good is reporting?
Fusebill covers all of the essentials with its native reporting, allowing you to track revenue, subscriptions, customer lifecycles, billing activity and the performance of each plan.
There isn't much depth to these reports, though, and very little in the way of customisation to build reports or segment data with custom filters. The sales by plan report is about as in-depth as it gets but you still can't really do anything with this data.
Reporting is Fusebill's biggest letdown and we hope this is an area the company is working on because it's not up to the standard of the rest of its systems – certainly not to the standard of an enterprise system.
Fusebill verdict
Fusebill's pricing strategy offers good value on its Startup plan with no overage charges and open access to all of the platform's fteatures. With Fusebill Payments, you don't need to sign up with another card payment processor, either, and the transaction fees are competitive.
Overall, Fusebill is a capable subscription management platform but it suffers from usability issues and a lack of customisation is noticeable across the system. This is most obvious when you're editing subscription plans you've already created (especially when you want to change or replace them) and there are similar issues holding back the native reporting features.
Fix these issues, and Fusebill could easily feature higher in our list of recommendations.
#8: Braintree: Global payments for SaaS companies
Pricing info: 2.9% + $0.30 per transaction
Braintree is a payments platform that supports recurring billing for SaaS companies. This isn't a complete subscription management platform like the tools we've looked at so far but you can create subscription plans, manage recurring payments and track recurring revenue.
Some of the biggest names in SaaS use Braintree to manage recurring billing, including Dropbox, Github and Twilio. The platform enables you to accept payments from anywhere in the world with credit cards, debit cards, p-cards, PayPal, mobile payment platforms and plenty more.
For SaaS companies selling to markets around the world, Braintree provides extensive payment support for every major market and currency with competitive transaction fees to help you maximise growth.
Key features:
Recurring billing: Easily accept repeat online payments for software, subscription-based businesses and donations.
Flexible pricing: Create custom pricing plans for your customers. Set up discounts, add-ons, promotional periods and rewards.
Prorated subscriptions: Your customers have the ability to upgrade or downgrade their subscriptions at any time.
Braintree checkout: Give buyers a checkout with fewer clicks and a friction-free user experience that can help reduce cart abandonment, increase conversion rates, and encourage repeat business.
Payment support: Huge support for payment methods, including cards, PayPal, Apple Pay, Venmo and so many more.
Dunning: Customize your settings to automatically retry past-due subscriptions and notify customers with custom emails.
Reporting: View and manage payments from your Control Panel in Braintree.
Payment support is crucial for global SaaS companies that want to know customers can pay with their preferred payment methods. Wider support means more people can sign up, fewer payments fail and transactions never stand in the way of business growth.
Braintree supports recurring billing for subscription plans and you can create flat-rate plans in the back end of the system. You can't create complex plans or track usage for metered plans and this is the key distinction between a payment platform like Braintree and the subscription management platforms we've looked at so far.
The other thing to note with Braintree is built with developers in mind and you need to wield some code to get the best out of the platform. The interface only covers the basics and the documentation doesn't go into great details so you need developers with good understanding of the platform.
How much does Braintree cost?
Braintree transaction fees depend on the country you operate in and the countries you're selling to. For example, if you're based in the US, standard fees are 2.9% plus $0.30 per transaction and an additional 1% charge is added for card payments from cards issued outside of the US and another 1% for non-USD payments.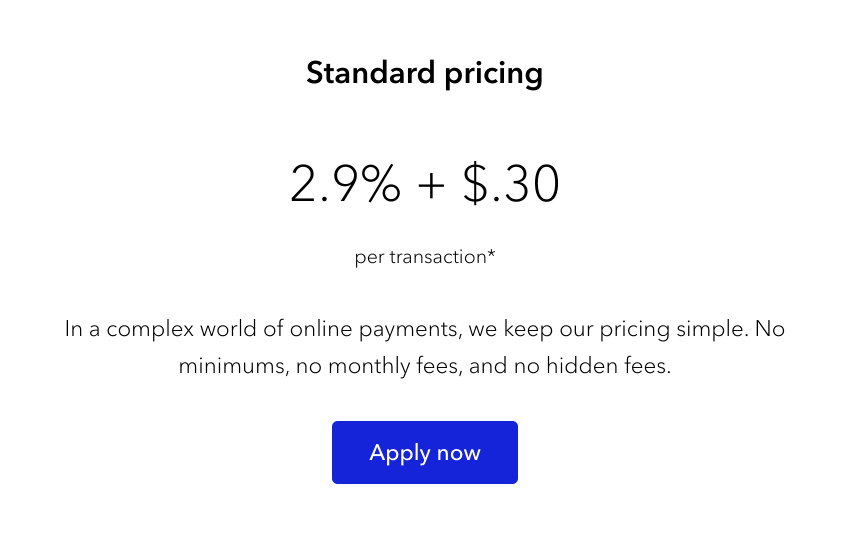 You can find out all of the information you need on Braintree's pricing page and you can apply for custom pricing, which could get you better rates for high volume transactions.
How does Braintree handle tax compliance?
Braintree doesn't provide any support for taxation or tax compliance but it does support integration with Avalara and various other tax management platforms.
How does Braintree handle dunning?
It's a story with dunning although you can manually retry payments from within the Braintree Control Panel. It's a convoluted process, though. You have to log into the Control Panel, click on the Subscriptions tab, search for the subscription (customer) you're looking for and, then, click the Retry Charge button.
How good is reporting?
Braintree offers basic reporting to keep track of transactions and subscriptions with an advanced transaction search function for you to filter payments by card type, charge date, settlement date and more.
You can also manage and settle disputes, provide refunds and keep track of transaction success rates – basic stuff but reasonable for a payment platform.
Braintree verdict
Braintree is not a subscription management platform and you can see this in the limited functionality for creating subscription plans, as well as the lack of taxation compliance and dunning features.
Instead, Braintree helps you take global payments from customers anywhere in the world and it integrates with most of the subscription management platforms we've looked at in this guide – many of which don't support payments themselves.
So this is a tool to integrate with your prefered subscription management software, if it doesn't include payment processing.
#9: PayKickStart: SaaS growth & subscription management platform
Pricing starts at $99/month
PayKickStart is an affordable subscription management platform for growing SaaS companies. With no free plan, this might not be the best choice for new startups but the entry prices are relatively low and the starter plan includes most of the features small SaaS companies need to turn their pricing model into a growth strategy.
Key features:
Subscription management: Build customer relationships, minimize churn and increase lifetime value.
Billing & accounting: Collect revenue faster, create invoices and send transactional email notifications for streamlined accounting and customer communication.
Free trial management: Let customers test-drive your membership service before making the full investment.
Revenue boosters: Automated, out-of-the-box features designed to increase conversions and maximise profits.
1-Click upsells: Double the value earned from each customer, with 1-click functionality – allowing customers to enter their payment information once, then purchasing upsells or one-time offers with one click.
Revenue retention: Track and manage subscriptions throughout the customer lifecycle.
Dunning management: Automatically recover failed recurring payments, allowing customers to update their billing method, keeping more subscriptions active.
Payment gateways: Connect your preferred payment gateway with one of our seamless integration partners.
Reporting & analytics: Make informed decisions with accurate business metrics and insights.
PayKickStart is a growth platform for SaaS companies with a powerful subscription management system – and most of these features available on the Starter plan.
You can create and manage subscriptions, integrate with payment gateways (including Braintree) and manage recurring billing with flexible pricing models including flat fees, quantity-based pricing, tiered models, volume pricing and payment plans.
You can also set up free plans and trials to capture leads and PayKickStart helps you upsell customers to more expensive plans while managing billing changes with upgrades, downgrades, reactivations and cancellations.
Being a growth platform, subscription management is a big part of the system but it's not the only functionality you get from PayKickStart. For example, upgrading to the Growth plan gives you access to the Affiliate Management Center – a great feature for SaaS companies but not something you normally get from a subscription management platform. As a result, more of the subscription management features you would expect are available on the Starter plan.
How much does PayKickStart cost?
PayKickStart's Starter plan costs $99/month with a 0.9% overage charge once you exceed $10k in monthly revenue. As explained above, the Starter plan gives you access to almost all of the platform's subscription management features so this represents excellent value.
There are a couple of notable exclusions, though. The Starter plan comes with dunning features but the Growth plan opens up advanced dunning and we'll explore this in more detail later.
The Growth plan also comes with a customer billing portal for users to manage their subscriptions and payment details, as well as cancellation saver features that help you reduce churn and gain valuable feedback from customers.
Upgrading to the Growth plan will cost you $199/month, covering you for up to $50k monthly revenue, after which a 0.7% overage charge is applied.
The Scale plan costs $299/month with an overage charge of 0.5% if you pass $200k in monthly revenue. This gets you a dedicated account manager, customer feedback surveys and a bunch of advanced growth tools but you've already got full access to the subscription management features on the Growth plan – so it's a question of monthly revenue at this point.
If you're processing more than $200k in monthly revenue, you can apply for a Custom account for reduced rates.
How does PayKickStart handle tax compliance?
PayKickStart has default taxation profiles for the US, Canada, European Union and the United Kingdom. If you select the default profile setting, these are automatically applied to users based on the location details associated with their bank account.
You can also create custom tax profiles for these territories and PayKickStart integrates with Taxamo for more advanced taxation requirements – namely if you're selling to customers outside of North America, the EU and the UK.
How does PayKickStart handle dunning?
As we explained earlier, PayKickStart offers dunning on all of its plans and advanced dunning features on the Growth plan and higher.
So let's start by looking at the dunning features you get on every plan, which is pretty much everything. You can manage email sequences, set cancellation rules, encourage users to upgrade their billing information and automate dunning sequences to recapture lost revenue.
This is as good as any of the dunning features we've looked at in this guide, except for the lack of card expiration check – but only two of our recommendations provide this.
So you're getting comprehensive dunning features on every PayKickStart plan.

On the Growth plan, you get "advanced dunning" features and this basically means in-app dunning sequences that prompt users to update their payment details and complete the payment to keep using your products.
This is a big feature for SaaS companies that compliments email campaigns perfectly. If people are still using your platform, they're definitely going to see these notifications and the chance of unintentional churn is minimal.
How good is reporting?
With the depth of features available on every PayKickStart plan, you would hope for extensive reporting to help you get the most out of them – and the platform doesn't disappoint. In fact, PayKickStart excels at reporting and the platform benefits from being more than a subscription management system.
Aside from subscription reports, you also get native sales reports, funnel reporting and traffic reports on all plans. If you're signed up to the Growth plan, you also get the Affiliate Management Center, which includes dedicated affiliate reports.
PayKickStart's reporting allows you to drill down into your data, filter and segment metrics and build custom reports to suit your needs – exactly what we want to see from a platform like this.
PayKickStart verdict
PayKickStart is more than a subscription management platform but subscriptions is where it shines and the pricing/plan structure means most of the features you need are available on the Start plan. The lack of a free plan means this might not be suitable for new startups or SaaS companies on a shoestring budget but the $99/month Starter plan offers excellent value for smaller companies looking to kickstart growth through their payment strategy.
#10: Stripe Billing: Global Payments & Flexible Pricing Models
Pricing info: 2.9% + $0.30 per transaction
If Braintree's subscription models are too basic or you're looking for a more usable payment platform, Stripe Billing is the alternative you're looking for. You get the same level of support for global payments but far more flexibility with the pricing models you can create and a lot of the features you would normally expect from a subscription management platform.
Strictly speaking, Stripe Billing is more of a recurring billing platform and a lot of these features are very basic in comparison to most of the tools we're looking at today. That said, Stripe Billing just about provides enough to be your only billing/subscription platform, albeit a very basic one.
Key features:
Subscription management: Launch new plans and start accepting payments in minutes.
Pricing models: Billing logic for everything from per-seat pricing to metered billing is available out of the box.
Flexible pricing: Give sales teams the ability to negotiate rates and automate the collection process.
Invoices & billing: Stripe-hosted invoices get paid 3x faster than traditional invoices.
Free trials: Create free trials and offer discounts to encourage sign-ups.
Dunning tools: Stripe's dunning tools help businesses recover 41% of failed recurring payments on average.
Automatic reminders: Maximise your chances of getting paid with email reminders for missed or overdue payments.
Billing proration: Stripe automatically prorates billing when any plan changes occur.
Customer portal: Let customers change their subscription or update billing details by sharing a secure link to Stripe's prebuilt customer portal.
Reporting: Track revenue, payments, subscriptions and sign-up in Stripe.
Stripe is a payment platform and its primary purpose is to help you take card payments from customers around the world. However, Stripe Billing brings important features into the mix for SaaS companies running subscription products/services with support for the most common pricing models and automated invoicing, as well as basic tax compliance and churn prevention features – including dunning.
That pretty much covers everything a SaaS company needs to run subscriptions and, while these features don't have the same depth as most of the tools we've looked at in this article, Stripe Billing could act as an all-in-one payment and subscription platform.
How much does Stripe Billing cost?
Strip Billing basically runs with the same pricing as Braintree, which we looked at earlier.
Transaction fees vary depending on your location and the markets you're selling to. For example, SaaS companies in the US are looking at 2.9% + $0.30 transaction fees with 1% added for cards registered outside of the US and another 1% for non-USD currencies.
How does Stripe Billing handle tax compliance?
To collect taxes on a subscription through Stripe Billing, you can either set tax rates to invoices or specify tax rates in Checkout Sessions to apply them to subscription charges.
When invoices are generated for subscriptions, tax rates are copied from the subscription to the invoice.
You don't get any tax calculations with Stripe Billing so your accounting department needs to take responsibility for this and ensure you're charging the correct tax rates for each customer.
How does Stripe Billing handle dunning?
Stripe Billing includes a number of smart features to help you prevent failed payments and recover lost revenue.
Smarter saved cards: Saved card details can continue to work even if the physical card has been replaced by the issuing bank. Stripe works with card networks and automatically attempts to update saved card details whenever a customer receives a new card.
Fail payment emails: Stripe's failed payment emails allow you to send an email to your user when a card payment for an invoice fails. You can customize the colours and logo on these emails to fit with the design and branding of your business.
Smart retries: Using machine learning, Smart Retries chooses optimal times to retry failed payment attempts to increase the chance of successfully paying an invoice.
You can configure automatic collection settings to schedule payment retries, customise emails, automatically update invoices and set account statuses based on the response (or lack of) from customers.
How good is reporting?
Reporting in Stripe Billing is fairly basic (to be expected) but all the essentials are covered.
You can track revenue, payments and subscriptions from the main reporting dashboard and you can also create custom reports. You'll find the documentation for this on the Stripe Docs site.
Stripe Billing verdict
Stripe Billing is a payment platform for SaaS companies but it doesn't stop at taking recurring payments. You can create and manage subscription plans and free trials with ease and the platform packs some innovative dunning and churn prevention features.
Taxation is as basic as it gets but the system does allow you to charge tax on subscriptions and invoices so this is a workable solution for SaaS companies. And, if you need more advanced features, you can always integrate Stripe Billing with your subscription management platform of choice.
Which is the best subscription billing platform?
To help you choose the best subscription billing platform for your needs, the rest of this article compares the options we've looked at across the following five categories:
Once again, you can click on the blue link text above to jump ahead to any section and, first up, we've got a comparison table for the pricing of each platform in this article.
Pricing comparison
In the table below, we've listed the starting price for each platform in this article and the pricing listed for the most expensive plans listed by each provider although most companies also offer custom, high-use or enterprise plans that are priced on application (POA).
| Tool | Starting price | Top plan | Overage fees |
| --- | --- | --- | --- |
| Paddle | POA | POA | |
| Chargebee | Free | $549 | 0.6%-0.75% |
| Chargify | $599 | $3,499 | 0.5%-0.9% |
| Billsby | Free | $2,000 | 0.4% |
| Recurly | $149 | POA | 0.9% |
| Zoho Subscriptions | Free | $249 | No |
| Fusebill | $295 | $3,200 | No |
| Braintree | Free* | Free* | No |
| PayKickStart | $99 | $299 | 0.5%-0.9% |
| Stripe Billing | Free* | Free* | No |
Paddle is the only company that doesn't publicly list any pricing information at all so you'll have to call them for a quote.
With Braintree and Stripe billing being payment platforms rather than subscription management tools, there are no monthly fees or overage charges but you are paying transaction fees, which is why we've marked these with asterisks.
Feature comparison
Next up, we've got a quick comparison of the key features available on each platform. Throughout this guide, we've focused on the features that have been most important to us, having launched many SaaS products of our own over years – and networking with other companies facing the same challenges with running subscription models.
| Tool | Subscriptions | Taxes | Dunning | Card checks | Customer portal | Payment processing |
| --- | --- | --- | --- | --- | --- | --- |
| Paddle | ✔ | Complete | ✔ | ✔ | ✔ | ✔ |
| Chargebee | ✔ | Strong | ✔ | | ✔ | |
| Chargify | ✔ | Medium | ✔ | | ✔ | |
| Billsby | ✔ | Basic | ✔ | | ✔ | |
| Recurly | ✔ | Basic | ✔ | ✔ | ✔ | |
| Zoho Subscriptions | ✔ | Basic | ✔ | | ✔ | |
| Fusebill | ✔ | Weak | ✔ | | ✔ | ✔ |
| Braintree | Basic | | | | | ✔ |
| PayKickStart | ✔ | Medium | ✔ | | ✔ | |
| Stripe Billing | ✔ | Basic | ✔ | | ✔ | ✔ |
Paddle is the clear winner on features and the only platform that offers a complete tax compliance service that assumes legal responsibility in your place. All of the other platforms offer tax compliance features to varying extents, except Braintree, which is by far the most basic subscription billing platform we've looked at.
Another standout feature is the automatic card checks carried out by Paddle and Recurly, which reduce the risk of failed payments.
Best for tax compliance
As you can see from the table above, the quality of tax compliance varies a lot between these platforms. This is true for all subscription billing platforms and this is one of the most important considerations.
There are three standout platforms for this.
Paddle
Billsby
Chargebee
You don't necessarily need to choose the platform that offers the most advanced tax compliance features. It's more a case of understanding how you're going to handle tax compliance as a company and choosing the most appropriate tool for this.
Here's a quick reminder of why these three platforms win this category.
Paddle is the only subscription billing platform in this guide that offers a full tax compliance service. The company assumes the role of the Merchant of Record, making the company a reseller of your product, which places all of the tax obligations on Paddle rather than your own company.
So Paddle handles all of your taxation for you and, if the company makes a mistake, that's its problem – not yours.
Paddle calculates and charges tax for all of your sales, in every market, and it also files and remits all of the necessary legal documentation for you. As the Merchant of Record, it's Paddle's responsibility to keep up with the latest taxation compliance regulations in each market you're selling to and ensure everything thing is above board.
This means you can focus on growing your business without keeping constant tabs on tax regulations in every country, state or territory you want to sell to.
Billsby offers pretty extensive support for tax compliance and the company puts a lot of effort into keeping up with regulations in Australia, Canada, the European Union, the United Kingdom, India, New Zealand and the United States.
Unlike Paddle, Billsby doesn't take on tax responsibilities for you but it is the only platform with a reliable tax calculator for the markets listed above.
Most of the platforms we've looked at today integrate with tax software and Billsby is no exception with its TaxJar integration. However, the platform offers up more native tools for configuring and calculating taxes than the other platforms in this list.
As with most subscription management platforms, you have to configure taxes in Chargebee for every market you're selling to. So the responsibility lies upon you as the seller to keep up to date with regulations in each market and meet your compliance obligations.
Chargebee helps you configure tax rules with a flexible system by defining all of the regions your customers are based in and automatically applying your tax rates.
In our experience, Chargebee is up to date with the tax rates in major "Western" markets, including the US, Canada, the EU, Australia, New Zealand and the UK.
However, you'll have to confirm these rates for yourself before you start charging customers in any given market.
You can also integrate Chargebee with Alavara to automate tax calculation and collection, which removes the need to manually configure taxes for every region.
Best for dunning
The other big feature you need from a subscription billing platform is dunning tools to help you recover revenue from failed payments. Most of the platforms in this article provide basic dunning features but three platforms go the extra distance:
Paddle
Recurly
PayKickStart
We should also mention Stripe Billing here because the platform offers up some innovative dunning features, especially the smarter saved cards feature that automatically attempts to update saved card details whenever your customers receive a new card from their issuing bank.
Sadly, Stripe Billing just misses out on our top three for this category so let's look at why these options top our list.
Paddle includes comprehensive churn prevention and revenue recovery systems with the most advanced set of dunning features provided by any of the platforms in this guide.
Prior to subscription renewal, Paddle automatically checks the card details of your customers to check if they've been updated since the last payment and sends out notification emails to inform your customers that a payment is due to be taken.
If your customers' card has been updated since the last payment, they're prompted to update their details before the renewal date.
If the renewal payment fails, Paddle automatically retries the payment for you, using alternative payment processors included in its global payment network. This saves you from integrating with multiple gateways and protects your reputation from getting hurt by multiple failed payments with the same processor – again, Paddle handles all of this for you.
Payment retries are spread out to overcome resolvable issues, such as temporary lack of funds or technical issues on the side of the card provider or payment processor.
Dunning emails are also sent out to notify customers that their payment failed and urge them to update their information or complete the payment manually themselves.
Paddle's pre-emptive dunning strategy reduces the quantity of failed payments before they happen and automatically recovers as much ist revenue as possible.
Recurly is the only other provider in this list that automatically checks subscribers' credit cards for changes and prompts them to update their details ahead of payments. This is a huge feature for SaaS companies and we hope more platforms follow Paddle and Recurly in offering this.
Recurly also gives you full control over dunning management to control the length of dunning cycles, the number of emails sent and the subscription termination process.
As we mentioned earlier, reporting is one of Recurly's biggest strengths and the platform's revenue optimization engine helps you identify churn trends and prevent customers from slipping away.
You can also measure the effectiveness of your dunning cycles and optimise them to maximise results.
PayKickStart's dunning management features are every bit as good as Recurly's with one thing lacking: the check on customers' cards ahead of payments.
However, the platform makes up a lot of ground for this missing feature by allowing you to send in-app notifications to users, including failed payment and credit card expiring notifications (this relies on them having saved their card details).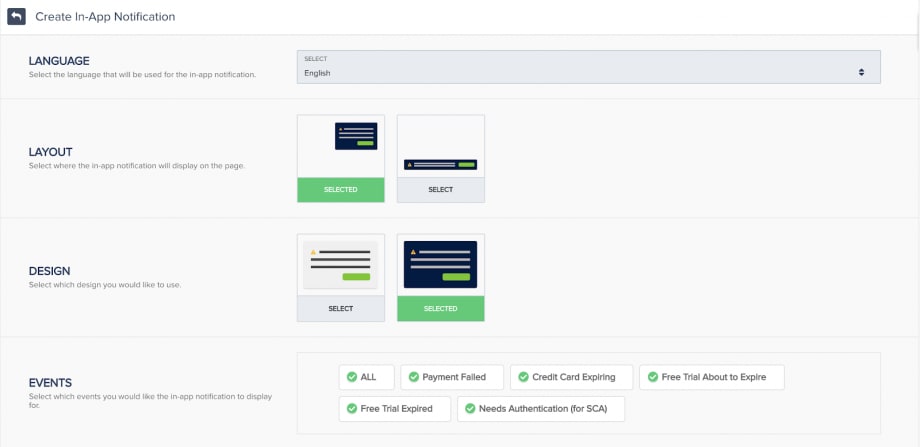 The value in this feature is that you're sending notifications to customers who are using your software product and, in theory, want to continue using it – so the likelihood of preventing or recovering failed payments is much higher.
Best for reporting
Reporting is another area where depth and quality vary a lot between these platforms. There was a bit of a spoiler in the previous section when we talked about Recurly's reporting strengths but it still isn't the best of the platforms for reporting and analytics.
Here are the top three:
Chargebee
Recurly
PayKickStart
We also need to give another shoutout to Stripe Billing here because it's a pretty simple platform compared to most of the options in this article (it's primarily a payment platform) but it punches above its weight with reporting – so it deserves another honourable mention.
Chargebee is the standout platform for reporting and analytics with native dashboards, packed full of 150+ reports for all the revenue, subscription and business performance metrics SaaS companies need.
Native reports are one thing but you also want the ability to create your own reports and Chargebee gives you the freedom to do this while giving more data to work with and built-in features to help you compile reports on your own terms.
None of the other platforms come close to Chargebee in terms of reporting and analytics.
Recurly is the best of the rest for reports and analytics with dozens of reports and an intuitive analytics dashboard showing 10 KPIs for quick analysis of revenue and subscription performance.
Recurly earns its place with extensive reporting but it misses out on the top spot by a lack of customisation options that prevent you from creating dashboards and reports of your own within the software.
You can export custom reports from Recurly but we would rather have the ability to create custom reports in the platform itself and do more with the available data.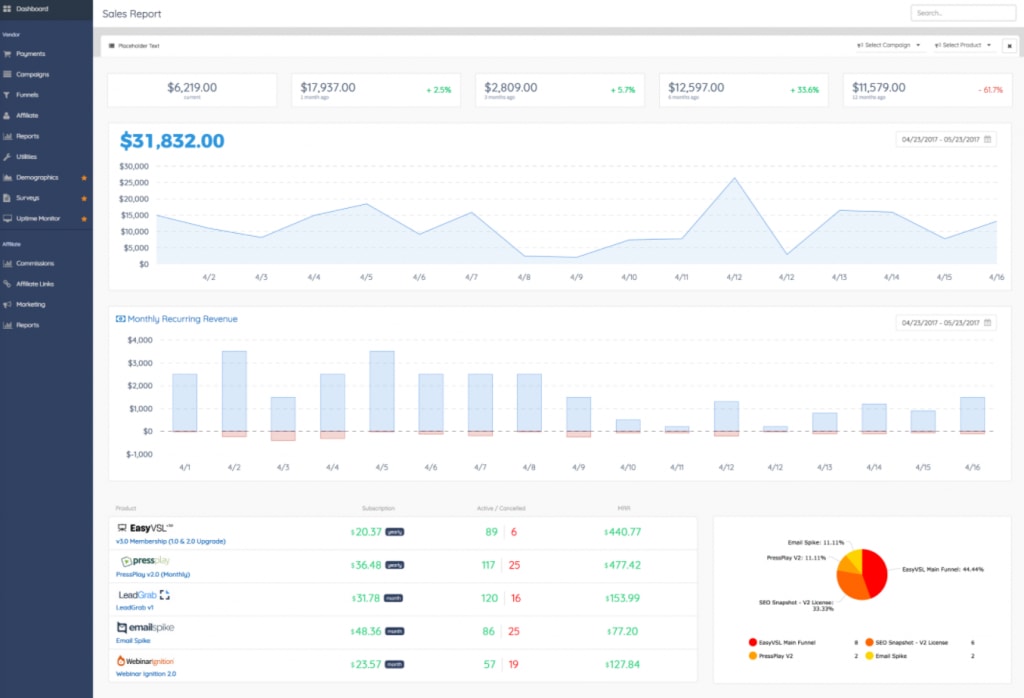 PayKickStart comes in at a close third for reporting with five main categories in addition to a Vendor Dashboard compiling your key insights:
Sales
Subscriptions
Funnel reports
Commissions
Traffic
Each of those dashboards opens up several reports – for example, the Sales Report dashboard shows your sales by month, gross/net revenue, campaign and product breakdowns and sales attributed to campaigns.
Again, the only complaint is that you can't create custom reports. This is a common issue with these platforms although PayKickStart partly compensates for this with the depth of reporting built into the platform.
Wrapping up: Turn your pricing strategy into a growth asset
Subscription management is tricky but the platform's we've looked at in this guide will help you test new strategies, find the best pricing models for each product and maximise recurring revenue by preventing churn and recovering failed payments.
The best SaaS pricing strategies drive growth by attracting new customers and upselling users to more expensive plans as their needs become more advanced. Some of these platforms provide all the tools you need to implement this kind of strategy while others simply cover the basics of subscription billing – and we've covered every price point with our recommendations.
So pick your tool and turn your pricing strategy into the growth asset it should be.