A good website builder can put business ideas into action within days rather than months. With the coding taken out of the equation, anyone can start an online venture without programming expertise or thousands to spend on design and development.
Then again, a not-so-good builder can cause more problems than it solves and leave you wishing you'd just paid the right people to get the job done for you.
Needless to say, not all website builders are of equal quality and choosing a tool that's genuinely going to save you time and money, in the long run, can be tricky. So this article takes a look at the best website builders on the market right now and what kind of projects each one of them is good for.
What are we looking at in this article?
The aim of this article is to help you choose the right website builder for your project and there are a few things that need to be clarified along the way. So we're not just going to reel through a list of recommendations in this article.
Instead, we're going to delve into the specifics of what a good website builder should have to offer. Here's a quick breakdown of what we'll be covering in this article:
What is a website builder?
The pros and cons of website builders
What kind of business should use a website builder?
What makes a good website builder?
Which website builders are we looking at in this article?
The top 10+ website builders on the market right now
[Spoiler alert!] Why Wix doesn't make it on our list
Summing up
As with most software solutions, there's no such thing as a perfect website builder and none of them are the best option for every type of project. So it's worth taking some time to specify what you really need from a website builder before looking at the options available.
What is a website builder?
A website builder is a piece of software that allows you to build websites without manually writing the code yourself. The modern breed of website builders are cloud-based apps that run in the browser so you can create sites on the fly without any specialist native software.
Things sure have progressed since the early days of Adobe Dreamweaver.
Now, we've got drag-and-drop editors that allow us to visualise a concept, build in real-time and fine-tune the results in the browser. And, when these builders work well, it can be a genuine pleasure to put websites together and see progress develop right in front of your eyes.
You'll often hear people call WordPress a website builder but this isn't technically accurate. WordPress is a content management system (CMS) that allows you to publish content without manually writing the HTML markup yourself.
That being said, there's a wide selection of WordPress themes and plugins that can turn the platform into a website builder, some of which feature in this article.
The pros and cons of using a website builder
First up, I should explain that I've tried most of the major website builders on the market – and many of them extensively – for personal and client projects.
I'm quite confident with HTML and CSS, plus some basic JavaScript and PHP, and I spent my early years as a freelancer designing and building websites from scratch – basically until I couldn't keep up with the latest programming standards.
The reason I mention this is because my background allows me to scrutinise website builders with great detail. I'm not only interested in how easy these tools make it to build a website. I'm also looking at the code they create, the performance of the pages they create (loading times, crawlability, etc.) and the overall quality of the website you end up with.
It also means I have a solid understanding of the pros and cons that come with using a website builder.
Like most things in life, there are compromises.
The pros of using a website builder
If you're interested in using a website builder, you probably don't need me to tell you what the benefits are. Here's a quick summary, just to be sure:
Code-free: You don't need any coding skills (they still help, though)
You don't need to hire a developer.
Visual editing: Drag-and-drop builders allow you to see the changes you make, as you make them.
Cost: Using a website builder should be significantly cheaper than building one from scratch.
Speed: A good website builder should allow you to create sites, pages and content much faster
Flexibility: Easy customisation allows you to stay flexible and adapt to changes quickly.
Conversion rate optimisation: One of the biggest benefits of a website builder is being able to design and test variations for CRO.
Essentially, a good website builder stops coding expertise being a barrier to building online venture and this gives anyone with a good idea a fair shot of making it a reality – at least, in theory.
That said, there are some limitations that you really need to know about before you start investing time and money into a website builder.
The cons of using a website builder
The downsides of using a website builder aren't so obvious and this is why they're important to understand. Some builders are better than others but you're going to face the following issues to some extent:
Bloated code: The code website builders generate is bloated and structurally inefficient.
Performance: The performance of websites builders create can be poor.
Loading times: Slow loading times are a common problem for sites built with a website builder.
Lock-in: Some website builders make it difficult to export your website, meaning you have to build a new one from scratch if you stop using the software.
Limited customisation: Convenience comes at the expense of creative freedom and even the most customisable tools are limited compared to custom builds.
Ongoing fees: Most website builders charge you an ongoing monthly fee.
Restricted plans: A lot of website builders limit features on their cheaper plans or the number of sites you can create.
Inconsistent quality: The quality of website builders varies a lot and choosing one can be difficult.
Some of these drawbacks can be limited by choosing one of the better website builders on the market while others require you to know how to use them effectively – for example, loading times.
As for limited customisation, this can actually be a positive thing if you have limited design skills or want to create sites very quickly.
What kind of business should use a website builder?
Website builders definitely aren't for every business, especially if you want the best possible performance or complete design freedom. In fact, if you've got the time and budget to afford a custom-built website, then this is always going to be the best approach to take.
That being said, there are a number of businesses that can gain a lot from website builders:
Small businesses with minimal budget for web design and development.
New businesses that need a website until they have budget for a custom build.
Small retailers that want to start selling online.
Creatives that want to start selling online.
Startups that simply need a website fast.
Entrepreneurs who want to turn ideas into websites quickly.
Affiliate marketers who want to build and manage a fleet of websites.
Web designers who want to make sites for clients without writing the code.
Freelancers who need a website for getting clients.
Basically, company or individual that needs a website without investing thousands of pounds up-front has the most to gain from using a website builder. You're going to have to accept some compromises in terms of performance and the other drawbacks we looked at in the previous, but this is better than having no website at all.
Budget isn't the only reason to use a website builder, though. There are plenty of designers who use these to turn to designs into websites for their clients and entrepreneurs that use them so they can turn their business ideas into live ventures.
So what makes a good website builder?
As I've already explained multiple times throughout the first half of this article, the quality of website builders varies greatly. Choosing the right builder for your needs will maximise the benefits they have to offer while minimising the potential drawbacks.
Obviously, every builder has its own strengths and weaknesses but there are certain characteristics you should demand from any good website builder.
Drag-and-drop builder
Most modern website builders include a drag-and-drop builder that allows you to visually create layouts and edit elements in the browser. It's an incredible concept that transformed the role of website builders and, now, pretty much anyone can put a site together.
It's not all good news, though. Web apps are always limited by browser performance and connection speeds and the worst part is that drag-and-drop builders are really demanding.
Even the best website builders can struggle with performance issues once you start building complex layouts or long pages – and you'll likely run into some of these when putting a typical homepage together.
Thankfully, things have improved a lot over the past couple of years and the leading providers have had time to refine their products. So the best builders on the market are now able to offer decent experience, even if you are still going to run into occasional glitches and slowdowns.
Templates
The whole point of a website builder is to save time and money on development. So, while you want a good builder that makes it easy to create pages from scratch, a good library is a massive asset when you want to put relatively generic pages together.
Templates are even more important if you're not too comfortable with layout design and the other fundamentals. Obviously, it's helpful to get to grips with design principles if you're going to use a website builder but it's always good to have a solid library of templates to fall back on or even try to replicate and learn from while you're getting up to pace.
Once again, the quality of templates varies a lot so pay close attention to what you're getting if this is important to you.
Custom templates & elements
One of the most important features of a website builder is the ability to save your custom templates for later use. Let's say you've put together a product page, for example. You want to be able to save this as a custom template so you can use this every time you need to add a new product page, rather than start from scratch.
Aside from full-page templates, you also want to be able to create and save custom elements and page sections – like hero sections and CTAs that you can insert wherever you need them.
Not only are you going to save time but you can develop a style and guarantee consistency across every page.
Available elements
Each website builder has a limited number of elements that you're able to use on your pages. Elements include text, images and buttons but builders also often have dedicated elements for CTAs, forms, testimonials and larger elements that are commonly used on pages.
These larger elements can save you a lot of time, allowing you to insert and edit a testimonial, for example, rather than manually putting the text, images and links together in a layout that works and then saving it for reuse.
So it's worth looking at the available elements on each builder and comparing them with alternative options to get a good idea of what's on offer.
Customisability
Customisation is important with any website builder but it's important to understand that it's always a compromise. The more customisable your builder is, the more complex it's going to be as a piece of software and the stronger your web design skills need to be.
So you really have to know what you want from a website builder.
If you just want a tool that makes it fast and easy to create pages without needing a great deal of design knowledge, then you probably don't want a great deal of customisation adding unnecessary complexity.
On the other hand, if you've got the design skills but simply don't want to do the coding side of things, then you're going to want as many customisation options as possible.
Website performance
Once your website is built and live, the only thing that really matters is how well it performs for users. Loading times, SEO-friendly code, conversion rates and KPIs become the long-term priority and the code your website builder generates could become an issue.
Page speed is the most common issue you'll come across, due to the excess code builders often generate and the animations that are often built-in by default.
A good hosting package goes a long way in speeding up performance and you'll want to pay attention to speed optimisation best practices.
That said, it always helps to have the best possible starting point with a website builder that generates relatively clean code and performance well in the wild. So check reviews from real customers, search forums for speed issues and what kind of resolutions might be found.
Also, make sure you're checking up-to-date reviews and info because the best website builders are improving all the time.
Which website builders are we looking at in this article?
The overall quality of website builders varies immensely and even the best of them have a lot of pros and cons to consider. Which makes it difficult to recommend more than a handful of them and I've only managed to come up with eleven that I feel deserve a place in this article.
Here they are:
Divi: The best WordPress theme website builder.
Elementor: The WordPress plugin that turns any theme into a website builder.
Shopify vs BigCommerce: The top two platforms for e-commerce websites.
Squarespace: The fast, easy website builder for creatives.
MemberPress: The WordPress plugins for building membership websites.
Voog: The best website builder designed for creating multilingual sites.
Jimdo: An easy, affordable builder for single-person and micro-businesses.
Duda: The best builder for designers and agencies that want to quickly create sites for clients.
Launchaco: The easiest, affordable option for startups that want to create a website today.
Carrd: The simple, responsive single-page website builder.
As you can see, I've grouped Shopify and BigCommerce into a a single recommendation and I'll write that section and a head-to-head comparison because they're suited to different types of e-commerce websites.
Something else worth noting is that I'm specifying why I recommend each builder and who I recommend them for. None of these builders are perfect but they all have strengths that make them solid options for certain use cases and I'll be specifying these with each tool we look at in this article.
You might also notice some big names are missing from that list, such as Wix and some of the other platforms that advertise themselves quite aggressively.
I'm going to include a section about Wix and why it doesn't make my list of recommendations towards the end of this article. On a similar note, there's a common trend I would like to point out that might help you while choosing a website builder – and explain some of the other obvious commissions on this list.
Generally speaking, none of the website builder tools/services that heavily advertise themselves deliver a product that I would recommend. With the exception of Squarespace and possibly Shopify (both of which promote themselves to relevant niches), all of the builders I'm comfortable with recommending are pretty relaxed on advertising and focus their efforts on merit-based content marketing.
I've never seen a TV advert for Divi, let's put it that way.
I'm not saying that software providers shouldn't advertise on these channels or anything; it just so happens that the aggressive advertisers don't really deliver, as far as I'm concerned. To me, it feels like they have to compensate for certain shortcomings with advertising dollars.
Any, let's focus our attention on the website builders I would recommend.
#1: Divi – The best WordPress theme website builder
WordPress is the world's most popular content management platform (CMS) and it's an excellent tool for businesses that take content marketing seriously. The platform also transformed web design with its open-source library of themes, which have progressively offered greater customisation over the years.
Now, you have a suite of themes that come with built-in website builders and Divi is by far the best of these that I've tried.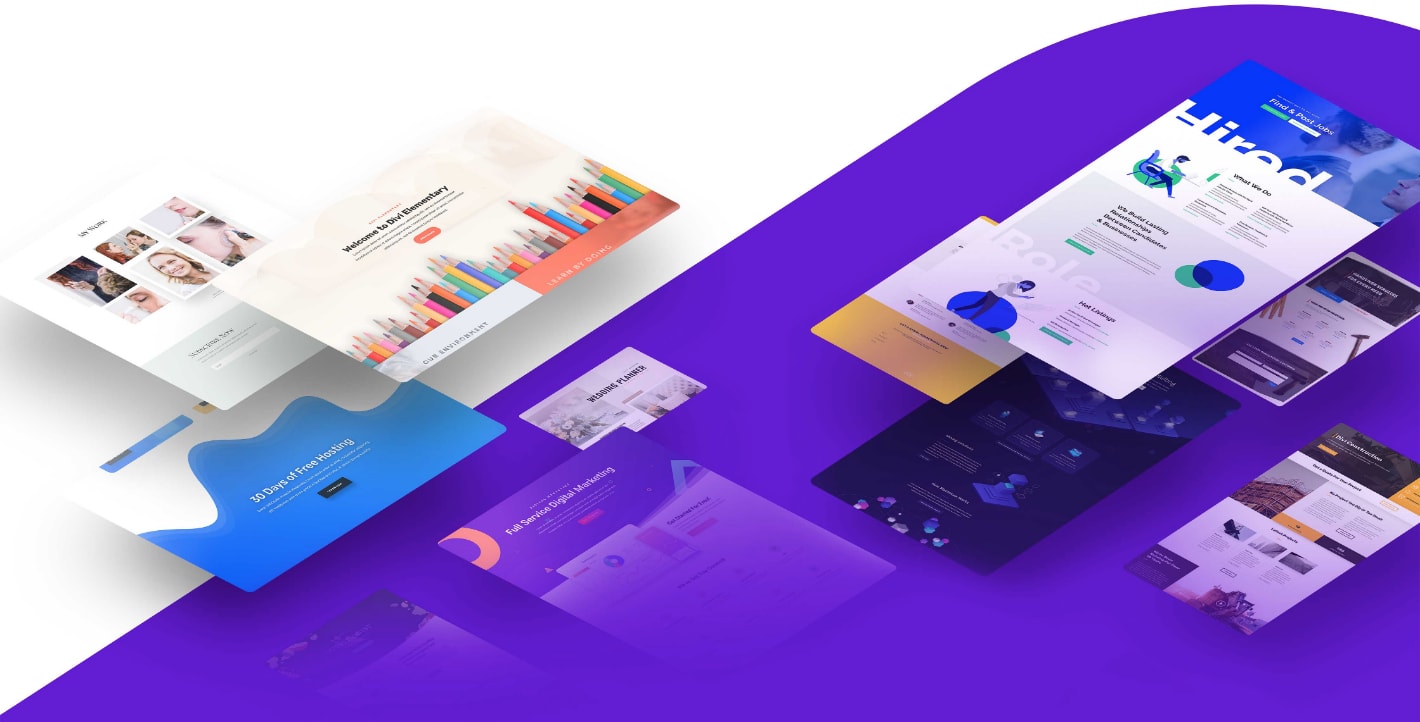 Pros:
Excellent drag-and-drop editor
Inline text editing
Decent range of templates
Easy to create pages from scratch
Solid level of customisation
Global elements
Divi Builder also works with other themes
Excellent value
One-time payment option
Cons:
Shortcodes
Builder suffers from glitches on complex pages
Divi has improved a lot since version 1.0 and by the third generation, this became a serious tool that designers and agencies can take seriously. Now, we're on the fourth generation of Divi and the company has worked out most of the kinks it realistically can.
The website builder itself is up there with the best experiences you'll find and the level of customisability is equally impressive. Divi is built with web designers and agencies in mind so the platform aims to be something professionals can use to build websites for their clients.
Best of all, you can use Divi's website builder on basically any modern WordPress theme or use the built-in templates and elements to create pages your own way. Likewise, if you want a builder to create pages from scratch, this would be my top recommendation.
The only real issue I have with Divi is that it's built around shortcodes that make it difficult to export your site or keep your designs if you move to another platform. Aside from that, the builder can get a little glitchy with complex or longer pages but this is pretty much true of any builder.
#2: Elementor – The WordPress plugin that turns any theme into a website builder
While Divi is a WordPress theme, Elementor is a plugin that turns any modern theme into a website builder. that said, there are a few themes that are generally accepted as working best with Elementor – namely Astra, Generate Press and Ocean WP.
Pros:
Solid front-end page editor
Works with most modern themes
Works very well with WooCommerce and other plugins
Huge library of elements
Extensive customisability
Built-in personalisation features
Popup builder
Cons:
Dated interface
Inconsistency between editor and live website
Uninspiring templates and blocks
Support could be better
Quite expensive
One key benefit of Elementor is that it works well with WooCommerce, which is important if you're using WordPress for e-commerce. In fact, Elementor plays nicely with most major WordPress plugins so you can make the most of that library without worrying about conflicts too much.
As for the builder, the interface is kind of dated but it works pretty well. My biggest gripe is that you'll sometimes find the page as it appears in the editor is different from the way it renders live in the browser, which leaves you fine-tuning half blind.
You get quite a lot of freedom in terms of customisability with Elementor but might be disappointed by the quality of the templates and default blocks, which are pretty uninspiring. If you're happy to customise and put the work in, this might not be a major issue but don't expect to pluck out templates that are ready to rock.
#3: Shopify vs BigCommerce – The top two platforms for e-commerce websites
If you're looking for a fully-fledged e-commerce website builder, these are the two best platforms in the business. I'm not going to try and choose between these and recommend only one, though, because they're both suited to slightly different types of online business.
Instead, I'm going to run through the pros and cons of each to explain what kind of e-commerce store is most suitable for both.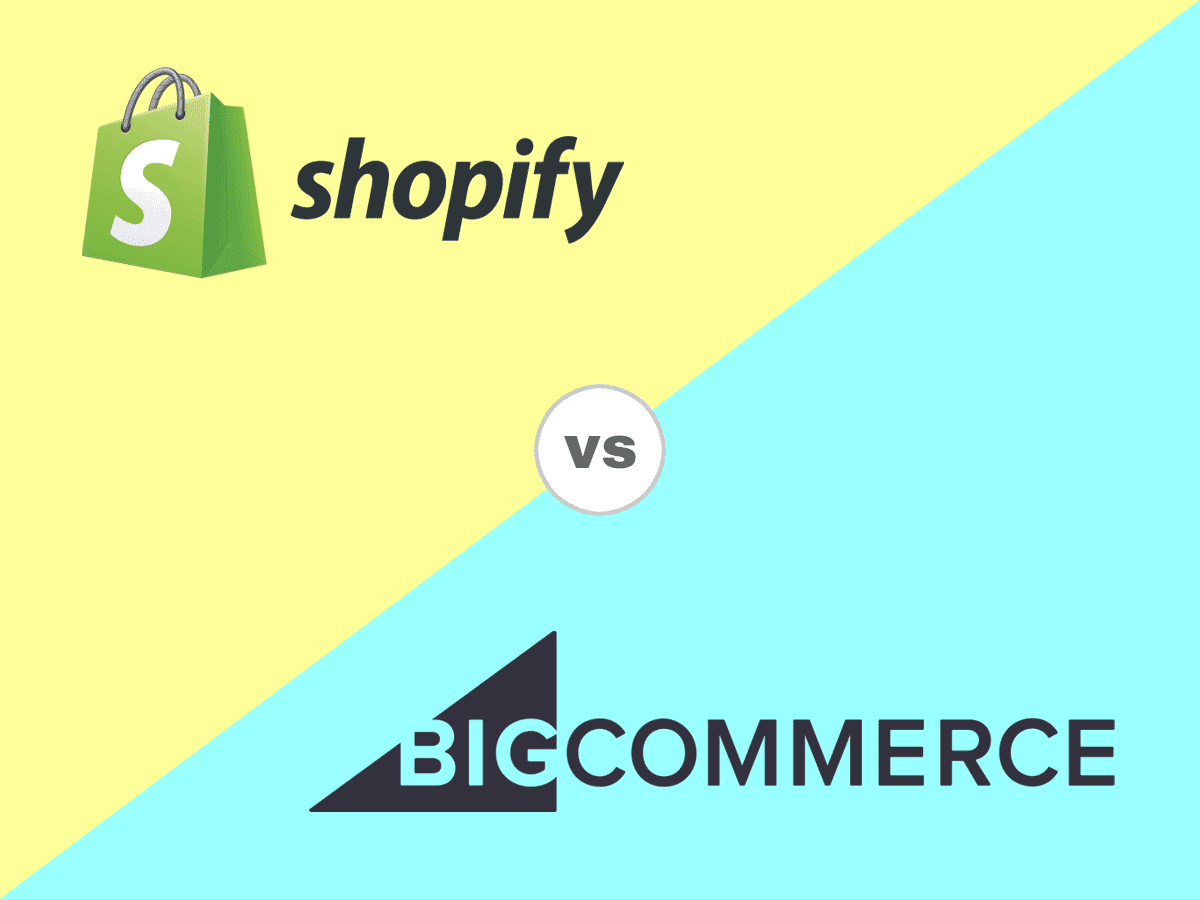 Shopify pros:
Easy to use
Brilliant inventory system
Extensive customisability
Excellent sales features and tools
Good customer support
BigCommerce pros:
Most feature-rich e-commerce solution on the market
Scalable system that grows with your business
Quality templates
Highly customisable
Excellent built-in SEO tools
Reasonably priced for SME retailers
Basically, Shopify is the easier platform to use and it will have you set up with an online store much faster than BigCommerce. The downside of this is that you don't get as many advanced features and, while BigCommerce is a more complex piece of software it offers the most advanced set of features for e-commerce brands on the market.
Shopify cons:
Switching templates breaks your site
Not very scalable
No built-in currency support
Additional transaction fees unless you use Shopify Payments
Feels a little pricey for smaller retailers
BigCommerce cons:
Steep learning curve
Advanced features make platform more difficult to use
Editing interface not the most intuitive
New users might struggle with complex terminology
The main downsides with BigCommerce are the complexity of the software, which comes with a steeper learning curve and simply takes more time to set up the way you want it. Parts of the software aren't particularly intuitive either and this is most noticeable in the editing interface.
As for Shopify, there are a few key issues that stand out. One thing they still haven't fixed is the fact that changing templates breaks your site so you're pretty much locked into the template you start with. There are also some noticeable features missing, such as currency support, and you're limited to two-tier navigations, which isn't really suitable for large or complex online stores.
Basically, Shopify is the best option for smaller retailers who want an online store set up quickly and easily. That said, you do have to pay for this convenience and Shopify pricing doesn't seem particularly affordable for the smallest of retailers.
Those transaction fees for not using Shopify Payments is a kick in the teeth, too.
Larger or more technically-minded retailers will find BigCommerce offers more of the features and tools they need in a single platform and this is one that will continue to meet your needs for quite some time as your business grows.
Don't get me wrong, Shopify is a quality platform that makes it impressively easy to get an online store up and running quickly. I would just like to see the company ditch those transaction fees and offer a cheaper entry plan for micro-business and entrepreneur retailers.
#4: Squarespace – The fast, easy website builder for creatives
Squarespace is by far the most intuitive website builder I've ever use although it's also one of the most basic. This is the perfect option for creatives such as photographers, graphic designers and individuals selling custom-made clothing or crafts items – that kind of thing.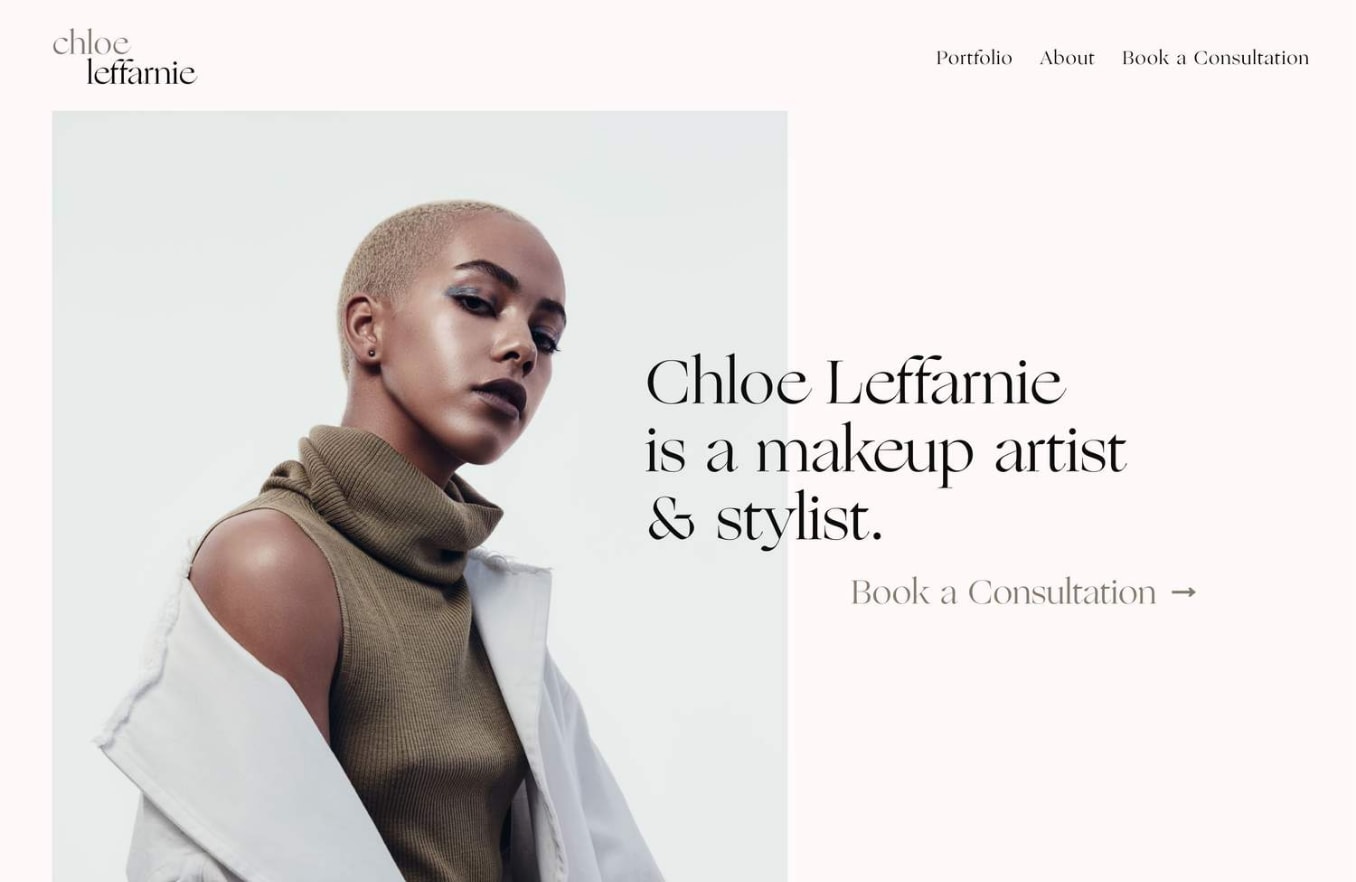 Pros:
Easy to use
Best templates on the market
Great option for creatives and small online stores
Excellent customer support
Reasonable pricing on each plan
Cons:
Limited customisation
Editor usability issues
Not suitable for large or complex sites
Page speed can be a concern
You really don't need any web design or development experience to use Squarespace and anyone with relatively basic computer literacy can have a website up and running very quickly. Squarespace does allow you to sell products online but this isn't a complete e-commerce platform like Shopify or BigCommerce.
Rather, it's a platform designed for individuals who want to establish a business presence online and it offers up decent blogging features, too.
The templates are top-quality although you don't have a great deal of freedom to customise – but this is all part of the easy-to-use experience. This is backed up with excellent support from Squarespace's technical team, which is important considering the company's target audience.
#5: MemberPress – The WordPress plugins for building membership websites
MemberPress is a WordPress plugin that makes it easy to create membership websites. The plugin allows you to instantly gate your best content and charge users to access it – all from within the WordPress interface.
Pros:
Easily create membership websites on WordPress
Easily create pricing pages
Coupon and email campaigns
Multiple membership levels
Content dripping
Support for multiple payment processors
Email autoresponder integration
Affiliate features on priciest plan
Compatible with most modern themes
Cons:
Dated interface
Pricey
"Limited time offers" are clearly fake
I should clarify that MemberPress isn't a page builder and it won't help you create an entire website from scratch. This is a plugin that will turn your existing theme into a membership website, allowing you to charge a monthly fee for access to your gated content.
With support for Stripe and PayPal, MemberPress integrates with payment solutions so you can accept card payments on your website without any fuss. It also integrates with marketing tools like MailChimp and ActiveCampaign so you can create advanced email marketing strategies to keep your subscribers engaged and upsell your customers.
#6: Voog – The website builder for creating multilingual sites
Voog is a relatively simple website builder and the editor itself feels a little basic but the platform is structured for creating multilingual websites. The software even has 10 different language options and it allows you to deliver content in multiple languages in simple layouts that are designed to maintain consistency after translation.
Pros:
Multilingual websites made easy
Impressive localisation features
Simple, clean templates
Editor is easy to use
Built-in e-commerce support
Cons:
Limited SEO tools
Templates all feel quite similar
Requires custom code for extensive customisation
Transaction fees on cheaper plans
One of the biggest problems you'll come across with translating content is that text contracts or expands and this breaks up your layouts. Voog's simple templates are designed using layouts that leave space for text expansion to preserve designs in each language.
You'll still need to invest in some good translation services but Voog takes the pain out of building the multilingual website structure.
The builder itself is very easy to use but somewhat limited and the templates are all quite similar. Even still, if convenience is your priority, Voog can make the usually-complex task of building a multilingual websites as easy as possible.
#7: Jimdo -An easy, affordable builder for single-person and micro-businesses
The easiest way to describe Jimdo is that it's a simpler version of Squarespace. It's designed for single-person and micro-businesses with a plan that allows you to sell a small number of products online – just like Squarespace.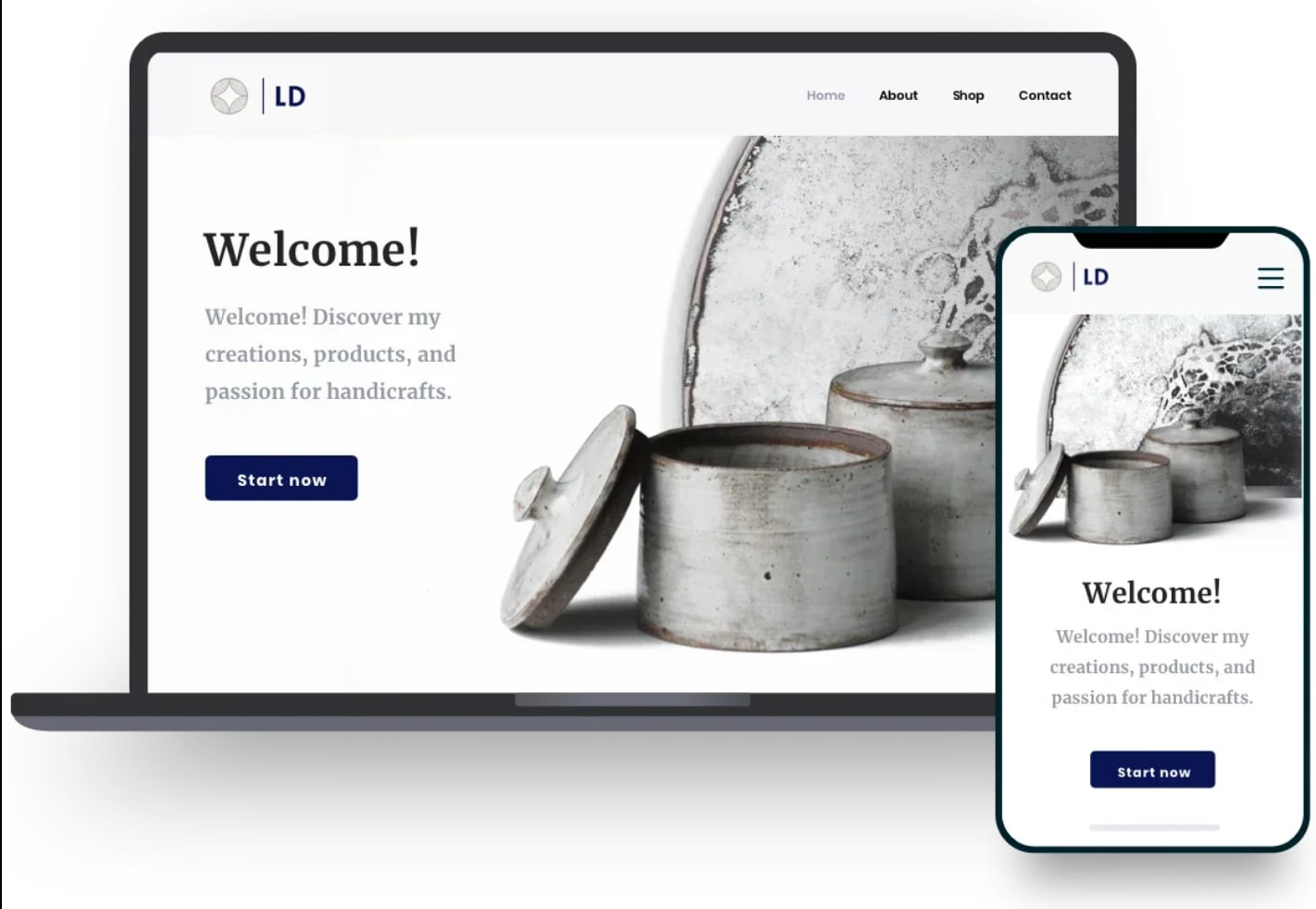 Pros:
Easy to use
Affordable plans
Good support
Cons:
Editor feels clunky
Uninspiring templates
Limited customisation
Jimdo's software is simpler than Squarespace but feels a little clunky in comparison. The key selling point of Jimdo, though, is that it's one of the most affordable website builders on the market. The cheaper plans are priced slightly lower than Squarespace but Jimdo limits features less so it feels like you're getting more for your money – at least on the cheaper plans.
#8: Duda – For designers and agencies who want to create sites for clients
Duda offers a website builder aimed at freelancers, designers and agencies that want to create websites for their clients. This puts it in similar territory as Divi but Duda isn't going to win that head-to-head battle.
That said, Duda strikes a good balance in offering a simpler platform and builder while providing a good set of templates that allows you to create decent-looking sites with ease. So, if tools like Divi are too complex or bloated with features for your taste, Duda could be a solid alternative.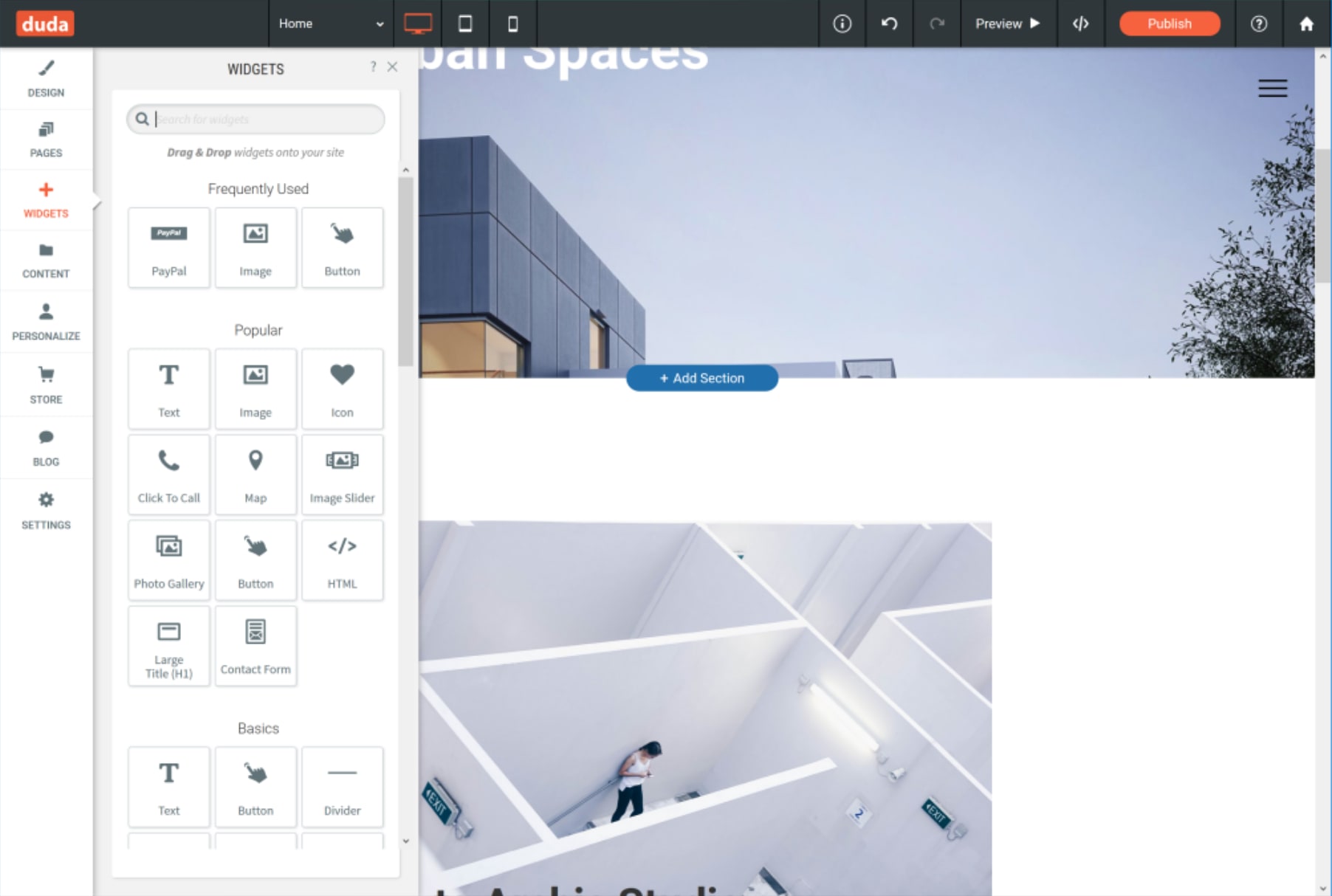 Pros:
Easy to use
Clean, simple editor
Decent templates
App store expands functionality
Built-in website personalisation
Cons:
A touch expensive
Limited customisation
Builder can be sluggish
Given the more simplistic nature of Duda, I would like to see some lower prices on its plans. Prices start at $14 per month if you pay annually and this already puts you in Divi territory, which offers a lot more for similar money.
#9: Launchaco – The easiest, affordable option for startups
Launchaco is unlike any of the other website builders we're looking at in this article. Instead of the drag-and-drop interface that most builders offer these days, Launchaco uses a very basic interface that's more like a multistep form than a website builder.
You start by choosing a name for your startup, select a colour scheme and a font style, and then put your content into a basic template.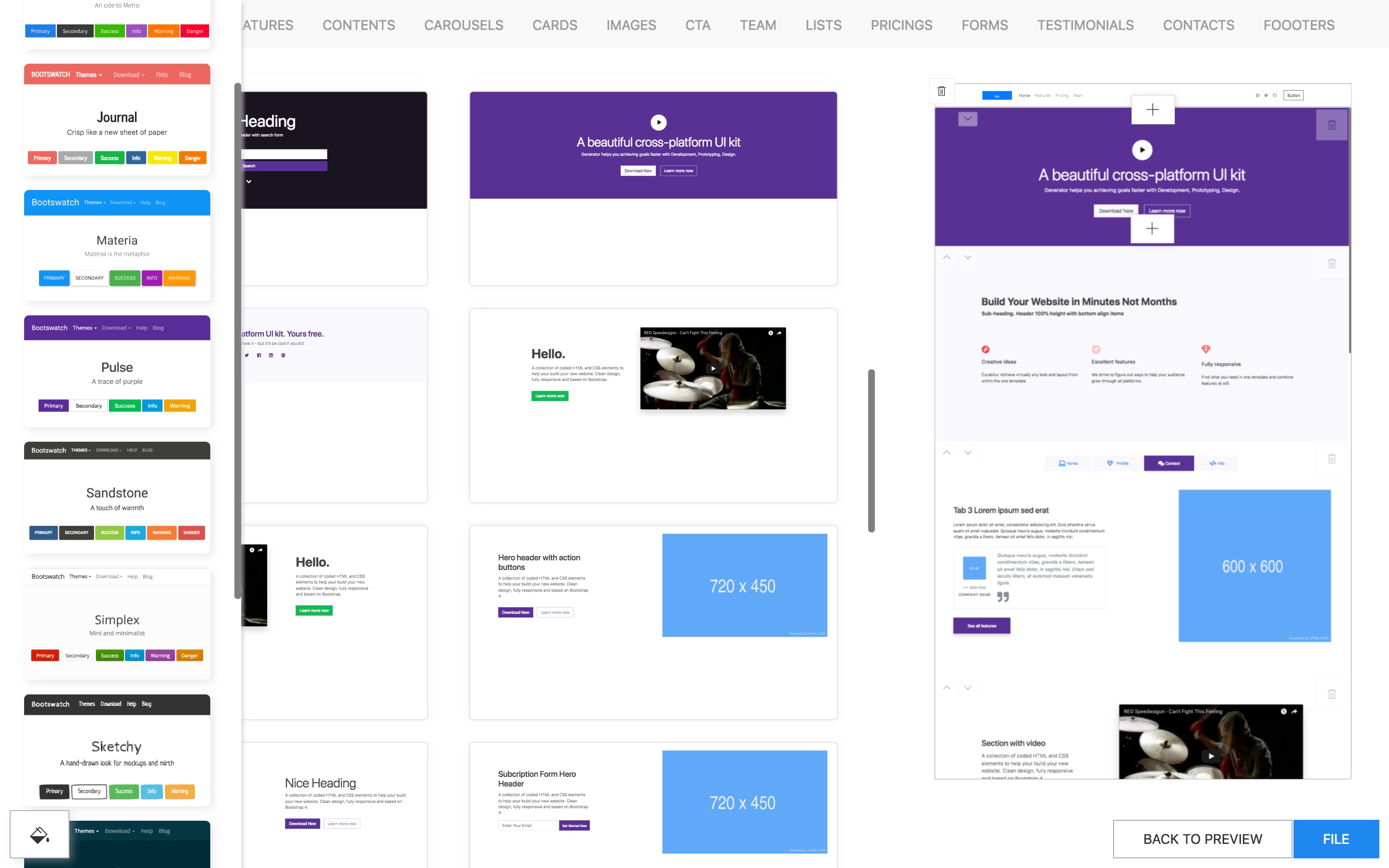 Pros:
Easy to use
Build unlimited websites
Reasonable pricing
Free version
HTTPS included
Excellent for basic startups sites
Cons:
Limited customisation
Basic websites
No templates
You don't get a lot of room for customisation but this is probably the only website builder in this article that anyone with zero design knowledge could still create a half-decent site with – simply because it takes 99% of the design choices out of the equation for you.
Launchaco also offers a free version but your site will show small ads for Launchaco on this plan. The premium plan costs a reasonable $49.99 per year and this removes the ads while allowing you to create unlimited websites with free HTTPS encryption and the option to host with your own URL.
For startups on a shoestring budget or entrepreneurs that want to build a series of websites with no fuss whatsoever, Launchaco is an interesting option.
#10: Carrd – The simple, responsive single-page website builder
If you thought website builders couldn't get any more simplistic than Launchaco, let me introduce you to Carrd. The tool only builds single-page websites so this is one designed for people who basically want an online business card or a single-page site for an app.
Pros:
Easy to use
Attractive templates
Solid builder
Mobile optimisation is very strong
Free version available
Cons:
You can only build single-page sites
Obviously, limited customisation
Although Carrd is highly limited, the quality of the templates is impressively high and they're perfectly optimised for cross-device experiences. Thanks to this simplicity, loading times are much faster than sites built using more conventional website builders, too.
Once again, there's a free version that allows you to build up to three sites and a Pro version that will cost you $19 per year.
Why isn't Wix recommended in this list?
One thing that's going to be quite obvious, if you've looked at any other website builder list articles, is that Wix hasn't made it onto our list of recommendations in this article. This might seem strange, considering Wix tends to take the top spot in most lists like these so I feel like I should take a moment to explain the omission.
Actually, there are a bunch of big names I haven't included in this list and the honest reason is I don't feel they deserve a place. I mentioned earlier that, as a general rule/coincidence, the big names that advertise heavily aren't particularly impressive website builders.
In fairness, Wix has improved a lot since I first used it, more than half a decade ago. It was an absolute horror show. Things are much better in 2020 but it still doesn't live up to the hype I find in reviews – most of which seem to be affiliate articles.
I'm not saying Wix is a particularly bad choice in 2020 and I'm glad the company has fixed the biggest issues related to Flash, URL structure and nightmarishly bloated code that used to be so problematic back in the day. There are still issues that remain, though, such as poor loading times and weak integration with third-party analytics platforms – not to mention some odd integration issues with Google Ads tracking codes.
The themes are also poor but Wix's builder is very good at allowing you to build pages from scratch using its "blank canvas" editor. So, if you want complete freedom, this builder could be a satisfying choice, as long as you're aware of the issues it comes with.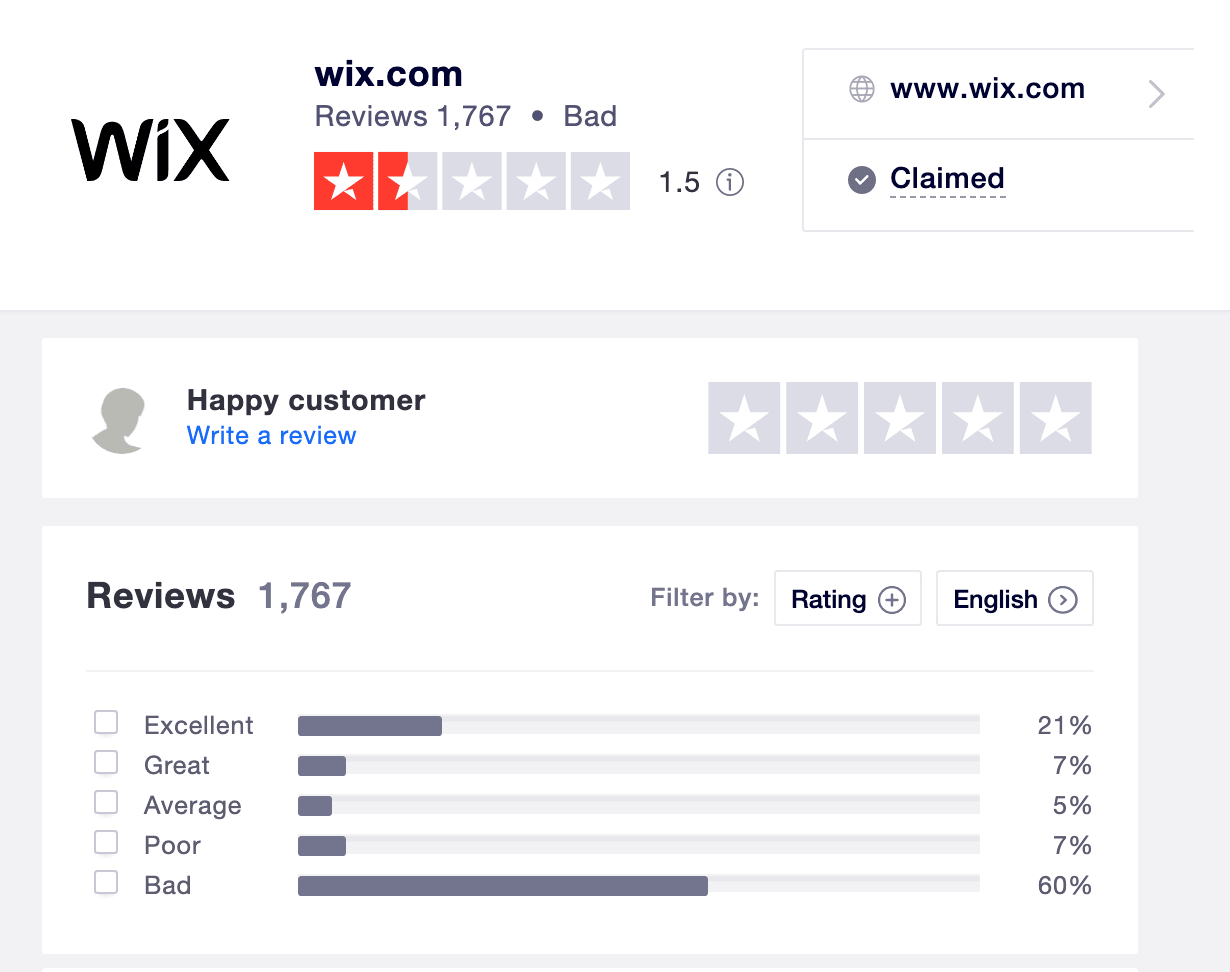 My biggest concern in 2020 are the reviews left by Wix customers themselves. Considering how easy it is to game platforms like Trustpilot and fake a profile of high scores, you've got to be worried by a score of 1.5 from more than 1,750 reviews.
Let's at least credit Wix for not gaming Trustpilot's system, though. Credit where it's due.
Which is the right website builder for you?
In all honesty, website builders still have a lot of progress to make and there aren't that many I could comfortably recommend for business purposes. There's no way I could have written an article like this with dozens of builders because there simply aren't enough of them that are good enough to use for commercial websites.
The benefit of this is that choosing a website builder is relatively easy, as long as you understand the pros and cons of using one to begin with.
Each of the builders we've looked at in this article are suited to different types of businesses and I don't feel there are any builders missing from this list that genuinely deserve to be there – maybe you can tell me otherwise in the comments.
If you're looking for an all-purpose website builder for WordPress, Divi is the obvious option to try. likewise, if you're a designer looking to build sites for clients, Divi is the best all-round option. Creatives like photographers and interior designers will want to go with Squarespace and e-commerce brands are looking at either Shopify or BigCommerce.