If your marketing strategy is focused on maximising performance at the top of the funnel, your business isn't growing as fast or sustainably as it could. Rapid growth is the product of marketing being a well-tuned system that makes effective decisions across the entire funnel at the speed of data.
Welcome to the world of growth marketing, which places focus on continual growth across the entire funnel.
In this article, we break down the ins and outs of growth marketing before looking at some of the best examples and tactics. You'll see how some of the world's biggest brands got to where they are now and how small newcomers took on industry leaders and won.
What is growth marketing?
Growth marketing is an evidence-based approach to marketing that prioritises maximising business growth by focusing on the entire funnel. This contrasts to traditional marketing, which is often opinion-based and siloed around specific areas of the funnel (e.g. marketing must drive X many leads).
The underlying theory is that a business will grow faster if the marketing team takes a holistic view across the entire customer journey.
"Growth marketing isn't about fixating on one part of your funnel. It's about looking at your entire customer lifecycle and using those insights to create compounding returns that drive more engaged customers."

Matt Bilotti – Drift
So the emphasis is on capturing and keeping as many customers as possible. This way, new customers are adding genuine growth to your business instead of simply replacing ones you no longer have.
This is why we reference active monthly users to illustrate the growth of software platforms and social networks. This KPI measures the number of people who continue to use the platform in question and increased numbers reflect genuine growth.
Another explanation of growth marketing I'd like to address comes from this article by WebFX, What Is Growth Marketing? (What Marketers Need to Know).
"Growth marketing acquires and retains customers by targeting every stage of the buying funnel with various marketing channels, like search and email. It revolves around creative, data-driven tactics that consider the unique wants, pain points, and questions of users throughout the buying funnel."
Again, this emphasises the need to optimise the entire sales funnel but it also touches on the multichannel approach required to achieve this. The customer journey may start on social or in search before moving onto your website and resting on remarketing campaigns.
At this point, you may capture the first sale or need to nurture leads through email marketing to secure the deal. Eventually, the focus turns to customer retention, cross-selling, upselling and other strategies to maximise customer engagement and lifetime value.
To summarise, growth marketing prioritises metrics and KPIs that demonstrate genuine growth. This requires a multichannel strategy that optimises the entire customer journey with three key objectives:
Maximise lead generation
Maximise lead conversion
Maximise customer retention & lifetime value
A successful growth marketing strategy ensures your business continues to grow, even as competition intensifies in your industry. The more clout you have, the more difficult it is for rival businesses and newcomers to take your place. At the same time, you become more resilient to market disruption and business challenges.
In other words, growth marketing is the strategic path to long-term growth.
Growth marketing vs growth hacking
Growth hacking is a specialist form of growth marketing that prioritises rapid growth above everything else – even if it means trampling over a few "rules" and best practices along the way.
In the rogue world of growth hacking, there is only one goal: maximum growth in the shortest possible time-frame, regardless of what it takes. This has been the strategy favoured by Silicon Valley for many years and it's responsible for some of the biggest startups and tech names around the world, including Facebook, Twitter, Airbnb, PayPal and Dropbox.
As Neil Patel explains in his excellent break down of growth hacking on the QuickSprout blog:
"In the first phase of a startup you don't need someone to 'build and manage a marketing team' or 'manage outside vendors' or even 'establish a strategic marketing plan to achieve corporate objectives' or many of the other things that marketers are tasked with doing. Early in a startup you need one thing. Growth."
The phrase "growth hacking" was first coined by Sean Ellis, one of the most influential figures in the Silicon Valley startup scene. He coined the phrase to differentiate from the niche form of marketing startups need in their first phase from the much broader world of digital marketing.
During the first phase, a startup only cares about growth and securing investment. Profit doesn't even matter at this point and forget about building up any kind of cash reserve for a rainy day – all income goes right back into the business and maximising growth as quickly as possible.
In the startup world, it's grow or die.
Is growth the only goal that matters?
Most businesses have to balance growth with profit, expenses, cash flow, return on investment and a range of financial performance indicators.
Startups may be the exception where growth attracts investment, which fuels further growth and yet more investment and a select few ventures establish themselves as industry leaders.
The growth hacking mantra of Silicon Valley isn't all it's cracked up to be, though. There's an entire list of tech startups that are worth billions of dollars without recording any profit, including Tesla, Spotify and Snapchat. It's a problem increasingly pointed out by researchers, economists and a growing number of entrepreneurs that we need more startups that don't prioritise growth above all else.
There are problems at the other end of the scale, too. Businesses that don't prioritise growth enough reach income, revenue and profit ceilings. As industries become more competitive and technology evolves, they become comparatively smaller as the world around them grows bigger.
There's no getting away from the fact that businesses that aren't growing are dying.
This doesn't mean you have to prioritise growth over every other aspect of your business – it all depends on what your objectives are. Are you looking to build the biggest brand possible and sell it at the peak of its value? Or are you determined to achieve long-term, sustainable growth so that your business can become an industry leader and remain there for decades to come?
Growth marketing is always strategy-first. That's why with TrueNorth (a growth marketing OS built by our team) we don't allow users to begin planning their growth marketing plan until they've created a simulation of their growth.
This not only aligns everyone's expectations of growth (particularly stakeholders), but it crucially helps marketing leaders guide their team in the right direction towards a common goal.
Ultimately, growth needs to be the means to whatever end your organisation is working towards. In that sense, it must be sustainable, aligned with your values, and not at odds with your wider objectives.
Which growth marketing strategies are we looking at today?
In this article, we're looking at a range of growth marketing strategies, ranging from the growth hacking tales of Silicon Valley to the broader, more conventional techniques used by growth marketers.
I've broken these examples, tactics and hacks into the following three sections:
Success stories: How Harry's, Slack, Stripe & more use growth marketing.
Tactics: Common growth marketing tactics used by startups & brands.
Growth marketing essentials: Key strategies to apply growth marketing.
These should tell you all the insight and inspiration you need to step up your growth marketing game and apply similar strategies to your own ventures.
Growth marketing success stories
First, we start with some of the most impressive growth marketing stories from the past couple of decades. Here, we see how small businesses turned themselves into industry giants, startups disrupted entire markets and established names future-proofed their position in the digital age.
#1: How Harry's took on the shaving industry giants
Harry's is the kind of growth marketing story smaller brands dream of. According to 2019 data from Slice Intelligence (now Rakuten Intelligence), Harry's is growing 3X faster than the industry average and faster than the Dollar Shave Club, which was the former underdog favourite until Unilever came along and bought it out.
Harry's is a classic tale of a small New York business taking on industry giants like Gillette and beating them by offering a subscription service that provides quality products and keeps customers incentivised so they stay loyal and continue buying from the brand – growth marketing at its finest.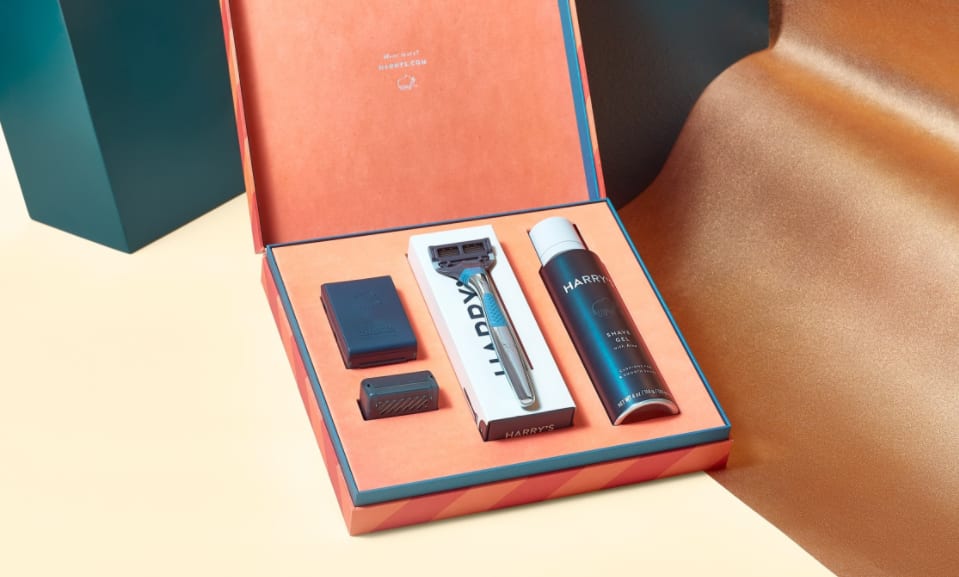 Harry's is by no means the only newcomer to rise to the top of their industry by providing a subscription service, either. This has become a staple strategy in the digital age, one that has reshaped industries across the spectrum and it all revolves around the concept of capturing new customers and keeping them.
Key growth strategies used:
Subscription-based service: By locking customers into a subscription service, Harry's is able to incentivise loyalty and keep them buying for the long-term.
Quality products: Central to Harry's growth marketing strategy is the quality of its shaving products – a key selling point both for new and repeat customers.
Disruptive pricing: Harry's makes it difficult for industry giants like Gillette to remain competitive by offering quality products for affordable prices in a market that traditionally relies on high mark up products.
Target audiences: Baby Boomers are Harry's largest buying generation, which has been crucial for its staggering growth. However, the company will need to increase sales among younger generations to stay relevant.
The good news for Harry's stockholders is that the company is already making grounds in the women's shaving market, which is promising for its long-term aim of shifting relevance among younger generations across the board.
There's still plenty of work for Harry's to do in terms of long-term market positioning but the company has put itself in an enviable position with its impressive growth marketing tactics up until now.
#2: How Slack became the fastest-growing B2B software provider
Slack is the fastest-growing B2B software provider in history – and by a large margin. The company's staggering growth is thanks to a sophisticated and constantly evolving mix of growth marketing strategies designed to capture new users, keep them engaged and encourage them to invite even more new users.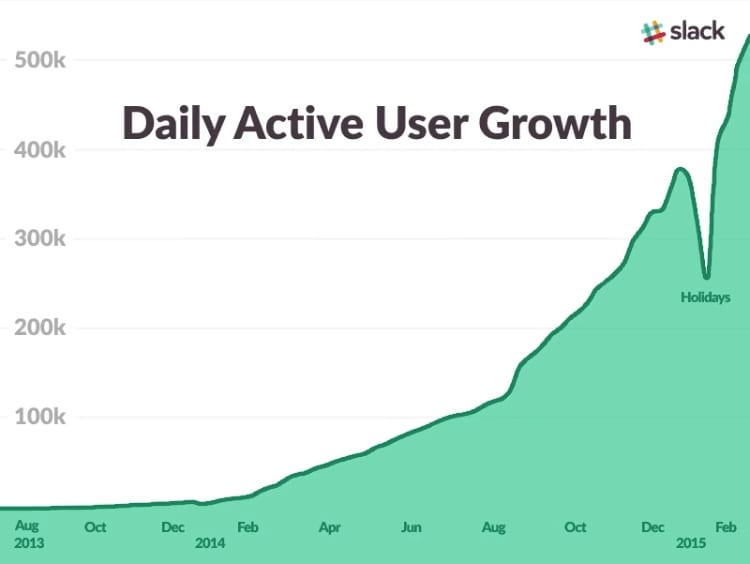 Slack was built by remote developers who understand the benefits and challenges remote teams face. While the world has seen dozens of major communication platforms in the form of AOL Instant Messenger, Skype, HipChat and Facebook's Workplace, none of them became a staple tool in the same manner as Microsoft Word or Google Search – until Slack provided the platform we never even knew that we needed so badly.
By solving communication problems that no other provider even attempted to address, the team at Slack carved out a new market for themselves: instant messaging as a productivity tool. Instead of supplementing email, Slack positioned itself as the replacement for workplace emails and this created the foundation for its remarkable growth story.
Key growth strategies used:
Defining a new market: Slack says 70-80% of its early user base claimed to use no communication tools prior to Slack. Of course, they were using such tools, they just didn't consider them to be a category of software – until Slack changed everything.
Problem-solving: Slack is simply a communication tool but its success lies in making the complex task of business communication seem like such a simple thing. By solving communication problems, one by one, and optimising core features to provide the best possible experience, Slack turned instant messaging from a hindrance into a productivity asset
Hustle: To gain its initial user base, Slack's remote team members asked friends and contacts at businesses to sign up and spread the word.
User feedback: Slack has continued to improve by asking users for feedback, listening to what they have to say and addressing the issues raised.
Freemium: A classic strategy used by SaaS companies and Slack strives to offer "an actually-useful free" service that's enough for basic needs and demonstrates the benefits of paid plans for serious users.
Onboarding: Slack's super-simple onboarding process allows new users to sign up in seconds and existing users to invite team members without any hassle, breaking down every possible barrier that might prevent user growth.
User data: As all software companies should, Slack analyses user data to understand growth benchmarks, set targets and maximise engagement.
Even with a quality product and a unique marketing position, the kind of growth Slack has experiences doesn't just happen. The company had to hustle to build its initial user base and a lot of its success comes down to maximising the positive impact every user has upon growth.
By constantly improving the platform, it retains users and by encouraging them to invite others, each retained user turns into multiple more. To maximise user growth, the onboarding process has been optimised to remove almost every possible friction point and this is reinforced by the company's freemium model that offers genuine value to non-paying users.
Slack understands what it needs from users to maintain and maximise growth. Users that send 2,000+ messages on the app are most likely to keep using it and eventually sign up for a paid plan. Using this benchmark, Slack can optimise the experience to encourage more sends, nurture existing users to increase engagement and target users close to hitting this target with the extra little push they need.
#3: How IBM uses growth hacking to stay relevant after a century
We don't tend to think about companies that have been around for more than a century as worthwhile examples of growth marketing but IBM has proven that this strategy is crucial for established names, too. It's also quashed the cliche theory that old dogs can't learn new tricks by adopting growth marketing as a means of staying relevant and competitive in the modern age.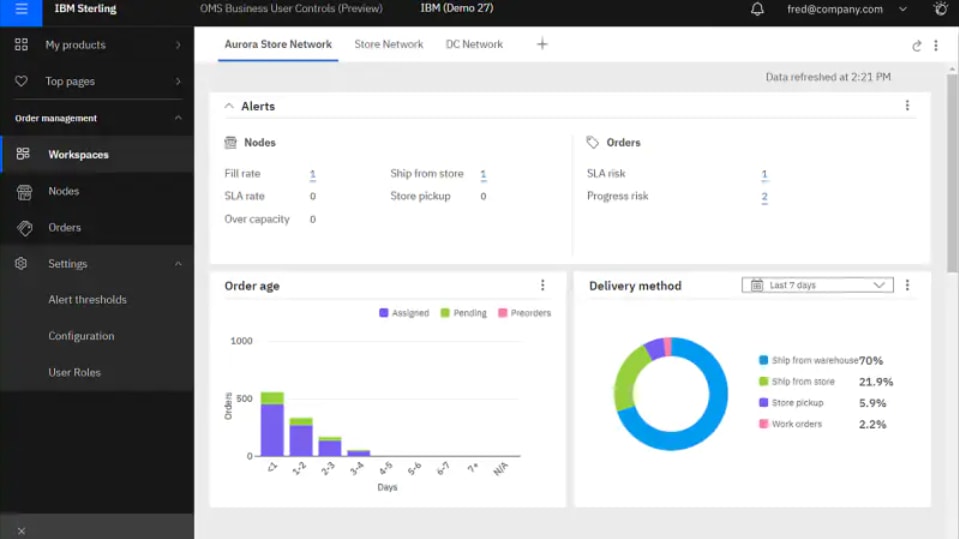 Hale Schneider has written an insightful summary of IBM's transition to growth marketing for Growthhackers.com (the latter of which was founded by none other than Sean Ellis, the man responsible for the term "growth hacking").
In his summary, Hale explains that former Chief Digital Officer for IBM Analytics, Nancy Hensley, and former growth strategist, Jason Barbato, were key proponents for the shift towards growth marketing at IBM.
"For IBM, the goal of adopting a growth approach was not to completely change their approach to dealing with the market, but to develop a digital route alongside its already good products, making them products that people love to use through focusing on enriching the experience for customers and users," Hale writes.
Key growth strategies used:
Cultural shift: IBM recognised the need for a cultural shift within the company to adopt the mindset of growth marketing, experimentation and optimisation.
Lower entry point: A key objective of IBM was to lower the entry point for new users and first purchases so that a greater proportion of employees with authority to make purchases could sign up to IBM products without getting approval from above.
Optimise onboarding: By optimising the onboarding process, IBM ensures more website visitors turn into free trials and paying customers.
Maximising successful payments: After IBM's data scientists noticed a pattern of users trying to upgrade from free trials to paid plans – only for their cards to be declined – the company now generates millions in additional revenue every year by providing instant, technical support to help customers complete the purchase.
Product optimisation: In order to retain as many existing customers as possible and turn more free trials into paid plans, IBM has implemented an ongoing system of product testing and optimisation.
If a company as old and established as IBM can not only recognise the need to adopt growth marketing and implement it successfully, there is no excuse for brands of any age or size.
As Nancy Hensley is quoted in Hale Schneider's Growthhackers.com article:
"I remember I used to hear people say 'think like a start-up' and I would laugh because we simply weren't ever going to be a start-up. What we should say is 'think like a growth organization,' where cross-functional teams come together as a highly effective squad focused on the product experience and growth".
The lesson here is that growth marketing isn't only a tactic for startups and smaller businesses – it's the only long-term strategy that makes sense for businesses of any kind, any age and all sizes.
#4: How Stripe cornered its own section of the payments market
By the mid-2000s, the internet was coming of age as an e-commerce platform and it had never been easier for average Joes to create an online business overnight. In 2005, Amazon launched Amazon Prime and, in 2006, Shopify launched with the aim of helping anyone create an online store.
The modern age of e-commerce was rapidly taking shape but there was a distinct lack of quality services for one crucial element in online purchases: payments.
Traditional card payment processors were notoriously difficult to work with and their solutions were woefully insufficient for the demands of online payments. PayPal was the only name really offering a digital alternative but it didn't give developers or businesses owners the flexibility or control they really needed.
This lack of payment solutions was painfully obvious to two brothers, Patrick and John Collison, who went on to found Stripe – a startup that reshaped the payments industry and secured one of the most impressive funding runs Silicon Valley has ever seen.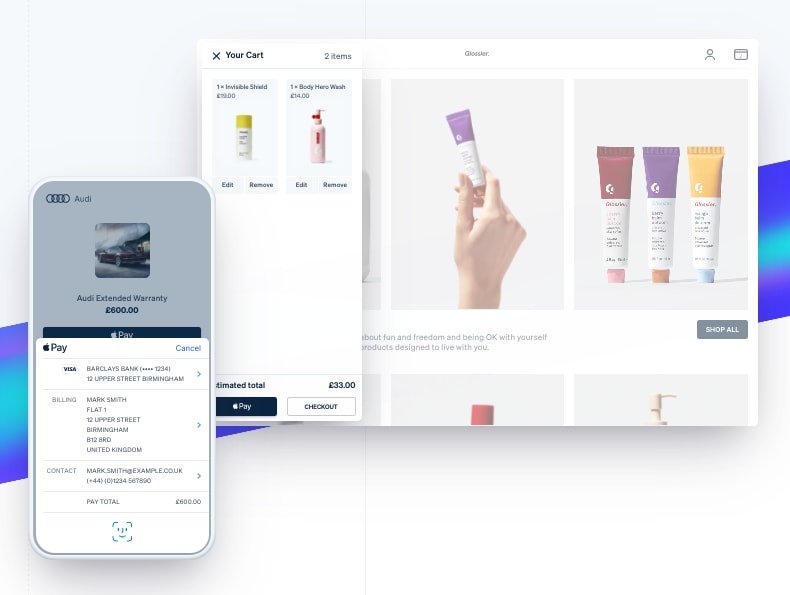 Key growth strategies used:
Defining a niche: By building a payment solution designed for developers, Stripe has been able to solve the problems of its target audience and hone in on their unique needs.
Identifying a need: Stripe founders and brothers Patrick and John Collison realised that while it was becoming easy for anyone to start an online business, there was a distinct lack of developer-friendly payment solutions for the people building them.
Simplification: Stripe's existence owes to the fact that the Collison brothers were astounded by the complexity and frustration of existing payment solutions and its success largely comes down to providing an easier, simpler alternative.
UX design: Stripe understood that it needed to provide a great experience for the developers using its products and the end users paying through them.
Leveraging community power: By providing the developer community with a much-needed solution, Stripe was able to spur initial growth through word of mouth.
Technology adoption: Stripe keeps itself at the forefront of technology advancement, ensuring that it remains relevant and the rise of mobile internet helped secure the company's position as a leader in digital payments.
Acquisitions & partnerships: Stripe was founded in 2010 and it made its first acquisition in 2013 – a key strategy for driving growth, expanding the businesses and fending off competition.
Stripe is now one of Silicon Valley's most valuable "unicorn" startups after securing new $600 million funding round that brings its valuation up to $36 billion.
The company's funding history is staggering but its growth marketing strategy looks so simple on paper. By identifying a niche market and genuine need for something different, Stripe has been in the enviable position of letting the product do the marketing for it, powered by excellent UX design, the latest technology and a genuine understanding of what its customers need.
Even now, in the midst of the coronavirus pandemic, the company is thriving as several years' worth of businesses transition from offline to online operations, which requires a quality payment solution.
#5: How Etsy built a $2 billion crafts e-commerce platform
Etsy's growth story is one of building a loyal, passionate following by targeting a very specific type of audience that felt neglected by the modern web.
The company's founders spent their early twenties doing freelance web development and one project saw them build an online community for craft makers. Once the forum was complete, Rob Kalin, Chris Maguire, Jared Tarbell and Haim Schoppik naturally found themselves reading through the comments and found one overwhelming takeaway.
Here was this community craft makers in their thousands all lamenting the lack of an online platform where they could sell their items. This was in the early 2000s and eBay was the king of online marketplaces but the craft makers resented its complexity, high fees and consumer focus.
They craved an online platform for themselves. They craved an Etsy and in 2005, the company's founders announced it to the community to instantly capture thousands of users.
Etsy's initial user base told their friends about this new platform, who signed up for themselves and went on to tell their own friends. The company used this leverage to drive organic social media campaigns – back when organic reach was still a major opportunity – and Etsy's reputation continued to grow.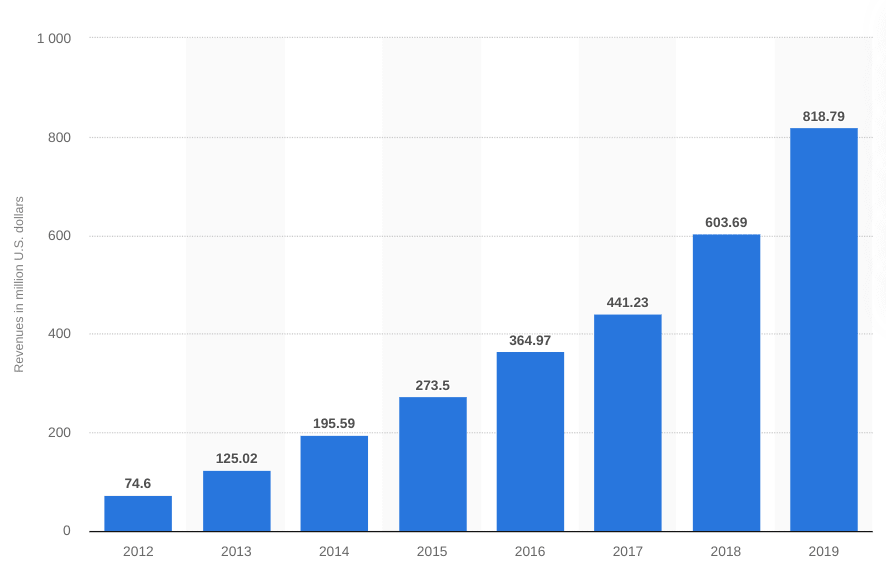 Key to Etsy's growth has been its brand image as a place for individuals to showcase and sell their creative works. The company has tapped into social movements, including feminism and anti-consumerism to build a passionate following, retain its users and carve its own niche in an industry dominated by the likes of Amazon and eBay.
Key growth strategies used:
Defining a niche: Etsy established itself as a platform for craft makers, particularly targeting female creatives with a place to sell online.
Disruptive marketing: Etsy tapped into ideas of anticonsumerism, eco-friendliness, feminism and emotive social ideals at odds with typical e-commerce platforms – including all of its rivals.
Lower entry-point: By providing a more cost-effective and compelling alternative to eBay, Etsy built a strong, loyal following among its target audience.
Organic social growth: WIth Esty's powerful brand image, the company was able to utilise organic social media (back when there was such a thing) to drive growth through brand awareness.
Customer experience: Key to Etsy's success is its long dedication to creating excellent customer experiences – both for its sellers and buyers.
Difficult decisions: Etsy continues to grow but it has now reached a point where it has to make difficult decisions – many of which contradict its early brand image – to sustain continued growth.
Etsy's growth story is now entering a new chapter and the company faces a new set of growth challenges to overcome. The downside to appealing so strongly to a niche, alternative crowd is that – sooner or later- Etsy is going to hit the growth ceiling within its own confines.
The company now needs to expand beyond its early brand image as the platform for the small, renegade retailers. The challenge is doing this without alienating its existing users, some of which are already voicing concerns about the direction the company is taking.
This is an important lesson for any brand engaged in growth marketing – at some point, you have to make some difficult decisions in order to sustain continued growth.
#6: How Spotify took on piracy & brought free music to the world
It took Spotify just six years to reach a $10 billion evaluation and build a user base of more than 50 million people, 12.5 million of whom were already paying for the service. Now, the music streaming application has more than 299 million active monthly users with 138 million of them paying for Spotify Premium.
The company is now worth more than $15 billion, little more than a decade after it was first launched in 2008.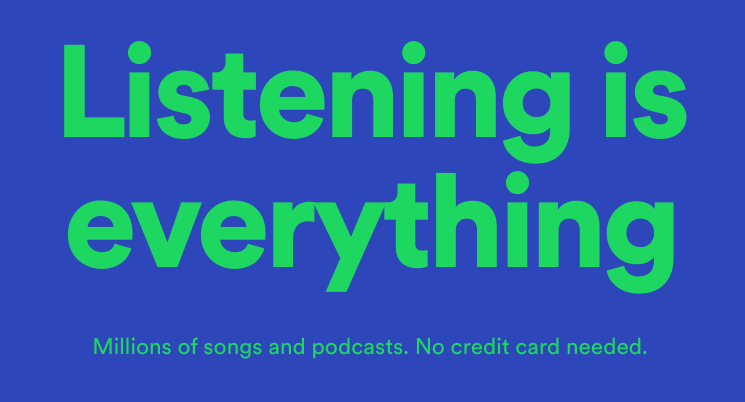 Spotify's story has seen the company take on music piracy while subsequently bringing free, legal music to millions of people around the world – two achievements that sound completely at odds with each other.
The company's success is thanks to a rich mix of unrivalled product design, smart growth marketing strategies, data-driven technology and one incredible offer: providing users access to almost all of the music in the world for only $10 per month.
Key growth strategies used:
Market disruption: Spotify brought free, legal music to the world during a time when the industry was dogged by piracy.
Freemium: Users can listen for free with limited features or access "almost all of the music in the world" for only $10 per month.
Invite-only: Spotify built anticipation for its product by gradually expanding internationally through invite-only free accounts.
Social listening: Spotify was quick to build social sharing into its platform.
Partnerships: Spotify partnered with Facebook to become the exclusive music platform for the world's biggest social media network.
Class-leading product: Even upon launch, Spotify's software was class-leading and it's only improved further over time.
Discovery & personalisation: Spotify uses its data and machine learning to help its users discover more music, make recommendations based on what they already like and personalise the experience to a point it becomes difficult to ever leave.
User engagement and retention are crucial to Spotify's business model, which ultimately relies on turning free users into paying subscribers. The freemium model has worked wonders for Spotify but in terms of grabbing users' initial attention but this would mean nothing if the quality of its product was sub-par.
This is one of many areas where Spotify has excelled throughout its journey: providing the best product on the market.
As technology has evolved, Spotify has utilised it to increase engagement and encourage users to keep listening. Social sharing was quickly integrated into the platform before a partnership deal with Facebook made it the exclusive music platform for the world's biggest social network.
Spotify has put its extensive user data to good use, too, creating machine learning models to recommend new tracks to users, based on their listening history. Spotify isn't only a music streaming service, it's also a music discovery platform and a personalised catalogue of users' custom playlists.
Users become so invested in the Spotify experience that it becomes almost impossible to leave, especially when you're paying for ad-free listening.
#7: How Airbnb wrote the ultimate growth hacking story
If there's one growth hacking story to rule them all, it has got to be the epic behind Airbnb. This is a company that started from two guys who couldn't afford to pay their rent and decided to lease out their loft as a place for strangers to crash.
Three airbeds and the promise of a cooked breakfast was enough to earn $80 per person and the concept of Airbed & Breakfast was born.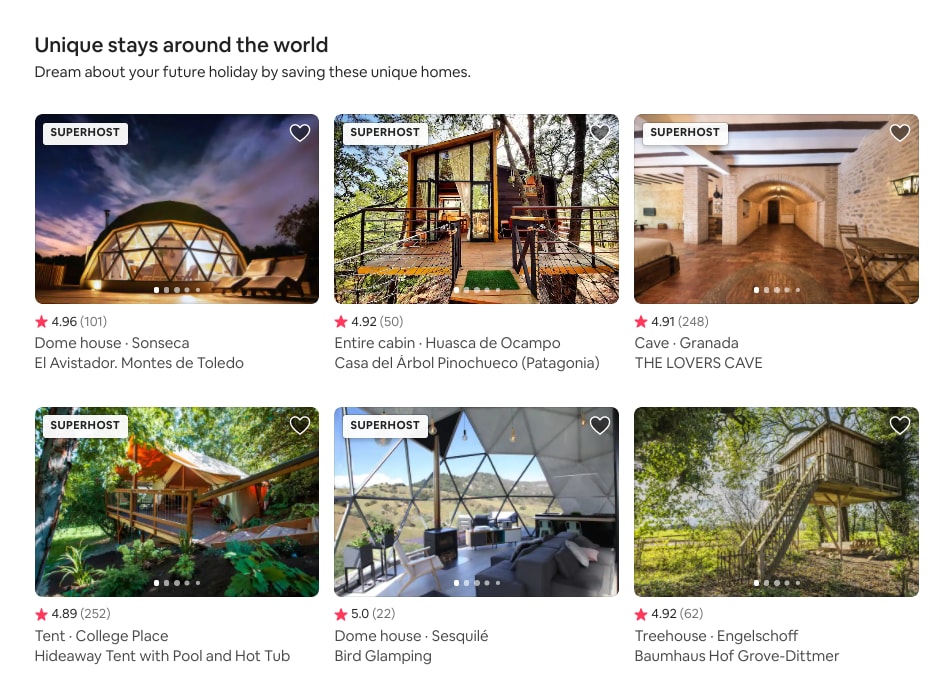 What followed was a sequence of some of the most impressive growth hacking strategies ever publicised and, if you haven't read the full story of how Airbnb took over the world of travel, have a look at this summary on Growthhackers.com.
Airbnb was founded in 2008 and by 2014, the company was already valued at $10 billion with more than 10 million guests and 550,000 properties listed around the world. In the space of six years, Airbnb was already bigger than some of the staple names in travel and the platform has continued to grow ever since.
Now, there are almost three million hosts on Airbnb and more than seven million listings across 220 countries and 100,000 cities around the globe. More than two million people on average stay in Airbnb listings every night and the company was valued at a staggering $31 billion at the start of 2020 – although this has dropped to $18 billion since the coronavirus pandemic brought the global travel industry to a halt.
Key growth strategies used:
Hustle: Founders Brian Chesky and Joe Gebbia raised their initial funds by selling novelty election-themed breakfast cereal during the summer of '08 for $40 a box, raising a total of $30k to get Airbed & Breakfast off the ground.
Venture capital: Despite a slow start, Chesky and Gebbia started to receive funding through Y Combinator ($20k) and then rebranded as Airbnb before securing $600k from Sequoia Capital and Y Ventures.
The Craigslist hack: Airbnb's most famous growth hack was building a bit to automatically place listings on Craigslist to them in front of eyes – without any approval from Craigslist whatsoever.
The other Craigslist hack: Not content enough with its first Craigslist hack, the company later implemented a spam email bot to poach users from the website by introducing them to Airbnb. Every time users listed a property on Craigslist, they would receive an automated email from a "young lady" who really liked their property and suggested they take a look at Airbnb.
Product design: Founders Chesky and Gebbia are designers at heart and their dedication to building the best possible experiences for users has been paramount – both hosts and guests.
Simplification: A key component of the Airbnb experience is making it easy for hosts to list their property and even easier for people to book. The company went as far as offering host professional photographs to show their properties in the best light.
Market disruption: Airbnb continues to be one of the biggest market disruptors to this day, turning the travel industry on its head – and its appeal among book-it-yourself travellers has driven consistent growth.
More hustle: While driving growth in France, Airbnb found that physically sending teams of 2-3 people to locations to throw parties and promote the platform was 5x cheaper than relying on digital channels alone.
Each stage of Airbnb's growth story is filled with cunning growth hacking strategies, some of which were ethically questionable but resoundingly successful. By tapping into Craigslist, the company was able to spur initial growth for free and pinch users from its biggest rival.
When presented with problems, such as the difficulty of making properties look appealing on the platform, the company came up with effective, even if unconventional, solutions – such as offering professional photography services, at a significant expense.
Even in the early days, Airbnb found resistance among investors who didn't think the idea would take off. Yet, at every stage of the company's journey, the combined problem-solving mentality of Brian Chesky and Joe Gebbia with a complete lack of respect for the conventional has built the most impressive growth hacking story to date.
#8: How HubSpot built a billion-dollar growth engine with free tools
HubSpot is the growth marketing software provider that has excelled by being the success story it promotes. The company offers extensive marketing software to help businesses fuel growth by using the same tactics the company employed itself.
In other words, HubSpot is the B2B growth example its target audiences can aspire to be and the company provides all of the tools they need to get there.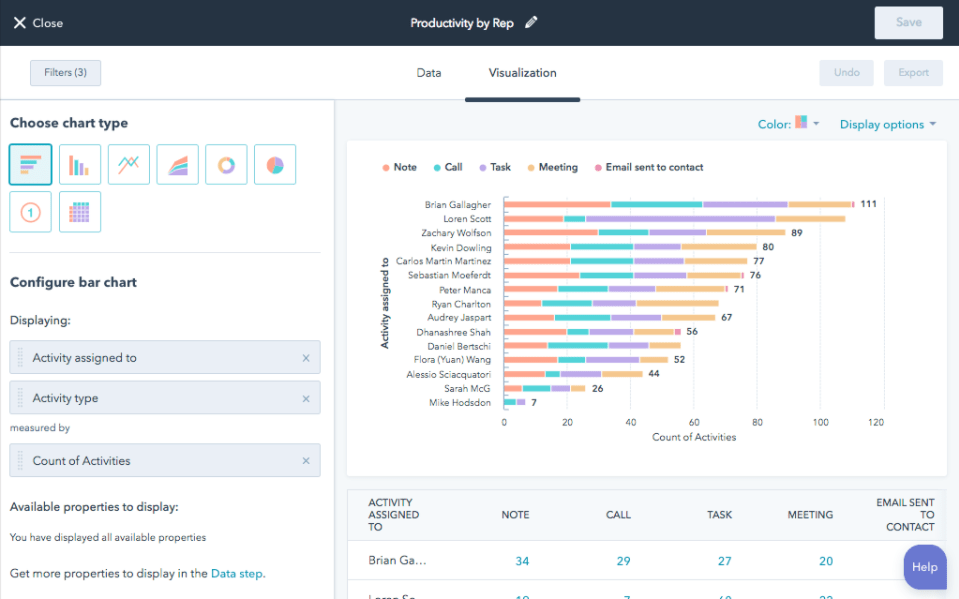 Key to HubSpot's success is the quality of its products and one of its most cunning strategies has been offering a range of free tools designed to capture leads from marketers and start a lead nurturing process that leads them to paid products.
Of course, any business can lure people in with the offer something for free but HubSpot offers one of the best customer relationship management (CRM) systems on the market and charges absolutely nothing to use it. The secret is that a CRM only comes to life when you integrate it with other marketing and sales tools – all of which HubSpot provides on its paid plans.
It doesn't take long for businesses with the budget HubSpot is after to upgrade to paid plans.
Key growth strategies used:
Free tools: HubSpot offers a range of free tools for marketers that act as a gateway to paid products.
Brand image: HubSpot is the success story of its own products, showing new customers that they can achieve similar things with its marketing software.
Lead nurturing: With a highly successful lead generation strategy at work the company uses email marketing (which also happens to be one of its core product offerings) to nurture leads.
Pricing strategy: Shifting to a pay as you grow model by charging customers based on the number of contacts they have.
Content marketing: HubSpot established itself as an industry authority with a no-compromise content strategy that consistently produces some of the most informative insights on the web.
Webinar marketing: The company built a huge following on Twitter by running webinars and promoting them on the network.
With a compelling offer powering its strongest lead generation strategy, HubSpot needed to get eyes on its products to fuel growth. As a company that champions inbound marketing, it has prioritised the key channels at the heart of its products. Not only has it exploited these channels with great success, it's also proven that they work and demonstrated to its target audience that its software products lead to genuine growth.
Each of HubSpot's inbound marketing strategies is a success story in itself, starting with its excellent content marketing strategy. By producing some of the best content in the marketing industry and investing effort into organic SEO, the company has established itself as one of the top authorities and sources of insights.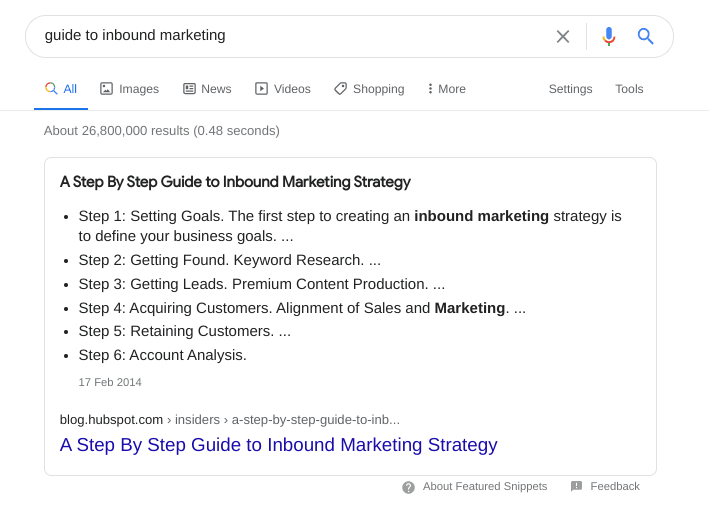 Search for anything related to marketing and you're only one click away from HubSpot's website.
The company has made excellent use of both organic and paid social media opportunities. It's been particularly successful on Twitter, building a large audience during the social network's peak with a webinar strategy that generated thousands of leads with every showing.
HubSpot's mastery of inbound marketing has been reinforced by intelligent, data-driven business decisions, too. One of my favourite examples is the company's change in pricing policy. In 2011, it adopted a new tiered pricing model that charges based on the number of contacts users have on their database. Essentially, this is a pay as you grow model, meaning customers always receive more value from the product than they pay for it.
This is the standard in marketing software pricing in 2020 but it was a masterful play of psychology at the time.
#9: How Square became a payment giant by looking after the small guys
With card payments overtaking cash in major markets around the world, small businesses ran into a problem. Card payment solutions came with high transaction fees, strict approval policies and unreliable technology that could leave paying for card readers that don't even work for days on end.
At the same time, the number of small businesses starting every year was rapidly increasing. By the mid-2000s, a lack of digital payment solutions for smaller businesses was creating a serious barrier for growth and the adoption of card payments in independent shops, markets and street food vendors.
In 2009, Twitter CEO Jack Dorsey launched Square with the mission of solving this problem. With more than 99% of businesses in the UK alone being classed as small businesses (between 0-49 employees), the payments industry was woefully neglecting the vast majority of businesses that couldn't afford high transaction fees and expensive hardware that was inexplicably unreliable.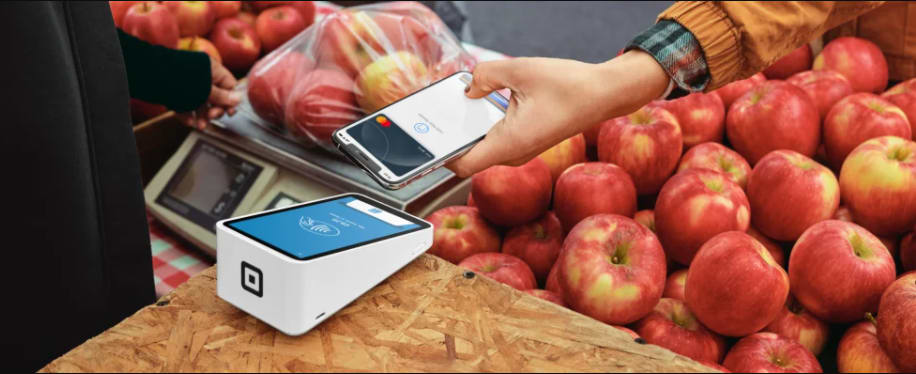 Square set out to solve the payment problems smaller businesses faced, one by one. With simple, affordable transaction fees, even the smallest of businesses could offer card payments to customers and simple hardware provided an all-in-one POS and card machine system – everything a small store needs to manage stock, take payments, print receipts and keep the queues moving.
Key growth strategies used:
Defining a niche: By offering a simple, affordable payment solution for small businesses that were neglected by major providers.
Identifying a need: As digital channels made it easier than ever to start a small business, Square's founders identified a lack of payment solutions standing in the way.
Disruptive marketing: Square (and a select few other payments companies) turned their industry upside down by prioritising smaller businesses with low transaction rates and turnover – which happens to be the account for the vast majority of businesses around the world.
Simplification: Complexity was the other barrier for smaller businesses in need of payment solutions and Square has excelled at creating simple software and hardware for business owners with no interest in the technicalities.
Product design: A lot of Square's success owes to the excellent product design behind its software and hardware, allowing the company to fend off competition by providing better quality.
Jack Dorsey: There's no doubt that having Twitter CEO Jack Dorsey at the helm helped Square capture interest and funding.
A lot of people point to the celebrity of Jack Dorsey as the key reason behind Square's success and, while this will have helped with profile and securing funds, it greatly undersells the company's achievements.
First, of all Square is definitively a product for small businesses, not the tech scene of Silicon Valley. Backing Square was never going to see the company call industry giants customers and pave the way to becoming the new Visa or Mastercard.
Despite this, backing Square would become one of the smartest investment choices its supporters would make. From a pure business perspective, Square targeted the vast majority of the business market with more than 99% of businesses in the UK being classed as small businesses. Sure, these are low-spending customers but, collectively, the vast majority of the payments market was gradually turning to card and online transactions.
By offering low transaction rates and affordable card readers for $10, Square wowed small businesses and reviewers with a revolutionary product. As mobile payments emerged, Square was at the forefront of technology innovation with a free app that turns any phone into a card reader.
Simplicity has played a key role, too. If you can use a phone, you can use Square to accept payments from your customers.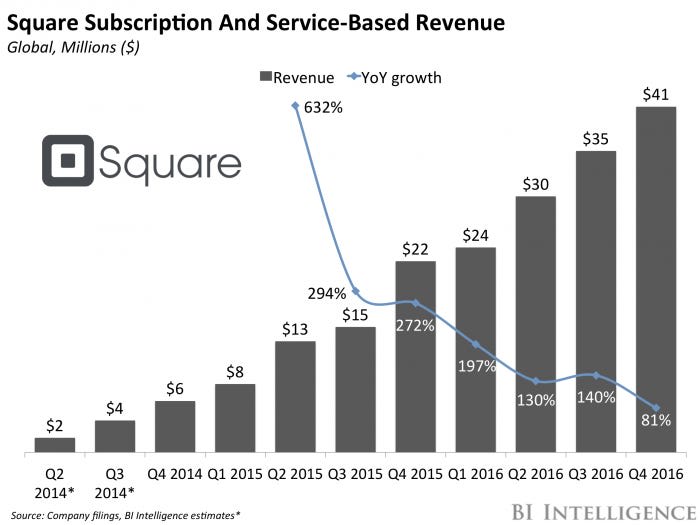 After making waves with its introduction, the positive reception of Square's early customers turned into fandom and brand evangelism that drove growth within a vast new niche filled with little competition. Dorsey's celebrity status only helped the company get more coverage in major press publications and much of the marketing was done for the company by other people.
The growth rate was staggering with a YoY growth rate of 632% by Q2 2015, which has declined since, as adoption levelled out among small businesses and Square secured its market position. Now, the company is one of the top names in the global payment industry and plenty of room remaining for growth as the birth rate of smaller businesses continues to increase every year.
Growth marketing tactics & hacks
In this next section, we take a closer look at some of the most effective growth marketing strategies and hacks behind the success stories covered so far in this article – and many others like them.
#10: Referral programmes
Referral programmes are a common strategy that involves rewarding your existing customers for turning their friends, family and contacts into new customers for you.
Not all referral strategies inspire the same level of growth, though, so what does a programme worthy of growth hacking status look like?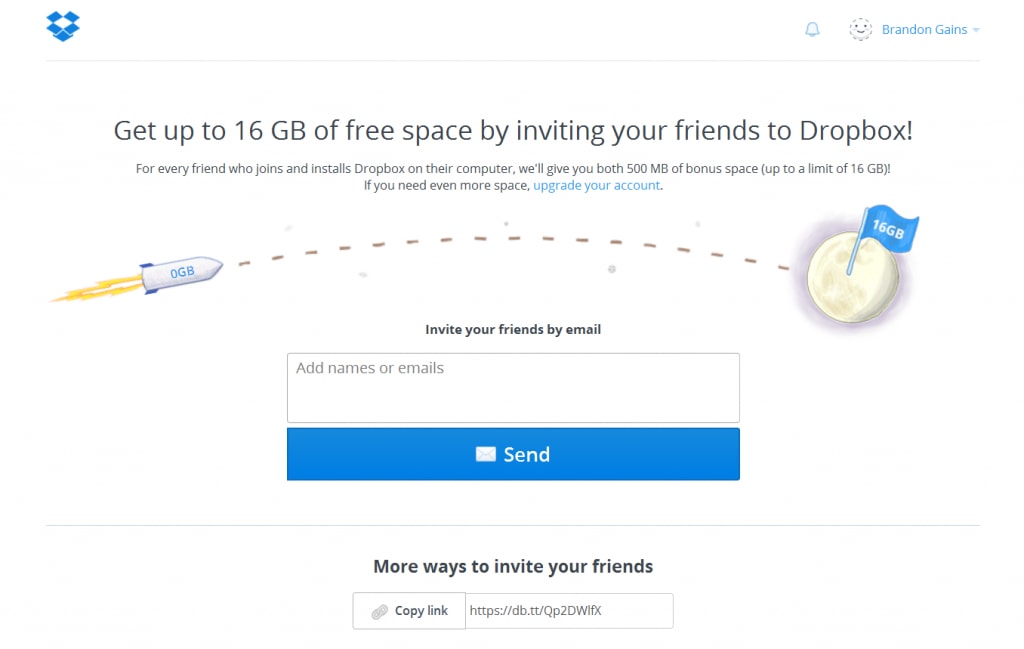 Dropbox offers one of the best examples of turning referrals into a powerful growth marketing strategy. Instead of rewarding users with financial incentives, the company offered storage space in return for introducing them to new users.
For every "friend" existing users introduced to Dropbox, they would receive an extra 500MB of free storage with a total limit of 16GB. This meant that users signed up to the free version of Dropbox could earn up to 16GB of free storage space compared to the default 2GB limit.
The referral programme was so successful that it drove 3900% in the space of just 15 months.
Let that sink in for a moment. In September 2008, there were 100,000 registered Dropbox users and, by December 2009, the company had more than 4 million people signed up to its service. Less than 10 years after launching, Dropbox would have almost 40 million registered users with a $10 billion valuation and $1 billion revenue.
So how did Dropbox create one of the most effective referral programmes in history?
Key growth strategies used:
Engagement rewards: The real genius behind Dropbox's referral programme is that it didn't reward users financially. Instead, it incentivised them to use the service more and even depend upon it more, locking them into the platform.
2-way rewards: Dropbox didn't only reward the referrer but also their friends who were welcomed to the platform, who could then invite their own friends for dual rewards.
Incentivisation: By allowing users to refer 32 times and build free storage of up to 16GB, every user was incentivised to spread the word on behalf of Dropbox.
Goal-orientated: Dropbox's referral programme proved each user with their own referral status where they could see how much free storage, the current status of their individual referrals and encourage them to invite more friends.
Onboarding: Dropbox didn't wait until users were signed up to send them referral emails. It implemented the programme as part of the onboarding process so that new users are inviting their friends before they've even started using it for themselves.
Click invites: Users could invite friends with a simple link invitation, making it incredibly easy for new users to bring their friends on board.
All of this factored into a single referral programme provided plenty of incentive for users to invite their friends and made it irresistibly easy to do so. By setting clear goals for each user, you would find yourself ploughing through your email contact list to see who else you would invite.
Not only were users bringing new prospects to Dropbox, they were also engaging with the platform themselves on a far deeper level and emotionally investing in the service. Existing users were locked into the platform and doing everything they could to bring new users to the party, resulting in minimal churn and maximum growth.
#11: Exploiting the fear of missing out (FOMO)
You'll find that a lot of the most successful growth marketing strategies master the art of emotionally incentivising people to take action. Logic takes a back seat when you're able to influence user behaviour and this is a consistent theme in growth marketing.
Fear is one of the most powerful emotions to exploit and the fear of missing (FOMO) can be particularly effective.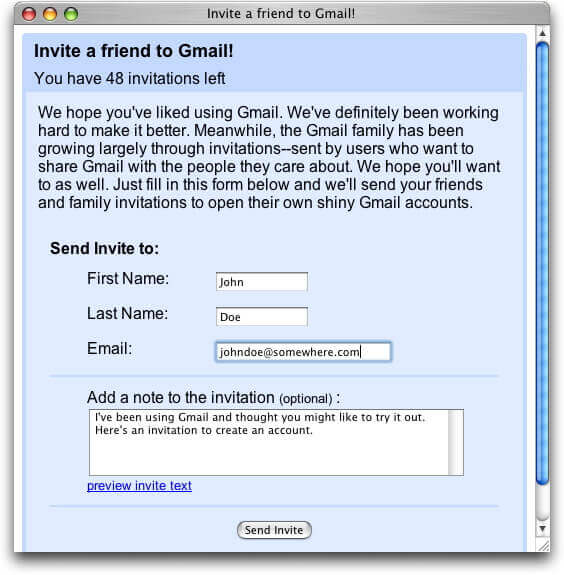 You may remember a time when Gmail wasn't the most popular email client in the world and, if you can, you can probably also remember how it seemed to replace the likes of Outlook and Hotmail overnight.
We now know that a key contributor to Gmail's rapid growth was the exclusive invite-only access it provided. While talk was growing of this new email client that provided the best experience around, it became apparent that not just anyone could sign up and start using it.
Certain people in tech journalism had access and praised it relentlessly, further fuelling the desire to get access. Each existing user was able to invite up to 50 of their friends and the invite-only policy was so effective that invites were auctioned off on eBay.
Key growth strategies used:
Exclusivity: By adopting an invite-only system, Google created tension between those in and out of the club.
Incentive: This tension created incentive, which was reinforced by the exclusive features available in Gmail – namely its unmatched search capabilities.
Press coverage: By giving access to specified tech journalists, Gmail's reputation built and its invite-only status was publicised, increasing incentive among those not invited.
Invite status: Simply being a Gmail user wasn't the only exclusive status received during its early growth. In fact, once you finally got invited to the table, you were instantly elevated to the status of being able to invite others – and choose whom to invite.
Gmail isn't the only tech name to use this strategy, by any means. In fact, the most famous example of using FOMO-driven exclusivity has got to be Facebook, which operated on an invite-only basis that gradually opened up to different universities across the US.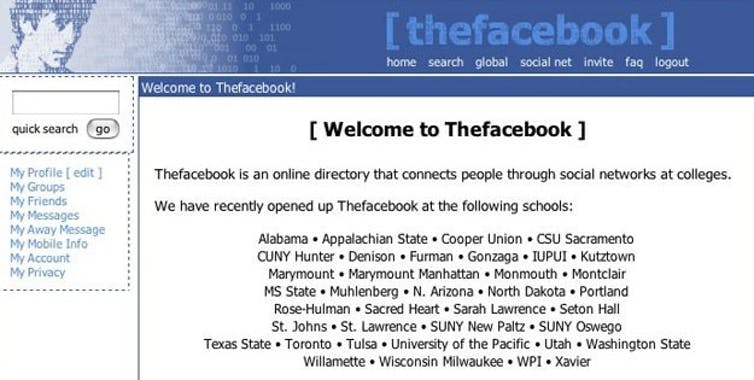 By the time access was opened to new universities, the notorious reputation of the network and anxiety to become a part of it was so intense that hoards of new users jumped on board at the first opportunity. Before Facebook even expanded beyond the US, the world was eagerly awaiting and hoping that their country would be next to gain access.
This pent up anticipation and fear of missing out on what others already have access to was the key driver of growth for Facebook, Gmail and a bunch of other tech firms.
#12: Innovation
Another Google success story (let's face it, there are many) is turning Chrome into the world's number one web browser. In 2008, Microsoft's Internet Explorer (IE) remained the most widely used browser with a 60% market share with Mozilla's Firefox trailing way behind in second place.
On September 2, 2008, Google launched Chrome with a measly 0.3% market share. Ten years later, Chrome would have a market share of more than 70% and Internet Explorer would be little more than a bad memory.
The key to Google's success with Chrome has been constant innovation and offering viable alternatives to IE's many failings. Initially, Chrome gained traction as a browser for developers – one that provided tools for creating websites and applications with consistent support for the latest web standards (two areas where IE was severely lacking).
Simply put, Internet Explorer made the web a difficult medium to design for and the user experience suffered, as a result. This meant users and developers alike gained from switching to Chrome, which was capable of providing a more robust experience.
Google followed this up with constant innovation for the end user, including the introduction of extensions in 2009, which brought app-like functionality to the browser. In 2011, Chrome rolled out the New Tab Page, turning the browser into a more effective multitasking tool – merely the latest Chrome feature all major browsers would later imitate.
However, the killer move for Chrome was its 2012 release across all Android devices, which put the browser in the public sphere for anyone with an Android device. Soon, the browser would become the default platform for browsing the web (Android devices outnumbered iOS devices significantly, even by the end of 2012).
With Android devices taking more of the mobile market share every year, Chrome was the first name that came to mind when the average internet user thought of a web browser. Smooth experiences, combined with innovative features and consistent support were central to its success and the market penetration afforded by Android was immense.
Key growth strategies used:
Innovation: By innovating developer tools and browser features, Chrome gave itself the substance required to differentiate from the already-established names.
Competition: Google was able to exploit Internet Explorer's weaknesses by simply being better.
Market penetration: Google uses all of its resources to maximise market penetration for its key products and it did the same with Chrome – most notably the Android integration.
Personalisation: By personalising the experience, Google incentivises users to continue using Chrome across all of their devices.
Expansion: Google continues to innovate and expand its products, knowing many of them will fail.
Those last two points are particularly interesting. The personalised experience delivered to users logged into their Google account encourages them to download and use the browser across all of their devices – in order to maintain the personalised UX.
This is something we've seen across Google products in recent years and, in many cases, Chrome is the platform that keeps the multi-channel experience alive.
Another important note has been Google's persistent drive to innovate new products, even if many of them are doomed to fail. For every success story like Chrome, there are multiple failures in the form of Google Plus, Wave and Google Goggles (to name a few).
Yet Google marches on as a market leader on multiple fronts, not in spite of its failures but because it strives for innovation from every angle, knowing many ventures will fail. Without the tech giant's constant experimentation and innovation, products like Android, Chrome and Google Maps wouldn't be the industry leaders that they are.
#13: Market penetration
We talked about market penetration in the previous example and Google's Android strategy is one of the finest case studies of this strategy. It's not only tech giants that use market penetration as a growth strategy, though.
First, to make sure we're all on the same page, here's how Investopedia defines market penetration:
"Market penetration is a measure of how much a product or service is being used by customers compared to the total estimated market for that product or service."
The same page expands upon this definition of market penetration to say that it "also relates to the number of potential customers that have purchased a specific company's product instead of a competitor's product".
Swedish furniture IKEA didn't have a side-channel to tap into in the same way Google had with Chrome and Android. Instead, it had to gradually build a global presence over many decades, which led to stores across the world by the mid-1980s.
The company's market penetration strategy was both simple and innovative. Instead of selling the complete product to its customers, IKEA sold flat-pack furniture that customers would put together themselves, at home. Cheaper materials and the offset of expenses for assembly and storage allowed IKEA to drastically undercut furniture prices in almost every market it expanded into.
Key growth strategies used:
Affordability: IKEA's ability to undercut prices in local markets established the brand as a global force by the mid-1980s.
Quality: By offsetting production costs, IKEA was able to maintain a high level of quality against its impossibly low prices.
Differentiation: The unique store experience, build-it-yourself products and uniquely Swedish branding allowed IKEA to stand tall above its competitors.
Agile culture: IKEA has made it through multiple recessions, the rise of e-commerce and intensifying competition to remain the biggest name in its niche.
IKEA built its strict brand culture of high quality and low prices long before the age of the internet. The company was first established in 1943 and expanded across Europe in the 1970s before branching out across the globe in the mid-90s.
By January 2018, founder Ingvar Kamprad was listed as the eighth richest person in the world in the Bloomberg Billionaire's Index.
IKEA's market penetration powered the company through the 2008 recession, allowing the company to drive down the price of its product even further without cutting down on expenses by laying off staff.
By constantly optimising its business operations and reducing production costs, the company managed to expand further during the recession. Instead of increasing prices, it lowered them to reflect the difficult times of its customer base, opened new stores and investment in marketing to drive sales.
Increased sales allowed the company to reduce production costs without sacrificing quality by ordering raw materials in greater volume.
The company also prioritised developing a more efficient supply chain and gave more employees decision-making responsibilities to increase the speed of customer service. Faster resolutions resulted in more happy customers who continued to buy from IKEA while economic constraints encouraged less budget-conscious consumers to discover the brand for the first time.
IKEA grew its way through the recession by reducing costs, improving process and keeping more customers happy – without laying off staff or compromising its people-oriented brand image.
#14: Problem solving
Uber's growth story has been defined by problem solving, every step of the way. The company helped define the gig economy with a two-way product that revolutionised the way people travel and, for better or worse, how people earn money.
At the core of Uber's product was the ease of booking taxi-like transport, on demand. Founded in 2009, Uber coincided with the rise of the mobile web, turning phones into a portable taxi-booking device and the integration of mobile payments only increased the convenience of the platform.
In the space of a few years, Uber had made public transport easier, faster, more accessible and cheaper – a powerful combination that culminated in huge growth to the sum of a $70 billion valuation in 2017.
Key growth strategies used:
Problem solving: Uber addressed the problems of price, availability, booking and paying for taxi's, one by one.
Market disruption: The company turned the private transport industry upside down and created its own market.
Technology: Timing, tech awareness and creativity allowed Uber to capitalise on the rapidly advancing mobile web.
Controversy: Uber has had to deal with a lot of controversy throughout its time and the company continues to find a way forward.
Uber's rapid growth and market disruption haven't come without consequences. Perhaps more than any of the other unicorn Startups, Uber has faced strong criticism for perpetuating the gig economy, low wages, public safety and hurting taxi industries around the world.
In fact, Uber has probably faced more criticism than any of the other big names associated with the gig economy. Now, the company's problem solving strategy focuses on PR management, brand image and sustaining growth.
#15: Middlemanning
Some of my favourite growth marketing stories come from brands that, when you think about it, don't really do much of anything. Over the past few decades, we've seen a significant rise of non-ownership business models where brands earn billions of dollars by connecting products and services with users.
I like to call this middlemanning where the likes of Skyscanner simply connects users with plane tickets sold by airlines, Airbnb helps users book rooms from property owners and GoCompare helps users find policies sold by insurance firms.
None of these companies own or sell anything other than their respective brands. They're basically search engines that only allow you to find a select range of things yet Skyscanner was bought out for $1.75 billion in 2016.
Key growth strategies used:
Identify demand: Identify consumer demand where supply is held back by accessibility, complexity or price variation.
Supply the demand: In the case of Airbnb and Uber, they supplied the demand by using homes and vehicles owned by other people.
Search & comparison: Build a platform that makes it easy to search, compare and buy the products or services in demand.
Branding: You've got to have a strong branding name when you don't have any product or service commodity yourself.
Growth hacking: Middlemanners need to grow quickly and secure their place in the market to ensure new businesses copying the same idea don't get ahead.
The downside to this growth strategy is that your business model is vulnerable to imitators. Once entrepreneurs catch on to the fact that there's money to be made by simply connecting users to a type of product or service, the race is on for rivals to secure their place in the market.
For every Uber, there's always going to be a Lyft and dozens of other rivals hot on the heels of your idea.
#16: Exploit market trends
It's easy to forget that Netflix launched in 1998 by renting out DVDs through the post. Streaming wasn't even really a thing yet but the writing was already on the wall for physical content. Looking back now, you have to think Netflix launched at the worst possible in an industry that didn't even realise it was dying.
Except, even one year after launching, Netflix proved itself as a company that understood market trends and how to react to them. In 1999, it switched from a pay-per-use model to a subscription service, which was a bold move at the time.
After less than a decade of success, Netflix had established itself as one of the biggest names in DVD and Blu-ray rentals. However, the company could already see the end was coming and, once again, switched its business model to a streaming service that would revolutionise the way people consume media.
Key growth strategies used:
Market understanding: Netflix's success lies entirely in its ability to read the market, scrutinise its own position and respond to trends before anyone else.
Relentlessness: Founders Reed Hastings and Marc Randolph have never been content with Netflix's market position and their almost-cynical resistance to complacency has allowed them to identify growth hurdles and overcome them.
Technology: Netflix was quick to jump on streaming technology and it was also one of the first platforms to make full use of big data and personalisation to recommend content and keep users engaged.
Disruptive marketing: Netflix has disrupted the television industry, traditional advertising, the movie industry and even the software industry on various occasions.
If you look back at Netflix's relatively short history, it's amazing how many times the company has identified major industry disruptions, weaknesses in its business model and adapted to market trends ahead of everyone else.
#17: Get out there & make it happen
Earlier, we looked at Airbnb's growth marketing story and the part that has always stood out to me is the fact it sent teams of people to locations in order to recruit more hosts. Instead of relying purely on digital channels, small teams flew to countries where the company wanted to expand and held parties to engage with property owners and introduce the platform to new hosts.
This tactic was a breakthrough and it allowed Airbnb to crack the French market for the first time when previous strategies had failed to drive real growth in the country.
Sometimes you just have to get out there and make it happen through face-to-face engagement with your target audience.
Another big name that used this strategy is Tinder, which held events and colleges and universities to introduce the dating app to students, in person. By creating a buzz among its core demographic, Tinder tripled its userbase with a low-investment strategy that gained the initial traction the platform needed to scale its marketing efforts.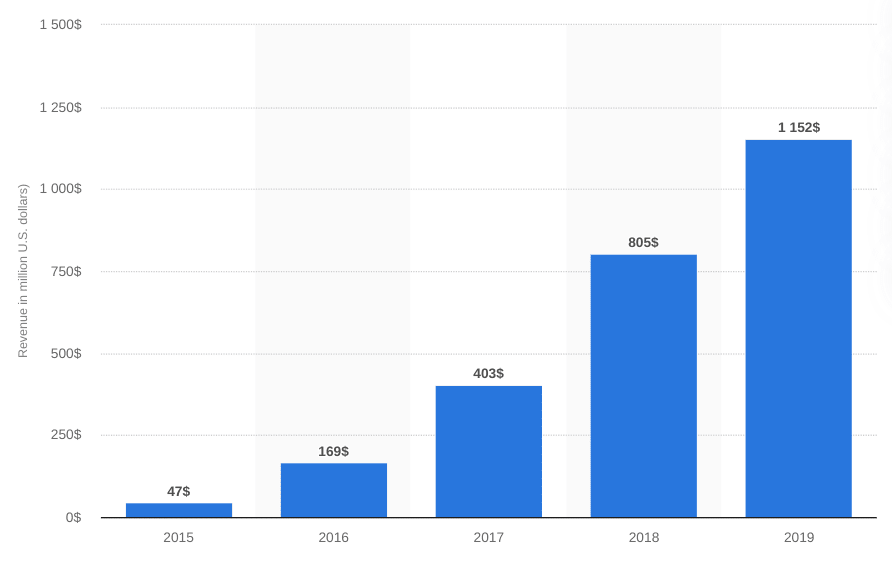 Key growth strategies used:
Face-to-face: Sometimes, it pays to meet your target audiences in person to build genuine connections.
Personal touch: With eye contact, Q&As and one-to-one demonstrations, you can highlight the benefits for every individual.
Demonstration: By taking your product to target audiences, you can show them the impact it will have on their lives.
Onboarding: Both Airbnb and Tinder excelled at showing prospects how easy it was to start using their services, removing friction and building their userbase at the same time.
To use this tactic successfully, you need to be confident that your product or service offers something of genuine interest. The demand needs to be there but you may find digital channels don't always get your offer in front of the right eyes or engage them as effectively as you would like.
In these scenarios, you have to get out there and take the message to them through events, meetups or other face-to-face interactions.
Essential growth marketing strategies
In the final section of our article, we look at essential growth strategies every business should have in place to ensure sustainable, long-term growth.
#18: Growth automation
To truly maximise growth, you have to reach a level of efficiency where your business wastes very little time and resources. Every second wasted is another one that can't be invested into something else that drives growth and a key challenge is ensuring that all of your resources are pumped into where they make the most positive impact.
Sooner or later, you're going to hit a growth ceiling if all of your resources are tied up and you've got nothing left to give.
The only way to truly maximise growth is to automate as much of your growth marketing efforts as you possibly can. For more details on this, be sure to take a look at our article, Growth on Autopilot: A Healthier Alternative to the Old Way of Business.
In the article, Marcus explains how he automated growth at Venture Harbour by eliminating wasteful processes, automating everything possible and delegating tasks that can't be automated to team members or freelancers. As a result, his time is only invested in activities where it adds the most valuable and the same thing applies to everyone on the VH team.
For more ideas on how to automate growth, you can also take a look at these articles:
#19: Use free tools, freemium software as bait
Earlier, we looked at how HubSpot built a software empire by offering free tools to marketers. It's not the only company to use this as a growth tactic, either, and it's particularly common for software companies.
TrueNorth is a good example of this, offering a free trial of it's growth marketing platform on the homepage of its website. Users can access create a growth simulation, manage growth ideas and build an agile marketing plan for free within the 30-day trial.
We also developed Marketing Automation Insider to help businesses determine which marketing automation tools are right for their needs.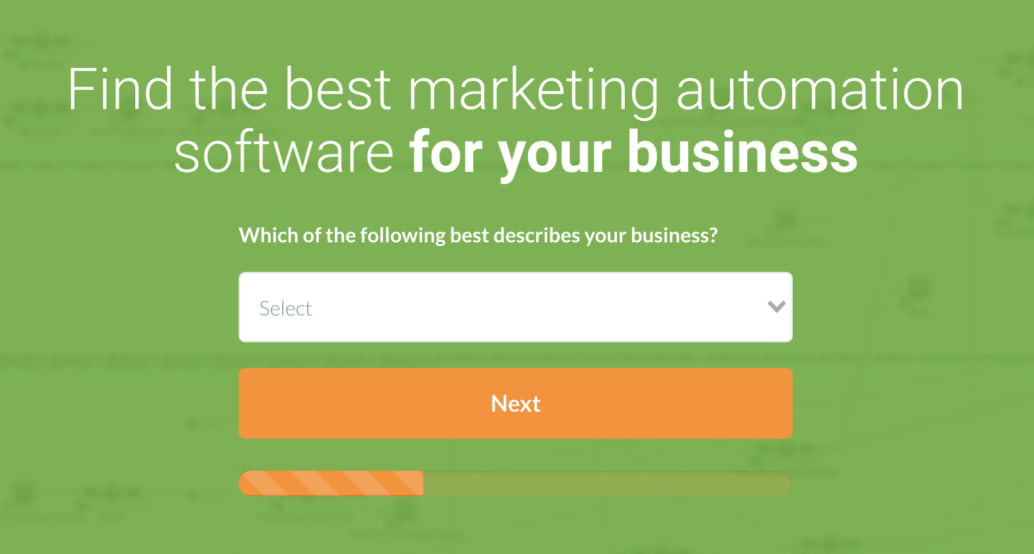 By offering genuine value through free tools, we can capture leads that might be interested in our own products and demonstrate some of the capabilities they have.
#20: Disruptive marketing
We've looked at plenty of brands in this article that use disruptive marketing tactics to carve new niches, solve unaddressed problems, shake up competitors and command their share of the market.
As every industry becomes more crowded and competitive, disruption is one of the few tactics that allows you to stand out and do something different.xz
As Neil Patel explains in his article on disruptive marketing, it takes a certain kind of brand to pull this off, though:
"Disruptive brands don't just push the envelope, they crumple it up and throw it in the trash. They're not afraid to be daring and break the status quo. But for all the buzz they generate, they also need to be able to ride the peaks and valleys successfully, as not everyone will be accepting of their challenge to a traditional mindset."
We talked about Uber earlier and this is a perfect example of a company that has created all kinds of disruption in the transport industry with great success. However, it has also had to deal with scrutiny, criticism and backlashes at various stages of its growth journey.
We see these patterns across the board and disruptive brands have to be very agile in order to respond to market trends. They also need to grow quickly so they can establish a position in the market that makes them difficult to nudge when new competitors inevitably emerge.
Where PayPal was once the disruptor, now Klarna is leading the innovation race while we've seen a similar transition of disruptiveness with Zoom leading the video calling software race ahead of Skype.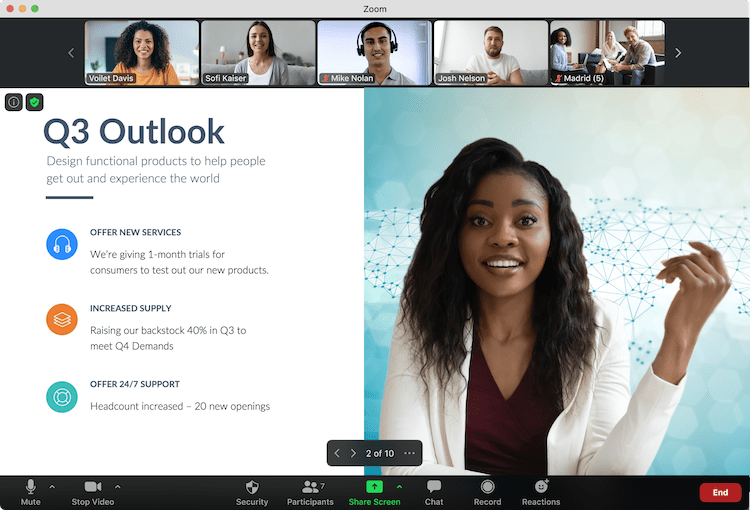 The key thing with disruptive marketing is to understand that results are always short-lived. If you succeed, your disruptive status expires and you gradually (or quickly) become the norm, only for a new disrupter to come along.
What you have to do is make sure you secure your market position before this happens so you have the strength to fight off competition. Instagram is a good example to look at, which is now the norm of social media and has successfully fought off the threat of Snapchat.
#21: Optimise your onboarding process
This strategy is so important and played a crucial role in every growth marketing example we've looked at today – and every success story in history.
You simply can't maximise and scale growth if people interested in your product/services find it too difficult or frustrating to complete the initial purchase or sign-up.
Of course, this is important for software companies looking to grow their user base but the same principle applies to every business – whether you're selling products online or serving customers over the counter.
Even in a supermarket, people are only going to cue for so long before they put their basket down, walk out of the store and possibly spend the rest of their lives shopping at a direct rival.
Earlier on in this article, we explained how optimising the onboarding process was one of the key strategies that allowed Slack to become the fastest growing B2B software provider in history – it's that important.
In the past, we've also looked at how other companies have used the same strategy to maximise the percentage of successful sign-ups and purchases. Growth marketing is all about maximising and retaining customers, which starts with making it as compelling and easy as possible for new customers to open their wallets.
#22: Take care of new customers
Once the onboarding process is complete, you might think it's time to open the champagne but this is where your actions really matter. You may have just captured the first purchase from a new customer or bagged yourself another free user but now you have to ensure they enjoy the right kind of experience to become happy, long-term customers.
As soon as people buy or sign up to something, they enter a phase of nationalisation where they try to justify the expense, time or whatever the associated cost may be.
You need to do everything you can to help them decide that, yes, they did make the right decision and they're getting more than enough value from your product to justify the investment.
When the time is right, you can start building brand loyalty and incentivising future purchases by rewarding customers or users for taking the next step. You might offer discounts on their next purchase or reward them for introducing your business to others (like the Dropbox example we looked at earlier).
Whichever strategies you test, make sure they're backed up with quality customer service and technical support to keep new customers happy and help them overcome any teething issues.
#23: Retain existing customers
With your onboarding fully-optimised and your new customers smiling, the next key ingredient for continuous growth is customer retention. This is where you keep your existing customers buying and users using with the aim of maximising customer lifetime value.
We've covered this topic in detail before and you can take a look at our 7 B2B Email Marketing Strategies for Customer Retention article for some campaign ideas.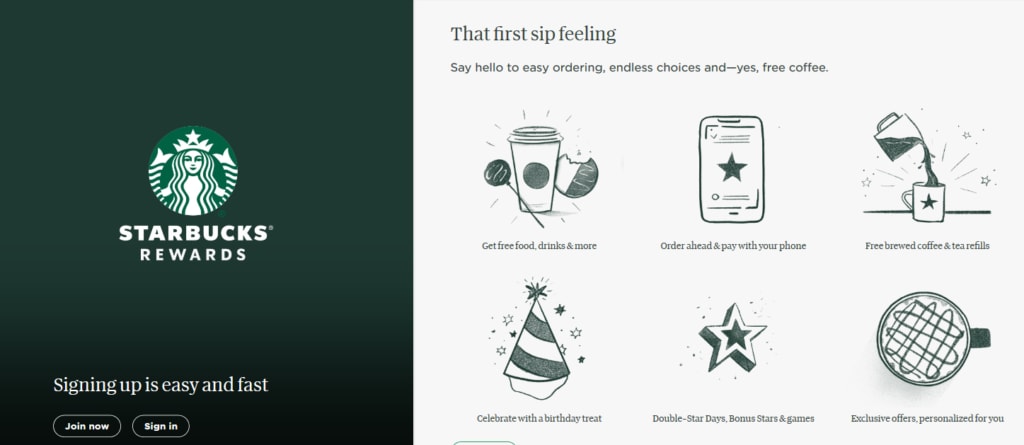 Without a solid customer retention system, you can't sustain business growth. In order to do this, you have to hang on to your existing customers and, then attract new ones – otherwise, you're simply replacing old customers with new ones.
On top of that, your customer retention strategy should aim to maximise the value of every customer. The first step towards this is to ensure they keep buying from you but you should also run campaigns designed to upsell customers to more expensive products or services over time.
#24: Pay others to do the growing for you
Earlier, we looked at how Dropbox used a genius referral programme to rapidly grow its user base but it wasn't the first tech company to make this tactic famous.
In fact, it was PayPal that brought referral programmes to digital marketing fame by achieving up to 10% daily growth during the early 2000s.
The company literally paid people to refer its services to other users, offering up to $20 per referral during the height of the programme. Over time, the terms and restrictions became more stringent but the payment provider paid out more than $60 million dollars to recruit 100,000 new users in the space of one month.
That's a big growth marketing investment but it brings us back to the growth hacking mentality. PayPal needed to increase its user base in order to increase revenue, corner more of the market and attract more investment to fuel further growth.
At this time, profit wasn't the priority and the only target was to maximise growth rates.
#25: Introductory deals
One controversial growth tactic is to use introductory deals to lure new customers in and then charge them more in the future. We see this employed by broadband providers, subscription software products, banks and a wide range of companies.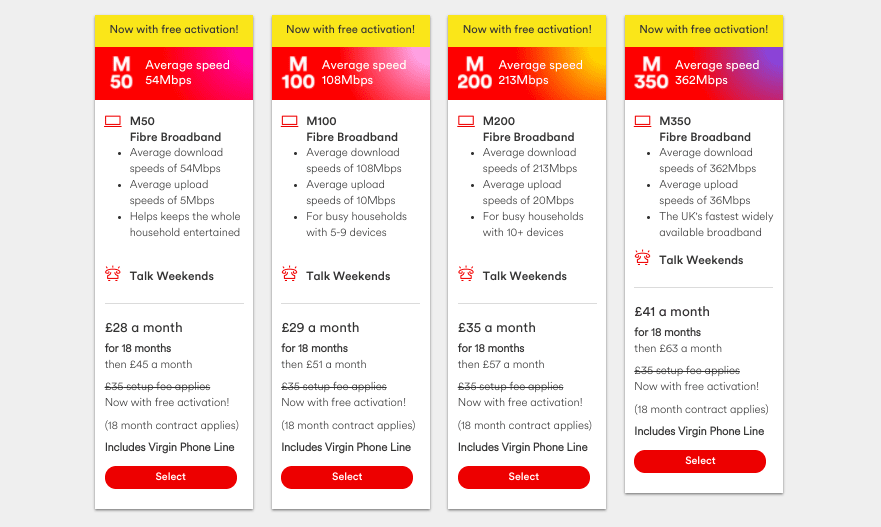 Of course, the risk is that you can end up alienating your long-term customers, which can have a negative impact on customer loyalty and retention.
As a general rule, businesses that successfully implement introductory offers without losing their existing customers sell products or services that are intrinsically difficult to leave.
For example, changing broadband providers isn't as straightforward as customers might like to think until they start looking into alternatives and, suddenly, their desire to switch fades.
Likewise, major storage space providers get away with charging low introductory prices because they know it's far more difficult to move stuff out of storage than it is to move it in there in the first place.
#26: Find influencers in your space
Influencers have developed a bit of a bad reputation over the past few years but they're not all Instagram avocado nuts that expect everything in this world for free.
Look beyond the material top layer of influencer marketing and you'll find social media personalities that have genuine influence within any industry you could think of.
Let's say you're looking to buy a new camera and you head to YouTube to check out some reviews. All of the top names that turn up in your search results are essentially influencers for major camera manufacturers – some of whom are supported exclusively by one brand while others choose to promote their favourites equally.
Like a lot of technology sectors, the camera review space has a huge influence on sales and brands have a lot to gain by working with these YouTube personalities.
The point is: it doesn't matter what industry you're in, there are social media personalities with an influence over your target audiences that you should consider working with.
#27: Help others grow
Sometimes, we can get so caught up in ourselves and the idea of competition that we overlook the benefit of helping others grow. When you look at Airbnb today, its strength lies in the business opportunity it provides property owners who can earn significantly more through short-term rentals than long-term contracts (we'll skip on the ethics debate).
The same promise stands behind Amazon, eBay and every advertising platform around – all promising to help businesses grow in exchange for a nominal fee.
None of these is my favourite example of a brand driving growth by helping others grow, though. This award goes to Zapier, which has built an entire software product around the basis of connecting other pieces of software to make tools more powerful for everyone.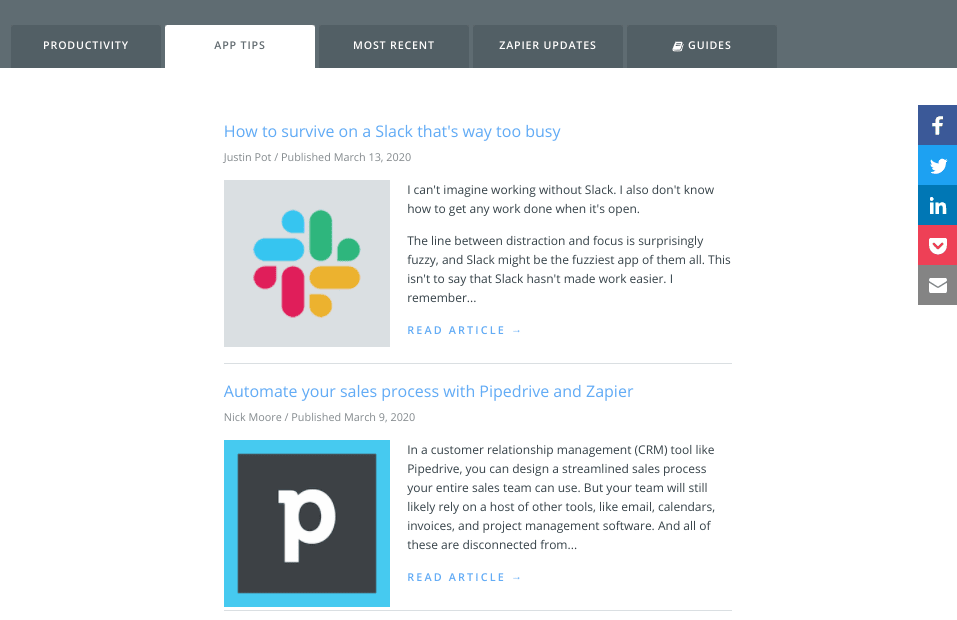 Take a look at Zapier's content strategy and you'll see it spends very little time talking about how great its software is. Instead, it focuses on all of the apps and software tools developed by other brands and the functionality you can unlock with Zapier automations.
Zapier makes other software platforms the star of the show and publishes endless amounts of content to promote them (and, by extension, Zapier itself).
This attention doesn't go unnoticed by other software providers, either. Zapier receives plenty of reciprocal promotion from some of the biggest names in the software game.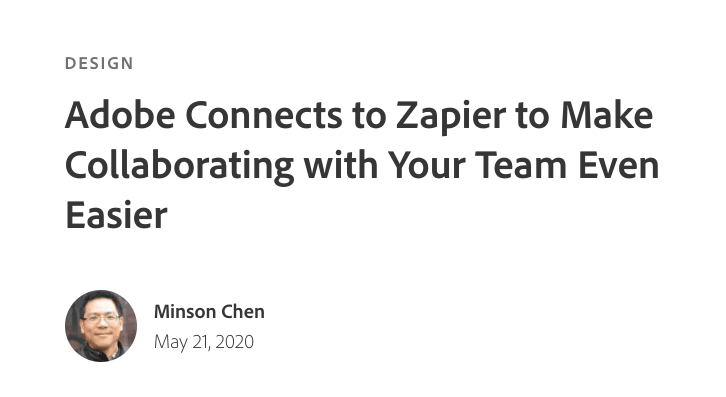 This strategy also means that users interested in any of the software platforms Zapier integrates with can discover Zapier and learn how it improves their productivity.
#28: Make change easier
Earlier, we looked at how companies use introductory offers to lure in new customers. We also explained how this is most effective for companies who make it tricky to leave their services so that the same customers will continue to pay higher prices once their introductory offer ends.
Of course, you can also take the exact opposite approach to gaining new customers by making it easier for them to change.

ConvertKit is a business growth platform that helps smaller businesses climb the ranks in their industry. With so many software providers in this niche, ConvertKit knows that it has to deliver on the quality of its products. However, it also understands that a lot of its target audience are already tied up in other software platforms.
Leaving any kind of business software platform can be difficult – especially if you've got data tied up to the service or integrations that keep you locked in.
So ConvertKit offers a concierge migration service to help businesses migrate from their existing software solutions. By removing all of the challenges involved with switching providers, ConvertKit can maximise growth by growing its own user base while taking customers away from its rivals and increasing market share at the same time.
#29: Identify your weaknesses
We've already talked about Netflix reinventing itself as a streaming service and the company's history of identifying its own weaknesses to stay relevant.
Jack Dorsey also famously presented investors with a document listing 140 reasons why his new venture Square would fail. By listing all of these potential risks, Dorsey was able to address any of the concerns potential investors had and demonstrate how he would not allow any of these reasons to be the downfall of Square.
On a more psychological level, he hypothetically solved all of the potential problems that could prevent Square from being a profitable investment.
Time and again, we see that the ability to spot their own weaknesses is one of the biggest strengths a business can have.
The same principle works on a smaller level, too. In 2013, customer support platform Groove identified a 4.5% churn rate that was standing in the way of its growth.
By identifying this weakness and taking responsibility to address it, the company was able to reduce its churn rate to a far more satisfactory 1.6% by optimising the onboarding process (another key strategy we've already looked at) and taking better care of their new customers (oh look, another one).
#30: Get the fundamentals right
Finally, the essential growth marketing strategy that I want to end with is getting the fundamentals right. I know we all want to hack our way to Airbnb-level success but the simple fact is: you can't get there with hacks and tricks alone.
You have to get the fundamentals right.
Brian Chesky and Joe Gebbia were seasoned designers when they came up with the concept for Airbnb and UX played a crucial role throughout the company's success story. The company also understood the importance of face-to-face marketing, branding and market disruption.
Airbnb's growth hacking epic is a tale of understanding the rules, when to play by them and, crucially, when to break them.
Make business growth sustainable
The best growth marketing strategies address every aspect of the business and every stage of the customer journey to mcuaximise growth and build a sustainable roadmap for the future.
While rapid growth is a powerful tool that can elevate your business to new heights and even disrupt entire industries, long-term sustainability becomes the priority, sooner or later.
Long-term success is why brands like Facebook, YouTube and Airbnb are still at the top of their game while former rising stars like Vine and Google+ burned out.