One of the biggest challenges with automating a business is knowing which tasks to actually automate. Choosing individual tasks is one thing (e.g.: automating invoices) but creating full workflows that drive an entire marketing strategy is a completely different ball game.
For example, instead of simply automating invoices, you might create a workflow that automatically creates and sends invoices, records payments, chases up late payments and assigns statues to clients/customers (paid, late, on-time payment percentage, etc.)
These are the kind of workflows you should be aiming to create and, in this article, I've got 30+ more automation workflow ideas you can implement today.
What are we looking at in this article?
As this is a relatively long article, I'm breaking things up into four different categories:
You can click on the bold text above to jump ahead to each section of the article, which should make this a useful resource to come back to later. However, I recommend starting from the beginning the first time around because these are automation workflows every kind of business stands to benefit from.
What are automated workflows?
Marketing automation workflows are programmatic functions that react to user actions on your website or interactions with your email campaigns. When users complete a "trigger" action (e.g.: signing up to your newsletter or completing a purchase), you decide which email response should be sent for each action and automatically send them out.
The first benefit of automated workflows is they save you a huge amount of time in repeated manual work. However, the bigger (and more challenging) aim with automated workflows is creating a network of automation that guides leads across the entire buying process.
To do this, you'll want a decent automation builder that allows you to create custom workflows. We use ActiveCampaign because its drag-and-drop builder gives us complete freedom to automate and it also comes with a library of pre-built workflows that you can download and use.
There are plenty of other automation platforms that offer similar things to ActiveCampaign and you can find our top picks in this 7 best marketing automation tools article. All I will say, though, is that ActiveCampaign's automation builder and email automation features were the key reason we still use it today – they're hard to beat.
Lead generation workflows
An automated business is going to generate a significantly larger volume of leads and it's important to have the right workflows in place that will allow you to handle higher volumes without building a much larger (expensive) sales team.
#1: Email lists
The first workflow you're going to want to create is one that places new email subscribers on a list of some kind. People who sign up for your newsletter should be placed on a separate list to those who request a quote or make a purchase, for example.
You may even want to take things further and place email subscribers on different lists, depending on the kind of content they engaged with when they signed up. Or customers on different lists, based on the value of their purchase.
#2: Welcome process
Once leads are placed on the relevant list, the next task in your workflow should be to send out a welcome message, "thank you" message or whatever's most relevant to the list they're placed on.
#3: Content downloads
Content downloads aren't simply designed to get users' email addresses. Your aim is to capture leads with a specific interest in various content topics and they should be placed on the relevant list for each topical interest when they sign up. This allows you to send more relevant follow-up emails and offers that are more likely to attract commercial interest.
For example, a software company might create content specifically for people in different industries/career types (marketing, creatives, accounting, legal, etc.), enabling them to highlight the benefits of their platform to the specific needs of each niche.
#4: Webinar sign-ups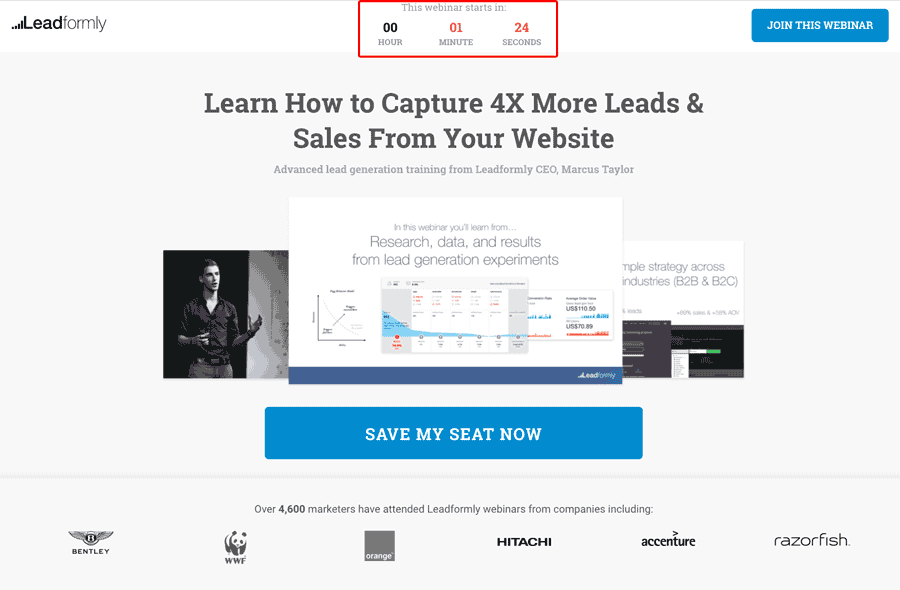 Webinars are by far the most effective form of B2B marketing content but a lot of businesses find webinar strategies too complex or demanding to run. Luckily, this is something you can almost entirely automate.
#5: Quotes & proposals
I mentioned automated invoices during the introduction of this article (a highly recommended workflow) but quotes and proposals are even more of a drag on resources. At least invoices are for work you're getting paid for – the majority of quotes and proposals don't even generate customers.
Luckily, you don't need to waste any more time or resources on creating quotes and proposals manually with our fully-automated process (also highly recommended).
Lead nurturing workflows
Lead generation brings in prospects but email subscribers don't turn themselves into paying customers. You need to guide them along the buying process, allowing you to turn moderate interest into string purchase intent.
#6: Assign leads to sales reps
One of the most important functions of marketing automation is to let technology nurture your leads as far as possible along the buying process, so your sales team only needs to get involved when they're really needed.
Automatically assigning leads to sales reps means no potential customers get overlooked but you want to build a workflow that notifies them when leads complete an action that requires their intervention – otherwise, constantly checking upon lead statuses will be a full-time job in itself.
#7: Lead qualification
Some leads simply aren't worth following up and you'll often find certain campaigns generate leads that would be better placed on other workflows. Lead qualification allows you to check prospects meet your requirements (anything from location and job title to company size and budget).
You can ditch the leads that aren't worth your time and place less relevant ones onto more suitable workflows.
#8: Lead segmentation
Once you've filtered out the leads that aren't valuable to your business, you need to know they're placed on the most relevant list segments. These lists are your most powerful tool in terms of delivering relevant messages to each lead as they progress along the buying process.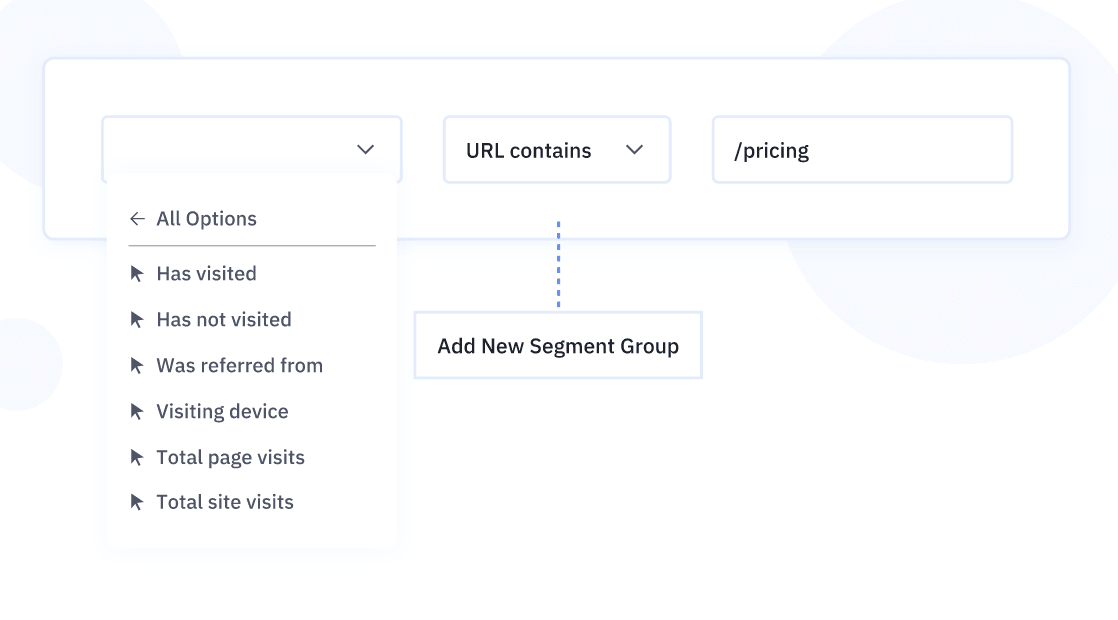 To place leads on the most relevant list, you need access to the right kind of data: mostly interest and behavioural data. When a lead shows repeated interest in the same product or service, for example, they should be targeted with messages relevant to their interests and related products/services.
Find out more about lead segmentation in our in-depth guide or this ActiveCampaign page.
#9: Lead scoring
Lead scoring applies a numerical value to leads, based on the information you gather about them. This allows you to gauge how far along the buying process leads are, prioritise the most valuable prospects and target them with messages to guide them further along.
What you want to do is create lead-scoring automation workflows that update these scores as users complete leads signifying their purchase intent increases. To find out more about this, take a look at our guide to lead qualification and lead scoring.
#10: Auto-respond to each segment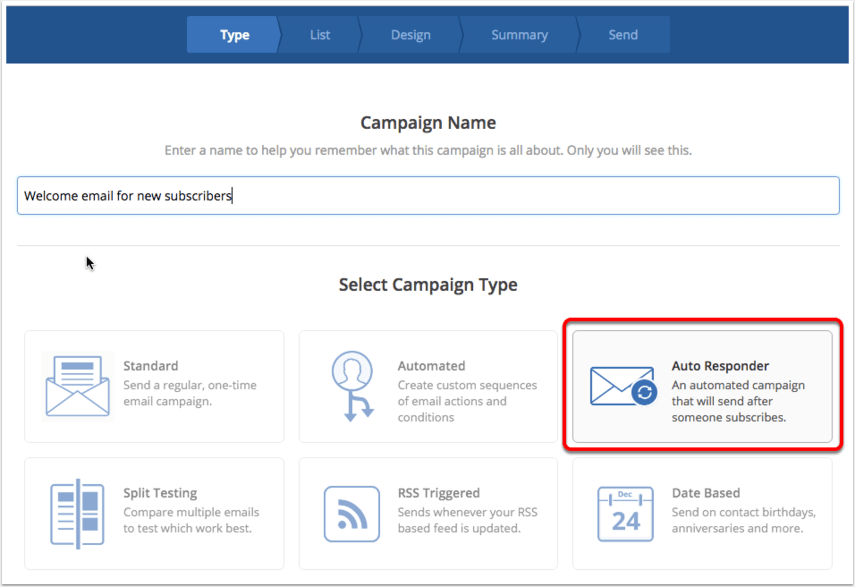 With your segmented lists planned out, you want a workflow that automatically delivers the right message to respondents on every list. With ActiveCampaign, you can create Auto Responder campaigns for this but you can also build larger workflows that automate responses based on further actions along the buying process.
#11: Applying tags, assigning to list segments
You don't want to be assigning leads to segmented lists manually – this is something that should happen automatically. Your workflows should be placing prospects on relevant lists when they sign up and automatically moving them onto other lists when their position along the consumer journey changes.
Tagging is another really important feature in email marketing software, allowing you to add multiple characteristics on each prospect – e.g.: "first-time buyer," "repeat buyer," "review submitted," "unresolved ticket," etc.
Again you want to be placing and removing these tags automatically so relevant messages are always being sent to each prospect.
#12: Interest targeting
Moving beyond demographic targeting (age, gender, job title, etc.), automated workflows allow you to tap into interest targeting. You can place users on lists when they download your content, visit the same page multiple times, engage with email topics and demonstrate specific interests in certain aspects of your brand.
#13: Behavioural targeting
Next, you want to create workflows incorporating behavioural targeting and this is where you target users with messages based on the actions they actually take on your website (or with email campaigns).
For example, you might target users who follow a specific URL path on your website, Or you could create a workflow that responds differently depending on whether people open a specific email or not. Likewise, you might create workflows for actions users don't take, such as repeat customers who haven't made a purchase recently.
Engagement workflows
With customer journeys becoming longer and more complex every year, you need to work harder than ever to keep leads and customer engagement along the path to the next purchase. So let's look at some workflow ideas to stop people getting lost between the crucial moments.
#14: On-boarding drip campaigns
On-boarding drip campaigns start as soon as a user signs up (whether a newsletter, download or purchase) and periodically send out emails at specific intervals to keep them engaged.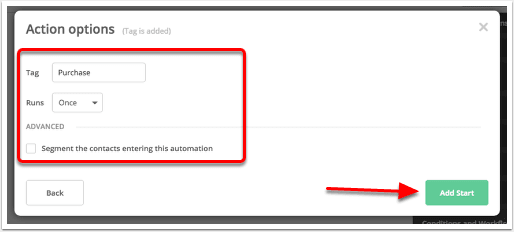 This will include your welcome emails, order confirmations and instant responses but drip campaigns can run for months, sending out emails at key moments to keep prospects engaged. Your task is to determine which messages will keep users interested and when to send them.
#15: Newsletters
Yes, newsletters are one of the most trusted email lead generation strategies but they should also be designed to keep them engaged on an ongoing basis. The best newsletters keep people opening emails, clicking through to websites and engaging with content. The worst have people hitting the unsubscribe button before you've even collected enough data to find out why.
Instead of sending out the same newsletter content to everyone, create workflows that send relevant content based on segmented lists and tags. Taking this further, create workflows that adapt your messaging, depending on how prospects engage (or don't) with your email content.
#16: Reminder emails
There are all kinds of reminder emails you should be sending out automatically: appointments, webinars, payments, subscription renewals, email confirmations and a whole bunch of other actions. Sending reminders ahead of deadlines is crucial, of course, but your workflows should also target users who don't complete desired actions on-time and give them the opportunity to do so at a later date.
#17: Birthdays, special events
Personalised messages are a great way to keep prospects engaged. Sending birthday messages to customers has become a modern classic in email marketing and a good opportunity to give them a special gift for the occasion.
There are other special events you can use to keep customers engaged. For example, you might create anniversary campaigns for long-term customers who do business with you year after year. Or there may be other personal events that are relevant to the relationship between you and your customers, such as they've just changed their job status on your software platform and you want to congratulate them on the new position.
#18: Seasonal messages/offers
The challenge with personalisation is maximising relevance without becoming creepy but you don't need to worry about this with seasonal messages and offers. The only thing you need to keep in mind is that seasonal events can vary for different people.
August isn't summertime in every part of the world and not everyone celebrates Christmas, even in traditionally Christain territories. So try to get relevant data from your prospects wherever possible and don't neglect target audiences by making unnecessary assumptions.
#19: Rewards
The best way to keep people engaging with your brand is to reward them for their ongoing interest. This is relatively easy for software providers who can digitally reward users with freebies, tokens and other incentives to keep them using and subscribing.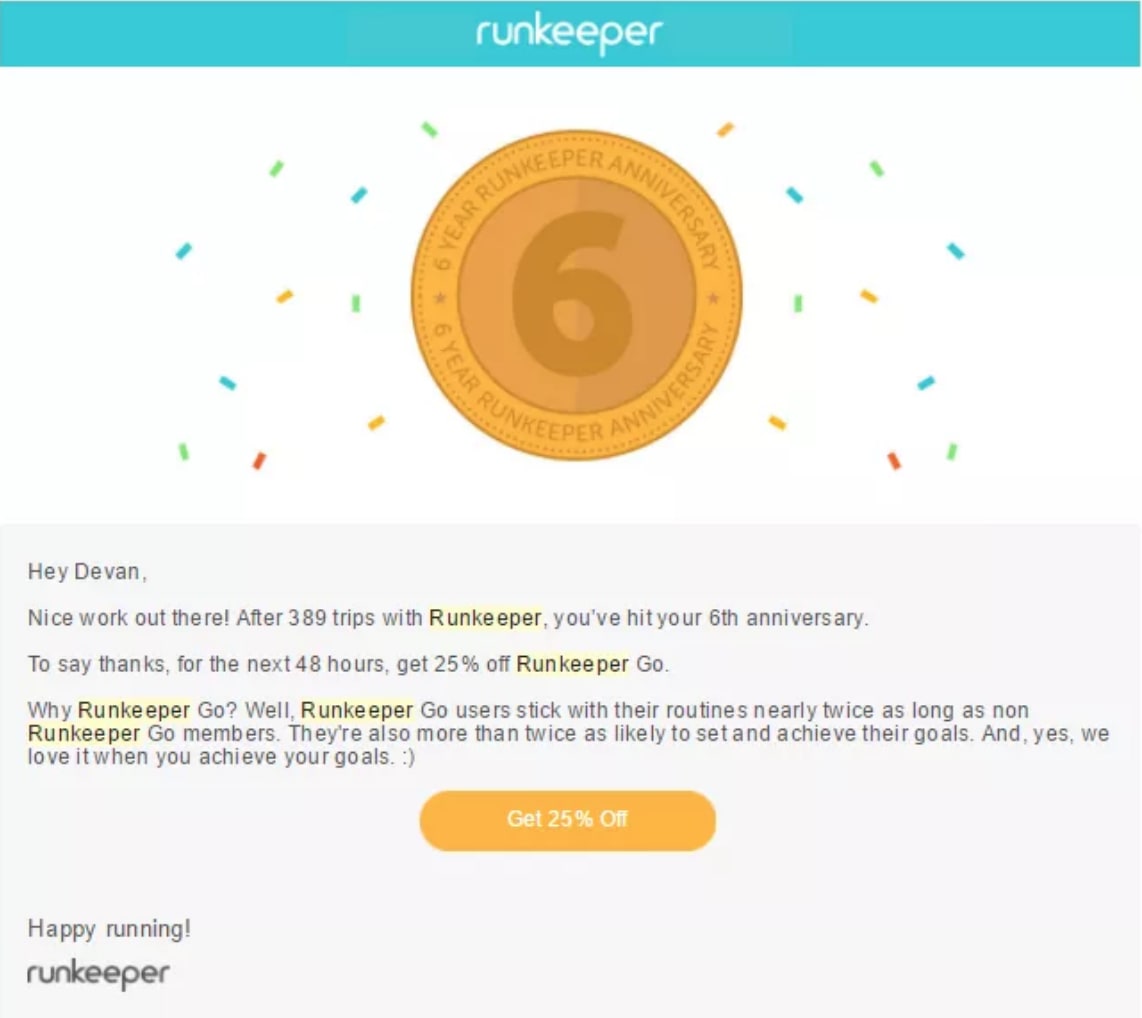 RunKeeper is a classic example that rewards people for using its application and gamifies the experience with achievements. This can be a little more challenging if you're not in the software industry but businesses in every industry can take a similar approach.
Reward customers for their purchases, online engagement and reach out to those who drop-off with incentives to get involved again.
#20: Beta invites
Software companies can make their customers feel like a valued part of their product by inviting them to join beta testing programmes. Once again, though, this tactic isn't only something software companies can use to keep their customers engaged.
Retailers can invite customers to try out new products while service-orientated businesses can request customer feedback to help refine the services they provide. This not only keeps customers engaged but reminds them that you're constantly becoming a better business to work with.
#21: Cart abandonments
This is a classic e-commerce workflow that sends out reminders to users who have filled their shopping basket with products and failed to complete the purchase. Clearly, these people have shown interest in specific purchases but – for whatever reason – haven't quite gone the distance.
Your aim is try and find out why. Did they try to make a payment and failed or did they abandon their cart when they saw there's no free delivery option? These details allow you to try and actually solve the problems preventing people from making the purchase, rather than simply reminding them that they didn't cough up.
#22: Form abandonments
The exact same thing applies to form abandonment but pinpointing why people fail to fill out a form can be more challenging. First of all, you're going to need a form analytics tool, which allows you to see which fields are causing users problems. Next, you want to create a workflow that reaches out to form abandoners with suitable follow-up messages and, then, optimise your forms to remove these completion barriers.
#23: Re-engagement emails
When people stop engaging with your brand, sometimes you simply have to reach out and remind them that it's been a while.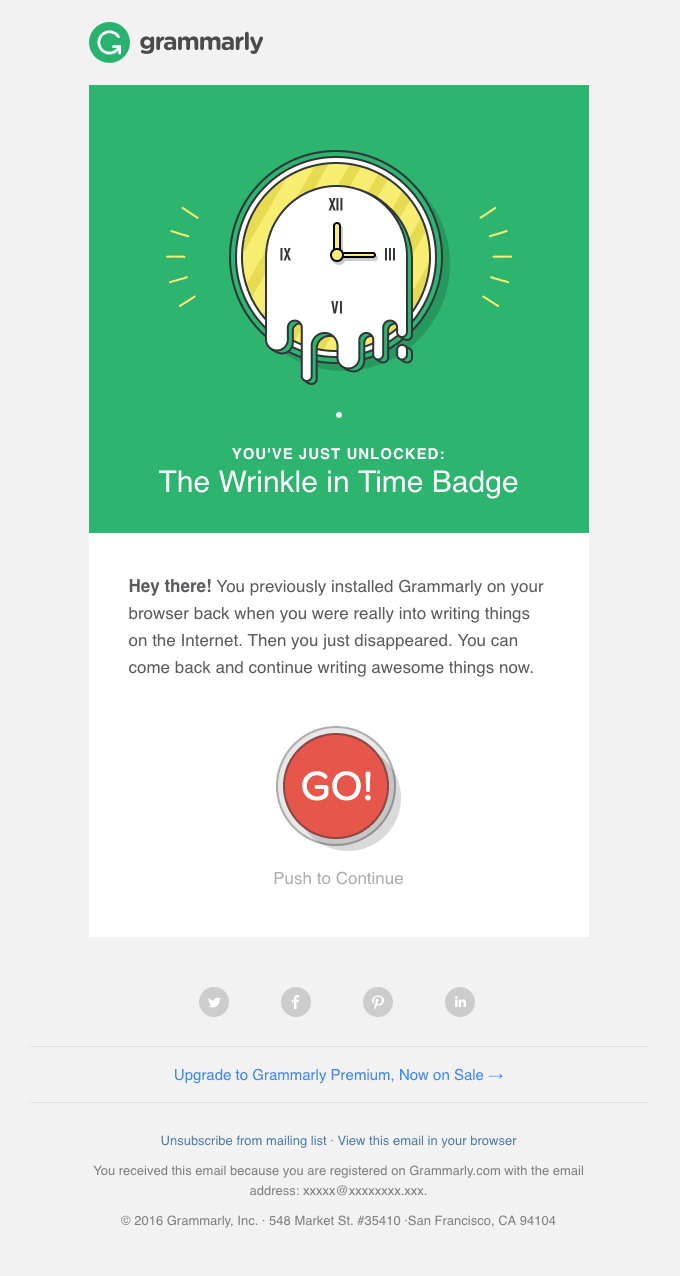 Grammarly does this for users who stop using its tool after a while but, once again, it's important that you try to identify why people have stopped engaging with your brand. Is it because they're simply not interest and not the valuable lead you hoped they were? If so, then you might be better off focusing your efforts elsewhere.
More importantly, when these are users who genuinely do have interest in what you're doing, but something is getting in the way (accessibility, OS support, irrelevant messaging, etc.), then you want to know what the problem is.
Customer retention workflows
Now, we come to the big aim of all email marketing strategies: to turn customers into repeat buyers. Modern brands invest a lot in generating and closing new leads but the value of loyal customers is something you can't afford to underestimate.
#24: Upselling/cross-selling
For new customers making their first purchase, you want some workflows in place that will encourage them to make further purchases in the future. You probably don't want to bombard people with messages asking them to open their wallets right away but some upselling/cross-selling drip campaigns are a great way to tempt new customers over the following weeks, months and even years.
The key thing is to make your campaigns relevant to the purchases customers have already made and target them with additional products/services that are going to enhance the experience of their previous purchases.
#25: Customer life cycle messages
Your customers' needs are going to change periodically after they make the first purchase and understanding how their interests evolve over time is crucial for both customer retention and maximising the value of each individual customer.
For example, smartphone users initially want to get the best out of their new devices but the time to upgrade inevitably comes. Likewise, a business signed up to a software platform should outgrow the version they originally signed up to and need to upgrade to a more advanced plan.
Today's sales funnels aren't linear; they're cyclical, as illustrated in the diagram above. That comes from an ActiveCampaign article looking at customer lifecycles and you'll find 25 different campaign ideas that will help you build automation workflows to target customers with relevant messages and offers as their needs
#26: Customer service auto-responses
When your customers get in touch with a technical issue or service complaint, you don't want to leave them waiting for a reply. People are generally quick to forget about problems if you offer a fast, effective solution and they're going to feel reassured as an ongoing customer if they know you're there when they need them.
You need to reply to these issues instantly, though, regardless of which platform users choose to get in contact (chatbot, live chat, web forms, social media, etc.)
I mentioned Zendesk earlier as a comprehensive customer service platform and one of its best features is autoresponses, which can be sent out to users across each of these channels. Best of all, you can integrate Zendesk with ActiveCampaign, which then gives you the power to create automated workflows for each customer service channel and bring everything together.
You can add IDs to each customer and place tags on them for each status ("unresolved," "being resolved," "resolved," etc.) and automate responses where necessary. This means you to chase up tickets when customers don't respond, send links to relevant content while issues are being resolved and request feedback when issues are fixed, for example.
#27: Feedback requests
I mentioned feedback requests in the previous section and this is crucially important for customer service. You want to know that you're dealing with issues in the best possible way and keeping customers happy, even when they run into any problems.
You'll often get practical suggestions for how to improve your products and services by asking people the right questions.
This process should be entirely automated with feedback requests being triggered once issues are tagged as resolved and you can also automate follow-up messages, based on the kind of feedback you receive.
#28: Customer reviews
With 93% of online buyers saying their purchase decisions are influenced by online reviews, every brand needs to do what they can to build an online profile of positive reviews on third-party platforms like Google Reviews and Trustpilot.
Again, this should be an automated process, triggered when customers make a purchase – although you'll want to delay feedback requirest being sent out for a few days, a week or even a few months. It all depends on how long customers need to get a positive experience from your brand and you might need to experiment with the timing on this one.
You'll also want to work some kind of notification system into your workflow that alerts your sales team when a review has been left on a third-party platform, so you can reply to them quickly and resolve any issues they may have experienced.
Always remember that future potential customers are looking out for these issues and how you deal with them.
#29: Customer referrals
Once your customers are at a point where they'll be happy to recommend you to other people, this is when it's time to hit them with a referral campaign. A common mistake brands make is targeting all of their customers with referral messages but you're never going to get the best results by sending these out to every customer.
You want to nurture customers to a point where they're satisfied enough with your brand that they're most likely to make the recommendation to others.
Aside from increasing the number of referrals, this should mean people need less incentive to recommend you, reducing the effective cost of each referral. To pull this off, you're going to need an automated workflow that scores customer satisfaction throughout the lifecycle and sends relevant messages at the decisive moment.
For example, customers who have never raised a support ticket but regularly buy from you are probably more likely to make the recommendation. Likewise, customers who have used your support team on multiple occasions and always been satisfied might be equally happy to recommend you.
The opposite is probably true for people with ongoing customer support issues.
#30: Relevant special offers
This is an essential element of any customer lifecycle marketing strategy. Your customers are a diverse bunch of people with changing needs as their relationship with your brand evolves over time.
You need to be sending relevant messages to them at every step of the way.
Turning customers into repeat buyers will require different types of messages and offers, based on their individual needs and expectations. Every interaction they have with your brand after the initial purchase is giving you additional clues about what's going to inspire future buying decisions – the emails they read/don't read, the content they engage with, which knowledge base pages they visit, etc.
Your automated workflows need to use these interactions as triggers to constantly send out the most relevant messages and offers.
Automate, one step at a time
Hopefully, this article has given you plenty of ideas about specific automation workflows you can implement to make your marketing strategies more effective and scalable. The great thing about automation is that you can take things as quickly or slowly as you need, introducing workflows one step at a time until you're ready to take a deeper dive into automation.