Email marketing is one of the highest ROI marketing channels for Shopify businesses – with $40 generated per dollar spent according to Omnisend.
Whether you're looking to reduce cart abandonment, drive repeat customers, build demand for new products or all of the above, email marketing can help.
While Shopify does offer its own email marketing app, we're going to weigh its pros and cons against five leading eCommerce-focused email marketing platforms to see which email marketing tool is best for Shopify users in 2023.
What are the best email marketing options for Shopify users?
There are over 670 email marketing tools that we monitor for our annual review of the best email platforms. As a Shopify user, you can happily eliminate 665 of them for either not offering a Shopify integration or simply being too generic.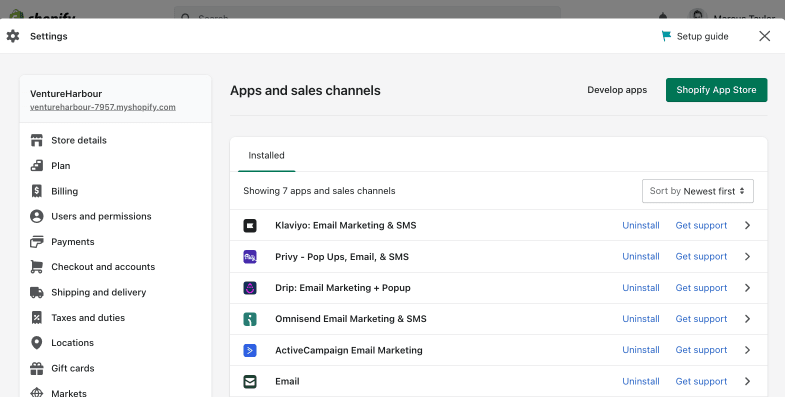 This leaves us with five platforms to consider outside of Shopify Email, each offering a deep integration with Shopify, which we've tested first-hand.
First though, let's take a look at Shopify Email.
The Pros and Cons of Shopify's Email App
Shopify's in-built email marketing solution is fine to start out with if you're just starting to build out your mailing list.
It has the non-trivial benefit of not requiring any integrations or backend work to get up and running, though this comes with strings attached.
Firstly, it lacks some fundamental features that enable email marketing to generate a high ROI (such as A/B testing and email content personalization). The template designs are mediocre, and for an email marketing tool built for eCommerce they have very few blocks
What we like:
One-click automation templates – Because there's no need to setup integrations, you can 'turn on' automation workflows without any backend setup. Any sales driven by email marketing are automatically attributed to the correct emails or automations. While other tools make this setup easy, it does feel like magic having this all working without any additional work.
Segmentation – Shopify allows you to build segments by building logic-based queries. While this won't be everyone's cup of tea, it's extremely powerful and makes building highly-targeted audiences very easy.
Where they could improve:
More automation templates – Shopify offers six automation templates. Six! That's 494 less than the next tool on our list.
Email template designs – The Shopify email templates feel like they've been put together as an afterthought, and lack the design finesse of those offered by the other five tools.
No A/B testing – Perhaps the biggest giveaway that Shopify's email offering is a bit of an afterthought is the lack of one of the most important features for optimising email campaigns.
It's glitchy – The email designer can get glitchy with parts of the page jumping off the screen as you type and sometimes needing to refresh the page to unstick the editor.
Who we would recommend Shopify Email for:
If you're setting up a new Shopify store and building a list from scratch, this will get you going for free. You can always switch to a more feature-rich tool when your needs outgrow Shopify Email.
ActiveCampaign is not only the top-rated platform from our annual email marketing platform review, it's also the highest-rated marketing automation platform on G2 with an average rating of 4.6/5 from 9,771 reviews.
As users ourselves, I can vouch for their platform's ease of use, powerful features and refreshingly affordable pricing.
And while their platform isn't exclusively built for Shopify users, they have a native Shopify integration (which you can enable from the Shopify app store) that sends all of your customer and sale data into ActiveCampaign.
This allows you to trigger emails and automations when people visit certain products, drop out of your cart/checkout, purchase products and much more.
Unlike Shopify Email, ActiveCampaign offers over 500 automation templates that you can use to get started with.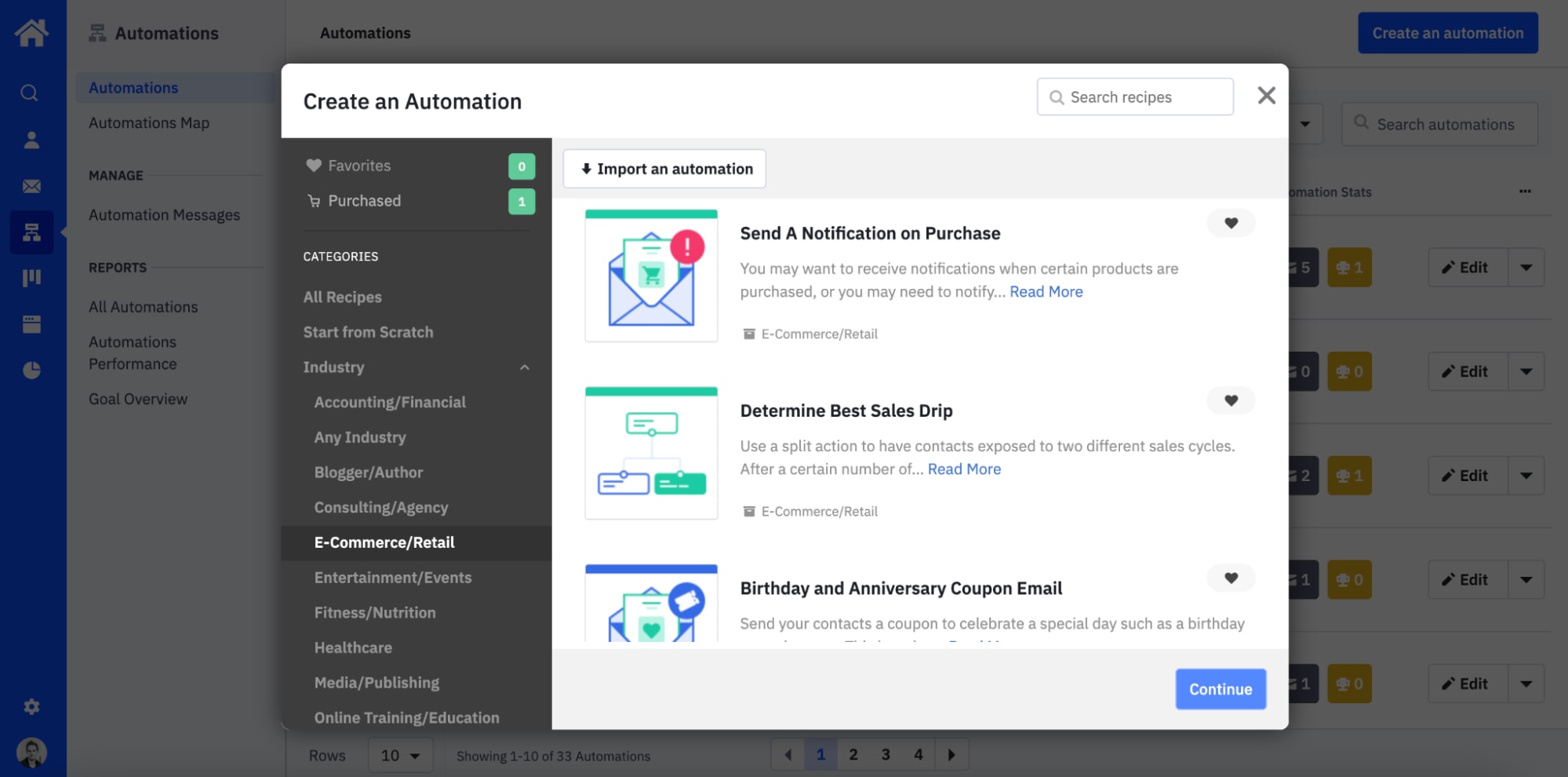 These automation sequences can include email, SMS and site messages to deliver cohesive messaging to your customers across multiple channels. What's particularly impressive about ActiveCampaign is that you can split test different paths in a sequence – for example, whether a combination of email and SMS outperforms just email.
Pricing
As a Shopify user, you'll need ActiveCampaign's Plus plan to get access to their Shopify integration. This starts at $49/month for 1,000 contacts – you can see the exact pricing for your list size here.
What we like:
Easy to use – Despite being incredibly powerful, ActiveCampaign needs very little training or explanation on how to work. The user interface just makes sense.
Powerful features – As your email and automation needs grow more sophisticated, ActiveCampaign has a lot of advanced features like predictive sending, predictive content, conditional content and custom audiences to optimize your campaigns with. We've been using ActiveCampaign for almost a decade and have yet to outgrow it.
Reasonable cost – It's not the cheapest software (and they have raised their pricing over the last few years) but it does offer a lot for a very reasonable price.
Where they could improve:
Reporting – the quality of reports in ActiveCampaign have come a long way over the last few years, but they still feel dated and a bit disorganized. The other tools in this list do a far better job of visualizing how campaigns impact your eCommerce revenue.
Who we would recommend ActiveCampaign for:
Shopify stores generating <$5M in annual revenue and/or those looking to build a lot of marketing automation sequences.
Unlike ActiveCampaign, Omnisend is dedicated exclusively to eCommerce businesses – with a strong focus on Shopify and Shopify Plus users.
This is apparent as soon as you create an account with Omnisend, as they encourage you to sign up using your Shopify account to automatically import all of your product data and analytics.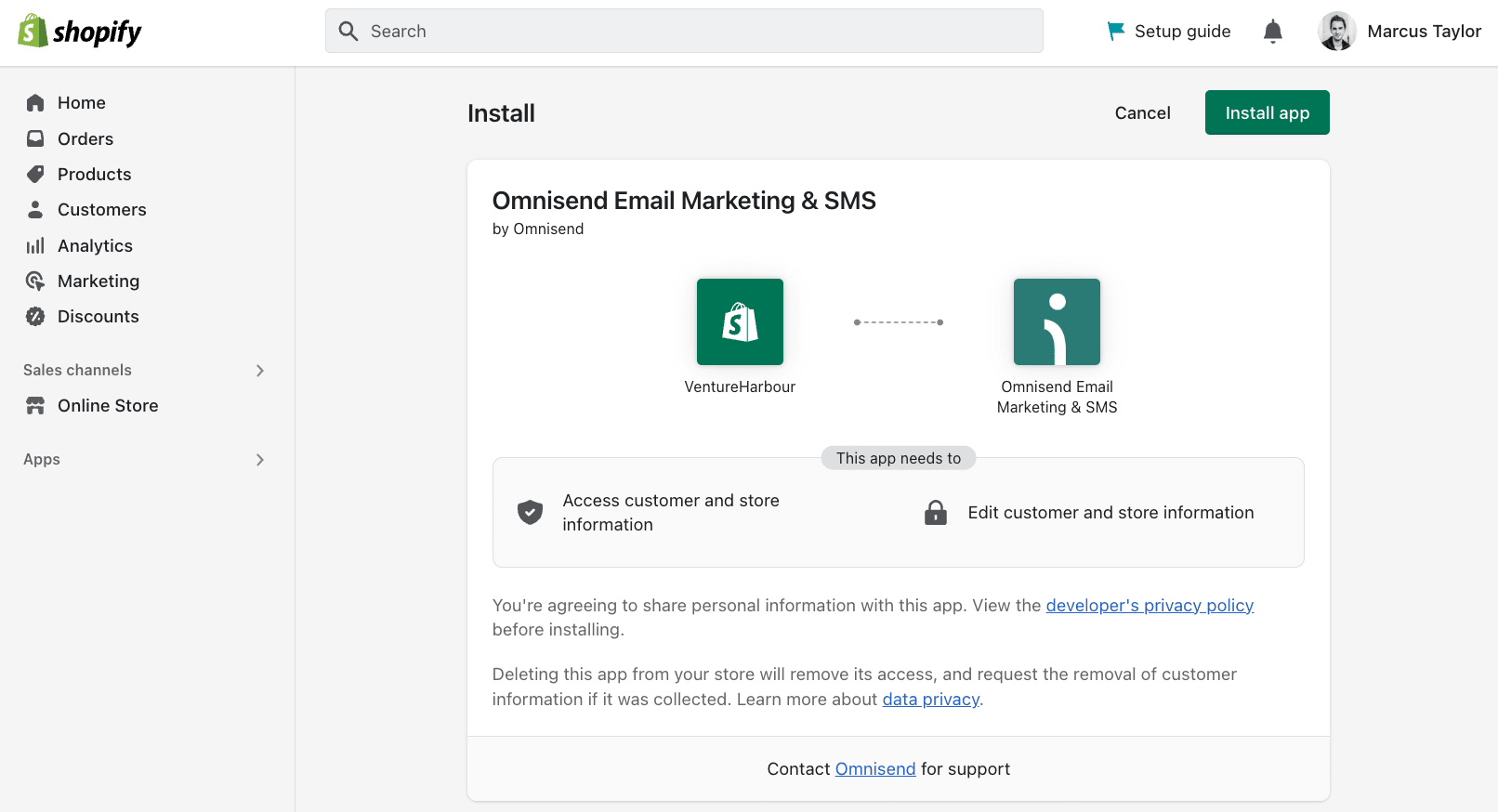 As a newcomer, Omnisend has differentiated itself by focusing heavily on the areas that most email marketing platforms neglect – like reporting and deliverability.
When you log in to Omnisend, you are greeted with the simple, yet elegant metric "Revenue from Omnisend" which is then segmented by campaigns and automations. For marketers that need to constantly prove the value and ROI they add, this is a welcome touch.
When it comes to deliverability, Omnisend don't hide these stats in some dark corner of the platform hoping it's never seen. They put it front and centre, with tools and tips to improve and maintain your sender reputation and list hygiene.
The automation workflows and email campaigns don't have any notable features that stand out, but they're easy enough to use.
Omnisend does have a wide range of Shopify templates to help you get up and running quickly. These are grouped by goal (e.g. increase cross-sells) which is a nice touch to help spark ideas when focusing on a particular area of you funnel.
Pricing
Omnisend has one of the most generous free plans for Shopify users who are just starting out and have fewer than 250 contacts. Their email marketing plans are also less expensive than ActiveCampaign and Klaviyo (the next platform we'll look at).
You can view Omnisend's pricing page here to see how much it'll cost for your list.
What we like:
Reporting – they're not just vanity-metric free, but genuinely make proving the ROI of email marketing a breeze.
Deliverability – Omnisend offers a range of features to maintain high deliverability, including email warm-up (sending emails gradually to improve your sender reputation) and insightful reports to monitor your deliverability and reputation.
eCommerce content blocks – Omnisend offers lots of content blocks to integrate products and discounts directly into your email campaigns. Their form templates also include a range of creative ways to engage visitors – such as with a wheel of fortune.
Where they could improve:
A/B testing has limitations – While you can add splits in automation sequences, we weren't able to set a goal to run effective A/B tests within an automation sequence.
Templates – they're visually underwhelming
The campaign builder – UX is less smooth than other tools we've tested.
Who we would recommend Omnisend for:
Omnisend is ideal for eCommerce sites with large customer lists that will get value from the high deliverability and in-depth reporting. It's also a great free option for beginners with fewer than 250 contacts.
Klaviyo were among the first platforms to focus exclusively on eCommerce and are now used by over 100,000 eCommerce businesses.
Like Omnisend, they've done an exceptional job of making sense of your data and attributing sales back to the campaigns that influenced them. But unlike Omnisend, Klaviyo goes a step further by forecasting your predicted future revenue and benchmarking your performance against similar eCommerce businesses.
This is one of my favourite features in Klaviyo as it gives you a tangible target to aim for with everything from your open rates to revenue per recipient.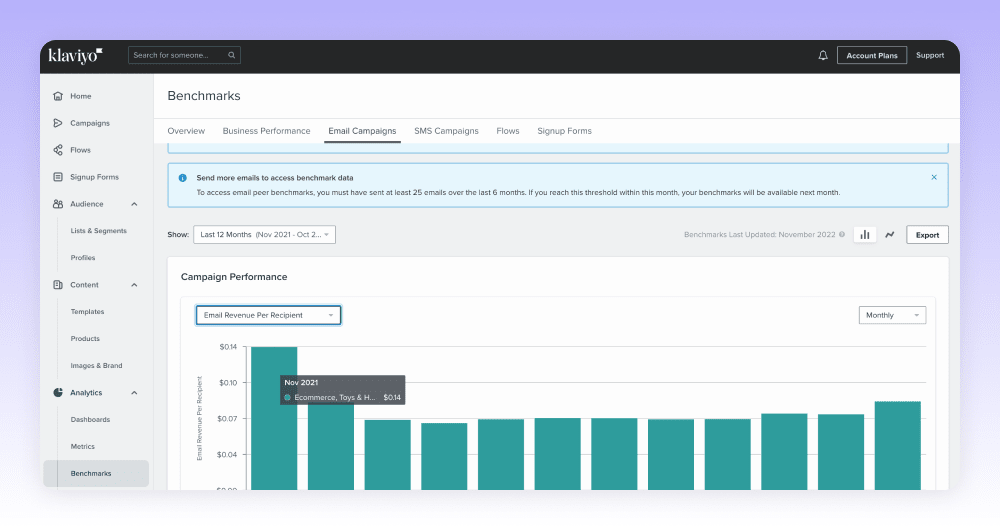 The campaign builder and automation flow canvas in Klaviyo is easy to use and the templates are of a high design standard, making it easy to build professional looking campaigns with no external design support.
There are a few notable omissions, such as a lack of split testing paths in the automation flows, but otherwise it does everything you'd expect of a high-end email automation platform.
Pricing:
The main downside with Klaviyo is the price. While they do offer a free plan, Klaviyo costs more than both Omnisend and ActiveCampaign at almost any level of contacts.
You can view Klaviyo's pricing page here to see how much it'll cost for your list.
What we like:
The email templates are some of the best-designed we've seen.
Benchmarks allow you to see how your performance compares over time to companies in a similar niche.
Predictive forecasts can model when a customer is likely to buy from you, or how much you're likely to make in a future month enabling you to better allocate your time and budget.
Where they could improve:
It's expensive
The range of automation actions are simplistic and lacking sophisticated automation actions such as split testing paths.
The email campaign editor is a bit basic and offers only one eCommerce-specific content block (a list of products from a product feed).
Who we would recommend Klaviyo for:
Large eCommerce businesses with a team dedicated to email/SMS marketing, as well as those with limited access to design resources.
Drip may have been around since 2012, but it's been in the last few years since they were acquired by Leadpages that they've pivoted to the eCommerce niche. Their product very much feels that way, rather than being built specifically for eCommerce.
There are a lot of nods and sprinklings of eCommerce features throughout their platform, but it does often feel like a generic email marketing tool.
To give credit where it's due, Drip is incredibly simple to use and is refreshingly quick to get up and running.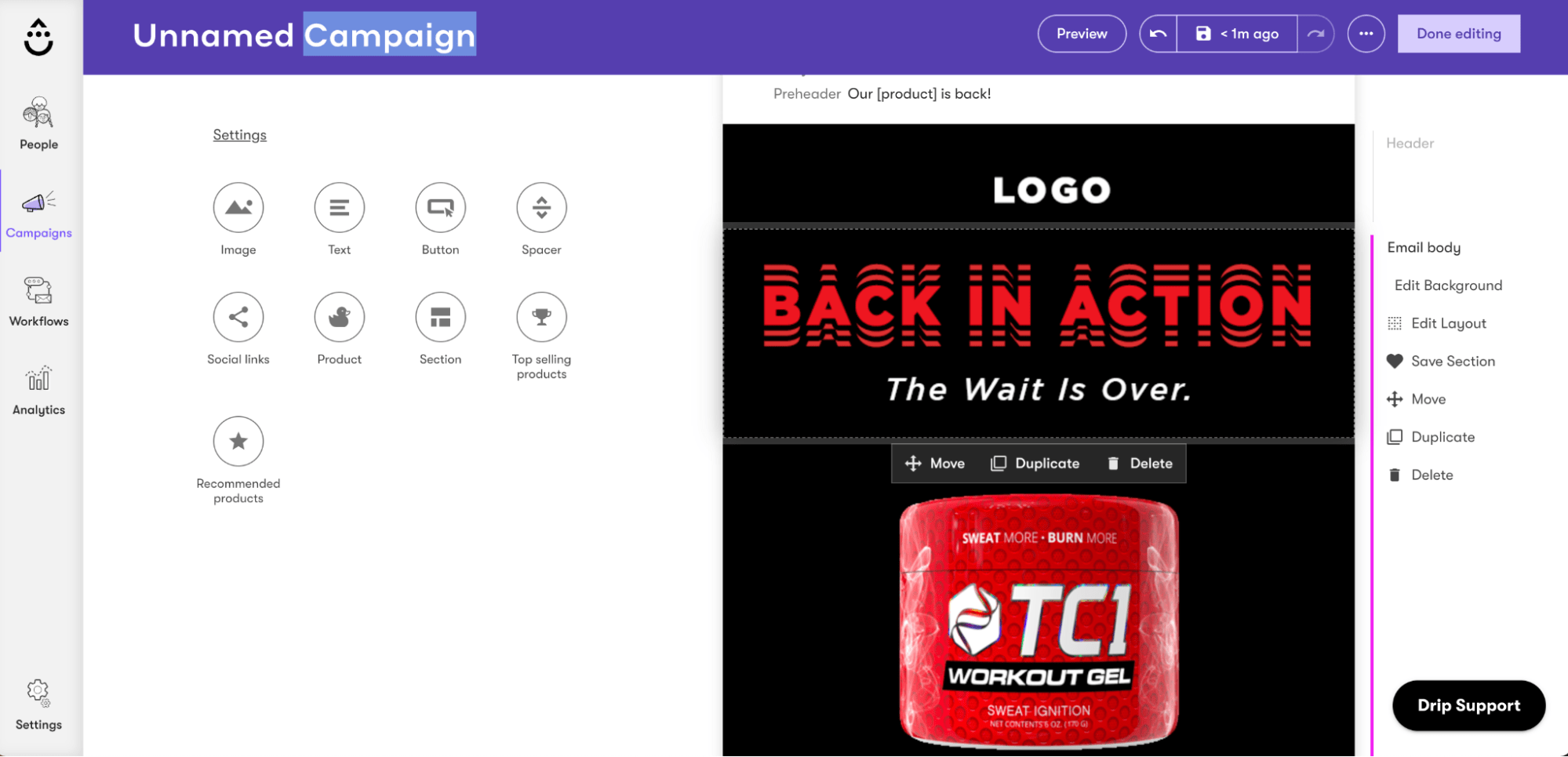 The email templates are well-designed and don't require too much editing or design support.
When it comes to automation, Drip has only nine pre-built templates for Shopify users. And to call them templates is probably a bit of a stretch given how sparse and basic they are. The workflow builder is fine, but significantly slower (you can't drag and drop) and has fewer actions than the other tools in our list.
Pricing
Drip has one pricing plan starting at $39/month for up to 2,500 contacts. There's no free plan (just a 14-day trial). You can view Drip's pricing here to see how much it'll cost for your list size.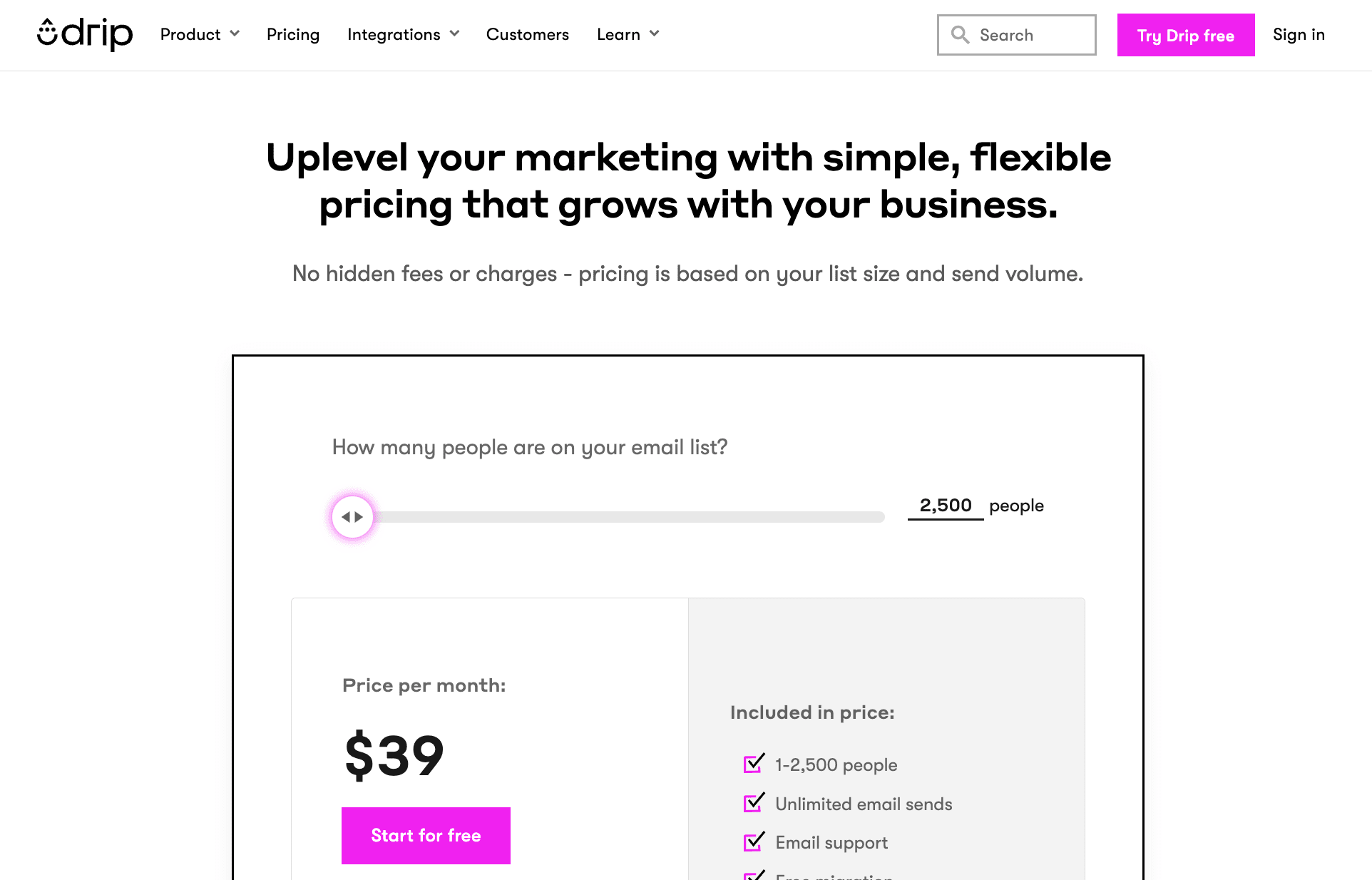 What we like:
Everything about Drip is simple. Maybe a bit too simple, but it is nice to use a tool that doesn't offer any bells and whistles.
Where they could improve:
Adding useful eCommerce templates
Improving the workflow UX with drag and drop
More content blocks in the email campaign builder
Who we would recommend Drip for:
We'd recommend Drip for small eCommerce businesses on a tight budget with basic email marketing requirements that are beyond Shopify's email app, but below what's offered by the other tools mentioned.
Strictly speaking, Privy is not a dedicated email marketing tool. The focus and difference of their platform is on increasing conversions and building your list using website displays (i.e. popups, banners and coupons). In fact, Privy generally encourages users to combine Privy with an eCommerce email marketing tool.
However, as they do offer email marketing (and many eCommerce companies do just use this) we've included them in our round-up.
After integrating your Shopify store, you'll notice that Privy pulls in your sale and product data, ready to use inside your email campaigns.
The email templates in Privy are quite poor, and the email builder itself is nothing to write home about. It is perfectly usable for basic email marketing, though.
Unusually, you won't find a visual automation builder in Privy. What they refer to as 'Automations' are essentially autoresponders (i.e. a single triggered email) rather than a workflow of emails based on rules and behaviour. There is also a notable lack of any pre-built automation templates to get started with.
But as mentioned, this isn't Privy's bread and butter. Where they excel is in their conversion tools which are well-designed and built around solving specific eCommerce problems like encouraging cross-sells and reducing cart abandonment.
Pricing
Privy offers three pricing plans and is free if you have less than 100 contacts. Their paid plans start at $30/month for up to 2,000 contacts.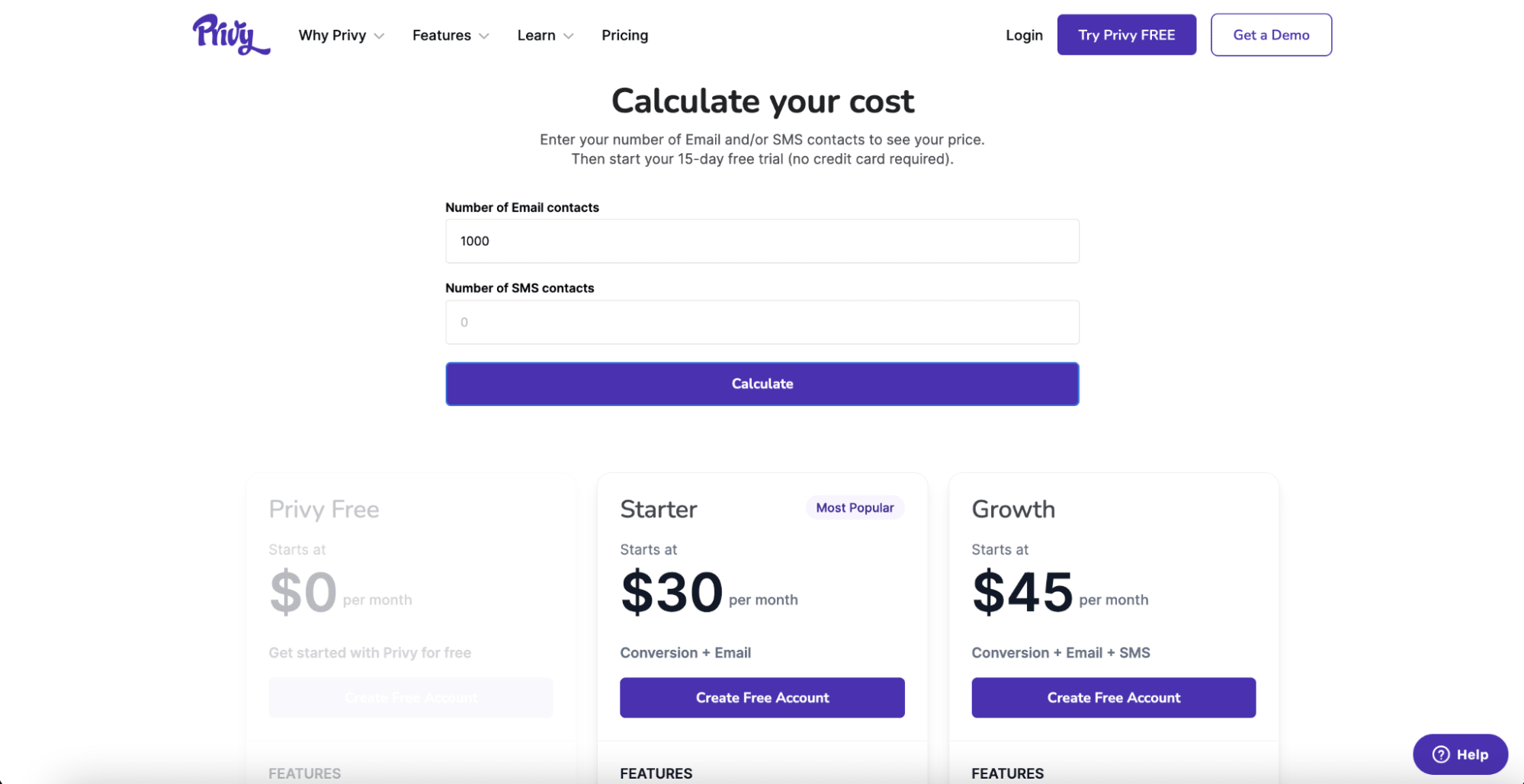 You can view Privy's pricing here to see how much it'll cost for your list.
What we like:
Plays – These pre-built popup templates claim to improve conversion rates of various offers to above-average levels.
Reporting – By integrating with your Shopify store, Privy is able to report on the revenue made by each campaign or popup built in Privy helping you understand what works.
Where they could improve:
The overall email marketing offering – Privy isn't far from being a full eCommerce marketing platform but it's let down by a basic email and automation platform.
Template designs – They're visually lacking and require external design support.
Lack of automation templates – While Privy doesn't offer workflow-style automations, the lack of templates means you have to build from scratch.
Who we would recommend Privy for:
Privy is ideal for eCommerce businesses that are currently focusing more on building their list (not engaging an existing list). If you're starting a list from scratch but have a good amount of traffic, Privy will help you build up your list faster. You can always combine it with one of the other tools in this list when your email marketing needs outgrow Privy's platform.
Choosing the right email marketing tool for your Shopify store
The right email marketing software will help you communicate the right message to the right customers at the right time. Given how important a role email marketing plays in eCommerce marketing, this is an important decision to get right.
You can always change email marketing provider, but my recommendation is try any of the tools you're curious about that fall within your budget. As most tools offer a free trial, there's no harm giving them a spin to see which one works best for your business.
Compare Pricing
| Tool | Monthly price for 2,500 contacts | Monthly price for 10,000 contacts | Monthly price for 100,000 contacts |
| --- | --- | --- | --- |
| ActiveCampaign | $49 | $139 | $559 |
| Omnisend | $35 | $115 | $720 |
| Klaviyo | $60 | $150 | $1,380 |
| Drip | $39 | $154 | $1,199 |
| Privy | $45 | $150 | $780 |
Our verdict
If you're just starting your Shopify store, I'd recommend either using Shopify's Email App (the easy option), Omnisend (most powerful and free) or Privy (the best for list growth).
But if you already have customers and are looking for something more powerful I'd recommend either ActiveCampaign or Omnisend.
FAQ
Does Shopify have email marketing?
Yes, the Shopify Email app is free for up to 10,000 email sends per month and enables you to send email campaigns and automation campaigns to your customers.
How do I email customers on Shopify?
You can email your customers on Shopify by clicking "Marketing" and then "Campaigns" if you've installed the Shopify Email app. You should then see a large button that says "Create Email" which will take you to an editor to build an email campaign.
How do I set up email marketing on Shopify?
Go to the Shopify app store and search for 'email'. You should then be able to install the Shopify Email App in a matter of clicks. Then, navigate to 'Marketing' in the sidebar of your Shopify admin where you will see options to build email marketing campaigns.