Hotjar
is one of the more recent analytics tools designed to help marketers better understand their users. Considering the company only started in 2014 and secured its first customer in 2015, Hotjar's rapid growth over the past few years shows how popular this tool has become.
We also use Hotjar at Venture Harbour, so we're in a good position to provide some impartial insights into what it can do.
In this review, we're going to look at where Hotjar shines (and where it doesn't) to help you decide whether it has a place in your analytics and CRO toolkit.
What does Hotjar have to offer?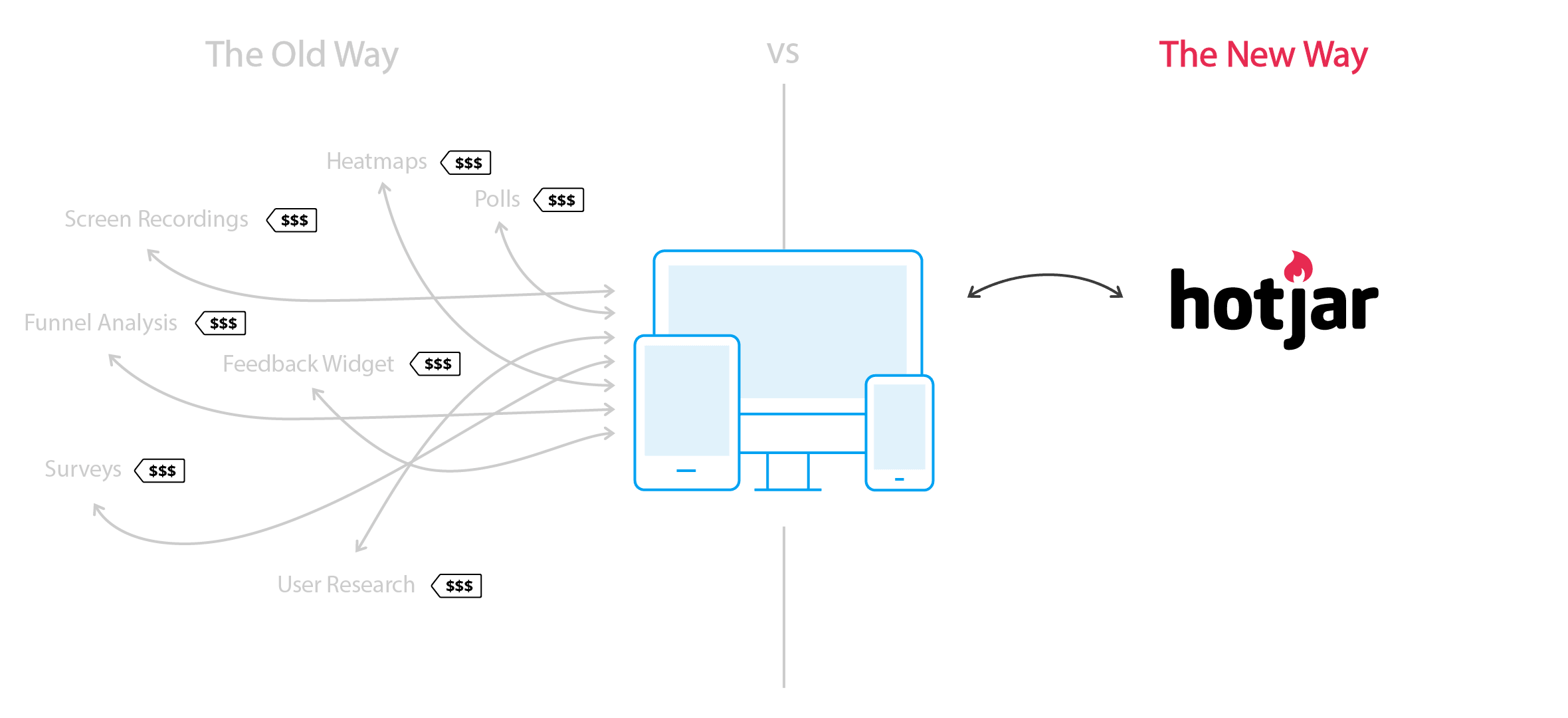 Hotjar calls itself an "all-in-one analytics and feedback" that aims to help you understand what visitors are getting up to on your website. Hotjar's key selling point is that it combines a range of essential analytics features with user feedback tools into a single platform.
Before Hotjar, you needed multiple software platforms to get this combination of features, each one increasing the cost and complexity of your CRO toolkit. Hotjar crams a serious amount of analytics, CRO and user feedback functionality into one, reasonably priced platform.

By now you're probably wondering what this list of features looks like, so here's a quick run-down before we look at each of them in more detail:
Heatmaps: Show where users scroll and click or tap on your pages.
Visitor recordings: Video recordings of user sessions so you can see exactly what they're getting up to.
Conversion funnels: Tell you where users are dropping off along your sales funnels.
Form analysis: Shows you how users are interacting with your forms to help you reduce failed completions.
Feedback polls: Allow you to ask users why they have/haven't taken a certain action.
Incoming feedback: Lets users leave feedback on your website or app, telling you what they love, hate or feel indifferent about.
Surveys: Reach out to users with feedback forms asking for their input.
Recruit testers: Choose participants to take part in user testing on your site.
That gives you an idea of what Hotjar has to offer but let's look at each of these features in more detail – so you can see where it shines and where it doesn't.
Heatmaps – see where users scroll, click and tap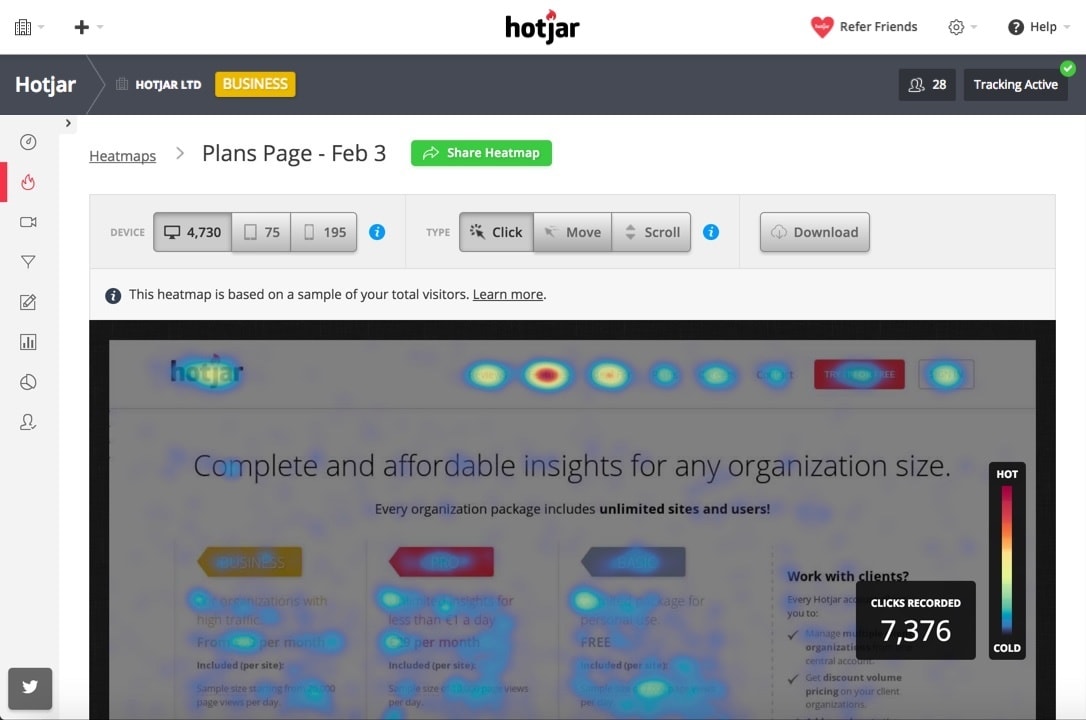 Heatmapping is the essential feature of any user insight tool like Hotjar but how does it compare to rivals like Crazy Egg that offer the same thing? At a glance, the two features look almost identical but you soon realise Hotjar's heatmaps offer more information.
Unlike CrazyEgg, Hotjar also shows you mouse movements in addition to clicks and you can also see the number of times users have clicked in the same places by hovering over it in the dashboard. You need to go to a different view to get this information on CrazyEgg, which can slow down your workflow.
However, CrazyEgg provides an additional view that breaks down clicks into different categories – something we'd like to see added to Hotjar.
Visitor recordings – see what your users see
Hotjar was one of the first analytics tools to offer visitor recordings, a feature that records the screen of user sessions so you can see exactly what's going on. CrazyEgg and other tools have since added similar features to their own platforms but Hotjar still edges it.
With user recordings, you can see exactly how users interact with elements on the page: how users scroll, where users move their mouse or touch their mobile screens, etc. You can see the user experience of your website from their perspective and gain a better understanding of what issues are getting in the way.
This is one of Hotjar's standout out features and a key reason why we love this tool at Venture Harbour.
Conversion funnels – see where your visitors are dropping off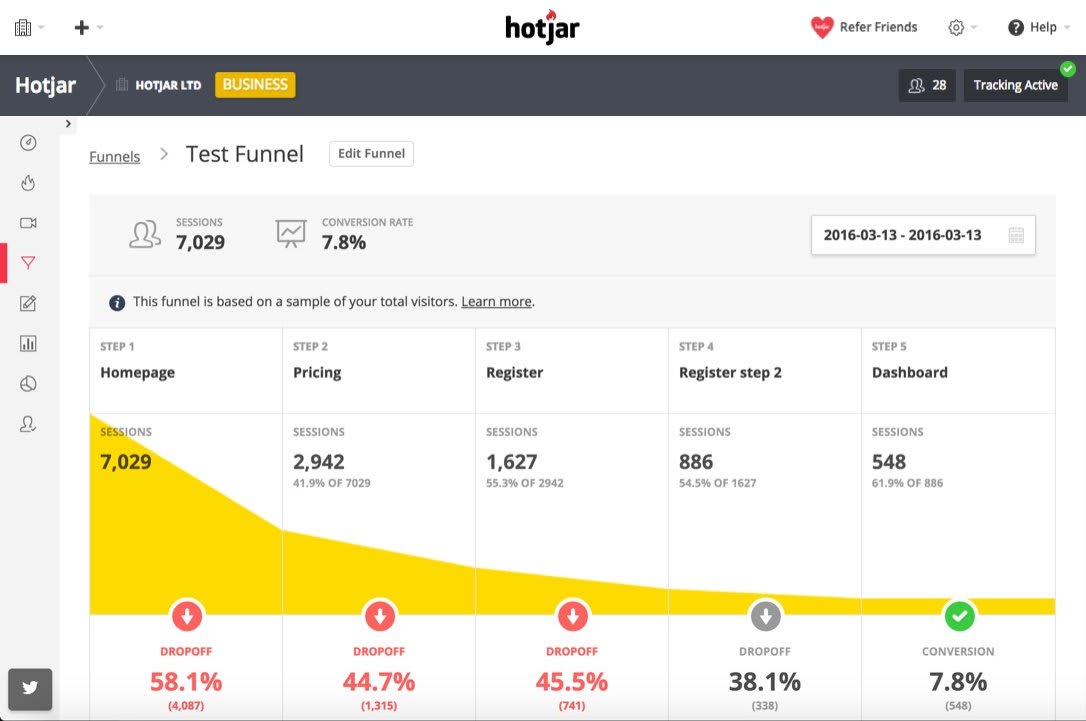 Conversion funnels are a great feature to have, allowing you to see where users are dropping off from the conversion process. Hotjar's implementation gives you a good starting point to begin your investigations but it's not an extensive funnel reporting tool by any means.
Expecting Hotjar to match the kind of events and goals analysis we're doing in Google Analytics would be unrealistic, though. Instead, Hotjar offers a visual overview of where users are dropping off so you can see where to run your next batch of reports.
Form analytics – see where your forms are killing conversions
While it's great to see Hotjar include form analytics as part of its CRO platform, it doesn't provide the depth of analysis specialised form analytics tools offer. For example, Formisimo tracks almost 60 metrics to monitor form performance while Hotjar only tracks nine. Hotjar's reporting isn't particularly intuitive either – it doesn't let you split data by date ranges or look at trends by week and month, for example.
Much like Hotjar's conversion funnel reports, its form analytics can give you a general overview of performance but it doesn't go far enough to help you pinpoint the cause of problems and get them fixed asap.
Feedback polls – understand user actions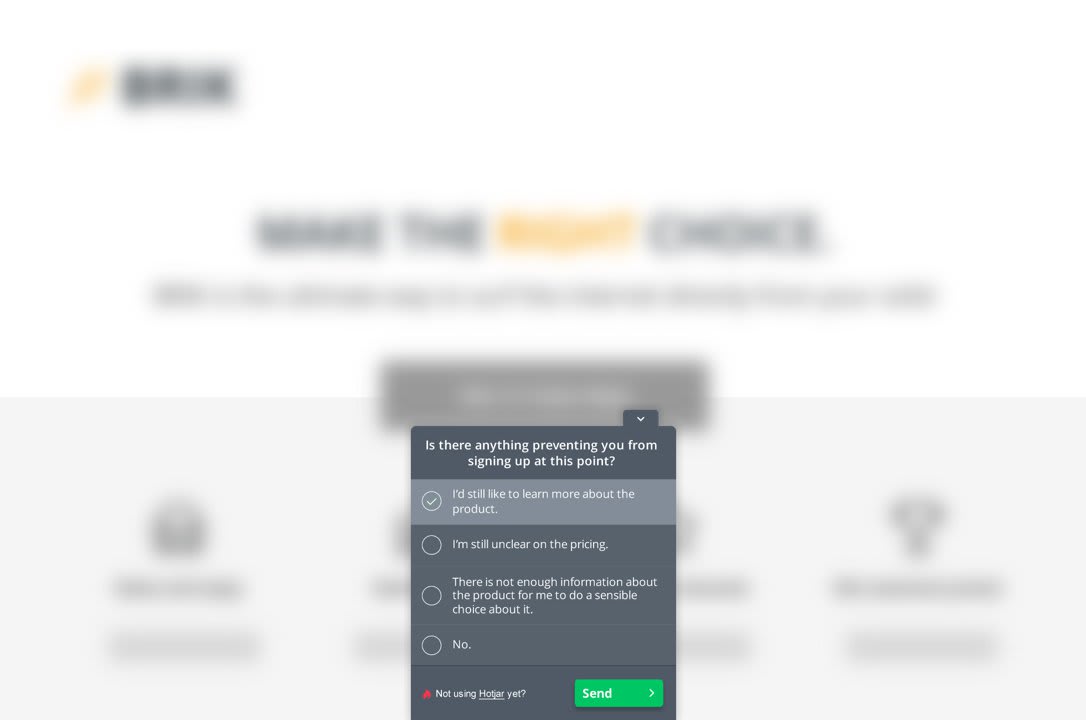 As mentioned earlier, Hotjar's key selling point is the combination of analytics and user feedback features – and this is where the platform really shines. First up, you've got feedback polls, allowing you to ask users why they do or don't take specific actions. For example, if a user isn't hitting the buy button or signing up for our newsletter, you can ask them what's standing in the way.
Likewise, if someone gives up filling out your form, you can ask them what the problem is directly – an incredible feature.
Incoming feedback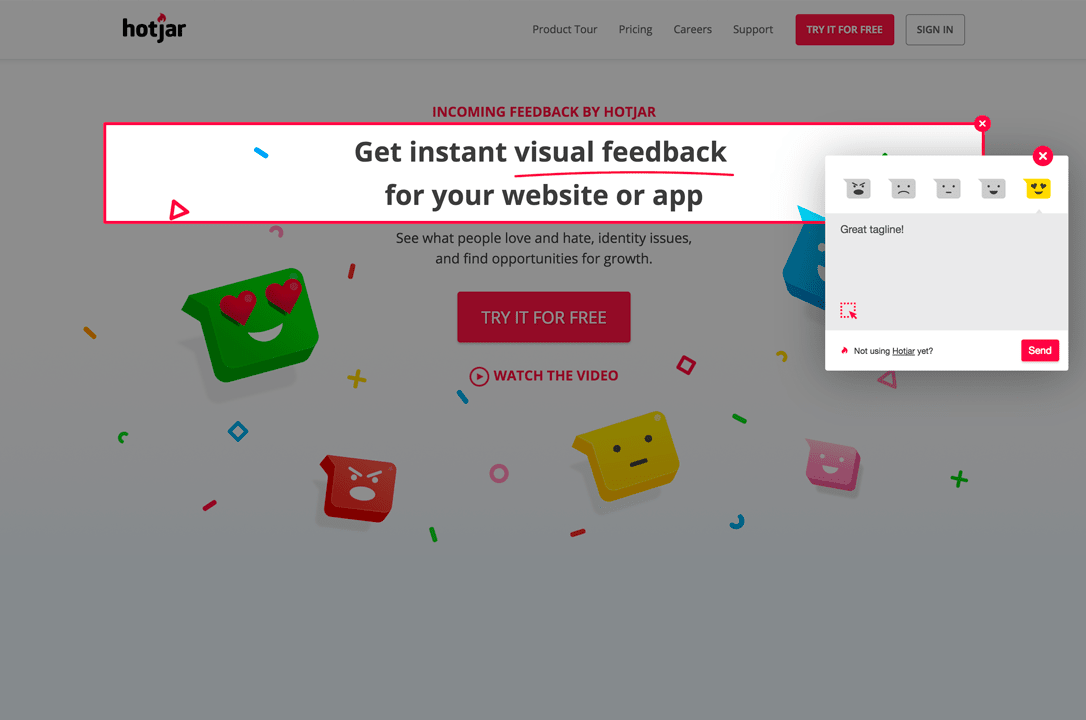 Incoming feedback places a tab or widget on your page, which users can click to leave feedback. This gives people an outlet if they really run into problems and this could save you from losing potential leads. We haven't really used this feature but it could be an interesting option if you're struggling to pinpoint a user issue on your site.
Surveys – get to know your audience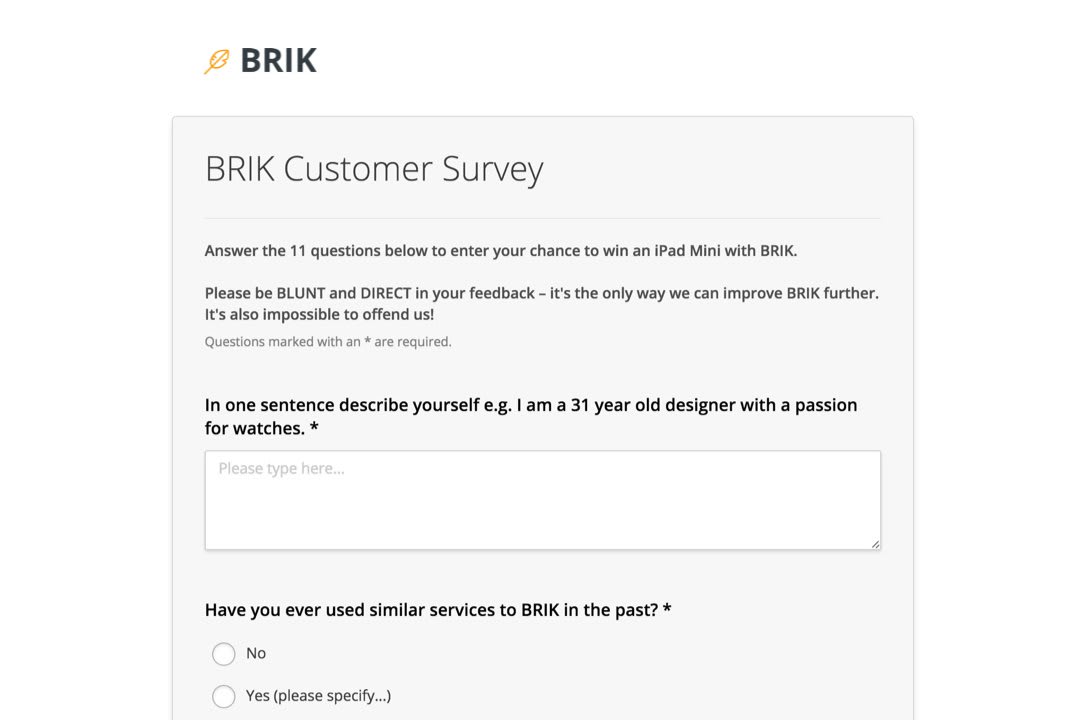 Surveys are a crucial part of getting feedback from real users but asking people to provide feedback in a nono-intrusive manner is a real challenge. Hotjar's invites are about as user-friendly as you could hope for but there's nothing revolutionary about its designs.
However, the great thing about Hotjar is you can use its analytics features to track the performance of your invites and see how users behave with them. This will tell you if people are struggling to exit your pop-ups on mobile, for example, or if people are initially clicking to provide feedback but giving up before completing it.
Recruit test users
Finally, you can also use Hotjar to recruit users to participate in user testing. This places a widget on your site (as you can see in the image above) asking people to take part. Users simply need to fill out some basic information to sign up and they can also minimise the widget if they want to remove it from view.
Hotjar Verdict
Hotjar's standout feature is its innovative screen recording capabilities, which you can use to record user sessions and see precisely what's working and what isn't. Now, it rivals are starting to release similar features but Hotjar was the first to offer this and combine a range of powerful feedback collection features into a CRO platform.
Impressive stuff.
The only area Hotjar disappoints a little is on the analytics side of things and its form analytics, in particular, doesn't offer the kind of insights we would like to see. Aside from that, we use Hotjar ourselves and were generally very happy with the results.