Landing pages have always been tricky for us here at Venture Harbour. Our developers are busy building and optimising our ventures – but our marketing team needs landing pages built regularly and quickly. They don't want to be waiting around for weeks at a time while each new landing page is designed and developed for them.
Sound familiar?
Building landing pages is only half of the battle, too. Running split tests and optimising each page on an ongoing basis is a real challenge and we've tried multiple landing page builders to solve this problem for us.
Most recently, we've been using Unbounce to aid the release of our latest venture, Serene, and we feel like the latest version of Unbounce is the best all-round landing page builder on the market right now.
So we thought it might be helpful to share our experiences with an in-depth review looking at what makes Unbounce such a good tool and where we think it could still be improved.

What are we looking at in this Unbounce review?
Our main goal with this review is to give you a real impression of what it's like to use Unbounce as a landing page builder and optimisation tool.
So, in the first half of this article, I'm going to focus on why we started using Unbounce in the first place and explore the pros and cons we experienced along the way. I'll also take a good look at the features on offer and the different pricing plans available so you have a good idea of what you're getting for your money.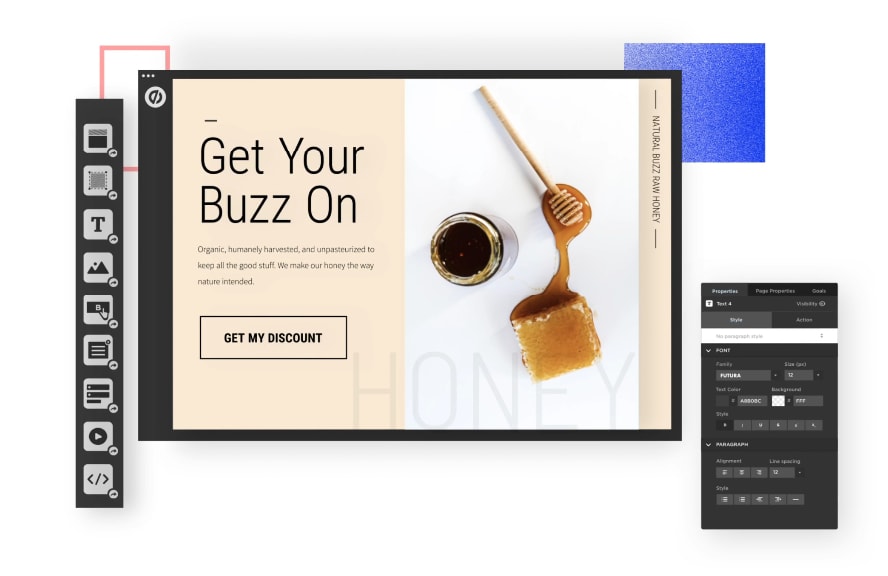 The second half of this review is going to be more like a case study, showing you how we've actually used Unbounce, the problems it's solved for us and where we feel the platform could be improved.
To do this, I'll run you through the following five tasks:
Creating our first landing page
Publishing a landing page on our WordPress site
Integrating Unbounce with our CRM
Running our first A/B test in Unbounce
Using pop-ups & sticky bars
This will give you working examples of what Unbounce can do for your business and an idea of any potential issues you come across. No marketing tool is perfect and this review aims to give you a completely balanced account of our experience – only you can decide what the deal breakers are for your needs.
This review will help you decide whether Unbounce is the landing page builder for you.
Why did we start using Unbounce?
It all comes down to the time it takes to design and develop new pages.
Basically, landing pages were holding back our efforts to release and promote new products. With our development team pumping all of its resources into getting ready for launch, they can't hit the pause button every time our marketing team needs a new landing page.
At the same time, though, we can't launch a new product effectively until we've got all of the landing pages we need to promote it – a classic catch-22.
So we wanted a landing page builder that would allow our marketing team to create the landing pages while our developers focus their efforts on building the best products.
We need landing pages, fast
Once our marketing team comes up with a new campaign idea, it needs landing pages quickly – it can't wait weeks for them to be designed and developed, one by one.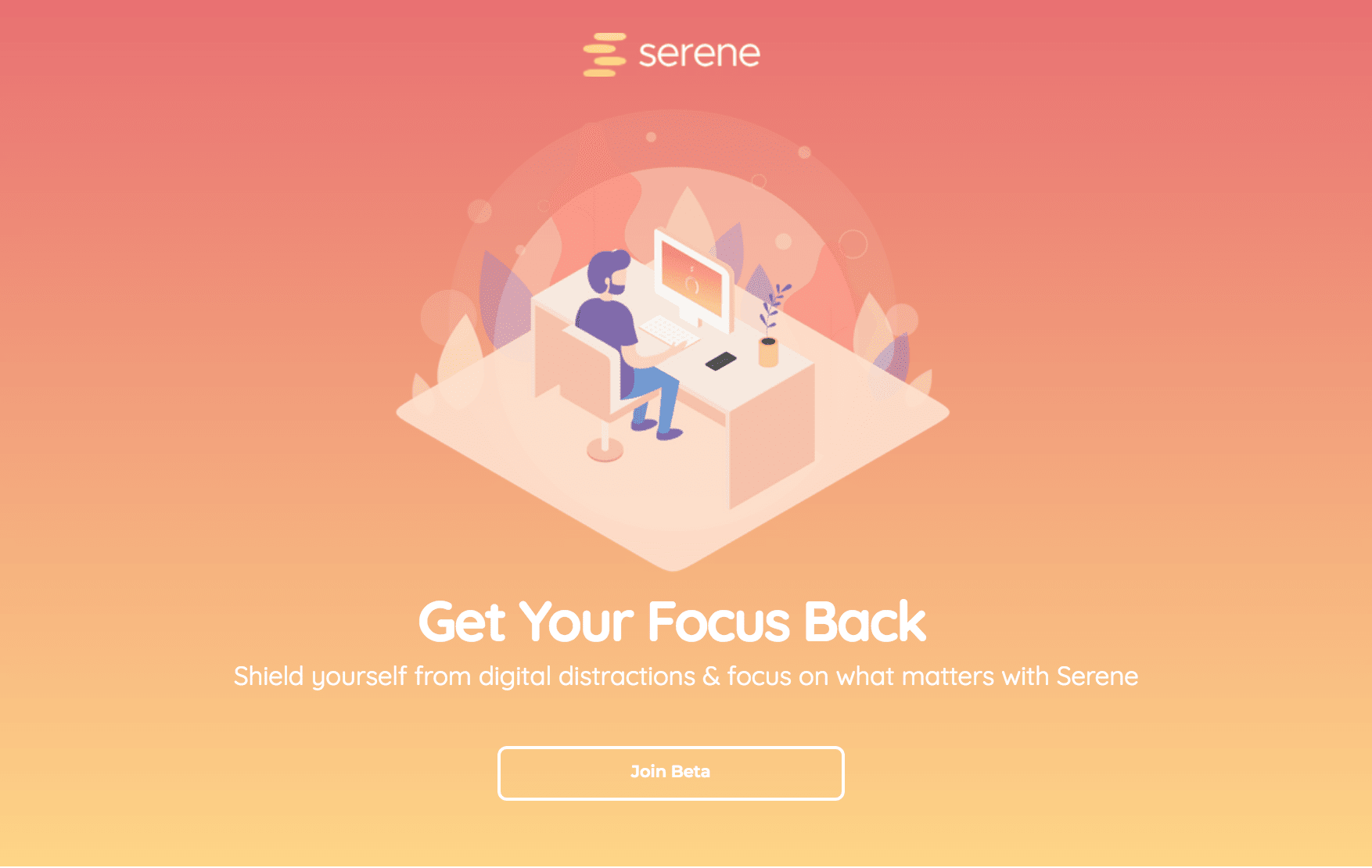 We often need multiple landing pages at any one time, too, for different products, new websites, PPC campaigns and email marketing campaigns. We can't allow this demand to interrupt our developers who are busy working on products but we also can't let our marketing strategies fall behind.
Giving our marketing team the power to create landing pages quickly is the key benefit of a tool like Unbounce.
We need to test & personalise landing pages
Your first landing page design never gets the best results. To maximise performance, you need to optimise/test on an ongoing basis and this means you're essentially creating multiple variations for every landing page you build.
This only makes development and time constraints more difficult.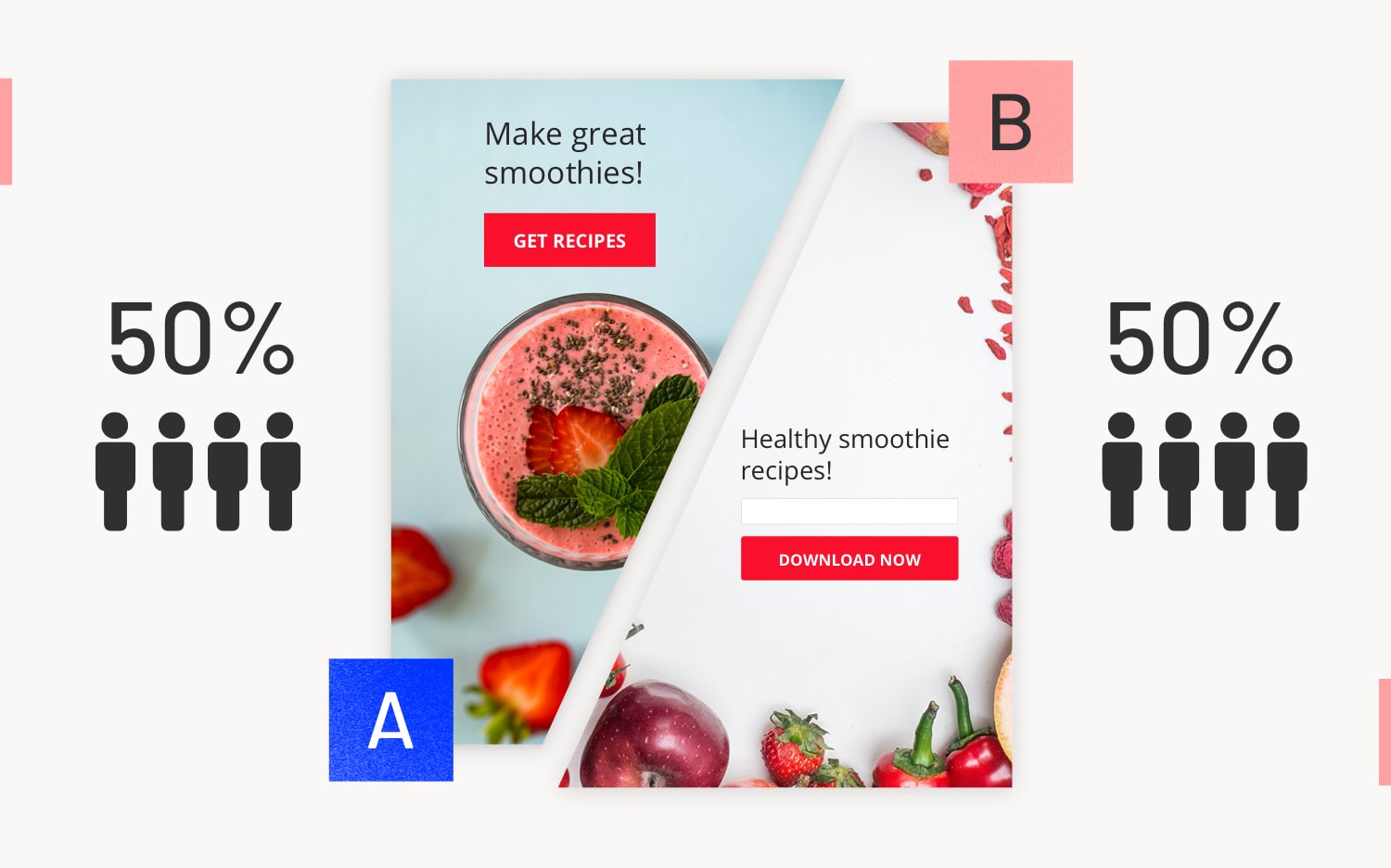 We knew that Unbounce comes with unlimited A/B testing on all of its plans and we wanted to see if this, combined with its landing page builder, would be enough for us to create and optimise our pages using a single platform.
Another feature that caught our attention was Dynamic Text Replacement, which promises to make personalisation fast and easy to implement.
Unbounce is a conversion-driven platform
There are plenty of landing page builders on the market in 2020 but one of the standout things about Unbounce is that it's a purely conversion-driven platform. The whole point of building landing pages is to convert visitors into leads and paying customers – and Unbounce is built specifically for this purpose.
I've already mentioned that Unbounce comes with unlimited A/B testing, which is a crucial tool for optimising for conversions. But it also comes with built-in tools designed to capture more leads, including pop-ups and sticky bars and AI optimisation features.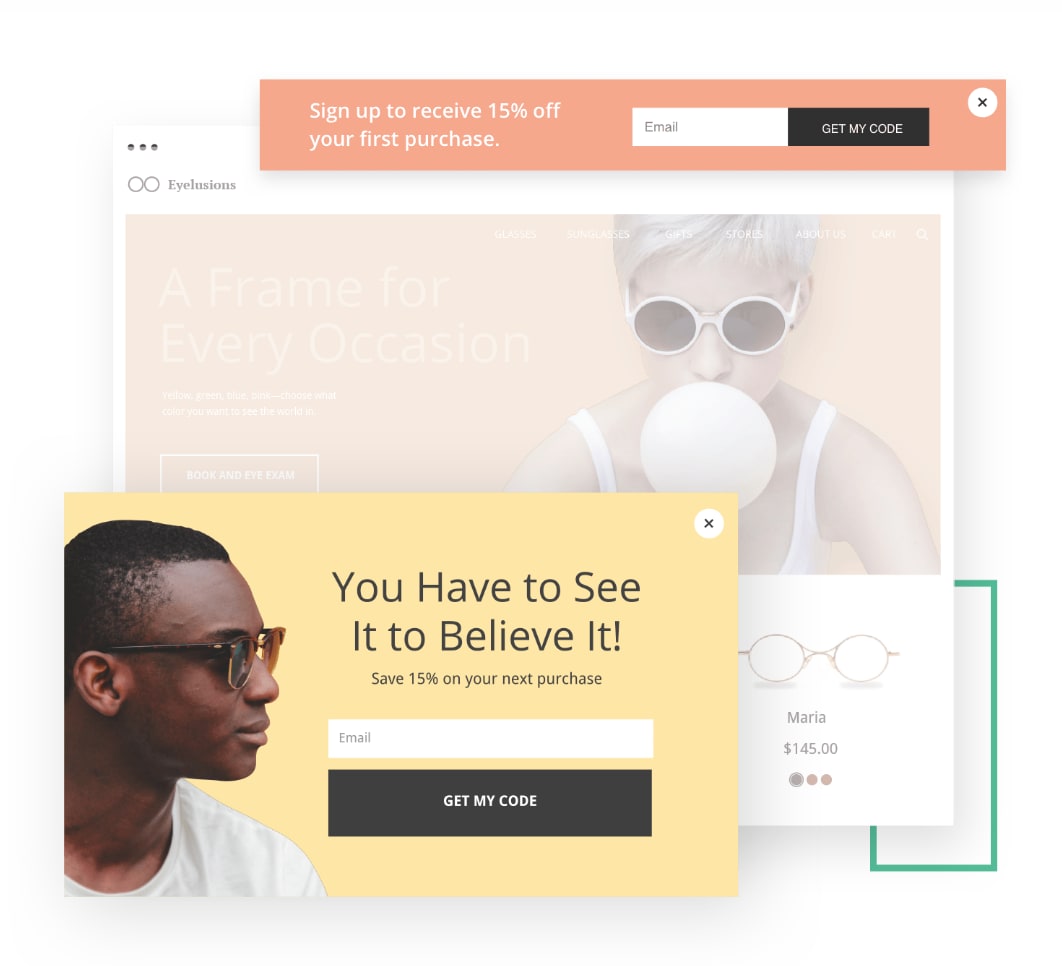 We'll look at these features in more detail later but the important thing this tells us about Unbounce is that it's a platform designed to maximise ROI.
We'd tried other options and came back to Unbounce
Leadpages and Instapage also caught our attention in the quest for a landing page builder but neither option quite worked out for us and the feedback we were getting from Unbounce users was consistently better than the other options.
You can read our Leadpages review here but the quick answer is Unbounce's landing page builder is more powerful and flexible while it also continues to innovate features you won't find on alternative platforms.
Unbounce pros & cons
Overall, Unbounce is a great piece of software and there are plenty of good things to say about. There's always room for improvement, though, and here are the pros and cons we've experienced while using the platform.
Unbounce pros
Quickly build and publish landing pages
Quickly create variants for testing
Excellent templates and third-party sources like ThemeForest for more templates
Highly customisable
Great landing page builder
Split testing functionality is good
Unbounce cons
Form builder lacks some key features
You can't split test existing landing pages created outside of Unbounce (something you can do with platforms like VWO and Google Optimize)
Our Unbounce landing pages were lost as a data source in Google Analytics – we found a workaround but it wasn't ideal
You can't add custom classes to buttons so we had to rebuild them in HTML, which prevented us from tracking goals in Unbounce
I'm not going to lie – some of those cons added a lot of initial extra work but you'll end up with the same problems on most landing page builders like Instapage and Leadpages.
If Unbounce opens up the platform to split test landing pages previously built outside of the software, this would be a huge win and the ability to add custom classes to buttons would save a lot of time as well.
Overall, Unbounce is going to save you way more time than it costs and, once you're up and running with the platform, it's pretty hard to do without. The landing page builder is great, the templates available are excellent and you get a lot of freedom to customise your pages.
Unbounce's split testing features are solid, too. Sure, they're not as extensive as a dedicated piece of A/B testing software but it's a strong offering for a landing page builder and more than you'll get from most alternatives.
Unbounce features: More than a landing page builder
Unbounce is primarily a landing page builder so this is ultimately what we've judged it on. That said, the platform offers a wide set of features beyond its builder and many of these are really important when it comes to creating and optimising landing pages, such as A/B testing.
Here's a quick preview of the features we'll be looking at in this section:
Landing pages: Unbounce landing page builder and other tools at your disposal.
Pop-ups & sticky bars: Easily create pop-ups and sticky bars to generate leads.
A/B testing: Test and improve your landing pages.
Reports & analytics: Measure your landing pages' performance.
Dynamic Text Replacement: Match the content in your landing page to the search queries visitors typed in to maximise relevance and increase conversions.
Smart Traffic™: An AI-powered conversion tool that automatically sends traffic to the most relevant landing page.
AMP landing pages: Create AMP landing pages that load up to 85% faster than standard mobile pages.
Lead form builder: Create and add forms to your landing pages.
Let's start by taking a look at the most important feature in Unbounce: its landing page builder.
Landing pages
Unbounce's drag-and-drop landing page builder means anyone can pick up the tool and start creating pages without writing any code or using specialist design software.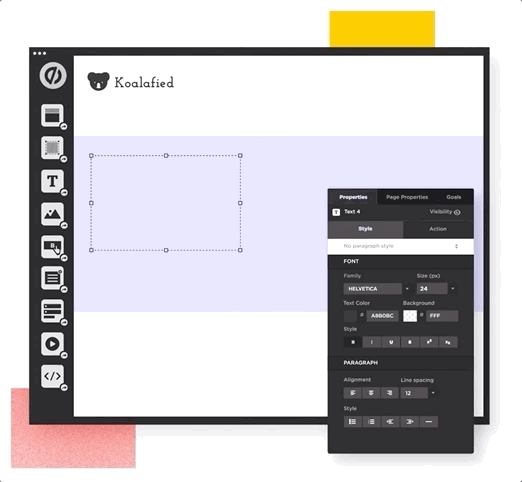 Drag-and-drop builder: Add, remove or customise any part of your landing pages with just a few clicks.
100+ templates: Build pages in minutes from a template or create your own from scratch.
Clone & edit: Save time by duplicating and editing your most successful landing pages for new campaigns.
Copy and paste: Simply copy and paste these elements from one landing page to another—no need to recreate from scratch.
Full control: Customise every detail to the pixel and add your branding without limitations.
Quick publishing: Publish landing pages straight to your WordPress site with Unbounce's WP landing page plugin or to your own custom domain.
You can choose from hundreds of templates to get started and customise them to meet your own needs. To speed up the design process even further, you can clone and edit entire pages, copy and paste between pages and save your own templates for future use.
In terms of performance, Unbounce's landing page builder is one of the smoothest I've ever used. While a lot of page builders lag and restrict your freedoms, Unbounce gives you complete freedom over your design choices and I can't say I've ever noticed any lag.
You can try it out for yourself right here.
Pop-ups and sticky bars
Aside from landing pages, Unbounce also comes with its own pop-up and sticky bar builder, which you can use to boost conversions. While I've talked about the pros and cons of pop-ups before on this blog, there's no denying that they can increase conversion rates when used effectively.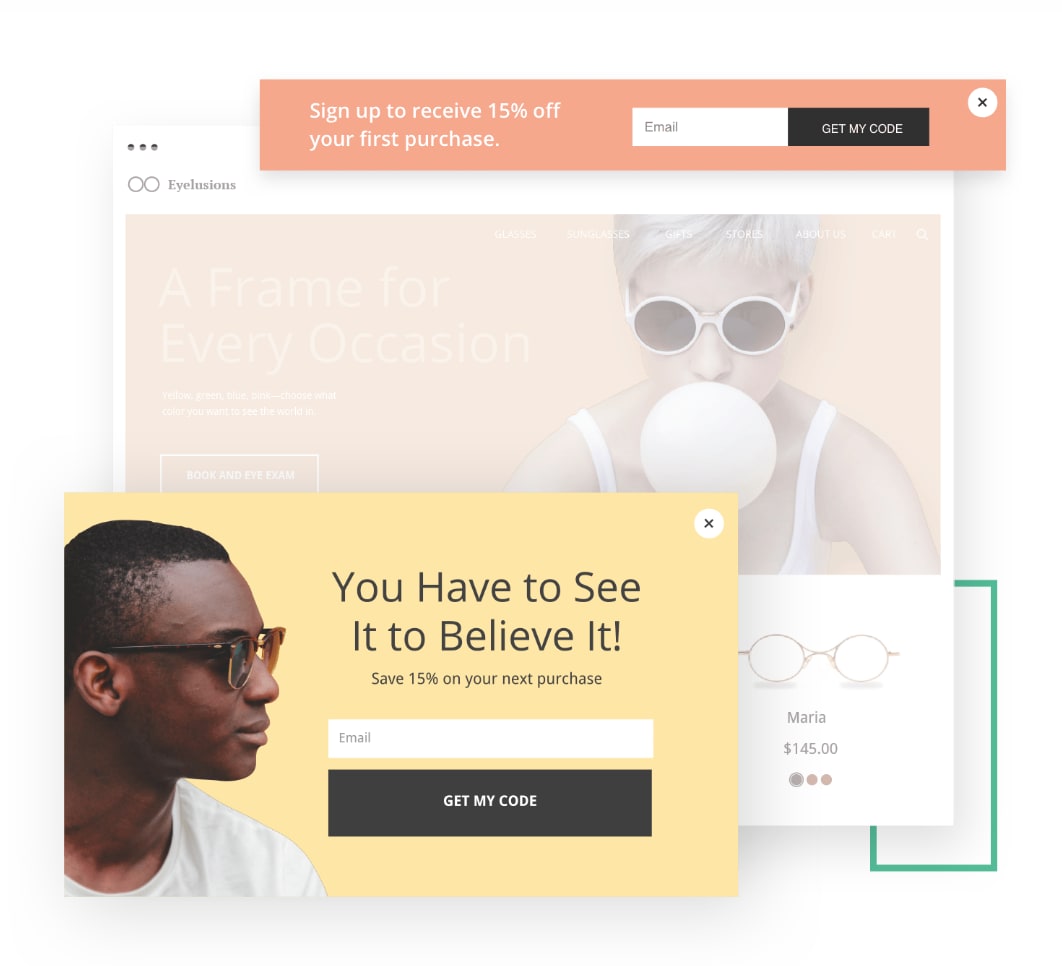 Drag-and-drop builder: Once again, you get a fast, robust builder to create your pop-ups and sticky bars.
Templates: You can also start from a template and customise to your needs or build your pop-ups from scratch.
Targeting & triggers: Choose who sees your pop-ups, how/when they're triggered and dynamically swap content based on visitors' keywords (Dynamic Text Replacement).
Schedule: Schedule campaigns that run automatically so you're always showing your most relevant promotions.
A/B testing: Test different messages and offers to maximise the impact of your pop-ups and sticky bars.
My best advice would be to stick to exit-intent pop-ups for desktop visitors and use sticky bars for mobile visitors, as this will protect the mobile experience and avoid any Google search penalties.
As a final tip, make sure visitors who have already converted don't keep seeing the same pop-up if they come back to visit again.
A/B testing
Unbounce provides extensive A/B testing features on all of its plans, allowing you to optimise your landing pages and pop-ups for maximum performance.
You can set up A/B testing campaigns within a matter of clicks to test entirely different pages, smaller variations – such as the same page with and without a lead gen form – or specific elements like your calls to action.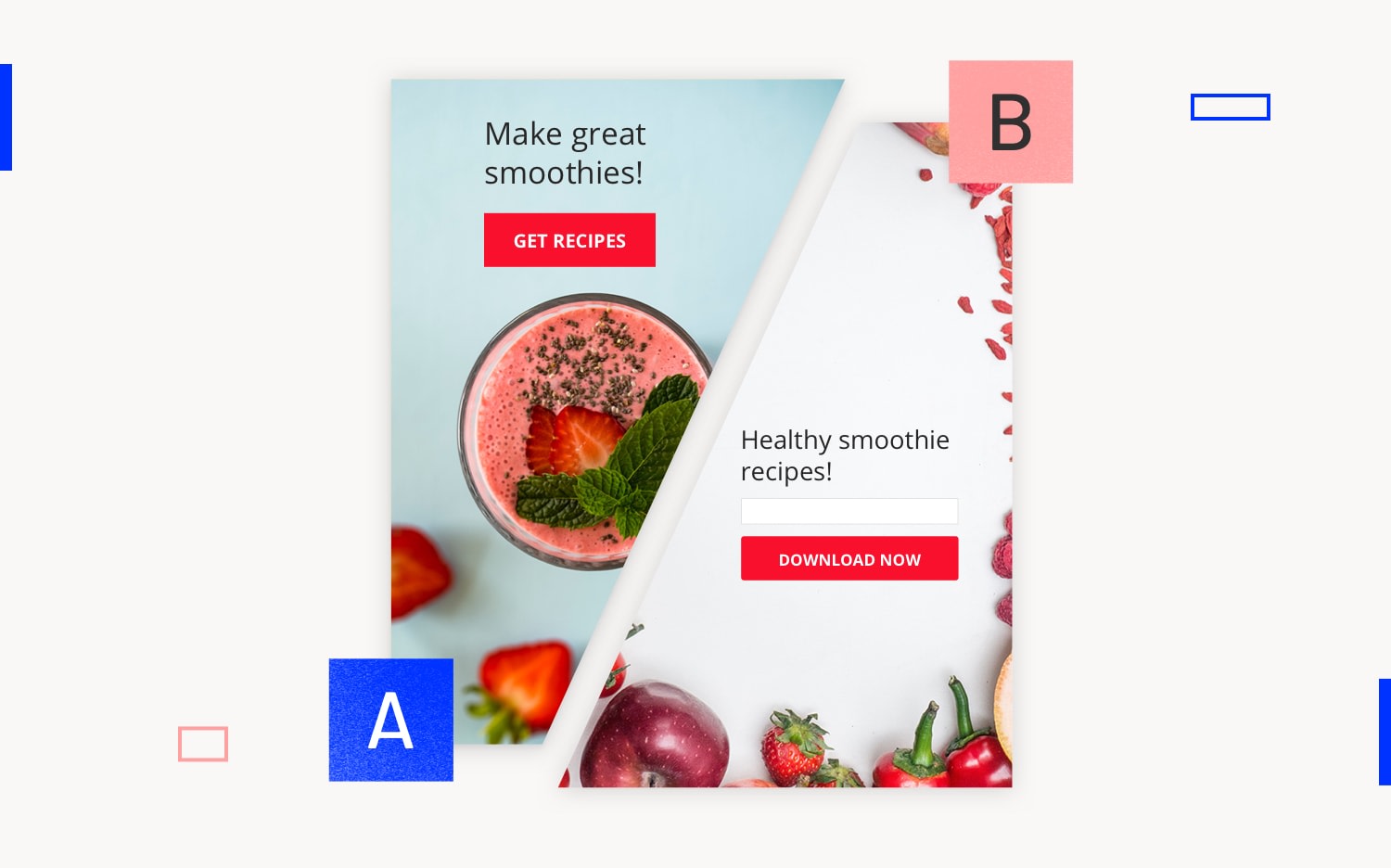 This is such an important feature for pages that are designed to convert and it's always frustrating to find out a landing page builder doesn't provide A/B testing features or restricts them to its more expensive plans.
You don't have to worry about this with Unbounce.
Report & analytics
Unbounce provides insights into how your landing pages are performing and how your A/B tests are going. You can access all of this in the Unbounce dashboard but you'll get the best results by integrating with Google Analytics.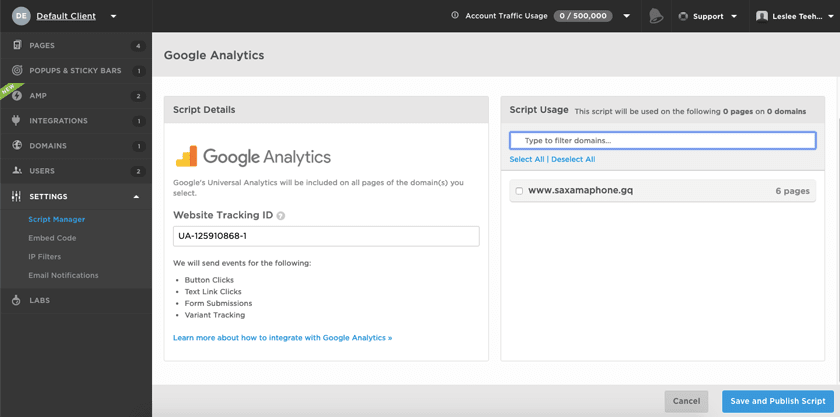 You can find documentation on how to do this here but all you really need to do is get website tracking Id from Google Analytics and enter it into Script Manager, which you'll find under settings in the Unbounce interface.
Once you've integrated with Google Analytics, you can set up event measurement to track users actions, such as clicks on your CTAs and other important conversion goals.
I should make the point of saying that our Unbounce landing pages were lost as a data source in Google Analytics. We did find a workaround for this but integrating with GA didn't go quite as smoothly for us as the documentation suggests.
You may have better luck.
Dynamic Text Replacement
Dynamic Text Replacement is Unbounce's answer to landing page personalisation. The feature matches the copy on your landing page, based on the keywords users type in before clicking on your PPC ads.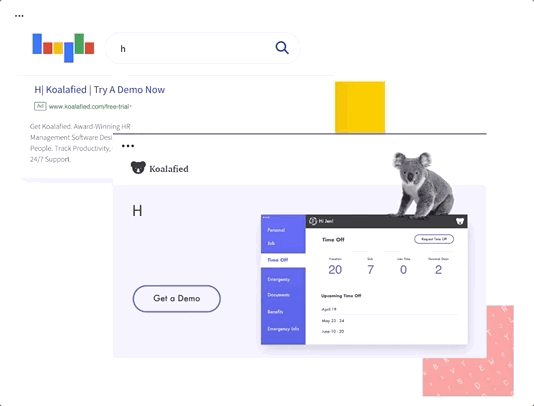 Combine this with dynamic keyword insertion in Google Ads and you can create paid search campaigns that match user intent at every interaction. By boosting relevance, your messages will have more impact on users and encourage them to convert in greater numbers.
To set up Dynamic Text Replacement in Unbounce, you simply select the text you want to apply it to and then click the Dynamic Text button. Then, you define the dynamic text that will replace your default and confirm the default text that will show when Dynamic Text isn't active.
Repeat this for your campaign's target keywords and Unbounce will take care of the rest.
Smart Traffic™
Smart Traffic™ is an AI-powered conversion tool that automagically looks at each visitor's attributes and directs them to the most relevant landing page. The algorithm looks at attributes like user location and their device to determine which variation of your landing page will be most effective.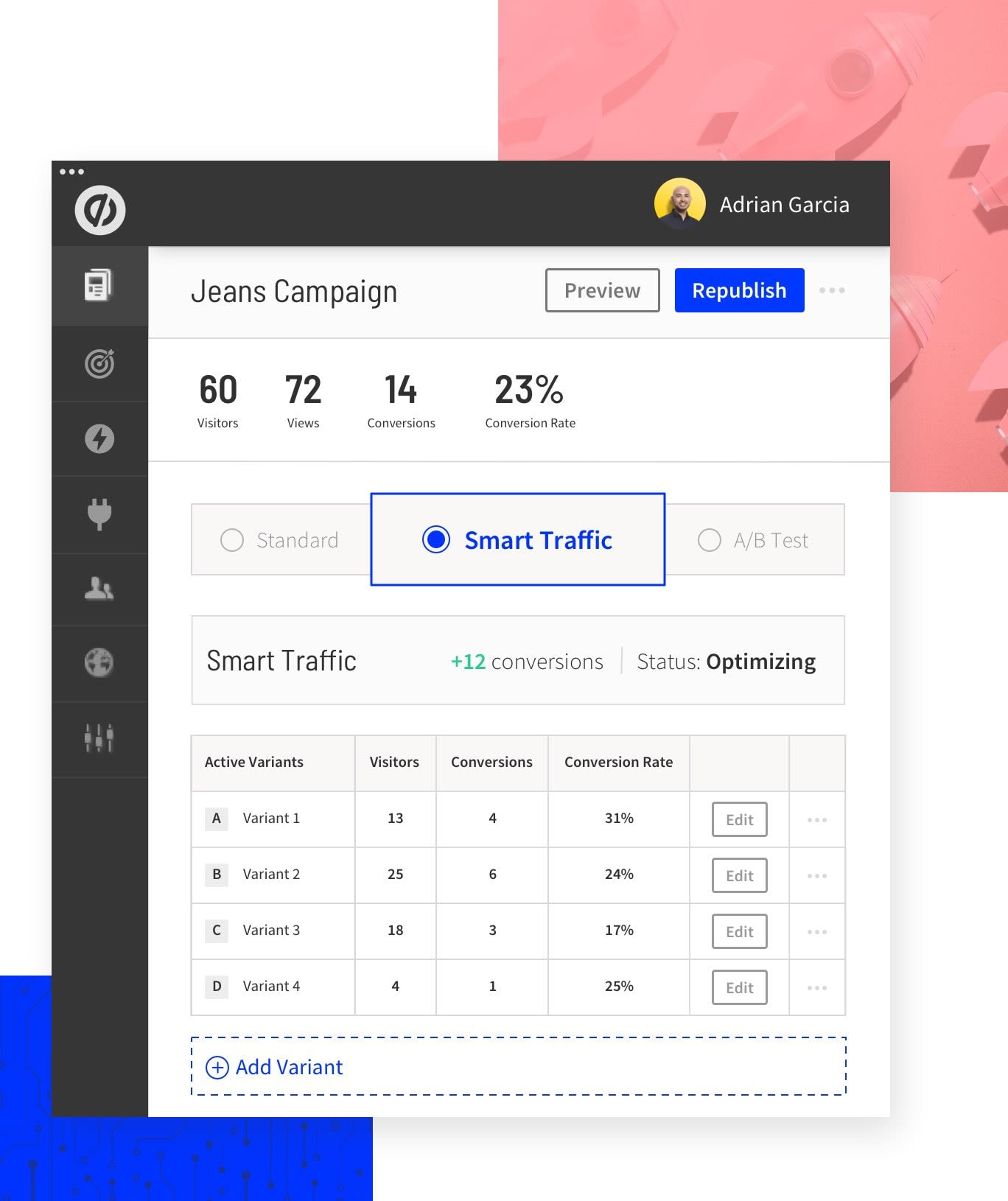 AI optimisation: Unbounce's AI algorithm starts optimising in as few as 50 visits.
Automated CRO: Increase conversions without waiting for tests to reach statistical significance.
Fast results: Use Smart Traffic™ to test landing page variations faster.
Unbounce says Smart Traffic™ boosts conversion rates by 20% on average and this would be an incredible return for a feature that does all the work for you.
I can't confirm whether Smart Traffic™ delivers on this promise as it's a new feature and it's still in beta. We haven't tried the feature but it's another illustration of how Unbounce continues to innovate.
AMP landing pages
Unbounce was also the first landing page builder, to my knowledge, to support AMP landing pages. Accelerated Mobile Pages (AMP) are designed to make the web a faster place for mobile users, which reduces loading times to an average of just one second.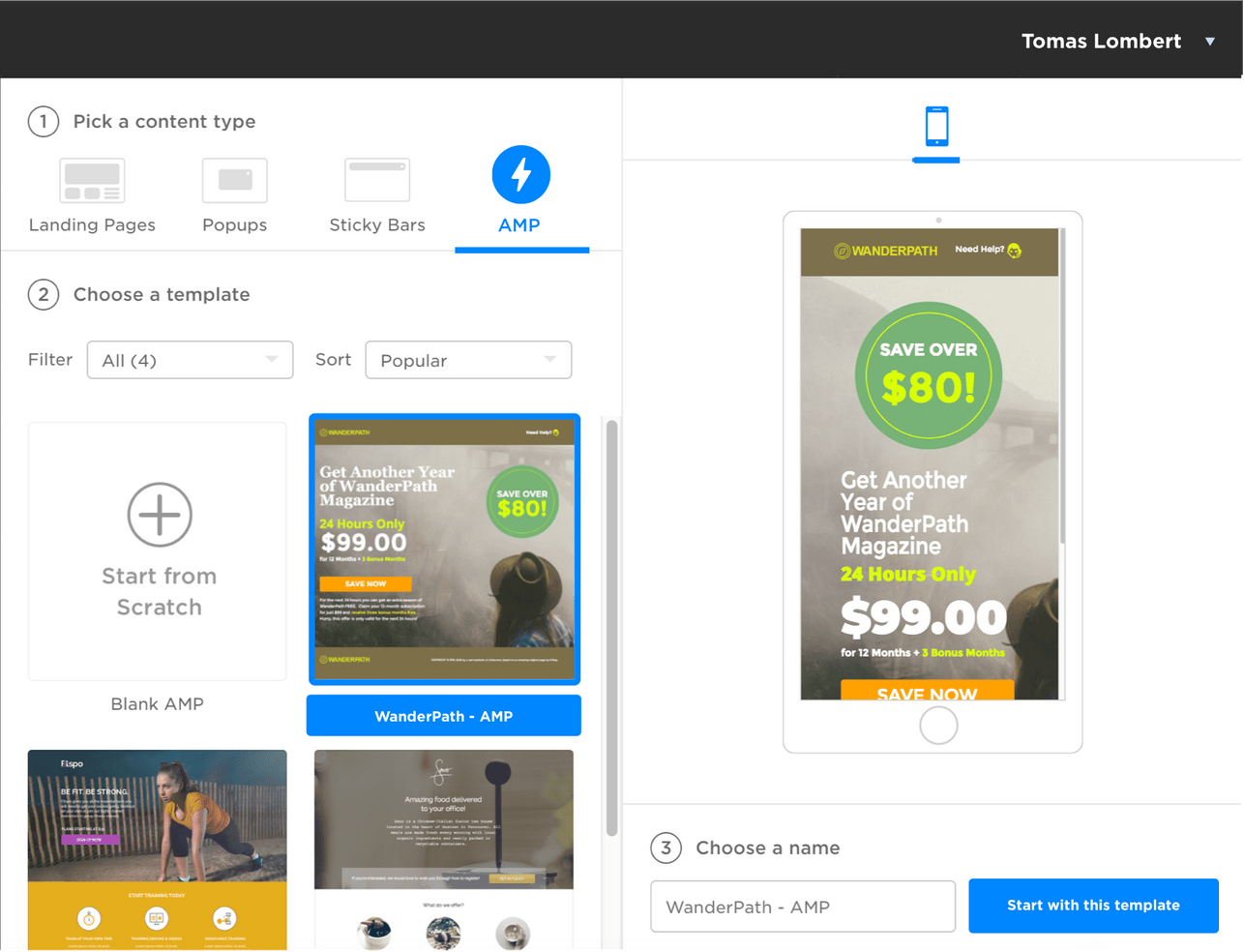 Create AMP landing pages: Without the usual development hassle.
AMP templates: Unbounce also provides mobile optimised AMP templates that you can customise or start from scratch.
Up-to-date: Unbounce will keep your pages and code up-to-date with the latest AMP standards.
AMP does have its pros and cons and one of them is that the learning curve can be steep. Unbounce removes this problem altogether by making it easy to create, test and optimise AMP landing pages in the same way you would with any other page built on the platform.
Lead form builder
Unbounce also comes with its own form builder that allows you to add lead-gen forms to any page. While it's great to see this feature included in a landing page builder, they never really provide the functionality you need to create high-converting forms.
How much does Unbounce cost?
Unbounce has three core plans and you get access to most of its features across all of them. While most software providers throttle features on their cheaper plans, Unbounce doesn't really engage in this – although there are a few differences, which I'll explain in a moment.
First up, let's look at some pricing.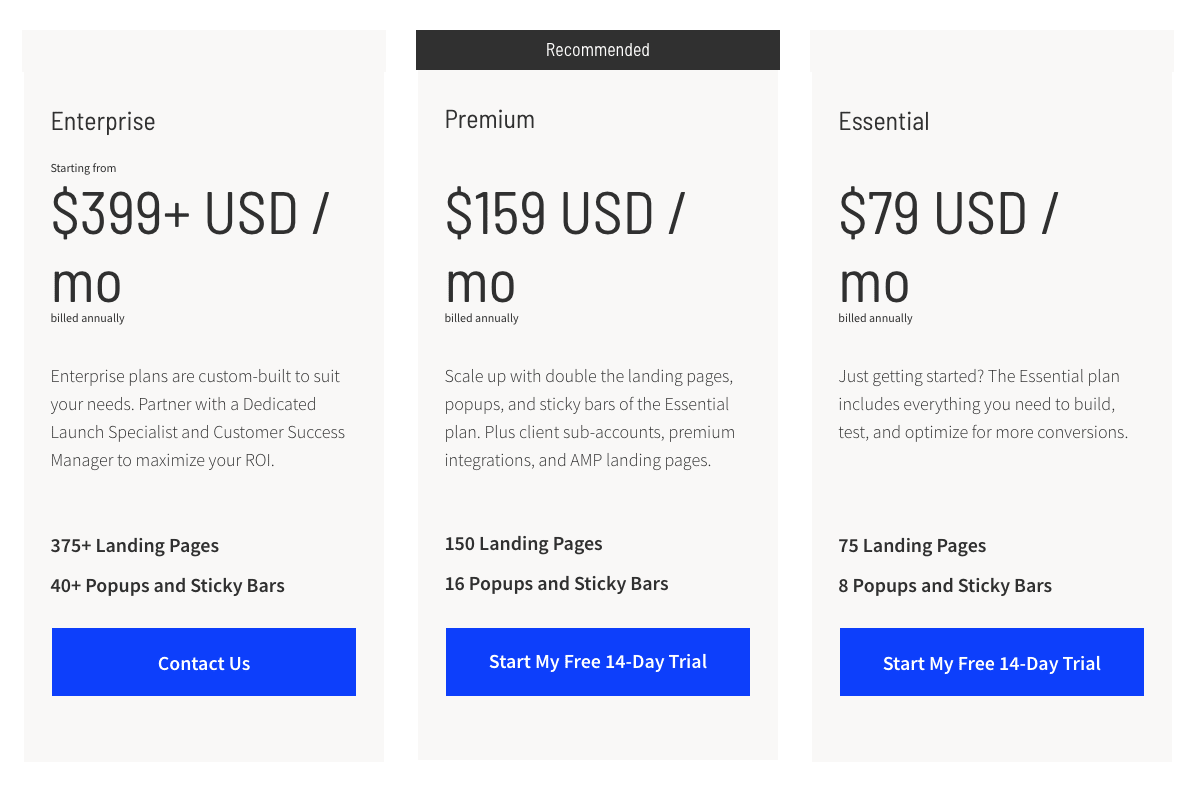 Essential: $79/month
Premium: $159/month
Enterprise: $399+/month
As you can see, pricing starts from $79 per month and the key difference is how many landing pages and pop-ups you expect to create. Even on the Essential plan, you get a healthy limit of 75 landing pages and eight pop-ups/sticky bars, which will be all some smaller businesses need.
I should also point out that both the Essential and Premium plans set a limit on 500,000 monthly unique visitors.
Also, the Essential plan doesn't support AMP landing pages or some of the more advanced pop-up targeting settings. There are some technical features reserved for the Enterprise plan, too, such as audit logs, dedicated support and page migration.
All in all, though, Unbounce makes the vast majority of its features available to customers on every plan and it's always great to see this from a software provider.
How we use Unbounce at Venture Harbour
Now, as promised, let's take a look at how we've been using Unbounce here at Venture Harbour. In this section, I'll show you how we used the tool to complete the following tasks:
Creating our first landing page
Publishing a landing page on our WordPress site
Integrating Unbounce with our CRM
Running our first A/B test in Unbounce
Using pop-ups & sticky bars
This should give you a good idea of what it's actually like to use Unbounce and a working preview of its most important features.
Creating our first landing page in Unbounce
Our first task with Unbounce was to create a "coming soon" page for the Serene app. You can either start with a blank page and build your own landing page from scratch, use the Training Template as a general guide or choose a template and customise it to your needs.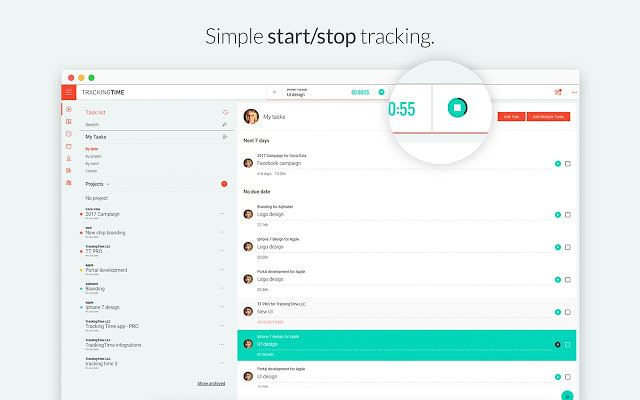 We wanted to generate leads for Serene before we launched the product live so we chose a minimal template with an email sign-up form and adjusted the design to suit the concept of a productivity app.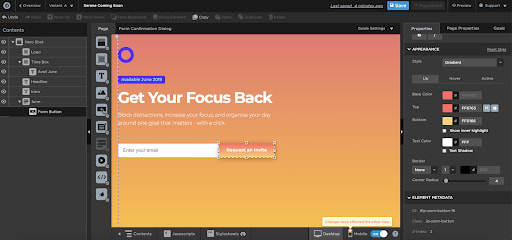 In colour psychology, orange is associated with energy and this is the feeling we want to leave our users with, so we opted for a gradient from red to yellow – a combination that draws attention (think traffic signs), signifies importance and gets people excited.
Unbounce's landing page builder makes it incredibly easy to put your own designs on its templates with a lot more freedom than you may be used to with other platforms.
In terms of actually building our first landing page, we were done in a matter of minutes – and there's no reason it should take you ay longer, as long as you know what you want to create before starting.
Publishing a landing page onto our WordPress site
If you're running a WordPress website, the first integration you'll need to think about is publishing your pages through the CMS.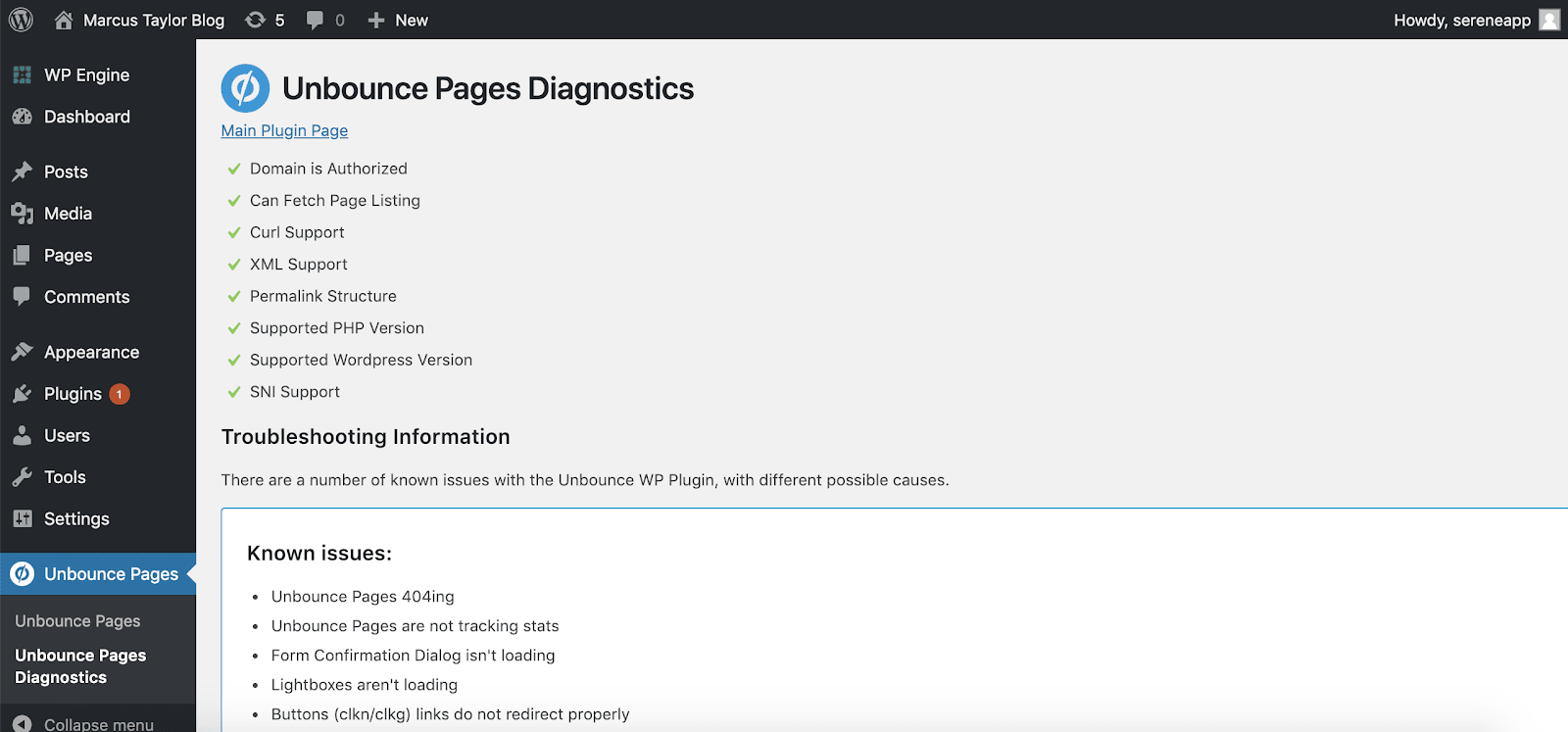 This was actually a lot easier than we anticipated and the only prep work you need to do is download the Unbounce plugin to verify your site.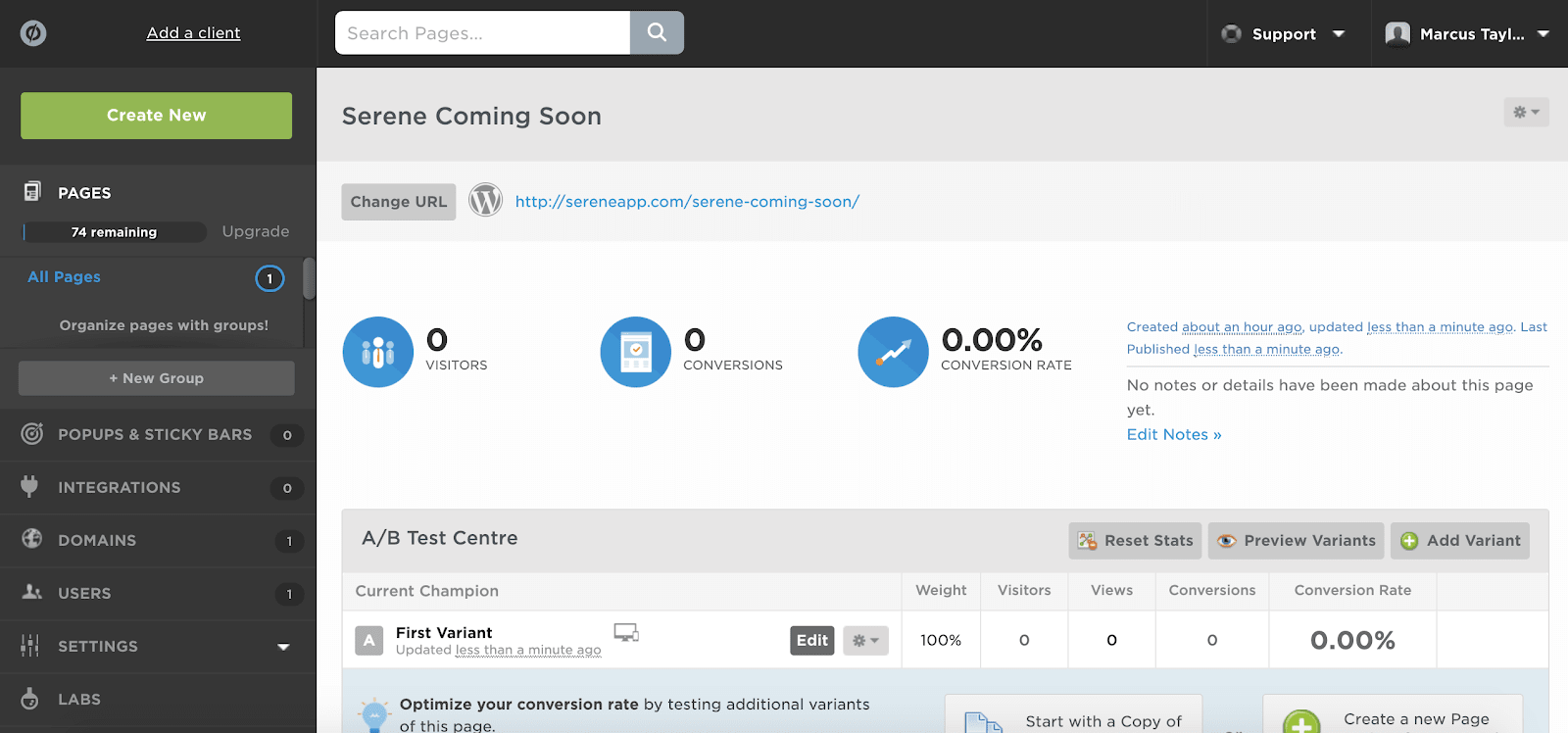 Once this is done, head back to the Unbounce dashboard and the landing page you want to publish. Simply define your URL (and make sure it is the correct URL) you want to publish to and that's it.
Simple.
Integrating Unbounce with our CRM
Unlike WordPress, integrating Unbounce with our CMS ActiveCampaign wasn't as straightforward as we had hoped. It turned out this was because ActiveCampaign has updated its interface and Unbounce hasn't updated its documentation to match.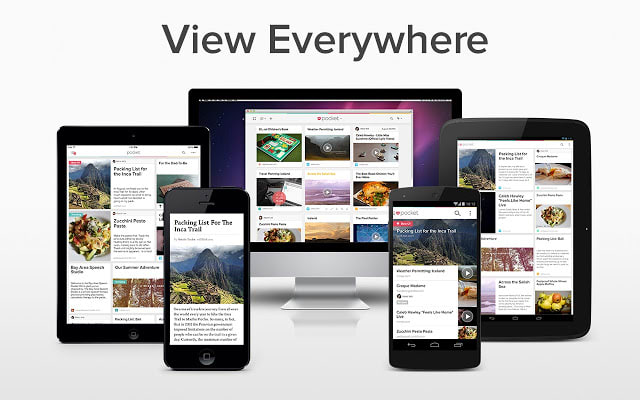 In the end, we ended up using Zapier to integrate the platforms and this actually worked out better for us. Unbounce's native integration with ActiveCampaign only sends over the name and email of users but we created a Zap to send over additional data.
I have to say, I would recommend this approach if you're using Unbounce and ActiveCampaign.
Running our first A/B test in Unbounce
Unbounce offers unlimited A/B testing on all versions of its platform and this was a key feature that drew us to its software. Otherwise known as split testing, this allows you to create multiple versions of the same landing page and pit them against each other.
Traffic will be split between each version and you can keep track of progress in the Unbounce dashboard.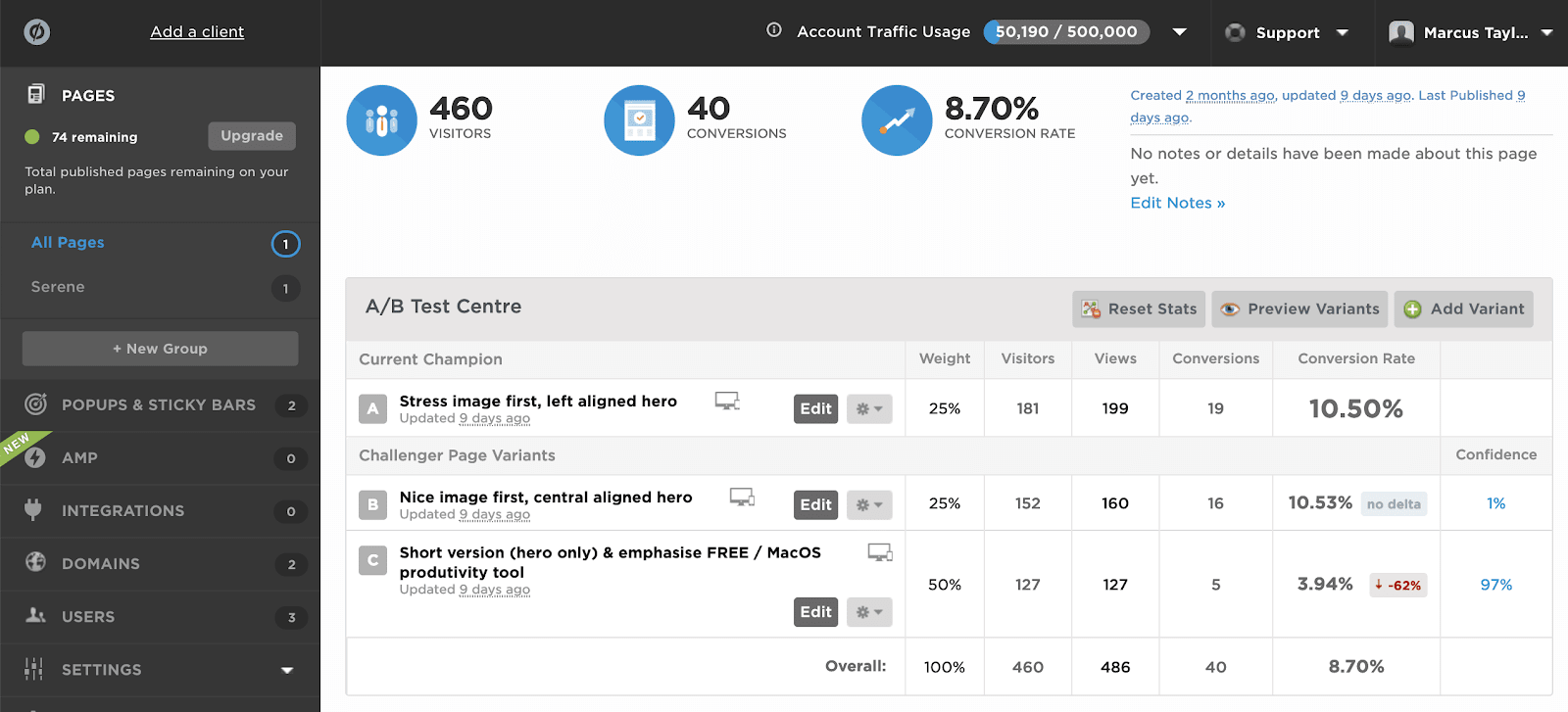 All in all, A/B testing on Unbounce works really well and it simplifies the entire process nicely. You don't need any technical expertise whatsoever and our marketing team is able to create variations and run tests without any input from our development team whatsoever.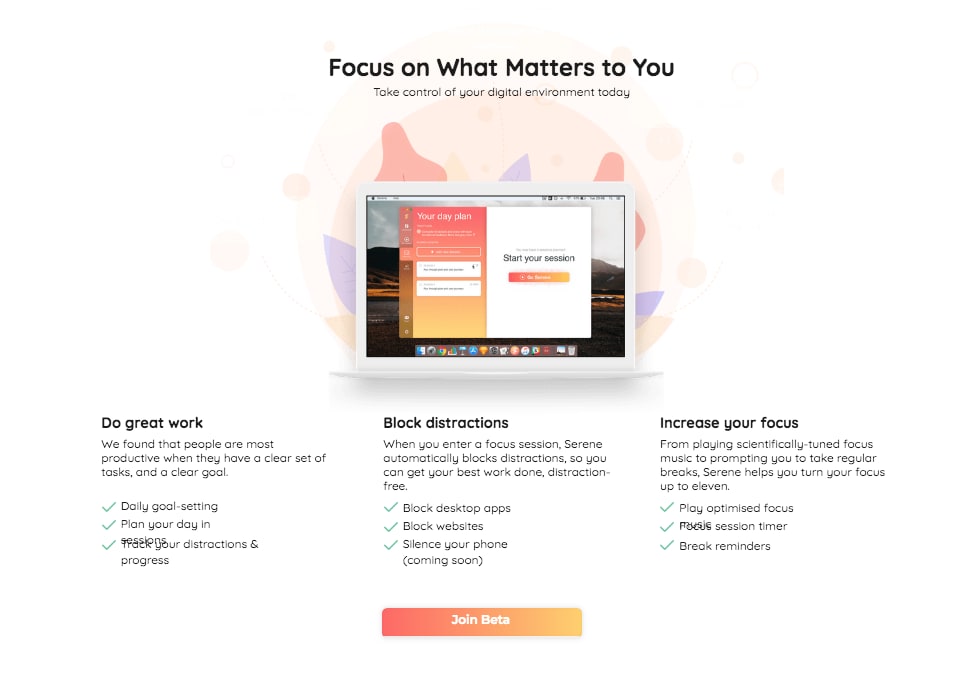 The only problem we had with A/B testing on Unbounce is that we couldn't apply it to existing landing pages we'd already created outside of Unbounce. This is quite common with landing page builders like Unbounce but some of the more extensive optimisation platforms like VWO and Google Optimize do allow you to optimise pages previously built elsewhere.
Using Pop-ups & sticky bars with Unbounce
We've experimented quite a lot with pop-ups and sticky bars over the years and this is something we wanted to continue with our Serene landing pages.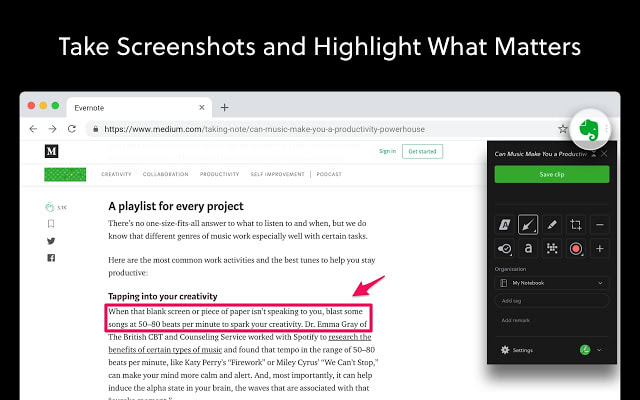 Once again, Unbounce's drag and drop editor makes it a breeze to create and customise these. Once you've designed your pop-up or sticky bar, you can choose when to trigger them, add them to any page on your website (not only Unbounce landing pages), set custom frequencies and schedule them to only appear at certain times.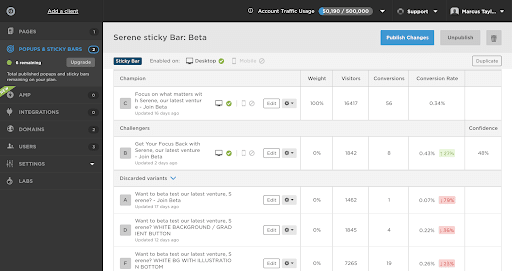 That gives you a lot of deliverability options and you can monitor performance from your Unbounce dashboard to see how they're impacting conversion rates.
Compared to dedicated pop-up platforms like OptinMonster, Unbounce doesn't give you a dozen different types of pop-ups to work with but I'm not convinced this is an issue.
More important for us was Unbounce's Dynamic Text Replacement feature that allows us to adapt the content of our pop-ups and landing pages to match the search terms users type into Google before landing on our site.
Our Unbounce verdict
After using Unbounce throughout the launch process of Serene, I have no reservations about recommending it as a landing page builder. It's certainly the best platform of its type that I've used and I don't think anyone else on our team is going to disagree with that.
There are some minor niggles that add unnecessary work, particularly when you're first getting started, and it would be nice to have a smoother integration with Google Analytics, in particular.
However, Unbounce solves far more problems than it creates and I think it's safe to say this is still the best landing page builder on the market. We were pretty demanding in the way we used this platform and any problems we came across were fixed with integrations or a few tweaks.
To sum up: if you're on the hunt for a landing page builder, start with Unbounce.