SaaS companies have to optimise the entire customer journey to convert leads into customers and, then, paid users into renewals and recurring revenue. This involves an endless cycle of conversions, engagement, upselling and more conversions to ensure the money keeps rolling in.
Not only do you have to optimise your website to maximise leads and conversions, but also your software products to sustain engagement, recurring revenue, upgrades and renewals.
In this article, we look at the top CRO platforms for SaaS companies that will help you maximise website conversions but also improve your products to achieve your goals at every stage of the customer cycle.
What are we looking at in this article?
In this article, we're looking at the best conversion rate optimisation (CRO) software platforms for SaaS companies. These platforms will help you optimise your website and software to increase conversions, engagement and repeat purchases to maximise customer value and repeat revenue.
Here's a preview of the platform's we're talking about today:
You can click on the link text above to jump ahead to any of the individual platforms. Each one includes pricing details, a list of key features and a summary of why they deserve a place on this list. We've used every one of these software platforms (and many others) over the years so we're in a good position to explain the strengths and weaknesses of each one.
Later in the article, we'll also look at some comparison tables, like the one below, so you can see how they stack up in terms of pricing and features.
Before we take a look at our first CRO platform, let's take a moment what a SaaS company needs from conversion optimisation software – because your typical CRO tool isn't going to cut it.
What does a SaaS company need from CRO software?
As explained in the intro of this article, SaaS companies have to optimise for repeat conversions throughout the customer cycle. While every type of business benefits from repeat custom, SaaS companies depend on it – both as a drover of recurring revenue and also as a growth strategy.
The customer cycle of modern software users is more complex than most, too. Typically, you capture leads as free users – either through freemium products, free plans or free trials – and nurture them into paying customers. This generates some initial ROI but the work really starts with keeping paid users engaged with your software and primed to renew at the end of every contract or subscription period – whether this is monthly, annual or biennial.
So your conversion optimisation strategy starts at the beginning of the funnel/customer cycle with converting leads into software users and progresses through successive stages of turning free users into paid users and paid users into subscription renewals.
The SaaS customer cycle isn't the only unique thing about conversion optimisation for software companies, either. While most businesses sell physical products or services, the entire customer journey for software users is digital and the modern age of cloud computing and web apps means most of these take place entirely within the browser.
As a result, you're delivering a 100% digital, cyclical customer experience to users – most of which takes place within your software. So you need a CRO toolkit that not only helps you optimise your website but also your software products to maximise in-app engagement and help users get the best out of your software.
Here are some of the key features you should look out for in a SaaS CRO platform:
A/B testing: Ideally, a platform that allows you to test pages on your website and web app (if applicable).
In-app tracking: You need a CRO platform that allows you to collect data from your app – not only your website.
Product analytics: Reporting and analytics from user session data to help you measure engagement and optimise your software.
Onboarding optimisation: Any platform with built-in onboarding optimisation features is a big help.
Pricing page optimisation: Some SaaS CRO platforms include dedicated features for testing and optimising pricing pages.
In-app messaging: These allow you to create in-app guides, tutorials, notifications and other messages to enhance the customer experience.
Feature flags/toggles: These create on/off switches for features, allowing you to roll out new features in stages and measure their impact – and turn off anything problematic at the flick of a switch (code-free).
Feedback: Ideally, you want in-app feedback capabilities, on-site feedback collection and a system for collecting feedback from email campaigns.
Customer health scores: Data-driven health scores to help you identify drops in engagement and churn dangers.
Churn reduction: Features and tools that help you reduce the percentage of customers who stop buying from you.
Customer/technical support: Features and tools to help you solve customer problems and keep them happy with your product.
You'll struggle to find all of these in one CRO platform because so much of the SaaS customer cycle touches on other areas, such as customer service and product development. However, a couple of the platforms we're looking at in this article come close and you'll only need to combine two or three of these tools to get everything you need – and more.
We'll explain all this as we look at each CRO system so you know exactly what you're getting, anything that's missing and what you might need to bring in from elsewhere.
Best CRO software for SaaS
The best CRO software for SaaS is always the one that meets the unique needs of your business. For example, if you're running a freemium product, there's a lot of emphasis on free-to-paid upselling during the earlier stages of the funnel/customer cycle. Alternatively, if your software requires a lot of setting up, then onboarding optimisation is a clear priority.
As we look at the top CRO platforms for SaaS, we'll explain which priorities each system is best suited for – and anything they're not so good for. This list is in no particular order although we're starting with one of the most comprehensive conversion optimisation platforms for software products and, probably, the best all-round solution for most needs.
#1: Optimizely: The complete optimisation platform for digital products
Pricing: POA
Key features:
Full Stack Experiments: Compare two or more versions of a client-side or server-side feature against each other to determine which one performs better.
Event tracking: Monitor all the conversion metrics and KPIs you care about, in your app or any other service.
Feature management: Test and roll out features with full control, including phased rollouts, feature flags and user targeting.
Advanced targeting: Create experiment audiences with the built-in audience builder and custom attributes.
Team management: Manage your conversion optimisation team and experiments from one platform.
Website testing: Run experiments on your website to increase on-page conversions.
Multi-Page (Funnel) Tests: Create an experiment that makes changes across multiple pages, like a funnel or a site-wide experience.
Personalisation: Personalise your web pages to increase relevance and incentive.
Optimizely Stats Engine: See the impact of your experiments in real-time, with the world's leading Experimentation Platform.
Optimizely offers a complete SaaS CRO system across two products: Full Stack for optimising software products and Web for improving the performance of your website. With the two products, you have a fully integrated system for optimising the entire customer journey through on-site testing and optimisation, plus product development to maximise engagement and renewals.
Full Stack allows you to run experiments in any application across multiple channels, including the web, mobile, TV apps and IoT/conversational applications. The platform gives you complete freedom to run tests at any location in your software – from dashboards and search results pages to payment structures and plans.
In-app event tracking allows you to monitor interactions and conversion goals inside your software (e.g.: feature adoption, upgrades, etc.) to optimise your product and measure success by the actions that matter most. These insights and the results from your experiments are fed into the Optimizely Stats Engine to show the impact of your experiments and inform future decisions.
Optimizely Web is the experimentation platform for optimising your website to convert more visitors into software users. You can also use the platform to optimise web apps by running experiments on any web page or app page, making changes with the visual editor for 100% code-free experiments.
Aside from A/B testing, multivariate testing and the usual range of page-level experiments, you can also create multi-page or funnel tests to run experiments across a series of pages to optimise the performance of funnel flows or page-to-page experiences.
Another standout feature with Optimizely is the extensive targeting options that give you full control over how traffic and users are split across tests. You can simply split users at random or create audiences using the built-in audience builder, behavioural targeting and several other technologies.
Optimizely also offers impressive personalisation features to help you create relevant messages that compel users to take action. For example, Adaptive Audience uses natural language processing (NLP) to predict user intent, based on the content they engage with on your website. You also have Adaptive Recommendations, which uses machine learning to recommend new content and products to visitors, based on the pages and content they engage with.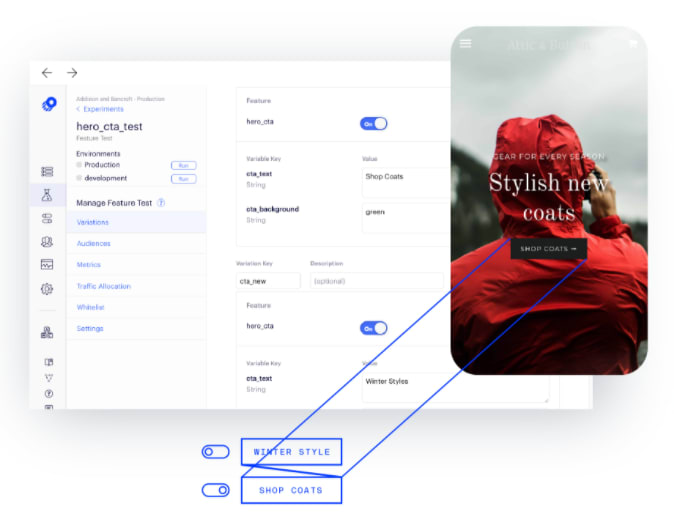 You'll find the full breakdown of features across Optimizely Full Stack and Web on the company's pricing page but you'll have to get in touch with them for pricing details. Optimizely has always been at the more affordable end of enterprise software prices but the company has built an increasingly sophisticated platform over the years. Considering this is one of the oldest names in the conversion optimization software business, it's done a great job to keep itself at the top of the game by constantly addressing the changing needs of modern software companies.
This is reflected in the maturity of the platform itself, which strikes a fine balance between delivering advanced features within a relatively simple format that's easy to implement and use.
Features aside, one of Optimizely's biggest strengths is how it incorporates experiment management, which allows you to run your optimisation strategy at the team level. You can assign experiments to teams and members, score testing ideas, collaborate on optimisation efforts and compile reports to show the results of everyone involved. This is an area where a lot of CRO software platforms fall short, making it difficult to manage a complete optimisation strategy consisting of multiple disciplines (marketing, design, development, etc.), experiments and objectives.
If you're looking for the complete SaaS CRO toolkit and you're willing to pay for an enterprise solution, Optimizely packs the most advanced set of features into a single platform that's easy to use for marketers, analysts, designers and the programmers in your team.
#2: VWO: Data-driven experiments for smaller SaaS teams
Pricing: POA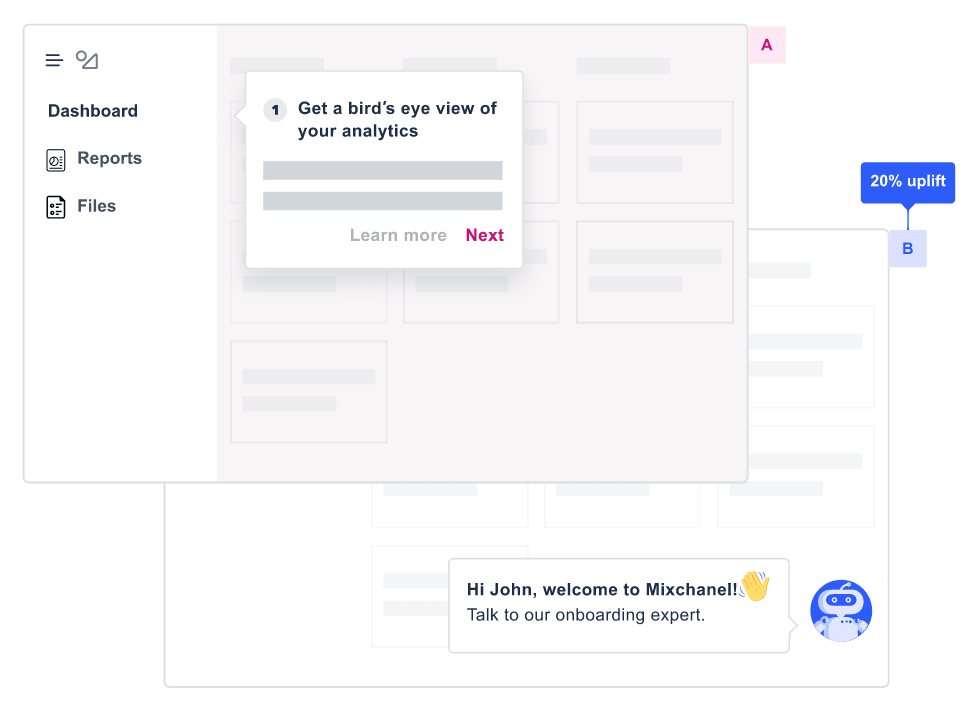 Key features:
VWO FullStack: Run experiments inside your software to maximise engagement, conversion goals and renewals.
A/B testing: Run experiments on important web pages to maximise conversions.
Software testing: Run experiments inside your app/software to increase engagement and retention.
Lead capture: Add hello bars, modals, pop-ups and other lead generation tools to your website.
Retargeting: Reach out to lost prospects with relevant, contextual messaging using push notifications to bring them back into your sales funnel.
Onboarding optimisation: Close the gap between conversion and adoption by optimising your onboarding process to stop leads slipping away.
Heatmaps: See how users interact with your web pages and key elements.
Pricing strategies: Test different pricing strategies to maximize revenue – Pay-per-user, feature-based, tiered and more.
Form optimisation: Reduce form abandonment by identifying drop-off causes and running tests to fix them.
On-page surveys: Collect feedback from users as they interact with your website.
Feature rollout: Deliver new products/features confidently and efficiently by rolling out in stages.
VWO is normally the first name that comes up as an Optimizely alternative and it's the closest thing to it that we're looking at in this article. However, the two platforms differ in many ways and VWO offers several important features you can't get natively from Optimizely.
Much like Optimizely, VWO breaks its platform up into multiple products with a testing system, a full stack optimisation suite and half a dozen other tools. Over the years, Optimizely has refined its platform into two, easily-distinguishable products but VWO continues to split everything over several products and services.
VWO Testing and VWO FullStack are the equivalent offerings to Optimizely's web experiments and full-stack testing products. They have far more in common than there is to separate them and both VWO and Optimizely offer extensive features for optimising SaaS websites and products. In terms of pure features, VWO has the edge with VWO Insights, which brings heatmaps, session recording, on-page surveys and funnel optimisation into your toolkit – among other things.
By offering more features, VWO has to overcome the potential complexity of its platform by splitting them up into several products rather than two. While this can make it harder to choose which products you need upon sign-up, the benefits are clear if you've tried Optimizely and, then, moved to VWO. You get more features but the software is actually easier to use and navigate with tools broken up and organised into more manageable chunks.
However, this can be annoying if you only want one or two features from another product that don't justify the additional expense. Like Optimizely, VWO no longer shows any pricing on its website but we can say that Optimizely is the more expensive platform (by quite a margin) although it's designed for larger CRO teams.
VWO, on the other hand, is more suitable for smaller SaaS CRO teams and simpler products – at least, right out of the box. We're not basing this on anything the company says but the noticeable lack of team management features in VWO. While Optimimzely lacks some of the same testing features, it's built for testing teams to collaborate, experiment and learn across an ongoing optimisation strategy.
WVO doesn't have the same native management capabilities but the company does offer management services for companies that want to outsource experimentation. So, on this basis, we're saying VWO is better suited to smaller SaaS teams that aren't capable of managing several product-wide experiments over an extended period of time. If you get to a point where you're ready to do this, you'll need to get the management features elsewhere or talk to VWO about its management services.
#3: ActiveCampaign : Automate user engagement, upselling & churn prevention
Prices start at $9/mo
Key features:
Churn reduction: Use automated workflows to increase feature adoption, reduce churn and increase revenue.
In-app tracking: Track in-app events to see what users are doing with your software and gain key insights for optimisation campaigns.
In-app messages: Use trigger events to deliver in-app messages to help users get the best out of your software.
Customer health scores: Automatic customer health scores help you address churn dangers and keep users happy with your product.
Email marketing: Manage every stage of the SaaS customer cycle – from lead generation and nurturing to customer retention and support.
Marketing automation: Grow your SaaS business on autopilot with industry-leading automation.
Technical support: Provide live chat and email support to resolve user issues.
Built-in CRM: House all of your customer data in one place to deliver the best experience for every user.
ActiveCampaign isn't a conversion rate optimisation platform in the same way as VWO and Optimize. Instead, it's a complete marketing, sales and customer service platform that houses your data across the entire SaaS customer journey into one system.
This data is stored in ActiveCampaign's customer relationship management system (CRM) and the platform starts capturing data from the very first session with its site tracking technology that helps you nurture leads into software users. The platform combines industry-leading email marketing and automation features to help you drive growth on autopilot and this requires a lot of data – the same kind of data you can use to optimise the entire customer journey.
The system's automation technology powers actionable insights, too, with customer health scores constantly updating in response to user behaviour. This allows you to identify your most engaged customers and those who show risks of dropping out so you can respond with re-engagement campaigns and incentives to get them back on track.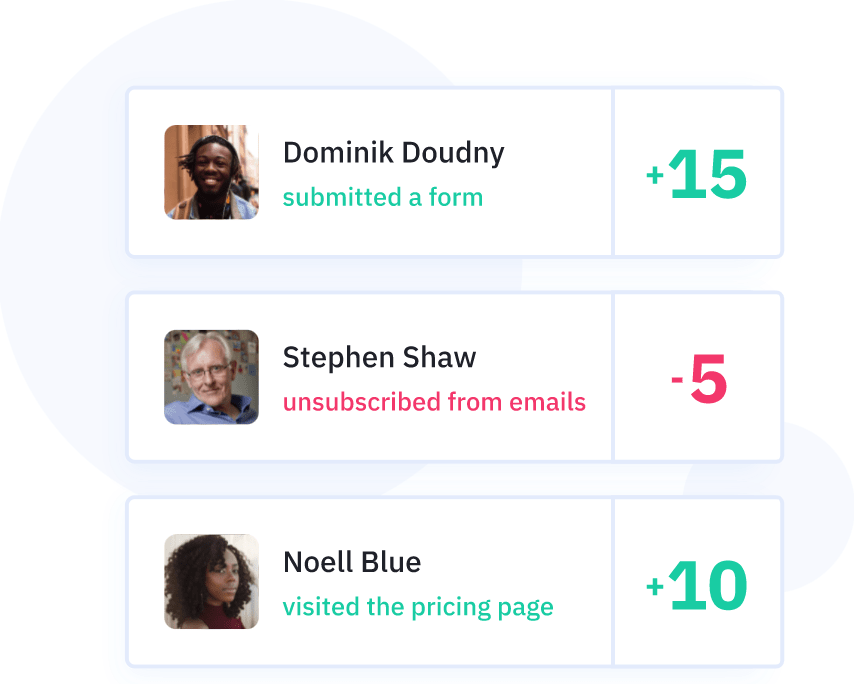 You can also use these scores as a measure of your optimisation efforts on the basis that, as you improve your products, customer health should also improve.
ActiveCampaign doesn't only track user behaviour on your website, but also in your app, allowing you to capture in-depth insights on engagement and satisfaction with your software. You can also deliver in-app messages to help users get the best out of your product, such as feature guides, walkthroughs and prompts to use important features they haven't discovered yet.
With extensive email marketing features, you can also send automated emails across the entire SaaS customer journey. You can optimise the onboarding process to minimise dropouts, deliver re-engagement campaigns, send upselling emails to encourage upgrades, demonstrate the value of your product with weekly or monthly reports and any kind of email campaign you can dream up – all automated and triggered by user actions.
ActiveCampaign also includes customer support and messaging tools for providing customer and technical support. The platform helps you organise cases, automate responses, automatically update statuses and deal with customer issues faster while taking out the risk of any cases being overlooked or forgotten.
Although ActiveCampaign doesn't include any A/B testing features, it brings almost everything else you need to optimise the SaaS customer journey into a single platform.
#4: AB Tasty: Feature management, testing & personalisation
Pricing: POA
Key features:
A/B testing: Run experiments on your most important pages to maximise conversions.
Predictive testing: Forecast the outcome of tests to prioritise experiments expected to have the biggest impact.
ROI tracking: Track the impact of your tests compared to the original, and easily attribute gains in revenue to your experiments.
Feature management: Enable your product team to put users in the centre of product strategy, while enabling engineering to deploy code faster.
Progressive deployment: Set deployment intervals to automatically roll out your features over time, and monitor their reception with associated KPIs.
Server-side experiments: Target specific audiences using personas, create an unlimited number of scenarios using any combination of segment criteria, and rollout or personalise feature experiences.
Personalisation: Create relevant brand experiences to capture more leads and retain more customers.
Customer success: Help customers get the best from your products with online documentation and customer support.
If you're looking for a dedicated A/B testing system to integrate with a platform like ActiveCampaign, then AB Tasty is the kind of experimentation software you want (integration via Zapier). You get expensive testing capabilities, including A/B testing, A/B/n testing, split URL testing, multivariate testing with unlimited variations, a WYSIWYG editor, code editor, advanced experiment settings (traffic allocation, etc.) and real-time results, reports and analytics.
While plenty of CRO platforms include A/B testing and other experiment types, few offer the same depth of testing, analysis and optimisation features as AB Tasty and the testing aspect of this software is up there with the likes of VWO and Optimizely.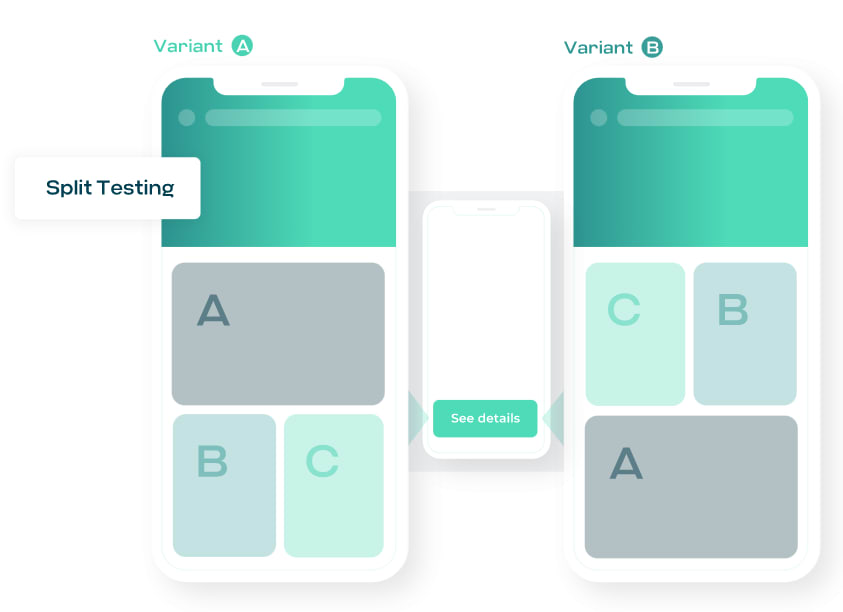 AB Tasty also includes comprehensive website personalisation features, although they're more geared towards eCommerce sites and apps – still useful but not a key selling point for a lot of SaaS companies.
However, its feature management system definitely is a key selling point for SaaS companies with feature flagging, toggles, progressive rollouts, server-side experiments, bucketing and a fleet of other tools to help you test and roll out new features without disruption. You can also capture live feedback to get qualitative data on what's working and what isn't, allowing you to refine new features and perfect things faster.
All in all, AB Tasty isn't as comprehensive as some leading platforms like VWO and Optimizely but it's an excellent experimentation system and a great choice if you're looking for a dedicated testing platform to use alongside other CRO tools.
#5: Mixpanel: Deep analytics across the SaaS customer cycle
Free plan; prices start at $25/mo
Key features:
Conversion analysis: Advanced conversion reports and churn analysis right out of the box.
Engagement analysis: Track engagement through the entire customer journey to maximise renewals and upgrades.
Retention analysis: Find out why customers renew, upgrade and churn.
Interactive reports: Visualise trends, build funnels, interact with your data and see the impact of experiments and launches.
Behavioural insights: Gain deep insights into user behaviour with your software – how often they use your product, how often they perform meaningful actions and more.
Identify user flows: See which actions users take after signing up, before making a purchase and other important actions to understand what makes your most valuable customers tick.
Limitless segmentation: Work with your own data any way you want to unearth actionable insights.
Mixpanel is an advanced analytics system designed for software development and optimisation that promises to help you "build better products". The platform is used by some of the biggest and most exciting names in SaaS, including Twitter, Uber, Expedia, GoDaddy and plenty more, providing key insights for product development at every stage of the customer cycle.
The key benefit of using MIxpanel over something like Google Analytics or other generic analytics platforms is it comes with reports, tracking and everything you need to measure software performance right out of the box. Instead of spending weeks or months setting up Google Analytics to build the custom reports, conversion goals and tracking, Mixpanel has all of this set up and ready to go.
With conversion analysis, you can uncover conversion trends, see where users drop out of the funnel and find opportunities to re-engage lost leads. You can delve deeper into your conversion data and create custom segments to see how different audiences are responding to messages and view the path to conversion for each segment. Mixpanel says its conversion analysis can help you increase conversions by up to 58% and it's got the case studies to back this claim up.
Then, you've got Mixpanel's engagement analysis for measuring active usage of your products, re-engage users who spend less time in your software track campaigns designed to maximise/increase engagement. You can track users and organise them in cohorts, such as "new," "resurrected," "dormant" and "retained" to identify trends, timelines and triggers for engagement changes.
Retention analysis helps you test campaigns for holding on to customers and upselling campaigns while measuring results to identify the touchpoints that keep customers paying for your software and working along your upgrade path. You can also identify churn triggers and patterns leading up to cancellations, non-renewals and failed payments.
You can get started with MIxpanel for free with access to unlimited data history and seats, its core reports, the full set of data tracking features and coverage for up to 100,000 monthly tracked users (MTUs). Paid plans start at just $25/month, which gives you access to more advanced analysis and unlimited saved reports with custom pricing available for higher MTU counts.
If you're looking for a comprehensive SaaS reporting system that doesn't require extensive setup, but still gives you the freedom to customise, Mixpanel is the first platform to look at – and it costs nothing to try it out.
#6: Amplitude: Product analytics, personalisation & testing
Free plan; POA
Key features:
A/B testing: Run tests on your website, mobile app and software.
Feature flags: Configure experiences remotely, manage release risk, and deploy faster.
Behavioural analysis: Target customers based on actual or predicted behaviour without extra engineering work.
Funnel Optimisation: Remotely reorder or remove steps in a funnel to experiment with improvements to conversion.
Form Optimisation: Test adjustments to form setup based on acquisition channels and sources.
CTAs by Segment: Try different CTAs for premium plans for new users versus existing subscribers.
Propensity-driven experiences: Use predictions to test changes in the UI based on users' likelihood to use a feature or make a purchase.
Amplitude is another product analytics tool that brings testing, personalisation and data management into the equation. It's not as extensive as Mixpanel on the analytics side of things but it offers up a fairly complete CRO platform with its experimentation and personalisation. Again, the testing features aren't as comprehensive as some of the other tools we've looked at and you're limited to A/B testing although you can create as many variants as you want so you're, technically, able to run A/B/n tests – but that's it.
You can also create feature flags to manage rollouts and configure experiences for different user groups and use behavioural data to target users based on their actions.
The upside to Amplitude's relative simplicity is that it's easier to set up and use if you're new to CRO. The platform has test formats for trialling Night Mode, running navigation experiments, form optimisation, CTA tests, funnel optimisation and more, making it easy for newcomers to test the key parts of websites and apps.
So you're not getting the most advanced analytics or experimentation software from Amplitude but a solid all-rounder if you're just getting into CRO and you need a platform for optimising websites, mobile apps and software.
Unfortunately, the company doesn't list any pricing details on its website and this is true for most of the platforms we're looking at in this article, which is something we always dislike to see. It's particularly frustrating with a platform like Amplitude that's geared towards less demanding needs than the likes of VWO and Optimize – so we would like to see this illustrated by listing pricing details, even if it's only for the entry plans, like Mixpanel does above.
You can't sign up for a free trial, either, but you can request a demo by getting in touch with the company's sales team.
#7: Heap: Increase Conversions, Engagement & Retention
Free plan; POA
Key features:
Product analysis: Understand how people interact with your product, increase acquisition and retention, reduce your engineering burden, and create a powerful product experience.
Heap Illuminate: Automatically analyses digital user behaviour in the background, evaluating conversion paths of every visitor to identify the most important points of friction.
Autocapture: Automatically capture all user data on your website, from the moment of installation forward.
Data sources: Import data from other sources to compile all of your insights in one platform.
Event visualiser: A point-and-click tool for creating and tracking user events on your website without writing any code.
Data dictionary: Keeps data clean, organised, and understandable for everyone in your team.
Data governance: Control permissions for viewing, modifying, and reporting with default user roles.
Playbooks: Dashboard templates you can personalis to generate reports and see relevant insights faster.
Heap says it "helps SaaS companies understand their users, get advanced insights on customer behaviour and build products that convert and retain". That sounds great for an analytics system designed for software companies and the company has a strong list of customers, including Freshworks, Cloudflare and Twilio.
Heap automatically captures user data from every session to give you full access to insights – from every click and swipe to every page view and action. This automatic data capture means you can make changes to your software product without installing new tracking codes and increasing the risk of errors with every update.
Much like Mixpanel, Heap has built-in retention analysis to help you discover what keeps customers paying for your software. The platform includes reports for tracking retention at three key stages of the customer journey (early, mid-term, and long-term) and shows you where users drop off. You can create cohorts to compare behaviours, identify which actions lead to churn and see which features drive repeat engagement. And, of course, you can run experiments designed to increase engagement and retention while measuring the impact of each campaign to optimise this crucial stage of the customer cycle.
With engagement analysis, you can identify your power users and customers that are showing signs of losing interest, which could lead to churn. You'll learn more about your most important features – the ones that users are getting the greatest value from – and features that might need refining to increase uptake, usage and the "stickiness" of your software.
You don't get native A/B testing with Heap but the platform does integrate with Optimizely, which allows you to power experiments with the extensive data you're capturing with Heap. Likewise, you can integrate with Appcues to deliver in-app guides and messages to help users get the best out of your software.
#8: Pendo: Product experience, adoption & customer support
Free plan; POA
Key features:
Website & product analytics: Empower your teams with comprehensive product analytics to inform data-driven decisions.
Product engagement: Understand which features customers embrace, which ones they ignore and increase awareness of valuable (but underused) features.
Onboarding optimisation: Personalised user onboarding and in-app training.
In-app messaging: Help customers get the most out of your product with in-app guides and prompts.
In-app support: Support your users when and where they need it.
Feedback: Make it simple to collect and digest feedback.
Growth analytics: Identify revenue-driving activities, increase trial conversions and build features customers are willing to pay for.
Pendo is an analytics and CRO system for software products that helps you optimise every stage of the SaaS customer cycle – from lead generation and onboarding to engagement and customer retention. The platform is built around three key solutions: Product Experience, Feedback and Digital Adoption, which are held together by web and software analytics.
The analytics system allows you to track activity on your website and measure CRO campaigns to increase conversion rates. You don't get any A/B testing features for running experiments on your website – so keep this in mind. However, Pendo's analytics system continues to track user activity in your software, across web, mobile and native applications, so you can measure and optimise the entire customer experience.
This starts with onboarding and Pendo has an entire toolkit for minimising dropouts during the account creation and setup process. You can create guided onboarding experiences to help new users get involved with your product faster, while intent from the initial conversion is still high. The system helps you guide users to value faster, meaning they start benefiting from your software as soon as possible, which maximises early engagement and usage to get you off to the best possible start.
The company says 82% of Pendo customers who use Pendo to improve onboarding time saw at least a 10% reduction in time and effort.
With customers signed up and interacting with your software, Pendo turns its attention to optimising the customer experience to keep users engaged and satisfied with your product. By this point, your aim is to sustain the value users get from your software by helping them to achieve as much as they can. With Pendo, you can see which features customers are getting the most value from and identify the ones they're not using, which you can use to optimise or promote underutilised features that can add more value to the experience.
You can also send in-app messages to help users get the best out of your product, pointing them to new features or offering short guides to help them complete tasks.
Pendo also includes a feedback collection system that you can use to collect valuable feedback from users while they're active in your software. And, one of my favourite Pendo features, is the in-app customer support you can provide to solve user issues while they're experiencing them – so they can get back to making things happen with your software.
You can get started with Pendo today by signing up for its free plan while paid plans are priced on application.
#9: LaunchDarkly: Test, deploy & manage new features
Prices start at $10/mo, per user
Key features:
Feature flags: Unlimited feature flags on all plans to turn features on/off without writing any code.
Flag prerequisites: Build dependencies into your feature flags to gain granular control at a global level.
Flag scheduling: Schedule changes to your flag targeting rules for a future date and time.
Flag triggers: Automate changes to your feature flags based on metrics from external tools.
Experiments: Run feature-level A/B tests anywhere in your stack to make data-driven decisions.
User targeting: Target individual users or users by attributes by creating custom rules.
Debugger: Real-time data exchange between your app and LaunchDarkly to ensure your flags are set up correctly.
Feature flagging has been a recurring theme among the features of our SaaS CRO recommendations in this article and LaunchDarkly is the dedicated feature flagging tool for software developers. Sometimes, you need a specialist tool to get the job done properly and LaunchDarkly is more steak knife than the Swiss Army variety when it comes to feature flagging.
With feature flags, you can separate code deployment from feature releases in your software, allowing you to implement new features in the back-end without making them accessible to users. This means you can test new and debug new features prior to release, roll them out gradually and test run them with small groups of real users before making them available to everyone.
As LaunchDarkly says, "testing with real, live users will always yield better data than any mock testing environment, you have a real understanding of performance and can get valuable feedback from beta groups." With a dedicated feature flagging system, you can implement and test changes without disrupting the experience for users and rolling out buggy features that could compromise their relationship with your product.
Plans start at $10/month (per user) for unlimited feature flags and environments and a dedicated dashboard for managing flags while the $20/month Pro plan gets you unlimited projects, reusable segments, flag reviews and plenty more features. There's also an Enterprise option for bulk user targeting, flag scheduling, flag triggers and advanced management tools.
If your product(s) are in a constant state of development and upgrades, a dedicated feature flagging tool like LaunchDarkly gives you full control over the rollout, testing and optimisation of new features.
#10: LogRocket: Session recordings, performance monitoring & product analysis
Free plan; prices start at $99/mo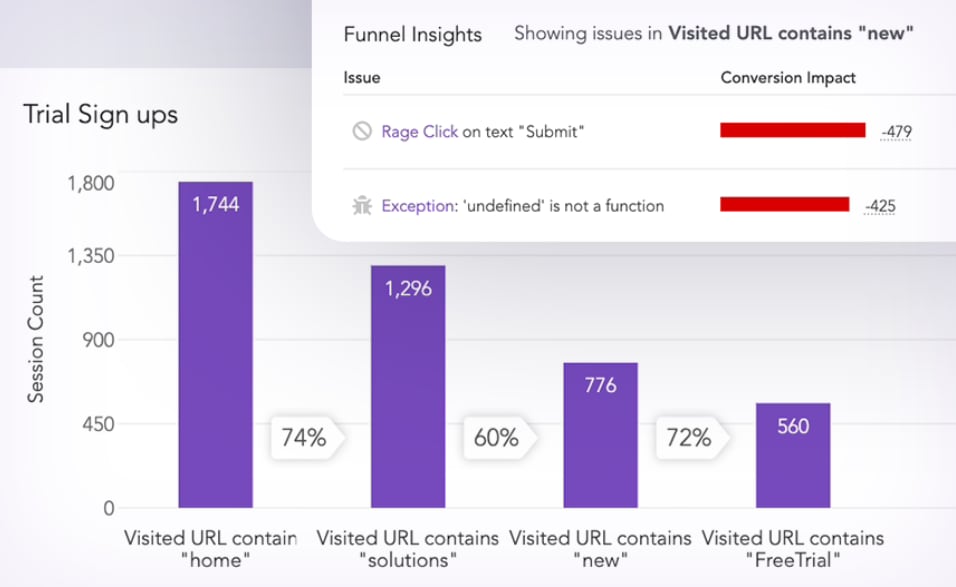 Key features:
Session replays: Record user sessions to see how they're interacting with your website and web app.
Product analysis: Track usage and engagement to learn what customers love about your product and what needs improving.
User experience analysis: Increase engagement and improve the design of your app by identifying frustrations, such as rage clicks, dead clicks and session quits.
Page analysis: Use heatmaps, clickmaps and scroll maps to see how users are interacting with key pages.
Custom funnels: Build custom funnels, time series charts, tables and other visualisations to break down every data point to the individual user.
Error tracking: Monitor Javascript errors, network failures and other performance issues hurting the user experience.
Intelligent alerts: Get notified of issues that impact your users before they report them.
Prioritise issues: Automatically surface and categorise your highest-priority bugs and issues.
LogRocket is a product analytics tool for web applications that shows you how users engage with your software. Basically, it combines a set of browser analytics and testing tools to help you gain insights on user behaviour, optimise your web app and resolve performance issues. You can record user sessions, view network logs and other technical issues, create heatmaps, clickmaps and scroll maps, and track metrics across funnels, dashboards, pathways and user sessions.
If you've ever used a heatmapping tool like Hotjar or Optinmonster, LogRocket combines many of the same features with browser debugging tools and analytics to create an optimisation toolkit for web apps.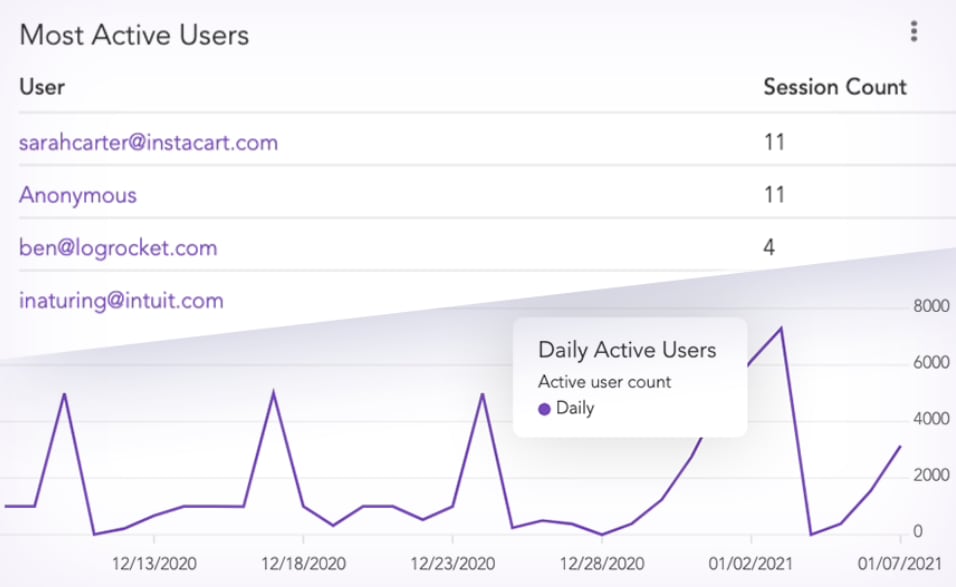 The Developer version of LogRocket is free and covers you for up to 1,000 sessions per month and gives you access to its core features – mainly session recordings. Paid plans start at $99/month for up to five users and 10,000 sessions per month but the Team plan uses a variable pricing structure so you can scale to cover more than 10,000 sessions for incrementally higher fees – for example, you can track up to 25,000 sessions for $199/month, which also covers you for up to 10 team members.
To get the full set of features – including advanced recording options, heatmaps, funnel tracking, performance monitoring and more – you'll have to sign up for the Professional plan. LogRocket doesn't provide any pricing details for this so you'll have to call the company's sales team to get a quote based on your usage requirements. You get unlimited sessions on the Professional plan with fees mainly depending on how long you need your data stored for and the number of user accounts you need.
You'll find all of the available information on the company's pricing page.
ertise) to do everything from scratch, the paid options we've already looked at are more suitable.
Which is the best CRO software for SaaS?
All of the CRO tools we've looked at in this article are top of their class for their price point and intended purpose but we've looked at a wide range of tools in this article. Some aim to provide a complete optimisation toolkit for SaaS companies while others focus on more specific functions like product analytics or feature flagging.
Quality isn't really an issue with any of these software choices; it really comes down to what you need from a CRO platform and whether you want one or two tools that basically cover everything or the best tool for each job.
To help you decide which CRO tools are most suitable for your needs, let's take a quick look at how they compare for pricing and key features.
Pricing comparison
Unfortunately, few of the software tools we've looked at today publicly disclose their pricing and this seems to be a growing trend in the CRO software space – especially for platforms aimed at B2B and SaaS companies. Normally, we're a little reluctant to recommend products that don't have pricing disclosed on their website and we don't like to publish a full list with such little information about pricing.
In this particular case, though, we simply wouldn't be able to recommend the top CRO software for SaaS if we excluded the options without public pricing – so we've had to accept that there isn't as much pricing info as we normally like to share.
On the plus side, more than half of the tools we've looked at today have free plans that you can use to try them out for an indefinite period of time. You can also get custom quotes by calling each company's respective sales team to discuss your needs.
Here's the pricing information we have available:
Only ActiveCampaign, Mixpanel, LaunchDarkly and LogRocket list pricing details on their websites and even Mixpanel only lists the pricing for its entry-level plans. We're seeing more of this from software providers in this space, including companies that used to publicly list their pricing details but now encourage prospects to call for quotes.
Thankfully, four of the providers that don't list their pricing offer free plans, which makes us more comfortable recommending them but (more importantly) allows you to test them out without being limited to a 14 or 30-day trial – which, let's face it, isn't long enough to truly test CRO software.
The downside of these free versions is you're limited to trying out the entry plan so you can't test out the top-tier or enterprise versions.
Feature comparison
In this article, we've looked at a range of different CRO platforms and tools with different feature sets. Yes, we could have listed every Optimizely alternative possible but there's not much point in looking at 10+ very similar tools, especially when the top three are the only ones worth paying attention to.
The other issue is no one tool can do everything and the ones that try tend to be average at most of them. So we've looked at platforms that excel at A/B testing and experimentation while others that specialise in analytics, feature management and other important CRO tasks for SaaS companies.
Here's a quick summary of the key features (and differences) between the platforms listed in this article:
As you can see, the one feature all of these platforms deliver is in-app/software tracking and this is crucial because we're looking at CRO platforms for software and SaaS companies. Yes, you want a conversion optimisation system to improve your website but you also need one that helps you optimise the software products at the heart of your business.
So you want to track in-app behaviour, run experiments within your software, measure results and attribute outcomes to your KPIs: revenue, renewals, upgrades, etc.
Which CRO platform is right for your SaaS company?
As mentioned in the previous section, no one CRO platform is going to do everything for you and our best recommendation is to select at least two systems, one for experimentation and another for analytics. For example, you might choose VWO to get full-stack testing, feature management and a host of optimisation features and run this alongside Mixpanel for all of your analytics and reporting.
Whatever combination works for you, this article has offered up the top CRO platforms for SaaS companies and the unique challenges of optimising software products – as well as websites.