Every team benefits from having a good project management system.
While you can use a generic project management tool to plan marketing activity, you're going to get better results faster with a system built for marketing teams. That's what we're focusing our attention on today.
What are we looking at in this article?
In this article, our aim is to help marketing teams choose the best project management software for planning and running campaigns. There are thousands of project management tools on the market but many of them are generic and a poor-fit for marketing teams.
So, for example, it's easy to find a capable system for task management, but it's harder to find one that provides marketing planning features or marketing reporting.
To help you choose the right system, we review the top project management tools for marketing teams specifically and explain what sets them apart from the more generic alternatives. Before we get into the reviews, we take a quick moment to explain what project management software is and why there's so much variety in this category of software products.
Here's a summary of what we're looking at in this article:
In our reviews, we summarise the key features for marketing teams, take a detailed look at the pricing of each system and discuss the pros and cons. And, once we're done with the reviews, we wrap things up with a comparison section where we take a head-to-head look at features, pricing and usability so you can see how they stack up against each other.
What is project management software?
Project management software is a broad category of software products designed to help teams plan and manage products. If you take a look at the project management software section on Capterra's website, there are 1,283 results at the time of writing, which says a lot about how many products are available in this niche – and how competitive it is.

Another characteristic of this is that project management software can take many different forms, which Capterra does a good job of explaining on its website:
"Project Management software automates task assignment, resource allocation and milestone tracking for all phases of a project. Project Management tools and systems may take one of several approaches: collaborative, when multiple people work on a project; top-down, when one person works on a project at a time; or integrated, when multiple aspects of the organisation are involved. There are a variety of project management systems and tools that have been designed to fit your project's needs."
For example, some systems place more emphasis on project planning while others focus more on task management. Likewise, some systems are designed with team managers in mind and others are more geared towards giving team members the tools they need to do their job more effectively.
In general, the key characteristic all project management software has in common is automating repetitive tasks with the aim of improving productivity.
Here's a quick look at some of the most common features you'll find in project management software:
Project planning: This might include project templates, a timeline tool, workload planning features, etc.
Task management: A system for creating tasks, assigning them to team members, updating tasks statuses, etc.
Workload management: Tools for team members to manage their individual workloads.
Project views: Visualisation dashboards for managing different project types.
Team communication: In-app messaging, comments, integrated email, video chat, etc.
Collaboration: Docs sharing, editing, collaborative planning tools and many more.
Automation: Workflows for automating task sequences, normally using triggers and events (if Y then Z logic).
Tracking: Tools for tracking task completions, timers, team member performance, etc.
Activity logs: Historical data for tasks, assignments, completions, etc.
Reporting: Tools for tracking the progress of projects, team performance and team members' performance.
Integrations: Native integrations to expand the capabilities of the tools you use every day.
Cross-platformability: Web apps, native software and mobile apps for completing tasks anywhere, on any device.
In some cases, you might get most of the features above from one, comprehensive project management system but many focus on a few key feature groups. As you'll see from the tools we're looking at in this article, some are more adept at task management while others are better for team collaboration, marketing features or reporting.
Naturally, marketing teams want a project management system that specifically makes it easier to plan and manage marketing campaigns. So you might place more importance on features like campaign planning, marketing-specific project templates and reporting features that are capable of tracking campaign performance or integrating with marketing analytics tools.
For the purposes of this article, we're looking at the top project management systems for providing the specialist features marketing teams need the most.
Pricing: $99/month (all features, for any team size)
TrueNorth is the complete marketing planning and management system designed by marketers for marketers. While there are thousands of project management systems that provide tools for task and workload management, TrueNorth is one of the few platforms to provide a full toolkit for planning marketing campaigns.
Its innovative meeting-less ideation system helps your team produce better marketing ideas faster without getting bogged down in unproductive meetings. Team managers can request ideas from individuals, groups or the entire team and they can develop ideas independently or collaborate on them together within TrueNorth.
Team members can also call in teammates for feedback or assistance on developing ideas so you've got a list of workable ideas to develop in the very first meeting.
With a list of thought-out marketing ideas, you can use TrueNorth's campaign simulator to test them and predict their outcomes, based on your historical performance data. This allows you to prioritise and run with the ideas that have the strongest potential and put your budget where it's calculated to generate the biggest ROI – all based on data, not intuition.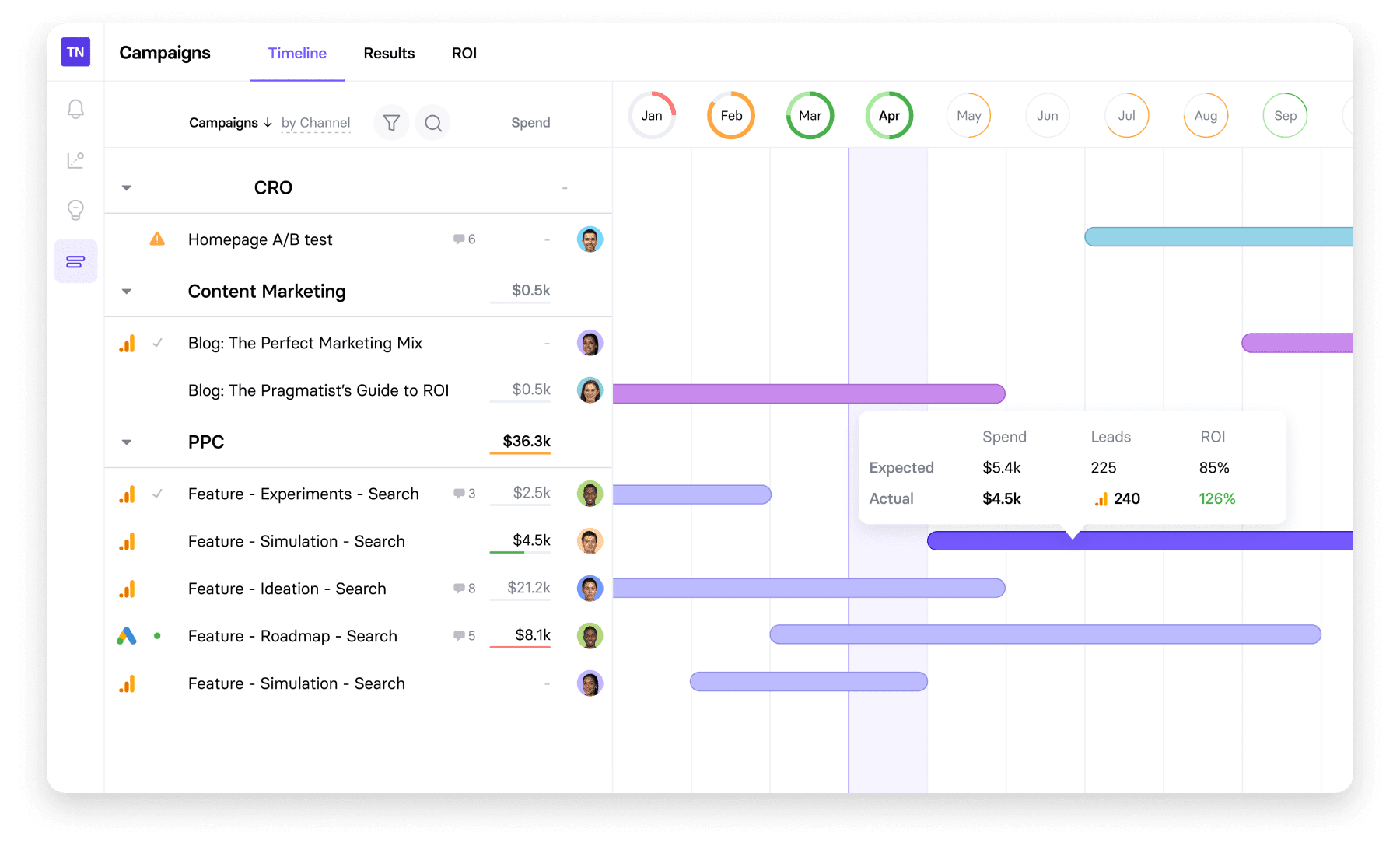 Key features:
Campaign tracking: Stay on top of everything with a single view. All campaigns – whether running now or upcoming – across all channels.
Growth projection: Guide your team to the right decisions with data-driven predictions.
Campaign simulator: Predict the outcome of campaign ideas and select the best strategies.
Milestones: Set milestones for campaigns, based on data-driven projections, and optimise campaigns to constantly hit targets.
Campaign tracking: Measure campaign performance vs simulations, make adjustments and resimulate to identify the changes that'll maximise performance.
Campaign ideation: Generate winning campaign ideas faster with collaborative ideation and simulation.
Idea capture: Collect ideas from your team outside of meetings so you're ready to develop the strongest concepts right away.
Prioritise ideas: Quickly prioritise strategies and campaign ideas using the Impact, Confidence and Ease (ICE) framework, backed up by your data-driven campaign simulations.
Historical comparisons: Compare new ideas with what you've tried before to build new campaigns based on what really works, not just gut feeling.
Agile analytics: The Analytics interface makes it easier than ever to adapt fast when a campaign isn't working – or double down when it is.
TrueNorth automatically prioritises your marketing ideas, based on simulation projections and the ICE framework that considers Impact, Confidence and Ease. This calculation strikes the balance between setting the most ambitious marketing goals you can while keeping them achievable with the resources available to you.
Now that you have a list of prioritised campaign ideas, you can use TrueNorth's Timeline tool to plan out your campaign and assign tasks to team members. You can create tasks across channels, set goals and milestones, and import data from relevant sources (Google Analytics, Google Ads, Facebook, etc.) to track the performance of each marketing activity.
Once your campaigns are running, you can track results and compare them against projections to see where marketing actions are hitting targets, missing them or overachieving. This allows you to respond to underperforming campaigns faster and test fixes or increase budget on over-performing marketing actions to maximise ROI.
How much does TrueNorth cost?
TrueNorth isn't priced like most marketing software or project management tools. Instead of running multiple plans at different prices, you get access to all of its features for one, flat fee of $99/month. This covers you for unlimited team members so you don't have to worry about per-user pricing, upgrade fees or any hidden charges.
You can use TrueNorth for free by signing up for the 30-day trial with no obligation to upgrade or any payment details required. This is a full-access trial that allows you to use all of the system's features without any restrictions so you can get an accurate picture of how much value it will add to your team.
TrueNorth pros & cons
TrueNorth pros
Built for marketers by marketers: TrueNorth is the only dedicated marketing management software we're aware of that's built specifically for marketers, by marketers.
Campaign simulator: TrueNorth's innovative campaign simulator helps you prioritise campaign ideas, choose the best creatives and optimise performance with greater precision.
Simple pricing: For £70/month, you get access to all of TrueNorth's features for your entire team – no hidden fees, user-based pricing or upgrade expenses.
Usability: TrueNorth is optimised to help you launch and optimise campaigns faster without spending unnecessary time fiddling with features and settings in the software.
TrueNorth cons
Marketing focus: If you're primarily looking for a project management system that moonlights as marketing management software, the other options in this list may be more suitable.
No free plan: As part of TrueNorth's simple, flat-rate pricing model, there's no free plan available (but you can try it for 30 days, for free).
TrueNorth verdict
TrueNorth is the only product of its kind currently available, providing a complete system for planning and managing your marketing campaigns. The system helps you produce better marketing ideas, test campaigns before risking any of your budget and track the performance of campaigns from start to finish.
With TrueNorht's data-driven insights, you can optimise campaigns with confidence, make informed decisions faster and ensure your marketing budget is always allocated to maximise ROI. No other project management system provides this depth of marketing-specific features for planning and managing winning campaigns.
Free plan available; pricing from $99/month
Basecamp is a no-nonsense project management system that aims to make teamwork more effective with productivity and collaboration tools. It's not the most feature-heavy project management system but its simple pricing model makes it an excellent tool for larger teams and the uncomplicated user experience means team members can pick up and use the system from day one.
You can manage and assign tasks with to-do lists and set due dates with automatic follow-ups as deadlines approach. Team members can access a list of all of the tasks assigned to them and update statuses as they progress through their workload. Basecamp also includes a built-in calendar for scheduling and managing tasks with native integrations for Google Calendar, Outlook and iCalendar.
Team managers can also set up automatic check-ins to get status updates on tasks or workloads without constantly asking the same questions or interrupting team members while they're making progress.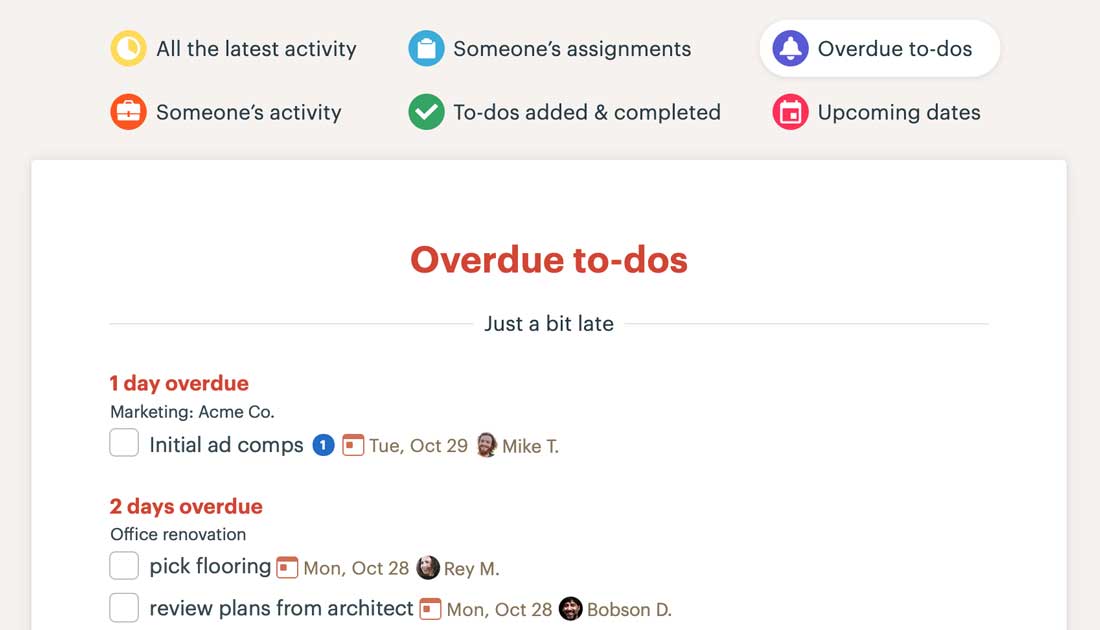 Key features:
Unlimited projects: Create as many projects as you need to keep things organised.
Task management: Make lists of work that needs to get done, assign teams, set due dates and discuss.
Message board: Post announcements, pitch ideas, progress updates, etc. – and keep feedback on-topic.
Group chat: Chat within groups for brainstorming and collaborative sessions.
Schedule: Set important dates on a shared schedule and integrate with your favourite calendar app.
Docs & files: Share docs, files, images and spreadsheets and organise files into folders.
Automatic check-ins: Create recurring questions so you don't have to pester your team about what's going on.
Project templates: Save time by rapidly spinning up similar projects.
Basecamp also offers up some decent collaboration features, starting with its built-in Docs & Files system. Team members can share docs, files, images and spreadsheets, and organise everything into files so everyone has easy access to the resources they need.
Every new project you create has a dedicated space for storing and sharing files, giving everyone assigned to the project access in an easy-to-find location.
The other big collaboration features centre around team communication with Basecamp's message board and group chat tools. On the message board, team members can post announcements, pitch ideas, add progress updates, provide feedback and any other information useful for the whole team involved in the project. Team members can also use the group chat features to discuss ideas, provide in-depth feedback, collaborate on tasks in real-time or casually chat amongst themselves.
How much does Basecamp cost?
Basecamp offers a free Personal plan designed for "personal projects, students, freelancers, families, and light use" that covers you for three projects, 20 users, 1GB of storage and most of the platform's features. That's a generous free plan by most standards, making Basecamp an excellent free option for personal use.
Obviously, marketing teams aren't going to get what they need from the free plan – so what's going on with Basecamp's pricing?
Much like TrueNorth, the company runs a flat-fee model at $99/month for unlimited users – no plans, upgrades or hidden fees to worry about.
The paid version of Basecamp includes every feature and allows you to manage unlimited projects with no usage restrictions or concerns about paying for additional users. Once again, you can try the full version of Basecamp for 30 days by signing up for a free trial with no credit card details required – and you can cancel at any time.
Basecamp pros & cons
Basecamp pros
Useful free plan: Basecampa's free plan gives you access to most features with reasonable usage restrictions.
Simple pricing: The Pro version of Basecamp runs a simple, flat pricing model with no hidden surprises.
Usability: Basecamp is easy to pick up, learn and use for everyone on your team.
Basecamp cons
Limited features: Basecamp is relatively basic in terms of project and task management.
Lack of reporting: No project, workload or team member reporting.
Basecamp verdict
Basecamp isn't the most comprehensive project management system, lacking some of the features we've come to expect from products in this category: multiple project views, reporting, advanced task management, etc. Even still, it delivers the core essentials in an easy-to-use platform and the flat-fee pricing model with unlimited users makes this an ultra-affordable option for large teams.
Very small teams may get a little more in terms of features for their money on the cheapest plans from other providers, but you'll almost certainly have to pay for additional users, deal with usage limitations and face upgrade fees in the future – none of which you have to worry about with Basecamp.
If you want a simple but effective project management system for your whole team – one that's going to cost the same amount every year – then, Basecamp is a compelling option.
Free plan available; paid plans start from $9.80/month (per user)
If you're looking for the more advanced project management features Basecamp doesn't provide, then Wrike is an excellent alternative for marketing teams. The company runs a dedicated product for marketing teams alongside multiple plans for other business types, which we'll explain in more detail as we discuss Wrike's pricing in the next section.
First, let's talk about some of these advanced project management features you can get your hands on with Wrike.
You get extensive task management features (not only to-do lists) that you can prioritise in personalised dashboards. Once you create a new task, you can assign it to individuals or groups, attach files, discuss details through embedded messages and update statuses as your project progresses. You can also view projects and tasks in multiple views, including interactive boards, Kanbans, spreadsheets and tables.
Wrike's collaboration features step things up as well. Once again, you can share files but Wrike incorporates its own real-time editing system so team members can work on files at the same time, provide feedback and get items approved faster.
Key features:
Live activity stream: Real-time activity management at the global, project and task levels.
Interactive boards: View workloads in Kanban boards, spreadsheets and tables.
Interactive Gantt charts: Easily schedule and visualise project plans and deadlines with a simple drag-and-drop interface.
Custom workflows: Build customised workflow stages for projects and campaigns.
Resource management: Ensure the right resources are available for each campaign.
Real-time reports: Track campaigns in real-time and build custom reports from scratch or using built-in templates.
Time tracking: Track the time spent on tasks and automatically produce timesheets for activities and workloads.
Automation Engine: Automate repetitive tasks with trigger actions and responses.
Campaign templates: Launch campaigns faster, using templates, and edit them to meet your own requirements.
Reporting is another strength of Wrike, which provides real-time insights on project progress and team performance with a library of reporting templates for you to easily showcase data to shareholders. With time tracking, you can see how long it takes to complete specific tasks and plan future projects more accurately while identifying tasks or processes that hold up progress.
Building on the task management features, Wrike also helps you manage the workloads of everyone on your team so you can maximise productivity while avoiding burnout. You can view workloads and schedules to assess the time team members have available before assigning additional tasks, view task completions and outstanding tasks to see how well they're managing the work already assigned to them and identify specific tasks they're particularly good at or struggle with.
How much does Wrike cost?
Wrike offers a more comprehensive project management system than Basecamp but it also comes with a more complex pricing model. The company offers a free plan for 1-5 users that includes most of the platform's project and task management features with limited storage space, collaboration features and reporting (among other things).
All in all, Wrike's free plan delivers a pretty capable project management system for very small teams and paid plans start at $9.80/month per user for the Professional plan, which also allows team members to share dashboards, use interactive Gantt charts and store up to 2GB of data per user.
For a more serious upgrade, you'll have to jump to the Business plan at $24.80/month per user, which opens up Wrike's best automation and reporting features, time tracking, advanced customisation and plenty of other tools. It's a big upgrade but your software fees more than double from the Professional plan that doesn't bring much in the way of additional features.
It would be nice to see some of those Business plan upgrades nudged onto the Professional plan.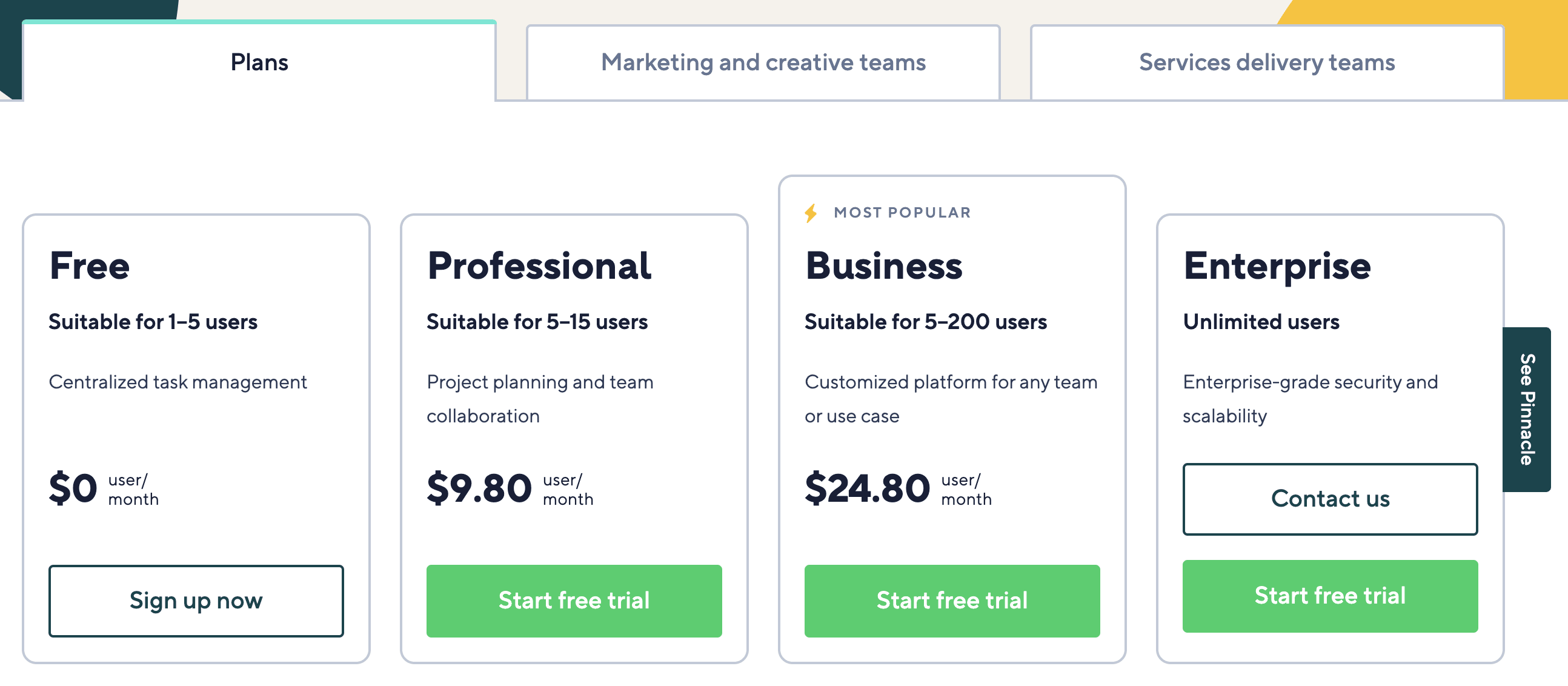 As stated earlier, Wrike also offers a dedicated plan for marketing teams, which includes all of the features available on the Enterprise plan of its standard product, plus the following additional features:
Wrike Extension for Adobe Creative Cloud
Interactive proofing for 30+ file formats across all file types (image, files, video, HTML, SharePoint)
Visual markups and real-time threaded conversations
Side-by-side and overlay asset comparison
Automated multi-level approvals
External stakeholder (guest) approvals
Tailored marketing templates, pre-built dashboards, and advanced reporting & data visualisations
Digital asset management (DAM) integrations
Advanced resource management and capacity management
Marketo, Salesforce + over 400 integrations (Available as Add-On)
First-of-its-kind instant cross-channel campaign performance insights (Available as Add-On)
essentially, you're getting native integrations for creative and marketing software (Adobe Creative Cloud, Marketo, etc.), plus advanced resource management tools and tailored marketing templates for projects, dashboards and reports.
None of these features are going to revolutionise the way your marketing team operates but they will enhance your productivity. For example, you're not getting the same level of genuine marketing features that TrueNorth offers, such as campaign simulation, campaign tracking, marketing planning, etc. Wrike's plan for marketing teams is more centred around resource production and asset management, which is going to benefit content marketing and marketing design teams more than anyone.
Wrike pros & cons
Wrike pros
Features: Wrike packs plenty of project and campaign management features into its software, making it one of the most flexible tools available.
Real-time feedback: If you need real-time updates, reporting and feedback across campaign activity and performance, Wrike's system provides the live insights you need.
Workload management: With real-time feedback, time tracking, collaboration and automation, you can manage teams and individual workloads to maximise productivity and eliminate burnout.
Wrike cons
Speed: Wrike's web app can be a little sluggish at times, especially when.
Navigation: Moving around the interface, finding features and accessing dashboards isn't particularly intuitive and the search function isn't much help, either.
Learning curve: With so many features and a complex architecture, you're looking at a steep learning curve with Wrike.
Wrike verdict
Wrike is one of the most complete project management systems available and its free plan makes a powerful system available to smaller marketing teams of 1-5 members. In fact, upgrading to the cheapest paid plan doesn't bring much to the table in terms of additional features, which reflects the quality of its free plan but also how much of a gap there is between the Professional and Business paid plans.
Either way, Wrike delivers an excellent system at every price point with an abundance of features for teams with complex needs. Compared to TrueNorth and Basecamp, Wrike's per-user pricing model makes the paid plans expensive although most project management software providers use a similar pricing model.
If you compare Wrike to similar alternatives like monday.com and Asana, the software fees are very similar yet Wrike still delivers more at each price point, which is why it earns this spot in our recommendations.
Free plan available; pricing from $5/month
Trello is a collaborative project management system designed around the Kanban board format. The intuitive platform must be one of the easiest-to-use project tools of its kind, even if it does have its limitations for complex projects.
The platform structures projects around a system of boards, lists and cards that you can use to create, categorise and assign tasks to the whole team, groups of members or individuals. This creates an open workspace for teams to manage projects with tasks available for everyone to see – at the expense of lacking any kind of swimlane view for individuals to see their own workload in isolation.
This limitation may be a problem for complex projects or large teams but the platform is a compelling and affordable option for smaller marketing teams. Trello also offers a capable free version with certain feature limitations but it's still a valuable tool for teams on a shoestring software budget, which we'll discuss in more detail in the pricing section.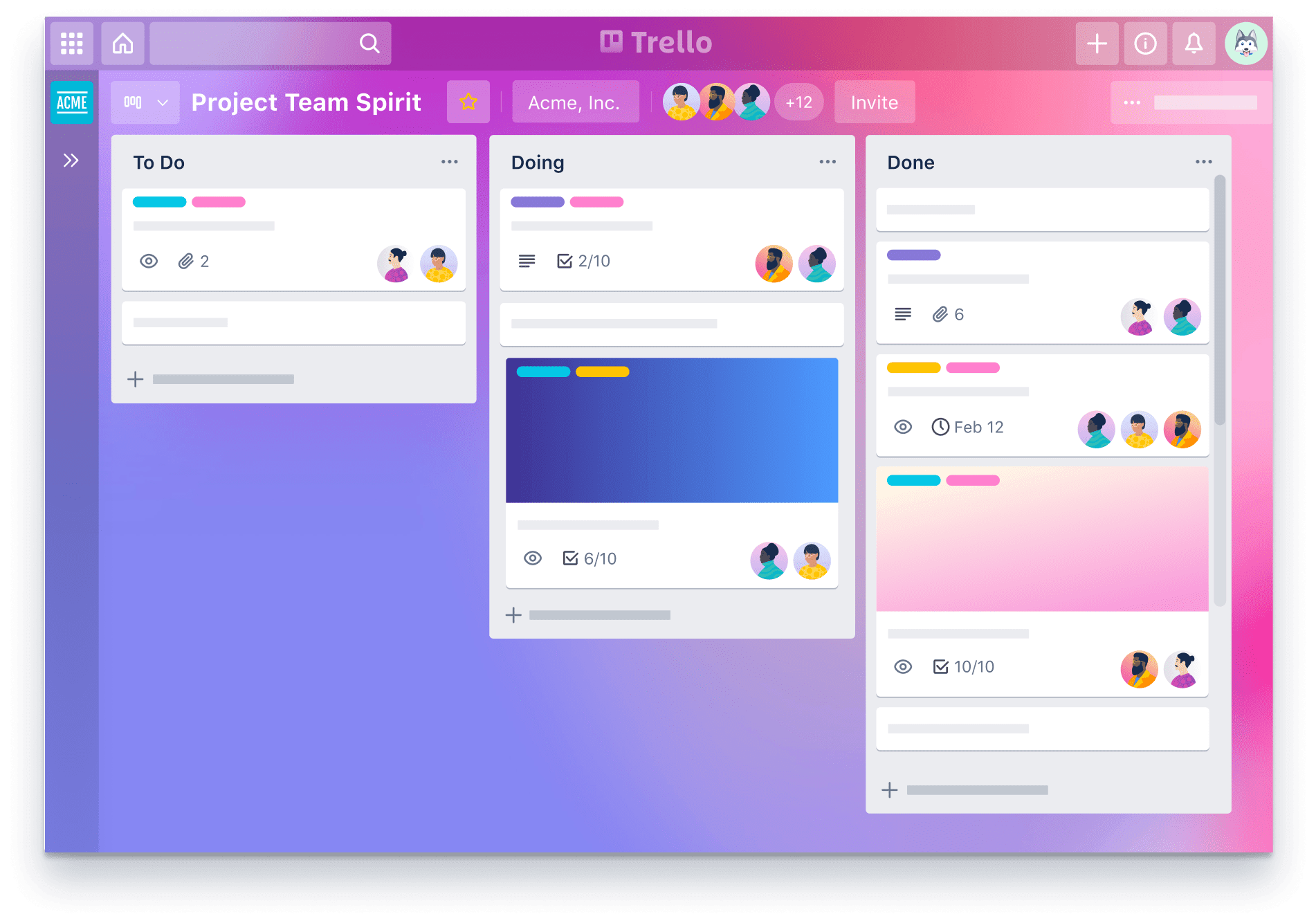 Key features:
Trello boards: Plan campaigns with Trello's signature boards interface, an enhanced version of the classic Kanban format.
Campaign planning: Map campaigns and workloads in boards, timelines, calendars and other views.
Project management: Run projects from start to finish and quickly adapt to agile environments.
Task management: Use lists, cards and checklists to create, assign and manage tasks.
Workload management: Create and manage workloads, assign tasks and update statuses.
Templates: Plan campaigns and projects faster by using Trello's template library.
Automation: Create rules, buttons, and commands to automate almost any action.
Trello also offers one of the best cross-device experiences you'll find among project management systems. Aside from the web app, you can also download the native app for desktop devices and mobile apps for iOS and Android for complete freedom to work from anywhere, on almost any device. The quality of the experience across all devices is excellent, too, with strong consistency across platforms so you can move from one app to another without ever getting lost.
The platform also has its own automation system that you can use to handle repetitive tasks with rules, buttons and commands. For example, you can set up a process so that, when a team member completes a task on a checklist, the status is automatically updated to "Done," the due date is marked as completed and a comment is posted to informal teammates that the item has been reviewed and approved.
How much does Trello cost?
Trello offers a free plan for individuals and teams that covers you for unlimited cards and storage space with up to 10 boards per workspace. You also get an unlimited activity log on the free plan, which is crucial for historical analysis but equally rare on the free versions of project management systems.
The Standard plan costs $5/month per user, allowing you to manage unlimited boards, create advanced checklists and invite guests to view single boards. You can also create custom fields on this plan, save searches and upload larger files up to 250MB each.
Trello's Premium plan is a major upgrade but you're still only looking at $10/month per user. For this, you get several additional views for managing projects:
Dashboard view
Timeline view
Workspace view
Calendar view
Workspace Calendar view
Map view
You can also group boards together into collections, run unlimited workspace commands and create workspaces faster using Trello's library of templates. This is the first plan that comes with priority support that guarantees a response within 24 hours, as well as enhanced admin and security features, Google Apps sign-on and simple data experts.
Finally, you've got the Enterprise plan, which starts at $17.50/month per user and gives you unlimited workspaces and allows you to invite guests to multi-board access – among other things.
Trello pros & cons
Trello pros
Free plan: Trello's generous free plan is open for teams of all sizes.
Affordable: Paid plans are affordable across the board, especially for smaller teams.
Usability: Trello is easy to use and provides an excellent cross-platform experience.
Trello cons
Limited features: Trello's obvious drawback is the simplicity of its platform.
Restricted views: Without the timeline and calendar views available on the Premium and Enterprise plans, Trello's prospects as a marketing planning tool are weak.
Trello verdict
Trello is the ultra-usable Kanban project management system that's affordable at every price point for smaller teams. The free plan offers great value for teams with a limited software budget and the paid plans remain affordable until you've got dozens of team members to manage.
Once you get to this point, the per-user pricing pushes the monthly software fees beyond the features Trello has to offer, even on its Premium and Enterprise plans. Pricing isn't the only reason Trello is better suited to smaller teams, though. The lack of swimlanes and workload management features makes it a poor fit for complex projects or large teams.
Free plan available; pricing from $5/month
ClickUp wants to be the only app you need to manage projects, tasks and the workloads of everyone on your team. The platform gives you 20+ views for managing projects, some of the most comprehensive task management features available from one tool and a built-in collaboration system for creating, editing and working on documents.
You can also customise the system by defining your own item types, setting custom statuses, creating custom fields and adding tags to manage everything on your own terms. Aside from creating and assigning tasks, you can set deadlines, create recurring tasks and use automation workflows to take care of repetitive actions for you.
ClickUp wants to replace your other productivity apps, too. Its built-in chat system is designed to replace Slack while its native Docs app replicates Google Docs by allowing team members to create and collaborate on documents in real-time.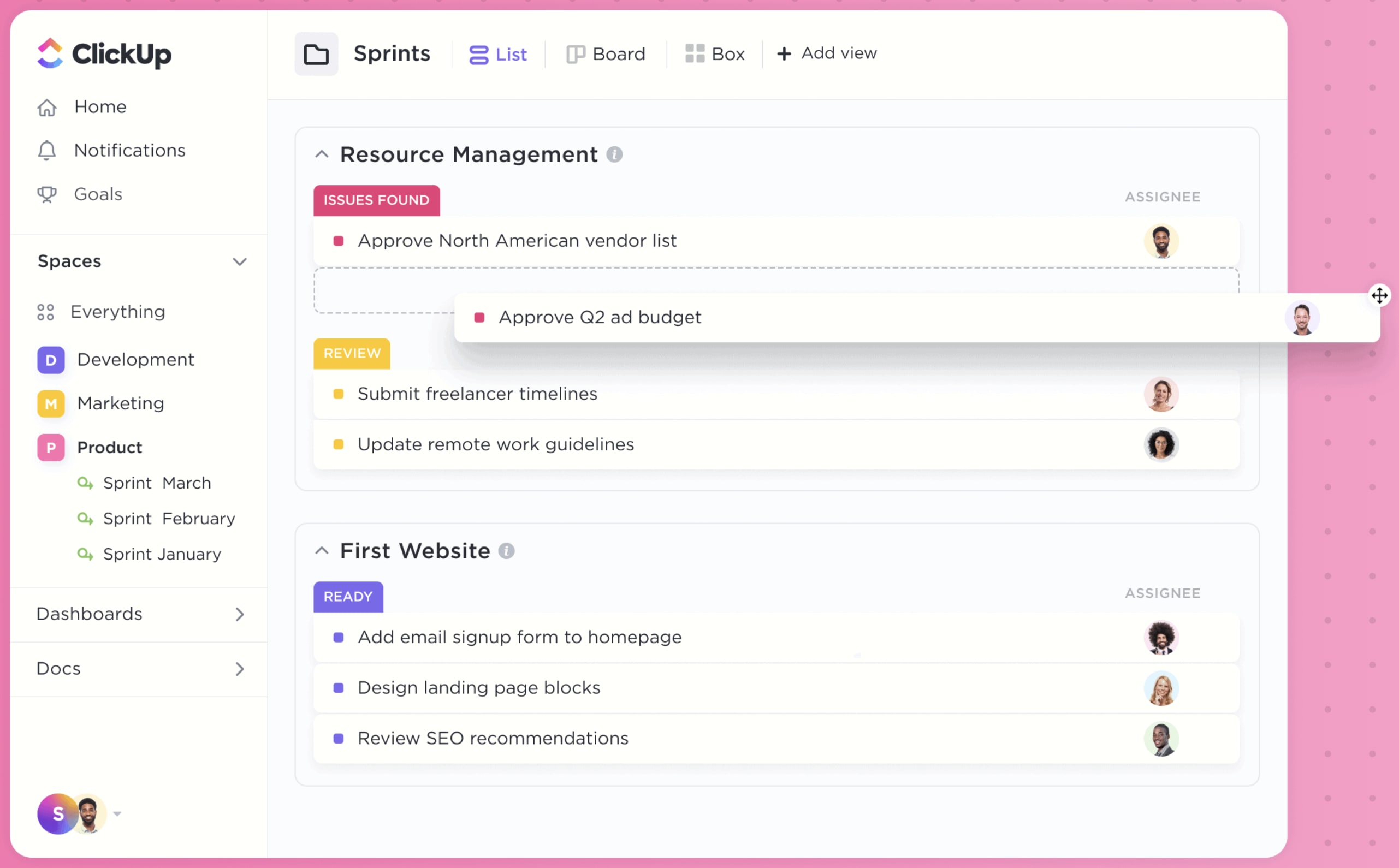 Key features:
Project planning: Plan campaigns and other projects with ClickUp's collaborative system.
Collaboration: Plan and manage projects at every level as a team with email, chat, comments, docs collaboration and more.
ClickUp Docs: Create, manage and collaborate on documents inside ClickUp.
Sprints: Plan and manage marketing sprints with the native Sprint App, available on all plans.
Task management: Create and manage tasks for teams and individuals.
Spaces: Organise teams and departments into Spaces where you can group projects into folders.
Views: Plan and manage your campaigns across 15 different views, including lists, boards, calendars and more.
Reporting: Set goals and track progress with built-in reporting.
Time management: Track time, estimate tasks durations and analyse team performance.
Marketing templates: Plan campaigns and marketing projects faster with ClickUp's library of templates.
Automation: Cut out repetitive tasks using 50+ actions, triggers and conditions with pre-built, customisable recipes.
ClickUp's collaboration features keep on coming with its interactive whiteboard for planning projects, brainstorming and working together on resources. Then, you've got in-app video recording for team members to capture messages, record anything on their screen and provide face-to-face feedback.
Once you've planned your next project, you can implement your plan with project templates and built-in dashboard templates with real-time reporting to keep track of progress and team performance. As your project runs, you can track the time it takes to complete tasks, invite guests to contribute and reassign tasks to maximise productivity.
For marketing teams specifically, ClickUp's dedicated features for planning sprints is another big gain and you won't get this from most project management systems.
How much does ClickUp cost?
ClickUp runs a grand total of five different plans, starting with its Free Forever plan that covers you for unlimited members and includes a solid set of project management and collaboration features – including unlimited tasks, sprint management, real-time chat and time tracking.
Paid plans start at $5/month per user for the Unlimited plan and this gets you unlimited storage, integrations, dashboards, Gantt charts and custom fields. You can also manage teams on this plan, invite guests and manage resources for each project.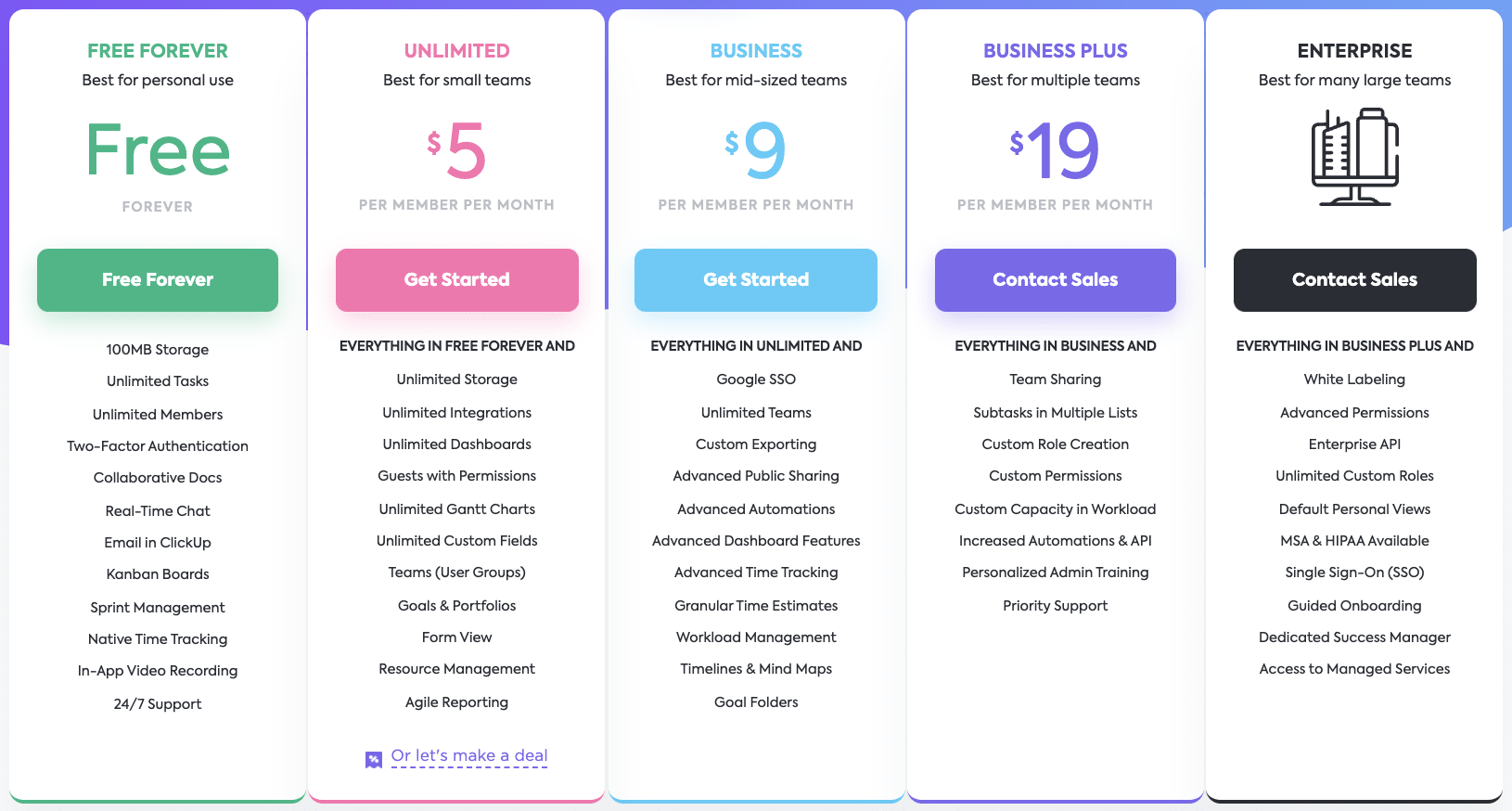 The Business plan is priced at $12/month per user and you can manage unlimited teams with advanced dashboard features, advanced time tracking, workload management, timelines and a more serious set of project management tools, in general. This is where you'll start to see the best of ClickUp's capabilities and the asking price is highly competitive for a comprehensive system like this.
The Business Plan steps things up even further for $19/month per user with team sharing, custom roles, advanced permissions and the best of ClickUp's automation features.
By this point, your monthly fees are starting to creep up but ClickUp offers so many features that you're going to spend less money on other software tools – so keep this in mind when you're comparing prices.
ClickUp pros & cons
ClickUp pros
Collaboration: ClickUp provides one of the most collaborative systems we've used without compromising productivity.
Usability: Despite the depth of features worked into its platform and the extent of collaboration tools, the standard of usability ClickUp achieves is impressive.
Marketing planning: While it doesn't compete with TrueNorth when it comes to marketing planning, ClickUp offers more in this regard than the other alternatives.
ClickUp cons
Mobile apps: As good as the web app experience is, the UI design on the mobile apps isn't as intuitive.
Learning curve: The depth of features comes with an inevitable learning curve that you're not going to get from simpler tools like Trello.
ClickUp verdict
ClickUp is one of the most comprehensive project amendment systems on the market – and so much more. The platform wants to replace dozens of productivity tools your team needs to get things done every day and at a fraction of the price.
As a project management system, ClickUp is as good as anything we've used and, as a general productivity platform, it's even better if you're signed up to the Business plan or higher. In terms of marketing features, it's no match for TrueNorth but this is a different type of platform entirely – one that offers the greatest flexibility for your money.
What's the best project management software for marketing teams?
Now that we've reviewed the best project management systems for marketing teams, let's see how they stack up against each other. In this final section, we compare each of our software recommendations for the following three qualities:
Pricing
Features
Usability
For pricing and features, we've put a couple of comparison tables together so you can easily see how each of the products fares against its rivals. Hopefully, this will give you a better idea of what each system has to offer and what you're getting in return for your money.
For the usability section, as this is more of a subjective quality, we pick the top three products for usability and explain what makes them stand out.
The best for pricing
We've taken a good look at the pricing of each product independently but it's always easier to compare pricing when you see the numbers tallied up against each other. With SaaS products, this is a little tricky because you've got multiple plans and different features sets to compare at different prices – so, ultimately, you have to sit down and compare pricing pages in detail.
However, to help illustrate which of the products we've looked at today offer the most value for money, our comparison table shows which ones offer a free trial, the starting price of the cheapest paid plan available and the starting price of the most expensive plan listed on their website.
| Tool | Free plan? | Starting price | Top plan |
| --- | --- | --- | --- |
| TrueNorth | – | $99/mo | – |
| Basecamp | Yes | $99/mo | – |
| Wrike | Yes | $9.80/mo | $24.80/mo |
| Trello | Yes | $5/mo | $17.50/mo |
| ClickUp | Yes | $5/mo | $19mo |
All of the products we've looked at today offer a free plan, with the exception of TrueNorth, but most of these are designed for individuals – so they're not particularly helpful for marketing teams. They're also highly restricted in either features, usage or both so you have to be honest about your needs when you sign up to a project management system.
ClickUp and Basecamp are the most affordable options for teams, thanks to their flat-free pricing models that give you access to all of their features for $99/month, no matter how many people are on your team.
All of the other products charge fees on a per-user basis, which means the cheapest Wrike plan available becomes more expensive than TrueNorth and Basecamp for teams of 11 people and you're not even getting the best out of Wrike at this price point. Upgrade to Wrike's Business plan and five users make it more expensive than TrueNorth and Basecamp – and this isn't even Wrike's top plan, it's just the most expensive starting price listed on its website.
The best features for marketing teams
As we stated at the beginning of this article, marketing teams have unique needs from a project management system. In most cases, the best you can hope for is marketing project templates to help you plan faster and, very occasionally, you'll get built-in marketing reporting or integrations with analytics systems to import your marketing data.
To quickly compare the products in this article, we've narrowed down the feature offering to five key things marketing teams need:
Marketing planning
Ideation
Task management
Team communication
Marketing reporting
TrueNorth is the only platform we've looked at today that provides all five of these features although it's not as strong as some of the other options when it comes to task management and team communication. TrueNorth focuses squarely on marketing planning and management so, for example, its task management features are designed specifically for this, while the likes of Wrike and ClickUp provide extensive task management features for a wide range of project types.
| Tool | Marketing planning | Ideation | Task management | Team comms | Marketing reporting |
| --- | --- | --- | --- | --- | --- |
| TrueNorth | Advanced | Advanced | Basic | Basic | ✔ |
| Basecamp | – | – | Basic | Basic | – |
| Wrike | Basic | Basic | Advanced | – | ✔ |
| Trello | – | – | Advanced | Basic | – |
| ClickUp | Basic | – | Advanced | Advanced | – |
In terms of marketing-specific features, TrueNorth is the clear winner before we even talk about its campaign simulator and data-driven optimisation, which none of the other platforms offer. That being said, if you're looking for a more general-purpose project management system, then something like Wrike will deliver the flexibility you need and it may offer just enough marketing features to strike the right balance for your team.
Alternatively, you may find better value in using two different tools for each purpose, such as TrueNorth for marketing and Basecamp for more general-purpose projects. And at $99/month each, this will be more affordable than most alternative setups for teams of more than 5-10 people.
The best option for usability
Usability is always a tricky topic because quality experiences mean something different to everyone and we don't all have the same expectations from software products. Some of us obsess over every minor UX detail while others simply want a tool that gets the job done with minimal fuss – and most of us are probably a mix of both to some degree.
To analyse usability as objectively as we can, we assess the following characteristics every time we test a new software product:
Smooth operation: The software runs smoothly without any lags or slowdowns as you interact with elements.
Navigation: Elements, tools, settings and everything else you interact with is easy to find.
Minimal clicks: Simple actions require no more than 1-3 clicks to complete and more complex actions (eg: settings changes) within a reasonable number of clicks.
Action completions: The quantity of meaningful actions you complete vs time spent interacting directly with the software.
Based on these factors, three of the tools featured in this article stand out in terms of usability: TrueNorth, ClickUp and Trello. In fact, these particular three products could compete with any software tools on the market when it comes to product design – so let's take a moment to discuss why they're so impressive.
TrueNorth
As the newest platform featured in this article, you would hope TrueNorth delivers a modern, sleek user experience and you won't be disappointed. Intuitive navigation and clean interfaces make it easy to find everything in the platform and interact with features.
The platform guides you through the early setup process, prompting you to set marketing goals and run your first growth projection. This gets you up and running on the system without having to refer to documentation or figuring out where to start for yourself.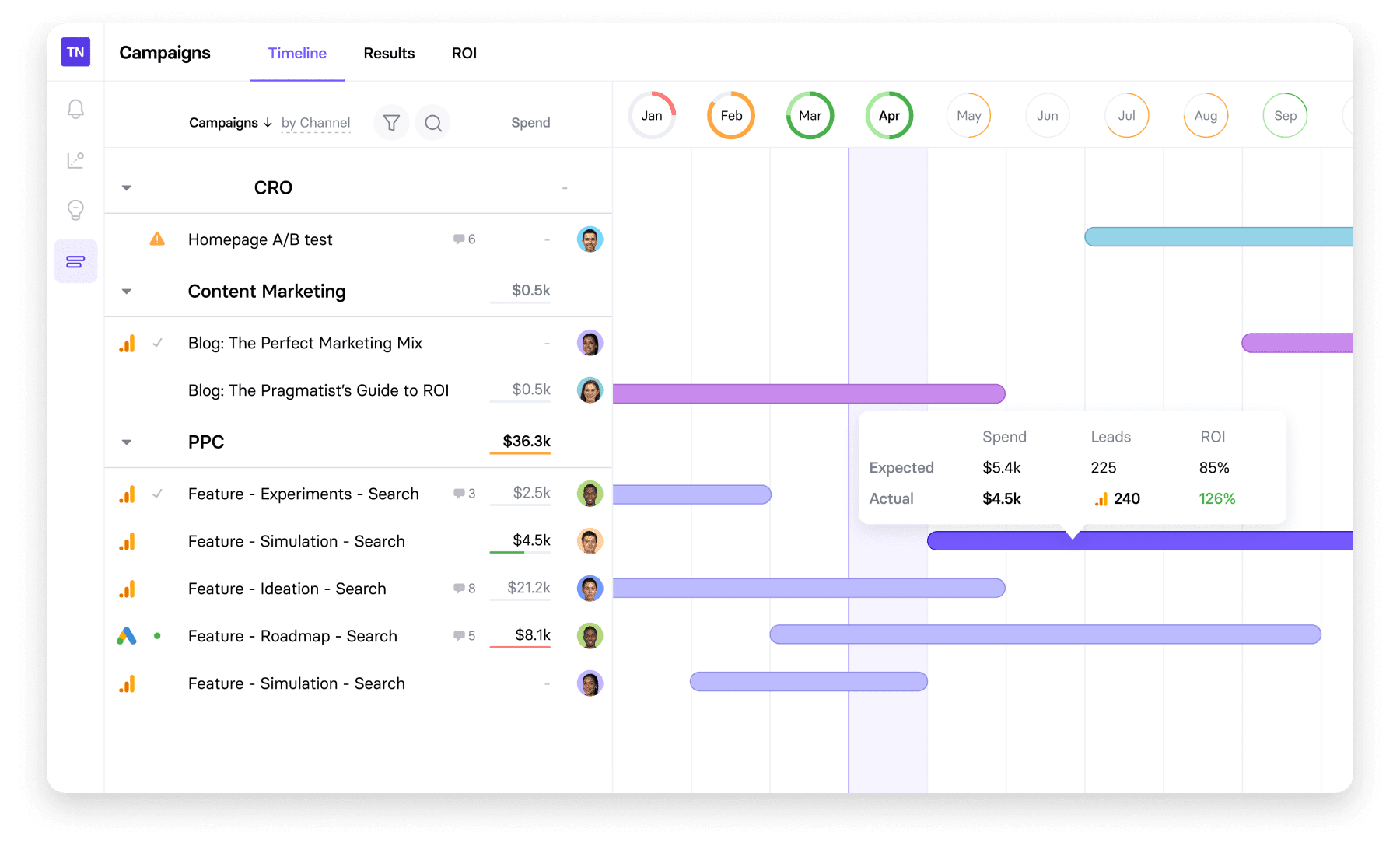 In-app suggestions point you to the features you might want to use next – for example, you might want to run your first ideation session once you've set your marketing goals.
This is where TrueNorth's collaboration system kicks in and this is always challenging from a usability perspective. The problem with collaboration features is they're difficult to implement in a way that doesn't interrupt the workflow of others while they're working on other tasks.
We've run into this problem with almost every collaboration tool we've used, especially systems like Slack that can bombard people with notifications and demand too much of their time in responding to endless messages. Yes, you can prevent this from happening with custom settings but it takes time to find the right balance and the ideal settings you want aren't always available.
To avoid these issues, TrueNorth takes a lightweight approach to collaboration by providing tools for specific tasks, not open-ended collaboration features. For example, there's no instant messaging or chat feature in TrueNorth but you can start collaborative ideation sessions where team members can discuss ideas for a specific marketing goal.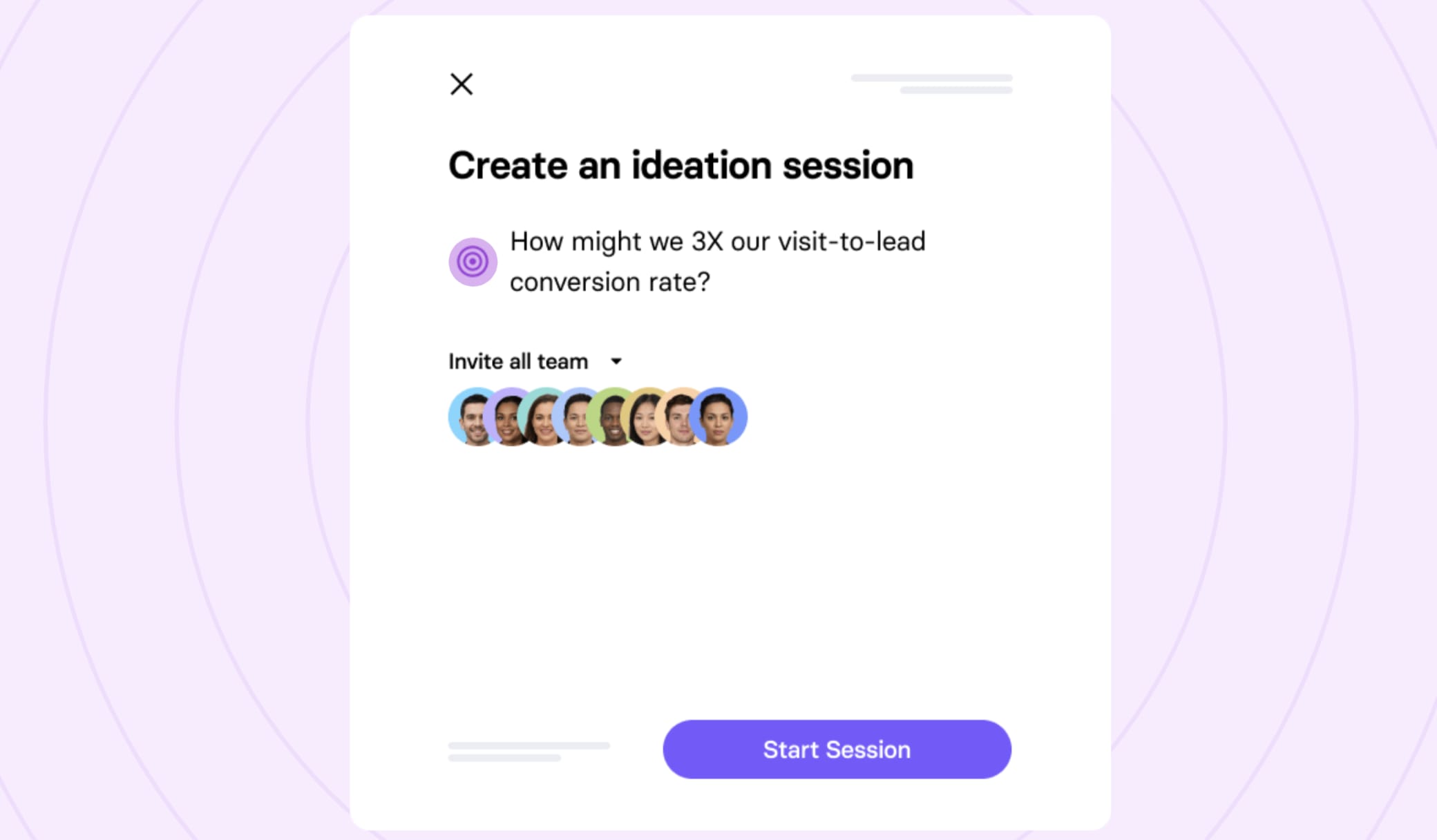 Team members can also request feedback from colleagues and add comments to items in the timeline, tagging relevant people that need to contribute. In TrueNorth, collaboration always has a purpose and the features are optimised to increase productivity, not interrupt people when they're busy with other things.
For example, the meetingless-ideation feature allows you to generate better marketing ideas from fewer meetings while the campaign simulator tests and prioritises them for you, based on data-driven insights. Having the ability to do all of this from one system is already a big win for usability (normally, you would have to switch between half a dozen tools) and TrueNorth's product design enhances this further by empowering your team to achieve more with fewer clicks and repeated actions.
ClickUp
If you test all of the products recommended in this article, you'll notice that ClickUp and TrueNorth feel the most similar in terms of usability. ClickUp definitely crams more features into its software but both platforms adopt similar philosophies to visual design, navigation and user interfaces – and this is no bad thing at all.
However, unlike TrueNorth, ClickUp doesn't take the lightweight approach when it comes to collaboration features (or any set of features, for that matter).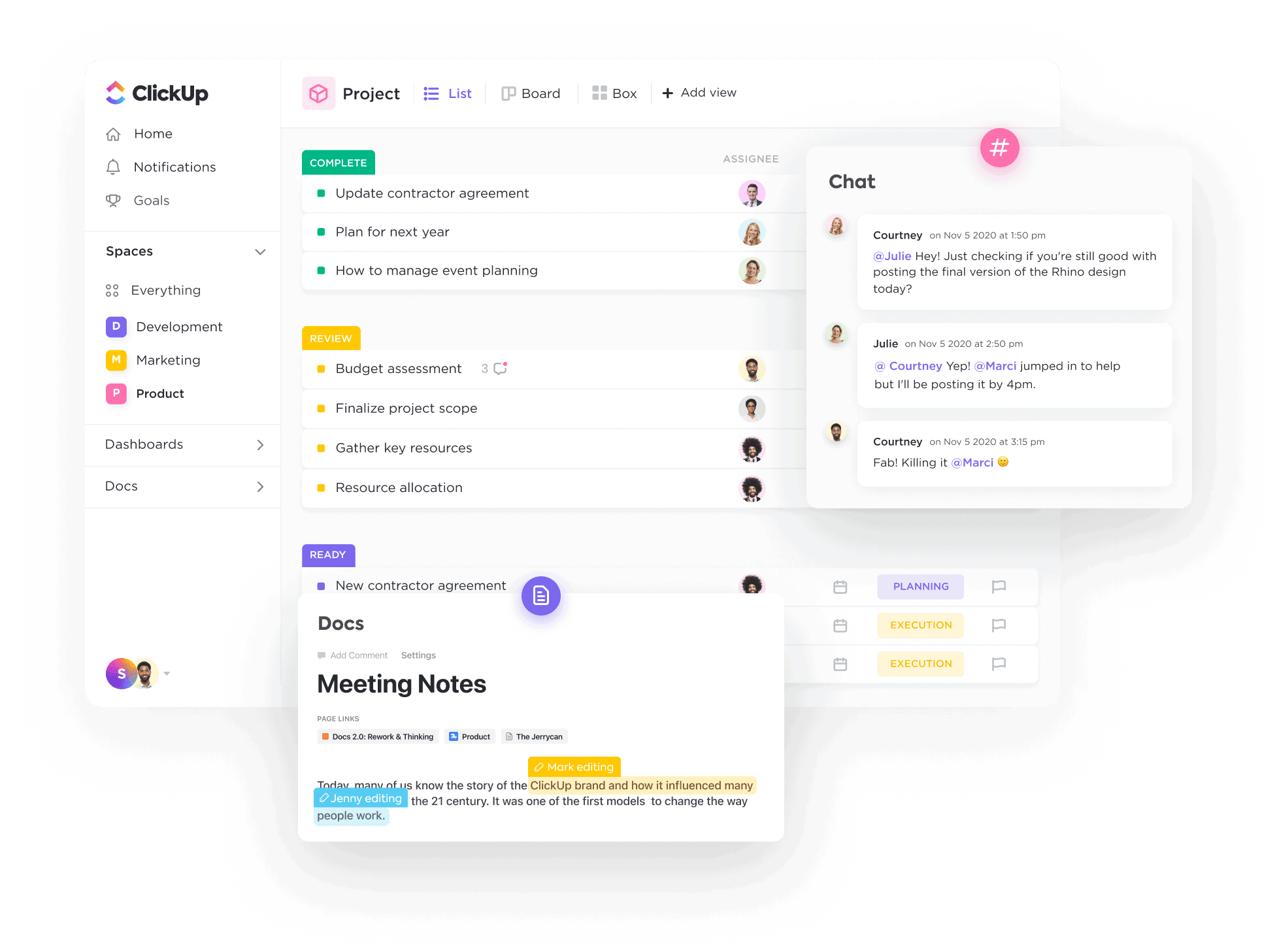 You've got a built-in chat system that's just as open-ended as Slack, a Docs app capable of replacing Google Docs – complete with real-time collaboration and editing features – and several other collaborative planning features.
As a result, you're going to spend more time interacting with ClickUp's software than you will with TrueNorth and completing tasks can require more work. That being said, when you consider how many features the company squeezes into a single platform and how apps this single product can replace, the usability never really suffers.
Team managers may have a harder time ensuring that team members are being productive with ClickUp, due to the more open-ended nature of the platform, but that's the only real potential downside. The built-in time tracking features will help with this, too, and everyone will benefit from being able to complete more tasks without switching between half a dozen productivity apps.
Trello
Trello fully launched in 2014 with its simple redesign of the traditional Kanban project management system. The platform has always had a strong reputation for usability, thanks to the company's design ethos of simplifying the complex and, despite being one of the oldest platforms in this article, the core experience is almost exactly the same as the day it launched.
Trello shows how well quality product design can age and the platform still benefits from its relative simplicity and careful consideration of features.
The obvious drawback to Trello is its limitation in core project management features but this is all part of the company's design philosophy. It's not as straightforward as less simply being more but a combination of running with a smaller selection of high-impact features and intuitive UI design – all for the purpose of maintaining a calculated balance of value vs complexity.
It's an easy design philosophy to praise and a brave one to aspire for but a difficult one to pull off effectively, especially in a crowded market of feature-heavy alternatives.
Yet, Trello places this ethos at the heart of its business and you can see how this not only influences the design of the product itself but also the branding, the pricing strategy and the target audiences it prioritises. Without this authenticity, the company wouldn't be able to strike this difficult balance as well as it does but Trello still stands out as a top recommendation after almost a decade.
Which is the best project management software for your team?
Every team is different and the first step to choosing a project management system is knowing your priorities. Every platform we've looked at in this article offers something different. Some offer extensive marketing features while others are more focused on core project management – you have to decide where the ideal balance lies for you.
If you're looking for the best platform for managing marketing projects, then TrueNorth is an ideal choice.
However, TrueNorth isn't suitable for managing other project types but the other options recommended in this article offer more flexibility at the expense of losing key marketing features, such as marketing planning, ideation, campaign simulation and growth forecasting.
At the opposite end of the spectrum, we have options like ClickUp, which not only offers some of the most extensive project management features but also a bunch of other productivity tools that can replace several other apps.
You can also get the best of both worlds by using TrueNorth for planning and managing your marketing projects and another system like ClickUp for other project types. In fact, TrueNorth's flat-fee pricing model and ClickUp's ability to replace several apps, could make this particular duo the best-value combination overall.