Small details can make all the difference in winning marketing campaigns and having the right tools to help your team maximise performance in every task is invaluable. Today's marketing teams have a wealth of tools available to manage campaigns more effectively and we've tested dozens of different solutions here at Venture Harbour over the years.
In this article, we take a look at the top campaign management software systems currently available to help you choose the right platform for your needs. We explain what you should look for from campaign management software, review the best solutions on the market right now and compare them head-to-head so you can choose with confidence.
What are we looking at in this article?
This article aims to help you choose the best campaign management software for your team. As a technology-driven company, we've invested a lot of time into testing out different software solutions so we can find the right setup to maximise our efficiency.
It's been a long journey and we'll continue to tweak our tech stack but we've learned a lot about testing and choosing software tools over the years – and we want to use this knowledge to help you choose your ideal campaign management software.
Here's a summary of what we're looking at today:
The bulk of this article is product reviews of our top recommendations but, first, we're going to run through the top features and qualities you should look for in campaign management software. Then, we get into the reviews of each product where we explore the key features they offer, the pricing and plans available, the pros and cons of each platform, and our verdict on each platform.
Finally, we compare each of our recommendations in a head-to-dead comparison section, stacking up the pricing details, features and usability of each software tool.
What are we looking for in campaign management software?
Campaign management software should cut out the inefficiencies of running marketing campaigns but it's important to remember that all marketing teams are different. Some work in traditional office environments with fixed teams while others engage in agile, flexible frameworks that may involve remote working, rotation of personnel and deep collaboration with other teams (eg: marketing and product development).
Likewise, some companies are more invested in certain marketing channels than others. For example, your company may rely heavily on content marketing, SEO and email marketing while others will prioritise paid media, account-based marketing, affiliate programs and a range of other strategies.
As a result, it's important to know what you need from campaign management software because you'll almost certainly benefit from certain specialist features only available on some platforms. Again, if you're heavily invested in email marketing, features like email automation and subject line optimisation tools could decide which campaign management system is best for you but companies that prioritise other channels will be better off with another platform.
Obviously, we can't tell you which of these specialist features you need but we can run through the key essential features any company or marketing team should look for in campaign management software.
Campaign planning
If you find generic project management platforms don't provide the marketing features you need specifically for managing campaigns, keep an eye out for systems that include plenty of campaign planning features. Providers that take campaign planning seriously are more likely to also offer the features you need to manage marketing campaigns over other project types – such as campaign tracking and reporting.
Aside from that, campaign planning features will improve the quality of your campaigns and it makes sense to get these features from the same platform you use to manage them.
Here are some of the campaign planning features you should look out for:
Campaign goals & milestones: Set goals and milestones by defining marketing KPIs and metrics with the ability to track them as your campaign runs.
Ideation: Features and tools that help you and your team create better marketing ideas.
Campaign simulation: Predict the outcome of campaigns to choose your best idea before spending any budget.
Timeline: Map out the timeline of campaign activities and the workload of team members.
Budget management: Data-driven tools to help you set and allocate marketing budget to each campaign.
Campaign templates: Project templates that help you plan specific campaign types faster – especially important if you choose a project management system to run your campaigns.
Campaign tracking: Built-in features for tracking campaigns or the ability to import data from platforms like Google Analytics.
Campaign planning features like these are a key characteristic that separate campaign management software from standard project management systems that often lack the depth of marketing tools you need.
Marketing timelines or schedules
project management systems tend to include several different "views" that allow you to visualise your data in different ways – eg: timelines, lists, Kanban, workloads, etc. For managing marketing campaigns, the timeline view is the most important of these, both for planning and managing your campaigns.
The timeline view allows you to map out all of the marketing activities in your campaign to make sure you have enough time and resources to complete them all in your specified time frame. You can set start dates and deadlines to view the duration of tasks, as shown below in TrueNorth's Timeline view below:
Most project management systems include a timeline view but they're often reserved for the more expensive plans – so make sure you check this before you sign up for anything.
The timeline view in project management software isn't designed specifically for managing marketing campaigns, either. If you look at the TrueNorth Timeline view above again, you can see columns showing marketing spend and a hover tab showing data points for expected spend, leads and ROI vs the current actual figures for active marketing actions.
This timeline view is designed for planning and managing marketing campaigns, not a generic UI for visualising all project types. The issue with generic timeline views is they tend to only offer basic visualisations and limited data that's more geared towards task management. They can't offer the same depth of marketing features a platform like TrueNorth can because campaigns are only one of many project types they have to cater for.
Task management
Task management is a key part of running campaigns but this is an area where you have to make certain compromises. The thing is, you're going to get the best task and workload management features from project management software rather than platforms geared more towards running marketing campaigns. While all of the platforms we're looking at in this article provide features and tools to help you manage marketing tasks, some of them are better than others in this regard.
With some of our recommendations, you'll get task management features similar to those you would expect from project management software (or close to it). Others include a more simplistic set of features for assigning tasks to team members and setting statuses – something we'll assess as we review each software recommendation.
Predictive technology
Predictive technology uses your data to forecast future outcomes and help you make smarter marketing decisions. Instead of simply reacting to past events, you can foresee events and put strategies in place to take full advantage of opportunities at their peak.
Most of the platforms we're looking at in this article offer predictive features of some nature but there's a lot of variation between them. For example, a couple of them include predictive lead scoring features to help you forecast the likelihood of prospects converting so you can focus your marketing efforts on the most promising leads.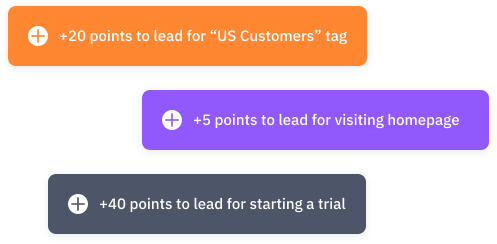 Another tool uses predictive technology to calculate how long certain tasks will take your team to complete and TrueNorth has its own campaign simulator that predicts the outcome of campaign ideas so you can run with your best ideas and optimise live campaigns against projections.
Campaign reporting
Another key characteristic to look for in campaign management software is that it should include dedicated campaign reporting. You can't manage campaigns with guesswork so you need a system capable of tracking performance, collecting the data you need to gain insights and visualising this data effectively so you can analyse campaigns and optimise performance.
Again, all of the platforms recommended in this article include campaign reporting features to varying degrees. Aside from looking for native reporting features, you should also pay attention to the integration options available on each platform and any data import features that allow you to pull data in from other platforms like Google Analytics.
Campaign experiments
Marketing campaigns aren't something you can set and forget – they require ongoing analysis and optimisation. This is why it's so important that your campaign management software includes adequate reporting features. Expanding upon this, you should also look for campaign experiment features that allow you to test changes and maximise performance.
Earlier, we explained that project management software generally offers the best task management features and it's a similar story with campaign experiments. Realistically, you're going to get the best testing features from dedicated CRO software but some of the platforms we're looking at today offer surprisingly advanced tools for running campaign experiments.
Marketing automation
As we discussed during the introduction of this article, the primary purpose of campaign management software is to help you and your team run campaigns more effectively. To cut out the inefficiencies of your marketing processes, you need automation features capable of handling your most repetitive and time-consuming tasks for you.
Automation is a key component of any modern marketing software system but the depth and quality of features vary greatly across different products. This is true of the campaign management systems we're looking at today, too. While all of the products featured in this article include their own automation features, they range from relatively basic to advanced enough that you can automate entire marketing campaigns.
The all-in-one campaign planning & management system
TrueNorth is a marketing planning and campaign management platform designed to help you produce better marketing strategies – and manage them more effectively. The software is built around a marketing tracking system that pulls all of your data into one place but reporting and analytics is only the beginning.
With TrueNorth's predictive campaign simulator, you can forecast the outcome of campaign ideas to project results. This allows you to test strategies before you risk any of your marketing budget and you can also use this feature to prioritise your ideas and run with the best campaign briefs.
The simulator helps you produce better marketing strategies and run with your most promising ideas, making TrueNorth a powerful system for planning campaigns.
The feature is equally valuable for marketing management, too, because you can run campaigns against your simulations to identify performance issues earlier and fix them before they squander too much of your budget. Likewise, you'll identify overperforming campaigns faster, giving you the chance to allocate more budget to top-performing campaigns and maximise your ROI.
With campaign simulation, you have to track performance for days or weeks to get an accurate picture of performance – not the case with TrueNorth.
The platform's predictive technology also allows you to forecast potential fixes for underperforming campaigns and adjust campaign settings to see the impact they'll have on your campaigns. For example, if one of your campaigns isn't generating enough revenue, you can calculate how much you need to increase traffic to hit your revenue target, based on your current conversion rates.
With this info, you can decide whether to increase spend on inbound strategies to increase traffic or prioritise other strategies (eg: conversion rate optimisation) to achieve your goals.
Key features:
Campaign planning: Develop winning marketing ideas faster with built-in tools for each stage of the creative process.
Marketing timeline: Map out your marketing timeline and assign tasks to get the best out of your team.
Campaign tracking: Stay on top of everything with a single view. All campaigns – whether running now or upcoming – across all channels.
Growth projection: Guide your team to the right decisions with data-driven predictions.
Campaign simulator: Predict the outcome of campaign ideas and select the best strategies.
Milestones: Set milestones for campaigns, based on data-driven projections, and optimise campaigns to constantly hit targets.
Campaign reporting: Measure campaign performance vs simulations, make adjustments and resimulate to identify the changes that'll maximise performance.
Campaign ideation: Generate winning campaign ideas faster with collaborative ideation and simulation.
Idea capture: Collect ideas from your team outside of meetings so you're ready to develop the strongest concepts right away.
Prioritise ideas: Quickly prioritise strategies and campaign ideas using the Impact, Confidence and Ease (ICE) framework, backed up by your data-driven campaign simulations.
Historical comparisons: Compare new ideas with what you've tried before to build new campaigns based on what really works, not just gut feeling.
Agile analytics: The Analytics interface makes it easier than ever to adapt fast when a campaign isn't working – or double down when it is.
So far, we've spent a lot of time talking about campaign simulation in TrueNorth because this is one of its most innovative features and you can use it to improve your marketing results in so many ways. This isn't the only feature that deserves our attention, though. At its heart, TrueNorth is a marketing tracking system that uses data to help you make more profitable marketing decisions but it also provides you with the tools you need to make full use of this data.
This starts at the very first stage of planning new campaigns with its collaborative ideation features that help your team produce winning ideas faster. Marketing managers can request ideas from individuals and groups through the software, encouraging them to brainstorm and flesh out ideas before you even hold your first meetings. This means you can forget about those unproductive creative meetings where everyone stands around trying to come up with ideas on the spot.
By the time you hold your first marketing meeting, you've already got a list of ideas to discuss and, once again, the campaign simulator helps you test and prioritise the best of them.
TrueNorth scores your campaign ideas and automatically prioritises them using the Impact, Confidence and Ease (ICE) framework, backed up by your data-driven simulations.
With your best marketing campaigns approved, you can create your timeline and plan out the workloads of everyone on your team. The visual timeline builder helps you map out everything to ensure enough time is dedicated to each marketing action to achieve your goals on time and the required resources are always available.
And, once your campaign is live, TrueNorth tracks performance and maps it against projections so you can see how the real-world numbers stack up.
How much does TrueNorth cost?
Most software providers run complex pricing models with multiple plans at different price points and feature limitations. These plans are also normally priced on a per-user basis so your $30/month software fee multiples to $3000/month for a relatively small team of 10 – and more if you want to add more team members in the future.
These pricing models result in spiralling software fees for companies and a lot of confusion when you're signing up for a new product.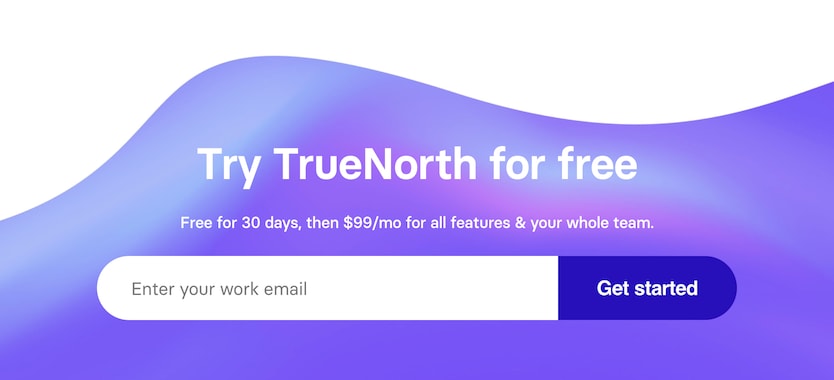 TrueNorth isn't like other providers, though. It doesn't run multiple plans, complex pricing or multiply your fees for every member on your team. You simply pay $99/month to get all of TrueNorth's features, for your whole team, so you don't need to worry about usage limits, upgrades or higher fees if you make changes to your team.
The only downside is there's no free plan but you can try TrueNorth out for 30 days with a free trial.
TrueNorth pros & cons
TrueNorth pros
Built for marketers by marketers: TrueNorth is the only dedicated marketing management software we're aware of that's built specifically for marketers, by marketers.
Campaign simulator: TrueNorth's innovative campaign simulator helps you prioritise campaign ideas, choose the best creatives and optimise performance with greater precision.
Simple pricing: For $99/month, you get access to all of TrueNorth's features for your entire team – no hidden fees, user-based pricing or upgrade expenses.
Usability: TrueNorth is optimised to help you launch and optimise campaigns faster without spending unnecessary time fiddling with features and settings in the software.
TrueNorth cons
Marketing focus: If you're primarily looking for a project management system that moonlights as marketing management software, the other options in this list may be more suitable.
No free plan: As part of TrueNorth's simple, flat-rate pricing model, there's no free plan available (but you can try it for 30 days, for free).
TrueNorth verdict
TrueNorth is an all-in-one marketing planning and management system that helps your team produce winning campaigns. It takes out the inefficiencies of strategic planning so you can develop lists of high-quality marketing ideas faster, test campaigns before risking any budget and prioritise your best strategies – based on data, not intuition.
The campaign simulator isn't only good for testing campaign ideas during the planning stages, either. You can compare live campaign results against projections and take action faster, instead of analysing results for days or weeks to get an accurate picture of performance. You can identify and optimise underperforming campaigns faster or increase spend on campaigns beating projections to take full advantage of their performance.
With TrueNorth, you can make smarter marketing decisions faster to get the most out of your marketing budget from every campaign.
The best for email marketing campaigns
ActiveCampaign is a marketing automation system that uses your customer data to drive growth marketing strategies. So, while TrueNorth uses your marketing data to improve the quality of your strategies, ActiveCampaign uses a mix of customer and website data to guide leads along the sales funnel, mainly through automated email marketing strategies.
For example, you can run automated cart abandonment email campaigns to chase up customers who quit the session before completing their purchase. Or, you can build an automated customer onboarding sequence designed to guide new customers through the setup process and follow-up with any prospects who fail to complete onboarding.
So we're talking about a very different system from TrueNorth here but these aren't competing products. In fact, we use both TrueNorth and ActiveCampaign here at Venture Harbour – TrueNorth for planning and managing our marketing strategies and ActiveCampaign specifically to automate email marketing and customer service.
Key features:
Email marketing: Everything you need to manage winning email marketing campaigns – email builder, templates, campaign workflows, reporting and more.
Marketing automation: ActiveCampaign delivers some of the best marketing automation features around.
Lead nurturing: Turn leads into paying customers by nurturing them through the buying process.
Customer cycle management: Manage campaigns at every stage of the customer cycle, from lead capture to the first purchase and beyond.
Predictive technology: Predict lead scores, customer value and send predictive content in your emails.
Website tracking: Build hyper-relevant campaigns by tracking website activity and automatic email delivery.
Personalisation: Create personalised customer experiences across multiple channels.
Built-in CRM: Manage all of your customer data in ActiveCampaign with its built-in CRM.
Marketing reporting: Track campaign performance and optimise results.
Like TrueNorth's signature feature is its campaign simulator, ActiveCampaign's defining feature is its advanced marketing automation system. We've used dozens of automation platforms over the years and ActiveCampaign isn't only the most powerful but also the most flexible. You can basically create and automate entire marketing strategies with this platform.
This isn't simply another if this, then that automation system; ActiveCampaign is an intelligent automation platform that turns your customer data into marketing insights – and action.
You can target audiences with hyper-relevant email marketing campaigns based on the actions they take on your website, data-driven lead scores, their purchase histories and, even, how they interact with your email content. This allows you to deliver messages at every stage of the funnel and guide prospects towards their next purchase.
With ActiveCampaign's built-in CRM, you can start building customer profiles before they even make the first purchase and create target groups based on lead scores, interaction types and a range of other characteristics. As you learn more about your leads and customers, you can use this data to prioritise high-value prospects to maximise conversion and customer value.
Predictive technology makes another showing with ActiveCampaign but we're not talking about a campaign simulator here. Instead, predictive lead scoring uses historical comparison data to predict the likelihood that new leads will convert into customers so you can focus your marketing efforts on the prospects most likely to generate ROI.
How much does ActiveCampaign cost?
Hopefully, you enjoyed the simplicity of TrueNorth's pricing model because things are about to get more complicated. ActiveCampaign runs four different plans at different price points and, although the company doesn't charge on a per-user basis, there are user limitations on each plan.
In addition to this, the price of each plan increases based on the number of contacts (customer profiles) you store in the CRM.
For example, the $9/month Lite plan covers you for one user and 500 contacts but this increases to $29/month once you exceed the 500 contact limit (the new limit becomes 1,000).
If you want more than one user on your account, you'll have to sign up for the $49/month Plus plan which covers you for up to 25 users and 1,000 contacts, as standard. Once you exceed 1,000 contacts, the Plus plan jumps up to $99/month with a new limit of 2,500 contacts.
The Plus plan also opens up more advanced features, including a landing page builder, advanced reporting, marketing automation, lead scoring and task reporting.
The Professional plan starts at $149/month, covering you for up to 50 users and 2,500 contacts. It also introduces website personalisation, predictive email sending, predictive content, advanced attribution, win probability, in-app messaging and plenty more. This is the plan where you really open ActiveCampaign's full potential in terms of automation and predictive technology.
Again, the monthly fees for the Professional plan increase as your contact list grows, jumping to $209/month for up to 5,000 contacts, $339/month for 10,000 contacts, $549/month for 25,000 contacts and so on.
Yes, this pricing model takes some time to get your head around but ActiveCampaign is the best platform we've used for managing marketing automation and email marketing – and it's more affordable than comparative alternatives.
ActiveCampaign is enterprise-grade software but the company has created a pricing model that makes it affordable for smaller and growing businesses to buy into. The platform is designed to drive growth by increasing sales so you can sign up for as little as $9/month and upgrade once revenue increases and you're ready to invest more into the system.
Take some time to study the pricing page, get familiar with what's on offer at each price point and determine how much value this technology can add to your business.
ActiveCampaign pros & cons
ActiveCampaign pros
Marketing automation: ActiveCampaign is the best marketing automaFactivwtion system we've used and far more affordable than similar products.
Built-in CRM: Manage all of your customer data in one place and use it to maximise sales.
Lead nurturing: ActiveCampaign excels at nurturing leads into paying customers and customers into repeat buyers.
Low entry price: ActiveCampaign's pricing model allows small and growing businesses to buy into growth software only enterprise companies can normally afford.
ActiveCampaign cons
Complex pricing: The downside to ActieveCampaign's pricing model is complexity – you have to know what you're signing up for and understand your future software fees.
Learning curve: Given the depth of features available in ActiveCampaign, it's going to take time for your team to get familiar with everything.
ActiveCampaign verdict
ActiveCampaign is a comprehensive CRM, email marketing and marketing automation platform that rivals some of the most advanced marketing software in the industry. It boasts some of the best automation technology around and the predictive features available on its Professional plan are as good as any.
The complex pricing and jumps in monthly fees are unfortunate but the company has taken a bold move by making enterprise-level marketing software available to small businesses from fees starting at just $9/month. As you'll see when we look at HubSpot in the next section, this is remarkable considering the price points of similar software options, even if the complexity is a little confusing at first.
Multichannel campaign management software
HubSpot has a lot in common with ActiveCampaign although it places a little more emphasis on inbound marketing strategies (blogging, social media, account-based marketing) than email and automation. Once again, the platform includes a CRM for managing your customer data and merging sales and marketing processes.
You also get a landing page builder, live chat and chatbots, web forms, email marketing and multichannel campaign management tools.
HubSpot's automation technology isn't as advanced as ActiveCampaign's and this also has an impact on the kind of email marketing campaigns you can create. ActiveCampaign's drag-and-drop automation builder gives you complete freedom to automate almost any sales and marketing process while HubSpot is a little more limited.
On the plus side, the quality of marketing tools in HubSpot is exemplary – for example, the landing page and form builders are easier and more pleasing to use than the equivalent tools in ActiveCampaign. Usability is impressive across the board with HubSpot's marketing software – although you have to get through a convoluted onboarding and setup process to enjoy it.
Key features:
Campaign management: Manage and collaborate on your campaigns in a single view.
Ad management: Create audiences from your HubSpot contacts database, and see which ads are generating customers.
Chat technology: Add chat bots and live chat to your website for lead capture and customer support.
SEO tools: Identify SEO issues on your website, learn how to optimise your pages and produce better blog content.
Social media tools: Schedule posts, monitor terms and analyse performance across your social channels.
Email marketing: Send bulk emails that are tested and optimised for different devices and inboxes.
A/B testing: Run A/B tests on landing pages and emails to hone in on the best performing variations in copy and design.
Predictive lead scoring: Automatically score and rank leads based on hundreds of factors so you can focus on the contacts most likely to convert.
Campaign reporting: Get in-depth, customisable data on your marketing performance – so you know how you're doing and where to improve.
HubSpot's marketing suite offers some of the most comprehensive campaign management and marketing tools for multichannel strategies. If your priority is generating leads from inbound channels (SEO, social media, PPC, etc.), then it's an excellent platform – as long as you're willing to pay the price (more on this in the next section).
Keep in mind, the Marketing Hub is just one of many products HubSpot sells, meaning its sales and customer service platforms are separate products entirely. Unlike ActiveCampaign, which includes all of its marketing, sales, automation and support features in a single product, you'll have to pick and choose products with HubSpot – and pay for them, of course.
How much does HubSpot cost?
One of the negatives we discussed with ActiveCampaign was its complex pricing but don't expect things to get any easier with HubSpot. In fact, this is the most complex (and expensive) pricing model we're going to discuss in this article – so strap yourself in.
As we touched on in the previous section, the Marketing Hub is one of several products the company has on offer. As things stand, HubSpot currently runs five core products across its integrated suite of software, including the Marketing Hub.
In this article, we're only really interested in the Marketing Hub but just remember that you'll have to sign up and pay for additional products if you want the best of HubSpot's sales and service software, as well as its CRM (its free CRM is highly capable, though).
Pricing for the Marketing Hub starts from $45/month for the Starter plan, which covers you for 1,000 marketing contacts. You can store up to 15 million regular contacts on HubSpot's CRM with all paid plans but your monthly fees are determined by the number of marketing contacts – ie: the contact you reach out to with emails, automation and other interactions.
Another thing to keep in mind with pricing on the Marketing Hub is that you're not charged for the users on your account. You're charged for the plan you sign up to, the features these include and the number of marketing contacts you reach via HubSpot.
On the Starter plan, monthly prices increase by around $45/month for each additional 1,000 marketing contacts although the additional fee drops to $36/month for each additional 1,000 contacts after you exceed 4,000.
To put that into context, you'll pay $396/month for 10,000 marketing contacts on the Starter plan, $936/month for 25,000 and $1,836/month for 50,000.
The Professional plan starts at $800/month, covering you for up to 2,000 marketing contacts with price increments of $224.72 for each additional 5,000 marketing contacts. So, once you exceed 2,000 contacts on this plan, your fees will jump up to $1,025/month with a limit of 7,000 contacts and this continues each time you exceed your current limit.
These jumps of 5,000 users make the Professional plan quite expensive because it only takes one extra marketing lead to bump you up to the next plan.
You also have to consider HubSpot's setup fees for the Professional plan, which adds another $3,000 to your up-front payment. So, if you're signed up for the cheapest Professional plan (2,000 contacts), you're facing a $12,600 up-front fee before you even get started, including 12 payments of the $800/month subscription fee and the $3,000 setup fee.
HubSpot pros & cons
HubSpot pros
Inbound marketing: HubSpot is an excellent platform for multichannel inbound marketing.
Usability: HubSpot's system provides a great user experience, except for the convoluted setup process.
Free tools: HubSpot throws in an excellent range of free tools, most notably its free CRM.
HubSpot cons
Expensive: HubSpot is an excellent platform but an expensive one, especially compared to ActiveCampaign.
Complex pricing: Plans and pricing are similarly complex to ActiveCampaigns but significantly more expensive.
HubSpot verdict
HubSpot is one of the best marketing systems available and a great platform if you're looking for an all-in-one solution for marketing, sales and customer service. The downside is you need deep pockets to buy into the system, especially if you want to incorporate the Marketing Hub with other products. With HubSpot's pricing model and setup fees, you have to put down thousands in an up-front payment before you even get to grips with the platform so this is a serious software investment we're talking about.
Luckily, HubSpot backs up its prices with an excellent marketing management system and, if we ignore the pricing, HubSpot just about has the edge on ActiveCampaign, except for email marketing and automation. However, as soon as you bring pricing into the equation, it becomes more difficult to recommend HubSpot Active Campaign, which delivers 90% of the same features for a fraction of the price.
Campaign management for content marketing teams
CoSchedule is a marketing management system that specialises in one particular strategy: content marketing. This comes with some obvious limitations but the platform is a solid choice for companies and teams that primarily engage in content marketing, such as publishers, media brands and affiliate marketers.
Like HubSpot, CoSchedule breaks its software ecosystem into multiple products but that's pretty much where the similarities end.
CoSchedule's headline product is the Marketing Calendar which offers a free limited plan and a standalone paid plan offering all of the product's features. Then, you've got CoSchedule's Marketing Suite, which includes the company's four main products:
Content Organizer (Content Calendar)
Content Organizer
Work Organizer
Asset Organizer
As you can tell from the naming convention of the products, a key function of CoSchedule is organising various aspects of marketing campaigns. Once again, you've got the content calendar and, then, the Content Organizer that allows you to create, schedule and publish content all from one system. Your team can use the tool to collaborate on content, manage schedules and save pieces for automatic publishing on specified dates.
Key features:
Content Calendar: Map out your content marketing strategy with CoSchedule's trademark content calendar.
Content Organizer: Create, schedule, publish and promote your content from one platform.
Marketing projects: Manage marketing projects with tasks, workload management and collaboration.
Automation: Automate repetitive tasks to speed up planning and project management.
Social management: Manage your social media profiles and automatically publish content across profiles.
Asset management: Store, index and collaborate on content assets in CoSchedule.
Integrations: Extensive integrations with WordPress, Zapier, Google Docs, Mailchimp and plenty more.
Another big feature for content marketing teams is the Asset Organizer that creates a single place for storing and managing content assets. You can upload assets to the system, provide access to team members and update them without any concern about team members using old or outdated assets in new content.
It's a simple solution but it genuinely speeds up content production and helps maintain consistency with everything you publish.
Finally, you've got the Work Organizer, which is essentially a basic project management product for marketing teams. You can create schedules, assign tasks and update statuses and campaign progress – basically, all of the things you would expect from a project management tool, even if CoSchedule's solution isn't as advanced as the big names like Asana and monday.com.
How much does CoSchedule cost?
CoSchedule's pricing model is relatively simple compared to HubSpot and ActiveCampaign but there are a few points we have to cover. First up, we have the free plan to discuss, which is only available for the Marketing Calendar and covers you for a single user, which is fine for entrepreneurs and affiliate marketers but no real help for marketing teams.
CoSchedule also offers a Pro plan for its Marketing Calendar, which will cost you $29/month per user for a maximum of 10 users. The Pro plan opens up team project management features, including tasks, event automation and templates, plus a more sophisticated set of social media features, such as unlimited post scheduling and bulk scheduling.
If you need more than 10 users on your account or you want to access all four of CoSchedule's campaign management products, you'll have to sign up for its Marketing Suite Business plan, which is priced upon application.
CoSchedule pros & cons
CoSchedule pros
Content marketing: CoSchedule is primarily designed for planning and managing content marketing strategies – and it's very good at it.
Asset management: Having a single place to store and access all of your content assets boosts productivity and consistency.
Usability: Strong UX design and the relative simplicity of CoSchedule's software make the platform easy to implement and use.
CoSchedule cons
Limited scope: The focus on content marketing limits CoSchedule for planning on other channels, such as PPC and paid social.
Restrictive free plan: While CoSchedule offers a free plan for individuals, it's so limited that it offers no real value beyond testing a restricted version of the platform – a free trial would be more helpful.
Pricing: Considering the limited scope of CoSchedule's software, $29/month per user feels somewhat overpriced.
CoSchedule verdict
CoSchedule is a great platform for content marketing teams and businesses that primarily engage in content marketing, such as publishers and affiliate marketers. It's not the most flexible platform if you're looking for something to manage multichannel marketing campaigns but it does offer up some unique features that content marketing teams won't easily find elsewhere – eg: asset management and the built-in document editor.
For many teams, these multichannel limitations mean CoSchedule isn't going to be the only campaign management tool they need. More likely, it's an optional extra for teams that identify inefficiencies in their content marketing strategy or production processes and determine CoSchedule adds enough value to justify the asking price.
The project management approach to marketing campaigns
All of the platforms we've looked at so far are designed specifically for managing marketing campaigns but ClickUp is different. This is a project management system that competes more with the likes of monday.com, Asana and Trello than TrueNorth and other marketing management platforms we're looking at today.
However, the issue with project management software is that it tends to fall short on marketing-specific features like campaign reporting, email automation and forecasting. This is because it has to support a wide range of different project types, which can include anything from marketing campaigns and sprint runs to product development, recruitment and many more.
Project management software can't provide specialist features for each type of project so it tends to focus on the core essentials of task management, team reporting and productivity.
ClickUp takes the opposite approach by providing specialist features for several project types, including marketing. You can set campaign (or project) goals, import data from your analytics tools, visualise campaigns with marketing maps, manage tasks and marketing actions and collaborate with ClickUp's native Docs system.
The platform also includes a dedicated Sprints App for planning and managing marketing sprints, plus a range of agile marketing templates to help you plan campaigns quickly.
Key features:
Project planning: Plan campaigns and other projects with ClickUp's collaborative system.
Sprint App: Plan and manage marketing sprints with the native Sprint App, available on all plans.
Task management: Create and manage tasks for teams and individuals.
Spaces: Organise teams and departments into Spaces where you can group projects into folders.
Views: Plan and manage your campaigns across 15 different views, including lists, boards, calendars and more.
Collaboration: Plan and manage projects at every level as a team with email, chat, comments, docs collaboration and more.
ClickUp Docs: Create, manage and collaborate on documents inside ClickUp.
Reporting: Set goals and track progress with built-in reporting.
Time management: Track time, estimate tasks durations and analyse team performance.
Marketing templates: Plan campaigns and marketing projects faster with ClickUp's library of templates.
Automation: Cut out repetitive tasks using 50+ actions, triggers and conditions with pre-built, customisable recipes.
For a project management system, ClickUp delivers an impressive depth of marketing features to help you plan and manage campaigns more effectively. The company has clearly designed its platform with marketing and other agile teams in mind with a goal-centric approach to planning projects. The Sprints App is unlike anything we've seen from other project management and systems and it really elevates ClickUp's ability as a campaign planning and management tool.
Earlier, we talked about the flexibility of project management software making it difficult to offer marketing-specific features. To help make up for this, most providers develop a library of project templates, including marketing templates, to help companies plan and launch campaigns faster.
With most project management systems, you'll get a few marketing templates for the most common project types, such as a generic marketing campaign template, a content calendar and possibly one or two more.
ClickUp's library includes more marketing-specific templates than we've seen from any other project management system and they're also far less generic than you'll typically find elsewhere. There's a template for A/B testing, campaign tracking, marketing sprints, SEO management and a range of agile and sales templates, including two CRM templates, product roadmaps and backlogs.
How much does ClickUp cost?
Like CoSchedule, ClickUp offers a free plan for individuals with limited features and usage restrictions. Paid plans start at $5/month per user for the Unlimited plan, which is designed for smaller teams, allowing you to manage unlimited tasks and create unlimited dashboards with additional views, recurring tasks and the ability to manage one team.
If you want to manage multiple teams in ClickUp, you'll have to upgrade to the Business plan, which is priced at $9/month per user. On this plan, you can manage unlimited teams and create automation with multiple actions and conditions.
With the Business plan, you can also manage team and individual workloads, create timelines and mind maps, create goal folders and use advanced time tracking. The $19/month Business Plus plan gives you team sharing, custom role creation, increased automation and priority support while the Enterprise plan mainly adds advanced security features and some additional customisation options – but you'll have to contact ClickUp's sales team to discuss pricing.
ClickUp pros & cons
ClickUp pros
Collaboration: ClickUp provides one of the most collaborative systems we've used without compromising productivity.
Usability: Despite the depth of features worked into its platform and the extent of collaboration tools, the standard of usability ClickUp achieves is impressive.
Marketing planning: While it doesn't compete with TrueNorth and MarketPlan when it comes to marketing planning, ClickUp offers more in this regard than the other alternatives.
ClickUp cons
Mobile apps: As good as the web app experience is, the UI design on the mobile apps isn't as intuitive.
Learning curve: The depth of features comes with an inevitable learning curve that you're not going to get from simpler tools like Trello.
ClickUp verdict
If you're looking for a project management system that can double up as campaign management software, ClickUp offers more marketing-specific features than anything else we've tested. No, it doesn't compete with the likes of TrueNorth or ActiveCampaign when it comes to managing campaigns but it offers more flexibility for other project types and delivers some unique marketing features for agile teams.
Usability is also a real strength of ClickUp's system, regardless of which plan you're signed up to and the company has done a good job with its pricing model and splitting features across the upgrade path.
Yes, the per-user pricing can rack up your expenses but this is the standard for Saas products and TrueNorth is the only option we've looked at that really breaks this model. Still, with pricing starting at $5/month per user, ClickUp is among the most affordable systems of its kind and even the Unlimited plan delivers a capable camping management tool.
The price jumps between plans are reasonable, too, and the feature incentives are more than enough to make you feel like it's worth upgrading once you max out the potential of your current plan.
Which is the best campaign management software?
We've looked at each software option, one by one, but it always helps to compare directly when you're choosing a system to invest in. All of the platforms we've recommended in this article have their merits but let's take a moment to see how they stack up against each other in the following three key categories:
Pricing
Campaign management features
Usability
For the pricing and features sections, we've put together a couple of comparison tables so you can see how the numbers stack up and the key features you're getting for your money.
The best for pricing
We took a good look at pricing information for each campaign management platform in our reviews but it's always difficult to compare SaaS products with multiple plans, features and pricing to consider. So here's a quick reminder of which platforms offer a free plan, the starting price you can expect and the starting price of the most expensive plan they offer.
| Tool | Free plan? | Starting price | Top plan |
| --- | --- | --- | --- |
| TrueNorth | – | $99/mo | – |
| ActiveCampaign | – | $9/mo | $259/mo |
| HubSpot | Yes | $45/mo | $3,200/mo |
| CoSchedule | Yes | $29/mo | POA |
| ClickUp | Yes | $5/mo | $19/mo |
Keep in mind that most of the prices above are listed on a per-user basis except for TrueNorth and ActiveCampaign. With TrueNorth, you pay a flat rate of $99/month for your whole team and this gets you access to all of its features – no upgrades, price increases or hidden fees to worry about.
ActiveCampaign and HubSpot also charge for the number of marketing contacts you have stored on their built-in CRMs. Considering that the two platforms offer very similar sets of features, you can see how different the pricing becomes as you upgrade to more expensive plans. ActiveCampaign offers an affordable introduction for smaller teams/companies (without the hefty setup fees HubSpot charges) and remains comparatively affordable at the pricier end, too.
In our CoSchedule review, we questioned whether the company needs to offer more for the $29/month starting price, despite offering a free plan and bringing some specialist content marketing features to the table. And the question feels even more relevant when you look at the relatively affordable pricing model ClickUp has put together, especially when it delivers a much greater depth of features than CoSchedule.
The best option for campaign management features
All of the platforms we've looked at in this article have plenty to offer in terms of campaign management but they all take different approaches. You've got the predictive optimisation of TrueNorth, ActiveCampaign's class-leading marketing automation and CoSchedule's emphasis on content marketing to name a few.
With the possible exception of ActiveCampaign and HubSpot, none of these systems could be considered as like-for-like alternatives.
We've put together a comparison table showing each platform's key features to give you an idea of what they have to offer and the different approaches they take to campaign management.
| Tool | Campaign planning | Marketing automation | Marketing analytics | Forecasting | Task management |
| --- | --- | --- | --- | --- | --- |
| TrueNorth | ✔ | – | ✔ | ✔ | Basic |
| ActiveCampaign | – | ✔ | ✔ | – | Basic |
| HubSpot | – | ✔ | ✔ | – | – |
| CoSchedule | ✔ | – | – | – | Basic |
| ClickUp | ✔ | – | ✔ | – | Advanced |
It all comes down to what your priorities are – for example, are you looking for a system to help you produce better campaigns or one to automate entire marketing strategies? It's not like you can only use one of these platforms for managing campaigns, either. We use TrueNorth as our marketing planning and campaign tracking system alongside ActiveCampaign as our email marketing and automation platform.
The best option for usability
You and your team are going to use campaign management software every day so usability is a big factor. It's counterintuitive to use a platform that makes life harder than it needs to be, especially when productivity is such a key part of campaign management.
Whenever we test a new software system, there are four usability characteristics we pay particular attention to:
Smooth operation: The software runs smoothly without any lags or slowdowns as you interact with elements.
Navigation: Elements, tools, settings and everything else you interact with is easy to find.
Minimal clicks: Simple actions require no more than 1-3 clicks to complete and more complex actions (eg: settings changes) within a reasonable number of clicks.
Action completions: The quantity of meaningful actions you complete vs time spent interacting directly with the software.
All of the products we've recommended in this article perform well in terms of usability but three of them really stand out.
TrueNorth
First up. we've got TrueNorth, which delivers a quality user experience across its entire ecosystem. This is the newest software product featured in this article and the freshness of its design is evident. At the same time, TrueNorth's UX is remarkably mature for such a new platform and you can tell it was developed, optimised and refined ahead of release.
The system is designed to help you and your team manage marketing campaigns faster and it aims to reduce the number of clicks and other manual actions required to complete tasks. For example, you can create a new ideation session from the Ideas dashboard with a single click and either manually type in your goal or select from TrueNorth's intelligent suggestions.
In most cases, you'll want to define your own goals for ideation sessions but this is a good example of how TrueNorth provides automated alternatives to manual actions, instead of simply automating the most basic tasks.
Everything is designed to speed up the planning and management of marketing actions so you can spend less time clicking UI elements and more time hitting targets.
ClickUp
ClickUp is a project management system first and this is evident from the design of the whole platform. The system takes traditional design conventions, such as a folder system, list views, dashboards, etc. and combines them into a comprehensive productivity system for teams.
Having used a lot of project management systems over the years, ClickUp's user experience stands out as the most impressive. The interfaces are modern and clean, spread out across a logical architecture and intuitive navigation that never really suffers, despite offering a lot of space for customisation.
When you look at how many features and tools ClickUp has squeezed into its platform, the quality of the UX only impresses further. You've got instant messaging, a complete Docs system, file collaboration, sprint planning, asset management and a tonne more features in addition to the usual task and workload management features you would expect from this kind of platform.
I've used so many comparable platforms that offer far less in features and struggle to integrate them into a user experience half as intuitive as this.
HubSpot
HubSpot is one of the oldest and biggest names in marketing software and usability has been a strength of its products for as long as I can remember. The platform is new enough that it was designed and developed for the modern age of cloud computing unlike some of the older names that were awkwardly adapted from C++ or Java code for desktop applications.
At the same time, HubSpot has been in the game long enough to refine its entire system into a cohesive experience and the company's financial clout has certainly helped with R&D over the years.
HubSpot isn't as fresh and modern as TrueNorth or ClickUp but it's a robust system that performs in all the important areas. If we compare it to its closest competitor in this article, ActiveCampaign, HubSpot wins the usability contest with a more intuitive system overall but also a more consistent experience across the entire platform.
You get the impression that, as a smaller company, ActiveCampaign has had to prioritise some parts of its software over others in terms of ongoing development. Meanwhile, HubSpot has optimised its entire system to the same level over the years and this really shows when you jump into some of the more specialist tools, such as the landing page builder.
Take the drag out of campaign management
With the right campaign management software, you can remove the bottlenecks in day-to-day marketing processes. For marketing teams, productivity means prioritising time and other resources to high-impact activities, not getting bogged down in meetings and admin tasks.
In this article, we've looked at a range of different campaign management systems that all have something unique to offer. No one system is right for everyone but, hopefully, we've covered enough bases to help you choose the right software (or combination of tools) for your team.