HubSpot is one of the leading names in marketing software, offering a full suite of tools designed to help businesses grow. While the likes of Salesforce and Infusionsoft target enterprise businesses, HubSpot offers packages for businesses of all sizes and there's even a free version of each tool that allows businesses to get a feel for what the paid versions have to offer.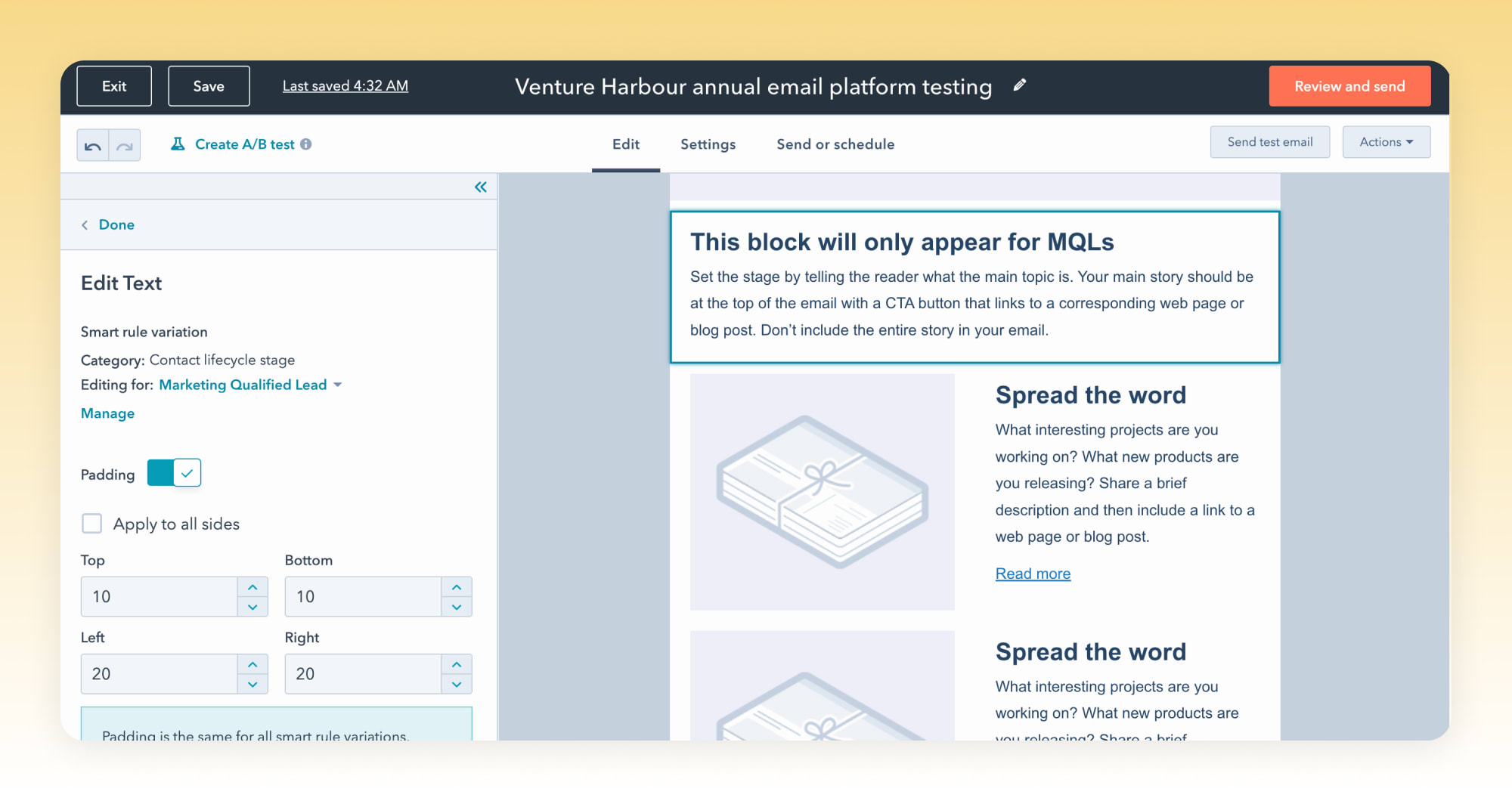 We spent a lot of time working with HubSpot while we were searching for an all-in-one CRM and marketing platform. It's an impressive system, for sure, but it's certainly not perfect and this review is going to assess the pros and cons of using HubSpot as an all-in-one CRM and marketing platform.
HubSpot pros & cons
First, let's take a quick look at the pros and cons of using HubSpot, as a summary of the key points we're going to be looking at in this review.
HubSpot pros
Comprehensive, all-in-one CRM, marketing, sales and automation platform
All the tools you need in one place
High-quality tools across the board
Easy to use
Extensive training material
HubSpot cons
It would be good to have more customisation
Automation isn't as strong as some other options
Price jumps on higher-tier packages can be quite large
HubSpot deserves its reputation as one of the best marketing software platforms on the market. It's not the one we ended up using here at Venture Harbour (more on that later) but that doesn't change the fact that HubSpot is a great option for many businesses.
The platform's biggest asset is the software itself. The quality of HubSpot's tools is excellent and this remains consistent across the entire platform. Usability is another major strength and I could go as far to say this is the best marketing platform in terms of UX, which is particularly impressive considering how many tools and features are available.
The entry prices for HubSpot are highly-affordable, too, making this a genuine option for smaller businesses looking to grow. You will have to pay for this growth, though, because prices do increase as your customer base grows and you sign up to higher-tier packages – and the jumps can significant.
How much does HubSpot cost?
With that in mind, let's take a look at how much you can expect to pay for HubSpot. At a glance, the company's pricing policy looks quite confusing but it's more straightforward than it first appears.
HubSpot breaks its platform into five key products:
A free CRM
Marketing Hub
Sales Hub
Service Hub
HubSpot CMS
You only sign up to the products you need, which means you can get the free CRM and the Marketing Hub, if that's all you need. This means you only pay for what you need but this structure is also a key part of HubSpot's infrastructure that makes it easier to use than many platforms that try to cram everything into a single interface.
For each HubSpot product, there are three different packages: Starter, Professional and Enterprise.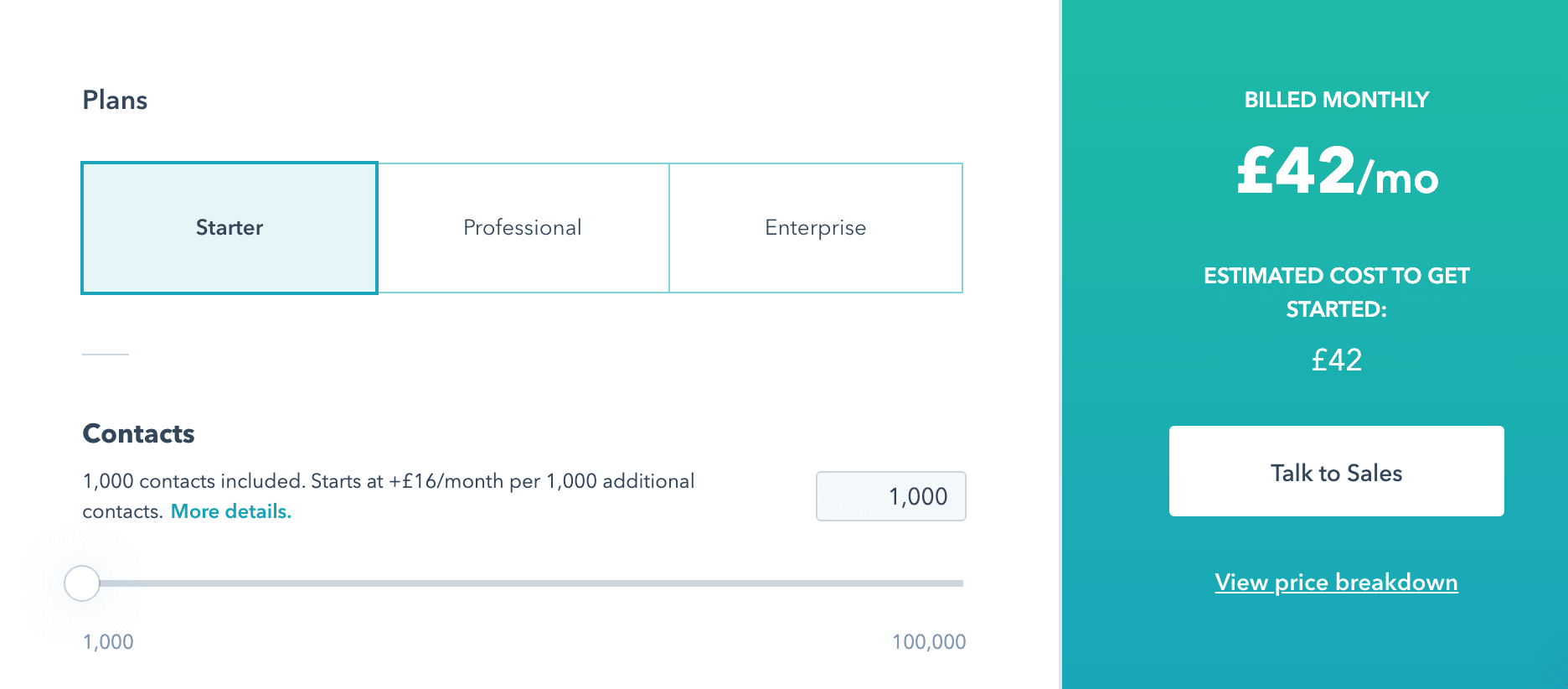 Prices for each of these packages are based on the number of contacts you have on the system. These start at a minimum of 1,000 contacts and here's a quick table looking at the minimum monthly fees for each product and plan, based on 1,000 contacts.
| | Marketing Hub | Sales Hub | Service Hub | HubSpot CMS |
| --- | --- | --- | --- | --- |
| Starter | £42/mo | £42/mo | £42/mo | £245/mo |
| Professional | £655/mo | £410/mo | £330/mo | – |
| Enterprise | £2,624/mo | £990/mo | £990/mo | – |
HubSpot fees are paid on an annual contract basis and it's important to understand this pricing model because your bill will automatically increase if your number of contacts exceeds the price point you're paying at.
It's worth keeping in mind that a platform like HubSpot is designed to help your business grow, which means your contact lists will grow and your software fees will increase – the important thing is how much extra profit and ROI you're achieving along the way with the growth made possible with a platform like HubSpot.
What can you do with HubSpot?
Now that you know what you can expect to pay for HubSpot, let's take a look at what you're getting for your money.
HubSpot offers a free customer relationship management (CRM) tool that any businesses can sign up to. In reality, the free version of HubSpot's CRM isn't going to help serious businesses manage leads and customers to the extent they need. Essentially, this is a lead generation strategy by the company and it seems to work very well (you would hope so from a company in this business).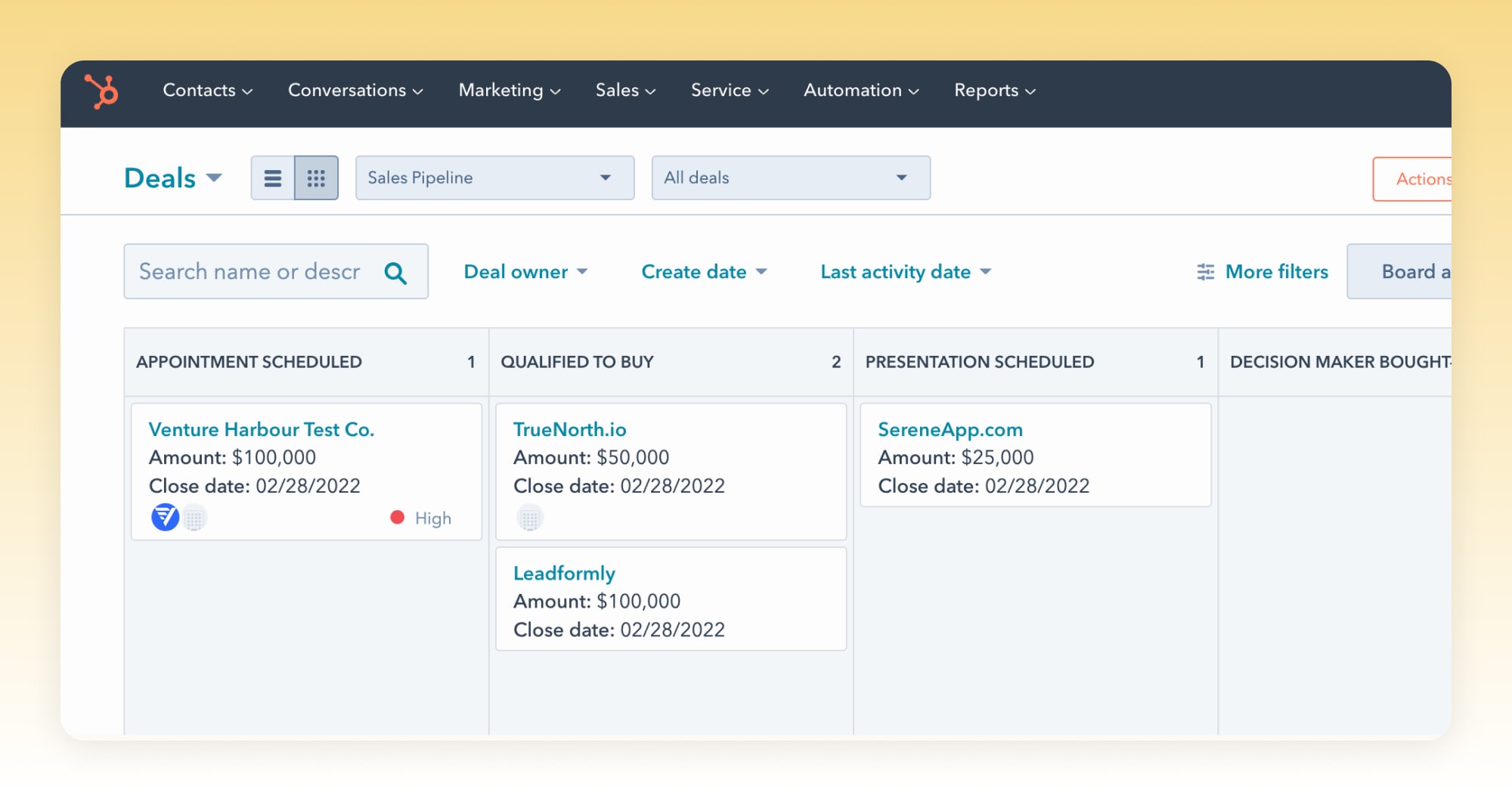 Some of the limitations of HubSpot's free CRM include:
Only view contact website activity for the last 7 days
Limited to 5 snippets, templates, Documents
Limited to 1 Meeting scheduling link with no customization or embedding
No automated features
To unlock the full potential of HubSpot's CRM, you're going to need to sign up to one of its paid products to unlock more advanced features. This is similar to how Zoho uses its free CRM to get people on board and the reality is you have to pay for a decent CRM from any provider.
HubSpot's Marketing Hub provides a suite of tools to help you attract more visitors to your website, convert more traffic into leads, nurture those leads into paying customers and look after them beyond the initial purchase.
Here's a quick summary of what you can do:
Drag-and-drop website builder: Create web pages, blog posts, landing pages, and email templates without writing any code. Edit your content and modifying your designs in a matter of clicks. And create new pages in no time – all of which are responsive for multiple devices.
Get your content in front of the right people: Create and manage your content strategy, easily publish blog posts without endless formatting. Get real-time SEO suggestions, and publish to social media at the best times to reach your target followers and influencers. Deliver relevant content, images, headlines, and CTAs based on user behaviours.
Maximise traffic: Design compelling calls-to-action and personalise messages based on location, traffic source, device, persona, and more.
Convert visitors into qualified leads: Build high-converting landing pages and run A/B tests to improve results over time.
Live Chat: Turn idle traffic into leads and answer key questions with live chat.
Convert leads into customers: Personalise the consumer journey to turn more leads into paying customers and automate your email marketing strategy to guide leads along the buying process.
Track and report business growth: Connect with HubSpot CRM or Salesforce to automatically record every interaction with customers. Use this data to confidently report on how each marketing campaign contributes to sales.
With HubSpot's Marketing Hub, managing your website is about as easy as you could ever hope and you also have a suite of tools to improve your SEO, content marketing, social media and paid advertising strategies.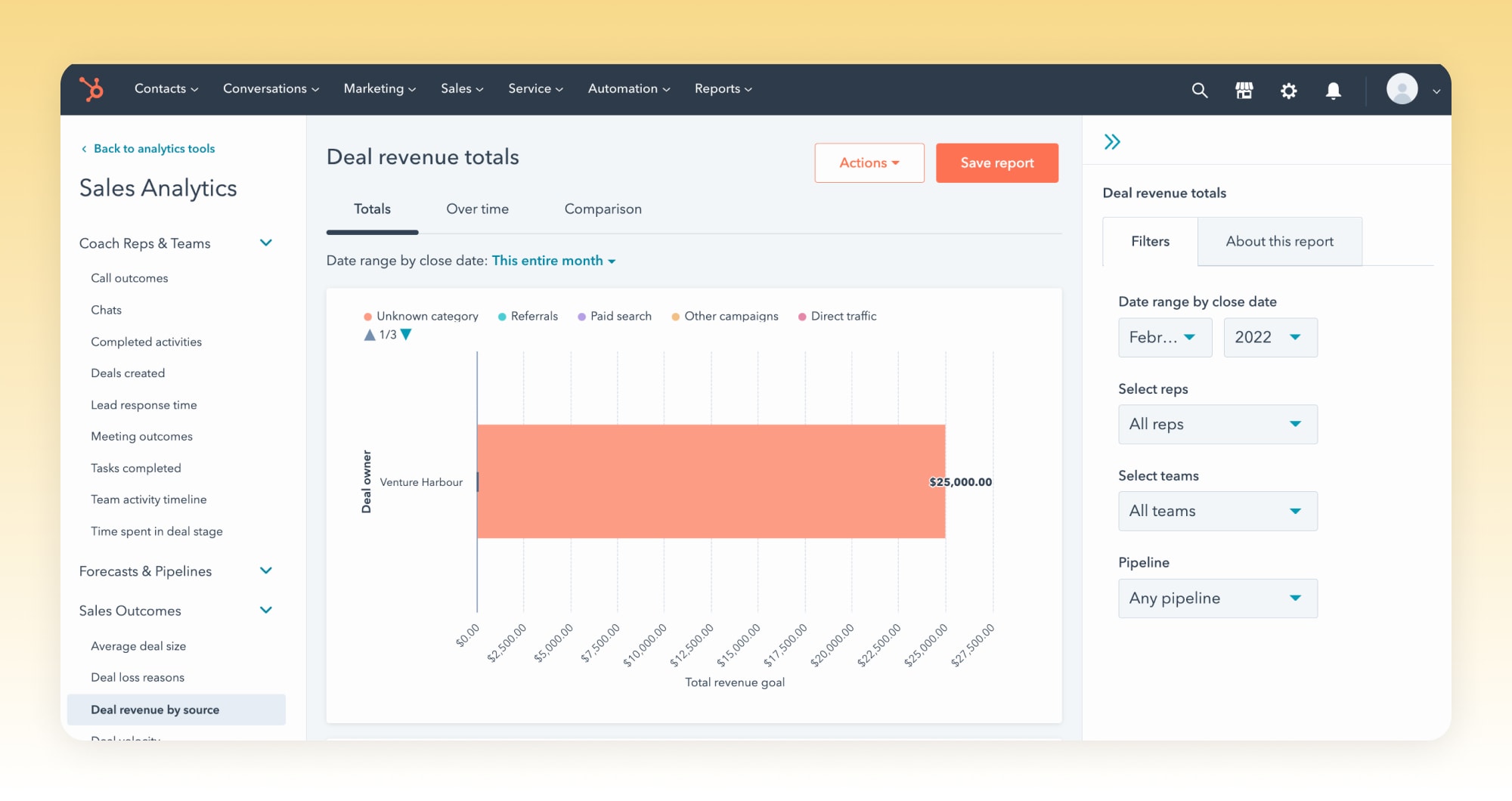 With the Sales Hub, you're going to empower your sales team close more deals, look after customers more effectively and manage your pipelines to increase sales and speed up the entire process (meaning fewer potential customers slip away).
Here are the key roles this product is going to play:
Reach out to leads and customers on a personal basis: Automate personalised emails and give your sales team a constant view of where prospects are along the purchase path to better understand their needs.
Email template builder: HubSpot's excellent email builder allows you to create templates and cut out the repetitive work (ie: waste time) when creating email marketing campaigns.
Knowledgable sales team: Your sale steam is the instant prospects open an email, click a link, or open an attachment – so they can react to prospects at the crucial moment and prioritise leads.
Sales automation: Lead actions are automatically logged so you don't need to manually update statuses. You can also automate tasks like lead rotation, task creation, and assigning leads.
Automated tracking: Sync with HubSpot CRM to track deals won, lost, and in progress, and to see which reps are your best performers (and why).
With the Sales Hub, your sales team spends less time on repetitive data entry so they can focus on what matters most: closing deals.
The Service Hub is there to help you look after customers and turn them into repeat buyers. The product focuses on the post-sale experience to maximise customer value, transaction volumes and marketing ROI:
Help desk: A place for customers to come when they run into problems and a system for your technical or sales team to deal with them effectively, track the progress of cases and address issues in a timely fashion.
Team email: This makes it easy for your teams to collaborate when dealing with customer issues and track progress so issued are never left unresolved and the next steps are carried out by the relevant team member.
Knowledge base: Create an online library of documentation, guides and educational content to help your customers enjoy the best experience from your products/services.
Live chat & bots: Automate the first stage of customer service with live chat and chatbots.
Customer feedback: Tools to reach out to customers for feedback, showing them how important their opinions are to your businesses while giving you invaluable insights into how your business can improve.
With these three products combined (as well as HubSpot's CRM), you should have all the tools you need to grow your business.
HubSpot verdict
HubSpot offers some of the most extensive marketing tools available in a single platform while managing to deliver one of the best user experiences around. That's a real achievement and the quality of the tools and features across each product is genuinely impressive.
The only real area it left us wanting was in the marketing automation department, as this is really important to us here at Venture Harbour. HubSpot does provide a solid set of automation features across its paid platforms but we needed more than it could deliver and this was the key reason we ended up using ActiveCampaign as our all-in-one CRM and marketing software platform.
It just excels at automation.
This doesn't take anything away from HubSpot, though – as long as you understand the pricing model so you're not surprised when next year's bill lands in your inbox.
Both ActiveCampaign and HubSpot offer free trials and it costs nothing to try them out for yourself. This should tell you everything you need to know about the two platforms and what you need from an all-in-one CRM and marketing suite.