MailChimp is one of the biggest success stories in marketing software startups, currently ranking 14th in the Forbes Cloud 100. Millions of people and businesses are now using the platform to send over a billion emails every day and MailChimp is the first name that comes to mind when many people think about email marketing.
There's one problem, though: the majority of marketers we connect with either don't use MailChimp or they've moved on to other tools.
We also tried MailChimp here at Venture Harbour but ultimately went with another option (ActiveCampaign) for a more comprehensive email marketing and CRM solution. Here's what we learned from trying out MailChimp for ourselves and the pros/cons you'll want to consider if you're looking for an email marketing platform.
MailChimp overview & pricing
MailChimp offers four different versions of its platform: Free, Essentials, Standard and Premium. Each version comes with additional features and higher allowances for contacts and the number of emails you can send.
Here's what the feature lists look like:
The key difference is how many contacts and emails you can send per month.
On the publishing and automation side of things, there's no difference between the three versions of MailChimp and it's good to see these features are accessible to all users.
We start to see more differences with targeting options and analytics/testing. The lack of targeting and segmentation options on the free version are especially significant as not being able to set delivery times and adapt for time zones is a big miss.
That said, the feature offering across each version of MailChimp is pretty generous and you don't get penalised a great deal by going with a free or cheaper option – at least not in terms of features.
What I don't like is the way MailChimp chooses to break down and present its pricing. For example, paying $10 per month gets you unlimited emails, but only for 0-500 subscribers whereas the free version gives you 2,000 subscribers (although you're limited to 2,500 emails). So, if you've been marketing to more than 500 subscribers using the free version of MailChimp, you're going to have to pay extra to keep sending them emails on one of the paid versions.
Email marketing features
Now that you've got an idea of what the different MailChimp packages have to offer, let's take a closer look at its most important features.
MailChimp's form builder
Before you can create an email marketing campaign in MailChimp, you're going to need a list of subscribers and this means getting sign-ups from your website. MailChimp comes with a built-in form builder to get you started and this is a crucial tool for any email marketing platform.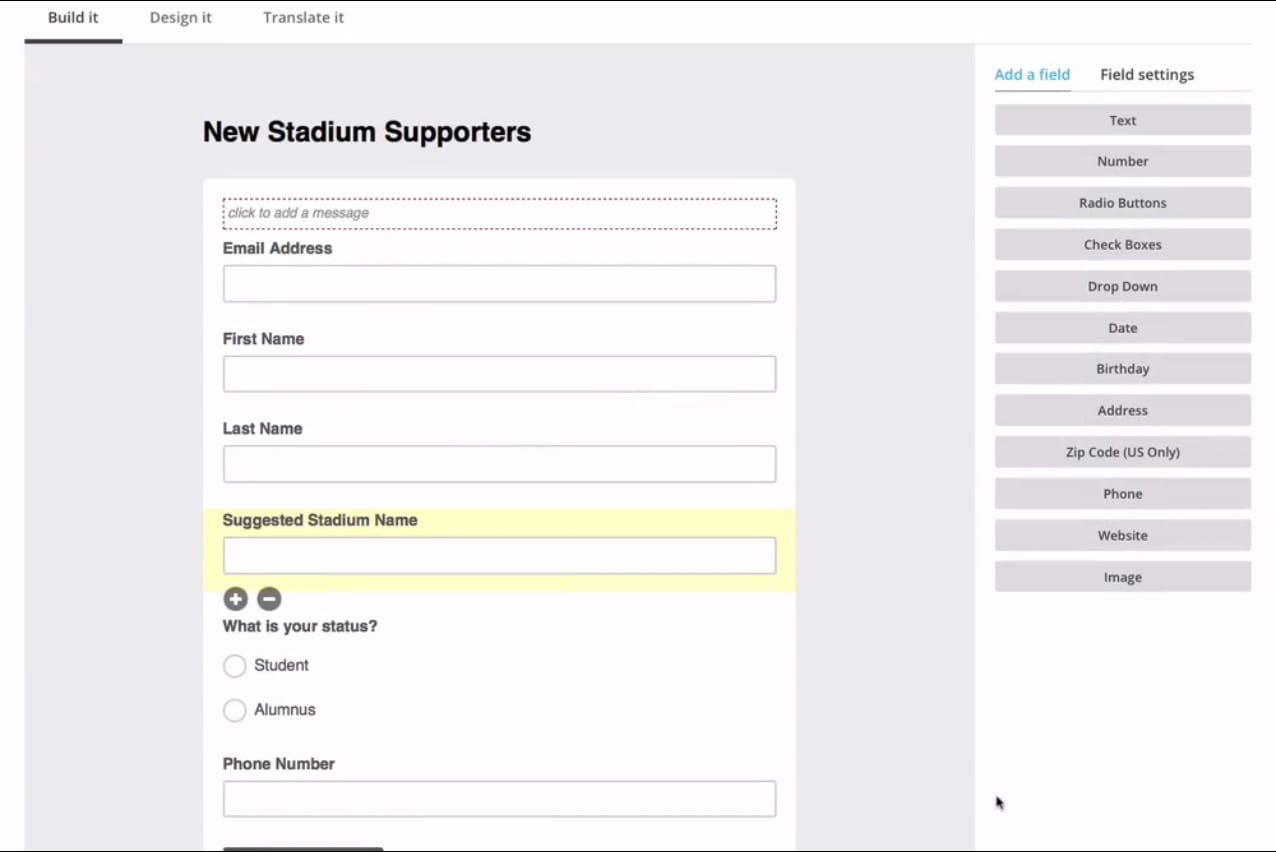 To be honest, the builder is pretty average and the interface isn't as intuitive as other parts of the MailChimp experience. It'll do the job in terms of helping you to easily create and embed web forms on your site but you don't get anything sophisticated in terms of design options.
MailChimp campaigns
Once you've got yourself an email marketing list to work with you can start creating your first campaign in MailChimp. There are four types of campaign you can create:
Regular: Create custom HTML email campaigns, customise your content and choose whether to send them immediately or schedule for later.
Automated: Create campaigns with basic automation features, depending on which version of MailChimp you're using.
Plain-text: Send text-only emails without any images or formatting.
A/B testing: Send more than one version of the same campaign to see which one gets the best results.
If you're only going to use MailChimp as a basic tool for sending simple email marketing campaigns when the regular campaign type does a decent job. Just keep in mind that this really is a basic option without any real automation or targeting options.
If this is all you need, MailChimp is decent enough option.
If you're interested in automating your email marketing strategy, things are very different. We'll look at MailChimp's automation features in the next section but (spoiler alert) the quick answer is they're nothing to get excited about.
Facebook Ad Campaigns
To help you reach a wider audience and build a larger email list, MailChimp also comes with a Facebook Ad Campaigns feature. This helps you create and purchase an ad for Facebook and Instagram to promote your email offer – all of which you can do without leaving your MailChimp account.
Once again, we're not going to get a sophisticated Facebook marketing strategy by using this feature but it's a nice addition for smaller businesses who want to expand their audience but aren't quite ready to manage their own Facebook advertising account yet.
Landing pages
MailChimp also comes with a built-in landing page builder and you can create as many as you want, regardless if which version you're using. There are two types of landing page templates: one for building your email lists and another for promoting products.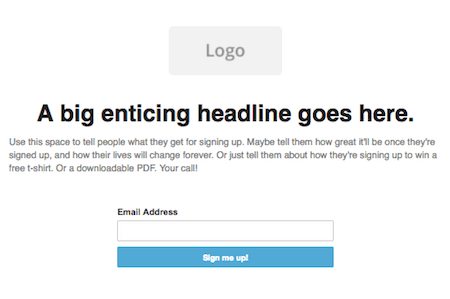 The default template for sign-up pages (above) comes with a logo placeholder and a hero section style layout for you to customise.
The default product page template is a little more complex with another logo placeholder and hero-style design above a CTA section and space for you to add some product listings.
All in all, it's very basic stuff and you'll probably want to use a dedicated landing page builder like Unbounce or Instapage if you're serious about maximising conversions and building your email list.
Email templates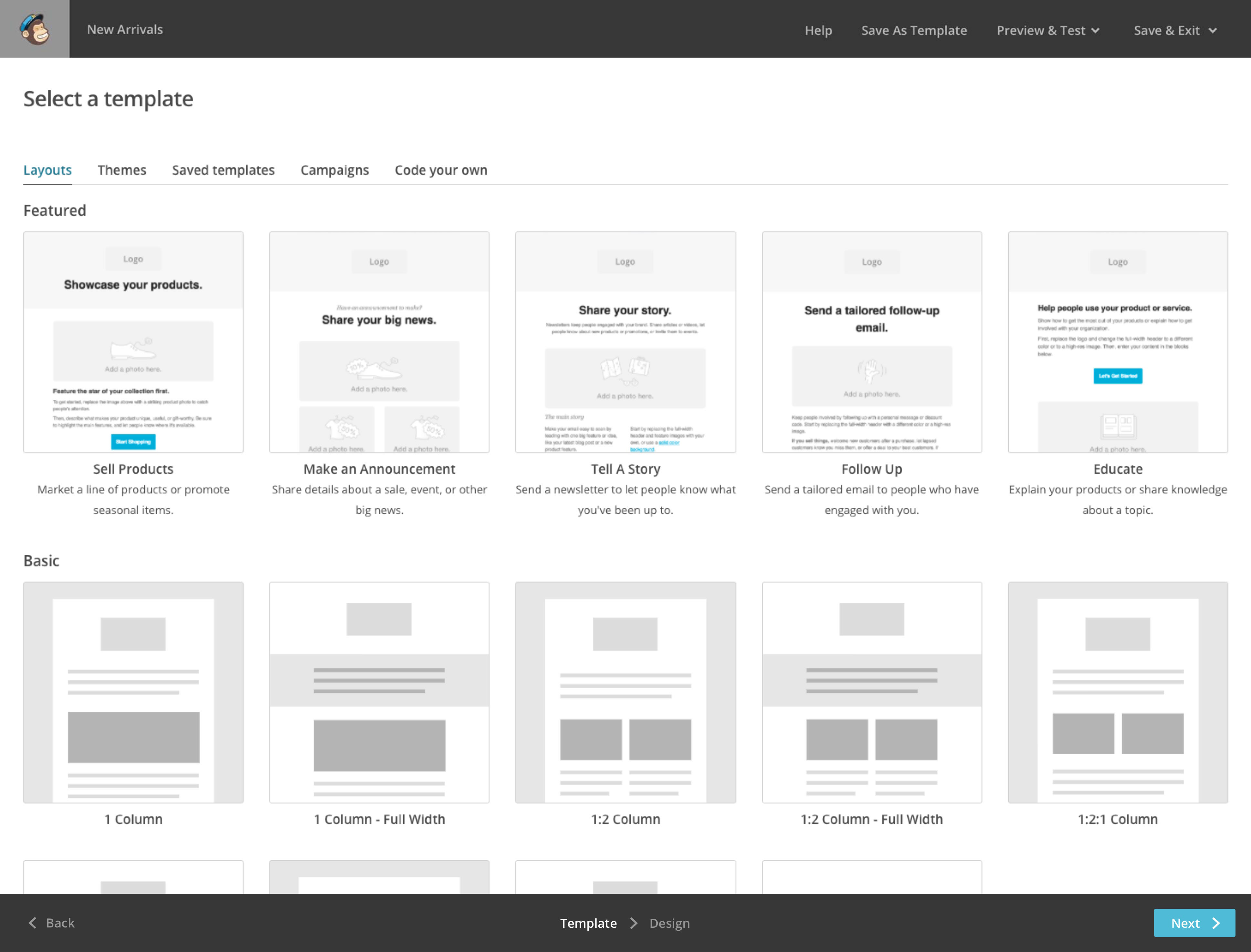 In terms of email templates, you can either choose from MailChimp's predesigned layouts and customise them yourself or start with one of its "themes," which are essentially fully designed emails where you simply need to add your own content.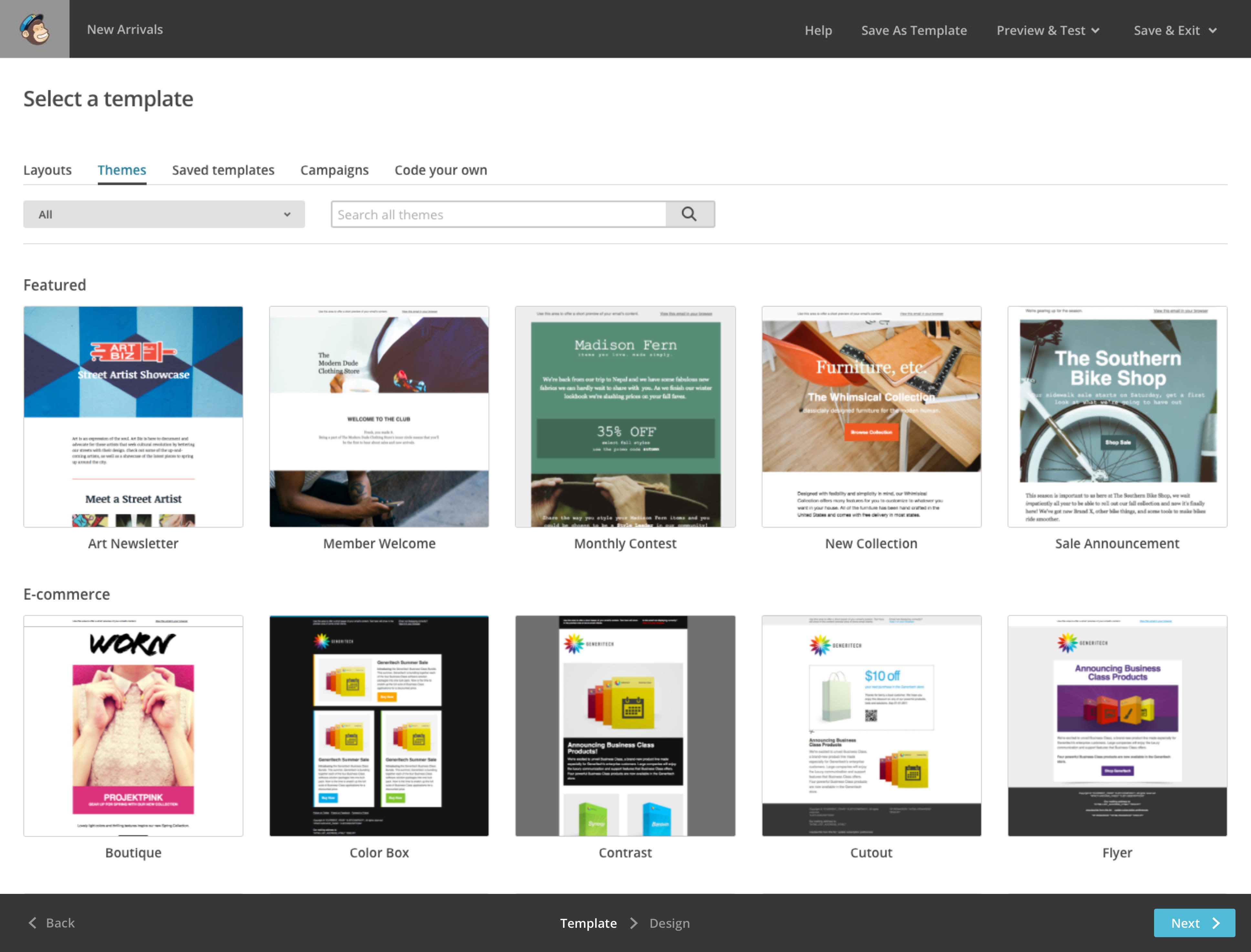 You can also code your own templates from scratch, which gives you a whole bunch of added flexibility. It's certainly a welcome feature although it seems a little beyond the scope of MailChimp's limitations elsewhere.
As far as email templates go, MailChimp's offering is up there with the best tools on the market and this is one of the platform's biggest strengths.
Email designer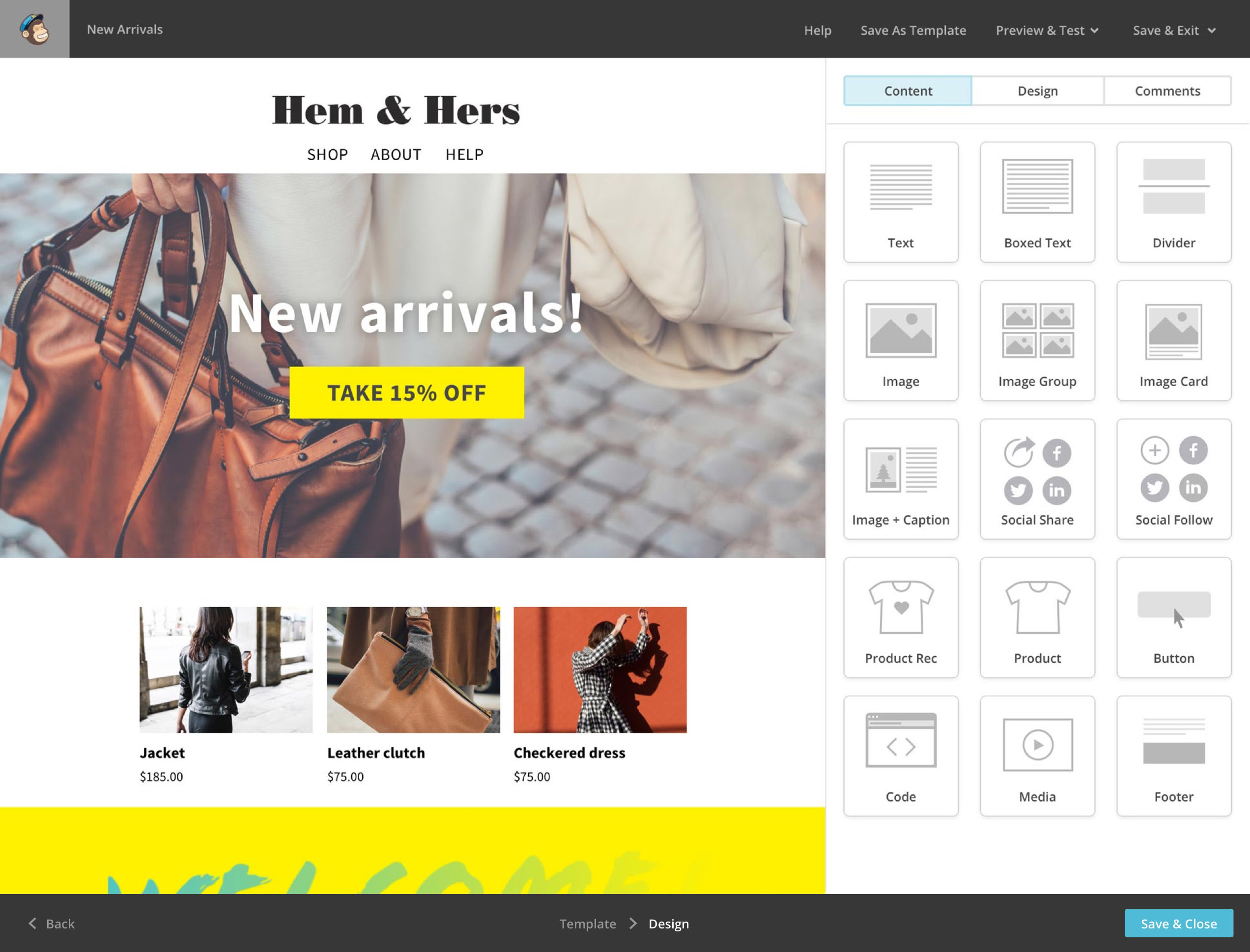 Even better than MailChimp's templates is the drag-and-drop builder that allows you to design campaigns on the fly. It's intuitive, flexible, runs smoothly in the browser and gives you all the WYSIWYG customisation you need to build engaging email designs.
This is MailChimp's standout feature and it's the best email builder we've used.
Automation features
This is where MailChimp has really fallen behind the competition over the years. Email marketing without automation is like trying to build cars without a factory: it's possible to (slowly) build one yourself but you're never going to produce an entire line of vehicles at scale and sell them to the masses.
It's not that MailChimp doesn't offer any email automation at all – it does, but it's very basic.
Let's start with what you can do using MailChimp's automation features.
Autoresponses
You can setup autoresponses and reach out to new contacts as soon as they sign up and schedule emails for a set time after (e.g.: 1 day after they join your list). You can also set up a series for things like users' birthdays or festive messages during the holiday season.
Google remarketing ads
MailChimp will automatically create Google remarketing ads for your campaigns to target users as they continue to browse the web. The idea is to bring back visitors who didn't buy the first time around and give them an extra incentive to make the purchase.
Recover abandoned carts
This is probably MailChimp's most impressive automation feature, sending out email reminders to customers who've abandoned their cart and encouraging them to complete the purchase.
Feedback
MailChimp also includes some basic feedback automations, allowing you to reach out to customers after they've bought from you. You can send quick surveys, ask them to leave a review or offer helpful advice and set the time period you want these emails to be sent out (e.g.: 15 days after the purchase).
Personalised product recommendations
Another handy automation feature for e-commerce brands is personalised product recommendations. You design the email and MailChimp will automatically create a list of recommendations based on your customers' purchase history.
It's not the most advanced algorithm powering this feature, though, so you'll need to have a decent number of customers making multiple purchases or products that are quite obviously related.
What you can't do with MailChimp automation
While MailChimp does offer some useful automation features, it falls seriously short on the ones that matters most to email marketers – like segmentation. You do get basic segmentation options across every version of the platform and you can also pay up to get advanced segmentation" via the Pro plugin.
Unfortunately, these still aren't advanced enough for a serious brand with email marketing at the centre of its business.
Sooner or later, you're going to want to create segments for users who opened one email but didn't open another one. Or users who opened both and clicked on a certain element in the second. These are fairly basic segments that you can't do with MailChimp and this was a deal breaker us right away.
As for automating segmentation? Forget it. Looking to build custom automations? Not going to happen.
If you want to do email marketing at scale these are essential features and MailChimp is far behind the likes of ActiveCampaign that make advanced automation and segmentation a breeze.
MailChimp verdict
If you only need to fire out the occasional round of emails, MailChimp is a good option. It's mostly a very intuitive platform and the drag-and-drop email builder in particular is a joy to work with. Unfortunately, it doesn't offer the kind of advanced segmentation and automation features you're going to need if you want to do email marketing at scale.
For us, email marketing is at the centre of our business and MailChimp doesn't come close to offering the features we need. After trying multiple software options, we settled on ActiveCampaign, which does 90% of our email marketing, and SendineBlue, which we use for transactional emails.
With ActiveCampaign's tagging feature, you get complete freedom over list segmentation and its drag-and-drop automation builder means you can create just about any process you can think of. Another crucial factor for us was ActiveCampaign's CRM features which help us manage sales funnels and customer journeys beyond email marketing – both before and after the initial conversion.
This is the key thing about MailChimp. It's a capable platform for sending out the occasional newsletter or follow-up email but doesn't do much for integrating a sophisticated email marketing strategy into your wider sales process – which is kind of the whole point for corporate brands.