Salesforce is the market leader in customer relationship management (CRM) software, so this is almost certainly going to be one of the first names you come across – and, quite possibly, the first CRM you consider trying out.
It was certainly one of the first ones we tried here at Venture Harbour.
Salesforce is a great CRM platform but we know from our own experience that it's not for every business. So this is going to be the focus of our attention in this review: helping you decide whether Salesforce is the CRM for you or not.
Salesforce pros and cons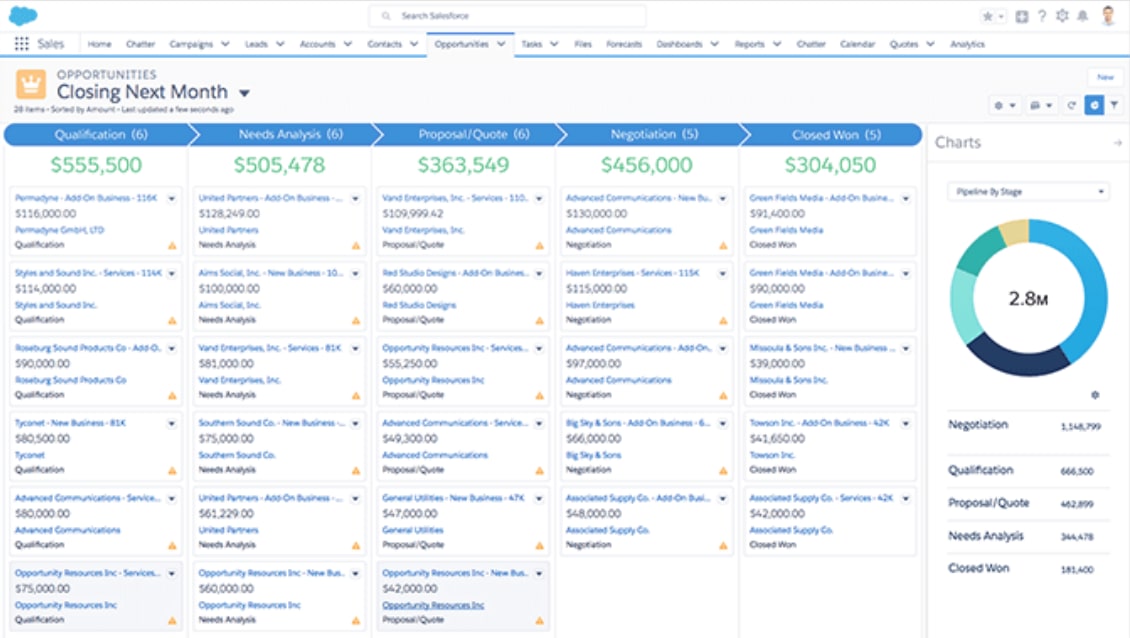 First, to give you an idea of what's coming up in this review and a few clues about Salesforce's strengths and weaknesses, here are the pros and cons we encountered while using the software here at Venture Harbour.
Salesforce pros
Incredibly powerful CRM platform
You can add/remove features to suit your needs
As the most popular CRM platform, it's easy to find sales reps who know how to use the software
Salesforce cons
Expensive
You have to pay for add-ons to get the most out of the software
Configuration and setup is complex and time-consuming
Cluttered interface makes navigation and simple tasks unnecessarily complex
The learning curve never seems to end
Customer support has a poor reputation
In terms of features, there's not much to complain about when it comes to Salesforce. Just about every feature you could need from a CRM platform is there and you can add/delete features to suit your business needs.
Where Salesforce let us down was in the pricing and usability department – and, unfortunately, the problems begin as soon as you start setting up the system. However, we were willing to accept that a complex system can take time to set up and this by itself wasn't going to stop us from using Salesforce as our CRM.
Unfortunately, the dealbreaker for us was the day-to-day use of the platform which manages to make even simple tasks frustratingly difficult to accomplish. It just feels like every action takes 4-5 clicks to complete when they should be one or a few clicks away.
So that gives you an idea of what we liked and disliked about Salesforce so let's take a look a the key features you can expect from Salesforce and how much it's going to cost you.
How much does Salesforce really cost?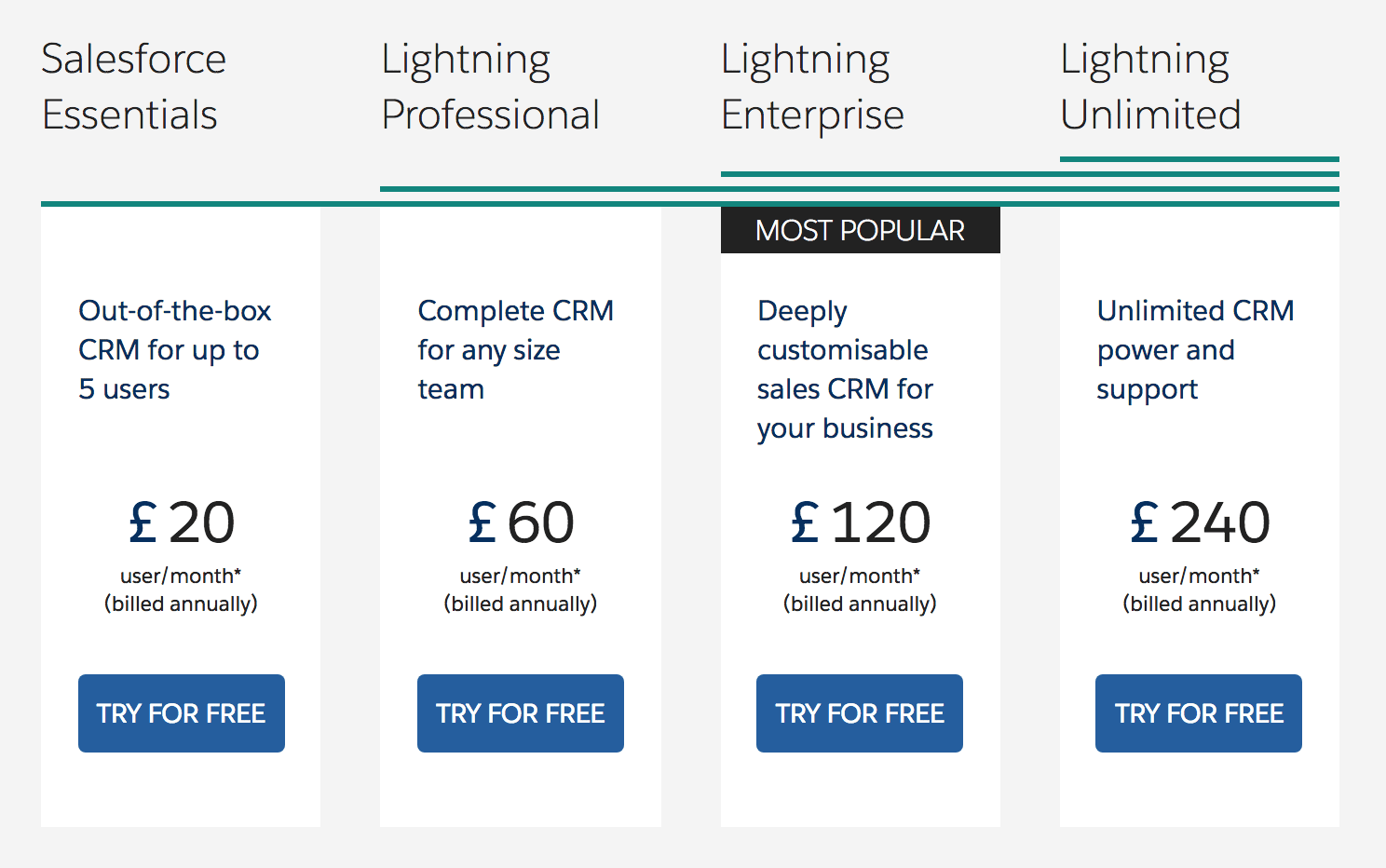 Salesforce pricing is listed on the company's website and, at a glance, those prices look very affordible.
Keep in mind those prices are per user, per month and you'll be charged a lump sum annually. You'll also have to pay for implementing the system and any customisation you require – plus the additional cost of any plugins.
Reality check: Salesforce is going to cost you at least $5,000 for a single user in the first year and you could be paying up to £50,000 per year for a relatively small team.
Salesforce implementation can require anywhere from $5,000 to well over $80,000. The investment a company makes in the implementation is a function of several factors.

Ranger Louis, Engineer at CRM Rangers | Salesforce Implementation & Special Ops (Quora)

The factors Ranger Louis mentions are:
The size of your organization
This can be measured by either the number of users, number of customers or number of transactions that you handle. Typically, bigger operations/organizations will require larger investments in the implementation of Salesforce.


The industry you operate in
Are you an online retailer? A day spa? A professional blogger? A membership-based not-for-profit organisation? Do you sell goods or services? Some industry or businesses have more complex sales pipelines than others. Some businesses require deeper customer engagement than other. Here complexity generally drives the clock.


The type & complexity of your organization
The more complex your organisation (corporate structure, hierarchy, internal procedures, business processes, etc) the more time your implementation team will need to implement Salesforce.


Your business objectives
If you are just looking to track customer in a cloud CRM then implementation will command a lower investment. But if you want to create a personalized customer experience or offer efficient customer service or build a positive customer-advocate community around your brand … your implementation project will take much longer.
You can also expect to pay more if you're migrating over from another CRM, need to integrate Salesforce with other applications (you do) and for any training beyond the basic free offering from Salesforce (you probably will).
Is Salesforce too expensive?
If you're an enterprise business with the budget available to pay for Salesforce to implement everything the way you need, then the final price may be a worthy investment.
However, we have found we can get 90% of the features available from enterprise CRM platforms like Salesforce for a fraction of the price (we've been using ActiveCampaign Enterprise for almost five years now and we're very happy with it).
What can you do with Salesforce?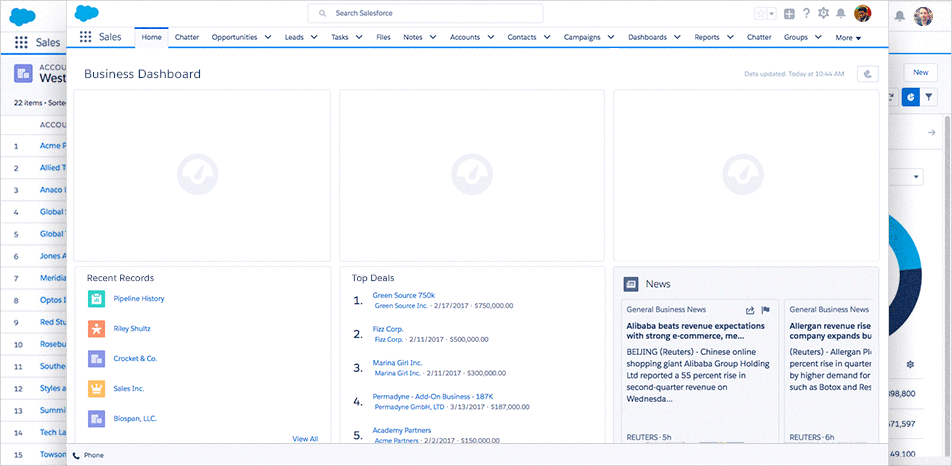 Salesforce features are broken into three main categories: Sales, marketing and customer support.
With sales and marketing automation, you'll be able to handle a higher volume of leads and turn more of them into customers without needing to increase the size/cost of your sales team.
Meanwhile, the customer support features are designed to help you keep your customers happy after the initial purchase and turn more of them into repeat buyers, positive reviews and brand loyalists.
Sales features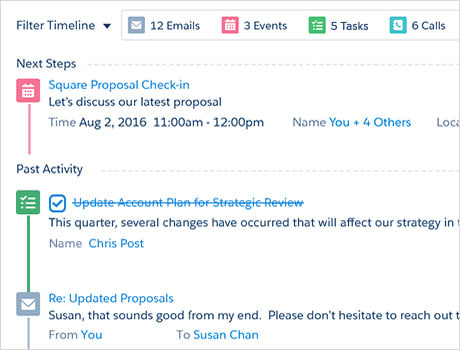 Opportunity & pipeline management: Manage sales opportunities through their entire lifecycle – from lead to order confirmation. Manage pipelines by individual sales reps, teams, regions or company-wide, tracking stages, values and probabilities of closure.
Partner Relationship Management (PRM): Manage partners by tracking channel partner leads and sales opps.
Task / Activity Management: Track and manage tasks/activities. Assign due dates, set priorities, integrate tasks with calendar apps and manage schedules.
Contact & Account Management: Store and access contact information to improve the quality of communications and marketing messages. Track interactions for an overview of their customer journey, giving your sales reps access to all relevant info about each contact and account.
Customer Contract Management: Manage customer contracts, including negotiations, defining terms and conditions in contracts and ensure compliance is met. Any changes made can be agreed and documented in one place.
Product & Price List Management: Create and manage product lists with pricing, including custom prices and discounts for customers where needed.
Quote & Order Management: Quickly create quotes for customers, based on your product information and pricing. Sales reps can also process orders when all the required info is present – or assign orders to the relevant department for completion.
Marketing features
Email marketing: Send emails to contacts in bulk, create segmented lists and customise content based on where each contact is in the sales cycle and your previous interactions with them.
Campaign Management: Manage your multi-channel marketing strategies, assign statuses to contacts and deploy messages based on their progress through the sales cycle.
Lead management: Define your lead management processes and allow reps to guide contacts along the sales cycle, tracking their progress along the way and reaching out with the relevant message to guide them towards the next stage.
Marketing ROI Analytics: Make sure your marketing efforts are profitable, set ROI targets and track your performance.
Customer support features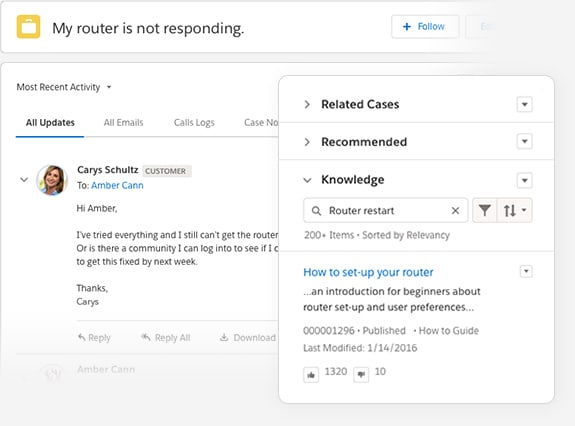 Call Centre Features: Call recording, analytics, workforce management, call script management, and compliance management.
Case management: Tracks issues/help requests reported by customers through the resolution process.
Customer Support Portal: Provides your customers with a place where they can submit service issues, technical problems, place orders, view order histories and contact your support team.
Knowledge Base: An information repository where your customers can access all kinds of information about your products, services and other info they need to get the best customer experience.
Support Analytics: Measure the performance of your customer support system and spot opportunities for improvement.
You also get a wealth of reporting and analytics features in Salesforce, including:
Dashboards: Data visualisations across multiple dashboards, giving you detailed insights into your sales performance in a visual format that makes your data easy to understand.
Forecasting: View projections of sales revenue, based on historical data and analysis of market surveys, trends and sales estimates.
Reporting: Create and view reports across your sales, marketing and customer support efforts for an overview of your sales performance. Segment your reports to hone in on specific actions and performance indicators.
Salesforce also gives you dedicated features for e-commerce, managing online communities, collaboration and solutions for specific industries.
You can get the full list of Salesforce features its website and one of the platform's biggest selling points is that you can add/remove the features you need. Either way, whatever you're looking for in terms of CRM features, Salesforce is has got it (and probably a whole bunch more).
Salesforce verdict
Salesforce is one of the most comprehensive CRM platforms on the market and if your business demands a very specific set of sales features, it might be one of the few or only tools that provides everything you need in a single piece of software.
You really do have to pay for the privilege, though, and the real problem we found with Salesforce is that the convenience of having a single CRM and automation suite is negated by its complex setup process and questionable interface design.
For us, it simply takes too long to make anything happen on Salesforce and this left us looking for a more basic solution – one that simplified our sales process, rather than adding complexity to it.

After trialling Salesforce and various other enterprise CRMs, it became clear that we couldn't tolerate a platform that makes simple tasks more complex. We wanted to update contact statuses, assign tasks and navigate reports with single clicks, not multiple.
We wanted a piece of software that was easy to navigate users new and old, so everything is where it should be when we need it and new members of our sales team could get to work without weeks of training.
Salesforce has all the features we needed (and then some) but they're just not packaged in a piece of software that delivers the usability and flexibility we needed. Unfortunately, this meant we found it was holding back our sale performance more than it was enhancing it.
The manual workload involved in using Salesforce (and most of the CRMs we tried outweighed the benefits).
Now, for large businesses with thousands or millions of leads to manage and hundreds of sales team members, Salesforce will save you more time than it costs – and this is the kind of business it's really designed for.
For smaller sales teams who really need to minimise the manual workload and create the most efficient sales process, Salesforce is going to be a frustrating (and expensive) experience, though.
As for small businesses on a tight budget, getting the features you need from Salesforce quickly becomes expensive.
Conclusion: Salesforce is great for features and tailoring a platform to meet your needs but the setup process can be painful and using the software on day-to-day basis is frustrating.
If usability is something you look for in sales and marketing tools, Salesforce feels like it gets in the way of things more than it empowers you to do more, which is especially difficult to accept at this price point.