The average website conversion rate is roughly 2.35% although the top-performing brands are capable of achieving conversion rates closer to 12% – and, in some cases, even higher.
So, even if we're being optimistic, 95+% of the traffic you pay good money to generate is going to leave your website without converting. That's a sobering statistic but the harsh reality for the vast majority of brands.
The good news is, you don't need to settle for average benchmarks. Conversion rate optimisation (CRO) allows you to improve the performance of your website and marketing strategies to increase conversion rates and boost your return on investment.
In this article, we're looking at the must-have CRO tools that will help you make a real impact on conversion rates.
What tools are we looking at in this article?
Most tool recommendation lists just reel off a bunch of software tools, half of which all do the same thing anyway. This isn't much help to you because you only need one tool for each purpose and no single tool is going to offer everything you need to run a complete conversion optimisation strategy.
So, what I'm doing in this article is running through seventeen key conversion optimisation tasks and recommending my pick of the best tool to get the job done.
Here are the tasks, we'll be looking at today:
Next level analytics
Analysing user behaviour
Optimising software products
Predicting conversion rates
Running A/B tests and CRO campaigns
Personalising your website
Building & testing landing pages
Optimising your forms
Turning video views into leads
Turning conversions into paying customers
Making your pages load faster
Finding conversion killers
Testing your site with real users
Getting customer feedback
Getting feedback from users while they use your website
Generating leads through live chat
Learning from your rivals
First of all, this will provide an overview of what a complete CRO strategy involves but it also means every tool in this list is worth recommending for two key reasons:
Each of these tools does something different
These tools combined will cover all of your CRO needs
So, if you've been disappointed by tool recommendation articles in the past, this is one for you. Now, let's get into our first CRO task and the best tool for the job.
The first conversion optimisation tool any serious business wants to look at is Google Analytics 360 Suite. This is the enterprise version of Google's powerful analytics tool, giving you access to more data and features to power your marketing strategies.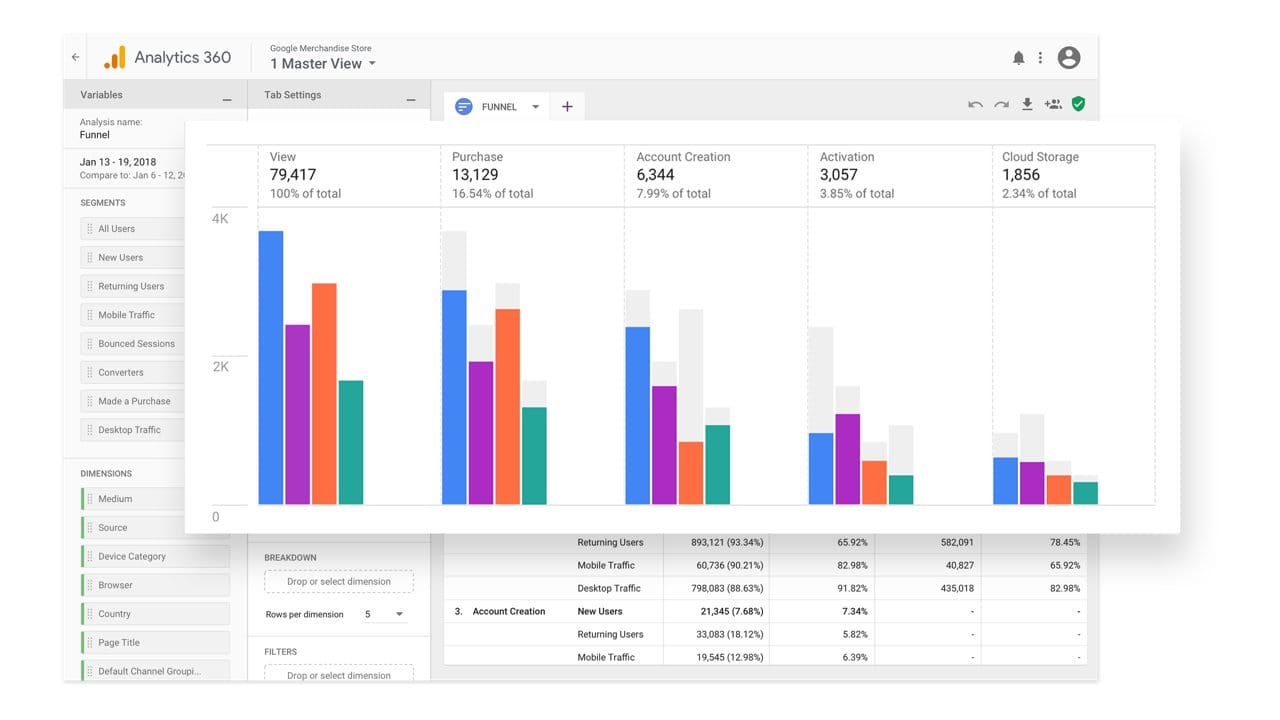 One of the most important CRO features in Google Analytics is Event Measurement, which allows you to track events, such as clicks on your CTA buttons. This means you're not limited to tracking conversions based on URLs and allows you to measure the difference between CTA button clicks (intent) and completed conversions to address issues that are getting in the way after the initial button click.
With Google Analytics 360, your data is updated as quickly as every 10 minutes, as opposed to 24 hours with regular GA. You can also create custom funnels to analyse customer journeys with greater accuracy and prevent leads from slipping through the cracks.
#2: Analyse user behaviour with Mixpanel
If Google Analytics tells you what's happening on your website, Mixpanel makes it easier to see who did what. With user and behaviour tracking, you can get specific insights into which users are completing your conversion goals and those who aren't.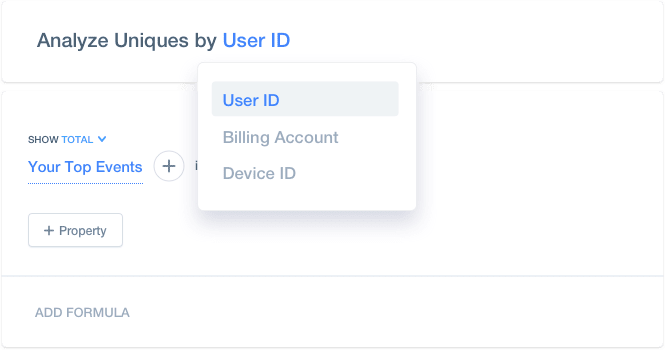 This provides a much deeper level of context than you'll get from regular analytics tools, allowing you to identify conversion barriers with greater accuracy.
Mixpanel also gives you a second data channel for you to compare against Google's numbers – because it never makes sense to put all of your faith into one tool.
#3: Optimise your software products with Amplitude
Amplitude is an advanced analytics suite designed for optimising digital products. So, if you're creating software tools or other product experiences, Amplitude provides the dedicated behavioural analytics insights you need to keep customers using your products.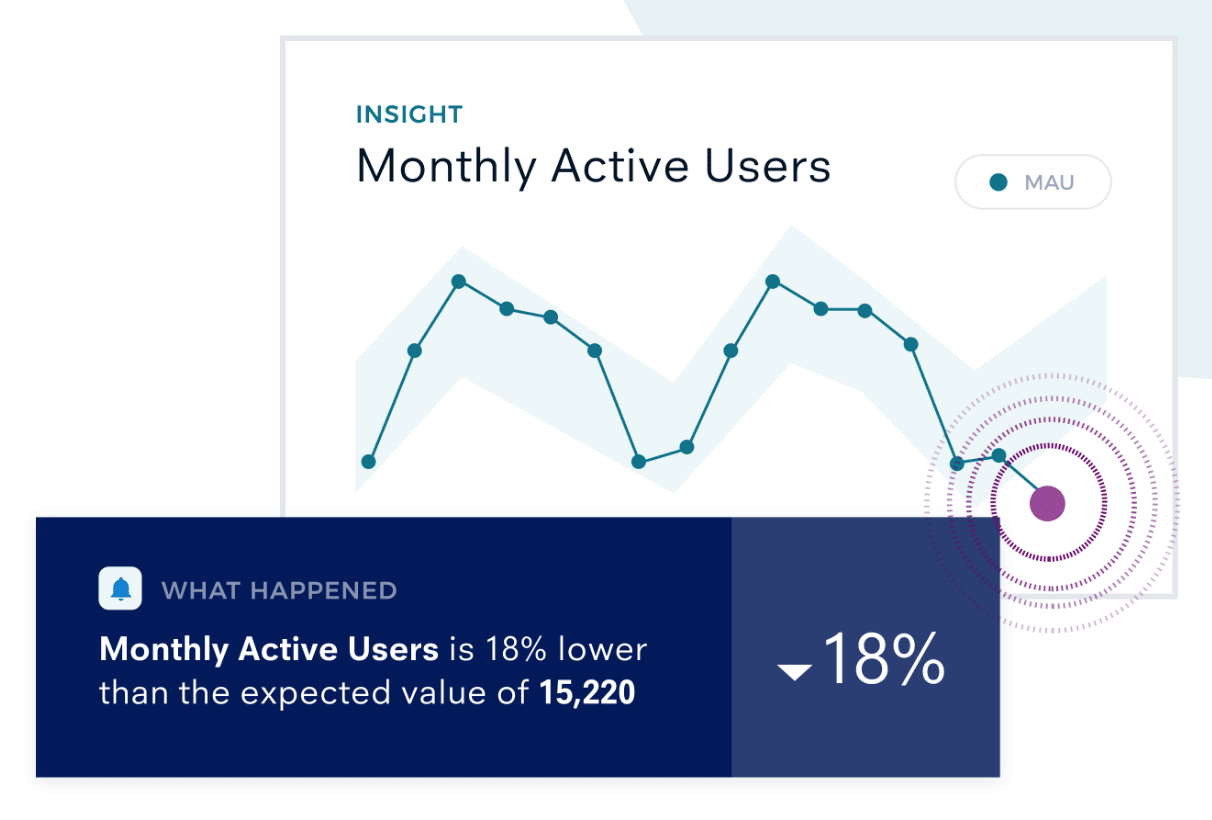 Amplitude provides a 360 overview of how people are using your digital products. By tracking user behaviour, you see the actions individuals are taking while they use your software and identify issues that could compromise the experience.
This is invaluable for subscription-based software and digital products where it's imperative that customers keep paying on a monthly or annual basis.
#4: Predict conversion rates with Decibel
Decibel steps away from the usual dialogue of "conversion optimisation" and focuses on creating better experiences. That might sound ambiguous but Decibel actually measures the performance of your site across hundreds of metrics to calculate your Digital Experience Score (DXS) – an actual KPI that means you can measure user experience in pure numbers.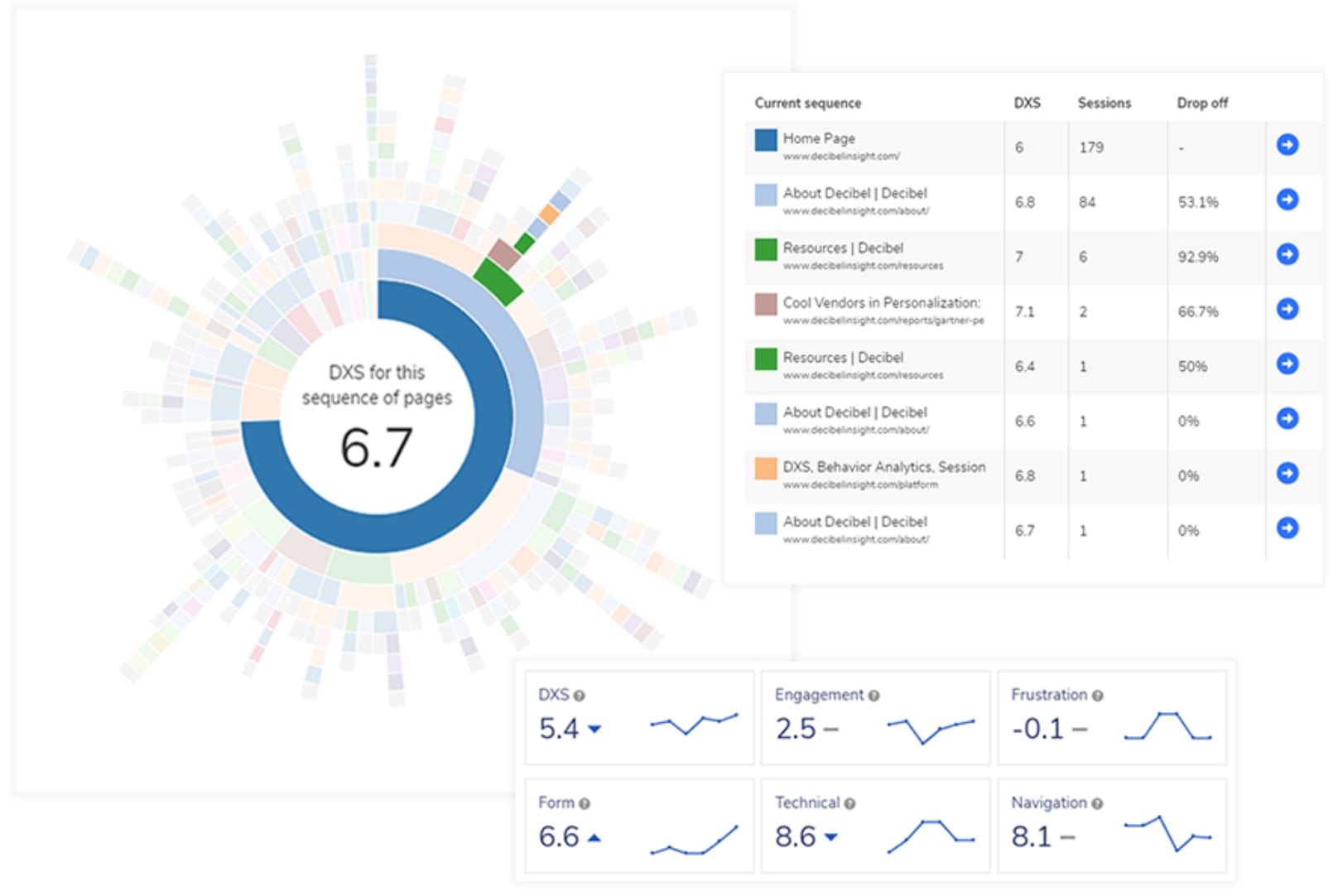 For me, though, the most important feature of Decibel is its predictive modelling that predicts conversion rates based on optimisation changes. Travel company TUI used this feature to successfully predict $30 million in revenue growth by optimising the customer experience based on opportunities discovered in Decibel.
#5: Run your CRO campaigns with VWO
To run a successful conversion optimisation strategy, you need a platform that makes it easy to run tests and manage results. VWO is both one of the easiest-to-use conversion optimisation management tools and also one of the most affordable.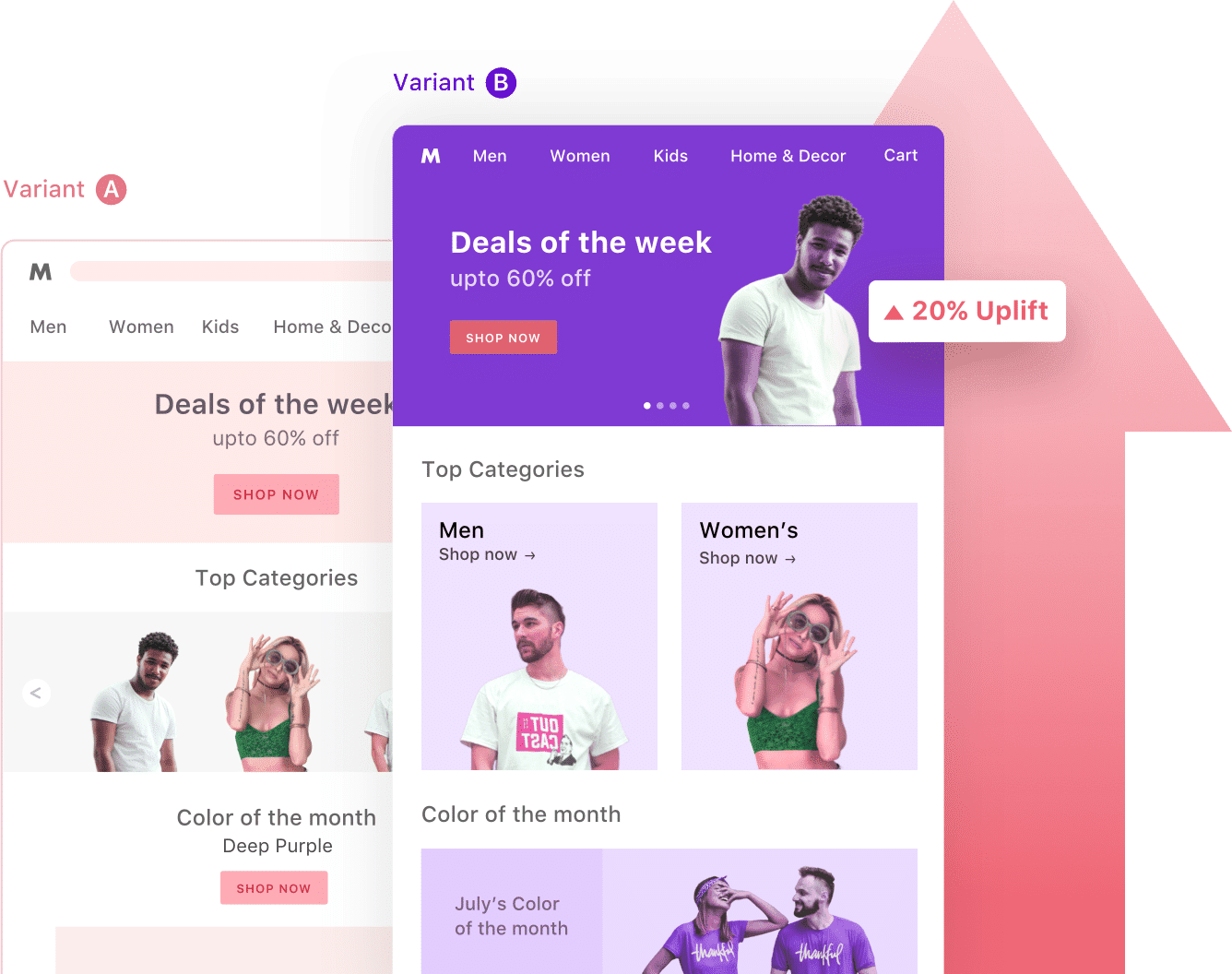 You can run multiple tests, make design changes without writing any code and implement changes from a single platform. When you've got hundreds of pages to optimise, a tool like VWO is one of the first CRO tools you should invest in.
#6: Personalise your website with Proof
Website personalisation is a crucial conversion optimisation strategy that makes the messages on your pages more relevant to individual users. Delivering personalisation effectively can be tricky, though, and Proof promises to make this easy.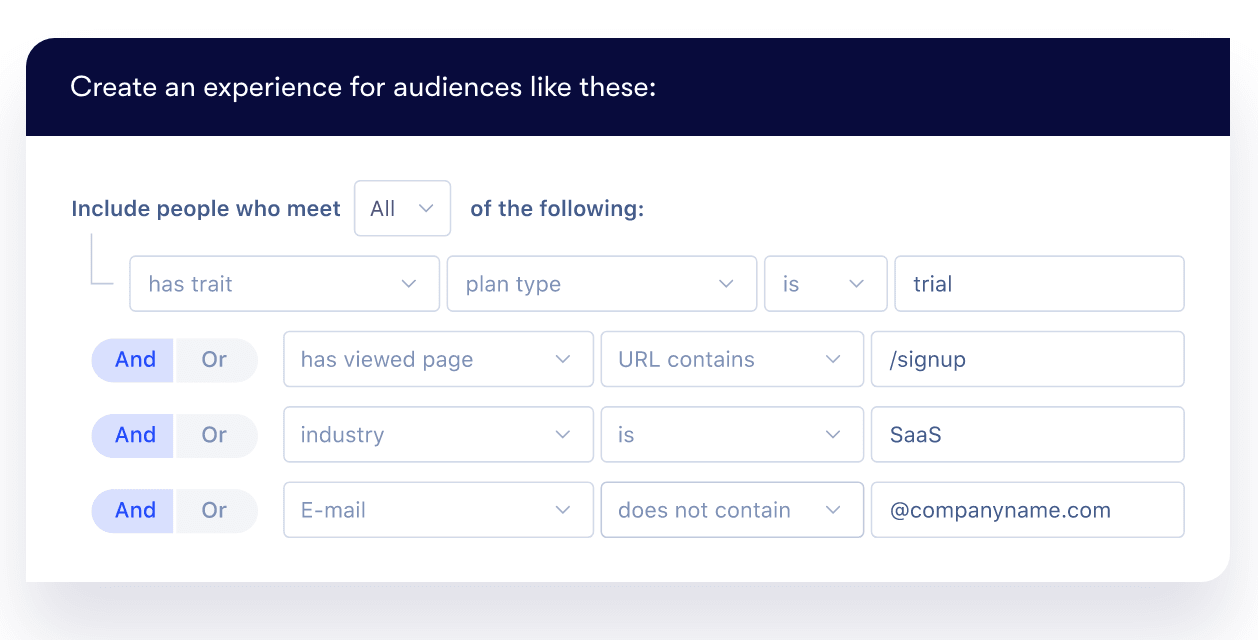 With Proof, you can change the text on your pages, swap CTAs, hide elements and change images to match user intent. Personalisations can be delivered based on events, traits and behaviours to automatically deliver more relevant messages.
And you can do all of this using Proof's visual editor, meaning there's no need to write any custom code to deliver highly-personalised content.
#7: Build & test landing pages with Unbounce
Landing pages are where most of your conversions should be taking place and this means a good chunk of your conversion optimisation efforts will revolve around these pages, too.
You need to be able to create and test new landing pages (and variations) quickly, which means you need a reliable landing page builder.
Unbounce is the best landing page tool we've used here at Venture Harbour and this has a lot to do with its excellent drag-and-drop builder. However, the platform offers an extensive range of additional features that are crucial for CRO.
Above all, every Unbounce plan comes with built-in A/B testing and it packs features that make it easy to duplicate the best parts of your landing pages for future use.
Unbounce also comes with dedicated pop-ups and sticky bars, which can make a real difference to your conversion rates. And one of its most exciting features is something called Dynamic Text Replacement which matches the content on your landing pages to the queries users type into search engines.
If you want to find out more about Unbounce and why it's our favourite landing page builder, you can read our in-depth Unbounce review for all the info you need.
#8: Optimise your forms
Every conversion goal requires users to complete some kind of form and this is one area where a lot of marketers fall short with their conversion optimisation efforts.
Forms should be one of your top priorities and I can't emphasise the importance of having a form optimisation tool enough.
Leadformly is the most impressive form optimisation tool I've ever used and the only one I'm aware of that prioritises multi-step form design. The Venture Harbour tea has spent a lot of years developing and optimising web forms and the multi-step format consistently outperforms traditional designs – by as much as 743% in some of our tests.
Leadformly gets you started with forms that are pre-optimised for conversions and it then gives you the tools you need to enhance performance even further.
Most form analytics tools only provide basic insights but Leadformly gives you the in-depth data points you need to make significant improvements: how long it takes to complete your forms, how long it takes to complete specific fields, the last field users interact with before quitting your forms and so much more.
If you want to pay your forms the attention they deserve, Leadformly is the tool for you.
#9: Turn video views into leads with Wistia
Wistia provides a platform for you to host your own video content and embed it on any web page without relying on a third-party platform like YouTube.
You can also set Wistia videos to autoplay, which visually play like high-quality gifs without the drain on browser resources, making for a faster and smoother experience.
However, the key feature of Wistia in terms of conversion optimisation is its Turnstile product, which turns your videos into email lead magnets. You can use Turnstile to create a sign-up gateway for your best videos, such as in-depth guides or webinar content, and quickly grab email addresses from users before they watch your video.
#10: Turn conversions into paying customers with ActiveCampaign
The customer journey doesn't start and end with the first conversion. You need to nurture these leads through the remaining stages of the buying process, ensure they don't slip between the gaps and maximise the number of conversions you turn into paying customers. And, once that's done, your focus shifts to turning existing customers into repeat buyers – a cycle that never ends, if you want to maximise customer value.

To know you're turning conversions into paying customers, you first need a tool that allows you to track user behaviour and attribute their actions to unique IDs. ActiveCampaign's Site Tracking feature allows you to do this and create segmented audiences so you can target users based on their position along the buying process and nudge them on to the next step – all the way to the purchase.
With ActiveCampaign's CRM, you can manage your leads and reach them at every stage of the consumer journey.
The real magic starts when you get involved with ActiveCampaign email and marketing automation features, which you can use to create entire automated marketing strategies that generate and close leads for you.
ActiveCampaign also provides extensive email marketing features, which can also be automated so you're able to handle any number of leads without maxing capacity. Crucially, you can also automate your customer retention campaigns to maximise the number of customers who keep buying from you.
#11: Make your pages faster with Pingdom
Google research shows that pages loading after 1-3 seconds see an increase of 32% in bounce rates and this figure soars up to 90% between 3-5 seconds and even more for longer loading times.
Make no mistake about it, slow loading times are a major conversion killer.
The best tool you can have on your side for speed optimisation is a quality developer who knows how to put code together with performance in mind. However, if your site is already live and lagging behind, you need to diagnose what the problem is.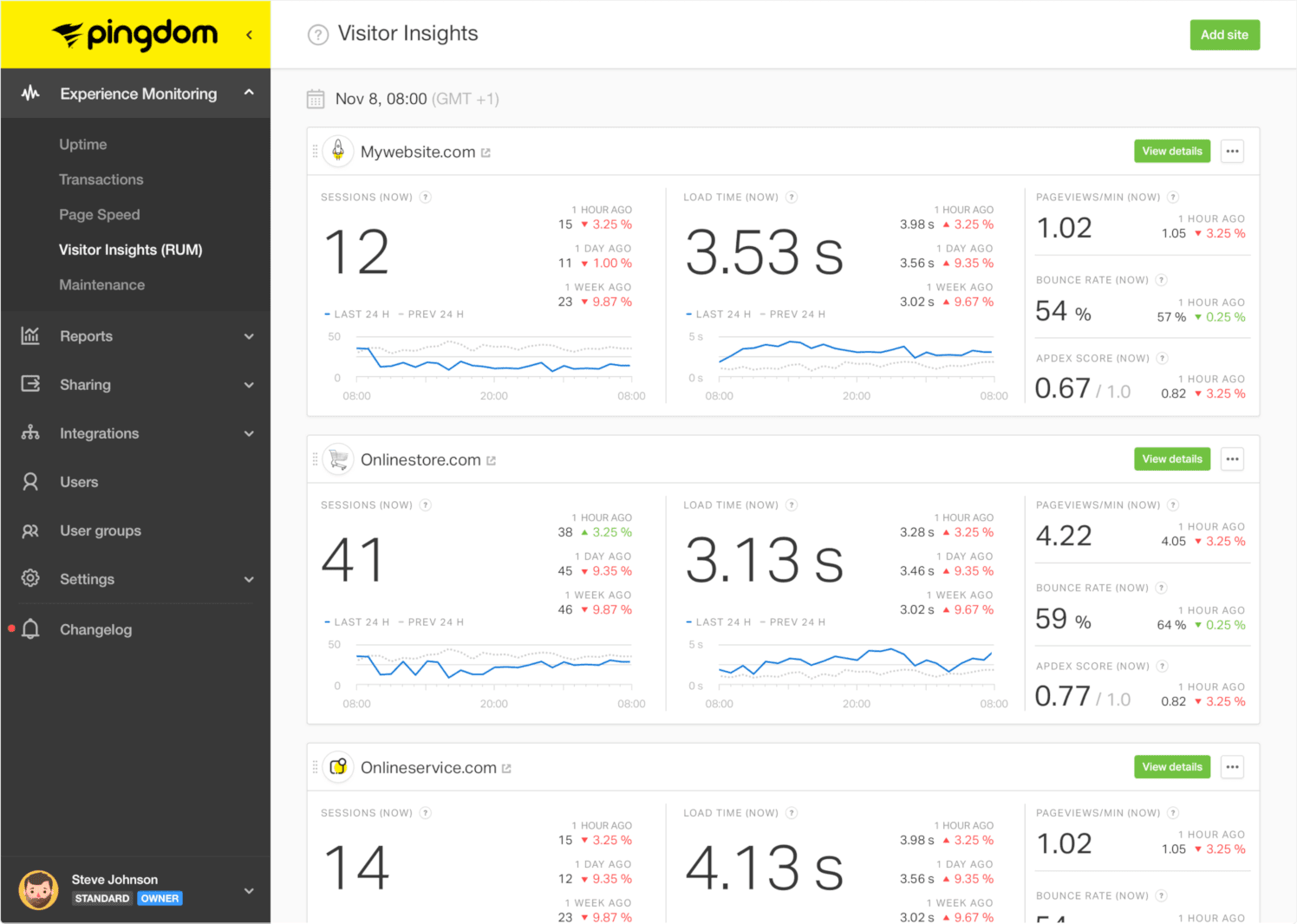 Pingdom goes further than any of the free options you'll find, such as Google's page speed tools (which are fine for free options). However, Pingdom constantly monitors the speed of your site, looking out for issues and helps you diagnose the root cause rather than treating the symptoms.
#12: Find conversion killers with Hotjar
A few of the tools we've already looked at in this article provides heatmaps and other features you'll find in Hotjar. However, Hotjar is the only tool I'm aware of that provides comprehensive heatmaps, session recording and user feedback features into a single platform – and this is why I'm still recommending it.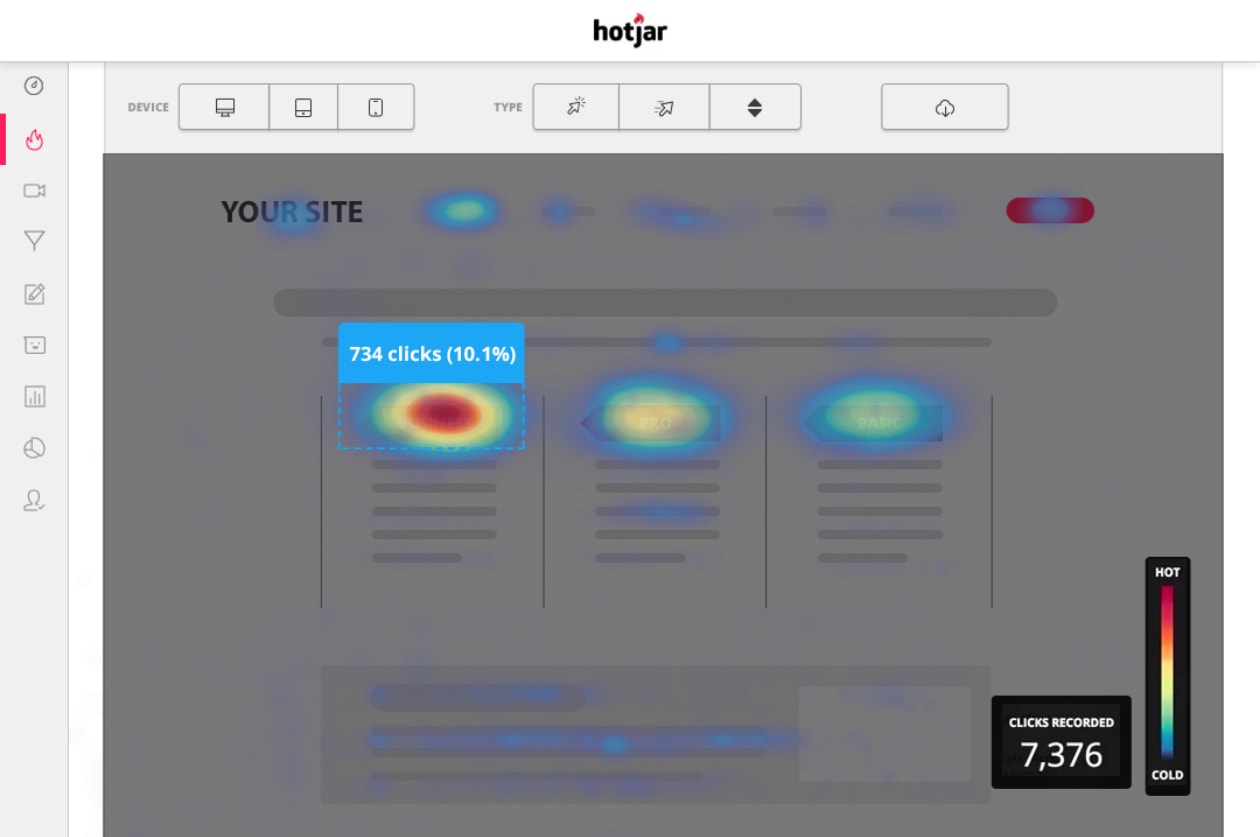 While there are plenty of heatmap tools on the market, Hotjar's maps allow you to switch between views showing where users click, where they move the mouse and where they scroll.
Scroll maps are a big deal because they help you measure how users are engaging with your content and whether they're scrolling far enough down the page to see your CTAs and whether your CTAs are capturing their attention.
With Hotjar, you can also record user sessions and see exactly what they're getting up to on your website, allowing you to remove conversion barriers that heatmaps might not reveal.
#13: Test your site on real users with Ethnio
Ethnio turns user testing on its head by helping you recruit real users to participate in your test. Unlike other platforms attempting to do this, Ethnio lets you choose the right kind of people to test your site and pages – the kind of people you're actually designing and optimising for.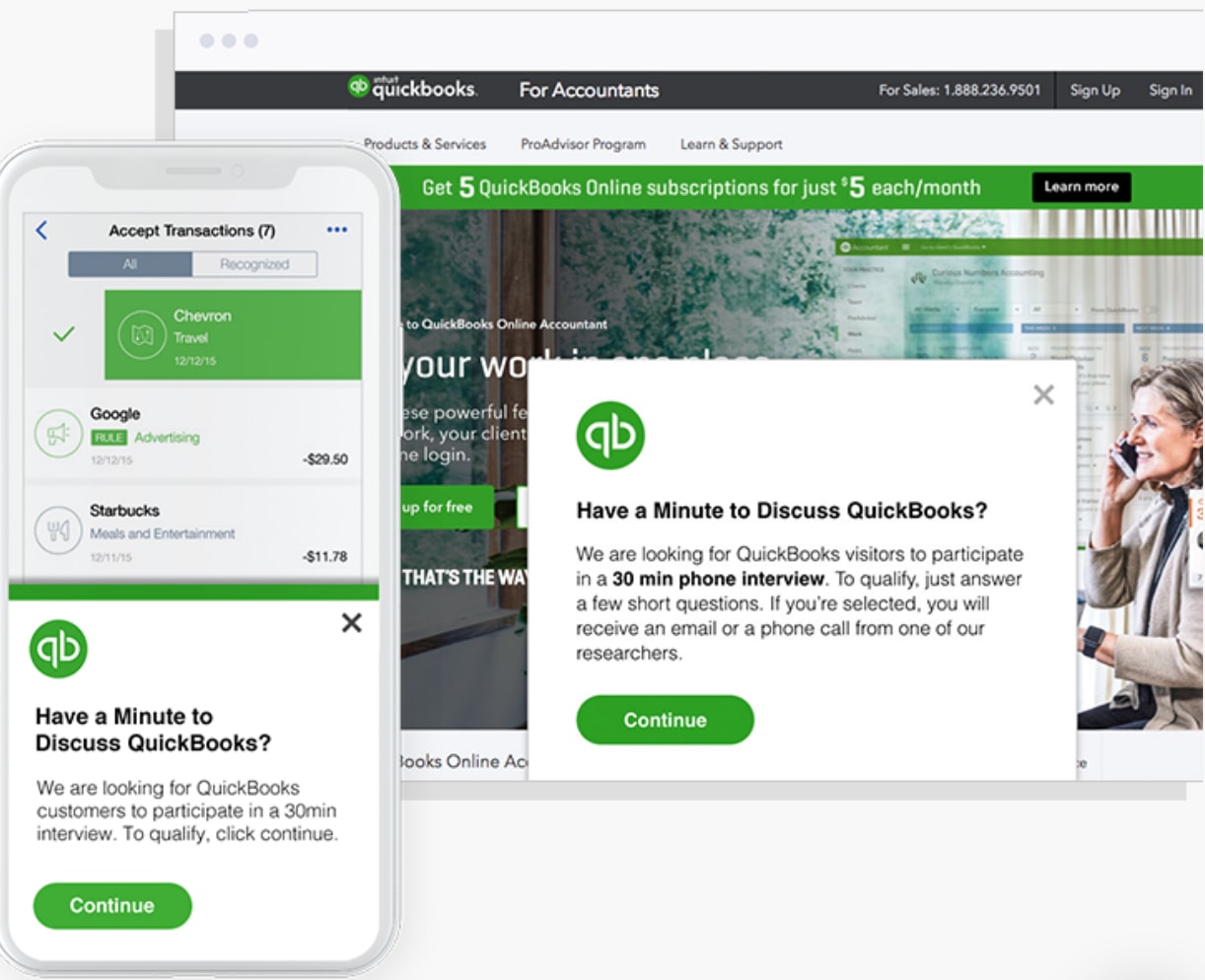 Let's say you're specifically trying to optimise your web app for Safari on iOS to address some bug reports. You can use Ethio to specifically target these users in your locations of choice and guarantee the right people are engaging with your product.
For particularly important projects, you can add cash incentives to build your team of real-world user testers, too.
#14: Get customer feedback with InMoment
User testing is one thing but getting customer feedback from the people who buy into your brand is crucial for any long-term business strategy. InMoment is an advanced Voice of the Customer (VOC) platform that connects you with the people most important to your brand.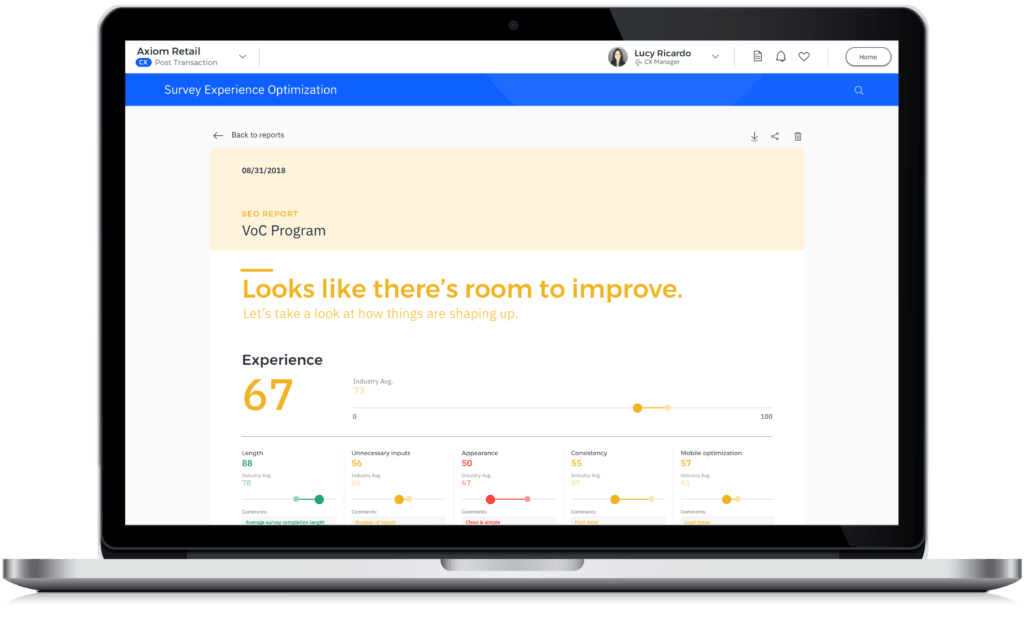 As InMoment says on its website, "customer feedback is everywhere" but the challenge from brands is accessing it, understanding it and turning it into better business decisions.
InMoment not only allows you to collect feedback directly from your existing customer base but also provides advanced analytics to help you interpret what their actions say about your business' performance.
#15: Get feedback from people while they use your website SurveySparrow
Asking people for feedback after they've completed a conversion goal (or failed to) is helpful but wouldn't it be great if you could get feedback from people while they're using your website?
This way you can get honest, direct opinions from people while they're actually engaged in the experience itself.
This is the principle behind SurveySparrow, which allows you to deploy engaging surveys without hurting the user experience. This is the only feedback tool I'm aware of that includes conversational surveys, using chatbot technology, which increases responses by 40%, according to SurveySparrow data.
However, the feature that matters most, as far as I'm concerned, is the reporting and analytics capabilities of SurveySparrow. This enables you to track the performance of your surveys and optimise for increased responses on the campaigns that matter most.
#16: Start the conversation with Intercom
Intercom is a powerful lead generation tool that allows you to start the conversation with users and provide an instant response when they reach out.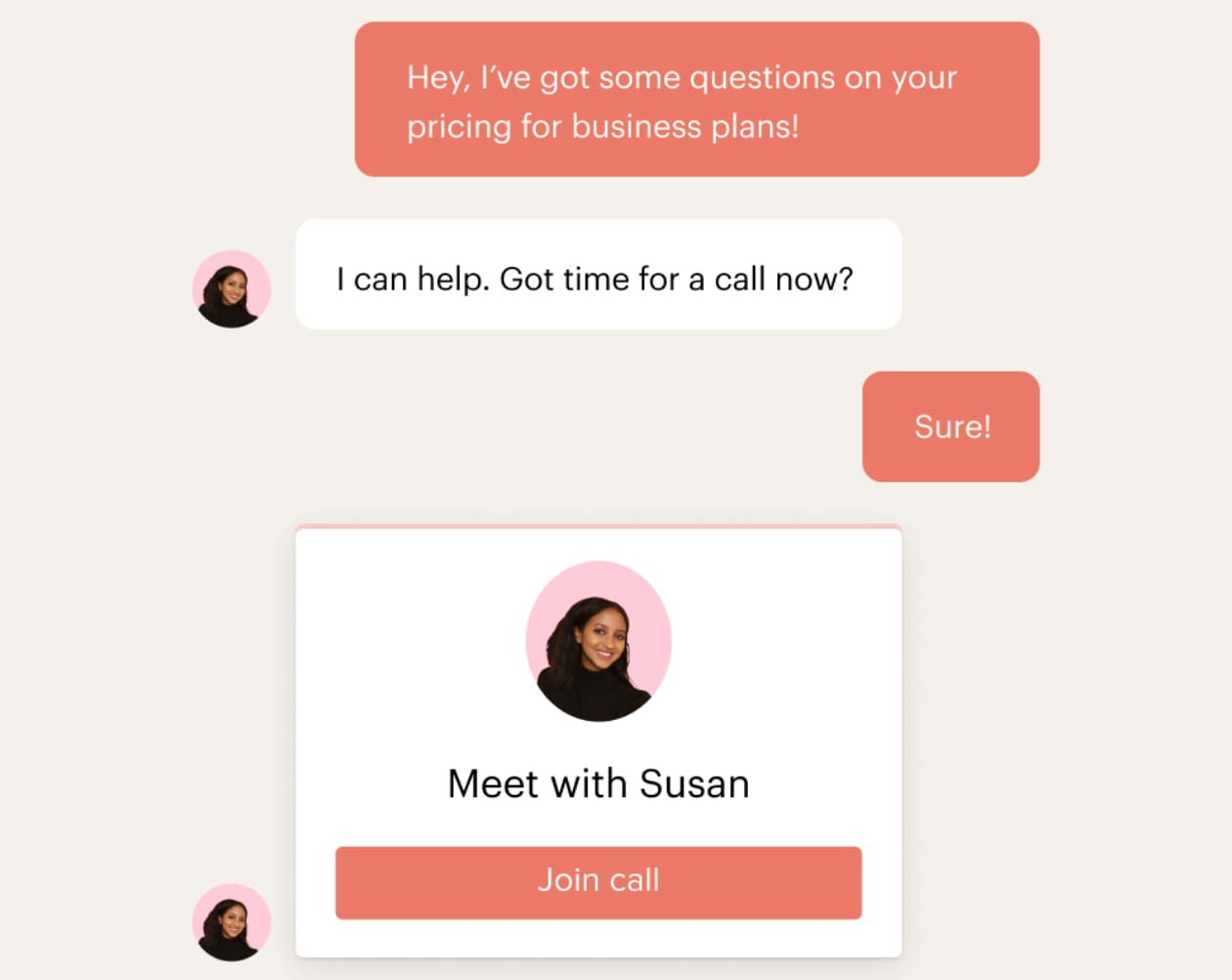 You can use the platform to engage with users who look lost on your website or aren't completing the desired conversion goal of any given page. Sometimes, people just need a little nudge in the right direction and with Intercom's chatbots, you can automate this lead generation strategy.
You can also use Intercom to provide an instant response to customer support queries and direct them to the relevant team member. This is really important from a customer service and retention perspective, which increases repeat purchases and brand loyalty.
We use Intercom on the Leadformly website to reach out to website visitors who might need more information and provide a channel for customer support that's always open.
#17: Learn from your rivals with SimilarWeb
SimilarWeb allows you to analyse a website or app, providing crucial insights into how your competitors are performing. This is a powerful tool for conducting market research, gaining a deeper understanding of your target audience and revealing what your competitors' most successful marketing strategies are.
For example, you can use the Marketing Channels report to see which channels your competitors are most active on and what kind of engagement metrics they're achieving.
You can also use SimilarWeb to see which keywords your rivals are targeting, which ad placements they're winning and any affiliate partnerships they're involved in.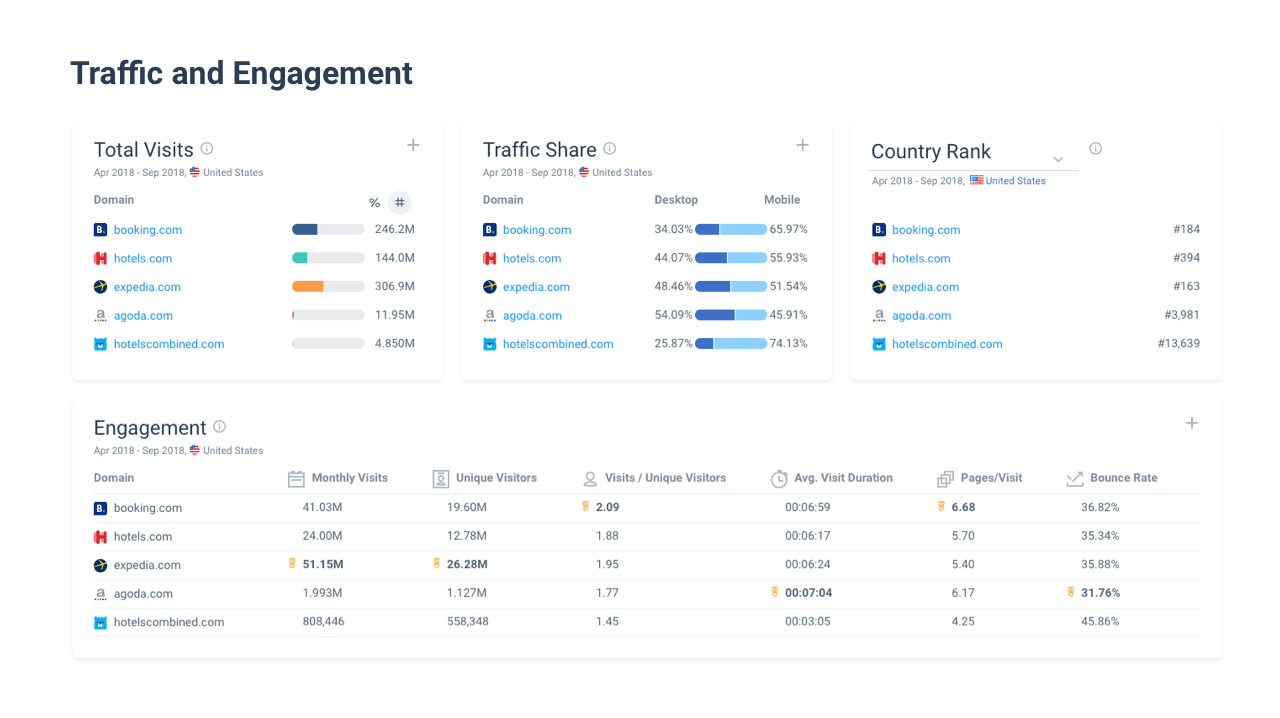 These insights mean you can learn from both the successes and failure of your rivals and make better business decisions. You can also compare your own brand against industry benchmarks and specific rivals to understand where your position is and measure your progress and your business grows.
Chances are changes come quickly in your industry and SimilarWeb will help you stay competitive as things evolve.
Successful CRO starts with the right tools
As you can see from the tasks and tools we've looked at in this article, there's a lot more to conversion rate optimisation than many CRO software providers let on. Every task we've looked at in this article deserves a place in your conversion optimisation strategy and the only potential exception might be #3: optimising software products if you don't have any digital products to optimise.
Aside from that possible exception, these tasks we've looked at today are essential for creating a complete conversion optimisation strategy and there are plenty of other tasks you might need to add to this list, depending on the nature of your business.
At the very least, this list of tools will cover the core essentials of your conversion optimisation efforts and you can combine all of these tools into a single CRO tech stack that will improve your business performance.
Most importantly, you won't find yourself paying for key features more than once because all of these tools provide something different, but equally important in a comprehensive CRO strategy.