I'm a big fan of list posts, but occasionally you stumble upon an idea that's so potent that putting it in a 'top ten' list would only dilute its value. As such, there's only one tip here: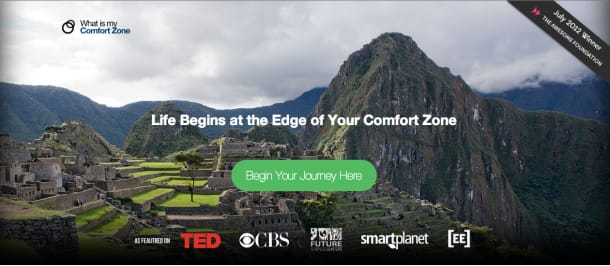 The psychological power of quizzes, surveys, and calculators
Two years ago, I built the World's first 'comfort zone calculator'. What began as just a bit of fun, ended up spiralling out of control, becoming the subject of a TEDx talk and various academic research studies.
When the app was developed, I created a basic IF rule that would show an affiliate link to book a skydive or bungee jump, if the user had specified that they were ready and wanted to skydive / bungee jump.

I was extremely naive and inexperienced as a marketer. I figured that maybe people would take the test and impulse spend £250 on a skydive. After a few months, nothing came through and I realised how silly it was to try and monetise the app through up-selling the chance to jump off a bridge or out of an aeroplane.
Two years went by until I decided, out of curiosity, to check on my affiliate account. To my surprise, seven people had actually booked skydives after using the calculator!
Were they crazy?!
Upon reflection, I think they were probably in a heightened (inspired) emotional state, and figured that this wasn't just an advert – this was a personalised recommendation based upon the answer's they'd given. It was more comparable to a doctor's prescription than a Television advert.
This piqued my curiosity. After looking at the abnormally high click-through, conversion, and engagement rates, I built a few calculators and quizzes in different niches (from identifying how ready a band is to work with certain labels, to building a survey that identifies the best web host for you). I also reached out to a few other entrepreneurs who own 'calculators' of sorts to compare insights.
The conclusion?
Calculators, quizzes, and surveys are some of the best ways of encouraging people to action that I've come across. The comfort zone calculator, for example, has a 50% conversion rate of people clicking through to something recommended to them on the results page – and this has not even been optimised or A/B tested.

The reality is that for most things, we don't want 'one-size fits all' solutions. We want answers tailored to our situation. That's why this tactic works – it gives people a recommendation that they feel is more valuable because it's specifically for them.
How can you increase your engagement using this trick?
Virtually everything we that we have to make a decision about could be helped with a calculator of sorts. From picking a mothers day gift, to finding the right SEO software, there are opportunities all around. They're not expensive to build (the comfort zone calculator cost about $80 in total on Elance). There's also a fantastic WordPress plugin called WP Feedback Survey Quiz Manager, which is a very quick way to get started and has some great in-built functionality.
If anyone has any other examples of really good calculators or quizzes that encourage action I'd love to hear about them below in the comments, or on Twitter.