When 73% of B2B marketers say webinars are the most effective way to generate high-quality leads, you know there must be something to it. That stat comes from InsideSales' Optimal Lead Generation methods report from last year, which provides insights from the world's top sales and marketing leaders.
Here at Venture Harbour, we've enjoyed great success with webinar marketing, too. And, in this guide, we're going to show you how to do the same with an automated, evergreen webinar strategy that generates high-quality leads around the clock.
Best of all, you only need to set up this strategy once and it'll keep working in the background while you and your team focus on closing leads.
What is automated evergreen webinar marketing?
First of all, let's clarify what we mean when we say "automated evergreen webinar marketing". If you're not 100% sure what a webinar is, it's simply a seminar broadcast over the internet which people can sign up to attend (watch) before they begin.
With a webinar marketing strategy, you're aiming to do a number of things:
Get the highest number sign-ups from people interested in attending your webinar.
Maximise the percentage of sign-ups who actually attend/watch your webinar.
Maximise the percentage of attendees who convert during or after your webinar
Send follow-up messages to sign-ups who don't attend your webinar
Now, evergreen webinar content should be as fresh and useful for attendees this time next year as it is now, meaning you can record your webinar and keep using it to generate new, highly-qualified leads. Better yet, you can automate the lead generation process so your webinars are picking up attendees, engaging them and converting them without you having to do any additional work.
In other words, an automated evergreen webinar strategy is a one-time investment that keeps generating leads and increasing its own ROI over time.
What are the benefits of automated webinars?
Webinars are a proven lead generation strategy but creating and hosting events on a regular basis isn't practical for most brands. In fact, even holding a single live webinar can be tricky – not to mention expensive – unless you have all the right resources in place (venue, camera equipment, lighting, etc.).
The more webinars you hold, the more expensive and challenging your strategy becomes.
Unless you record a single webinar, schedule replays that people can watch any time and automate the sign-up process. This way you turn a single webinar into a lead generation strategy that works 365 days of the year.
As always, there are some downsides to automated webinar strategies, too, so here's a quick look at the pros and cons.
Pros:
You only pay for/produce each webinar once
A single webinar can be used indefinitely
No need to hold a live event
Fully automated so it keeps generating leads while you concentrate on closing them
All the benefits of webinar marketing at a fraction of the cost
Cons:
Creating truly evergreen content is difficult
You can't include time-sensitive references
Interactivity is more challenging
The reality is, no piece of content is truly evergreen because things always change. What's relevant in your industry today might not be in ten years' time. More importantly, the demands of your target audience are going to change and you could even be targeting an entirely different audience five years from now.
For the purposes of an automated evergreen webinar strategy, though, you need to create content that's still going to excite your target audience and provide value for as long as possible – be it a year, five years or a decade.
One thing you need to avoid is time-sensitive references that could hurt the relevance of your webinar. For example, talking about the World Cup in Russia this summer is going to be irrelevant as soon as the competition finishes in July 2018. Likewise, referencing something that happened "last year" is going to cause the same problem when someone watches your webinar in a years' time. Mentioning historical events like WWII won't be an issue but be mindful of references that become less relevant as time passes.
Finally, there's the challenge of making recorded webinars interactive and this is something we'll address later in this guide.
An example of automated webinar marketing in action
If you want to see an automated evergreen webinar strategy in action, all you need to do is look at this lead capture page by Leadformly. When users visit the Leadformly website, here's one of the calls to action they'll see: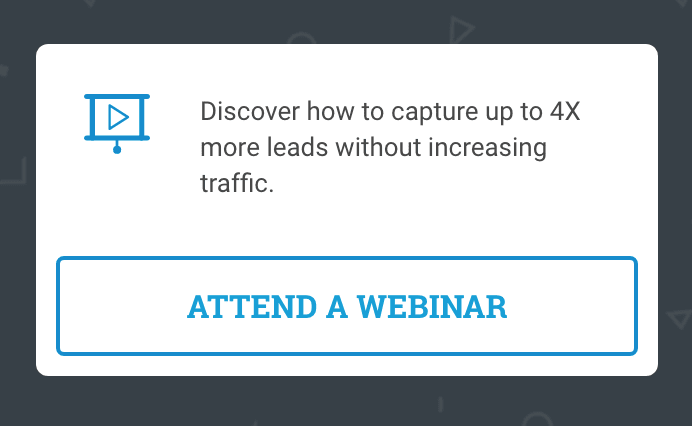 Once they click on on the CTA button, they'll be taken to the sign-up page, which looks like this: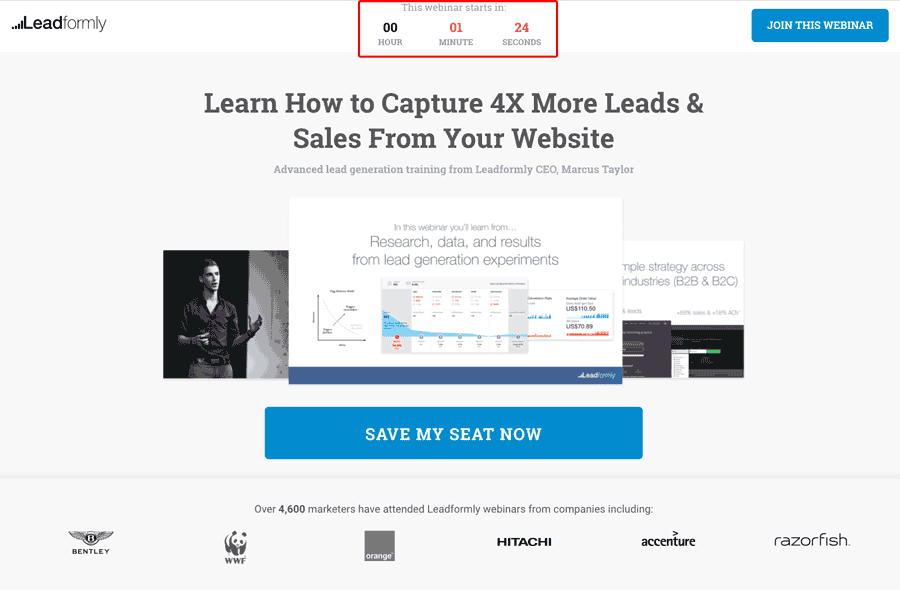 As you can see, there's a headline with a compelling proposition, a CTA button and logos of some of the world's leading brands to whose marketers have attended this webinar. Then you have that countdown at the top, creating a sense of urgency and compelling people to sign up now so they don't miss out.
Here's the thing, though: this webinar is prerecorded and playing on loop every 60 minutes, meaning there's nothing to miss. People can watch this webinar any time they want and if they miss the scheduled viewing they sign up for, lEadformly simply reaches out to them, asking them to watch another screening.
All of this is automated, meaning leads are coming in from highly-qualified visitors without Leadformly's marketing or sales teams needing to do anything.
How we achieved a 75.62% webinar attendance rate with automation
Last year, we published an article looking at how we achieved to get a 75.62% webinar attendance rate, more than double the average for marketing webinars.
ON24 2017 Webinar Benchmarks Report
So how did we pull this off? You guessed it: with an automated evergreen webinar strategy that continues to generate and close leads all by itself. If you want to read the full case study, you can do so by clicking this link but I'm going to summarise the main points now.
#1: We chose the right webinar automation tool
To run an automated webinar strategy you're going to need the right tool and we chose Everwebinar, which allowed us to go from manually scheduling three webinars per week to running them constantly, automatically.
#2: We used Just-In-Time Webinars to boost attendance by more than 100%
One of the best features Everwebinar has to offer – and a key reason we decided to use it – is Just-In-Time Webinars. This means you can let users watch your webinar on-demand, at a time that suits them. They can literally click- through and attend your webinar almost instantly instead of having to wait days or weeks, by which time most of your sign-ups won't attend.
Using this feature alone, we boosted attendance rate by more than 100%, from 20.56% to 42.46% – already above the industry average for marketing webinars.
#3: We created a sense of urgency
You'll year this phrase used in all sorts of marketing blogs and here's proof it actually works. By adding a countdown timer to the sign-up page, users are encouraged to reserve that seat now, rather than miss the webinar or have to wait for the next one to start.
#4: We chased up lost leads
Finally, we created an audience segment of people who signed up to watch our webinar but didn't attend. By reaching out to these people, we're able to remind them why they signed up in the first place and give them the chance to watch another screening.
The results: 75.62% attendance rate in less than a year
By automating our evergreen webinar strategy, we were able to increase attendance rates to 75.62% in less than a year. It was an incredible turnaround, considering we were only achieving 20.56% twelve months previously – more than a 300% increase in highly-qualified leads from a single webinar.
Not only were people watching our webinars in greater numbers, they were watching it in full, thanks to the on-demand environment we created. Better yet, 33% of attendees are now coming back to watch our webinar a second time and they can do so whenever they want.
Create your own automated evergreen webinar strategy
Don't take our word for what automated evergreen webinar marketing can do for your brand. Create your own strategy that generates qualified leads for your business and cut out 90% of the workload normally involved with running live webinars.