With remote working sharply on the rise (50% of the entire UK workforce is expected to work remotely at some capacity), more people are getting the day's tasks done at home. According to Buffer's State of Remote Report, despite having the freedom to work from anywhere, the vast majority of remote workers (84%) still prefer to get things done from home.
With this in mind, it's important to consider the challenges of getting tasks done from the comfort of your own home – as well as any implications this might have on the rest of your home life. One of the key supposed benefits of remote working is achieving a better work-life balance and another one is that it boosts productivity. This is all great, in theory, but reality shows us that achieving these benefits doesn't come automatically. The same report from Buffer also lists the most common struggles remote workers say they encounter.
It's telling that the most common problem cited is struggling to unplug after work and I can say this is something I definitely have problems with. However, I can also say this is directly linked to productivity when tasks take longer and then start eating into my personal time. Communication and collaboration is an obvious barrier when you're working in a different location to your teammates, but this is one area where we have an abundance of apps at our disposal. More challenging is the issue of distractions at home and this is something else I have to be really disciplined with. I can also understand motivation being a problem when you remove all the gentle nudges of having superiors, teammates and that sense of being at work. These are challenges we're addressing in this article and all of the apps we're looking at today will help you overcome these.
Top 10 apps for remote working at home
We've previously looked at the
best productivity tools for teams
,
apps for distributed teams around the world
and
automation tools for small businesses
. However, the focus of this article is the individual remote worker who calls their home their office. You work from home (or you want to work from home) and you need to maximise productivity so you can achieve that work-life balance everyone keeps telling you about. Therefore,
many of the tools I'm recommending here are free
and the paid ones all come with a free version or offer reasonably-priced options. I'm not here to recommend expensive business-grade tools that your company should be paying. There are tools
you
can use to improve your own workflow, impress your bosses and turn remote working into a truly life-changing move. Here's a quick summary of the tools we'll be looking at in more detail:
Serene: A tool that cuts out distractions, helps you stay focused and complete tasks faster.
Slack: Team communication, the way it should be for remote workers.
Zoom: Video and voice calls for groups and one-to-one.
Toggl: Keep track of how long it's really taking you to complete tasks.
Google Drive: Document creation, cloud storage, file sharing and collaboration.
Calendar: Manage all of your calendars and events in one place, and arrange meetings without dozens of emails.
Spark: A smart email client that stops your inbox from getting in the way of productivity and turns it into an asset.
Chrome Remote Desktop: Access your computer securely from any device and screen share with teammates for stronger collaboration.
Zapier: Save time on repetitive tasks and switching between apps by automating processes (e.g.: automatically saving Gmail attachments to Google Drive).
Daywise: Schedule notifications to stop work interrupting your free time.
As you can see, each of these tools fulfills a different role so I'm not recommending 10 different apps that basically all do the same thing. Each of these recommendations will increase your productivity and I fully expect you'll be using eight or more of these after reading this article (or similar alternatives to each individual tool). So let's get started.
Free
Serene is a free app for Mac that helps you achieve maximum productivity every day. There are two key principles behind the app, both of which are backed by a series of scientific studies. First, Serene encourages you to set a single daily goal and stay focused on achieving that throughout the day. This is based on studies that show
multitasking drastically reduces productivity
while others point to
ongoing distractions and/or multitasking can even damage your brain
. The second key role Serene plays is blocking access to distracting websites and apps during work sessions while also silencing your phone. Separate studies find it takes
23 minutes and 15 seconds
to get back on track after being distracted. This gives you an idea of how much time those email notifications can cost you throughout the day.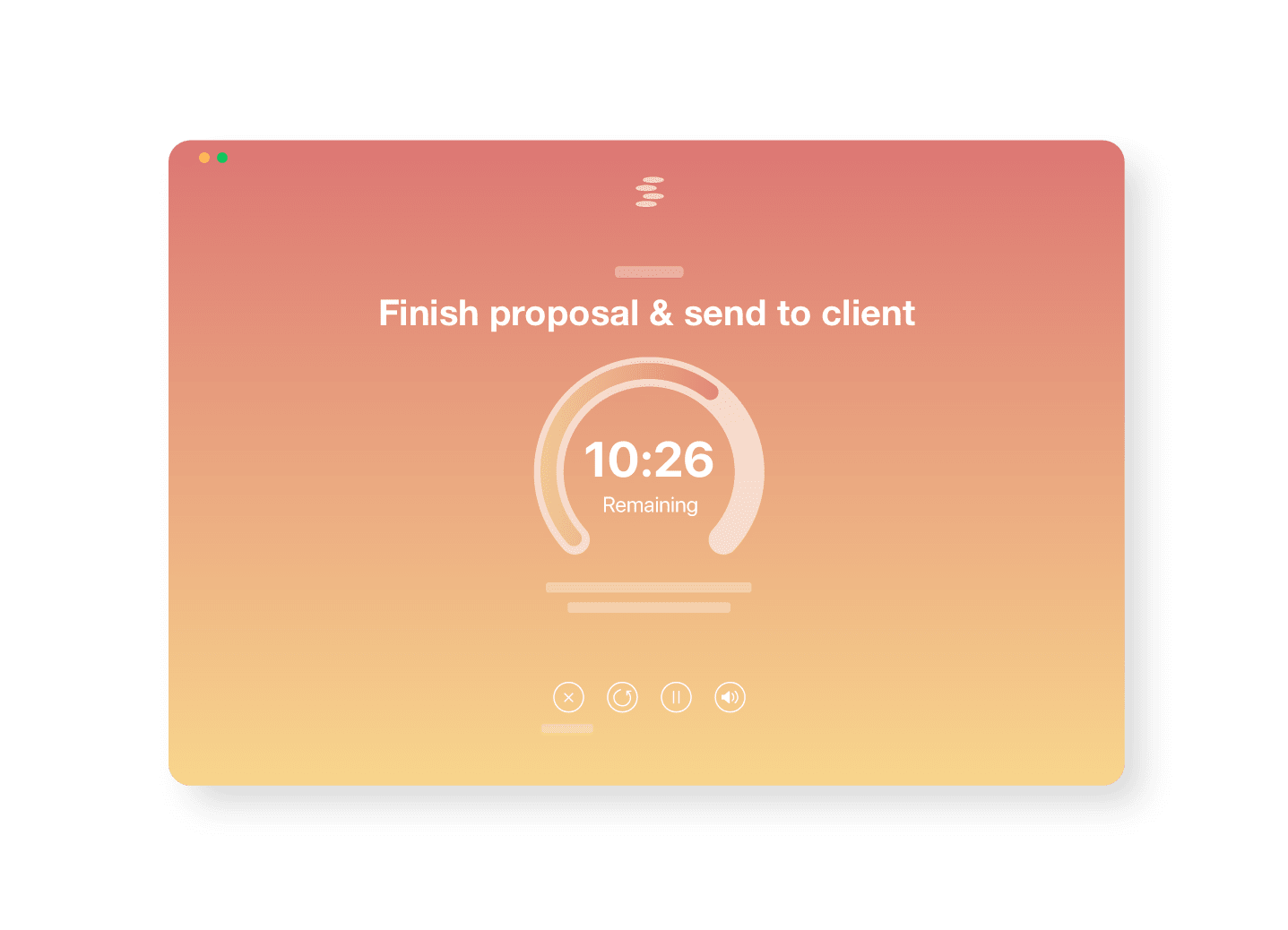 Key features
Website blocker: Block websites that distract you, such as social media and news websites.
App blocker: You can also block apps that take your attention away from work – social apps, your email app and anything else getting in the way.
Distraction-free sessions: Work in 20-60 minute sessions with regular breaks to maximise productivity.
Session timer: Shows you how much time you have left to complete tasks, giving you a motivation boost towards the end of each session.
To-do lists: Manage tasks and make sure everything gets done by the right team member.
Day planner: Define your goal for the day, set your tasks and get stuff done.
Focus music: Play background music to help you keep your focus.
Phone silencer: Automatically put your phone on silent mobile while working to avoid unnecessary distractions.
Serene asks you to set a daily goal, which can be broken up into multiple work sessions or tasks – as long as they all contribute to the day's end goal. These sessions run for 20-60 minutes, another feature based on studies that show the human brain tens to start losing focus on a task after 20 minutes. This concept is so well established there's an entire productivity method developed around it, called the
Pomodoro Technique
(essentially, working in 25-minute bursts).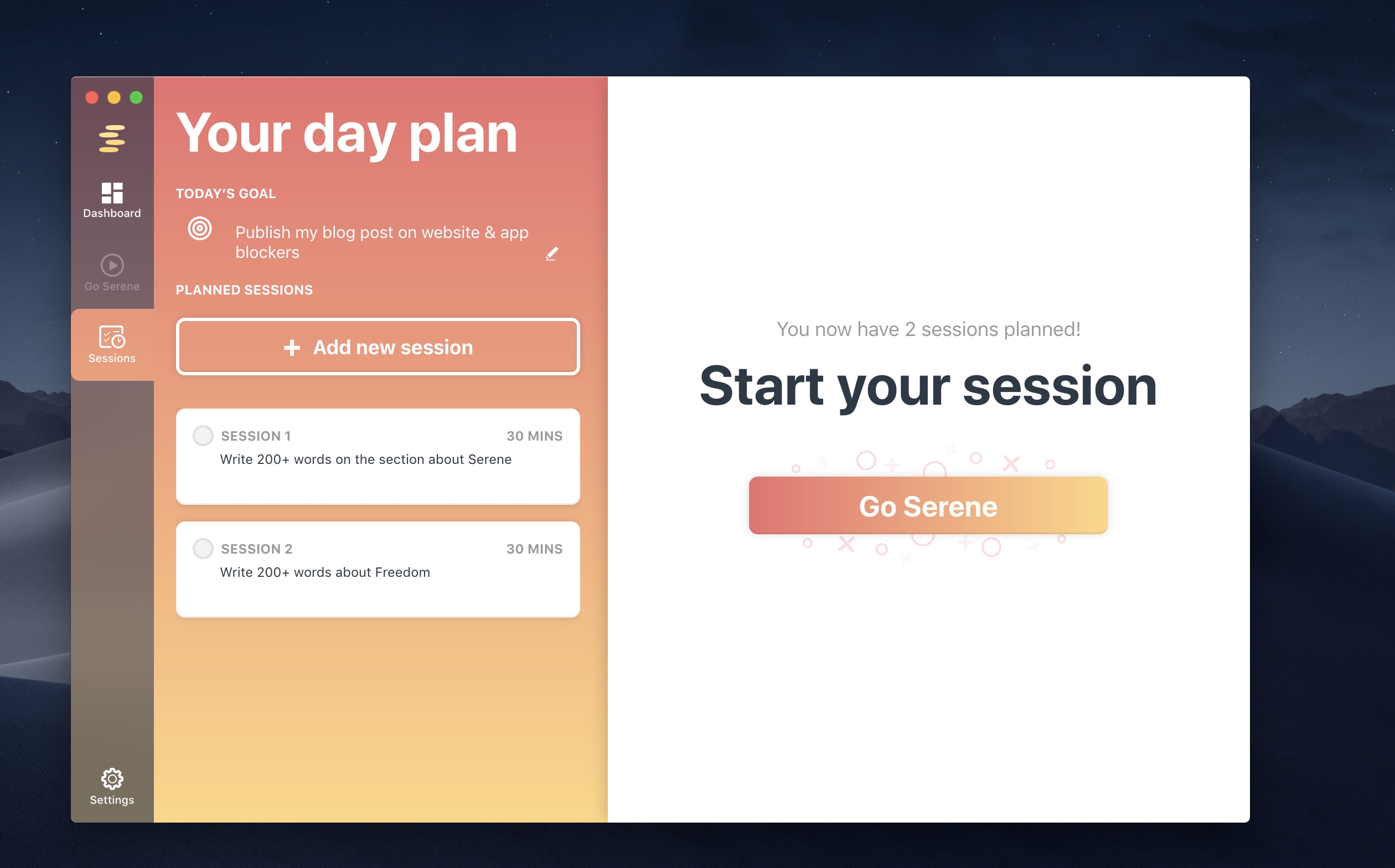 During sessions, you can access site or apps on your block list and Seren with automatically silence your phone so notifications don't distract you from the task at hand.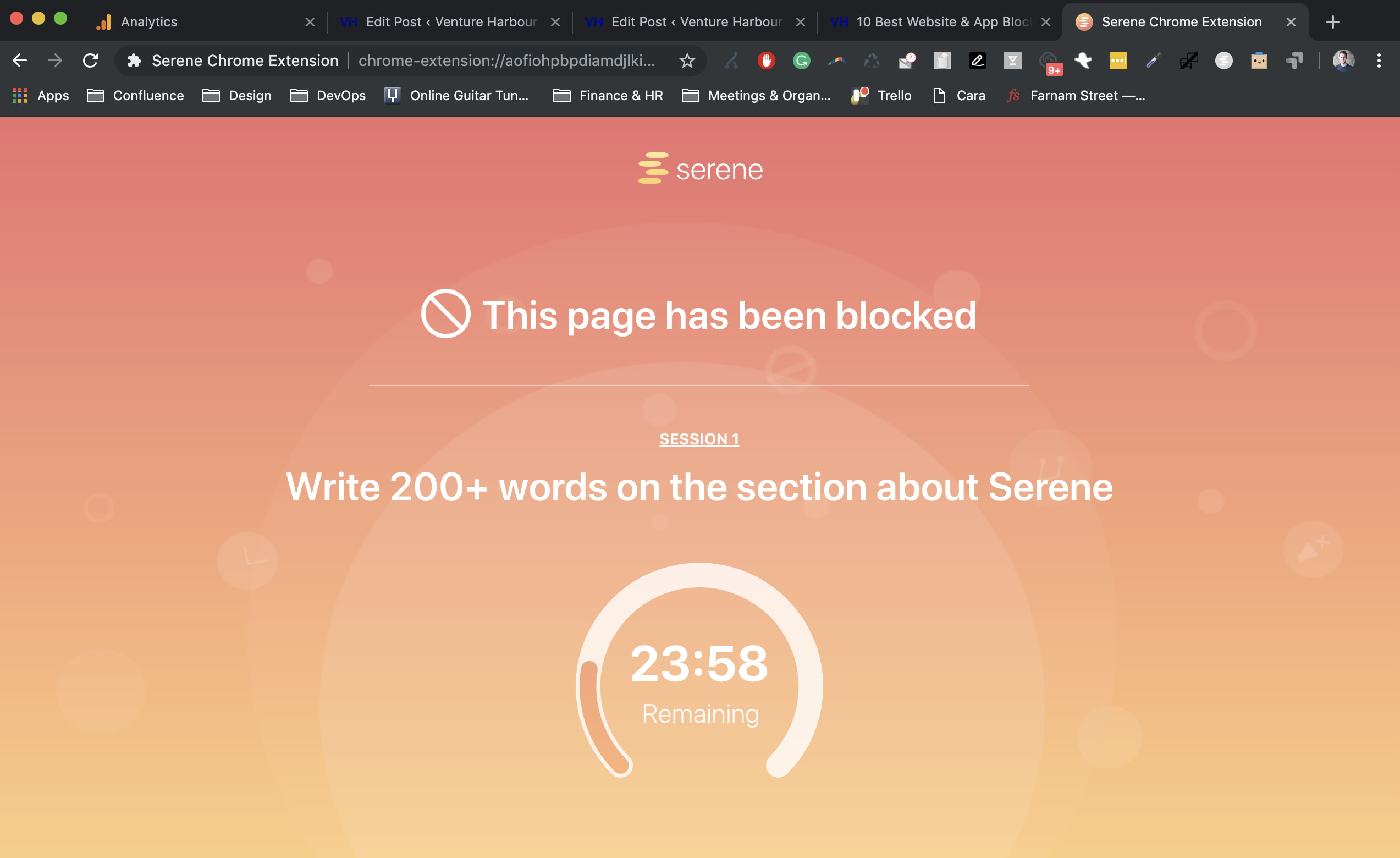 A countdown timer gives you a constant reminder of how much time remains for each session. However, the best thing I find about this feature is it keeps me motivated to work at a solid pace and get the task done before the countdown hits zero. This makes a huge difference compared to thinking about the working day as a 6-8 hour stint where you naturally step off the gas between breaks. Serene divides your day up into a series of short work sessions and regular breaks, giving you maximum focus while working and enough breaks to keep your mind fresh throughout the day. Serene is still in the beta stage of development but you can request an invitation to
try it out here
.
#2: Slack (Windows, Mac, iOS, Android & web)
Free version, paid options from £5.25/monthper user
Slack is a massaging platform designed for teams and it's the ideal communication tools for remote workers. Instant messaging is organised into channels, which team members can join and leave, as needed, so nobody receives messages or notifications irrelevant to them. Team members can also chat outside of main topics in separate threads which prevents these messages from interfering with the most project-centric conversations.

Key features
Instant messaging: Live communication between every team member for seamless collaboration.
Statuses: Users can set availability statuses to focus on individual tasks as needed.
File sharing: Drag-and-drop file sharing for PDFs, images, videos and other common files types.
Voice & video calls: Voice and video calls directly from within Slack.
Screen sharing: Allows team members to show their work to others in real-time for stronger collaboration.
Now, the key things to understand about Slack as a remote worker is the pricing policy. You can use Slack for free, which allows you to create a single workspace for small teams while paid versions start from £5.25/month per active user. Ideally, your business (or the company you work for) will pay for a team version of Slack to provide everyone with a fully-collaborative workspace. However, the free version of Slack means small teams within a business can use the tool between themselves to improve their workflow. This can improve collaboration within office environments but the real benefit of Slack is for remote workers who need to collaborate with team members in other locations – one of the most common problems cited by remote workers.
#3: Zoom (Windows, Mac, iOS, Android & web)
Free version available, paid versions from £11.99/monthper host
Zoom offers a full suite of video conferencing and communication tools for businesses. That said the standout product for us (and the majority of other remote teams I'm in contact with) is
Zoom Meetings & Chat
, which offers video and voice calls for serious teams.

Key features
Video meetings: Remote teams can run video meetings and one-to-one video calls.
Voice calls: You can also run group or one-to-one voice calls when face-to-face meetings aren't necessary.
Webinars: You can also use Zoom to host webinars.
Messaging: Team members can send messages using Zoom.
File sharing: Share files during and outside of video/voice chats for collaboration between members.
Group video meetings and voice calls are made easy with Zoom. Once again, there's a free version of Zoom, which will be enough for a large chunk of smaller teams. Crucially, paid versions only require hosts to pay a monthly fee rather than everyone who attends meetings. A host is someone who invites people team members to join meetings but up to 100 participants can join and you (or your company) will only need to upgrade to a paid version if meetings last longer than 40 minutes.
Free
Chrome Remote Desktop allows you to access your computer securely from your phone, tablet or another computer. Essentially, this means you can access your machine from anywhere, at any time without worrying about any security risks. You can access your computer by typing in an access URL into a web browser or download the mobile app for iOS and Andriod. There's also a Chrome extension available that gives you faster access to your office/home computer from portable devices.

Key features
Remote Access: Access your computer anywhere, anytime from your mobile, tablet or another computer.
Remote Support: Allow team members to access your computer from their location to provide support/collaborate.
Screen share: You can also use the Remote Support feature to share your screen with team members for greater collaboration
The other key function of Chrome Remote Desktop is to connect your device with fellow teammates. This means you can provide access to your computer and receive remote support, allowing colleagues to see your screen and control your computer – perfect for getting technical issues resolved. However, you can also use this feature in reverse to access your teammates' computers and provide support or collaborate. You can simply use the feature to screen share, allowing everyone to see the same screen and collaborate more effectively.
#5: Toggl (Windows, Mac, iOS, Android, Chrome, Firefox)
Plans start from $9/month per user
Toggl is a time tracking app that shows you how much time you're really spending on tasks. The software was designed for remote workers from the very beginning with the idea of helping freelancers make sure they were billing accurately for projects and getting paid for the amount of time spent on projects. If you're a remote freelancer, this alone makes Toggl a worthy investment and its reports will also help you quote more accurately on future projects.
Key features
Time tracking: See how much time you (or others) are taking to get things done.
Boost profits: Check you're charging enough for the time it takes to complete projects.
Reports: See how productive you're being and how profitable your time with Toggl reports.
Cross-platform: Toggl's wonderfully designed apps work across just about every operating system and online so you can access it wherever you need, whenever you need it.
If you're a remote company worker (ie: not sending out invoices) then Toggl can still help you boost productivity by pinpointing tasks that are taking longer than they should. It will also improve project planning by tracking how long individual and collective tasks really take to complete. Likewise, you can also use it to track the amount of time productivity issues are costing you. Toggle also has team plans designed for businesses, starting from $18/month per user.
#6: Spark (Mac, iOS, Android)
Free version, $6.39/mo (per user) for Premium
Emails are
one of the most notorious productivity killers
and I've already mentioned the bane of email notifications in this article. Luckily, there are ways to tame email interruptions and turn your inbox into an asset, not a hindrance.Spark is an intelligent email client that automatically collects and categorises your emails from every account. It also allows you to prioritise the emails that matter most and filter out the ones that don't – or snooze them until later.
Key features
Smart inbox: Clean up your inbox, find any email with "Smart Search" and snooze emails that don't need your attention right now.
Smart notifications: Only receive notifications for the emails that really matter.
Assign emails: Assign emails to team members so the right person is always managing tasks.
Team email: Private team comments, shared drafts, template replies and instant chat for collaborative teams.
Send emails later: Schedule emails to send them when people are most likely to read them.
Reminders: Get reminders to follow up on important emails at the right time.
Spark also packs a bunch of collaboration tools, allowing team members to work on the same email remotely, in real-time. This means everyone who needs to provide information in an email can do so themselves with 100% accuracy – no delays and no misunderstandings. The free version of Spark will be more than enough for individual remote workers and for very small teams as well. Paid versions start from $6.39/monthper user, bringing increasingly advanced collaboration features.
#7: Google Drive (Windows, Mac, iOS, Android & web)
Free
Google Drive is the no-frills cloud alternative to Microsoft Office but it's far more useful for remote workers than its MS rival. The reason I say this is because the file sharing and collaboration features in Google Drive work so much better than they do in Microsoft Drive. Another big issue for me is that I find the MS apps (Word, Excel, etc.) regularly crash on Mac. I don't get any of these problems with Google Drive and the only real downside is you really need to be online to use Google Drive and Google Docs.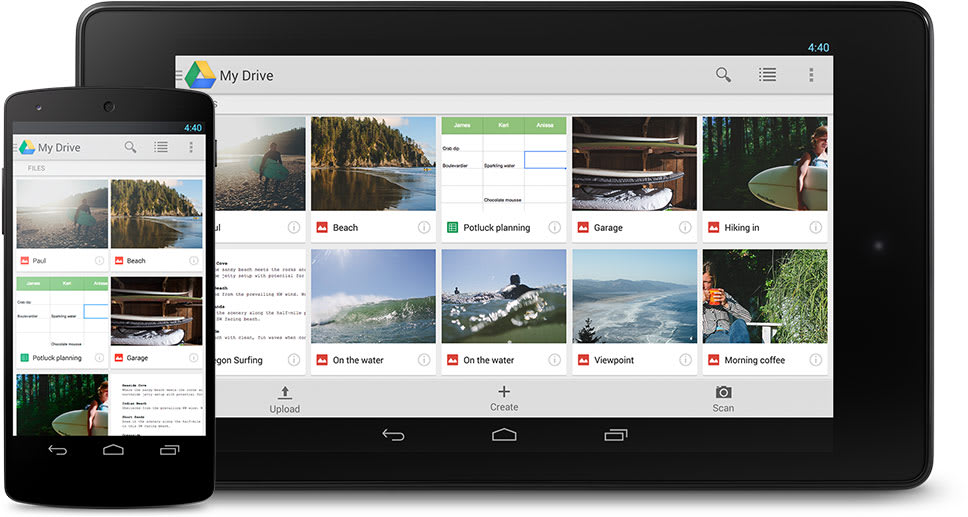 Key features
Documents: Word documents, spreadsheets, presentations and all of the essential docs we take for granted these days – for free.
Cloud storage: The cloud element of Google Drive is what makes it so useful for remote teams, allowing them to create, upload, share and collaborate on files.
Collaboration: Real-time collaboration on Google Docs files works without any real lag getting in the way and this is where it really outshines Microsoft Drive.
Google Drive allows you and other team members to work on the same text document or spreadsheet in real time. There's no noticeable lag and all participants can see changes being in made, as they happen, while comments can also be left for specific lines or cells within each document. For most individual remote workers, the free version of Google Drive should be more than enough. If you need larger cloud storage than the default 15GB space provided for free, then you can upgrade your storage plan without paying up for G Suite, which is essentially Google Drive for businesses. That said, G Suite plans start from £8.28/month per user so we're still talking about a highly affordable platform, even for businesses.
#8: Calendar (iOS, Android, web app)
Free version available, paid versions from $10/month
While Google Calendar is a great free digital calendar, it doesn't provide some of the advanced features remote workers typically need. A more feature-rich alternative is the aptly named Calendar, which connects all of your calendars into a single interface.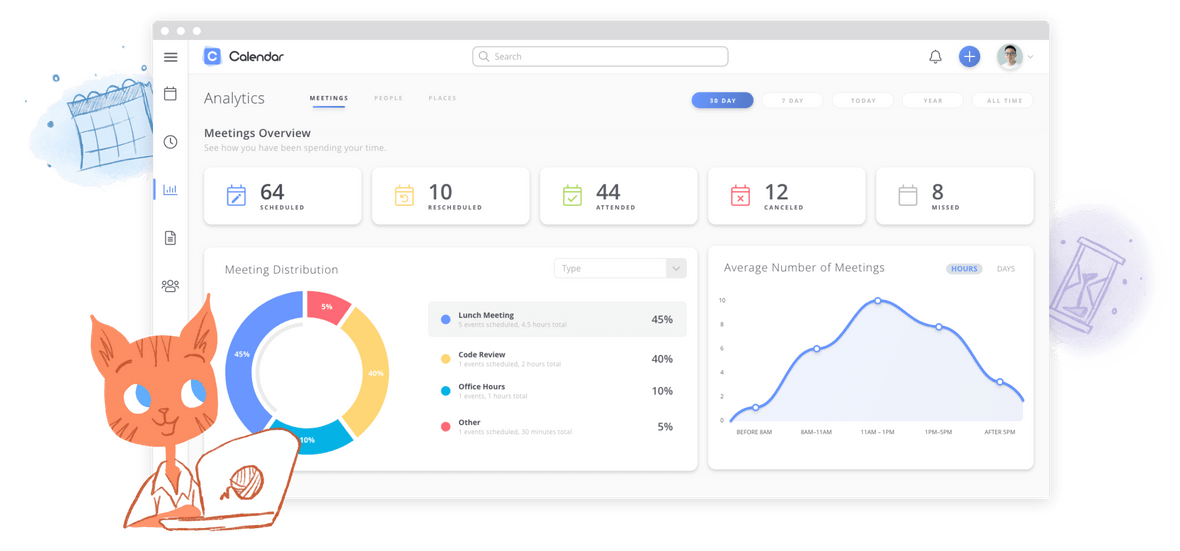 Key features
One calendar: Calendar integrates with all of your calendars (Google Calendar, Outlook, etc.) to keep everything in one place.
Synced events: Create events in Calendar or create them in your other calendar apps – they'll always be synced.
Easy scheduling: Schedule team meetings without the usual email back and forths.
Analytics: Calendar provides analytics reports to help you boost productivity.
Meeting transcriptions: Automatic transcripts of your meetings.
Aside from integrating all of your calendar apps, Calendar's star feature is the way it handles meetings. Instead of arranging video chats or other meetings with dizzying emails between multiple team members, Calendar allows anyone to choose and book meeting times during your availability hours while ensuring there are no conflicts with existing meetings or tasks.
#9: Zapier (Windows, Mac, iOS, Android & web)
Free for 100 tasks/mo, $19.99/month for 750 tasks
Zapier is a simple automation tool that will save you endless amounts of time on repetitive tasks. Instead of constantly switching between different apps to complete basic functions (e.g.: manually uploading files to Google Drive), you can create Zaps to automate these tasks for you. Essentially, Zapier sends data between apps like Gmail and Google Drive so email attachments are automatically uploaded for remote access, for example. Or, you can automatically add new Toggl time entries to a Google Sheets spreadsheet for accurate timesheets without the manual workload.
Key features
Integrate apps: Link your favourite apps so they can share data, allowing you to spend less time switching between apps.
Automate tasks: Automate repetitive tasks between apps.
Zaps: Browse Zapier's library of pre-built automation workflows for your favourite apps.
Custom automations: Build your own automations if you can't find them in Zapier's library of "Zaps".
Automation is the most important tool for maximising productivity and Zapier is the easiest introduction you'll get into this crucial, but sometimes complex, technology. Despite being incredibly simple, it's amazing how much time you can save with Zapier and also how addictive creating/discovering new automations becomes. Time is money, after all.
#10: Daywise (Android)
We've already looked at how Serene can block distractions while you're working but the biggest concern remote workers cite in Buffer's study is switching off after work. I can relate to how difficult switching off can be
and
how important it is. For me, the best way to do this is to unplug from all work-related apps and Daywise allows me to do this by scheduling automations for specific apps. Essentially, this allows me to turn notifications off after 6pm and keep them off until I start work again the following morning. This, combined with Serene, means I'm able to block notifications from killing my productivity and disturbing my private life.
Key features
Schedule notifications: You decide when to receive/not receive notifications for individual apps.
Batch scheduling: Select batches of apps to schedule, instead of setting times one app at a time.
Inbox: Notifications are collecting in Daywise's inbox for access in one place.
VIPs: Choose contacts that can contact you at any time, even if the app they're using is blocked.
Phone usage reports: Learn how much time you're spending on your phone and which apps are eating up most of your time.
Daywise puts you back in control of phone notifications and prevents them from getting in the way of work while also preventing work from getting in the way of life. The only downside I can think of is that the app is only available on Android phones.
It all comes down to productivity
I've been working remotely for almost a decade now and I can confidently say, all of the benefits associated with it require you to do one thing: maximise productivity. Once you do this, everything starts falling into place and you start to realise the full benefits of working remotely. You get more done, feel better about your work and have more time to call your own. The knock-on effects of this are greater happiness, reduced stress and stronger relationships with the people who matter most to you. This doesn't happen automatically, though. With the wrong approach, remote working can eat into your personal life, increase stress and hinder your relationships in ways a regular office job never would – and I'm saying this from experience, too. Again, it all comes down to productivity. These
productivity tools
will give you the advantage you need in terms of getting more done, faster. This will enable you to develop healthy working habits (e.g.: switching off after work) because you can afford to, knowing that you've already done enough today. As I say, maximise productivity and everything good about working remotely will fall into place.