"Great companies obsess over productivity, not efficiency," Michael Mankins wrote for Harvard Business Review (HBR).
As he says in his HBR article, "Our research indicates that the average company loses more than 20% of its productive capacity — more than a day each week — to what we call "organizational drag [sic]."
Organisational drag is any process that consumes valuable time and prevents people from getting things done – ie: productivity killers. The best companies are the ones that identify issues getting in the way of productivity and eitbe focher create more efficient processes or remove them altogether.
The same thing applies to individual staff members, entrepreneurs, freelancers and anyone who cares about making the most of every minute and [insert currency] they spend.
Whether you're working solo or as part of a team, you need the right tools to identify and overcome productivity – so, in this article, we've got 10 of the best time management and productivity apps to help you get more done.
What kind of productivity apps are we looking at?
In this article, I'm going to run you through my pick of the top 40+ time management and productivity apps that will help you get more done every hour of the working day.
Productivity tools come in many different forms and they often take a different approach to improving your workflow. So I'm not just going to reel off a bunch of apps and make out all your problems are solved.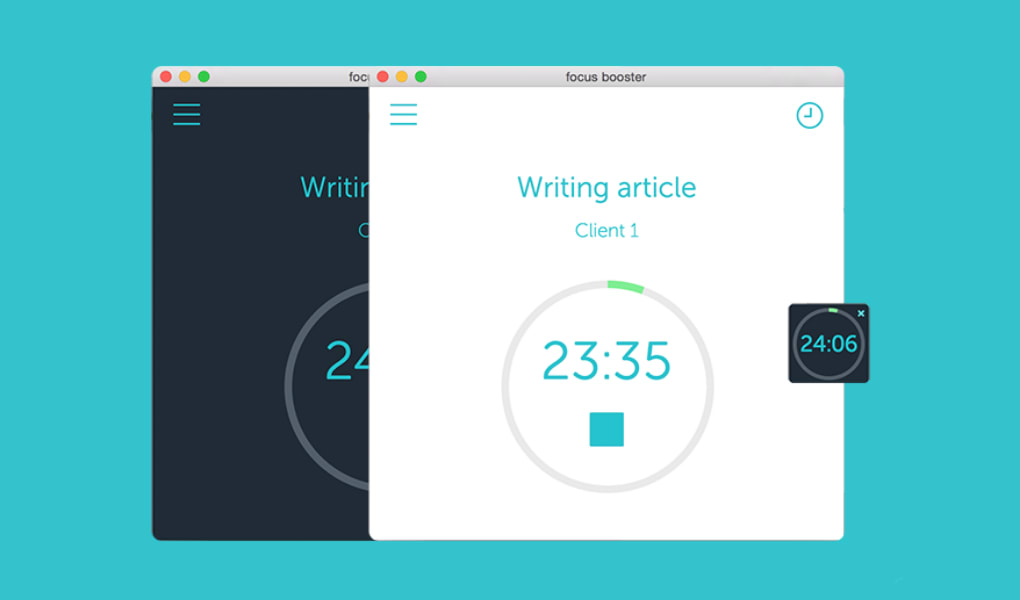 What I'm going to do is break these productivity apps into the following categories, based on what they help you achieve:
Get organised
Improve habits
Increase focus
Once I've introduced all of the apps, I'm going to spend the final part of this article comparing them to help you choose the right toolkit for your needs.
Note, these aren't in any particular order. All of these apps are great at what they do and my aim here is to help you get a better understanding of what they do differently and what you need from productivity tools in general.
So, let's get started.
Get organised with these productivity apps
$49/year, free trial available
Serene is a macOS application designed to help remote workers, freelancers and modern teams get into deep work and achieve their goals.
We'll be talking about this app a few times throughout this article because it has something to offer for all of the goals we're looking at: Getting organised, improving habits and increasing focus.
To make you more productive, Serene takes a unique approach to organising your tasks. It prompts you to set a single goal for each day and then break this goal into several tasks to stop you getting distracted by tasks that don't contribute to your daily objective.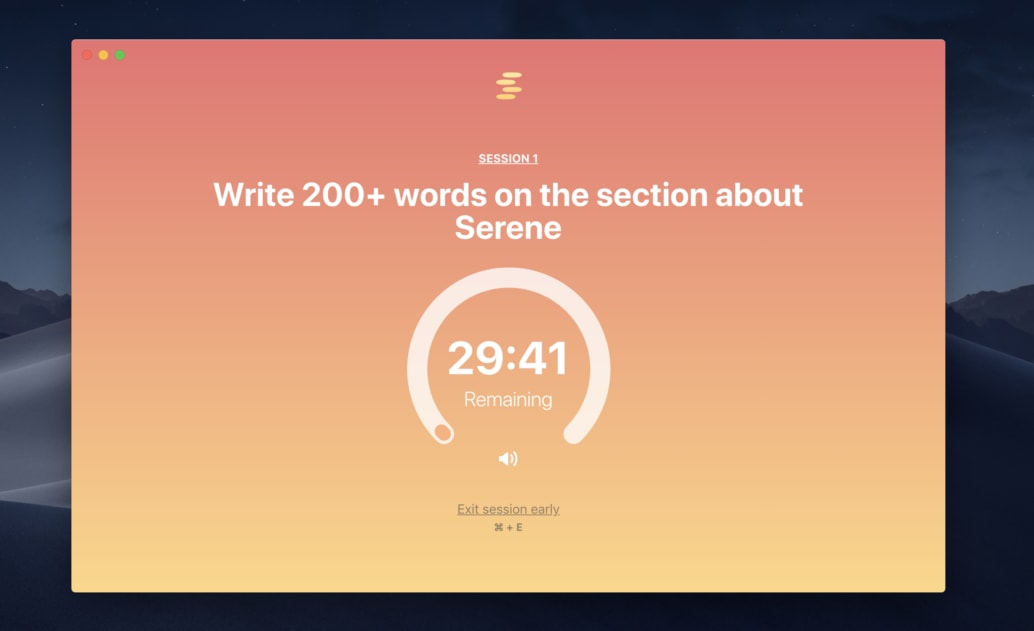 You then work in timed sessions for each task with a short break in between each one. Short working sessions and regular breaks help you stay refreshed and keep you hitting targets throughout the day.
No more feeling overwhelmed by workloads or getting sidetracked with distractions. You just take it one task at a time.
Key features:
Website blocker: Block websites that distract you, such as social media and news websites.
App blocker: You can also block apps that take your attention away from work – social apps, your email app and anything else getting in the way.
Distraction-free sessions: Work in 20-60 minute sessions with regular breaks to maximise productivity.
Session timer: Shows you how much time you have left to complete tasks, giving you a motivation boost towards the end of each session.
To-do lists: Manage tasks and make sure everything gets done by the right team member.
Day planner: Define your goal for the day, set your tasks and get stuff done.
Focus music: Play background music to help you keep your focus.
Phone silencer: Automatically put your phone on silent mobile while working to avoid unnecessary distractions.
As you can see, Serene packs a lot of features into a single productivity app and we'll look at how these can also improve your working habits and increase focus later.
You can try Serene out for free here.
#2: Todoist (Windows, Mac, iOS, Android, Chrome, Safari, Firefox)
Free, $3/monthor $5/mo
Todoist is a task management tool that promises to turn complex to-do lists into something easily manageable. In many ways, it's like a Trello for individuals (and without the cards), helping you keep track of your own tasks and make sure nothing gets forgotten.
You can create and organise tasks, set and change deadlines, prioritise tasks, set project goals and keep track of progress with the apps measurement and reporting features.
Key features:
Task management: A slick, feature-rich interface that makes it easy to create and manage tasks – no matter how long your to-do list may be.
Prioritise tasks: Get the most important things done first by prioritising tasks.
Project goals: Set project goals and make sure you're on track throughout.
Reports: Keep track of your progress with Todoist's measurement and reporting features.
If you're struggling to keep on top of your personal to-do list, Todoist offers a slick, cross-platform interface that makes it quick and easy to manage tasks.
#3: Wunderlist (Windows, Mac, iOS, Android, Chrome, Safari)
Free or $4.99 per user
Wunderlist is a task management app with all kinds of advanced features. While Trello is designed for teams and Todoist is designed for individuals, Wunderlist is designed for both and it feels very much like a Trello alternative designed around to-do lists, rather than cards.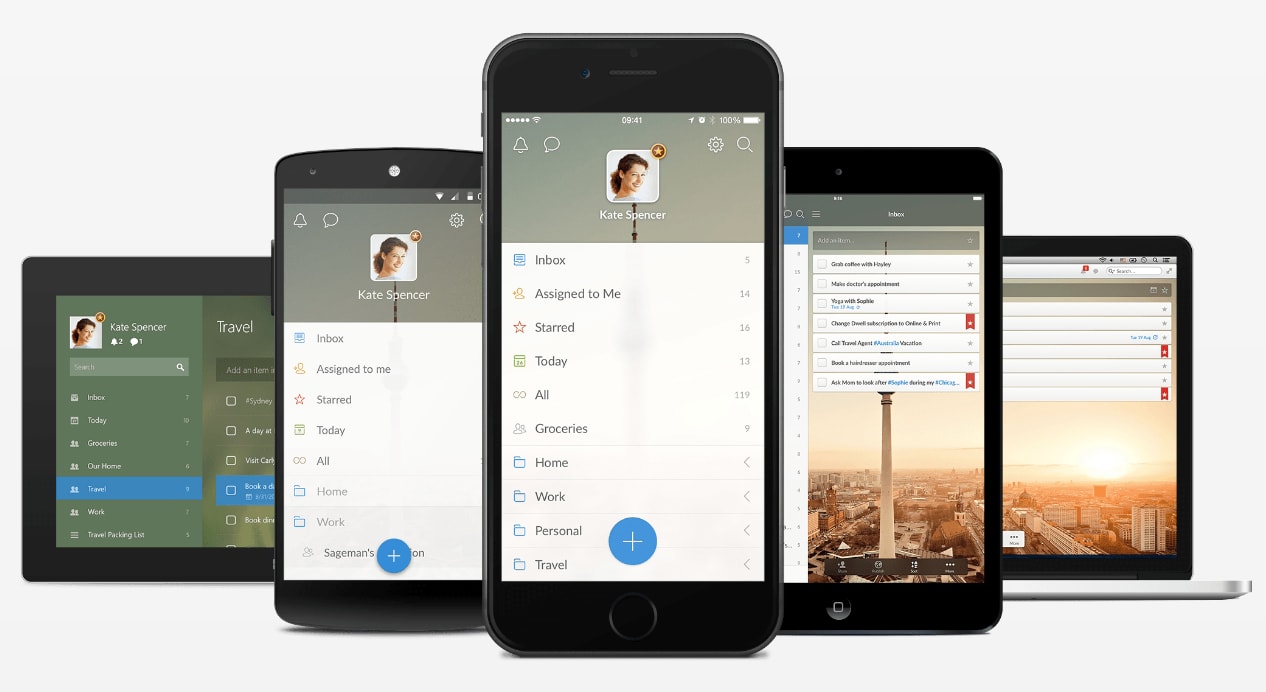 Instead of cards, you create lists and group them into folders, which every member of your team (if you have one) can access and edit accordingly.
Key features:
To-do lists: Create to-do lists for individuals or teams and group them into folders for larger tasks or projects.
Task management: Set deadlines, assign tasks, set reminders and add comments or notes.
Much like Trello, Wunderlist is a seriously powerful platform that offers a lot of productivity features for free or a relatively small subscription fee. See which one you prefer.
#4: Trello (Windows, Mac, iOS, Android & web)
Free version, Business Class version $9.99/monthper user
Trello is a simple, easy-to-use project management app for collaborative teams. The platform is based on the Kanban board philosophy, a visual layout that originates from Japan, which you can see below.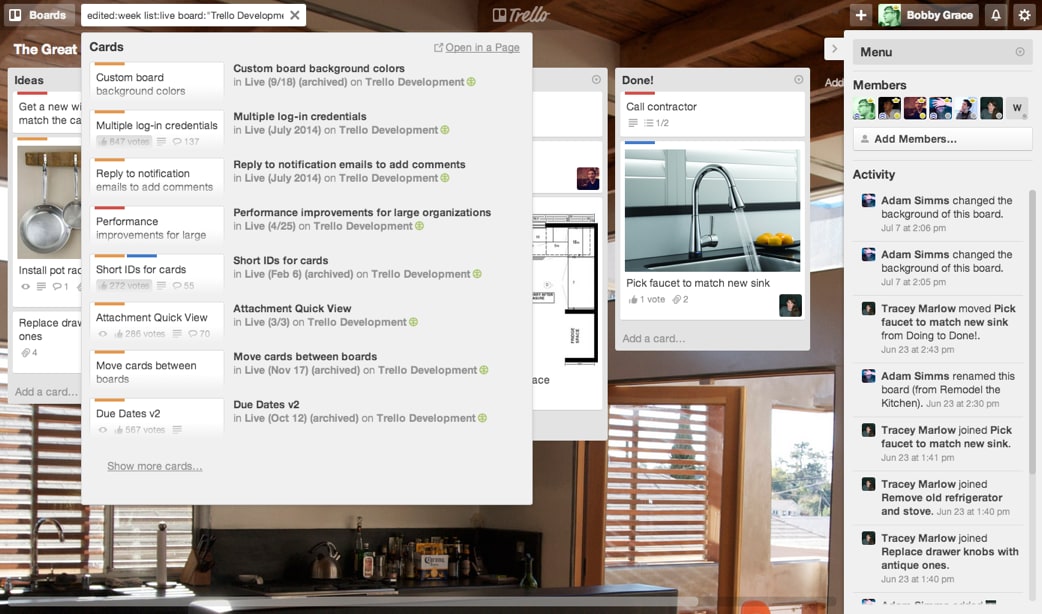 Essentially, tasks are added and organised on "to-do," "going" and "done" statuses, which helps teams keep track of progress. Tasks can be grouped into boards (the entire view above) and cards, which can contain multiple tasks in themselves. Individual tasks can be assigned to groups or team members with deadlines and checklists.
Key features:
Project management: Trello is a simple, easy-to-use project management app for collaborative teams.
To-do lists: Create to-do lists, add due dates, assign them to people and manage tasks as they're completed.
Trello boards: Dashboards where you can create and manage lists of cards containing tasks and to-do lists.
Work with anyone: Invite anyone from around the world to help you make things happen.
Instant messaging: Talk to team members in real-time to discuss tasks.
Trello's instant messaging makes it easy for teams to communicate and collaborate from anywhere and team members can join for free, although they'll be limited to one board. Prices remain affordable on every paid package, though.
#5: Slack (Windows, Mac, iOS, Android & web)
Free version, paid options from £5.25/monthper user
Slack is a messaging platform designed for teams and it's the ideal communication tools for remote workers. Instant messaging is organised into channels, which team members can join and leave, as needed, so nobody receives messages or notifications irrelevant to them. Team members can also chat outside of main topics in separate threads which prevents these messages from interfering with the most project-centric conversations.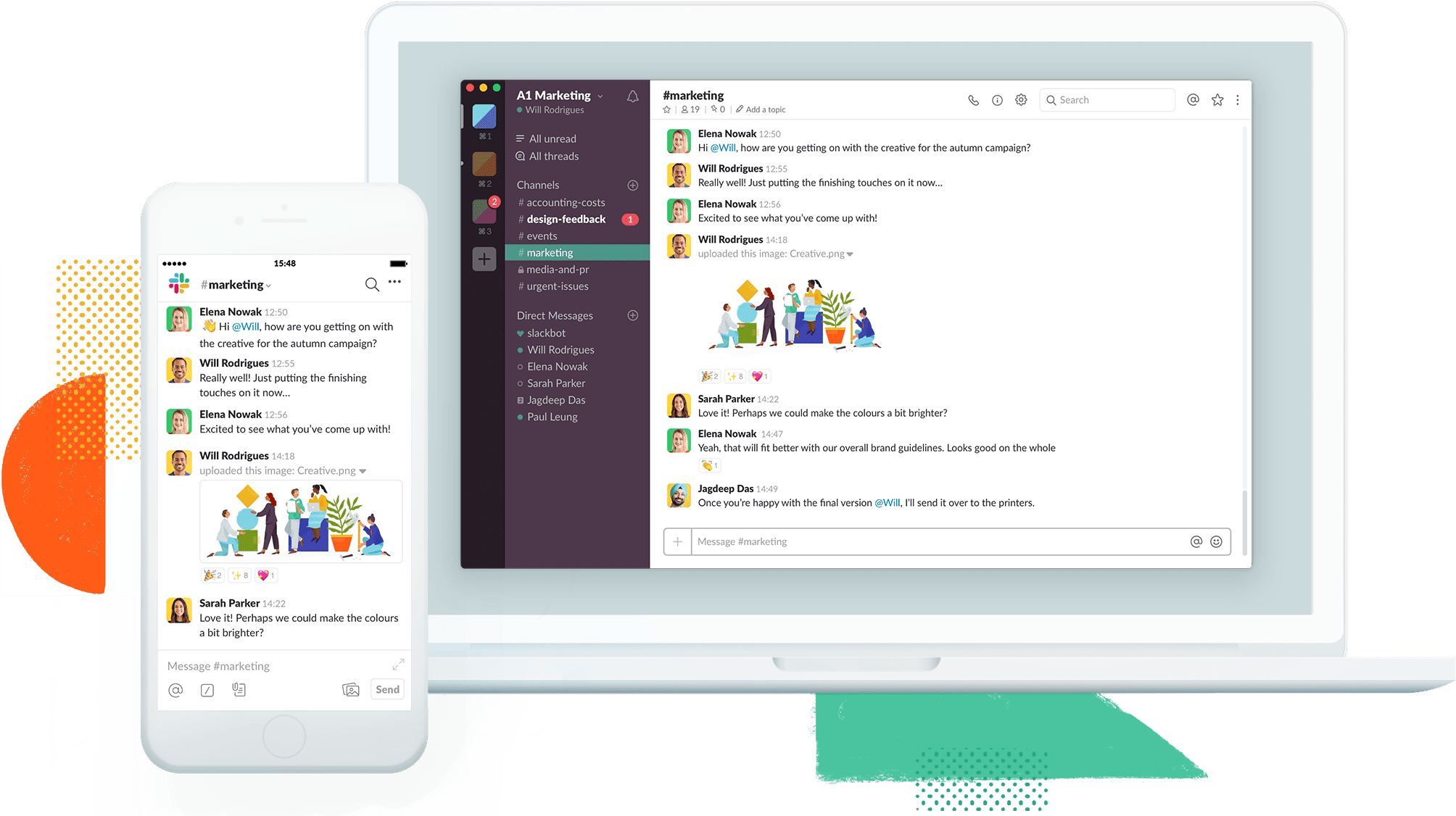 Key features:
Instant messaging: Live communication between every team member for seamless collaboration.
Statuses: Users can set availability statuses to focus on individual tasks as needed.
File sharing: Drag-and-drop file sharing for PDFs, images, videos and other common files types.
Voice & video calls: Voice and video calls directly from within Slack.
Screen sharing: Allows team members to show their work to others in real-time for stronger collaboration.
Now, the key thing to understand about Slack as a remote worker is the pricing policy. You can use Slack for free, which allows you to create a single workspace for small teams while paid versions start from £5.25/month per active user.
Ideally, your business (or the company you work for) will pay for a team version of Slack to provide everyone with a fully-collaborative workspace. However, the free version of Slack means small teams within a business can use the tool between themselves to improve their workflow.
This can improve collaboration within office environments but the real benefit of Slack is for remote workers who need to collaborate with team members in other locations – one of the most common problems cited by remote workers.
#6: Monday (iOS, Android, web app)
Prices start from £15/month for 2 users, £34/month for 5 users
If your project management needs are too demanding for Trello, then monday.com is the first alternative you want to look at. Essentially, it's a slightly more expensive, complex and powerful version of Trello, which is better suited to larger teams, more complex projects or teams juggling multiple projects at any one time.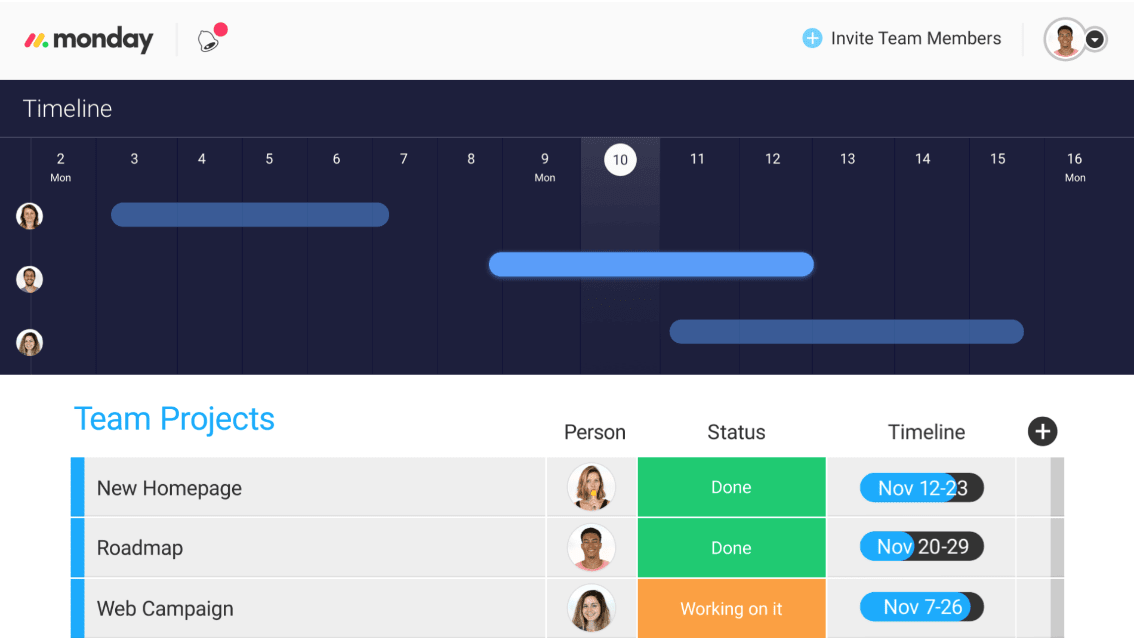 While Trello is based around the Kanban board interface, monday allows you to manage projects using multiple views, including the popular Kanban dashboard. Once again, you can create tasks, group them, assign them and add due dates. Team members can then update the status of tasks with labels such as "to do," "working on it," "stuck" and "done".
Key features:
Project management: monday is a more advanced project management that helps large teams and individual team members complete tasks on time.
Views: Multiple views allow you to check project overviews, timelines, individual workflows, checklists and reports.
Track progress: Track tasks, update statuses, receive notifications when deadlines are looming and reassign/prioritise tasks with ease.
Weekly task loads: Team members can work on multiple projects without getting lost by using monday's weekly overview.
File sharing: Upload and share files so everyone has access to the resources they need via the same dashboard.
The Chart View and Timeline View options in monday, give you an overall picture of how projects are progressing, the timeline for tasks/projects and how your teams are aligning with deadlines – both for individual tasks and entire projects. These views offer great data visualisations, making it easy to manage projects, tasks and team members alike.
#7: Airtable (Windows, Mac, iOS, Android)
Free version, $10/monthfor Plus, $20/monthfor Pro
We're lucky to have so many productivity tools available to us today but this hasn't always been the case. Back in the day (I'm just about old enough to remember), Microsoft Excel was the make-shift project management tool of choice. And, while it may not be the most intuitive tool for this purpose, Excel is surprisingly capable.
Airtable is built around the spreadsheet format and this is great news if your team is used to managing projects on tools like Excel. The platform will be familiar to anyone with Excel experience (or similar spreadsheet apps) but the functionality is a bit much for newcomers to adopt without learning the formulas and functions.
Airtable's interface operates like a spreadsheet but it's far more intuitive and includes all kinds of functionality that's either not available in Excel or difficult to achieve. With Airtable, you can create and assign tasks, set statuses, add attachments and include notes – all within a few clicks.
Key features:
Project management: Airtable turns spreadsheets into a fully-featured project management tool.
Dynamic fields: Turn fields into checkboxes or add links, attachments, text notes to fields.
Views: Manage projects in multiple views – grid, gallery, calendar and Kanban.
Team collaboration: Team members can interact with projects, update task statuses, add messages and prioritise their workflows.
Airtable also includes instant messaging for seamless collaboration and its cross-platform support makes this accessible to every team member, no matter where they are or which OS they're using.
#8: Taskade (Windows, Mac, iOS, Android & web)
Free version, paid versions from $7/mo
Taskade is a project management and collaboration tool for small teams. It takes the to-do list concept turns it into a visual platform for tracking the progress of tasks and projects. While Trello is limited to a single Kanban board view, Taskade allows you to toggle multiple views in one click so you can see exactly how things are coming along.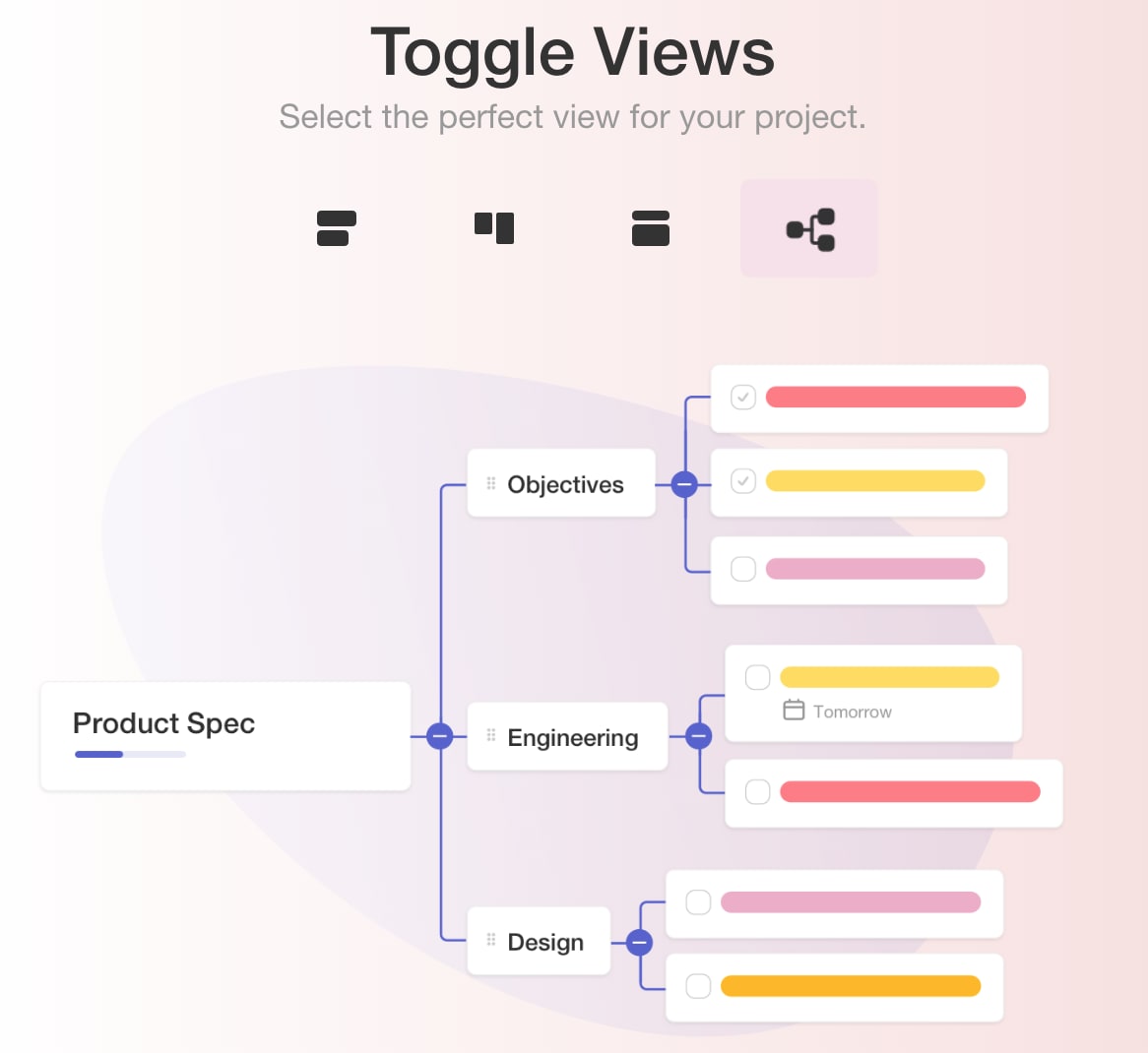 Key features:
Project management: Project and task management features with multiple views for team members to keep track of progress.
Live collaboration: Edit projects in real-time and communicate via live chat.
Team calendar: Keep track of tasks across multiple teams and workspaces.
Team roadmap: Plan and manage projects by visually assigning tasks and setting deadlines.
Taskade also gives you live messaging and video calls for better collaboration between remote team members. While the team roadmap system makes it easy to assign tasks to team members and manage team projects.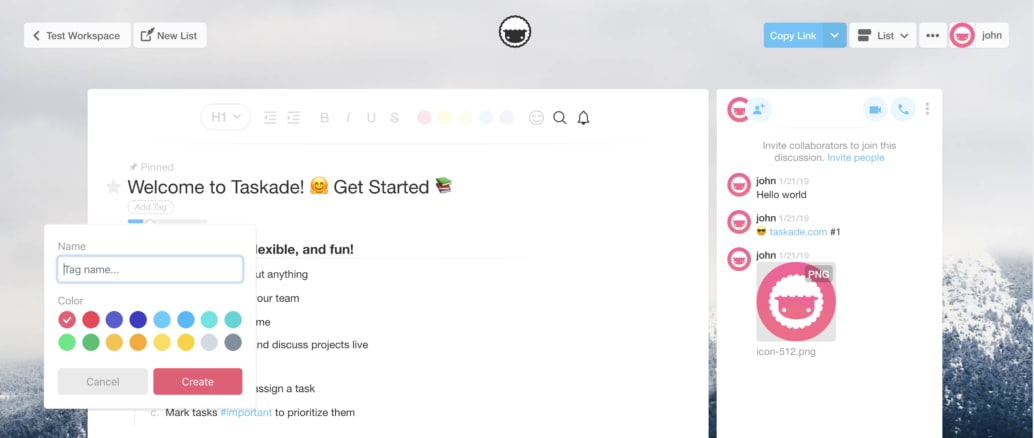 The other key feature Taskade provides is a team calendar where tasks assigned to each team member appear for everyone to see. This is important in terms of managing schedules, assigning tasks and keeping track of workloads.
14-day trial, $12.50/monthfor Business and $25/monthfor Business Pro
A common trait with team productivity tools is they're often designed for technical teams used to dealing with advanced software platforms. This can make it difficult for non-technical teams to find tools that are designed with them in mind.
Process.st is one of those tools, making task management itself easier to manage for teams that don't necessarily have the same IT skills as designers and developers. The platform is essentially an advanced checklist tool that allows you to create tasks and assign them to team members.
The idea is to make repetitive tasks easier for team members to complete (to instructions) and for new team members to take on tasks from others with less time spent on training.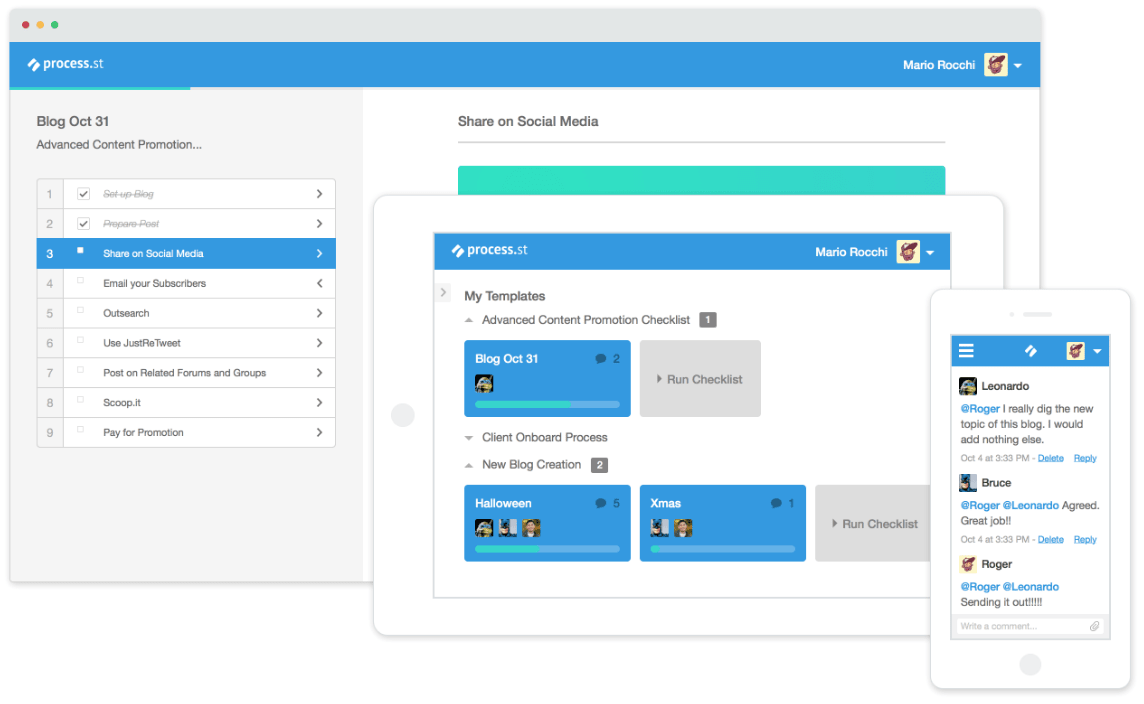 You'll find a library of templates for all kinds of processes like content promotion, social media image design, creating an invoice and fire inspections. You can edit these templates to include your own instructions and add, remove or edit individual tasks on each checklist.
For example, you can create a process for uploading content to social media with instructions for suitable content, image sizes, best times to upload, restrictions and whatever else your team members need to complete every time they do this task.
Key features:
Collaborative checklists: Create checklists for teams, assign tasks and track progress.
Schedules: Create daily, weekly and monthly workflows and automate repeated checklists.
Upload files: Add images, videos and text files to better communicate ideas between team members.
Conditional logic: Create dynamic checklists using if/then logic to adapt to your team's needs and project demands.
Process.st means your team members will be able to complete every step of tasks by following instructions and checking them off their list as they go. This results in higher productivity rates, fewer mistakes and less time spent on creating documentation and training new team members.
This can be crucial if you have remote team members that can't be trained in person.
#10: Doodle (Web app)
Team packages start at €12.50/monthfor 5 users
Communication is crucial for collaborative projects and this becomes increasingly challenging as the number of remote workers on your team increases. While instant messaging is great when everyone is available, organising meetings, chats, video calls and group work sessions at a time that suits everyone can be difficult – especially if you've got remote workers in different time zones.
Luckily, Doodle's got you covered with its collaborative scheduling app that makes it easy to arrange meetings with the ongoing email back-and-forths. It doesn't matter how large your team is, how many time zones they're spread across or how many teams your workforce comprises of – Doodle makes meetings happen.
Key features:
Team scheduling: Arrange meetings, video calls and collaborative sessions without the email back-and-forths.
Availability: Team members can set their hours of availability, which automatically adapts for time zones.
Reminders: Set reminders so team members are always ready for meetings.
Personal events: Keep private meetings, events and tasks hidden from team members so people only see the tasks they need to.
Essentially, users set their availability times, which are available for other team members to see, and meetings can be scheduled based on everyone's availability times. Users simply confirm they can attend and the meeting goes ahead. Team members will also be sent automatic reminders before meetings so nothing gets forgotten.
Another key feature of Doodle is that user can integrate it with their own calendar apps but everything remains private. The only data visible to other users is availability times and details related to scheduled meetings – nothing else.
Free version available, paid versions from $10/mo
While Google Calendar is a great free digital calendar, it doesn't provide some of the advanced features remote workers typically need. A more feature-rich alternative is the aptly named Calendar, which connects all of your calendars into a single interface.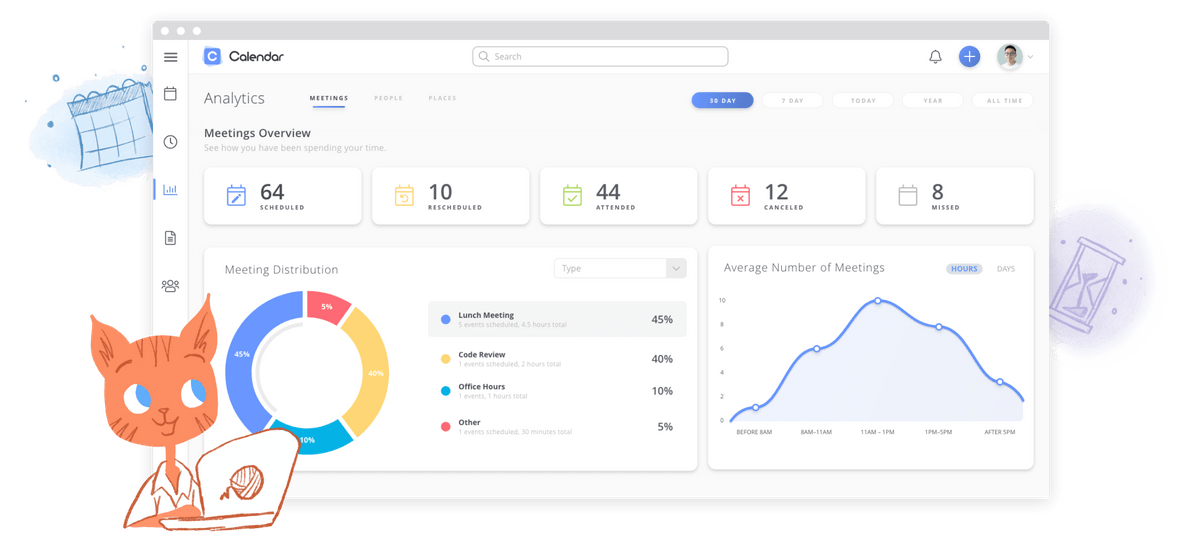 Key features:
One calendar: Calendar integrates with all of your calendars (Google Calendar, Outlook, etc.) to keep everything in one place.
Synced events: Create events in Calendar or create them in your other calendar apps – they'll always be synced.
Easy scheduling: Schedule team meetings without the usual email back and forths.
Analytics: Calendar provides analytics reports to help you boost productivity.
Meeting transcriptions: Automatic transcripts of your meetings.
Aside from integrating all of your calendar apps, Calendar's star feature is the way it handles meetings. Instead of arranging video chats or other meetings with dizzying emails between multiple team members, Calendar allows anyone to choose and book meeting times during your availability hours while ensuring there are no conflicts with existing meetings or tasks.
#12: Toggl (Windows, Mac, iOS, Android, Chrome, Firefox)
$9/mo, $18/monthor custom pricing for enterprise businesses
Toggl is a simple time tracker with powerful reporting that keeps track of how much time you're spending on tasks. The idea is to document how much time you're really spending on individual tasks to make sure you're charging the right amount on your invoices.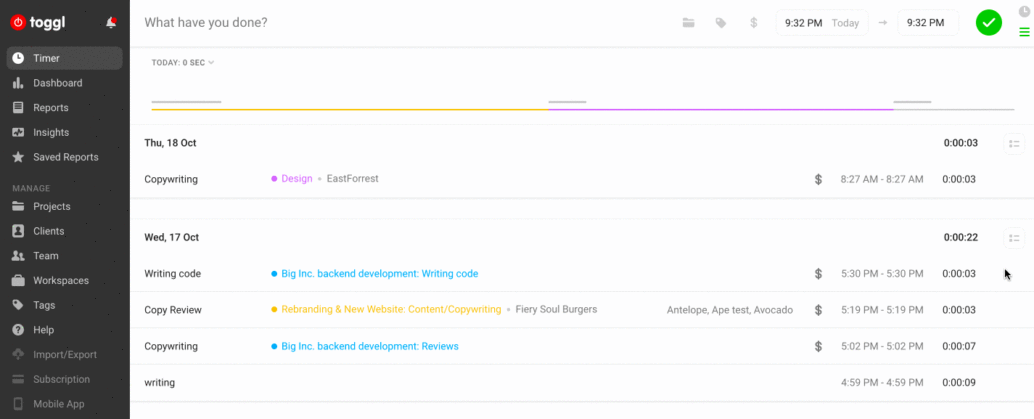 For teams, it's also a great tool for comparing the amount of time people spend on tasks, finding out what individuals are best at and knowing who can get you things done under pressure.
Key features:
Time tracking: See how much time you (or others) are taking to get things done.
Boost profits: Check you're charging enough for the time it takes to complete projects.
Reports: See how productive you are and
Cross-platform: Toggl's apps work across just about every operating system and online so you can access it wherever you need, whenever you need it.
Toggl is an incredibly simple app but it does what it's designed to do perfectly. Sometimes more features simply create more distractions and that's counteractive for a productivity app – s problem you definitely won't get with Toggl.
#13: Pocket (Windows, Mac, iOS, Android & web)
Free
Pocket is a wonderfully simple productivity app that simply lets you save web pages for reading later. In truth, it's little more than a bookmarking tool turned into an application but it really makes a difference to how you work.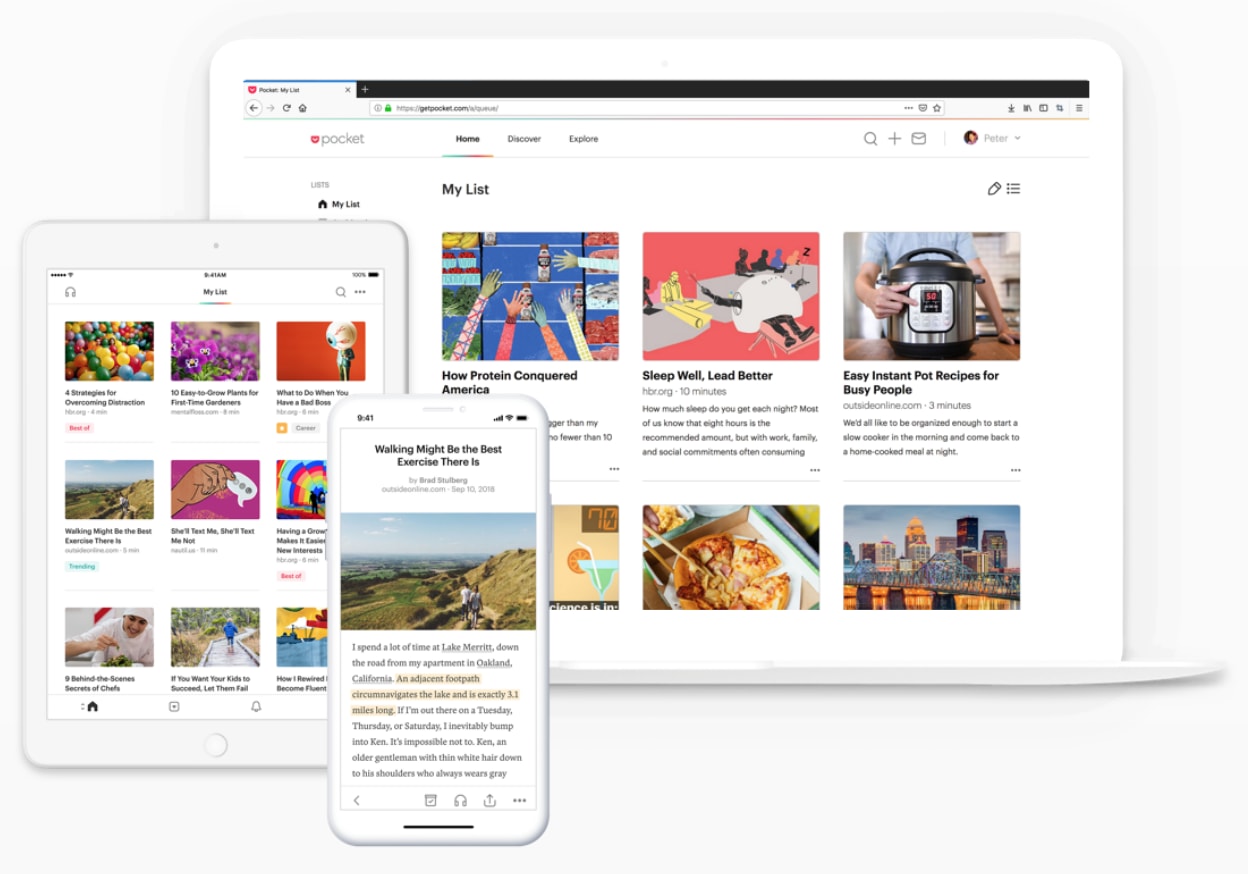 When you come across something interesting or useful, but you don't have time to read it now, Pocket is there for you. Simply save the page (URL-based), assign a category if you want, and you'll build a collection of resources in your Pocket account.
The app essentially turns into a feed of things you actually want/need to read, learn or use for later.
Key features:
Save for later: Save web pages for reading when you have time or need them.
Pocket may only have one key feature but I find myself using it every day and it costs me absolutely nothing.
#14: Zapier (Windows, Mac, iOS, Android & web)
Free for 100 tasks/month, $19.99/month for 750 tasks, team package for 50,000 tasks, $299/month
Zapier is a simple automation tool that can save teams huge amounts of time on repetitive tasks and switching between different apps.
Essentially, Zapier sends data between apps like Trello and Gmail so emails are automatically sent out when anything changes in Trello. Or, you can link Doodle with Airtable so that records in Airtable are automatically updated as soon as a Doodle meeting closes.
There are thousands of existing automations already available on Zapier that you can use to handle repetitive tasks between different apps – and you can also create your own.
Add all these automations together and your team is collectively going to spend a lot less time on menial tasks, allowing them to focus on more critical tasks and get things done much faster.
Key features:
Integrate apps: Link your favourite apps so they can share data, allowing you to spend less time switching between apps.
Automate tasks: Automate repetitive tasks between apps.
Zaps: Browse Zapier's library of pre-built automation workflows for your favourite apps.
Custom automations: Build your own automations if you can't find them in Zapier's library of "Zaps".
Zapier is a very gentle introduction into business automation but it can make a real impact on the day-to-day tasks that often slow down collaborative teams.
Improve habits with these productivity apps
Free
This time we've got an Android-only productivity app but Loop takes a very different approach to most tools you'll come across in this category. Instead of trying to keep you away from bad habits getting in the way of work and life, Loop aims to help you spend more of your time forming beneficial habits.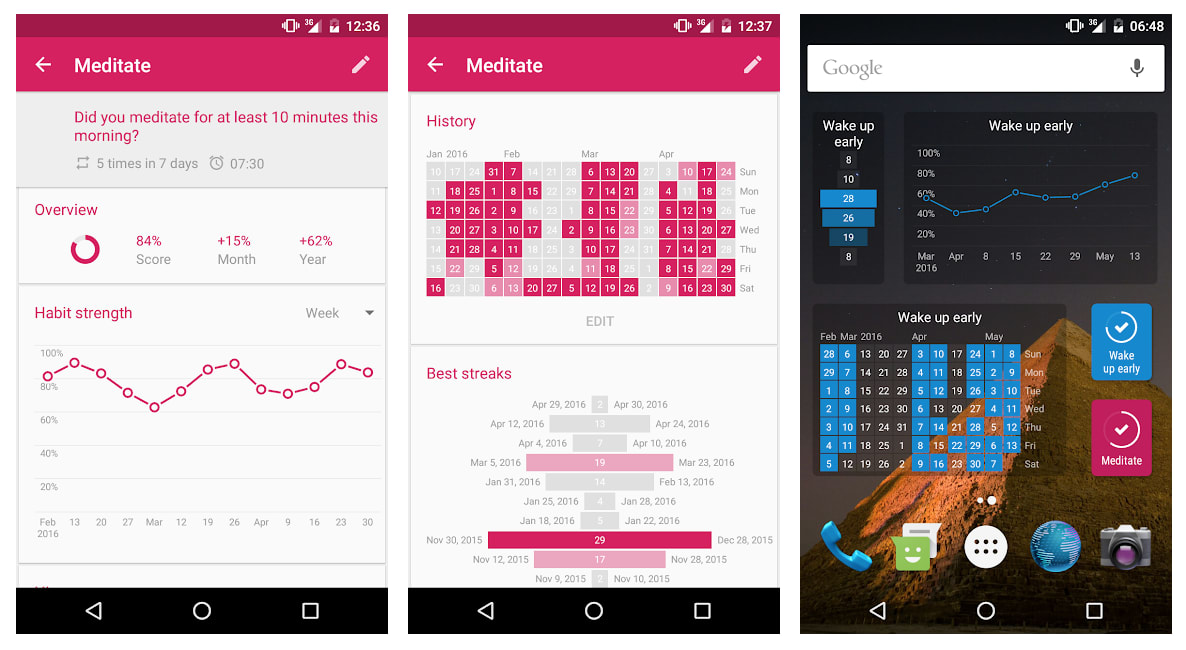 It could be spending more time on neglected admin tasks, catching up on your ever-growing inbox of emails or spending more time with the kids when you're not working. Whatever you want to be doing more of, Focus will help you improve your habits.
Key features:
Develop better habits: Set targets for the things you want to spend more time doing.
Schedule: Set specific times and dates or weekly schedules to make your goals more achievable.
Habit score: See how you're doing with individual habits or overall with your habit score.
Reporting: Detailed graphs and statistics to keep track of your habits and monitor performance over time.
Reminders: Set reminders to keep you in check during moments of weakness.
With productivity apps, there's a lot of focus on the things you shouldn't be doing but Loop takes the opposite approach and puts the focus on what you could be doing better.
#16: Forest (iOS, Android)
Free
Forest is easily the quirkiest productivity app in our list today. It's only available on iOS and Android but there's beautiful irony in the fact it's designed to stop you spending so much time on your phone and/or tablet.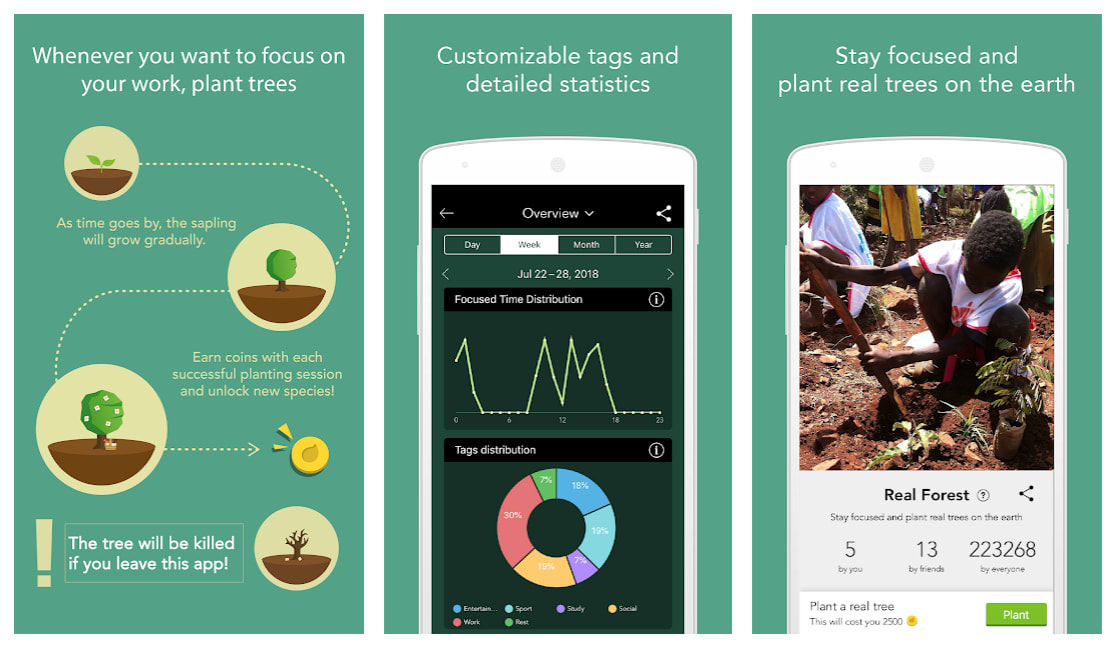 Forest essentially gamifies downtime away from your mobile devices. When you want to focus, you plant a "tree" and the more time you spend away from your phone/tablet, the more it grows.
Leave the app and your tree dies :(
Spend enough time away from your phone and you can grow an entire forest. Best of all, you can earn virtual coins by staying focused on your tasks and use these to grow real-life trees through the Forest app.
Key features
Productivity: Spend less time on your mobile devices and see the progress in the form of digital trees.
Gamification: Forest adds a bit of fun into the chase for better productivity.
Grow actual trees: No other app in this list is going to help you plant actual real-life trees where they're needed most.
Forest not only injects a bit of fun into productivity it also helps you make the world a better place while you're improving your workflow.
#17: Notion (Windows, Mac, iOS, Android)
Free version, paid versions from $4/mo
Notion calls itself your team's long-term memory and it acts as a kind of collaborative alternative to Evernote. Notion also calls itself "the missing half of Slack" which it integrates with perfectly to create a single location for all the resources important to your team – for example, important documentation, guidelines, etc.
Multitude's aim is to replace a multitude of separate productivity apps with a single platform.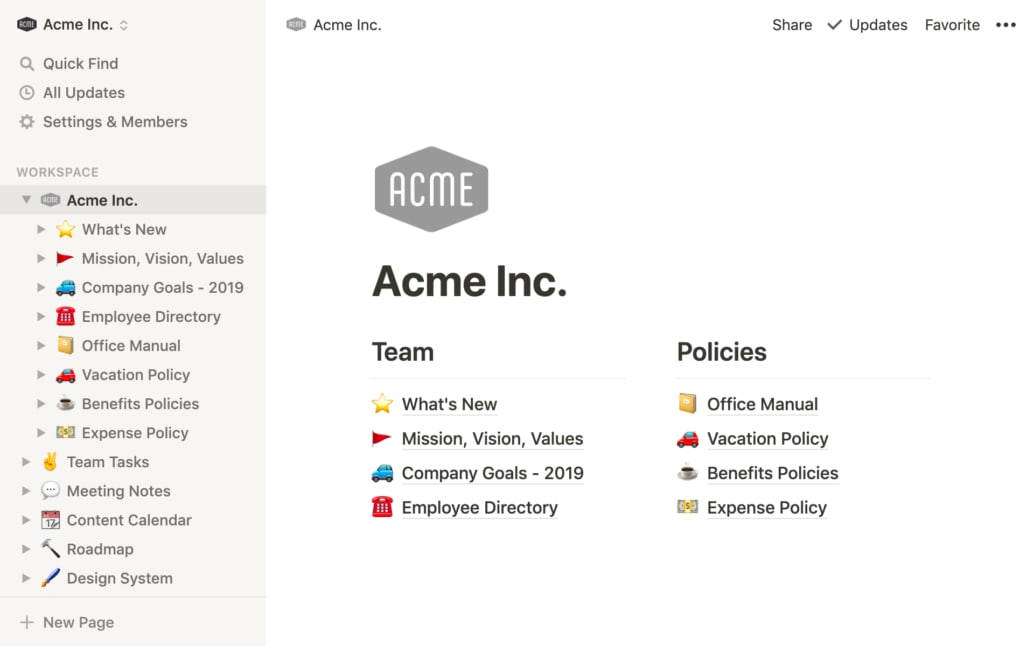 Key features:
Notes & Docs: Create and share documents, notes and media files.
Team Wiki: Create a central knowledge base of essential info and guidelines for all team members.
Project management: Highly customisable Kanban boards and calendars that adapt to your work.
Files sharing: Designed for focused writing, easy editing, and rich media
Live collaboration: Work on tasks together in real-time.
So, instead of using Google Docs and Evernote, you can use Notion to basically achieve the same thing. Likewise, you can also use its task and project management features in place of tools like Trello. Then, you have the spreadsheets and databases which aim to replace the likes of Excel and Google Sheets.
If you're tired of using a dozen different productivity tools, Notion aims to provide a single platform that replaces half a dozen separate apps. I'm not saying Notion is necessarily as good as all of those individual apps combined but you gain convenience by not having to switch between different apps and you could well save some money while you're at it.
#18: Serene (macOS)
Free version available, pro version $49/year
Earlier, we looked at how Serene can help you get organised but the platform is also designed to improve your working habits. The software encourages you to work in short power bursts to maximise productivity and studies have shown this approach can increase your concentration levels while reducing fatigue.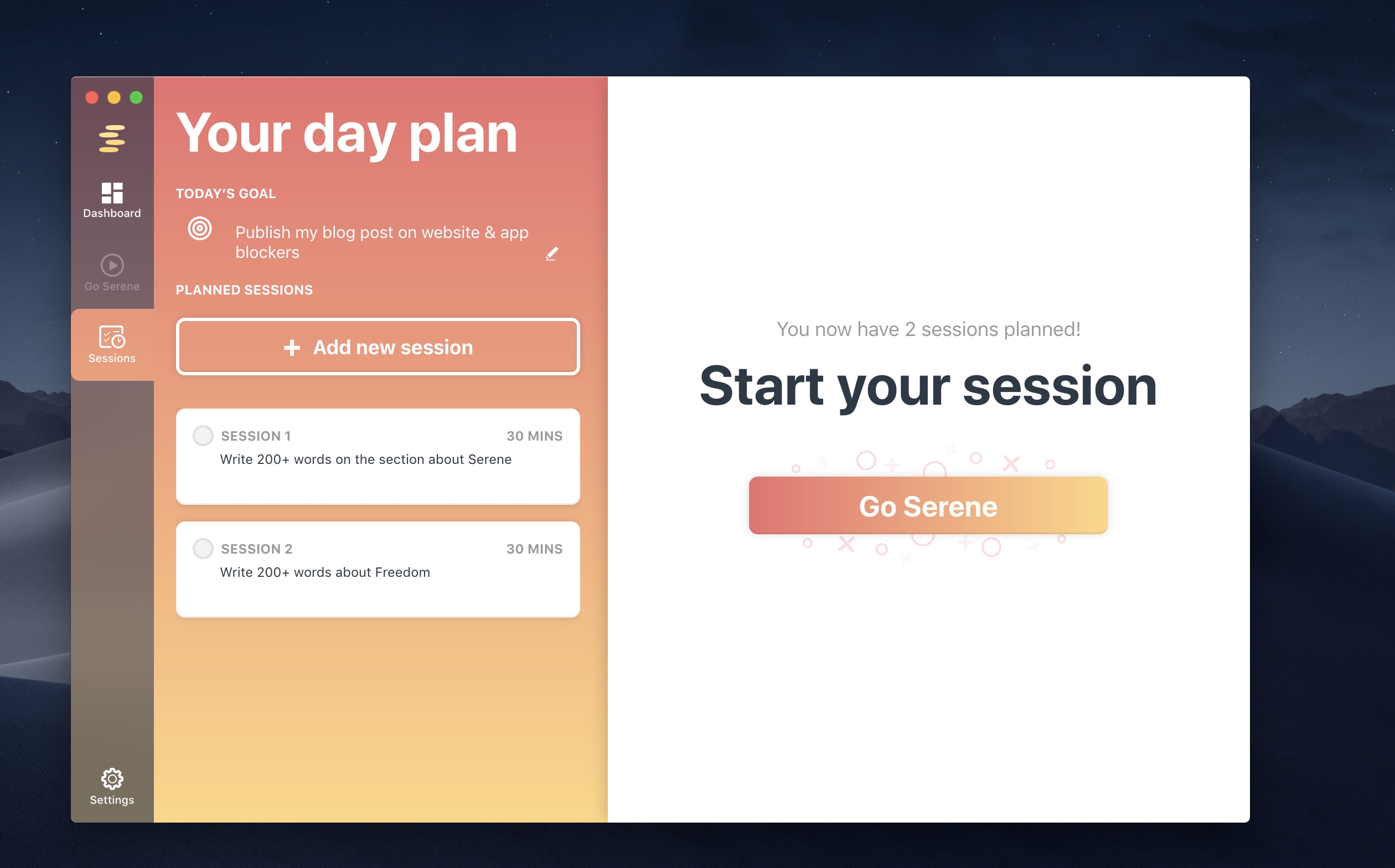 Separate studies have shown that the average person is only productive for two hours and 53 minutes out of an eight-hour working day. That means you're underachieving for almost two-thirds of a full working day.
The problem is the human brain can only concentrate on a single task for 20-50 minutes before fatigue starts to kick in and you find yourself looking for distractions.
Those are some bad working habits right there that can be solved by scheduling tasks as short power sessions and taking regular breaks to keep fatigue at bay.
#19: Spark (Mac, iOS, Android)
Free version, $6.39/mo (per user) for Premium
Spark is an intelligent email client that prevents your inbox from being a productivity killer and turns it into an asset. Its Smart Inbox automatically categorises your emails from every account assigned to it, allowing you to filter out the emails that don't matter and prioritise the ones that do.

You can also snooze specific emails for later, assign emails to team members, chat with team members, share drafts, set reminders for follow-ups and schedule emails to send them later.
Key features:
Smart inbox: Clean up your inbox, find any email with "Smart Search" and snooze emails that don't need your attention right now.
Smart notifications: Only receive notifications for the emails that really matter.
Assign emails: Assign emails to team members so the right person is always managing tasks.
Team email: Private team comments, shared drafts, template replies and instant chat for collaborative teams.
Send emails later: Schedule emails to send them when people are most likely to read them.
Reminders: Get reminders to follow up on important emails at the right time.
With Spark, multiple team members can even work on the same email at the same time while communicating via instant messaging on the platform. This means there are no more emails to clients, saying "I've CC'd James and he'll explain that technical issue we talked about earlier". All the key details can be included in emails by the right person without any confusion or inaccuracy.
#20: Habitica (iOS, Android & web)
Free
I can safely say Habitica is unlike any other tool in this article and unlike any other to-do list app I've ever come across. I should make it clear that Habitica isn't really designed for work but more geared towards developing better habits while you're away from the computer.
This doesn't mean you can't use it for work purposes or as a tool to improve work-life balance, though.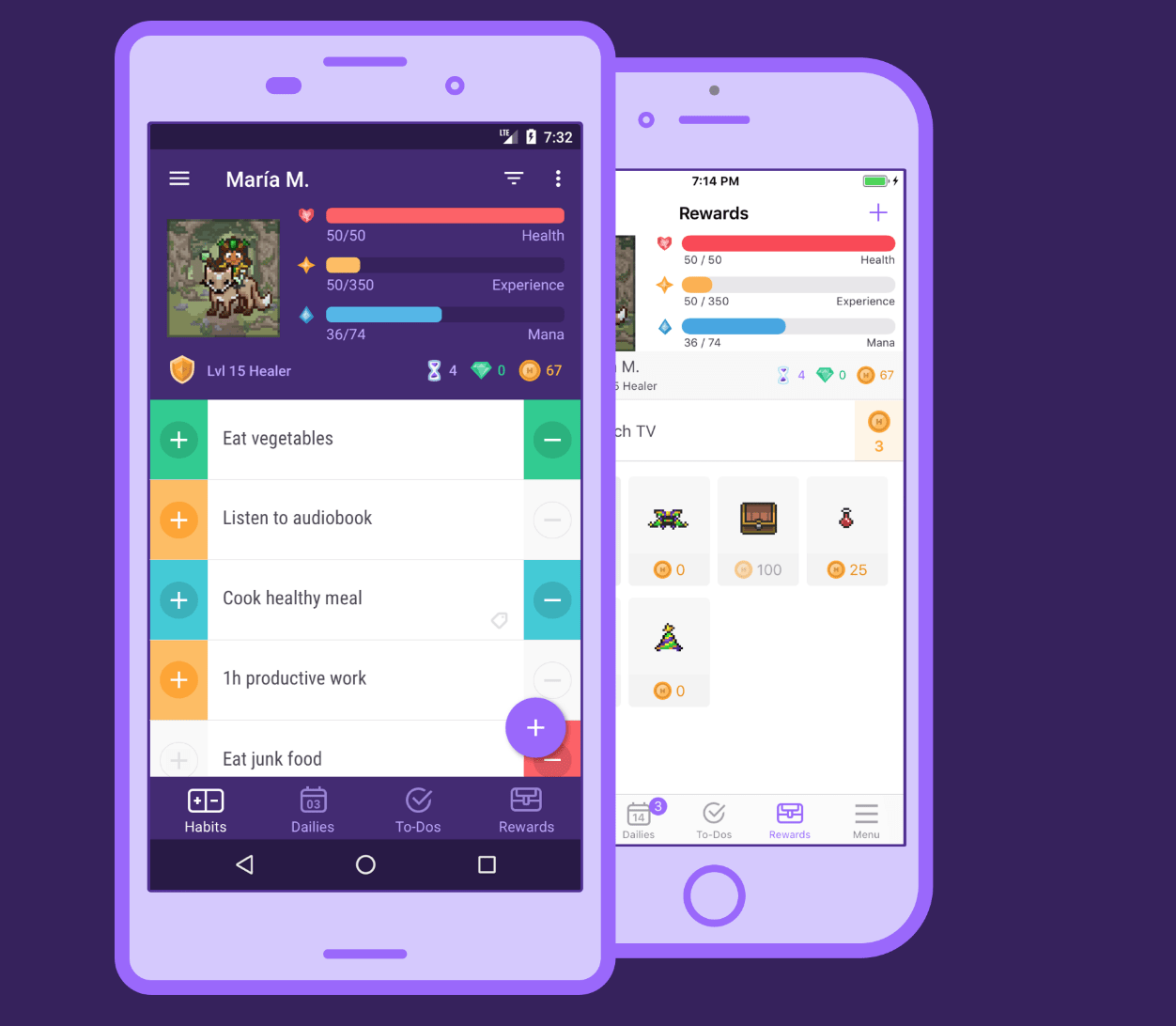 Habitica gamifies the to-do list experience by getting you to create an Avatar, which receives points and bonuses for completing the tasks on your list. The more points you win, the stronger your Avatar becomes and the more in-game features and rewards you unlock.
Key features:
Gamified to-do lists: Habitica turns to-do lists into a mobile game experience.
Habits: Schedule good habits you want to develop or bad habits you want to overcome.
Avatars: Create your own Avatar to progress through your gamified to-do lists.
In-game rewards: Earn points for completing tasks and developing good habits, level up your avatar, unlock new features and earn in-game rewards.
Battle monsters: Join other Habitica users to fight monsters with your Avatars.
You can create positive habits that earn you points as well as negative habits you want to avoid, in which case points are taken away from you. You can also create habits that have both positive and negative outcomes – for example, eating a healthy dinner. If you eat something healthy, you win points; if you eat something unhealthy, you lose points.
Who says to-do lists need to be boring?
#21: WeDo (Mac, iOS, Android & Chrome)
$4.99/month, $39.99/year or $159.99 one-off fee
WeDo was originally designed for students but it's developed into a decent work/life task management tools for professionals, too. There's an emphasis on finding that work-life balance with WeDo and the app aims to make this more achievable for you.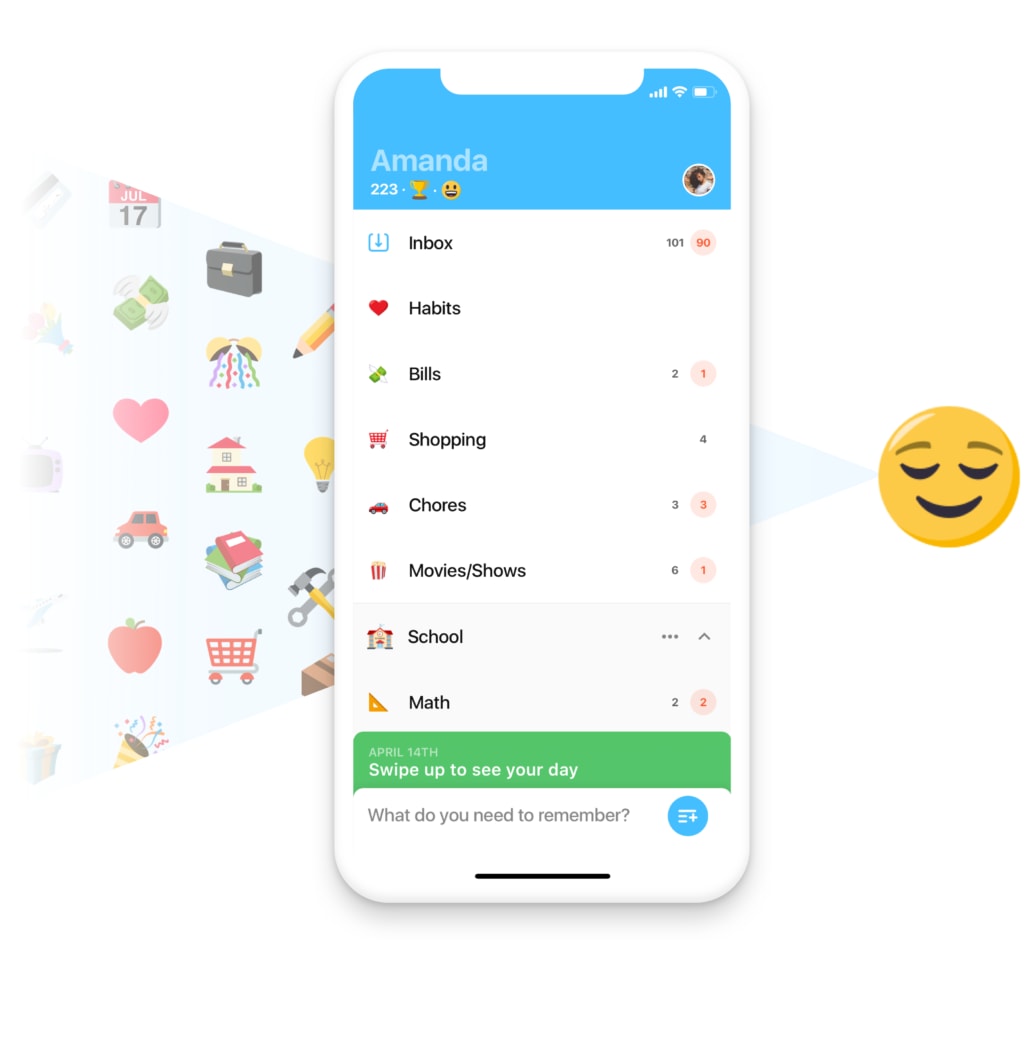 Aside from creating tasks, setting due dates and all the usual things you would expect from a task management app, WeDo wants to help you develop good habits and you can create separate habits lists.

Another interesting feature is the apps asks you how long tasks take you after you've completed them and how you felt about them. All of this is added to your reporting data and you can see how your speed/mood about repeat tasks and aspects of life (work, diet, exercise. etc.) improves.
Key features:
To-do lists: Create to-do lists, set due dates, add reminders and prioritise tasks.
Folders: Group related lists together in folders.
Rate tasks: Log how long it takes you to complete tasks, how important they were and how they made you feel.
Habit lists: Create separate lists for new habits you want to develop.
Sub-tasks: Break tasks up into more manageable sub-tasks.
Time estimates: Estimate how long tasks will take and plan your schedule accordingly.
If your aim to manage tasks more effectively and improve that work-life balance or develop better habits, WeDo is definitely worth a look.
Free
HabitShare puts a social media spin on developing better habits by encouraging you to share your progress with your friends. The idea is to add that extra bit of pressure for you to hit targets – kind of like how it's more difficult to skip the gym when you go with a friend.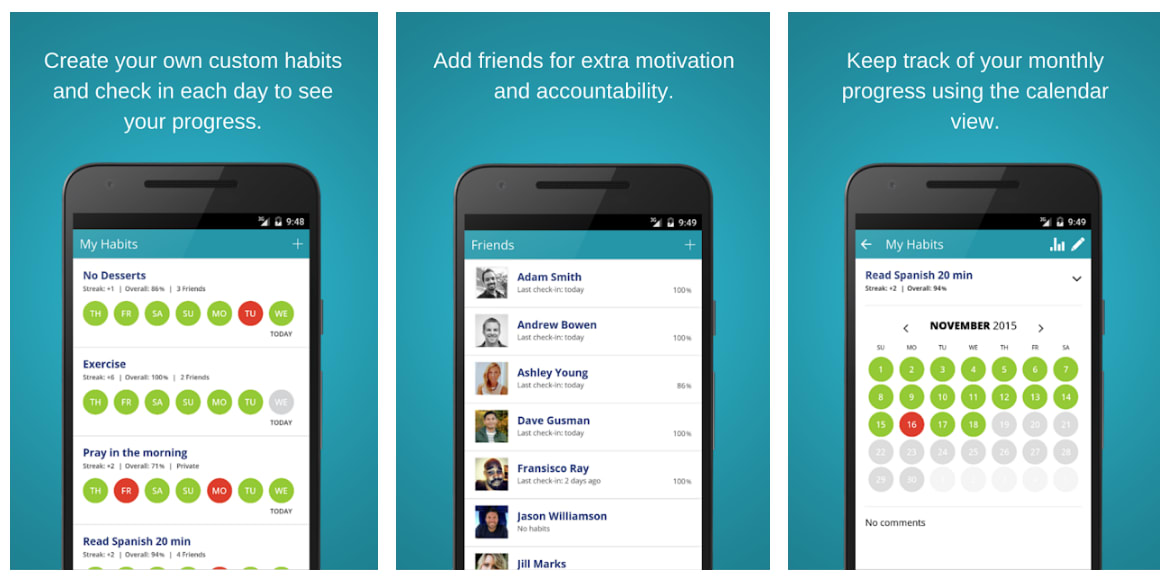 Key features:
Custom habits: Create custom habits that fit your specific goals including daily & weekly habits.
Reminders: Schedule reminders to help you remember your new habits.
Share success: Share your progress with friends to increase motivation and rewards.
Privacy: For each friend, you control which of your habits they can see – all habits are private by default.
If you self-restraint and motivation aren't your strong points and you need some external pressure to keep you on track, HabitShare is one app that makes you accountable all the way.
$7.99
Kiwake has one goal in mind: to stop you snoozing after your alarm goes off. A whole bunch of studies have shown that snoozing is actually more detrimental than good and, at best, a complete waste of time.
Kiwake wants to help you kick this bad habit.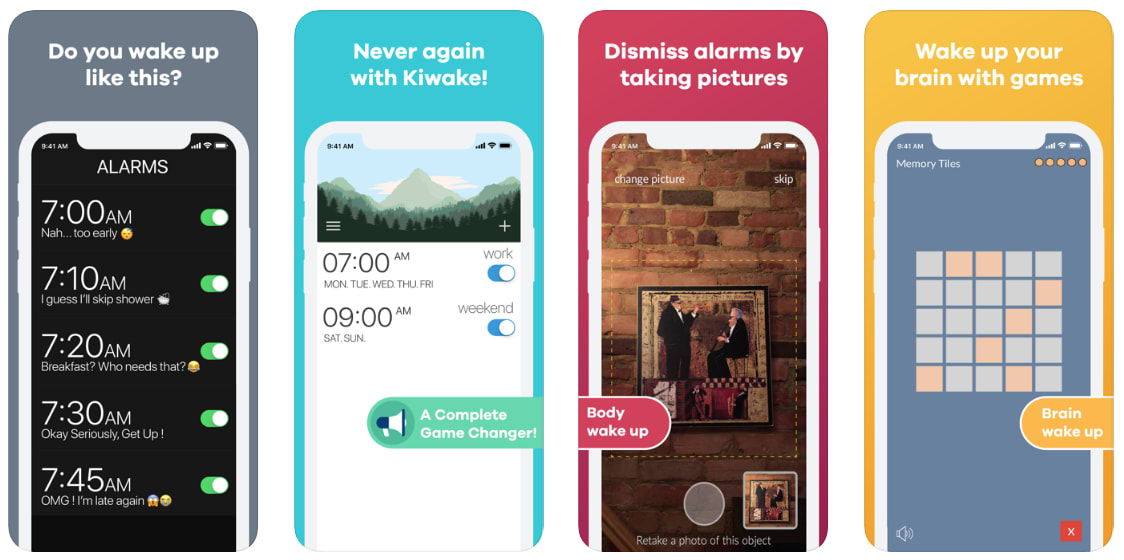 Key features:
Wake up your body: Prove that you've left your bed by taking a picture of an object located far from where you sleep.
Wake up your brain: Play a quick mini-game that requires your complete attention.
Wake up your motivation: Review all your main goals to boost your motivation.
Okay, that's more of a process than a set of features but Kiwake is going to guide (force) you through each step until you're waking up on time, every time.
#24: TickTick (Windows, Mac, iOS, Android)
Free version available, premium version $27.99/year
Not to be confused with social media app TikTok, TickTick is an advanced productivity platform that provides all kind of tools to organise your workload and get things done. The reason we're only looking at it now, in this section, is because the paid version also comes with some great features to improve your workday habits.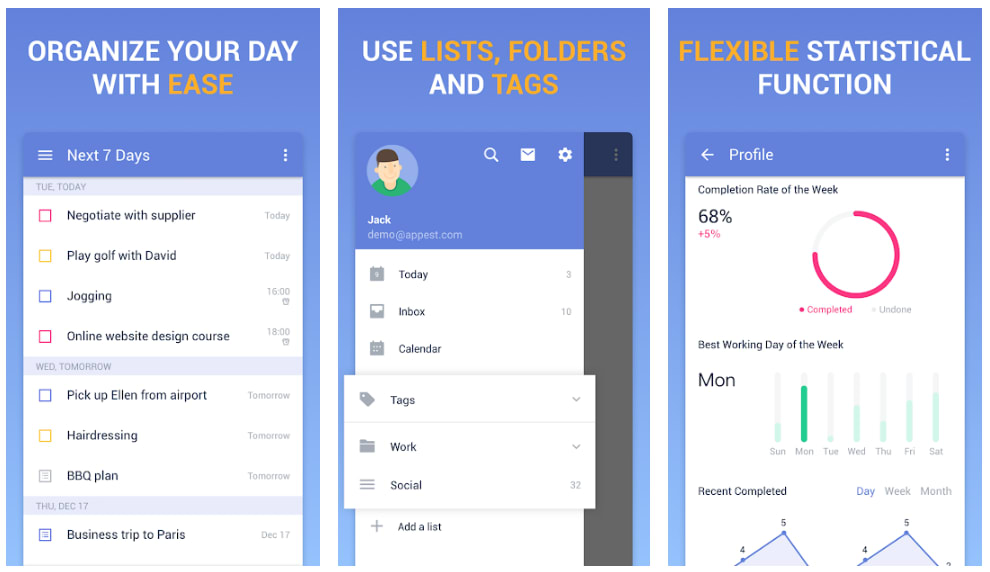 Key features:
Fast tasks: Add new tasks with voice input and instantly turn emails into new tasks.
Folders, lists, tasks and subtasks: Keep your to-dos organized in four different levels.
Smart lists and custom smart lists: View your tasks in smart lists such as "Today" and "Tomorrow", or create your own custom smart lists.
Pomo Timer: Practice the Pomodoro Technique in TickTick. Stay focused, stay productive.
Achievement scores: The more tasks you complete on time, the higher the Achievement Score you get. If a delay occurs, the Score could be decreased as well.
Statistics: Learn the variation of your work efficiency, and thus to improve it in the future.
Once you've organised your workload, TickTick gives you statistical feedback and reward you with points for achieving goals. This gamified element really helps you kick out bad habits getting in the way of progress.
#25: HabitHub (Android, iOS 'coming soon')
Free
HabitHub aims to be the only app you'll need to improve your habits and achieve your goals. It combines a system of goals, rewards and statistical feedback so you can see how much progress you're really making (or not).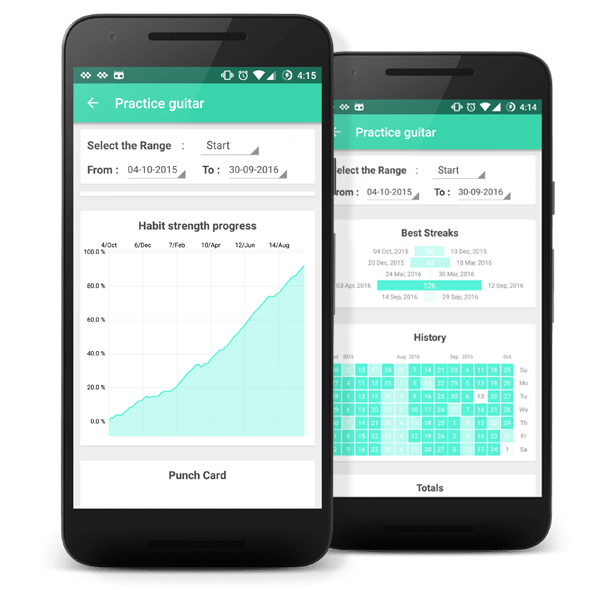 Key features:
Chains: Every time you successfully complete a habit, you start a chain and objective then becomes growing those chains every day.
Categories: Organise your habits into categories and groups.
Graphs: Visualize your data with beautiful graphs. Get an overview of how well you have been performing and identify any patterns that might be preventing you from successfully cultivating the habit.
Reminders: Do you want to be reminded to drink a glass of water every 2 hours? Not a problem. HabitHub allows you to set reminders so that you stay on track and never again forget to mark a day.
Feature: Explain.
Rewards: You can set rewards for every step of your journey and unlock them when you complete the habit.
Android users can download the HabitHub app right now but iOS users will have to wait a bit longer for the app to hit the App Store.
#26: Today (iOS)
Free
Today is an app that wants to help you develop habits that make the world a better place. As the website puts it, "discover the difference you can make, connect with others creating positive change and earn rewards for your efforts."
Features aren't really the focal point of Today, the app is more interested in helping you learn more about the positive impact you can have by developing good habits. For example, it will help you:
Find out how much pollution you can save by not using coffee cups each week.
Find out how much clean air you create from walking to work.
Find out how much money you save buying responsibly.
Find out how much water you save with the clothes and shoes you buy.
Find out how much natural land you conserve by eating sustainably too.
The app sets you challenges across a wide range of life habits, including food, drinks, home, lifestyle, shopping, technology, transport and work. You can choose which area of your life you want to improve and the app might ask you to go without eating meat for the day or walking everywhere within a reasonable distance.
#27: Done (iOS, Android)
Free version available, premium version $2.99/month
Done is the habit development app that makes everything as simple as it can be. From the moment you start using the app, you exhale with a sense of relief. Yes, this is what a personal development app should feel like. From the visual design to the smooth experience, there's something genuinely calming about the Done app.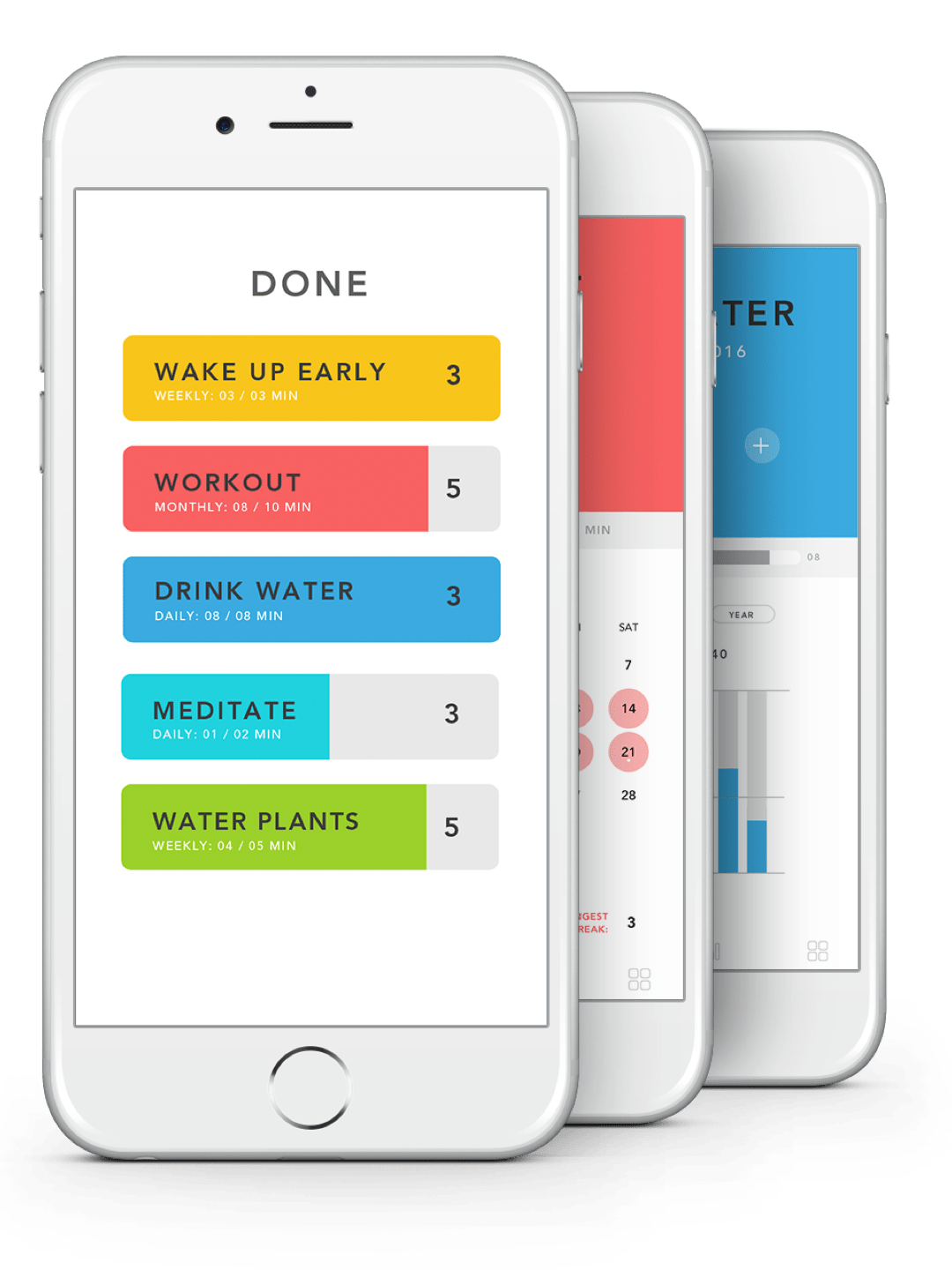 Key features:
Goals: Track daily, monthly, weekly and yearly goals. You can even track a habit multiple times a day.
Streaks: These tell you how long you've maintained a new good habit.
Feedback: See your progress at a glance in a simple, colourful interface.
The big picture: Study trends over a period of a week, month or year for an overview of your progress.
No gimmicks, just an app that's designed really well for the purpose it serves.
Free
Strides is a goal-orientated platform for you to set targets and manage your way to better habits. The app is only available on iOS currently but what I like about this tool is the detailed performance data that tells you how much progress you've made on achieving goals.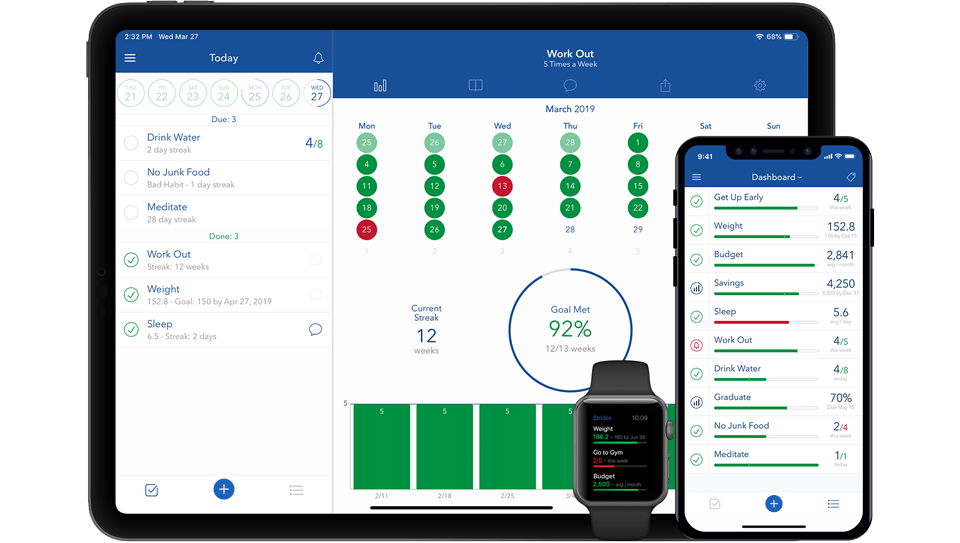 Key features:
Project management: While this isn't a fully-featured project management tool, you do get this basic functionality included.
Habits: Develop good habits and put an end to bad ones while tracking progress throughout the day.
Real-time feedback: Stride provides in-depth reports throughout the day to help you stay on target.
Whether you want to get up earlier, drink more water, get home from work that bit earlier or commit to those morning pushups, Stride can help you get there.
Increase focus with these productivity apps
#29: Serene (macOS)
Free version available, pro version $49/year
Earlier, we looked at how Serene can help you get organised and improve your working habits but there's one other key goal it aims to help you achieve: increasing focus.
The Pomodoro Technique is one of the most widely-accepted time management principles that encourages people to work in 25 minute bursts followed by a five minute break. This inspired the work session feature in Serene, which helps you fight off fatigue and stay focused on the task at hand.
With Serene, you get more flexibility with the time you set for individual task, though.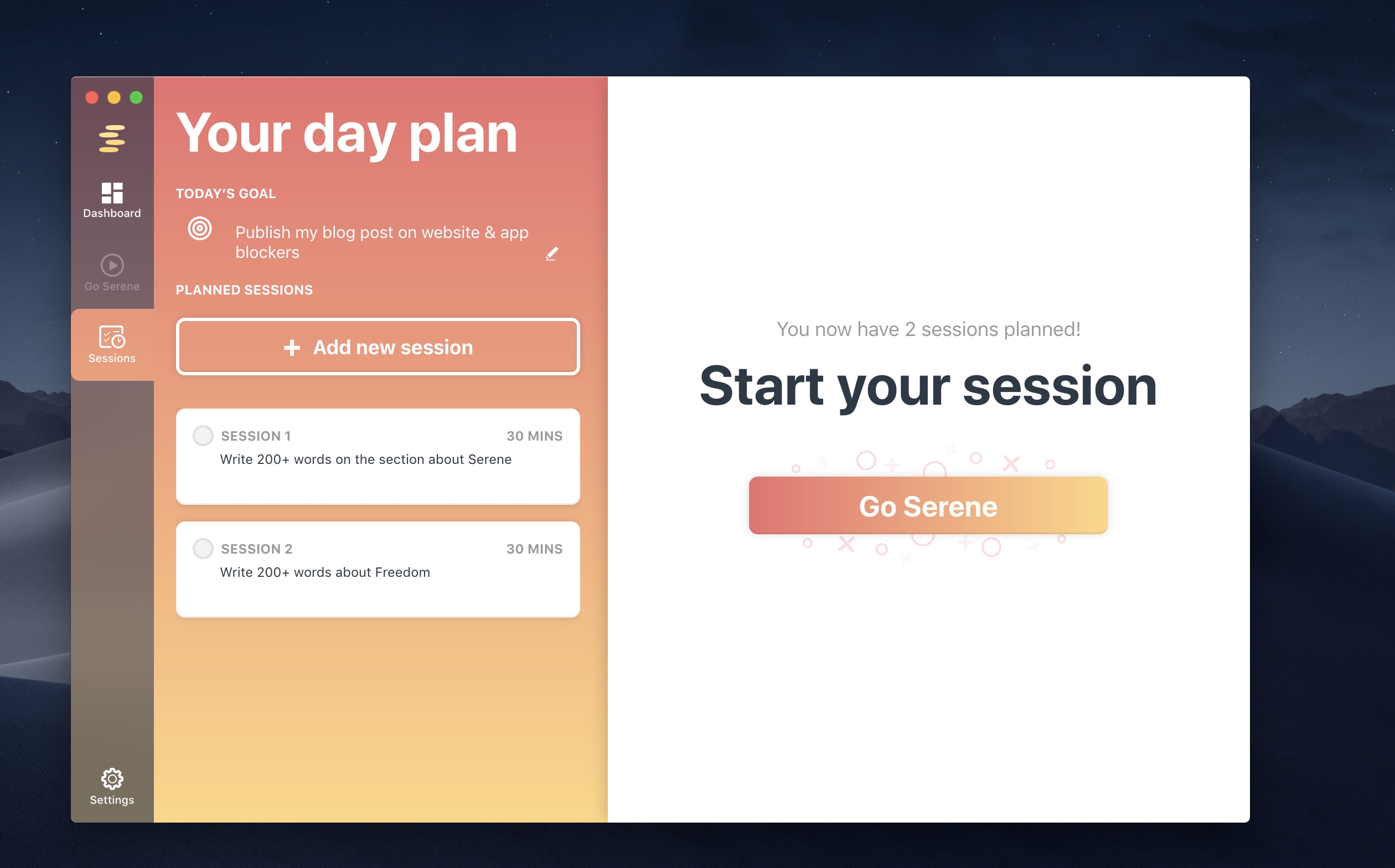 That's not the only way it helps you increase focus, either.
Serene comes with a built-in website and app blocker that automatically blocks distracting sites and applications during these work sessions. Once your session's over, you're free to do what you want.
Serene will only block these sites and apps during your scheduled sessions.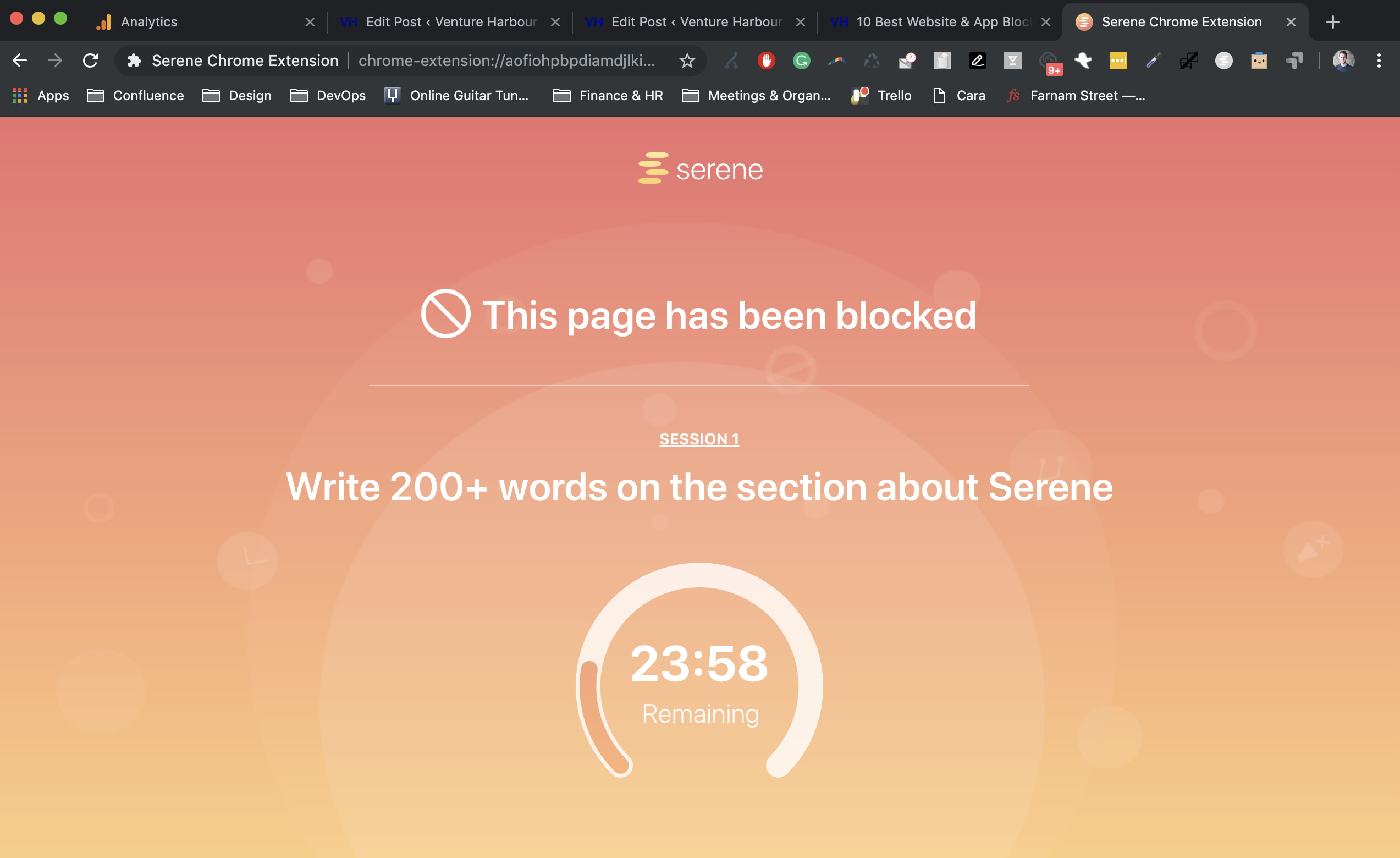 Aside from removing the temptation for a quick check-in on Twitter, this means you won't be distracted by email notifications and other interruptions that can kill your progress.
The pro version of Serene also comes with a feature that blocks your phone during work sessions so you don't get bothered by notifications, flashing lights or that catchy ringtone of yours.
When you need to focus, Serene takes care of the distractions and gives you a gentle nudge back to the real objective.
#30: RescueTime (Windows, Mac, iOS, Android)
Free version; Premium version $9/monthor $72/year
RescueTime is a productivity app that runs securely in the background of your computer or mobile device, tracking the time you spend on different applications and websites.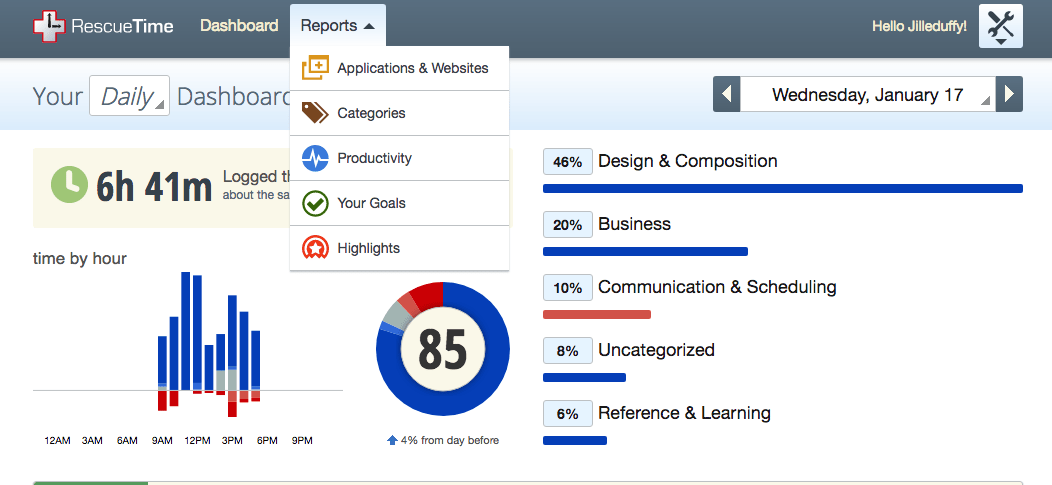 The app then compiles reports of what you're really doing with your time. The idea is to spot apps and sites that you're wasting time on and then block them to become more productive.
Key features:
Activity tracking: See how much time you're spending in apps/on websites to measure productivity.
Website and app blocking: Block out the apps and website stealing your attention so you can get more done.
Goals: Set productivity targets and use RescueTime's reporting to see how well you're doing.
Alarms: Set alarms to warn you once you've spent more than your allotted time using an app/site.
If you're spending too much time on social media or catching up on the news in the morning is taking valuable time away from your working day, RescueTime is one app you definitely want to look at.
#31: focus booster (Windows, Mac, iOS, Android)
Free, $2.99/monthor $4.99/mo
focus booster is "designed to make you do more" with a cross-platform app built around the Pomodoro Technique – a popular time management concept. The idea is to work in sessions of 25 minutes and then take a five-minute break.
The key thing is to stay focused for those 25 minutes and then give your mind the break it needs before getting back to work.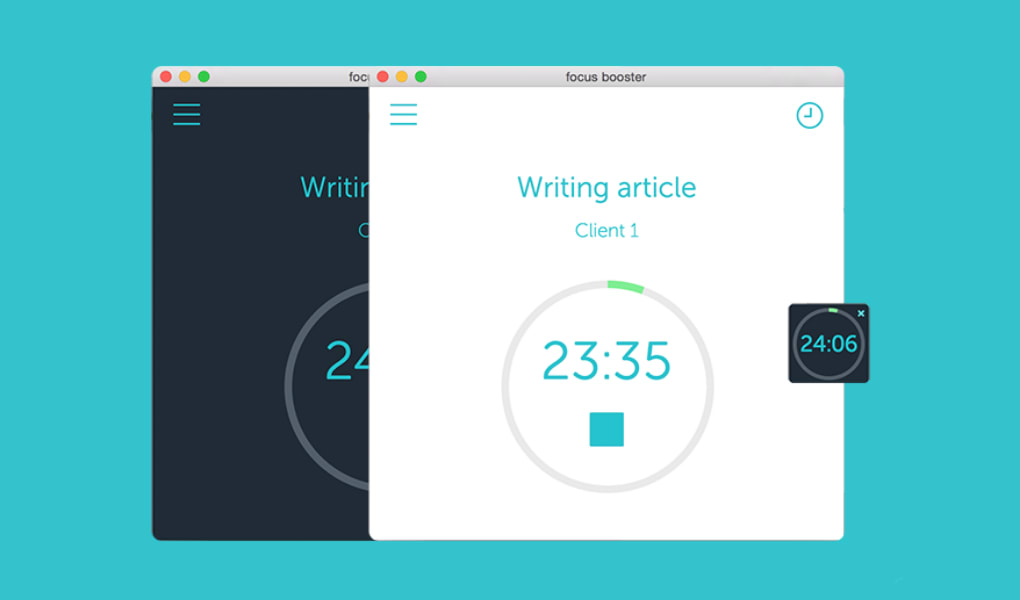 This is the principle behind focus booster, which times your Pomodoro sessions and helps you get into the habit of being more productive.
Key features:
Session times: Work for timed 25-minute sessions and five-minute breaks.
Mini timer: A miny timer on screen helps you stay on track.
Save sessions: Save sessions when you get unavoidable distractions.
Timesheets: Instant and manual times to log your progress.
Reports: See where you spent your time and look for any distractions holding you back.
If you don't want to go as far as blocking apps and websites but you need a gentle nudge into a more productive workflow, focus booster is an interesting option.
$4.99 for Mac, $1.99 for iOS
Be Focused is a minimal productivity app for Mac and iOS that also takes heavy influence from the Pomodoro Technique. If you read our description of focus booster earlier in this article, you have a good idea of what you expect.
Be Focused will have you working in short bursts of productive 25-minute sessions and then taking a short break. Except, Be Focused is more liberal than focus booster's app, giving you full customisation over the duration of your sessions and breaks.
Key features:
Manage tasks: Set timed work sessions and breaks for tasks.
Goal tracking: See how well you're doing at hitting targets.
Reports: See how productive your days, weeks and months are with Be Focused reports.
If you're an Apple-only user, Be Focused offers a lot of productivity tool for a modest one-time payment.
#33: Freedom (Windows, Mac, iOS, Android)
Pricing: $129.00 one-off fee, $2.24-$6.99/month, free trial available
According to Freedom, you lose 23 minutes every time you check an email, open up social media, respond to a notification or any other distraction gets in the way of your workflow. That means just five emails throughout the day could end up costing you almost two hours of productivity and a 2007 study from Microsoft backs this theory up.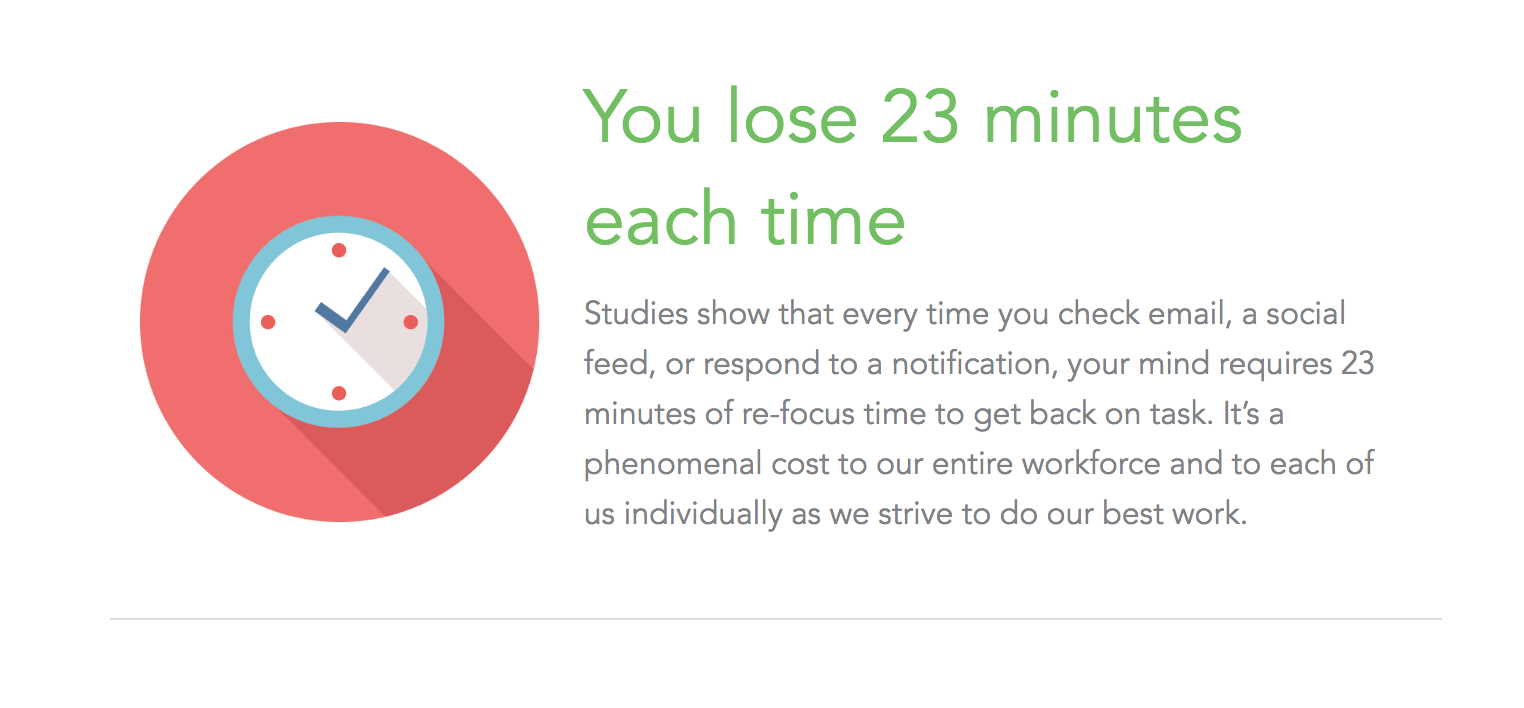 This is the concept behind Freedom – a productivity app that lets you block distracting websites and apps so you can keep doing what matters most.
Features:
Block websites: Block an unlimited number of distracting websites so you can focus on what matters.
Block apps: Block time-wasting apps—from email clients to social media and games.
Block the internet: Block the whole internet with the click of a button.
Blocklists: Select websites and apps from Freedom's preset lists or create an unlimited number of custom lists to suit your needs.
Sync blocks across devices: Block distractions across all of your Mac, Windows, Android, and iOS devices.
Scheduling: Start a block on the fly or schedule blocks in advance that will begin automatically. You can also create recurring blocks to help make productivity a habit.
Locked mode: Prevents you from ending a block session ahead of schedule.
Freedom is s true website and app blocker tool and it doesn't really offer much else in terms of features. It is a very good blocker, though, and a solid choice if this is all you're looking for.
Pricing: €59 one-off fee, €6-€7/month, free trial available
Y-Productive isn't just a website and app blocker tool, it's a fully-featured productivity application that tracks the amount of time you actually spend working, what's keeping you from making progress and allows you to block out the distractions.
Y-Productive says we get distracted at least 40 times per day but research shows this number is actually much higher in the digital age. Y-Productive promises to help you become more productive within a few days by pinpointing your distractions and removing them from the working day.
Key features:
Behaviour Analysis: Y-Productive logs your web and desktop activities as "Productive" or "Unproductive", tracks time spent on websites or apps and counts the number of your distractions.
Focus Mode: Block distracting websites with built-in automatic website blocker on Safari, Firefox or Chrome.
Activities Categorisation: Build a personal working environment that best fits your needs.
Projects: Allocate your tasks under relevant projects and get the summarized statistics of your work.
Productivity Reports: Get summarized insights covering your performance and time spent on tasks or projects by days, weeks or months.
As you can see, there's a lot more on offer here than you'll get from an out-and-out blocker tool like Freedom.
#35: Focus (Mac)
$9.99/month or $99.99/year
Focus is a Mac-only tool that blocks apps and specific URLs, meaning you can block applications, websites and even specific pages of sites. You'll also be greeted by inspirational quotes if you stray onto one of your blacklisted pages, which should give you the motivation you need to get back on track.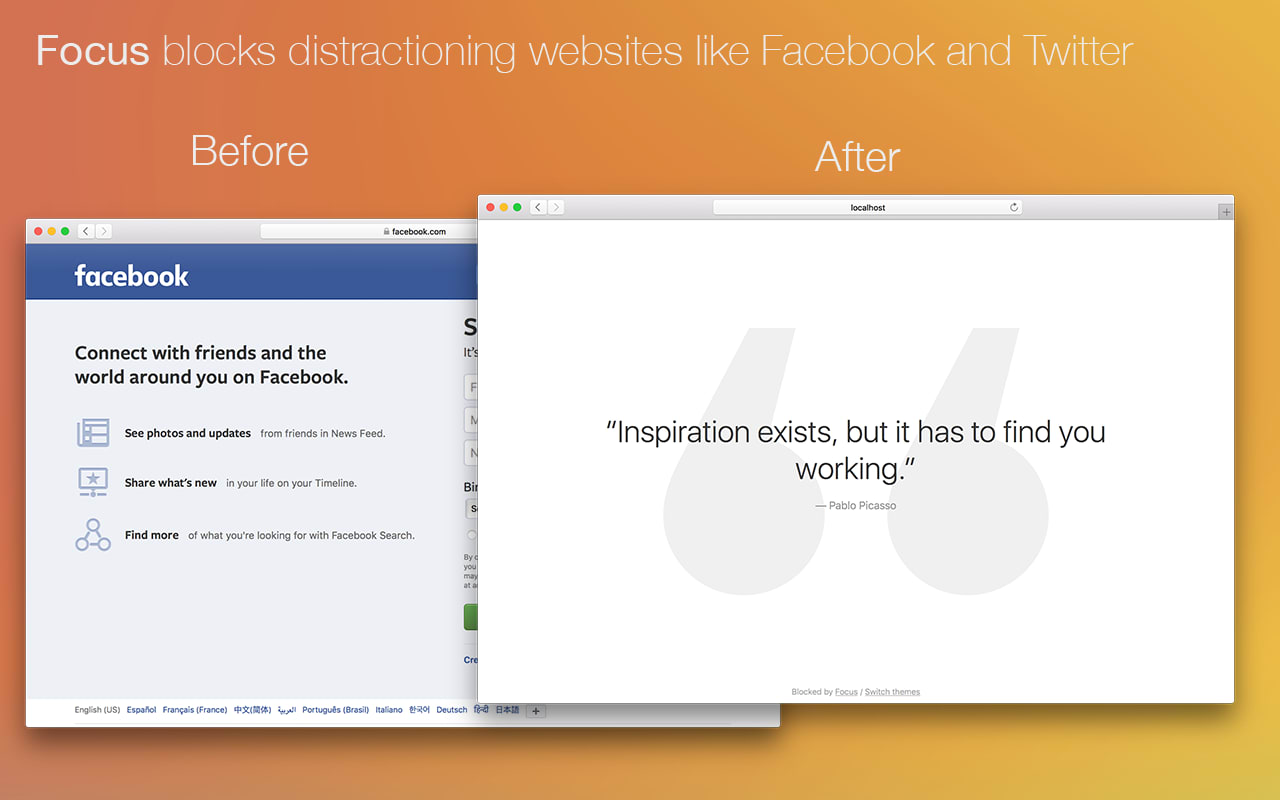 Key features:
Targeted Blocking: Block entire applications, whole websites or even specific pages.
Scheduling: Set your block lists to run at specific times and schedule breaks for when you've earned a good rest.
Progress Tracker: See how much time you've saved with your app blocker by generating custom graphs and setting new productivity targets.
Customisable Quotes: When you try to visit a blocked site or application, Focus will show you a grey screen with an inspirational quotation. Choose from Focus' extensive catalogue of motivational quotes, or set it to feature one of your own.
Break mode: Take breaks after long sessions or disable them entirely if you're going all out.
Drag & Drop: Quickly add and remove websites to Focus by dragging and dropping them onto the menubar icon.
Global hotkey: Instantly get in the zone from any application with a global hotkey you can configure (by default it's control+option+command+f).
Alternatively, you can create your own quotes or simply tell yourself to get your lazy ass back to work before that deadline kicks you in the butt.
The drag and drop functionality makes it easy to build your block lists and the break time feature is a nice addition, too. In terms of features, Focus has got a lot going for it but I've heard some complaints about bugs and functionality.
Pricing: $1.99 one-off payment
Zero Willpower is about as straightforward as a website blocking app could be. You're limited to Safari browser on iOS and you can't block apps but this might give you the additional blocking you need in addition to one of the tools we've looked at that only work on laptops/desktops.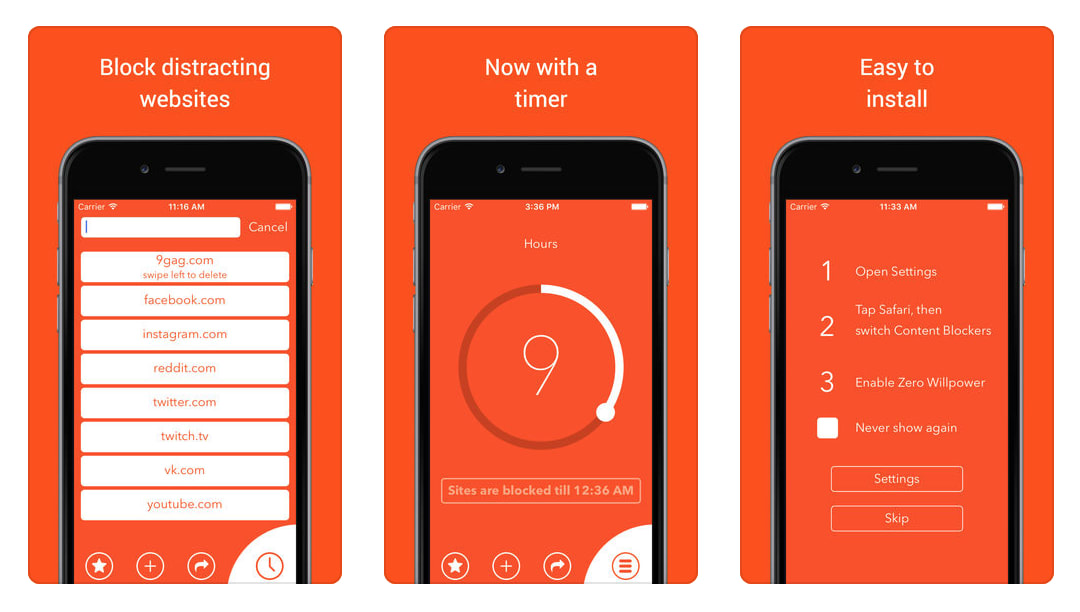 Key features:
Website blocking: Block websites on iOS Safari browser.
That's all you get in terms of features but iPhone users loyal to Safari get a light, effective tool for blocking out phone distractions.
#37: Mindful Browsing (Chrome)
Free
Mindful Browsing is a free, open-source extension for Chrome that aims to help you reign in your online activity and become more productive. It doesn't actually block you from any websites; instead, it asks if you're sure you want to proceed to the sites on your list.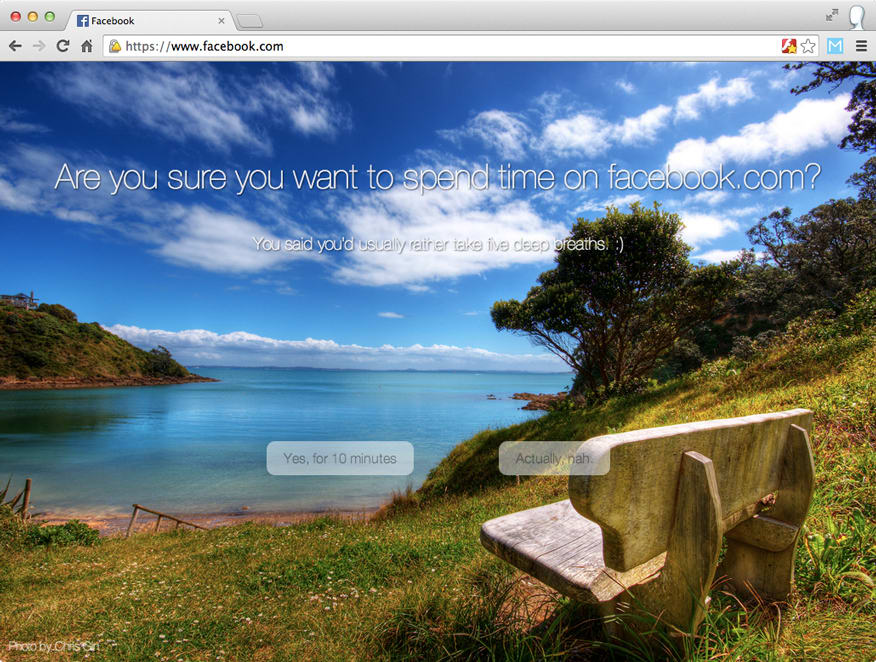 You can also create a list of activities you would rather be spending your time on and the extension will remind you about that project you're supposed to be finishing or that language you promised yourself to learn.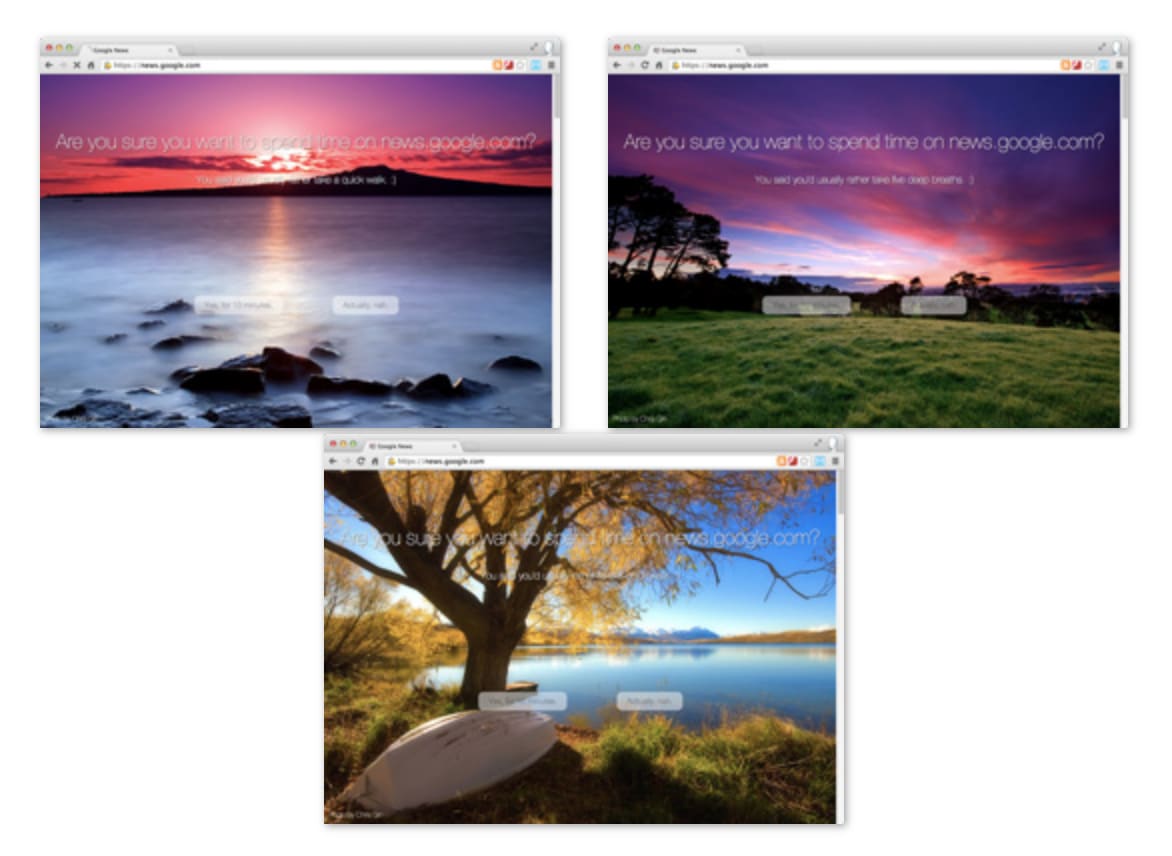 Then it's up to you to decide whether you click the "Actually, nah" button to stay away or "Yes, for 10 minutes" to proceed. If you click through to one of your listed sites, Mindful Browsing will remind you after 10 minutes that you should probably be up to something else.
Key features:
Website interruptions: A page asks you if you're sure you want to proceed to websites you've listed as potential time-wasters.
Reminders: Mindful Browsing will remind you after 10 minutes on listed sites that you might want to get back to the task at hand.
No tracking: Mindful Browsing doesn't track your online activity.
Open source: You have full access to the code so you can confirm you're not being tracked.
It's a simple piece of software but it might give you that little dose of self-restraint you need to stay away from those time-wasting sites without blocking them out entirely.
It costs nothing to find out.
Free or $CAD25 one-time payment
Cold Turkey is an affordable, feature-rich website and app blocking tool for both macOS and Windows. For desktops and laptops, it's a great choice but you have to do without functionality on your mobile devices, which leaves a lot of room for time-wasting on your mobile instead.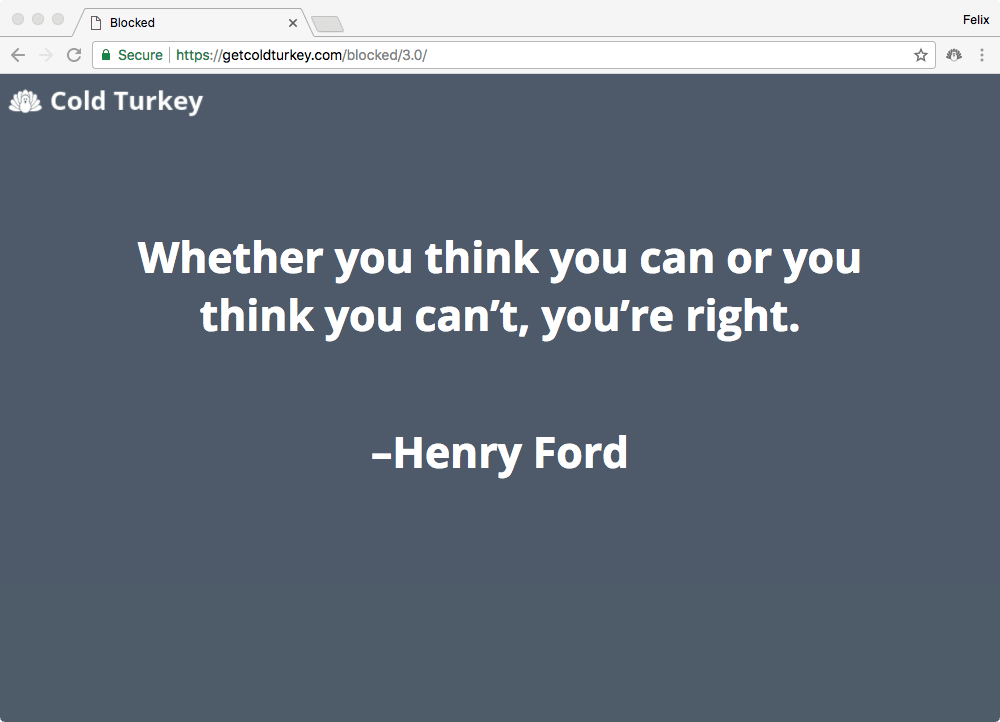 Key features:
Website blocking: Unlimited website blocking on both free and paid versions.
Block applications: You can also block those applications taking your attention away from the task at hand.
Block the web: You can also block the entire internet if you want to work "offline" without killing your connection.
Whitelists: Block the entire web except for those on your list of exceptions.
Frozen Turkey: Lock your computer for a set duration for fixed breaks away from the screen.
Motivational block pages: Featuring motivational quotes to encourage you back to work.
Statistics: Keep track of your biggest time-wasters and refine your lists.
Breaks and limits: Set break times to unlock access to sites on your list or add time limits, allowing you a specified amount of time on them instead of blocking them entirely.
There's a free version that still allows you to block an unlimited number of websites but most of the advanced features are reserved for the paid version, which is still incredibly affordable at a one-off $CAD25 payment.
Free
StayFocused is a Chrome extension that offers some pretty powerful blocking capabilities for a freebie. You can't block apps and you're limited to Chrome browser but this does give you cross-device website blocking, as long as you're signed in to Google Chrome and have the extension activated.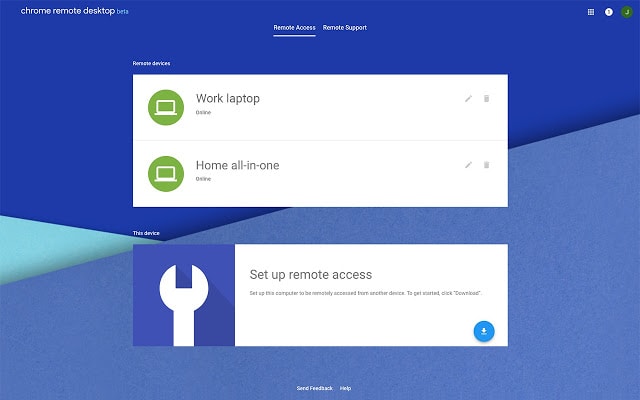 You can block the entire web, specific websites or individual pages. Alternatively, you can block the entire web and create a list of exceptions if you want to use a limited number of sites and block everything else out.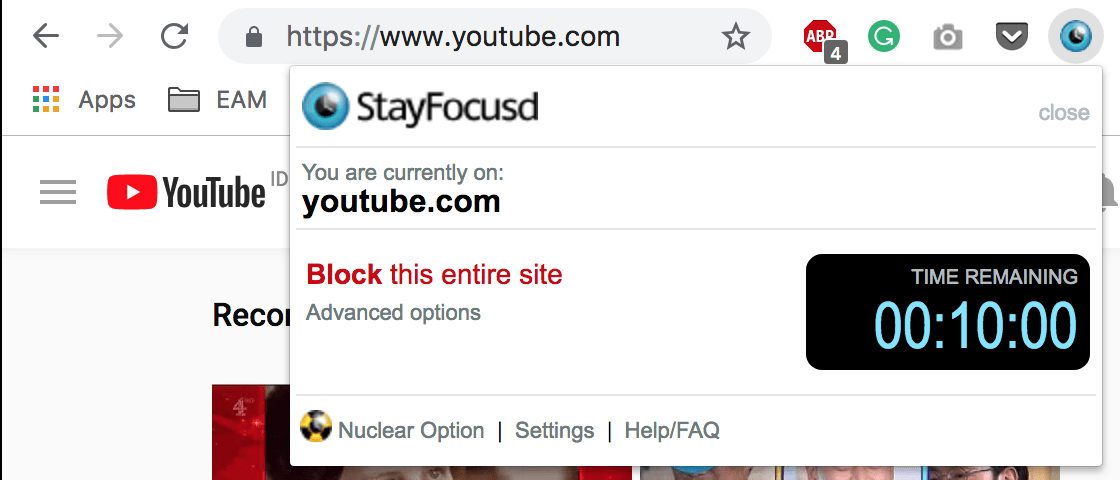 The time limit feature allows you to spend a certain amount of time on blocked sites (e.g.: 10 minutes) but you can set this to "0" to completely block out your listed sites – it all depends how strict you want to be with yourself.
Key features:
Website blocking: Block the entire web, all websites except those on your exceptions list or only sites on your Blocked Sites list.
URL blocking: Block entire sites, specific types of content or pages.
Time limits: Limit the amount of time you spend on blocked sites by setting a timer.
Scheduling: Block sites instantly, after your time limits are reached or schedule a specific time.
Not a bad feature set for a free chrome extension.
Free version, paid version $0.99/month
1Focus makes it easy to block websites and apps on Mac devices and it fits in seamlessly with the OS experience. Sadly, there's no version for iPhone at this stage, which means you don't get that cross-device functionality but it's a capable blocker all the same.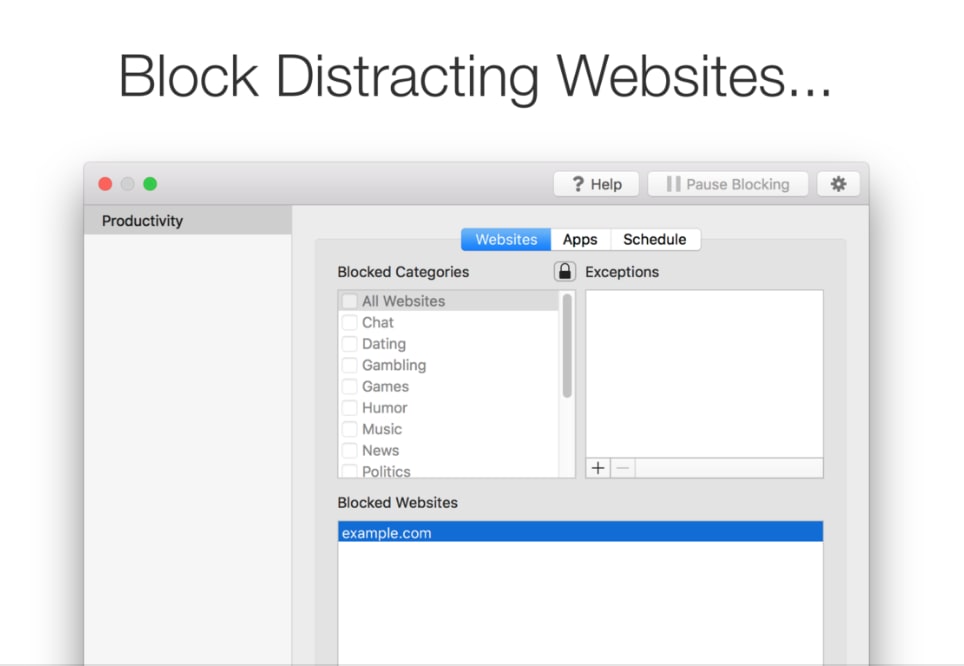 There's a free version which gets you all of the basic features and the paid version is only $0.99/month if you want the ability to block sites by category, schedule recurring blocks and/or block all sites and apps that aren't on your list of exceptions.
Key features:
Website blocking: Block specific websites in Safari, Google Chrome and Opera.
Block apps: Block apps such as web browsers and games that are keeping you from working.
Time limits: Allow the use of blocked sites and apps for a limited amount of time.
Pause: Optional pause function for when you really need to use a blocked site or app.
Website categories: Block websites by category (pro version only).
Recurring blocks: Schedule recurring blocks – for example, Monday-Friday – for greater control (pro version only).
Exceptions: Block all websites and apps except for those you specify (pro version only).
If you're looking for a basic website blocker that feels like a true part of the macOS experience, this is it.
#41: Noisli (Web, Chrome extension, iOS, Android)
Free version available, paid from $10/month
Noisili is an online app that plays a collection of sounds designed to help you relax and focus on your work. You can listen to the sounds of the rainforest, the ocean and even create your own mix of rain, thunder and birds singing in a forest.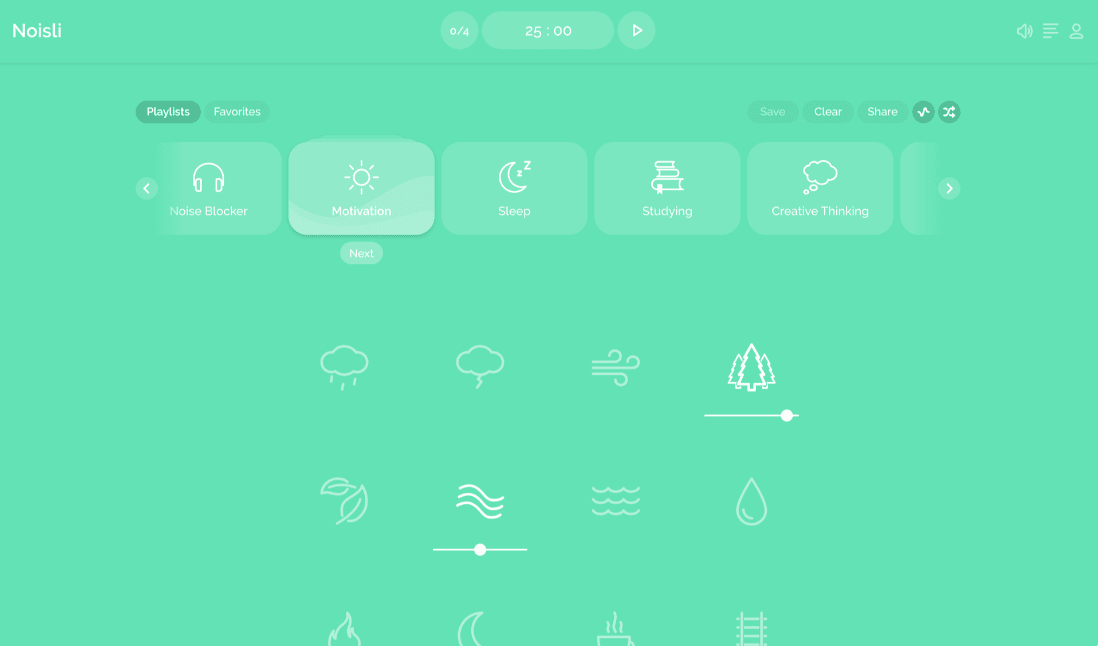 Key features:
Random: Plays through a random selection of extended loops.
Relax: Loops recorded specifically for the purpose of helping you relax.
Productivity: A playlist of sounds to give you a little productivity boost.
With Noisli, you don't have to put on distracting music to drown out annoying noises or fill the dreaded silence of working from home. Instead, you can choose background sounds that promote concentration and keep your attention where it should be.
#42: OmniFocus (Mac, iOS, web)
$9.99/month or $99.99/year
OmniFocus is a comprehensive productivity system that aims to help you get more done every day. It's available as a web app and native apps for Mac and iOS and the software is regularly updated by a quality team of developers.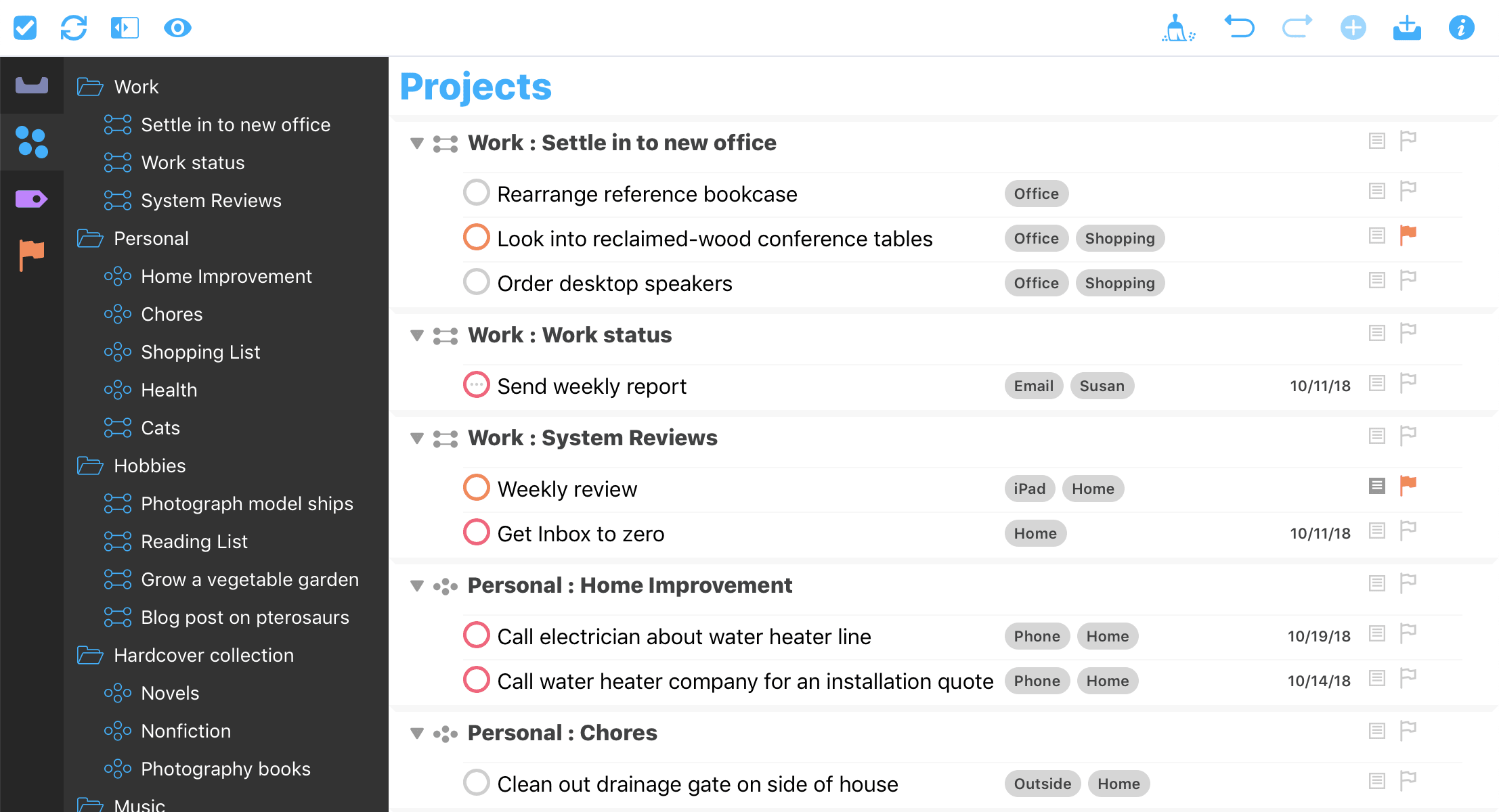 Key features
Actions: Add actions — so you never forget anything. Use Siri, even, so you don't have to type.
Projects: Group your actions by project, the way you already think of them. Add tags for things like location, people, energy level, and priority.
Perspectives: Then use perspectives to plan your day — and do the next things on your list.
Review: Review your projects and actions from time to time, so you can stay on track.
Notifications: Let notifications remind you when something is coming up, so you don't have to keep checking the app.
Synching: Let syncing make sure your data is the same on all your devices.
If you find it hard to put any plans into concrete action without having synchronised set of to-do lists, goals and tasks to complete, then OmniFocus is one system that can bring this all together for you.
#43: Clockify (Windows, Mac, Linux, Android, iOS, and web)
Free version, optional upgrades from $9.99/month
Clockify is a free time tracking software. This app helps you enhance your productivity and advance the profitability of your projects. With Clockify, you can also show your clients how much time you spent working on their projects. In addition, you can review the activities of your team members.
No matter if you're a freelancer or a business owner looking for an easy way to monitor working hours, Clockify will suit your needs. In fact, this app is extremely useful for managers, marketing experts, graphic designers, agencies, CEOs, developers, entrepreneurs, engineers, and employees in many other industries.
Key features
Time tracker: log in your time by using a timer or add your working hours manually. You can mark the hours as billable or non-billable and assign them to a certain project.
Timesheet: you can review different weekly activities that you've added (project X, lunch break, vacation time) and take a look at total time per activity/day.
Project: monitor the time you spend on various projects and track the progress of the project.
Team: invite your team to Clockify, so they can also log in the time they spend on numerous tasks.
Dashboard: thanks to this amazing option, you can see a summary of your last week/month/year. It contains all entered projects, total billable hours, as well as what your team has been working on.
Reports: another visually appealing overview where you can review tracked hours and group them by activity, user, or day. The best part is that you can share the reports with your clients, but also export these reports into CSV, PDF, or Excel.
Extra features: additional features, like time rounding, time audit, targets and reminders, project templates and alerts, and many others.
Custom fields: if you need any extra fields, you can add them to your time entries. These could be location, estimates, notes, resources, images, and others.
Another benefit of Clockify is that you can use it on multiple devices and your data will get synced. Besides, this tool integrates with many productivity and project management apps. For instance, these are Trello, Asana, Jira, Google Calendar, Notion, etc. By installing a Clockify browser extension, you'll be able to see a timer button inside other apps, and track the time you spend using these tools.
How to choose the right productivity apps for you
We've looked at a lot of different productivity apps in this article and choosing the right tools for you can be tricky with so many options. So, for the remainder of this article, we're going to look at the best apps in the following categories to help you make the call:
Best apps for productivity features: We look at the best ten apps for productivity features.
Best apps for cross-platformability: The apps that are available from basically any device and OS.
Best apps for user experience: The top 10 apps for user experience.
Best value for money: The ten apps that deliver the best value for money.
Best apps for teams: The tools in this list most suitable for teams.
This will hopefully tell you which combination of apps are going to help you achieve your goals and get more done.
Best apps for productivity features
First up, let's look at pure productivity features and these are top ten apps that deliver most.
| Tool | Activity tracking | Time sessions | Timesheets | Project management | Task management | Reports |
| --- | --- | --- | --- | --- | --- | --- |
| Serene | ✔ | ✔ | | Solid | Extensive | ✔ |
| RescueTime | ✔ | ✔ | | | | ✔ |
| focus booster | | ✔ | ✔ | | | ✔ |
| Toggl | ✔ | ✔ | ✔ | Basic | Basic | ✔ |
| Be Focused | | ✔ | | | Basic | ✔ |
| Loop | | ✔ | | | Basic | ✔ |
| monday | ✔ | | | Extensive | Extensive | ✔ |
| Todoist | | | | Solid | Solid | ✔ |
| Wunderlist | | | | Extensive | Extensive | |
| OmniFocus | | | | Extensive | Extensive | ✔ |
Best apps for cross-platformability
Next up, let's take a look at which platforms each of these apps are available on. In an ideal world, you want any productivity app to be accessible on every device you use – even if this means using a web app on certain devices.
| Tool | Desktop | Mobile | Web app |
| --- | --- | --- | --- |
| Serene | Mac | | Extension |
| Todoist | Windows, Mac | iOS, Android | Web app |
| Wunderlust | Windows, Mac | iOS, Android | Chrome, Safari |
| Trello | Windows, Mac | iOS, Android | Web app |
| Slack | Windows, Mac | iOS, Android | Web app |
| monday | | iOS, Android | Web app |
| Taskade | Windows, Mac | iOS, Android | Web app |
| Toggl | Windows, Mac | iOS, Android | Chrome, Firefox |
| Pocket | Windows, Mac | iOS, Android | Web app |
| Zapier | Windows, Mac | iOS, Android | Web app |
| Noisli | Windows, Mac | iOS, Android | Web app |
As you can see, all of these apps provide some level of web access that means you can pretty much use them on any device, Most of them offer extensive support across Windows, Mac, iOS and Andriod but this kind of support is still pretty rare, even in 2020.
Best apps for user experience
Productivity tools are supposed to remove distractions and help you get more done – not make life more difficult for you. This means usability is paramount and, while all of the apps in this list offer solid user experiences, there are a few that still stand out.
Before I explain why, here are the top three apps I'm recommending, based on user experience:
Serene
Toggl
Wunderlist
I'll take a closer look at each of these in a moment but, first, I'll explain what I've based this decision on – because user experience is a subjective thing.
Here's the criteria I've used to make the call:
Visual design: Points awarded for clean, minimal designs that make it easy to understand and use the app.
Navigation: Features always being within a few clicks and navigation that's easy to understand.
Features vs usability: More features are great but only if they don't add unnecessary complexity that's going to kill productivity.
Cross-platform experience: Cross-platform support and consistent experience as move between different versions.
Integrations: Allow you to add features that you need, even if they're not provided by the app itself.
Documentation & support: Sometimes things just don't work as you expect them to and this is where you need documentation and support to back you up.
Now that you what I've been looking for in each of these apps, let's take a look at our top three and explain why they win the usability test.
Toggl
I can honestly say Toggl is one of the most pleasant app experiences I've ever had and I put a lot this down to the fact it revolves around a fairly simple function: timing how long it takes you to get tasks done.
There are a lot of other features available with Toggl but everything centres around this single concept and this is reflected in the app's architecture, navigation and overall experience.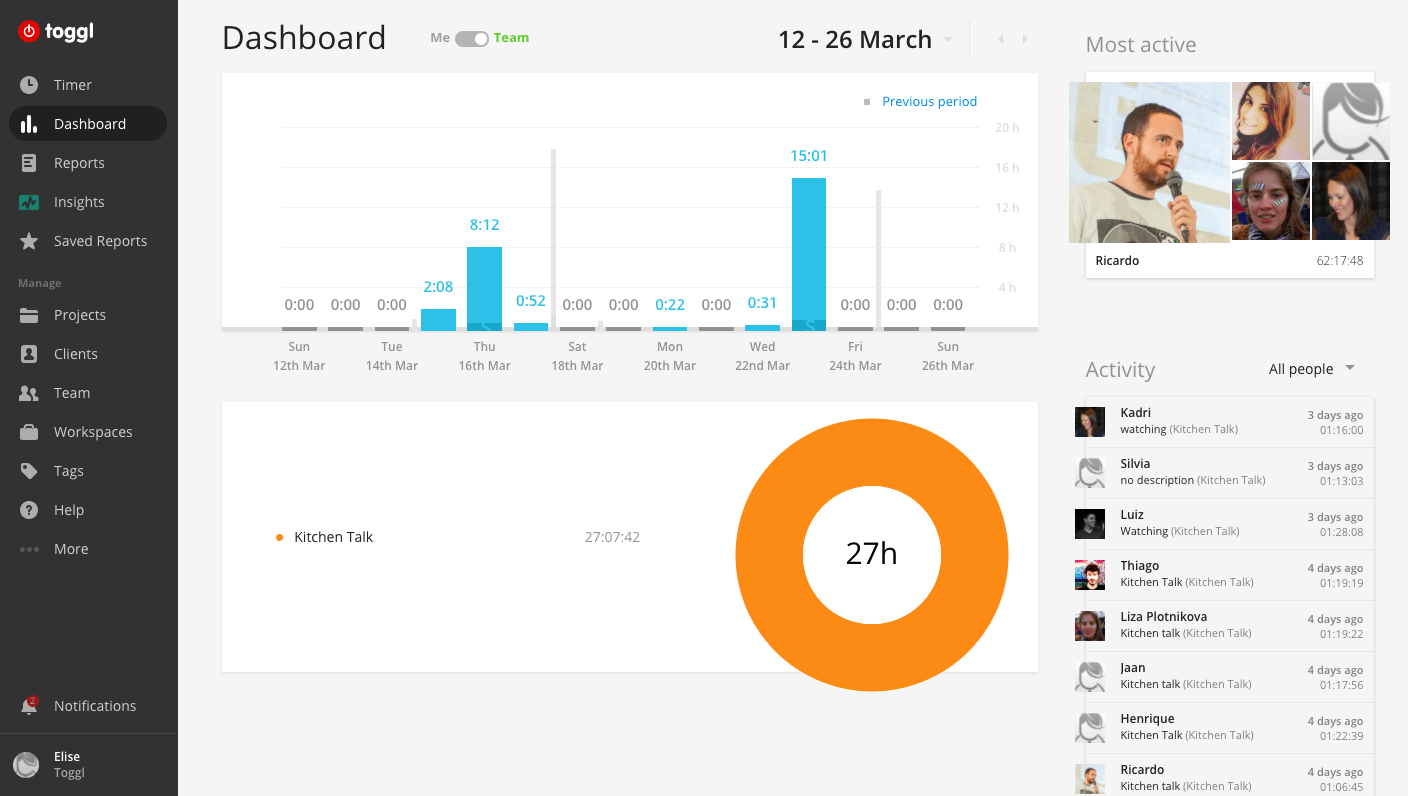 Its clean interface keeps every feature within reach and makes it easy to get around – very much like an improved version of the WordPress interface. This experience is consistent across the Toggl desktop, mobile and web apps, so you really can move between them seamlessly.
Trello
Trello isn't quite as lean and clean as the Toggl user experience but it's a far more complex application. When you consider everything Trello simplifies for collaborative teams, it's an impressive example of software design and development.
The main dashboard (above) is where you can manage your profile, project boards, team members and account settings. Admittedly, the card-style project boards look a little cluttered when you first see them but it takes no time at all to get over this.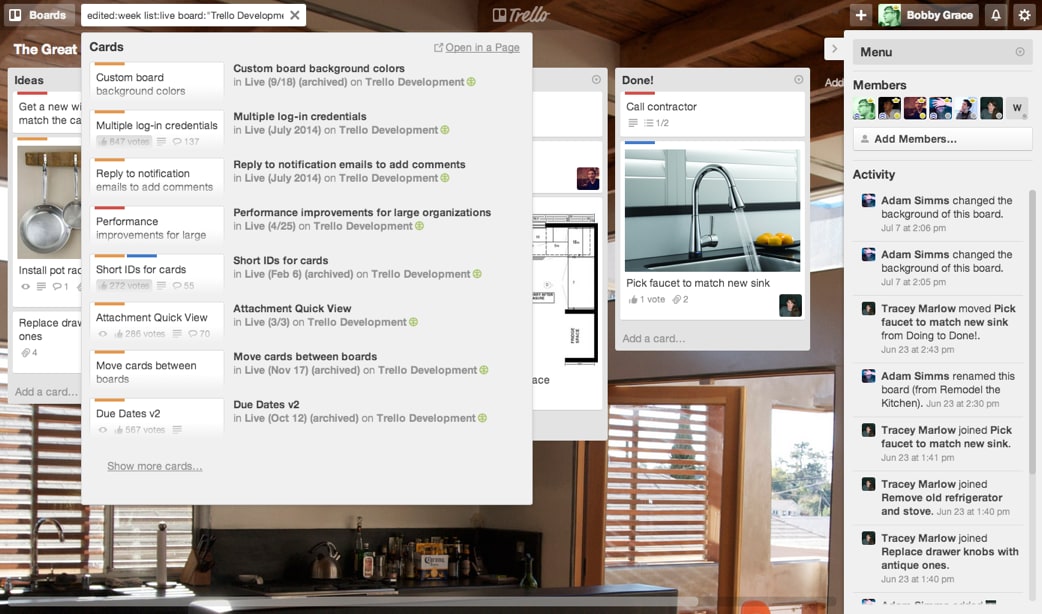 Trello makes it incredibly easy for collaborative teams to work on projects and make sure everything gets done. Adding new tasks, changing deadlines, reassigning tasks, discussing them with your team members and so much more can all be done in real-time from the same place.
Collaborative freedom made simple.
Wunderlist
Wunderlist takes the classic to-do list concept and turns it into a feature-rich productivity app for individuals and teams. As you add new tasks to your lists you can assign them to specific dates, define the duration, set them to repeat, create reminders and organise your tasks.
If you've ever used Google Calendar to try and arrange your schedule, you get the same kind of control over creating repeat tasks.
You also get a much better interface to work with and more freedom to view your to-do lists or check tasks by date, week or month. It's much easier to manage, reschedule mark tasks as completed.
Best value for money
Again, value is a subjective thing so what we're going to do here is give each app a score out of ten for three categories: cross-platformability, features and then the cost.
Free apps instantly get 10/10 score for cost while small one-off payments will get 9/10. Monthly costs are then rated down from 8/10 based on the monthly cost.
Keep in mind, I'm listing the maximum price for these apps and most of them offer a free version and/or cheaper options. I'm going with the most expensive prices purely because they give you the best of each app's features.
I've marked prices with an asterisk where free or cheaper options are available.
| Tool | Cross-platform | Features | Cost | Overall |
| --- | --- | --- | --- | --- |
| Serene | 6/10 | 10/10 | $49/yr | 8.4/10 |
| RescueTime | 8/10 | 8/10 | $9/mo* | 7.6/10 |
| focus booster | 8/10 | 6/10 | $4.99/mo* | 7.3/10 |
| Toggl | 10/10 | 9/10 | $18/mo* | 8.3/10 |
| Be Focused | 5/10 | 7/10 | $4.99 | 7/10 |
| monday | 8/10 | 8/10 | $35/mo* | 6.3/10 |
| Forest | 5/10 | 4/10 | Free | 6.3/10 |
| Todoist | 10/10 | 7/10 | $5/mo* | 8/10 |
| Wunderlist | 10/10 | 8/10 | $4.99/mo* | 8.3/10 |
| OmniFocus | 10/10 | 6/10 | $9.99/mo | 7.6/10 |
The free apps that score well in cross-platformability are always going to get high scores here. An app like Pocket may only have one real feature but it's a wonderfully designed app that you can use on every device and it costs you nothing to use.
Hard to argue with that.
In truth, all of these apps are good value for money and the more expensive options give you a lot of features for your money. Besides that, there are free and/or cheaper packages available with most of them and even the free versions of Toggl, Trello and Wunderlist are powerful tools – so be sure to check them out.
Best apps for teams
While all of the apps in this list are excellent productivity tools in their own right, they're not all designed for teams that need to collaborate more effectively.
If that's what you're after, then the apps you want to focus on are:
Trello: For helping teams work on complex or long-term projects.
Wunderlist or Todoist: For managing tasks and schedules.
Toggl or RescueTime: For measuring productivity and reducing distractions.
Trello for collaborative teams
If you need a platform that helps teams collaborate on projects, Trello is the app for you. Every task is assigned to the relevant person, team members can work together or individually as needed and progress is updated in real-time – so no tasks are missed.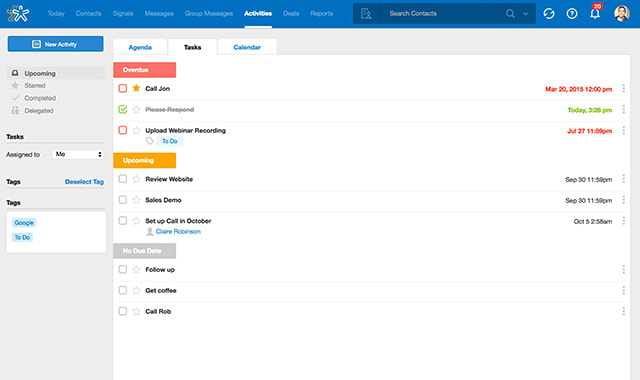 Projects can be a complex thing where requirements, workloads, new challenges and solutions can change at any time. Trello makes the unpredictable nature of team projects easier to manage.
A great feature of Trello is that you can invite unlimited people to your projects and they can access the app from anywhere. Which is ideal if you have a mix of in-house and location-independent team members.
Wunderlist or Todoist for assigning and managing tasks
While Trello is truly designed with teams in mind, Wunderlist and Todoist can be used by teams or individuals. The difference is that these aren't project management apps and they don't have a great deal to offer when it comes to collaboration either.
This is fine because a lot of businesses don't work on projects and tasks are often self-contained. When your system needs updating, you just want it done and if a report is due, you simply want to assign it to the right person and know it'll be ready in time.
Wunderlist and Todoist are exceptionally good at managing these kinds of working environments, where tasks are self-contained or teams largely work individually or in smaller groups.
Toggl or RescueTime for making teams more productive
Toggl and RescueTime are neither project nor task management tools. Instead, they track and time members as they work to help you understand how much time is really being spent on individual tasks.
In the case of Toggl, the idea is to make sure you're hitting profit targets, It does this by timing tasks so you can see if they're taking longer than expected – in which case, you can delve deeper into reports to determine whether you've underquoted or things aren't getting done as quickly as they should be.
RescueTime aims to do something a little different by tracking the amount of time people spend using specific apps and websites. This reveals how much time people are wasting on social media, news sites and other distractions, which is where you can use its app and website blocking feature to remove those distractions entirely.
What's holding your team back?
All five of these apps can improve the productivity of your team but they all solve slightly different problems. So, first, you need to determine what's holding your team back and then choose the right tool(s) to solve your problems.
Find the toolkit that works for you
So that's my pick of the best time management and productivity apps. I'm not suggesting you'll find all the tools you'll ever need in this article but I'm confident you'll make a lot of progress by combining just a few of the options we've looked at today.
Creating the most productive workflow for your tastes and needs is going to take the right combination of tools and you can either use or try all of these for free.
Hopefully, I've helped you narrow down the list of options and figure out a bit more about what you need/want from a productivity app. Now, it's over to you to try out the apps you think have something to offer and find the toolkit that works for you.