As we discussed in our recent post looking at 10 common remote work challenges, maximising productivity is one of the biggest challenges people face – both inside and outside of the office. Workplace productivity is obviously important to any business but it's also something that directly impacts the work-life balance of individuals. Achieving productivity can be particularly difficult for remote workers or people working from home. We've previously looked at the best apps for working from home and remote teams working from multiple locations. And, in this article, we're taking a slightly different angle by looking at the best productivity apps for macOS specifically. Whether you're working in the office, as part of a distributed team or a solo freelancer, these apps will help you maximise productivity and get more done during the working day.
Best productivity apps for macOS
Before we start looking at individual apps, here's a quick summary of what we'll be covering in this article. To avoid repetition, I've chosen ten apps that all serve a different purpose, rather than ten project management apps, for example, that all basically do the same thing. The idea is that you can use all ten of these apps and they'll all help you boost productivity by solving different problems. So here's a quick look at the tool I'll be talking about in this article:
Serene: Cut out distractions, stay focused on the task at hand and get things done faster.
Calendar: Manage all of your calendars and events in one place, arrange meetings without dozens of emails.
Trello: A simple task management tool that makes projects easier for remote teams to complete.
Taskade: A project management tool that helps collaborative teams work together on tasks.
Teamweek: Free project planning for small teams with an affordable option for multiple teams.
Toggl: Time tasks, get things done faster, track team productivity and make sure you're charging enough for the time it takes to complete projects.
Dameware Remote Everywhere: Advanced remote access that allows technicians to access any registered device from any location.
Slack: Team communication, the way it should be for remote workers.
Notion: Keep all your docs databases, tasks, and project resources in one place.
Spark: A distraction-free, collaborative email experience to keep teams focused and help them complete tasks quicker.
Naturally, all of these apps are available on macOS and some of them are available on other platforms, too. I've created this list with freelance and remote workers in mind, those who need to work with a team or other team members in another location. So, while most of these tools will help you increase your personal productivity, there's also a heavy emphasis on boosting productivity as a collective part of a team.
Free
Serene is a free app for macOS designed for remote workers and teams. You define a single goal for each day, which can be broken down into multiple tasks, and block out distractions. Numerous studies
show that multitasking kills productivity
and Serene gives you all the tools you need to stay on track with the task at hand. As the team behind Serene says, "Multi-tasking is a myth. Single-tasking is a superpower."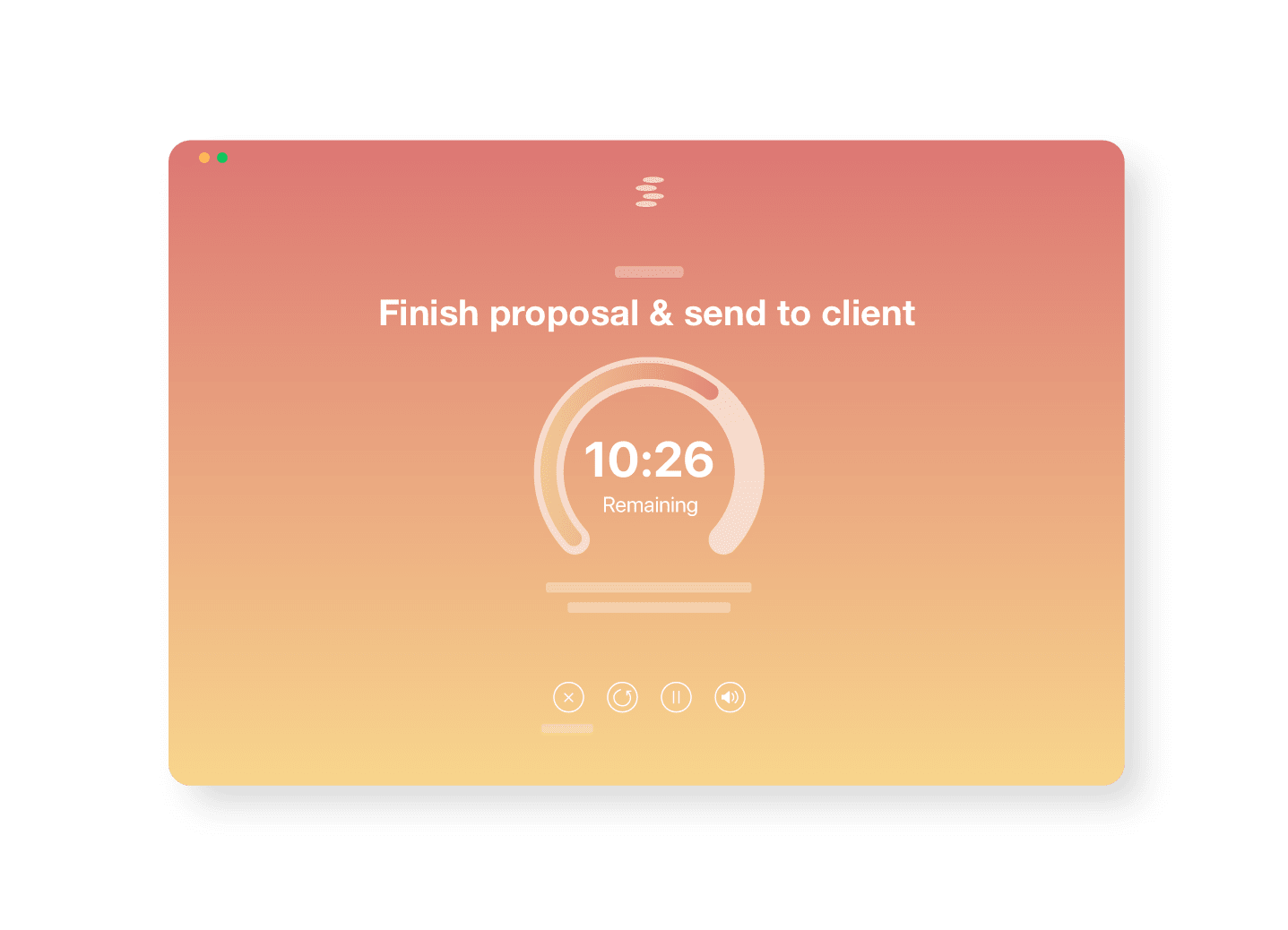 Key features
Website blocker: Block websites that distract you, such as social media and news websites.
App blocker: You can also block apps that take your attention away from work – social apps, your email app and anything else getting in the way.
Distraction-free sessions: Work in 20-60 minute sessions with regular breaks to maximise productivity.
Session timer: Shows you how much time you have left to complete tasks, giving you a motivation boost towards the end of each session.
To-do lists: Manage tasks and make sure everything gets done by the right team member.
Day planner: Define your goal for the day, set your tasks and get stuff done.
Focus music: Play background music to help you keep your focus.
Phone silencer: Automatically put your phone on silent mobile while working to avoid unnecessary distractions.
Once you set your goal for the day, you create your lists of sessions to get there and choose how long to set for each session. Then you click "Go Serene" and the app will start your sessions while automatically blocking distractions while each session runs.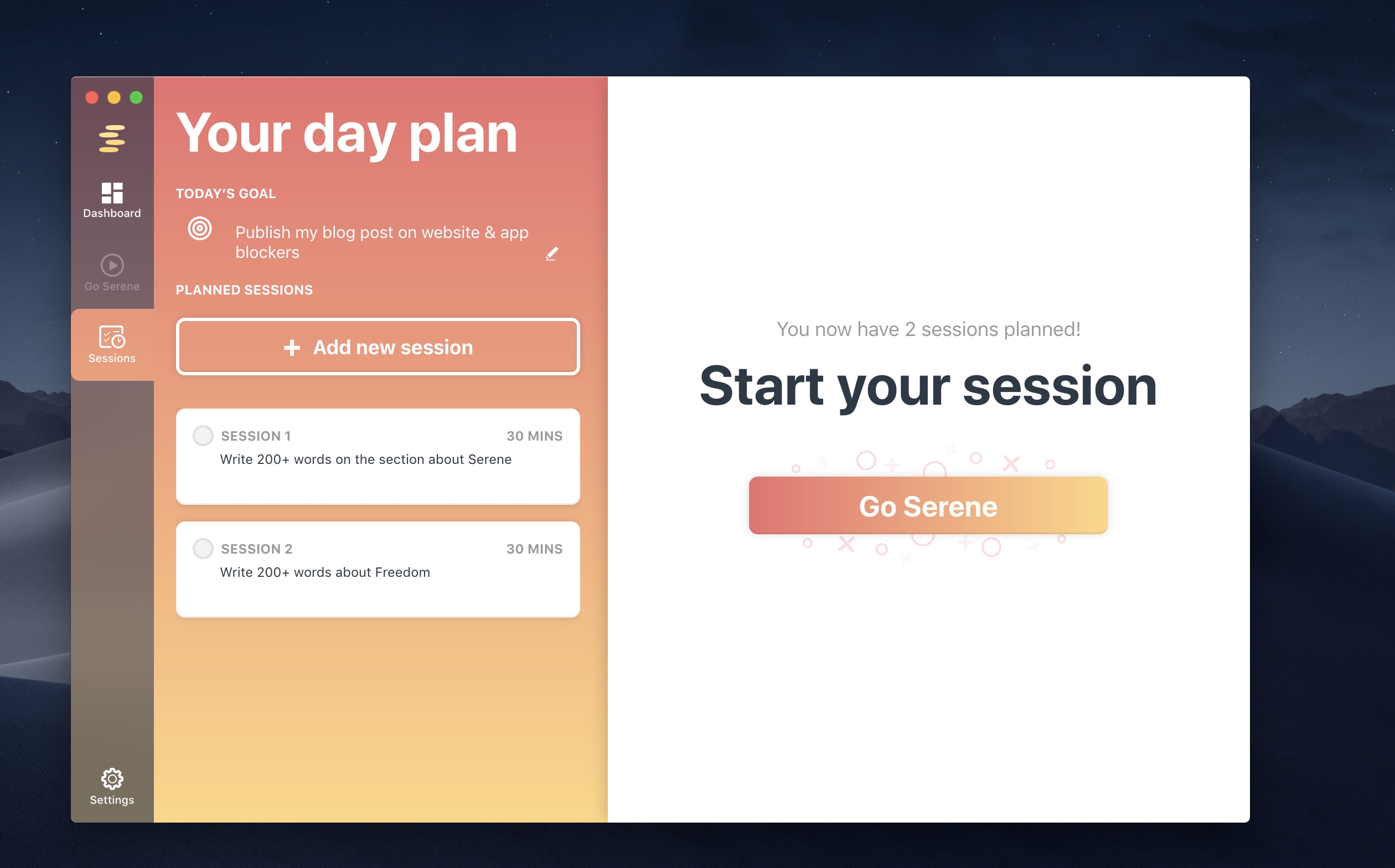 There's also a browser extension that blocks distracting websites and displays a reminder of what you should be doing if you try to access them.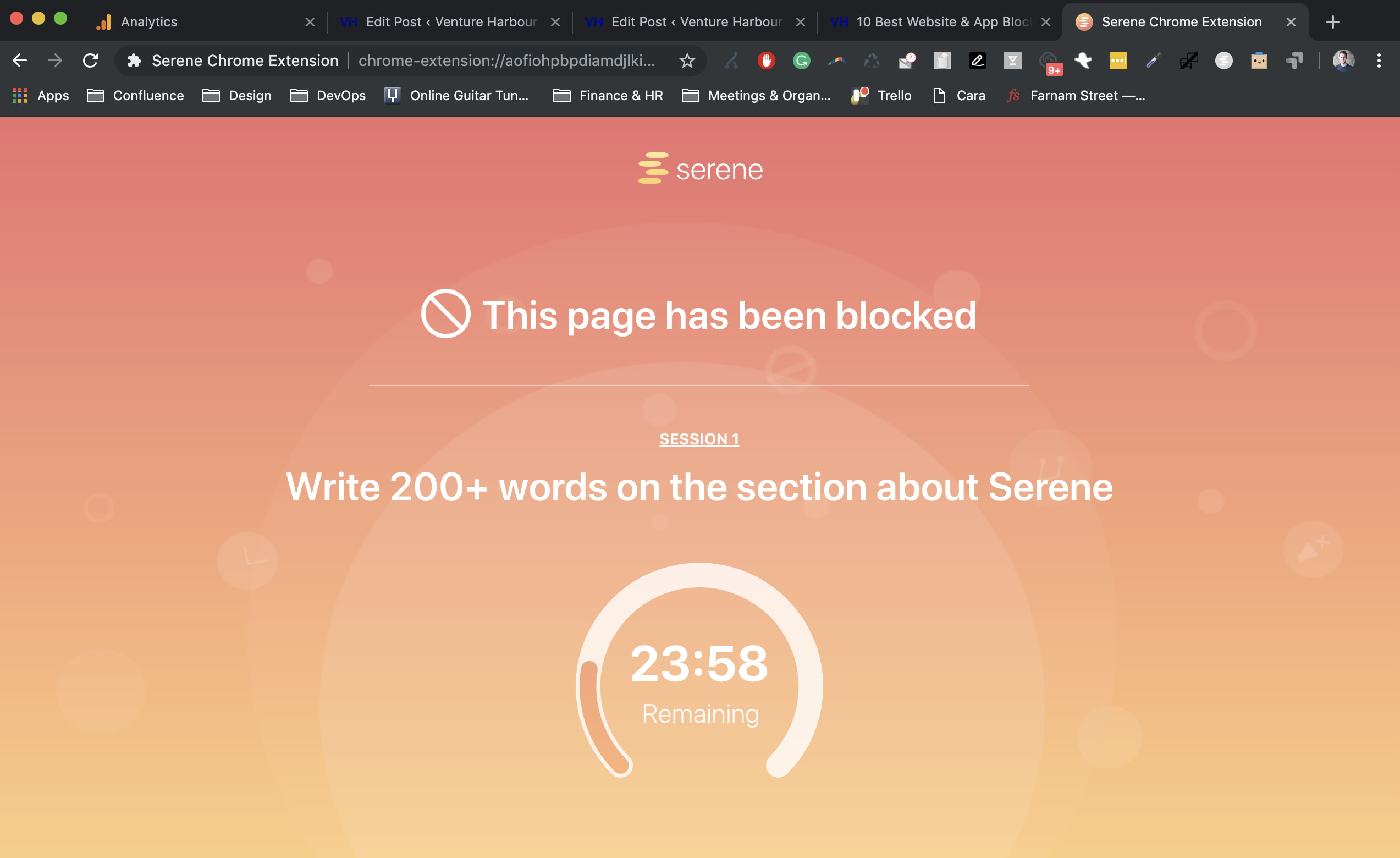 Serene is a relatively new app (still in the beta stage) but you can request an invitation to
try it out here
.
Free version available, paid versions from $10/mo
While Google Calendar is a great free digital calendar, it doesn't provide some of the advanced features remote workers typically need. A more feature-rich alternative is the aptly named Calendar, which connects all of your calendars into a single interface.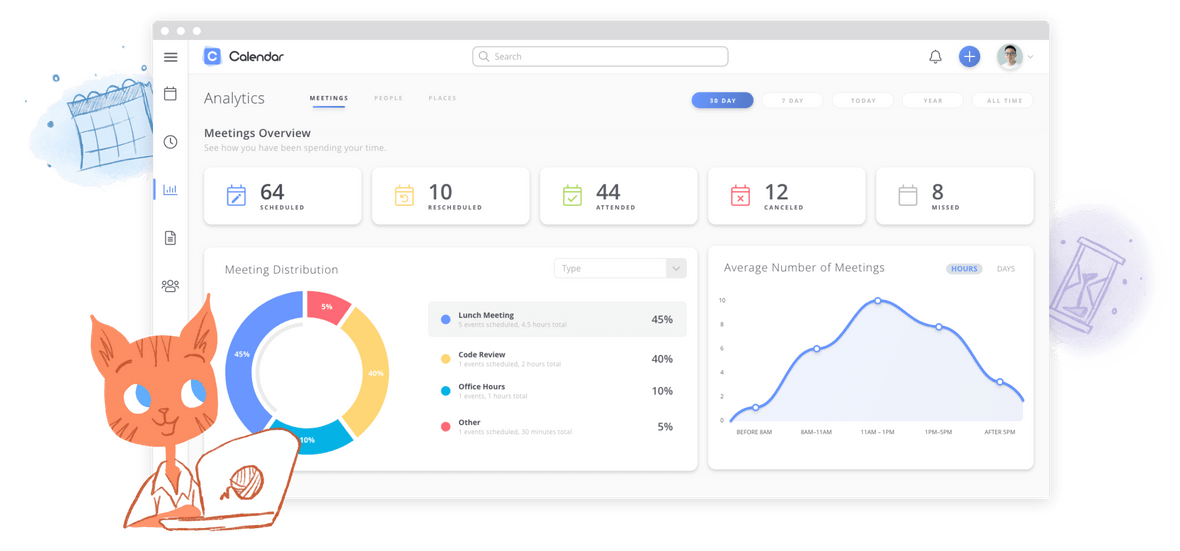 Key features
One calendar: Calendar integrates with all of your calendars (Google Calendar, Outlook, etc.) to keep everything in one place.
Synced events: Create events in Calendar or create them in your other calendar apps – they'll always be synced.
Easy scheduling: Schedule team meetings without the usual email back and forths.
Analytics: Calendar provides analytics reports to help you boost productivity.
Meeting transcriptions: Automatic transcripts of your meetings.
Aside from integrating all of your calendar apps, Calendar's star feature is the way it handles meetings. Instead of arranging video chats or other meetings with dizzying emails between multiple team members, Calendar allows anyone to choose and book meeting times during your availability hours while ensuring there are no conflicts with existing meetings or tasks.
#3: Trello (Windows, Mac, iOS, Android & web)
Free version, Business Class version $9.99/monthper user
Trello is a simple, easy-to-use project management app for collaborative teams. The platform is based on the Kanban board philosophy, a visual layout that originates from Japan, which you can see below.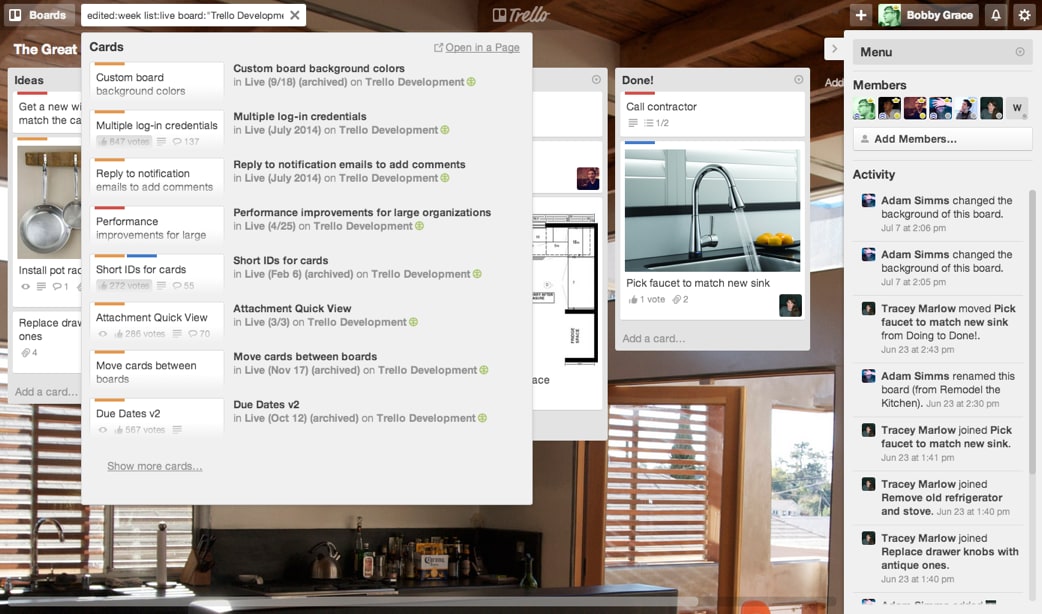 Essentially, tasks are added and organised on "to-do," "going" and "done" satuses, which helps teams keep track of progress. Tasks can be grouped into boards (the entire view above) and cards, which can contain multiple tasks in themselves. Individual tasks can be assigned to groups or team members with deadlines and checklists.
Key features
Project management: Trello is a simple, easy-to-use project management app for collaborative teams.
To-do lists: Create to-do lists, add due dates, assign them to people and manage tasks as they're completed.
Trello boards: Dashboards where you can create and manage lists of cards containing tasks and to-do lists.
Work with anyone: Invite anyone from around the world to help you make things happen.
Instant messaging: Talk to team members in real-time to discuss tasks.
Trello's instant messaging makes it easy for teams to communicate and collaborate from anywhere and team members can join for free, although they'll be limited to one board. Prices remain affordable on every paid package, though.
Free version, paid versions from $7/mo
Taskade is a project management and collaboration tool for small teams. It takes the to-do list concept turns it into a visual platform for tracking the progress of tasks and projects. While Trello is limited to Kanban board view, Taskade allows you to toggle multiple views in one click so you can see exactly how things are coming along.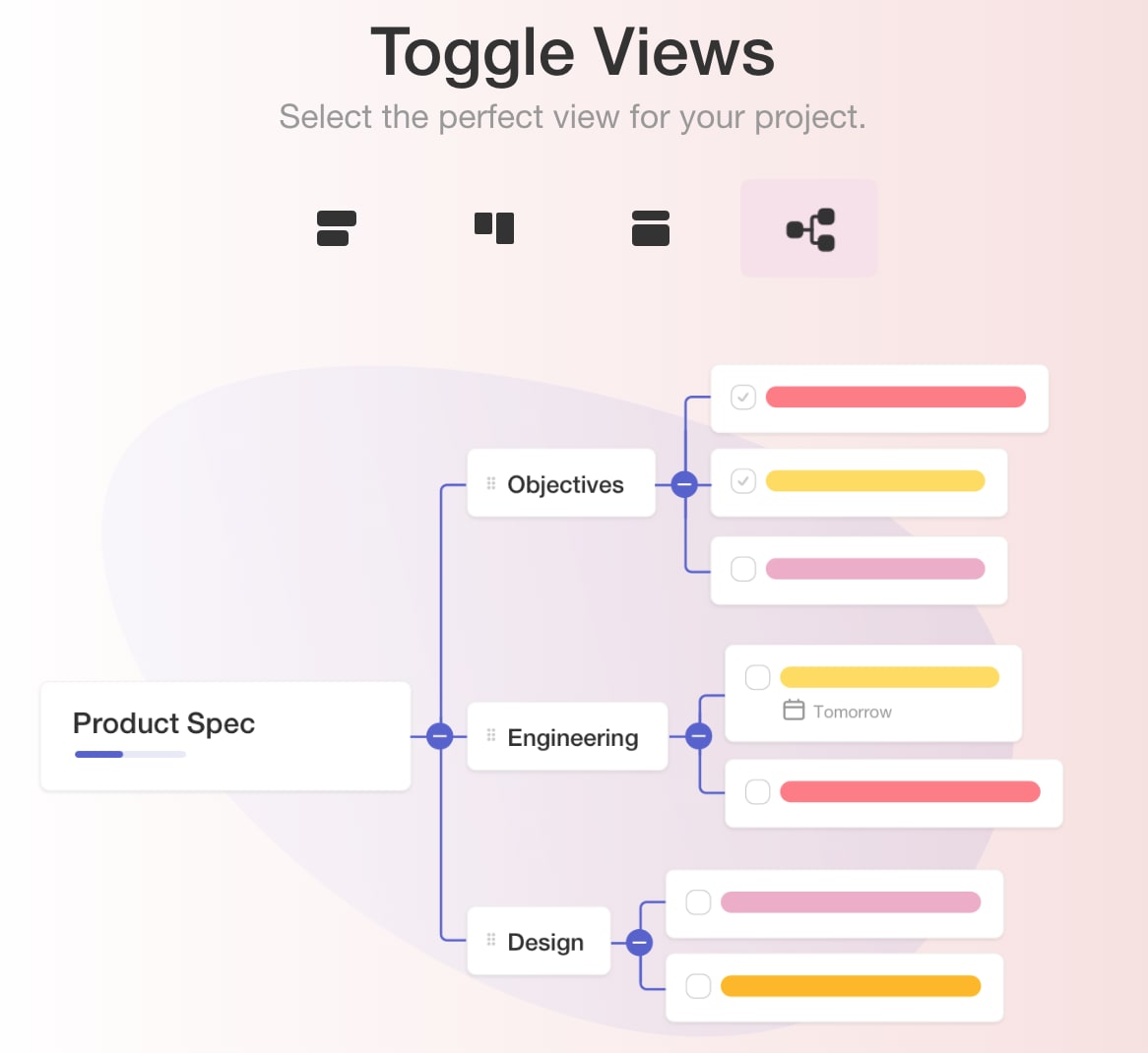 Key features
Project management: Project and task management features with multiple views for team members to keep track of progress.
Live collaboration: Edit projects in real-time and communicate via live chat.
Team calendar: Keep track of tasks across multiple teams and workspaces.
Team roadmap: Plan and manage projects by visually assigning tasks and setting deadlines.
Taskade also gives you live messaging and video calls for better collaboration between remote team members. While the team roadmap system makes it easy to assign tasks to team members and manage team projects.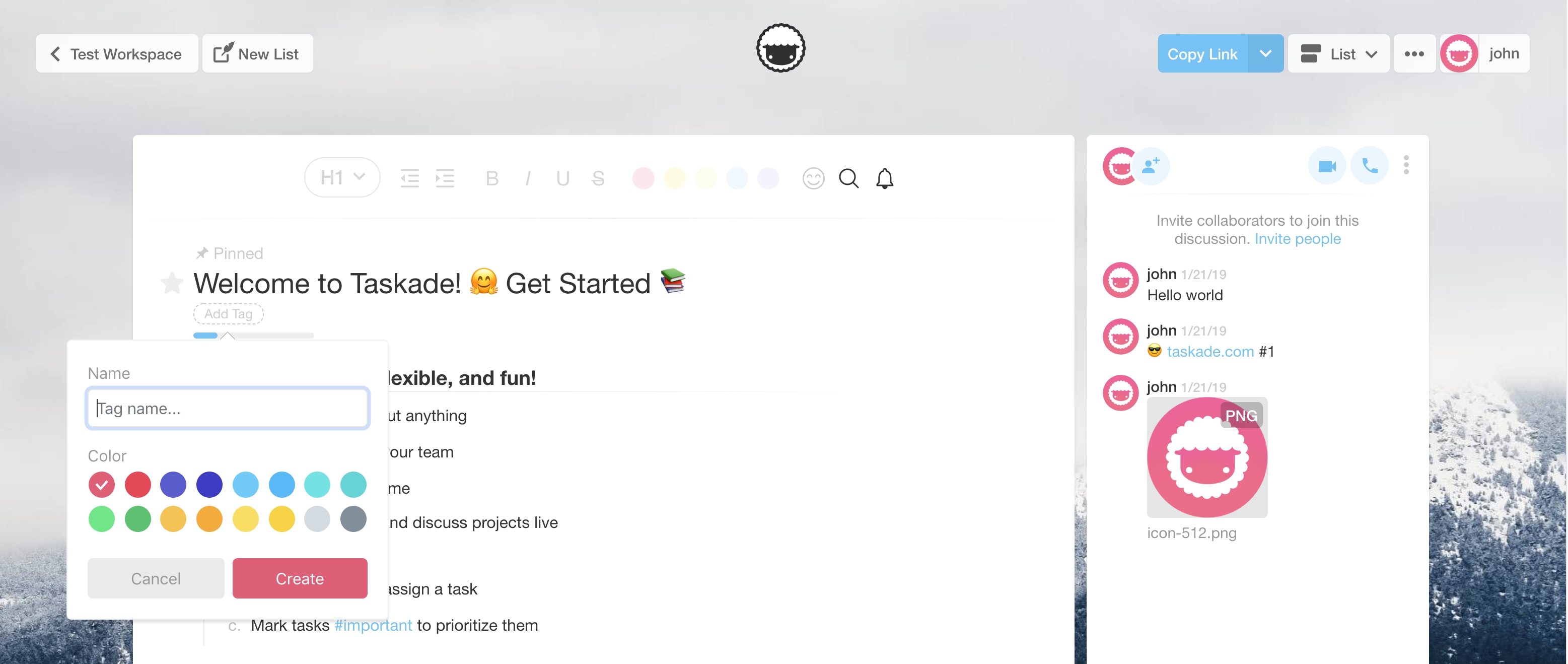 The other key feature Taskade provides is a team calendar where tasks assigned to each team member appear for everyone to see. This is important in terms of managing schedules, assigning tasks and keeping track of workloads.
Free version, Premium version $8/monthper user
Teamweek is a relatively simple project management tool that provides a global view of the tasks team members are working on. Essentially, it's very similar to the team calendar feature in Taskade but it provides more visual information and the drag-and-drop editor makes it easy to rearrange tasks.
Key features
Task management: Break tasks down into smaller sub-tasks, then check each item off the list after it's complete.
Projects view: Keep track of projects with an overview of progress.
Teams view: Keep track of how team members are getting on by viewing individual workflows.
Timeline sharing: Keep your clients informed by sharing the project roadmap with them.
There are two different views available with Teamweek. First, you can view schedules at the project level to see what everyone's up to specific projects. Then you have the teams view, which allows you to view the entire schedule for teams, regardless of which projects they're currently working on. As I say, Teamweek is a very simple tool but it's great at what it does. It's also free for up to five users and highly-affordable for larger teams.
Premium version $18/monthper user
Toggl is a time tracking app that runs in the background to track how long you're spending on tasks. The tool was originally designed to help freelancers keep track of how much time they were really spending on projects to make sure they invoice correctly and hit their profit targets. However, the app has expanded into a tool for collaborative teams over the years. Its data visualisations help you compare profits against time spent on tasks and labour costs so you can see which projects and clients are most profitable.
Key features
Time tracking: See how much time you (or others) are taking to get things done.
Boost profits: Check you're charging enough for the time it takes to complete projects.
Reports: See how productive you're being and how profitable your time with Toggl reports.
Cross-platform: Toggl's wonderfully designed apps work across just about every operating system and online so you can access it wherever you need, whenever you need it.
You can also see how much time team members are spending on individual tasks to monitor productivity and see if anyone's taking on too much/too little work. Toggl offers excellent cross-platform support meaning team members on every device/OS can access and use the app. It's a relatively straightforward app without any real learning curve and its excellent interface means team members can either download the app or log in to the website and start Toggling.
Prices start from £290, one-off fee
Dameware Remote Everywhere is a fully-featured IT support tool that allows technicians to access any machine registered to your account remotely. So, if you run into any technical issues, support can access your machines – no matter where you are – and get things back in order for you.
Key features
Secure remote control: Give technicians access to team members' devices from anywhere.
Remote IT support: Provide support to remote workers anywhere and allow remote technicians to do their job from anywhere.
Mobile remote support: Technicians can provide support using their iOS and Android devices.
Access sleeping and 'off' devices: Gain access to devices remotely, even when they're sleeping or turned off.
Perhaps you're having technical issues with a piece of software you need to use or there's a problem with one of your accounts. You may have simply forgotten your access details or could be having problems specific to your device. Dameware Remote Anywhere makes your devices accessible to support teams so they can jump in and get things sorted for you. Prices start from a one-off £290 fee but that's not as expensive as it sounds when you compare it to the ongoing cost of subscription-based software.
Free version, paid options from £5.25/monthper user
Slack is a massaging platform designed for teams and it's the ideal communication tools for remote workers. Instant messaging is organised into channels, which team members can join and leave, as needed, so nobody receives messages or notifications irrelevant to them. Team members can also chat outside of main topics in separate threads which prevents these messages from interfering with the most project-centric conversations.

Key features
Instant messaging: Live communication between every team member for seamless collaboration.
Statuses: Users can set availability statuses to focus on individual tasks as needed.
File sharing: Drag-and-drop file sharing for PDFs, images, videos and other common files types.
Voice & video calls: Voice and video calls directly from within Slack.
Screen sharing: Allows team members to show their work to others in real-time for stronger collaboration.
Now, the key things to understand about Slack as a remote worker is the pricing policy. You can use Slack for free, which allows you to create a single workspace for small teams while paid versions start from £5.25/month per active user. Ideally, your business (or the company you work for) will pay for a team version of Slack to provide everyone with a fully-collaborative workspace. However, the free version of Slack means small teams within a business can use the tool between themselves to improve their workflow. This can improve collaboration within office environments but the real benefit of Slack is for remote workers who need to collaborate with team members in other locations – one of the most common problems cited by remote workers.
Free version, paid versions from $4/mo
Notion calls itself your team's long-term memory and it acts as a kind of collaborative alternative to Evernote. Notion also calls itself "the missing half of Slack" which it integrates with perfectly to create a single location for all the resources important to your team – for example, important documentation, guidelines, etc. Multitude's aim is to replace a multitude of separate productivity apps with a single platform.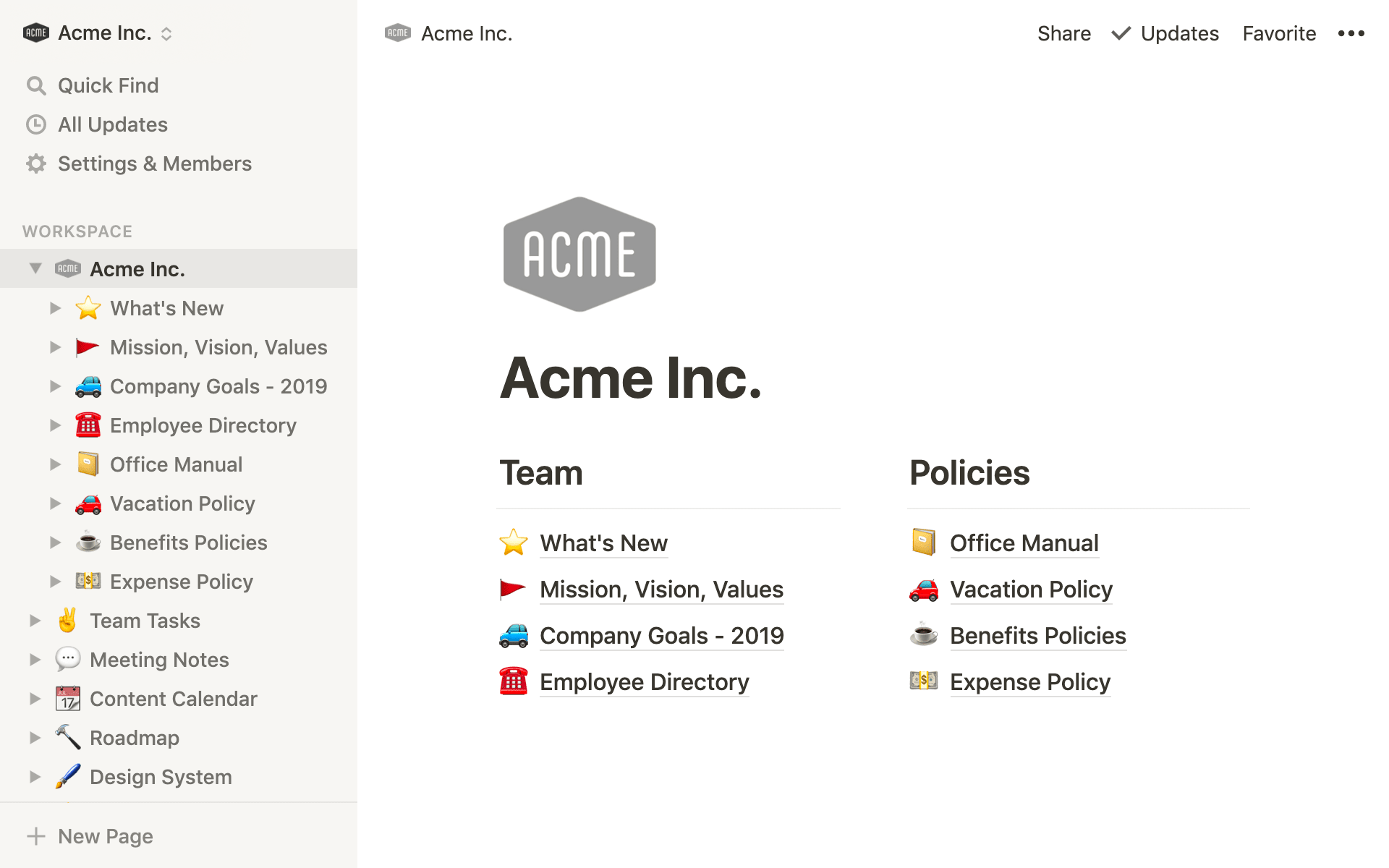 Key features
Notes & Docs: Create and share documents, notes and media files.
Team Wiki: Create a central knowledge base of essential info and guidelines for all team members.
Project management: Highly customizable Kanban boards and calendars that adapt to your work.
Files sharing: Designed for focused writing, easy editing, and rich media
Live collaboration: Work on tasks together in real-time.
So, instead of using Google Docs and Evernote, you can use Notion to basically achieve the same thing. Likewise, you can also use its task and project management features in place of tools like Trello. Then, you have the spreadsheets and databases which aim to replace the likes of Excel and Google Sheets. If you're tired of using a dozen different productivity tools, Notion aims to provide a single platform that replaces half a dozen separate apps. I'm not saying Notion is necessarily as good as all of those individual apps combined but you gain convenience by not having to switch between different apps and you could well save some money while you're at it.
#10: Spark (Mac, iOS, Android)
Free version, $6.39/mo (per user) for Premium
Spark is an intelligent email client that prevents your inbox from being a productivity killer and turns it into an asset. Its Smart Inbox automatically categorises your emails from every account assigned to it, allowing you to filter out the emails that don't matter and prioritise the ones that do.
You can also snooze specific emails for later, assign emails to team members, chat with team members, share drafts, set reminders for follow-ups and schedule emails to send them later.
Key features
Smart inbox: Clean up your inbox, find any email with "Smart Search" and snooze emails that don't need your attention right now.
Smart notifications: Only receive notifications for the emails that really matter.
Assign emails: Assign emails to team members so the right person is always managing tasks.
Team email: Private team comments, shared drafts, template replies and instant chat for collaborative teams.
Send emails later: Schedule emails to send them when people are most likely to read them.
Reminders: Get reminders to follow up on important emails at the right time.
With Spark, multiple team members can even work on the same email at the same time while communicating via instant messaging on the platform. This means there are no more emails to clients, saying "I've CC'd James and he'll explain that technical issue we talked about earlier". All the key details can be included in emails by the right person without any confusion or inaccuracy.
Don't let the tools get in your way
In the digital age, it seems like the number of apps we need to use to get the day's work done is constantly increasing. The problem with this is, the more apps you bring into your workflow, the more potential there is for complexity, poor experiences or a lack of integration to get in the way of productivity. This is why it's so important to choose the right software, tools that enable you to achieve more without adding unnecessary barriers in the way of progress. The good news is productivity apps are a big thing in business software right now and there are plenty of tools on the market to help you overcome issues getting in the way of your workflow. At the same time, integration between apps is constantly improving and the average user experience is getting better all the time. This means that, with some smart software choices, you can easily build a toolkit that breaks down productivity barriers and enables you to achieve more in a shorter time-frame. Hopefully, this article will help you get there and you can get more tips by checking out the other productivity articles on
our blog
.