Here at Venture Harbour, we partner with more than 100 different B2B service and software providers as an affiliate. Over the years, we've used just about every marketplace, affiliate marketing platform and referral tracking software on the market – so, today, we're going to share the best of them with you.
We know it can be hard to find platforms and tools that look after the affiliate because most systems are geared towards the paying advertiser. This is why we decided to put together this guide, especially for the affiliate marketers out there, so you can find bigger clients, generate more revenue and build a bigger affiliate business.
What are we looking at in this article?
As mentioned in the intro above, this article is for affiliate marketers specifically. Excuse the repetition but a lot of tools we're going to look at in this guide are aimed at advertising companies and affiliate marketers – as is often the case with affiliate marketing software – so we need to clarify that these recommendations are made with affiliate publishers in mind.
We're looking at a selection of tools in this article, ranging from marketplaces to help you find new clients and tracking tools to marketing software and analytics platforms – everything you need to manage a successful affiliate marketing strategy.
Here's a quick preview of what we're looking at in this article and you can jump ahead to any of the sections below by clicking the link text in this list:
In the first half of this article, we're focusing on the top 10 affiliate marketing and referral tracking software in a series of mini reviews. In the second half, we compare these platforms across several categories, including features and pricing, to help you choose the most suitable tools for your needs.
This will include several tables for easy comparison – like this one showing the type of partner clients you can find on each platform.
| Tool | B2B | SaaS | B2C | Retail | Food & Drink | Finance |
| --- | --- | --- | --- | --- | --- | --- |
| PartnerStack | ✔ | ✔ | | | | |
| Impact | | | ✔ | ✔ | | |
| Circlewise | ✔ | | | | | |
| RedTrack | | | ✔ | | | |
| Getaffiliated | ✔ | ✔ | | | | |
| Refersion | | | ✔ | ✔ | ✔ | |
| Marketcall | | | | | | ✔ |
| CAKE | | | | | | |
| Strackr | | | | | | |
| Afflytics | | | | | | |
We're not simply looking at 10 different versions of the same tool in this guide. We're reviewing a selection of tools for affiliate marketers with a variety of features, strengths and weaknesses. By the time you're done reading this, you'll be ready to choose the perfect software for your needs – whether you're just getting started with your affiliate marketing career or looking to take it to the next level.
#1: PartnerStack: The best partner platform for SaaS products
PartnerStack is the best affiliate marketing platform for SaaS companies looking to drive growth through affiliate programs. The company connects software providers with affiliates who specialise in promoting SaaS products and this relationship works both ways.
The PartnerStack Marketplace is one of the best networks for affiliates looking to find new opportunities with an extensive library of high-quality programs.
Key features:
PartnerStack Marketplace: Find the best SaaS partner programmes through PartnerStack's network of software companies.
Custom referral links: Create custom referral links to include your brand name or social media handle.
Dynamic referral links: Create unlimited custom referral links outside of PartnerStack for fast, easy and flexible link creation to any partner page.
Link tracking: Use subIDs to track affiliate link clicks and optimise your promotions.
Partner recommendations: PartnerStack recommends new opportunities based on your existing partnerships.
Partner teams: Work with teammates and other people on programs by creating partner teams.
Easy payments: Withdraw your rewards every month using Stripe or PayPal.
The PartnerStack Marketplace makes it quick and easy to find SaaS partner programmes. The focus on software products helps you pinpoint the ideal set of opportunities by browsing through categories or manually searching for company names.
If you can't find a company you're looking for, you can also request a company to be added to the network. Just keep in mind that PartnerStack maintains a level of quality with the programs it accepts – to the benefit of affiliate marketers, partner companies and the customers you're marketing to.

As a result, you know you're getting quality programs from PartnerStack and your rewards are clearly marked out on the results listing for each program with more detail provided once you click through to the program page.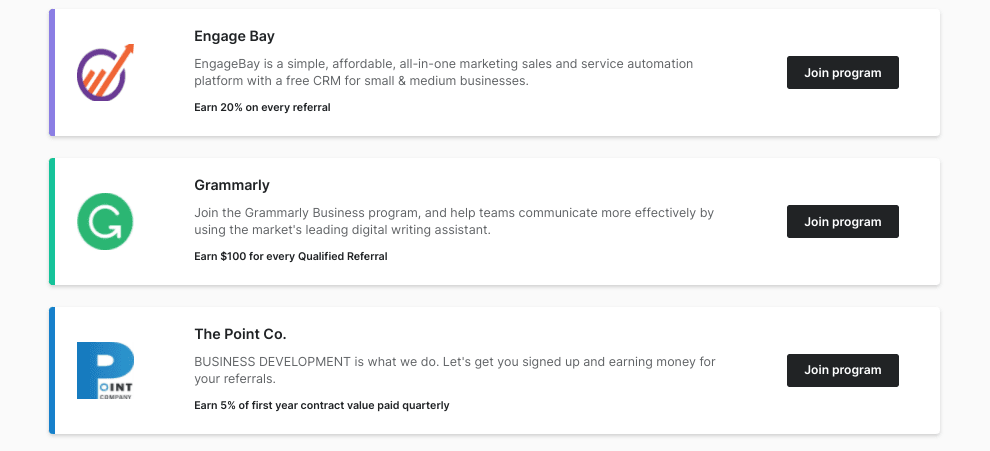 Once you're set up with your programs, PartnerStack makes it easy to create and manage your links.
Upon joining a program, you're automatically assigned a default referral link that you can share with potential customers but you can also create custom links to include your company name or social media handle.
With custom links, you can point towards any page on your partner's website, which allows you to include more relevant, targeted links in your content. So, for example, when you're talking about the different plans available, you can link to the pricing page instead of simply linking to the homepage.
If you create more than 50 custom links, you can also use dynamic links, which allows you to create a few link templates in PartnerStack and, then, create an unlimited number of custom links outside of the platform, using these templates – a real time-saver if you're creating a lot of custom links for each partner.
With your programs up and running, you can track performance in PartnerStack, keep track of your earnings and claim your rewards every month.
The platform recommends new opportunities to you based on your existing programs to help you increase your earnings and you can track referral link performance using subIDs and use these nights to optimise your campaigns.
#2: Impact: The best for connecting brands with social content creators
If you're a social content creator looking to partner with the brands you and your audience love, then Impact is the first affiliate marketing platform you should look at.
Impact connects content creators and influencers with global brands so we're talking about big names like Adidas, Airbnb and L'Oréal here with a heavy emphasis on consumer-driven campaigns.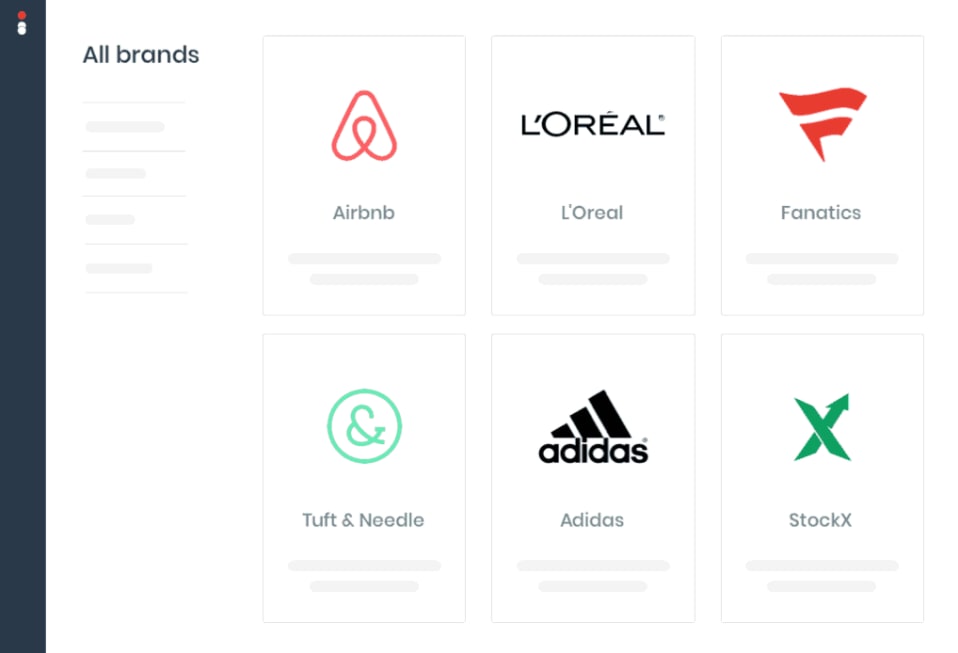 Key features:
Impact Marketplace: A network for affiliates and creators to find partner companies.
Automatic profile creation: Create your partner account easily by linking your social accounts.
Reach out to brands faster: Access direct contact information from the platform and push them into a targeted advertiser email list that you can download in a snap to kick start your email outreach.
Cross-platform tracking: Track across devices and touchpoints — your partner brands can see every touchpoint you drive value along the customer journey.
Flexible payments: Take advantage of comprehensive tracking to negotiate payment along whatever terms you want, including introducing new customers and getting rewarded if they convert.
Hassle-free payments: Automate all payment processing with the Partnership Cloud and get paid easily.
Personalised links: Customise the link text that comes after an advertiser's domain into a short, relevant word or phrase.
Exclusive promo codes: Receive exclusive promo codes to get credit for your influence, even if another website or partner promotes your unique code.
Impact is a modern affiliate marketing platform designed for modern relationships between brands and content creators. The software is geared towards influencers and social creatives with an engaged audience that wants to connect with major consumer brands.
You could be an Instagram fashion influencer or a YouTube travel photographer looking to monetise your content with high-end partnerships.
Being a fairly new platform on the market, Impact's network isn't as large as we expect it to be in a few years but the quality of the programs currently on there are a good sign of things to come – and more than enough to get you started with major brands.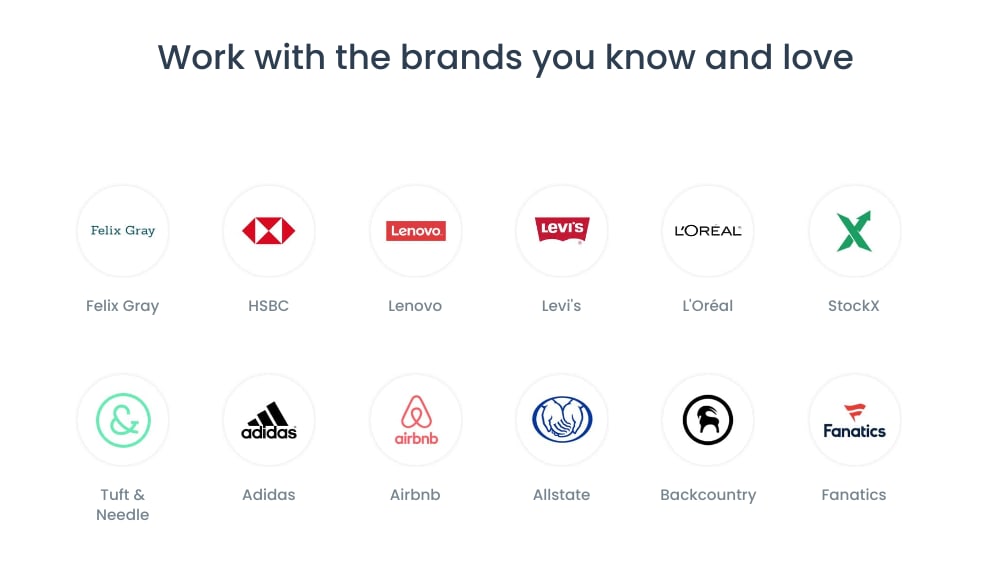 The platform makes it easy for you to get things up and running, too. Automatic profile creation pulls details in from your social media accounts and helps you reach out to target brands quickly.
The biggest issue is that partnering with major consumer brands sets a pretty high bar for approval. So you need to prove that you've got the following and traffic numbers to make you a viable partner for high-end names.
This may get easier as the trend of micro-influencers becomes more accepted among major brands but, for now, Impact is definitely a platform for content creators with a solid audience.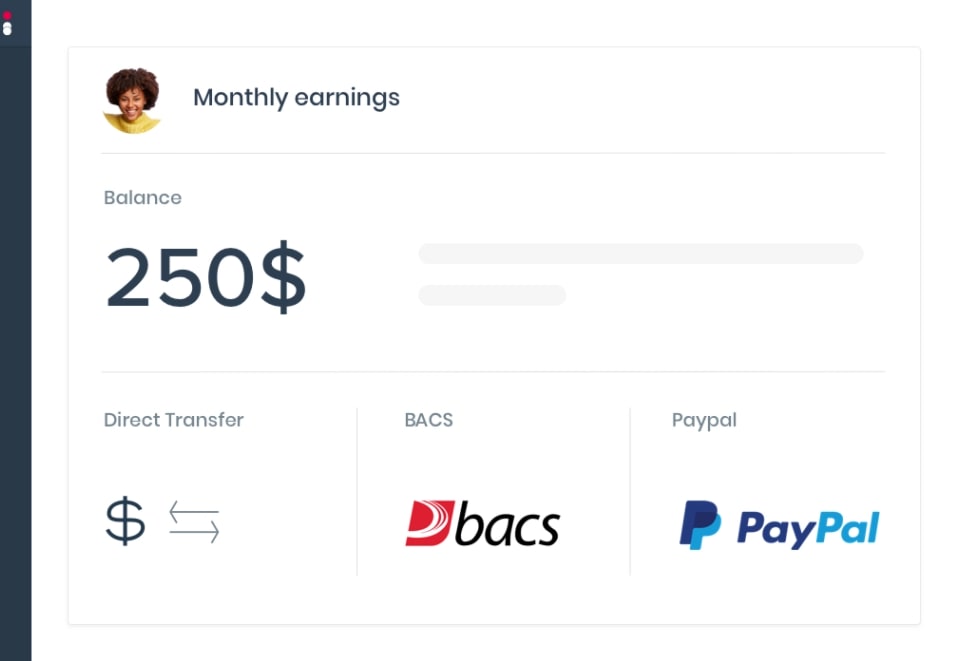 If you've got enough clout to win partnerships on Impact then you're not going to have many complaints with the platform. Despite the occasional browser-based bug, Impact is a pleasure to use and built-in automation helps you track performance and optimise your earnings without spending all day buried in the software.
Automated payments mean you can collect your earnings without fuss every month and Impact provides a robust set of reporting tools so you can gain a deeper understanding of the value of your traffic and spot opportunities to improve results.
#3: Circlewise: A great place to get your first B2B affiliate gigs
Circlewise is another affiliate marketing platform that caters for advertising brands and publishers on both sides of the affiliate relationship. As an affiliate publisher, you can use Circlewise to find offers with more than 1,200 active from more than 660 advertisers at the time of writing.
The company has an excellent reputation for customer support and the platform is a breeze to use, especially on the publisher's side – even if it's not the biggest network around.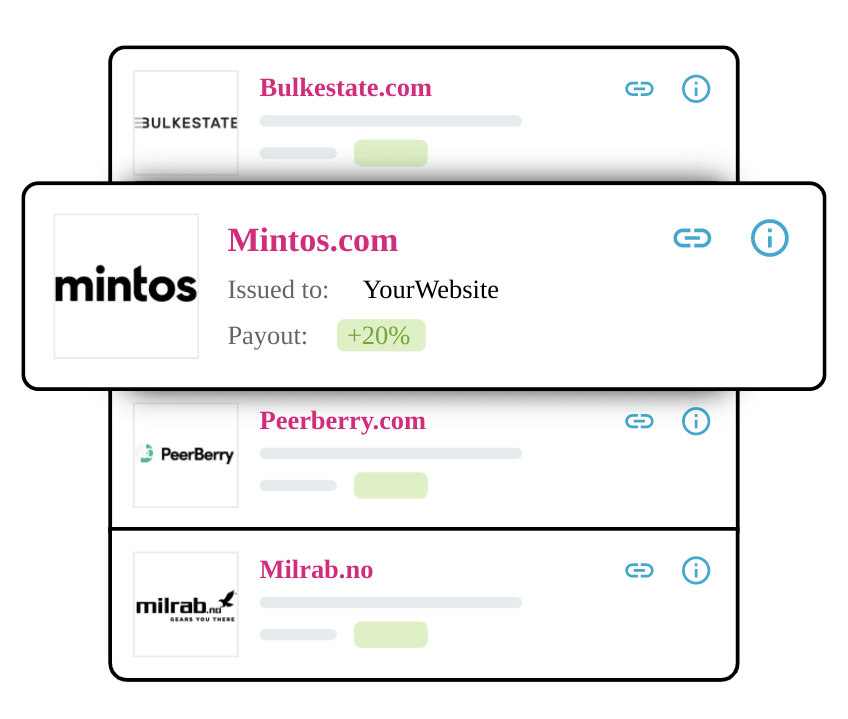 Key features:
Circlewise Marketplace: Find new opportunities using Circlewise's marketplace.
Link generator: Create tracking links directly in the dashboard and customise links by adding parameters to them.
Deeplinks: Link to pages other than the target URL specified by the advertising brand.
Postback URLs: Create postback URLs for conversion actions to attribute them accurately.
Ad inventories: Promote offers across multiple websites by creating Ad inventories in Circlewise.
Multi-layer tracking: Robust link tracking built on a layer of technologies with fallbacks for instances where the priority tracking method fails.
Smart reporting: Track campaign performance and spot opportunities for improvement.
Circlewise is mainly geared towards B2B brands looking to grow their business through affiliate marketing. However, if you read reviews on sites like G2.com, you'll see many business users say there's a shortage of B2B publishers on the platform and several users also wish there was some kind of publisher score or method of choosing affiliates by reputation.
A lack of B2B publishers may explain why we've seen high acceptance rates on Circlewise and you also get the impression that advertising brands want to keep hold of good publishers once they find them.
Circlewise doesn't provide advertising brands with any real information about publisher applicants and this is great in some ways, not so much in others. However, one benefit is that new B2B affiliate publishers can use this platform to get their first gigs, start generating some income and build up that portfolio – all of which helps you win offers elsewhere.
Newcomers also benefit from the simplicity of the software, which provides all the tools you need as a publisher without adding any unnecessary complexity.
You can create tracking links with the built-in link generator and you can also deep links (if the advertiser allows them) to link to pages on your partner's website other than the default target link.
When it comes to payments, weekly payouts mean you get your money faster although there's a minimum payout amount of €50, which is higher than some platforms but lower than others.
You can keep track of all your finances in your account, including cash flow statuses for pending amounts, approved payments and more.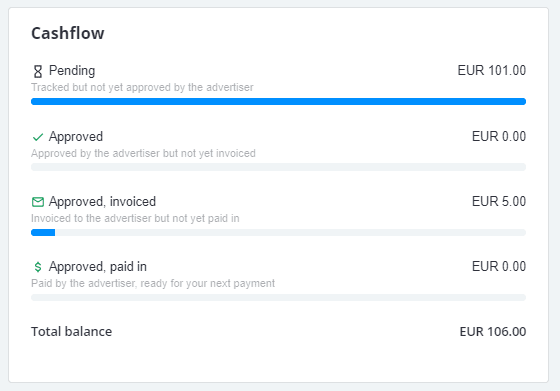 Everything is tracked and automated for you so you never need to worry about sending invoices or chasing up payments. You can concentrate on creating your affiliate content, monitoring performance and optimising your strategy to maximise income – all of which you can also track in the back end of Circlewise.
#4: RedTrack: Ad tracking software for publishers
RedTrack is an ad tracking and conversion attribution platform that brings all of your advertising data into one dashboard. This allows you to manage paid and organic campaigns from one place and the conversion attribution technology helps you track the success of campaigns with greater accuracy,
As an affiliate marketer, you need to maintain and grow your stream of traffic to maximise revenue and this requires a mix of organic and paid campaigns – for example, organic SEO, Google Ads, Facebook Ads, Google Ads remarketing campaigns and, potentially, so much more.
RedTrack compiles all of this campaign data into a single dashboard for you to manage, analyse, compare and optimise through data-driven insights – all so you can increase the volume of high-quality traffic coming to your site and turn more visits into paying clicks.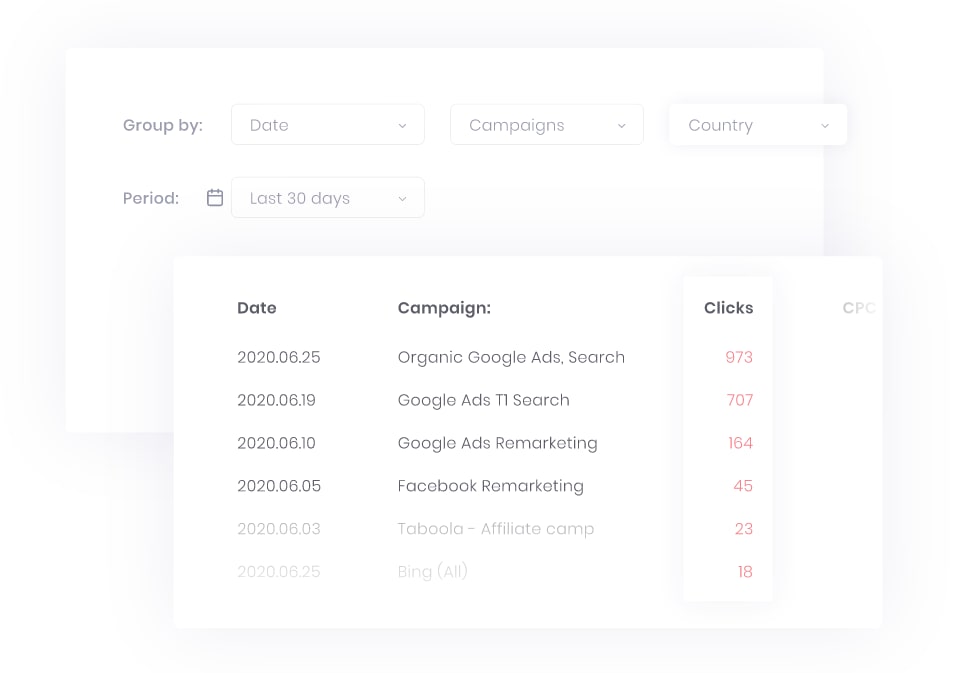 Key features:
Click tracking: Track every step of the funnel, from the first impression and click to up to 10 conversion events.
Cookieless tracking: Track organic traffic and ad campaigns on Google, Facebook and other sources without redirects or using third-party cookies.
Multichannel tracking: Connect all your traffic sources to RedTrack and get a deep understanding of the performance across all the channels. Attribute paid and organic traffic to outbound/partner conversions.
Automated reporting: Save time and effort creating reports, as they're instantly generated inside RedTrack.
Real-time reports: Get real-time data, group them in custom reports and visualize data drill-downs.
Automated A/B testing: Carry out A/B tests automatically and detect best performing combinations.
RedTrack connects all of your traffic sources to help you understand the performance of campaigns across every channel and how they contribute to your wider affiliate marketing strategy.
With cookieless tracking, you can track organic and paid traffic across Google, Facebook and other sources to attribute clicks to each campaign type.
This is important if you're driving traffic from paid and organic campaigns because you want to know which clicks you're paying, how performance compares across campaign types and ensure you're hitting the right ROI targets – especially for paid campaigns.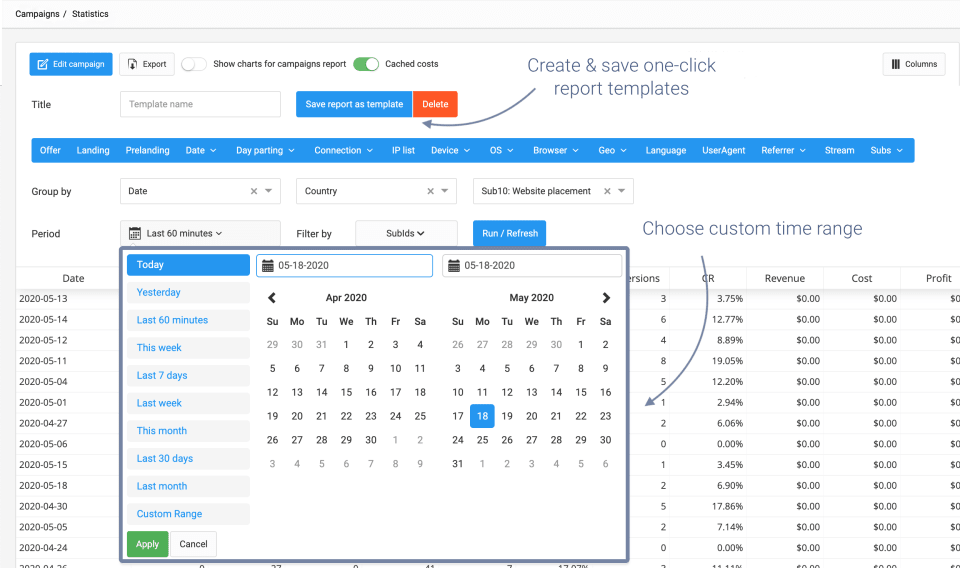 By putting all of your data in one place, RedTrack makes it easy to compile reports, compare campaign performance, spot trends and identify areas where your strategy needs improving.
It could be as simple as seeing that Bing Ads campaigns aren't generating enough ROI compared to Google Ads and Facebook or something more complex like CPCs for certain keywords heading in the wrong direction.
So you can take these insights and decide whether to optimise your Bing campaigns or put more of your budget into other channels. And you can start finding new keywords before rising CPCs leave a dent in your pocket.
#5: Getaffiliated: Get clients & get paid fast
Getaffiliated may be the fastest way for affiliate marketers to find clients and get paid. The platform revolves around integration with Stripe for automated payments between advertising brands and affiliates – for the benefit of both parties.
So you need a Stripe account to use Getaffiliated but the instant payouts and simple transaction fees make this an affordable, hassle-free option for affiliate marketers looking to partner with B2B SaaS companies.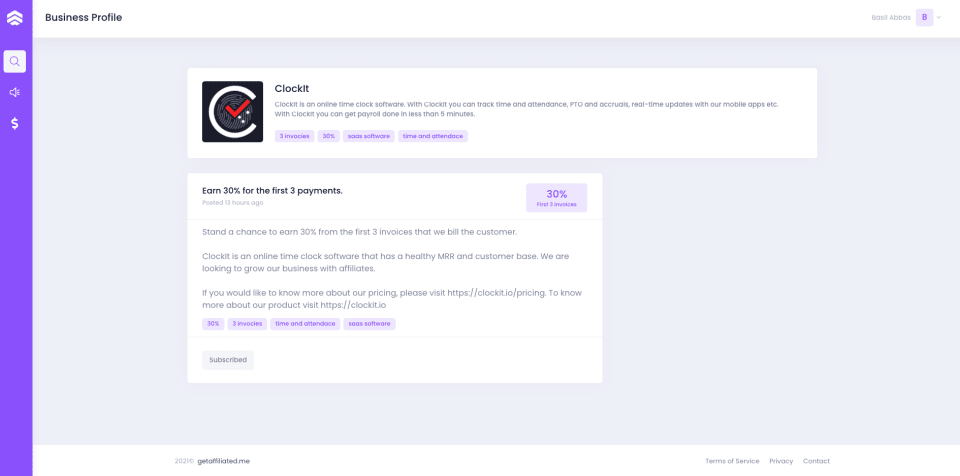 Key features
Find campaigns: Browse campaigns and promote those that are attractive and in your niche.
Unlimited campaigns: Work with unlimited businesses available.
Stripe integration: Like your Stripe account to Getaffiliated for automated payments.
Instant payments: Receive your money as soon as customers pay your partner business.
Simple pricing: You pay a flat-rate 5% transaction fee upon payment – nothing else.
Getaffiliated specialises in connecting B2B SaaS companies with affiliate marketers. The platform is basically an online marketplace with integrated payments via Stripe that helps businesses find affiliates and start generating traffic right away.
"We were able to get started and generate traffic from affiliates all within a day of listing with Getaffilited."

Getaffiliated review by Dheeraj V. on Capterra
Likewise, affiliate marketers can use Getaffiliated to find B2B SaaS clients and start earning money within hours – not days or weeks. In fact, the company says you can be set up and marketing within five minutes – all you need to do is create your account, link it to Stripe and hit the marketplace to find campaigns of interest.
You can work with as many partner companies as you like and the best thing about Getaffiliated for affiliate marketers is its payout and pricing policy.
You can forget about weekly or monthly payouts with this platform; you get paid as soon as your partner clients receive payment from your referred customer and you pay a flat 5% transaction fee on every payment.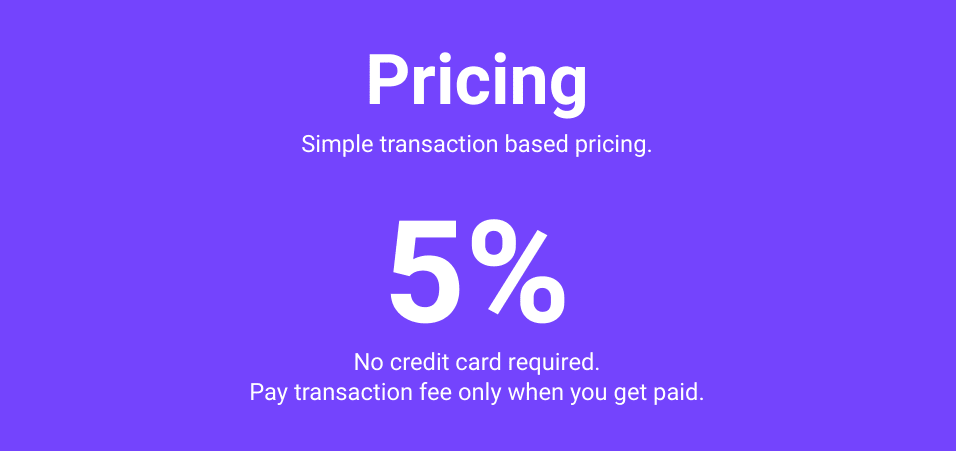 For example, let's say you partner with a business that pays you a 10% commission for the first month's payment on every sign-up to a $1,000/month subscription. This means you get paid $100 every time one of your referrals signs up to a $1,000/month plan and Getaffiliate takes a cut of $5.00, leaving you with an instant payout of $95.00 hitting your Stripe account.
So you're not paying any monthly fees to use Getaffiliated and you don't need to worry about hidden costs – this is as simple and fast as it gets for affiliate marketers.
The downside to this simplicity is you don't get anything in the way of campaign reporting or tools to help you optimise your affiliate marketing strategy. This is a simple marketplace with payment integration that helps you find clients quickly and get paid as soon as they do.
If that's all you're looking for, look no further than Getaffiliated.
#6: Refersion: B2C affiliate campaigns from reputable brands
Refersion is a comprehensive affiliate marketing management system designed for businesses looking to drive growth through partnerships with affiliate publishers.
Refersion Marketplace is the company's affiliate network where you can connect with thousands of advertising brands and Refersion vows to connect you with quality campaigns from reputable businesses offering some of the best commission rates around.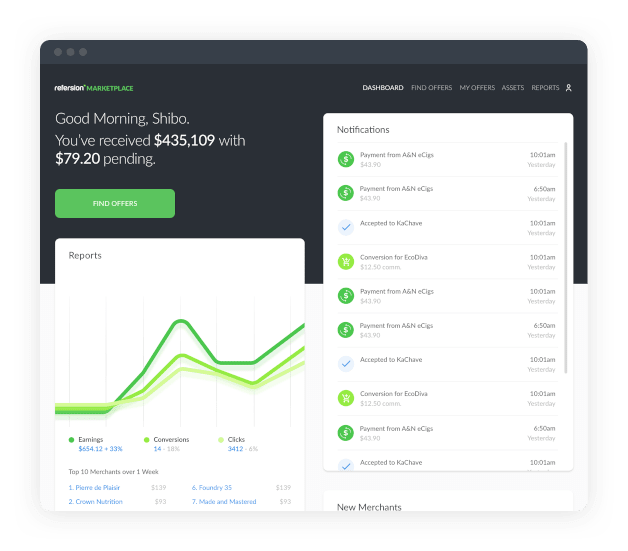 Key features:
Refersion Marketplace: Find affiliate marketing opportunities using Refersion's partner network.
Higher commissions: Refersion works directly with brands to bring you higher commissions than traditional influencer and affiliate networks.
Direct brand relationships: Have one-to-one communication with the brands you partner with through email, social media and more.
Reliable tracking and attribution: First-party cookies let you breathe easy knowing the brands you've collaborated with are properly tracking each sale you drive.
Multiple tracking methods: Promote the brands you partner with in ways that work for you, such as coupon codes, affiliate links and emails.
Link tagging: Tag links with subIDs to attribute conversions with greater accuracy.
Refersion mainly targets B2C consumer brands so this marketplace is best suited for affiliate marketers and influencers promoting retail products – things like fashion, fitness, health, beauty, home and garden, etc.
If you're looking to promote SaaS products or B2B products/services, then you'll be better off with something like PartnerStack and/or Getaffiliated.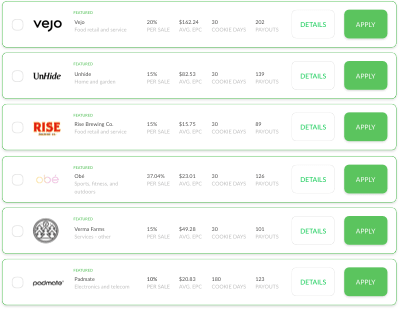 On the other hand, if you're more interested in promoting consumer goods, Refersion Marketplace is a great alternative or addition to Impact, which we looked at earlier.
While Impact connects you with high-end retail brands (who demand more from affiliates), the companies you'll engage with on Refersion are smaller in size – mainly large retail brands, as opposed to multinational brands.
So you're still connecting with big businesses on Refersion but campaigns are significantly easier to win. Which makes this a great alternative to Impact if you're still building up enough clout for the major brands but it's also a great addition to use alongside something like Impact.
A network like Refersion is particularly useful if you want to introduce your audience to quality brands they may not have heard of before. You'll definitely notice this if you promote any wellbeing, health or food products where organic ingredients or ethical businesses practices are part of the brand image.
Refersion supports multiple tracking methods, which allows you to promote your partner brands using affiliate links, coupon codes and promotional emails while attributing referrals through Refersion's first-party cookie system.
In Refersion Marketplace, you can track basic campaign performance, including earnings, clicks and conversions – it's not the most advanced reporting system but it's a great system that's free for affiliates to use.
#7: Marketcall: Get paid for attracting phone call leads
Most affiliate marketing platforms monetise website visits but Marketcall allows you to earn a commission for generating phone call leads for partner brands.
This a pay-per-call marketplace where you can find offers from brands that prioritise phone calls over website visits and the platform mainly covers six industries:
Insurance: Health insurance, medicare insurance, auto insurance, life insurance and final expense.
Finance: Credit repair, debt settlement and mortgage.
Home services: Home improvement, solar, TV & internet, home security, moving services.
Real estate: Sellers and buyers.
Travel: Flight booking and hotel booking.
Rehab: Rehab centres.
So, if you specialise in promoting products/services in these sectors, Marketcall can connect you with advertising brands offering a commission for every phone call lead you generate.
Key features:
Marketcall Network: Find affiliate marketing opportunities with companies already using Marketcall.
Pay-per-call offers: Get a commission for generating phone leads for your partner companies.
Broker management: Marketcall's team of trained brokers calls the leads provided by the affiliate and chases up lost calls and calls that were not consulted for any reason.
Fast approvals: Get approved for programs quickly and start earning money.
Weekly payouts: Get paid every week to eWallets including PayPal, Payoneer and more.
Daily payouts: Withdraw payouts to a current account on any day through an ACH, WIRE or standard check.
Ready to use templates: Easily track your campaign activity, manage offers, adjust prices and set call configurations.
Domain parking: Every call is recorded and stored on our servers so you could check back on them and decide whether they were targeted correctly or not.
Callback & call tracking: See detailed information about every incoming call, like phone number, call length, region, call length, callbacks and much more.
Lead management system: Get more than others from each call connection. We maximize your profit from each lead or phone call.
Lead to call service: Create detailed reports on exact offers or choose all available offers to see the bigger picture of your promo activity.
Account manager: Your dedicated account manager is on call to help you via email, Skype or online chat.
Marketcall isn't the largest marketplace in terms of advertisers but many of the companies present have multiple offers running and the commissions are generally much higher than you'll get for online traffic.
The platform includes a variety of free tools designed to help you generate more leads for your partners, including campaign templates, domain parking, call tracking, callbacks and a lead management system.
With call tracking, you can measure the effectiveness of campaigns confidently, learn from what works and optimise underperforming campaigns for better results.
Marketcall's landing page templates mean you can deploy lead generation campaigns in minutes and embed a callback widget to capture prospects without them even picking up the phone.
The company also has its own broker management team who call the leads you provide and chase up lost calls to ensure prospects don't fall through the gaps. This benefits your partner brand, increases your earnings and builds a stronger relationship between both parties.
#8: CAKE: Marketing software for affiliate marketers
CAKE is a performance marketing system for advertisers, affiliate marketers and publishers to maximise campaign performance and revenue.
While most of the tools we've looked at so far provide separate solutions for advertising brands and affiliate marketers, CAKE is designed for advertising brands, agencies and networks with affiliates invited into the platform to unify campaign management.
So there's no marketplace here for affiliates to find offers and brands to find affiliates. These relationships are formed elsewhere and brought into CAKE as the marketing software that brings your marketing efforts together.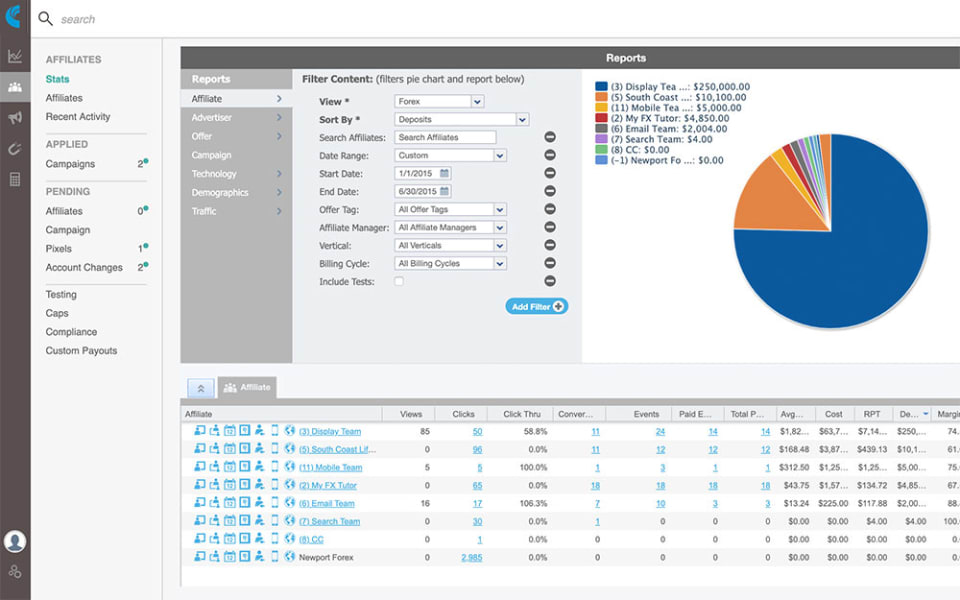 Key features:
White-labelled UI: Customise the platform with your brand name, logos and colour scheme, as well as the login domain, tracking domains and more.
Event tracking: Go beyond measuring a single revenue-generating event and identify interactions along the customer journey.
Impression tracking: Increase campaign measurement by simply adding an impression pixel to any HTML email or banner creative, or take it to the next level with ad server integrations.
Click & conversion capping: Set click and conversion caps on offers, affiliates and campaigns and receive alerts when a cap is approaching or has been met.
Referral rewards: Reward existing affiliates for recruiting new publishers using a commission-based incentive program with customizable timeframes and payment models, including profit shares, revenue percentages or a simple flat fee.
Custom targeting: Set custom targeting parameters such as location, device, browser, traffic caps and redirects for real-time monetisation.
Real-time reporting: Create visual reports and track campaign performance across every touchpoint in real-time.
Customizable reporting: Create custom metric calculations and additional reporting views with the option to share custom views across the organisation.
CAKE is a comprehensive marketing platform that tracks leads through the entire customer journey, allowing advertisers and affiliates to attribute conversions and other actions with accuracy.
Real-time data puts insights at your fingertips, allowing you to optimise campaigns performance on the fly by tracking impressions, clicks, events and conversions across every channel.
As an affiliate, you'll spend most of your time in the Affiliate Portal where you can keep track of your offers, earnings and campaign performance.
Any new offers available to you from your advertising partners will show in the "Offers" tab and you can apply to these from within the portal. Offer cards show all of the relevant information you need to know about campaigns, including a description, payout info, price format, allowed media types, restrictions and more.
You can apply to run any campaigns that appear in your Offers and you'll be notified as statuses change.
Once your campaign is up and running, you can access the following performance reports in the main dashboard of the Affiliate Portal.
Daily Summary: Overall daily performance with an hourly drill-down option.
Campaign Summary: A summary of your campaign stats, which is also displayed on the main dashboard.
SubAffiliate Summary: This report aggregates your stats by subID (s1). Only the s1 parameter has a stats report, any additional Sub ID fields can be seen in the Click and Conversion reports as a reference.
Conversion Report: A detailed report of all Conversions, Events, and Leads you have generated.
Click Report: A detailed report of all clicks tracked under your Campaigns.
From the Affiliate Portal, you can also generate links and place tracking pixels on pages. On the administrative front, you have a profile page to add and manage your account details and the ability to subscribe to any traffic or campaign alerts created by your advertising partners.
#9: Strackr: The analytics suite for affiliate publishers
Strackr brings all of your affiliate marketing data into one place, integrating directly with 121 of the major networks, including most of the marketplaces we've looked at in this article.
You can track transactions, revenue, clicks, payments and everything across each network for a complete view of your affiliate marketing strategy and optimise channels based on performance to maximise growth.
Key features:
Centralised reporting: Access metrics from all of your affiliate marketing platforms in one dashboard.
Advanced filters: Maintain full control over your data with advanced filters for transactions, clicks, payments, revenue and more.
Program performance: Compare program performance with a complete overview of your affiliate marketing strategy.
Detailed insights: Access reports to see transaction details, user devices, operating systems, referrer clicks, landing pages and the time between clicks and order confirmations.
Link builder: Create tracking links to any page on advertiser's websites in one place with Strackr's native link builder.
Coupon finder: Find coupon deals to promote directly from Stackr.
Program search: Check if products are running affiliate programs without searching multiple networks.
Strackr pricing starts at $10/month for the Start plan, which covers you for up to 1000 transactions, 10 networks and data updates every 12 hours.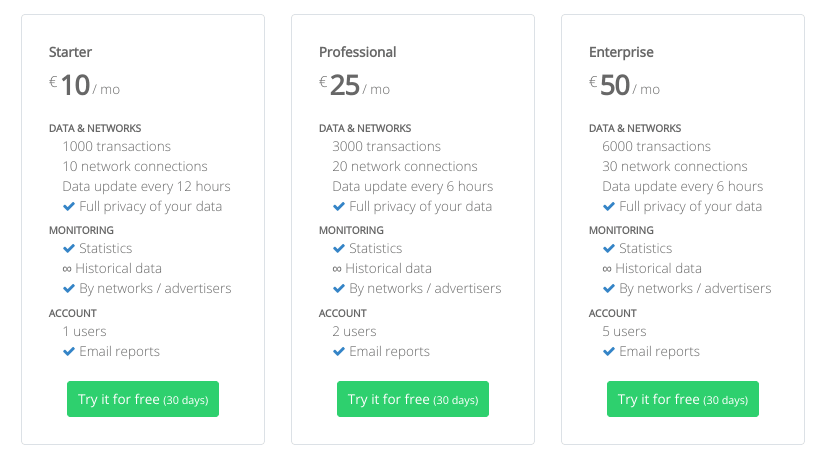 With Strackr you can find new affiliate programs without manually searching on all of your networks by simply typing in a URL or a company name to see if they're running a program available to you.
There's a built-in link generator, too, where you can create tracking links to any page on your advertisers' websites.
You can prioritise the programs generating the most revenue by comparing your revenue share, commission, conversion rates and earnings per click (EPC) across every program you're signed up to.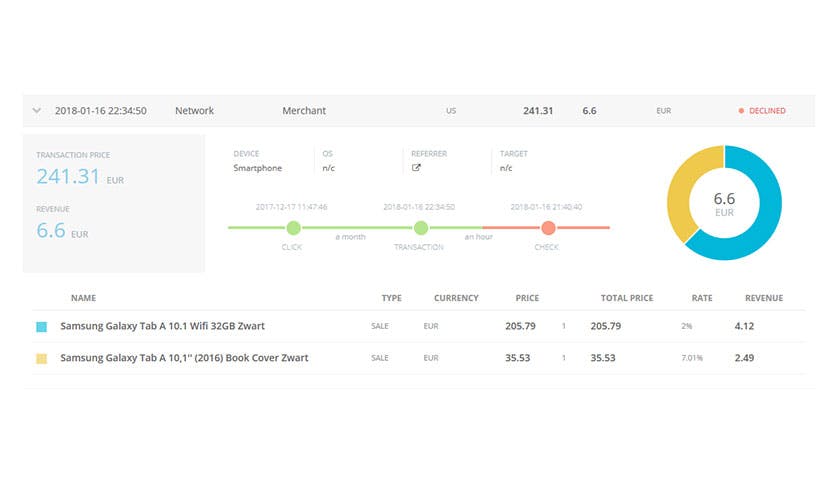 The platform also gives you detailed insights into transactions to view user devices, operating systems, the referral link they click, the landing page they visit and the time it takes from arriving on your page to making the purchase.
For some programs, you can also view the customer's basket details to see which products were bought, how much they paid and the commission you earned from the sale.
#10: Afflytics: The free analytics tool for new affiliate marketers
Afflytics is similar to Strackr in the sense it's an analytics tool for affiliate marketers that saves you having to switch between multiple networks. However, there's a free version that makes this a great alternative for new affiliate marketers.
It's not as feature-rich as Strackr – for example, you can't find new programs or generate links – but Afflytics is more of a straightforward analytics tool than a program management platform.
That said, it does have some impression forecasting features to help you map out your affiliate marketing trajectory, identify trends and find new opportunities.
Key features:
Free plan: Get your affiliate marketing business up and running without paying for Afflytics until you're making more than $1,000/month in commissions.
Centralised reporting: Track and analyse your affiliate sales by connecting all your affiliate networks in one place.
All-in-one dashboard: Dozens of sales metrics across all your affiliate networks on a single dashboard.
Data-driven forecasts: Grow your affiliate marketing business by using Afflytics' comprehensive metrics to pinpoint trends and discover new marketing opportunities.
Live sales feed: Afflytics continually updates sales data across all your affiliate networks.
Sales reports: Sales reports are delivered daily and weekly so you can keep track of your sales without even logging in.
Afflytics is great for new affiliate marketers, thanks to a free plan that covers you for up to $1,000 in monthly commissions and an affordable $19/month plan that covers you for up to $5,000 per month.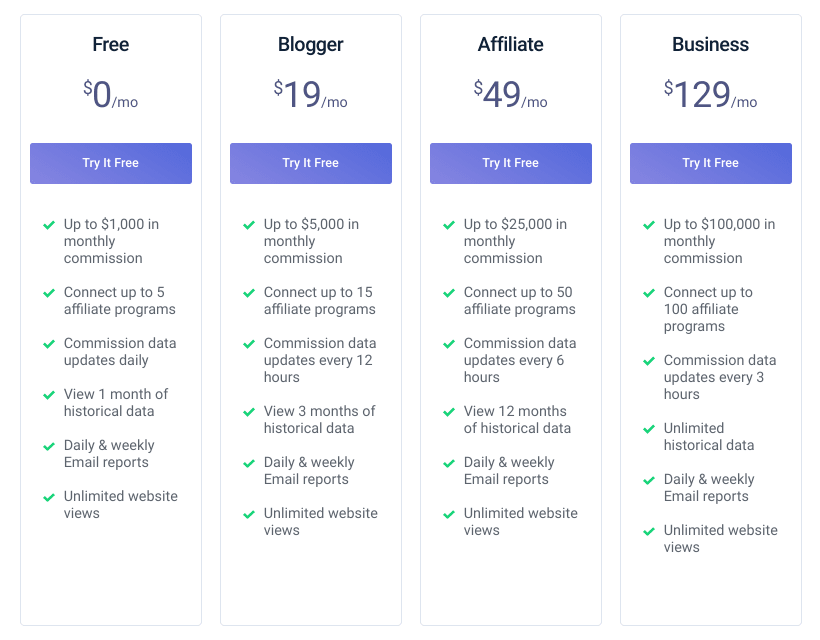 Each plan is reasonably priced and this is an analytics tool that continues to grow with you as you progress along your affiliate marketing career. So, even if you're starting out as an individual, and move on to build your own affiliate marketing business, Afflytics can go the distance – and help you get there faster.
Which is the best affiliate marketing platform?
Now that we've reviewed our top 10 affiliate marketing platforms, the rest of this guide compares them to help you choose the best tools for your needs.
In the next six sections, we name the best tools in each of the following categories:
We name the top three platforms for each of the above categories and, where applicable, we've created comparison tables so you can quickly assess how all ten tools compare.
Best for features
As we've looked at a range of different tools in this article, feature comparison is a little tricky. For example, RedTrack is an ad tracking system so we can't criticise it for not having an affiliate marketplace or a link generator.
That said, a quick comparison still makes it easier to understand the role each tool plays.
| Tool | Marketplace | Link generator | Click attribution | Call tracking | Payouts | Reports |
| --- | --- | --- | --- | --- | --- | --- |
| PartnerStack | ✔ | ✔ | ✔ | | ✔ | ✔ |
| Impact | ✔ | ✔ | ✔ | | ✔ | ✔ |
| Circlewise | ✔ | ✔ | ✔ | | ✔ | ✔ |
| RedTrack | | | ✔ | | | |
| Getaffiliated | ✔ | ✔ | ✔ | | ✔ | |
| Refersion | ✔ | ✔ | ✔ | | ✔ | ✔ |
| Marketcall | ✔ | ✔ | ✔ | ✔ | ✔ | ✔ |
| CAKE | | | | ✔ | | ✔ |
| Strackr | | | | | | ✔ |
| Afflytics | | | | | | ✔ |
As you can see from the table above, you've got six affiliate marketplaces to choose from – five for finding publishing programs and one (Marketcall) for gigs where you get paid for generating phone leads.
We'll take a look at the best affiliate marketplaces a little later but RedTrack is the platform for you if you want to step up your referral tracking capabilities – although, keep in mind that your partner brands may give you access to their reports.
CAKE is the marketing system designed for affiliate marketing (advertisers, agencies and affiliates) with extensive tracking capabilities and marketing – the latter of which we'll also look at in more detail later.
Then you have the two analytics platforms for affiliate marketers: Strackr and Afflytics. Strackr offers up more features but Afflytics has that compelling free plan and forecasting that helps you build bigger things for the future.
Best for price
The six platforms in this list that provide an affiliate marketplace charge advertising brands to use their affiliate marketing software. Those platforms are designed to help brands run affiliate programs and find publishers to bring qualified traffic to their websites.
As an affiliate, you can sign up to all of these platforms, create a profile and find partner brands to work with – for free.
| Tool | Starting price | Top plan | Marketplace |
| --- | --- | --- | --- |
| PartnerStack | | | Free |
| Impact | | | Free |
| Circlewise | | | Free |
| RedTrack | $49 | $1,119 | |
| Getaffiliated | | | Free |
| Refersion | | | Free |
| Marketcall | | | Free |
| CAKE | POA | POA | |
| Strackr | $10 | $50 | |
| Afflytics | Free | $129 | |
If you're interested in using RedTrack, you're looking at a starting price of $49/month. The company manages two tiers of pricing: one for individuals and one for teams/organisations. The most expensive plan for individuals is priced at $149/monthwhile the $1,119/monthEnterprise plan is designed for large businesses.
Unfortunately, CAKE doesn't disclose its pricing publicly and your fees depend on a range of factors, including business size, revenue, usage and more.
Pricing with Strackr and Afflytics is more straightforward with plans ranging between $10/month and $50/month on Strackr while you can start using Afflytics for free with plans maxing out at $129/month.
Best affiliate marketplace
The best affiliate marketplace depends on what kind of brands you want to partner with. All of the platforms we've looked at in this guide will connect you with different companies so it's worth signing up to as many as possible.
| Tool | B2B | SaaS | B2C | Retail | Food & Drink | Finance |
| --- | --- | --- | --- | --- | --- | --- |
| PartnerStack | ✔ | ✔ | | | | |
| Impact | | | ✔ | ✔ | | |
| Circlewise | ✔ | | | | | |
| RedTrack | | | | | | |
| Getaffiliated | ✔ | ✔ | | | | |
| Refersion | | | ✔ | ✔ | ✔ | |
| Marketcall | | | | | | ✔ |
| CAKE | | | | | | |
| Strackr | | | | | | |
| Afflytics | | | | | | |
For example, if you're looking to promote B2B SaaS products, PartnerStack is easily the best marketplace but you'll also want to sign up for Getaffiliated and you may find relevant B2B services you can promote on Circlewise, too.
If you're more into promoting consumer goods, then Impact can connect you with major names like Adidas and Levis, which is great for influencers with a strong following – and brands do expect a strong following on this marketplace.
If you're struggling to get accepted for programs on Impact, Refersion is a great alternative that connects you with smaller retail brands. These companies are less demanding than the likes of Adidas but they tend to do branding very well, which makes them easy to promote as quality brands that people haven't heard of before.
Finally, we've got Marketcall and the most unique marketplace of all these providers. This is where you'll find companies looking to generate phone call leads through affiliate programs – mainly in finance, insurance, real estate, home services and a range of other sectors.
Best for payouts
As an affiliate marketer, getting paid as quickly and reliably as possible is always the priority. Most affiliate marketing platforms pay out at the end of every month but increased competition has resulted in many running weekly payouts as a selling point for affiliates.
The best three platforms for payouts are:
Getaffiliated
Marketcall
Circlewise
Getaffiliated wins this round by paying out money to affiliates as soon as the partner brand gets their money. There are no withdrawal thresholds or limitations to hold up funds; you get paid as soon as the money hits your partner's account.
Marketcall does things differently, too, by offering weekly and daily payouts for different payment methods. You can withdraw funds daily to your current account through ACH, WIRE or standard check and weekly payouts are available to eWallets including PayPal and Payoneer.
Circlewise joins the list of growing affiliate marketing platforms to provide weekly payouts although there's a minimum payout amount of €50. This is fairly typical of marketplaces and networks with either weekly or monthly payouts and a minimum payout amount, which can vary from one platform to the next.
Best for marketing tools
The frustrating thing about affiliate marketing platforms is that most of them are geared towards the advertising brand. Fair enough, these are the companies paying the bills and affiliates get to use their marketplaces for free but it's in everyone's interests for affiliates to maximise revenue and this requires a lot of marketing.
This is especially frustrating with a marketing platform like CAKE, which has a full suite of marketing features but none of them are available in the affiliates portal. This is fine for affiliate marketing companies managing a group of affiliates but little help if you're the individual.
In fact, the only affiliate marketing platform in this list that includes real marketing tools is Marketcall. Trackr brings some decent tools to the table but this is primarily an analytics tool for affiliates.
Here are the top three:
Marketcall
Trackr
Refersion
Then we have Refersion, which takes the third spot simply because it provides some basic reporting and a resource tab in affiliates' accounts so you can at least measure the performance of campaigns.
Marketcall is the standout leader in this category, though, as the only provider offering up a set of dedicated marketing tools for affiliates. Yes, there are better marketing platforms out there but you get a lot of the basics from Marketcall and some unique features that might be hard to find elsewhere – especially with some of the calling features.
You get a batch of templates to help you launch campaigns quickly, including landing page templates, banners and video marketing templates to help you generate phone call leads for clients.
Of course, you're going to get better landing pages from a tool like Unbounce but Marketcall at least gives you a rounded set of tools to start getting results.
The platform also includes a lead management system for keeping track of lead statuses and reporting to track the performance of campaigns.
Strackr is an interesting platform as it's technically an analytics system but it connects all of your marketplaces together so you can find and manage programs from one place. With deal management, a link builder and detailed reports, Strackr is actually a stronger marketing tool than any of the individual marketplaces we've looked at.
Best for reporting
Less surprisingly, the best tools we've looked at for reporting are the dedicated analytics platforms with Afflytics and Strackr topping this round and tracking platform RedTrack taking the third spot.
Afflytics
Strackr
RedTrack
Both Afflytics and Strackr are invaluable analytics tools for affiliate marketers using multiple marketplaces or networks. As mentioned in the previous section, Strackr offers up the better marketing features and its deal search functionality is a huge tool for affiliate marketers.
Afflytics has that free plan, which makes the platform more accessible to new affiliate marketers, and its forecasting features are the best of any platform featured in this guide.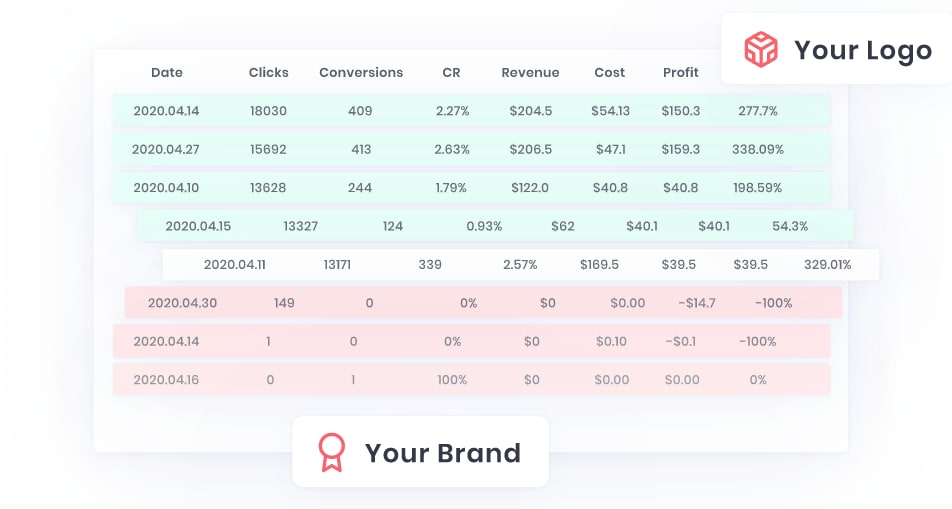 RedTrack is a different tool entirely but its powerful tracking technology builds a more accurate picture of user activity across every channel and campaign performance throughout the customer journey.
It's difficult to find a platform that puts this level of tracking in the hands of affiliates – not only advertising brands – and it's one of the most powerful tools you can have on your side as an affiliate marketer.
Wrapping up: Choose the right tools for the job
All of the affiliate marketing platforms we've looked at in this guide are top of their class but they all suit different needs.
In some cases, these needs are vastly different, such as marketplaces that connect you with the right kind of partner companies. In others, the differences are less obvious, such as different payout models or analytics platforms aimed at affiliate marketers at various stages of their careers.
None of these platforms is right for everyone but they're all excellent choices for the right people. It all comes down to understanding your needs and choosing the right tools for the job.
Hopefully, this guide helps you decide with more confidence by explaining which type of affiliate marketer each of these platforms is suitable for. As always, we would love to hear your thoughts if you think any other tools should be included in this guide – so drop a comment below if you have any suggestions and explain why you think they deserve a spot in this list.