With 70% of people globally working remotely at least once per week, the composition of creative teams is changing drastically. While the benefits of remote working are well documented – both for businesses and team members – there are a number of productivity issues that can get in the way of collaborative teams maximising progress.
Maximising productivity is a priority for every team (remote or not) and we're lucky to have a wealth of software tools that can transform the way we get things done together. In this article, we're looking at the 10 best productivity tools for teams and how to choose the right ones for the unique needs of your crew of creatives.
Top 10 productivity apps for teams
The tools we're looking at in this article are specifically geared towards collaborative teams. Many of them have packages (with limited features) for individuals but their premium options are all designed to help team members achieve more together. I've specifically chosen productivity tools that address the needs of remote teams with members in various time zones, as this tends to be the most demanding situation for tools of this kind. All of the tools in this list are going to help such teams boost productivity, no matter how much time or distance might separate them. Likewise, all of the tools we're looking at today help individual team members maximise productivity, but also do the same for teams and make it easier for team leaders to manage projects.Here are the team productivity apps we'll be looking at in this article and a quick summary of what they'll help you do:
Serene: Cut out distractions, stay focused on the task at hand and get things done faster.
RescueTime: See which apps you're wasting time on and block access to them.
Toggl: Time tasks, get things done faster, track team productivity and make sure you're charging enough for the time it takes to complete projects.
Trello: A simple task management tool that makes projects easier for remote teams to complete.
monday: A more advanced (and expensive) task management tool for managing larger teams and more complex projects.
Process.st: A simple checklist tool for non-tech teams.
Spark: A distraction-free, collaborative email experience to keep teams focused and help them complete tasks quicker.
Airtable: Imagine spreadsheet project management on steroids but with an interface so intuitive anyone can use it.
Doodle: Team scheduling for meetings, video calls and joint sessions without the hassle.
Zapier: Make your favourite apps more powerful and automate repetitive tasks to save time.
That should tell you everything you need to know about what's coming up in this article so let's get started with our first and favourite productivity tool for teams.
Free
Serene is a free app for MacOS designed for remote workers and teams. You define a single goal for each day, which can be broken down into multiple tasks, and block out distractions. Numerous studies
show that multitasking kills productivity
and Serene gives you all the tools you need to stay on track with the task at hand. As the team behind Serene says, "Multi-tasking is a myth. Single-tasking is a superpower."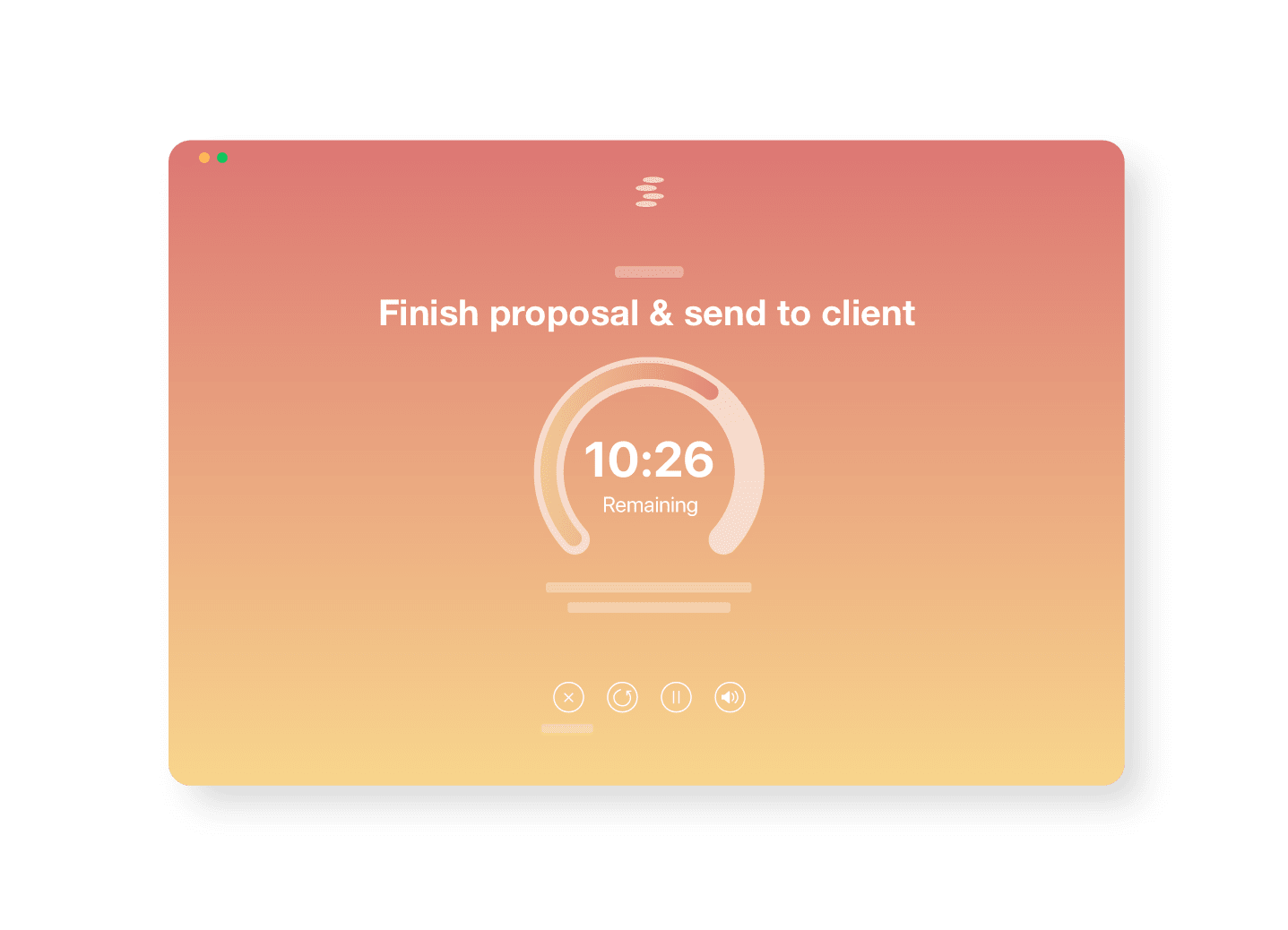 Key features
Website blocker: Block websites that distract you, such as social media and news websites.
App blocker: You can also block apps that take your attention away from work – social apps, your email app and anything else getting in the way.
Distraction-free sessions: Work in 20-60 minute sessions with regular breaks to maximise productivity.
Session timer: Shows you how much time you have left to complete tasks, giving you a motivation boost towards the end of each session.
To-do lists: Manage tasks and make sure everything gets done by the right team member.
Day planner: Define your goal for the day, set your tasks and get stuff done.
Focus music: Play background music to help you keep your focus.
Phone silencer: Automatically put your phone on silent mobile while working to avoid unnecessary distractions.
Once you set your goal for the day, you create your lists of sessions to get there and choose how long to set for each session. Then you click "Go Serene" and the app will start your sessions while automatically blocking distractions while each session runs.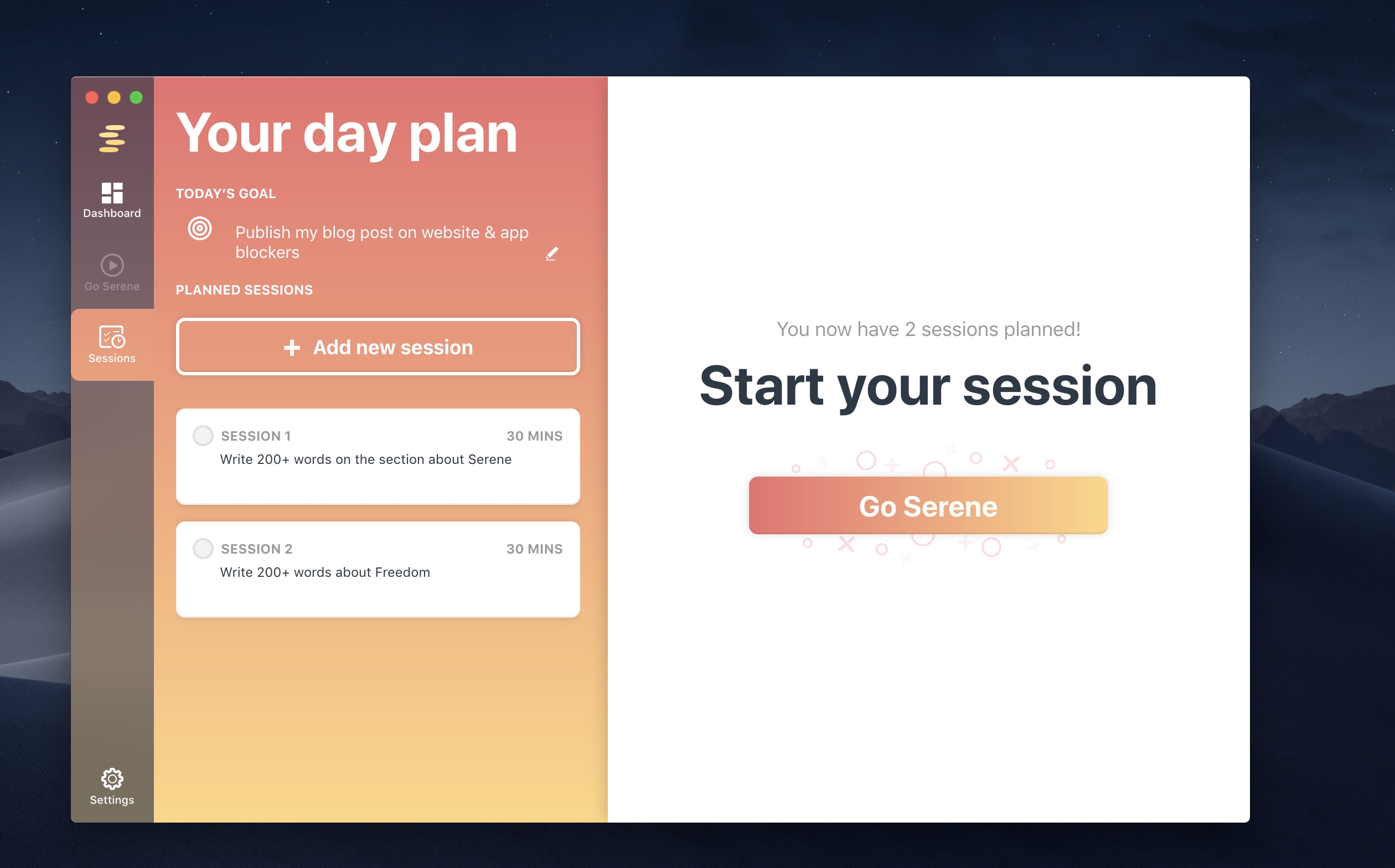 There's also a browser extension that blocks distracting websites and displays a reminder of what you should be doing if you try to access them.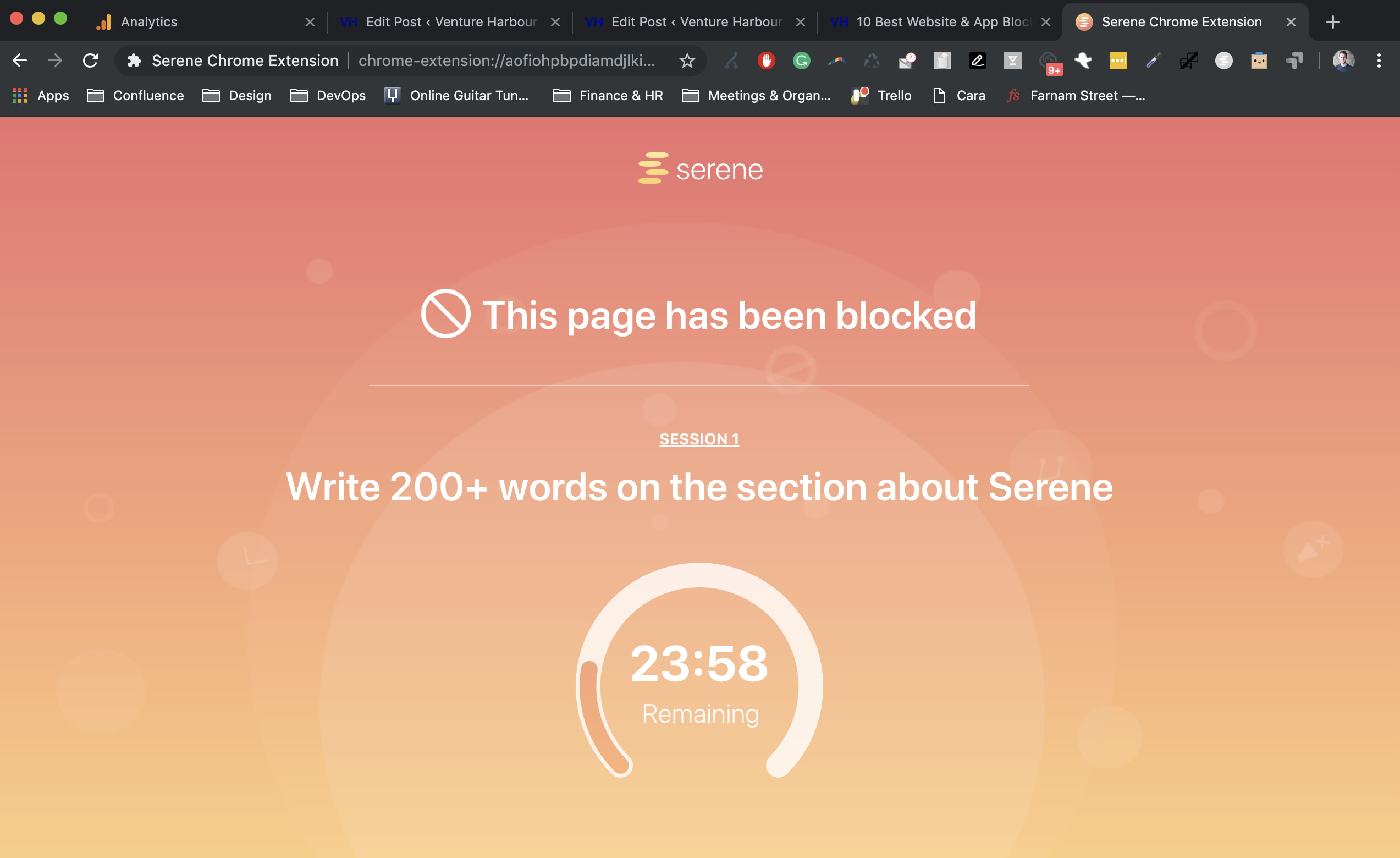 Serene is a relatively new app (still in the beta stage) but you can request an invitation to
try it out here
.
#2: RescueTime (Windows, Mac, iOS, Android)
Team version from $6/monthper user
While Serene aims to keep you focused on single tasks and daily goals, RescueTime helps you keep track of what you're getting up to throughout the day. The tool will show you which apps you're wasting time with and which tasks are killing your productivity.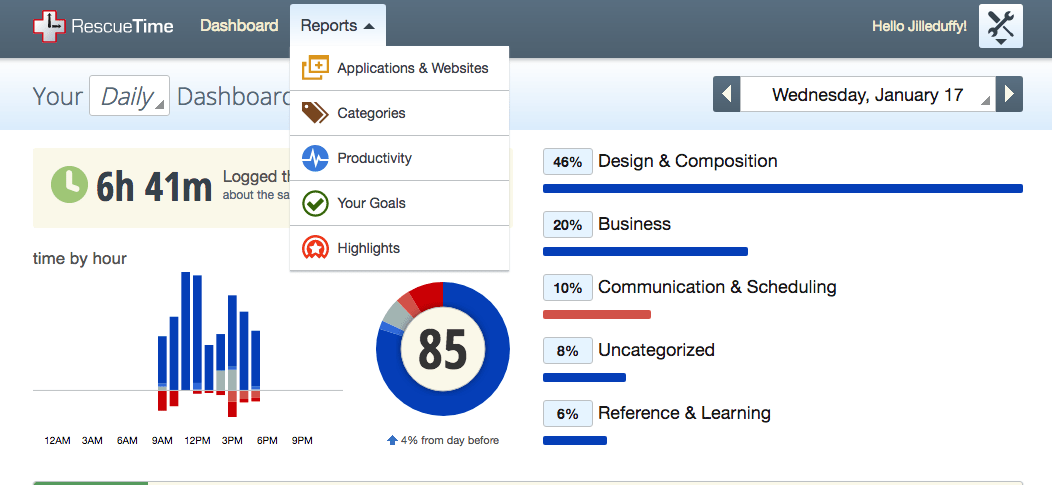 Key features
Activity tracking: See how much time you're spending in apps/on websites to measure productivity.
Website and app blocking: Block out the apps and website stealing your attention so you can get more done.
Daily schedule: Create daily task lists and manage your workload.
Goals: Set productivity targets and use RescueTime's reporting to see how well you're doing.
Alarms: Set alarms to warn you once you've spent more than your allotted time using an app/site.
You can also block distracting websites and apps using RescueTime and the team plan also includes in-depth reports to keep track of productivity. The only problem is you have to be careful about getting bogged down in reports and settings, which can eat back into your productivity.
The other thing I will say is this: if you're really honest with yourself, you probably know which apps and websites you're wasting time on. That said, if you're managing a team it can be useful to show members exactly how much time they're spending on sites/apps that get in the way of their workflow.
#3: Toggl (Windows, Mac, iOS, Android, Chrome, Firefox)
Premium version $18/monthper user
Toggl is a time tracking app that runs in the background to track how long you're spending on tasks. The tool was originally designed to help freelancers keep track of how much time they were really spending on projects to make sure they invoice correctly and hit their profit targets. However, the app has expanded into a tool for collaborative teams over the years. Its data visualisations help you compare profits against time spent on tasks and labour costs so you can see which projects and clients are most profitable.
Key features
Time tracking: See how much time you (or others) are taking to get things done.
Boost profits: Check you're charging enough for the time it takes to complete projects.
Reports: See how productive you're being and how profitable your time with Toggl reports.
Cross-platform: Toggl's wonderfully designed apps work across just about every operating system and online so you can access it wherever you need, whenever you need it.
You can also see how much time team members are spending on individual tasks to monitor productivity and see if anyone's taking on too much/too little work.
Toggl offers excellent cross-platform support meaning team members on every device/OS can access and use the app. It's a relatively straightforward app without any real learning curve and its excellent interface means team members can either download the app or log in to the website and start Toggling.
#4: Trello (Windows, Mac, iOS, Android & web)
Free version, Business Class version $9.99/monthper user
Trello is a simple, easy-to-use project management app for collaborative teams. The platform is based on the Kanban board philosophy, a visual layout that originates from Japan, which you can see below.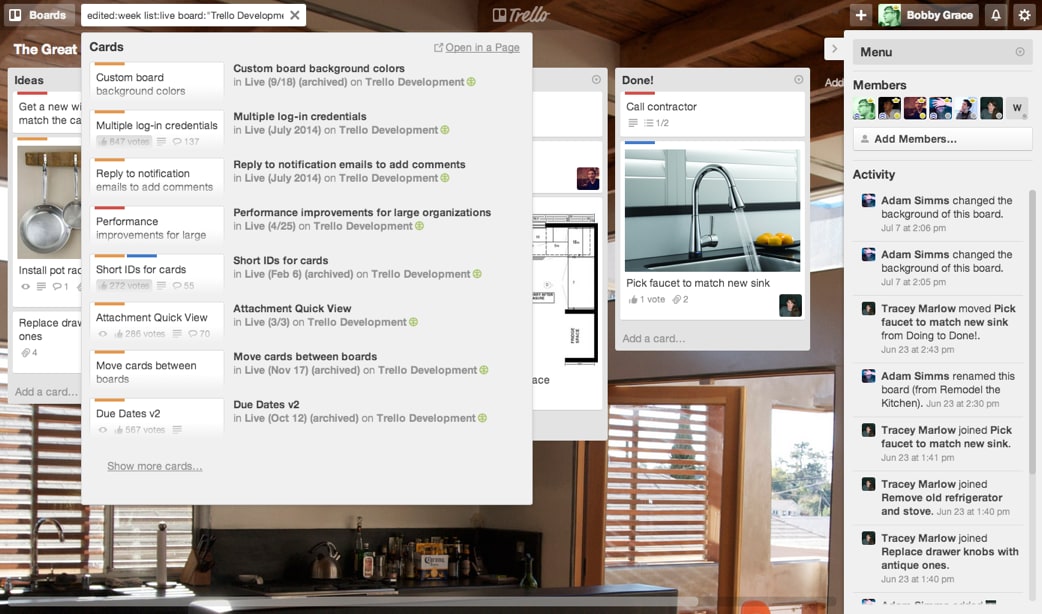 Essentially, tasks are added and organised on "to-do," "going" and "done" satuses, which helps teams keep track of progress. Tasks can be grouped into boards (the entire view above) and cards, which can contain multiple tasks in themselves. Individual tasks can be assigned to groups or team members with deadlines and checklists.
Key features
Project management: Trello is a simple, easy-to-use project management app for collaborative teams.
To-do lists: Create to-do lists, add due dates, assign them to people and manage tasks as they're completed.
Trello boards: Dashboards where you can create and manage lists of cards containing tasks and to-do lists.
Work with anyone: Invite anyone from around the world to help you make things happen.
Instant messaging: Talk to team members in real-time to discuss tasks.
Trello's instant messaging makes it easy for teams to communicate and collaborate from anywhere and team members can join for free, although they'll be limited to one board. Prices remain affordable on every paid package, though.
#5: monday (iOS, Android, web app)
Prices start from £15/month for 2 users, £34/month for 5 users
If your project management needs are too demanding to Trello, then monday.com is the first alternative you want to look at. Essentially, it's a slightly more expensive, complex and powerful version of Trello, which is better suited to larger teams, more complex projects or teams juggling multiple projects at any one time.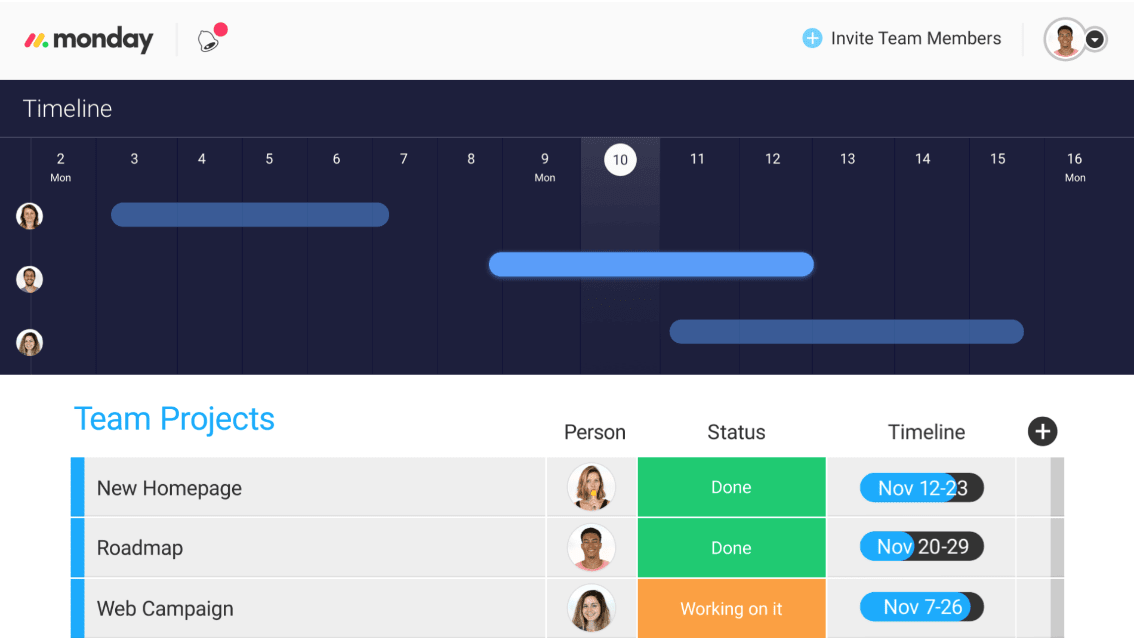 While Trello is based around the Kaban board interface, monday allows you to manage projects using multiple views, including the popular Kaban dashboard. Once again, you can create tasks, group them, assign them and add due dates. Team members can then update the status of tasks with labels such as "to do," "working on it," "stuck" and "done".
Key features
Project management: monday is a more advanced project management that helps large teams and individual team members complete tasks on time.
Views: Multiple views allow you to check project overviews, timelines, individual workflows, checklists and reports.
Track progress: Track tasks, update statuses, receive notifications when deadlines are looming and reassign/prioritise tasks with ease.
Weekly task loads: Team members can work on multiple projects without getting lost by using monday's weekly overview.
File sharing: Upload and share files so everyone has access to the resources they need via the same dashboard.
The Chart View and Timeline View options in monday, give you an overall picture of how projects are progressing, the timeline for tasks/projects and how your teams are aligning with deadlines – both for individual tasks and entire projects. These views offer great data visualisations, making it easy to manage projects, tasks and team members alike.
14-day trial, $12.50/monthfor Business and $25/monthfor Business Pro
A common trait with team productivity tools is they're often designed for technical teams used to dealing with advanced software platforms. This can make it difficult for non-technical teams to find tools that are designed with them in mind. Process.st is one of those tools, making task management itself easier to manage for teams that don't necessarily have the same IT skills as designers and developers. The platform is essentially an advanced checklist tool that allows you to create tasks and assign them to team members. The idea is to make repetitive tasks easier for team members to complete (to instructions) and for new team members to take on tasks from others with less time spent on training.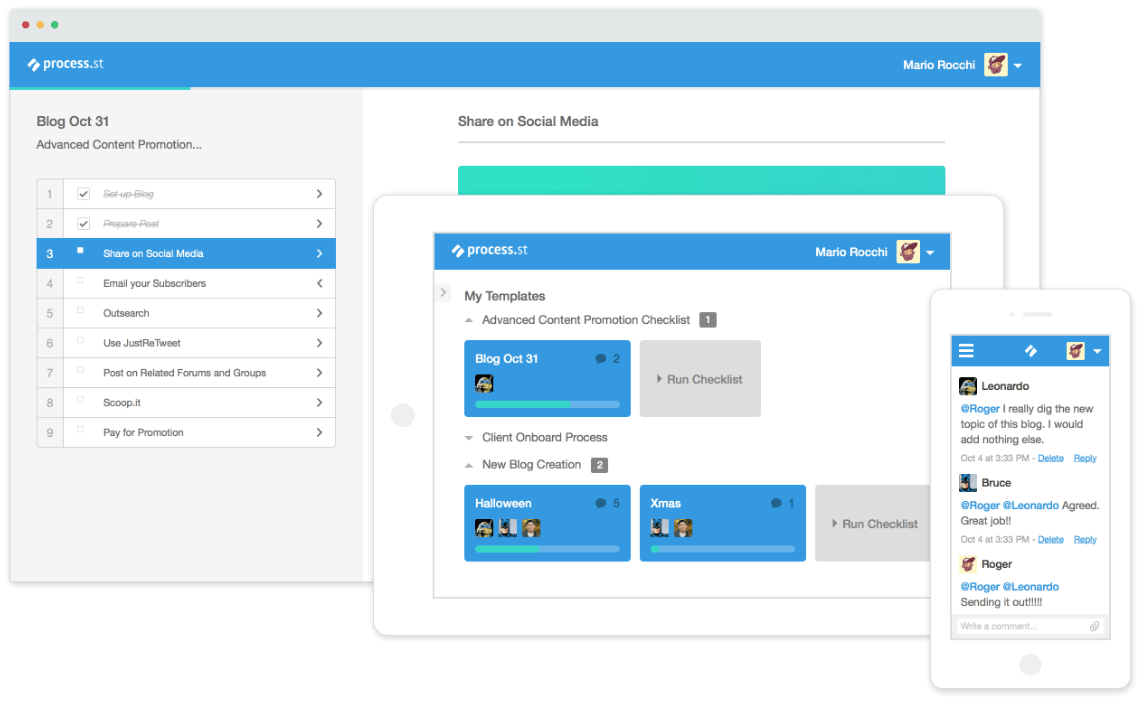 You'll find a library of templates for all kinds of processes like content promotion, social media image design, creating an invoice and fire inspections. You can edit these templates to include your own instructions and add, remove or edit individual tasks on each checklist. For example, you can create a process for uploading content to social media with instructions for suitable content, image sizes, best times to upload, restrictions and whatever else your team members need to complete every time they do this task.
Key features
Collaborative checklists: Create checklists for teams, assign tasks and track progress.
Schedules: Create daily, weekly and monthly workflows and automate repeated checklists.
Upload files: Add images, videos and text files to better communicate ideas between team members.
Conditional logic: Create dynamic checklists using if/then logic to adapt to your team's needs and project demands.
Process.st means your team members will be able to complete every step of tasks by following instructions and checking them off their list as they go. This results in higher productivity rates, fewer mistakes and less time spent on creating documentation and training new team members. This can be crucial if you have remote team members that can't be trained in person.
#7: Spark (Mac, iOS, Android)
Free version, $6.39/mo (per user) for Premium
Spark is an intelligent email client that prevents your inbox from being a productivity killer and turns it into an asset. Its Smart Inbox automatically categorises your emails from every account assigned to it, allowing you to filter out the emails that don't don't matter and prioritise the ones that do.
You can also snooze specific emails for later, assign emails to team members, chat with team members, share drafts, set reminders for follow-ups and schedule emails to send them later.
Key features
Smart inbox: Clean up your inbox, find any email with "Smart Search" and snooze emails that don't need your attention right now.
Smart notifications: Only receive notifications for the emails that really matter.
Assign emails: Assign emails to team members so the right person is always managing tasks.
Team email: Private team comments, shared drafts, template replies and instant chat for collaborative teams.
Send emails later: Schedule emails to send them when people are most likely to read them.
Reminders: Get reminders to follow up on important emails at the right time.
With Spark, multiple team members can even work on the same email at the same time while communicating via instant messaging on the platform. This means there are no more emails to clients, saying "I've CC'd James and he'll explain that technical issue we talked about earlier". All the key details can be included in emails by the right person without any confusion or inaccuracy.
#8: Airtable (Windows, Mac, iOS, Android)
Free version, $10/monthfor Plus, $20/monthfor Pro
We're lucky to have so many
productivity tools
available to us today but this hasn't always been the case. Back in the day (I'm
just
about old enough to remember), Microsoft Excel was the make-shift project management tool of choice. And, while it may not be the most intuitive tool for this purpose, Excel is surprisingly capable. Airtable is built around the spreadsheet format and this is great news if your team is used to managing projects on tools like Excel. The platform will be familiar to anyone with Excel experience (or similar spreadsheet apps) but the functionality is much for newcomers to adopt without learning the formulas and functions.
Airtable's interface operates like a spreadsheet but it's far more intuitive and includes all kinds of functionality that's either not available in Excel or difficult to achieve. With Airtable, you can create and assign tasks, set statuses, add attachments and include notes – all within a few clicks.
Key features
Project management: Airtable turns spreadsheets into a fully-featured project management tool.
Dynamic fields: Turn fields into checkboxes or add links, attachments, text notes to fields.
Views: Manage projects in multiple views – grid, gallery, calendar and Kanban.
Team collaboration: Team members can interact with projects, update task statuses, add messages and prioritise their workflows.
Airtable also includes instant messaging for seamless collaboration and its cross-platform support makes this accessible to every team member, no matter where they are or which OS they're using.
#9: Doodle (Web app)
Team packages start at €12.50/monthfor 5 users
Communication is crucial for collaborative projects and this becomes increasingly challenging as the number of remote workers on your team increases. While instant messaging is great when everyone is available, organising meetings, chats, video calls and group work sessions at a time that suits everyone can be difficult – especially if you've got remote workers in different time zones.
Luckily, Doodle's got you covered with its collaborative scheduling app that makes it easy to arrange meetings with the ongoing email back-and-forths. It doesn't matter how large your team is, how many time zones they're spread across or how many teams your workforce comprises of – Doodle makes meetings happen.
Key features
Team scheduling: Arrange meetings, video calls and collaborative sessions without the email back-and-forths.
Availability: Team members can set their hours of availability, which automatically adapts for time zones.
Reminders: Set reminders so team members are always ready for meetings.
Personal events: Keep private meetings, events and tasks hidden from team members so people only see the tasks they need to.
Essentially, users set their availability times, which are available for other team members to see, and meetings can be scheduled based on everyone's availability times. Users simply confirm they can attend and the meeting goes ahead. Team members will also be sent automatic reminders before meetings so nothing gets forgotten. Another key feature of Doodle is that user can integrate it with their own calendar apps but everying remains private. The only data visible to other users is availability times and details related to scheduled meetings – nothing else.
#10: Zapier (Windows, mac, iOS, Android & web)
Free for 100 tasks/month, $19.99/month for 750 tasks, team package for 50,000 tasks, $299/month
Zapier is a simple automation tool that can save teams huge amounts of time on repetitive tasks and switching between different apps. Essentially, Zapier sends data between apps like Trello and Gmail so emails are automatically sent out when anything changes in Trello. Or, you can link Doodle with Airtable so that records in Airtable are automatically updated as soon as a Doodle meeting closes.
There are thousands of existing automations already available on Zapier that you can use to handle repetitive tasks between different apps – and you can also create your own. Add all these automations together and your team is collectively going to spend a lot less time on menial tasks, allowing them to focus on more critical tasks and get things done much faster.
Key features
Integrate apps: Link your favourite apps so they can share data, allowing you to spend less time switching between apps.
Automate tasks: Automate repetitive tasks between apps.
Zaps: Browse Zapier's library of pre-built automation workflows for your favourite apps.
Custom automations: Build your own automations if you can't find them in Zapier's library of "Zaps".
Zapier is a very gentle introduction into business automation but it can make a real impact on the day-to-day tasks that often slow down collaborative teams.
How to choose the right productivity tools for your team
All of the apps we've looked at in this article can transform the way teams work but which tools are the best ones for
your
team. To help you make this decision, let's compare our 10 apps, based on the features they offer and value for money.This will hopefully tell you which combination of apps are going to help you get more done – individually and collectively.
Best apps for productivity features
While I recommend you thoroughly look at the full feature list for these tools before you pay for anything (there are plenty of free options in here, though), here's a quick summary of the key features we've talked about in this article.
| Tool | Project management | Task management | Block distractions | Time tracking | Automate tasks | Reports |
| --- | --- | --- | --- | --- | --- | --- |
| Serene | Strong | Extensive | ✔ | ✔ | ✔ | |
| RescueTime | Solid | Extensive | ✔ | ✔ | | ✔ |
| Toggl | Basic | Solid | | ✔ | | ✔ |
| Trello | Solid | Extensive | | | | ✔ |
| monday | Extensive | Extensive | | | | ✔ |
| Process.st | Solid | Solid | | | | |
| Spark | | | | | ✔ | |
| Airtable | Extensive | Extensive | | | | |
| Doodle | | | | | ✔ | |
| Zapier | | | | | ✔ | |
We haven't' looked at ten versions of the same tool in this article; we've looked at a collection of tools that each brings different features and benefits to team workflows. For example, if you're looking to block out distractions, Serene and RescueTime are the tools for you whereas Zapier is the king of automation in this pack. Most of the tools we've looked at (seven out of 10) offer project and task management features for teams. In most cases, you're going to get extensive offerings for this but Process.st and Toggle aren't quite as kitted out in this regard. Meanwhile, Spark, Doodle and Zapier simply aren't designed for this and their strengths lie elsewhere. The two head-to-head scenarios here are Serene vs RescueTime and Trello vs monday. In the case of Serene, it simply offers the more distraction-free experience whereas RescueTime's interface is nowhere near as intuitive and the extensive reports (while useful) get in the way of the distraction-free philosophy. Not to mention Serene is free. Trello is a great tool for basic project management and its biggest strength is arguably how easy it is to use. However, its rival monday offers more in terms of project management features and views for extracting insights at every stage of projects. You do have to pay more for the privilege of monday's stronger features, though.
Best value for money
Pricing is always important when it comes to software because monthly fees can quickly stack up when you've got half a dozen other tools to pay for. This is especially important for teams, too, as you're generally paying for software on a per-user basis. You also need to consider what you're getting in return for your money and the great things about productivity is these tools should pay for themselves by empowering your team to do more – at least, that's the theory. With this mind, here's a quick comparison of how these tools compare in terms of pricing, the features you get for your money and how much they'll boost your productivity.Free apps instantly get 10/10 score for cost while small one-off payments will get 9/10. Monthly costs are then rated down from 8/10 based on the monthly cost
per user, for teams
.
| Tool | Productivity | Features | Cost | Overall |
| --- | --- | --- | --- | --- |
| Serene | 9/10 | 8/10 | Free | 9.3/10 |
| RescueTime | 8/10 | 8/10 | $6/mo | 8/10 |
| Toggl | 8/10 | 6/10 | $18/mo | 6.8/10 |
| Trello | 9/10 | 8/10 | $9.99/mo | 8/10 |
| monday | 9/10 | 9/10 | $15/mo* | 8/10 |
| Process.st | 5/10 | 6/10 | $12.50/mo | 5.6/10 |
| Spark | 6/10 | 7/10 | $6.39/mo | 7/10 |
| Airtable | 7/10 | 7/10 | $10/mo | 7/10 |
| Doodle | 9/10 | 8/10 | $12.50/mo | 7.6/10 |
| Zapier | 9/10 | 7/10 | $299** | 8/10 |
There are a couple of things to note in that table above. While most platforms base pricing per user, monday clusters pricing for groups of two users, five users, 1o users and brackets all the way up to 200+ users. So the real price per user depends on which version you sign up for and which user band you're signed up to. On the Standard plan, you're looking at roughly $15 per user. Zapier pricing
ins't
based on a per-user structure and the team version starts at $299/month. That said, individual team members can sign up for free or plans starting from $19.99 per month. All things considered, Serene comes out on top with its excellent productivity rating and set of features alone. Let's not forget the fact this tool is entirely free, which is pretty much unheard of for software platforms of this calibre.
How productive could your team become?
Every team is different but I'm confident this list of productivity tools will make a significant impact on how much your team can get done – no matter how large, diverse or remote it may be. Whether you need to block distractions, collaborate on projects, automate repetitive tasks or bring your team members together for meetings without hassle, you should find the right set of tools for your team in this top 10.