According to Unbounce's Conversion Benchmark Report, the average conversion rate for SaaS companies was 3.0%. Previous studies have touted average conversion rates of 3-5% and lead-to-customer conversion rates and many companies set conversion targets as high as 8%.
The thing is, web traffic conversion rates rarely generate revenue for SaaS companies. These visitors mostly sign up for freemium products (conversions shoot up to 4%-30% for these), free trials (8%-10% with no credit card) or other freebies, such as content downloads or email newsletters.
For SaaS companies, the money is in converting leads into paying customers.
With 66% of SaaS companies reporting 25% free trial conversion rates in one major study and the estimates from eight different SaaS experts averaging out at 26%, a 25% free trial conversion rate is widely accepted as a benchmark for SaaS companies.
In this article, we explore SaaS lead nurturing strategies that'll help you beat this number by converting more leads into paying customers.
What are we looking at in this article?
Free trial conversion rates is a vital metric for SaaS companies but this isn't the only stage of the customer journey that matters. What about leads that fail to set up their account or complete the onboarding process but never actually use your software?
What about customers who refuse to renew their subscription or happy customers who could easily be signed up for a more expensive plan?
In this article, we look at SaaS lead nurturing strategies to cover the entire customer cycle for software products. This means we're turning leads into users, free users into paying customers and maximising the value of every customer through engagement, retention, upselling and other key strategies.
To put this in a logical structure, this article is based around the SaaS marketing funnel, allowing us to look at strategies for nurturing and converting leads at each stage of the customer cycle.
A quick look at the SaaS customer cycle
If you've read our guide to the marketing funnel, you'll know that the traditional AIDA model doesn't consider the customer journey after the initial acquisition, conversion or purchase – whatever you want to call it.
This isn't suitable for the modern customer journey so we need a model that includes post-conversion stages, such as the loyalty and advocacy stages illustrated in this graphic: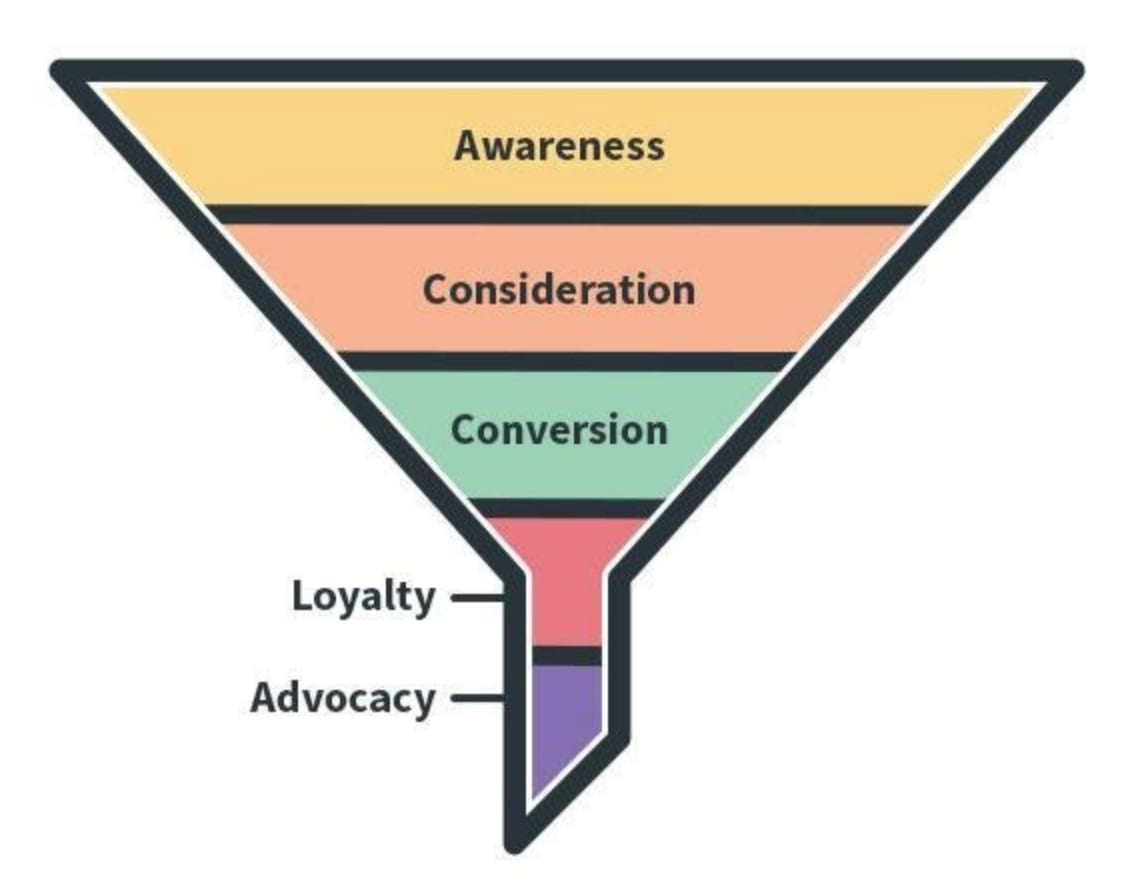 These stages are even more important for SaaS companies where the first conversion typically generates no revenue. In fact, modern software companies rely on recurring revenue to fuel growth so these latter stages of the customer cycle are just as (if not more) important than the earlier lead generation and conversion stages.
Based on the same principle, we can draw up the SaaS customer cycle as follows: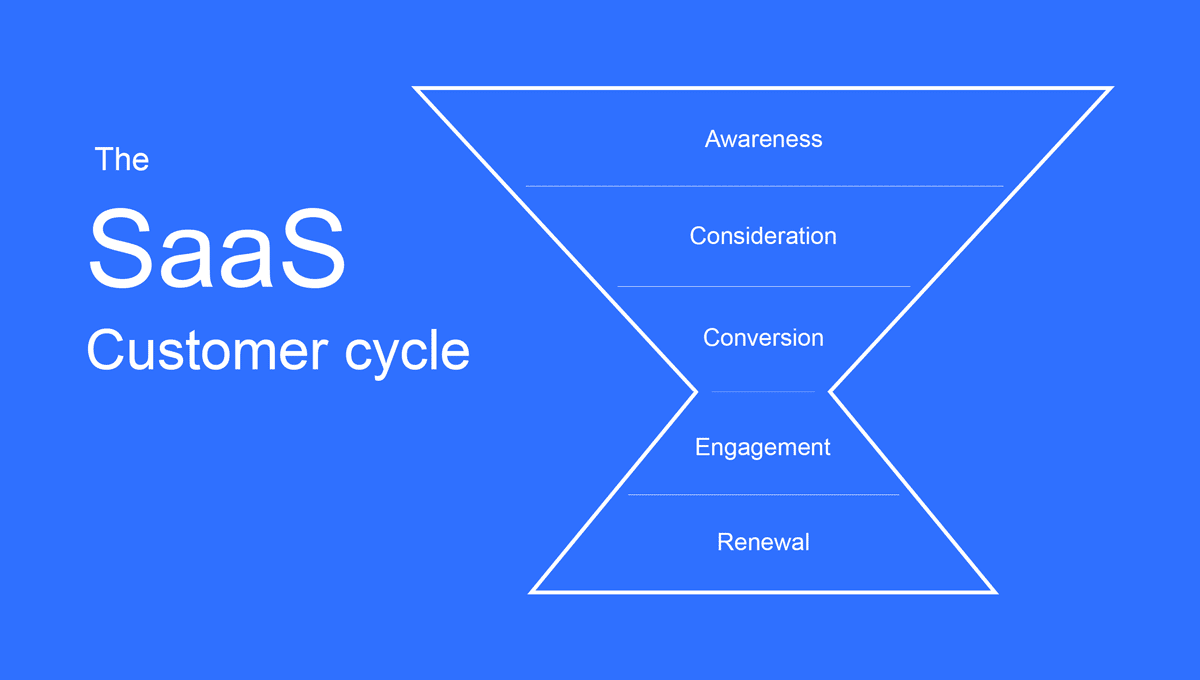 In this article, we look at strategies to nurture leads along each stage of this customer cycle so you can turn more leads into free trials, more free users into paying customers and maximise renewals to drive growth through recurring revenue.
Based on the customer cycle stages shown above, we break this article up into the following sections:
You can click on the blue link text to jump ahead to any section of this article and you can save this as a resource to keep coming back to.
The purpose of this article is to act as a complete guide to SaaS lead nurturing across the entire funnel so you can maximise lead conversion rates at every stage of the customer cycle. This prevents leads from leaking at key moments (e.g.: onboarding) and keeps leads moving towards the goal of paid subscriptions and their next renewal.
Before we get into our first group of strategies, let's take a quick look at the tools you'll need to implement everything we discuss in this article.
What tools do I need to implement these strategies?
As we're looking at strategies to cover the entire SaaS customer cycle, it can take a pretty big tech stack to implement all of these strategies. That said, with some smart software choices, you can manage everything we cover in this article with the following six tools:
Marketing planning: A single platform for planning, testing and optimising strategies and campaign ideas.
Email marketing: Ideally, an all-in-one CRM, email marketing and automation platform.
Subscription management software for creating and testing plans, managing subscriptions and renewals.
Feedback software: Software for capturing feedback from users on your website and from email campaigns.
In-app interactions: Software for providing in-app guides, tutorials, notifications and collecting feedback.
Customer service: Tools for managing customer service to keep your customers happy and ready to renew.
You may have several tools for each of those tasks but, to keep things as simple as possible, here are some recommendations that can cover all six bases with a single tool for each.
Marketing planning software
We use TrueNorth to plan our marketing campaigns and the platform works on several fronts:
Planning & collaboration
Forecasting & optimisation
Reporting & profitability
TrueNorth helps our marketing team to collaborate on campaign ideas without bogged down in meetings and email exchanges. The platform allows us to spend more time on the actual marketing by speeding up the planning and collaboration stage of campaign development.
The platform guides team members through the ideation process, brings team members together and ensures clear goals and timelines are set out for every campaign idea.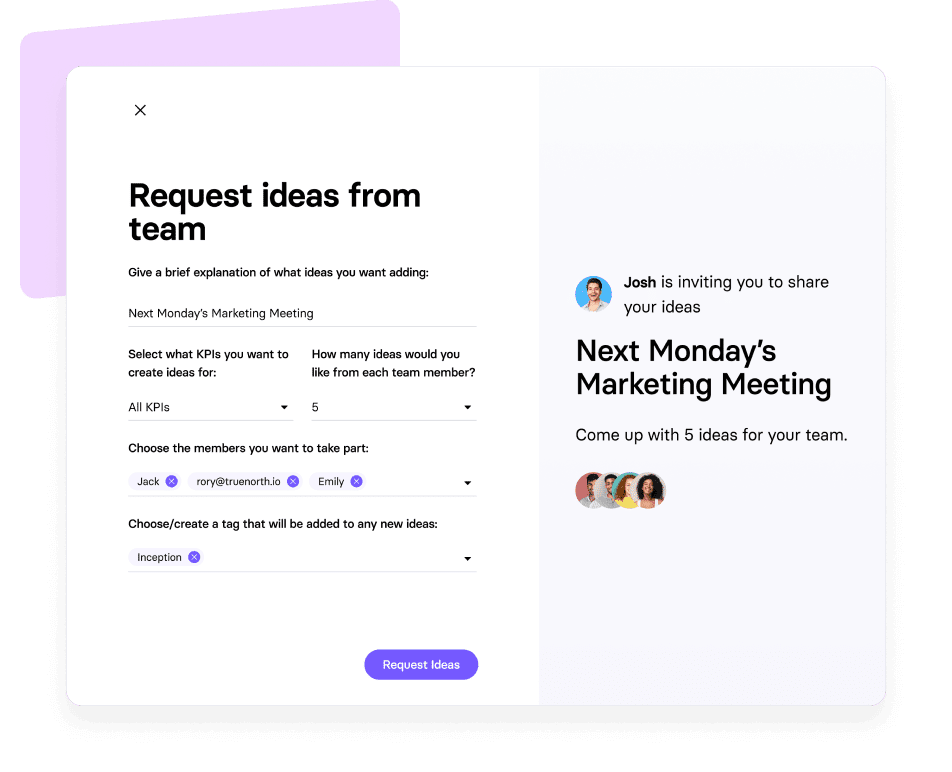 Then, we can prioritise campaign ideas using TrueNorth's simulator to forecast results and determine the ROI before we launch anything. The simulator also allows us to tweak budgets, spend and goals to see, for example, how much more we need to spend to increase conversion rates by another 3%.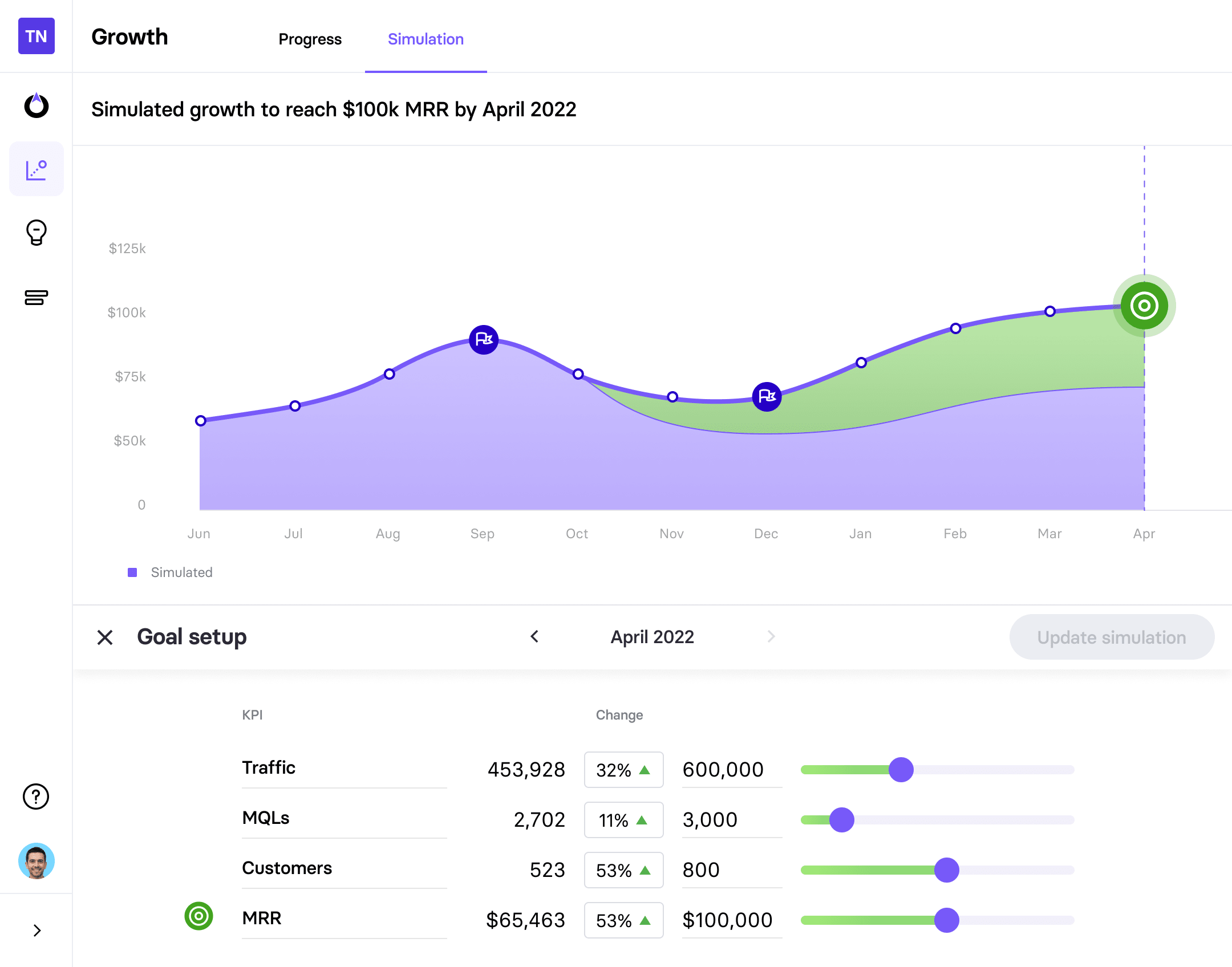 This gives us an accurate picture of returns we can expect from campaigns, how much they're going to cost and how difficult the goals are to achieve. So we can prioritise high-return campaigns that require less investment (money, time or other resources) to maximise impact or we may decide to prioritise our most important goals and adapt our spend on other campaigns to ensure we're hitting the targets that matter most to us.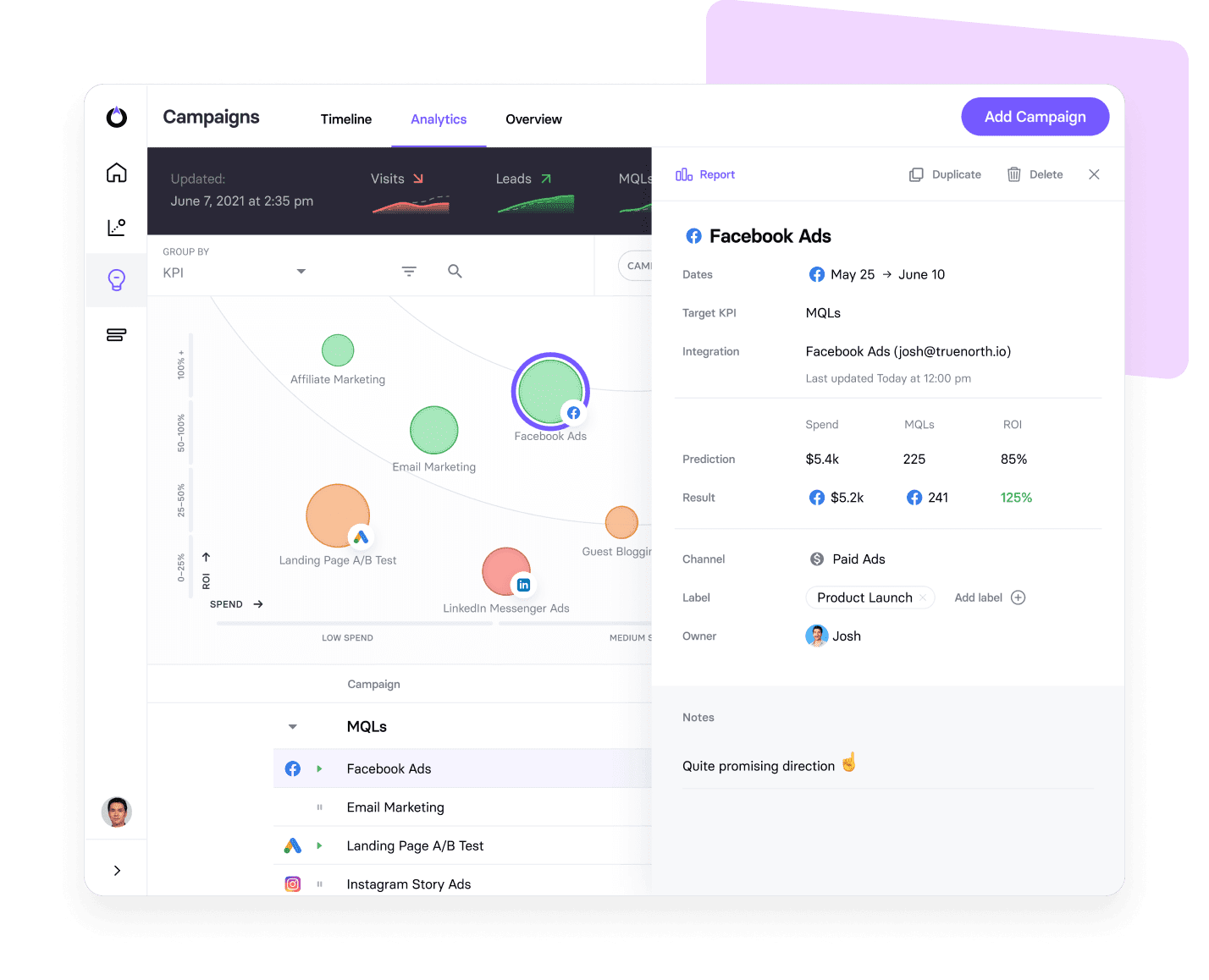 TrueNorth gives us the tools we need to put campaigns in action faster and the data we need to prioritise strategies, adapt campaigns on the fly and keep track of ROI and profitability across the board.
Email marketing
Email is the most important channel for lead nurturing so email marketing software is a must. The best email marketing strategies are data-driven and this means you also need a system to store prospects' data and integrate with your sales and marketing strategies – ie: a customer relationship management (CMS) platform.
To manage email marketing at scale, you also want as much automation technology as you can get your hands on to take the manual workload out of email marketing. For SaaS companies, the customer cycle is long and takes place entirely online so you can't get by without some solid email automation.
So there are three things we really need here:
Email marketing software
A customer relationship management (CMS) platform
Marketing automation
ActiveCampaign is one of the few email marketing platforms that provides all three of these, including some of the best automation technology currently available. We've been using ActiveCampaign for over five years and it provides 90% of the email and lead nurturing tools we need, which means we can do more with one system and save a whole lot of money on software fees.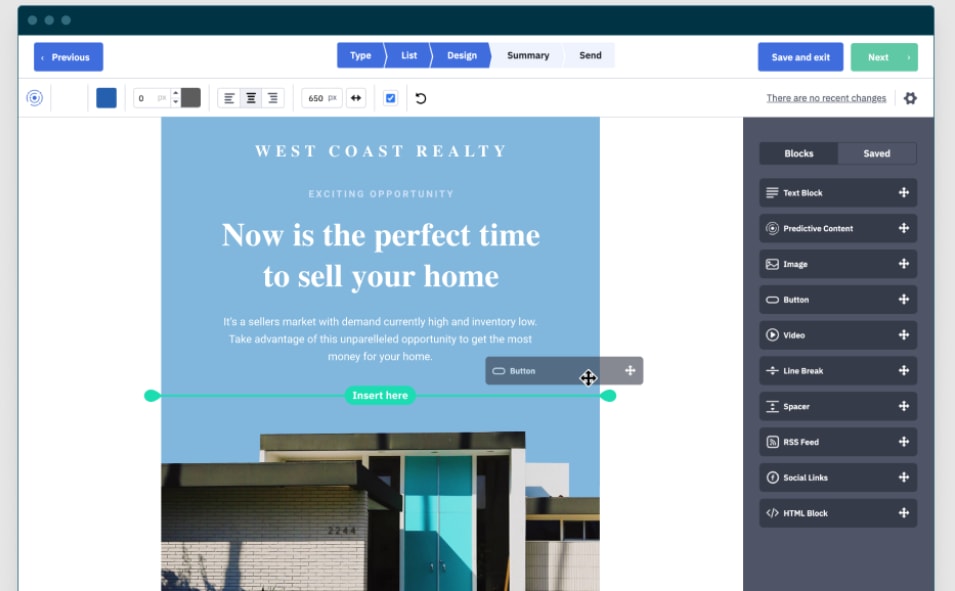 ActiveCampaign has all of the essentials you need, including a drag-and-drop email builder, a built-in CMS and advanced targeting features to deliver relevant messages to every target audience.
However, the platform's biggest strength is the depth of automation across email, marketing and sales – everything you need to create a fully automated strategy across the entire customer cycle.
You can automatically add prospects to different email lists as they progress along the funnel, update lead and customer scores to prioritise your most valuable prospects and detect customers showing signs of churning.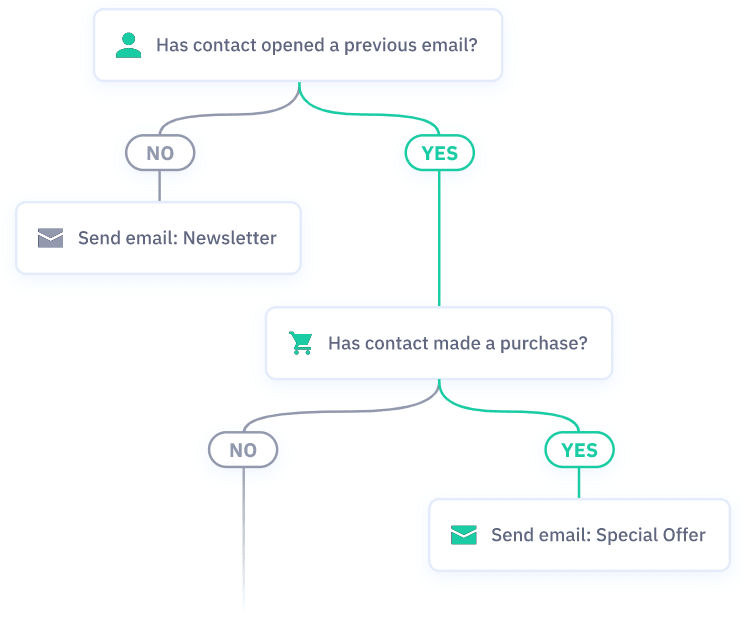 ActiveCampaign's drag-and-drop automation builder allows you to create advanced workflows, such as automated email sequences, target prospects with content as they complete actions, notify sales teams when they need to step in and so much more.
You don't have to build every automation from scratch, though. ActiveCampaign has a marketplace of automation recipes where you can download workflows and implement with other tools.
If you want to find out more about our ActiveCampaign, take a look at our in-depth review and you'll find plenty of other email marketing platforms in these recommendation articles:
Subscription management software
Subscription management software is crucial for any SaaS company and the best platforms make it easy to optimise plans and pricing models to maximise revenue.
Your pricing page is one of the most important parts of your website (your entire marketing strategy, in fact) and this is where your most important actions take place during the first half of the customer cycle.
We use Paddle as our subscription management platform but, in truth, it's far more than a repeat billing system.
Here's a summary of the key features:
SaaS subscriptions: Paddle offers extensive subscription features specifically designed for SaaS companies and software products.
Managed payments: Instant access to established international banking infrastructure for easy payments in every country and currency.
Advanced dunning: Chase up failed payments to secure lost revenue and reduce churn.
Billing models: Smart subscription logic helps you create recurring, metered, on-time and other billing models in a matter of clicks.
Upgrades & downgrades: Manage customers with ease as they upgrade or downgrade from plans.
Free trials & freemium: Manage free trials, free plans and freemium strategies within Paddle.
Integrated checkout: Take payments by card and PayPal using Paddle's built-in checkout.
Invoicing: Create and send invoices to customers automatically.
Automated sales tax: This platform calculates, files and remits your software sales taxes on your behalf – based on your customers' location.
End-to-end dunning: Paddle automates dunning across the entire customer journey to recover lost revenue.
Paddle Data Core: Advanced data capture and reporting for insights on your business performance and your rivals.
Managed support: Paddle's excellent support team helps you set up your payment strategy, deal with any technical issues and handle tax compliance for you.
For the purposes of this article, the most important feature for the strategies we're looking at today is called dunning – the process of chasing up failed payments. We'll look at this in more detail later on and you can learn more about the best subscription management software in this article:
Email & website feedback
Feedback is a powerful tool for improving your website as a lead generation and conversion tool. You can also capture feedback from customers to improve your products and keep them paying for the next renewal.
To cover both bases, you want to capture feedback on your website, using on-page tools. For product feedback, you can use email marketing campaigns to include feedback forms and surveys to gain qualitative insights from your customers.
There are plenty of platforms for capturing customer feedback in email campaigns and you can use ActiveCampaign for this, too.
HubSpot is another great option if you're looking for an all-in-one CRM and email marketing platform that includes feedback campaigns.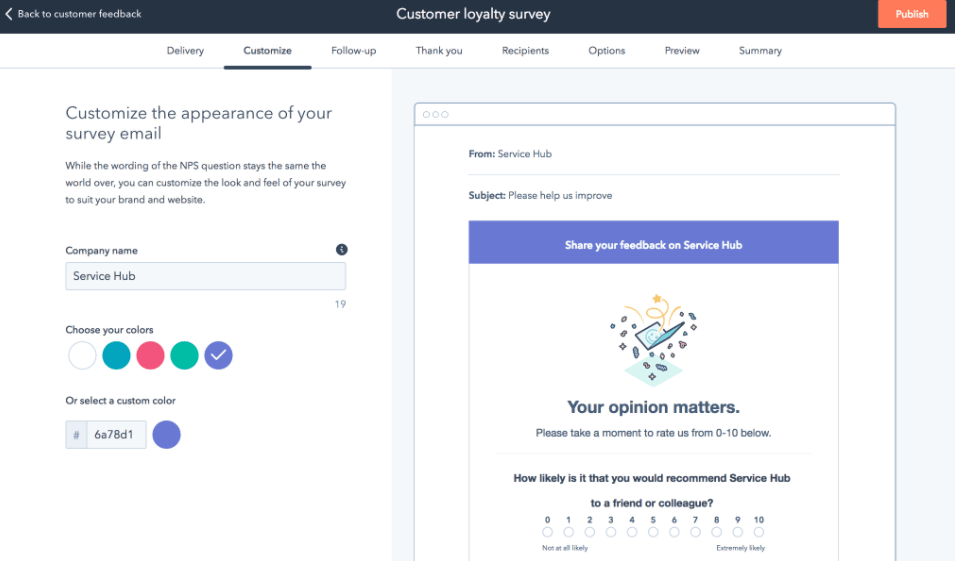 You'll also find plenty of standalone feedback collection tools, such as SurveyMonkey.
It's also worth collecting feedback on your website to gain feedback on UX and conversion barriers. For example, you might trigger a feedback form on your pricing page after a delay to ask whether anything is keeping them from signing up.
Hotjar is one of the easiest platforms to use for collecting feedback from users as they interact with your pages and it's a capable CRO tool with excellent heatmapping features and session recording, as well as surveys and other feedback tools.
You can find out more about the platform in our Hotjar review, which addresses the pros and cons of the platform.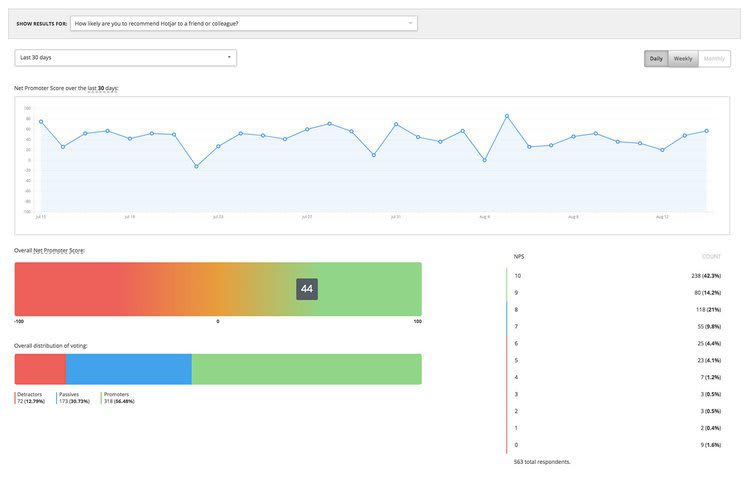 Qualtrics is a more advanced, complex and expensive feedback tool that allows you to capture insights from users across your website, mobile apps and cross-channel interactions.
You can try the platform out for free by signing up for a limited free account.
In-app feedback & interactions
For SaaS companies, in-app interactions play a crucial role in lead nurturing, engagement and customer retention.
Instead of leaving users to their own devices in your software, you can implement a network of in-app touchpoints to help them get the best out of your platform, encourage them to keep using it and gain valuable feedback from the people who matter most to your business.
Here are some examples of the types of in-app interactions that can enhance the customer experience and, as a result, boost usage, engagement, renewals and recurring revenue:
Onboarding: A guide through the onboarding and setup process can ensure new users get started on the right path.
Product tour: A tour of your software product can help new users understand its capabilities, get a feel for the architecture and invitations, and figure out where to get started.
Feature tutorials: Showing users how to use features and what they can achieve is a great way to help them get the best out of your product and overcome early learning curves.
Task tutorials: Showing users how to complete tasks in your software provides practical context and examples of how features can be used and how settings affect their implementation.
Notifications: Notifying users about task completions, goal achievements and other incremental successes can demonstrate the ongoing value of your product and increase engagement.
Feedback: Your software is the best place to collect user feedback about your product(s).
In-app support: Integrating automated support into your app can help users solve problems faster without leaving your product.
Userpilot is a great platform for creating in-app interactions, such as onboarding processes, achievement reports, feature guides and more.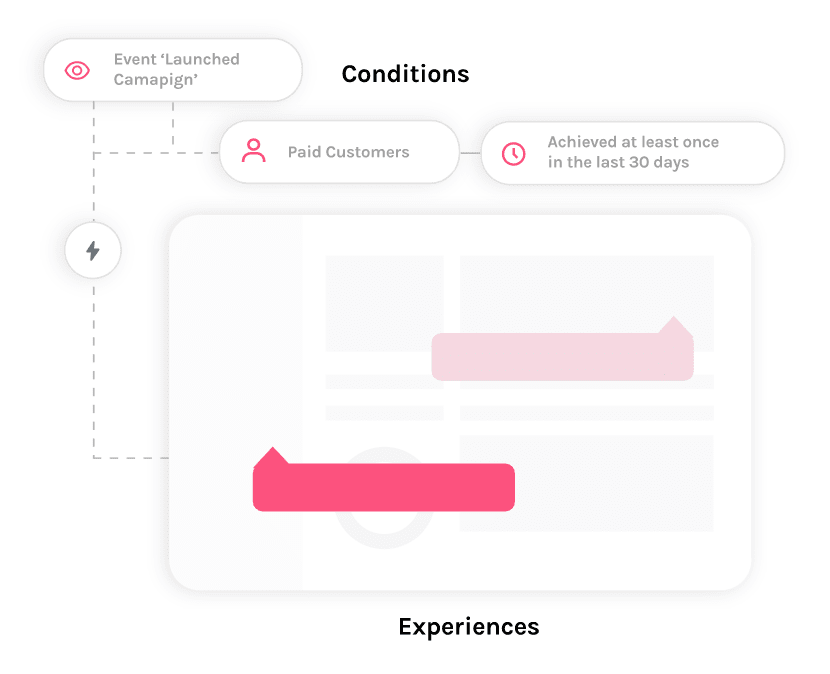 You can also use the platform to collect feedback from users to gain a deeper understanding of the good and bad of your product – an opportunity to improve your software while maintaining its strongest attributes.
Customer service software
The last tool you're going to need to implement the strategies in this article is customer service software and there are plenty of platforms designed for SaaS companies.
Zendesk is one of the biggest names in this area, offering a complete customer service and CRM platform with excellent integration options, including several apps to connect with a range of email marketing platforms.
Earlier, we talked about ActiveCampaign as an email marketing and automation platform but it also includes comprehensive features for customer support, including a ticketing system, automatic personalisation and seamless integration with your email marketing system.
It also includes built-in chat features although we also use Intercom to add a chat widget to our website. This incorporates a chatbot for automated support, suggesting routine steps and recommended content to help users solve basic problems and users can also connect with support staff if they need further assistance.
Cross-funnel lead nurturing strategies
In this first section, we're looking at lead nurturing strategies and principles you'll want to apply across the entire funnel and customer journey. We've got five strategies to look at in this section – all of which should be incorporated into your email marketing strategy:
Auto-responders: Automatic email responses to messages, actions and goal completions/non-completions.
Drip campaigns: Scheduled email sequences for guiding prospects towards goal completions.
Dynamic email automation: Automated email campaigns that respond to prospects' actions at key stages of the funnel.
Targeted content: Automatically delivering lead nurturing content to prospects across the entire customer cycle.
Upselling & cross-selling: Email campaigns and interactions encouraging users to upgrade or buy into other products.
Automation plays a key role in this section, too, which is why it's so important to have this technology as part of your email marketing platform.
#1: Email auto-responders
Email auto-responders are automatically sent to users when a trigger event is registered. The most common use of this is to send email automatically to important actions, such as a user signing up to your platform – e.g.: an email confirmation email.
However, you can use auto-responders to send emails to users based on almost any action. For example, you could send emails to leads who visit the same feature page multiple times to emphasise the importance of that same feature as a key selling point.
Alternatively, you could send emails after users visit a sequence of pages that reveals something about their priorities and use cases for your product.
Likewise, you'll want to send email messages to leads as they complete important goals, especially when it comes to completing actions that signify they've taken that next step along your sales funnel.
However, you can also use auto-responders to send emails to prospects who don't complete the next goal along the funnel or customer journey. For example, when a user downloads some of your lead generation content but doesn't sign up within a specified time frame or when a free trial user completes the onboarding process but doesn't use your software again within a few days.
#2: Drip campaigns
Drip campaigns are predefined sequences that send a series of emails at set intervals to nurture leads or guide them through a process. For example, you'll normally create a drip campaign for the onboarding process that starts with a welcome/confirmation email and sends an email containing useful information after a few hours.
To create a more advanced onboarding sequence, you can include an exit action to stop the sequence when users complete the sign-up process or when they use the software for the first time. This way, you can add emails to the sequence for users who fail to complete the onboarding process or don't use the software within a few days.
The exit actions ensure nobody who progresses through these key stages receives irrelevant emails.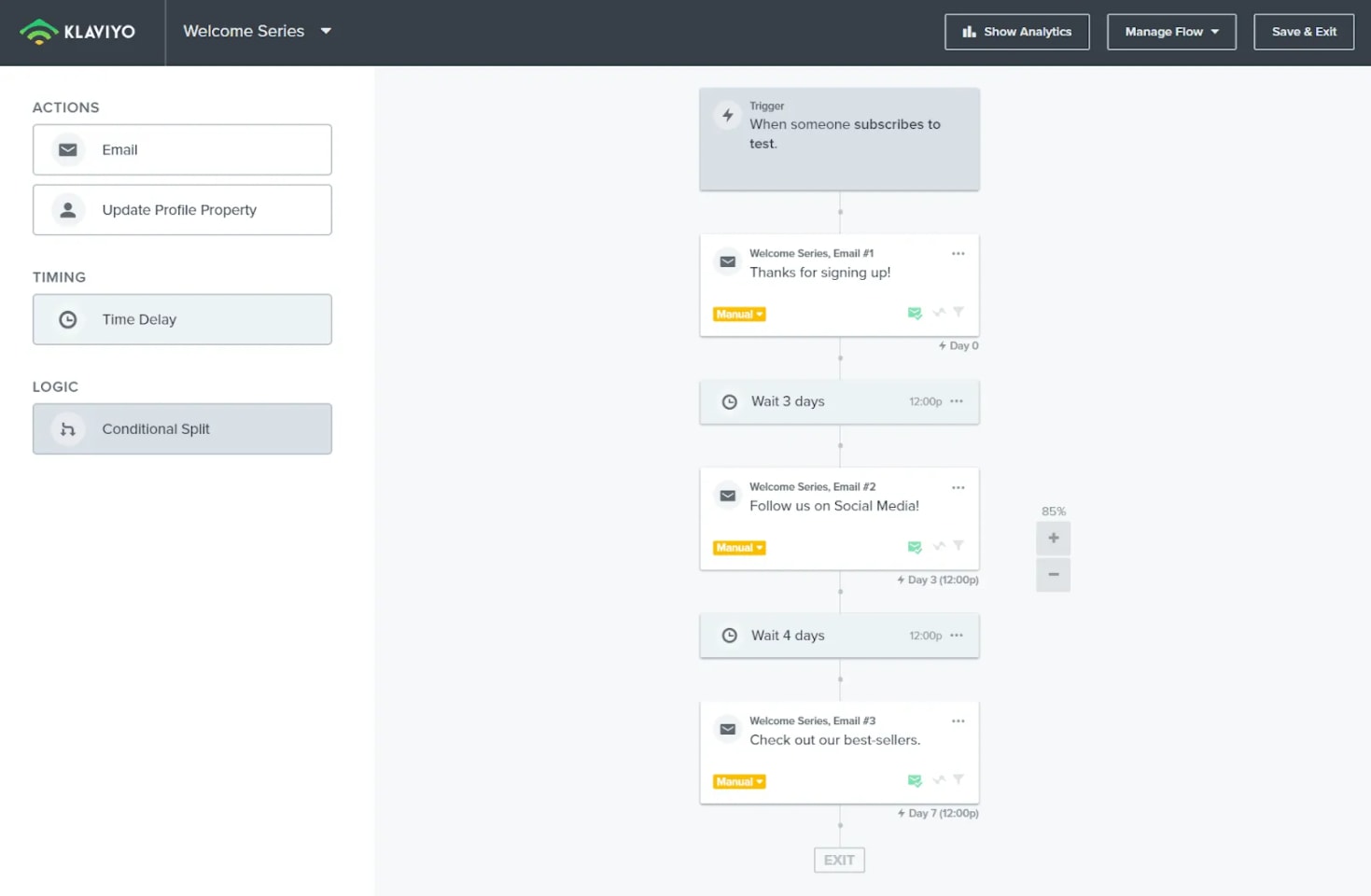 Onboarding is just one example of how drip campaigns enhance the customer experience and here's a short list of some of the most common uses for SaaS companies:
Customer support: Once your support team closes a ticket, a drip sequence is activated asking customers for feedback.
Onboarding: If users fail to complete the onboarding process, a drip campaign can bring them back for another try.
Account verification: If users don't verify their account at the first asking, drip campaigns can send out follow-up prompts to remind them.
Welcome campaigns: Drip campaigns can help new users get to grips with your software product.
Engagement: You can use drip campaigns to send out period content to keep users engaged.
Loyalty & rewards: You can reward customers for loyalty as they continue to use your product.
Dunning: These drip campaigns prompt customers to update their payment details or manually make a payment in the event of failed payments.
The obvious limitation with drip campaigns is they're static sequences that run until completion or an exit event stops them. This means you're creating campaigns around a sequence of events you want users to take, which isn't necessarily the same as the actions they will take.
You also can't create drip campaigns for every possible sequence of actions so these are best suited to clear pathways SaaS users are likely to follow, like the ones listed above.
Luckily, we've got another solution for more complex and unpredictable actions.
#3: Dynamic email automation
Dynamic email automation uses a series of event triggers to assign leads to email marketing lists, sends messages to them as they complete specified actions (or don't) and assigns them to new marketing lists as they progress across the funnel.
For example, you can add all prospects who visit your pricing page to one email marketing list and send email messages encouraging them to sign up for a free trial or discounts on a paid plan.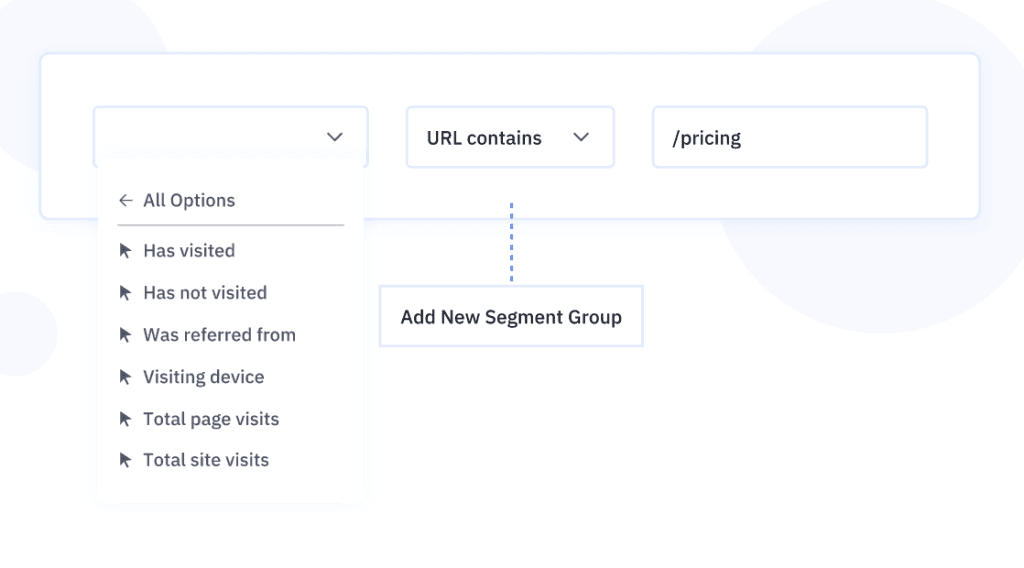 Then, users who respond to your email follow-ups are added to new marketing lists (e.g.: free trial users, beginner plan users, etc.) while recipients who don't respond to your email are added to other lists based on their actions (or lack of).
You can respond to leads who don't open your email while sending a different response to those who looked at your message but didn't take action at the first asking.
The process continues, using a series of yes/no qualifiers around each target action, which triggers the next response.
You can also use dynamic email automation to qualify and score leads/customers to prioritise the prospects most valuable to your business. For example, you can place prospects on lists based on their Net Promoter Score (NPS), which measures the loyalty of individual customers.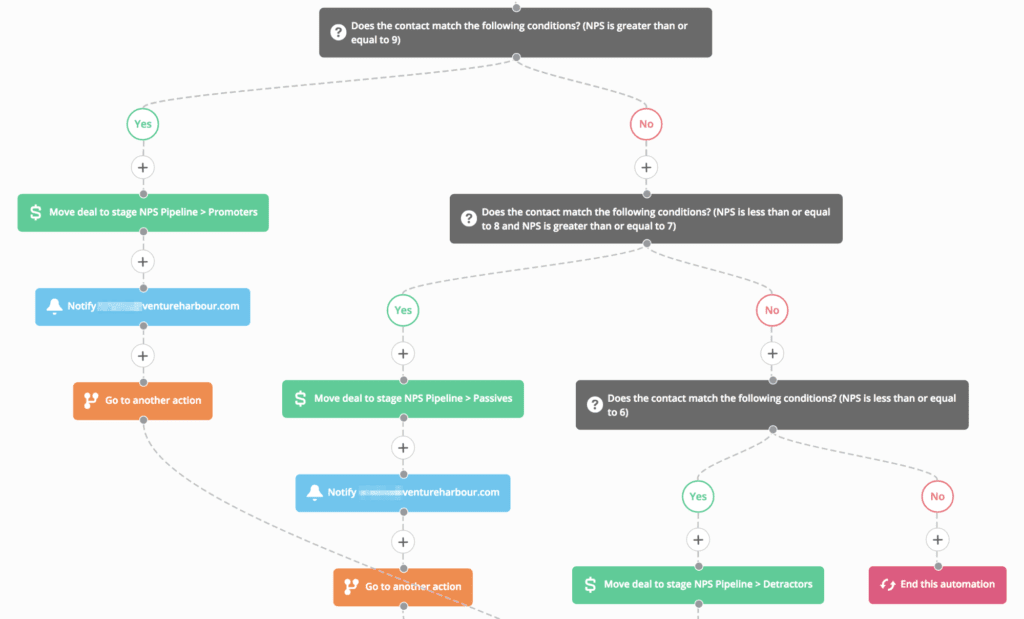 This allows you to create campaigns designed to lift customer loyalty scores when they show signs of dropping. You can also develop broader strategies to lift the average NSP of your entire user base in order to increase subscription renewals.
Dynamic email marketing is the most important strategy for nurturing leads across the SaaS funnel. You can create dynamic sequences to cover the entire customer journey and every response from leads results in the next follow-up action until a suitable exit event is reached.
#4: Targeted content across the customer cycle
With dynamic email marketing, you can target leads with content across the customer cycle as they move across marketing lists. You're not limited to targeting actions or incomplete actions, either.
With the right email marketing software, you can also assign lead quality scores to prospects, representing the likelihood of them converting into paying customers, upgrading to a higher plan or (at the opposite end of the spectrum) churning.
A key feature to look out for in email marketing software is some form of website tracking. In ActiveCampaign and HubSpot, this is called site tracking but the naming can vary from one platform to another.
Either way, site tracking allows you to track the activity of leads on your website, such as pages visited.
You can use this data to create event triggers in your automation campaigns and combine page visits with other actions – for example, you could target prospects who have visited your pricing page and downloaded a piece of lead magnet content.
So, let's say a prospect has visited your pricing page and later downloaded a piece of gated content relevant to a specific set of features in your product. You can automatically send email campaigns focusing on the same features, offering incentives to sign up for your product and also offering a more in-depth piece of content than the one they initially downloaded.
Aside from encouraging them to take that next step along the funnel, you can use their reaction to learn more about their purchase intent. Do they visit your pricing page again and consider signing up or do they demonstrate further interest in the topic in question by clicking through to your latest content recommendation?
Perhaps they do both and your content increases incentive enough to convince them to sign up.
There's no limit to how granular you can get with content targeting as a SaaS company, as long you've got the targeting features to deliver relevant messages. Keep in mind that you've also got access to all of that user session data, which you can use to build an understanding of individual customers' needs and their position along the customer cycle, as it changes.
For example, you can deliver email messages on features users aren't using as much as you would like or campaigns highlighting how much more they can achieve with the features they're using most by upgrading to a more advanced plan.
#5: Upselling & cross-selling campaigns
Upselling and cross-selling campaigns are crucial throughout the customer cycle after the conversion stage of the funnel. Turning free users into paying customers is vital for generating revenue and you'll have to work particularly hard at this if you're running a freemium model or any kind of free plan as a growth/lead nurturing strategy.
Even with paid users on board, you still want upselling campaigns constantly in the works to encourage them to sign up for more expensive plans. Again, this is especially important if your software platform is designed with a clear upgrade path where user needs are expected to become more demanding as they progressively achieve more with your software.
This is the typical business model for B2B SaaS products.
While upselling aims to encourage upgrades or purchases of more expensive products/plans, cross-selling aims to encourage customers to buy into other products.
This may sound more typical of e-commerce brands but any SaaS company selling multiple products should engage in cross-selling strategies.

For example, HubSpot sells five distinct software products that all integrate and enhance each other, building a more comprehensive marketing suite as customers buy into additional products.
This architecture creates the perfect setup for cross-selling campaigns where each product covers a key component of the sales and marketing system for modern businesses. Every customer that signs up for one product already has an invested interest in HubSpot's other software solutions and the company exploits this perfectly with the architectural design of its products, as well as its marketing campaigns.
Awareness (top of the funnel) lead nurturing strategies
In this section, we're looking at strategies that aim to nurture prospects from the awareness stage of the funnel into the consideration stage (or straight to the conversion stage).
This time we've got six strategies to discuss:
Product previews / live demos: Reel prospects in with a practical experience of using your product.
Free tools: Capture leads with free tools and, then, tempt them with paid products.
Reviews & comparisons: Compare your product with rivals' to increase interest in your software.
Educational content: Use the gift of knowledge to build meaningful relationships.
Data capture: Capture the data you need to nurture prospects with relevant messages.
Persona / account content: Create content for different customer types and deliver it across the funnel and customer cycle.
These strategies target leads who already know a bit about your product and the aim is to increase purchase intent.
The phrase "consideration" can mean two things at the next stage of the sales funnel. It can refer to considering the purchase of your product specifically or, alternatively, placing you among a small group of potential software options – in which cases, the consideration is choosing which platform to buy into.
#6: Product previews / live demos
Product previews and live demos are a great way to showcase your software and lower the entry barrier for trying it out. You don't necessarily need to provide a demo of your entire platform, either. Unbounce hosts an interactive demo of its landing page builder for anyone to try on its website.
This is one of the most important features on the platform but it still leaves plenty of key features reserved for free trials and paid plans.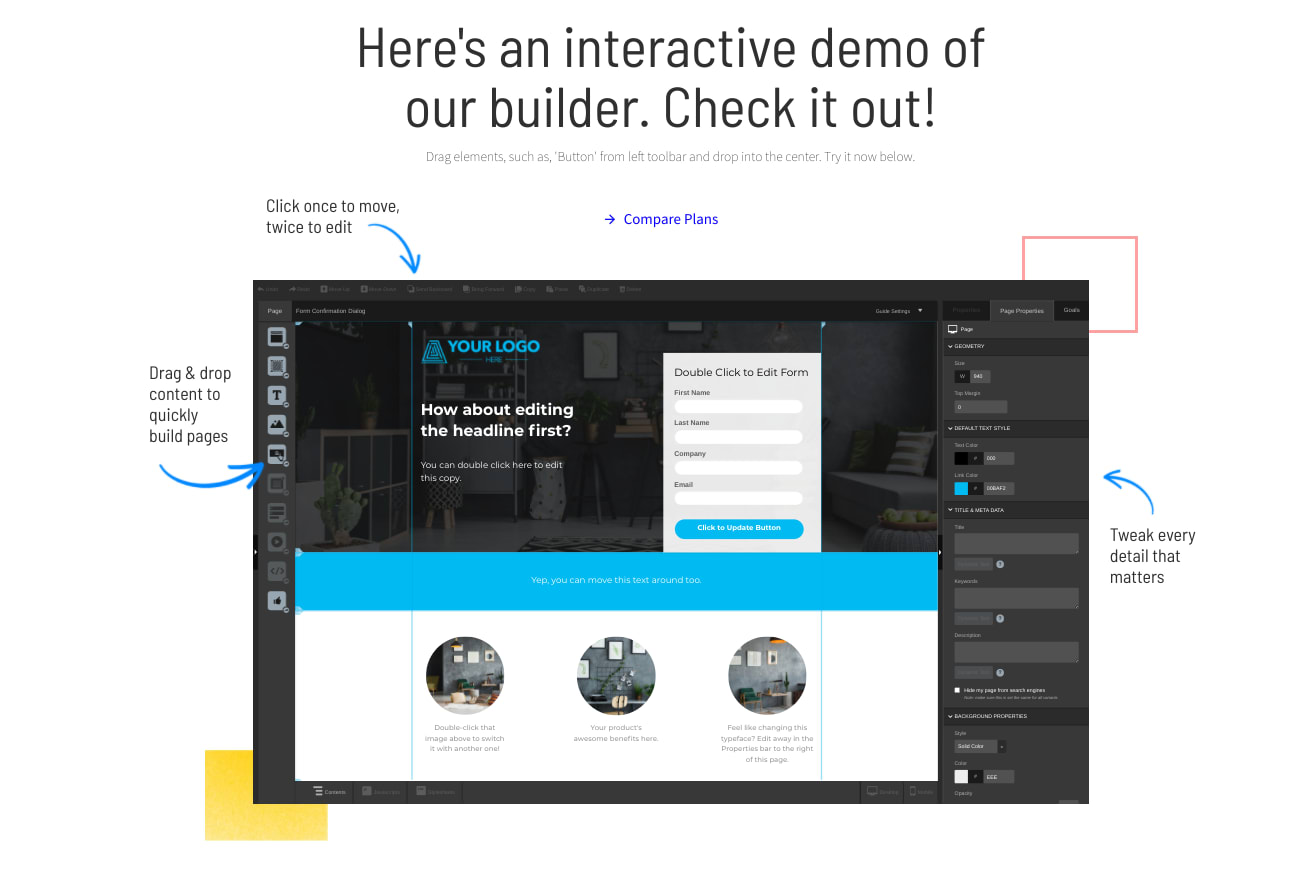 Obsidian, on the other hand, offers a full demo of its software that website visitors can access with a single click. With significantly fewer features, the company can run a live demo that showcases the key functionality of the software without it being too much to process.
It also communicates the simplicity of the software, which is one of its strongest assets and integral to its user experience.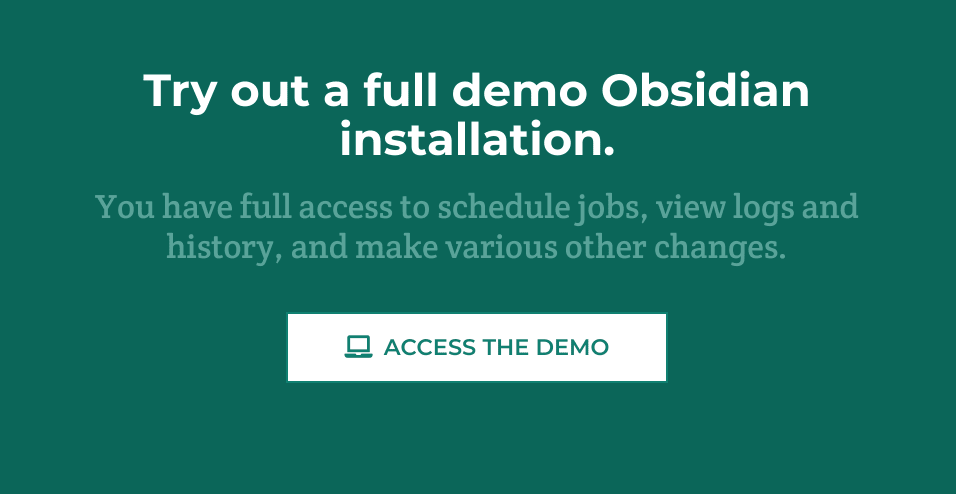 This approach isn't suitable for all SaaS products. The key limitation is that your demo needs to run in the browser instantly – without any setup, delays or sluggish performance.
Aside from that, this strategy works best for platforms with a standout feature that can act as a standalone demo, such as Unbounce's landing page builder, or a relatively simple software product that can quickly demonstrate its value.
#7: Free tools
We've talked about this strategy in several posts before but it's such a powerful technique for SaaS companies. Aside from being an effective lead generation strategy, you can use free tools to nurture leads into the consideration stage by bridging the gap between awareness and conversions.
Prospects who aren't ready to buy into your main products can still get value from free tools, such as HubSpot's Website Grader.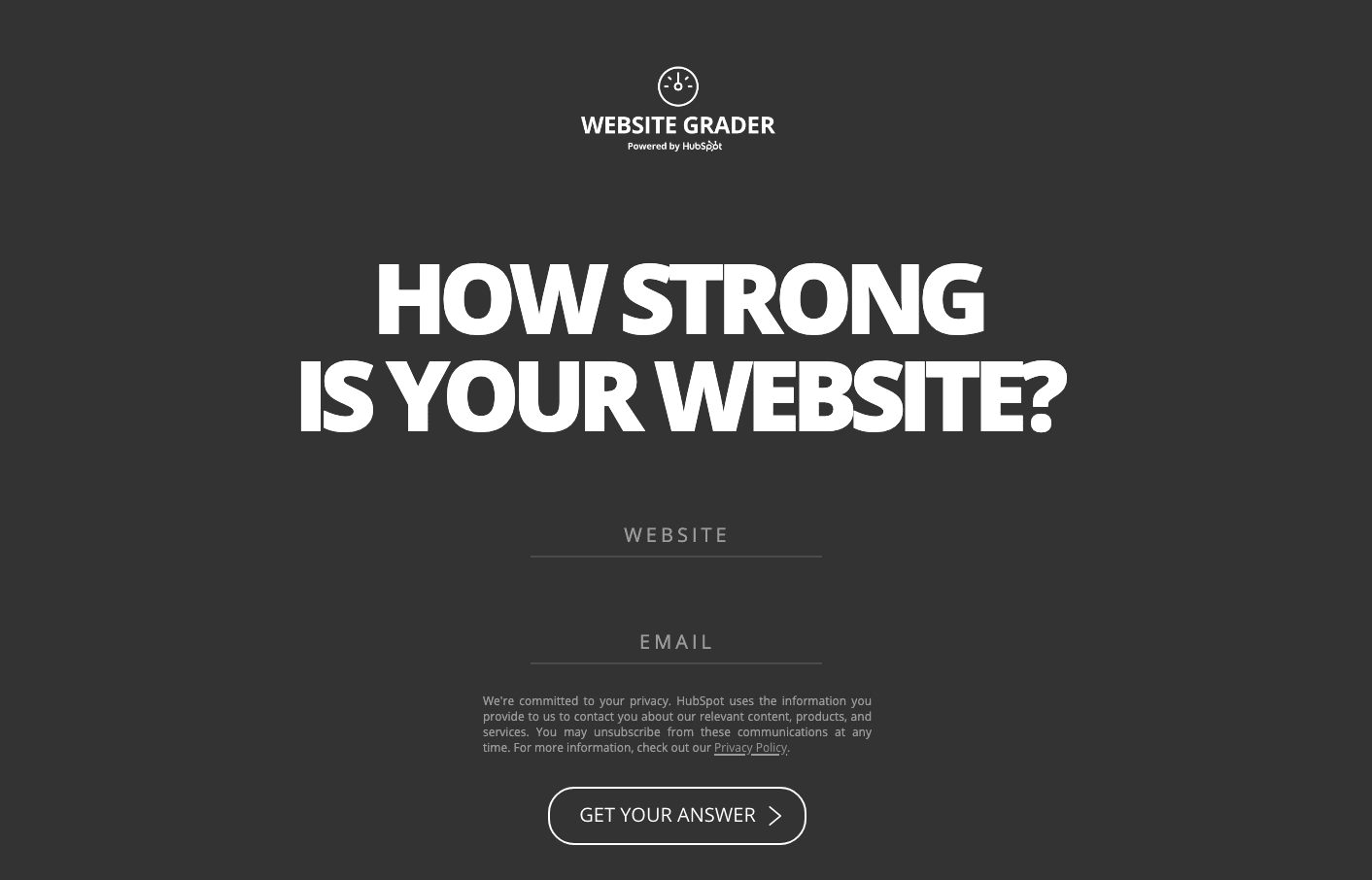 The trick with free tools is to keep them relevant to your main products and make them easy for prospects to access. For example, HubSpot simply asks for a website URL and an email address from users to access its Website Grader and prospects receive an instant report.
The report provides valuable feedback that can have a genuine impact on users' businesses, which starts building a relationship without any real investment.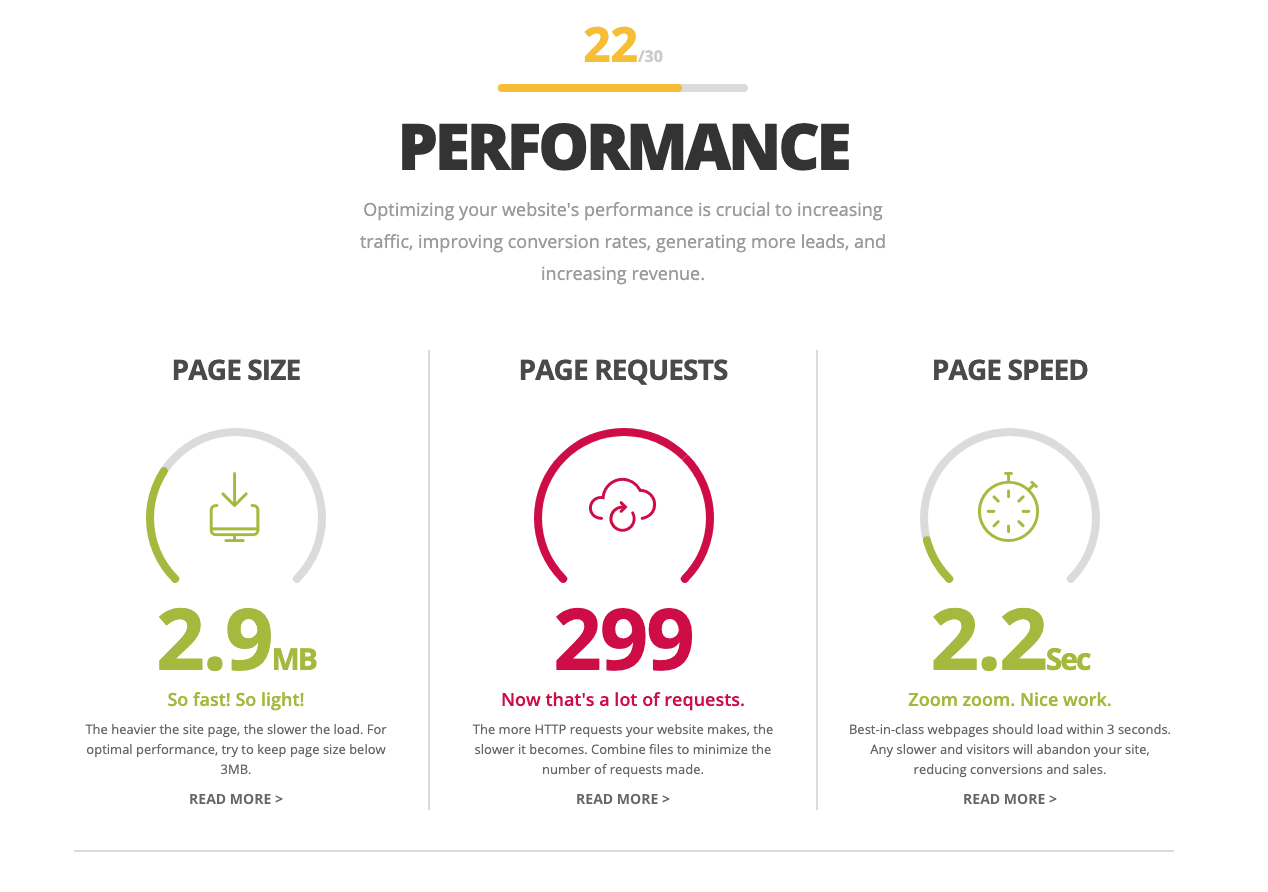 Crucially, any website owner with an interest in business performance will have an interest in the paid products HubSpot sells – either now or in the near future.
HubSpot has closed the gap between having no interest in its software and already benefiting from its free tools – so imagine what its paid products can do for customers.
HubSpot isn't the only software provider using this strategy, either. In fact, it's a staple for companies selling marketing software and any kind of business performance products of this nature.

Moz (above) is another perfect example and Crazy Egg (below) uses a very similar strategy on its homepage.
You can also promote your free tools in email campaigns to leads at the very top of your sales funnel. It's a great way to introduce your company as a problem-solver and bring prospects a big step closer to considering your paid products.
#8: Product reviews & comparisons
In terms of considering your product and weighing it up against direct competitors, you can take the front foot by creating product reviews, comparisons and head-to-head content for prospects in the awareness stage.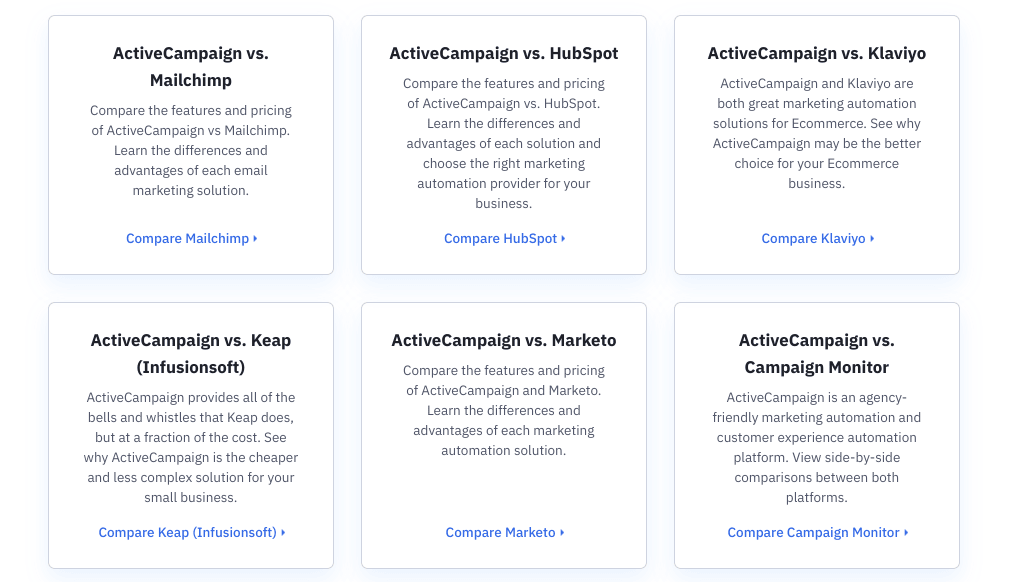 For example, ActiveCampaign has a series of comparison reviews on its website for visitors to find out why they should choose the platform over the plethora of alternative options on the market.
The reviews include feature comparisons, pricing comparisons and the pros and cons of either choice, as you can see in its ActiveCampaign vs HubSpot comparison.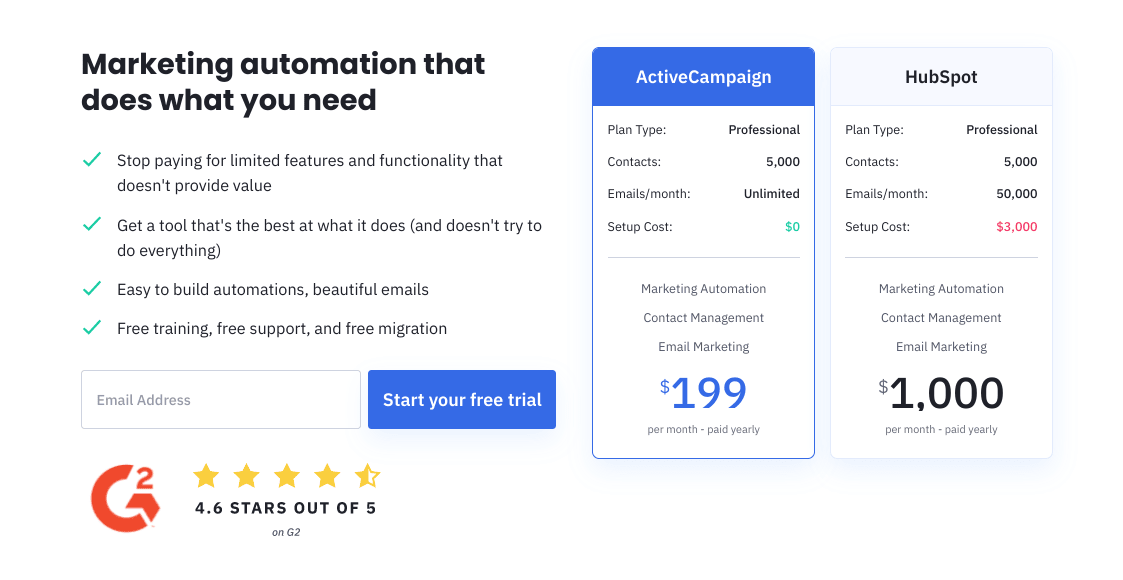 These comparison reviews are also helpful for differentiating your product from the other options available to your target customers, allowing you to emphasise the key selling points of your own product without being negative about your rivals' software.
You'll also want to keep an eye out for your competitors' own comparisons to see which points they raise, which key selling points they focus on and how they position their software as the superior choice to yours.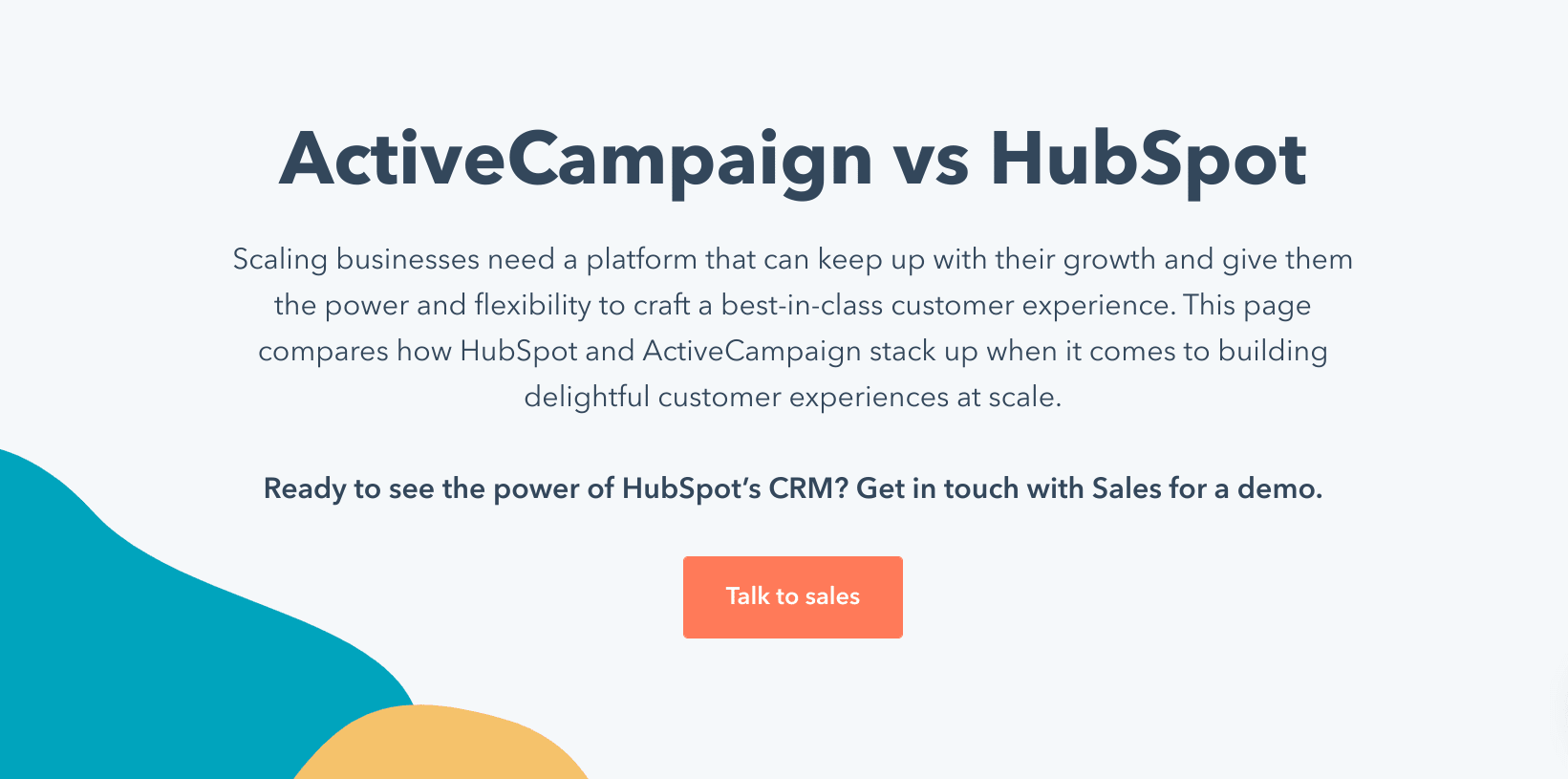 Optimise your comparisons for organic search to rank for "[software] vs [software]" searches and send them in email campaigns for prospects in the awareness and consideration stages of the funnel. You could also explore paid advertising campaigns by bidding on your rivals' brand names to get your comparison reviews showing at the top of results pages when someone searches for your competitors' products.
#9: Educational content
Most consumer journeys start with the desire to access information and the same is true for SaaS buyers. The gift of knowledge is one of the most powerful things you can give prospects at every stage of the funnel and customer cycle.
In the awareness stage of the funnel, educational content is a great way to establish a relationship and subtly promote your product while helping prospects learn something of value.
HubSpot was one of the early pioneers of publishing educational content as a lead generation and nurturing strategy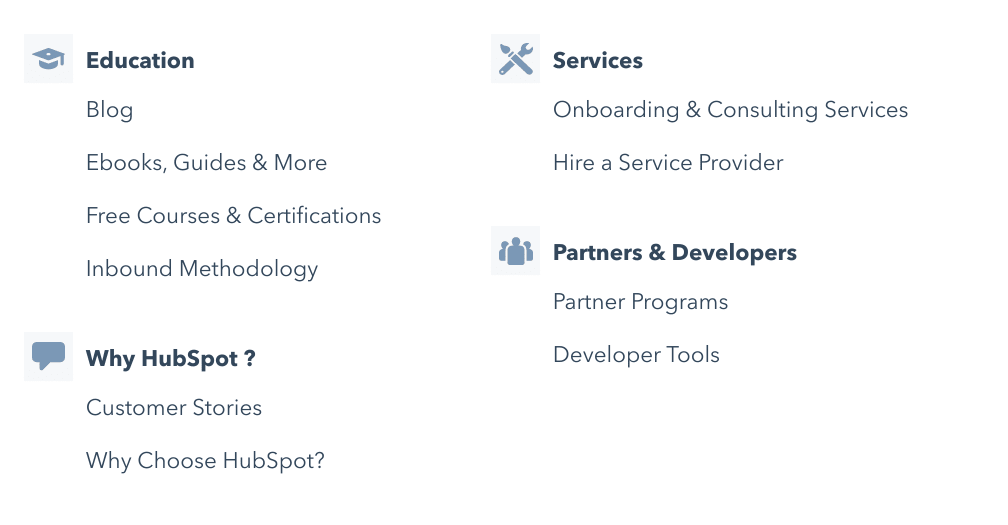 Today, the company has a huge library of free blogs, guides, eBooks and courses for anyone to access on its website. Again, any business owner with an interest in these topics also has an interest in using software products like the ones HubSpot is selling and every piece of content the company publishes strengthens the position of its products in the minds of businesses looking to improve their marketing, sales and customer service performance

Ideally, the majority of your educational content should be accessible to everyone but you can also create a smaller set of premium learning materials that require users to sign up or download.
#10: Capture data for lead nurturing
Data is your most important asset in lead nurturing, allowing you to deliver relevant messages to prospects throughout the entire funnel. Without sufficient data, you lack the necessary information to create relevant messages, but also the ability to target leads accurately as they move through the customer cycle.
SaaS companies have the advantage of gaining access to plenty of data in the second half of the customer cycle but capturing the information you need during the earlier stages is more difficult.
You have to find the right balance between capturing the data you need to nurture leads effectively without asking for too much information and preventing valuable leads from converting at all.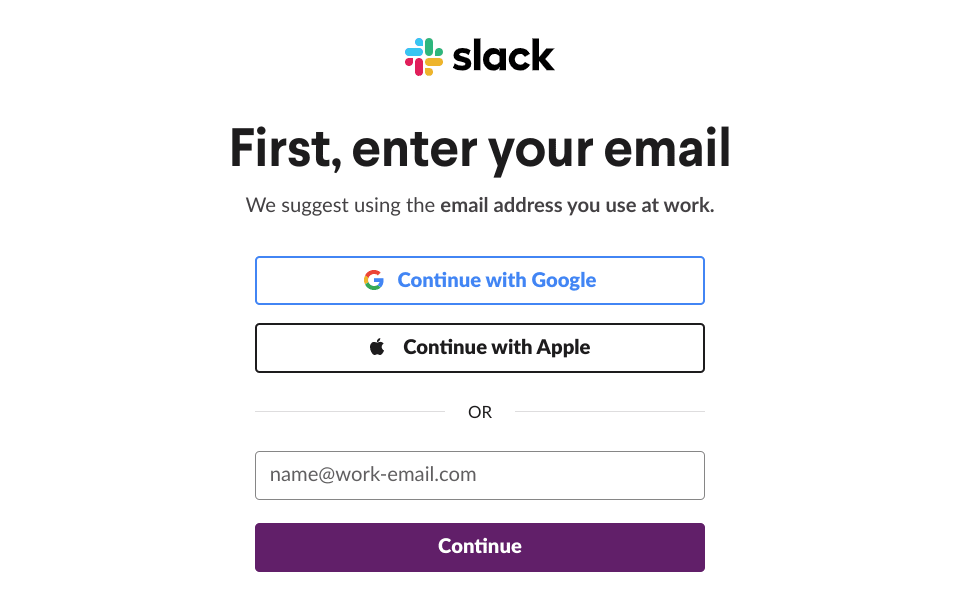 For example, Slack's primary goal is to capture as many free users as possible to maximise growth and retain its position as an industry leader. So the company minimises friction by only asking for an email address from new users, which is followed by an onboarding process that's equally effortless.
However, if your product is running on a freemium model then paid users are your priority and making it too easy for users to sign up generates a larger volume of low-quality leads that are less likely to convert into paying customers.
So don't be afraid to ask for the data you need to nurture leads. Focus on increasing incentive to make your conversion goals attractive enough to justify the data exchange. You'll find prospects who are willing to put that extra bit of work into filling out your forms are more likely to take further action in the future – especially when you can use that data to deliver messages that resonate with them.
Don't obsess about form length, either. As we explain in our article discussing how form length affects conversion rates, longer forms can actually increase conversion rates, especially when it comes to handing over money.
Slack takes the right approach by making it as easy as possible for new users to sign up because user numbers are its priority and no money changes hands.
However, SaaS companies selling paid products have more room to work with so optimise your lead generation strategies to strike the right balance between capturing enough data and capturing enough quality conversions.
#11: Persona / account content
In the previous strategy, we talked about targeting leads with relevant messages across the funnel and this starts with creating content for each audience type.
You should have specific buyer personas and customer profiles, including target accounts if you're engaged in account-based marketing. Each customer type has unique interests and you want to address these by delivering content that positions your product as a solution to their problems.
For example, if you're selling a B2B software product, you're probably targeting different business sizes, various industries and possibly companies that deliver certain services or have specific needs.
A small IT consultancy firm has very different needs from a software product compared to an enterprise data management company so you can't target them with the same messaging.
Here at Venture Harbour, we have several buyer personas that we target with relevant content – for example:
Small businesses
Enterprise businesses
SaaS companies
B2B companies
Senior marketers
Team managers
So we create content that addresses the unique needs of small businesses and we're not simply promoting our own products in this content, either. A key part of our content strategy is helping companies make informed software purchases and we have the authority to do this.
This starts with our organic content strategy where we produce content for each target audience, relevant to their unique needs.

This content increases the visibility of our brand among the audiences that matter most to us. The next step is to convert readers into leads and we can continue to deliver relevant content to them as we learn more about their needs (from data capture, as explained in the previous section) and they progress through the funnel.
We also target specific companies and the decision-makers and the companies we want to call customers. We use account-based marketing (ABM) software to identify the companies worth targeting and the individuals worth reaching out to – and you can find the best ABM platforms in this article: 10 Account-Based Marketing Tools to Improve Your ABM Performance.
With our list of prospects drawn up, we can create unique content to address their interests, the challenges they face and the ambitions they have for the future.
Consideration (middle of the funnel) lead nurturing strategies
In this section, we're looking at strategies for moving prospects from the consideration stage of the funnel into the crucial conversion stage. This is where you want to maximise incentive and turn leads into software users and we've got six strategies to discuss:
Showcasing: Show the best of your product through case studies, stats and demonstrative content.
Agitation: Highlight the problems your prospects face to reinforce your product as the solution.
Differentiation: Make your product stand out from competitors.
Automated email lists: Target prospects with content as they complete actions along the sales funnel and customer cycle.
Automatic follow-ups: Automated email responses for users who fail to complete the next conversion goal/action.
Feature updates: Ramp up the excitement about your product by teasing new features, capabilities and benefits.
By the time leads reach this stage of the funnel, they're already considering your product and there are several conversion goals to target: free trial, free plan, paid plan, etc. and we're focusing on these key conversion goals that turn leads into software users.
#12: Showcase the best of your product
Showcasing demonstrates the value of your product in ways that leads can trust. This is most effective through case studies, positive reviews and statistics that quantify the impact your product has.
For example, if you're selling productivity software, publish case studies showing the success stories of your customers, embed positive reviews from existing customers on your pages and get numerical values to show how much your product increases productivity or how many hours it frees up for every team member, on average.
ConvertKit does an excellent job of publishing customer success stories, which it calls "creator stories".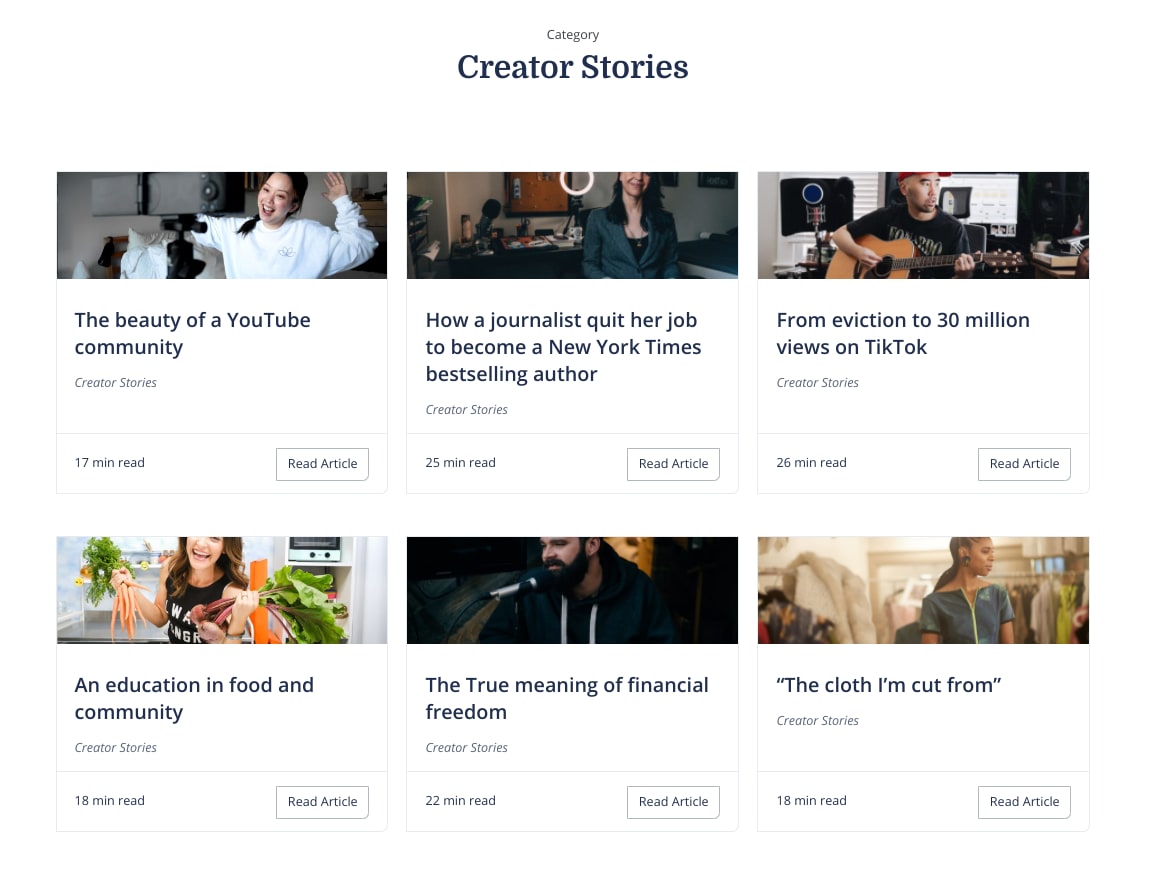 The platform is designed for entrepreneurs and freelancers to launch an online business and the emphasis is very much on creatives. The case studies strike the perfect tone for creatives in the modern age of social media and demonstrate how the platform helps them build a stronger online profile and monetise it more effectively.
It puts the creatives at the center of each story, which is precisely the position its leads want to be in.
Slack does a great job of demonstrating the value of its product, too, taking a very numerical approach to showcasing the impact of its software. The company wants professionals to ditch email for a more effective communication tool and it backs the approach with convincing numbers.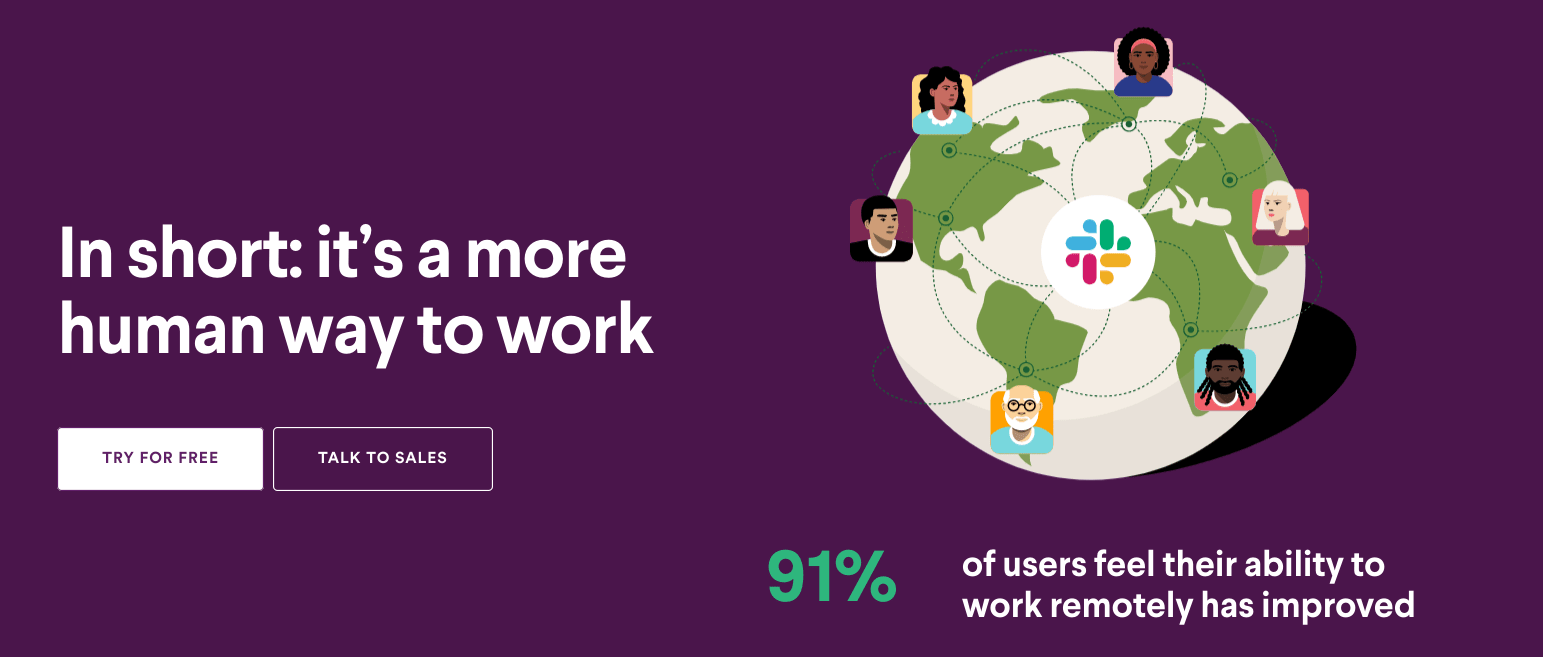 The homepage is filled with stats telling visitors that 91% of users feel more capable of working remotely with Slack, 84% feel more connected to their teams, 75% say they depend on the platform to get work done and plenty more compelling reasons to sign up – all from feedback provided by existing Slack users.
In both cases, the key to showcasing is to put your existing customers at the center of your message. Tell prospects what your product is doing for your current user base and they'll instinctively expect similar things for themselves.
#13: Agitate prospects by emphasising the problems they face
One of the most effective ways to incentivise action in people already considering your product is to agitate them by emphasising the problems they face.
For example, Unbounce releases several studies looking at some of the most common issues related to landing pages, page performance, and the impacts upon businesses.
The two most notable reports are its Conversion Benchmark Report, which analyses the average landing page conversion rates across industries, and its Page Speed Report, which assesses the impact of loading times on conversions.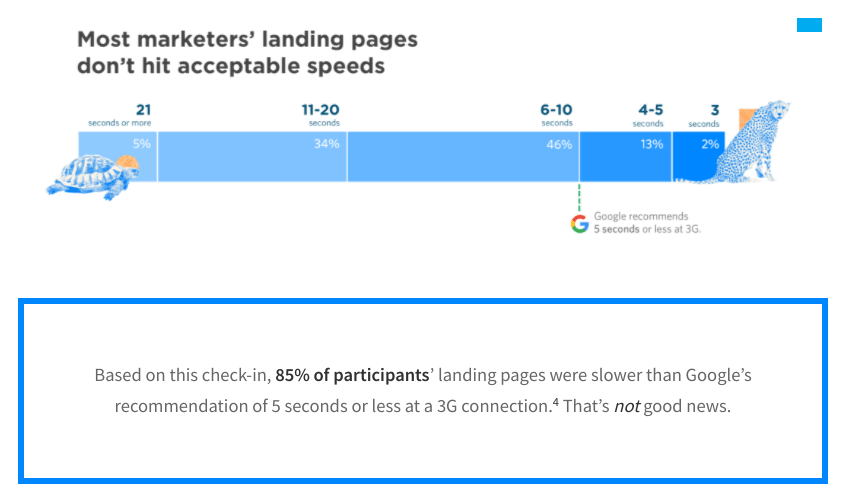 With these reports, Unbounce doesn't need to push any sales pitches for its product. It simply highlights the biggest problem companies face with their landing pages: conversion rates. This emphasis agitates leads with an existing interest in landing page performance and creates a stronger incentive to solve the issues outlined in the reports.
A quality landing page builder is the fastest way to solve these issues and Unbounce doesn't even need to tell prospects at this point – they already know from the awareness stage. Instead, it simply antagonises them by twisting the knife a little to increase anxiety, which encourages leads to take action.
Earlier, we looked at Crazy Egg implementing a free tool into its homepage and the company has a history of using effective CTA copy to ramp up incentive from the very first page visit.
Below, you can see an older version of the same hero section on its homepage and the message agitates visitors by leading with the problem at hand: their own visitors leaving without taking action.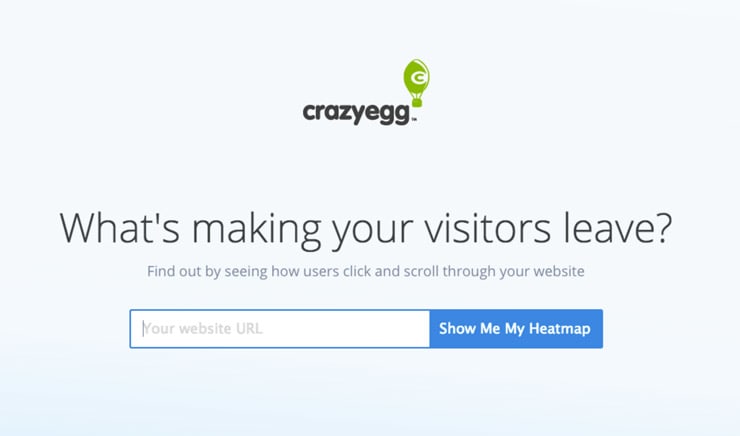 Every website owner faces the reality of most visitors leaving their website without doing anything of value. It's a harsh reality that hurts and the hope of improving conversion rates is one of the most compelling drivers for any commercial website.
Crazy Egg goes straight for the pain point and antagonises the issue further by framing it as a question, which implies visitors don't know the answer, desperately want the answer and they're only going to find it by using the Heatmap tool.
#14: Differentiation
Differentiation makes your product stand out from the competition and this is crucial when prospects are weighing you up against alternative options. This is where you need to know your strengths, key selling points and what makes you the best software choice for your target audiences over your rivals.
Earlier, we talked about comparison reviews and this is a key strategy for SaaS companies looking to differentiate, especially if you're operating in a competitive space.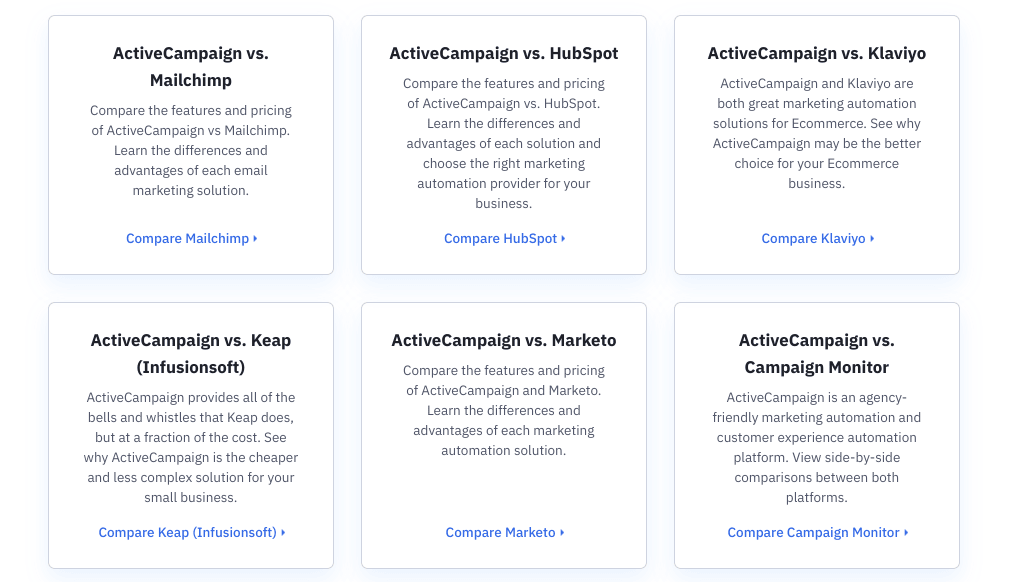 You can also differentiate through innovation and breaking from the norm. We've mentioned Slack a couple of times already in this article and the company is also a great example of differentiating through innovation by providing a modern alternative to traditional email communications within teams.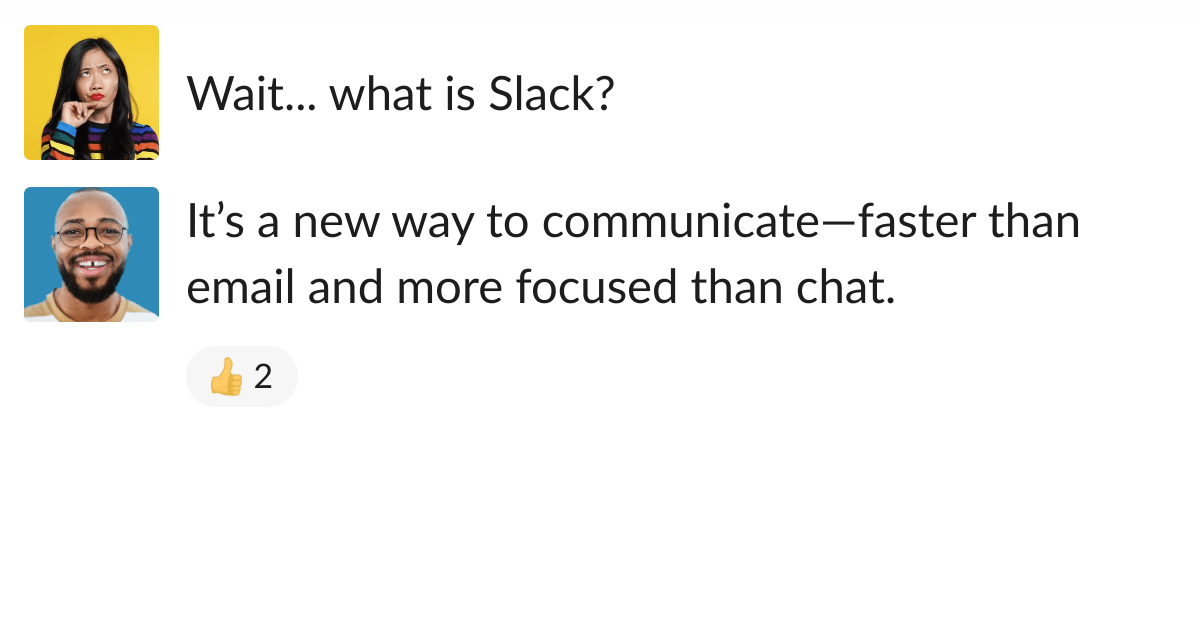 you can see this throughout Slack's marketing material and the company's biggest hurdle was convincing people to replace one technology with another one, rather than standing up to rival companies.

The future could be a different story for Slack, now that it faces competition from major names like Microsoft – not to mention the fact it was bought out by Salesforce for a cool $27.7bn towards the end of 2020.
It'll be interesting to see how Slack's marketing changes over the coming years now that there's more pressure to generate profit and retain its place as the go-to messaging app for teams.
#15: Automated email lists
We touched on this when discussing dynamic email automation in our cross-funnel strategies. Automated email lists place prospects on segmented lists as they complete actions and automatically move them on to the next list as they progress further along the funnel.
This is most important during the consideration stage and you're typically relying on website tracking to place users on these lists – until you can get them to create an account, at least.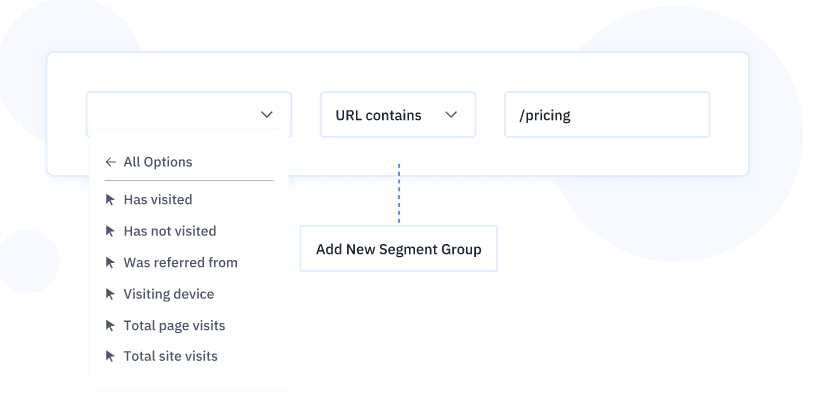 Let's say you capture a lead through or of your free online tools and they're automatically added to an email list for campaigns to increase awareness and incentive for your paid products.
When leads on this list visit your pricing page for the first time, they're demonstrating increased intent and a strong sign of consideration so you probably want to move them to another list.
Obviously, users who sign up on the first visit to your pricing page are automatically moved to a list for free trials or paid users but those who don't receive email campaigns designed to increase incentive even further and bring them back to your pricing page once again.
Prospects who click through to your pricing page through these campaigns either buy into your software and move to the relevant list or they fail to convert once again. At this point, you need a change of tactic because the same campaign messages probably aren't going to work so you want to move them to yet another list.
This time, you might target them with money-off promotions – such as offering the first month for free – or ramp up your efforts to agitate their problems.
#16: Automatic follow-ups for uncompleted goals
With email automation, we spend a lot of time talking about actions and goal completions. These are the crucial trigger events that allow you to move prospects across marketing lists and deliver content as they progress along your funnel.
However, it's just as important to respond accordingly when prospects fail to complete the intended goal.
We explored one instance of this in the previous section where prospects who fail to sign up for a software product are moved onto new marketing lists to increase incentive further and give them more reason to convert at the next attempt.
However, with event tracking technology you can respond to all kinds of incomplete events, such as users who start watching a video but exit before completion or others who start filling out your form but quit before converting.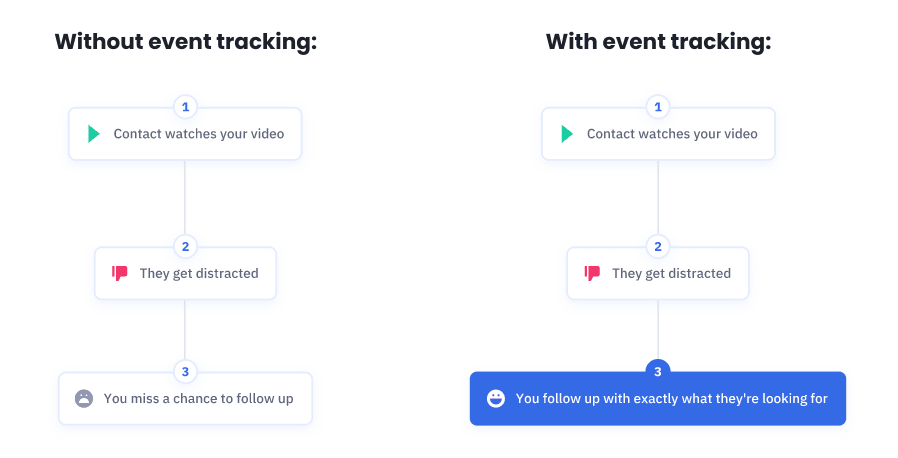 These are important distinctions because you want to send a different message to people who show enough interest to start the conversion process but fail to complete it for whatever reason.
When someone shows the intent to start an important action, you need to respond to their initial interest, give them another chance to complete the action they intended to and try to find out what prevented them from doing so at the first attempt.
#17: Reignite excitement with feature updates
You'll always find some leads flirt with the idea of buying into your product but never quite seem to take action. You may also find from your feedback collection strategies that your product lacks certain features other platforms provide or other products represent greater value for money.
When you need to increase excitement about your products, feature updates are a great way to show prospects that new things are always just around the corner – especially when these upcoming features make your product more appealing, more competitive or better value.
ConvertKit has a product roadmap on its website for anyone to see what the company has planned for the near future. This tells prospects that it's constantly working to improve its product and deliver better value for its customers and you can also use a roadmap to differentiate your product.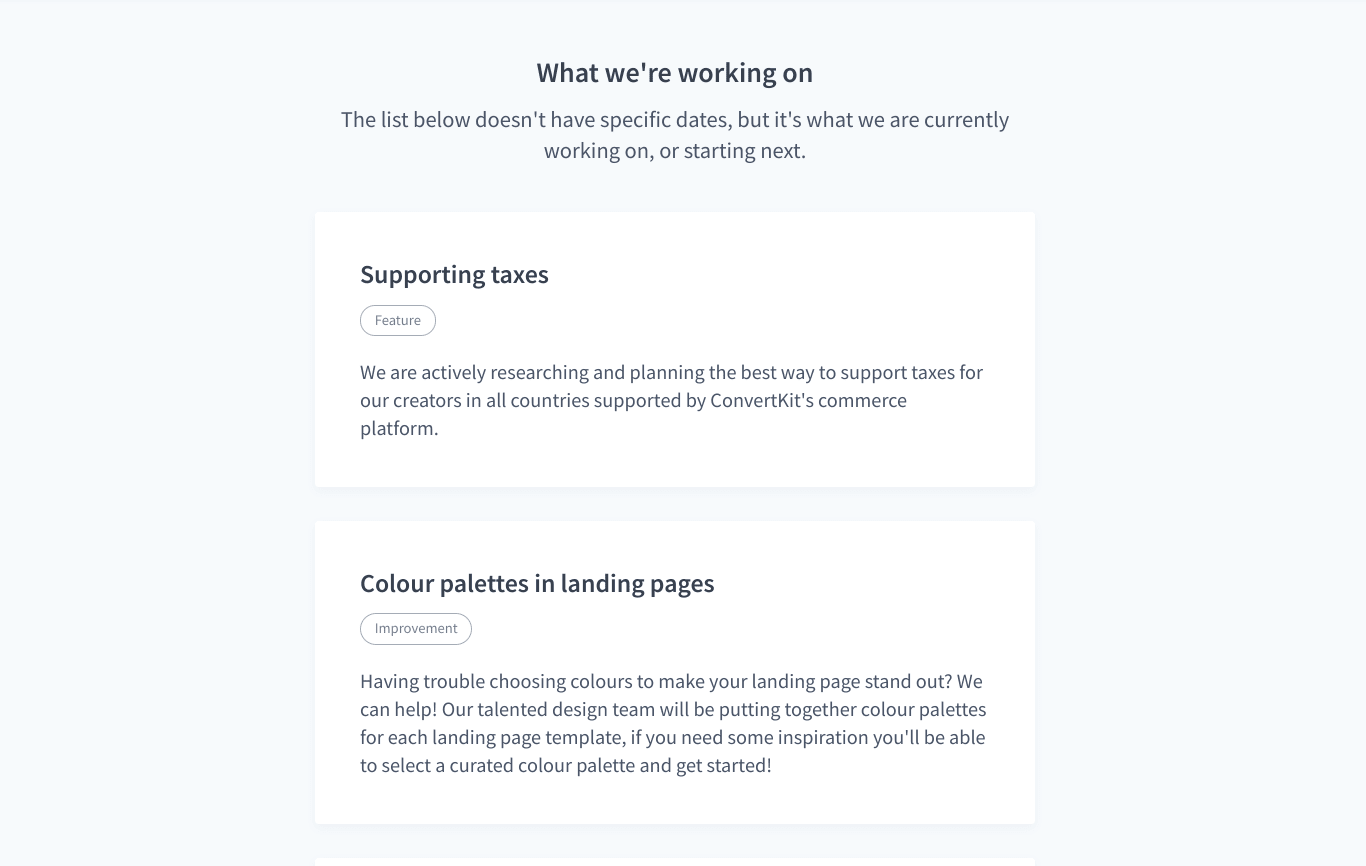 Conversely, you can also use a roadmap to bridge the gap between your product and your competitors by rolling out similar features that make them more appealing to some of your target prospects.
Whether you publish a roadmap on your website or not, email campaigns are the perfect place to inform leads about upcoming features and product updates. These are great upselling campaigns for existing users if you're promoting features that'll only be available on higher plans and you can also use them to increase incentive among leads who haven't bought into your product yet.
Conversion (bottom of the funnel) lead nurturing strategies
In this section, we've got a set of lead nurturing strategies for guiding prospects through the conversion process and towards the next one (renewal, upgrade, etc.).
Once again, we've got six strategies to discuss:
Onboarding: Help users get started with your software to prevent conversions slipping away.
Website feedback: Collect feedback from website visitors to improve conversion rates.
Guides & tutorials: Help users get the best from your product with guides and tutorials.
Free trial nurturing: Increase incentive among free trial users to upgrade to paid plans/products.
Free trial expiry campaigns: Follow-up with free users who fail to upgrade at the end of their trial.
Free-to-paid upselling: Convert free users into paying customers.
Given the complexity of SaaS conversions, you need strategies in place to maximise the percentage of prospects who successfully complete the conversion process, especially when it comes to onboarding.
From there, you have to constantly work at priming your customers for the next conversion goal to turn free users into paying customers, keep them signed up to your platform and renewing or upgrading at the key moments.
#18: Onboarding
With SaaS products, there's always an onboarding process of some kind and the more complex this is, the more risk there tends to be of users slipping away before they're fully set up and using your software.
However, more complex onboarding processes can increase the incentive to use your software by exploiting several psychological factors, including the sunk cost fallacy and the bonus effect.
Again, it all depends on what your objectives are and the complexity of the product itself.
If your goal is to maximise user numbers (like Slack), then you want the onboarding process to be as frictionless as possible – and this is the case for most freemium products.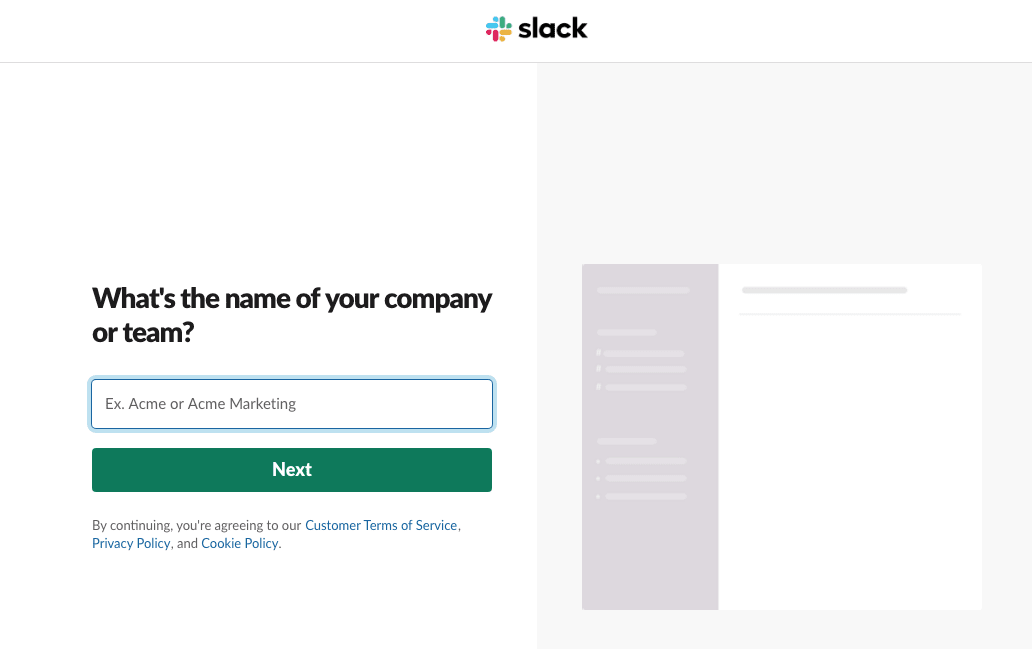 For paid and complex platforms (that naturally require a lot of setting up), you have to strike the right balance between simplicity and motivation.
You want an onboarding process that maximises the number of conversions that successfully complete the onboarding process while giving them enough tools (features, settings, etc.) to start using your software with enthusiasm – and to start getting results as quickly as possible.
Here's a handy infographic from CleverTap showing a typical onboarding process for a SaaS product:
As you can see, the primary goal is to get new users set up and engaged with your product but the onboarding process is always there to help inactive users get back on track.
If they fail to complete the initial setup, you want to reach out to them with a helping hand to try and fix any issues they're experiencing or determine why they haven't started using the software they signed up for.
When I sign up to Dropbox, I'm (almost) instantly sent an onboarding email telling me that my account is almost ready and offering to help me complete my setup with the click of a button.
For more complex setups, you can use the in-app interactions we discussed earlier to guide users through the setup process inside your software. And, by tracking session activity, you can update their onboarding and usage status to trigger automatic email campaigns if they run into any problems and in-app notifications to help them get to grips with your product.
#19: Collect website feedback
At the start of this article, we discussed the importance of having email and website feedback collection tools – and, now, we're going to use them. By collecting feedback on your website, as visitors engage with your site, you can gain valuable insights into why they fail to complete conversions
For example, when a user clicks on the CTA button on your pricing page and they're taken to a sign-up page for creating their account. If users show signs of quitting the session before completing the sign-up process, you can trigger a feedback form to find out why they're not following through with the conversion.
We talked about Hotjar earlier, which you can use to implement feedback forms on pages by specifying the URL.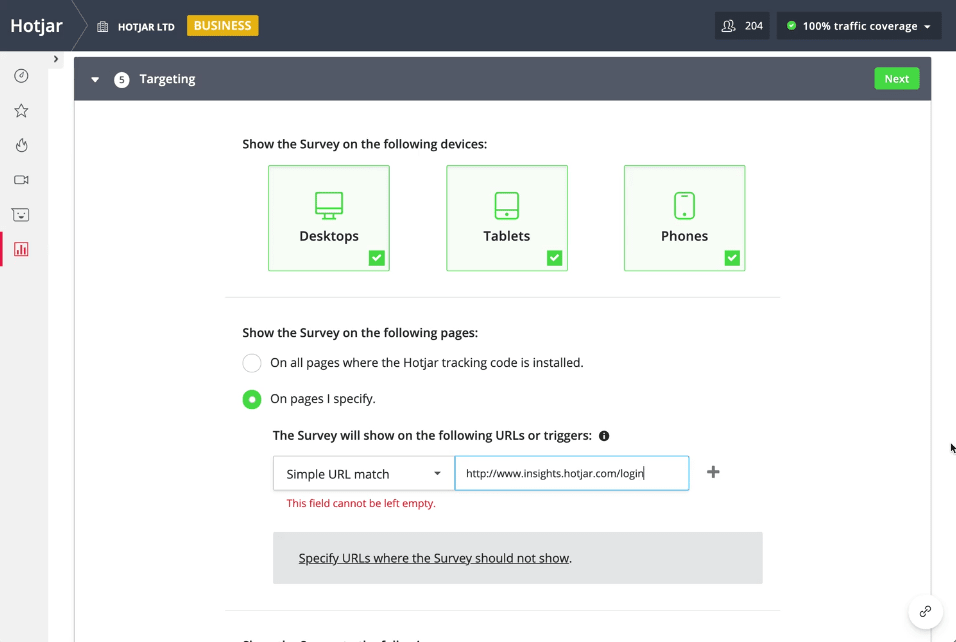 If you've already got leads signed up to one of your email lists, you can also send follow-up emails to get feedback. Using these insights, you can identify any UX issues or conversion barriers that are getting in the way and you can also use qualitative feedback to gauge the level of incentive during the conversion process.
For example, if you get a lot of feedback from users saying they're not ready to buy your product – even though they've clicked the sign-up button on your pricing page – you can rework your pricing to increase incentive before the click.
#20: Guides & tutorials
Guides and tutorials make great lead generation content but they also play a key role in nurturing SaaS users through the conversion, onboarding and early use of a software product.
Your goal is to help new users get to grips with your software, get the best out of using it and see as much early value as possible to keep them using it for the duration.
What you don't want is new users signing up to your product, playing around with a few settings and never really making full use of it.
Instead, you want your software to become an integral part of your customers' lives and contribute ongoing value so you can maximise renewals, generate recurring revenue and upsell users to more expensive plans.
The best SaaS companies provide expensive support material, accessible to everyone on their website, as a learning resource. For example, the ActiveCampaign University is a place for the company's customers to improve their skills with the platform.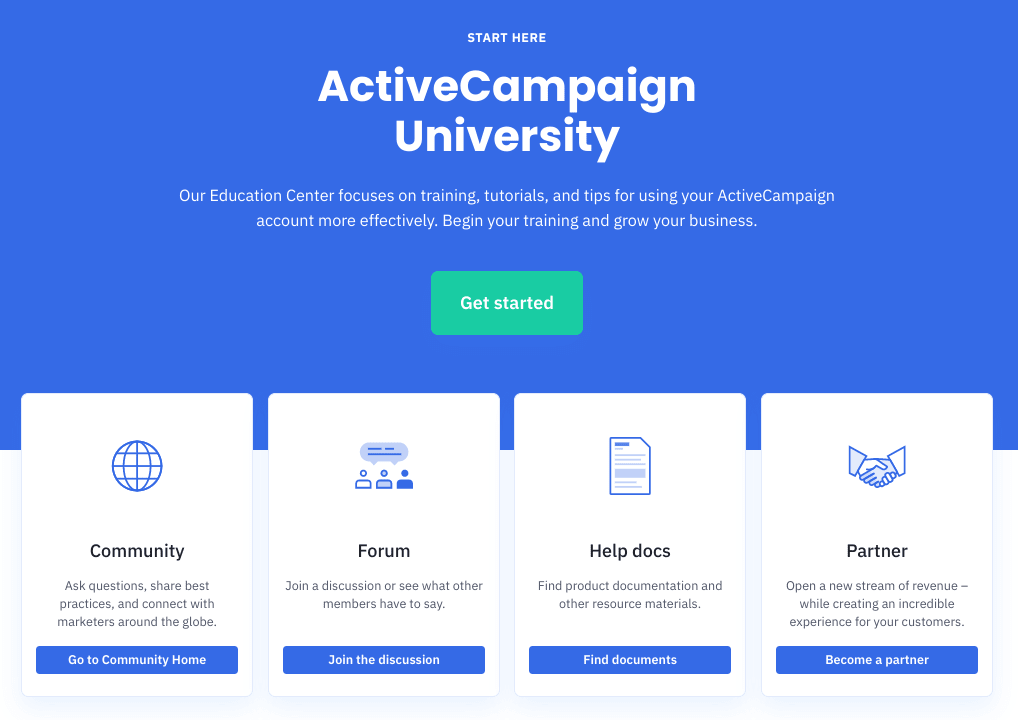 By teaching users about the capabilities of the software, ActiveCampaign demonstrates the full value of its platform and provides the tools its users need to get the best out of its system.
This is especially important for complex and feature-rich products.
#21: Free trial nurturing
Free trials are one of the most common lead generation strategies used by SaaS companies. Of course, you need users to stay signed up after their trial period ends so you shouldn't just leave free trial users to their own devices.
You want to nurture them through the trial period by, once again, helping them get the best out of your product and maximising incentive for them to keep using it, even once they have to start paying for it.
We've already discussed how guides and tutorial content play an important role in this but you can also use in-app interactions to guide free trial users beyond the onboarding process with interactive guides and feature walkthroughs (more on this later).
Throughout the free trial period, run email campaigns featuring content to help users get greater value from your product, alongside campaigns that showcase the value they're already getting – and how much more they'll get in the future if they stay signed up.
Notify users ahead of their free trial period ending and reinforce the key benefits of staying signed up or upgrading to a paid plan, as Intercom does below: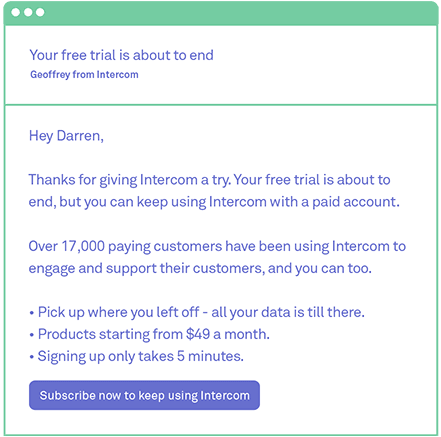 As the trial period comes to an end, do what you can to increase incentive by showing the success of your existing customers, showcasing the key benefits and specifying these benefits in numerical values where possible – how much money are they going to save, how much time are they going to save, how much will productivity increase by, etc?
You could even tempt free trial users with a temporary discount to try and get them over the initial hump – for example, giving them the first month free if they sign up for 12.
This is also a good time to prompt free trial users for feedback about your product, including any improvements that would convince them to start paying.
#22: Free trial expiry campaigns
No matter how effective your free trial nurturing strategy is, some users are simply going to cancel before the first payment or not sign up to the paid plan when the trial ends.
Again, you don't just want to kiss goodbye to these users and move on. You should have free trial expiry campaigns for chasing up prospects who never made the final commitment.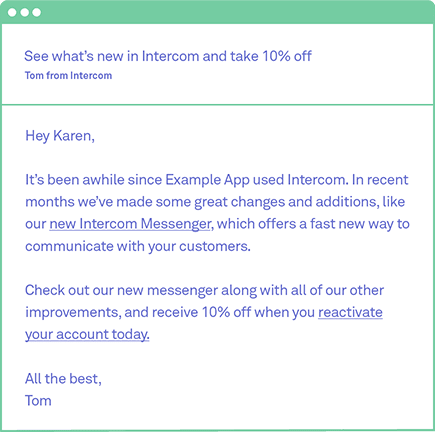 For a basic follow-up sequence, you can use this ActiveCampaign recipe to send re-engagement emails after a set period, such as two days.
The trick is finding a new way to get these prospects excited about your product. Again, feedback can be invaluable here and you can tempt free trial users by keeping them informed about updates, improvements and new features.
Every improvement you make to your software is another opportunity to reach out to previous users.
#23: Free-to-paid upselling
If you're selling a freemium product or running a free plan to maximise user numbers, converting free users into paying customers is one of your biggest challenges as a SaaS company.
Unlike a free trial, you can't simply rely on engagement and nurturing campaigns to upsell free users – although these are still important.
First, though, you have to structure your product and plans in a way that gives free users enough value to get excited about your product while holding back enough to give them reason to upgrade.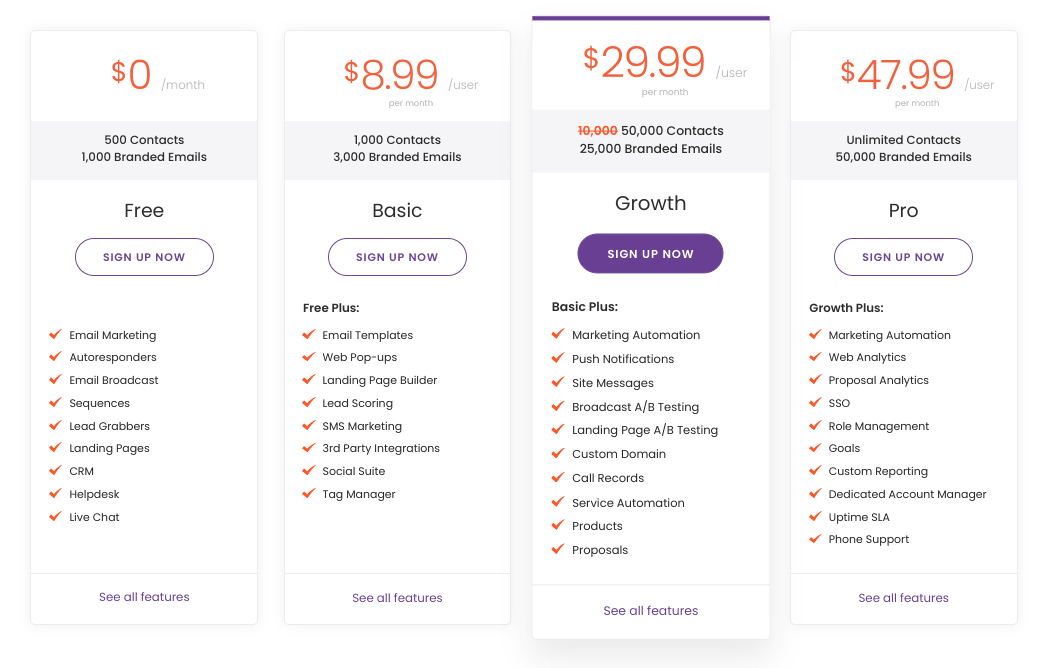 Here are some of the in-product strategies and tricks top SaaS companies use to nurture free users into paid subscribers:
Feature restrictions: Reserve features for paid plans to encourage upgrades.
Account restrictions: Limit the number of user accounts on the free plan (usually to one user).
Usage limits: Limit the usage of key features or resources (e.g.: storage space) to create an upgrade path.
Scale features: Offer basic versions of a feature to free users and the full, advanced version to paid users (e.g.: basic landing page builder).
Free value: Provide enough features and usage for free users to get value from your product – don't limit access to the point users can't see the benefit of upgrading.
Achievement signals: Show users they're achieving things on your free plan by using progress bars, checklists, badges and notifications.
Tease features: Show users that certain features are restricted to paid plans.
Finding the right balance between restricting features, usage and other limitations is tricky and you'll have to test your product plans to find the right compromise for your target customers.
At the start of this article, we discussed the importance of a subscription management platform that makes it easy to create and test software plans – and you can see why this is such a key tool for SaaS companies.
You can drive upgrade incentive even further by implementing some strategic friction to your software. For example, you can allow free users to view and click on premium features to notify them that they'll need to upgrade to use them.
This also helps users understand what they'll get by upgrading and you can do the same for usage limitation, as shown in the Slackbot example below.
Overdoing the upgrade notifications can create resentment but you have to balance this by showcasing the value free users are already getting from your product.
Grammarly does this expertly by showing free users how many issues they've resolved with its app and how many advanced issues they could still fix by upgrading to a paid plan.
It shows users everything in numbers, including scores for the work they're doing to show the app is playing a key role in their workflow while also showing there's plenty of room left for improvement.
Outside your product, you'll also need to run free-to-paid upselling email campaigns. You can deliver the same messages through in-app notifications, too, just make sure you're not bombarding users with calls to upgrade every time they open the app or try to do something.
Here are some campaign ideas to get you started:
Temporary upgrades: Offer users a free, temporary upgrade to get access to paid features for a short time.
Unlock features: Temporarily unlock a premium feature users have tried to access multiple times.
Upgrade discounts: Offer a money-off discount for users who upgrade to a paid plan.
Upgrade bonuses: Offer something not usually available on the first upgrade as an incentive – e.g.: 50GB of storage space instead of 25GB.
Value showcasing: Send weekly or monthly reports showing the value users are getting from your free plan and how much more they could get by upgrading.
We've looked at plenty of other upselling campaign ideas in this article already so you should have enough to get started with by now.
Just keep in mind that your goal is to give users enough value on the free version of your product to establish it as an important part of their toolkit. Then, you ramp up the motivation to upgrade by demonstrating the additional value of your paid plans and reach out to users reluctant to upgrade with little incentives.
Engagement lead nurturing campaigns
In this next section, we're looking at the crucial engagement stage of the customer cycle. Here, your priority is to keep customers using your product and seeing the value in paying for it.
Once again, we've got six strategies to discuss:
In-app touchpoints: Keep users engaged with guides, walkthroughs and helpful interactions.
Session data: Use session data to calculate engagement scores and send relevant emails/notifications.
Feature & update notices: Keep users excited about your product with regular feature updates, previews and roadmaps.
Beta programmes: Get users more involved with the development of your product.
Churn prevention: Identify churn risks and solve them to keep users engaged.
Re-engagement: Bring users back before they lose too much interest and disappear for good.
Essentially, your aim is to stop users losing interest in your software over time. This can be tricky but the best approach is always to ensure they're achieving goals with your product – and aware that they're doing so.
#24: In-app touchpoints
We've mentioned in-app interactions a few times throughout this article as a means of capturing feedback, delivering notifications and offering assistance to users.
This is a great strategy for maximising engagement, allowing you to help users get the best from your software by giving them in-app tours, feature walkthroughs, tutorials and guides. The more you help your customers achieve, the greater value they're going to get from your product and the more reason they have to renew and upgrade as their ambitions grow.
As mentioned earlier, this should start from the onboarding process to ensure new users get set up properly and start using your software after the sign-up process.
This is also important for complex features or interactive tools, such as a drag-and-drop interface with plenty of controls for users to get to grips with.
First-time users can benefit from walkthroughs to understand the basic functions of a tool and start using it without too much of a learning curve. Once again, it's all about getting that initial engagement and then managing it throughout the customer cycle.
As we'll discuss in a moment, new features and updates are a great way to keep users engaged and excited about your product. The downside is they can bring new learning curves and complexity to a product your customers have already learned.
Obviously, new features require some learning but updates may change navigational elements, functions and other operational factors of your software – or specific parts of it.
This is another scenario where in-app touchpoints can help users get used to new changes to minimise any negative impact on engagement.
In the next section, we talk about using session data to deliver personalised messages to individual users and you can use this to enhance your in-app touchpoints even further.
For example, you might have a group of customers who aren't using a certain feature as much as you expect or another group that aren't achieving goals as often as you need to hit your renewals targets.
You can target these groups with in-app notifications to tease underused features and tips to help them achieve their goals more often.
#25: Session data
The biggest advantage you have as a SaaS company is access to user session data, which you can use to optimise your product and improve the customer experience.
You can use this data to send personalised emails showcasing the achievements and value individual users are getting from your product. For example, Canva sends out congratulations emails to users as they create more designs with its app.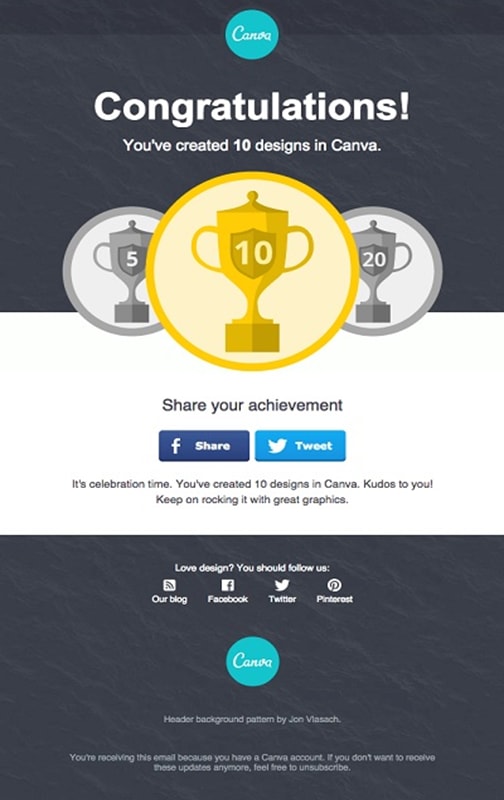 The company encourages users to share their achievements on social media, which also helps boost the brand's online presence.
Grammarly nails this type of email campaign, sending a weekly writing update to every user featuring a detailed report on how their work is benefitting from the app.
These usage figures and stats put the value of the software in hard numbers, making the value of the software undeniable. And the company incentivises further use by adding a competitive element in comparing users' performance to other Grammarly users. This encourages top-performing users to maintain their position while those lower down to up their game.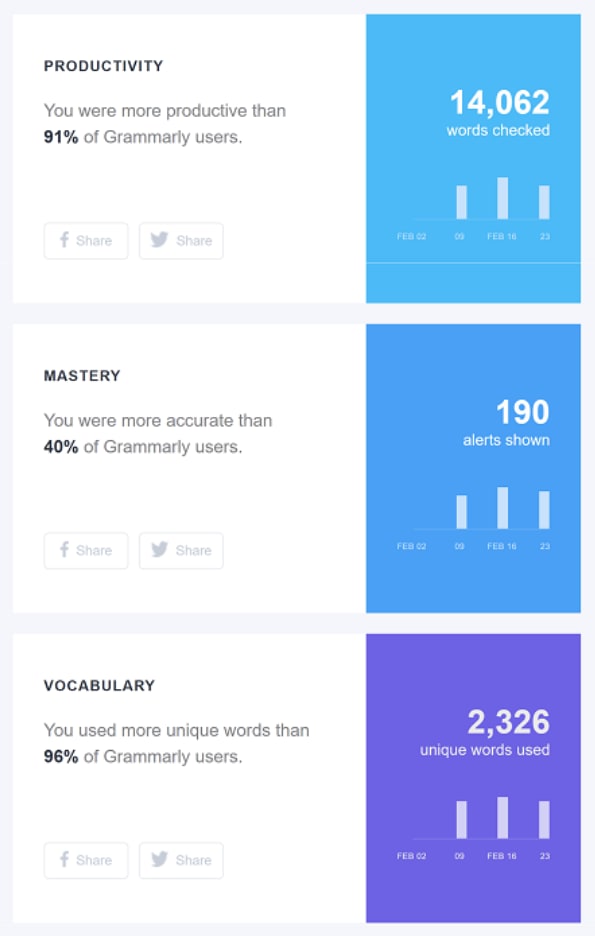 You should also use session data to score the engagement of users, based on how often they use your software, how much time they spend in it and how many actions they complete.
This allows you to set an engagement benchmark, based on the likelihood of users renewing. You can use this benchmark as a minimum target to aim for, as well as a point of optimisation if you want to increase renewals by improving engagement rates – two important goals for any SaaS company.
#26: Feature & update notices
The SaaS game is ultra-competitive and even the biggest innovators like Slack and Dropbox face intense competition from emerging rivals and imitators.
New features and updates are crucial for staying competitive and keeping users excited about your products.
You want to work up the excitement with roadmaps, feature announcements and teasers to show your customers that something exciting is always around the corner.
Here's an example from Todoist, which sends out personalised product and feature updates to users, addressing them by name and (in this case) highlighting different benefits for iOS and Android users.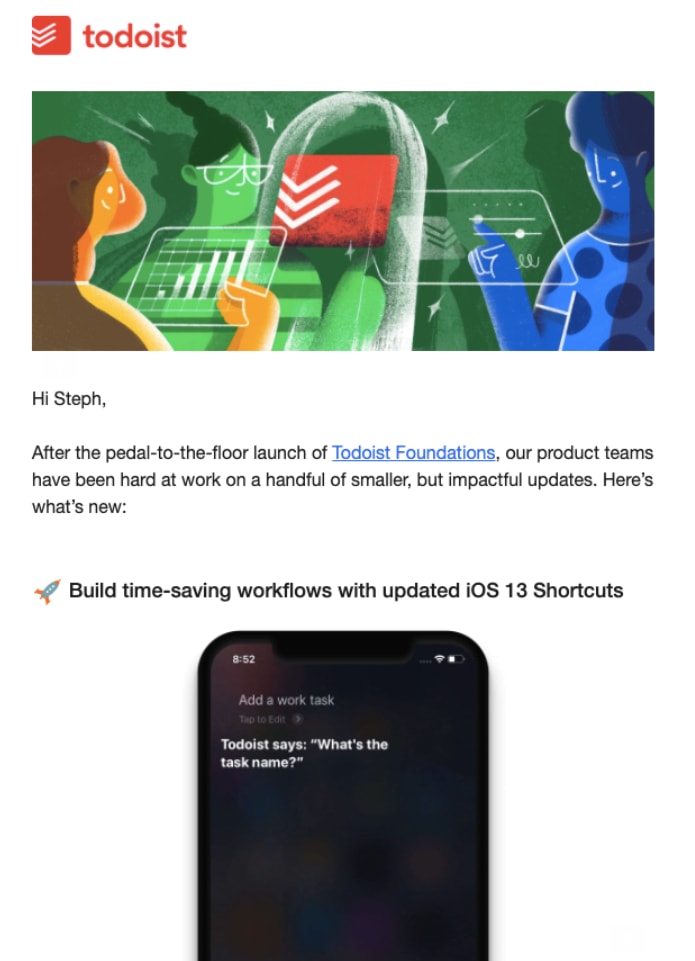 Ideally, you should integrate this with your feedback strategy to show users that you're truly listening to their concerns and addressing them.
For example, in the email below, Avocode addresses speed concerns raised by users in the past and reaches out to former users to inform them that the product has improved.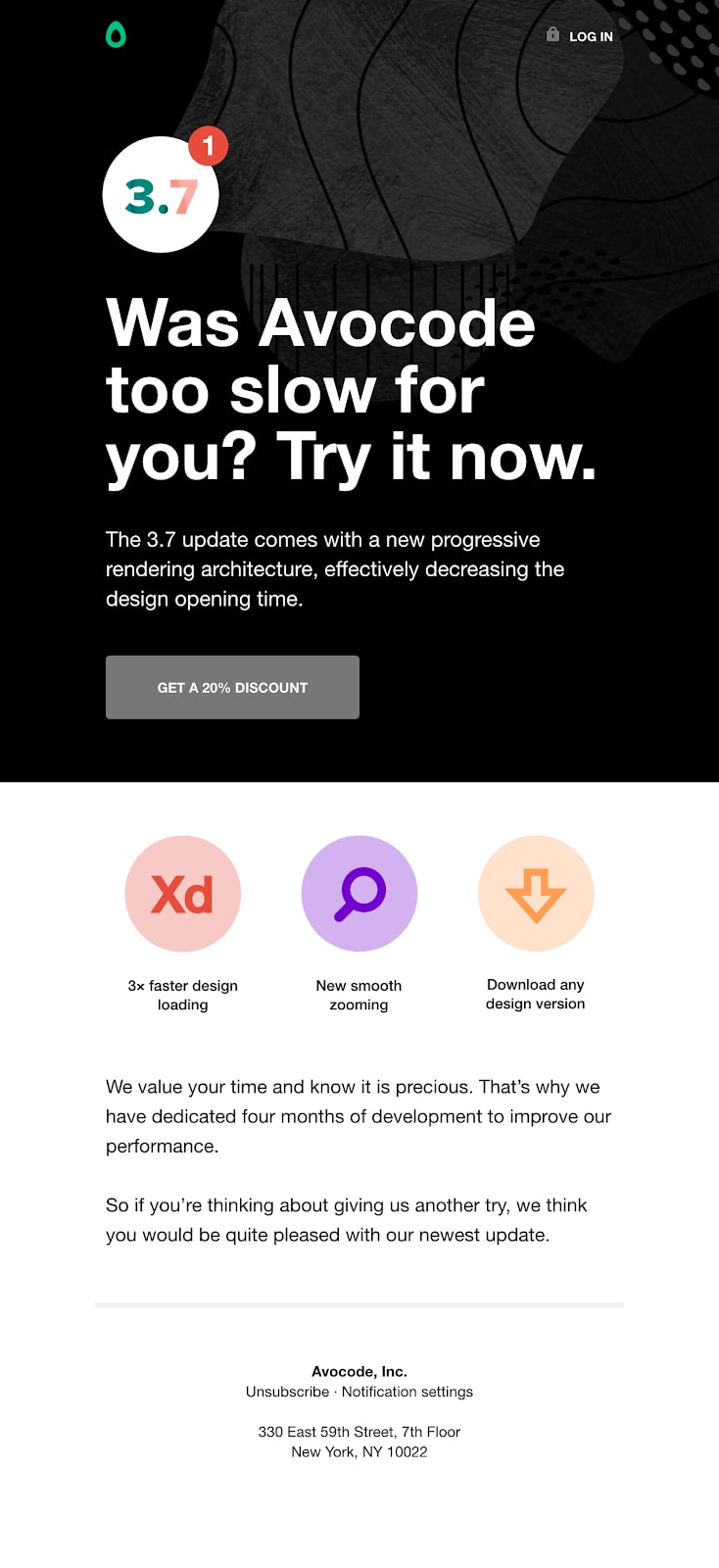 Also, make sure you keep users on lower plans notified about changes coming to higher-tier plans. You can personalise emails to prioritise new features and updates on their current plan but always keep them in the loop about new features and improvements coming to more expensive plans.
One feature could be all it takes for a bunch of users to upgrade.
#27: Run a beta programme
Beta programmes are great for getting feedback from users before launching new features and updates live but you can also use them to ramp up engagement.
The psychology of beta programmes is intriguing as they spark several psychological triggers that influence users' perception of their relationship with the product.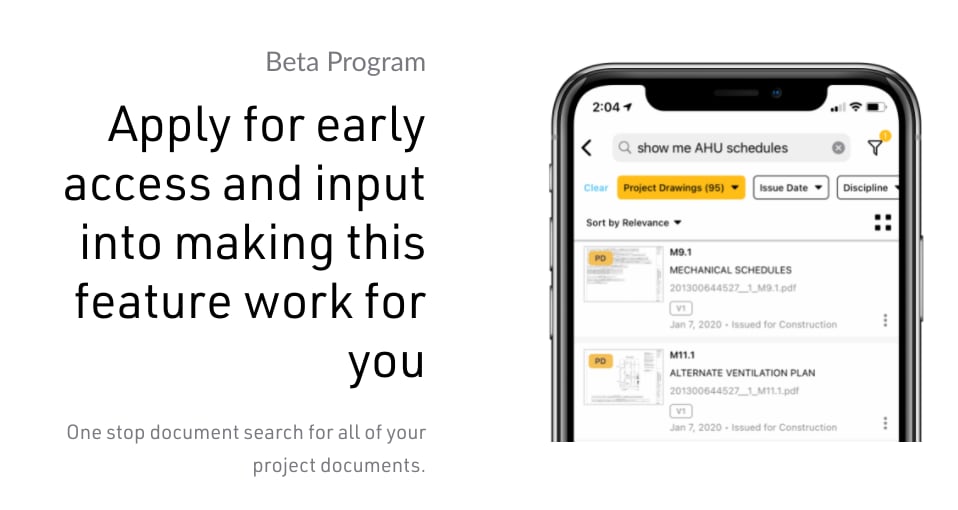 First of all, there's the perception of exclusivity that satisfies the user's ego in the same as being a VIP member of something. Essentially, they gain a false sense of superiority over other users by being part of an exclusive group that's not open to everyone.
Then, there's the sense of inclusivity they gain by being involved in the development and improvement of your product. This isn't a false perception, though, because they genuinely are involved in the development of your software and the reward of seeing their feedback being implemented into new features is real.
#28: Churn prevention
Churn prevention is one of the most important strategies for a SaaS company. You can't grow if every new customer is matched by another one leaving and minimising churn is crucial for maximising growth.
Earlier, we talked about using session data to score the engagement level of users and this a key factor in churn. Engaged users are unlikely to cancel subscriptions or pass on the chance to renew, which is why we've put so much emphasis on engagement in this article.
When it comes to recurring revenue, engagement is the standout KPI.
Make sure you have a system for measuring engagement and calculating the risk of churn.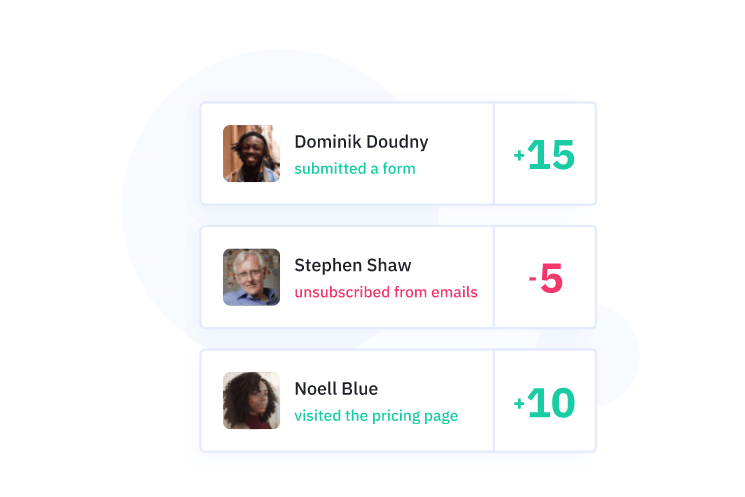 ActiveCampaign has a lead scoring system that you can use for this after the conversion stage and you can automate follow-up actions when customers drop below a certain score. For example, when a customer's score drops below 50, you can automatically send notifications to your support team, prompting them to reach out and ask what the problem is.
Numerous studies have shown us that the top reason for churn is customers feeling like the company they buy from doesn't care about them.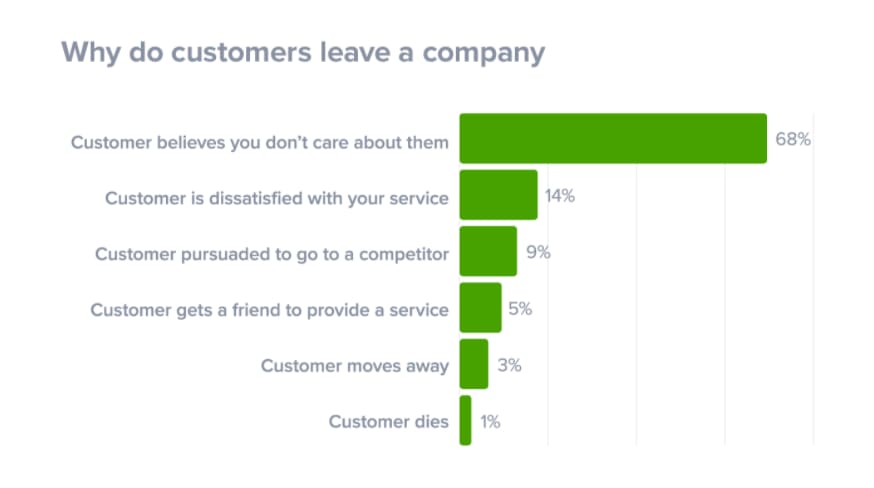 By responding to customer concerns quickly, you can show them that you care and fix their issues before they develop into something critical.
Customer feedback plays another important role in this, too, and it's important to show that you're genuinely interested in the experience of your customer.
Reach out to check in on them and make it easy for them to raise any concerns.
Another important insight for SaaS companies is that annual contracts greatly reduce churn rates. It's pretty obvious why this is the case but it's always helpful to see some statistical evidence backing up the assumptions.
Data from ProfitWell shows that companies with a higher percentage of annual contracts tend to see much lower churn rates than companies with greater levels of monthly subscriptions.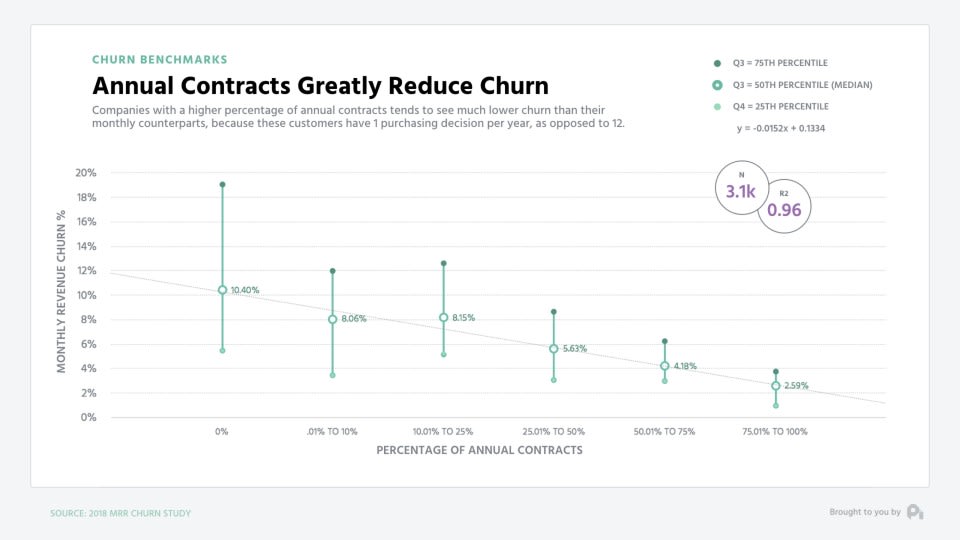 Monthly rolling contracts might help you capture more leads and capture new users but you'll probably hold on to far fewer of them by allowing them to make 12 purchase decisions every year, instead of one.
This is why SaaS companies work so hard to secure year-long subscriptions (sometimes two years), normally by offering a lower equivalent price vs 12 individual months.
#29: Re-engagement campaigns
A common issue for every SaaS company is that user engagement drops over time. It's almost inevitable unless your product really delivers constant value as an integral part of businesses' workflows or individuals' lives – and, even then, new competitors can tempt your customers away.
Hopefully, the other engagement strategies we've looked at in this section will prevent most of your users from slipping away but it's impossible to hold on to everyone.
That said, some customers will respond to messages at a later date if you reach out to them with re-engagement campaigns and incentives to get back on board.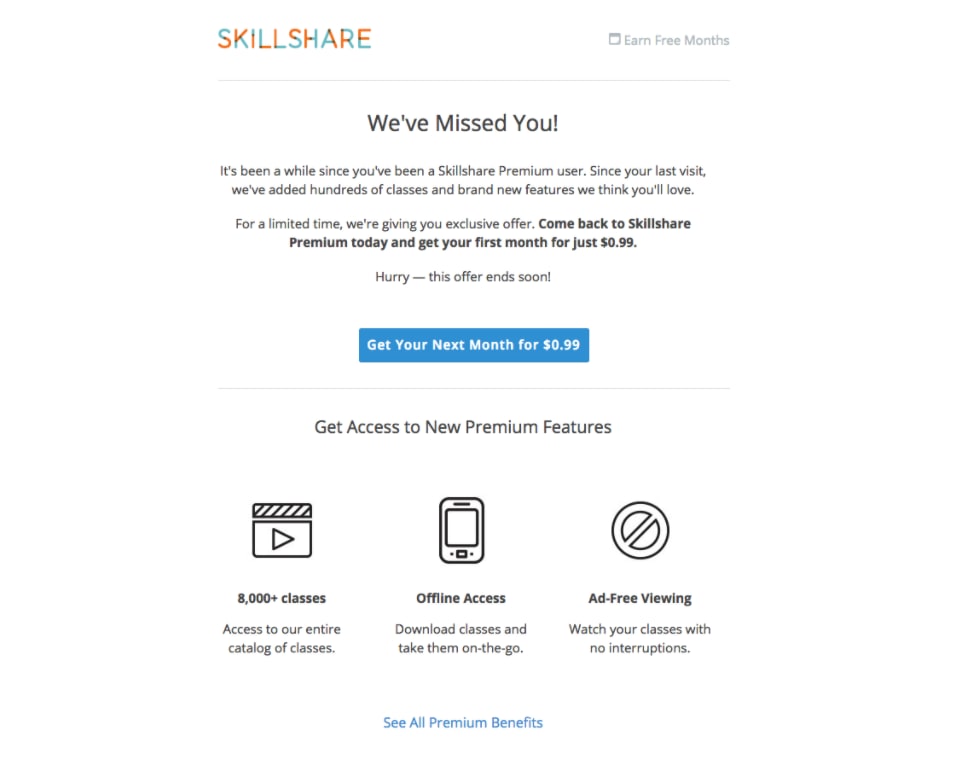 Maybe they just had other priorities for a few months or the initial impact of your software wore off and they naturally moved away. It's your job to find the reason behind these drops in engagement (through session data and feedback), which will help you send more compelling reasons to encourage them back.
Some drops in engagement happen over time but you'll also find a percentage of users lose interest quite quickly. Perhaps they try your product out and fail to see the benefits or you may find some never use it at all after signing up.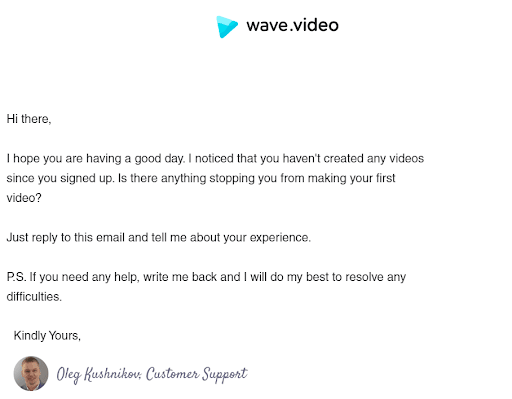 Again, you need to diagnose these issues and send relevant re-engagement campaigns. If you get a positive response from users who lose interest early on in the customer cycle, you stand a good chance of keeping them around for a while – especially if they simply failed to get the value they could have from your software.
Sometimes, they just need a gentle nudge in the right direction.
Renewal lead nurturing strategies
In our final section, we look at strategies to help you maximise renewals and keep that recurring revenue coming in.
This time, we've got seven strategies to talk about:
Customisation: Keep users locked in with a customised platform they'll struggle to replicate elsewhere.
Upselling: Encourage users to upgrade to more expensive plans.
Customer service: Solve customer problems, prove they're in good hands and build lasting relationships.
Product feedback: Show customers their opinion matters and improve your product with valuable feedback.
Value demonstration: Show customers the value they get from your product.
Dunning campaigns: Chase up failed payments to recover lost revenue and maximise renewals.
Referral marketing: Get your existing customers to bring new ones in for you.
By this point, your priority is maximising customer lifetime value by addressing any issues that could result in churn or non-renewal. We also want to talk about chasing up failed payments, a bit of referral marketing and other strategies to keep customers paying for your software.
#30: Lock users in with customisation
Plenty of SaaS companies use strategies to lock users into their software but I'm not going to promote any sneaky tactics here. I'm talking about an open, mutually beneficial strategy that makes it difficult for your customers to leave your platform and start again elsewhere – for all the right reasons.
The technique is using customisation and personalisation – all based around the session data we discussed earlier – to provide an experience that constantly improves over time.
Make it beneficial for users to create custom lists, data visualisations, resources, custom tools or building blocks that'll make it increasingly difficult for them to suddenly stop using your platform and even harder to replace it with something else and start all of that customisation all over again.
For example, we've put so many hours into building automation workflows using ActiveCampaigns automation builder that it's impossible to imagine using any other tool.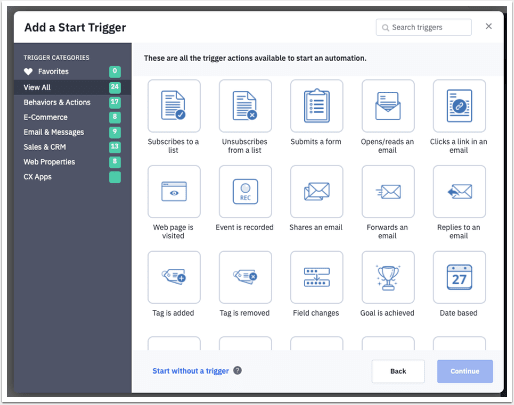 Even if we wanted to, we would have to find another automation builder that matches its capabilities and, then, we would either need to rebuild all of our workflows or export them.
Then, we'd have to find a dozen other tools to handle all of the automated actions ActiveCampaign does for us, split up our data and import all of it into each new tool – all just to replicate what we've already got with ActiveCampaign.
The workload involved in that means we would have to find a very compelling reason to change providers – something pretty transformative that would justify weeks or months worth of migration.
This isn't exclusive to B2B software platforms, either. On a more personal level, I'm completely locked into Spotify because, over the years, I've naturally compiled huge playlists by adding a few songs here and there. I don't feel like I've invested any time in doing this until I think about possibly recreating these lists in another streaming app.

Forget that. Honestly, a free (and ad-free) alternative to Spotify could hit the market tomorrow and I would probably keep paying the monthly premium free rather than sit down and try to recreate any of those lists that get me through runs, trips and chores.
#31: Upselling campaigns
At the final stage of the customer cycle, upselling campaigns aim to get users upgrading to higher plans. We've already looked at strategies for upgrading free users into paying customers and, as we discussed, product/plan structuring is crucial.
Here's a quick recap of some of the strategies we suggested earlier:
Feature restrictions: Reserve features for paid plans to encourage upgrades.
Account restrictions: Limit the number of user accounts on the free plan (usually to one user).
Usage limits: Limit the usage of key features or resources (e.g.: storage space) to create an upgrade path.
Scale features: Offer basic versions of a feature to free users and the full, advanced version to paid users (e.g.: basic landing page builder).
Free value: Provide enough features and usage for free users to get value from your product – don't limit access to the point users can't see the benefit of upgrading.
Achievement signals: Show users they're achieving things on your free plan by using progress bars, checklists, badges and notifications.
Tease features: Show users that certain features are restricted to paid plans.
The trick is to create an upgrade path that provides enough of a boost to justify each step while leaving enough room for the next upgrade to be attractive when the time comes.
This is one of the most difficult aspects of a SaaS product to design and it requires a lot of testing and fine-tuning. It's somewhat easier if your product is performative or usage-based, which allows you to demand more money for achieving bigger targets or increased usage.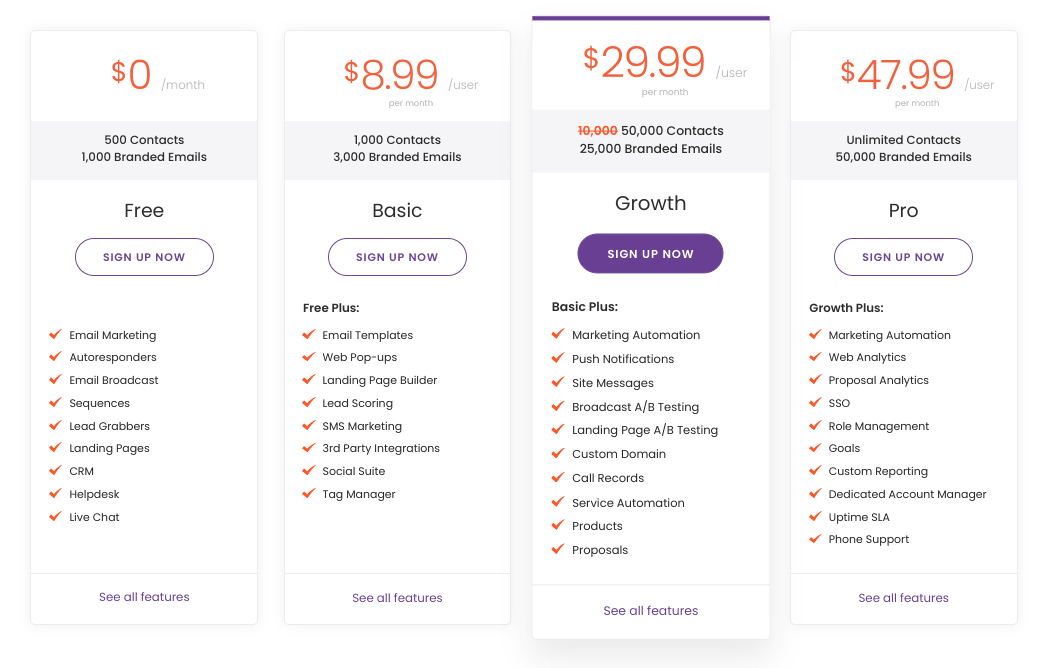 For example, the screenshot above shows the plans for EngageBay's all-in-one CRM, email marketing and automation, which happens to feature in our list of top 10 recommendations.
The purpose of EngageBay's software is to help businesses grow faster by generating more revenue. So, in theory, the more they use the software, the more their business grows and the more money they make. This allows EngageBay to create a usage-based upgrade path that constantly justifies the next step.
This is widely called the pay-as-you-grow model and you can learn more about this (and other models) in our guide to SaaS pricing models, strategies and hacks.
Dropbox uses a similar pricing model to differentiate its plans, using storage space as the key commodity.

Obviously, storage space is the whole selling point of the platform's solution so this is where the upgrade path should be crafted. When users max out their current allowance, they have little choice other than upgrading to the next plan – or finding an alternative storage option.
Earlier, we also looked at some techniques SaaS companies use to tease customers with upgrades, even if they haven't maxed out their current usage.
here's a quick recap:
Temporary upgrades: Offer users a free, temporary upgrade to get access to paid features for a short time.
Unlock features: Temporarily unlock a premium feature users have tried to access multiple times.
Upgrade discounts: Offer a money-off discount for users who upgrade to a paid plan.
Upgrade bonuses: Offer something not usually available on the first upgrade as an incentive – e.g.: 50GB of storage space instead of 25GB.
Value showcasing: Send weekly or monthly reports showing the value users are getting from your free plan and how much more they could get by upgrading.
The key to upselling for SaaS companies is understanding the true value of your product (features, usage, assets, etc.) and creating an upgrade path that keeps users achieving and hungry for more.
#32: Customer service
Customer service plays an integral role in keeping software users happy and primed for the next renewal. Technical issues are inevitable with SaaS products and the better you can resolve (where possible), the more customers you're going to hold on to for the long-term.
The good news is, SaaS customers aren't only forgiving when problems are resolved quickly but they actively appreciate having reliable help on their side.
The tricky thing about customer support for SaaS companies is that it has to be provided at every stage of the customer journey and you're effectively dealing with remote assistance for a user base that significantly outnumbers your team.
You need the right technology on your side to deliver customer support at scale without building an army of support staff.
The first step is to create enough online resources for users to avoid problems, in the first place, and overcome the most common ones without your intervention.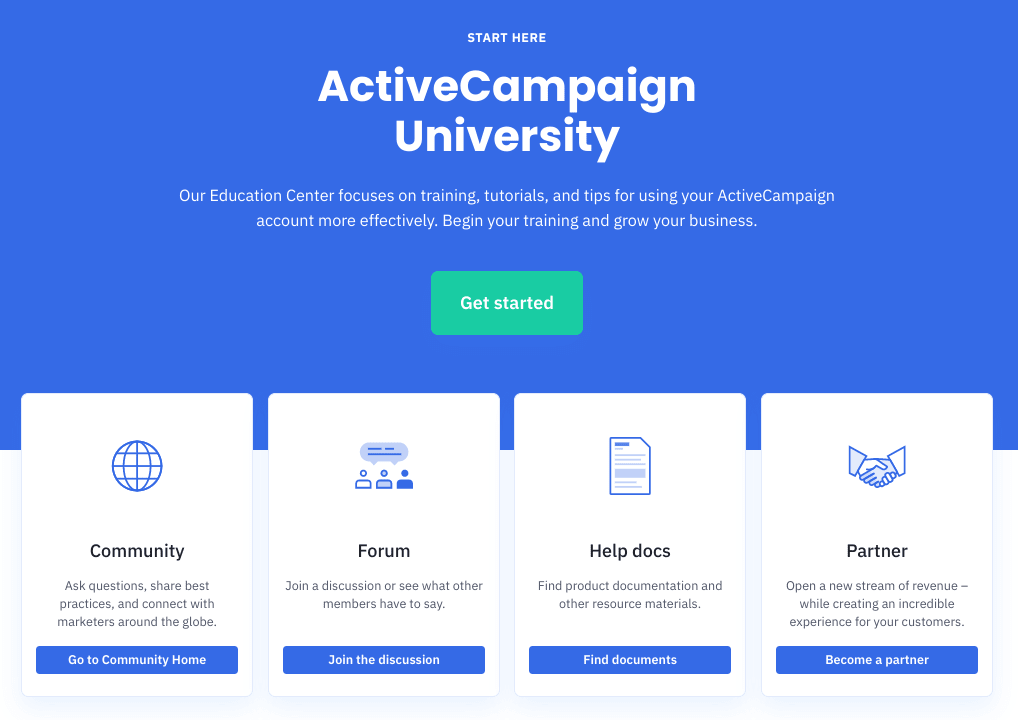 You need a library of product documentation, guides and FAQs on your website for users to search and navigate. If you've got a large enough user base, create an online forum where mods and experienced users can help out newcomers.
Automating the first interaction with chatbots and automatic email responses is the next step to solving problems without overloading your team.
You can use a platform like Intercom to add chatbots to your website, allowing users to type in issues and receive automated responses guiding them to useful resources. Essentially, it's a search function that recommends resources from your support library and asks if they need further assistance.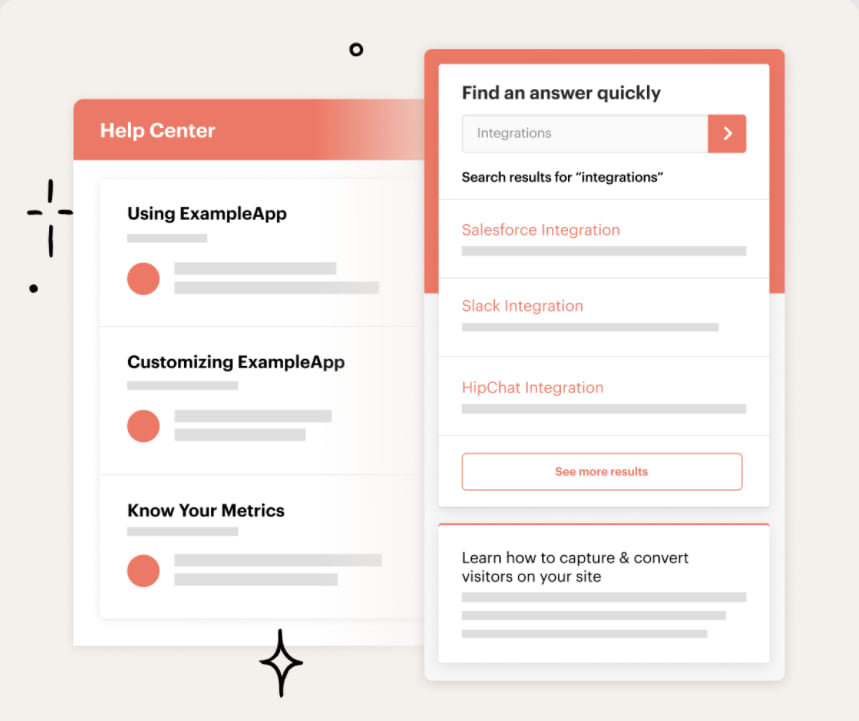 This buys you valuable time and helps deal with some of your customers' anxiety by providing an instant response, even if it is entirely automated. If users need further assistance, they can create a ticket and a support team member will pick it up as soon as they can.
Earlier, we talked about the importance of having the right customer service software on your side. You need a system that allows users to log tickets, automatically stores them in a system and helps your support team prioritise cases.
You might decide to prioritise tickets based on the type of issue, how long the customer has been waiting or a combination of factors.
You'll also want a system that automatically updates statuses, including the number of interactions so you can follow up with cases that aren't successfully resolved.
Software aside, the quality of your customer support ultimately comes down to the team members you have onboard and the processes you put in place. SaaS companies thrive and die on the quality of customer support and overcoming the challenges of keeping customers happy at scale.
Unfortunately, quality support is expensive to provide and you'll probably want to reserve the best support for premium customers. Enterprise companies need reliable support and this is one of the biggest selling points for enterprise plans.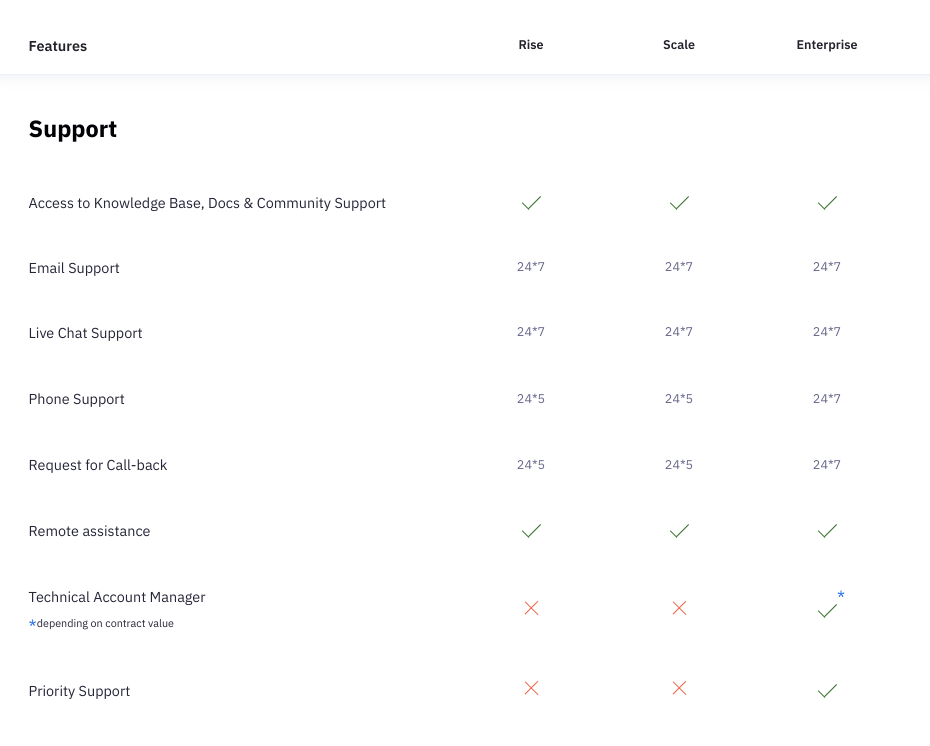 These are the customers who need your attention most and the ones capable of paying for it. On cheaper plans, you can often get away with automating more of the customer service process and limiting support to email and live chat.
Enterprise customers will expect phone support on-demand and priority support when they experience an issue that's getting in the way of their business running properly.
#33: Product feedback
We've talked about collecting feedback throughout this article. At this stage of the customer cycle, the focus is on collecting product feedback from your customers to address any critical issues, understand their priorities and improve your software.
As we've explained in this article, you should take a multi-channel approach to collecting feedback. Make full use of email marketing campaigns but reach out to users with in-app feedback requests at appropriate times – e.g.: after completing some kind of action or goal.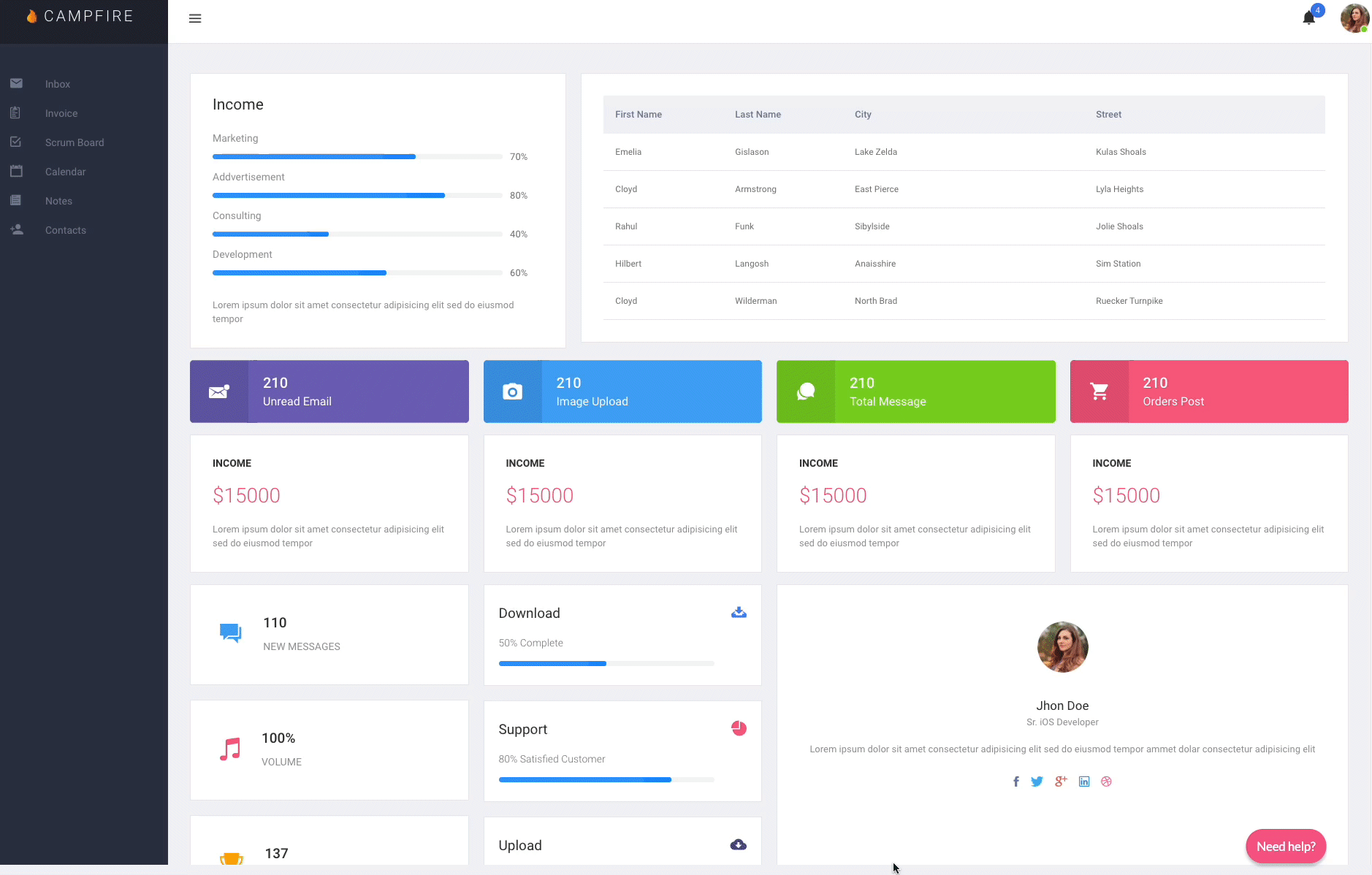 You'll also want to encourage users to leave reviews and testimonials. Your website benefits from having reviews shown on key pages and you'll also want users to leave positive feedback on popular review sites like Capterra and G2.com.
This has more to do with lead generation than nurturing but it's an important point to consider in your feedback strategy.
#34: Value demonstration
We've talked about showcasing and value demonstration throughout this article and it's just as important at this stage of the customer cycle. Again, you shouldn't leave customers to see the value in your product for themselves when you can show them in reports, stats and undisputable figures.
We mentioned Grammarly when discussing this earlier and you won't find a better example to learn from.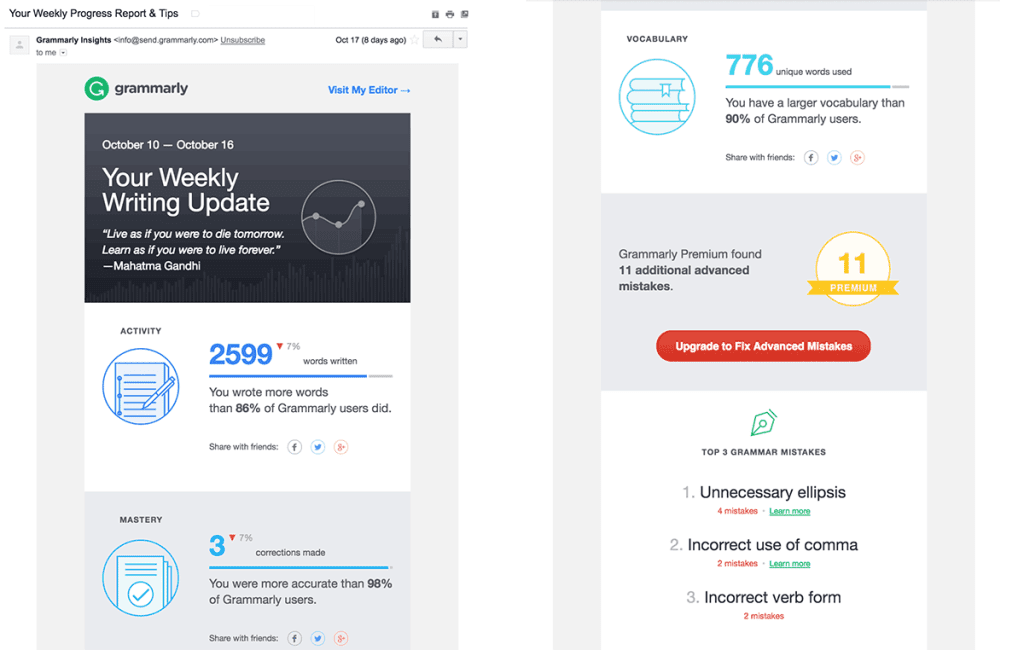 You (or your customers) may find weekly reports over the top but it all depends on how much they're using your software and how they gauge performance.
Is your software part of a high-pressure process where weekly performance is constantly under review? This is the case for a lot of B2B software platforms but you have to determine whether weekly email reports are a benefit or a hindrance.
You can always test out weekly and monthly reports to see how engagement compares.
Make sure you also send out annual reports to demonstrate how much users are achieving with your software over the space of a year.
This is crucial for customers signed up to annual plans because you want to show the value they get over the course of a year and how much more they're going to gain by renewing for another one. So send out annual reports at the end of each calendar year and similar reports in the months or weeks ahead of their next renewal date.
#35: Dunning campaigns
When your customers are signed up to yearly contracts, you never know when payment details might change or cards may expire mid-way through a subscription. This results in failed payments and puts an end to your recurring revenue – unless you do something about it.
Dunning refers to chasing up failed payments and this is a key feature to expect from any subscription management software. You'll find plenty of more details in our guide to the best subscription billing platforms.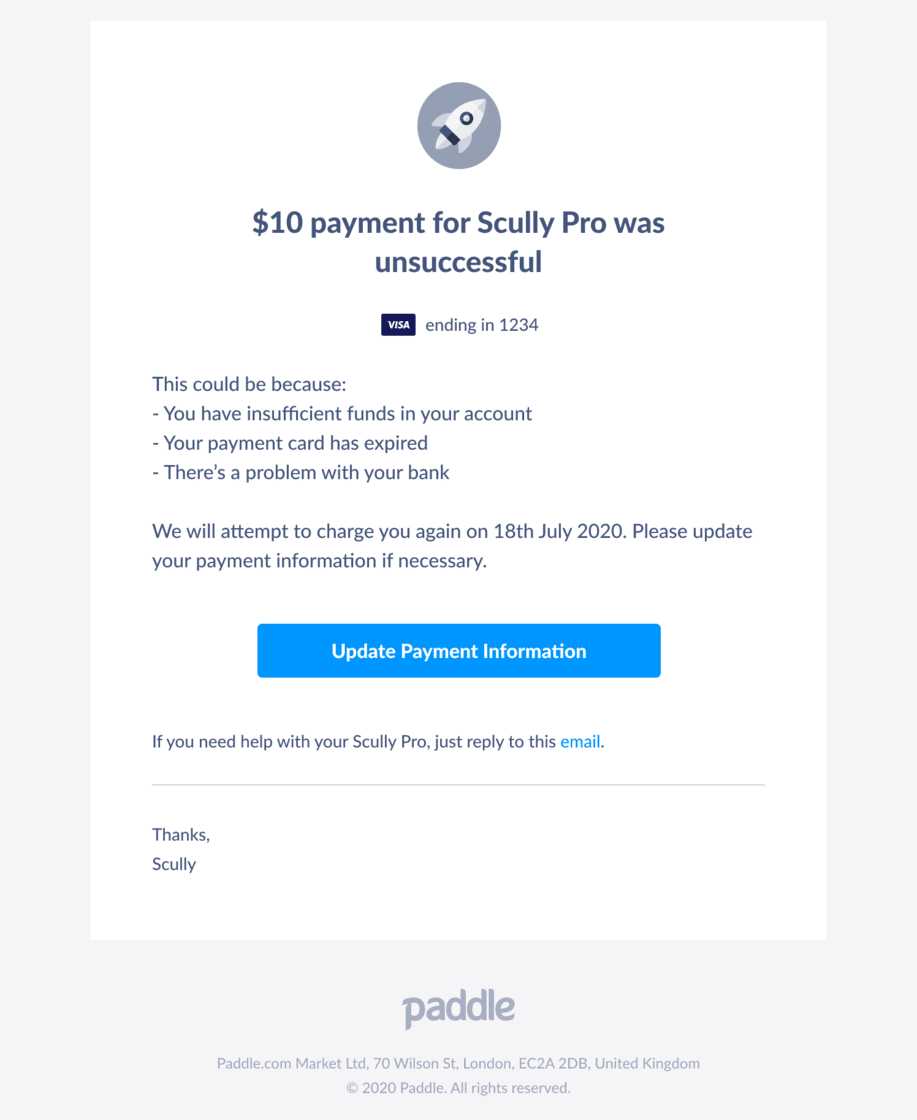 You want automated dunning campaigns to send out follow-up emails as soon as a payment fails, asking users to update their payment details or complete the payment manually.
Notify them when you'll retry the next payment to give them some time to change their details.
Most subscription billing tools with dunning features allow you to send several follow-up emails (unless a payment is made) and retry the payment several times, automatically updating their status and stopping the sequence in the event of a payment.
#36: Referral marketing
Referral marketing encourages your existing users to introduce new ones to your platform by offering a reward – either for the referring customer or both.
Some of the biggest names in SaaS used referral marketing to build their empires, as we explore in this article: What is Growth Marketing? With 30+ Examples, Tactics & Hacks.
Dropbox and PayPal had huge success with two very different referral marketing campaigns that turned both companies into industry leaders – although, the innovative products had a lot to do with that, too.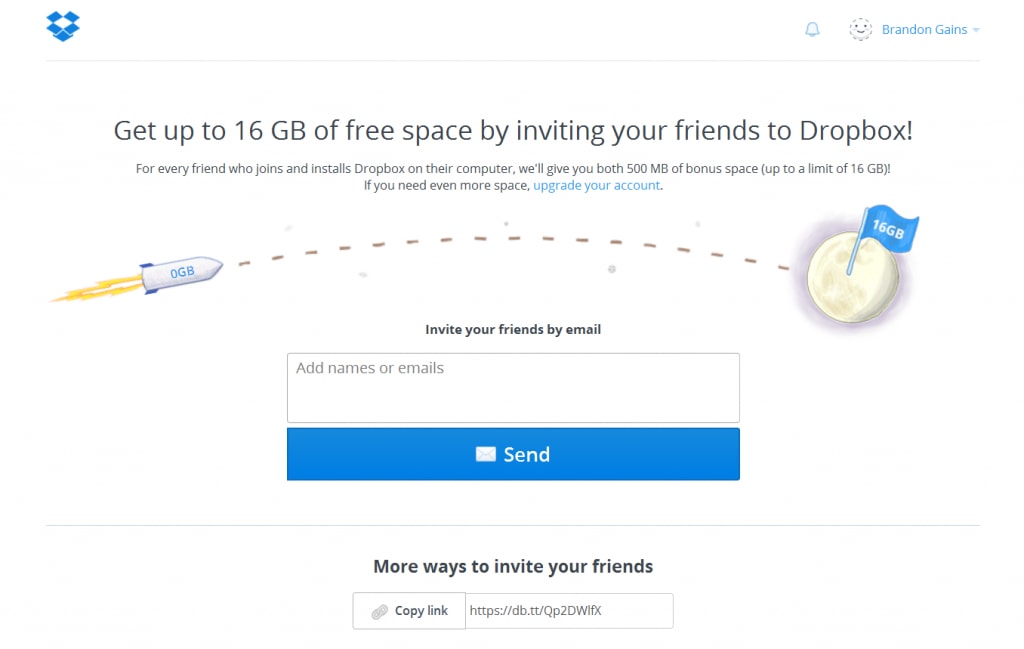 Closely tied to referral marketing is affiliate marketing where you create an affiliate programme that pays publishers a small commission for every customer they earn for you.
You can use affiliate networks to connect with relevant publishers and set the terms of your agreement – e.g.: a $100 commission for a $1,000+ annual contract.
Aside from growing your customer base and earning more revenue, affiliate marketing can also be an effective strategy for building brand awareness, especially if you connect with authoritative publishers.
SaaS lead nurturing: Take it one step at a time
The SaaS customer cycle is long and continuous, meaning the work never ends with nurturing leads to the next stage of the conversion process, The first payment is only the beginning of a (hopefully) long relationship built around renewals, upgrades and revenue-driven growth.
This article aims to help you guide prospects from one stage of the customer cycle to the next, one step at a time. The details matter in this game and every customer is a long-term investment that rewards care and attention at the key moments – from the first email sign-up to the next subscription renewal.