Your small business or startup is bursting at the seams as your disorganised contacts and spreadsheets, and manual, time-consuming processes are limiting your potential to scale and acquire more customers.
It's time to get a CRM, but there's one problem. As you're trying to lighten your load and optimise your processes, you now have to research and choose from the 846 CRM options available in this overcrowded space to find the solution that works for your company's goals, budget and growth track. Not exactly the relief you were hoping for.
To eliminate the time investment and headaches of having to research each CRM and dig into the details, we're happy to do some of the heavy lifting for you.
By the end of this guide, you will have a better idea of which CRM…
Is a good fit for your unique business and stage of growth
Can grow with you as you scale
Fits into your current (and future) budget
Houses the features you need to operate efficiently
Integrates with your current setup
Is user-friendly and easy/difficult to set up
We've hand-selected 14 CRMs that we believe will be a good fit for your small business or startup.
With each tool, we also listed some key features, what size and business type the CRM is suited for, the industries that use the platform and other relevant information.
We also created this handy comparison chart below so you can review the key features/attributes of each CRM at a quick glance.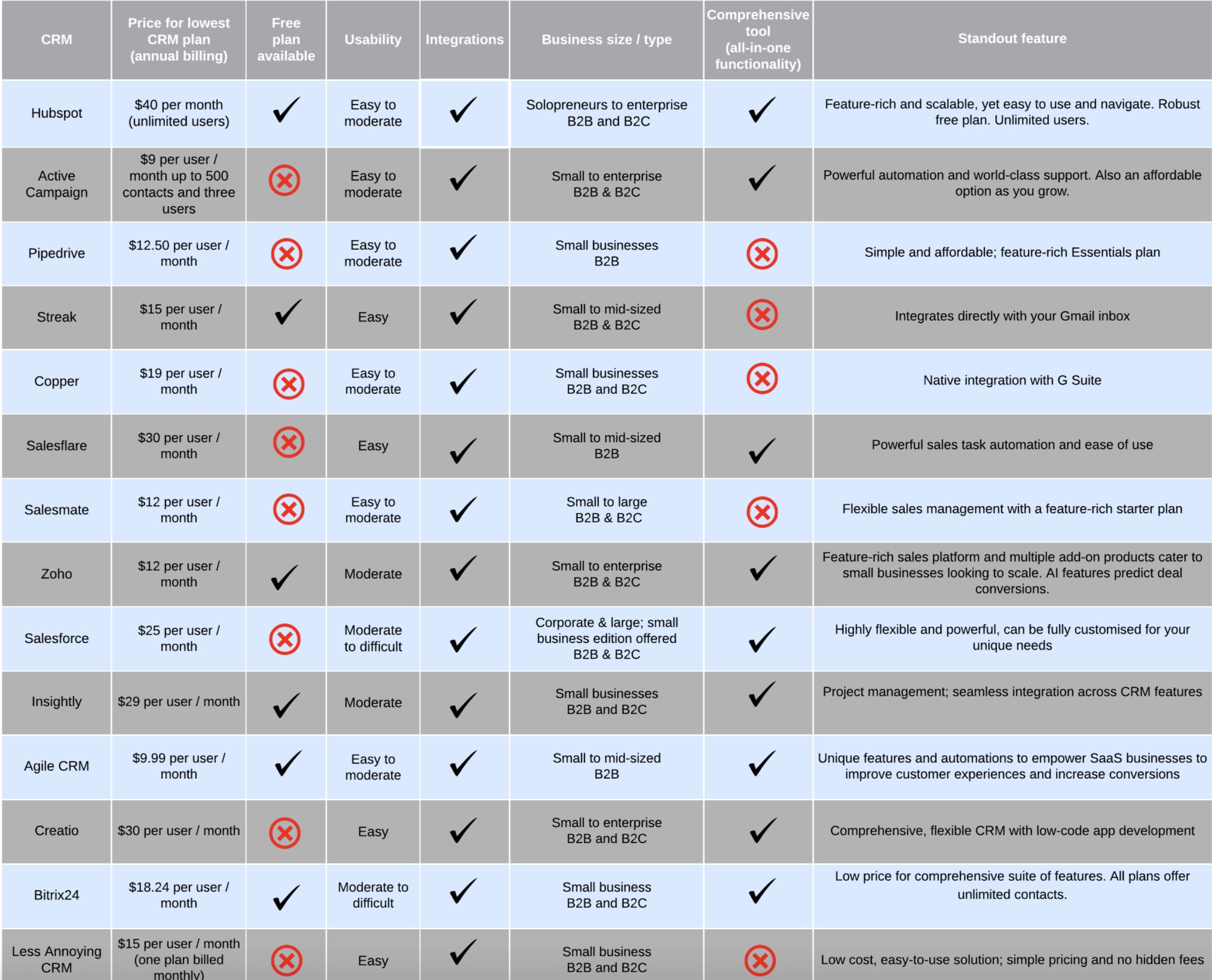 Comparison Chart Key:
Pricing: All prices are annual pricing except where indicated. We also indicated which tools offer a free plan. Note that most CRMs also offer monthly pricing if desired.
Integrations: An indication of whether or not the tool offers third-party software integrations.
Business size/type: The size and type of business.
Standout feature: What the tool is known for or what stands out the most.

Comprehensive: A comprehensive tool will have marketing automation, email marketing and/or customer service available with the CRM plans or as a product add-on.
Usability scale:
Easy
Easy to moderate
Moderate
Moderate to difficult
We rated usability as it relates to how easy it is to get acclimated and use the platform. Of course, your usability experience will be different from others, depending on your experience and background. But, we did our best to pull from user reviews and our personal experience with the tools to come up with a usability rating. Even with our ratings, we still recommend you try each tool as most come with free plans and/or free trials.
Typically, CRMs that offer more features and integrations take more time to onboard and learn. But, that shouldn't deter you from adopting a tool that you think would be a good fit.
Some of the easy to moderate and moderate CRMs may require a little time, but it will be worth it once you are set up and running. Also, just because a tool is rated as "Easy" doesn't mean that it won't take a little time to familiarise yourself with the CRM and its features. It just means the tool may be a little more intuitive to use and navigate.
What CRM Features are Most Important to Small Businesses?
Here are the features/attributes to look for when choosing CRM software for your small business:
Current costs – Cost is important as staying lean keeps profits high. We offered tools with price points attractive to small businesses.
Future costs – How much will it cost you to add new users and scale the platform to fit your future goals and needs?
Goals – What is your goal for your small business CRM? Do you just want to manage contacts? Or are you looking for an all-in-one tool to manage everything from sales to marketing to employee onboarding? Think about features too. For example, you may not be as concerned with usability because you manage a team of developers, but cost is of higher importance.
Scalability – You need a tool that will grow with you as you scale. Choose a CRM that has features that drive growth and will also be strong enough to sustain that growth without breaking your future budget. But beware, some small businesses go too large at first and they end up paying for features they don't use. Start small and plan for the future.
Integrations – Your CRM should easily integrate with your current software stack, so workflow remains seamless and efficient.
Usability – A CRM may be stellar and inexpensive, but if it's difficult and too costly for your small business to set up and use, it will lower your productivity and cost you more in the long run.
PRO TIP: Be careful when calculating costs. While we include the pricing of each tool, to get an accurate representation of your out-the-door costs, we recommend you contact a sales rep. Some tools have setup fees and contact/user limits.
The Best CRM Software for Small Business
Below is a summary of the 14 small business CRMs we will cover in this guide along with a standout feature for each.
Let's go through each CRM for small businesses in more detail!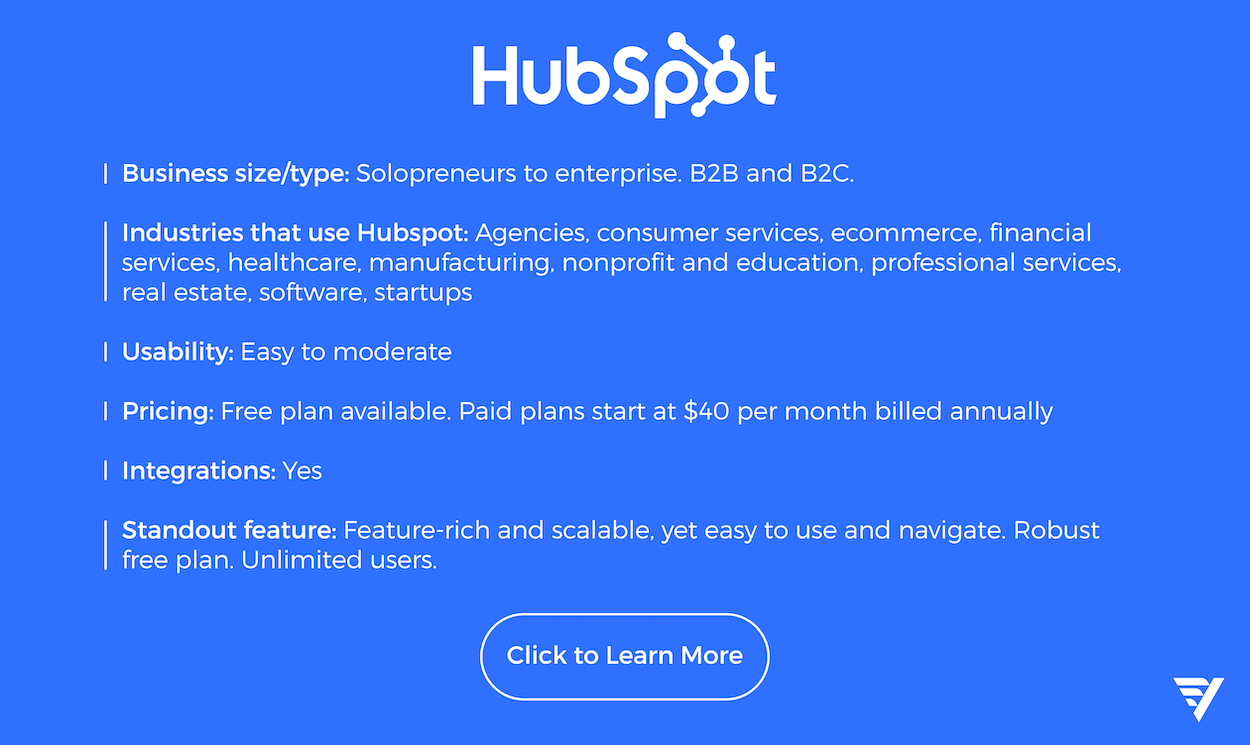 HubSpot is a popular CRM that caters to businesses of all types, from independent contractors to enterprise organisations. This tool is attractive because its free plan includes enough features for any small business or startup to get started.
HubSpot's product stack includes Marketing Hub, Sales Hub, Service Hub, and the newly added CMS Hub, which offers optimised website building. Each of these products brings with it a monthly cost and minimum contact limit with unlimited users when you upgrade to a premium plan. The Free plan includes basic marketing, sales and service features.
With HubSpot's marketing features, automate all of your marketing tasks. Send automated emails using HubSpot's template library, personalise campaigns with advanced segmentation and customise workflows, connecting them to your unique goals.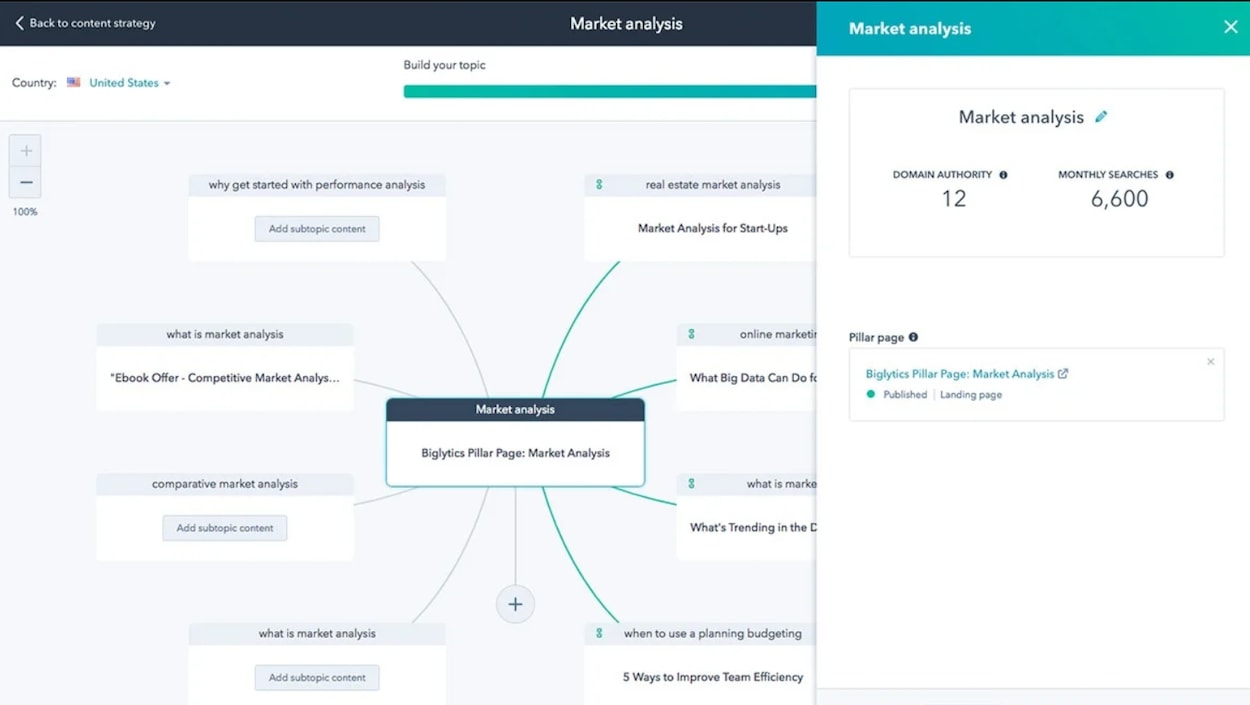 HubSpot's sales features allow you to monitor your website visitors' behaviour in real time. Use this data to craft a personalised email sequence and receive additional data on how the prospect interacts with your communication. Follow prospects' progress on HubSpot's all-in-one sales dashboard.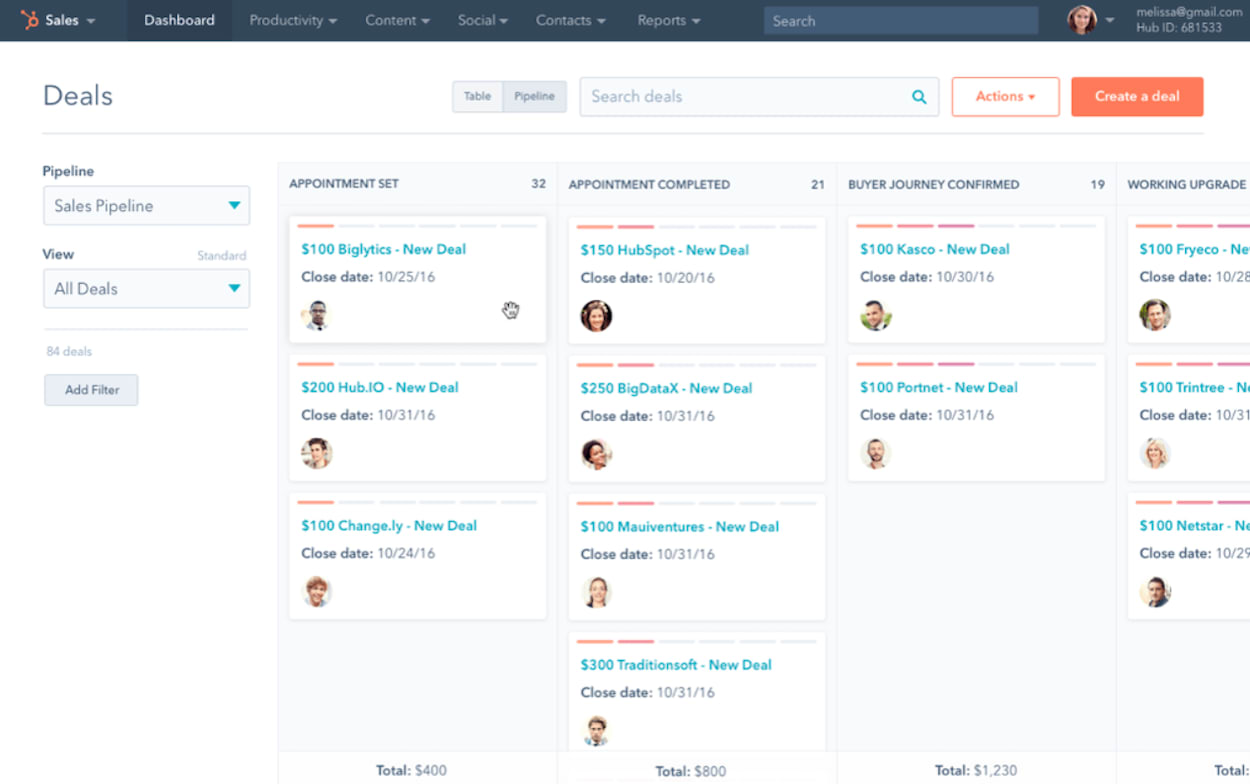 Standout feature: We like HubSpot's feature-rich free plan and that you can scale without paying for additional users. HubSpot's interface is also intuitive and not difficult to navigate, which is not typical among similar feature-heavy CRMs.
Key Features:
Contact management
Marketing automation
Sales automation
Sales performance and analytics
Lead management and scoring
Sales pipeline management
Email marketing
Custom workflows
Activity and schedule management
Additional features:
Social media and SEO tools
Content management
Live chat
Custom landing pages
Mobile app and integrations
Pricing:
HubSpot's Free plan includes features other CRMs would charge for such as contact management, unlimited users, email tracking, meeting scheduling, activity and deal tracking, email marketing, list segmentation and more.
Paid plans starting at $40 per month billed annually add on features such as landing pages, ad management, social media, video hosting, advanced analytics and more.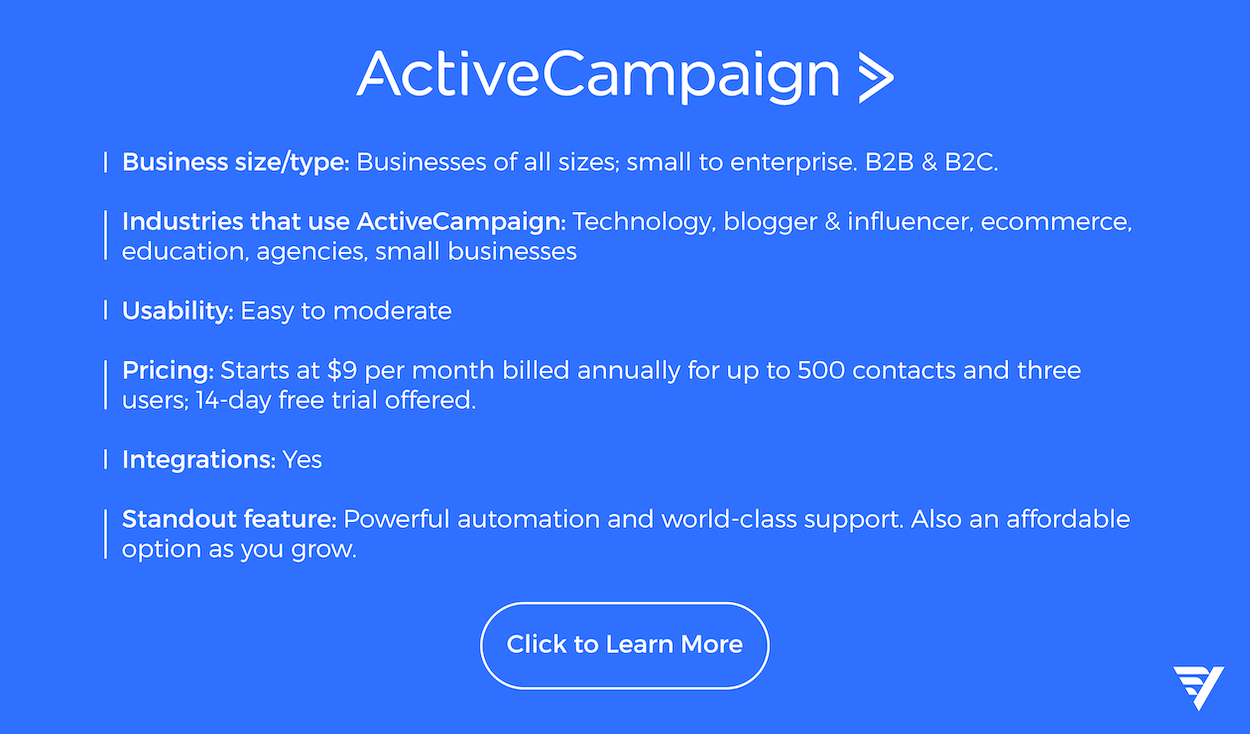 We love ActiveCampaign over here at Venture Harbour because, well, we use it daily and it has served us well. A CRM-less nomad, we searched and searched for years for the best CRM for our business. We even trialled 100+ CRMs but did not feel confident until we stumbled upon ActiveCampaign.
We originally used ActiveCampaign for email marketing which is what it was known for. But it has since branched out into a fully loaded CRM.
We like ActiveCampaign because it provides email marketing and marketing automation in one platform with robust features that hit high marks in quality and depth.
One of our favourite features is ActiveCampaign's deal pipelines because they are based on the Kanban board style (think Trello) or the agile framework. To use this feature successfully, you will have to break down your sales cycle into steps which will give you a better visual picture of where each deal lands in the cycle and how close or far they are from completion.

A rare feature of CRMs, ActiveCampaign also allows you to split test emails in automation campaigns. With unlimited split tests, we have been able to increase our email open rates up to 300%.
Standout feature: ActiveCampaign boasts powerful automation capabilities with high-quality, in-depth features, affordable enough for small businesses to scale with.
Key Features:
Sales automation
Sales performance and analytics
Customisable sales pipelines
Contact management
Lead management
Marketing automation
Automation goals
Email marketing
Omni-channel marketing campaigns
Mobile application
Additional Features:
Automated lead nurturing
Customisable forms and landing pages
Win probability
Predictive lead scoring and sending
Email, SMS, Facebook & on-site messaging
Pricing:
The pricing is based on the number of contacts and users. For up to 500 contacts and three users, the Lite plan starts at $9 per month billed annually and includes unlimited sends, email marketing, marketing automation, and subscription forms.
Premium plans starting at $49 per month billed annually for up to 500 contacts and 25 users also include Facebook custom audiences, lead and contact scoring, SMS marketing, integrations, dynamic content and more.
ActiveCampaign also offers a 14-day free trial.
Learn more about ActiveCampaign.
#3 Pipedrive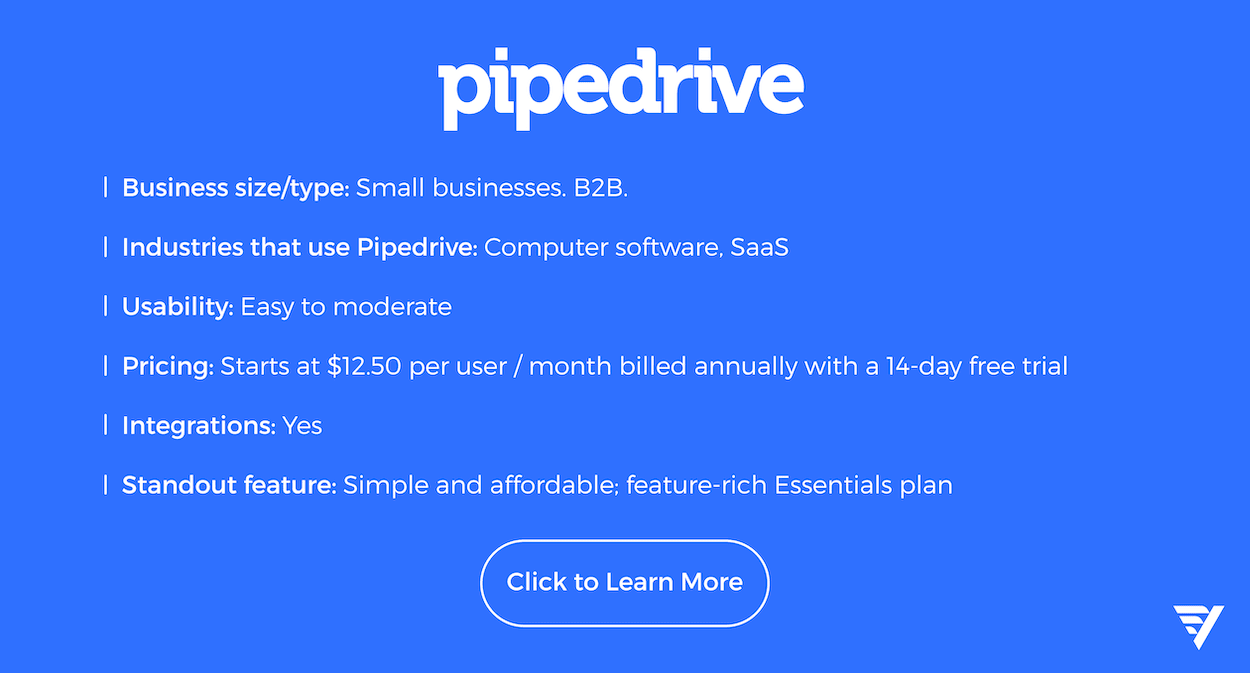 We like Pipedrive for small businesses who want an affordable, robust, intuitive solution for generating leads and managing them throughout the sales cycle without the unnecessary bells and whistles of bloated CRMs. If you want to keep things easy and simple, Pipedrive may be the solution for you.
While most small businesses that generate and manage leads will benefit from using Pipedrive, the tool also includes reporting features and eight recurring payment models for subscription-based software businesses.
Pipedrive enables you to prioritise the sales activities that matter the most while automating and consolidating your workflow in one easy-to-use interface. Pipedrive's USP is that it was built by salespeople, for salespeople, because it puts the needs of salespeople first. The simple and highly visual platform interface focuses on activity-based selling.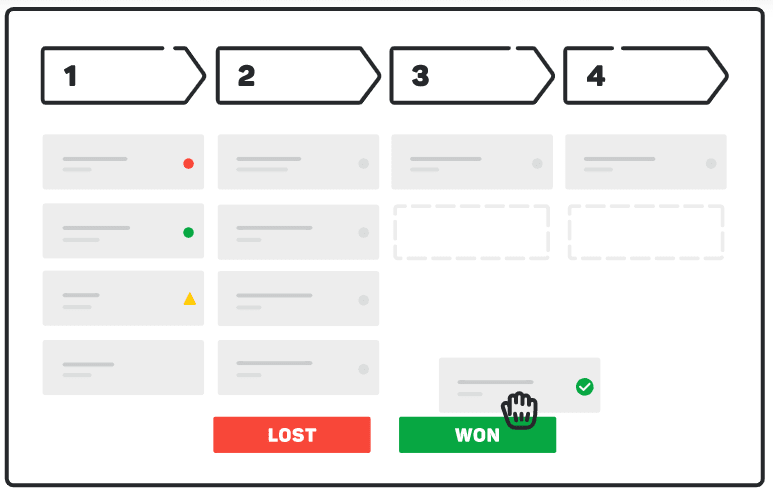 Pipedrive offers visual cues of deal probability and rotting to clue you in as to which deals are cold or hot, so you know how and when to tackle them.
With Pipedrive's visual interface, it's easy to craft multiple sales pipelines, customise each stage of your sales cycle and track them through your pipeline to completion.
Pipedrive also has a robust contact management platform that imports, syncs and manages all of your contacts and links them to deals as needed. The interface also allows you to view your history of interaction with each contact.
Standout feature: While Pipedrive is not as comprehensive as some other Content Management Systems we included in this guide, we like its simplicity which makes for an easier onboarding process and a quick learning curve.
Key Features:
Contact management
Activity calendar and scheduling
Customisable sales pipelines
Outbound calling, logging and reporting
AI-powered sales assistant
Lead management and scoring
Sales forecasting
Deal probability and rotting
Additional Features:
Customisable reporting
Meeting scheduler
Chat integration
Web forms
Mobile apps and integrations
Pricing:
Pricing starts at $12.50 per user/month billed annually with a 14-day free trial. This basic or Essentials plan is pretty robust with features such as contact and deal management and organisation, customisable pipelines, web forms, activity management and more. We also like that this price is static and doesn't increase as you acquire more contacts.
Premium plans start at $24.90 per user/month billed annually and include additional features such as non-branded forms, customisable email templates, group emailing, workflow automation, and email open and click tracking. All plans get access to 24/7 support and mobile apps and integrations.
Note that while we like Pipedrive's feature deck and simplicity, take a close look at its features to ensure it can scale with you as you grow. For example, there is no internal emailing platform. You would need to integrate an external solution with Pipedrive to implement mailing.
NetHunt is a sales automation tool that literally lives inside your Gmail and other Google Workspace apps. With NetHunt CRM, companies can organize contacts and deals, segment them for personalised pitches, build custom pipelines, and automate the entire sales process to close deals faster. It's helpful for managing a team and measuring their effectiveness with tasks and reporting.
What sets NetHunt CRM apart from other CRMs is its unparalleled integration with Gmail. Unlike a mere sidebar, NetHunt CRM functions as a fully-featured CRM within your email interface. This unique design ensures a seamless user experience and maximizes productivity.
NetHunt CRM was founded in 2015, and has since become a user-favorite, receiving 39 G2 badges in Winter 2023 alone, including the "Our Users Love Us" Badge. It has an average review score of 4.7 on G2 and 4.8 on Capterra, indicating high user satisfaction.
NetHunt CRM really has everything you want CRM-wise nailed down. From contact management to automated workflows – everything under the Gmail tab. It also integrates with other tools from your tech stack, such as VoIP dialers, messenger apps like WhatsApp or Facebook Messenger, LinkedIn, web forms, and more, allowing you to adopt an omnichannel approach to customer communication.
NetHunt CRM has a powerful sales automation engine – Workflows. With this functionality, you can streamline processes such as automated lead capture, data enrichment, distribution among managers, deal status updates, automated task assignment, and notifications. Workflows empowers you to automate the entire pipeline, ensuring efficiency at every stage. Additionally, NetHunt provides drip campaigns that automatically nurture leads, enhancing your customer engagement efforts.
Standout feature: NetHunt CRM excels with its seamless and highly customizable integration with Gmail, empowering businesses to adapt the tool to their unique requirements and scale at their desired pace.
Key Features:
Contact management functionality
Multiple sales pipeline management and visualization
Bulk email campaigns
Integration with Gmail and Google apps
Direct integrations with LinkedIn, WhatsApp, Facebook Messenger, Instagram, and more
Sales automation functionality
Drip campaigns
Flexibility and customisation
Additional features:
Automated lead capture & distribution
Automated task assignment
Notifications
Pricing:
NetHunt CRM offers a 14-day free trial of the system, allowing users to explore the system and test out nearly all of its features.
The entry-level plan starts at $24 per user per month when billed annually and encompasses all the essential CRM functionalities. With this plan, you gain access to key features such as contact and lead management, customer base segmentation, the ability to create multiple pipelines, and the flexibility to customize the system according to your specific needs.
For more advanced capabilities such as CRM automations, seamless integration with tools like LinkedIn and WhatsApp, as well as the ability to generate sales performance and team reports, upgrading to the "Business" or "Advanced" plans is required. These plans are priced at $48 and $96 per user per month, respectively, when billed annually.
By opting for these higher-tier plans, you unlock additional features and functionalities that cater to the evolving needs of your business.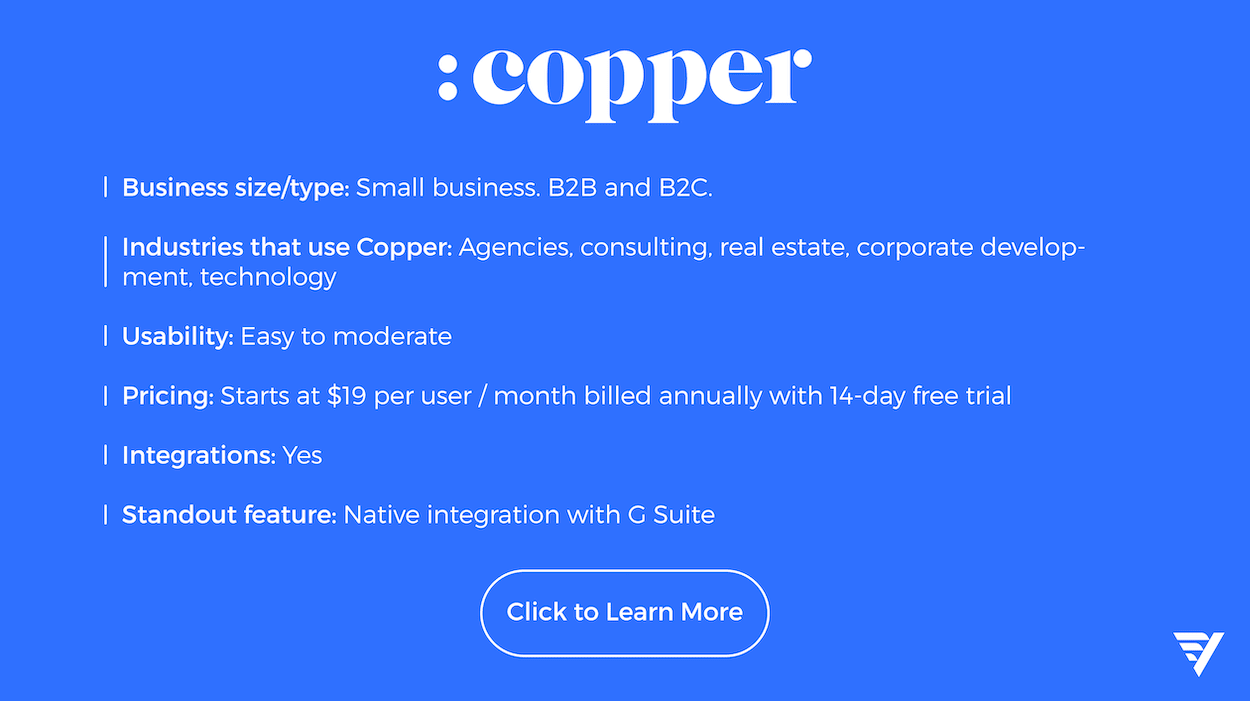 If you use G Suite for your business, let us introduce you to Copper CRM. Similar to Streak, it integrates with Gmail but also has native G Suite integration which means it connects to other G Suite products such as Google Drive, Google Sheets, Google Slides, Google Calendar and more. Copper is also an official G Suite partner.
Copper allows you to view your contacts and track and manage sales pipelines directly in Gmail, so you don't have to switch back and forth from interfaces. Construct custom dashboards and reports in Google Sheets and set up automated workflows while integrating with Google calendar for scheduling and meetings.
Similar to Insightly, Copper also seamlessly transfers contact data into Copper Projects, its project management tool. Copper also has a visual Kanban-style board and drag-and-drop functionality that makes it easy to manage contacts and data, and identify sales bottlenecks and opportunities.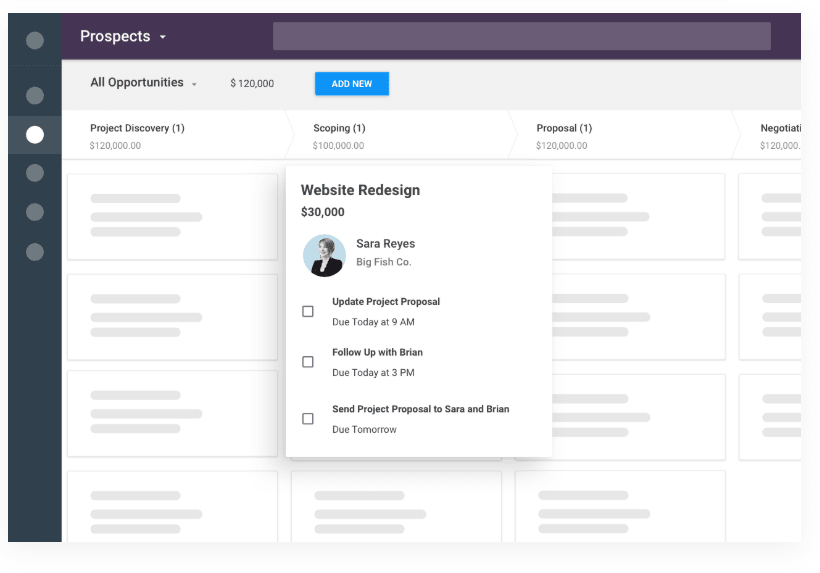 Standout feature: Native integration with Google Products
Key features:
Contact management
Project management
Sales management
Lead management
Task management
Lead generation
Workflow automation
G Suite integrations
Additional features:
Bulk email sending
Customisable fields
Sales forecasting
Goal tracking
Analytics and reporting
Email tracking
Mobile app and integrations
Pricing:
The Basic plan pricing starts at $19 per user/month billed annually for up to three users and 30,000 records. The Basic plan includes G Suite integration, mobile apps, meeting scheduler, basic reporting, sales forecasting, and a few integrations.
Premium plans starting at $49 per user/month billed annually add on features such as additional integrations, workflow automation, leaderboard, goal tracking, activity tracking, email tracking and more.
Salesflare is a data automation tool that helps its users easily and quickly build better relationships with their leads and customers.
Salesflare touts that it was made by humans, for humans which is evident in its visual easy-to-use interface which won't take a long time to learn and use. The tool automates and optimises sales operations and speeds up the time it takes businesses to perform sales tasks.
Salesflare automatically gathers contact information and populates it into the platform from email signatures, social profiles, company databases and other locations. The tool also automatically logs meetings and phone calls to save you time with manual input.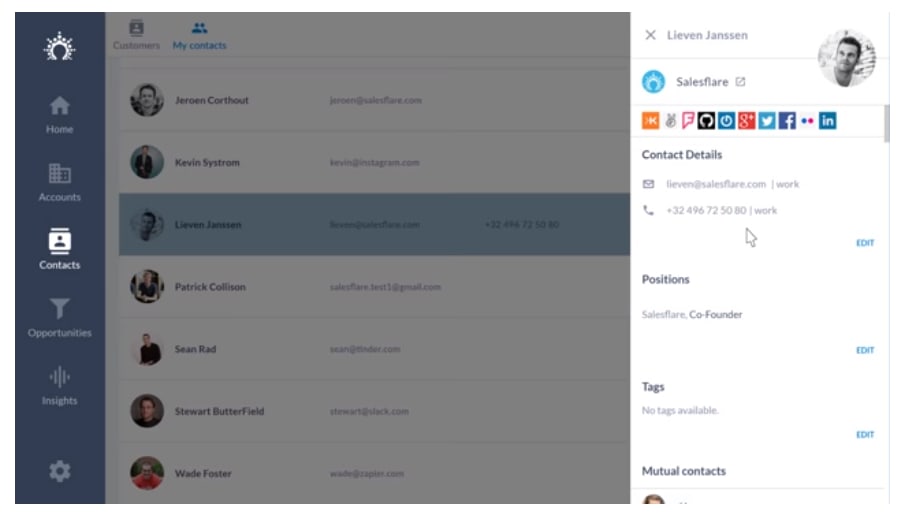 Get notified when customers engage with you online and stay on top of all of your interactions in Salesflare's all-in-one interface. Also, get a to-do list of which contacts require more immediate action so you can easily optimise and prioritise your tasks.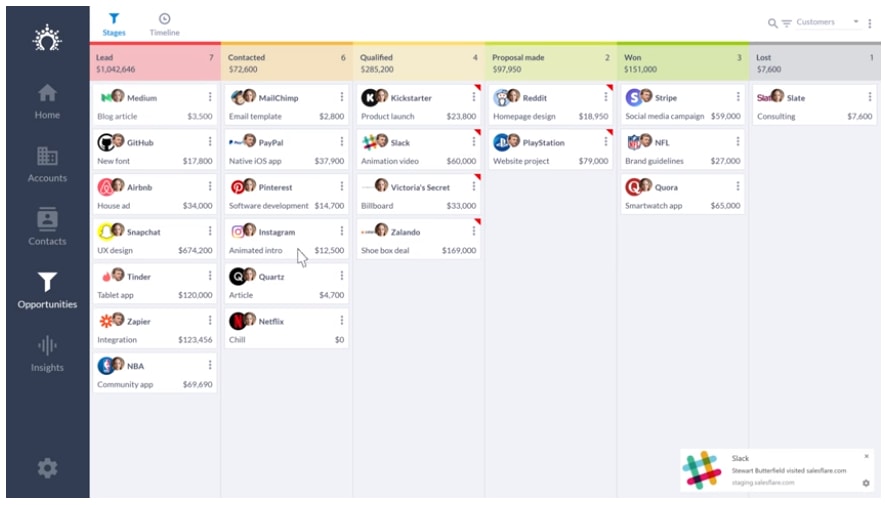 Standout feature: Salesflare does a good job automating sales tasks that would typically require manual input. It's also easy to use and adapt to your business.
Key Features:
Contact management
Lead management
Pipeline management
Lead generation
Email marketing
Sales automation
Sales forecasting
Additional features:
Marketing automation (with integration)
Calendar/ reminder system
Social media (with integration)
Mobile app and integrations
Pricing:
The pricing is a flat rate at $30 per user/month billed annually with a 14-day free trial.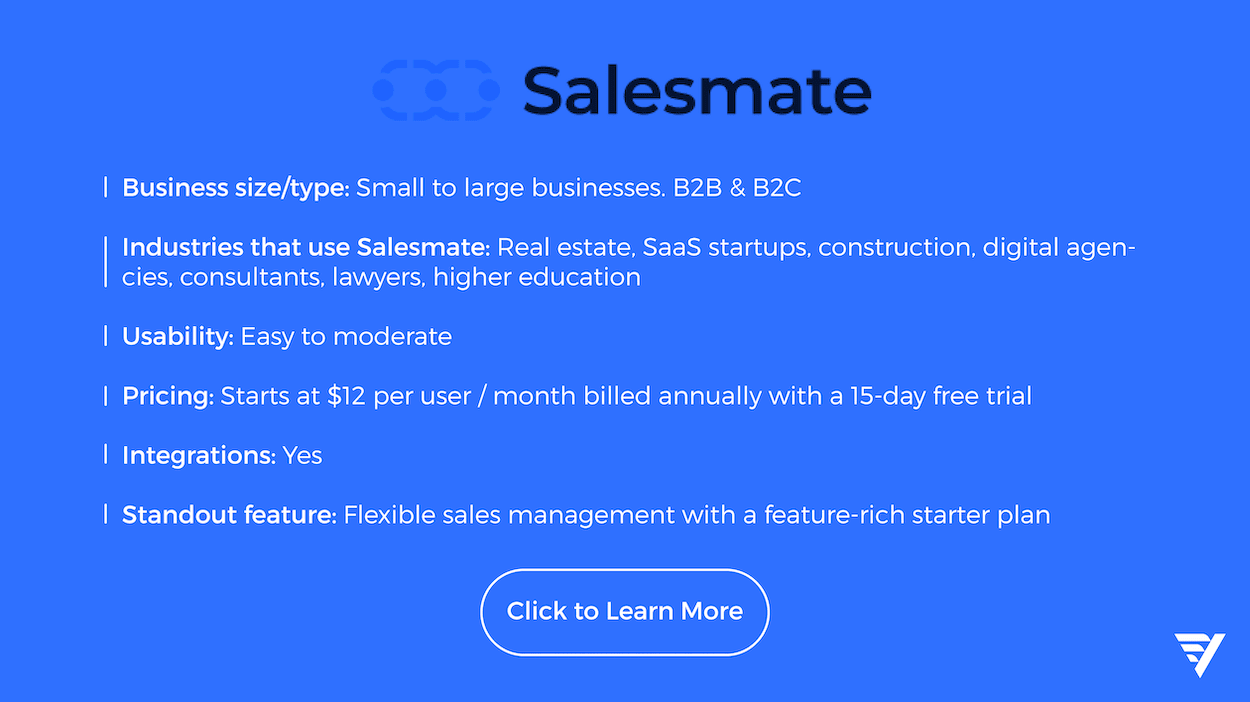 Salesmate is focused on amping up your sales team and processes to close more deals faster. Aside from contact management, Salesmate helps sales teams organise their sales processes and better engage with customers, creating a more personalised experience.
The Bulk Activity feature in the business contact manager enables you to perform multiple functions on multiple contacts simultaneously to reduce wasted time emailing, contacting and notifying contacts one at a time.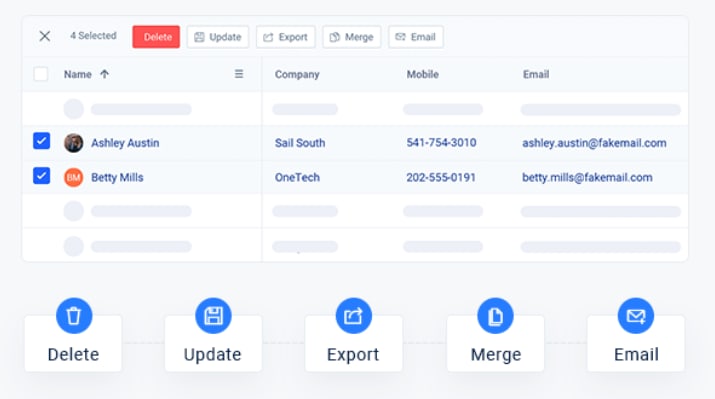 Salesmate also simplifies complex sales processes with the ability to add, assign and track deals and manage your sales pipeline, all in one organised view. The interface includes visual triggers, making it easy to identify and fix bottlenecks, address deals that need immediate attention and spot overdue tasks.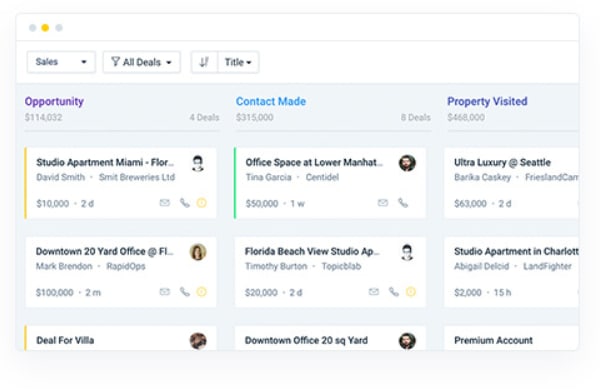 Email tracking allows you to send follow-ups using proven templates, and track, manage and organise all emails for each prospect. You can also get analytics data on email opens and clicks.
Standout feature: Salesmate's flexible and intuitive interface with a feature-rich starter plan.
Key features:
Sales automation
Lead management
Customer segmentation
Email tracking and templates
Advanced sales reporting
360° contact management and organisation
Customer segmentation
Activity scheduling and tracking
Workflow automation
Built-in calling w/ auto-dialer
Additional features:
Customer onboarding management
Recruitment management
Unlimited and customisable sales pipelines
Easy drag-and-drop functionality
Mobile applications and integrations
Pricing:
The Starter plan for small teams is priced at $12 per user/month billed annually with a 15-day free trial and includes features such as contact, deal and activity management; multiple pipeline management; custom fields, views, and layouts; bulk emails, email tracking, built-in calling, and multiple integrations.
The Premium plans start at $24 per user/month billed annually with a 15-day free trial. They include additional features such as product/services management, calendar sync, custom dashboards, email scheduling and reminders, additional integrations and more.
Salesmate's website mentioned that it would offer free trial extensions if needed.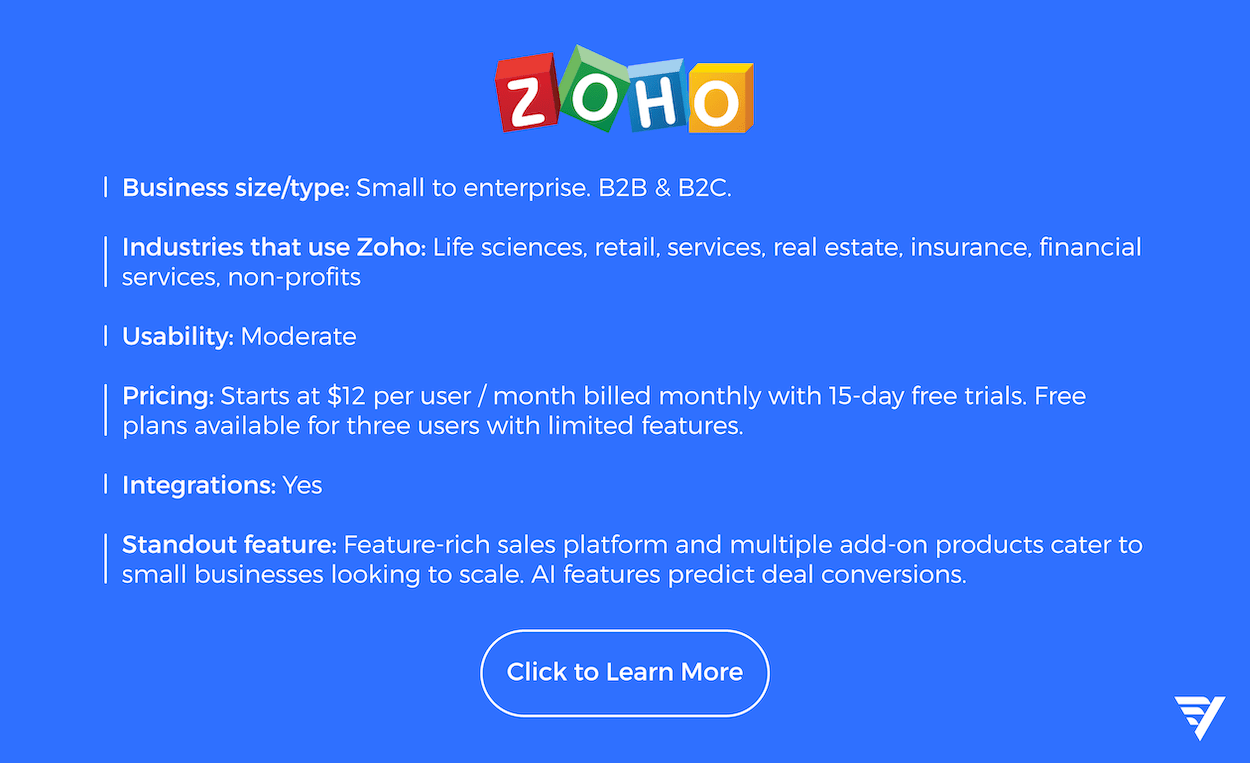 Zoho is a feature-rich comprehensive solution for small to enterprise-level businesses. Small businesses can start with the features they need and slowly scale as they require more software solutions. While Zoho may not rival some of the other enterprise-level solutions, it's a solid choice at a competitive price point.
We looked at Zoho when choosing a CRM for Venture Harbour. While we tinkered a bit with it, we felt it was somewhat clunky. But it has some great reviews from its more than 13 million users.
Automation is a key feature in Zoho's stack as you can set up automatic triggers that work for your business. Zoho CRM's automated workflow functionality allows you to set up conditions that trigger custom workflows. For example, automate emails when a lead takes a specific action you designate.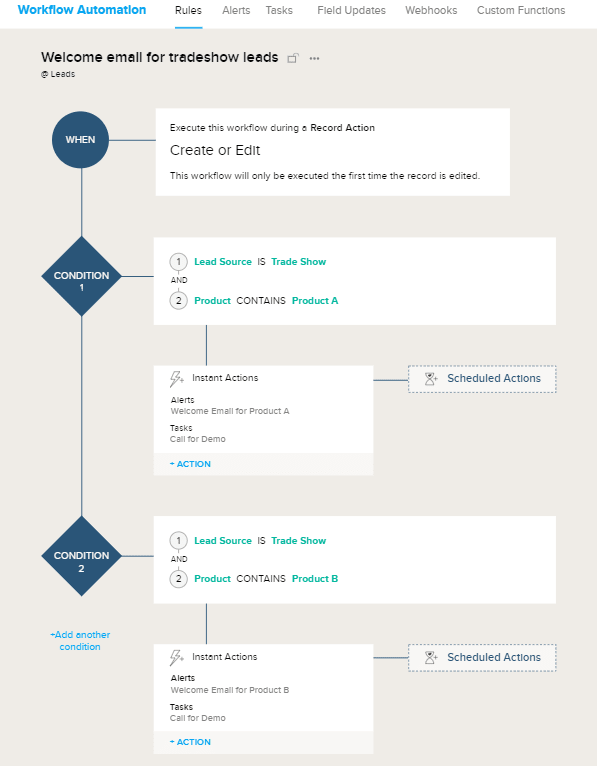 Zoho also enables you to receive real-time notifications when prospects interact with your company, such as opening an email, interacting on social media or visiting a particular web page.
Another notable feature we like is the Artificial Intelligence capabilities. Your AI-powered sales assistant Zia offers lead and deal predictions, alerts, reminders and suggestions based on your past activity and interactions. Zia studies your account over time and suggests predictions to help you identify the prospects that are most likely to convert.
Can you predict the outcome of a sales deal? Zia can. She decodes patterns in your past sales data and interactions to predict how a lead will close (or not).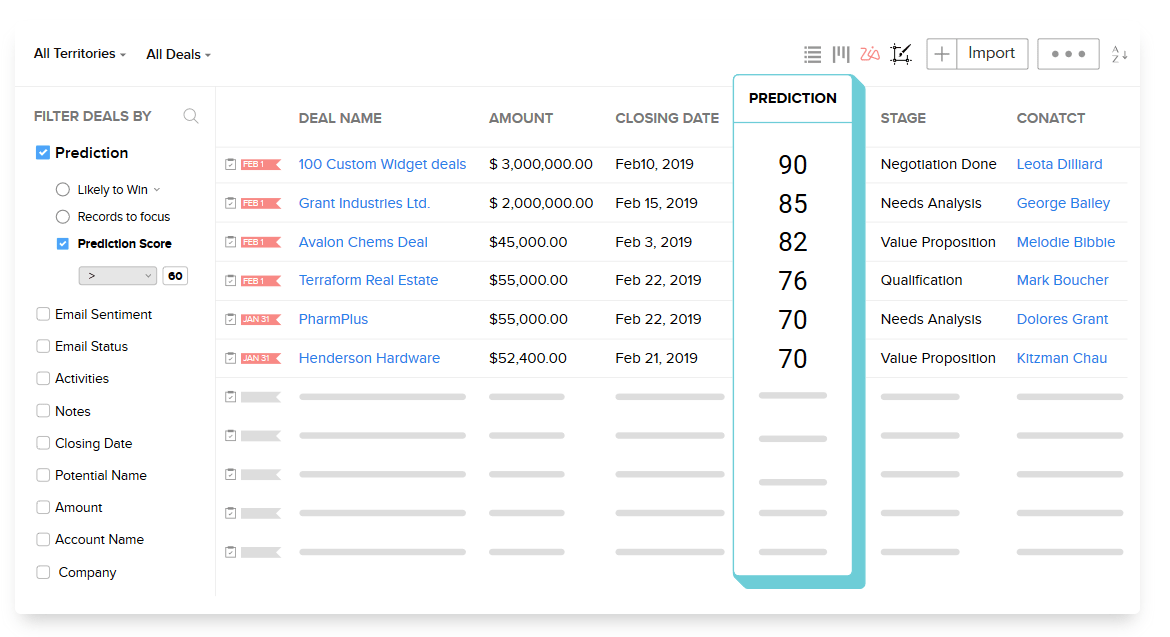 We wish the AI features were available on the lower plans, but you need to bump up to the Enterprise plan to access Zia and her magic.
Standout feature: Zoho provides every feature a small business would want with capabilities to grow and scale. We also like Zoho's AI-powered sales assistant Zia.
Key features:
Sales force automation
Lead management and scoring
Sales performance management
Contact management
Omnichannel communication
Advanced analytics
Marketing automation
Customisable sales pipelines
Predictive intelligence (AI)
Mobile application and integrations
Additional features are available as you scale. Note that these features are available with the purchase of additional Zoho software products. Some software products offer free plans.
Customer service desk
Financial management and accounting; expense tracking
Social media management
Mobile forms
Event management
IT and development resources
Recruiting and onboarding
Project management
Email marketing
Collaboration resources
Pricing:
A limited Free plan is available for up to three users and includes contact management, lead management, workflow automation, website visitor tracking, web forms, calendar, and more.
The Standard plan starts at $12 per user/month billed annually and includes additional features such as multiple integrations, increased data and file storage, automated marketing campaigns, mass email and more.
Premium plans start at $20 per user/month billed annually and include additional features such as customer segmentation, autoresponders, inventory management, customer support, and more.
Salesforce is a market leader in customer relationship management. While Salesforce caters to larger businesses, we wanted to mention it because it offers a robust plan for small businesses. With Salesforce, you can start small and expand as you grow with more integrations and customisation.
Similar to Zoho, Salesforce offers multiple products (Sales Cloud, Service Cloud, Marketing Cloud) and associated add-ons to integrate with your solution as you grow. Each product offers features that will automate, organise and streamline your operations and set you up for growth. The small business Essentials plan, however, includes some basic sales, service and marketing features.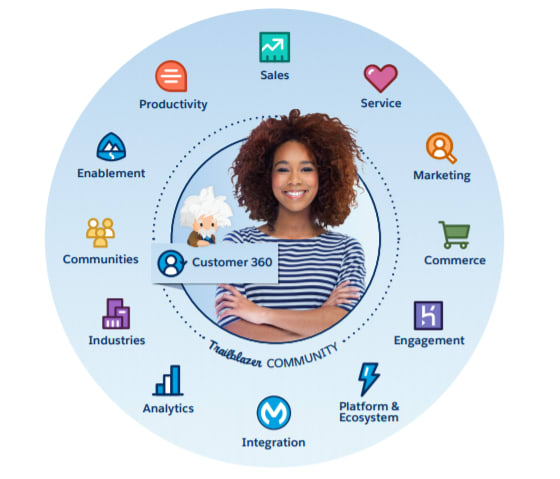 One such feature present in Sales Cloud leverages Artificial Intelligence to identify and fix bottlenecks in your sales pipeline. Review real-time performance to quickly assess what initiatives are converting.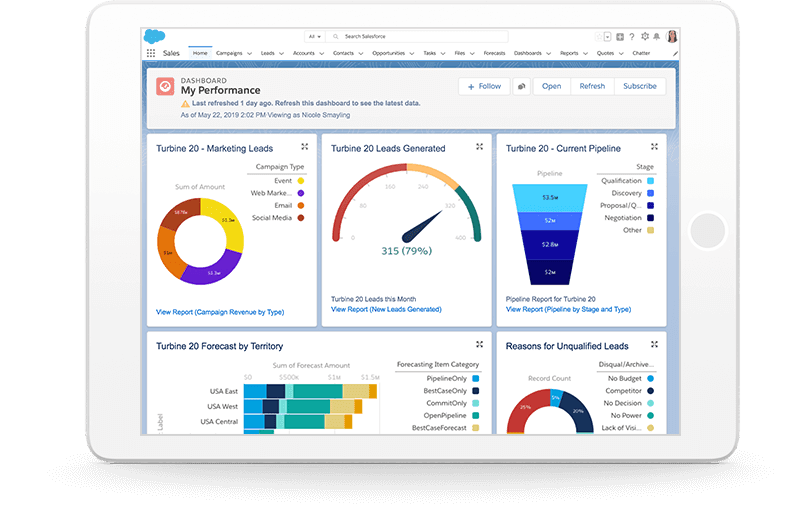 Salesforce's Lightning Service Console in Service Cloud provides support agents a full view of customer interactions with integrations for phone, messaging and chat—all in one workspace.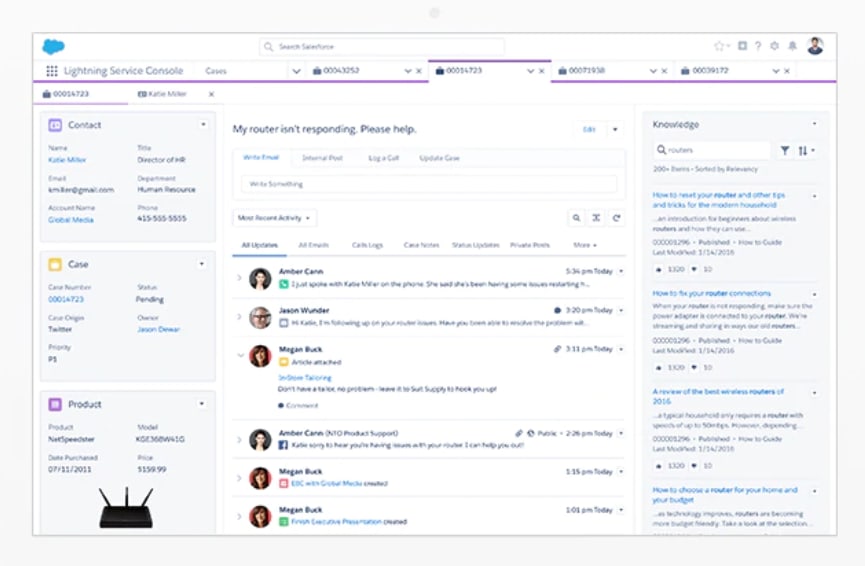 Salesforce is a comprehensive solution to manage, automate and optimise your entire business now and over time. With Salesforce, you can create a fully-customised unique solution for your business.
Even though it has a plan for small businesses, Salesforce is a comprehensive solution that may be overkill for some small businesses and startups. It requires some heavy lifting and may incur additional setup costs depending on your unique needs. If you are not looking for a solution like this, we recommend choosing another comprehensive tool such as ActiveCampaign that will allow you to scale easily and affordably.
Standout feature: Salesforce is a behemoth in the CRM space. Highly flexible and powerful, it can be fully customised for any company's unique needs.
Key Features:
Sales forecasting and analytics
Content management
Contact management
Customisable sales pipelines
Lead management and scoring
Mobile applications
Lifecycle reporting
Sales tracking
Marketing automation
AI-powered sales tools
Sales force automation
Customer support
Additional features with higher-priced plans and purchase of products and add-ons:
Social media management
Application development
API integrations
Customer portals, service communities and help centres
Employee management and onboarding
Team productivity applications
Pricing:
The Essentials plan of Salesforce's small business suite starts at $25 per user/month billed annually with a 14-day free trial.
Premium plans offer more solutions and customisation for growing teams. Premium plans also require implementation fees.
Salesforce's small business suite includes CRM, sales and service features in the monthly user license price; however, the more premium features such as lead scoring, workflow automation and 24/7 support come with the premium editions (plans) that top at $300 per user/month billed annually.
Note that Salesforce's pricing is a-la-carte and the costs add up as you purchase user licenses for additional products and add-ons. If you are looking for a basic cloud CRM to organise and track contacts and provide some sales and service options, you may do well with the Essentials plan for small businesses at $25 / user/month billed annually. With the Essentials Plan, you can store your leads, contacts and accounts and make calls/emails. This plan is recommended for businesses with fewer than 10 employees.
If you have more than 10 employees and you want more functionality, implementation will require more money and time depending on your needs. For example, if you want to use Marketing Cloud, the pricing starts at $1,250 per month billed annually for up to 10,000 contacts. The Commerce Cloud pricing is custom for each business. Premium support is also available at an additional cost.
Salesforce's pricing and product offerings can be confusing to first-timers, so we recommend you talk to a sales agent to get a better idea of your out-the-door expenses and implementation time.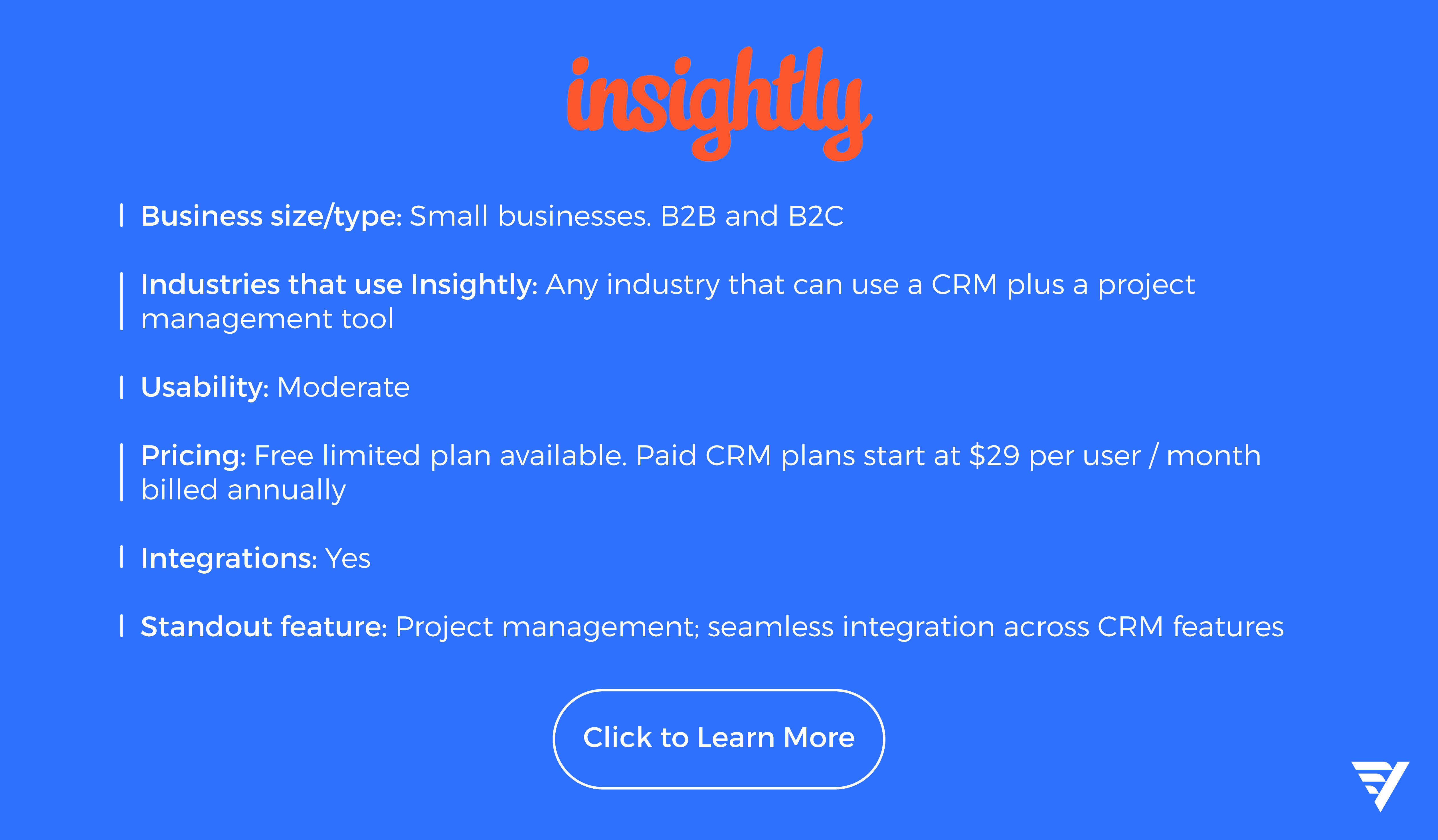 Insightly is a good tool for growing small businesses who are just getting started transitioning into using a CRM. The tool has valuable features that will enable you to manage and track customer relationships and contacts, and their sales pipelines.
Insightly is known for its project management capabilities. Won opportunities easily integrate into projects, seamlessly transferring all of the data for easy organisation and management. Insightly also offers a marketing automation product that is not included in its CRM offering, an add-on to integrate with your current CRM as you grow.
Insightly offers seamless integration across its features, from contact management to opportunity tracking and even routing leads for immediate action. Insightly's lead routing tracks lead activities and data such as meetings, correspondence and tasks, and automatically routes the information to key people who can quickly act on hot leads.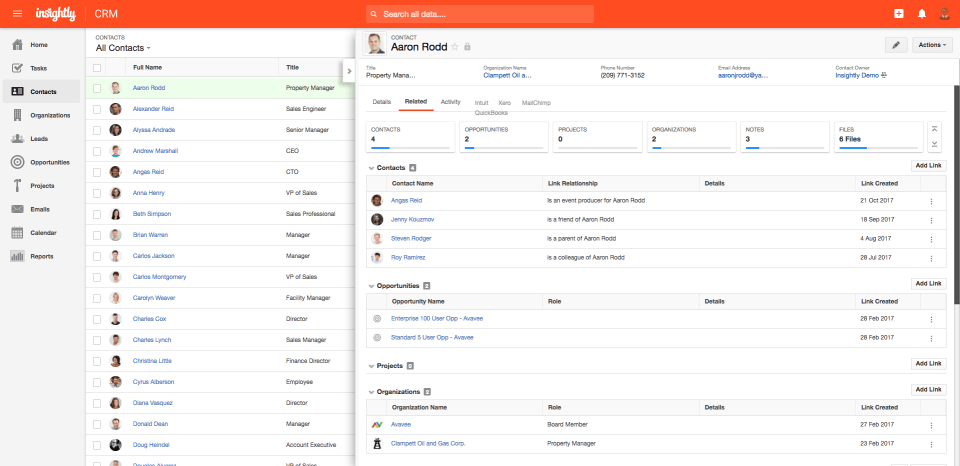 We also like that you can build and deploy custom applications without hiring a developer or needing to know code. These applications include workflow automation, reporting and calculated fields your employees can use and access.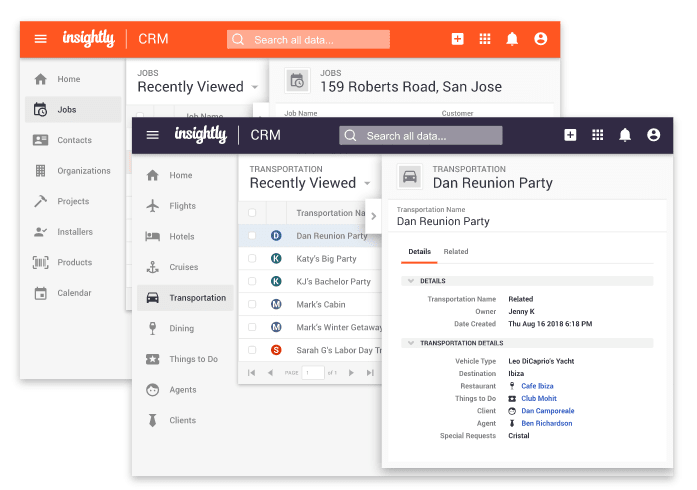 Standout feature: Seamless integration across CRM features with the ability to import contact data into new projects.
Key Features:
Contact management
Lead management
Customisable sales processes
Project management
Lead generation
Advanced reporting
Workflow automation
App development
Additional features:
Bulk email
Landing pages
Calendar / reminder system
Business Intelligence dashboards
Integrated phone dialling and call logging
Mobile application and integrations
Pricing:
Free limited plan offered for up to two users. The Plus CRM plan is $29 per user/month billed annually and includes project management and integration with limited contacts, lead management and more. The most powerful automations come with the Professional plan priced at $49 per user/month billed annually.
Note that the CRM plans do not include marketing automation features such as email marketing, list segmentation, and landing pages. Marketing plans start at $299 / month billed annually. 10,000 contacts included in each plan.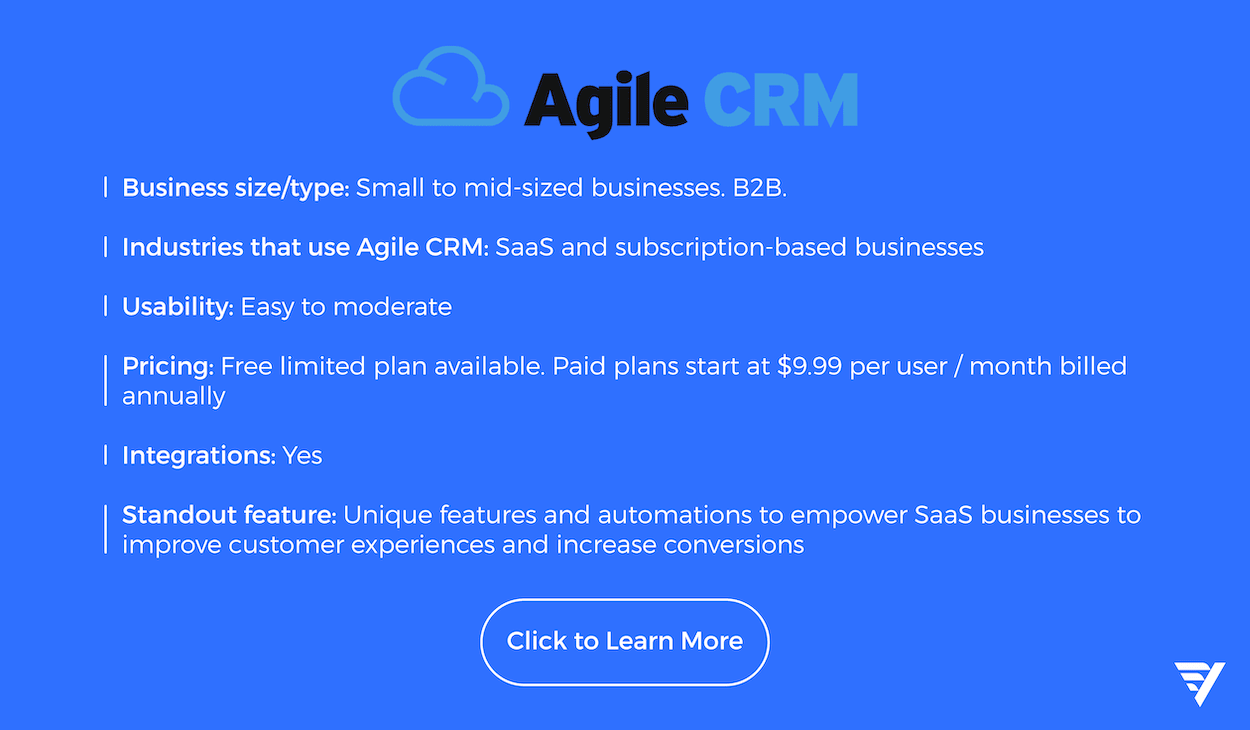 If you're looking for a CRM and a marketing tool under the same roof (and offered under the same plan), Agile CRM is another tool to review. Agile CRM houses sales enablement, customer service and marketing automation for SaaS businesses, all in one.
The platform caters to SaaS businesses with several features such as user-level tracking inside your app, SaaS metrics, in-app messages and billing integration. With Agile CRM's automated user onboarding, you can set up automated emails to fire depending on the user's behaviour inside your app.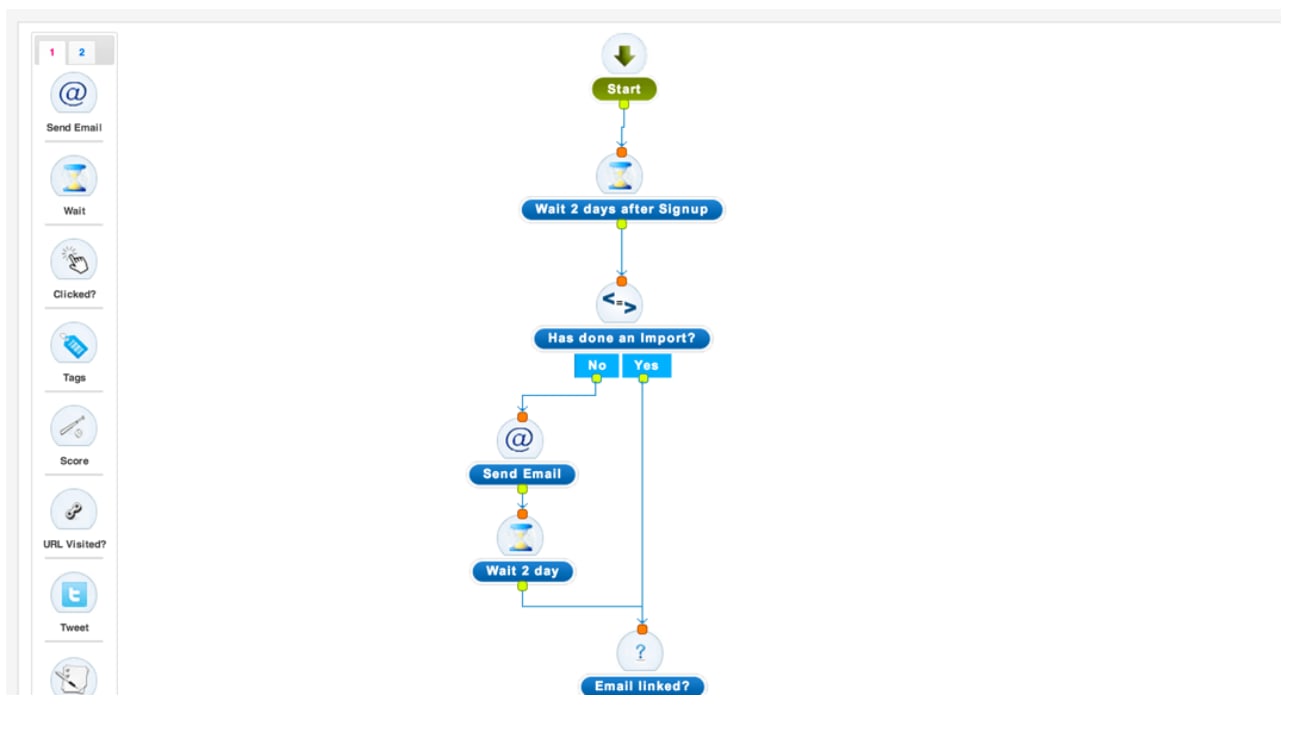 Send automated emails and/or pop-ups to users during any stage of their lifecycle whether they just onboarded, are nearing the end of their free trial or getting stuck using your app.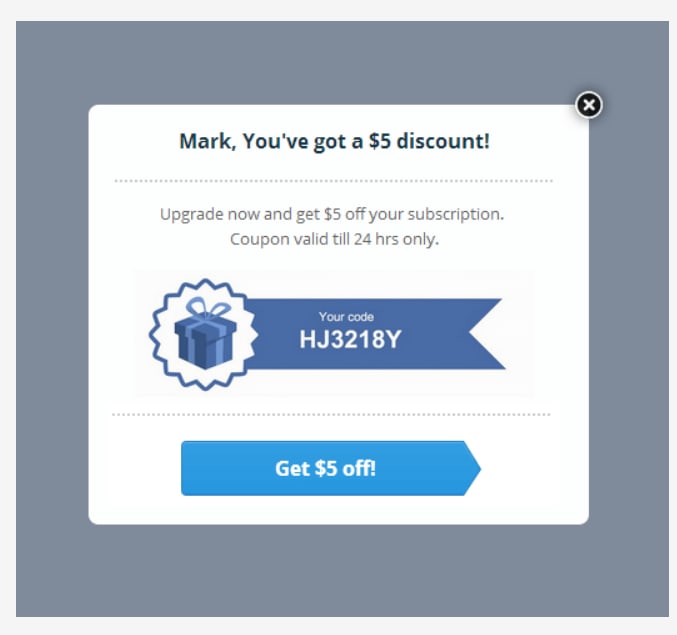 Agile CRM also uses a predictive signal system which signals you as to which user is more likely to convert after trial and become a customer. With this data, you can identify and send emails to inactive users who are likely to churn.
Standout feature: Because Agile CRM caters to SaaS businesses, it houses unique features and automation to convert more users and streamline operations.
Key Features:
Contact management
Sales management
Contact management
Pipeline management
Opportunities / deals
Marketing automation
Email marketing
Multichannel marketing campaigns
Advanced reporting
Additional features:
Customer support
Live chat
Landing pages
Social marketing
Web forms
Auto-dialer
Gamification
Push notifications and web pop-ups
Mobile app and notifications
Pricing:
Agile CRM offers a Free plan (up to 50,000 contacts and unlimited deals, tasks and documents) with limited features such as lead scoring, custom deal milestones, email tracking, 2-way email integration, 2-way telephony and more.
Paid plans start at $9.99 per user/month billed annually for the Starter plan and include additional features such as marketing automation, email marketing, landing page builder, email templates builder, social monitoring, mobile marketing and more.
If you are interested in the customer service component, it comes with the Regular plan priced at $39.99 per user/month billed annually.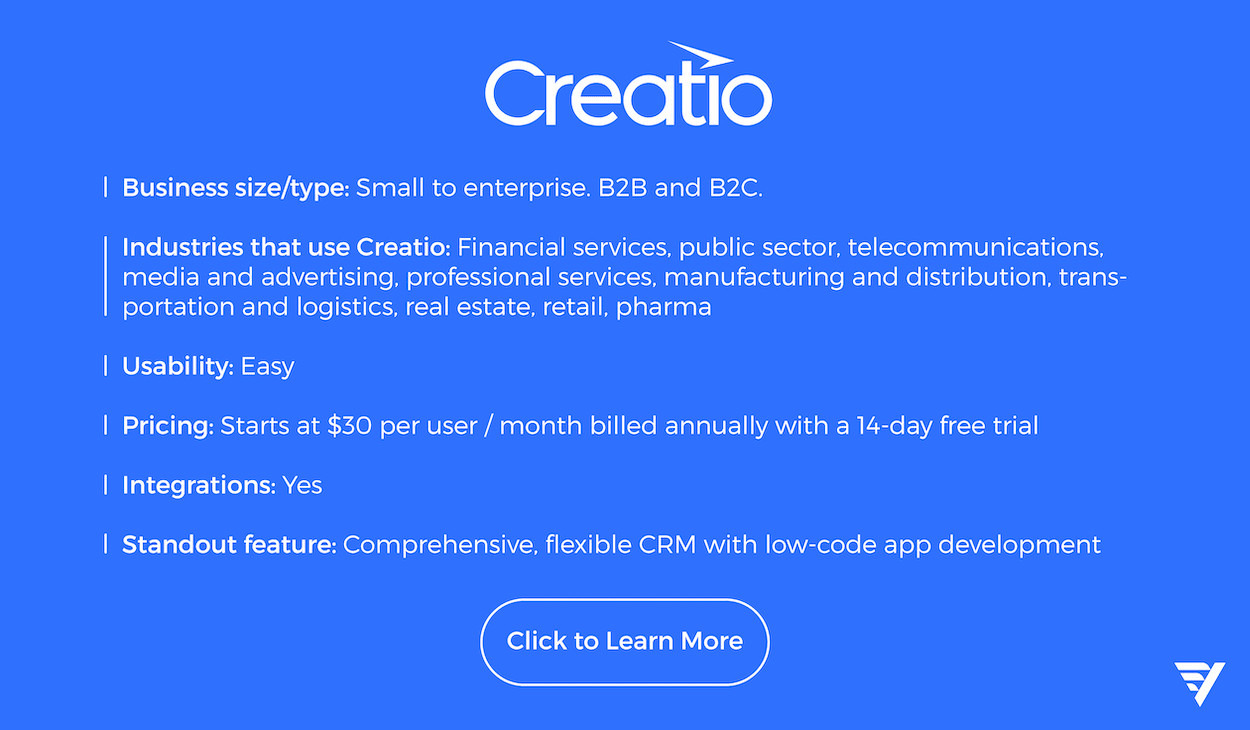 Formerly bpm'online, Creatio is known for powerful sales force automation that accelerates the sales cycle from lead to revenue all the way to repeat sales.
If you are looking for a CRM similar to HubSpot, Creatio is also a comprehensive solution that offers three separate products for marketing, sales and customer service. While Creatio also caters to large companies, we wanted to mention it because its base sales plan (Team plan) is affordable and dedicated to small businesses that want to automate and speed up their sales process.
Similar to other CRM tools we mentioned in this article, Creatio offers a 360° view of your customer profiles. At a quick glance, view all relevant customer information and identify where they are in the sales cycle to tailor your engagement approach.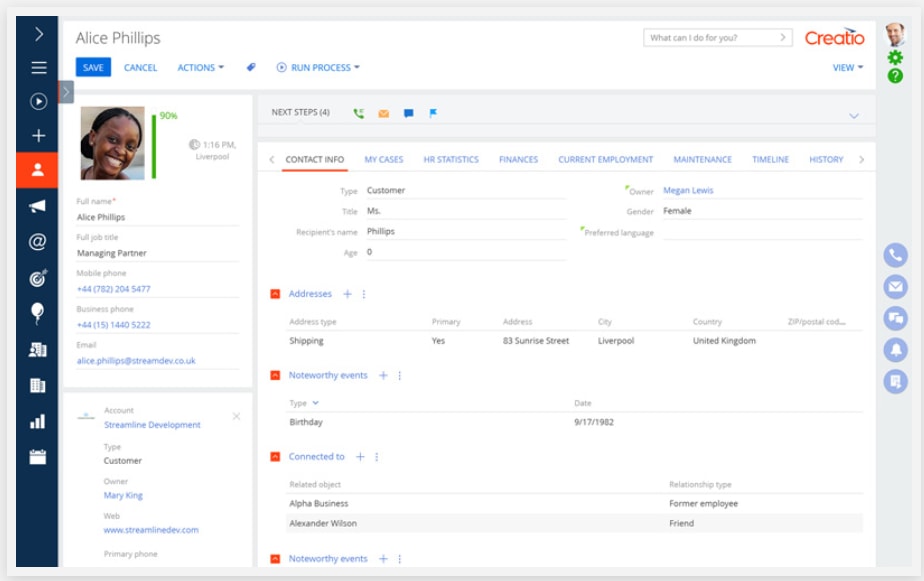 Creatio also automates many different types of sales, whether B2B or B2C, and offers built-in sales processes with the opportunity to customise them for your unique business. The sales interface also provides scoring and opportunity management so your team can identify and move on the hottest leads in real time.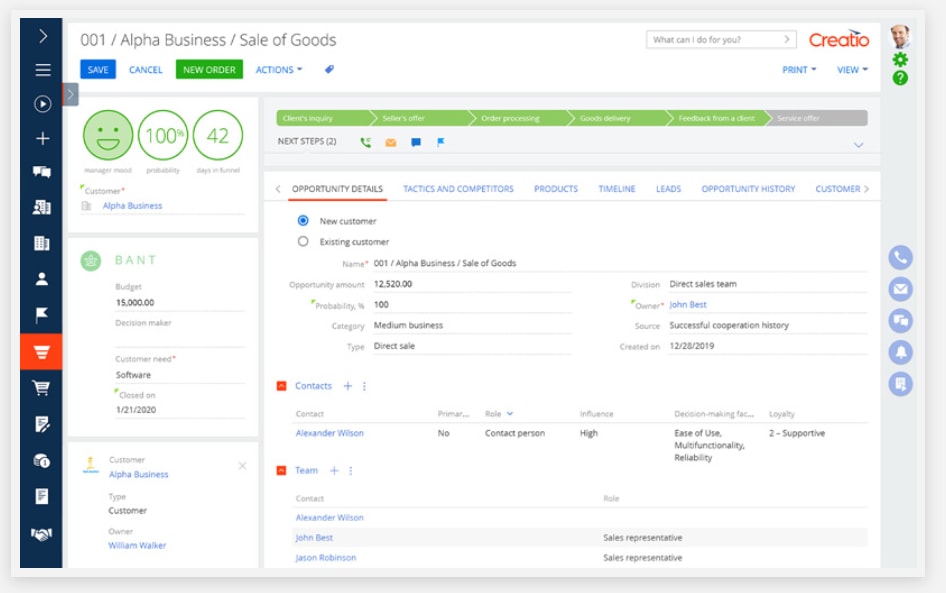 Creatio also calls itself a "low-code CRM" which means software development with little to no coding involved. With its dedication to seamless business-IT alignment, Creatio created Studio. This platform provides users a drag-and-drop approach to creating custom applications that automate their processes and speed up their workflows. While this feature is not required to run your small business, we thought it was worth a mention because Creatio offers a free plan for those who want to try it out.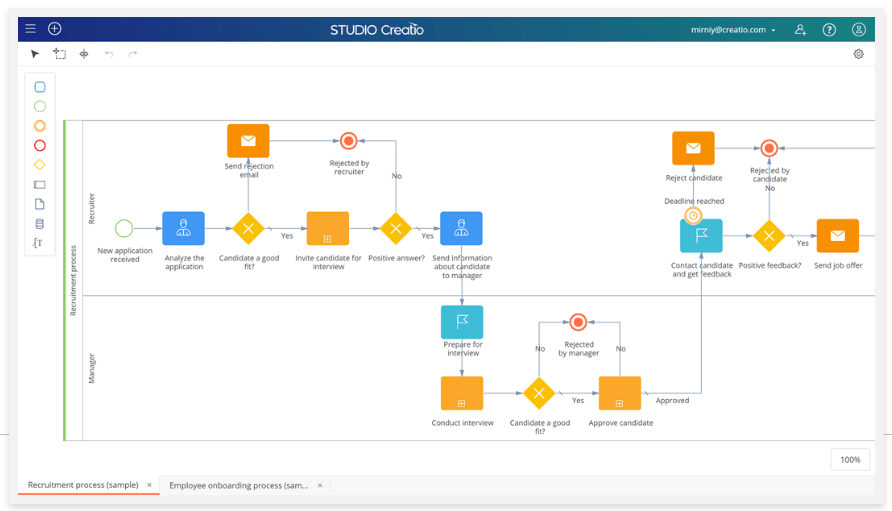 Standout feature: Creatio offers a comprehensive, flexible platform that can scale with you as you grow. We also like Creatio's low-code software development platform.
Key features:
Contact management
Lead management
Sales management
Sales forecasting
Business process management
Opportunity management
Project management
Product management
AI and machine learning
Additional features:
Document flow automation
Mobile sales
Knowledge management
Contract management
Low-code custom app development
Mobile app and integrations
Pricing:
Creatio CRM pricing starts at $30 per user/month billed annually with a 14-day free trial. This Team plan is ideal for small and mid-sized businesses with direct sales teams. It includes features such as lead management, opportunity management, analytics, AI and machine learning tools, business process management and more.
Premium CRM plans start at $35 per user/month billed annually and include additional features such as sales forecasting, contract and project management, and field sales.
Note that Creatio also offers marketing and support products at additional costs. The Marketing software starts at $2,990 / year for 10,000 active contacts, one user and five emails sent per contact / month. The Service software starts at $45 per user/month billed annually.
You may have heard the old adage that you get what you pay for, but with Bitrix24, this does not hold true. Bitrix24 is a powerhouse CRM that incorporates solutions for marketing, sales, customer service, project management, website building, email marketing, sales automation, HR management, and more—all for a low cost with unlimited contacts, deals and companies. It is also well-loved for its collaboration tools that power communication across large teams.
There's a caveat, though. While Bitrix24 is loved by many, the reviews mention issues with its unpolished user experience and clunky interface. Support is also lacking.
So, if you favour collaboration and a comprehensive platform for a low cost, over support and ease of use, Bitrix24 may be a platform to review. Bitrix24 does, however, start to increase in price as you tack on more functionality with its features. See our notes in the Pricing section on this.
As an example of what you can expect, if you want to manage your sales, similar to other CRMs, Bitrix24 allows you to automate multiple sales funnels and set up triggers and automation rules to optimise your internal sales process.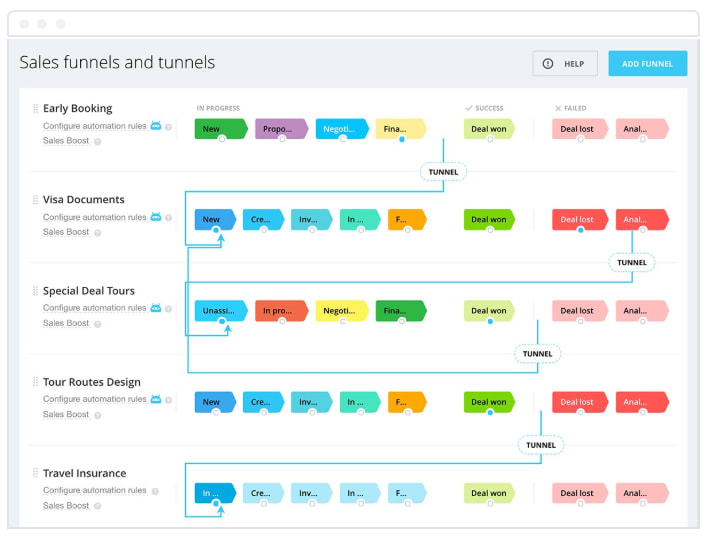 Campaign management features allow you to send bulk emails, SMS and IM, segment clients, set up advertising campaigns and track results.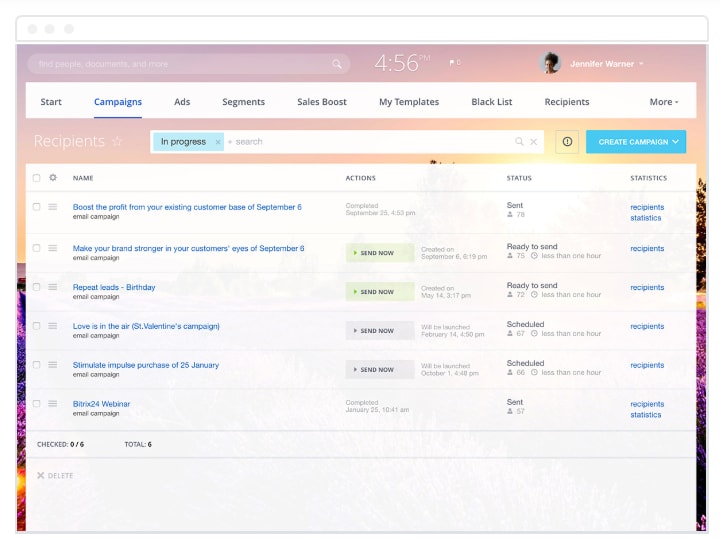 Standout feature: The price and comprehensive nature of the platform is Bitrix24's best feature.
Key features:
Contact management
Sales automation
Lead management
Lead generation
Marketing automation
Email marketing
Content management
Customer service
Project management
Multichannel marketing
Additional features:
Call logging and recording
Event management
Forms automation
Website builder
Human resources management
Calendar / reminder system
Appointment scheduling
Mobile app and integrations
Pricing:
The Free plan offers basic functionality of most features and allows unlimited users. Paid plans start at $18.24 per user/month billed annually for up to two users. All plans include unlimited leads, deals, contacts and companies.
Sales and marketing automations come with the CRM+ plan priced at $52.44 per user/month billed annually.
PRO TIP: Once you ramp up to the CRM+ plan, think about what features you actually need. At this stage, there may be a CRM out there that can fulfil your goals for less money. Focus on your goals and compare features vs price for the CRMs we listed here. Even though Bitrix24 includes unlimited contacts, you may find that a solution such as ActiveCampaign may be a better fit overall.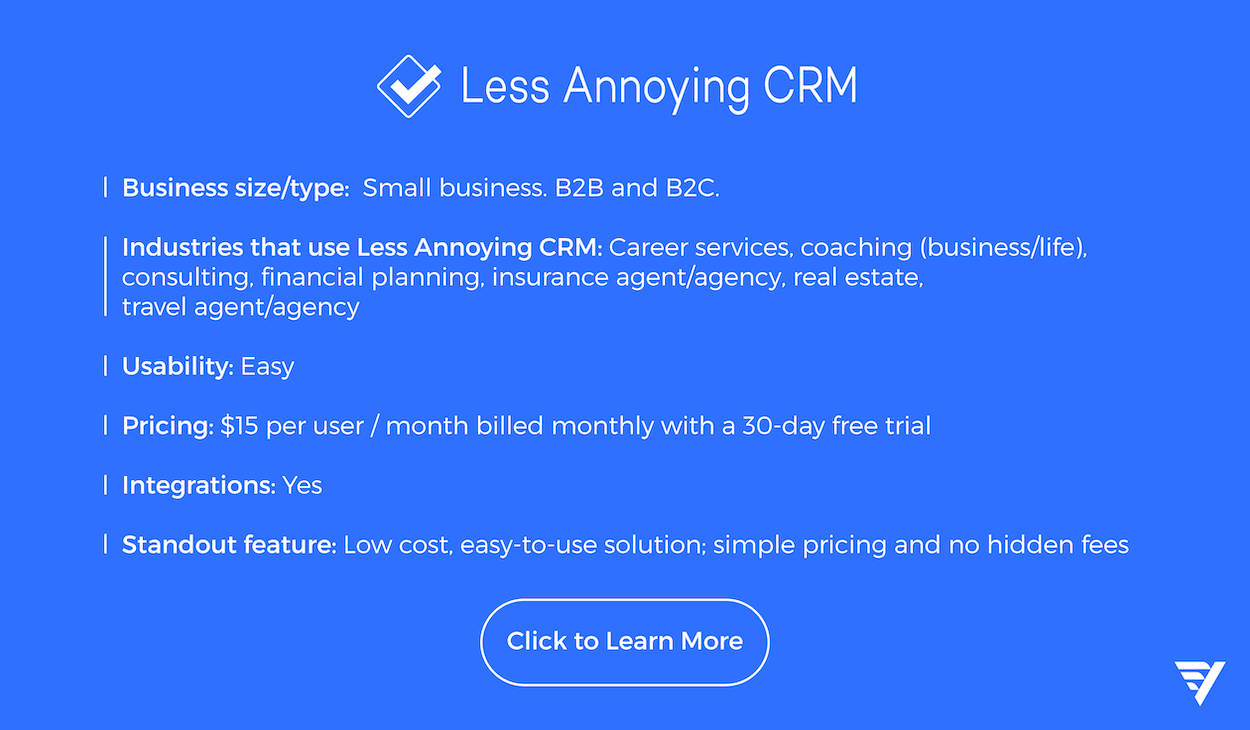 If the lower cost of Bitrix24 appealed to you, but the comprehensive feature deck and likely clunky nature of the tool was overwhelming, Less Annoying CRM might be a good choice for your small business.
As its name suggests, Less Annoying CRM is for the small business owner that is more concerned with simplicity and budget than a long list of unnecessary features, long-term contracts, hidden fees and confusing pricing. Reviews also mentioned that customer support is friendly and responsive.
While Less Annoying CRM is as easy to use as some of the other intuitive tools we mentioned in this article, it is also relatively easy to get set up and get running—a few hours may be enough to get you started even if you have no prior experience with CRMs.
Less Annoying CRM also has every feature you would expect from a sales and contact management tool without anything extra. View all of your contacts and related data in one interface, create custom fields for your contacts, company and pipelines, track your leads and stay abreast of upcoming tasks in a handy calendar view.
Standout feature: Less Annoying CRM is a low-cost, lean (not complex or bloated) CRM that is easy to set up and use.
Key features:
Contact management
Lead management and scoring
Task management
Calendar/reminder system
Sales force automation
Internal chat integration
Software integrations (fewer integrations than most platforms)
Pricing:
One plan at $15 per user/month billed monthly with a 30-day free trial. With this single plan, you get all of the CRM features.
Learn more about Less Annoying CRM.
How to Choose the Best CRM for Your Small Business
As we mentioned earlier in this article, when it comes to choosing the best CRM for your small business, consider the following factors:
Current costs
Future costs
Goals
Scalability
Integrations
Usability
Let's walk through a simple step-by-step plan to help you choose.
STEP #1: Comprehensive vs Focused: Determine Which Solution Fits Your Needs
Looking at the 14 CRMs we listed in this article, start by assessing which solution will fulfil your current and future needs.
Weigh the following factor:
Comprehensive vs Focused
If you are looking for a more comprehensive solution that includes more than just a simple CRM that can also offer marketing automation, email marketing and customer service features now, or in the future, these are your choices:
HubSpot
ActiveCampaign
Zoho
Salesforce
Salesflare
Insightly
AgileCRM (primarily for SaaS businesses)
Creatio
Bitrix24
If you are looking for a more focused simple solution that helps you manage either contacts, sales or both, consider these solutions:
Pipedrive
Copper
Salesmate
Less Annoying CRM
STEP #2: Match Your Business Type, Usability and Requirements
Once you choose between a comprehensive or focused solution, review our comparison chart again and match your business type, budget and usability requirements. Note that as we mentioned earlier in this article, pricing is unique to your organisation, so we recommend chatting with sales reps to get final pricing. Also, just because a tool hedges into moderate usability doesn't mean that you cannot get up and running quickly with a little assistance.
STEP #3: Focus on 2-5 Solutions to Test Drive
Whittle down your list of CRMs to 2-5 choices. Sign up for the free plans or free trials for each and take them for a test drive. Here are links to the CRM tools again:
STEP #4: Relax and Enjoy!
Sit back, relax and reward yourself for your hard work.
Any one of these tools will be a welcomed addition to your small business. Before long, you will be enjoying the ease and automation that will fuel your small business growth.
Good luck!