When it comes to B2B lead generation, what really works?
In this article, we're going to break down the key strategies that matter most in B2B and explore some of the most effective ways to generate leads.
But before we jump into specific examples and strategies, it's important that you get the foundations right and address any issues in your marketing processes.
The Groundwork
As I've written extensively in this guide to effective marketing planning, if you don't have a clear system for calibrating your marketing strategy off the back of each lead gen campaign, you'll likely end up misaligned and losing valuable insights.
Before you dive into testing different lead gen tactics, I'd strongly advise implementing some sort of marketing campaign framework – whether its a tool like TrueNorth or a spreadsheet as outlined in the post above.
With this in place, we can move onto which specific lead generation strategies to add and triage in your marketing plan.
Which B2B lead generation strategies work?
The answer to this question depends on who you ask.
If we were to go by HubSpot's study of the best B2B lead sources, we'd conclude that SEO is the best (identifiable) lead generation channel.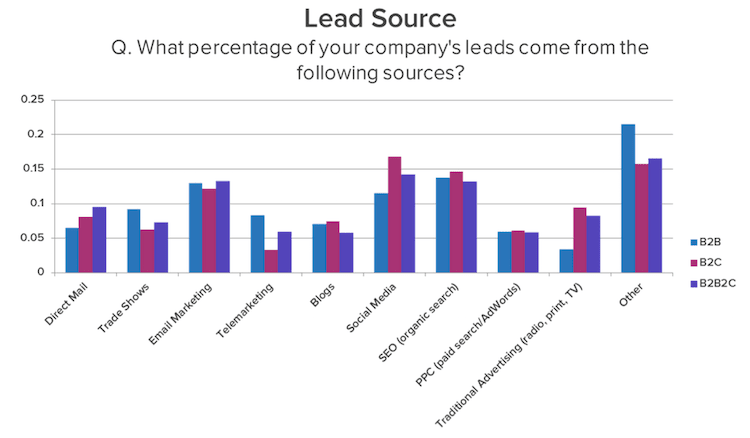 If, on the other hand, we used Chief Marketer's data on the same question, we'd conclude that email marketing is the most effective channel for B2B lead generation. Needless to say, there are similar surveys reporting that social media and content marketing are also the most effective forms of B2B lead generation.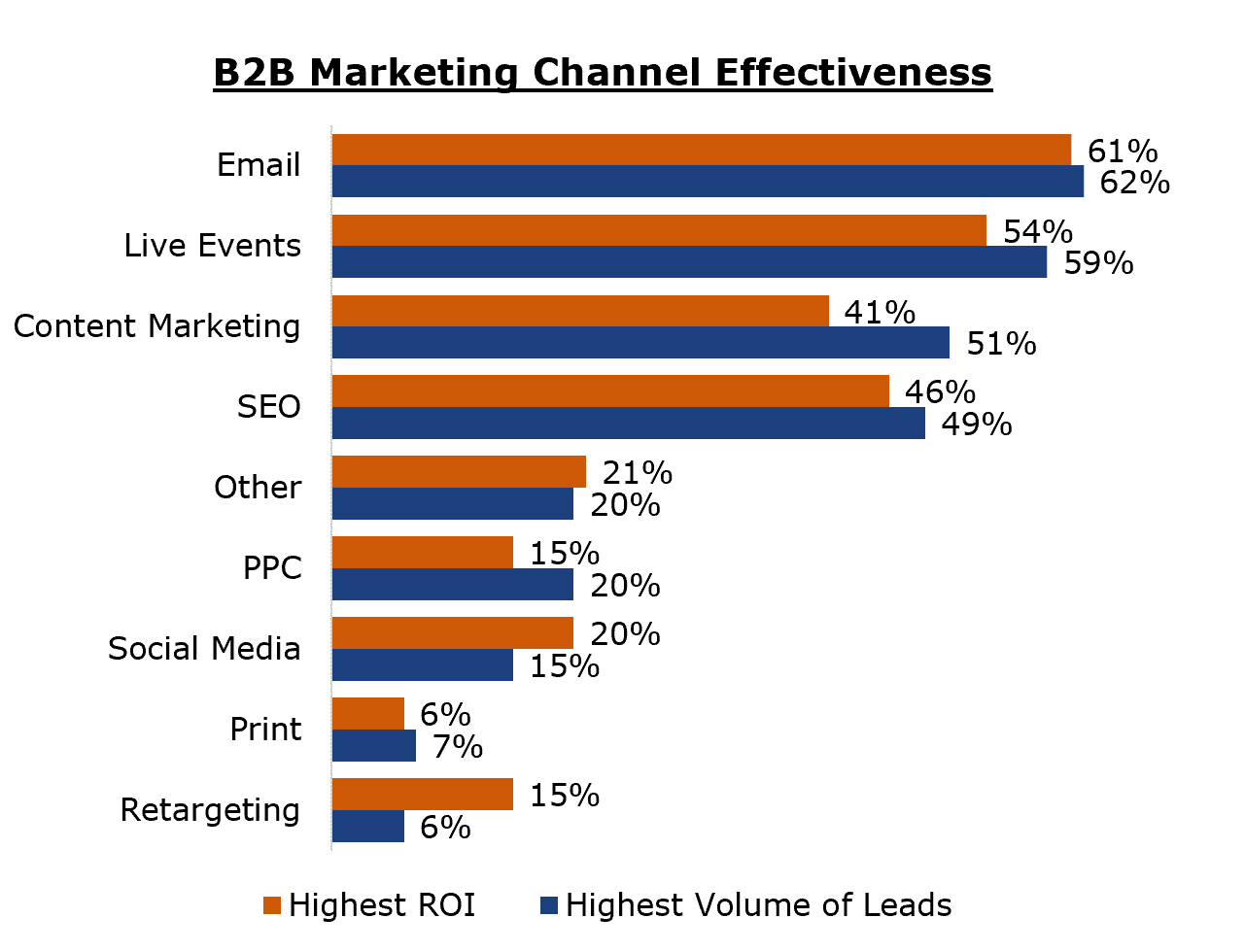 Why so much variation?
The likely answer is to do with audience biases. A survey conducted by an email marketing provider is almost certainly going to have different results to one conducted by PPC management tool, as their audiences have different skillsets and biases, skewing the results of their sample. As such, we should take the specific ranking of different strategies in these studies with a pinch of salt.
Inconsistencies aside, the online strategies that consistently come out at the top are:
Email marketing

Search marketing

Social marketing

Content marketing

Conversion rate optimisation
We'll look at each these in more depth in a moment, but bear in mind that how you use a lead generation channel is more important than what lead channel you choose.
Twitter can be used to close a $250,000 lead for a B2B business, or it can be used to spam potential leads and tarnish a brand. So, while the channel/strategy you choose will play a large role in how effective your lead generation is, how you execute your campaign will play an even bigger role.
With this caveat out the way, let's look at some of the ways that B2B companies are using the four strategies listed above to generate impressive results.
24 Strategies for Generating B2B Leads
In this section, we'll cover the four strategies outlined above, as well as a strategy that hasn't been mentioned in any of the studies, yet it enabled one B2B company to generate a 5,100% ROI from a $1 million investment.
First though, it's important to make sure that whichever strategy you choose, you have a well-tuned funnel that isn't going to leak valuable leads.
Avoiding the leaky bucket effect
Many B2B marketers spend a lot of time, metaphorically, pouring water into leaky buckets. Rather than fixing the bucket (the marketing funnel), they pour more water (traffic) into the bucket to keep it full.
This is a recipe for inflated acquisition costs and below-average results.
The biggest culprit here is landing pages and, in particular, your forms. Forms separate your leads from non-leads, and have a huge impact on your conversion rates and overall lead generation results. If you haven't already, I'd recommend optimising your forms – or using a tool like Leadformly to ensure that you're not leaving leads behind from your marketing campaigns.
Let's say you send 1,000 visits to your landing page at a cost of $3 per visit. If your form converts at 1% you'll get 10 leads at a cost per lead of $300. If, on the other hand, your form converted at 3%, you'd receive 30 leads at a cost per lead of $100.
That's 3X more leads for one third of the cost per leads without spending a penny extra – just by improving your lead generation form.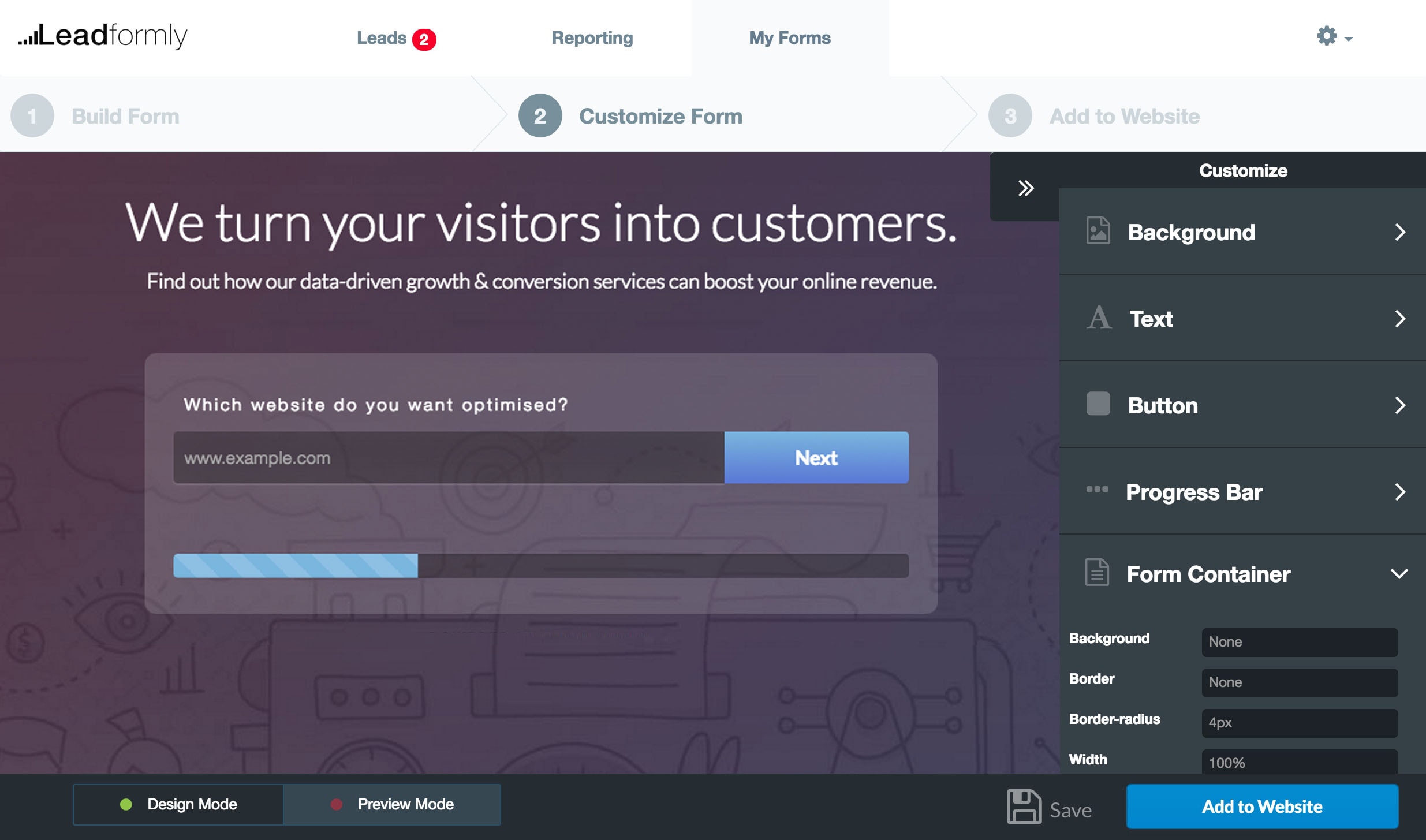 Once your funnel is well-optimised and you're confident that there's no more opportunity to improve your landing pages / funnels, it's time to acquire traffic – but which channels or lead generation strategies should you use?
Email marketing strategies to generate B2B leads
Email is one of the few online marketing channels that has stood the test of time. In fact, email is 23 years old this year, and it still trumps the top spot on many B2B marketer's lists of B2B lead generation strategies.
In this section, we've got some of the best email marketing strategies that'll help you generate more B2B leads in 2020.
#1: Automate your lead gen & email marketing campaigns
One of the biggest trends in email marketing at the moment, that has generated great results for many B2B businesses, is marketing automation.
Not sure what the fuss about marketing automation is? Read this. Essentially, automation cuts out the manual workload of managing segmented lists, targeting user behaviours and a whole bunch of tasks that can turn your email marketing strategy from meh into like recovering 50% of abandoned carts or increasing sales.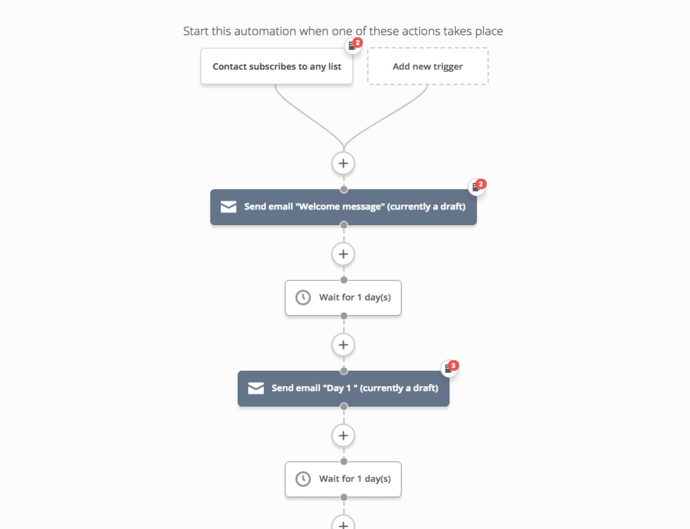 Here at Venture Harbour, we use ActiveCampaign as our all-in-one CRM, email and marketing automation platform and we've been using this for well over five years now. One of the main reasons we've stuck with ActiveCampaign is that it offers some of the best automation features in the industry without charging the kind of prices industry leaders typically do.
To find out some of the things you can do with marketing automation, take a look at our 30+ marketing automation workflows you can implement right now and 30+ more marketing and sales tasks you can automate articles.
#2: Build a free tool to reel leads in
One of the best lead generation strategies I've ever come across is using a free tool to reel users in. You'll see this from brands like HubSpot, which offers a free CRM to get people signed up and then it will try to upsell as many leads as possible.
One of my favourite examples, though, is Crazy Egg.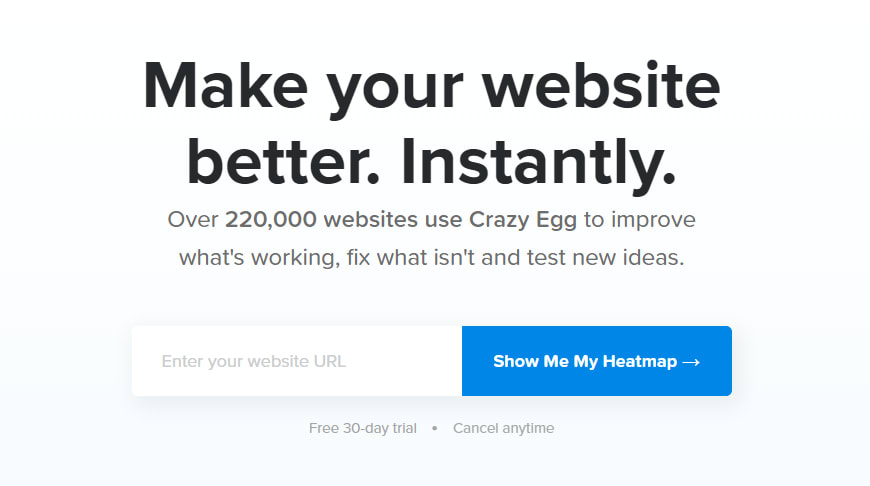 Crazy Egg doesn't ask you to sign up for anything or buy into any of its products (at least, not now). It simply offers a free tool on its website that promises to "Make your website better. Instantly."
That's one compelling call to action right there. All you have to do is type in your email address and hit the button to get your heatmap, which promises better website performance instantly.
Sign me up.
I like this lead generation tactic so much that I built it into one of my own ventures, Marketingautomationinsider.com. The website helps business owners find the best marketing automation software for their needs and all they have to do is fill out a multi-step form that guides them through the key questions.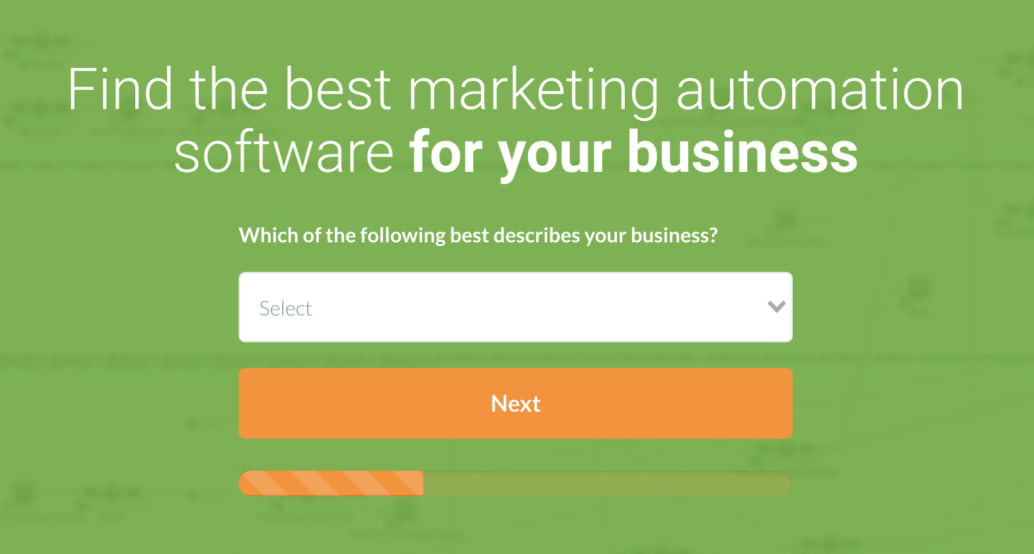 At the last stage, the form asks them for their email address where they'll receive their personalised list of software recommendations. After filling out 90% of the form, resistance to hand over an email address is almost non-existent by this point.
The result: Major email list growth.
#3: Give something away for 'free'
This email lead generation strategy is something of a classic but not many brands really pull it off. Today's internet users are so used to being promised something for free that it's lost all meaning – not to mention, most of the "freebies" are worth nothing to begin with.
Proposify understands this, which is why it offers its target audience free proposal templates, despite the fact its money comes from businesses paying for its proposal software.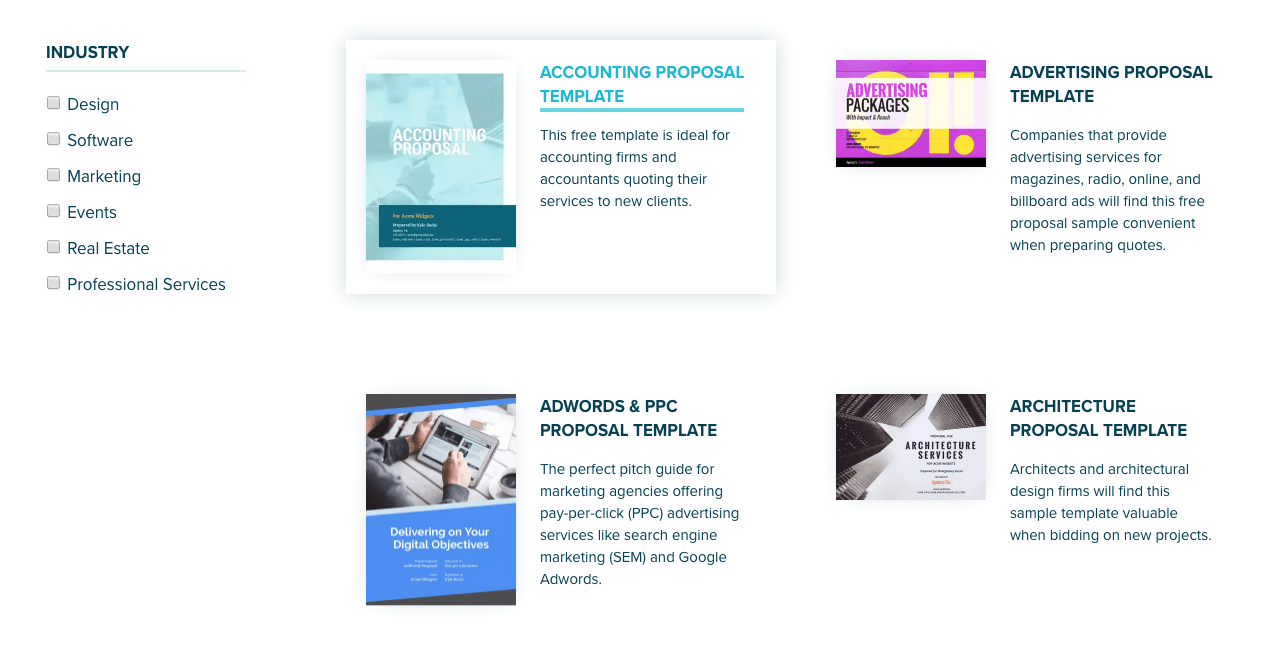 Of course, these free proposals are a lead generation strategy, designed to turn free users into paying customers. And the reason this works so well is because the free templates are both genuinely free and useful.
There's real value in these freebies.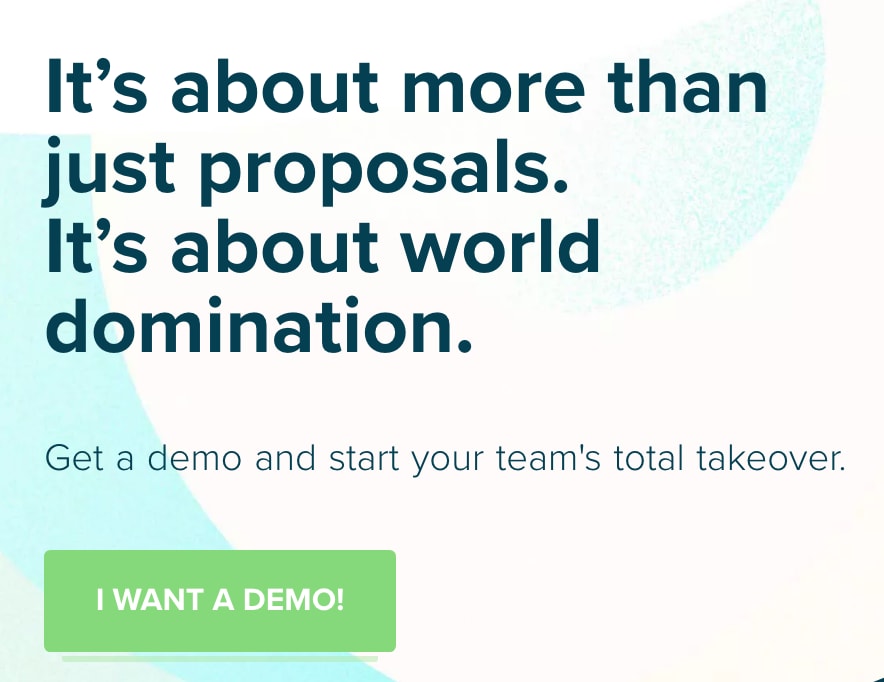 At the same time, any businesses that use Proposify's free proposals will learn that manually editing, moving and managing proposals is a little more time-consuming than they might like.
It's certainly more time-consuming than it would be if you were using Proposify's software and this is where lead generation strategy communicates the value of the product and shows people exactly where they can sign up.
#4: Create referral campaigns to turn email leads into… more email leads
There's nothing more satisfying than turning existing leads/customers into new ones – especially when you can get them to do all the hard work for you. This is where referral campaigns can work wonders, especially when you know how to automate the entire process.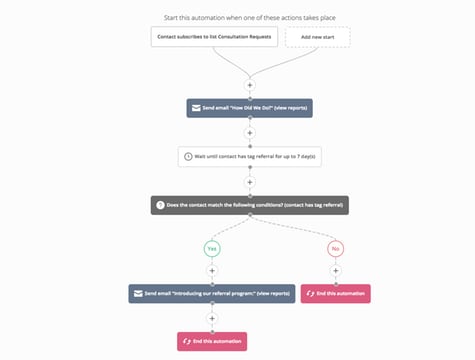 With ActiveCampaign, you can set up fully automated referral campaigns using this automation workflow or create your own, based on the criteria of your choice.
The key thing here is to offer a strong enough incentive for the customer referring you to their friends or contacts. Better yet, offer a reward for both of them to double up the incentive and encourage each customer to spread the word to as many people as they can.
#5: Create re-engagement & customer retention campaigns
Bringing dead leads back to life is as good as getting new ones – if not better. As we've explained before, it takes less than 24 hours for most leads to turn cold so this gives you an idea of how quickly leads can lose value between successful interactions.
(I say "successful" interactions because blasting users with emails every 24 hours isn't going to form a healthy relationship.)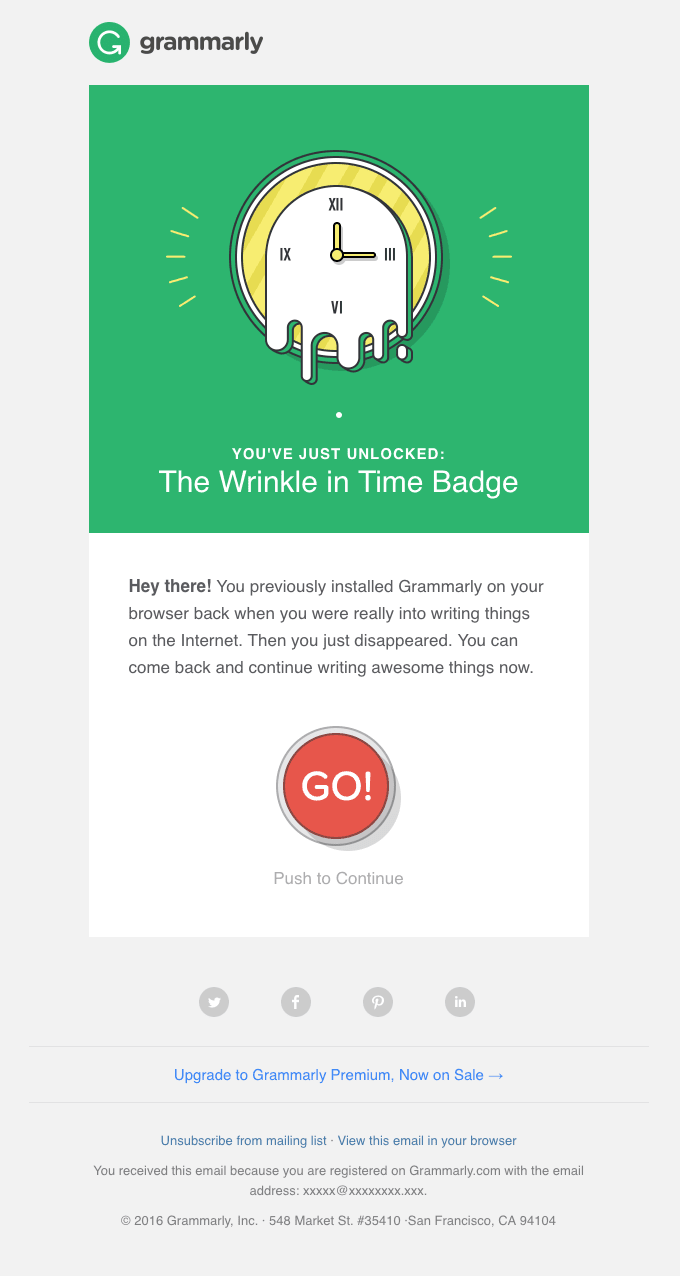 One of my favourite examples of a re-engagement email campaign is the one above from Grammarly. The campaign is aimed at people who haven't used its software tool in a while and the company even gamifies the interaction by awarding them a badge.
Content marketing strategies to generate B2B leads
According to research from Cision, 70% of users on the internet learn via content before purchasing a product compared to traditional advertisements.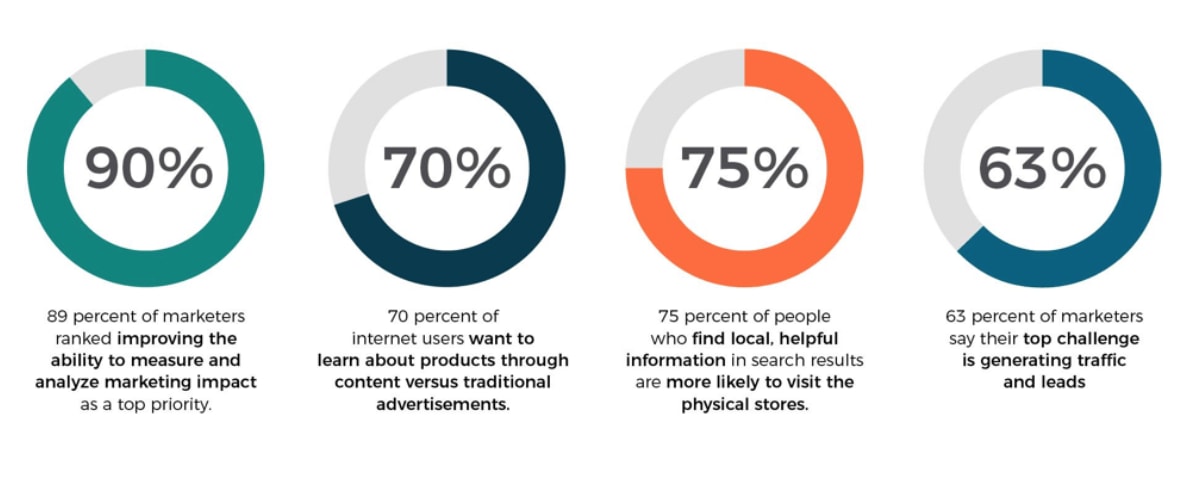 B2B decision-makers no longer rely on advertisers to inform them about products and a separate study by CSO Insights says that 70% of B2B buyers prefer self-education in the early stages of the buying process.
In other words, the people making the calls on whether to do business with you, trust themselves more than any ad or marketing message – and this needs to be reflecting in your B2B content marketing strategy.
#6: Create an automated webinar strategy
When 91% of B2B professionals say webinars are their preferred type of educational content, you need to listen to your audience. Webinars consistently top lists of the most effective B2B content formats but running a webinar strategy can require a lot of work.
Unless you automate the entire strategy, that is.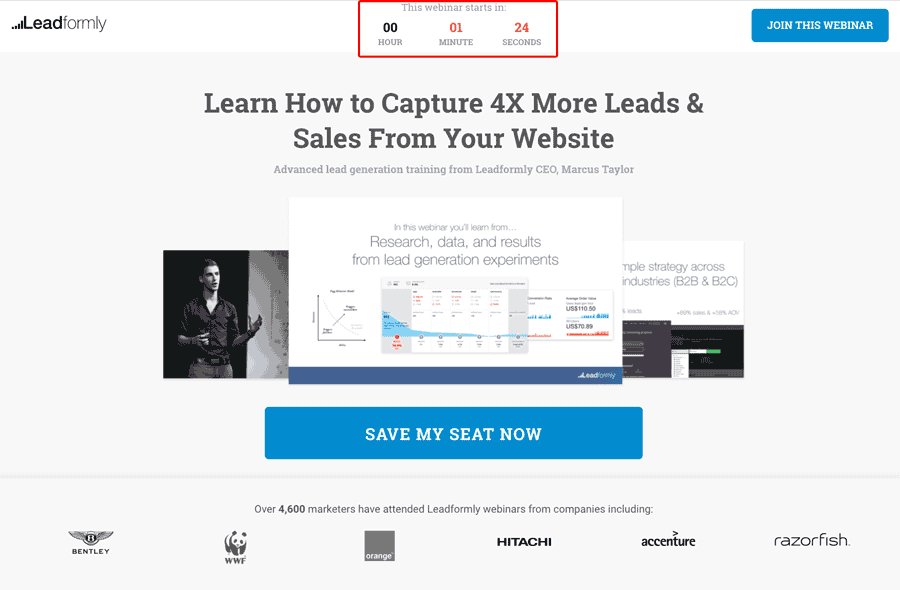 To this day, our automated webinar strategy remains one of our most effective lead generation strategies and we did 90% of the work years ago. Now, all that we need to do is keep track of performance, make the occasional tweak where needed and watch the leads roll in.
#7: Turn your blog posts into in-depth guides
This is another classic lead generation strategy but you'll see how we kick things up a gear in strategy #8. The thing about this strategy is that you're already investing time, effort and money into creating content for your website, blog, third-party sites, social media channels and more.
You want to make the most of that investment.
So it only makes sense to take that content, collect it in relevant groups and then turn it into much larger pieces of content. For example, all of your blog posts on business management can be combined into a comprehensive guide to business management – something business owners are going to be interested in downloading.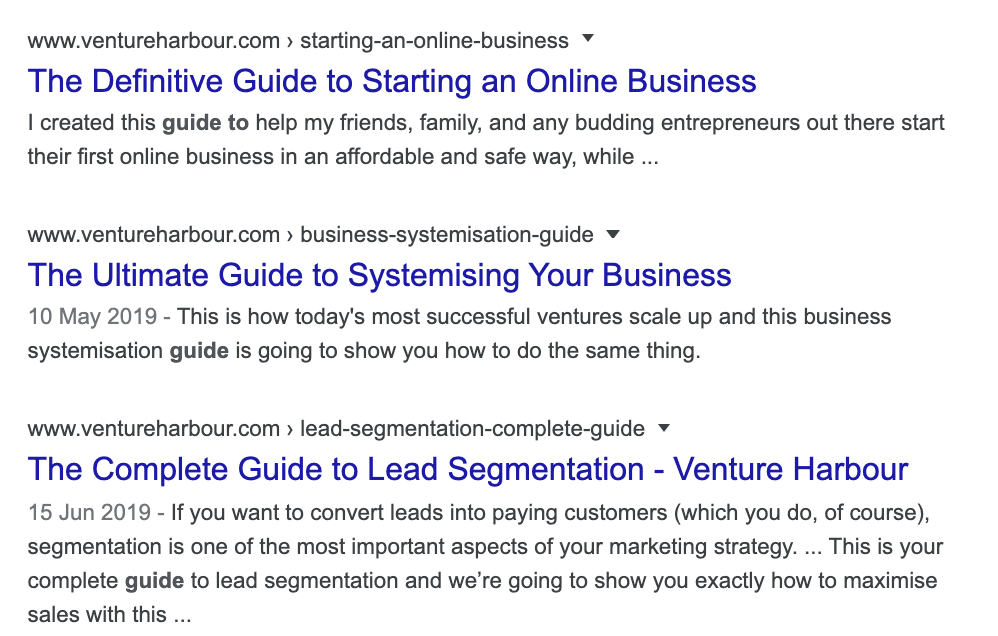 You know your audience is already interested in these topics because they're generating traffic. You also know which of these topics they're most interested in, based on the amount of traffic individual pieces of content are generating and engagement your social posts are attracting.
You can use this data to create even better content and target the same audiences on social media. All they need to do is hand over their email address and hit the download button.
#8: Add dynamic CTAs to your blog posts
Creating in-depth guides is one thing but maximising the number of downloads is something else. This strategy is designed to help you turn more blog readers into email leads and it uses the downloadable guides you created in strategy #7 to achieve this.
The reason this strategy is so important is because you want to turn as many blog readers as possible into leads rather than simply letting them go back to search or whichever social media platform they were previously using.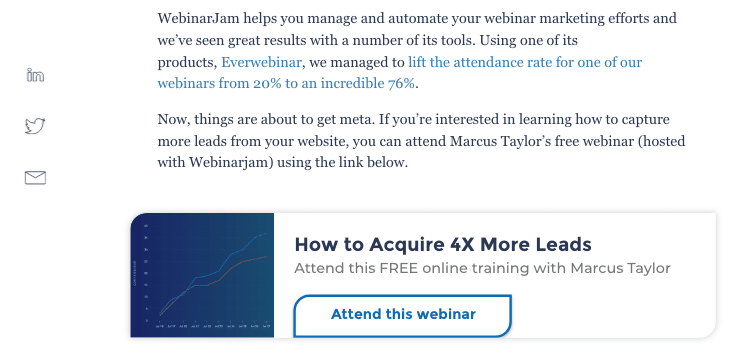 What you're going to do now is place CTAs on your blog posts, prompting readers to download your in-depth guide on the same topic. Once again, you're using the interest they've already demonstrated and creating a pathway for them to attain more detailed information.
Best of all, you can automate this so that CTAs pointing towards the relevant guide are automatically inserted in each blog post, depending on the topic/category you define before publishing.
image
You can find out how to do this in our article on 11 Lead Generation Ideas That'll Triple Your Email Signups where the technical process is explained in a section called "Convert blog readers with dynamic CTAs."
#9: Generate email leads from video views
Video content is another area where you don't want to let potential leads just watch your footage and then disappear again. You've worked hard to get your video seen by this prospect and it's a waste to sit back and let them walk away at this point.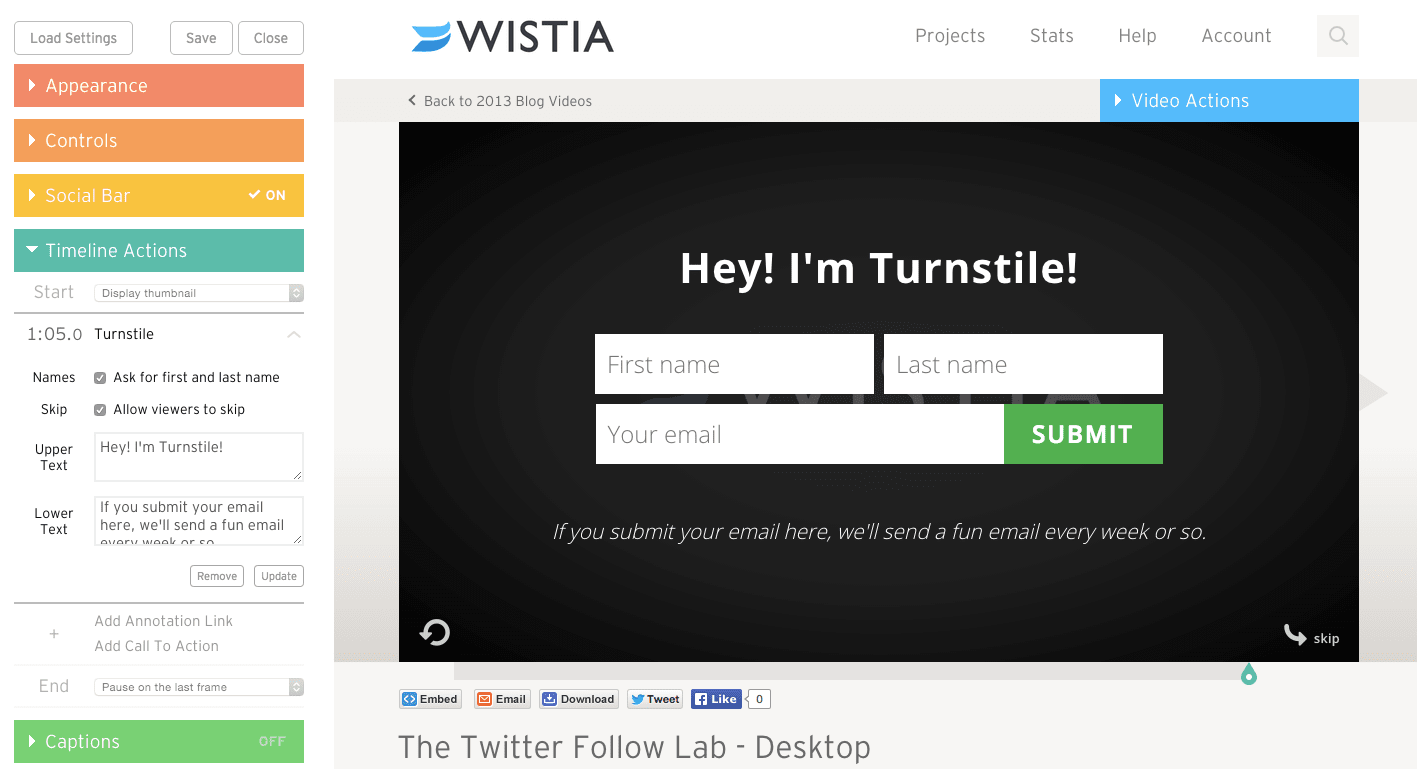 Turnstile is a great feature offered by Wistia that made it into our list of 35+ Lead Generation Tools To Boost Your Results In 2020. It allows you to place sign up CTAs on your videos to convert interested viewers into genuine leads.
You can choose when the form appears (before, during or after playback) and create custom messages to entice email sign-ups.
#10: Segment your content strategy
Segmentation is a word you'll hear a lot in relation to email marketing but it's just as important for content marketing. If you're creating generic content for broad audiences, you're unlikely to address the individual interests that inspire B2B buyers to take action, regardless of whether they're reading a blog post, email or product description.
As content marketing agency Skyword explains:
"Your audience is full of real people – each with his or her own unique identity and life. It's not enough to define them just by their demographics. How is someone's income level or location going to help you understand their emotions or interests? Original audience research will help you get to a level of in-depth understanding that goes beyond demographic criteria and generalizations. Demographics are a good place to start, but your audience research strategy shouldn't stop there."
So, just as you would with any good email marketing strategy, create content that reaches out to the needs of your buyer personas and create segmented campaigns designed to bring them on board.
You can reach these unique audiences in search via keyword targeting and social platforms like Facebook and LinkedIn allow you to pinpoint the most relevant audience niches. The necessary tools are all there; you just need to create the content and campaigns to make the most of them.
Search marketing strategies to generate B2B leads
Speaking of search, now seems like a good time to look at some of the best search marketing strategies for generating B2B leads. I always remember managing my first big SEO campaign for a major business stationery brand back in 2010 (how time flies).
While I can't take credit for all of the success (their in-house SEO team and previous agencies had laid a great foundation for us), I watched the site's revenue from SEO increase by over £4 million, just from a handful of keywords reaching #1 on Google.
Admittedly, SEO is a little more tricky in 2020 than it was 10 years ago but the power of having a strong search presence on Google is as strong as ever.
#11: Pack your content with data & sharable ideas
Back in 2010, you could almost publish anything and it would rank if you got the technical SEO basics right and pointed a few links to your page. Things are very different in 2020 and you really have to earn your place in the SERPs these days.
One thing that hasn't changed is that links remain one of the most important ranking factors, as confirmed by Google itself in 2016 and various studies since – such as this one from Backlinko (2020).
One of the most effective ways of generating the links you need to get your pages in position #1 is to pack your content full of data, stats and third-party references from trusted sources.
This makes it easy for Google's algorithm to verify the accuracy and reliability of your content and it also makes it more link-worthy and sharable to users.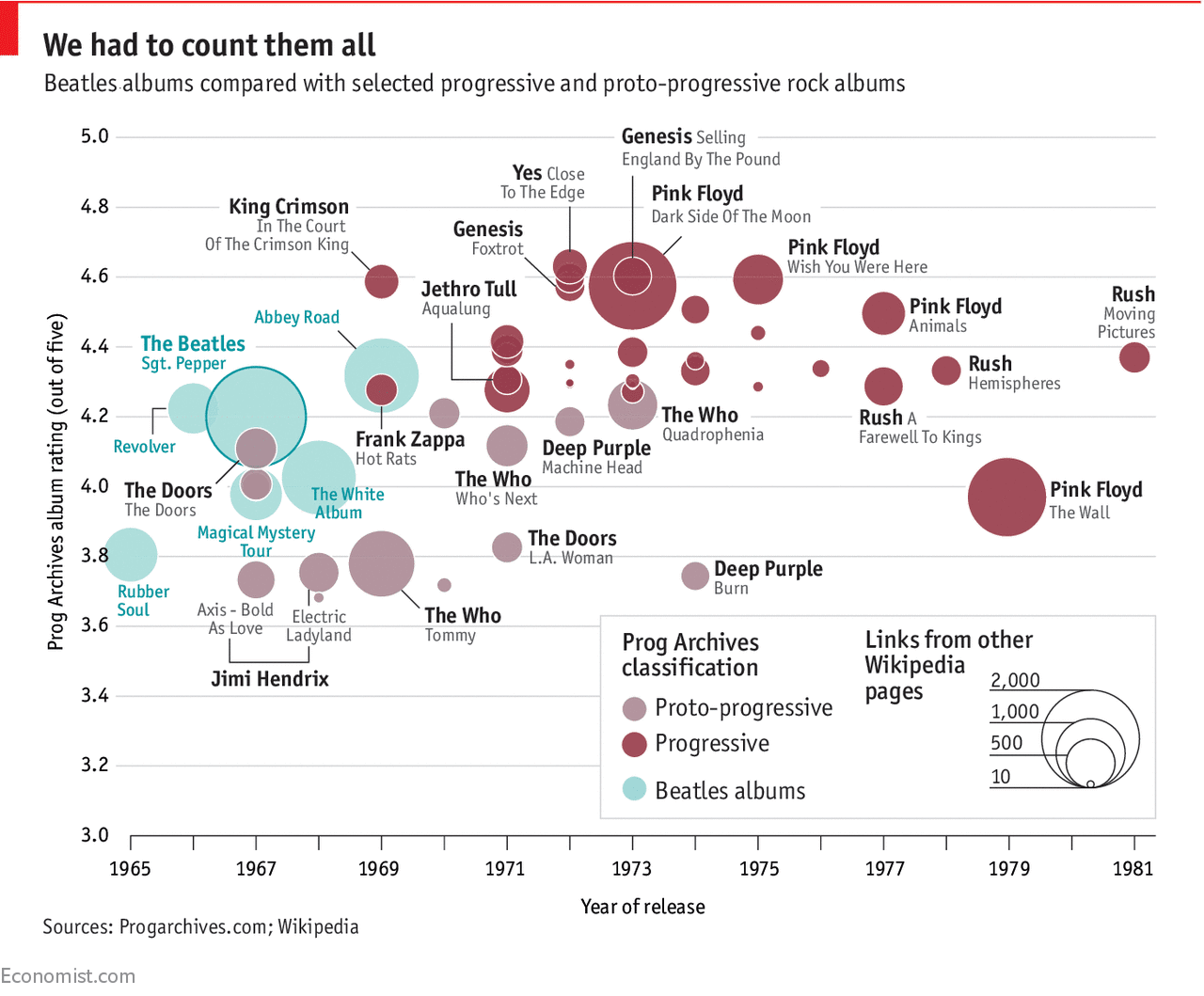 Taking this to the extreme is a concept called data journalism, where you publish data-packed content that creates an entire narrative around data insights. Such as the example above that turns Spotify data into a visualisation that rates and compares albums by progressive rock bands against the Beatles (credit: Economist.com).
Or how about this visual comparison of the heights and weights of every actor who played Batman against the comic book original (and the Lego Batman version, of course).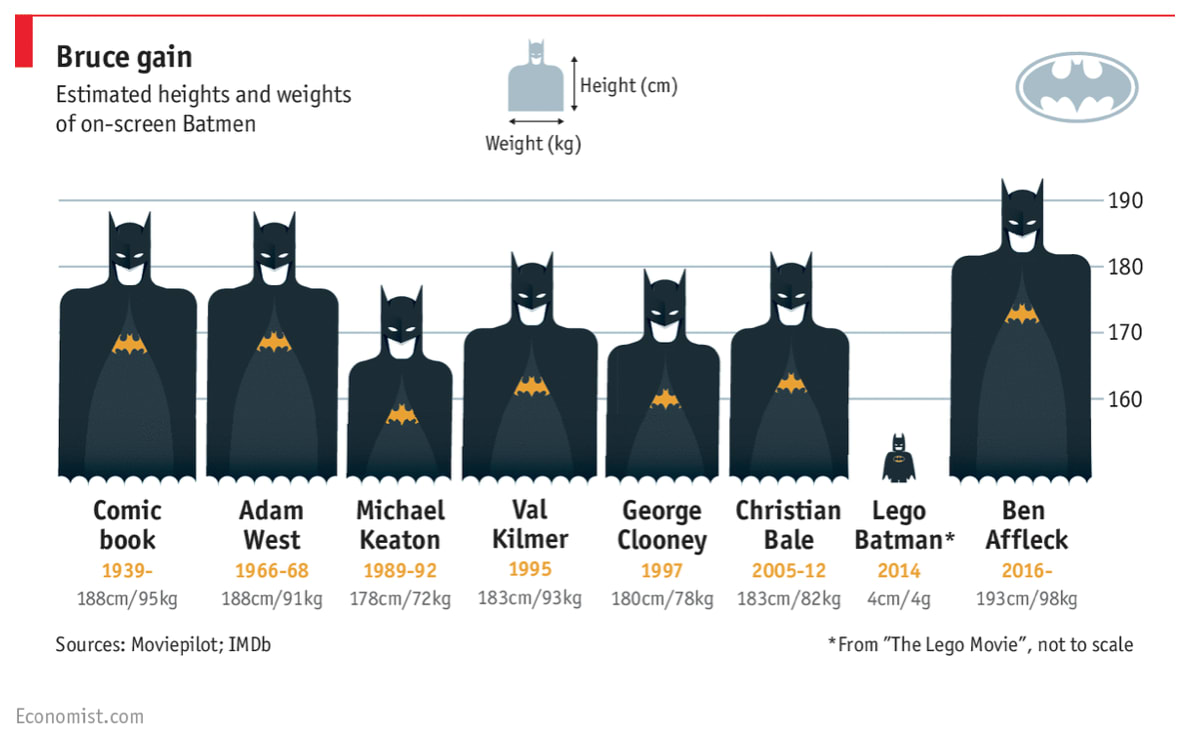 Not all data journalism needs to be visual but it does create value and meaning out of widely available datasets and it results in content that you want to share and link to, even when it's entirely useless information about Val Kilmer's waistline.
#12: Update your old content
One of the most important SEO strategies that businesses tend to forget about is updating old content. As Yoast explains, in this article:
"Cleaning up old content should be part of your content maintenance routine. If you don't go through your old posts regularly, you're bound to run into issues sooner or later. You might show incorrect information to visitors or hurt your own rankings by having too many pages about the same topic, increasing chances of keyword cannibalization, which is a lot of work to fix later on. Therefore, go through your old posts, and decide what to do: update, merge or delete."
As it happens, this article you're reading right now has been updated multiple times since it was first published – and it probably will be again multiple times in the future.
When content gets old, bad things can happen: broken links, inaccurate/irrelevant information, ranking drops, etc. Most importantly, though, your content isn't going to generate leads if it's not up-to-date and addressing the needs of your audience today.
#13: Build negative keyword lists in Google Ads
Moving away from SEO for a moment, let's take some time to talk about paid search. For B2B advertisers, single keyword ad groups (SKAGs) used to be a reliable strategy for pinpointing highly-niche audiences.
Basically, you could define a specific keyword like "accounting software free demo" and set campaigns to only target that keyword. Or, you could go even more niche with a keyword like "best accounting software for remote freelancers" and guarantee your ad would be seen by the right audience.
Sadly, Google has killed of this capability over the years by making its keyword match types less strict. So you can no longer define a single keyword and ensure your ads are only seen by people typing that exact query into Google.
However , you can get close by choosing a single keyword, selecting the exact match keyword matching option and building a list of negative keywords around it.
While regular keywords tell Google to show your ad to users typing the same phrase, negative keywords tell Google not to show your ad to someone who types X, Y and Z.
These are crucial to targeting the right audience in Google Ads and delivering highly-relevant leads to your landing pages, making them more likely to convert into leads.
#14: Personalise your landing pages to match search intent
With your Google Ads campaigns bringing in highly relevant traffic, you can increase the likelihood of generating leads even further by personalising your landing pages to match the keywords they used to find your business.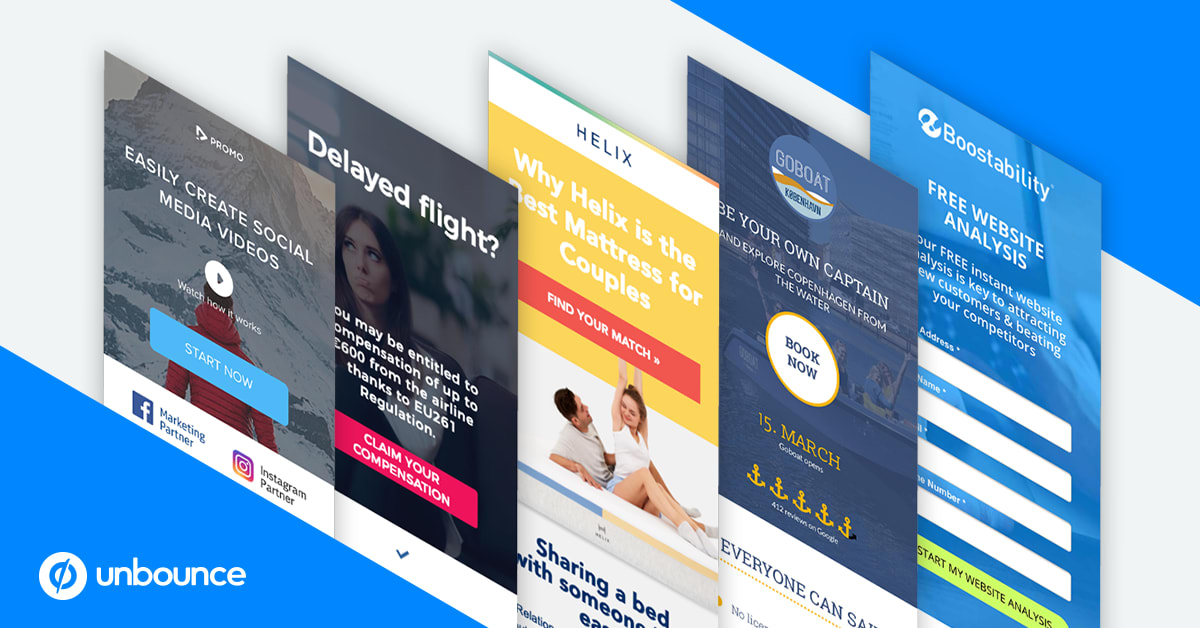 Unbounce provides a great feature for this, which is called Dynamic Text Replacement. What this does is match the content on your landing pages to the copy of your ads to ensure visitors find what they're looking for when they land on your site.
This is especially important when Google's keyword match types are much looser than they used to be and the actual keyword a user types in can be slightly different to the one you're targeting.
#15: Create remarketing campaigns to keep users engaged until they convert into leads
PPC is great for bringing high-quality traffic to your website but, no matter how good your targeting and campaigns are, the majority don't convert into leads right away.
This is why remarketing campaigns are so important because they allow you to keep visitors engaged with your brand until they're ready to take action.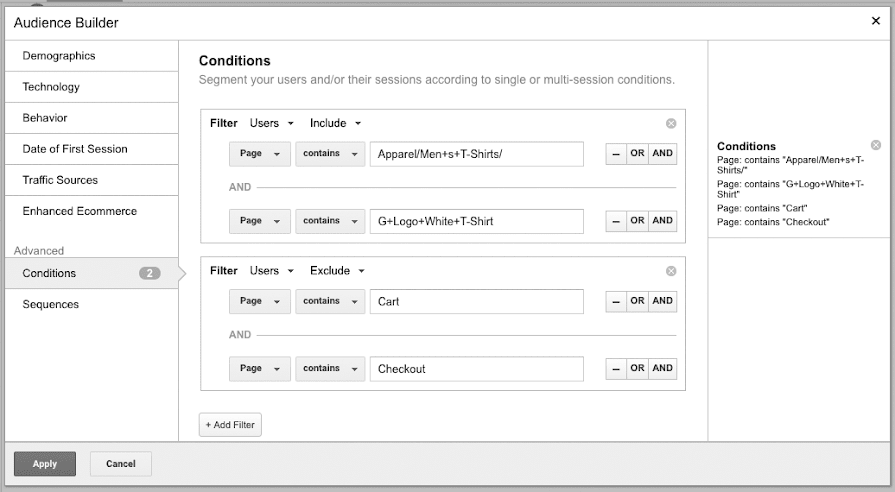 In that article, we explain the following 10 remarketing campaign strategies in detail:
Creating remarketing lists for every stage of your sales funnel

Creating separate remarketing landing pages

Creating remarketing lists for your email subscribers

Reaching new audiences with Customer Match & Lookalike Audiences

Maximising email sign-ups with multi-step forms

Moving B2B leads along your sales funnel with remarketing lists

Post-purchase remarketing campaigns

Content remarketing campaigns

Limited offer remarketing campaigns

Staying GDPR-compliant
You'll also find more tips on remarketing campaigns in our 10 Advanced Remarketing Techniques to Increase Conversions article.
Social media strategies to generate B2B leads
Social media marketing has evolved into a mature B2B leads generation channel over the years, which shows how much progress has been made since the early Facebook days. By 2017, 83% of B2B marketers were using social media as a channel, making it the most popular strategy.
Even channels associated more with B2C marketing are proving to be valuable platforms for B2B marketers with 65% saying they planned to increase Instagram activity in 2019.
#16: Use LinkedIn Advertising to target big spenders
LinkedIn ads are expensive and I'm not going to try and say otherwise. It is funny how much this puts B2B marketers off from advertising on the network, though. After all, you can make progress on LinkedIn organically and pay a fraction of the price for ads on Facebook.
This is the wrong mentality, though.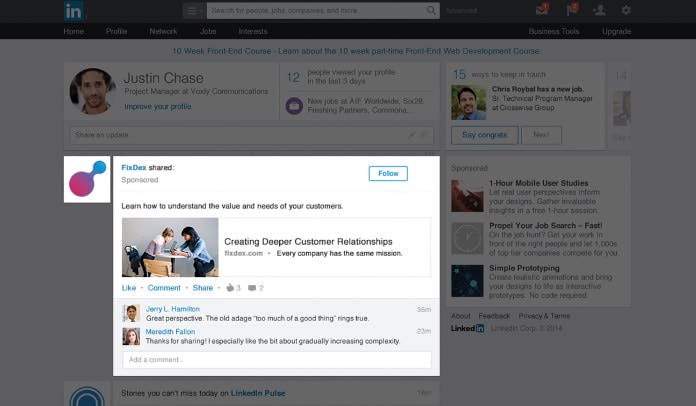 LinkedIn Advertising gives you a direct line to business decision-makers like no other network, allowing you to reach out to the individuals who make the key purchase choices. Yes, the ads are expensive. So what you want to do is target the biggest spenders so that you're able to make big profits, even from the average 6.5% conversion rate B2B marketers typically get from LinkedIn Advertising.
#17: Promote your lead gen content on Twitter
Twitter has led a strange existence since the first tweet was published in 2016. In fact, the company no longer lists itself as a social network on the major app stores, instead choosing to call itself a news platform.
While nobody's going to stop considering Twitter as a social network anytime soon, the category change says a lot about how people actually use the network.
Twitter is a place for people to stay up-to-date and informed about the things they care about – and this is the role B2B brands need to take on the network.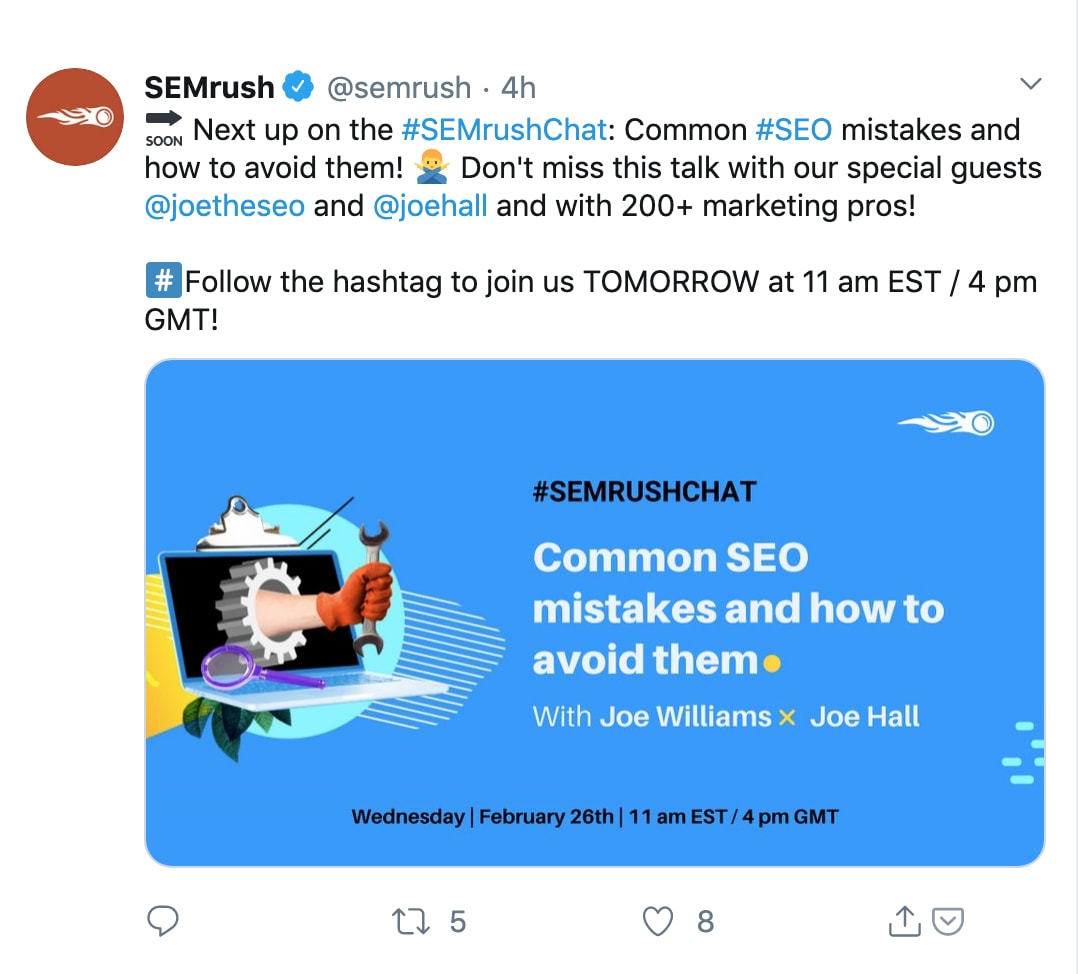 One of the best examples of B2B lead generation I've seen on Twitter is SEMrush and I'm not talking about a single campaign here. I'm talking about the company's ongoing Twitter strategy that heavily engages with users, promotes third-party content and likes every positive mention about its brand.
SEMrush has created its own community within Twitter and it seems to be constantly growing, bringing more potential leads into the mix. Oh yeah, and it has good taste when it comes to picking out quality content.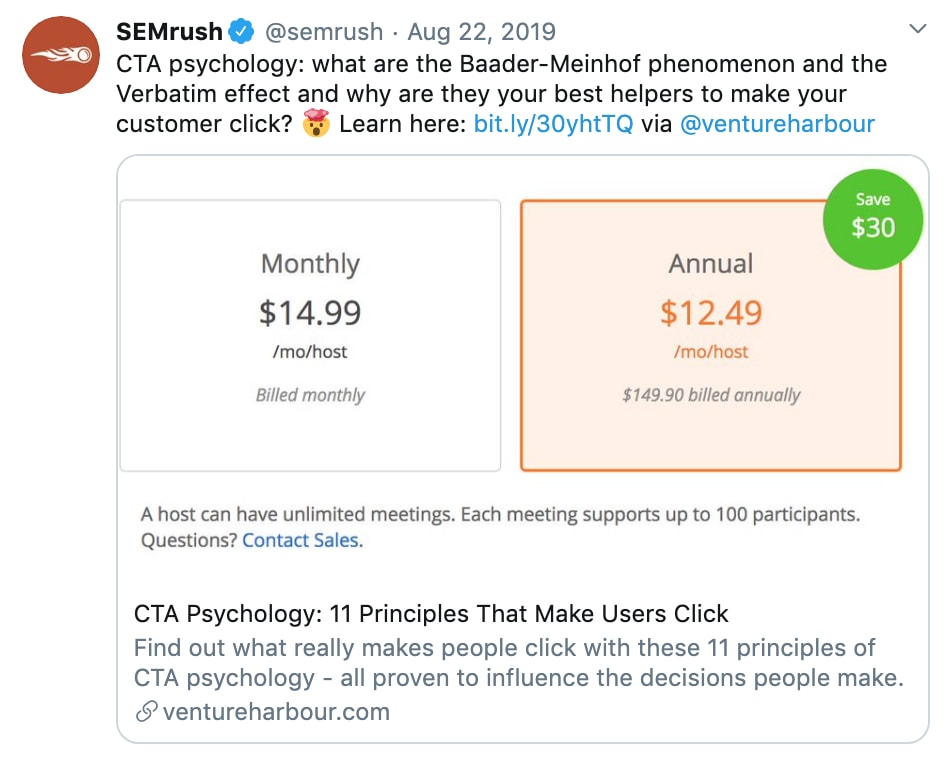 #18: Make the most of Facebook's targeting options
We've written about Facebook's powerful targeting options on our blog before and they're still the best in the industry. This has been crucial to Facebook's dominance in social advertising, leveraging the swathes of data users hand over every time they open the app.
It's also played a crucial role in Facebook becoming just as effective for B2B campaigns as B2C.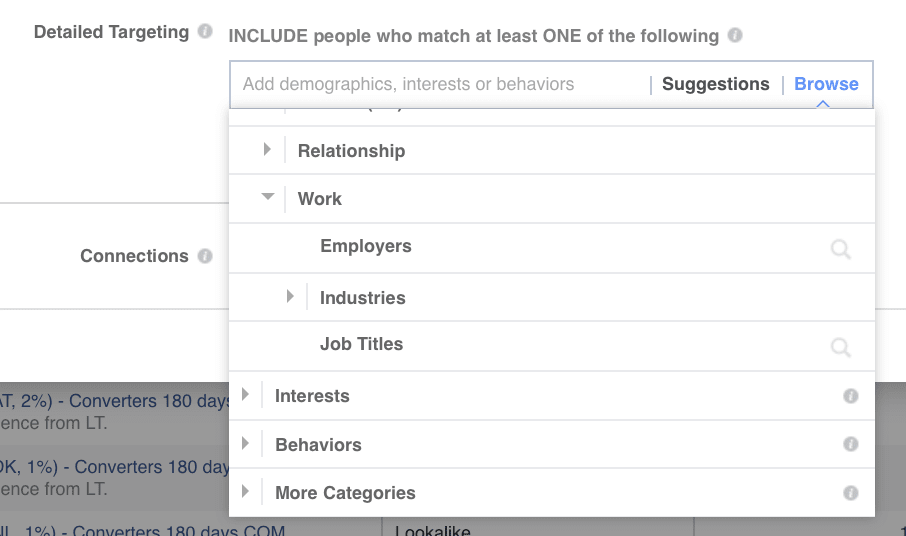 #18: Make the most of Facebook's targeting options
We've written about Facebook's powerful targeting options on our blog before and they're still the best in the industry. This has been crucial to Facebook's dominance in social advertising, leveraging the swathes of data users hand over every time they open the app.
It's also played a crucial role in Facebook becoming just as effective for B2B campaigns as B2C.
Quora works on many levels, too. You can use it as a research tool to find out what questions and needs your target audience have. You can also use it to see how your competitors respond to these questions. And you can, of course, use Quora to interact with users directly and position your brand as an authority within your field.
The one thing I recommend that you don't do is use Quora as a place to disguise "answers" as sales pitches for every question remotely relevant to your products/services. There's already way too much of this going on and it doesn't make a good impression.
#20: Build your own online community
Reddit and Quora prove that the power of online communities is still strong but this shouldn't be any secret. Some of the most successful B2B marketing strategies have emerged from creating groups on networks like LinkedIn and Facebook, which offer specific features for this.
We've also seen how SEMrush created its own community within Twitter even though that particular network doesn't have dedicated functionality for creating these in the same way.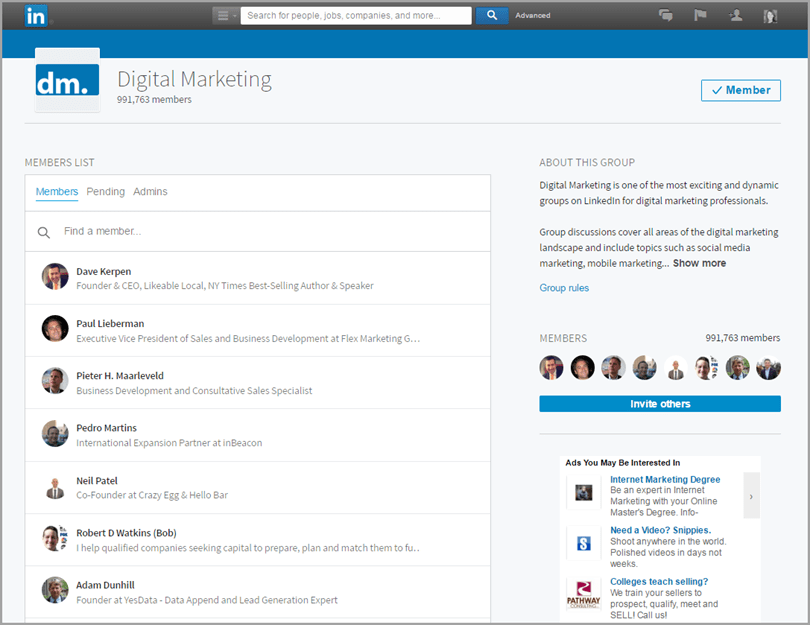 Creating a successful group on networks like LinkedIn and Facebook is more difficult than it once was, largely because so many topics have been covered and saturated. However, this doesn't mean that you can't establish yourself as a valuable part of existing groups/communities to build up awareness and then create your own when you have something of a following.
As long as you've got something fresh and valuable to offer the community, people will be drawn to what you have to say.
Conversion rate optimisation strategies
It doesn't matter how much traffic your search and social campaigns are generating if your website isn't converting them into leads. Likewise, your efforts to build a community on social are going to end up fruitless if nobody takes action after visiting your website.
Conversion rate optimisation is all about converting more visitors into leads and customers – crucial for any lead generation strategy.
#21: Optimise your web forms
Every conversion goal involves some kind of a form, whether it's a product purchase, email sign-up, content download or anything else. Even after you've convinced someone to take action, that web form of yours is still standing between them and completing your conversion goal.
So the first place to start with your conversion optimisation efforts is your web forms.
One of the best discoveries I've (accidentally) made in my career is that multi-step forms convert significantly higher than traditional designs. In our early tests, multi-step forms were achieving up to 300% higher conversion rates than the original. In later tests, we've achieved conversion boosts as high as 743% with multi-step forms.
Along this journey of form optimisation, I learned a lot about what stops people from successfully completing forms. Above all, I learned the importance of having a form analytics tool that provides in-depth insights into how users are interacting with individual form fields.
The problem was, no such form analytics tool existed at the time.
So we built our own form design and analytics platform that makes it easy to build, test and embed forms on any page without writing any code. Leadformly provides the detailed insights you need to pinpoint which form fields are causing problems so you can improve them or remove them entirely.
#22: Exit-intent pop-ups
Exit-intent pop-ups are a divisive topic that separates the UX purists from the result-driven marketers. I'm somewhere in between these two groups but definitely leaning more towards the result-driven marketer side of the spectrum and I've seen positive results from exit-intent pop-ups – when they're used in the right way.
As we explain in our Do Exit-Intent Popups Actually Increase Conversions?, implementation is everything:
"Let's imagine a user who's found nothing interesting on your homepage and decided to leave. If you expect them to suddenly sign up to your newsletter because you make it unnecessarily difficult for them to leave, prepare to be disappointed.

Now, let's imagine a different user. This one clicked through to a blog post of yours via social media, meaning they've shown a specific interest in a topic. And, once they're done reading, there's a good chance their next action will be leaving – unless you provide them with a reason to stick around. In this case, a targeted exit pop-up that offers a free download or promotion related to your article makes sense."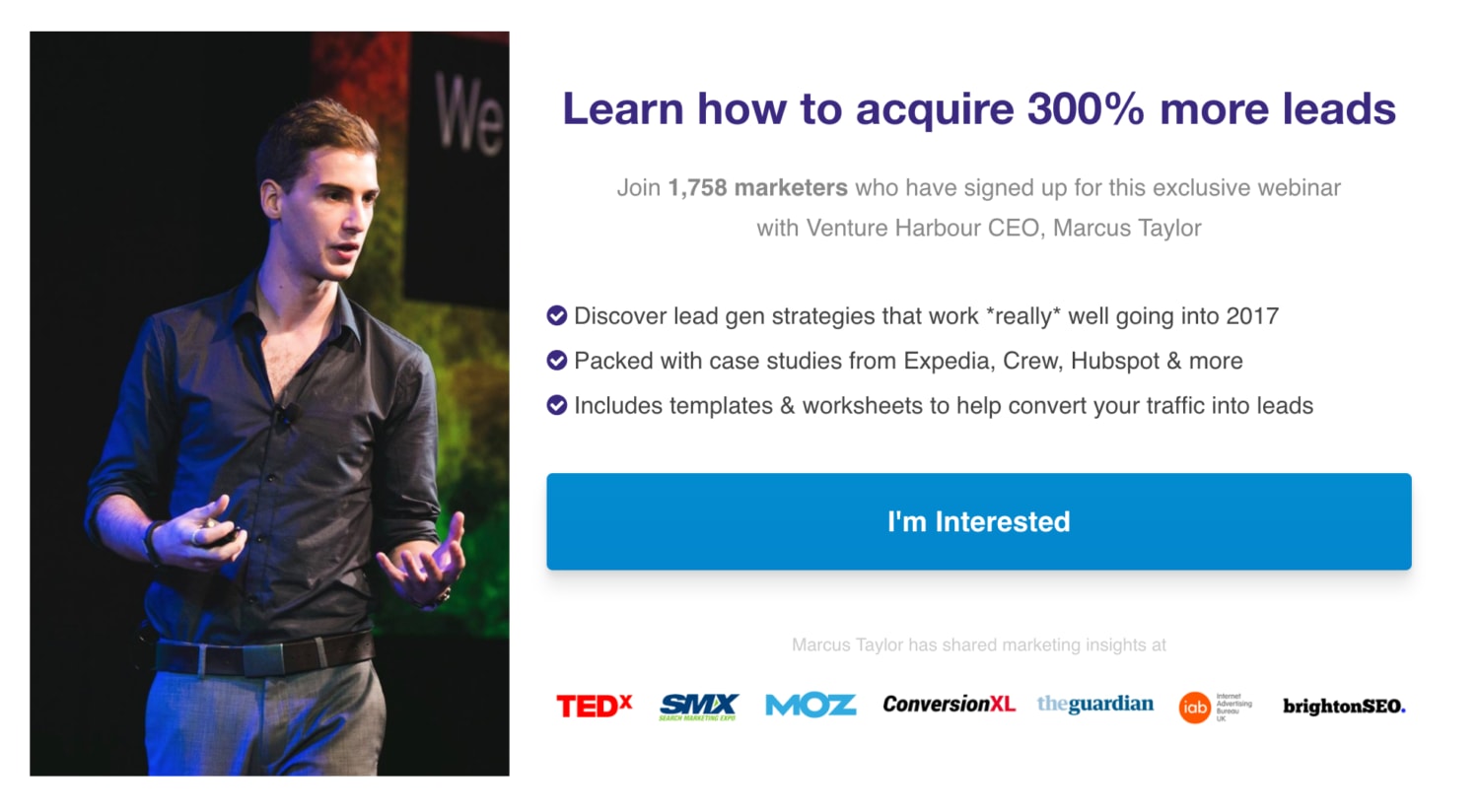 You really have to determine what message will capture users' attention once they've already made the call to leave your site. What can you offer these prospects at the final moment that will change their mind and convince them to stay engaged with your brand?
#23: Use heatmaps to pinpoint conversion barriers
Heatmaps are a crucial CRO feature and we've seen how Crazy Egg uses them as a lead generation strategy by offering them as a free tool on its website.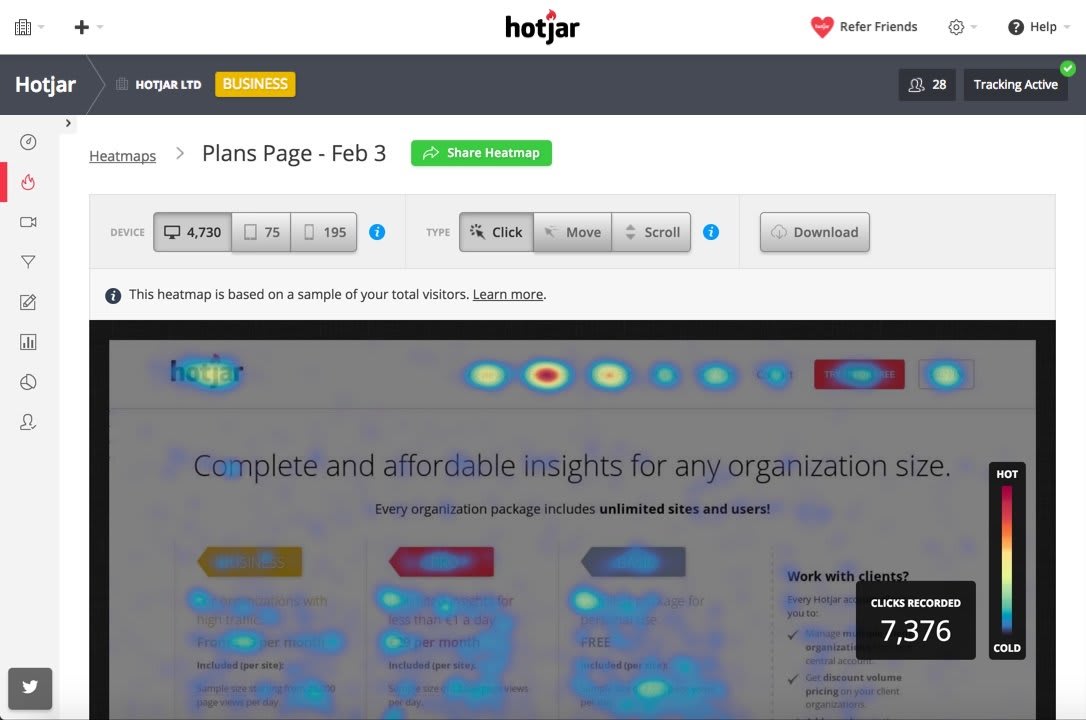 Heatmaps show you where users click, scroll, move their mouse and reveal crucial user actions that help you discover UX and conversion barriers. For example, you can see if users scroll right past your CTA when this should be the element on the page that grabs their attention most.
You can also compare the click rate of different elements to see if users are taking the desired action on your page or being distracted by something else.
#24: Test the elements that matter most
The biggest CRO mistake I see people make is they dive right into minute details like CTA button colours and font styles. This is because there are countless articles published from companies saying they increased conversion by 3 million percent after adding an exclamation mark!
It's all nonsense, of course.
You're not going to influence savvy business minds by choosing some "psychological" background colour (contrast is far more important than individual colour choices). You're going to influence these people by addressing their needs as a buyer and showing that you can solve their business problems.
So start by testing different variations of your page content to determine which message is most convincing. Do the same with your CTAs – test different variations of CTA copy because this is what has by far the greatest influence.
Button colours can wait.

At the same time, you want to remove as many conversion barriers as possible. We're talking about things like slow loading times, poor navigation, responsive design issues and other major UX problems that prevent potential leads from converting.
Then you can start looking at smaller details like CTA placement to determine where these are most effective – and this is another task where heatmaps are invaluable.
Eventually, you might get to a point* where you're confident enough that your copy can't be improved any more and there are no more UX issues making it difficult to convert. You may get to a point where you think your layouts are as effective as possible. And this is the point where you probably want to start thinking about changing that blue CTA button to a fancy orange.
(*You won't)
How many leads can you handle?
Following the lead generation strategies we've looked at in this article, the key question now is how many leads can you handle? There comes a point where you end up with more leads than your sales process can deal with but there's a solution for this problem as well.
Automation means you can handle vast numbers of leads without the manual workload and you can take a look at our articles on lead segmentation and lead qualification/scoring to learn how you can prioritise the most valuable leads to your business.