There are plenty of CRM platforms out there claiming to offer everything a business could need, regardless of size – but few of them can really provide what enterprise brands need to make the most of their relationships with customers.
Aside from being able to handle the number of leads you're generating daily, your enterprise CRM needs to provide enough user profiles for your expansive sales and marketing teams. You also want a single solution that you can customise to meet your business needs, rather than having to adapt your workflow to software limitations.
These sound like basic requirements but it's surprisingly difficult to find "enterprise" CRM platforms that deliver on the essentials for big businesses. So here's our list of customer relationship management platforms that genuinely offer the enterprise package.
What are we looking at in this guide?
This guide is designed to help you find the best enterprise CRM platform to unify your marketing and sales processes. This is an in-depth guide so here's a preview of what's to come and you can jump ahead to any section by clicking on the links below:
It took us many years to find the best CRM platform for our business so we understand how difficult this journey can be. We tried dozens of software platforms and tested several multiple times before we settled on ActiveCampaign as the best all-in-one sales and marketing CRM for us.
It was worth investing the time to find the best system for our needs but it was a long process so this article aims to help you find the best platform for your needs faster.
We learned a lot about CRM platforms while testing out every option we could – about individual software tools, the different types of platforms available and CRMs in general.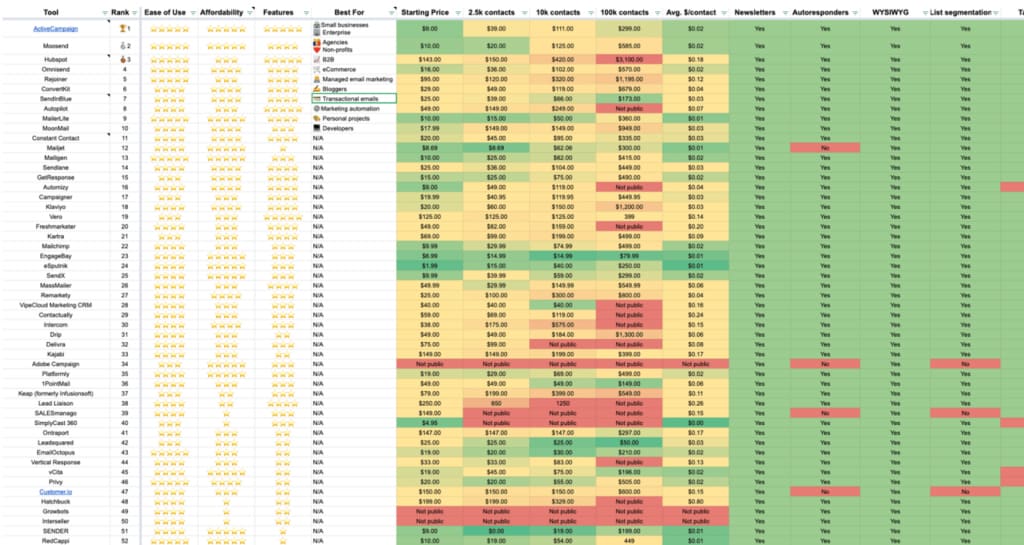 To make the most of this experience, we compiled data based on our findings and surveyed more than 10,000 marketers to create an unbiased index of the best CRM platforms for different use cases.
Instead of simply asking marketers what they like about their current system, we reached out to senior marketers looking to change their CRM platform. We asked them what they liked about their current solution and where it falls short of their needs.
This way, we get an unbiased account of the good and bad for each system, which we can compare to our own experiences (we have tested all of the platforms in this article ourselves).
We'll also include comparison tables where relevant, such as this one looking at how much each enterprise CRM costs, based on the size of your team.
We take the same data-driven approach in our other software guides:
So, if you're a smaller or growing business looking for the ideal CRM platform, you can take a look at the articles listed above. Otherwise, keep reading to discover the best platforms for enterprise companies.
The best enterprise CRM solutions
This guide is aimed at enterprise companies that typically have large customer bases, sales teams and demanding needs for an all-in-one marketing and sales CRM.
The platforms we're looking at in this guide are the top performers in our survey, based on responses from enterprise marketers and our own experiences here at Venture Harbour:
The most surprising takeaway from our survey is that many of the traditional names are missing from our top 10 – solutions like Salesforce and Microsoft Dynamics 365.
As we found in our trials with these platforms, a lot of the traditional enterprise platforms have fallen out of touch with the needs of modern businesses. Today's enterprise companies are more agile than their predecessors and the operational differences between smaller and larger businesses have shrunk.
For example, here at Venture Harbour, our marketing, sales and support teams work remotely most of the time (this was the case pre-Covid, too) and we rely heavily on automation to maximise productivity and autopilot growth.
These needs were quite unique five years ago but they're fairly common for businesses today and the traditional guard in enterprise CRMs hasn't caught up. So, while there are some familiar enterprise names in our top 10, most of the entries are newer providers catering for the complex needs of modern businesses.
The best for automating data entry. Enterprise plan: $99/month per user
Data entry is the biggest drag to customer relationship management and Salesflare promises to reduce the workload up more than 70% by automating data entry for you.
This is the key selling point of Salesflare but the platform is a complete marketing and sales CRM designed for businesses of all sizes. This includes a comprehensive Enterprise plan that delivers advanced features at an affordable price point of $99/month per user.
Salesflare features
Key features:
Automated data entry: Salesflare automatically gathers contact and company data from emails, email signatures, social profiles and other sources for you.
Automatic logging: Connect your calendar and mobile phone to automatically log your meetings and phone calls with customers.
Opportunity management: View all of your opportunities from one dashboard while Salesflare intelligently flags deals that need your attention.
Website tracking: Monitor the actions users take on your site and attribute campaign success to real interactions.
Email tracking: Keep track of email opens and engagement to measure the effectiveness of your campaigns and chase up leads based on responses.
Personalised email campaigns: Create and send personalised email campaigns from any mailbox connected to Salesflare.
Automated email campaigns: Follow up beyond the automated email and bulk send to maximise engagement.
Email templates: Create campaigns quickly by editing email templates and personalising messages.
Lead qualification & scoring: Focus on the leads that matter most to your business.
Custom training: Salesflare provides custom training for its enterprise customers to help you get the best out of the platform.
Data migration: Salesflare will also migrate your data from your existing system for you on its Enterprise plan.
Account manager: All enterprise customers get a dedicated account manager to help you hit your targets more effectively.
Salesflare is a robust CRM platform with automation deeply integrated into the system. Its standout feature is automated data entry, which the company says will reduce the time you spend on data entry by more than 70%.
Anyone with experience using a CRM platform knows that data entry is a serious drain on resources, especially at the enterprise level.
Salesflare takes up the bulk of this workload by collecting company and contact data from emails, email signatures, social media accounts and other channels connected to your contacts' email address.
All of this is done automatically while your teams spend more time turning leads into customers.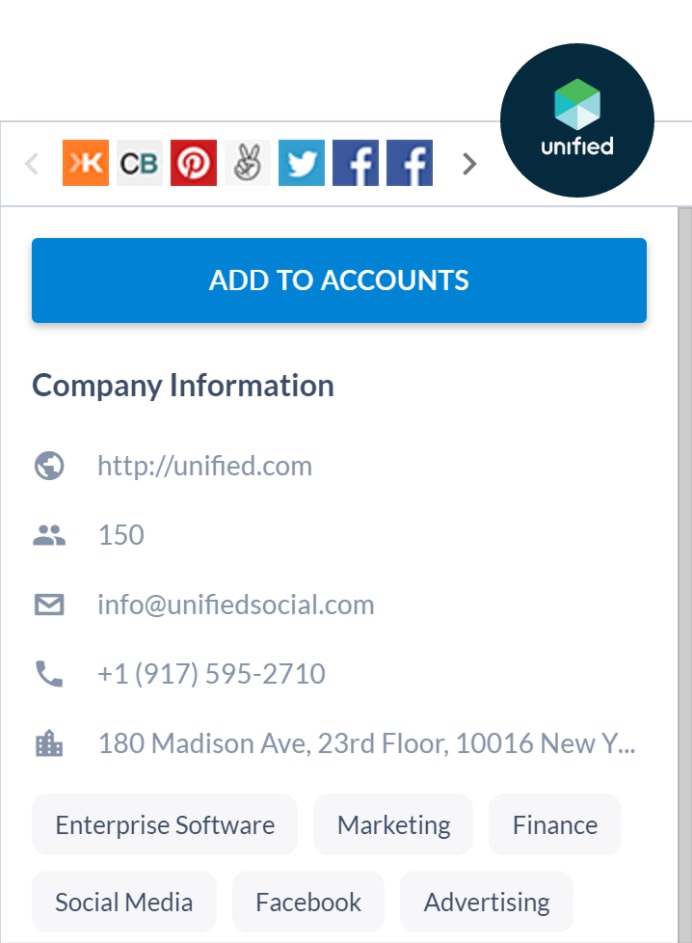 Salesforce's automated data entry is actually quite a simple process at the technical level. All it's doing is scraping data from your contacts' profiles and any channels linked to them. I'm not playing the feature down by saying this, either – the simplicity is precisely why it works as reliably as it does.
This isn't a showboat feature that sounds great on paper but never really works when you need it to. In most cases, Salesforce will collect the data you need automatically, without any problems, although it does rely on your contacts keeping their profiles accurate and up-to-date.
It's not a perfect system (nothing automated ever is) but it's effective enough to drastically reduce the time you spend on the most basic and time-consuming aspects of data entry.
The best compliment I can pay to this feature is that I hope it becomes standard in CRM platforms across the board.
Automated data entry is Salesforce's headline feature but there's plenty more to this platform worth talking about. Above all, this is a robust CRM platform that offers up a solid set of features for enterprise businesses.
You get all of the core essentials that you would expect from an all-in-one system: email marketing, lead nurturing, pipeline management, reporting and automation (not only data entry).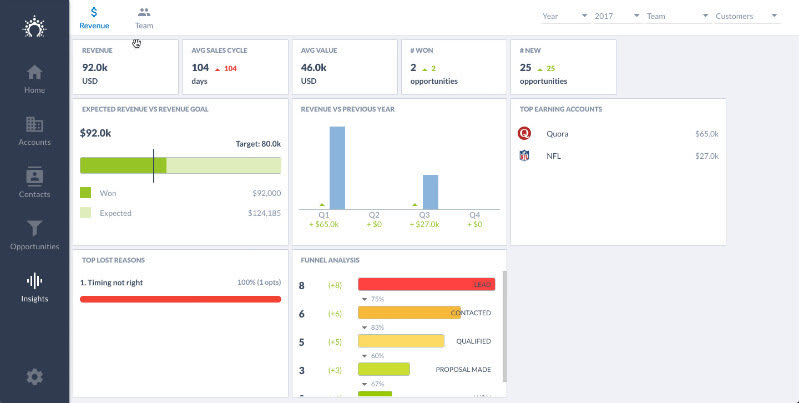 Salesforce looks, feels and operates like an enterprise piece of software but it maintains a surprising level of simplicity. The most important features are all there and the quality of the tools provided are excellent but some obvious features missing, too.
For example, there's no email builder or A/B testing, which you'll often find on platforms and plans aimed at smaller businesses. However, you do get some excellent forecasting features, as part of the reporting and analytics tools, and email sequencing, which are very much enterprise-level features.
There's also a lack of lead generation tools, such as a form builder to capture leads on your website or a landing page builder. Likewise, you can't make calls from the platform either or send SMS messages so be prepared to integrate Salesflare with other tools.
Luckily, the platform has a solid set of integrations, which allows you to bring in the other features and tools you need.
You can check the full list of integration options here.
Obviously, you'll need to consider integrations in your total software spend but Salesflare is surprisingly affordable given the features on offer. The company focuses on delivering the enterprise features many platforms lack without trying to replicate the features provided by specialist tools like landing page and email builders.
How usable is Salesflare?
Salesflare's focus on enterprise features results in a streamlined architecture that's surprisingly easy to navigate and learn. When you first start using the software, you get the impression it's quite a simple platform but, as you delve deeper into each feature and tool, you realise how capable Salesflare is.
This is a powerful CRM platform with advanced features that are tightly grouped into an intuitive system.
The downside, of course, is the missing features we discussed in the previous section but the usability Salesforce achieves is another reason to respect the company's approach to bloat-free software.
If you've found yourself drowning in CRM features in the past, Salesflare is a refreshing alternative.
The software looks a little outdated by today's standards but the functionality is there where it counts.
When we first tried Salesflare, there were some bugs and a few instances of downtime but the company was very new at the time. Since then, we've tried the platform again and we can confirm that performance has improved significantly.
So, if you've tried Salesflare in the past and experienced any of the issues, it might be worth testing out a free trial again.
What could Salesflare improve?
Our biggest issue with Salesflare is the company's website. In fact, visiting the website for the first time doesn't exactly inspire you to try the product and there's very little information about the platform or its features.
You're better off taking a look at the knowledge base section of the website to see what the platform has to offer. For example, there a What features does Salesflare have? article, which does a far better job of explaining what the platform is capable of.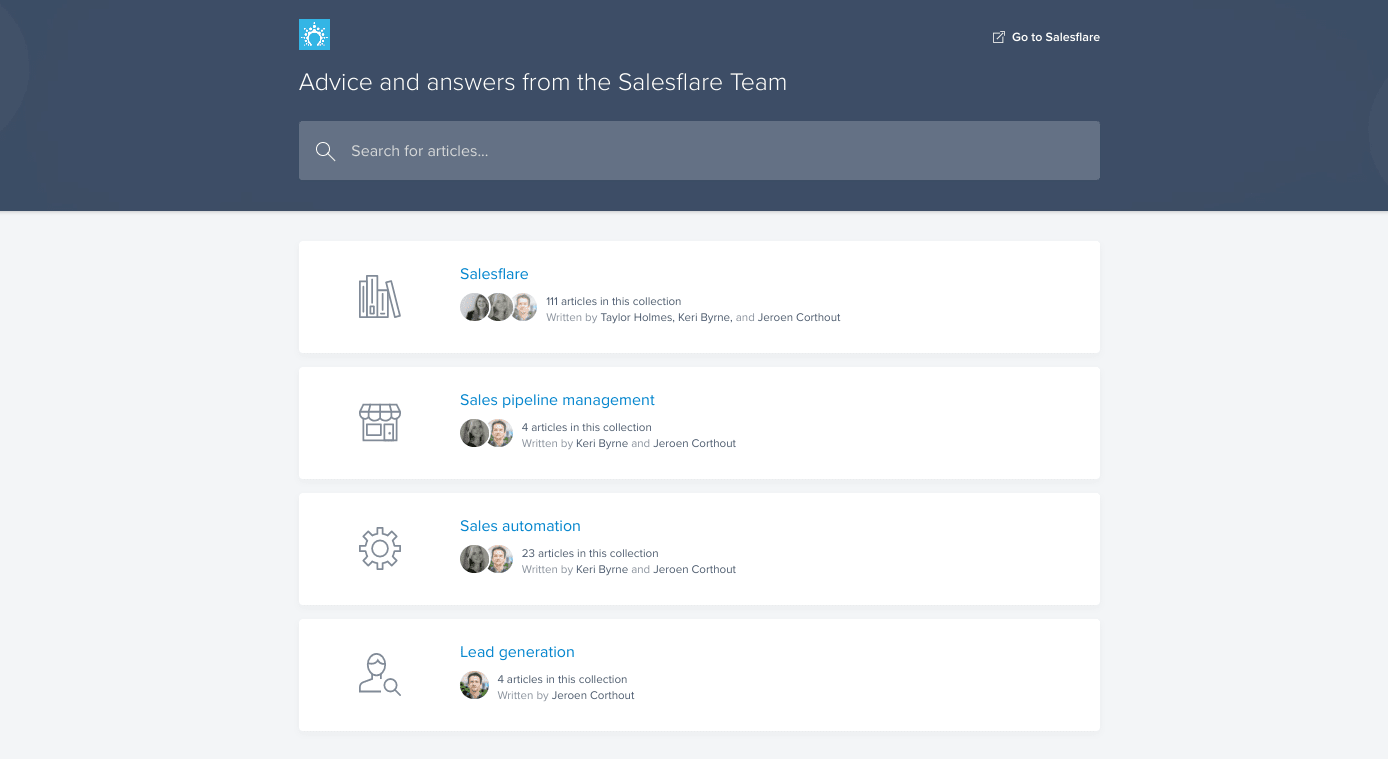 The knowledge base has a good amount of information to help you get started with the platform and, as an enterprise customer, you also get custom training – so you shouldn't have any problems with getting Salesflare up and running.
The company's support team is responsive if you run into any technical issues and you also get a dedicated account manager on the enterprise plan.
Hopefully, Salesflare will build upon its online documentation and support in the future but this isn't so much of an issue for enterprise customers, thanks to the dedicated support and account management.
Salesflare verdict
Salesflare is an excellent CRM platform for enterprise companies, focusing its attention on the advanced features that matter most to larger businesses. This isn't the most complete all-in-one platform and some notable features are missing but the pricing is incredibly affordable for larger businesses – especially when pricing is based entirely on users, not contact numbers.
Automated data entry is a major feature, too – one that's going to save you loads of time and allow your sales team to focus their efforts on closing deals.
The best CRM for international sales teams. Enterprise plan: $145/month per user
Close is a high-performance CRM that puts a heavy emphasis on calling and SMS marketing for sales teams. The platform also offers up some decent email marketing features with activity and task management to boost productivity for both marketing and sales teams.
Automation is built into all of these features and Close empowers you to make more calls, send more emails and complete more tasks faster – all to help you turn more leads into revenue.
Close features
Key features:
CRM: Store and track leads, contacts and opportunities.
Activity & task management: Manage your sales and marketing teams from one platform.
10 pipeline views: Manage up to 10 pipelines on Close's enterprise plan.
Email automation: Create automated email sequences, send emails in bulk and schedule emails.
Email templates: Create, reuse and quickly select email templates to cut down on wasted time.
Email open & response tracking: Track open rates and responses to your email campaigns.
Calling & SMS: Manage calls and SMS communications all from inside Close.
Power Dialler: Make 300+ calls per day, per sales rep with automated call lists and dialling.
Call management: Forward calls while reps are away, transfer calls with one click, record calls and leave voicemails with a single click.
Sales leaderboard: Encourage healthy competition with real-time leaderboards based on the metrics most important to your team.
Account manager: Enterprise customers have a dedicated account manager on call to help with any issues.
Screenshare support: Share your screen with Close's technical team to diagnose and fix technical problems faster.
Close is a powerful CRM platform that's designed and optimised to remove every unnecessary click possible. The system is filled with one-click actions, auto-expand interfaces and drag-and-drop tools to create an intuitive experience and reduce wasted time on click, one-by-one.
This is an all-in-one CRM with email marketing, calling and SMS, pipeline management and automation features, as well as some activity and task management features to help you get the best performance out of your marketing and sales teams.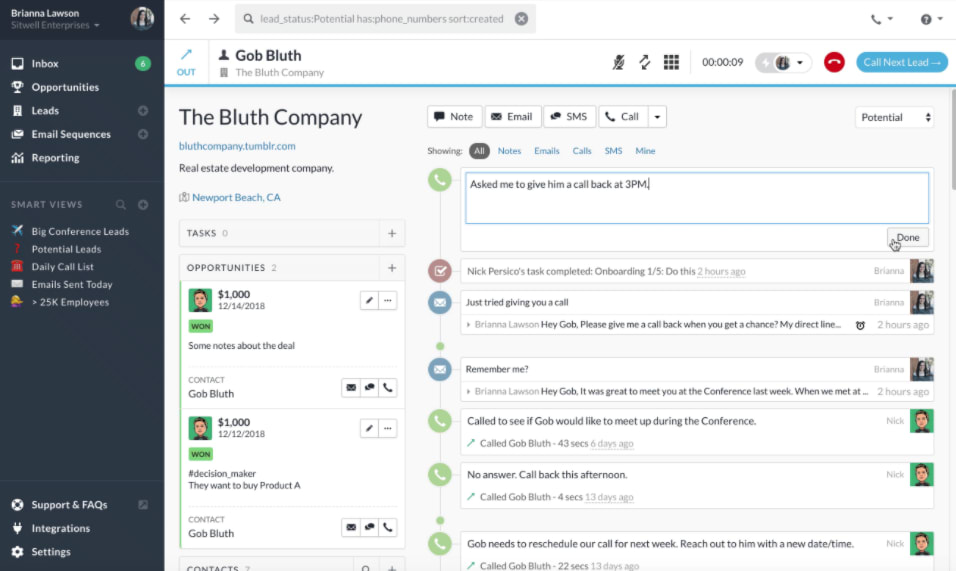 While you can get most of these features elsewhere, Close's calling and SMS features are particularly impressive and this is a great system for enterprise companies that prioritise phone communication while also needing email marketing and automation features from an all-in-one platform.
You can manage all of your calls and SMS campaigns using Close and the company has a deal with Twilio to provide global calling on all of its plans – great for international sales teams with reps in multiple countries or customers around the world.
In addition to global reach, you get advanced calling features with forwarding, transfers, call recording, voicemails, call coaching and Close's Power Dialler, which empowers your sales reps to make 300+ calls per day.
This is the most advanced calling system offered by any of the CRM platforms we're looking at in this guide. So, if phone communication is your priority, this is the first platform you should look at.
How usable is Close?
UX design is a key part of the Close experience and you see how much development and optimisation work has gone into building this platform. It's an impressive system and performance is great, for the most part.
There is a lot of code working under the hood to power all of the expanding interfaces and one-click actions but we've never experienced any real performance issues with Close.
The interactive nature of the platform can take some getting used to, though. New reps might be a little overwhelmed by the functionality of the interfaces but, once they get a feel for how everything works, the subtle automation built into every aspect of the platform becomes a real productivity boost.
Close wants to make your sales team perform faster and the platform genuinely helps you achieve this – largely thanks to the operation and usability of the platform.
What could Close improve?
Close puts so much emphasis on calling and SMS that there's a noticeable imbalance when it comes to the email marketing features provided. There are some pretty advanced calling features built into this platform and, while the email automation features are worthy of an enterprise system, they're not on the same level as the calling and SMS tools on offer.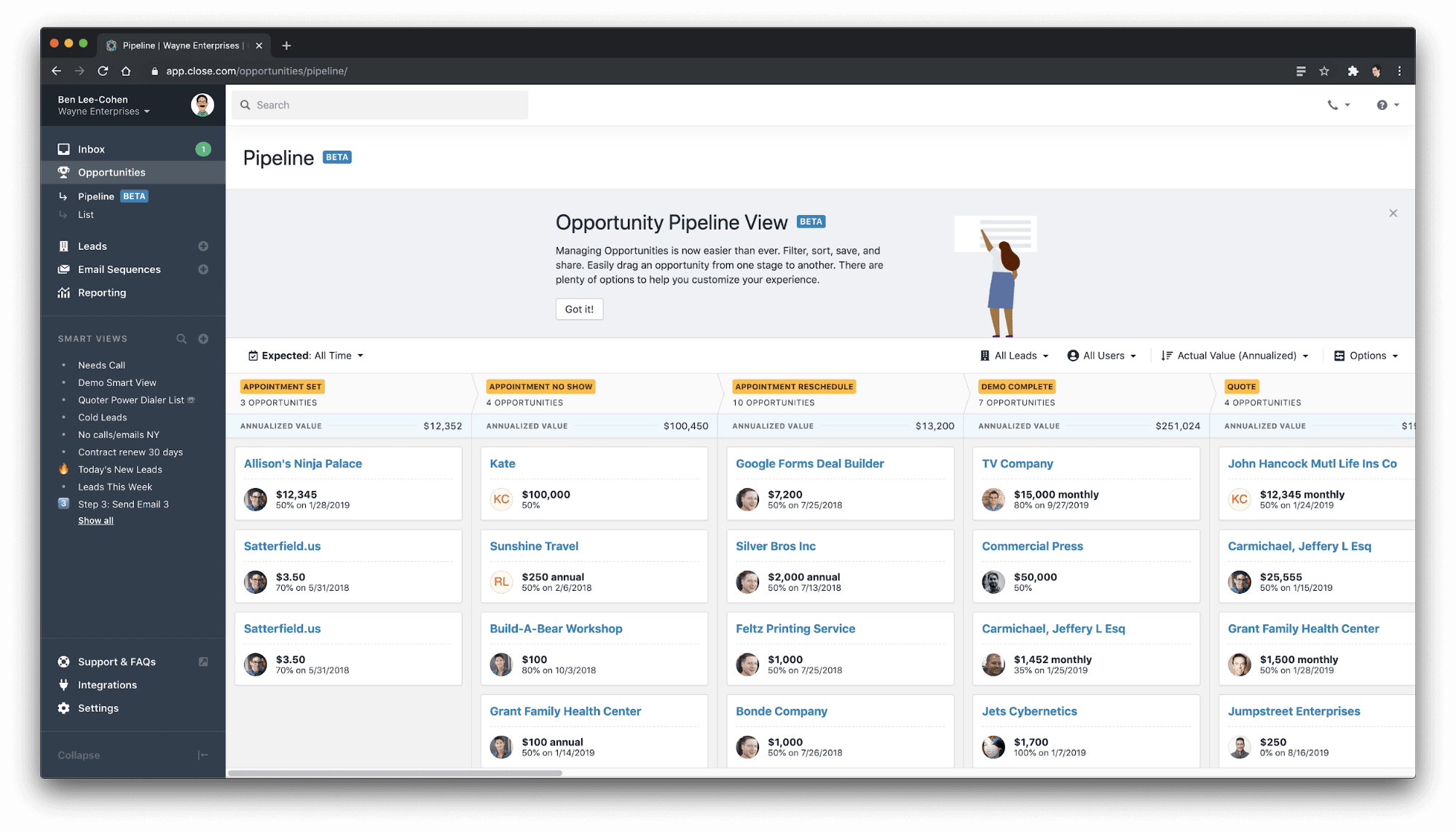 As a result, this is a platform aimed primarily at sales teams and marketing campaigns take a secondary role. So there's plenty of room for Close to improve its marketing features and it could implement more multichannel capabilities, too.
However, any significant feature expansion could compromise the usability of the platform. It could also dilute Close's USPs, which are clearly aimed at sales teams that need a robust calling system built into their CRM.
Close verdict
Close is a powerful all-in-one CRM platform for sales teams that need an automated calling and SMS system. If you've got a global customer base, remote sales teams or international support staff, Close may be the perfect platform to integrate your sales, marketing and support strategies.
If phone communications aren't your priority and you're more interested in features like email marketing, marketing automation and pipeline management – or multichannel marketing and sales – then you might want to look elsewhere.
Close is quite capable at all of these but its calling and SMS system is a step above everything else available on the platform and the key area where it stands out among the other CRM platforms in this article.
The "easy-as-Excel" marketing & sales CRM. Enterprise plan: $42/month per user
Unlike the first two platforms we've looked at today, CompanyHub is designed with smaller businesses in mind.
As mentioned earlier, though, modern enterprise companies have to behave more like smaller businesses than ever before with trust in large companies declining and direct engagement with customers becoming increasingly important.
As a result, the software needs of enterprise companies are changing too and large businesses don't always need complex systems to manage leads or customers.
So, let's talk about CompanyHub – the CRM provider that wants to take the complexity out of customer relationship management with its "easy-as-Excel" all-in-one platform.
With unlimited contacts and emails, a customisable CRM, solid automation features, sales bots and bulk editing, can this platform really deliver for modern enterprise companies?
CompanyHub features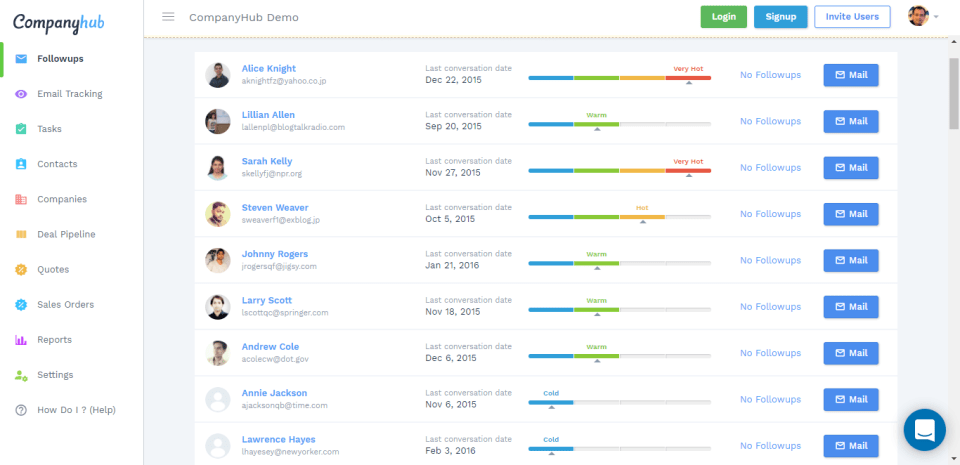 Key features:
Customisable CRM: Manage customer data in your own way with custom fields, columns, filters and reports.
Lead management: Manage leads across the entire customer journey.
Pipeline management: Manage deals across multiple pipelines.
Sales bots: Capture leads from your website using native chatbots.
Dynamic forms: Increase form conversion rates and capture more leads.
Email sync: 2-way email sync allows you to send emails from CompanyHub and your email client.
Bulk emails: Send emails in bulk without manually rewriting and sending.
Email tracking: Unlimited email tracking available on all plans.
Email templates: Use and edit email templates to cut down on time drafting messages.
Email scheduling: Schedule emails to send them at the most opportune moment.
Reminders: Follow-up to unanswered emails by creating reminders that trigger when no reply is received after your specified duration.
Appointment booking: Allow your customers to book appointments on your website and your team to manage them in CompanyHub.
Quotes: Create quotes in one click and customise templates to meet your needs.
Lead capture: Capture leads from your website through email sign-up forms.
CompanyHub is the CRM platform for teams that hate CRM platforms. The system is loosely designed around the spreadsheet format and functionality to reduce the learning curve for companies upgrading to a CRM for the first time.
However, it also provides a viable alternative for marketing and sales teams that don't want the convoluted experience that typically comes with all-in-one CRM platforms.
Behind CompanyHub's Excel-inspired interfaces is an intuitive drag-and-drop system for managing customer data, leads and deals across the entire sales funnel.
While the platform is designed with SMEs in mind there are some important features that make it suitable for enterprise companies searching for a simpler CRM platform.
Most importantly, you can store unlimited contact data and you can also send unlimited emails on the most expensive Accelerate plan. The system is also highly customisable and you get advanced customisation for your industry and business needs on the Accelerate plan, too.
Another key factor is the quality of customer support provided by CompanyHub. It prides itself on its "concierge level support" and you're going to get the best of this on its Accelerate plan.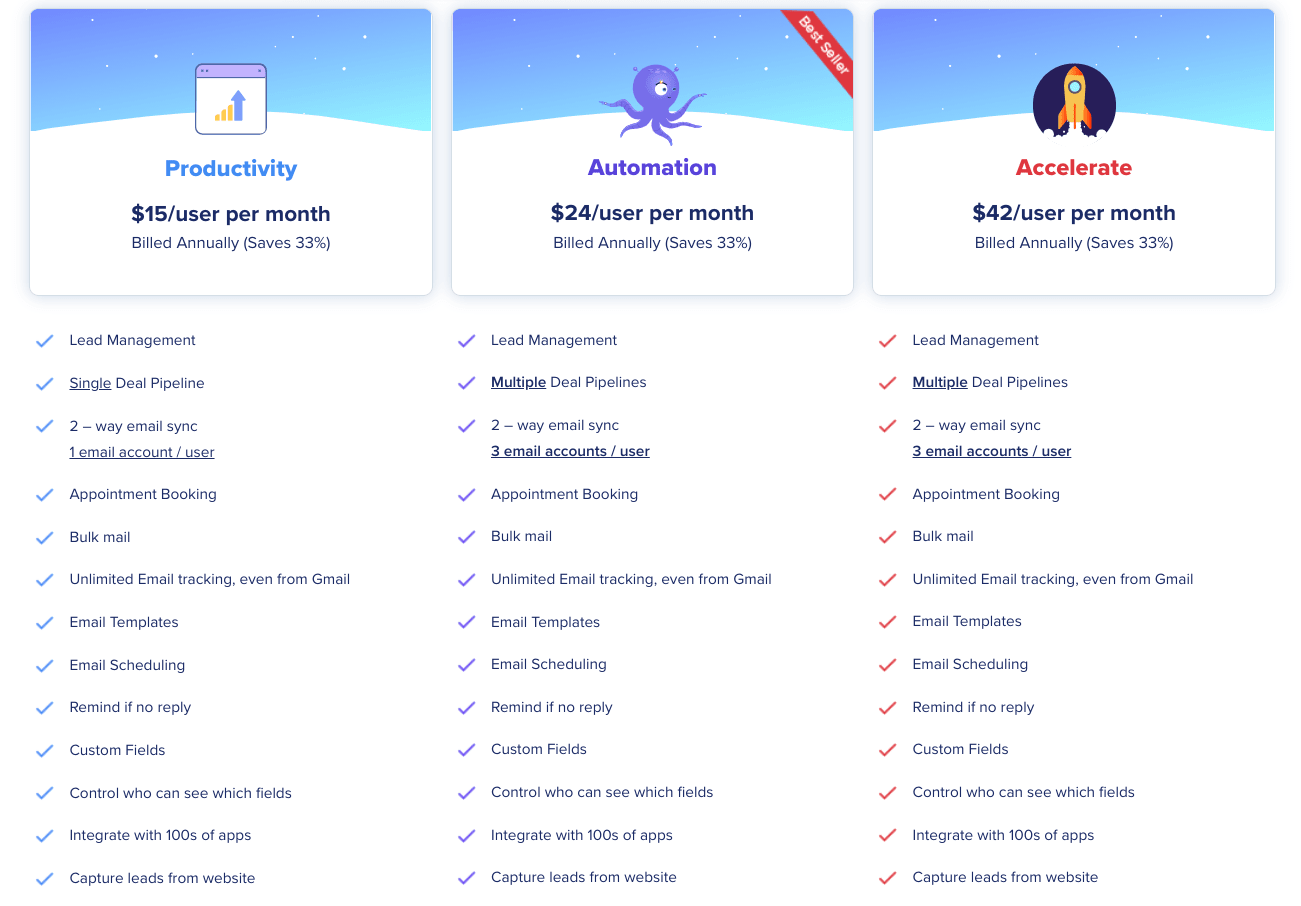 We should also mention the fact that prices max out at $42/month per user, which makes this the most affordable platform we've looked at so far.
Unlike Close, CompanyHub puts all of its emphasis on email marketing and pipeline management. You don't get any calling or SMS features built into the system so you'll either need to get these from somewhere else or choose another CRM platform if phone communications are a priority.
How usable is CompanyHub?
CompanyHub calls itself the "easy-as-Excel" CRM and it fulfils its promise of being an easy-to-use platform. While it's not quite as interactive as Close, CompanyHub takes a similar approach to single-click functionality and drag-and-drop interfaces.
Again, performance is surprisingly smooth, considering how much code is working underneath these interfaces and the platform, as a whole, has been optimised to enhance your sales and marketing efforts without performance issues getting in the way.
CompanyHub squeezes quite a lot of features into its affordable plans but this is a platform designed with growing SMEs in mind. So, for enterprise companies, the user experience is enhanced even further by the relative simplicity of the software. The question is whether features like unlimited contacts and emails are enough to satisfy your "enterprise" needs.
Take a look at review sites like G2.com and you'll find enterprise users rating the platform at 4.5+ out of five stars while commending its usability, customisation options and CompanyHub's customer support.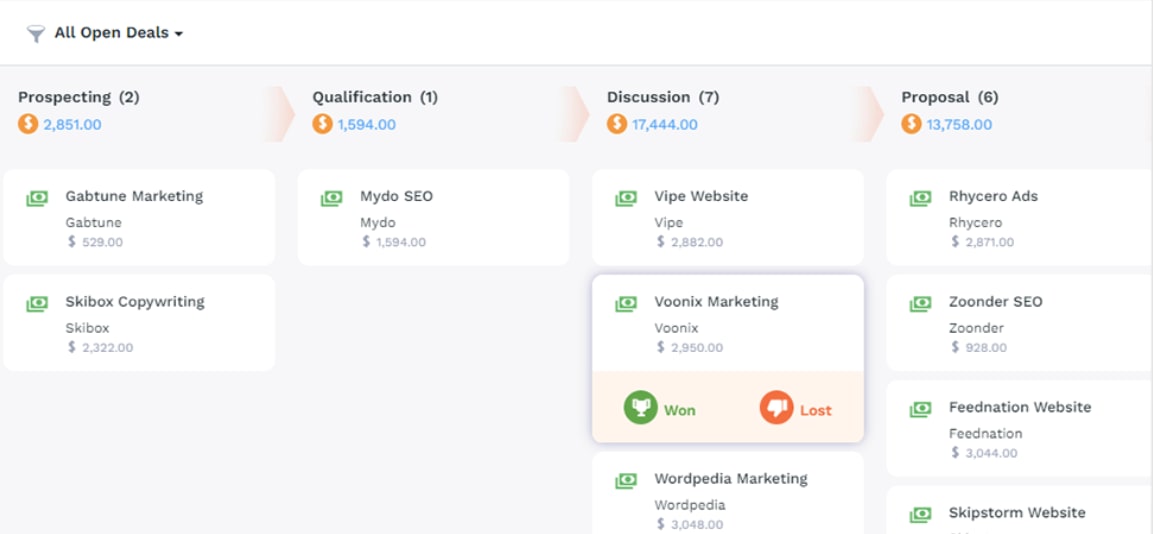 For a full comparison of CompanyHub's plans, pricing and features, you can take a look at the pricing page on its website.
What could CompanyHub improve?
With prices maxing out at $42/month per user, we can't complain too much about missing features. CompanyHub's Accelerate plan offers remarkable value for enterprise businesses, even if you're going to need to get key features from elsewhere.
Even still, CompanyHub could deliver even better value (or offer a more comprehensive enterprise plan) with some simple feature additions.
Topping our list of feature requests is an email builder, which seems like a logical addition considering the quality of the email marketing features provided across CompanyHub's plans. Yes, you get email "templates" that you can use and customise but these are only basic text emails.
We'd like to see a drag-and-drop email builder and visual templates for creating engaging emails. Hopefully, this is something CompanyHub will add to its existing plan in the future without affecting prices too much.
There's a big hole in CompanyHub's platform with the lack of calling and SMS features, which would seriously increase the overall quality of this platform as an all-in-one CRM. This would involve a lot more R&D for CompanyHub, though, and it would have to be reflected in the prices.
However, it could offer an enterprise plan, at a higher price point than the $42/month Accelerate plan, which would cover the investment and open up the platform to a wider pool of larger businesses.
CompanyHub is also in need of far more native integration options.
CompanyHub verdict
CompanyHub is a CRM platform designed for SMEs that punches above its weight in several categories that matter a lot for enterprise companies. The "easy-as-Excel" reduces the learning curve to an absolute minimum and contributes to a smooth, spacious user experience that you'll struggle to find with enterprise-level software.
Affordable pricing that's based on user numbers and not contacts makes this excellent value for larger companies, especially at the smaller end of enterprise businesses that don't have an army of sales reps and marketing personnel.
If you speak to enterprise CompanyHub customers, the quality of support provided is normally the first comment they'll make and this is one area where software providers often fall short, even when you're paying for VIP support.
The big downside to CompanyHub is a lack of features and this isn't helped by lacking integration options. This platform isn't going to cater for all of your marketing, sales and support needs so you'll have to check that integrations are there where you need them.
The best all-in-one CRM for sales, marketing and automation. Enterprise plan: Pricing starts from $229/month
If you're looking for an all-in-one CRM, email marketing and automation platform, ActiveCampaign is clear the winner. With the exception of HubSpot, ActiveCampaign is the only provider that offers up a complete set of features for marketing, sales and support teams – and ActiveCampaign offers the best automation features, by a long shot.
ActiveCampaign offers scalable plans for businesses of all sizes but it's one of the only software providers that has a comprehensive option for enterprise businesses, as well as lightweight plans for smaller and growing businesses.
So, whether you're an established enterprise company or a smaller company with enterprise ambitions, ActiveCampaign will help you drive growth and continue to grow with you, every step of the way.
ActiveCampaign features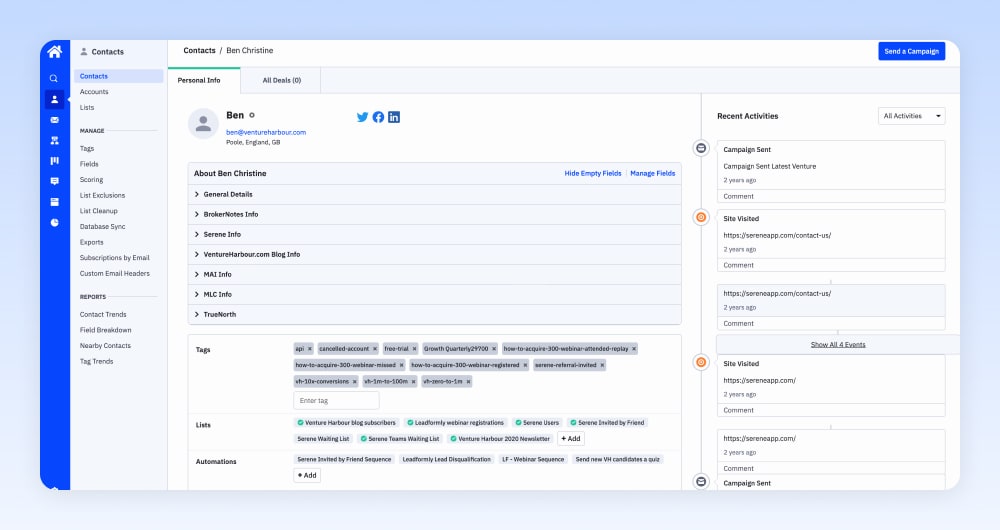 Key features:
CRM: Manage contacts and automatically update details without manual input.
Email marketing: Advanced email marketing campaigns including broadcast emails, triggered emails, targeted emails and more.
Unlimited emails: Send an unlimited number of emails to contacts on every plan.
Unlimited users: ActiveCampaign's enterprise plan covers you for unlimited users.
Email builder: Drag-and-drop email builder available on every plan.
Email templates: Use or edit email templates to create campaigns quickly.
Autoresponders: Send automatic email responses to prospects instantly or after your specified delay.
Sales automation: Cut the manual workload out of sales with automated tasks, notifications and reminders.
Contact & lead scoring: Prioritise leads to focus your marketing and sales efforts on the highest-value prospects.
Win probability: Automatically calculate the likelihood of winning deals to prioritise sales efforts.
Marketing automation: Automate email campaigns and marketing responses to deliver messages and take action.
Automation builder: Create your own automation workflows with ActiveCampaign's drag-and-drop automation builder.
Website personalisation: Deliver personalised on-page messages to convert more users into leads and paying customers.
Site & event tracking: Track user behaviour on your website to attribute campaign success and deliver relevant messages based on user actions.
Customer support: Provide customer support through email and chat.
Customer retention: Identify and reward your best customers to incentivise repeat purchases.
Customer health scoring: Automatically score and track the health of customers to avoid churn and react to churn dangers before you start losing customers.
Phone support: Get technical support over the phone, any time you need it.
Account manager: Get dedicated support from your account manager who will help you get the best out of ActiveCampaign.
HIPAA support: Built-in support for data compliance with HIPAA regulations.
ActiveCampaign wants to be the only marketing, sales and customer support platform you'll ever need. This is an impossible task, of course, but ActiveCampaign comes remarkably close to achieving it. This means you're going to spend less money on third-party software and less time switching between apps or worrying about integrations.
Pricing for ActiveCampaign's Enterprise plan starts at $229/month and this covers you for an unlimited number of users. However, the company prices its plan based on the number of contacts you have on your system and you're limited to 2,500 contacts on the Enterprise plan at $229/month.
Pricing maxes out at $399/month for 10,000 contacts, which is great value for unlimited users and the features available on ActiveCampaign's Enterprise plan. Once you get over 10,000 contacts, you're eligible for custom pricing and this means you'll get even better value as your contact list grows.
Here's a quick summary of ActiveCampaign's enterprise pricing:
2,500 contacts – $229/mo
5,000 contacts – $359/mo
10,000 contacts – $399/mo
>10,000 contacts – POA
This makes ActiveCampaign the most expensive system we've looked at so far but it's significantly cheaper than HubSpot and traditional enterprise platforms. In terms of the features you get at each price point, no other provider comes close to matching ActiveCampaign but cheaper prices aren't enough to impress us here at ActiveCampaign.
We're more interested in quality and the most impressive aspect of ActiveCampaign is the quality of its platform, features and tools.
We've used ActiveCampaign as our marketing and sales CRM for the past five years and few platforms have managed to match it in terms of quality. There are some platforms that offer a marginally more comprehensive platform than ActiveCampaign but you're going to pay tens or hundreds of thousands of dollars more and gain very little in return.
ActiveCampaign also boasts some of the industry's best automation features and none of the other CRMs in this guide really compete in this category. While all of the platforms in this article offer certain email marketing and sales automation features, ActiveCampaign allows you to automate every aspect of your marketing and sales strategies.
Everything is based around ActiveCampaign's drag-and-drop automation builder, which allows you to visually create workflows for almost anything you can come up with: email sequences, automatic replies, triggered messages, automated sales tasks and fully automated marketing strategies.
ActiveCampaign gives you 100% freedom to automate anything you can think of.
Combine this with website tracking, lead qualification, lead scoring and email marketing, and you've got one of the most advanced marketing automation systems available anywhere.
You also get comprehensive email marketing features, including a drag-and-drop email builder to create visual messages. You can create your own emails from scratch or by editing a template from the platform's built-in library.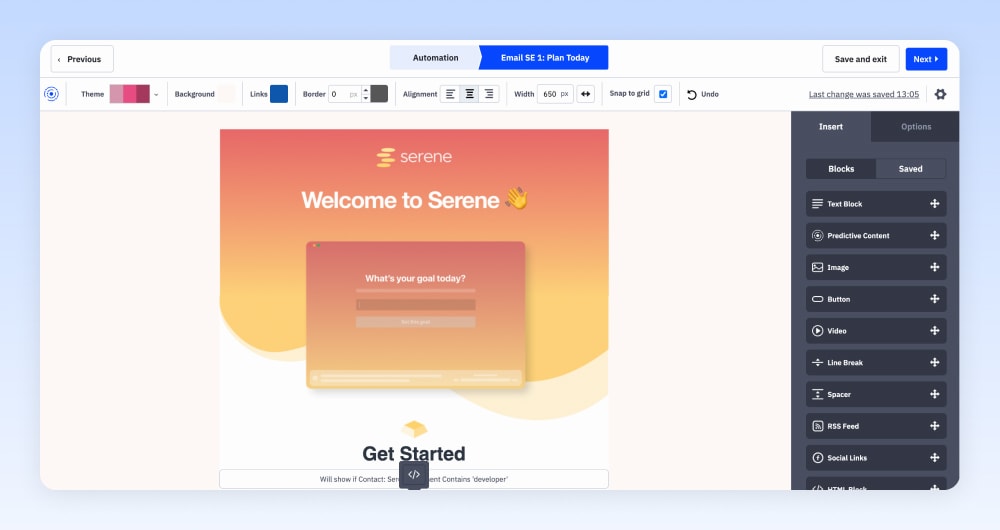 ActiveCampaign isn't only a platform for storing customer data, either. This is an intelligent data system, powered by the latest machine learning technology.
Automatic lead qualification pinpoints the prospects that meet your business' needs and this is enhanced by smart lead scoring that automatically updates as prospects progress along your funnel and the sales cycle.
ActiveCampaign also uses behavioural and historical data to calculate the win probability of sales leads.
The platform's intelligent lead management features allow you to prioritise the contacts, companies and deals that matter most and focus your sales and marketing efforts where they'll have the biggest impact.
Honestly, there are too many features to talk about in one article and a lot of enterprise businesses won't even need the full set of features available on the Enterprise plan so you might even find the Professional plan covers your needs.
You can view the full list of ActiveCampaign features and plans on this comparison page.
How usable is ActiveCampaign?
Usability is always a challenge with all-in-one marketing platforms and ActiveCampaign is more all-in-one than most. So there's an inevitable complexity to the software but, considering everything that you can do with ActiveCampaign, this is to be expected.
The company has worked hard to optimise the platform over the years, too. The system has a logical architecture to help you navigate features and tools while making the learning curve as easy as possible.
ActiveCampaign also has an extensive library of online documentation to help you get up and running. Then there's the excellent customer support team that's always there if you run into any problems.
As an enterprise customer, you get phone support, a dedicated account manager and one-to-one training to get you set up with the system and using it to your best advantage.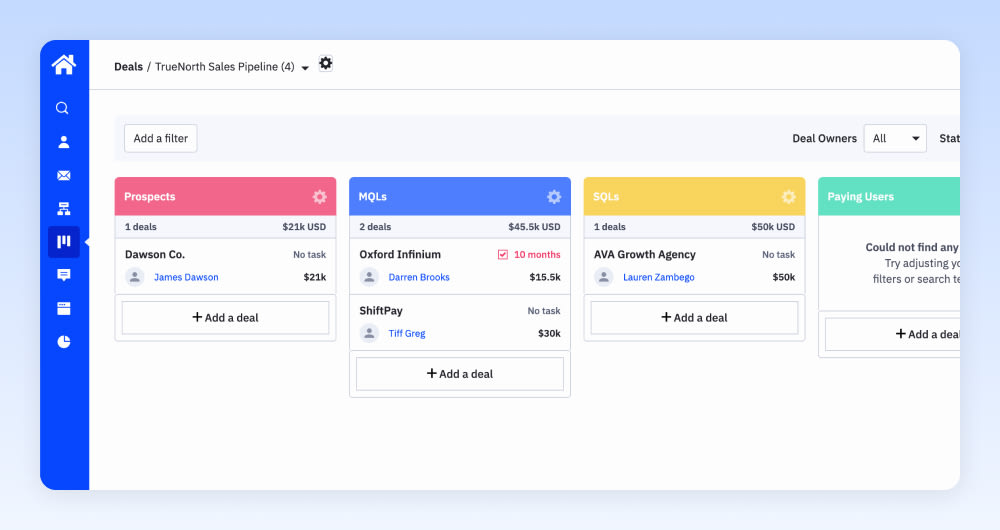 ActiveCampaign reduces the complexity of its platform with its automation and productivity features. As mentioned in our latest ActiveCampaign review, the drag-and-drop CRM makes it easy to manage leads across every stage of your funnel and you also get built-in email, landing page and automation builders to capture and nurture leads without needing any third-party software.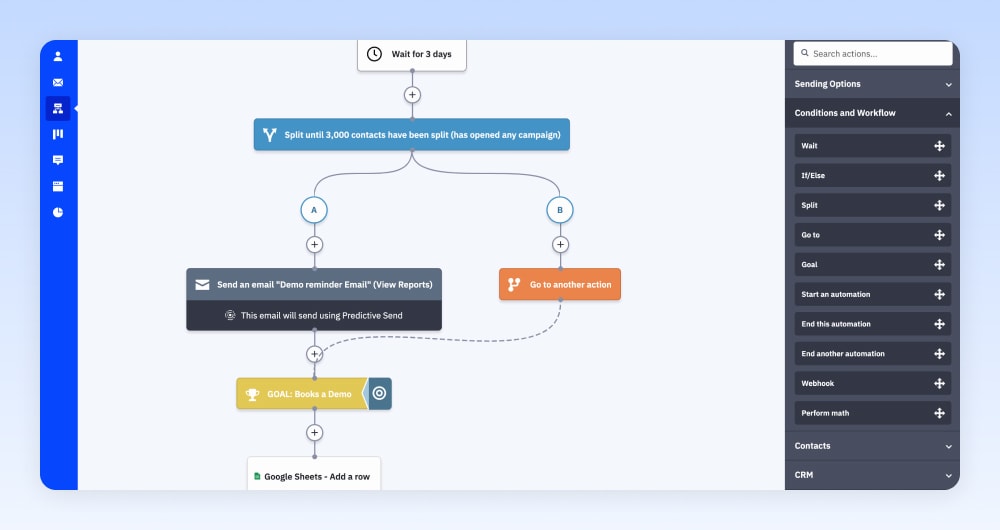 The automation builder is ActiveCampaign's slickest drag-and-drop tool and one of its most important features. While some of the platform's tools aren't quite as good as specialist software (e.g.: its landing page builder isn't on the same level as Unbounce), no other platform helps you achieve this much with so little manual input.
What could ActiveCampaign improve?
ActiveCampaign offers one of the best enterprise CRMs on the market and we're pretty sure it offers the best value option for large businesses. Considering the features available at each price point, we're hesitant to criticise too much but there are a few areas where ActiveCampaign could improve.
As mentioned in the previous section, the built-in landing page builder isn't quite as good as specialist builders like Unbounce and Instapage but ActiveCampaign continues to improve its builders and the gap is constantly getting smaller.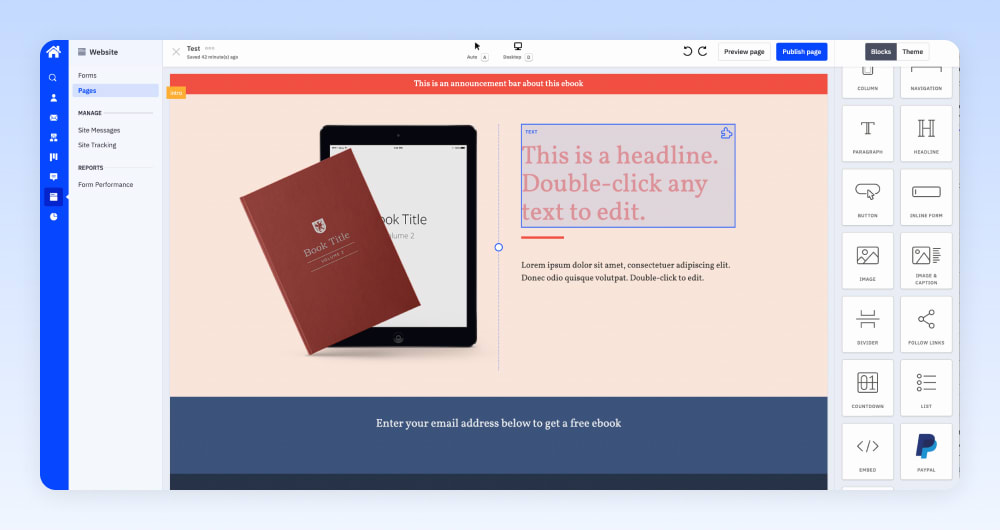 It's a similar story with the drag-and-drop email builder and the email templates, which aren't as customisable as tools like Mailchimp. However, the email marketing features built into ActiveCampaign are leagues ahead of Mailchimp and the same is true for the automated lead generation strategies you can apply to your landing pages.
Either way, you can always integrate with tools like Unbounce and Mailchimp if you prefer those builders. As it happens, we integrate ActiveCampaign with Unbounce and several other tools here at Venture Harbour.
That said, these tools have improved so much since we first started using the platform that we probably wouldn't feel the need to use another landing page builder if we were getting started today.
ActiveCampaign verdict
ActiveCampaign is the best all-in-one CRM, email marketing and automation platform on the market right now. Enterprise companies won't find such an extensive system for marketing, sales and customer support from many other providers and none offering this much in the same price region.
As mentioned earlier, there's so much baked into this platform that many enterprise businesses won't need all of the features available on the Enterprise plan – so you might be fine on one of the lower tier plans.
As long-term ActiveCampaign customers, we're in the privileged position to be able to offer our readers an exclusive partnership offer that'll save you up to $5,000 over your first two years – including free implementation and migration, your second month free of charge, free CRM with sales automation and more.
Important: Make sure you use this link to unlock the exclusive offer and you can find out more about the ActiveCampaign suite of marketing tools here.f
The simple, affordable CRM with excellent support. Enterprise plan: $59/month per user
While ActiveCampaign provides almost everything you need in an all-in-one marketing platform, OnePageCRM takes the opposite approach. The company focuses on developing a powerful CRM without bringing in other features that might complicate the platform.
As a result, you get power and simplicity from a CRM platform that doesn't try to do anything except customer relationship management to the best of its ability.
OnePageCRM features
Key features:
Unlimited contacts, notes & deals: Manage unlimited contacts, notes and deals on every plan.
Contact enhance: Automatically detect and populate a contact with all available social data.
Email marketing: Manage your email marketing strategy from OnePageCRM with custom templates and personalised messages.
Bulk emails: Send up to 450 emails in bulk per day.
Track email open rates: Measure the effectiveness of your email subject lines.
Call integration: Select your preferred calling method from a number of protocols and syntaxes and call straight from the CRM.
Sales automation: Maximise sales and cut out the manual workload of closing deals.
Deal velocity: Easily identify and address bottlenecks in your sales process by seeing the time spent on each deal stage.
Drag-n-drop deal management: Advance deals through the sales cycle with a simple drag-and-drop.
Multiple pipelines: Create up to 10 pipelines to accommodate several sales processes or multiple products with different sales cycles.
Productivity: Every OnePageCRM plan comes with the same set of productivity and collaboration features to help your team focus and work together more effectively.
Enterprise support: Personalised onboarding and training, phone support, a dedicated account manager, quarterly check-ins and custom webinars as part of OnePageCRM's excellent customer support.
At a glance, OnePageCRM looks like an affordable platform aimed at smaller businesses but this is a capable platform with robust features and a capable Enterprise plan for large businesses.
Earlier, we talked about the wonders of Salesflare's automated data entry and OnePageCRM has a similar feature called "contact enhance," which automatically collects contact data from social data. It's not quite as powerful as Salesflare's automation but a powerful, enterprise-level feature available on every plan – one that's going to save you time.
Efficiency is a priority for OnePageCRM, which has developed an impressive amount of automation and productivity tools into its platform. A focus mode removes distractions when sales reps need to concentrate while saved sales actions allow you to automate repetitive tasks with one-click triggers.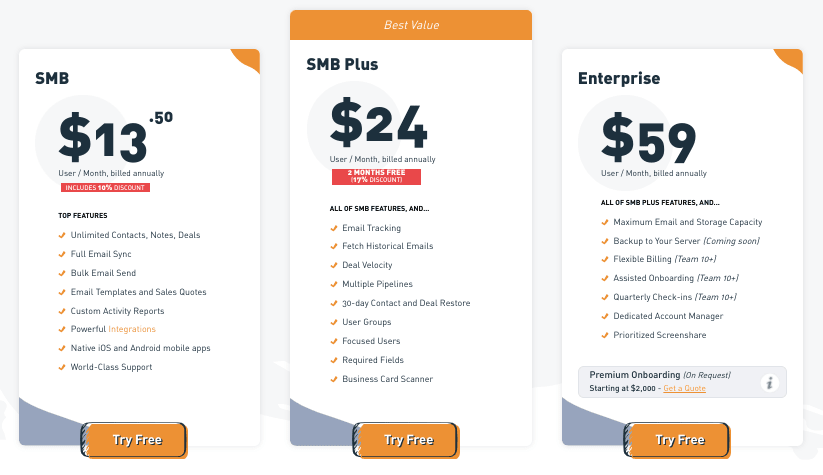 OnePageCRM's Enterprise plan costs $59/month per user and the main benefits are enterprise support features, including a dedicated account manager, personalised onboarding and training, prioritised screen share support and plenty more – one of the best support packages we're looking at today.
You also get maximum email and storage capacity on the Enterprise plan.
Aside from that, OnePageCRM doesn't restrict features a great deal across its plans and the SMB Plus plan has most of the features available on the enterprise plan, except you pay $29/month per user without any contract – a great way to try out OnePageCRM without any long-term commitment.
You can compare the full set of features on each plan by visiting OnePageCRM's pricing page and clicking on the Compare Plans link mid-way down the page.
How usable is OnePageCRM?
OnePageCRM isn't going to blow you away with its looks but it may charm you with its balance of usability and power. Modern CRM platforms have a usability problem because most of them try to be much more than a CRM with advanced marketing and sales features that add complexity to the software.
This isn't a problem with OnePageCRM as the company has put all of its efforts into developing a robust CRM that doesn't bring in any unnecessary complexity.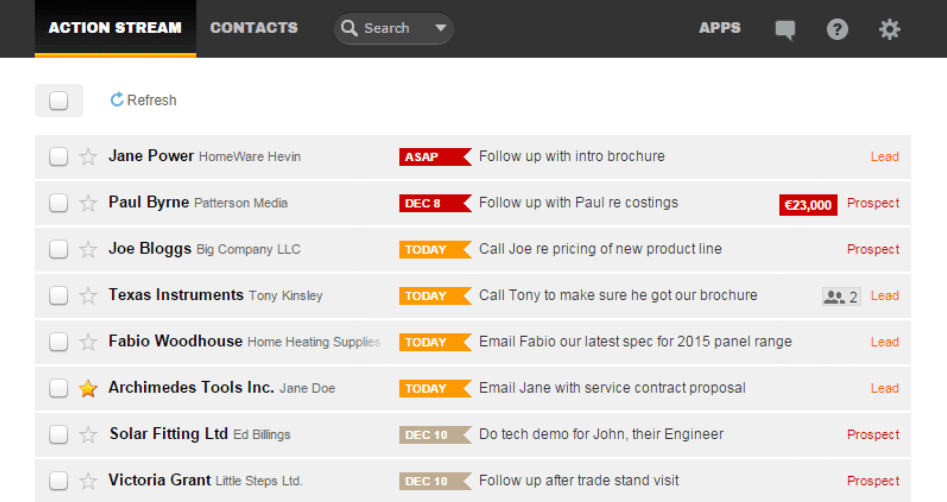 In terms of a learning curve, OnePageCRM will be the quickest platform we're looking at today for new users to pick up and learn (with the possible exception of Octopus CRM).
Instead of adding every feature it can into the platform, OnePageCRM intelligently chooses to include sales and marketing features that enhance the CRM and make the overall platform easier to use – for example, the contact enhance feature, which automatically compiles customer data for you, and deal losses that help you document and learn from the causes of lost deals.
This calculated approach allows OnePageCRM to offer up some seriously powerful features while maintaining a level of simplicity that makes this one of the easiest to use CRM platforms we're looking at today – and the experience benefits even further from some simple, effective automation features.
What could OnePageCRM improve?
OnePageCRM's biggest strength is also the platform's biggest weakness. The downside to simplicity is always a lack of complexity in terms of features, customisation options and tools.
For example, there's no email or landing page builder and nothing in the way of customer support features – all of which you'll need to get from elsewhere.
OnePageCRM doesn't have the biggest list of integrations, either, but the quality of the integrations it does support are excellent – in true OnePageCRm fashion.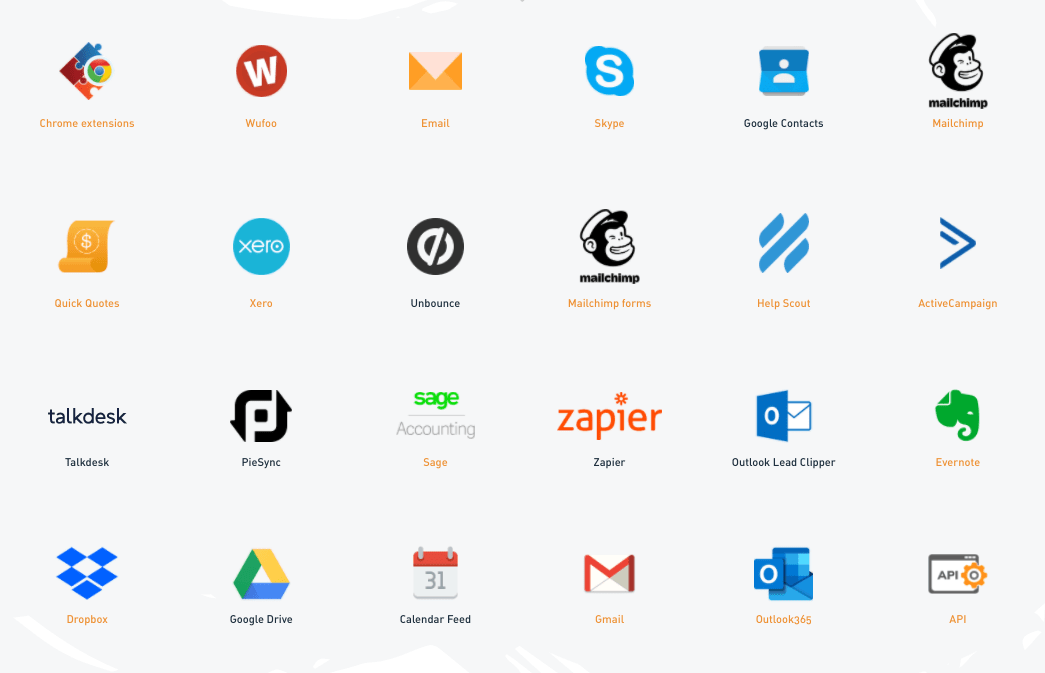 So you can integrate with Unbounce to get the best landing page builder in the industry and Mailchimp to get one of the best email builders. You can also integrate with Talkdesk and Help Scout to manage customer support, Sage for accounting and tools like Zapier to open up integrations with hundreds of other apps.
Automation is another area where OnePageCRM may fall short for enterprise businesses. While there's a decent amount of task automation built into the platform, there's very little to help you automate marketing and sales campaigns beyond sending bulk emails.
Again, there's a native ActiveCampaign integration, which gives you access to the best automation system going but you don't really need OnePageCRm if you're an ActiveCampaign customer.
OnePageCRM verdict
OnePageCRM looks like a platform designed for smaller businesses but it's a deceptively powerful CRM platform that packs some mean features into a streamlined system that's easy to use – and the company offers up one of the best customer support packages for its enterprise customers.
If you're all about simplicity, averse to complexity and appreciate having technical support always on call, then OnePageCRM could be the fuss-free platform your business needs.
The visual pipeline management tool. Enterprise plan: $99/month per user
Pipedrive ditches the traditional CRM format for a visual pipeline management system that focuses on nurturing prospects across your funnel.
This can be great for companies that don't have experience with database management, teams that simply don't get on with traditional CRMs or rapidly-changing sales teams that constantly need to train new reps.
The company offers an Enterprise plan for $99/month per user for teams of 10+ users, which gets you full access to the platform's features, as well as custom onboarding to get you up and running and enterprise support to help you get the best out of Pipedrive.
Pipedrive features
Key features:
Deal management: Manage opportunities with a complete picture of each deal including pipeline stages, ownership, communications and history.
Funnel management: Pipedrive is designed around visual pipeline management rather than a traditional CRM structure.
Lead management: Manage leads across the entire funnel while tracking and updating statuses visually.
Deal rotting: Get notified when a deal stays idle for longer than the defined rotting period.
Custom fields: Add unlimited custom fields to organise and segment your sales data.
Integrated sales calls: Make sales calls directly from the web for fast call tracking, recording and insights all in one place.
Integrated email: Sync Pipedrive with your email client to send from one place (email open and click tracking available on Advanced plans and higher).
Email tracking: Get notified when a prospect opens your email or clicks on any link you've sent them.
Sales automation: Automate repetitive sales tasks and get personalised tips from Piepline's AI Sales Assistant.
Product catalogue: Create a customisable catalogue of your company's goods including costs, notes and more.
Revenue forecast reports: Plan ahead with confidence with a comprehensive overview of your predicted revenue and make adjustments on the fly.
Advanced security: A dedicated security dashboard, security alerts, custom security rules, SSO logins, SOC2 compliance, AES-256 encryption and more.
Mobile apps: Native mobile apps for iOS and Android with extensive integrations.
Enterprise support: Get custom onboarding and support with your CRM.
Pipedrive comes in with a compelling set of features for marketing and sales teams. Everything revolves around its visual pipeline management interface that helps you spend less time working with data so you can focus on managing leads and deals along the funnel.
You can create unlimited pipelines in Kanban to visualise your entire sales process, no matter how many funnels and pipelines it involves. You can also store data for unlimited contacts, leads and deals on every plan – pricing is purely based on features.
Pipedrive breaks its features into seven different categories and you get access to everything on the Enterprise plan, along with the company's best support system to help you maximise revenue:
Manage leads & deals: Nurture leads and customers along your marketing and sales funnels to maximise revenue.
Track communications: Manage and track communications across email, calls and sales docs, such as quotes and proposals.
Document management: Create and manage sales docs faster and integrate with key tools like Google Drive and OneDrive.
Automation: Automate sales and marketing tasks to maximise efficiency and reduce waste.
Insights & reporting: Visual dashboards with reports for every stage of your pipeline and advanced insights, such as revenue forecast reports.
Privacy & security: Pipeline has some of the most comprehensive security features among the platforms in this guide.
Mobile apps & integrations: Excellent mobile apps for iOS and Android with synced calling and tonnes of integrations.
On the Enterprise plan, you get multichannel communications to manage and track interactions across email and sales, complete with sales docs collaboration for quotes, proposals and other essentials.
You can also automate sales tasks with up to 100m workflow automations and activity reminders to keep your team on track of tasks.

The platform also has an AI sales assistant that analyses your historical performance to suggest where you should focus your sales efforts and where you could improve.
This is backed up with some extensive reporting and insights features, including revenue forecast reports and deal reports to see how many opportunities your salespeople win or lose.
The main area where Pipedrive falls short is email automation with no sequencing, drip campaign for email builder available. You do get the basics for sending email campaigns to prospects but you're going to need specialist email automation features if you're looking to create triggered campaigns or autoresponders, for example.
How usable is Pipedrive?
Pipedrive is one of the most pleasant CRM platforms to use, thanks to some intelligent UI design and its stripped-down lead management system that shuns the complexity of traditional CRM software.
The focus on visual pipeline management is excellent for companies that don't have previous experience with CRMs or simply don't like the traditional database format. Companies that need more granular control over customer data may find Pipedrive's Kanban approach too simplistic but there's no denying it makes the platform a pleasure to use.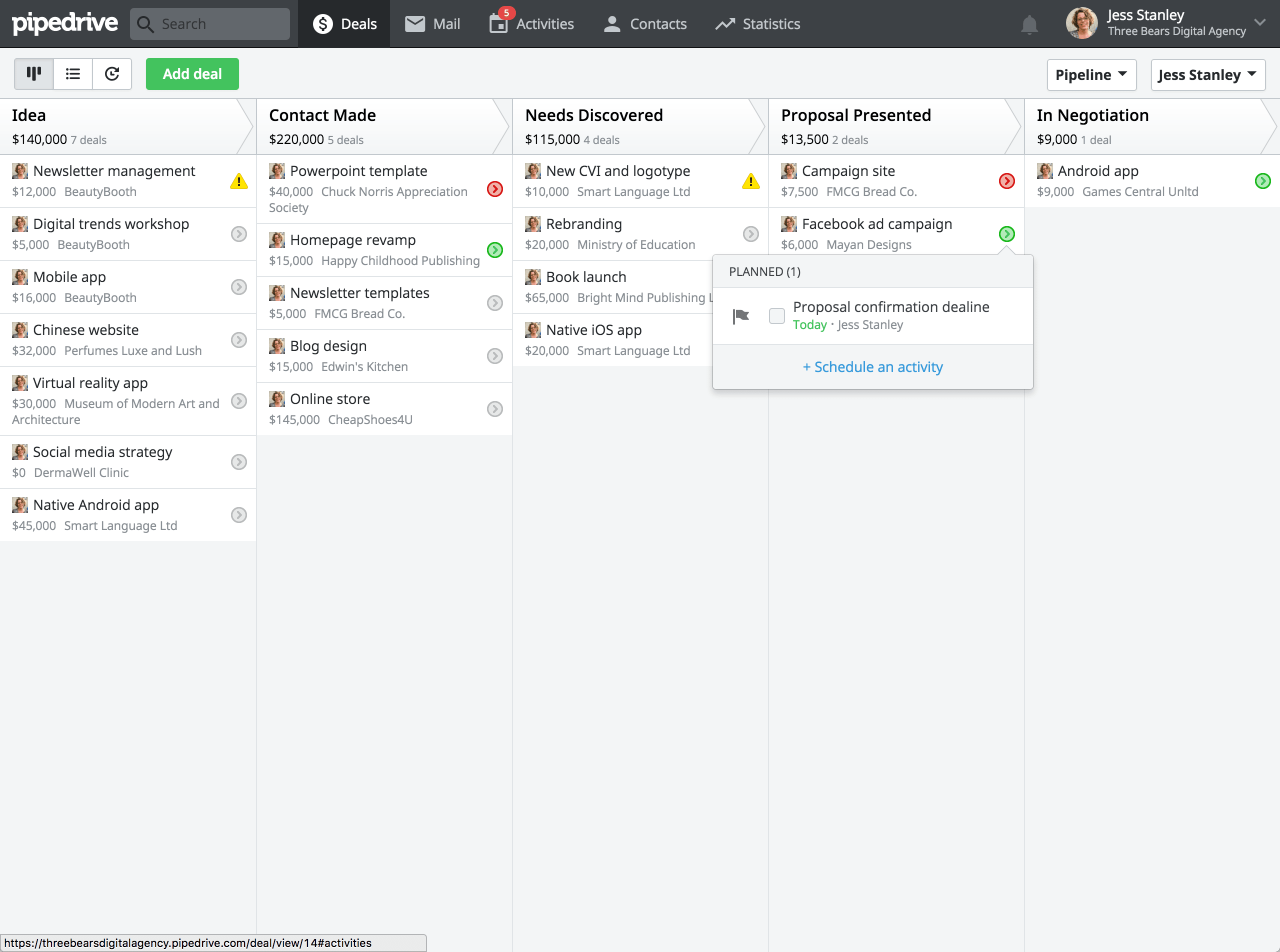 If Pipedrive is too simplistic for your needs, there's no shortage of classic CRMs that can step up and deliver but Pipedrive offers a viable alternative for companies that are less interested in complex software and more interested in closing deals with minimal fuss.
What could Pipedrive improve?
Pipedrive is a compromise between simplicity and functionality and, while there are some pretty advanced features built into the platform, this compromise leaves some large gaps.
The first obvious compromise is the limit to what you can do in terms of storing customers data and the actions you can trigger. This isn't a comprehensive CRM platform for creating in-depth contact and company profiles and using that data to trigger automated campaigns, for example.
In fact, as mentioned earlier, you're only getting the bare minimum in email and sales automation from Pipedrive.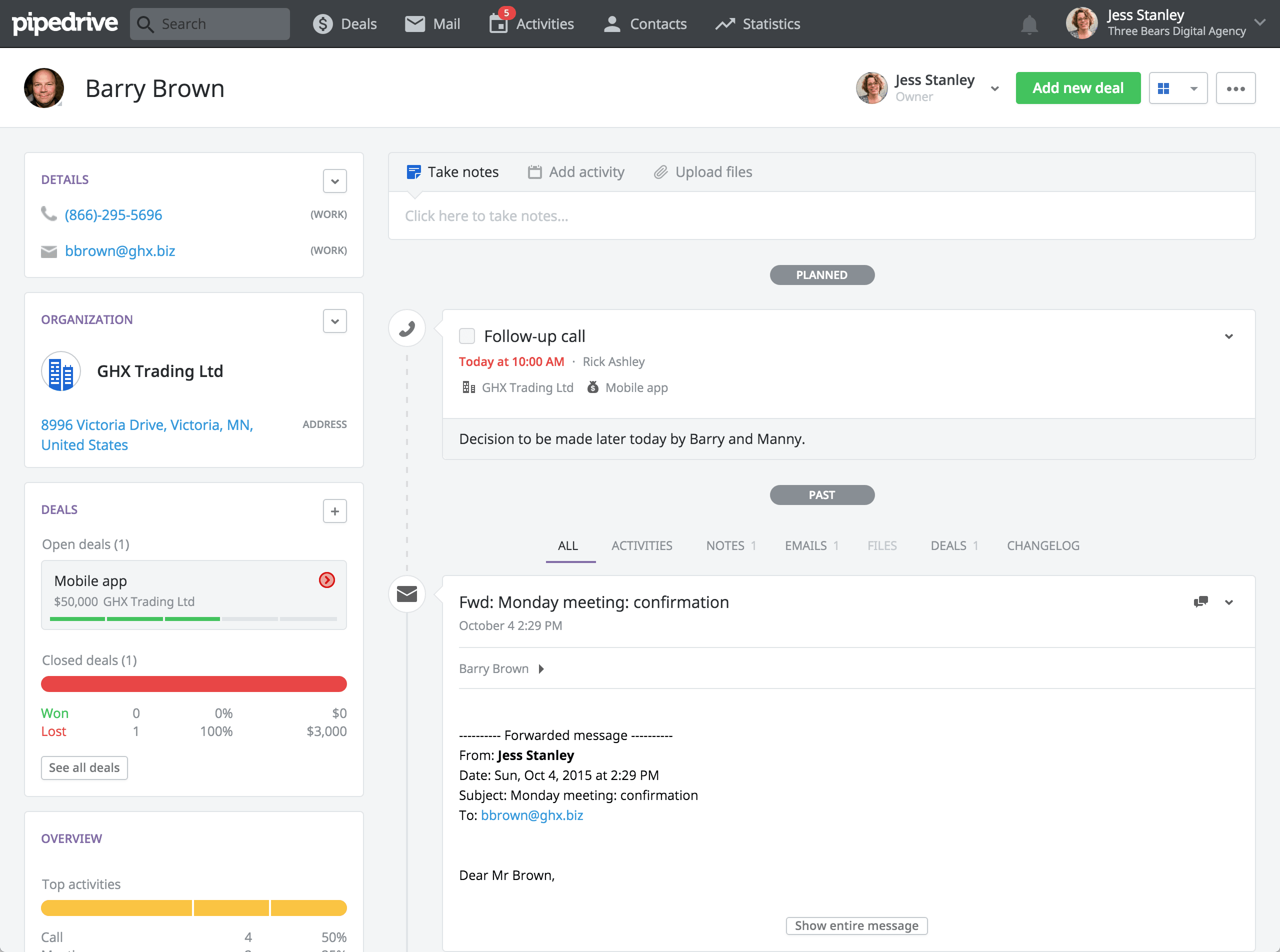 Pipedrive doesn't help you create marketing or sales campaigns and you're certainly not going to set up triggered email campaigns or sequences based on contact or customer action – not natively, anyway.
In this respect, there's a lot of room for Pipedrive to add more advanced features, especially when it comes to managing and automating campaigns.
However, this would undoubtedly make the platform more complex and this is the Pipedrive conundrum: simplicity is theither its biggest strength or its biggest weakness, depending on how you want to manage your sales processes.
Pipedrive verdict
Pipedrive offers a unique solution for sales teams that are less interested in managing databases and more interested in closing deals.
Companies that want to segment campaign audiences at granular levels or trigger automated campaigns based on action or minute data points will need to look elsewhere.
However, enterprise businesses with relatively short sales cycles that want to close deals as quickly as possible and move on to the next opportunity, without getting bogged down in chasing lost leads or maximum efficiency, have a lot to gain from Pipedrive's no-nonsense approach to pipeline management.
The affordable CRM for growth hackers. Enterprise plan: $47.99/month per user
Businesses aren't born as enterprise ventures so what if you're a startup or smaller business with enterprise aspirations and a knack for growth hacking?
EngageBay is the best all-in-one CRM for businesses on a low budget and this makes it the frontrunner for startups and growth hackers looking to build their empire as fast as possible.
In true growth hacking spirit, EngageBay isn't the perfect enterprise CRM (not by a long shot) but it's *good enough* to keep progress constantly moving in the right direction.
Crucially, it also offers up a feature set, pricing structure and growth path that are affordable for fast-growing businesses at every stage of development – including a free plan to get bootstrapped ventures up and running.
EngageBay features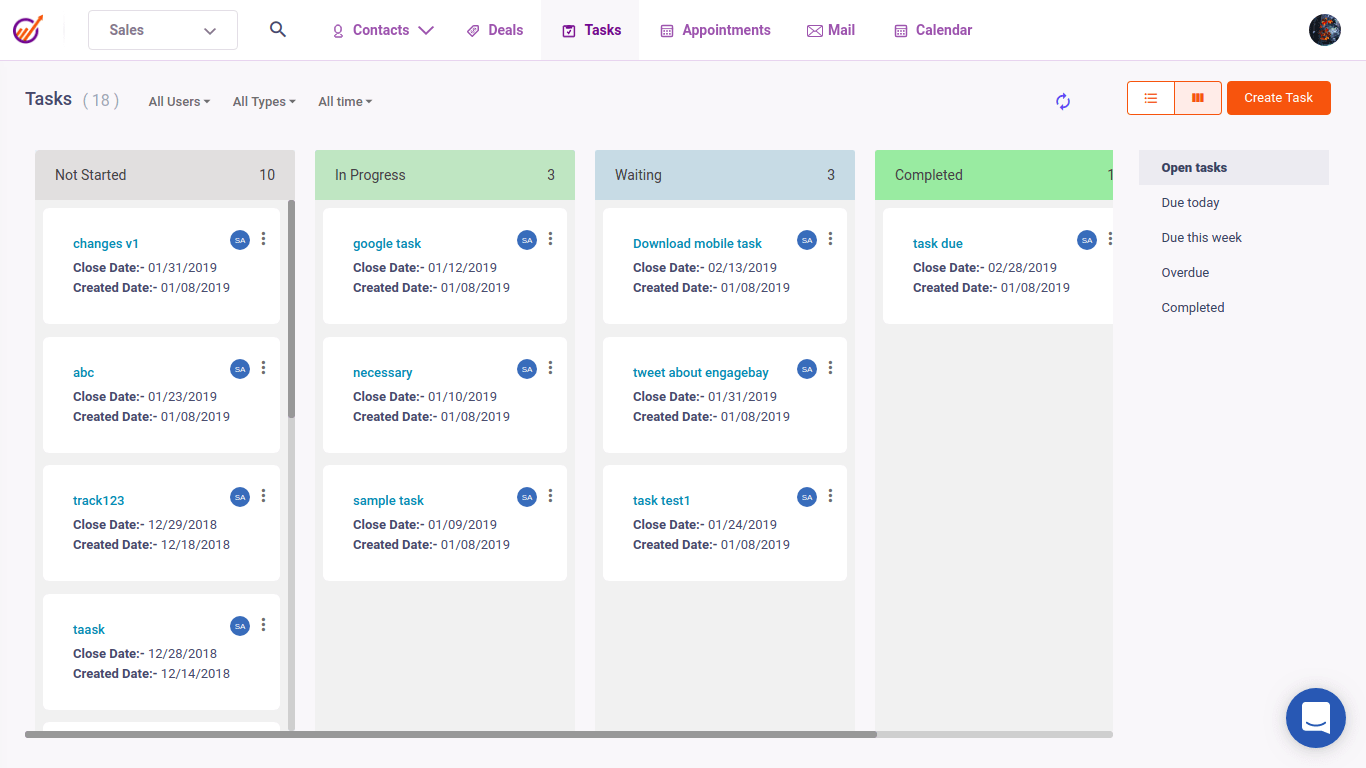 Key features:
CRM: Manage contacts, deals and tasks across the entire customer journey.
Unlimited contacts: EngageBay's Pro plan covers you for unlimited contacts on the built-in CRM.
Predictive lead scoring: Automatically predict the value of leads and prioritise your efforts on high-value prospects.
Email marketing: Email templates, tracking, scheduling, segmentation and other email marketing features.
Email builder: Build and edit visual email templates for your campaigns.
Autoresponders: Automatically respond to email enquiries from your customers and leads.
Landing page builder: Build your own landing pages or edit templates with EngageBay's drag-and-drop builder.
Lead capture: Capture leads with embedded forms, pop-ups and push notifications.
Helpdesk: Add a helpdesk to your website to manage tickets and resolve issues.
Live chat: Provide instant support by implementing live chat on your website.
Sales automation: Automate sales tasks and workflows.
Sales calls: Make calls from EngageBay with 15 free calling credits and call management features, including reports, recordings and scripts.
Enterprise support: Phone support, free onboarding sessions, dedicated account manager, in addition to email and chat support.
EngageBay is an all-in-one platform designed to integrate your marketing, sales and customer support processes across your website, email, phone and social media.
The platform boasts a fairly extensive set of features – not to the same extent as HubSpot or ActiveCampaign – but an impressive offering considering the affordable prices across its plans.
These features are broken up into five separate products:
Marketing
CRM & Sales
Service Bay
Specials
Support
There are 42 features listed under marketing on the company's website and 26 of these are available on the free plan with pricing based on restrictions on the number of contacts on your database, the number of emails you can send and other usage factors.
This means you're getting a lot of features for your money on every plan and this is a key reason why EngageBay is such a good choice for startups and smaller businesses with enterprise ambitions.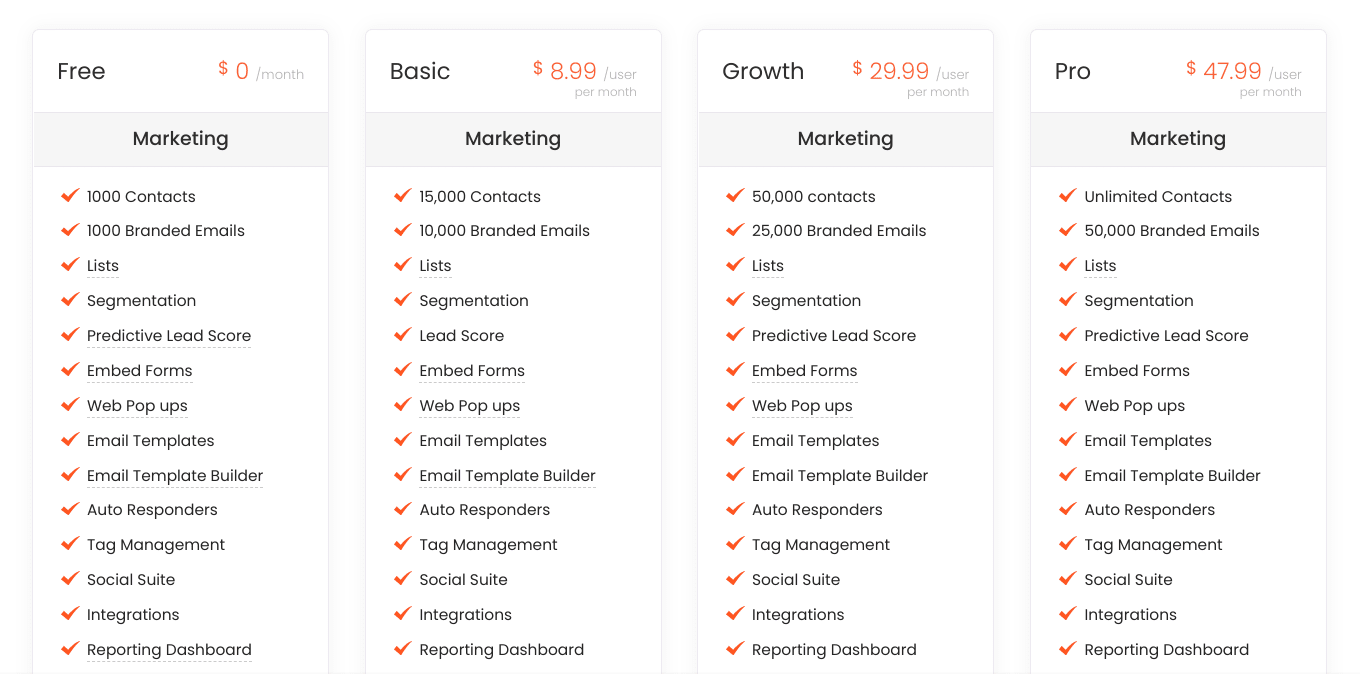 Even on the free plan, you can send email sequences, autoresponders, email broadcasts, an email and landing page builder, email templates, live chat, predictive lead scoring and so much more. Admittedly, you only get limited access to many of these features on the free plan but it's enough to get new ventures started and you'll quickly upgrade to more capable plans with expanded access.
By the time you upgrade to the $49/month per user plan, you've got unlimited contacts and unrestricted access to the platform's features, as well as enterprise-level support.
Aside from being one of the most affordable CRM platforms on the market, EngageBay is also one of the most complete. Aside from the likes of ActiveCampaign and HubSpot, EngageBay is one of the few truly all-in-one platforms to offer dedicated products for marketing, sales and customer support.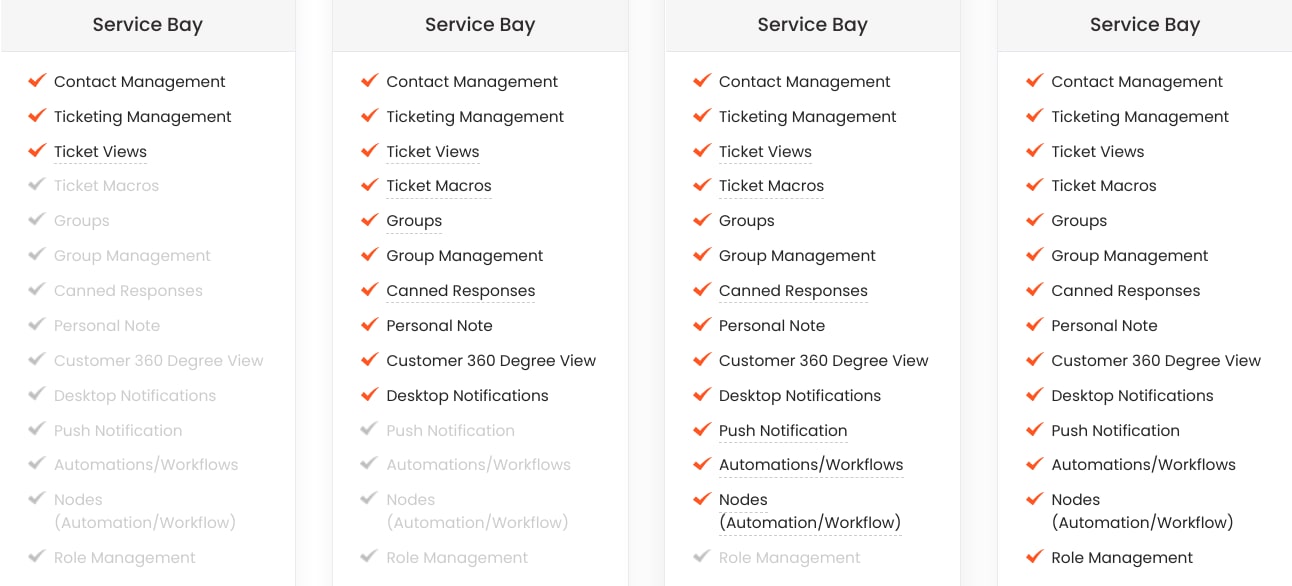 Sure, these products aren't as sophisticated as ActiveCampaign or HubSpot but they're not in the same price category, either, and EngageBay is the most affordable growth platform for companies that need an all-in-one system with a modest budget.
How usable is EngageBay?
Despite its affordable pricing, EngageBay is quite a feature-rich platform so you're not going to pick this up in one day. Once you get used to the system, the performance is fairly reliable but there are some navigational and UI design quirks that put a dampener on the overall experience.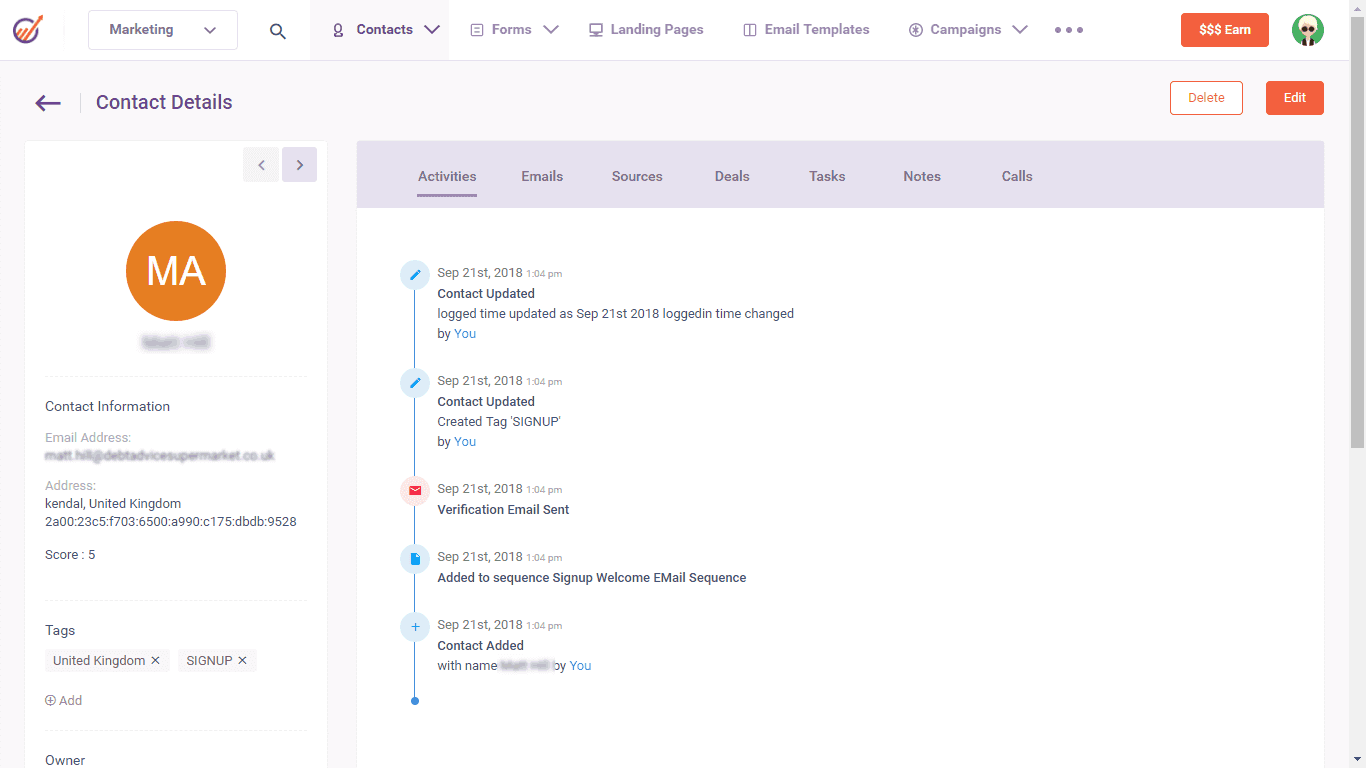 Considering how long it can take to learn the system, EngageBay could significantly improve the experience by implementing in-app guides or prompts to point you in the right direction of related features or next steps.
For example, when you create a new email campaign, it would be useful to have a pop-up asking if you want to create a new template in the email builder or a new marketing list instead of having to navigate to everything yourself.
Without any help from EngageBay, you could quite easily use this platform for six months without knowing certain features are buried in navigation menus and dashboards until you discover them by chance.
Aside from this, the overall experience of using EngageBay is very positive and tools are easy to use, once you know where they are and when to use them.
What could EngageBay improve?
Given the pricing of EngageBay's plans, we shouldn't complain about missing features but there are some simple additions or improvements that would make a significant difference without adding any real R&D or additional cost.
For example, you can't save blocks in the landing page builder and reuse them on future templates. This is a pain when you've got a bunch of landing pages to build and it's such a simple addition that would make the builder a more powerful productivity tool.
The biggest problem with EngageBay is a lack of online support material, though. Head to the resources page on its website, and it looks like there's a decent set of online documentation to help you learn the platform and address basic issues.
Sadly, this is an illusion.
If you click through the categories and read any of the guides, you'll see they're little more than overviews of the software's features, key benefits and best practices, rather than instructions on how to actually use them or solve user problems.
More than anything, we want to see better online documentation on EngageBay's website. A platform with this many features should have an extensive online support centre, especially when the platform is primarily aimed at smaller businesses.
Thankfully, the enterprise support provided on the Pro plan helps make up for lacking documentation but the platform's learning curve doesn't need to be as large as it is.
EngageBay verdict
EngageBay probably isn't the CRM for established enterprise company's but it could be the perfect choice for entrepreneurs, startups and smaller businesses with big ambitions – especially the modern breed of growth hackers who turn bootstrapped ventures into business empires.
EngageBay doesn't try to be the best at anything but it's found success in offering up most of the tools fast-growing businesses need to get the job done and keep hitting targets – and at a price point no other provider can compete with.
The collaborative CRM for mobile sales teams. Enterprise plan: POA
Salesmate is all about empowering your sales team to close more deals and keep customers happy. This is a highly customisable platform with built-in productivity and collaboration features that make it ideal for smaller mobile and remote sales teams.
There's no free plan available here but prices start at $12/month per user and the most expensive Boost plan still only lifts your monthly fee to $40/month and there aren't too many feature restrictions between plans, either.
Even on the starter plan, you get a solid all-in-one platform with multiple pipeline management, email marketing, email automation, voice and text features, extensive reporting and excellent mobile apps for iOS and Android for one of the best mobile CRMs around.
Salesmate features
Key features:
Customisable CMS: Customise your CMS to meet the needs of your team with the same flexible options available on all plans.
Unlimited records: All Salesmate plans allow you to store and manage unlimited contacts, deals, campaigns, activities and products.
Sales management: Manage contacts and deals across the entire customer journey.
Sales automation: Automate workflows and email campaigns.
Multiple pipeline management: Manage multiple pipelines across all Salesmate plans.
Email marketing: Manage email campaigns, automate messages, send bulk emails and create sequence campaigns.
Voice & text: Extensive voice & text sales tools with most features available on all plans.
Reports & dashboards: An impressive collection of native reports and dashboards.
Chrome extension: Complete actions from Google Chrome without opening the Salesforce app.
Integrations: Native integrations with Gmail, Zapier email marketing software and other platforms to expand functionality.
Mobile CMS: Excellent mobile apps for iOS and Android make Salesmate a truly mobile platform for remote sales teams.
Dedicated IP address: Maximise deliverability by sending emails from your own, dedicated IP address.
SSO/SAML integration: Provide secure access to everyone who needs it without unnecessary security risks.
Enterprise support: Personalised training, a dedicated account manager and enterprise support.
Salesmate doesn't disclose pricing for its enterprise plan so you'll have to negotiate a fee based on the number of users you have, how many emails you send and other usage requirements.
You get unlimited contacts on all plans but the company's most extensive $40/month per user Boost plan limits you to the following:
Email sequences: 1,000/user per day
Automated workflows: 50
Workflow emails: 1,000/user per day
File storage: 10GB/user
So, aside from user numbers, you'll have to negotiate a price to suit your needs. It wouldn't be fair for us to disclose any specific numbers but we can say Salesmate remains good value for enterprise companies.
Salesmate's feature list is similar in size to EngageBay but the specific features and tools on offer are quite different.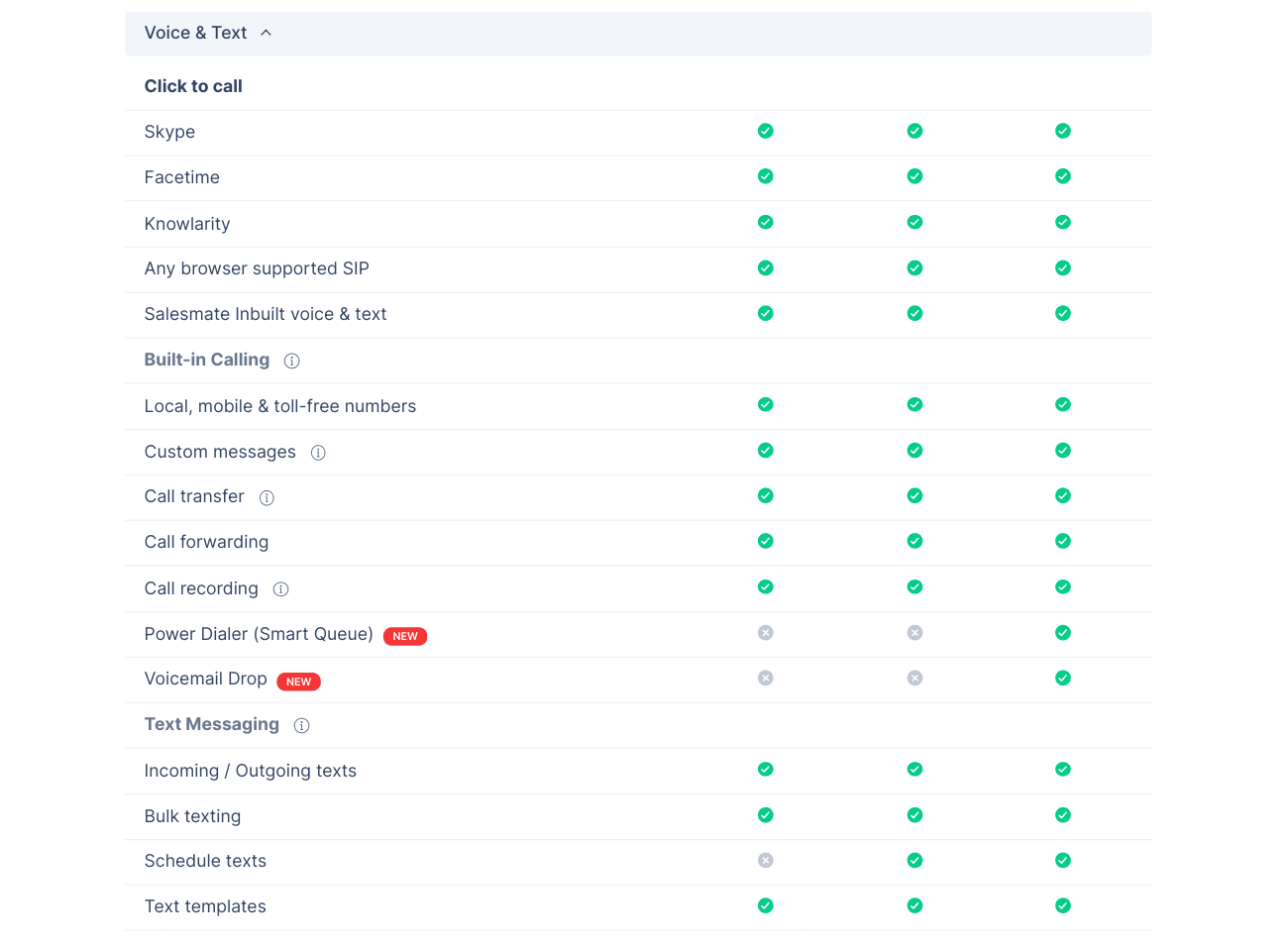 Salesmate has a far more sophisticated calling and SMS system and this is one of the biggest strengths of the platform. In this sense, Salesmate is the only platform we're looking at today that can give Close a run for its money in terms of an all-in-one solution for international and remote sales teams.
If phone interactions are a priority and you're looking for an all-in-one system, Close and Salesmate are the two standout choices.
If you're more interested in email marketing, it's worth noting that Salesmate doesn't have an email builder so you're limited to sending text emails natively.
There's also no landing page builder so you'll need to integrate with other platforms to bring these features in and Salesmate has native integrations for ActiveCampaign, Sendinblue and Mailchimp – so you've got plenty of options.
Other standout features on Salesmate include multiple pipeline management on every plan, extensive customisation, workflow automation and a robust set of reporting tools – as well as excellent integration options.
With the Boost or enterprise plan, you also get the best of Salesmate's collaborative CRM, which is great for remote sales teams. The sales activity tracker helps you manage tasks and keep track of progress while you can also automate workflows.
Notifications are automatically sent to reps when they're assigned a new task and you can set up reminders for meetings and sales activities.
Salesmate's mobile apps for iOS and Android are the best we've used, putting a fully functional mobile CRM in the hands of your entire team.
How usable is Salesmate?
Despite offering a similar bulk of features, Salesmate delivers a much stronger user experience than EngageBay.
While you can feel the depth of features in EngageBay adding complexity to the platform, Salesmate's software is tightly themed with features grouped together in a more logical structure that makes the whole platform easier to navigate and learn.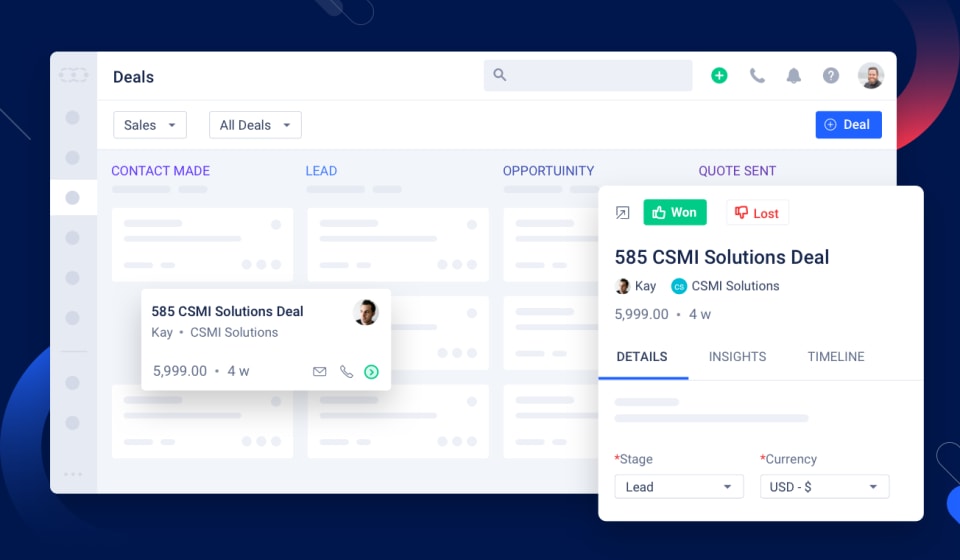 There's still a learning curve here but you're not going to find yourself discovering new features six months after you start using the platform.
The experience is helped even further by the seamless transition from web app to mobile apps. While the layout and navigation are adapted for mobile devices, the two formats are optimised to help you jump between desktop and mobile as two parts of a fully integrated system – and it shows.
Salesmate also provides extensive online documentation to help new users get up to speed with the platform and address any teething issues they run into.
EngageBay should take notes here.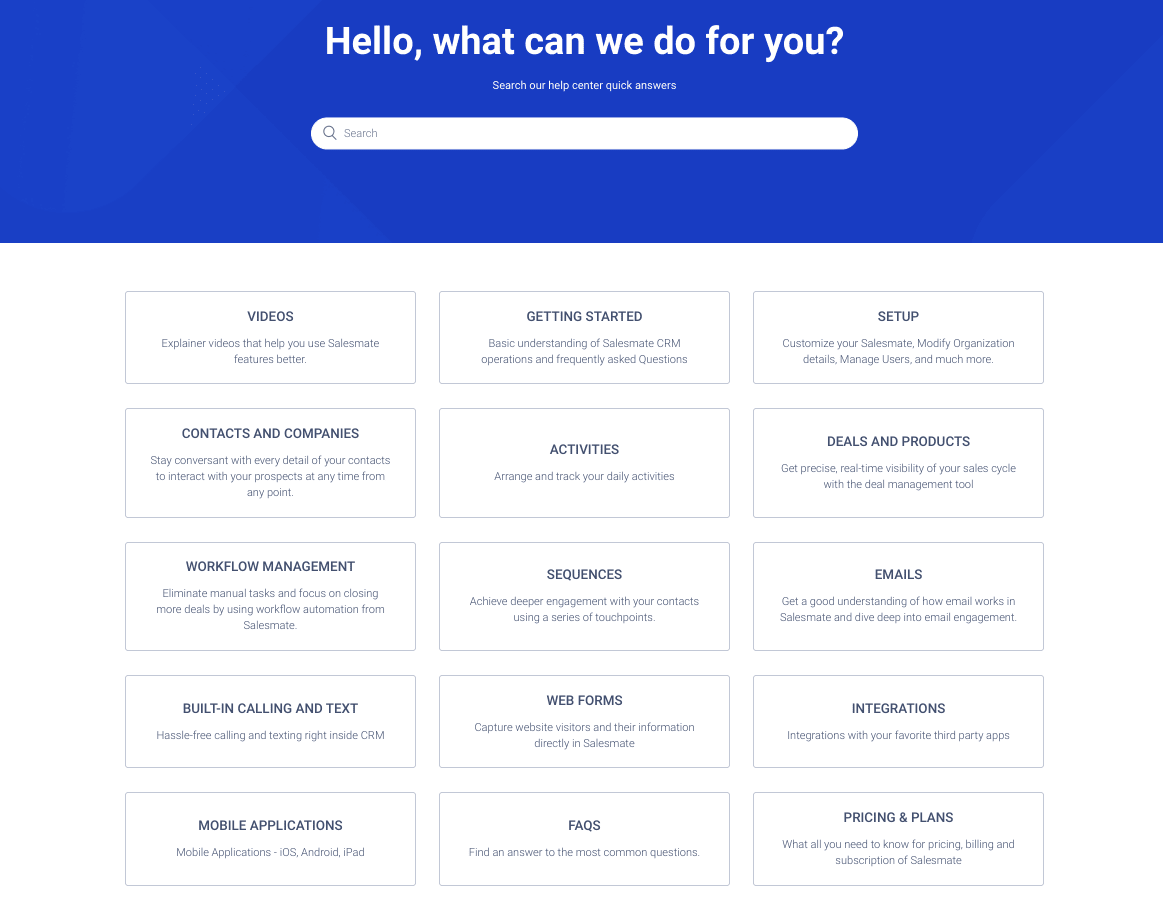 Salesmate's website gives you access to video tutorials and guides for every set of features on the system and there are walkthroughs for "setup" and "getting started".
With enterprise support, extensive online documentation and an excellent user experience across multiple devices, Salesmate is up there with the best all-in-one platforms when it comes to usability.
What could Salesmate improve?
With a strong emphasis on calls and text messaging, there's a slight imbalance with marketing features. Above all, an email builder and visual templates would add a lot to Salesmate as an all-in-one system and it would be good to see a landing page builder and more lead generation features built into the platform.
A/B testing would be a welcome addition, too.
That said, you still get a solid set of email marketing and automation features to work with and few platforms can compete with Salesmate on the calls and texting front – so it's good to have this option.
Salesmate verdict
Even if there are some marketing features missing, Salesmate offers up a customisable, collaborative all-in-one platform for remote sales teams with some of the best voice and text features available.
The user experience is excellent, too, especially if your sales team is constantly switching between desktop and mobile.
For remote, mobile sales teams, this could be the best all-in-one CRM platform that provides the flexibility and mobility you need to manage deals and customers on the go.
The CRM for account-based marketing on LinkedIn. Enterprise plan: $24.99/month
Octopus CRM is an automation tool for LinkedIn prospecting that helps you identify and engage leads at scale. The software pulls all of your LinkedIn contact data into one place so this isn't a multichannel system but a valuable tool for B2B companies engaged in account-based marketing on the world's biggest network for business professionals.
Octopus CRM features
Key features:
LinkedIn CRM: Store all of your LinkedIn contact data and leads in one place.
LinkedIn marketing funnel: Build your LinkedIn marketing funnel to manage prospects and nurture leads until they're ready to convert.
Automated connection requests: Send personalised connection requests to 2nd and 3rd level connections on LinkedIn.
Bulk messages: Send messages to hundreds of 1st level connections in bulk.
Automatic endorsements: Automatically endorse up to 7 skills on profiles of your LinkedIn contacts.
Activity control: This feature allows you to stay extra safe on LinkedIn and receive immediate alerts right after our system detects the excessive activity on your LinkedIn account.
Reporting: Monitor the performance of your campaigns with expanded reporting in Octopus CRM.
Zapier & HubSpot integration: Expand Octopus CRM's functionality with Zapier and integrate with HubSpot as an add-on to a complete CRM system.
Personal account manager: Direct support to help you use the platform.
Octopus CRM's Unlimited plan costs $24.99/month and that's a flat fee regardless of how many users you have. It won't take long to read through the feature list but the platform is more sophisticated than the feature page suggests.
The CRM houses all of your LinkedIn lead data but the primary aim of the platform is to automate prospecting so you can spend less time prowling on the network and sending out connection requests.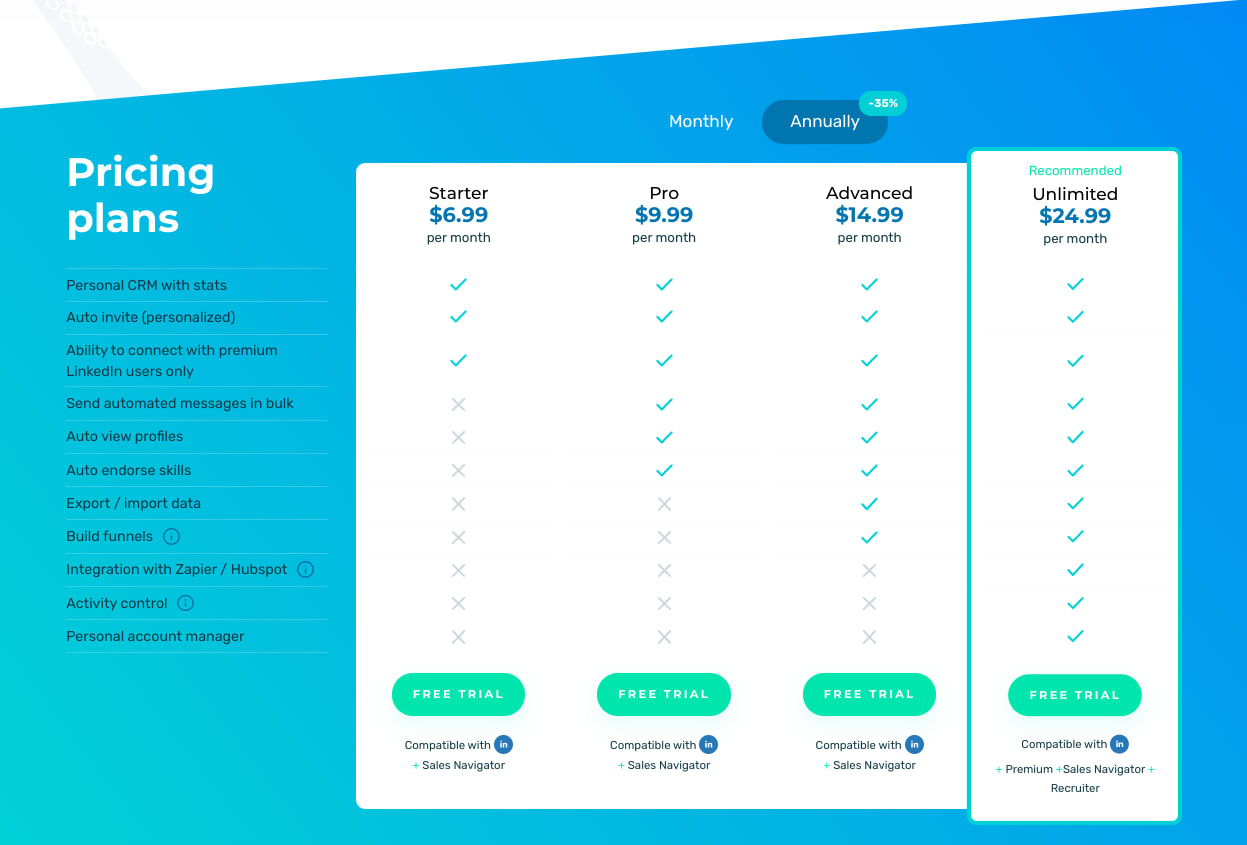 Octopus automatically sends out personalised invites and allows you to connect exclusively with premium LinkedIn users. You can also send automated messages in bulk, automatically view profiles, endorse skills and import/export data without touching a thing.
The Unlimited plan allows you to create LinkedIn lead generation funnels to keep track of your nurturing strategy and follow-up with interactions to keep them engaged.
The obvious limitation with Octopus CRM is that it only works with LinkedIn. The Unlimited plan comes with native HubSpot integration, though, so this is a great addition for B2B companies using HubSpot as their all-in-one sales and marketing CRM (which we'll be taking a look at later).
You also get Zapier integration, which expands upon the native automation features and a dedicated account manager.
How usable is Octopus CRM?
Octopus isn't the most complex platform in terms of functionality and the UI design is pretty basic, too. The features themselves don't take too long to get used to but the interface design is very similar to the back-end of WordPress and it doesn't offer any descriptive context or feedback to communicate function.
So, while the learning curve is modest compared to many CRMs, you do have to sit down and figure everything out for yourself.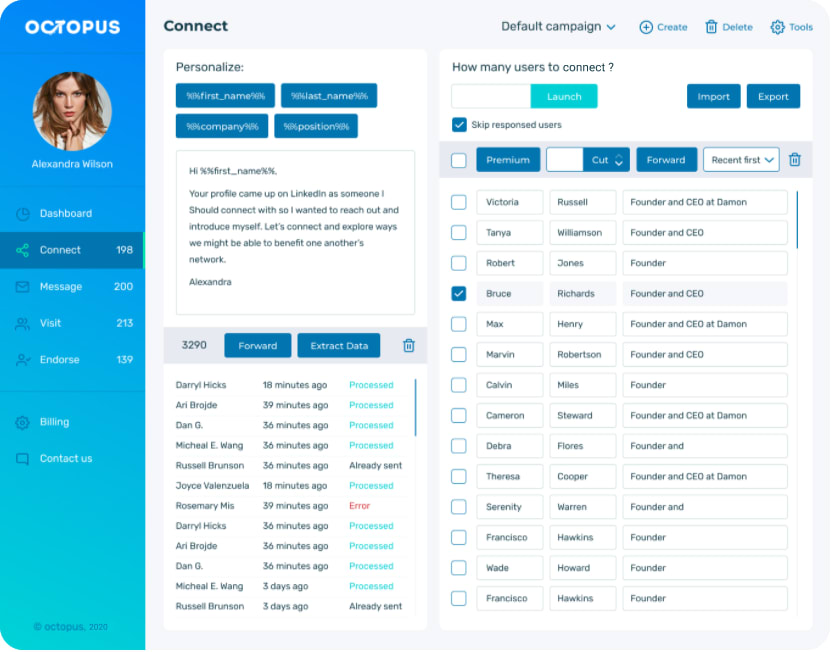 Usability is hampered by a lack of functional automation in some important places, too. For example, you have to manually launch automated messages, which is every day, which is completely counterintuitive. Likewise, you have to manually add prospects to campaigns without so much as a list or tagging feature to, at least partly, automate this step.
Instances like this are common where Octopus falls short of being as productive as it could.
What could Octopus CRM improve?
Again, Octopus could drastically improve the power of its CRM by building more automation into the platform. We're talking about advanced automation, either, but simple functions that would create a more productive and intuitive platform – things like one-click actions or triggers.
You shouldn't have to manually start actions after you've already created them.
There's also a lack of bulk action tools for things like removing pending connection requests. Having to do this one-by-one on an automation tool gets frustrating pretty quickly.

Like a few of the tools we've looked at today, Octopus could also provide a lot more online documentation. There is a resources page on the website where you can find video tutorials and FAQs but the videos are very short and all they really do is describe the key features without going into any great detail.
Octopus CRM verdict
Octopus CRM is a lightweight automation tool that will save you a lot of time prospecting leads on LinkedIn. For the asking price, the time you save is more than worth the monthly expense but there's some obvious (and basic) functionality missing that makes it frustrating to use – mainly because you know it could, so easily, be a far more effective productivity tool.
That said, any time saved on a time-intensive and high reward strategy like LinkedIn prospecting is a bonus and Octopus will help you secure valuable leads.
The all-in-one CRM for simplicity at all costs. Enterprise plans start at $1,2000/mo
If you want the most enterprise features built into an all-in-one marketing, sales and support CRM, then HubSpot is the standout platform – but it comes at a price.
Enterprise plans start at $1,200/month for the Sales Hub, which includes HubSpot's excellent CRM and advanced sales software. However, this doesn't include HubSpot's marketing, customer service or content management products, all of which you have to pay for separately.
Here's a quick breakdown of the enterprise fees for each product:
Marketing Hub – starts at $3,200/month for 10,000 marketing contacts (plus a $6,000 onboarding fee)
Sales Hub – starts at $1,200/month for 10 users (plus a $3,000 onboarding fee)
Service Hub- starts at $1,200/month for 10 users (plus a $3,000 onboarding fee)
CMS Hub – starts at $900/month
For the all-in-one platform, including all four of the products above, your enterprise fees are going to start at $6,500/month, plus a $12,000 onboarding fee to get the system set up for you.
That means you're paying $102,000 to start using HubSpot's enterprise offering for a sales team of 10 people and a marketing list of 10,000 contacts.
Your fees quickly grow as your sales team gets bigger and those monthly fees for the Marketing Hub also rise sharply as your list of marketing contacts grows.
So HubSpot is by far the most expensive platform we're looking at in this guide and the question we need to answer now is whether the platform is worth the expense.
HubSpot features
Key features:
Deal pipeline: Manage leads and deals across your sales funnel.
Sales automation: Automate sales tasks and workflows to convert more leads with less manual input.
Marketing automation: Automate marketing campaigns to capture and nurture leads on autopilot.
Predictive lead scoring: Calculate the value of leads and prioritise your sales efforts.
Website activity: Get insight into what a contact is doing on your website – page views, form submissions, sales activity, etc.
Prospecting: See which companies are visiting your site and view available insights about them too.
Email marketing: Track email campaign performance, receive notifications when emails are opened and use templates to build visual email campaigns.
Landing pages: Create landing pages to capture leads on your website.
A/B testing: Test landing pages and website pages to maximise conversions.
Forms: Capture leads on your website with HubSpot's form builder.
Live chat: Capture leads on your website and provide real-time customer service.
Task & activities: Create, manage and track sales tasks and activities that make up your relationships with customers.
Customer support: The Service Hub gives you an entire suite of tools to provide the best customer service possible.
Enterprise support: Phone and email support, in addition to training, community support and HubSpot's excellent online documentation.
HubSpot is the most comprehensive CRM platform we're looking at in this guide, offering more features than any other system across its four main products: Marketing Hub, Sales Hub, Service Hub and CMS Hub.
The only platform that comes close to HubSpot in terms of features is ActiveCampaign, which gives you around 90% of the same features on its enterprise plan – the difference is prices start at $399/month for 10,000 contacts, which gives you access to everything on ActiveCampaign.
The extra 10% of features you get with HubSpot's enterprise plans mainly include more comprehensive inbound marketing tools, advanced social media and paid advertising features, and slightly more customisation options.
If you're paying for the CMS Hub, this is where you'll gain the most features that aren't available on ActiveCampaign as there's no equivalent product.
Even still, the price difference is far greater than the differences in features so you have to decide how much value there is in your company having an all-in-one marketing, sales and support platform that does as much as possible without moving between software tools.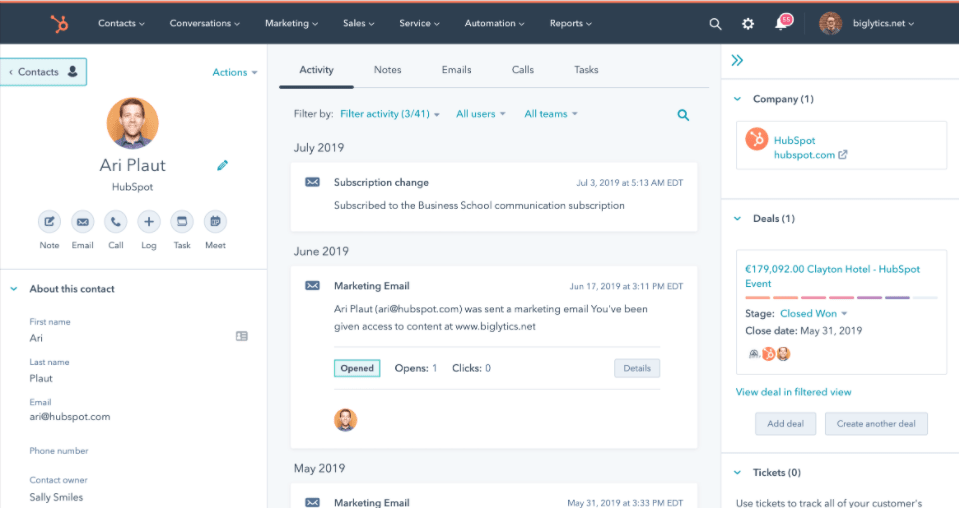 HubSpot gets you slightly closer to this than ActiveCampaign and far closer than any of the other platforms in this article.
Enterprise companies with particularly large sales teams will benefit the most from this consistency, especially if you find yourself hiring and training new sales reps, where primarily working with one platform helps them get up to speed faster.
Of course, this relies on HubSpot being a usable system in the first place.
How usable is HubSpot?
One of the most impressive aspects of HubSpot is how intuitive the platform is, despite being one of the most feature dense systems on the market. Breaking the platform into four distinct products helps simplify the navigation into a logical structure, making it easier to find the tools you need.
The quality of HubSpot's products, features and tools are consistently high and only a few specialist software tools like Unbounce or Mailchimp are better than the built-in landing page and email builders – but not by a huge amount.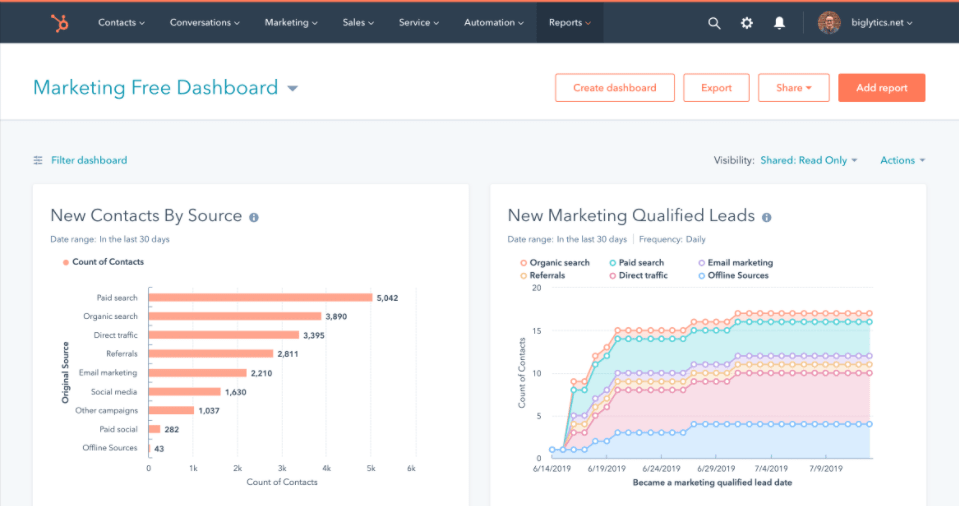 As an enterprise customer, you're unlikely to experience HubSpot's biggest UX frustration often. Companies using the free versions or lower tier plans will often find themselves accessing features reserved for more expensive plans or reaching limits that bump them up into the next tier.
Constantly being prompted to upgrade is a real nuisance but you shouldn't run into this problem on the Enterprise plans.
Aside from that, you're unlikely to have any usability complaints about HubSpot and the company has developed one of the most impressive customer support systems with extensive online documentation, guides, community support and a fantastic support team that's always there to help with any technical issues.
What could HubSpot improve?
In most regards, HubSpot offers up one of the best all-in-one sales, marketing and customer support CRM available and there isn't a lot to criticise in terms of quality.
If you want maximum features and usability, regardless of expense, then this is probably the platform for you. However, there is one area where HubSpot falls a little short of some cheaper competitors.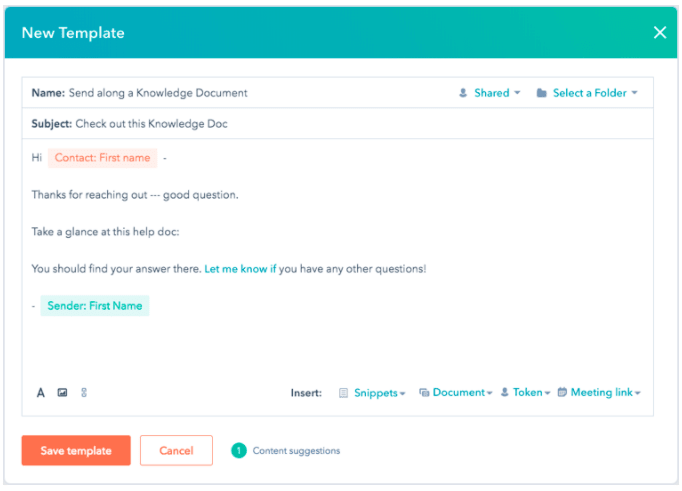 While each of HubSpot's products includes a solid set of automation features, ActiveCampaign is quite far ahead in this area with features like automation split testing, dynamic automations, automation maps, advanced segmentation, prospect tagging and its excellent automation builder.
Considering the pricing gap between these two platforms, you would expect HubSpot to be the superior automation platform but this isn't the case – quite the opposite.
HubSpot verdict
HubSpot offers one of the most comprehensive marketing platforms available and still sits at the top of the industry after so many years. Features aside, the quality of its platform is still up there with the best and companies prioritising functionality and usability over price may not need to look any further for their all-in-one marketing, sales and support CRMs.
The obvious question-mark hangs over pricing. Is the extra 10% of features you get from HubSpot compared to a platform like ActiveCampaign worth 10X more in software fees?
Which is the best enterprise CRM?
To determine the best CRM platforms for different business needs, we surveyed more than 10,000 marketers who were switching platforms so we could get unbiased feedback about the pros and cons of each system.
After compiling all of our data, seven key areas stand out to separate the best CRM platforms from the rest:
Ease of use
Cost
CRM & marketing features
Reporting
Integrations
Support & Training
Security
As an enterprise business, you need top performance across all seven of these categories and every CRM featured in this guide achieves this. Now, to help you narrow down your options even further, we're going to pick the top three platforms in each category so you can choose the best CRM for your needs, based on your priorities – or the platforms that consistently feature among the top three.
You can access the dataset we use to determine the top 10 email marketing software providers at the end of this guide.
At the end of this article, we'll also give you access to our raw data so you can compare every CRM platform we've analysed over the years, in more detail, to make an informed decision.
Best for ease of use
Many of the platforms we've looked at in this guide perform very well when it comes to usability so it's difficult to choose a top three. Luckily, our data picks them for us and, considering how subjective usability is, this is the only fair way to name a top three.
So let's take a closer look at why these CRMs, in particular, top the list for usability.
ActiveCampaign is one of the most comprehensive all-in-one marketing, sales and service CRMs available – only HubSpot offers up a more comprehensive platform among the products we're looking at today.
One of the most common problems with all-in-one platforms like this is that usability suffers under the bulk of features and navigational complexity.
However, ActiveCampaign has created an integrated network of products for email marketing, marketing automation, CRM and sales automation, and service and support, which groups the platform's features and tools into a logical structure and navigation that forms the foundations of its excellent UX.
The company also offers customisation for different businesses sizes and industries, such as e-commerce, B2B, SaaS and digital agencies, which enhances the experience further.
Not only that, but ActiveCampaign's most powerful feature is also its strongest asset for usability. We're talking about automation, of course, and aside from getting the best set of automation features and tools offered by any platform in this guide, ActiveCampaign engineers automation into the usability of the software, too.
For example, the drag-and-drop builders remove unnecessary clicks, the automatic lead scoring constantly updates and prioritises your leads, and the automation builder helps you create advanced campaigns within a few clicks.
This benefits the ActiveCampaign experience immensely and the quality of the platform's automation technology allows you to do more with one tool than any other CRM in this guide.
This is most evident with ActiveCampaign's automation builder (above), which gives you the freedom to automate any workflow you can think of. And, then, you've got the library of pre-built automation recipes to choose from, allowing you to automate some of the most common and essential workflows in seconds.
In terms of pure UX design and performance, HubSpot would probably be the first winner that comes to mind and it's only ActiveCampaign's depth of automation that edges the victory in its favour.
Aside from that, HubSpot is the standout platform for navigation, intuitiveness and UI design, which is all the more impressive considering it's the only platform to offer more features than ActiveCampaign.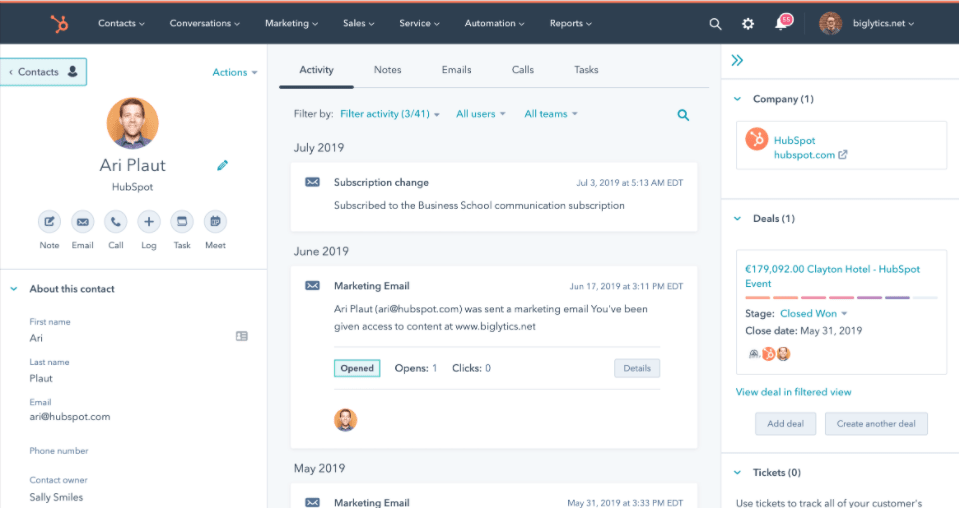 Automation aside, there are a couple of other areas where HubSpot could improve the overall experience. There's a notable lack of customisation and this can be frustrating for enterprise companies, especially when the onboarding fees are so high. There is a risk that customisation options could add complexity to the platform, though, so there's no guarantee this would actually improve usability.
The other usability gripe is the access to advanced features customers have on the lower tier plans, which trigger prompts to upgrade. However, this shouldn't happen if you're signed up to the enterprise plans, until you reach a usage limit that impacts pricing.
This third spot would be the really difficult one to choose without a data-driven approach because there are 2-3 other platforms that perform similarly well here.
Salesflare, Close and Pipedrive could easily make their way into the top three but Salesmate delivers the best cross-device experience by quite some margin.
Those iOS and Android mobile apps are optimised to enhance the desktop experience and create a truly integrated system across every device with an impressive level of consistency, even on smartphones.
If you're looking for a cross-device platform for remote sales teams who are regularly on the go, Salesmate and Close are the standout options but the Salesmate mobile apps make the difference in this round.
Best for affordability
Affordability is difficult to gauge with marketing software, at the best of times, and it's especially subjective for enterprise companies. There's little point in signing up for the cheapest platform if it doesn't meet your needs, can't continue to grow with your businesses or lacks key features and forces you to pay up for expensive third-party platforms.
The first quantifiable way to compare CRM platforms is to look at how prices increase as your contact list grows.
In the table above, only four platforms base their pricing on contact numbers. We've marked Close and EngageBay with asterisks because, while they price their plans partially on contact numbers, their enterprise plans include unlimited contacts.
It's no coincidence that the two most established, expensive and advanced CRM providers are the ones pricing based on user numbers while the newer generation of platforms tends to price their plans on a per user, per month basis.
So here's a comparison of enterprise plan fees for teams of different sizes:
Now, we start to get a better idea of how much these platforms are going to cost you, based on the size of your sales team. And, suddenly, ActiveCampaign shows how affordable it is for enterprise companies with prices starting from $229/month for unlimited users.
With pricing based on contact numbers, you're looking at $399/month for 10,000 contacts, no matter how large your sales, marketing and support teams grow – and you can get even better rates once your contact list passes the 10,000 mark.
When you factor in the features provided by each platform and the pricing models involved, ActiveCampaign shoots right to the top as the most affordable platform for enterprise companies looking for an all-in-one marketing, sales and customer support platform.
Plan for the long-term
Take it from us, changing your email marketing software multiple times is an expensive habit and this is precisely why we've created these guides – to save you all the time and money we spent on finding the right system for us.
Feature lists are a great place to start when comparing platforms but you have to look ahead and be honest about the features you're going to need in the future. You also need to take a hard look at the pricing structure of each platform and the growth path they set out (features, plans, team sizes, etc.) to understand how your monthly fees are going to change as your teams, contact lists and business grows.
You want a platform that's going to drive growth for your business and one that's capable of growing with your business as your needs become more advanced.
Best for CRM & marketing features
At the heart of each platform in this guide is a customer relationship management (CRM) system and they all take a different approach to implementing a variety of marketing features into their version of an all-in-one solution.
So we should take a moment to talk about the quality of the CRMs themselves and the marketing features available for enterprise companies.
Best for CRM
If we ignore all of the additional features and focus squarely on the CRM solutions of each platform, there are three no-compromise winners for enterprise companies:
These are the three providers that offer up the traditional, fully functional CRM at the heart of their product while all of the other providers try to simplify their CRM for the sake of usability or affordability – all legitimate compromises but ones that reduce functionality to differing extents.
Best for marketing features
All of the platforms in this guide aim to provide all-in-one solutions but some are more complete than others. ActiveCampaign and HubSpot are the standout winners when it comes to marketing features and there's a big gap between these two and the rest of the options we're looking at.
The best of the rest in terms of marketing features is EngageBay, which offers up a more lightweight platform but provides a solid offering for integrated marketing, sales and customer support.
Here's a quick overview of some of the features unique to these three platforms:
Automation A/B Testing – Split testing email campaigns, templates, subject lines and other specific email features is a relatively standard feature for these platforms, but ActiveCampaign is one of the only providers that allow you to split-test automation sequences.
This allows you to test full email marketing strategies such as drip campaigns or experiment with the timing of your re-engagement emails. You can set goals like conversion rates from emails, for example, and test campaigns to determine the perfect number of follow-up emails to achieve the best result.
This is a massive feature that helps you experiment with advanced email marketing strategies and find out what works.
Conditional content – ActiveCampaign is still one of the only email marketing services that allow you to use conditional 'IF X is true, show Y' content blocks inside email campaigns.
This feature is becoming more common on email marketing platforms but it's still quite rare and HubSpot is the only other provider in this guide offering up this functionality – ActiveCampaign just does it a little better.
This is a crucial feature in our automated email marketing strategies, allowing us to deliver relevant messages to every reader.
For example, we use it to localise pricing and show unique recommendations to customers, based on the plan they're signed up to, previous content they've engaged with or what they do with our products.
Global variables – With a comprehensive email marketing strategy, you reach a point where making global changes manually is unworkable. We have hundreds of automated emails on our ActiveCampaign account running at any one time so we need a way to make global changes easily.
What we don't want to do is manually change our logo or header content across hundreds of campaigns every time we update something. Luckily, we don't have to, either, because ActiveCampaign allows us to make these changes by applying global variables that automatically apply them to every campaign for us.
Downloadable automation recipes – ActiveCampaign does automation better than any other platform in this guide and we could list ten features that make this the most capable automation tool.
If we have to choose one, we would probably go with the library of automation 'recipes' that you can tap into and use to automate some of the most common and important marketing, sales and customer support tasks – all within a few clicks.
Another benefit of this library is that you can use it to get a feel for what you can do with automated workflows, which is great if you're new to automation to building workflows for yourself.
Smart Content – Similar to conditional content in ActiveCampaign, Smart Content allows you to show or hide content in your emails to recipients based on the email list they're on or their current sales funnel status.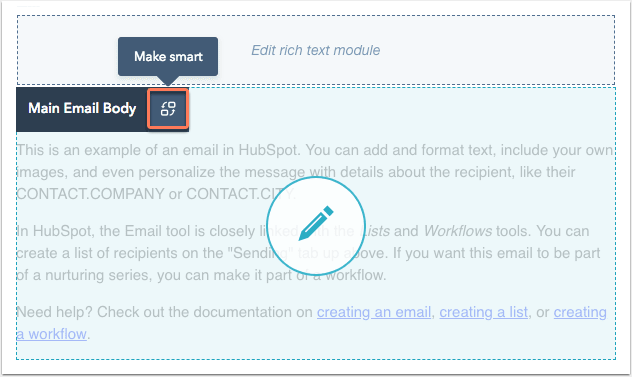 Subject line emojis – Using emojis in subject lines have been found to increase open rates by as much as 45%. HubSpot was one of the first email software providers to recognise this and still one of the only platforms to offer this up as a built-in feature.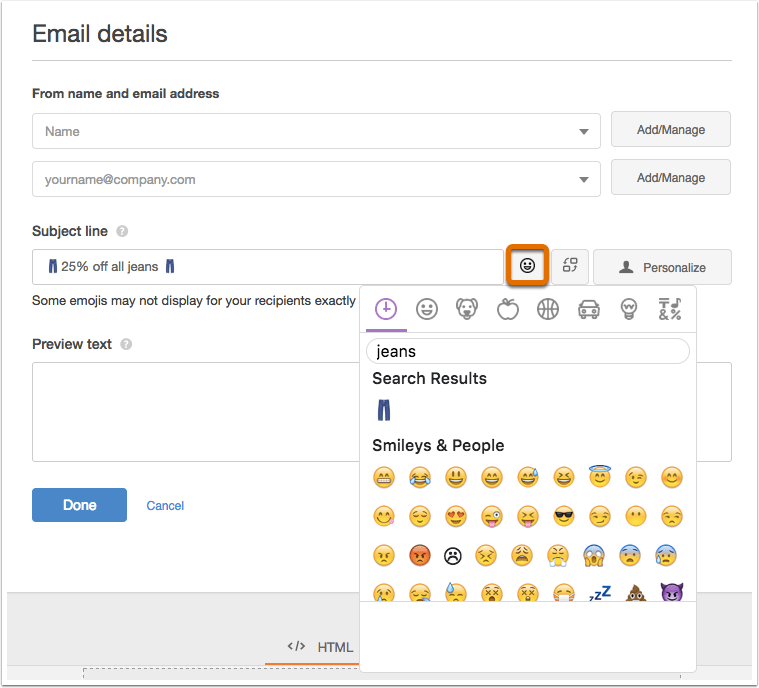 Progressive Profiling – This allows you to show different page content to returning website visitors after they've signed up to one of your email lists, so you can show a relevant message instead of the same lead generation content.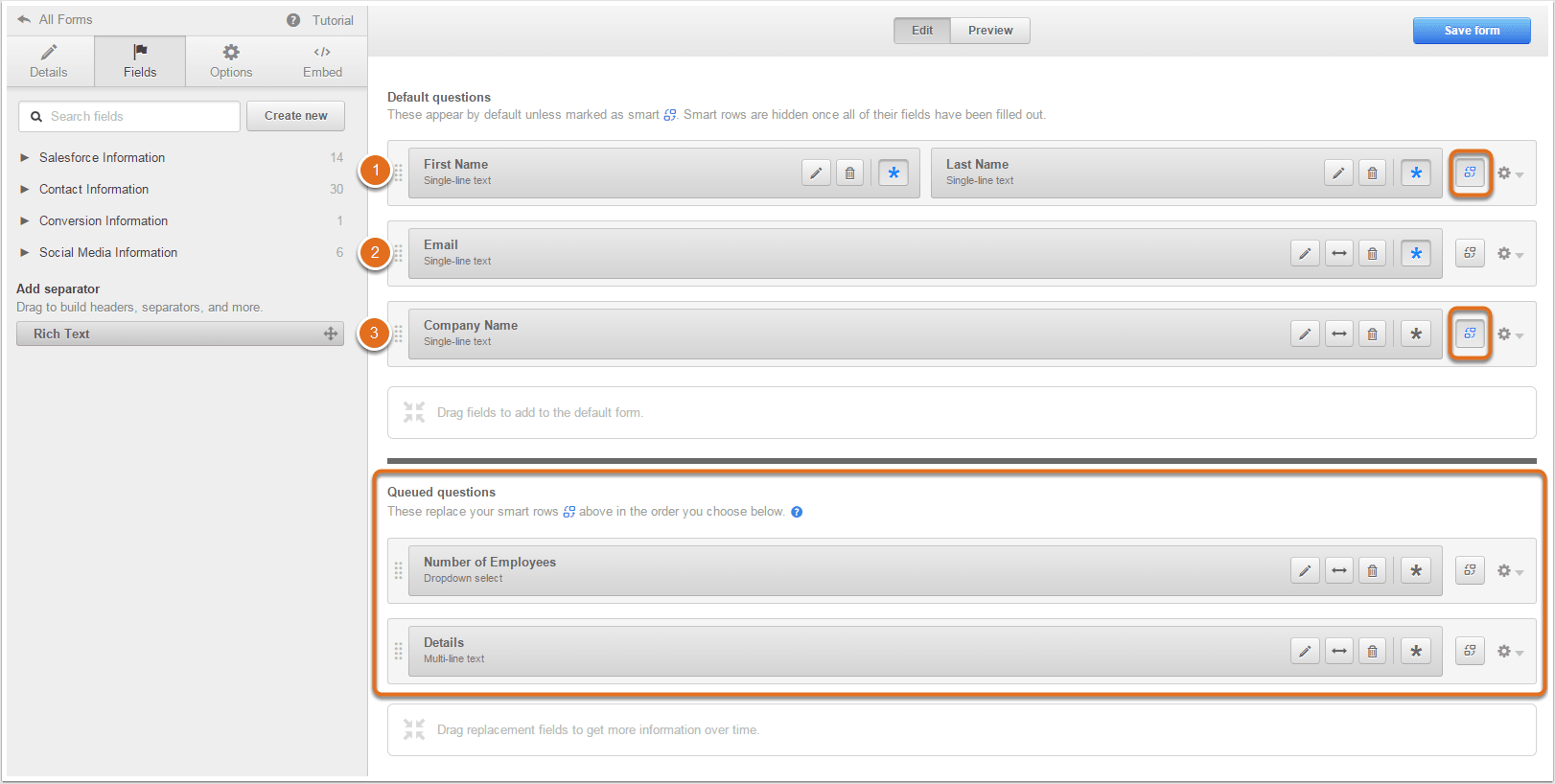 For example, if a visitor downloads one of your free guides, you can show them a new offer designed to move them along to the next stage of your funnel.
Push notifications – While push notifications aren't revolutionary, EngageBay is one of the few CRM platforms to offer this as a native feature and this reflects the company's efforts to deliver a multichannel system.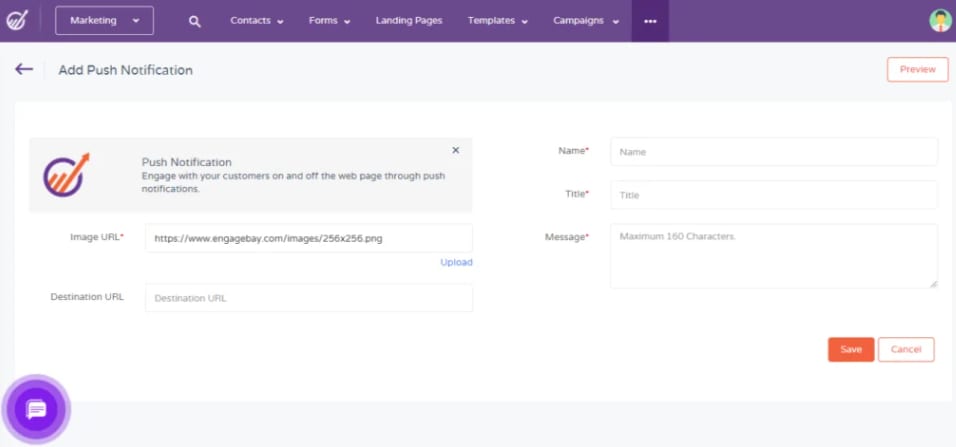 It may not match ActiveCampaign and HubSpot with the same depth of features but it still finds space to offer up some unique tools and you won't need to pay for a separate software for push notifications.
Proposal analytics – EngageBay boasts a solid set of sales and deal management features, including a dedicated set of proposal tools, even down to built-in proposal reports to track performance and close more deals.
Best for reporting & analytics
Enterprise companies need enterprise-level reporting and analytics to optimise campaigns, maximise performance and make full use of all of the data at their disposal.
This is an area where a lot of marketing platforms fall short so you want to pay attention to the native reporting features and integration options for third-party analytics tools.
The best three enterprise CRMs for reporting and analytics are:
Unsurprisingly, ActiveCampaign and HubSpot top the list again, as the most comprehensive platforms in this guide and Pipedrive takes the third spot – so let's take a look at why.
HubSpot's enterprise plans provide the strongest analytics and reporting features out of every platform in this guide. ActiveCampaign isn't far behind but, aside from that, none of the other options we've looked at today come close to HubSpot.
On the enterprise plan, you get multi-touch revenue attribution to gain a deeper understanding of how each campaign contributes to generating revenue, as well as behavioural triggers and reporting to build a more accurate picture of what prospects are doing along the customer journey and how they respond to your campaigns.
It's a shame you have to sign up to HubSpot's enterprise plans to get features like predictive lead scoring, which means you're paying thousands per month for a feature costing a fraction of the price on ActiveCampaign and even less on some of the other platform's we've looked at.
This sums up HubSpot, though. You're paying a premium price tag to get the most comprehensive set of reporting features and the ability to build a 360-degree view of the customer journey.
Yes, you can get 90% of these reporting features elsewhere for 10% of the price but it all comes down to how valuable that extra 10% of reporting is when you can get it all from one system.
Regardless of price, though, HubSpot delivers more analytics and reporting than any other tool in this guide so it deserves the top spot in this category.
As you would hope with a comprehensive suite of marketing and sales software, ActiveCampaign has extensive reporting and analytics built into its platform – the only one that comes close to matching HubSpot's enterprise plans.
There are 10 different groups of reports in ActiveCampaign:
Site reports
Automation reports
Contact reports
Deal reports
Field reports
Attribution reports
Campaign reports
Conversations reports
e-commerce reports
Custom reports
Each of those reporting categories includes various reports, covering most of the key features in ActiveCampaign. So, when you create automation workflows and actuate campaigns, you can track their performance (and test them against variations with automation A/B testing) to maximise results.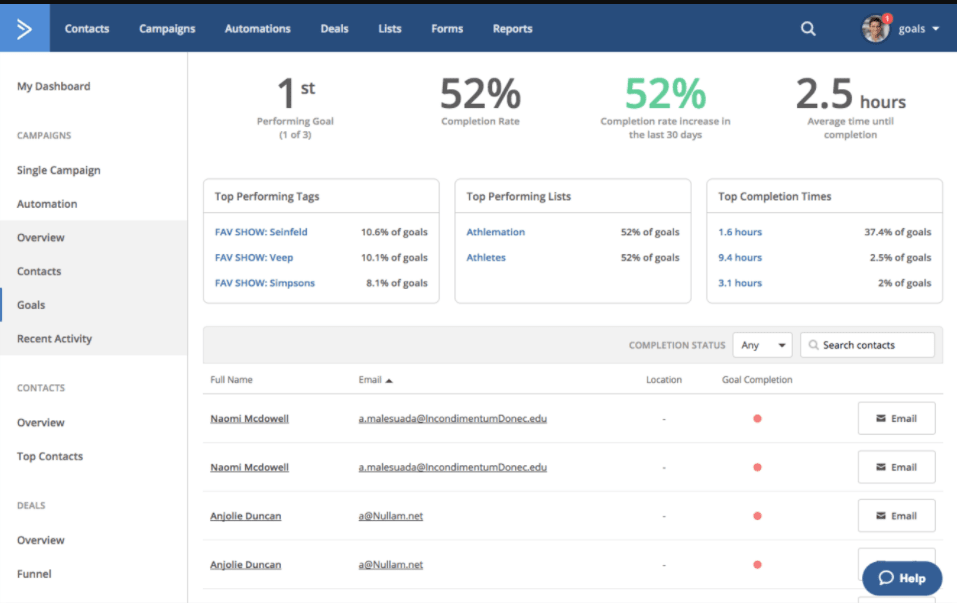 Where a lot of platforms provide basic analytics and reporting, ActiveCampaign gives you a complete set of tools to measure the performance of your marketing, sales and customer support processes so you can get the best out of every feature on the platform and attribute success to them.
Pipedrive shuns the traditional CRM format and simplifies sales and marketing processes with its pipeline management tool. The problem with taking the complexity out of marketing software is that you have to remove functionality to some extent and reporting is one of the biggest casualties.
However, Pipedrive also shuns this practice by integrating an extensive reporting system into its software, including revenue forecasts, team management reports, custom reports and unlimited visual dashboards on the enterprise plan so that you can manage your data on your own terms.
You can also expand beyond this with Pipedrive's Web Visitors add-on, which identifies which organisations are visiting your website and what they're getting up to on it. This add-on is priced between $49 and $299 per month, depending on how many organisations you want to track and you get similar features from HubSpot and ActiveCampaign at no extra cost.
Even still, Pipedrive offers up some of the best analytics and reporting features we've seen in this guide and, aside from the possible exception of the Web Visitors add-on, the platform represents great value.
Best for integrations
No matter how many features enterprise CRM platforms offer, they can always be improved by integrating with other tools. More importantly, integrations allow you to continue using your existing software choices without manually transferring data or repeating actions.
So you want to know your CRM integrates with the most important software tools to your business. In addition to that, it's worth looking at the additional possibilities native integrations open up with each platform.
There are three clear winners in this regards and some familiar names crop up once again:
Don't take my word for it, though, here's a comparison of the integrations available on each platform:
| Tool | Zapier Triggers | Zapier Actions & Searches | Third-Party Integrations |
| --- | --- | --- | --- |
| Salesflare | 4 | 18 | Mailchimp, Slack, Unbounce, ActiveCampaign, Google Drive & 150+ more |
| Close | 19 | 58 | ActiveCampaign, Slack, Zoom, Mailchimp, Unbounce & 50+ more |
| CompanyHub | 8 | 10 | Gmail, Google Calendar, Office 365, Piesync, Exchange & Zapier |
| ActiveCampaign | 15 | 16 | Google Analytics, Shopify, Unbounce, WordPress + 800+ more |
| OnePageCRM | 4 | 3 | ActiveCampaign, Mailchimp, Unbounce, Xero + 20 more |
| Pipedrive | 14 | 26 | ActiveCampaign, Mailchimp, Leadfeeder, Slack + 250+ more |
| EngageBay | 14 | 10 | SendGrid, JotForm, Shopify, Xero + dozens more |
| Salesmate | 4 | 16 | ActiveCampaign, Gmail, Mailchimp, Google Maps + 20+ more |
| Octopus CRM | – | – | LinkedIn |
| HubSpot | 23 | 54 | Gmail, Google Calendar, WordPress, Trello, Zoom + 500+ more |
As you can see, ActiveCampaign and HubSpot stand out as the best platforms for integrations but Pipedrive isn't too far behind with its own marketplace of its own, filled with apps and integrations.
Best for customer support & training
The familiar trio is back again for this round where we look at customer support and training available to customers.
In fairness, we should expect to see ActiveCampaign and HubSpot in the top three as the two most expensive platforms and Pipedrive is the only potential surprise here, as one of the more affordable platforms.
As an enterprise ActiveCampaign customer, you get a dedicated account manager, one-to-one training, phone support, priority live chat and email support and custom implementation. You also get consultation for onboarding, help with automating your strategies and customised marketing strategies.
You'll also find extensive documentation on the company's website, which is particularly helpful with training new users and the community is a good place to ask questions if you run into any niggling problems.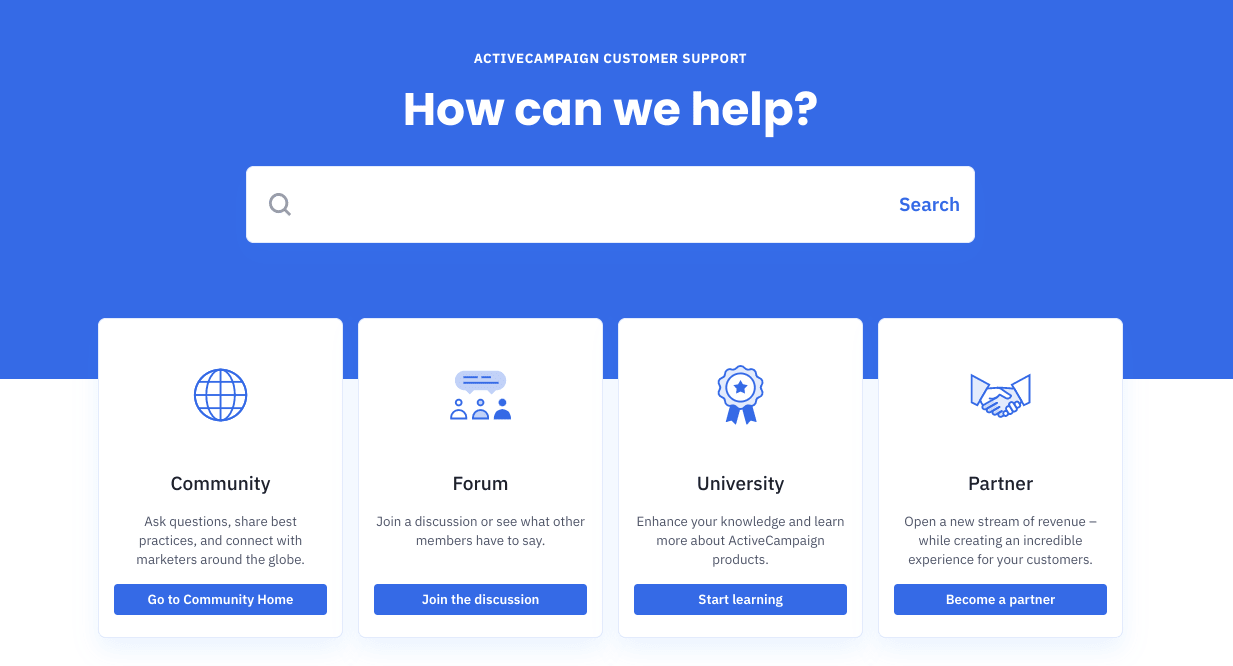 Then you have the ActiveCampaign University to help you get familiar with every part of the platform and the key strategies for marketing, sales, customer support and automation.
For example, there are courses on email marketing, contact management and automation, which are ideal if you're new to any of these principles or need to learn how ActiveCampaign enhances each strategy.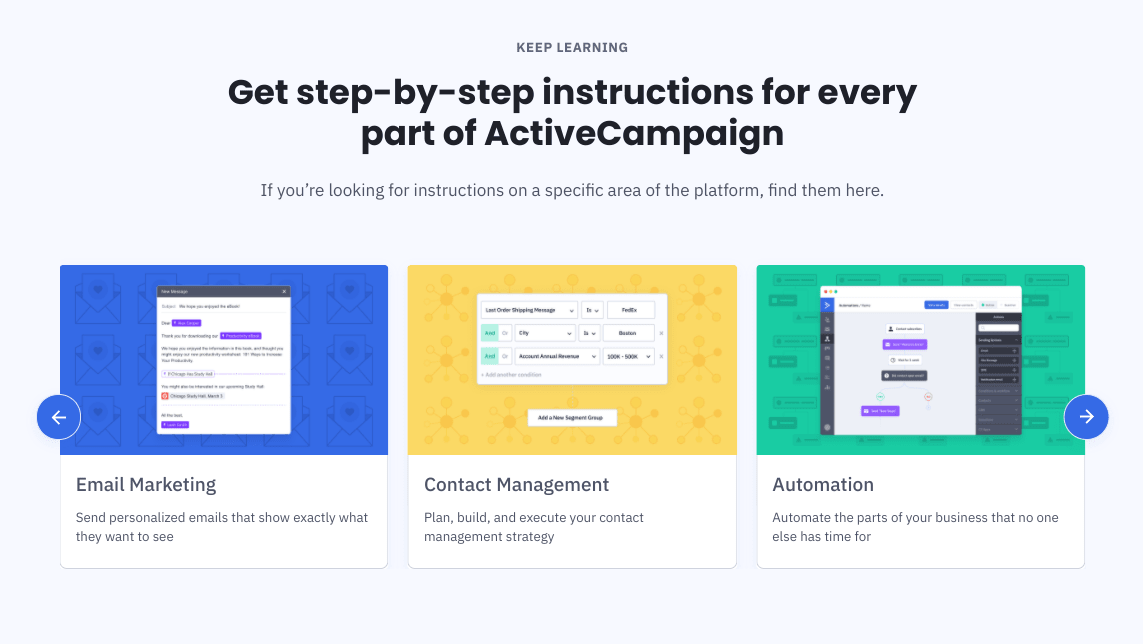 With ActiveCampaign's enterprise support and training, as well as its library of online documentation, you've got plenty of tools to help you get the best out of the platform and devise effective strategies across the entire customer journey.
Customer service is one of HubSpot's biggest strengths and the company can't afford to fall short, here, given the asking prices of its enterprise plans. Luckily, you get comprehensive support across phone, email and live chat on the Professional and Enterprise plans.
You also get access to HubSpot's excellent online community and documentation, which is even better than ActiveCampaign's. In fact, this is the best online support system among any of the providers in this guide and one of the best we've seen from any SaaS company.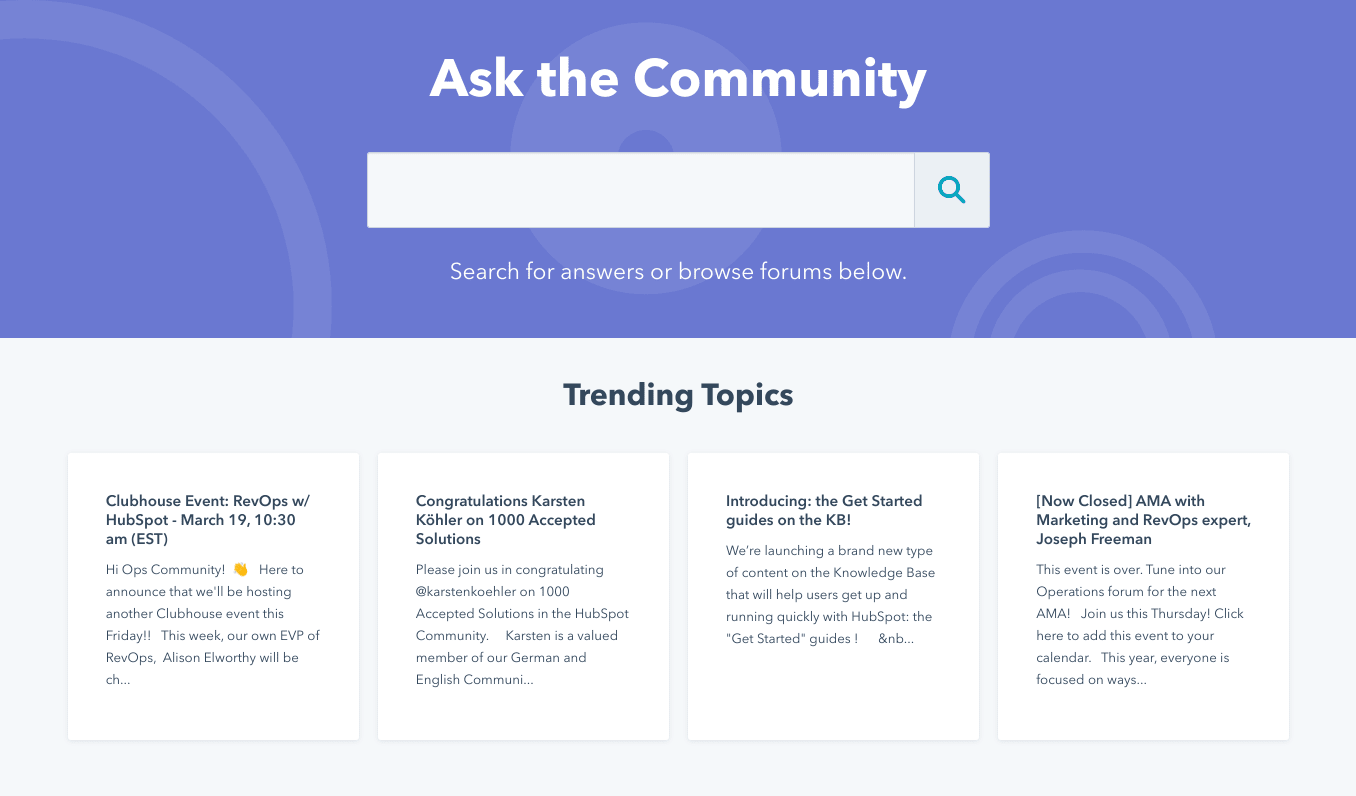 The issue with HubSpot is how much you have to pay for onboarding with enterprise onboarding for the Marketing Hub alone costing $6,000. You don't get any one-to-one training included in that, either.
You have to pay another $1,000 if you want a three-day Marketing Fundamentals Training service or $1,600 for Premium Consulting and these fees are multiplied if you're signed up to the Marketing Hub, Sales Hub and Service Hub collectively.
Pipedrive aims to be affordable for smaller businesses but those $99/month per user fees stack up for enterprise companies with large sales teams. So, the company needs to justify its per-user pricing model with enterprise-level support.
The company gets off to a good start by providing 24/7 phone support for enterprise customers, in addition to chat and email support around the clock – and the company is quick to respond to tickets raised by email, too.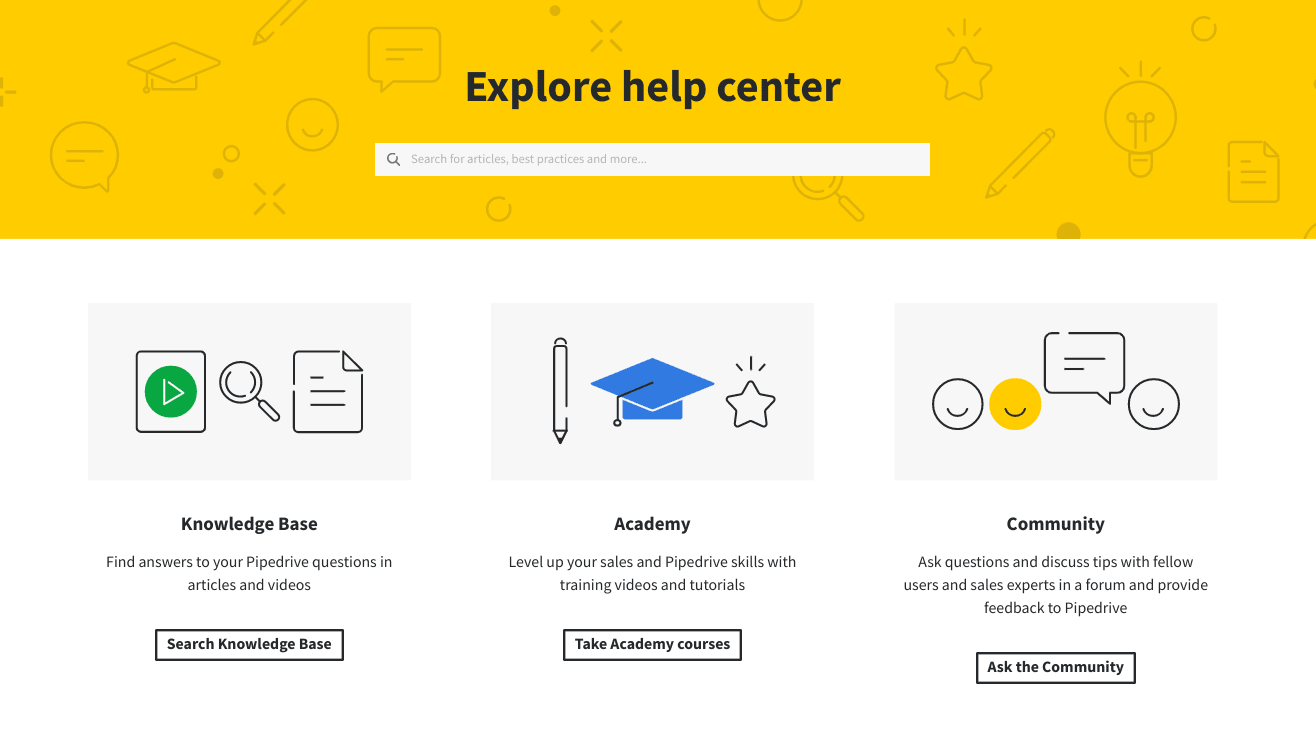 There's a decent set of online resources to help you use the platform, too, including a knowledge base, academy and online community. If you look at any Pipedrive reviews, you'll see the quality of its customer service is a common cause for praise.
As a smaller company with a less complex system than the likes of ActiveCampaign, Pipedrive takes full advantage of its strengths to deliver an excellent customer experience throughout.
Best for security & compliance
Security is a priority for any company storing sensitive information and data regulations like GDPR mean you have to scrutinise the security and compliance of your software tools more than ever.
Here are the top three platforms in our final category:
Again, it's a case of the more established names earning their reputation n as industry leaders and one newcomer arguably punching above its weight – but, when Pipedrive has done this for multiple categories, you have to credit it as a more heavyweight platform than it first appears:
| | ActiveCampaign | HubSpot | Pipedrive |
| --- | --- | --- | --- |
| ISO 27018 (cloud privacy) | Yes | No | No |
| ISO 27001 (information security) | Yes | Yes | Yes |
| ISO 27017 (cloud security) | Yes | No | No |
| EU-US Privacy Shield | Yes | Yes | Yes |
| GDPR Compliant | Yes | Yes | Yes |
| CAN-SPAM Compliant | Yes | Yes | Yes |
| HIPAA Compliant | Yes (enterprise account only) | No | No |
| TLS encryption | Yes | Yes | No |
| Segmented accounts | Yes | Yes | No |
Data and privacy regulations are more stringent than ever and they're expected to become increasingly demanding over the coming years. So, it's worth taking the time to get familiar with this aspect of each platform and you can learn a lot about how these companies will adapt to new regulations, based on how much effort they put into adhering to them now.
You'll find everything you need to know about these three platforms with regards to security and compliance on these pages:
Wrapping up: Which is the best enterprise CRM for you?
If you're looking for a truly enterprise CRM platform, ActiveCampaign and HubSpot are the two standout options but you better get the calculator ready and crunch some numbers if you like the look of HubSpot – because those fees quickly stack up.
ActiveCampaign strikes the best balance between features and pricing, offering remarkable value for larger teams with unlimited users on its Enterprise plan.
Then you've got Pipedrive, which keeps sneaking into the top three of our key category comparisons. This was a surprise but all the data from our survey shows that the company delivers where it really matters and it achieves something very difficult with its reimagination of what a CRM platform is – it won't be for everyone but it's an admirable software platform.
Salesflare offers up the closest thing to ActiveCampaign and HubSpot in terms of a traditional enterprise CRM and, although it doesn't make the top three of any specific categories, it delivers consistent quality as a solid all-rounder for enterprise companies.
The rest of the CRMs in this guide are more niche (Pipedrive included), such as Close and Salesmate for international and remote sales teams that prioritise phone communication.
Every platform in this guide is an excellent CRM for enterprise companies but they all have something different to offer.
If you've found this guide useful, we'd appreciate a share on LinkedIn or Twitter and, if you think this guide could be improved, we'd love to know how we can make it better.