According to TOPO's Account Based Benchmark Report, 86% of marketers say their account-based strategies win more clients than traditional methods while 80% say ABM improves customer lifetime value and 76% report higher ROIs.
Given the stats associated with account-based marketing, it's no surprise that interest in this B2B strategy has steadily increased over the past five years. For a while, ABM was in danger of hitting buzzword status and losing all meaning beyond its own hype but interest has remained steady and the strategy continues to deliver results.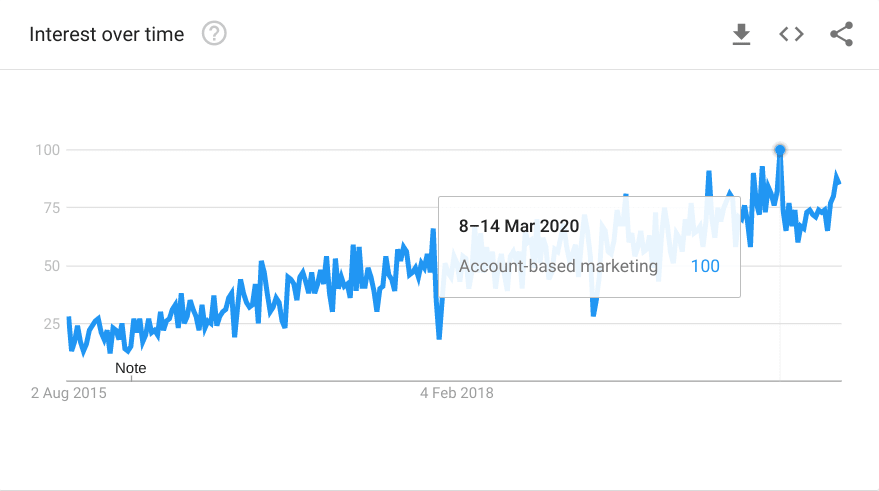 I'm not here to tell you about the wonders of ABM or how it's going to solve all your problems, though. Instead, this article aims to help you choose the best account-based marketing software for your needs so you can implement your own strategy and find out what ABM has to offer for yourself.
First up, we've got a brief explanation of what account-based marketing is – just to make sure we're all on the same page. And, then, we're looking at some of the best account-based marketing tools on the market for every budget and business size.
What is account-based marketing?
Account-based marketing is a strategy that revolves around prospecting target companies (accounts) and creating campaigns designed specifically to capture them as leads and, ultimately, turn them into customers.
So, instead of casting a wide net with traditional inbound marketing campaigns, you're drawing up a list of high-value target customers and focusing your efforts on winning them.
Don't take my word for it, though. Here's how HubSpot describes account-based marketing and some of its key benefits:
"Account-based marketing (ABM) is a focused growth strategy in which marketing and sales collaborate to create personalized buying experiences for a mutually-identified set of high-value accounts.
"[ABM] allows you to weed out less-valuable companies early on and ensure marketing and sales are in complete alignment — in return, your team can leap into the critical processes of engaging and delighting those accounts much faster…
"…By doing this — along with personalizing the buyer's journey and tailoring all communications, content, and campaigns to those specific accounts — you'll see greater ROI and a boost in customer loyalty."
The Ultimate Guide to Account-Based Marketing (ABM) – HubSpot
There are a number of characteristics that define account-based marketing, which you need to implement if you're going to successfully identify, capture and convert target prospects into paying customers:
Accurate customer profiling, typically using your existing customer data and available third-party data.
Data-driven prospecting to ensure you identify valuable and relevant accounts for your campaigns.
Prioritising high-value accounts in order to maximise ROI.
Personalising campaigns and content to address the unique needs of each target account.
Aligning sales and marketing activities to ensure prospects navigate the entire sales funnel.
Automating marketing and sales processes so you can handle more leads while both teams focus their efforts on tasks that can't be automated.
Integration with traditional inbound marketing to capture leads that your ABM strategy misses – and vice versa.
To implement any of the steps above, you're going to need specialist tools – for example, the necessary data sources to profile target accounts or the ability to create and deliver personalised content/campaigns.
Account-based marketing software should provide the majority of these tools and integrate with anything else you need to manage a successful ABM strategy. Some software options provide more built-in tools than others while some focus more on integration.
At the same time, the native tools provided by ABM software can vary widely and this isn't always reflected in the price. So, in this article, we're looking at the very best account-based marketing software tools available, as well as a few more budget-friendly options that offer good value.
Which tools are we looking at in this article?
For this article, we've picked 10 of the best account-based marketing tools that will help you implement your own ABM strategy. While all of these platforms broadly aim to achieve the same thing, there's a lot of variation in terms of features and pricing.
Some are comprehensive ABM platforms that you can use to manage your entire strategy while others are simply prospecting tools that help you pinpoint target companies.
Here's a quick summary of the tools featured in this article and why they make our list of recommendations:
DiscoverOrg: Enterprise B2B intelligence to power your ABM strategy.
Terminus: A complete ABM marketing platform for prospecting and delivering multichannel campaigns.
Triblio: A flexible ABM platform for medium-sized businesses.
Vainu: Powerful, easy-to-use prospecting tool for SMEs.
Leadiro: Affordable, scalable B2B data platform for smaller businesses using ABM as a growth strategy.
AdDaptive Intelligence: Simple, powerful ABM list building software.
RollWorks: Cost-effective prospecting and targeting for your ABM advertising campaigns.
Madison Logic: Award-winning ABM software for powering your multichannel campaigns.
Leadfeeder: Budget tool for identifying which companies visit your website.
HubSpot: The all-in-one marketing, sales & ABM solution.
All of these tools are quality software solutions in their own right and it all comes down to what you need from an ABM tool and how much you're willing to pay.
Key features:
Prospect identification: Identify, connect, and convert key buyer personas at the accounts you care about most.
Profiling: Define your Ideal Customer Profile (ICP) by leveraging advanced insights about your existing customer base.
Behavioural targeting: Use behavioural activity at targeted accounts that are consuming relevant content from both across the internet and internal web properties.
Real-time insights: Beat other recruiters to the punch with automatic alerts about major personnel changes like promotions, layoffs, rounds of hiring, and other company events.
Data cleansing: Append and update existing and incoming prospect data in real-time to ensure information stored within your applications is always current and accurate.
DiscoverOrg is an enterprise B2B intelligence platform used by some of the world's biggest brands, including LG, Fujitsu, Citi and Panasonic. The software connects you with extensive third-party data and provides all the tools you need to turn insights into data-driven B2B campaigns.
This makes DiscoverOrg one of the most comprehensive ABM platforms on the market. Its vast contact database helps you identify prospects and you have an extensive set of filters available to refine your audience. This allows you to pinpoint high-value companies and decision-makers that are worth prioritising in your ABM strategy.
Aside from prospecting, DiscoverOrg provides real-time insights and buyer signals so you can react as new opportunities emerge. I have heard some reports of contact data being out-of-date, though. For example, some customers have found prospects working at specific companies on DiscoverOrg but discover they've already moved to another company when they check their LinkedIn profile.
All B2B prospecting tools suffer from this problem, to some extent, and you may experience it more on platforms that use large datasets. Data quality is a key factor when choosing ABM software but none of them can deliver 100% accurate data in real-time, all the time.
All things considered, DiscoverOrg performs well in terms of data quality and it's one of the most respected platforms in the industry.
Keep in mind that DiscoverOrg is an enterprise solution and this is reflected in the pricing. The company doesn't disclose pricing on its website but annual fees start in the lower tens of thousands while its largest customers are paying millions per year.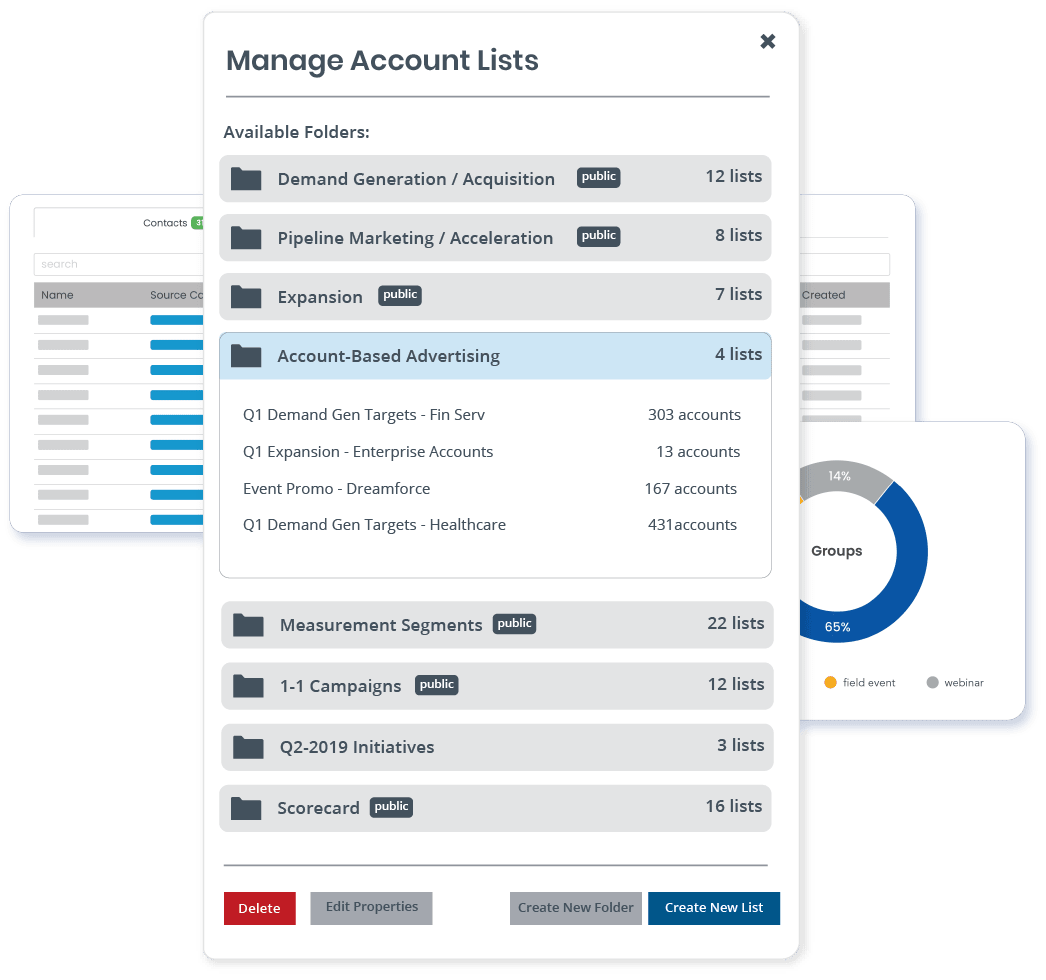 Key features:
Prospecting: Find the right prospects' accounts through firmographic, intent, engagement, and relationship data.
Multichannel campaigns: Run campaigns across display advertising, LinkedIn, retargeting, employee email, personalized web pages, and chat.
Sales & marketing alignment: Tools to help your sales and marketing teams work in harmony.
Alerts: Automatically alert sales to meaningful engagements, centralize account information, and deliver better pipeline prediction to accelerate opportunities.
Attribute & measure: Measure success at every stage of the prospecting, marketing and sales journey.
Terminus wants to be the centre of your entire account-based marketing strategy by providing all the tools you need to identify prospects and deliver multichannel campaigns.
The company pushes the acronym T.E.A.M as its framework for ABM success, which basically describes the four components of its software:
Target: Define your audiences and pinpoint prospects using Terminus' third-party data and your existing customer data.
Engage: Manage campaigns to engage your prospects across the web, social, email, web personalisation and web chat.
Activate: Align your sales and marketing teams and automate processes to turn more prospects into customers.
Measure: Analytics, attribution and reporting tools to measure the success of your ABM strategy.
While a lot of ABM platforms focus on paid advertising, Terminus makes it easy to turn prospect data into multichannel campaigns. This setup also makes it easier to integrate your ABM strategy with traditional outbound marketing and manage everything from the same place.
Terminus' software is simple to use, once you've got the platform set up, and the company provides extensive online documentation to help you get the best out of the platform.
On the other hand, you may have to work a little harder with Terminus to turn your ABM prospects into leads and customers. Whether it's the third-party data being used or the targeting methods, Terminus doesn't seem as reliable at matching you with the most relevant prospects as some of the other tools we're looking at today.
Don't get me wrong, this is an award-winning piece of software with a host of awards. You're getting ease of use, multichannel convenience and solid support, even if the data/targeting mix isn't quite as reliable as the industry leaders.
For an easy entrance into ABM as a multichannel strategy, Terminus is worth checking out.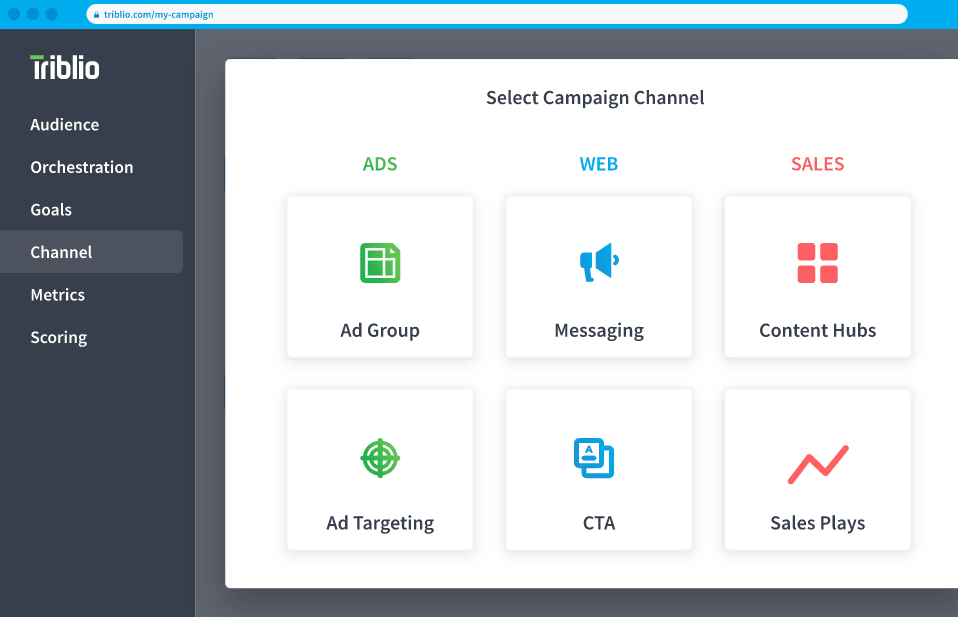 Key features:
AI prospecting: Leverage AI for account identification, purchase intent, and orchestration.
Sales & marketing alignment: Operationally unify the marketing funnel and sales pipeline.
Multichannel campaigns: Create multichannel campaigns triggered by account activities, purchase intent, campaign results and priority accounts.
Audience management: Create audiences from known and unknown prospects for targeting campaigns.
Purchase intent: Identify purchase intent via account scoring algorithms that measure behaviour, 3rd-party data trends and campaign results.
Web personalisation: Engage web visitors with relevant messaging and convert them with dynamic CTAs.
Sales activation: Activate sales outbound that aligns with marketing campaigns and buyer interest.
Triblio is a flexible account-based marketing platform that helps you deliver ABM campaigns across every channel. It also packs some impressive features for web personalisation, customising CTA offers and dynamic email campaigns.
The platform's prospecting tools help you discover new prospects and identify decision-makers at your target businesses, as you would expect from any ABM platform. However, Triblio goes the extra distance with the tools it provides for turning prospect data into meaningful campaigns – mainly through personalisation.
You can personalise web content for identified visitors, add dynamic CTAs to blog posts and automate personalised emails to deliver relevant messages. Of course, you could do all this with specialist personalisation and email marketing software but Triblio allows you to do all of this from the same piece of software.
Admittedly, Triblio's personalisation technology isn't as advanced as industry leaders like Adobe and its email automation don't compare to something like ActiveCampaign. In fact, Triblio isn't the tool for businesses with a mature ABM strategy already in the works. It's more suitable for medium-sized businesses looking to get started with account-based marketing, looking for a tool that can a lot, quite well, for a reasonable fee.
Speaking of which, like many of the providers we're looking at today, Triblio doesn't list any pricing on its website and your annual fees will depend on a range of account limitations, such as the number of users and data volume. Either way, this is a platform aimed at medium-sized businesses and up, so keep that in mind.
Let's just say, annual fees start in the lower five-figure region, which is what you would expect for a platform at this level.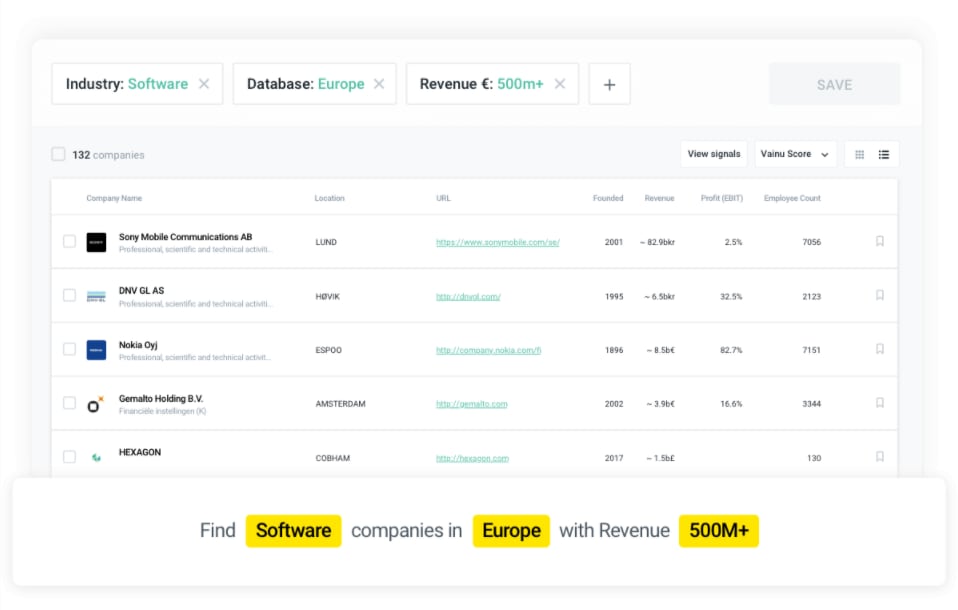 Key features:
Prospecting: Find your ideal customers, the right time to reach out, and pinpoint the right message.
Quick lists: Build lists within a few clicks from 100+ filters and CRM data.
Buying signals: Make informed sales and marketing decisions by tracking buying signals of each prospect.
Triggers: Implement sales actions automatically, triggered by CRM data and buying signals.
CRM: A customer relationship management system for housing prospect and customer data.
Marketing automation: Boost marketing impact by understanding more about who you're interacting with, through accurate company information.
Vainu is a powerful, easy-to-use prospecting tool for SMEs that helps you identify prospects and integrate business data with your CRM. While a lot of the tools we've looked at so far aim to be comprehensive ABM marketing platforms, Vainu is a specialist prospecting tool and it doesn't try to be anything else.
That being said, the company does offer a separate automation solution, which could be ideal if your CRM doesn't have this functionality.
Getting back to the prosecuting, Vainu has business databases for Finland, Sweden, Norway, Demark and the Netherlands while databases for France, the US and the UK are currently in beta (at the time of writing).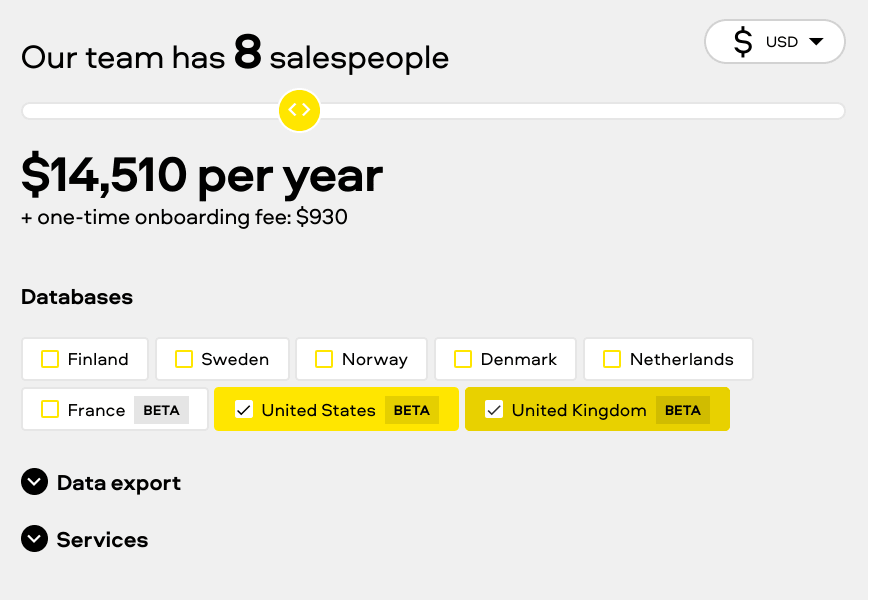 Pricing starts at $7,250 per year for one database and five users, gradually increasing as you add data from more countries and sales team members. So you're already targeting prospects in specific target nations, before you even get started. It's also worth noting that a lot of platforms' databases will be US-centric and Vainu's Scandinavian roots bring some valuable data to the table for businesses with an interest in northern Europe.
You also have 100+ filters to work with, allowing you to target relevant companies and business decision-makers. One particularly interesting filter is the "Website keywords" field that allows you to target businesses based on the key terms of their web pages.
Vainu's software is designed very well, too. Although it's somewhat subjective, I'm confident enough to say this is the best user experience provided by any of the platforms we're looking at in this list.
The company has clearly put a lot of resources into building a quality prospecting tool without forcing other features into the software. My only real gripe is that the list of integrations is very short and you're limited to using HubSpot, Microsoft Dynamics, Pipedrive, or Salesforce as your CRM.
#5: Leadiro (Now Klarity)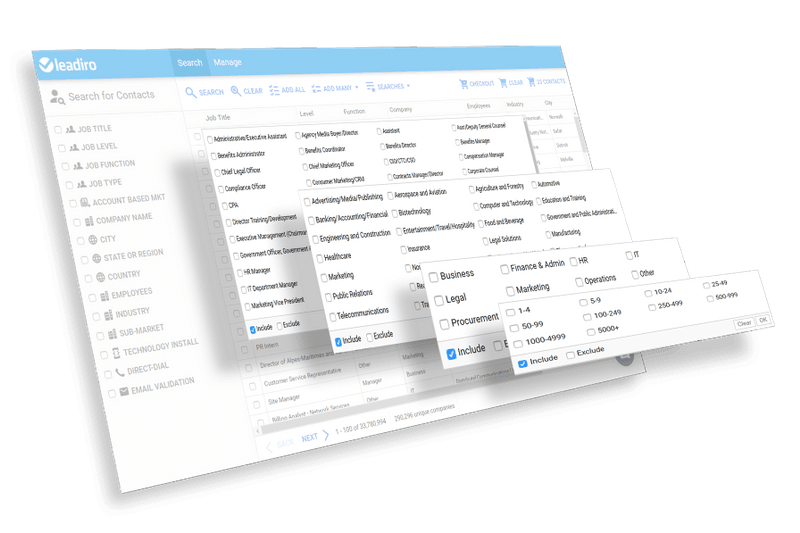 Key features:
Prospecting: Access +59 million business contacts to identify, reach & engage with your ideal B2B prospect audience in minutes.
Validated data: Leadiro uses its own unique Contact Validity Score (CVS) algorithm to ensure all contacts meet a 95% score or higher.
Advanced data selection: Filter using advanced firmographic and demographic profiling to uncover ideal prospects.
Geographical targeting: Reach B2B buyers in 108 countries from America to Zambia and everything in-between.
ABM campaigns: Leadiro's audience insights give you the data you need to identify prospects and reach them through targeted campaigns.
Technographics: Understand the hardware, software and technology solutions your prospects are using to guide your ABM campaigns.
Account-based marketing is generally associated with larger B2B enterprises, which means there aren't many ABM software options for smaller businesses – and there are even fewer worth recommending.
Leadiro is one of the few software providers that makes a genuine effort to satisfy smaller businesses.
The company offers an affordable, scalable B2B intelligence platform designed for smaller businesses that want to use ABM as a growth strategy. It's an impressive platform, too, especially when paid plans start at just $99/month.
There's also a free version you can try out, which gives you unlimited access to the platform's data without being able to download any contact data.
Leadiro's data isn't always the most up-to-date but, as mentioned earlier, this is a problem all ABM platforms suffer from to some extent. At this price point, though, Leadiro holds up surprisingly well but you are going to find the occasional piece of data missing from company profiles and contacts who are no longer at the company stated.
Leadiro certainly isn't the most comprehensive ABM platform on the market but it does provide a valuable entry point into account-based marketing for smaller businesses.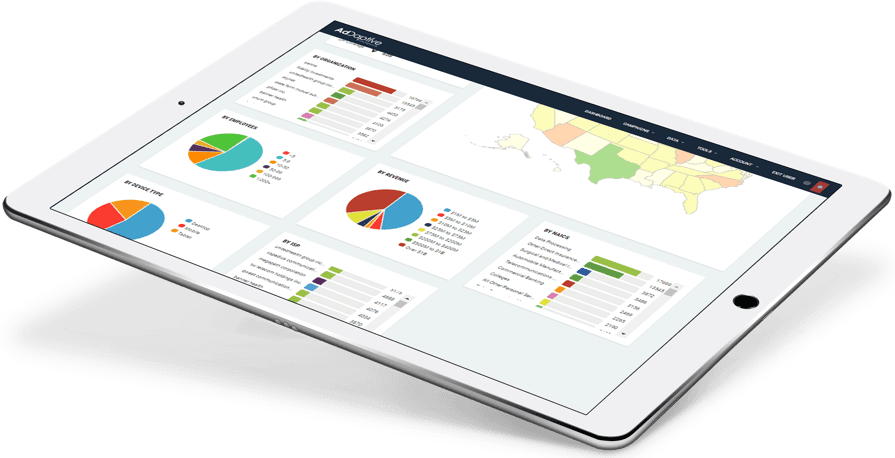 Key features:
B2B Targeting: Build a list of business targets in AdDaptive's platform or bring your own pipeline using precise firmographics, such as company names, employee size, revenue and industry.
Verified data: AdDaptive partners with industry-leading data providers to deliver accurate, verified data for B2B marketers.
Segment Builder: Create custom audiences using advanced intelligence and filters to deliver your message to the most relevant prospects.
Audience analytics: Analyze your audience data to discover new insights, improve advertising campaigns, experiment with new targeting strategies, and make smarter marketing decisions.
Advertising automation: Eliminate repetitive tasks such as trafficking orders, uploading creatives and optimizing campaigns.
AdDaptive Intelligence is another platform that specialises in doing one task very well: prospecting. Essentially, this is an advanced ABM list building tool that helps major brands such as HP, Intel, Deloitte and ExxonMobil find new target customers.
The company partners with leading data providers to compile one of the most robust archives of B2B information. Crucially, AdDaptive's verification technology helps keep this info up-to-date, which means you should experience fewer issues with data accuracy.
The platform's Segment Builder is an excellent tool, too, allowing you to create highly-focused target audiences with an extensive range of filters and custom attributes – from industry code, employee size, revenue, years in business, headquarter/branch locations and just about anything you could think of.
Key features:
Identification: Identify your ideal customer profile, select a list of target accounts and find key contacts.
Account scoring: Score your TAL with a predictive model built by machine-learning technology. Focus resources on accounts most likely to close.
Account suggestions: Discover net-new accounts that are a good fit for your business thanks to our B2B database and a custom predictive model.
Account Intent: Use machine learning to uncover signals of an account's interest-based on its content consumption behaviour on the B2B web. Use these intent signals to prioritize accounts for marketing or sales outreach.
Engagement: Engage your ICP, target accounts and key buyers through digital ads and sales automation.
Measurement: Measure the effectiveness of your ABM campaigns, at both account and contact levels.
RollWorks is a dedicated account-based marketing platform for managing paid advertising campaigns. The platform helps you identify high-value prospects, engage them through targeted ad campaigns and measure results with built-in analytics and reporting.
Audience matching on RollWorks is impressively accurate, too, partly thanks to the extensive targeting options at your disposal but the quality of data has to be strong, to begin with.
Plans start from $975/month and increase based upon your data requirements and the number of users. I have heard some complaints that the dedicated account managers you get with the more expensive plans change too much to justify the added expense – something to keep in mind with the enterprise plans.
Key features:
Identify & Prioritise: Accurately identify and prioritize accounts that are more likely to convert.
ABM advertising: Engage the most influential people at the best accounts throughout every stage of the buying journey.
ABM content syndication: Specifically target people with the right job titles from accounts that are actively searching for a solution like yours right now.
Account Intelligence: Use more than 20 data sources including firmographic, technographic, and intent data to efficiently spend your content syndication budget on accounts that are trending and more likely to convert.
Journey Acceleration: Automatically trigger and stop content syndication programs based on where the account is in the marketing nurture, sales, and post-sales funnels.
Engage & Measure: Leverage precise tools to engage with the right individuals within a targeted account buying centre.
Madison Logic is an award-winning B2B intelligence and multichannel ABM platform. The software pulls in high-quality data from third-party sources, allowing you to identify prospect companies and decision-makers using a combination of firmographic, technographic and demographic information.
Once you've identified the right prospects, Madison Logic allows you to target them with ads across the entire buying process, manage content syndication campaigns and automate sales/marketing tasks to speed up the conversion process.
Madison Logic is an enterprise-level software platform but its starting prices are surprisingly affordable. You won't find any pricing listed on its website but annual fees start at the lower-mid end of five figures.
Ultimately, pricing depends on how much contact data you download and the number of users you need. Whichever price point you find yourself signing up to, you're getting one of the best ABM platforms in the business, even among the 10 recommended in this article.
The only obvious area where Madison Logic could improve as an enterprise solution is in the analytics and reporting department. In fairness, this is true for many ABM platforms and marketing software in general, which is why you generally want to integrate with a dedicated analytics solution.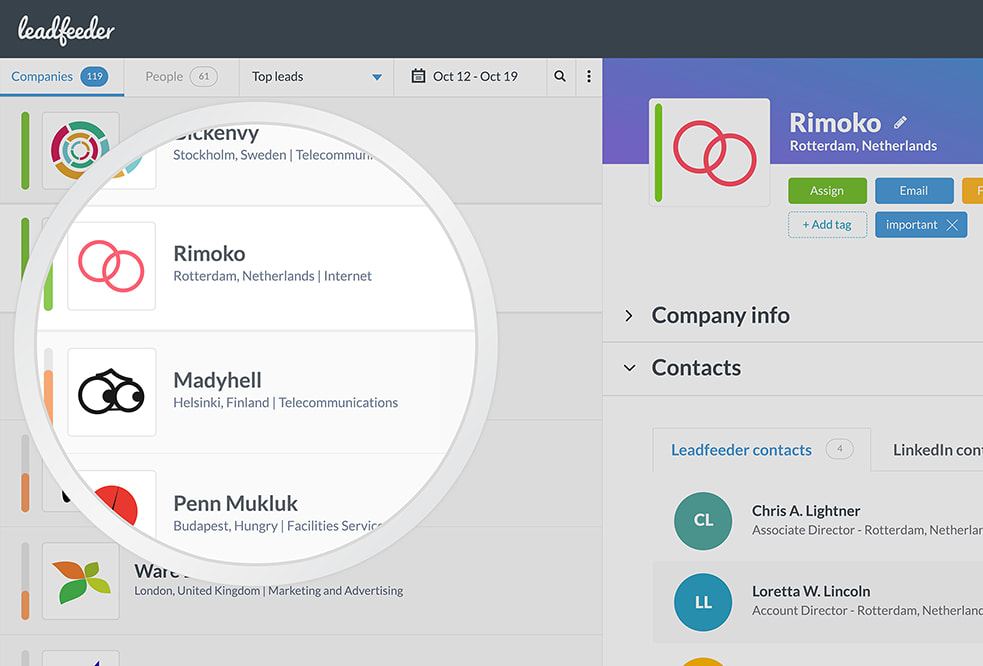 Key features:
Identify visitors: See which companies are visiting your website.
Session insights: Learn which pages visitors are viewing to understand their interests.
Automatic lead scoring: Your hottest leads are automatically placed at the top of your lead list so you know where to focus your attention next.
Instant Lead Gen: Leadfeeder's tracker pushes data every 5 minutes so you're ready to work with leads as soon as they come in.
Versatile filtering: Create and save all kinds of powerful feeds like companies from a certain country, an Google Ads campaign or to a certain web page.
Email alerts: Email notifications when a target company visits your website.
CRM integration: Send leads to your CRM and automatically update when a lead revisits.
Leadfeeder isn't a complete ABM platform or even a prospecting tool that helps you find unknown potential customers through third-party data. Instead, it's a simple tool that shows you which companies are already visiting your website, how they found you and what they're interested in – which allows you to identify and capture leads you might otherwise fail to identify.
In other words, Leadfeeder can't compete with the other tools on this list from a pure ABM perspective. In fact, it's a stretch to even call this an account-based marketing tool but it does help you identify target accounts, albeit the ones already visiting your website.
So these are leads that already know your business, to some extent, and you're not exactly expanding your audience here. However, Leadfeeder gives you a better understanding of how your inbound marketing strategies are working and identifies the leads you're generating.
You can then use this identification to follow up lost leads, particularly the most valuable ones.
While Leadfeeder is a simple tool, in comparison to the other ones we're looked at in this article, it can add value to the most mature ABM strategies. It can also act as an entry into account-based marketing for business on a tight budget or startups that don't yet have the funds for a more extensive tech stack.
With a free Lite version available and paid plans starting from $55/month, this is the only viable option for a lot of the smallest and micro-businesses out there.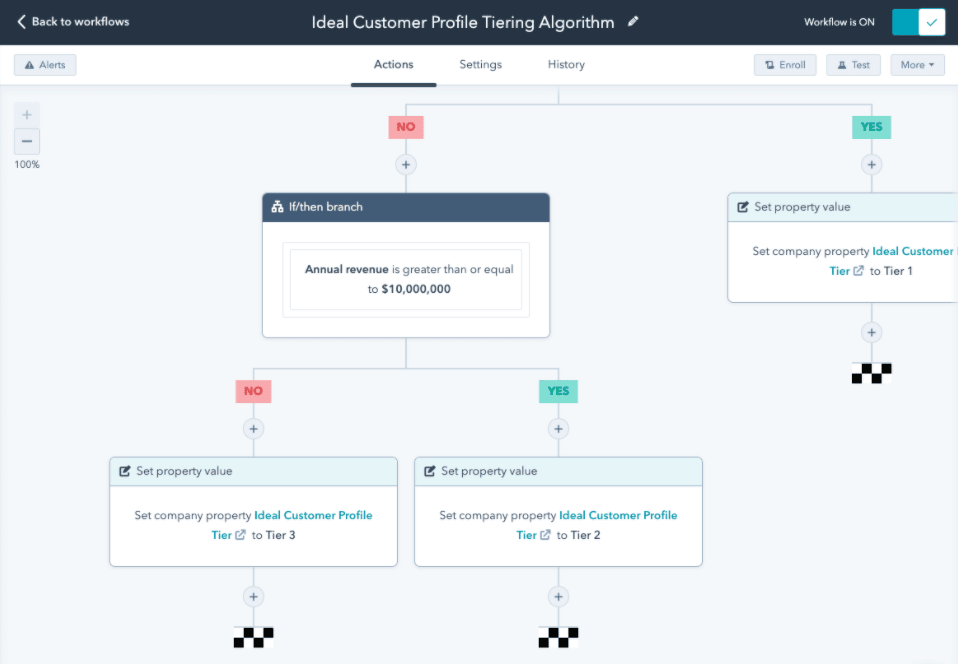 Key features:
Prospecting: Use workflow templates to define your ideal customer profiles and identify good-fit target accounts.
Prospect scoring: Identify the highest value accounts and help prioritise reachout with company scoring.
Recommendations: AI-powered recommendations of target accounts ensure your sales team never misses a beat.
CRM: Fully integrated with HubSpot's customer relationship management software.
Content personalisation: Turn more prospects into customers by creating personalised content and delivering it accurately.
Track & measure: Track and measure key milestones throughout an account's journey, continuously using data to adapt and iterate on your ABM strategy.
HubSpot's account-based marketing software isn't a standalone ABM tool. It comes packaged with the company's Marketing Hub Professional and Sales Hub Professional solutions. So, if you like the look of HubSpot's software and you want a fully integrated ABM tool that fits right in with your sales and marketing platform, this option allows you to manage everything from one system.
You also get some impressive personalisation features to make your messages more compelling for identified accounts, solid automation capabilities and a bunch of tools to help you manage inbound marketing campaigns alongside your ABM strategy.
In terms of an all-in-one marketing, sales and ABM platform, HubSpot is hard to beat.
Pricing for HubSpot's Marketing Hub Professional starts at $9,600 per year and this covers you for 1,000 contacts. By the time you reach 10,000 contacts, you're looking at annual fees of $15,000 and I should point out there's a $3,000 onboarding fee, too.
Sales Hub Professional starts at $4,800 for up to five paid users (unlimited users can access free features and tools) and the onboarding fee is $250. Keep in mind that you're really going to want both the marketing and sales platforms to align both strategies and make the most of account-based marketing.
Which is the best ABM tool?
All of the Account-based marketing tools we've looked at in this article are good options for the right kind of business. Features and pricing vary wildly across each platform and I've made a conscious effort to recommend tools at every price point.
The right tool for you also depends on your needs and expectations from account-based marketing. If you've already got a mature ABM strategy and you're looking to upgrade your software, something like DiscoverOrg will give you one of the most reputable systems in the business.
If you're new to ABM or looking to scale your strategy alongside business growth, then options like Vainu and Leadiro might be more compelling. For the tightest of budgets, Leadfeeder might provide the glimpse of ABM success you need to justify investing more in the strategy at a later date.
On the other hand, if you value simplicity and see the benefit in a single platform for managing your marketing, sales and ABM strategies, HubSpot is the ideal choice.