Remote working has been on the rise for sometime now and is increasingly at the forefront of how companies are expected to enable flexibillity for their staff. More so, Covd19 has certainly forced the pace of change around remote working and workers are quickly adapting schedules, home offices and habits so that working from home (WFH) is both manageable but also productive. Remote working or working from home can bring up some challenges, however, it also opens up the possibility of creating positive changes and increased collaboration amongst teams. For those companies that have adopted remote working, already some of the benefits they would have been enjoying could include:
Wages and services are often cheaper in other countries.
Better talent is often available in other countries, too.
Your business becomes more attractive to top talent.
Having team members spread out across time zones can give your business a 24/7 presence.
Gain cultural insights and different perspectives.
Expand your business presence and make connections in other markets.
There are plenty of other potential benefits, too, but you get the idea. And there are also challenges that come with being part of and/or managing a distributed team. So, in this article, we've got 10 of the best remote work tools for distributed teams to overcome those challenges and enjoy more of the benefits.
Top 10 remote tools for distributed teams
In this article, we're looking specifically at the best tools for
distributed
remote teams. Just to be clear, this means team members are scattered across locations, possibly in different countries and time zones across the world. This comes with a number of unique challenges compared to managing (or being part of) a remote team working in the same area or country:
Time zones
Language barriers
Cultural differences
Religious holidays, annual events, etc.
Varied workplace cultures
Differences in minimum/acceptable wages
Differences in workers rights
Technological differences (internet speed, coverage, access to websites, etc.)
Aside from these unique challenges, you also have all the regular struggles associated with remote working to overcome:
The recommendations I'm making in this article are aimed at solving the unique problems distributed teams face
as well as
the regular challenges of remote working for teams and individuals. Here at Venture Harbour, we have remote team members in the UK and countries all over the world so we've had to overcome all of these challenges – and this why I'm confident in making these recommendations.
Note: I'm one of these remote workers and I spend the vast majority of my time outside of the UK, where I was born.
Now that I've clarified exactly what we'll be looking at in this article, here's a quick summary of the 10 remote work tools for distributed teams that we'll be talking about and which problem(s) they'll solve:
Serene: To cut out distractions, stay focused on the task at hand and get things done faster.
Status Hero: Allow every team member to see what each other are currently working on to avoid interruptions and timewasting.
Toggl: A time tracking tool for individuals and teams.
Slack: A team communication tool to make individual and collaboration work easier.
monday: A project management tool for team managers and individual team members to complete tasks and entire projects faster.
Google Drive: Free file creation, sharing and collaboration for basic document types (text files, spreadsheets, presentations, etc.)
InVision: A collaborative design prototype tool to turn concepts into reality faster.
Spark: A distraction-free, collaborative email experience to keep teams focused and help them complete tasks quicker.
Doodle: Team scheduling for meetings, video calls and joint sessions without the hassle.
Zoom: Video conferencing, the way it should be for distributed teams.
With these tools on your side, team members can achieve higher productivity – both while working individually and collaborating with other team members. Crucially, these tools also help team and project managers to keep everyone on the right track and make sure targets are getting hit. So let's take a closer look at each of these tools.
Free
Serene is a free productivity tool for remote workers and teams. The app helps individual team workers maximise efficiency by focusing on one goal per day rather than dividing their attention. Numerous studies
show that multitasking kills productivity
and this is the key design principle behind Serene. The app's tagline says it all: "Multi-tasking is a myth. Single-tasking is a superpower."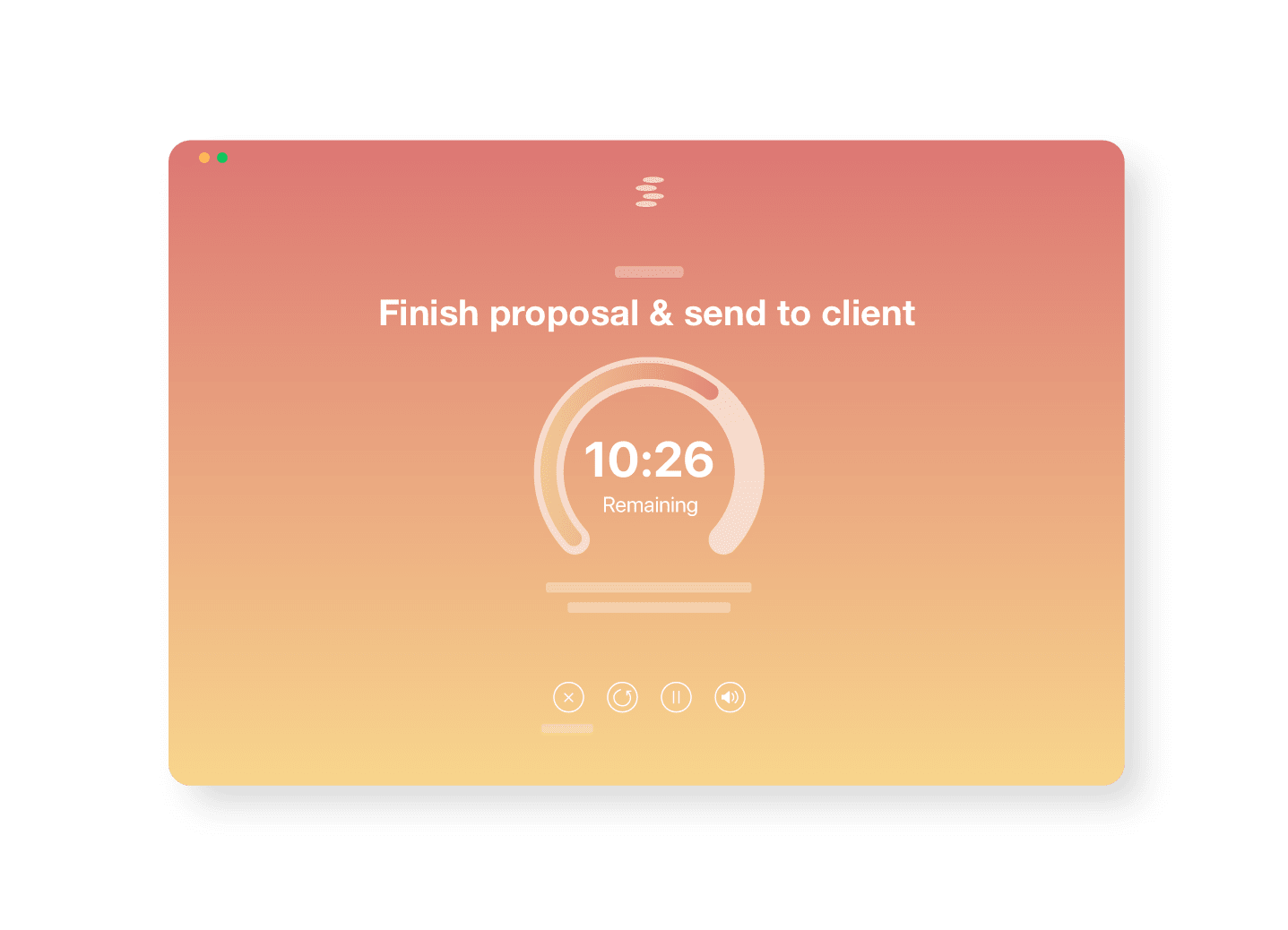 Key features
Website blocker: Block websites that distract you, such as social media and news websites.
App blocker: You can also block apps that take your attention away from work – social apps, your email app and anything else getting in the way.
Distraction-free sessions: Work in 20-60 minute sessions with regular breaks to maximise productivity.
Session timer: Shows you how much time you have left to complete tasks, giving you a motivation boost towards the end of each session.
To-do lists: Manage tasks and make sure everything gets done by the right team member.
Day planner: Define your goal for the day, set your tasks and get stuff done.
Focus music: Play background music to help you keep your focus.
Phone silencer: Automatically put your phone on silent mobile while working to avoid unnecessary distractions.
To maximise productivity, Serene asks team members to define a single goal at the beginning of each day, which can be broken up into multiple tasks/sessions that will realise the day's objective.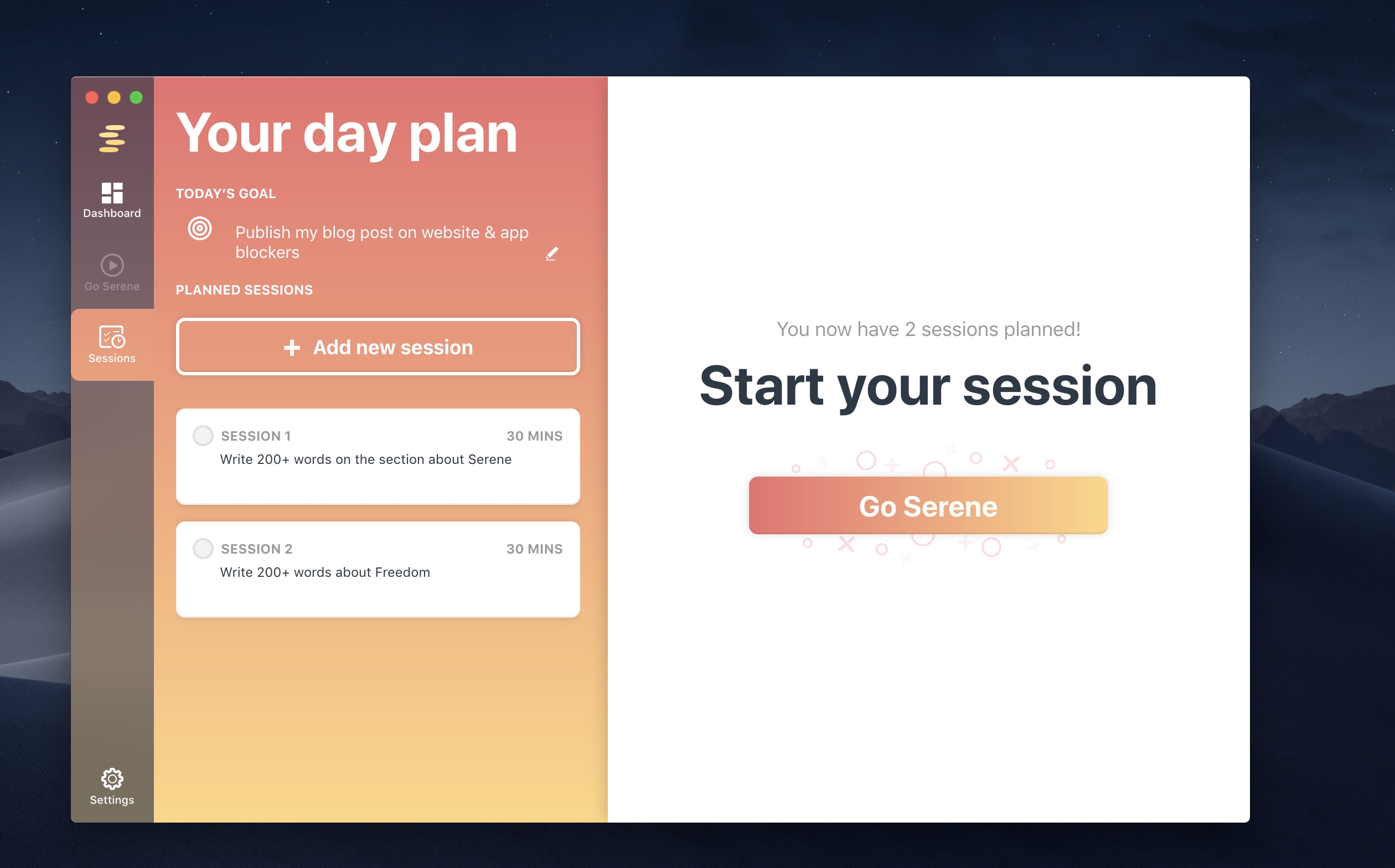 Users work in short sessions (20-60 minutes), which have been found to maximise efficiency and concentration with regular breaks between each session. While team members are working on a task, Serene blocks distracting websites and apps and shows users how much time they have left to complete the task at hand.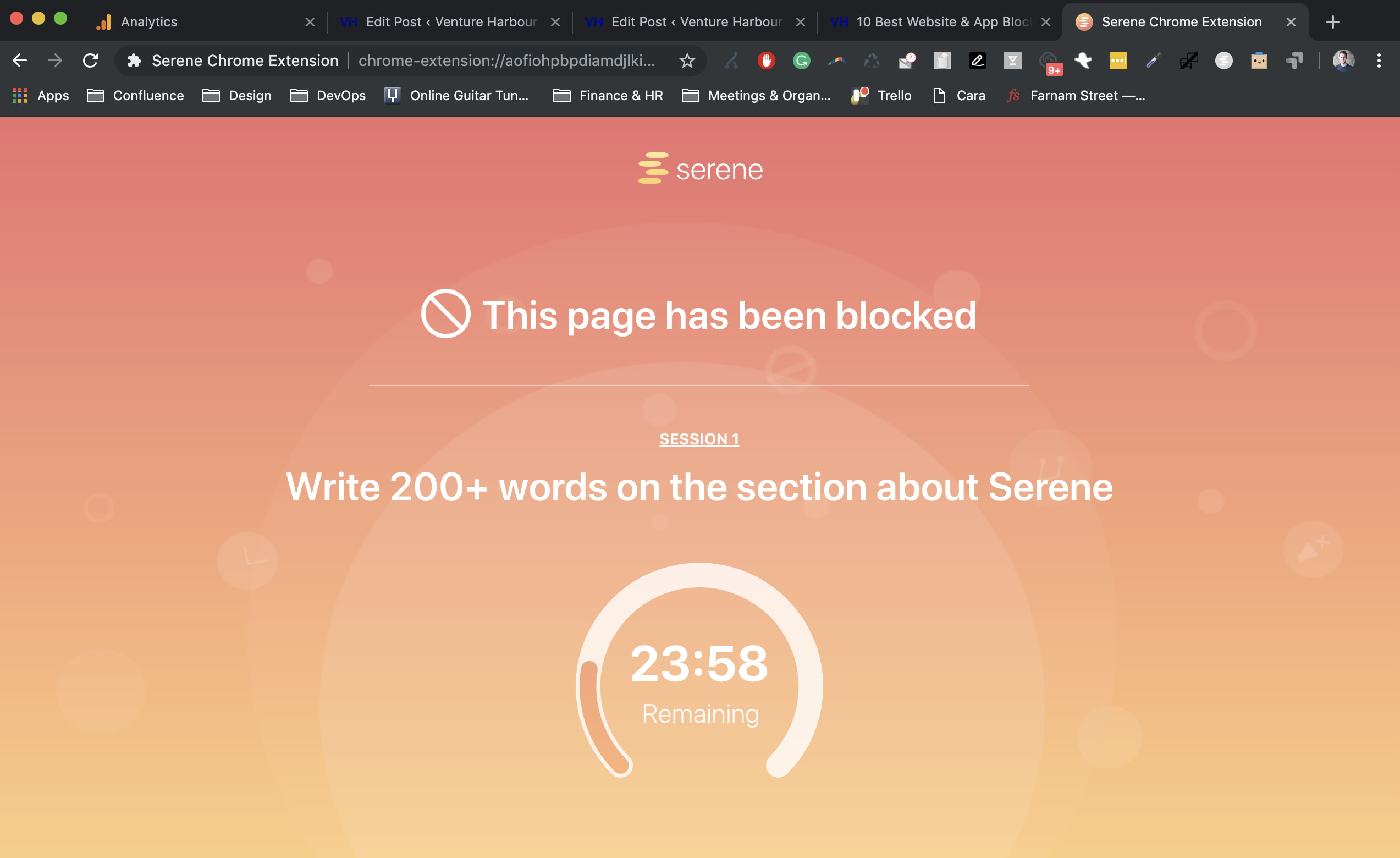 By keeping team members focused on individual tasks and blocking out distractions, Serene helps everyone on your team maximise productivity. Tasks are completed faster, goals are achieved sooner and team members can enjoy more of the benefits remote working has to offer. Serene is still in the beta but you can request an invitation to
try it out here
.
#2: Status Hero (Windows, Mac, web app)
Prices start from $3/month per user
If you've ever managed or worked as part of a remote team, you'll understand the importance of statuses. Allowing team members to set statuses like "available," "busy," "away" and "unavailable" is crucial. Otherwise, you can team members interrupting each others' workflow and notifications constantly popping up at inconvenient moments. This is the basic, yet invaluable role of statuses on collaboration software and Status Hero turns this concept into a major productivity tool.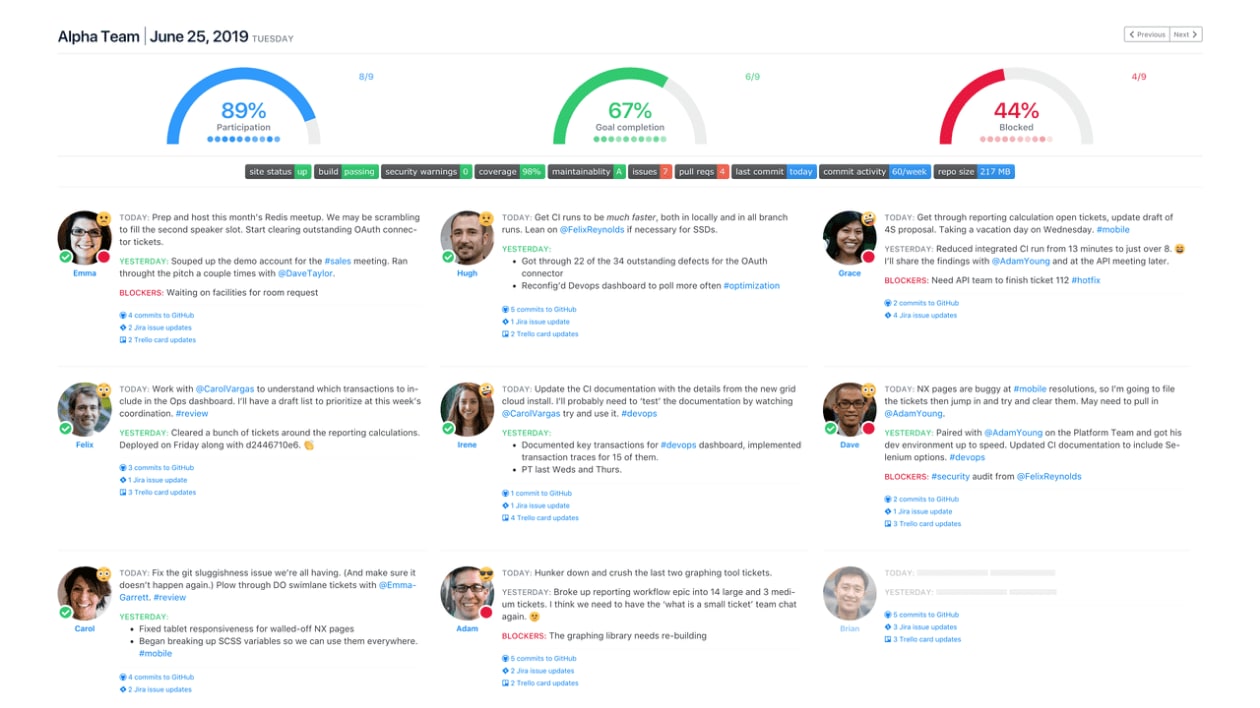 Key features
Availability statuses: Users can set their availability status for every other team member and manager to see.
Check-ins: Users provide a quick description of what they're up to so nobody needs to ask what they're currently working on.
Time zones: Status Hero detects user time zones (these can also be user-defined) to help team members collaborate in different geographical locations.
Blockers: Team members can state any issues getting in the way of completing tasks.
Project management: Managers and team members can see how many goals are completed and how many targets are being blocked, in real-time.
Multiple teams: You can divide teams into multiple groups, assign projects to different teams and switch between them on the fly.
Mood tracking: Get a better sense of the emotional state of team members.
Observer mode: For managers and stakeholders to view progress without interrupting team members' workflows.
The best way I can describe Status Hero is that it takes the friction out of remote working and collaboration. When everyone knows what each other is working on, there are no more interruptions when important tasks are being completed. Collaboration is crucial for hitting team goals but the simple act of sending a message at the wrong time can cause major productivity problems. According to
a study from the University of California
, it takes
an average of 23 minutes and fifteen seconds to recover from a distraction
. Multiple studies have offered up similar numbers, which tells you how costly it can be when a remote worker is interrupted by multiple emails and messages throughout the day. Status Hero eliminates this productivity killer while also allowing team and project managers to keep track of progress without interrupting it.
#3: Toggl (Windows, Mac, iOS, Android, Chrome, Firefox)
Premium version $18/monthper user
Toggl is a time tracking app that runs in the background while users work on tasks. Essentially, it's designed to accurately track how long it takes to complete tasks and this was originally intended for freelancers to make sure they were invoicing accurately and getting paid fairly. Now, Toggl is a productivity app designed for teams and individual members to maximise productivity. Above all, its data visualisations help you compare profits against time spent on tasks and labour costs so you can see which projects and clients are most profitable.
Key features
Time tracking: See how much time you (or others) are taking to get things done.
Boost profits: Check you're charging enough for the time it takes to complete projects.
Reports: See how productive you're being and how profitable your time with Toggl reports.
Cross-platform: Toggl's wonderfully designed apps work across just about every operating system and online so you can access it wherever you need, whenever you need it.
You can also see how much time team members are spending on individual tasks to monitor productivity and see if anyone's taking on too much/too little work.
On the face of things, Toggl is about a simple as it gets in terms of productivity software but it can be an invaluable tool for making sure tasks are being completed quickly enough and that projects are generating enough revenue for the time (and other resources) being spent on them.
#4: Slack (Windows, Mac, iOS, Android & web)
Free version, paid options start from £5.25/monthper user
Slack is the communication tool that brings remote teams together. The platform organises conversations into channels, which team members can join and leave, as needed, so nobody receives messages or notifications irrelevant to them. Conversations can also be had in threads, which keep messages outside of the main channel so chats don't get in the way of main topics and projects.

Key features
Instant messaging: Live communication between every team member for seamless collaboration.
Statuses: Users can set availability statuses to focus on individual tasks as needed.
File sharing: Drag-and-drop file sharing for PDFs, images, videos and other common files types.
Voice & video calls: Voice and video calls directly from within Slack.
Screen sharing: Allows team members to show their work to others in real-time for stronger collaboration.
There are tonnes of productivity tools on the market and many of the offer more ambitious sets of features than Slack. However, Slack combines the basic communication essentials into a single, easy-to-use platform in a way no software has really managed to match since it was first released in 2013.
#5: monday (iOS, Android, web app)
Prices start from £15/month for 2 users, £34/month for 5 users
Again, there are plenty of project management tools designed for digital teams these days but monday offers a more advanced set of features than some of the better-known alternatives like Trello. A lot of project management tools essentially redesign the to-do list concept or create "Kanban" boards but the likes of monday and Asana have built fully-featured management platforms design for team leaders and members alike.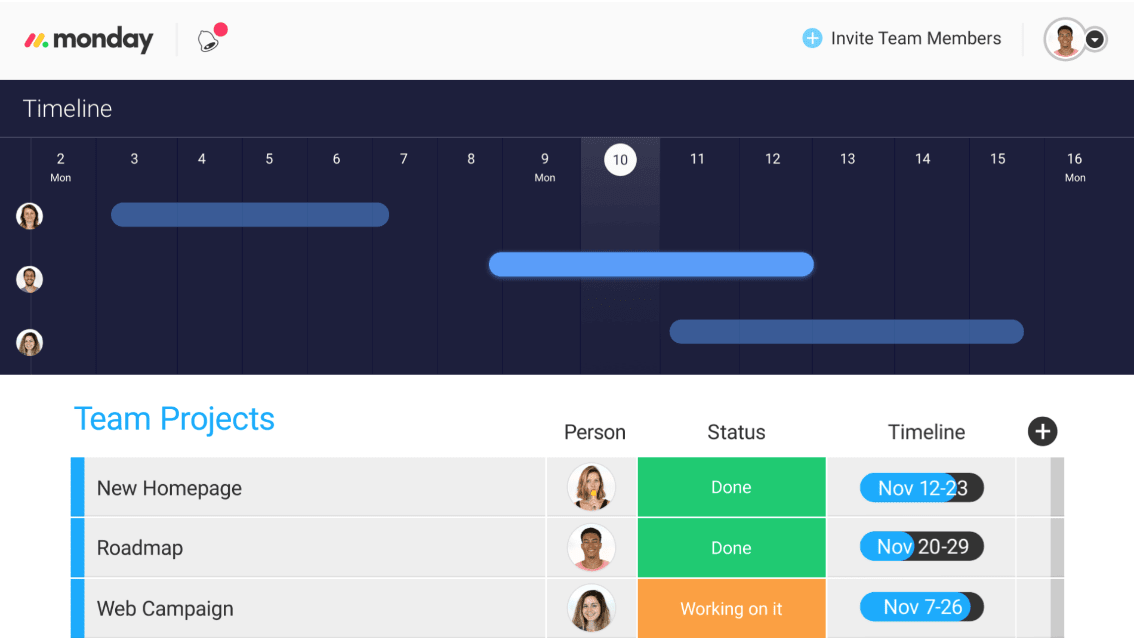 Key features
Project management: monday is an advanced project management that helps large teams and individual team members hit more ambitious targets.
Task management: Extensive task management tools that treat each task as building blocks to project goals.
Views: Multiple views allow you to check project overviews, timelines, individual workflows, checklists and reports.
Track progress: Track tasks, update statuses, receive notifications when deadlines are looming and reassign/prioritise tasks with ease.
Weekly task loads: Team members can work on multiple projects without getting lost by using monday's weekly overview.
File sharing: Upload and share files so everyone has access to the resources they need via the same dashboard.
Tasks can be created and assigned to team members, which start off with a default status of "Not started". Team members can update statuses to "Working on it," "Stuck" and "Done" as they progress their way through tasks, which all members and managers can see. Team managers can assign tasks to members based on their workload, location, experience, native language and the rating of previous tasks completed. I've used monday on a lot of projects with different clients and I can tell you these capabilities are useful on a daily basis for distributed remote workers and team managers who need to make sure everyone is working in sync.
#6: Google Drive (Windows, Mac, iOS, Android & web)
Free
I probably don't need to say a great deal about Google Drive; it's that cloud alternative to Microsoft Office that simply works much better for remote and collaborative teams than the MS alternative suite of tools.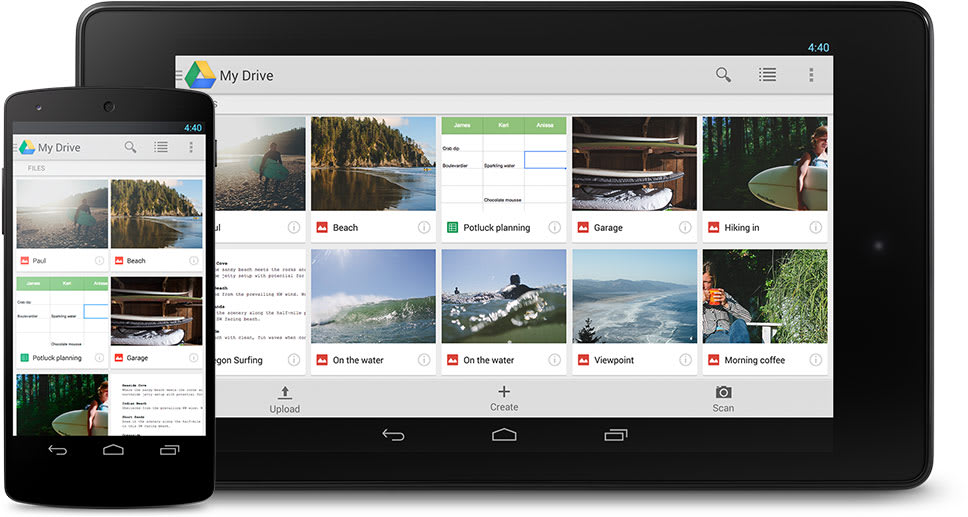 Key features
Documents: Word documents, spreadsheets, presentations and all of the essential docs we take for granted these days – for free.
Cloud storage: The cloud element of Google Drive is what makes it so useful for remote teams, allowing them to create, upload, share and collaborate on files.
Collaboration: Real-time collaboration on Google Docs files works without any real lag getting in the way and this is where it really outshines Microsoft Drive.
Sure, Microsoft Office's suite of looks like Word and Excel are somewhat better in terms of features but Google Drive is
far
more capable as a cloud storage and collaboration tool. I constantly have problems with Drive crashing, Word freezing (on Mac) and lag getting in the way of real-time collaboration within files. I've experienced none of these problems with Google Drive and I consider these deal-breakers as part of a distributed remote team.
#7: InVision (Windows, Mac, iOS, Android)
Free version available, Team version starts from $99/mo
I hesitated for a moment about including InVision in this article, as I want to stick to tools that every distributed remote team can make use of. I don't want to get too niche in this article and list tools that are only relevant to certain teams but the truth is every business needs to take design seriously. Whether you're redesigning your website, building a mobile app, developing your own software or creating a presentation with more flare than the average Powerpoint effort, InVision is the collaborative tool that helps design team get out of the concept stage faster.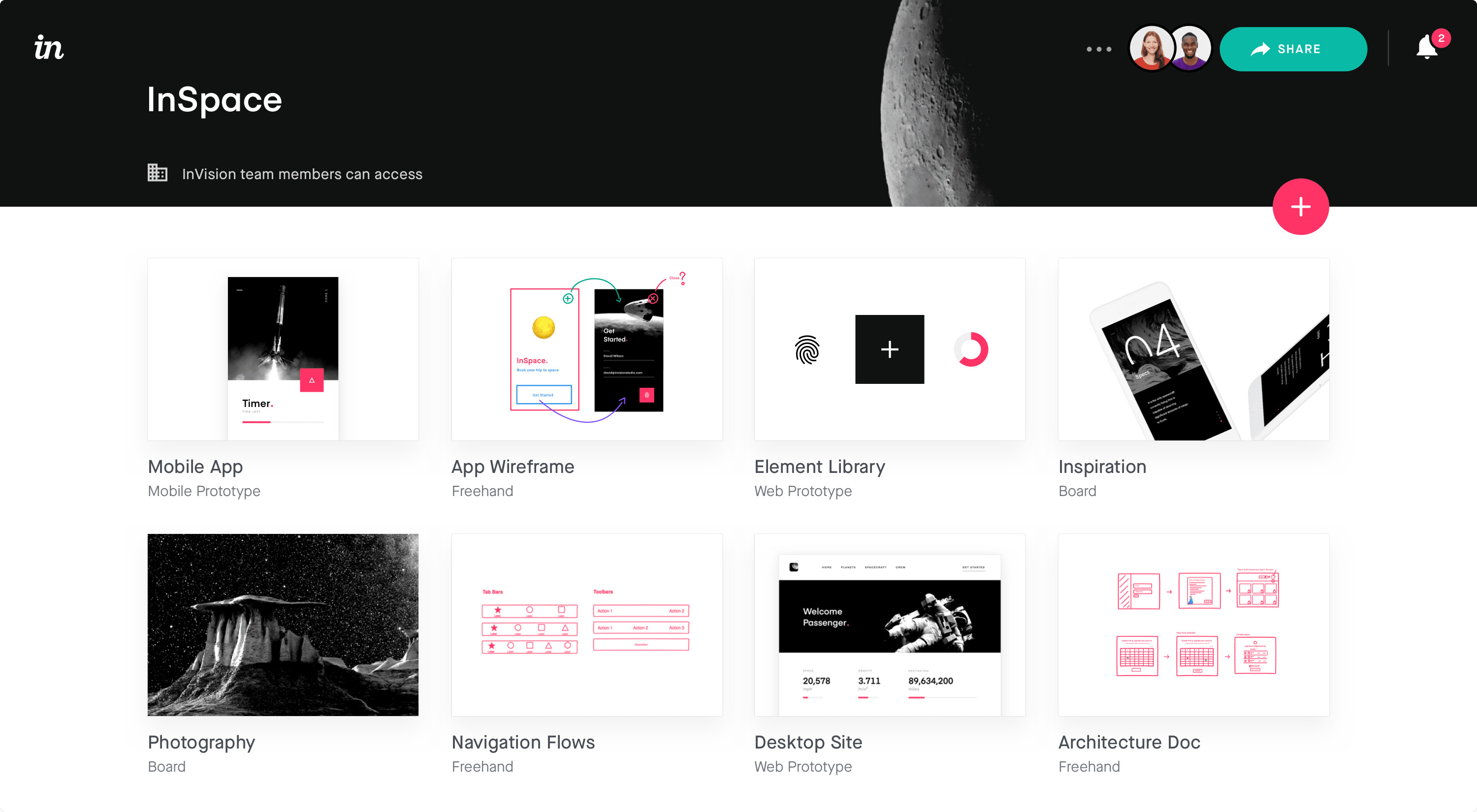 Key features
Prototyping: Create interactive prototypes complete with working links, animations and effects so developers, clients and team members can see what the final product will look and feel like.
Collaboration: From idea creation to file sharing and working on design files, InVision provides the collaborative tools remote designers need.
Messaging: Team members can work on projects, exchange ideas and provide feedback on the work of others.
Design management: Team leaders can manage projects and ongoing design processes.
Integrated development: InVision creates a seamless design and development process where both teams can work together and collaborate as projects pass from one stage to the other.
For digital agencies like us, InVision is a vital tool for helping our design team work together. It's also used by some of the most prominent tech firms, media organisations, startups and online brands. Above all, it's the collaborative design tools created by remote designers
for
remote designers and this is why it deserves a place on this list.
#8: Spark (Mac, iOS, Android)
Free version, $6.39/mo (per user) for Premium
Spark is an intelligent email client that stops inboxes from being a productivity killer. Better yet, it turns them into an asset for distributed remote teams. Spark's Smart Inbox automatically categorises your emails from every account and allows you to prioritise the emails that matter most while filtering out the ones that don't.
Key features
Smart inbox: Clean up your inbox, find any email with "Smart Search" and snooze emails that don't need your attention right now.
Smart notifications: Only receive notifications for the emails that really matter.
Assign emails: Assign emails to team members so the right person is always managing tasks.
Team email: Private team comments, shared drafts, template replies and instant chat for collaborative teams.
Send emails later: Schedule emails to send them when people are most likely to read them.
Reminders: Get reminders to follow up on important emails at the right time.
You can also snooze emails for later, assign emails to team members, chat with team members, share drafts, set reminders for follow-ups and schedule emails to send them later. With Spark, remote team members can also work on the same email at the same time. Much like Google Drive, text is created and edited in real-time while members can communicate via instant messaging to perfect important emails. This means there are no more emails to clients, saying "I've CC'd James and he'll explain that technical issue we talked about earlier". All the key details can be included in emails by the right person without any confusion or inaccuracy.
#9: Doodle (Web app)
Team packages start at €12.50/monthfor 5 users
Doodle is a collaborative scheduling app that makes it easy to arrange meetings without the email back-and-forths. It doesn't matter how large your team is, how many time zones they're spread across or how many teams your workforce comprises of – Doodle makes meetings happen. This is so important for remote teams distributed across different time zones.

Key features
Team scheduling: Arrange meetings, video calls and collaborative sessions without the email back-and-forths.
Availability: Team members can set their hours of availability, which automatically adapts for time zones.
Reminders: Set reminders so team members are always ready for meetings.
Personal events: Keep private meetings, events and tasks hidden from team members so people only see the tasks they need to.
Basically, users set their availability times, which are available for other team members to see, and meetings can be scheduled based on everyone's availability times. Users simply confirm they can attend and the meeting goes ahead. Team members will also be sent automatic reminders before meetings so nothing gets forgotten.
#10: Zoom (Windows, Mac, iOS, Android & web)
Free version available, paid versions from £11.99/monthper host
Zoom is a suite of video conferencing and communication tools designed for remote teams, virtual businesses conferences, webinars and other corporate purposes. We use Zoom for our virtual meetings, which we can use to run video and voice calls, but it's capable of much more than this.

Key features
Video meetings: Remote teams can run video meetings and one-to-one video calls.
Voice calls: You can also run group or one-to-one voice calls when face-to-face meetings aren't necessary.
Webinars: You can also use Zoom to host webinars.
Messaging: Team members can send messages using Zoom.
File sharing: Share files during and outside of video/voice chats for collaboration between members.
Zoom is a feature-rich communication tool for remote teams and its pricing is very reasonable. For group calls, you'll need to pay for one of its plans, which start from £11.99/monthbut this fee is paid per host rather than per user. A host is someone who invites people team members to join meetings but up to 100 participants can join before a host needs to upgrade to a more expensive plan.
How far will your distributed team go?
Productivity tools are important for every business but they're, quite literally, the only connection distributed teams have to rely on – so you better make sure you choose the right ones. All of the tools we've looked at in this article serve different purposes but each one of them is crucial for establishing a collaborative workflow and maximising productivity. I can confidently recommend all ten of the tools in this list as a starter kit for distributed teams to hit targets, no matter how far spread out team members might be.