Disclosure: We sometimes use affiliate links which means that, at zero cost to you, we may earn a commission if you buy something through our links.
The marketing automation industry has skyrocketed from a $500m market to an expected $5.5bn in 2019 in four years. According to Salesforce's State of Marketing Report, 67% of marketing leaders are already using at least one marketing automation platform and a further 21% planned to start using one in 2019.
At the same time, the list of marketing automation platforms continues to grow with new tools hitting the scene every year, making it harder than ever to find the right platform for you.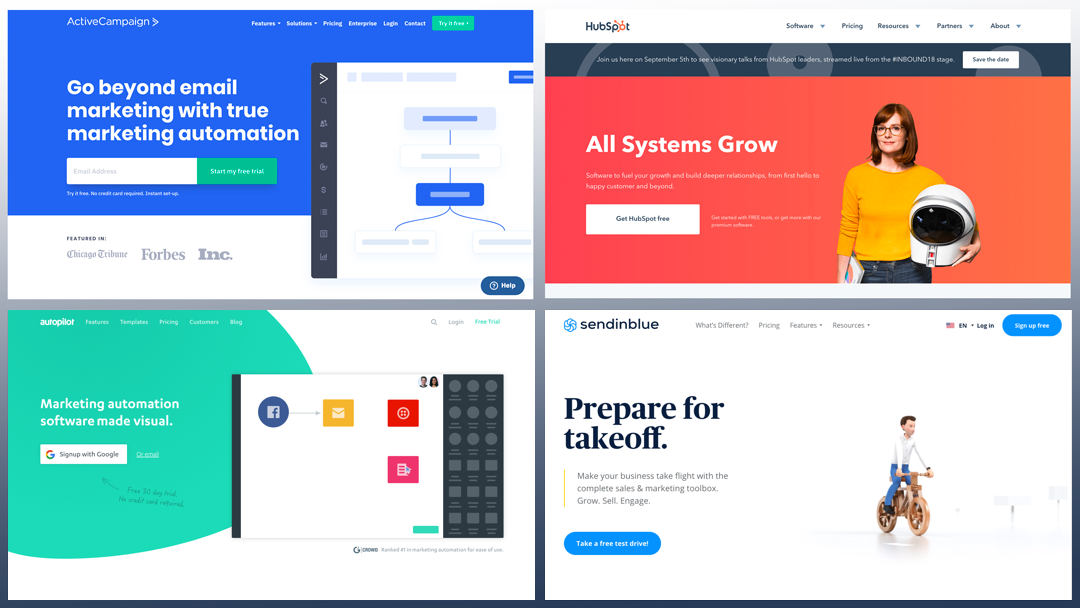 Despite an endless variety of marketing automation services to choose from, I'm going to focus on five of the most popular & highly-rated services for SMEs:
I'll also be touching on two options aimed at larger enterprises: Pardot and ActiveCampaign Enterprise.
TLDR: In my opinion, ActiveCampaign is the best option for the majority of businesses. Unlike some of the marketing automation tools out there, their pricing is reasonable and they offer an impressive range of features. We use ActiveCampaign across all of our ventures at Venture Harbour (I've written about how we use it in more depth here).
Over the past few years, I've either demoed, used, or gathered opinions from multiple long-term customers of all of the tools mentioned above (plus a handful of others that didn't make the cut). This post ended up being quite in-depth, so if you're looking for something specific feel free to skip to one of the sections below.
Jump to:
First things first, though. With so much variation between services, what do you need to look out for when comparing software providers?
What to consider when comparing marketing automation software
Before we go into the pros and cons, or the pricing comparisons, it's important to know what to look out for.
I know several friends who signed up for marketing automation software, only to realise one month down the line that it wasn't compatible with their CRM. Ouch.
It's also very easy to get burned by the sliding scale pricing structures and unexpected additional costs.
My point is, it pays to do your research. Below are a couple of important considerations and questions to have in mind when comparing the various software providers.
Let's start off with the deal breakers. These are the first things you should look out for when comparing marketing automation software providers.
Deal breakers:
Pricing – Most marketing automation tools are priced on a sliding scale with additional costs for training and add-ons. They can become ludicrously expensive very quickly if you're not careful. I'd recommend taking a 3-5 year perspective when weighing up your options.
Usability – Marketing automation is inherently complex. As such, usability is extremely important as it'll determine how much value your team extract from the tool. The less intuitive the software is, the more you will pay for training, and the more headaches your team will endure.
Integrations with your existing software – This is extremely important, yet sometimes overlooked. Some marketing automation tools only allow integration with a small number of third-party apps / CRM systems.
Now let's look at the preferences. Some of these may be deal breakers for you, but they're mostly to do with what features the software providers.
Preferences:
CRM / sales capabilities – Some marketing automation tools have an in-built CRM system with lead scoring, and advanced tagging capabilities. Others have no in-built CRM, as they expect you to connect the software with your existing CRM.
Email capabilities – while all marketing automation tools enable email marketing in some capacity, some are better than others. Do you need drip campaigns? subject line A/B testing? Demographic segmentation?
Content capabilities – Do you need to create landing pages, webinars, or other forms of content to send out to your contacts? While most marketing automation tools enable this, some are easier to use and more extensive than others.
eCommerce capabilities – Do you sell products online? Some marketing automation tools, such as Ontraport, can act as your product database. These tools usually offer features like coupon codes and affiliate programs.
Social media capabilities – Some marketing automation tools integrate with Facebook and Twitter, enabling you to control social advertising or build social apps from within the service. Some also offer social media monitoring, to pull comments made on social media platforms into your CRM. These features are usually nice-to-haves, but it might be worth considering whether or not they would be useful for you or not.
Training & set-up – Another consideration is how long will it take your company to implement the marketing automation software, and at what cost? This is not particularly well advertised on any of the software provider's websites, so be sure to ask.
The Pros and Cons of Marketing Automation software providers
In this section, I've written a quick summary of the main pros and cons for each of the aforementioned marketing automation providers.
I've kept the reviews relatively short so that you can skim over the pros and cons.
Venture Harbour has grown by 330% in the past year – and we owe a lot of that growth to ActiveCampaign. I've already written about 20+ ways ActiveCampaign has enabled us to systemise our business, so at risk of repeating myself I'd urge you to read this post if you're interested in learning more about what you can do with ActiveCampaign.
But if you just want the overview of why ActiveCampaign is awesome, here goes:
Affordable – ActiveCampaign starts at $9/month and remains reasonably priced as you grow your contact list. There are no mandatory training packages or hidden costs. They were also one of the first marketing automation tools to offer a (good) solution under $100/month. Since then, other tools have had to reduce their pricing to keep up.
Innovative – I've been using ActiveCampaign for over three years now, and the product just keeps getting better. This year alone, ActiveCampaign released a site messaging tool, a chrome plugin, a marketing attribution tool, A/B testing within automation sequences, and a handful of other extremely useful upgrades.
It's stable – When I speak to friends using other marketing automation tools they're often quick to complain about email deliverability, buggy interfaces and downtime. As an ActiveCampaign user, I struggle to relate.
Intuitive – The visual campaign builder is extremely user-friendly, to the point that I've had staff build complex marketing automation campaigns with no prior experience or training.
Responsive support – I've probably contacted ActiveCampaign's customer support team less than five times over the past three years (not bad given that we use it daily) and they're always genuinely helpful and quick to respond.
Frankly, I can't really think of anything negative to say about ActiveCampaign without being very pernickety. Hence, a well-deserved 5/5 rating.
Let's not kid ourselves, Hubspot is over-hyped.
Pretty much everything that Hubspot offers can be found elsewhere at a much lower cost. And yes, while it is true that Hubspot does offer a free version of their software, this doesn't include any of their marketing automation features. If you're looking to use Hubspot for marketing automation, you'll need to cough up at least $800/month (paid annually), plus an additional $3,000 in onboarding fees. In other words, if your marketing automation budget is below $12,600/year, you may want to move on to our next suggestion.
But to give credit where its due, their software is really intuitive and easy to get the hang of, which for a non-technical small business can make all of the difference. The analytics are incredibly good, which makes it dead easy for business owners to know what's working and what's not.
I can see how many small businesses would be impressed with their offering, but it would be remiss not to point out the fact that Hubspot's pricing can get expensive as you grow.
Hubspot charges onboarding fees in the $3,000 – $6,000 range for professional and enterprise customers (these are the only plans that include marketing automation), on top of a typical monthly cost between $800 – $2,500.
If it were me, I'd take this money and instead spend it on ActiveCampaign, which is a significantly more advanced marketing automation platform. With what's left over, you could get a pro subscription to a good piece of SEO software like SEMrush or Deepcrawl, and do some training on Google Analytics.
I might be missing something, but based on demoing their software it does seem like an over-priced piece of software, but for many small businesses it does exactly what it should – enables them to grow faster.
Ontraport is a bit of an underdog in the marketing automation space.
I first heard about them from a friend at Mindvalley, who mentioned that they were using Ontraport, and were really pleased with it. Mindvalley is pretty awesome when it comes to automated marketing, so this was a big tick.
After that, I began hearing about Ontraport everywhere.
What was really interesting was the diverse range of people who I was hearing about them from. From entrepreneurs turning over a few hundred thousand to $50m companies with 200 staff, everyone seemed to say good things about Ontraport.
So, I registered for a product demo.
My first thought was how easy Ontraport was to get started with compared to another marketing automation company I had just tried. Recurring payments were to set up. There was no initial training cost, and you could sign up as a customer directly from their website. On top of this, everything was split testable without needing a strange workaround.
I wasn't a huge fan of the Ontraport reporting dashboard, which is just a panel of KPI metrics. Personally, I'd much rather a more visual layout with fewer, more important, metrics displayed over time.
Ontraport's sequence builder is really good, although not quite as fun to play with as ActiveCampaign's visual campaign builder. That said, it integrates way better with WordPress, Facebook, Google Adwords, and other platforms.
One final touch which is really cool is the ability to automate SMS messages and postcards from Ontraport. I'd love to experiment with this in more detail to see how SMS messages and sending postcards in the mail influence customer behaviour, but it would certainly help with standing out from the crowd.
Out of all the tools reviewed, Ontraport is probably my second favourite behind ActiveCampaign.
While it may not be one of the most affordable marketing automation tools, it is highly scalable and their pricing doesn't increase too much as your list size grows.
SendinBlue first became highly-regarded as an underdog in the world of transactional email tools before they began to make waves with their marketing automation product in 2015-2016.
Granted, SendinBlue's visual marketing automation builder may not be as beautiful as ActiveCampaign's, but it's no less powerful. In fact, SendinBlue's automation builder is so free of bells and whistles that it's actually quite refreshing to use after using some of the tools that require contacting support or reading documentation just to complete basic tasks.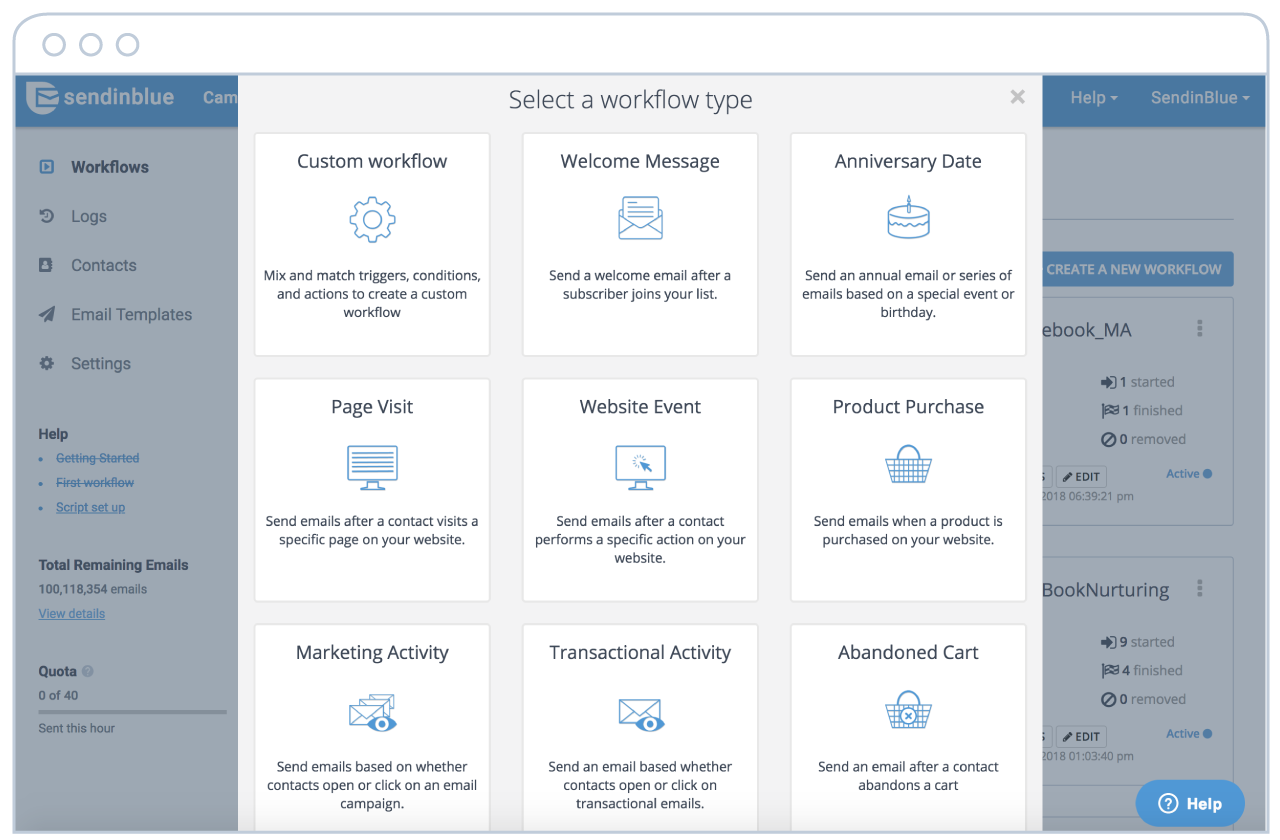 So, what are the downsides?
1. Pricing – While SendinBlue is one of the most affordable email marketing tools currently available, you'll need to be on their $49/month plan or above to access unlimited automation workflows. While not a major issue, this tends to rule out SendinBlue for me when recommending a marketing automation tool to a small business that's new to automation. After all, ActiveCampaign starts at $9!
2. Deliverability – Deliverability is always a hot topic, and I'm aware there are a million caveats at play here. That said, several notable studies on the topic have turned out quite unfavourably for SendinBlue. Fortunately, we actually use SendinBlue for one of our ventures and I can confirm that our deliverability rates are nowhere near as low as indicated in suggested in the linked article, but equally, they're not the best I've seen.
3. Sending limits – My biggest pet peeve with SendinBlue is the limits they impose on how many emails you can send. Unlike most marketing automation tools that limit the number of contacts you have, SendinBlue limits the number of emails you can send. While it appears to be a monthly limit, it's actually a daily limit (the monthly limit is divided by 30). This has caused us several issues when going over our quota has meant emails end up being put on hold until the next day.
With that said, we still use SendinBlue to this day and consider it to be a good, stable, and relatively simple marketing automation tool. Being a French company, SendinBlue was one of the first marketing automation companies to declare GDPR compliance, and their history in transactional email has meant that they've been able to offer many marketing automation features that are difficult to find elsewhere, such as SMS messaging and real-time deliverability reporting.
Prospect.io is a different kind of automation tool, primarily aimed at companies looking to automate lead generation and sales activity. If you're doing any kind of marketing outreach, this tool is an impressive bit of kit.
Now, it should be pointed out that while Prospect.io does offer typical marketing automation features like drip email campaigns, it's not designed to be the all-in-one sales and marketing platform offered by the likes of ActiveCampaign and Hubspot.
Propsect.io does one very specific part of marketing automation (finding cold leads and engaging them to become warm), but it does it very well. One particularly good feature about Prospect.io that's not easy to find elsewhere is that the automation emails can be triggered directly from your mail server (e.g. G Suite or Microsoft Exchange) so your emails appear identical to if you had sent them manually.
You can learn more about Prospect.io here
Pardot has had an interesting few years of Russian doll acquisitions, after being acquired by Exact Target, who were later acquired by Salesforce.
With a base cost of $1,000/month, they're one of the more expensive marketing automation services.
Pardot receives a lot of great praise for their customer support, both pre and post-implementation. Unlike many of the other services mentioned, they don't charge a setup cost and training is free (or… covered by the large monthly fee)!
Salesforce isn't the greatest when it comes to user experience. Naturally, learning how to use Pardot is a pretty steep learning curve, and there are a lot of features that are very confusing to get your head around.
One important thing to note is that their lower tier of $1,000 / month is quite limited in terms of functionality. If you want A/B testing, PPC integration, social media support, or anything else beyond basic CRM and email functionality, you'll need to pay for their $2k/month package.
If you're an enterprise brand with demanding automation needs, ActiveCampaign Enterprise is probably the first tool you should look at. You get all of the best CRM, automation and email features of ActiveCampaign, with all of the typical enterprise-level features; Service level agreements, enhanced security measures, dedicated IPs and more.
First of all, you get unlimited user accounts with custom user permissions. You can also send an unlimited number of emails and you get your own custom mail server domain as part of the package. Another interesting feature is ActiveCampaign's automated social data gathering, which collects social details from all of your contacts and allows you to use this for list segmentation – so you can contact all LinkedIn users under 30 in your area, for example.
Going enterprise also means you get a dedicated account rep who knows the platform inside out but also becomes familiar with your business and its needs – someone who's always there when you need a helping hand. You also get priority support across phone, email and chat should you run into any technical issues.
In terms of performance, ActiveCampaign guarantees 99.9% uptime on its Enterprise package and you get extensive customisation features, plus unlimited integrations with more than 150 business and marketing apps.
The list of features goes on.
If you need the best marketing automation features as well as the power and flexibility of enterprise software, be sure to check out ActiveCampaign's enterprise package.
Comparing the price of different marketing automation software providers
It's quite a challenge to do a like for like comparison of marketing automation service prices, as some price tiers are based on the number of users, while others are on features or number of contacts in your database.
I've done my best to do an accurate comparison of the different services based on the following criterion:
Entry-point cost (the minimum you could possibly pay for their marketing automation product)
The minimum cost if you have 10,000+ contacts in your database
The minimum cost if your have 100,000+ contacts in your database
The minimum cost if you need to have 5+ users
Also, bear in mind that these prices may well change over time. As of the date of writing (13th December 2018) they are all accurate.
Entry-point cost:
ActiveCampaign – $9 / month
SendinBlue – $49 / month
Hubspot – $800 / month paid annually (+$3,000 onboarding)
Ontraport – $79 / month
Prospect.io -$99 / month
Pardot – $1,000 / month
Minimum price for 10,000 contacts
ActiveCampaign – $111 / month
SendinBlue – $129 / month
Hubspot – $1,250 / month paid annually (+$3,000 onboarding)
Ontraport – $297 / month
Prospect.io -$299 / month
Pardot – $1,000 / month
Minimum price for 100,000 contacts
ActiveCampaign – $369 / month
SendinBlue – Not listed
Hubspot – $3,300 / month (+ mandatory one-off $2,300 training fee)
Prospect.io – $1,699 / month
Pardot – Not listed
Ontraport – $597 / month
Minimum price for 5+ users
ActiveCampaign – $55 / month
SendinBlue – $49 / month
Hubspot – $4,100 / month paid annually (+$6,000 onboarding)
Ontraport – $597 / month
Prospect.io -$99 / month
Pardot – $1,000 / month
ActiveCampaign Enterprise – Call for prices
Conclusion
No marketing automation tool is definitively the best. I've summarised which options I think are best for companies of different sizes, and sectors.
For small businesses (under $5m revenue) & online businesses
For small to medium-sized businesses, it absolutely has to be ActiveCampaign.
While there are other popular options like Ontraport and Hubspot, these tools pale in comparison to ActiveCampaign's product, while typically costing 3-5X more.
For medium-sized businesses ($10m – $100m)
For medium-sized businesses, the choice of marketing automation software is most difficult as this is the market that most providers cater to.
For online companies, I'd still recommend ActiveCampaign or Hubspot.
However, if you're looking for a tool that will primarily be used for automation lead nurturing and outbound sales, you might prefer Prospect.io used in tandem with a separate CRM system.
For enterprise businesses ($100m+)
For larger businesses, your list of options becomes much smaller. Pardot and Hubspot both offer genuine enterprise versions of their software but the likes of SendinBlue and Ontraport are more suited towards small and medium-size businesses.
As far as I'm concerned, Hubspot doesn't offer enough to justify its enterprise price tag. While Pardot isn't much cheaper at this level, it does have the added benefit of integrating directly into Salesforce and Marketing Cloud – while I've never been a fan of these tools myself, they do tend to be popular in larger businesses, giving Pardot an edge here.
Something else that might limit your choices is integration with your CRM platform.
This is something you don't have to worry about with ActiveCampaign because it comes with a very capable CRM system (we're using it ourselves) and the company doesn't hike prices up for enterprise customers to the same extent as other providers.
For enterprise businesses who want an all-in-one marketing automation, email and CRM platform, ActiveCampaign is going to be hard to beat.