According to GetResponse's Email Marketing Benchmarks report, email marketers in the UK achieve an average open rate of 18.39%, lower than the 22.15% global average and way behind the global leaders Germany with a massive 40.67% open rate.
Europe has the highest performance out of all regions in the study, too, which makes the UK benchmarks even more disappointing. Perhaps Europe will be glad to see us out of the EU so we can stop dragging down its averages.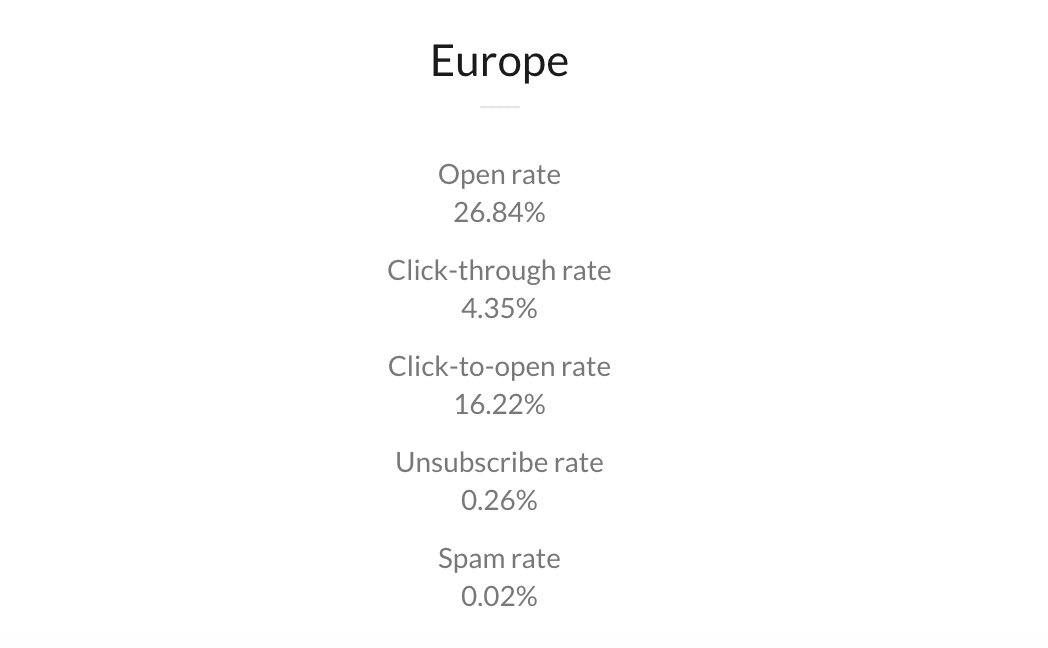 Clearly, the UK needs to up its email marketing game and this starts with having the right tools to hand. So, in this article, we've got 50+ tools that will help you nail email marketing and beat those dismal benchmarks.
What are we looking at in this list?
In this article, I've broken down our recommended tools into seven different sections. Here's a quick preview of what's to come and you can click on the bold text in this list to skip to the relevant section:
Now, the thing with email marketing software is most platforms try to provide every tool you need – and some do a better job than others. The problem is, most lists like this simply reel off all the email software tools by name, but this doesn't really help you because most of them try/claim to do the same thing.
There's no point me listing HubSpot and MailChimp as essential email marketing tools when they play the same role (although I would argue HubSpot plays it much better).
Instead, I'm going to list very specific email marketing tools that you need to maximise results and many of these are features that come as standard with the leading software providers like HubSpot and ActiveCampaign – others not so much.
This way, you'll end up with a clear idea of which specific tools you need and what they actually achieve. Ultimately, this will help you choose the right email marketing software for you, based on the features you need.
You can check out our top ten email marketing platforms for a look at some of the best options on the market right now.
Email marketing design tools
Designing emails that encourage people to take action is a challenge for every business but the quality of design tools has increased a lot in recent years, which at least takes out some of the leg work in producing emails on an ongoing basis.
#1: Email templates
First up, you're going to need a good selection of email templates to cut out the repetitive design work. You don't want to repeat the same basic layout settings and templates with specific features – such as a product feed, for example – can save you a lot of work.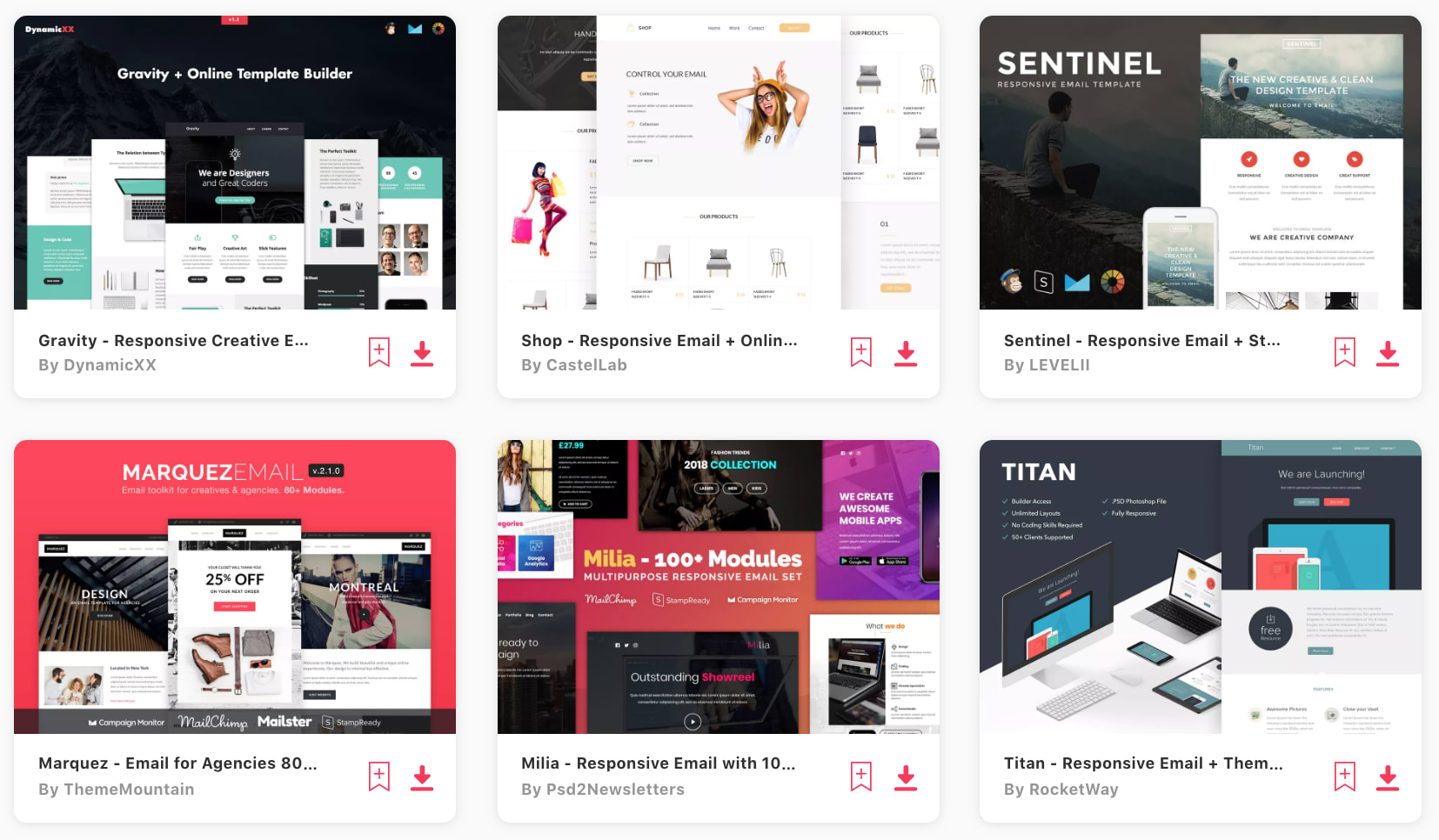 If you use email marketing software like ActiveCampaign or GetResponse, you'll get a bunch of templates included but you can also find third-party templates from other sources – like the email templates for ActiveCampaign we found at Envato Elements (above).
#2: Email builder
Email templates can cut out a lot of repeated work but they'll only get you so far. To customise templates or build your own emails from scratch, you either need to wield some HTML and CSS code or get yourself an email builder that lets you create emails visually – no code required.
Again, most email marketing platforms come with their own email builder and some are better than others. Likewise, personal taste comes into things as well, so go ahead and try a few out. We use ActiveCampaign, which comes with one of the best drag-and-drop email builders we used while testing out different platforms.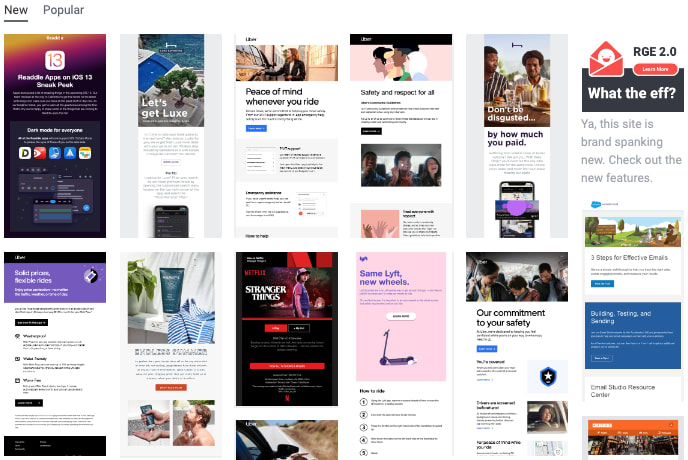 Templates are a good source of inspiration for email designs but you have to filter through a lot of not-so-great templates in the process. So it helps to have a collection of really great designs at hand and this is where Really Good Emails is a great resource.
You can browse emails by category – industry, engagement, cart abandonment, etc. – and get a list of quality email designs to draw inspiration from.
InVision is a product design platform that you can use to prototype apps, websites and digital products. However, it's also really useful for designing email processes. For example, you can design the entire sign-up process for your website, including the email users receive and what happens after they click through via your email.
#5: Email preview tool
Before any email campaign goes live, you need to check how they're going to appear across every platform: desktop, mobile, different browsers, different email clients, in notifications, etc.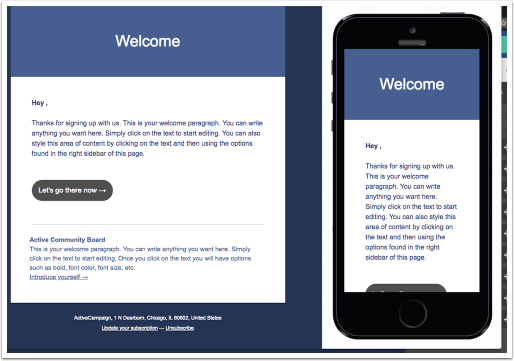 This is another feature you should find in your email marketing platform of choice but there are standalone testing tools that also include this feature. We've stuck with using ActiveCampaign's built-in preview tool (above) but I have to give a shout out to Litmus for its excellent email testing tools.
Graphics/visual tools for email marketing
With the design tools listed above, you should have everything you need to create email templates, layouts and get inspiration for those moments when you're out of ideas. However, you'll still need to create visual content to enhance your copy: images, videos, icons, graphs, etc.
So here's a bunch of tools that will give you the visuals you need to create engaging emails.
#6: Photo editor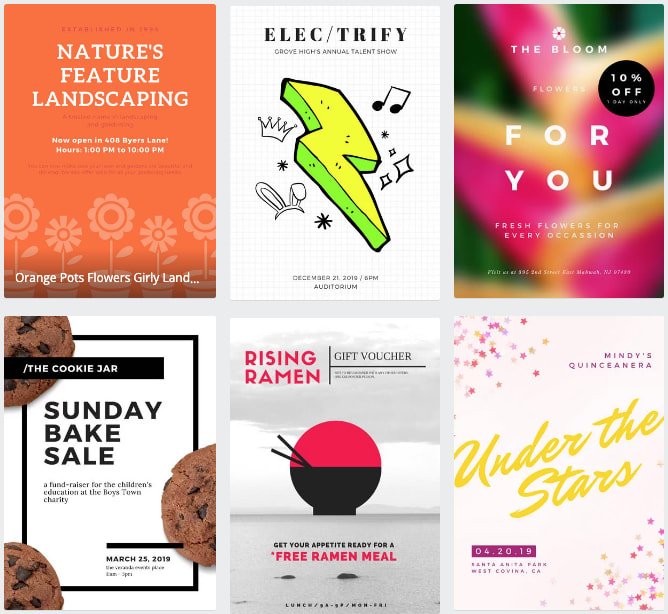 First up, you're going to need some photo editing tools. For basic needs (like overlaying text on images) Canva, is a great option (and free) but you'll want something more advanced like Photoshop for editing product images, model portraits, location shots, etc.
#7: Free image sources
While it's best to take original images whenever possible, there are times where you can't get the shot you need. Luckily, there are some sources where you can get images that are free to use for commercial purposes (make sure you're familiar with image use and copyright laws), such as Pixabay and IM Free.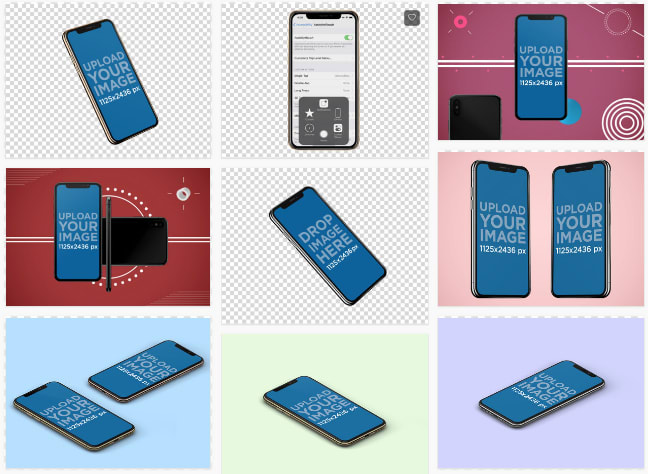 Placeit is an online tool that allows you to place logos, graphics and other visuals on top of stock images. For example, you can take screenshots of your website, app or software platform and place them on images of laptops, smartphones and other devices.
I mentioned Envato Elements before when talking about email templates but you can also get stock video, images, graphics and all kinds of other visuals for your emails and website.
It's not a free resource, though. You pay a monthly fee rather than paying per download so you want to make sure you're using it enough to justify the cost.
#10: Graphs & data visualisation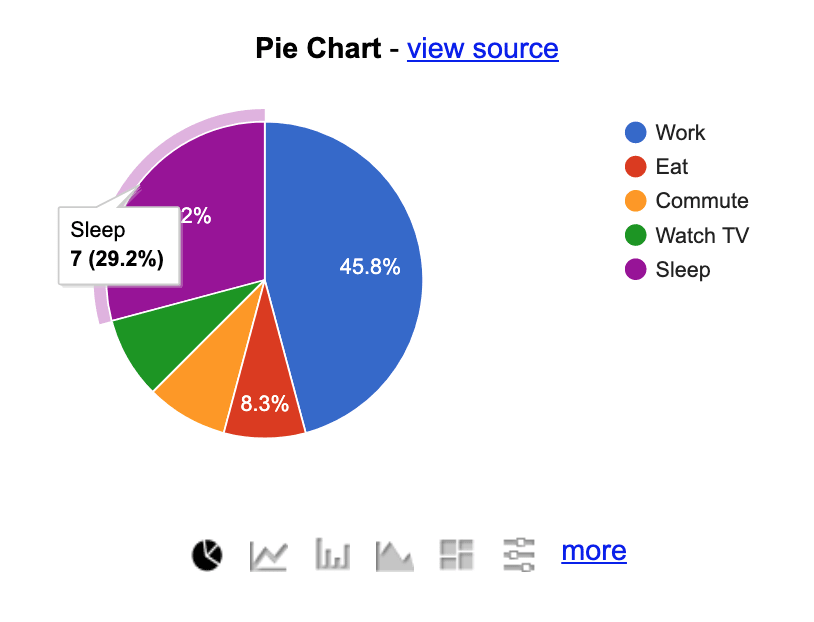 Google Charts is great for creating data visualisations for emails, blog posts and web pages. Best of all, it's completely free although you might prefer the look of the visualisations you can create on paid options, such as Infogram.
BombBomb helps you record videos, using your webcam or the front-facing camera on your laptop, tablet or phone, and embed them in your emails.
The idea is to show your face and create a more personal touch in your email marketing efforts and it's an incredibly simple/cost-effective way to add video to your email strategy. I'm not saying this is the only kind of video content you should be including (product images, software tutorials, etc.) but it's a good way to put a human face on your brand where suitable.
Tools for growing your email list
Now that we've got your sorted with the tools you need to create epic emails, it's time to start thinking about how to get people signing up to your email marketing lists. This is the largest section of this article and I'll be running through a number of tools and tool-related strategies that will help you bulk out those email lists.
PS: Buying email lists does not feature in this article or any legitimate email marketing strategy.
#12: Form builder
To sign up for your email list, people need to fill out a form and the average conversion rates for web forms are pretty abysmal (generally 2% and 5%, depending on where you get your data from.

That's simply not good enough.
We spent a number of years optimising our web forms and testing new variations until we stumbled across a multi-step format that had an instant impact. We then implemented multi-step designs on our own websites (as well as our clients) and refined the format.
It wasn't long before we started seeing 300% increases in conversion rates after implementing multi-step forms on lead gen pages and we've reached increases as high as 743% after optimising these forms further.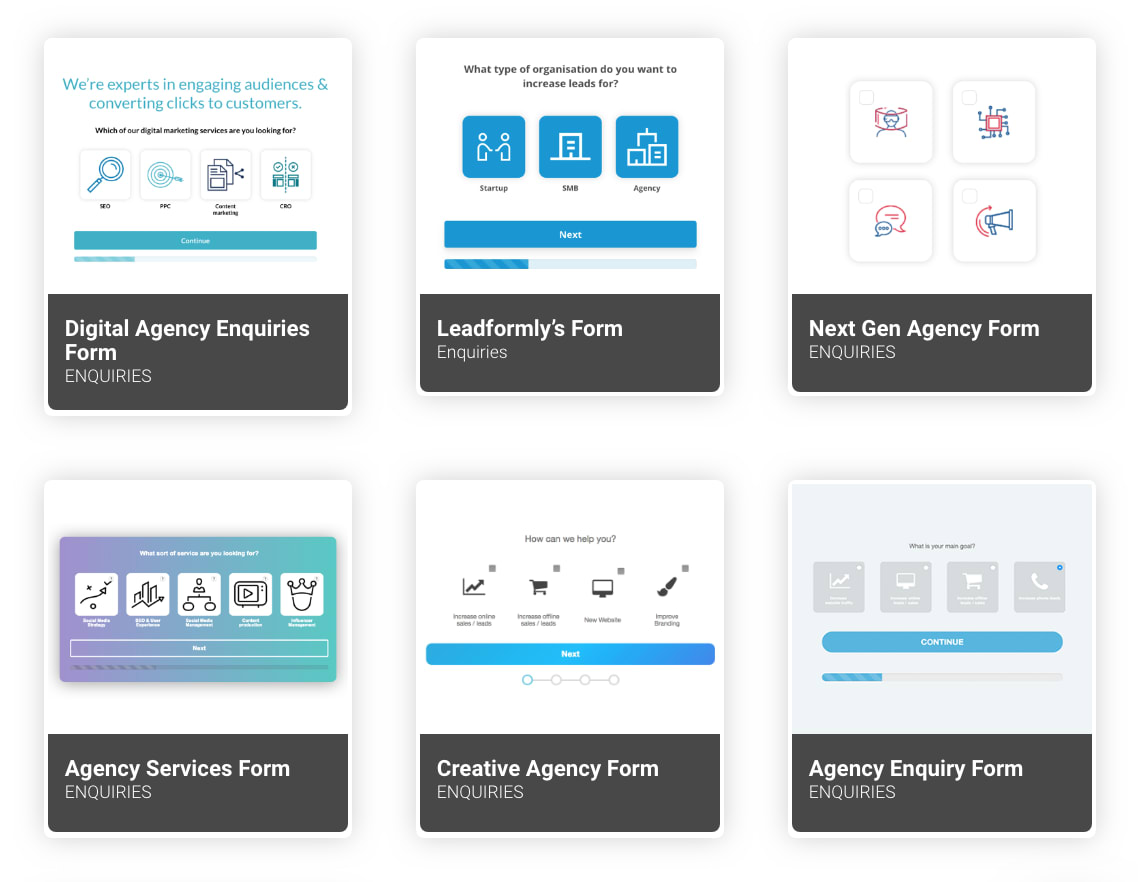 The results were so consistently impressive that we built our own multi-step form builder, called Leadformly, to make building new forms a breeze. Simply choose a template, customise or start from scratch with the drag-and-drop builder and embed your form on any page – no coding required.
#13: Form optimisation
Leadformly is designed to give you high-converting web forms from the day you embed them on your pages but – just like any lead gen tool – you're only going to maximise conversion rates (email sign-ups, in this case) if you optimise your forms to improve performance.
This is why we built advanced form analytics and optimisation tools into Leadformly, allowing you to pinpoint where users are running into any problems with your forms and test solutions.
#14: Landing page builder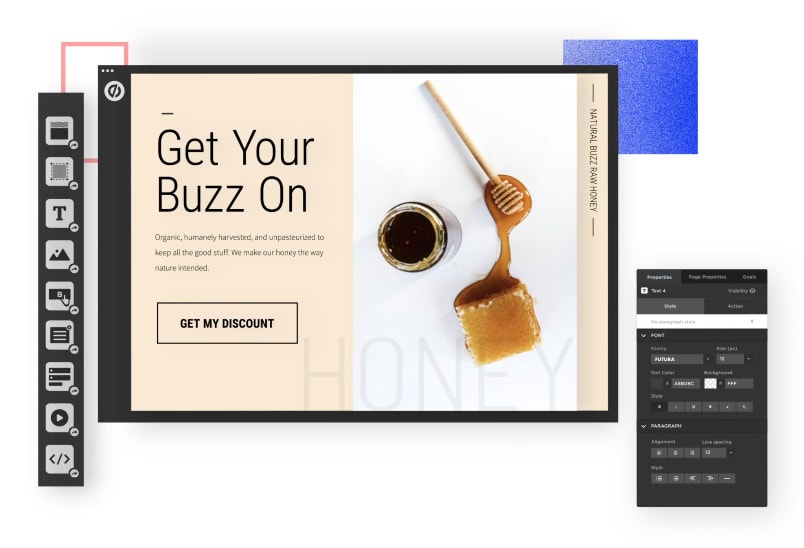 In a lot of cases, your email lists forms are going to appear on landing pages (and, if they don't, they should). This is one of many reasons why you're going to need a decent landing page builder on your side. There are plenty of good options on the market these days, but I tend to recommend Unbounce – mostly because its drag-and-drop landing page builder functions better than the alternatives I've tried.
However, Unbounce comes with some other features built-in that are going to help your email marketing and lead generation efforts in general.
#15: A/B testing
To convince people to sign up to your email lists, you need pages and content that inspire them to take action. Finding the right message can be difficult and, once again, this is something that requires optimisation. Which means you need some solid A/B testing tools on your side, so you can experiment with messages and determine which versions make the most impact.
If you're using Unbounce, the good news is you get A/ testing features included, which allows you to test any page you create using the tool. However, you're also going to want to test other pages that include email sign-up CTAs and there are plenty of tools you can use to achieve this, such as Optimizely and VWO.
If you need help with choosing a specific tool, take a look at our article covering the 10 best A/B testing tools.
#16: Heatmaps
A/B testing is a great way to improve parts of your pages but how do you know what to test? If users aren't scrolling far enough down your pages to see your email sign-up forms, it doesn't really matter how well you optimise them.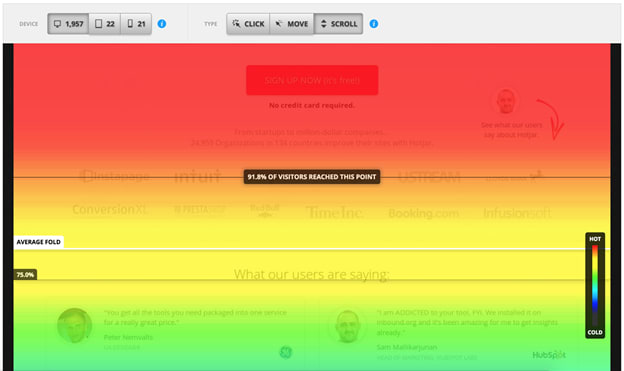 Heatmaps allow you to see what users are getting up to on your web pages and discover what might be getting in the way of them converting. For example, you can see which elements people are clicking, how far they're scrolling down your pages and how they're engaging with the most important elements on your page.
Hotjar is one of the most popular tools providing heatmap features and it also comes with some other tools we'll be looking at later in this article.
#17: Paid advertising
Your email lists are never going to grow if you're not bringing in enough traffic to achieve growth. Paid advertising gives you a controlled stream of traffic and allows you to target audiences that demonstrate a proven interest in your offer. This can make all the difference when it comes to convincing people to sign up to your email lists.
Google Ads is the undisputed king of paid search but Microsoft Advertising (including Bing Ads) is a channel you don't want to ignore. Social advertising brings in a different kind of audience and, arguably, greater tools to engage with them before they sign up to your email lists. Facebook Ads leads this department in terms of numbers (users and revenue) but it all comes down to which kind of audiences you want to attract.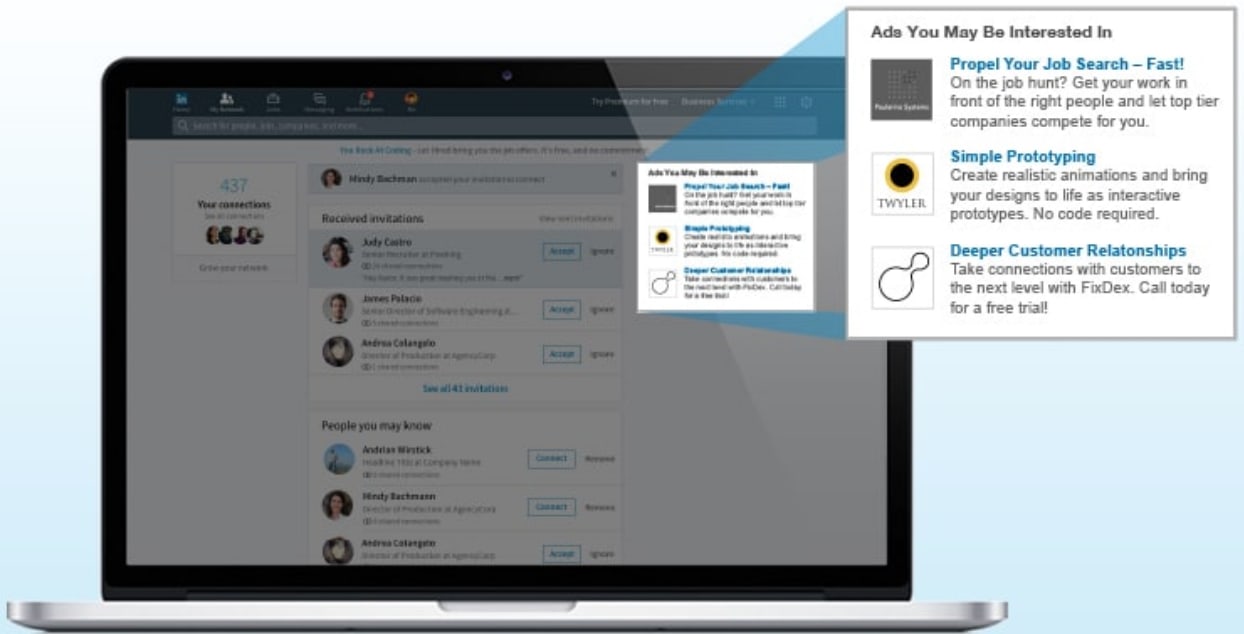 For example, LinkedIn Ads and Twitter Ads have more B2B clout, whereas Instagram is heavily geared towards B2C audiences. Facebook is actually very handy at both and its targeting options give you a lot of control over who sees your ads.
For tips on choosing the right paid advertising platforms and other tools to maximise your PPC efforts, check out our 50+ tools to help you nail PPC article.
#18: Customer Match, Lookalike Audiences
Google Ads and Facebook Ads both have very similar features that allow you to submit lists of emails and the platforms will then find new leads for your that show similar online behaviours as the people on your lists. Google Ads' Customer Match and Facebook's Lookalike Audiences essentially find new prospects for you and allow you to target them with visual ads on each platforms' display network.
#19: Exit-intent pop-ups
Exit-intent pop-ups are a great way to hit users with an email sign-up prompt, just as they're about to leave your website. One of the crucial roles email marketing plays is giving you a channel to nurture leads that aren't ready to buy yet and exit-intent pop-ups give you one last chance to get desktop users on board, instead of letting them walk away.
There's more good news for Unbounce users here, as the platform allows you to create, test and optimise pop-ups, which you can add to any page of your site – not only the landing pages you create in Unbounce. Unbounce's drag-and-drop pop-up builder makes it a breeze to create and add new pop-ups while the platforms A/B testing features allow you to test new messages calling upon users to sign up.
RafflePress is a WordPress plugin that aims to help you increase your email marketing list by running contests and giveaways on your website. You can promote these contests on social media and encourage users to share your contests with their online friends once they sign up.
If you're looking to run contests as a lead generation strategy, this is the first WordPress plugin you'll want to check out.
#21: Automated webinars
When 91% of business professionals say they prefer webinars over all other forms of content, you know this is an essential strategy for B2B marketers. The trouble is, running webinar strategies is tough if you have to hold live events on a regular basis.
Well, the good news is you don't need to run regular live events.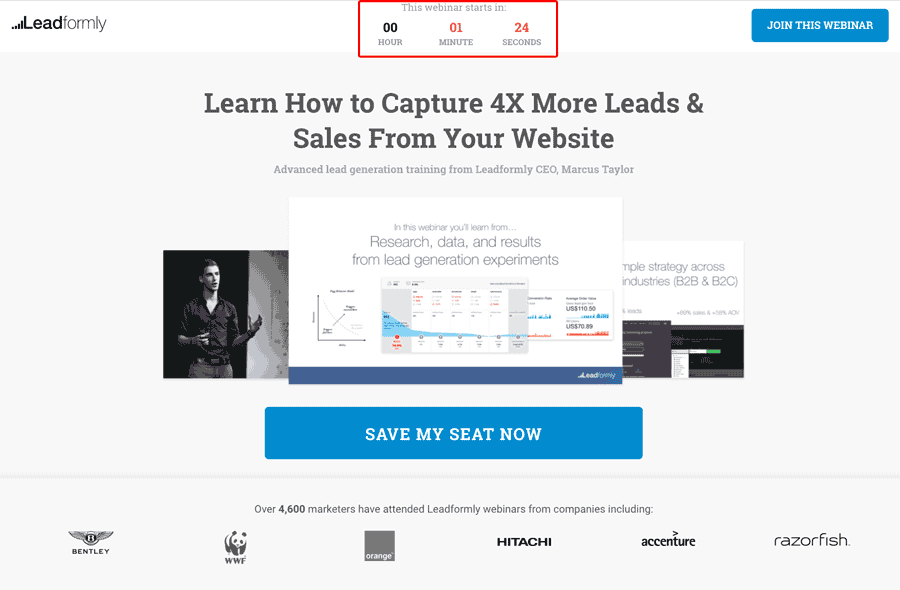 Webinar marketing has proven to be one of our most successful lead generation strategies here at Venture Harbour and we've automated the entire process. This automated strategy is constantly generating leads for us, growing our email marketing list and even nurturing leads without any manual input.
You can find out exactly how we do this by reading our guide to evergreen automated webinar marketing. We use ActiveCampaign, Leadformly and a platform called EverWebinar to pull it off – and the results have been nothing short of incredible.
Email segmentation tools
Now, that you're bringing in email sign-ups like a champion, you need the right tools to organise all of those leads and target them with relevant messages. These are the tools you need to make it happen.
#22: Lead qualification
The first step of lead segmentation is filtering out the leads that don't meet your criteria.
Let's imagine your business operates in the UK but you get people in other English-speaking territories downloading your content.
You don't want to spend time and resources on nurturing these leads if they have no potential to become customers.
A more complex scenario would be qualifying leads in the UK – perhaps by age, gender, job title, company or various other criteria.
If your campaign is targeting decision-makers at companies in the renewable energy sector, for example, lead segmentation allows you to filter out the irrelevant leads.
#23: Lead scoring
While lead qualification gives the "yes" or "no" vote to prospects, lead scoring literally grades the quality of leads with a numerical score.
This means you can prioritise the most valuable leads and target lower-scoring leads with campaigns designed to increase their scores and bring them closer to the sale.
For a closer look at lead qualification and scoring, take a look at our in-depth guide.
#24: On-page segmentation
Email segmentation should start as soon as users sign up, otherwise you're going to be placing prospects on generic lists and sending out irrelevant, non-engaging emails.
We use Leadformly to collect relevant info from users as they sign up and feed this data into ActiveCampaign, which places them on the appropriate list and automatically sends out the relevant emails.
#25: Site tracking
Segmenting leads by demographics data helps you target the right kind of audience but you can take things even further by targeting users based on the actions they take on your website – the pages they visit, elements they click, forms they start filling out but fail to complete, etc.
You can do this in Google Analytics but you'll need to be comfortable enough with GA to set tracking up. Website tracking is a little easier to set up on HubSpot but ActiveCampaign's built-in site tracking features are about as easy as it gets.
#26: Tagging
A crucial feature for lead segmentation is tagging. This allows you to create and place multiple tags on prospects, giving you full control over which segmented lists apply to them.
With tagging, you can also combine and overlap segments to create highly-focused campaigns.
#27: List management
When you're dealing with multiple lists for each marketing strategy, the list management features available in your marketing software are crucial.
You need to be able to create, edit, duplicate and delete lists easily – all of these actions should be no more than a couple of clicks away (you definitely want to have to confirm before deleting anything, though).
You also want to be able to assign prospects to lists without restriction.
#28: Automatic list assignment
List assignment is crucial for guiding users along the buying process, which involves moving them on from one list to the next. While you should have complete freedom to manually assign prospects to lists when necessary, this is something that wants to be automated 90% of the time.
This is where email automation really comes into the fold and this is a crucial tool you should expect to find in your choice of software. Ideally, you want a collection of prebuilt automation workflows that assign users to lists, based on the actions they take (both on-site actions and email engagement) but you also want the ability to build your own automated workflows easily.
Lead nurturing tools
As mentioned in the previous section, most of your email marketing efforts revolve around nurturing leads along the buying process. This isn't something you can do at scale manually so, in this section, we're going to be talking about a number of automation tools/strategies.
#29: CRM
The first tool you need for nurturing leads is a solid customer relationship management (CMS) system. This will help you bridge your marketing and sales departments, providing your sales team with all the information they need to jump in at the vital moment and close deals or address potential problems.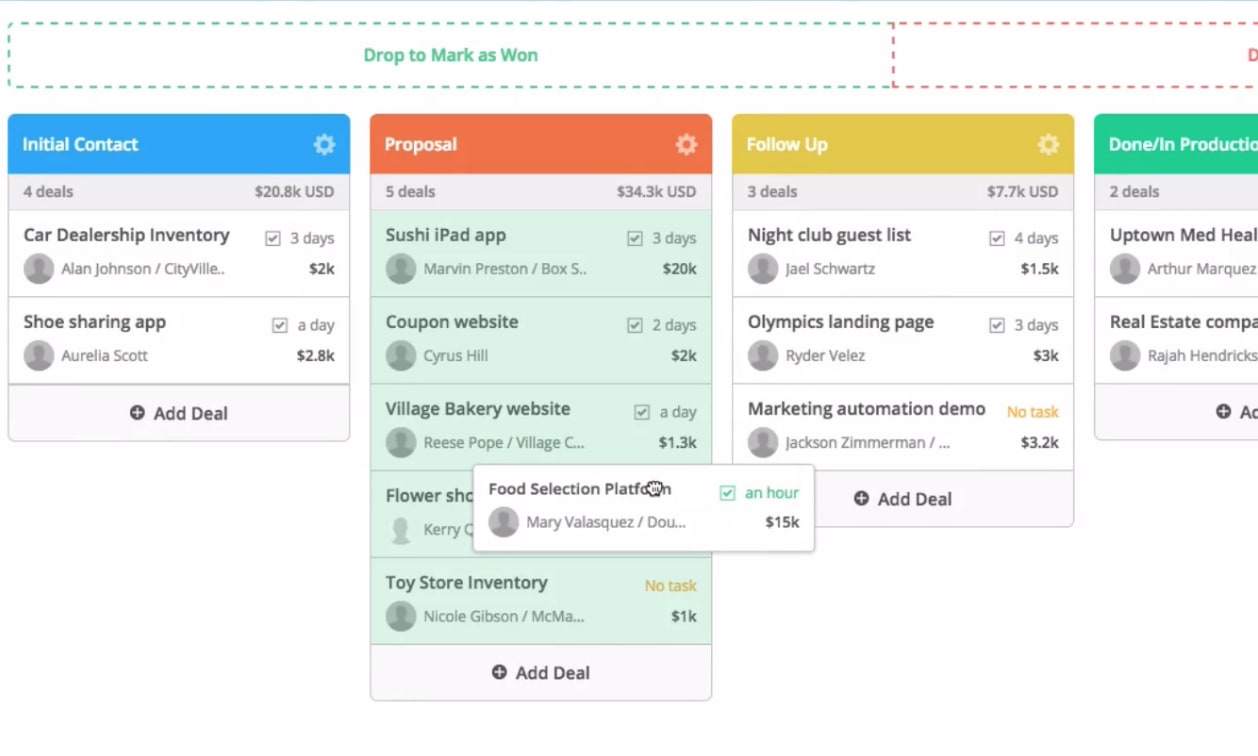 HubSpot offers a great CMS for free but you have to pay separately to add email automation, marketing and various other sales tools into the mix. Salesforce calls itself the world's number one CRM platform and you can read our review to see whether we think this is a valid claim.
All I will suggest is that you look for an all-in-one CRM, email marketing and marketing automation platform because you need all three of these fully-integrated to get the best from your email marketing strategy.
#30: Automatically assign leads to sales reps
One of the most fundamental tools of any CRM platform is being able to automatically assign leads to members of your sales team. Make sure this is a standard feature of whichever CRM tool you choose.
#31: Auto email responses
As we've discussed on this blog before, research from Harvard Business Review reveals that leads turn cold unless you respond to them within 24 hours. In fact, the quality of leads starts decreasing in value after the first hour and this explains why automatic email responses are so important.
#32: Drip campaigns
Drip campaigns are a type of email automation that sends out a series of emails to prospects over a specified period of time. For example, you might create a campaign that sends a confirmation email as soon as a purchase is made and then follow up a week later asking for feedback. This campaign could reach out again with recommended products after another two weeks and then a special discount for placing another offer after the third month.
Drip campaigns are a great way to keep prospects engaged with your brand and nurture customers after the initial sale (repeat buyers is always the target remember).
#33: Automated workflows
Now we're starting to get into the more advanced side of email automation and this is where things really start to come to life. With automated workflows, you can send out reminders to people who abandon their shopping cart, reach out to prospects who haven't engaged with recent emails, score lead quality based on user actions and so much more.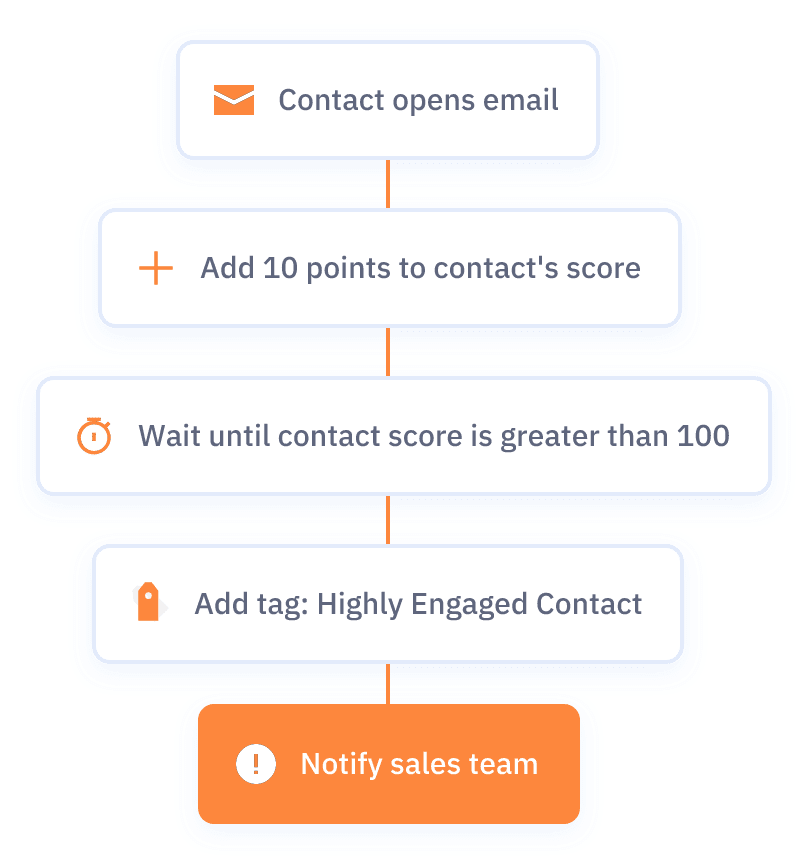 The important thing is to have an automation builder that makes it easy to create and edit workflows, as and when you need. This the right builder on your site, the only real limits to your email automation efforts are data access and creativity.
#34: Email personalisation
As many as 96% of marketers (Evergage) say personalisation can build stronger relationships with customers. Email marketing captures the data you need to create personalised experiences that genuinely add value to the customer journey and you want tools to help you make the most of this.
ActiveCampaign has Personalization Tags, HubSpot has Personalization Tokens and Campaign Monitor has its own version of tags that allow you to automatically address people by name and personalise messages, based on user data.
#35: Multi-channel integration
With consumer journeys more complex now than ever before, multi-channel marketing is becoming a basic requirement. Bringin all of these touchpoints together into a cohesive lead nurturing strategy remains one of the biggest challenges in marketing.
This is one area where the leading email service providers and marketing automation platforms are innovating. For example, last year, ActiveCampaign rolled out its Conversations platform, which helps turn website visits into CMS contacts, capture leads via live chat and turn every marketing channel into an email lead gen strategy.
#36: Transactional emails
Sooner or later, your marketing efforts need to bring in some money and this is where transactional emails come into the mix. Whether it's order confirmations, invoices, payment requests, subscription renewals or any other kind of transaction emails, this is one of the most important tools in your stack.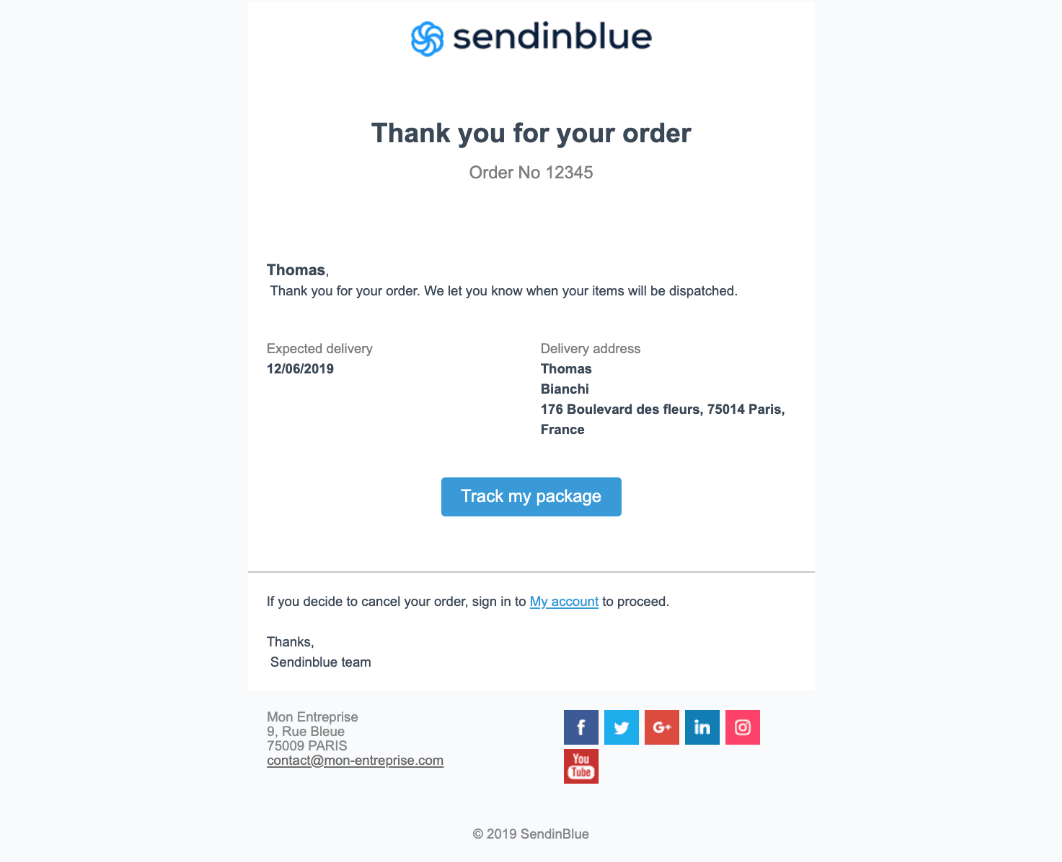 We use Sendinblue specifically for its transactional emails as it offers extensive support for different types of transactions, as well as crucial real-time performance insights to help you manage your payments. Sendinblue's transactional email features alone are enough to keep us using the platform as a key part of our email marketing strategy.
#37: Dynamic content
We've already looked at email personalisation tools but there also plenty of other resources that can be personalised to increase email engagement even further. For example, with Google Ads, you can use dynamic keyword insertion to make your ads include the keywords users types as they search, which should increase click-through rates to your landing pages.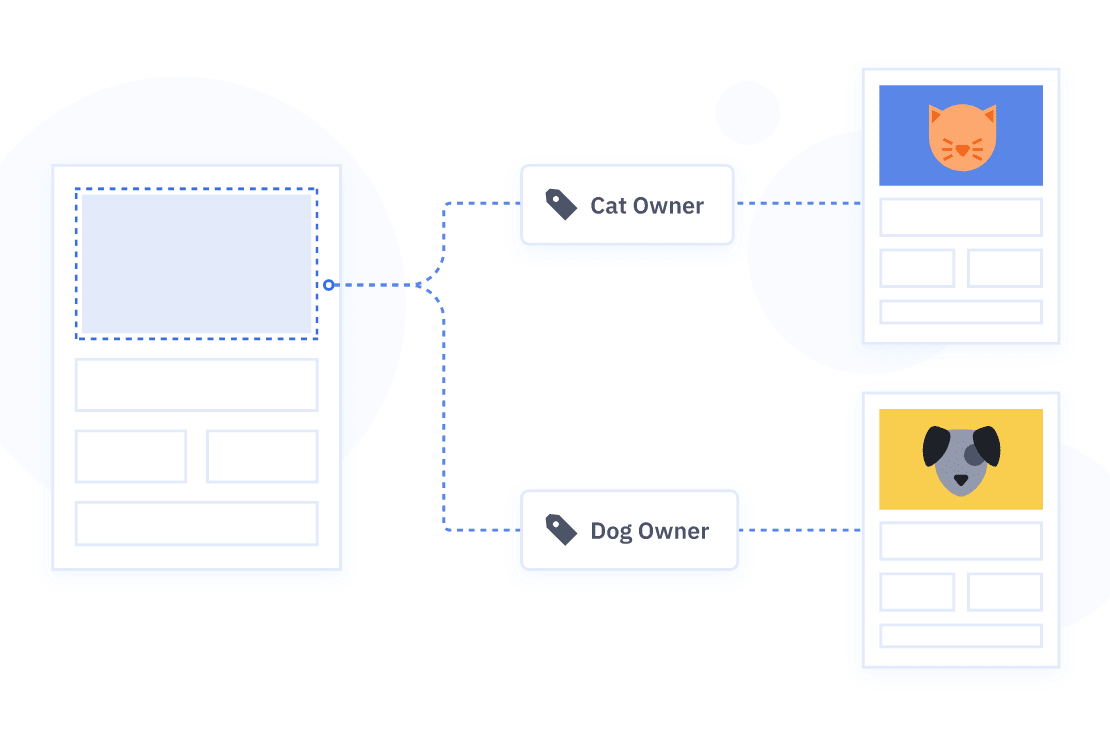 Next up, you can use Unbounce's Dynamic Text Replacement to match the messages on your landing pages to the text in your ads, reducing the total number of landing pages you need to create while increasing the relevance and (hopefully) conversions/email sign-ups.
And, to wrap things up, you can use dynamic content in ActiveCampaign to match the content in your emails to user interests and actions. Combine tools like this and you've got a lot of power to personalise your messages and maximise relevance.
Campaign performance & testing
At this stage, we've looked at all the tools you need to create epic email campaigns but even the best strategies still have room for improvement. To find out where these opportunities are, you need a solid set of performance tracking and testing tools.
#38: Email analytics
Make sure your email marketing platform has the analytics and reporting features you need or integration with third-party tools.
Description (100 words max)
#39: Email A/B testing
We mentioned web and landing page A/B testing as a means of increasing email sign-ups earlier but you're also going to need a tool for testing email campaigns, too. This should be a standard feature in your email marketing software platform – otherwise, you'll need to get a third-party option
Description (100 words max)
#40: Google Analytics
No matter how good your email marketing platform is at site tracking and reporting, Google Analytics will add something to your reporting.
For example, you can use GA to link email and organic search data to your PPC campaigns for a complete overview of the three strategies working together.
Another key function of Google Analytics is URL tracking, which helps you see what journey users take after clicking through from your emails.
Make sure your email marketing platform has dedicated GA integration.
#41: Page speed tool
Your landing pages aren't going to get email sign-ups and users aren't going to convert after clicking through from your emails if your pages are loading too slowly.

Loading times matter, so get yourself some speed testing tools. Google's free page speed tool is a decent place to start.
I mentioned Litmus earlier and there are a lot of reasons to like this piece of email marketing software.
It's not an all-in-one email marketing, CRM and marketing automation platform like ActiveCampaign and HubSpot but it excels at email design, testing and reporting.
#43: Customer lifetime value calculation
You can do this manually but artificial intelligence is now making it possible to predict the lifetime value of new leads/customers earlier and make the big spenders a priority sooner.
You can check out some Google documentation on building your own AI algorithm for predicting customer lifetime value but there are plenty of predictive analytics tools hitting the market now that include this as a feature, such as Klaviyo.
Predictive analytics is still a relatively new technology that hasn't really broken into small business software but it's only a matter of time before it becomes as widespread as tools like email marketing automation.
#44: Subject line tester
A decent subject line tester can point out opportunities you wouldn't normally see and save you from overlooking some glaring mistakes.
There are plenty of tools you can choose from – take a look at this list of recommendations from HubSpotif you need some help choosing.
Customer retention tools
The long-term goal of every email marketing strategy is to turn customers into repeat buyers, brand advocates, positive reviews and maximising the lifetime customer value of each lead.
#45: Chatbots / live chat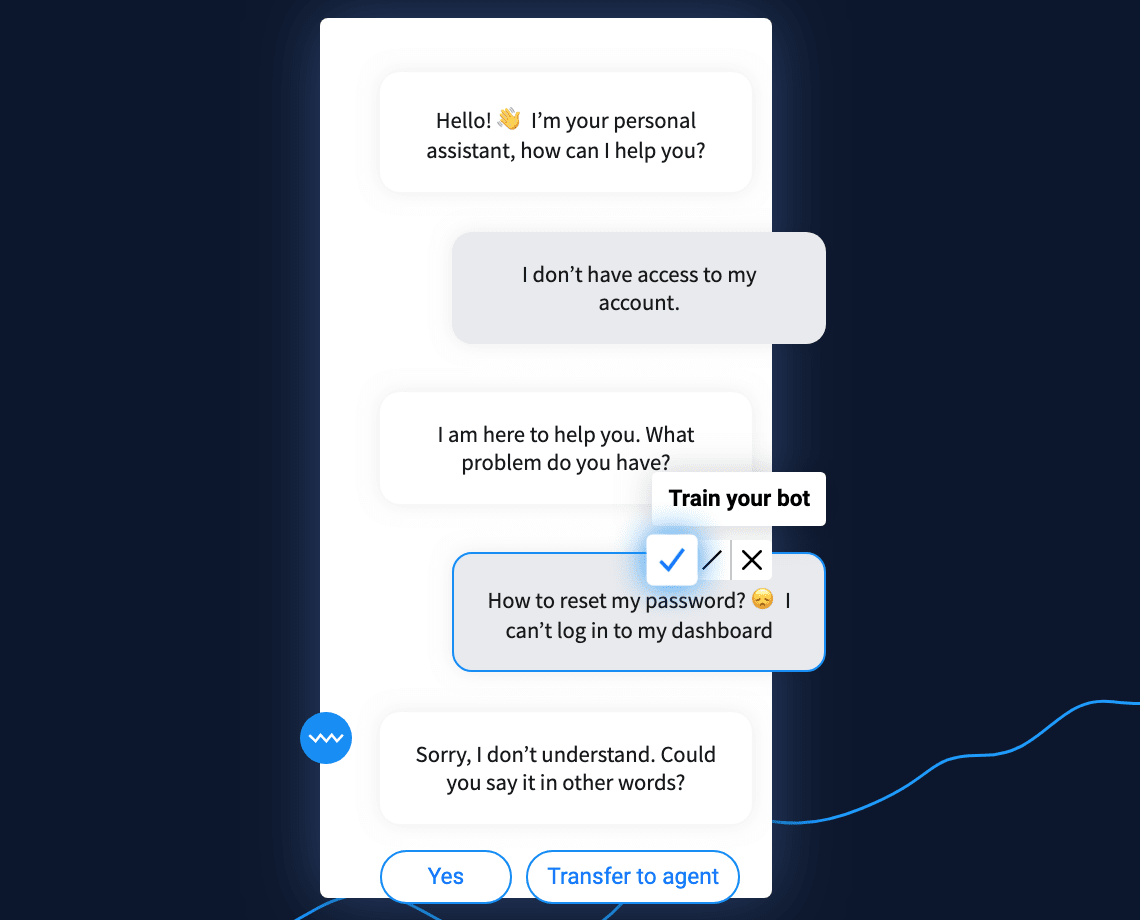 ChatBot.com is one of many chatbot and live chat providers changing the way brands provide customer service.
Chatbots and live chat widgets provide an automated first line of customer service, giving people and instant response to their problem and questions. Even if your bot isn't able to solve an issue during the first session, it provides that crucial instant response and can point users to relevant information until your customer service team is able to respond.
#46: Automatic ticketing, responses
As soon as a customer issue is reported (whether via chatbots, email or any other channel), it's crucial that you're able to automatically create tickets so no problems are left unresolved. You also need to send out automatic email responses to tell people their ticket has been raised and that their issue will be dealt with as quickly as possible.
When customers run into problems, you need to respond instantly and solve their problem as quickly and effectively as possible.
#47: Customer feedback
Feedback is critical for improving the customer experience – both positive and negative responses. Hotjar has some great customer feedback features to get valuable insights into what people enjoy about buying from your brand and what could be improved.
#48: Customer review notifications
While customer feedback is for your internal use, public online review platforms like Google Reviews and Trustpilot are visible for the world to see – and a crucial factor in generating new leads, as well as a key indicator of your ability to turn customers into repeat buyers.
Again, you need to respond to reviews quickly and this starts with getting notifications from your chosen platforms. Google Review notifications and Trustpilot notifications are easy to set up but keep in mind that people will be able to see if you're sending generic, automatic responses on these platforms.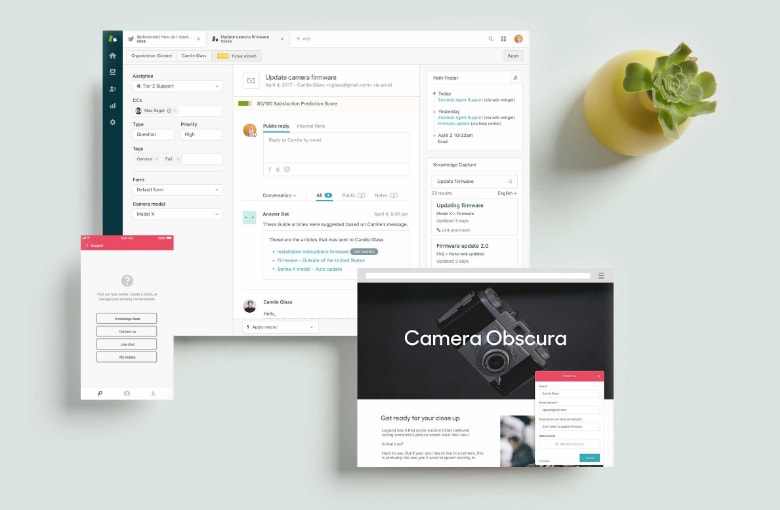 Zendesk is a complete customer service platform designed to help you support the people most important to your business. You can implement chatbots/live chat, create knowledge centres, integrate phone and email support and coordinate all of your customer service efforts in a single place.
#50: Lifetime cycle emails
The journey customers take between purchases is often long and complex. Other times, this journey can be much shorter (e.g.: buying an accessory for a primary purchase) and you need to understand these journeys if you want to ensure your customers continue to buy from you.
Lifetime cycle emails should keep people engaged between purchases and make sure your business is there when the time comes to buy again. Take a look at this ActiveCampaign article on customer lifetime cycle emails for practical examples you can implement into your email marketing strategy.
Take your email marketing efforts to the next level
With this comprehensive list of email marketing tools and strategies, you should have plenty of inspiration to create and manage better campaigns at every stage of the consumer journey. If you think we've missed any tools/tips in this article, give us your suggestions in the comments section below.