If you look back at the previous decade in marketing, you can get an idea of how quickly things are moving these days. Trends have come and gone, some of them have transformed the way lead generation works (e.g.: automation) and others have flopped harder than Google Glass (remember the beacon revolution?).
In fact, my favourite thing about trends is how many of them are doomed to fail and I think I've developed a pretty good eye for spotting the ones that are going to stick around – although, I'm not sure it's all that difficult.
So, in this article, I'm looking at lead generation trends that actually matter and I promise there's no mention of this being the year of voice search, VR marketing or chatbots (again).
Which lead generation trends matter now?
The thing with trends is they come and go and the lifecycle of these things seems to be getting shorter every year. I count this as something positive because bogus trends are called out sooner and the hype dies down faster.
What we're left with is lead generation strategies that are actually going to make a positive impact on the volume and quality of leads you're able to capture.
Here are ten good examples:
Account-based marketing is the new normal for B2B brands.
Hyper-personalisation might sound like a buzzword but I'll explain why this is the real deal.
On-page lead qualification.
Automated marketing and sales integration.
Community-based marketing.
Multimedia thought leadership.
Featured snippets are where the SEO battles are won and lost.
Page experience as a ranking signal makes UX all the more important.
Making GDPR compliance usable.
Maximising customer lifetime value.
My basic formula for assessing marketing trends is to look at the technology currently available, how users actually used said technology and what problems this combination could potentially solve.
For example, if people aren't using voice search to buy products in significant numbers, there's no way for tech giants like Google to successfully implement ads and users can't somehow view images or compare prices, voice search clearly isn't ready to change the way people shop online.
So let's move on to some lead generation trends that are becoming increasingly important.
#1: Account-based marketing is the new normal for B2B brands
In the 2019 ABM Benchmark Survey Report from Demand Gen Report, 94% of B2B marketers questioned in the survey said they're engaged in account-based marketing, up from 47% in the 2016 version of the same report.
Half of respondents said their AMB strategies have been in place for more than a year while another 25% have been engaged in ABM between 6-12 months.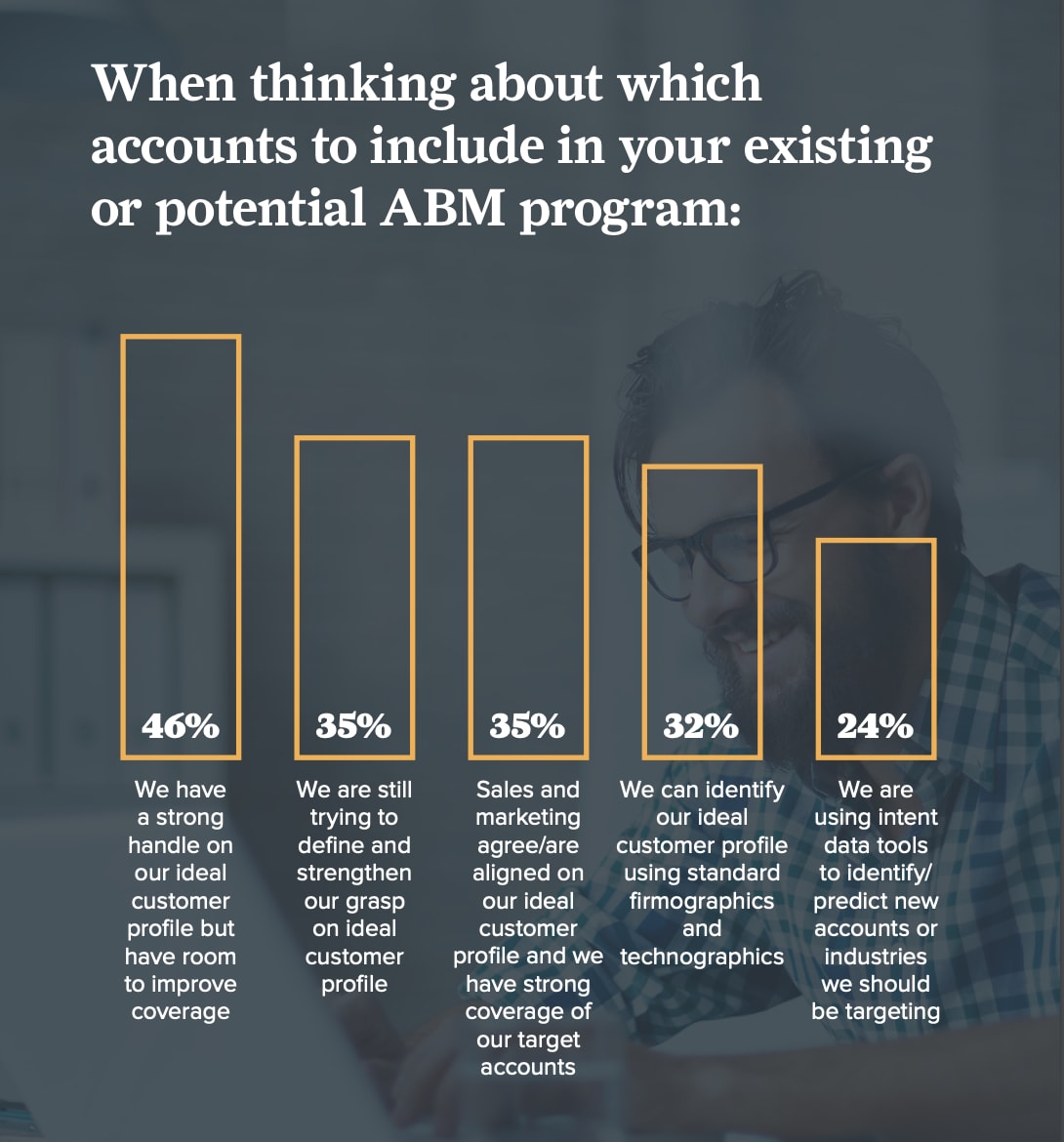 Interestingly, 46% of those asked in the survey said they're confident they have identified their target customer profiles while admitting there's still room for improvement, particularly in terms of coverage.
These stats tell us that account-based marketing is the new normal for B2B brands. There's been a lot of talk about this over the past few years but AMB is a genuine growth tactic – one that's not going to fade away like dozens of buzzwords that crop up every year.
So what are B2B brands actually buying into with account-based marketing?
According to HubSpot, "Account-based Marketing (ABM) is a focused growth strategy in which Marketing and Sales collaborate to create personalised buying experiences for a mutually-identified set of high-value accounts."
The key phrases in that definition are growth, marketing and sales, personalised experiences and high-value accounts.
AMB exists because B2B businesses have a long history of casting wide nets with their marketing efforts, launching campaigns with broad, anonymous target audiences and then simply passing leads over to sales teams.
There are a number of problems with this:
Lead quality varies greatly
Customer value also varies (many simply aren't worth pursuing)
Your marketing and sales goals are misaligned
Your sales team has to work incredibly hard to close deals
You invest a lot in leads that never materialise
Some of the leads that do materialise don't generate enough ROI
With account-based marketing, you define a list of target customers and profiles, based on the value they will add to your business. You then focus your resources on capturing these prospects as leads, knowing that every success will achieve your ROI targets.
By targeting high-value prospects, your marketing and sales teams are both working towards the same goal: securing customers that will generate the most profit for your business. You're no longer running campaigns that aim to generate the highest amount of leads; you're running campaigns to generate the most profitable leads.
Best of all, you've already qualified these leads so your sales team only puts resources into potential customers that are truly worth the investment.
#2: Hyper-personalisation drives customer experiences
Crossing over into B2C marketing for a moment, one of the most significant trends making traction right now is hyper-personalisation. While this is a relatively new trend for consumer-focused brands, it's a strategy that B2B businesses should take a serious look at, too, especially with the greater emphasis on personalisation that comes with account-based marketing.
In fact, towards the end of 2019, I wrote a previous article looking at B2C hyper-personalisation examples that B2B brands should learn from.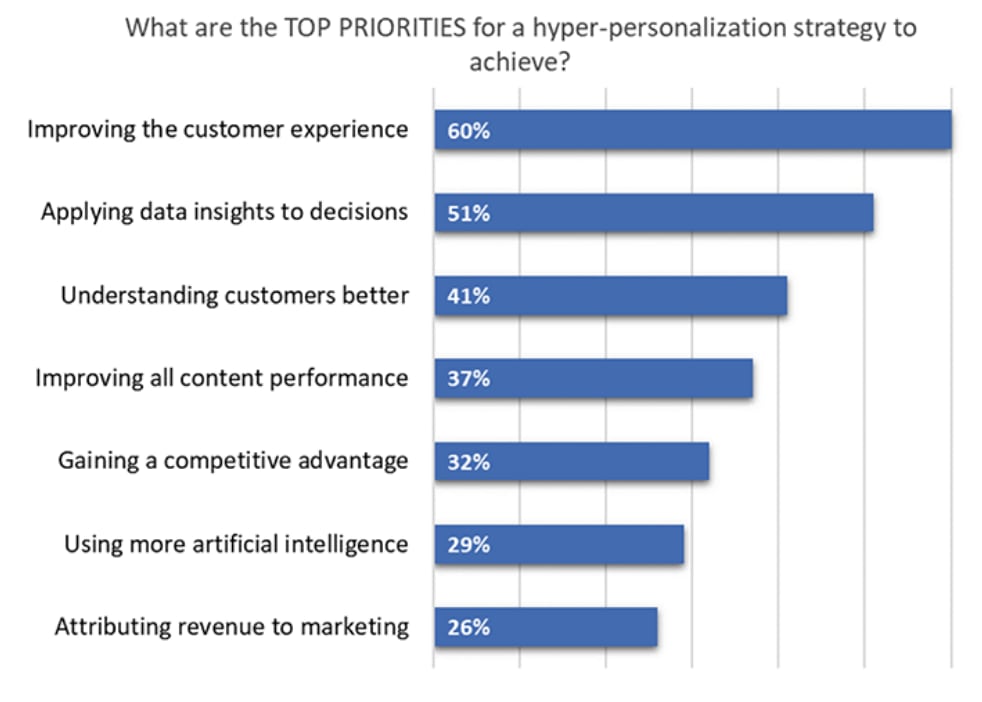 Take a look at the top priorities marketers cite for their hyper-personalisation strategies and you'll perfectly align with the concepts of account-based marketing, customer experience (CX) and effective lead nurturing.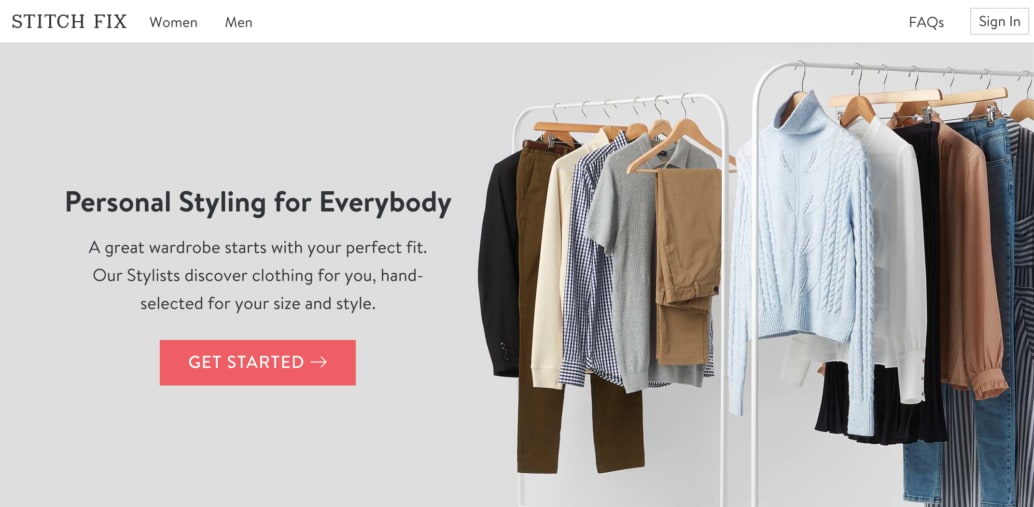 Examples of B2C hyper-personalisation range from the likes of Stitch Fix, which delivers personalised clothing and outfit packages to customers based on their style preferences, to software platforms like Spotify that not only offers personal recommendations but also encourages deep account customisation to keep users locked in.

Now, let me take a moment to acknowledge how much hype there is around personalisation. This is a buzzword concept marketers love talking about without actually providing any useful examples, data, implementations or strategies.
When I first heard the phrase hyper-personalisation I actually laughed out loud (genuine lols) because it just sounds like a poor attempt of making personalisation sound new and exciting.
I mean it's even got the word "hype" in it, for crying out loud.
So I'm not a fan of the phrase itself but, when you analyse what the strategy actually involves, things start to make a lot of sense.
Last year, a report from SmarterHQ revealed that 72% of consumers now only engage with personalised marketing messages that are tailored to their interests. The same report also found that 86% of consumers are concerned about their data privacy.
Previous studies have also found that, despite security concerns, people are willing to exchange their personal data for personalised offers. In one study, 90% of respondents said they were willing to share their behavioural data if it results in cheaper prices and easier shopping experiences.
The message is clear: people want personalisation and they're willing to hand over their data in exchange for it – as long as the reward and experience justify it.
Hyper-personalisation provides a truly individual experience that improves as users provide more of their behavioural data. The result is more relevant clothing recommendations, suggested playlists, movie recommendations and purchase advice.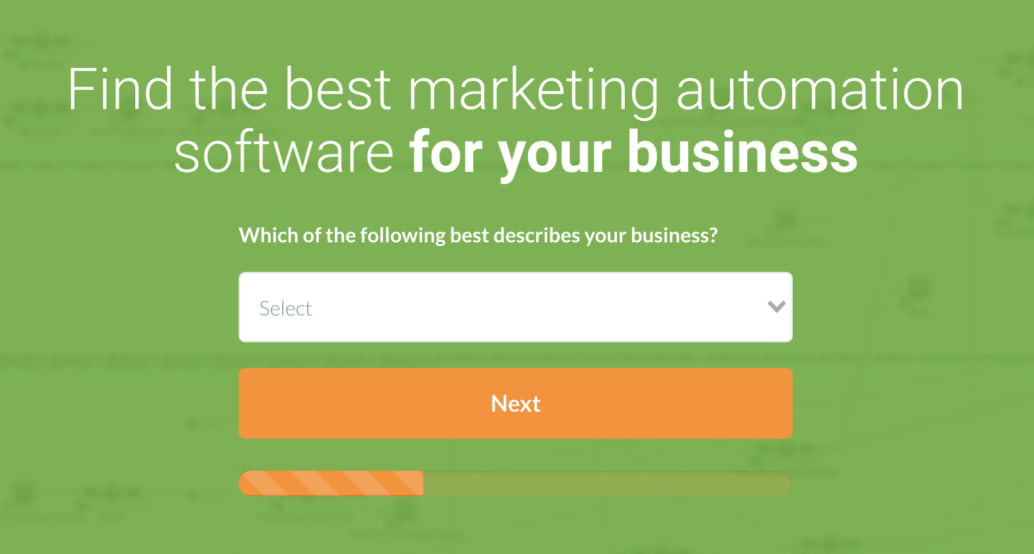 In the case of a brand like Stitch Fix, users receive a 100% personalised experience and they understand all of the data they submit contributes to improved experiences. There's no issue here with data privacy issues because the entire business model revolves around data exchange and people uncomfortable with this would never sign up in the first place.
Software brands can learn a lot from the likes of Spotify, too, which encourages heavy account customisation, to the point where it becomes difficult to imagine leaving. The thought of losing all those playlists you've created, albums you've saved and artists you've followed makes $9.99 feel like a measly fee.
In contrast, it's easy to ditch the Netflix subscription because you haven't invested hours upon hours into customising the platform. You lose nothing by hitting the pause button or cancelling your subscription entirely.
SaaS and software companies, take note.
#3: On-page lead qualification
Going back to a concept we touched on in this first section, marketing strategies always generate a percentage of "leads" that don't have any value to your business. There are all kinds of reasons you might end up with unwanted prospects on your lists, for example:
They don't match any of your target buyer personas
They don't live in a country your business operates in.
They don't have the authority to make purchase decisions.
They won't spend enough to generate a reasonable ROI.
They were never interested in buying from you in the first place – e.g.: someone who downloads your content for research purposes only.
The list could go on. It all depends on what you require from a lead for it to be worth pursuing.
Lead qualification is the process of vetting prospects to determine which ones deserve a place on your list of leads. I've discussed this topic in detail in previous blog posts but the point I want to make here is that effective lead qualification can be tricky.
Manually qualifying leads is unworkable and even automated solutions rely on collecting enough data to make informed decisions. Capturing this data is a challenge and you have to find the right balance between positive UX and data capture through your lead generation strategies.
One solution is to create a friction-free sign-up process and push leads for more information after they've signed up. The problem is, this relies on users actually providing the follow-up data you need before you can determine whether they're worth your time and effort.
The other option is to forget about friction and demand the data you need upon sign-up, knowing that some prospects will refuse to sign up as a result.
Luckily, there is a third option that allows you to capture the data you need for qualifying leads while maintaining a positive user experience.
We use Leadformly to create multi-step forms that capture user information while prospects sign up and send this data to our CRM platform (ActiveCampaign), which automatically qualifies leads, as soon as they hit the submit button.
Our forms use a technology called conditional logic, which filters out irrelevant questions based on the information users provide. So users only answer see the questions that matter to them and we're able to ask all of the questions we need without hurting UX.
We also reduce typing load with image buttons and a range of other techniques to reduce negative friction but the key point here is lead qualification.
This implementation allows us to automatically qualify leads on our website so our lists are filled with high-value leads and nothing else.
#4: Automated marketing and sales integration
Going back to the 2019 ABM Benchmark Survey Report we looked at earlier, respondents say their biggest challenge with account-based marketing is aligning their marketing and sales efforts.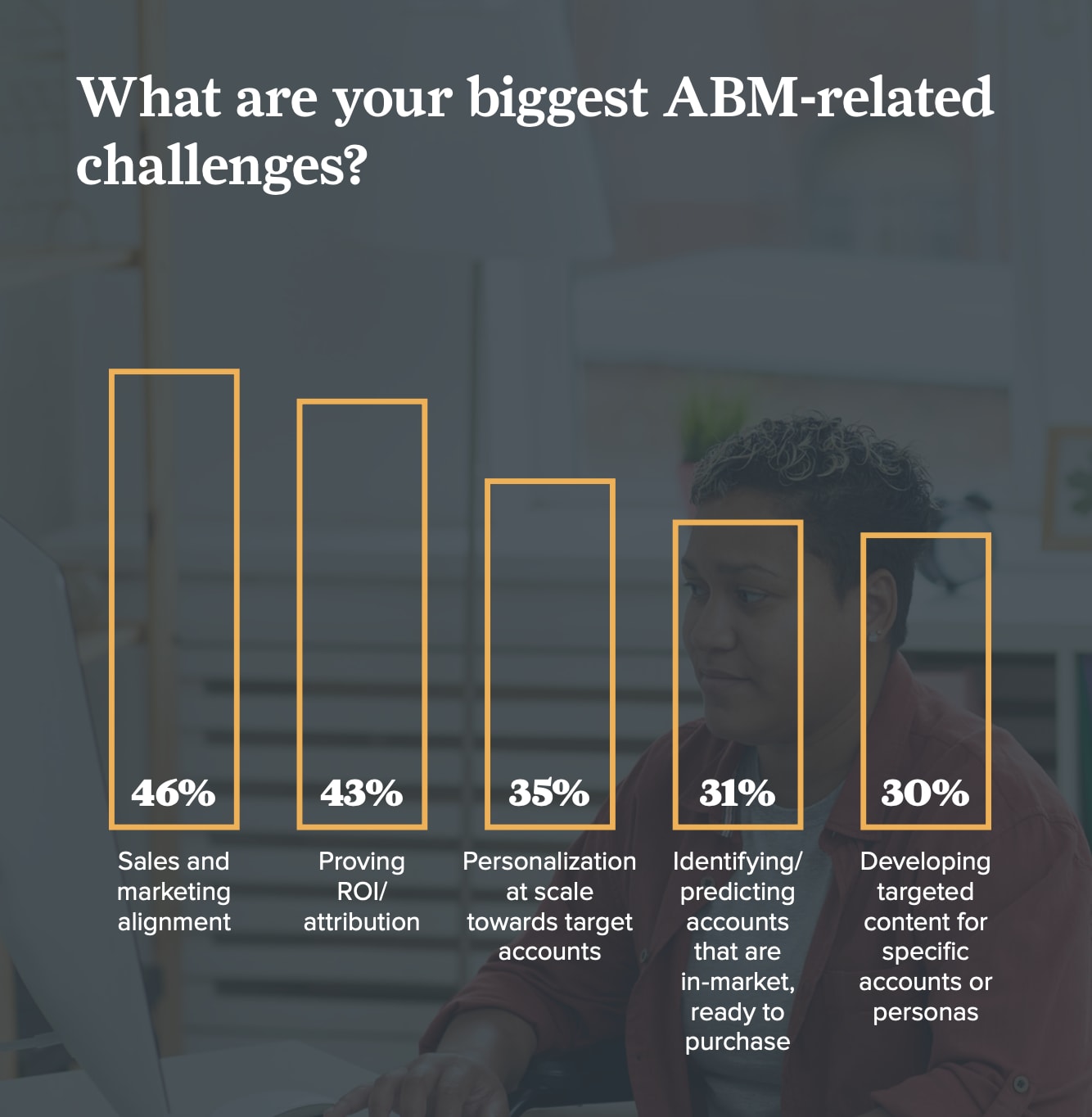 Of course, this challenge doesn't only affect account-based marketing, either. Any company with dedicated marketing and sales teams faces this challenge and we've already addressed a number of the difficulties this poses.
One benefit of account-based marketing is that it forces you to align marketing and sales (as they should be) but many companies simply never address their mismatched marketing and sales efforts.
This means your marketing strategies are going to generate a higher volume of leads that never materialise and your sales team is going to spend significantly more time trying to close deals.
First, you're going to need a software system that allows you to integrate your marketing and sales processes. This means a customer relationship management (CMS) system with integrated email marketing, sales and marketing automation.
This automation will bring your marketing and sales efforts together.
Take a look at our in-depth guide to the best CRM platforms for every business type to find the right platform for your business.
In the last section, we looked at how you can use Leadformly to qualify leads as they complete your forms by feeding this data into a CRM platform like ActiveCampaign which will automatically viable leads to relevant lists for your sales team – no manual action is needed at all.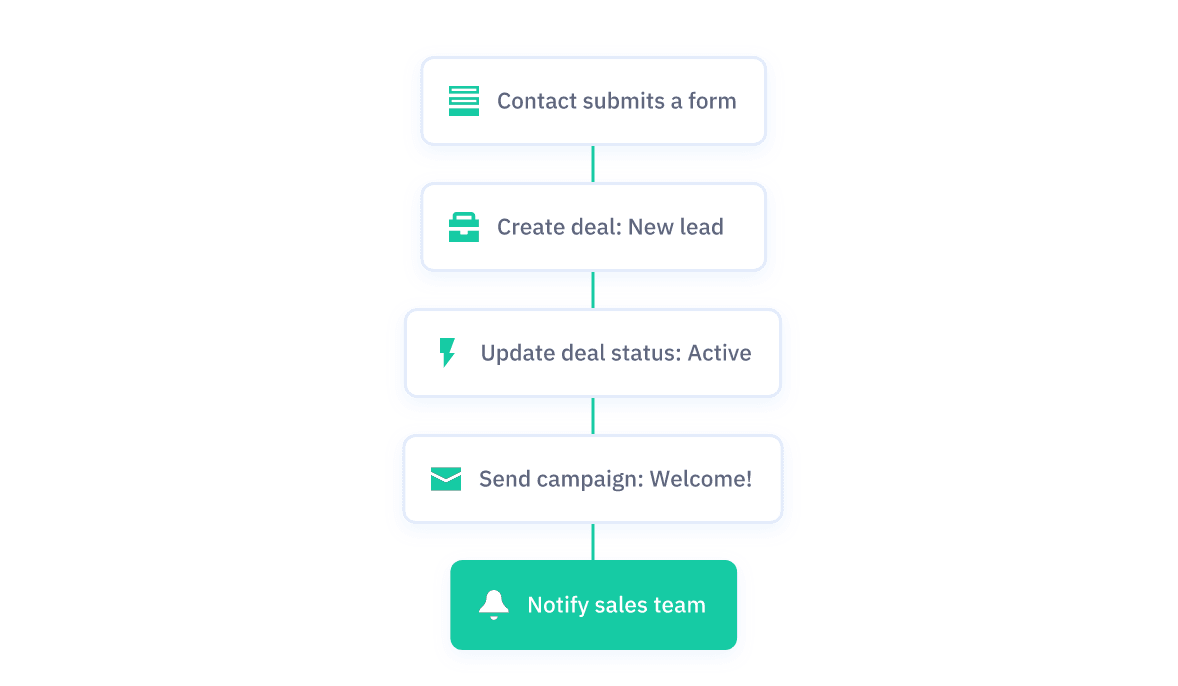 This means your sales team only receives leads that have genuine potential, which means less time wasted on prospects that will never convert or simply aren't worthwhile. As you can see from the sample workflow above, you can also automate lead statuses for sales reps, send instant and timed email responses and send notifications to sales teams so they're always up-to-date.
One of the biggest challenges with aligning marketing and sales processes is knowing where one ends and the other begins. Most of your leads aren't ready to buy at the first interactions and require some nurturing until they're ready to make the purchase and you're confident the purchase is worth enough to pursue.
At this point, your sales team needs to know when to jump in at the right moment and take over.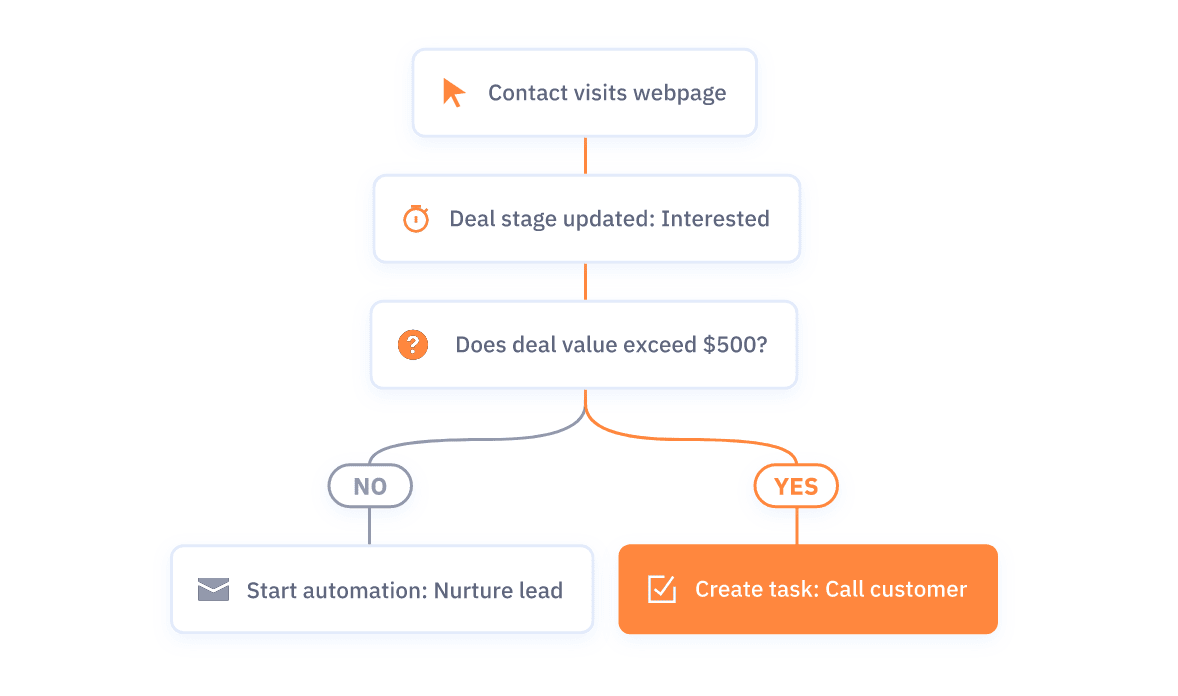 With the right workflow, you can automate this process, too – as illustrated above. So when prospects complete an action that signifies purchase intent, the status of the lead/deal is updated automatically. You can also apply qualifiers to ensure the deal is worth a certain amount before your sales team is notified and told to step in.
If the deal isn't worth enough yet, your automated lead nurturing campaigns will continue to work the lead until the deal hits your value target.
#5: Community marketing
Community marketing as a concept has been around for years but few brands have really taken the lead with this strategy. Sure, you could argue LinkedIn, Quora and Facebook groups are forms of community marketing but the brand presence is all-too-often overshadowed by discussion.
According to AdRoll, "Community marketing is a brand growth strategy centred around bringing customers together over a topic that is aligned with, or directly related to, a brand in an engaging and non-intrusive way that puts customers first."
So how do implement a community marketing strategy that puts customers first while still putting the brand in a position of influence?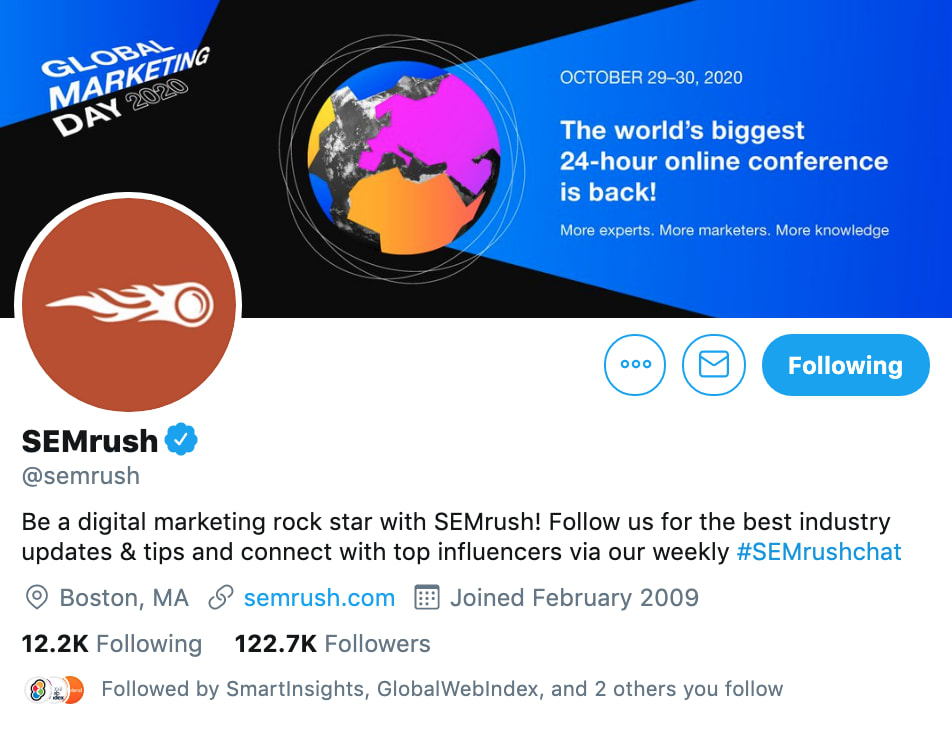 SEMrush is currently my favourite example of a company that nails community marketing. This is noticeably the most active account I follow on Twitter and it seems like the company engages with every tweet, retweet and mention of its brand.
It doesn't matter how influential you are in the industry or how many followers you've got, SEMrush will engage with you.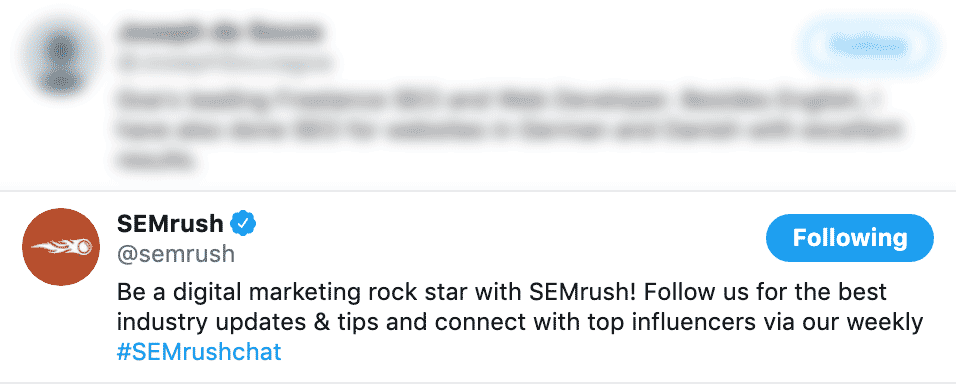 Now, a lot of these tweets are superficial mentions of the company's software or its content and I'm sure these likes are automated. But, the point is, SEMrush engages with people and this encourages people to interact with its brand. After all, people like me who follow SEMrush are going to see these liked tweets and everybody benefits from the exposure.
SEMrush has built its own engagement community on Twitter and the reach is impressive.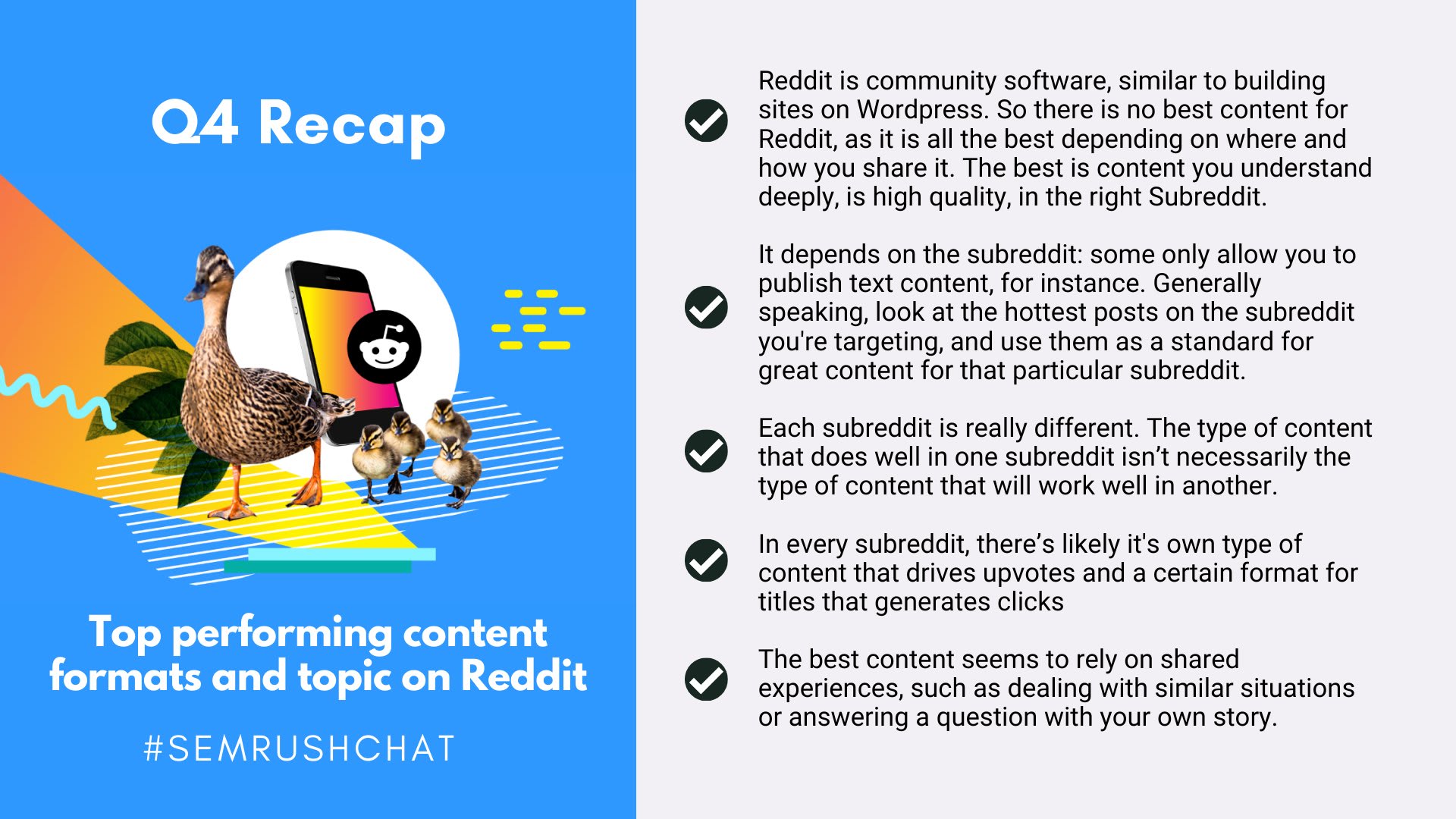 SEMrush feeds this reach back into its community and you can see the results when it holds one of its weekly #SEMrushchat sessions on Twitter. Once a week, my feed is filled with people answering the questions posed by SEMrush with experts and community members weighing in with their advice and experiences.
The community clearly comes first and SEMrush works hard to engage with every member but it also manages to keep its brand centre stage without ever pushing its product.
Everyone knows what its software platform has to offer and the company simply keeps the product at the forefront of everyone's mind while providing genuine advice and insights for its community.
#6: Multimedia thought leadership
According to the 2020 B2B Thought Leadership Impact Study, published by Edelman and LinkedIn, 89% of business decision-makers say thought leadership is effective at improving their perception of a brand.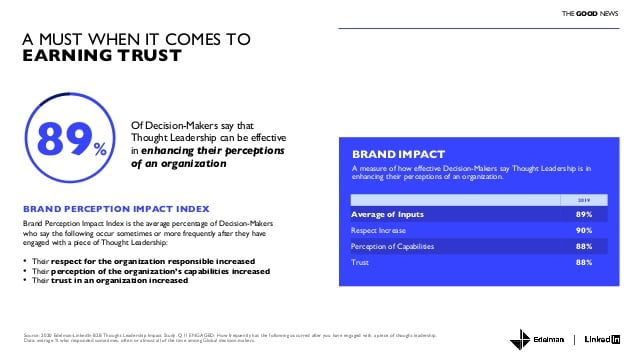 To add a little more context, 90% of respondents said thought leadership increases their respect for organisations while 89% said their perception of the brand's capabilities increase and 89% also said they trust brands more that produce convincing thought leadership content.
So thought leadership is an important strategy but publishing content on LinkedIn isn't enough to demonstrate your authority.
Thought leadership is a multimedia strategy and you have to think bigger than LinkedIn, SlideShare and infographics (these are all still viable options, though).

Some of the most impressive thought leadership content right now is being published on YouTube where people like Bryan Elliot (Behind the Brand) and Marie Forleo have built their own personal communities.
Major names like Google and TED have their own YouTube channels for sharing insights and thought leadership content, too.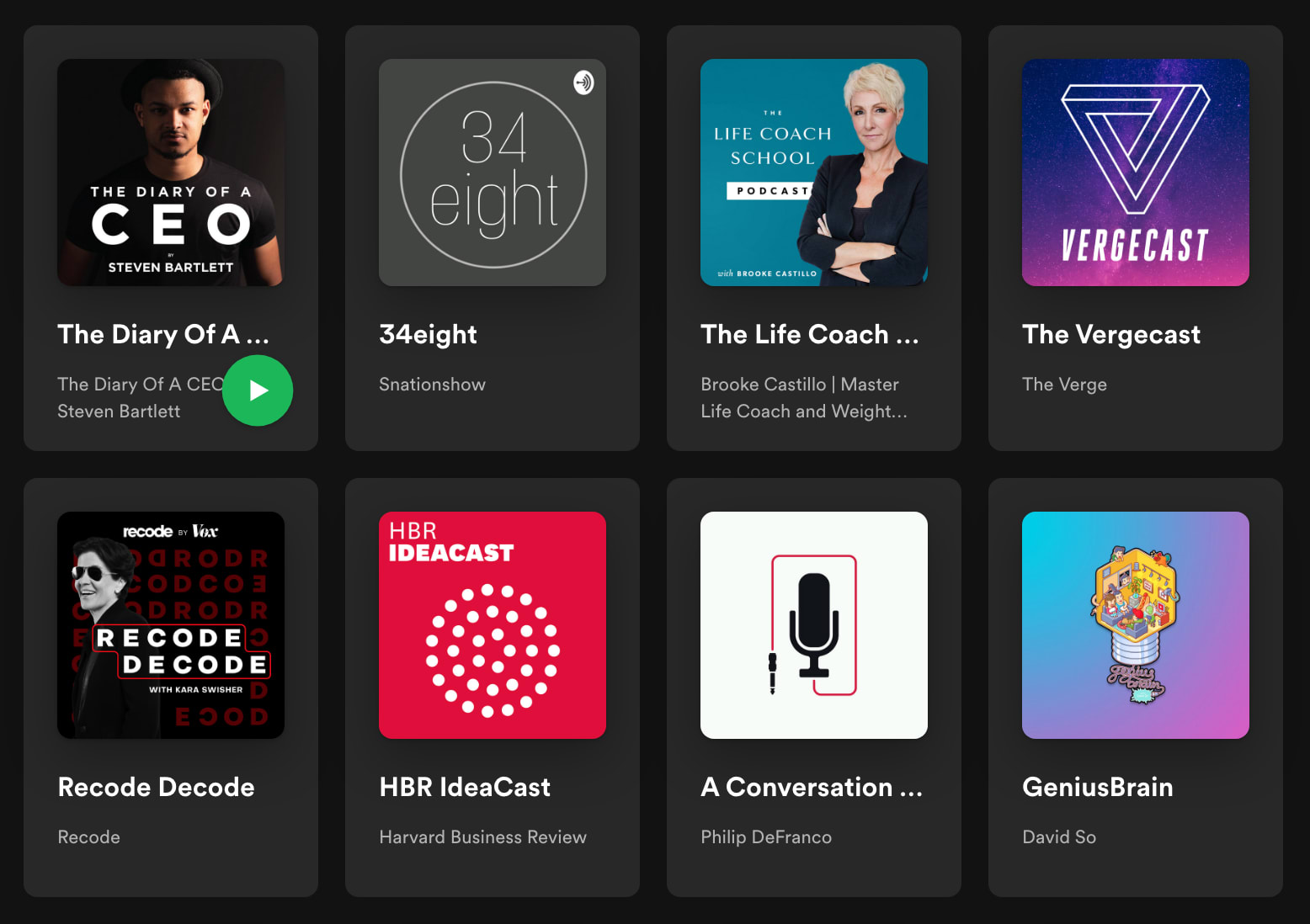 Podcasts are gaining a lot of traction right now, too, with a 51% increase in listeners since 2019 in the US alone.
It's important to understand the benefits and limits of each content type, too, and diversify your efforts. For example, videos are great for times where you want to sit down and concentrate on something but they're not ideal when you're on the move and listening to a podcast can be more suitable.
At the same time, there are moments where simply reading an article is more useful or information is easier to scan, reread and take notes from. So consider the role your content aims to play and which format is most useful to your audience.
#7: Featured snippets are where the SEO battles are won and lost
There's been a lot of talk in recent years about Google killing organic search by placing more ads in the SERPs and pushing organic links further down the page with products like Google Shopping, Google Flights, local listings and all kinds of other stuff.
In 2018, Smart Insights called it the incredible shrinking organic SERPs and last year WordStream published data showing a 5.5% overall reduction in the presence of organic listings.
To make matters worse, Moz data shows that featured snippets display for 23% of all searches – a 165% increase since 2016. Which means almost a quarter of all results pages are dominated by a single-answer result.
Add this to all the searches that show ads and other Google products above organic results and you can see that featured snippets are where SEO lead generation is won and lost in 2020.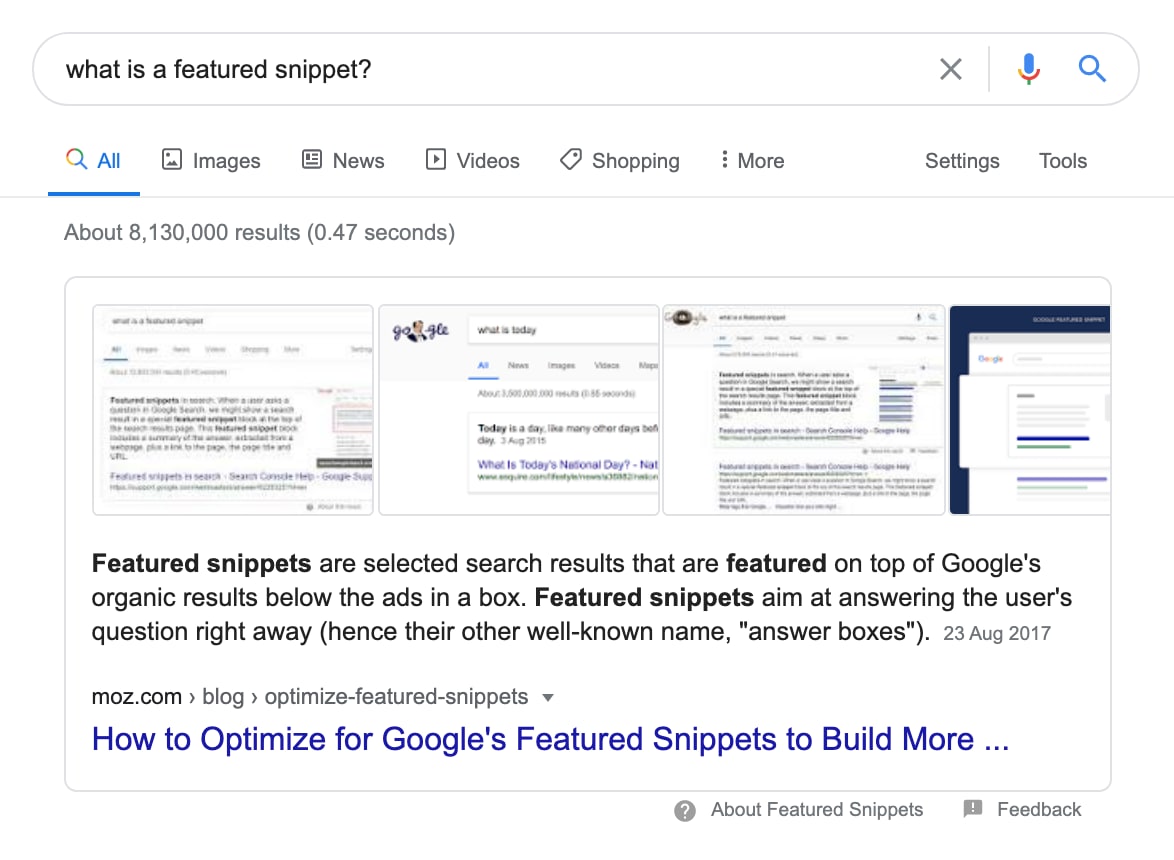 Now, the problem with featured snippets is there's only space for one result and everyone's fighting for it. So competition is intense and there are no guarantees you're going to stay in the top spot, even once you get there.
The first thing you need to do is create a list of featured snippets that have business potential because searches for the weather in London and who the first British prime minister was probably aren't important to you.
Start by drawing up a list of informational queries related to your target keywords – for example:
"conversion rate optimisation"
"best conversion rate optimisation tools"
"conversion rate optimisation techniques"
"conversion rate optimisation best practices"
"what is conversion rate optimisation"
The results page for each of those queries shows a featured snippet and all but one of them includes a "People also ask" section displaying related queries.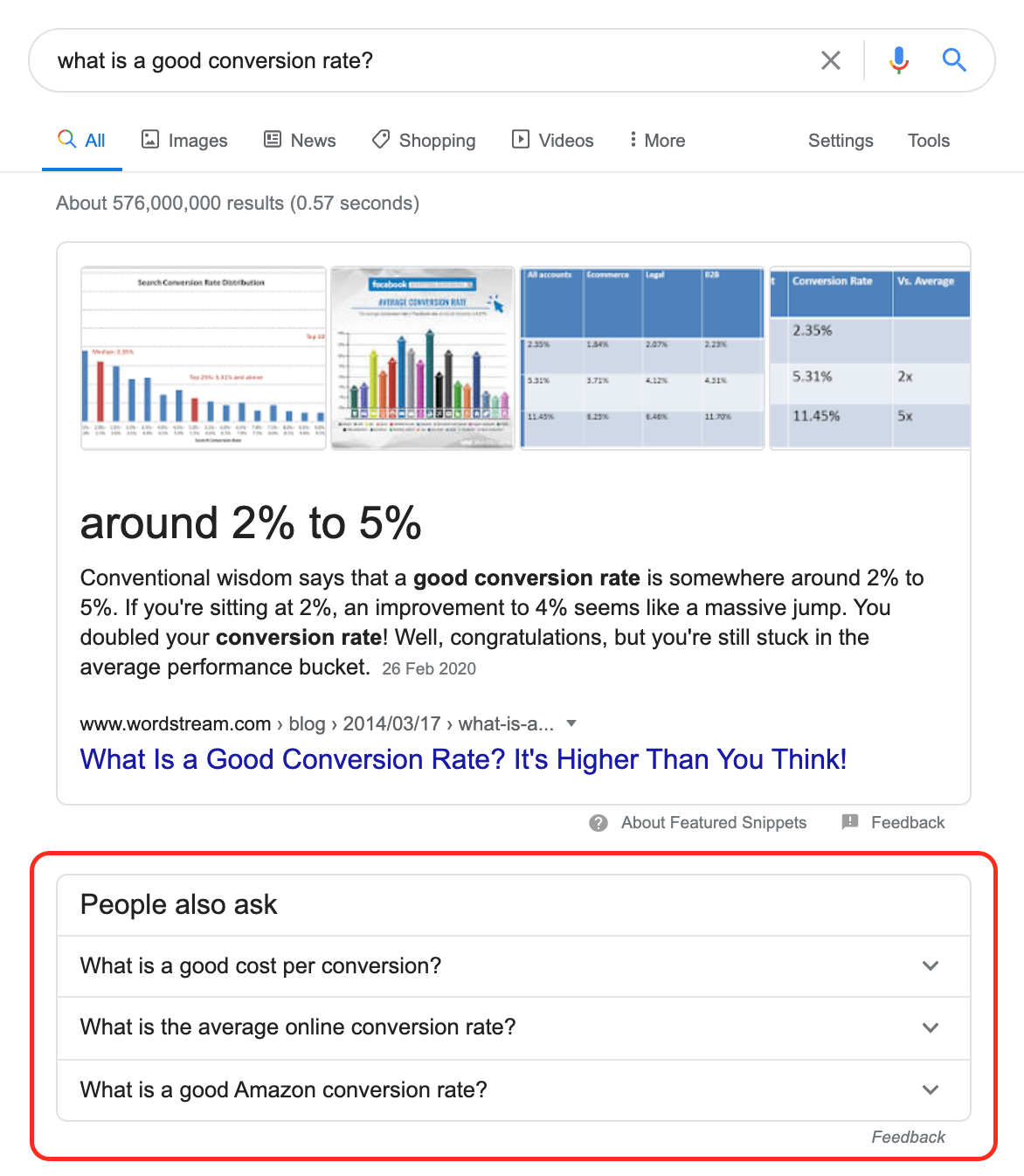 Click on any query in the "People also ask" section and you'll see a preview of the featured snippet it generates. You'll also notice that more related questions have been added to the list and they keep coming every time you click on another query.
You can also click on the "Search for" link at the bottom of any query you expand to click through to the results page for that query and start the whole process again.
This gives you an infinite featured snippet research tool that reveals opportunity after opportunity until you can't stand looking anymore. Better yet, you can use a tool like Screaming Frog to scrape the data and automate this huge keyword research process.
Once you've got your list of opportunities, you can start to prioritise them in terms of search volumes, CTRs and other KPIs to calculate the value of each featured snippet.
Finally, you have the task of producing content that's going to knock the current occupier out of your target featured snippets and make it difficult for anyone to replace you in the future. Some featured snippets are harder to get than others so it's worth finding a balance between the highest-value opportunities and the most achievable.
#8: Page experience makes UX all the more important
In May 2020, Google announced a new ranking signal called "page experience" that will roll out at some point in 2021. The algorithm update was delayed due to the coronavirus outbreak and this means businesses have more time to optimise their websites.
Page experience is a ranking signal in Google's search algorithm that combines a number of pre-existing signals related to different UX factors with some recently-introduced signals called Core Web Vitals.
Basically, after launching Core Web Vitals in early May, Google has a lot of UX-related signals to consider and page experience will condense them into one signal, allowing its algorithm to calculate a single page experience score for each web page.
The pre-existing signals that will be included in page experience are:
Mobile-friendliness
Safe browsing
HTTPs
Interstitials/pop-ups
In 2018, Google also introduced a page speed signal but this is being incorporated into Core Web Vitals that includes three key factors:
Loading times: Google sets the benchmark of 2.5 seconds for the largest element in the viewport to fully load, using a new measurement standard called Largest Contentful Paint (LCP).
Interactivity: How quickly interactive elements respond to user actions and Google wants to see responses of 100ms or under, measured using First Input Delay (FID).
Visual stability: This determines whether elements on the page move after loading, causing instability and a range of UX issues, measured using Cumulative Layout Shift (CLS).

As you can see, there are some technical terms thrown in there and page experience marks Google's most technical and detailed approach to grading the usability of web pages.
The search giant has confirmed page experience will be one of the most important signals in its algorithm and will often serve as the tie breaker when content quality is deemed to be equal. So this is a big deal and brands need to make sure they deliver a positive experience on every page – especially if you're trying to win those featured snippet battles.
#9: Making GDPR compliance usable
GDPR has been a somewhat unwelcome trend since the regulations were introduced in May 2018. Personally, I welcome privacy regulations but the guidelines themselves and how they've been implemented is an absolute mess.
Every UX guideline tells us that intrusive pop-ups are bad for user experience and Google even penalises brands for blocking content or the majority of the screen with interstitials. Yet every website serving users in Europe now blasts visitors with consent pop-ups that basically make the entire web unusable – especially if you actually want to decline any of the cookies or tracking that GDPR is supposed to make easy.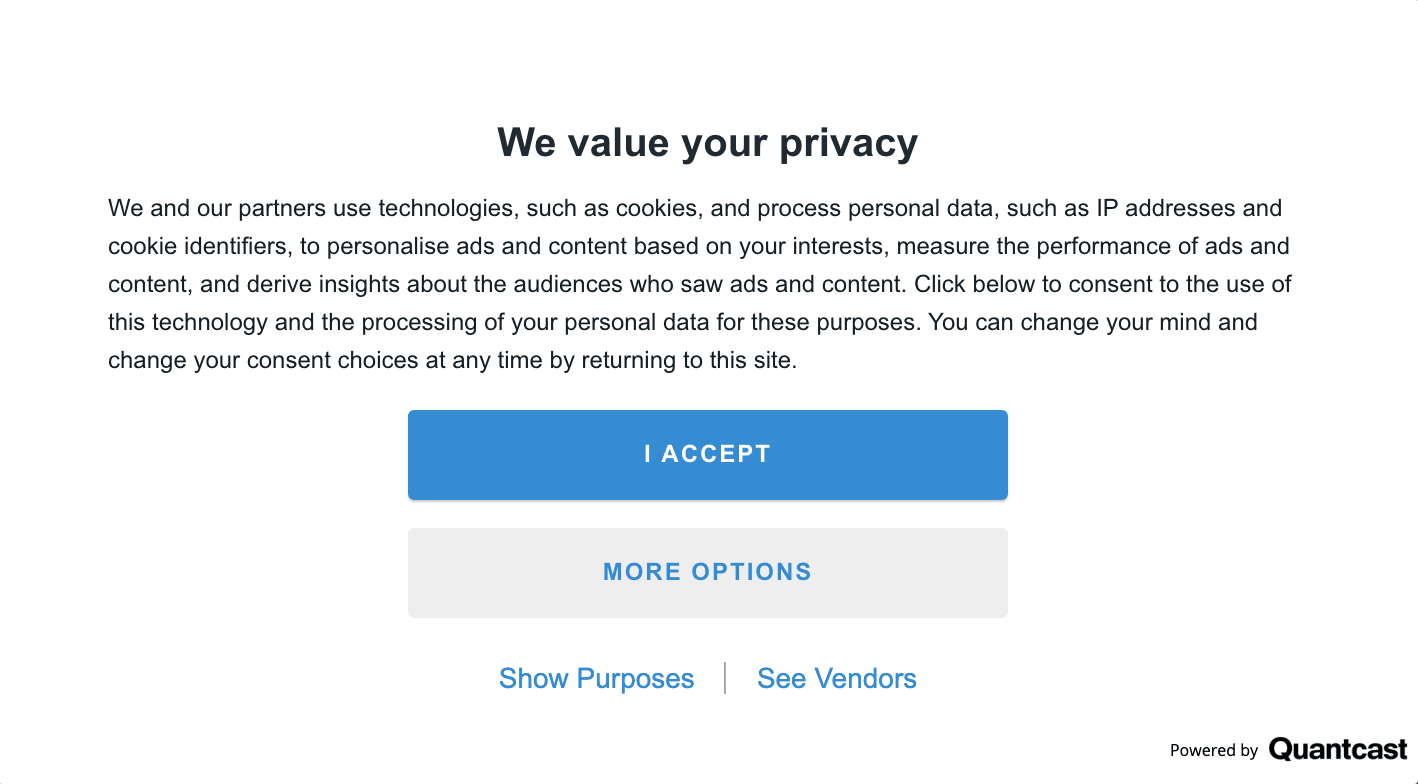 Now, it feels like every website I visit wants to tell me how much they value my privacy (I mean, why even lie about it?) and force me to opt in/out before actually getting to the content I've clicked through to read.
Of course, I can click More Options to manually opt in/out of each data tracking method used by said website and sometimes I can even click a Reject All button and then click Save & Exit to finally access the content.
In many cases, you can't opt out of "essential" cookies anyway and plenty of websites still prevent you from accessing content or redirect you to the homepage if you opt out – who ever came up with that idea?
But the worst part of most GDPR implementations is that you have to go through this process on almost every site you visit and repeat the same process every time you visit the same site again or accidentally reload the page.
That's what you get for being a data scrooge.
Some brands are at least making an effort to design consent processes that minimise the negative effect on user experience and the first thing you can do is humanise the process. Don't use some generic GDPR consent template that lies about valuing privacy and then tramples all over them.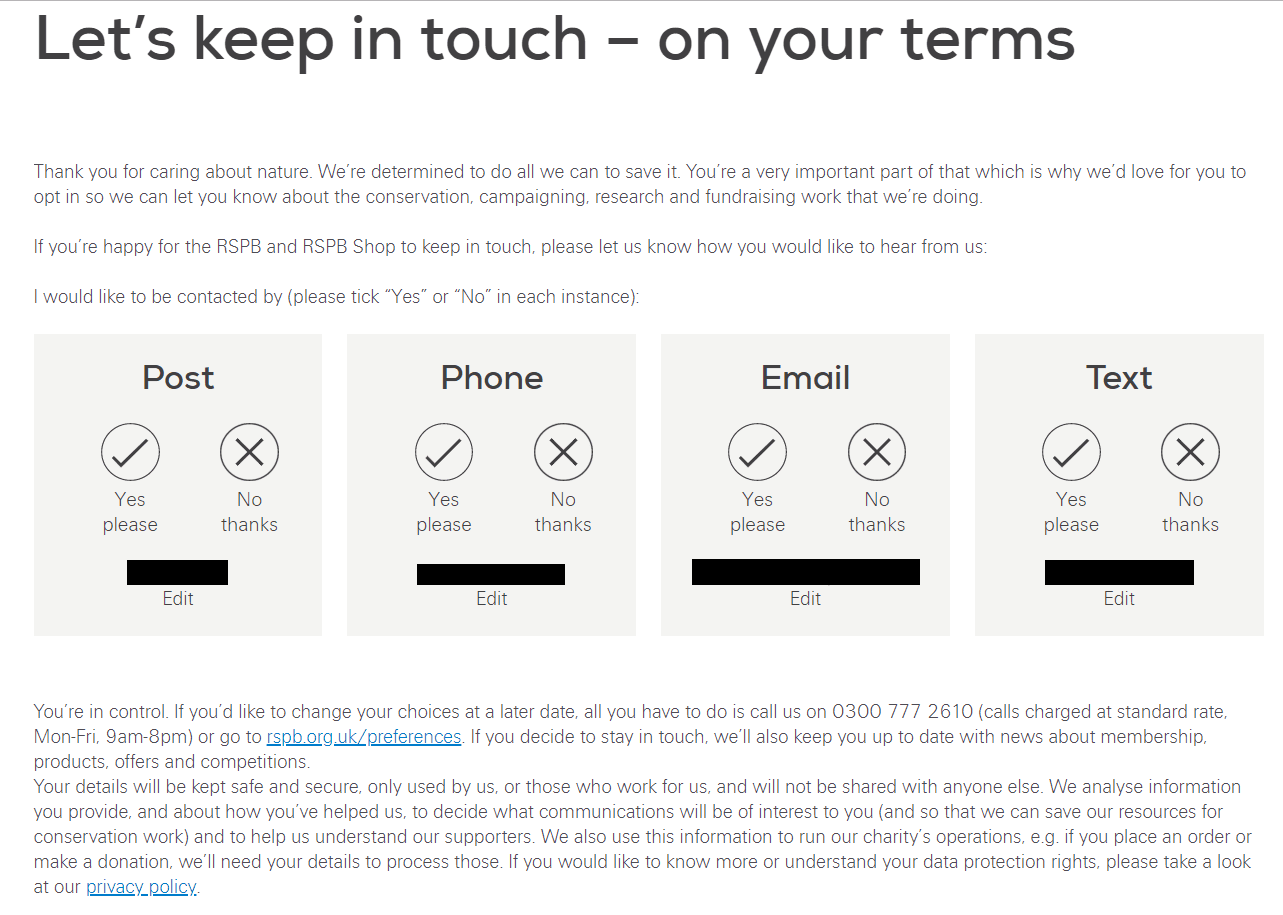 Be genuine and show visitors that you're trying to address the very real issue of data privacy in the best way you can.
Wherever possible, avoid blocking access to content, even if this means delaying data collection until consent is given. And, remember, you only need consent for personal data that can be attributed to individuals, such as addresses, names, email addresses and tracking IDs.
You don't need consent for broad audience tracking (general location, referral source, etc.) or basic analytics like time spent on page, pages visited, etc – as long as there's no individual identification or tracking ID created.
Now, the water does get a little murky once you start using third-party tools like Google Analytics (and a lot depends on how you set them up) but it is possible to run basic analytics without blocking content and then asking for consent with a banner, for example.
Don't let me or any other glorified blog writer tell you about the legal specifics of GDPR compliance, though – protect yourself with real legal advice. And don't think simply signing up to GDPR consent software tools guarantees legal safety, either.
The point is, the current implementation of consent really isn't working and brands are increasingly turning to alternatives and custom-built consent forms. And let's be clear: you can generate leads from traffic that bounces because your consent forms drive them away.
#10: Maximising customer lifetime value
One problem with lead generation as a marketing strategy is that it suggests that attracting new prospects is the top priority – or, at least, this seems to be how most businesses interpret it.
And, if you rely on a marketing funnel that looks like this, lead generation ends up being a linear process that ends once a new prospect is brought on board.
However, we know the customer journey isn't linear and, as good as the marketing funnel principle is for visualising the different stages of the buying process, it doesn't represent the cyclical customer journey brands need to aim for.
You don't give up on leads once they make a purchase; you continue to nurture relationships and encourage them to buy from you again in the future.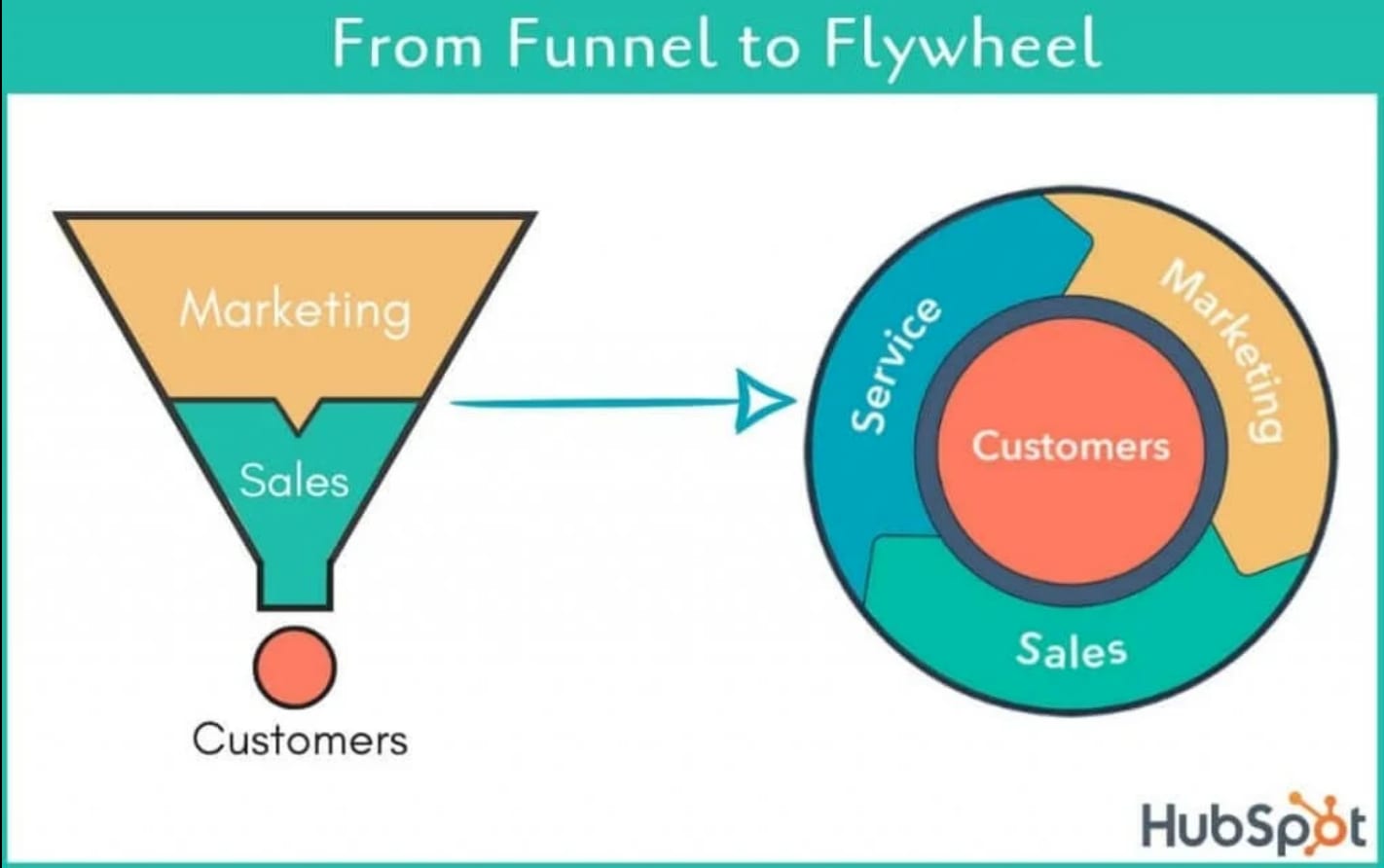 There are plenty of alternatives to the funnel that try to visualise the customer cycle but, to be honest, none of them have ever matched the funnel in terms of mapping out the consumer journey – as long as you understand that customers go back into the funnel again after making the purchase.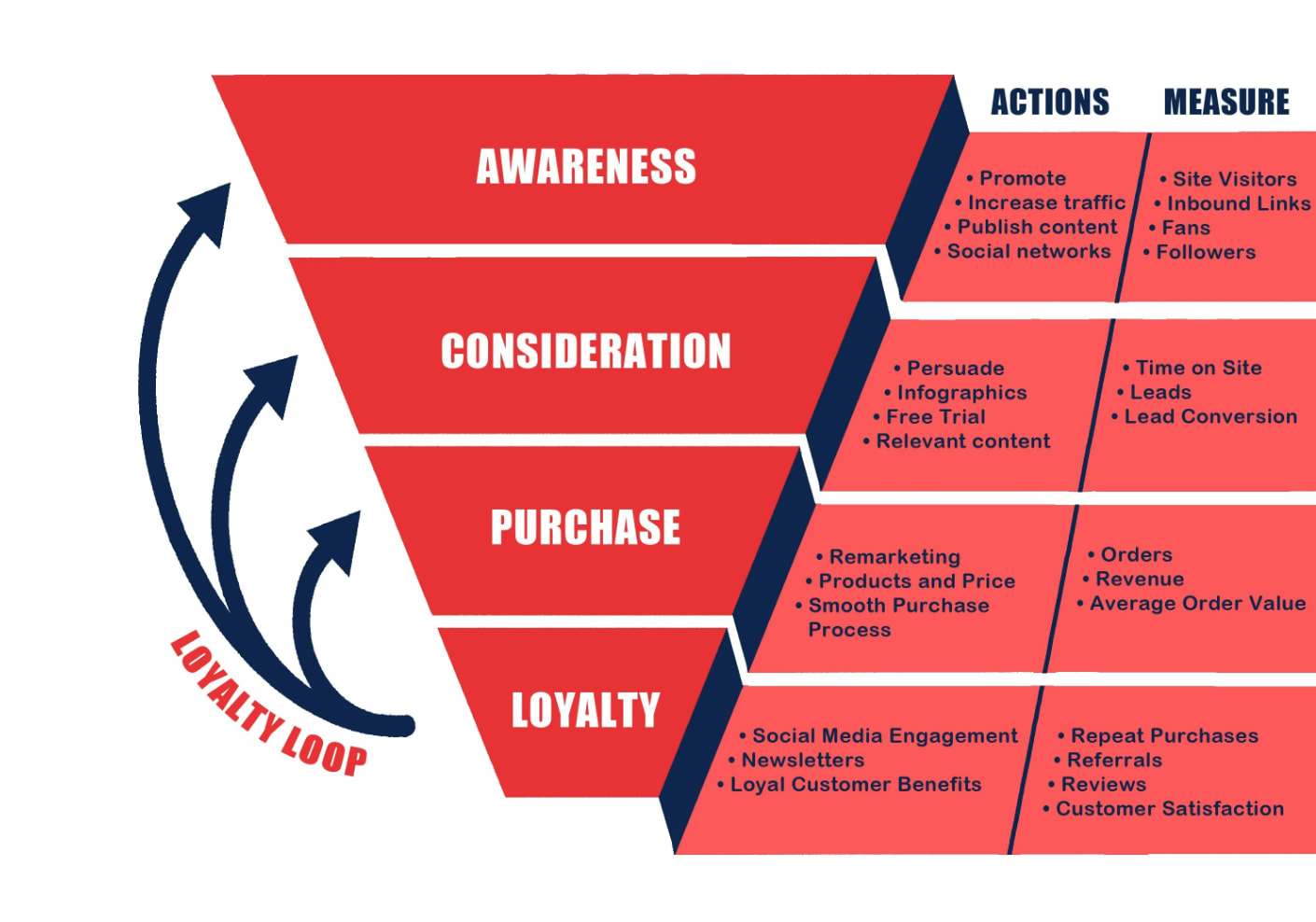 As long as you understand this journey, you have everything you need to run customer retention campaigns through email marketing and other channels to keep your customers engaged, build loyalty and welcome them back to make further purchases when the time is right.
If you want more insights into how the entire funnel works, we've got a comprehensive analysis in our guide to marketing funnel strategies.
Throw in some quality customer service with your customer retention efforts and you shouldn't have any real problems with maximising the lifetime value of every customer. Which means increased ROI on every lead you convert and higher profit margins all round.
Not only that but happy customers will help you generate new leads when they leave positive reviews, engage with you on social media, recommend you to their friends and industry sources cite you as one of the best brands in your niche.
Bringing it all together in 2020
With the start of a new decade, it's time to step up to the mark with the core essentials. Things like mobile optimisation, loading times and UX-friendly consent aren't concepts brands can continue to coax their way through.
Google is getting serious about user experience as a major ranking factor, users are demanding positive experiences and brands are having to work harder to generate leads across a growing list of channels and multimedia formats.
Brands need to start bringing this all together or they'll get left behind before we're even a third of the way through this next decade. The good news is that a lot of the trends we've looked at in this article are kind of fine-tuning key essentials.
I mean, the iPhone is 13 years old this year, for crying out loud. If brands are still struggling with fundamentals like mobile loading times and conversion rates, what have they been doing for the past decade or so?
For the next ten years, the focus is on getting the details right. If you're 90% there with UX on your website, now is the time to push hard and get as close to 100% as you possibly can. If your SEO and social media strategies have matured, now is the time to branch out into other multimedia channels – like self-hosted video, podcasts or streaming.
If your marketing funnel campaigns are nurturing leads across the buying journey, now is the time to start maximising repeat purchases and customer lifetime value. This is the year to start becoming the brand you want to be for the next decade or more.