When it comes to B2B content marketing, case studies and white papers are usually one of the most effective ways of attracting interest from potential customers online. But how do you market them to drive more downloads?
What is a Whitepaper?
Whitepapers are used as a sales or marketing tactic, written to provide information and context around a particular product, service, concept, or technology. they are often designed to be persuasive, rather than as a specific technical document.
Over the past few weeks, I've been working on one of our whitepapers, and it's prompted me to do a lot of digging around on what differentiates successful whitepapers from poor-performing ones. Here are 21 tips, tactics, and strategies for marketing whitepapers & case studies.
Note: I'm currently running an experiment testing all of the methods below to see which drives the best volumes of downloads & CPAs. I'll post the results on this blog when they're ready. If you want to be notified, feel free to join our monthly newsletter (scroll down and the form will pop up on the right).
#1 Create an amazing landing page & A/B test it
Your landing page is arguably one of the most important areas to focus on when it comes to marketing your white paper. Without a well-converting landing page, all of your marketing efforts are worthless. Your landing page must clearly explain why your audience should hand over their details & give away however many minutes of their lives reading your white paper. What value does it add? It should also be accessible from all devices, look attractive, and minimize the barrier for someone to download.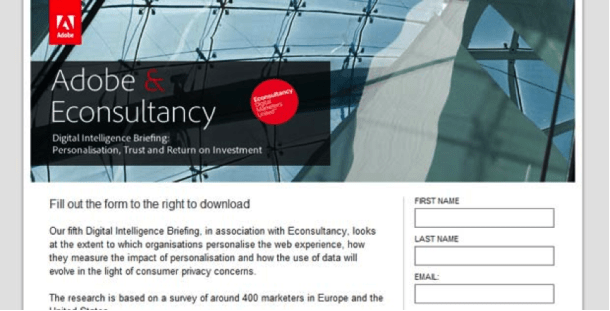 I strongly advocate services like Dribbble for getting feedback from professional designers and conversion rate optimisation specialists on how to improve the conversion rate and design of your whitepaper landing page. Following on from this, you should be A/B split testing your landing page using a tool like Visual Website Optimizer or Optimizely to iterate and improve your rate of downloads.
#2 Leverage speaking opportunities
In my opinion, the best talks at conferences tend to be those based on case studies or research data, where the speaker shares something new. Speaking at conferences about the data and insights from your whitepaper can be a great way to promote your whitepaper – just make sure you don't give it all away in your talk, and provide the audience with a reason to go and download the white paper.
#3 Facebook Promoted Posts & Sponsored Stories
When it comes to marketing content on Facebook, promoted page posts take the cake. I recommend setting up promoted page posts targeted to your specific audience in their news feed with conversion pixel tracking and an oCPM (for conversions) bid type.
This means that Facebook will algorithmically optimise your advertising budget to drive more conversions (downloads) to your whitepaper. Remember to set up your Facebook ads using the power editor, as I don't believe you can create promoted posts targeted to a specific audience in the standard ad manager. You also can't specify that your ads ONLY appear in the news feed from the ad manager.
#4 Partner with industry associations & conferences
Virtually every industry has a major annual conference with thousands of participants. Due to the typical annual or bi-annual cycle of conferences, many conferences rely on content marketing in the form of white papers, blog posts, and video to keep their conference in the minds of potential participants. Because of this, there is usually some very valuable partnership opportunities to get your white paper in front of the audience of their participants.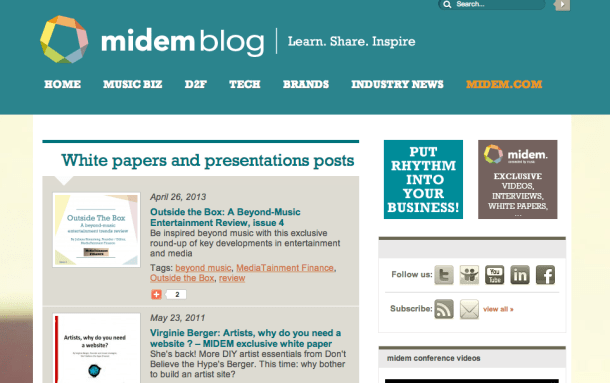 Similarly, look into teaming up with an industry association to partner on the promotion or research of your whitepaper. In the digital marketing world, there are associations and companies like Econsultancy, Content Marketing Institute, iAB, and IDM that regularly partner with digital marketing companies to produce and distribute relevant white papers.
#5 Feature journalists in your whitepaper & send it out to bloggers
If possible, interview influential bloggers or journalists to be included in your whitepaper. When your whitepaper is released it's highly likely that they will help to promote the paper, or even write about it. Once launched, create a list of ~50 or so relevant influential bloggers in your industry and work your way through the list sending a personalised message to each inviting them to cover the data from your whitepaper.
#6 Google Adwords, The Display Network & Re-targeting
If there are specific terms that people search for in Google that would suggest that they're of your target audience or searching for the information your whitepaper provides, a pay-per-click Google Ads campaign could be very effective. If on the other hand, there are specific sites that capture your audience e.g. The FT, if you have a whitepaper on finance, then you could consider running a display network ad campaign to drive leads to your landing page. You may also want to try retargeting (or Facebook exchange) to try and bring back people who have visited your landing page but left without downloading the whitepaper.
#7 Distribute a press release on news wires
If there are specific niche news wires in your industry, now is the time to use them. I'm a big fan of services as they enable me to push a press release out to 50-100 industry sites in one go – which is obviously great if you're marketing a whitepaper in a specific industry.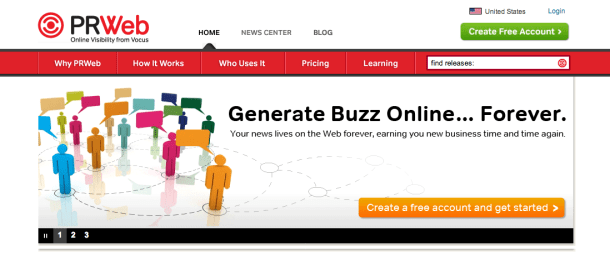 Some of the niche-agnostic services like PRweb and 24/7 Press Release can also be good. If nothing else, these news release sites tend to rank quite well in search engines, so if you title your release properly, it can be a good workaround for ranking for terms in Google that will likely drive potential download leads.
#8 Promoting white papers on LinkedIn
If you're a member of any relevant LinkedIn Groups, they can be a great place to share your white papers – although be sure not to come across as too self-promotional. I've personally not had much luck in the past with LinkedIn Advertising, so I can't advocate that (although it's been a year or so since I last played around with them). Groups, on the other hand, tend to get a good amount of engagement, and given the professional nature of LinkedIn, it's a great place to reach a b2b audience.
#9 Leverage your existing newsletter & email list leads
If you have an email list of potential clients, existing clients, or anyone who may find your whitepaper relevant, consider sending the whitepaper out to them. Of course, if the purpose of your whitepaper is to generate new leads, then it may be worth rethinking what you want your existing leads to do with the whitepaper. Instead of getting them to just download it, perhaps it would be more beneficial to send them to a landing page where they pay to download the whitepaper with a tweet or a share to unlock the whitepaper, to encourage some initial social sharing.
#10 White paper syndication services
There are a number of whitepaper syndication sites, such as Find Whitepapers, Tech Republic and Tech Target which offer both free and pay-per-lead schemes for promoting your whitepapers. It probably depends largely on your niche as to whether this would likely drive leads or not, but as you can give them a shot for free it's probably worth doing anyway.
#11 Using Promoted Tweets
While sending out tweets and incentivising them can work wonders, promoting tweets can be a safer way to ensure that your message is seen by the right people on Twitter, and doesn't get buried in the news feed.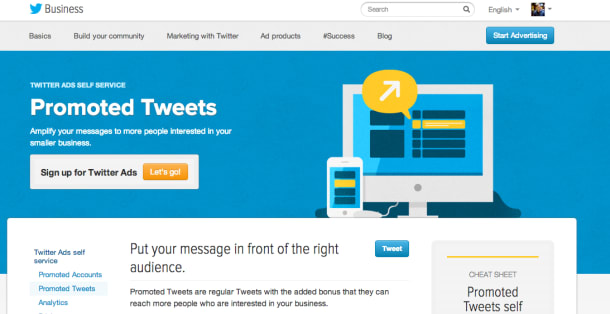 There are a number of different ways to promote your content through Twitter's self-service ad platform, but for driving whitepaper downloads promoted tweets are probably the most cost-effective option.
#12 Keep your download forms short and sweet
One of the biggest mistakes companies make with their whitepaper landing pages is asking for too much information. Keep it short and sweet. If all your really need is name, company, email, and phone number, leave it at that. Asking for too much information often lowers the overall conversion rate, reducing the number of leads you drive.
#13 Use Whitepaper distribution services
There are several whitepaper distribution services, such as BitPipe, which for a fee will distribute your whitepaper to a variety of whitepaper syndication services and repositories.
#14 Have an attractive whitepaper cover design
While we're taught not to judge a book by its cover, we do. It's human nature to use our senses to predict whether something will likely cause us pain or pleasure, and because of this having a good cover design is important.
If you use Photoshop, you can get some nice PSD templates for creating whitepaper/book covers. Alternatively, you can always outsource this to a talented graphic designer – the cost of getting a nice cover designed will surely pay itself back in increased downloads.
#15 Keep the topic of your whitepaper focused & offer implied value
If your whitepaper is on 'social media', consider digging a bit deeper and offering something more specific. When I type 'social media whitepaper' into Google, over 68,300 phrase-matched results are returned.

The more specific the topic and audience of your whitepaper, the more value it's likely to add. If you create a whitepaper on "Using location-based social media services to grow retail businesses", there is a very clearly defined audience and implied value.
#16 Upload it to Slideshare
Slideshare is a great place to upload a presentation version of your whitepaper, as there's quite an active community of professional people using the platform to learn and find insights. The trick is to ensure that your presentation incentivises people to visit your landing page and download the full whitepaper.
#17 Host a related webinar
Similarly to hosting an event or meetup, running a related webinar and offering your whitepaper as related materials or a gift can be a good way of driving interest or downloads of your whitepaper. The benefit of webinars over events is that it eliminates the geographic boundaries of your audience. For a company like Venture Harbour (where our clients are from all over the globe) webinars work quite well, as it enables us to connect with people in countries who otherwise would struggle to attend our meetups and events.
#18 Create a video summarizing key points
There are a few benefits to turning the insights from your whitepaper into a video. First of all, it's great from a search perspective as Google is including more and more universal video results in search results. You can also drive a lot of views from within YouTube through related videos, and people searching for your topic on YouTube. While YouTube may not seem like a platform where business-related research & whitepaper data thrives it can generate a lot of views when done right. Take the social media revolution video for example, while it does have a B2C focus, it's essentially whitepaper research turned into a video that's generated close to 3 million views.

#19 Write guest blog posts
If you, or someone on your team, is an avid blogger, consider offering to write guest posts on related industry blogs sharing interesting insights and data from your whitepaper. Guest blogging is a great way of passively promoting content as the blog posts can end up referring traffic (and leads) for years to come. As you write more and more blog posts, the organic traffic driven to your landing page accumulates.
#20 Create a Facebook App Tab for your whitepaper
A tactic that I don't see used particularly often, but can be very powerful when hooked in with the open graph is creating a Facebook Application & Page Tab to enable fans to download your whitepaper from Facebook. As Facebook Apps are essentially just HTML pages iFramed within Facebook, you don't need to make any huge changes to your existing landing page to turn it into a Facebook App. You'll just need to make sure it can be hosted on a secure HTTPS server.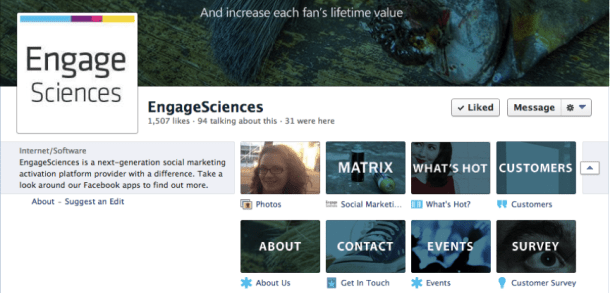 If you want to go one step further, you can make it so that every time someone downloads your whitepaper, an update is posted on their timeline (promoting the whitepaper to their friends). You could even create an open graph ad (or app sponsored story) to ensure that this post gets maximum prominence in their friend's news feeds.
#21 Host a meetup/conference / event and offer it as a gift
I've attended quite a few meetups and seminars where companies have offered their whitepapers as a gift to attendees. It's a smart idea, but where most go wrong is in giving attendees a compelling reason to download it as soon as they go home – there must be an aspect of urgency (in my opinion), otherwise it gets forgotten. You could create a specific landing page for attendees of that event which expires in 48 hours, or perhaps include an offer such as 'download our whitepaper and get 50% off our next event'.
Conclusion
There's one point that I haven't included in this list that I think is worth mentioning: SEO. Of course, if you have a whitepaper on entertainment industry statistics and your rank #1 for 'entertainment statistics', you're likely to drive some great leads through organic search.
That said, if you do all of the above and promote your whitepaper on many different platforms all linking back to your landing page, this will happen naturally to some extent. Just make sure your landing page is well-optimised and represents a valuable result for Google to rank #1 for related keywords.
Image Credit: Guillaum Ebrialon