Update: In 2022 Autopilot rebranded as Ortto. We've updated our review where changes have been made (such as pricing) but some of the screenshots in this post are of the previous platform.
Ortto is a dedicated marketing automation platform that's made a real name for itself since it launched in 2012. Instead of trying to offer every marketing tool a business could ever need, Ortto focuses entirely on providing powerful, yet usable automation features that any business can pick up and use – without writing any code.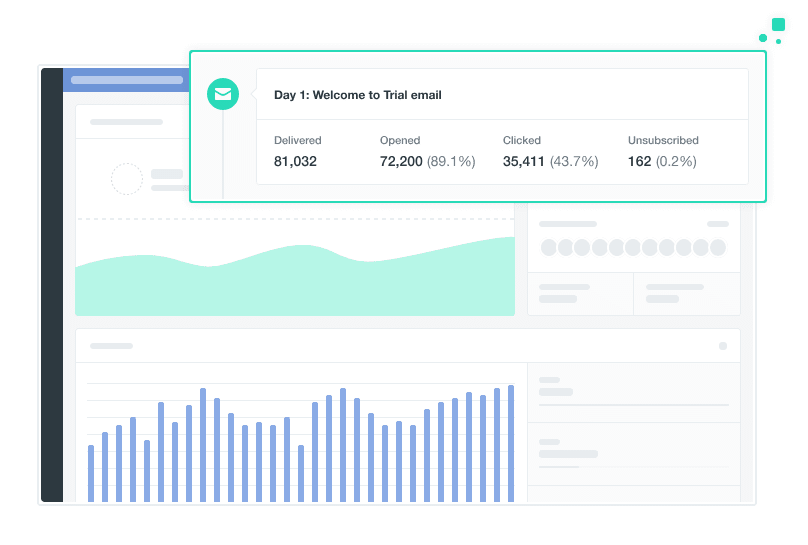 In other words, Ortto is an automation specialist and this means it really needs to deliver some class-leading tools and features to justify its claim as the perfect balance between power and ease-of-use.
We're always on the lookout for better automation tools here at Venture Harbour so we spent a few months getting to grips with Ortto. We've also surveyed 10,000+ marketers on the industry's leading software platforms.
So this review is based on our in-house experiences of using Ortto and feedback from thousands of other users.
Ortto pros & cons
First, let's take a look at the pros and cons we've experienced while using Ortto. This will give you an idea of which way this review is going and provide you with a quick snapshot of its strengths and weaknesses.
Here are the main points we'll be highlighting throughout this review:
Ortto pros
Excellent automation features
Usability
Automation templates
Easy collaboration
Automate actions between apps (similar to Zapier)
Strong integration options
Ortto cons
No built-in CRM
Room for more analytics & reporting
Cheaper options available
The short story is that Ortto is an excellent piece of software and our CEO Marcus Taylor let slip that, if we were looking to move away from ActiveCampaign (I'll explain why we're not later), Ortto would be his preferred choice for our marketing automation platform.
Regular readers will know this is a big statement because we're all about automation here at Venture Harbour and everything we do is focused on automating growth.
As soon as you start using Ortto, you realise this is a serious piece of software, even if its design has a bright and friendly appeal to it. This visual design concept is a key part of its code-free automation experience, which makes the complex world of building automated workflows as easy as we've ever seen from a tool like this.
The drag-and-drop builder means anyone can pick up the tool and start creating their own workflows. But the thing we loved most about Ortto is how much easier it is for teams to collaborate on the same workflow.
Team members can annotate sequences with notes, emojis and stickers to provide contextual meaning for their colleagues. In all honesty, my initial reaction was that this made workflows look like a clipart nightmare from the early 2000s but the thing is, it works.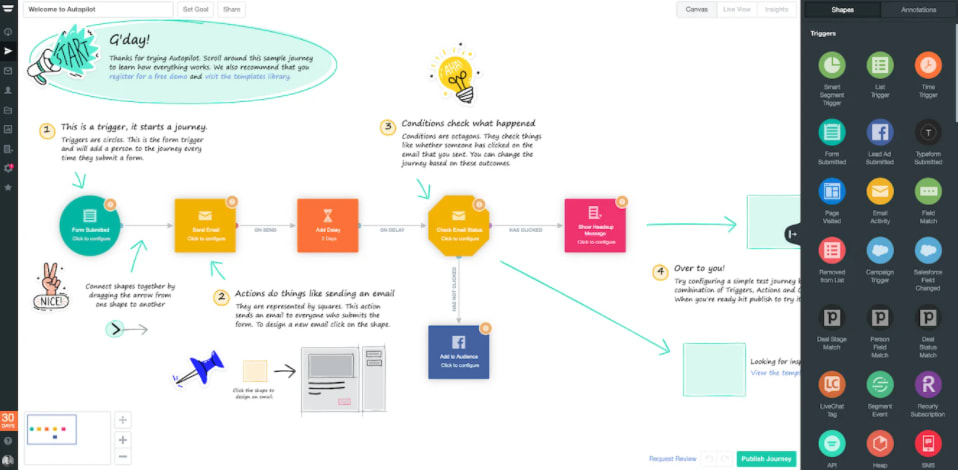 The notes and graphics make it so much easier to understand the logic of a workflow someone else created – something that can take hours to decipher without explanation. This feature alone makes it so much easier for us to collaborate on automation workflows, debug and provide feedback.
On the negative side, Ortto doesn't have a built-in CRM and this is a shame – especially as this isn't the cheapest platform of its kind (we'll look at this in more detail later).
That said, Ortto integrates nicely with HubSpot's free CRM and some of the biggest names, including Salesforce and Pipedrive. In fact, integration is another one of Ortto's biggest strengths and this partly makes up for the lack of a built-in CRM.
Ortto's argument is that "all-in-one software suites are a thing of the past" and the company insists it pays to use specialist software tools like its own for dedicated purposes. And there's some merit to this argument, too, especially when Ortto provides some of the best marketing automation features on the market.
How much does Ortto cost?
So we know that Ortto delivers in terms of quality and we've already mentioned that it's not the cheapest option on the market. It's not that the monthly fees themselves are particularly expensive but more to do with the low thresholds for contacts before you're moved up to a more expensive plan.
Let's take a look at the numbers.
If you pay monthly with no contractual agreement, you're looking at the following fees:
Professional – $99 / mo for 5,000 contacts
Business – $29 / mo for 20,000 contacts
You can send unlimited emails on both plans and you get access to all Ortto's features. Unlike most software providers, the company doesn't limit access to its more advanced features on cheaper plans.
You can bring the total cost of your plan down by committing to a year-long contract and further still by paying for the full year in advance.
Either way, you're soon going to find yourself bumped up to the Business plan and once you have more than 20,000 contacts, you'll have to negotiate a deal with the company's sales team. The good news is that, by this stage, you'll start to get better value, pound for pound.
Also, keep in mind that software like this is designed to save and make you more money than it costs.
Ortto add-ons
While Ortto doesn't restrict features on its cheaper plans, there are some enterprise features in the form of add-ons that you can pay extra for if needed:
Expert Setup & Training – $1,699: Get expert training and have our implementation specialists help you configure your account. This service includes help building your first journeys. This is an optional service.
VIP Support – $159.20 / mo: Jump the queue! Get priority support on live chat and email 24 hours a day, 6 days per week. Your chat and email requests will be answered first by our team. This add-on includes backup restoration and access to our highest level of technical support.
Salesforce CRM integration – $159.20 / mo: Unlock marketing automation for Salesforce with our native Salesforce integration. Selectively sync leads and contacts, assign new leads to sales, nurture leads not ready to buy, assign tasks, update fields and create new opportunities.
Custom IP (advanced) – $119.20 each / mo: Control your individual sender reputation with a custom IP. Includes an automatic warm-up plan to establish a positive reputation and help when you need it from our expert email deliverability team.
Activity Streams (advanced) – $159.20 / mo: Stream real-time activity data from your account to your data warehouse or favourite analytics tool for analysis. Includes pre-built connectors for Segment Sources and Heap Analytics.
Once you get past the 10,000 contacts mark and you're negotiating a fee with Ortto's sales team, you may be able to get some of these add-ons thrown in or bring down the equivalent cost.
What features do you get for your money?
We've spent a good chunk of this article praising Ortto marketing automation features so let's take a closer look at what you actually get in return for your money.
Marketing automation
Ortto combines an impressive range of automation features into its platform, allowing you to create customer journeys that automatically capture and nurture leads along the buying process.
The star of its platform is the drag-and-drop automation builder that we talked about earlier, which allows you to create sequences without writing any code.
The builder makes it possible for anyone with an automation idea to put their concept into action, regardless of technical capabilities. And, don't let the ease-of-use fool you – this is a serious platform that allows you to create some heavyweight automations.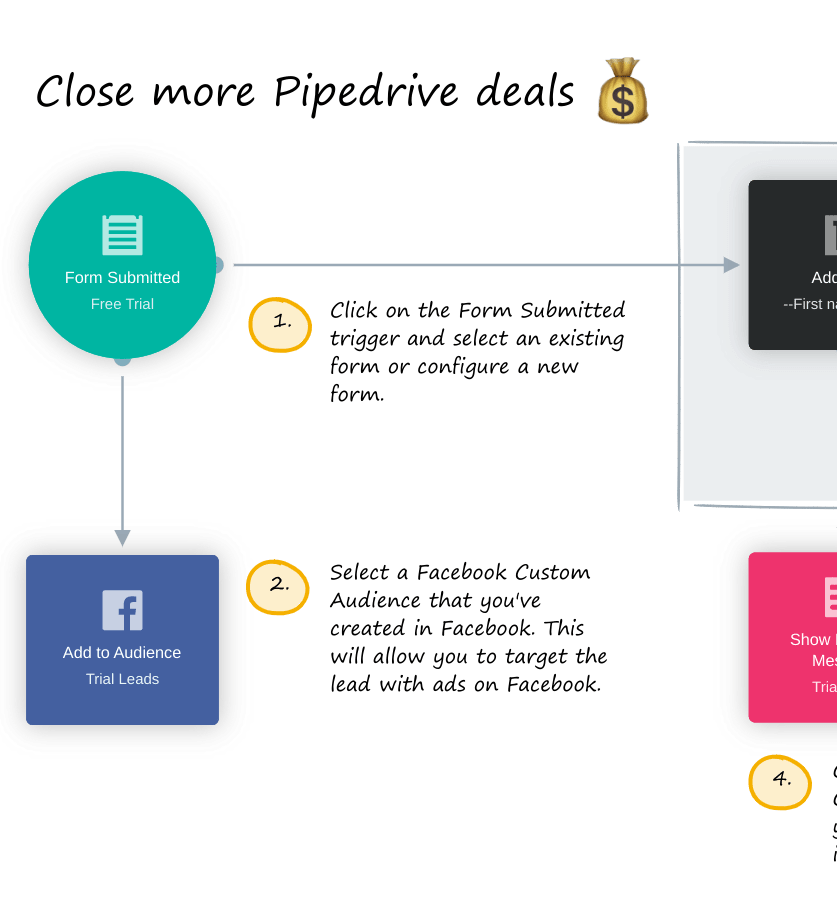 As we mentioned earlier, the builder is also great for teams that want to collaborate on workflows. For us, this was perhaps the most impressive aspect of Ortto as our team spends a lot of time strategising and building new automation sequences.
Automation templates
Ortto's innovative automation builder makes it fast and easy to build sequences but a newly-rolled out feature promises to make automation even faster.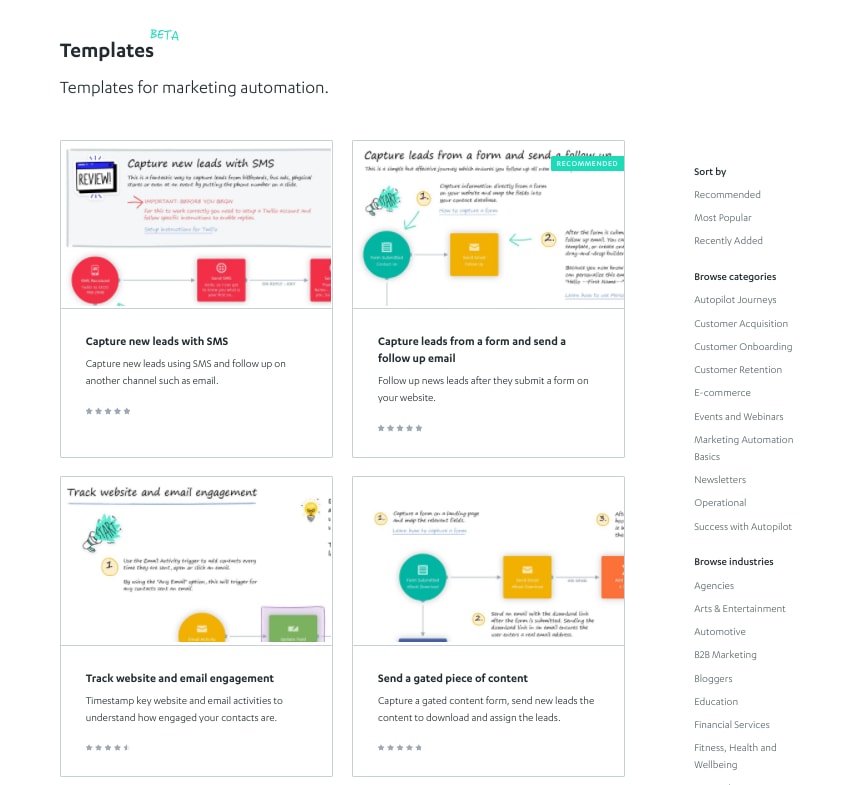 Automation templates are currently in beta, offering hundreds of pre-built automation sequences that you can use in a matter of clicks. For example, you can automate email responses when you capture a new lead from a form on your website, send gated content to users as soon as they sign up for access, activate and deactivate free trials without any manual input or reach out to leads who visit your pricing page – plus hundreds of other automations workflows every business can benefit from.
Create customer journeys
Ortto's primary purpose is to help you build customer journeys by connecting triggers, actions and events, based on the conditions of your choice, so that you can automatically deliver marketing messages at different stages of the consumer journey.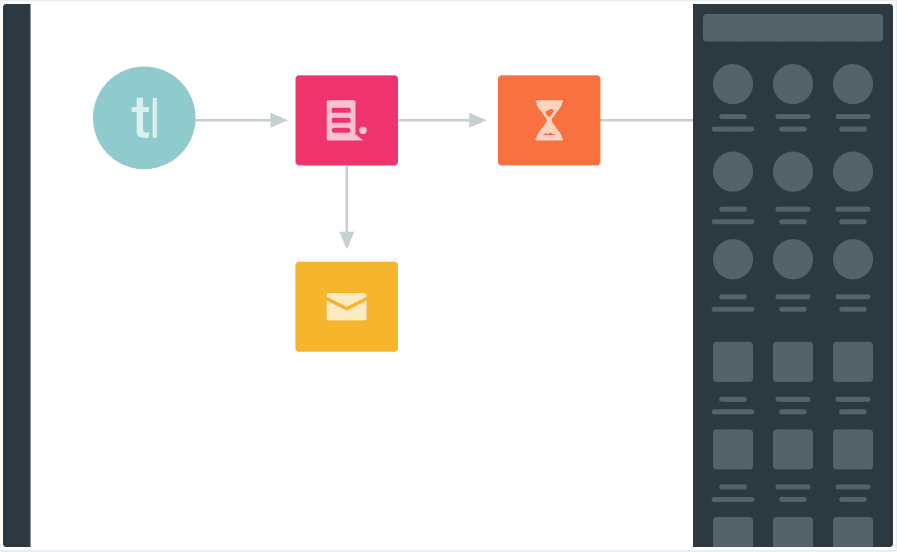 You can build these journeys in Ortto, using the drag-and-drop builder to cover each stage of your marketing funnel and ensure leads are always heading in the right direction. You can also segment leads and chase up prospects who slip through the gaps or fail to complete the next action along your journey.
Integrate with best in class apps
Ortto integrates with a fleet of the most popular marketing and sales apps – including Slack, Trello, Delighted, Facebook, Google, Intercom and 800+ more apps.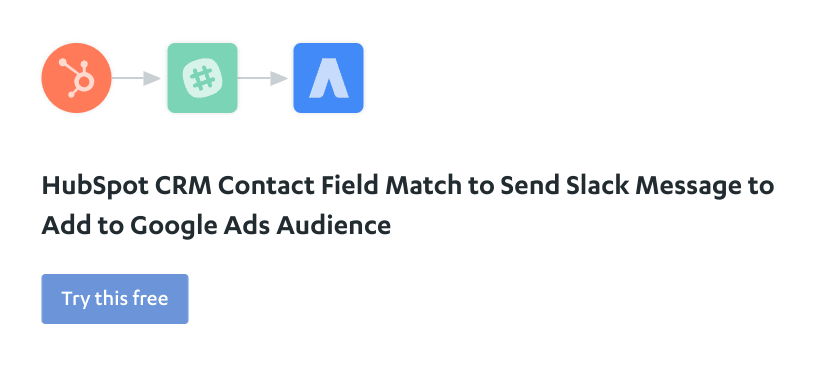 Another feature that really impressed us is that you can link your existing apps together through Ortto and automate actions between them, in a similar way to how Zapier operates.
This opens up a huge space for automating repetitive tasks and cutting down on the manual labour of your marketing strategies. You can spend less time copying and pasting data to spreadsheets and more of it on coming up with the next killer strategy.
Email marketing
As you would expect with automation software like Ortto, there's a big emphasis on email marketing and the platform provides a complete set of features to help you create and automate effective email campaigns.
Once again, Ortto's automation builder is at the heart of your campaigns, allowing you to instantly respond to leads, create drip campaigns and use event triggers to automatically send emails to leads as they progress along the consumer journey.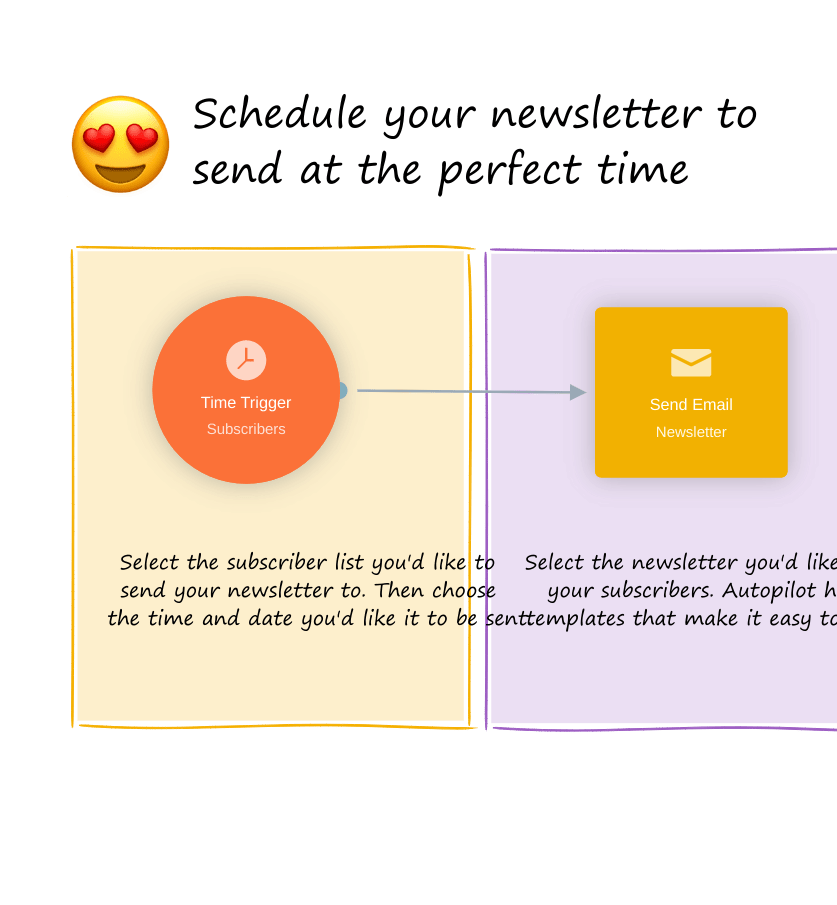 Ortto also provides a complete toolkit of email marketing features to help you build campaigns faster – as always – without writing any code.
Drag-and-drop email builder
With Ortto's drag-and-drop email builder, you can visually create HTML emails without coding the markup yourself. You can build your own email from scratch for 100% control over the design process or you can start with a template and customise the design from there.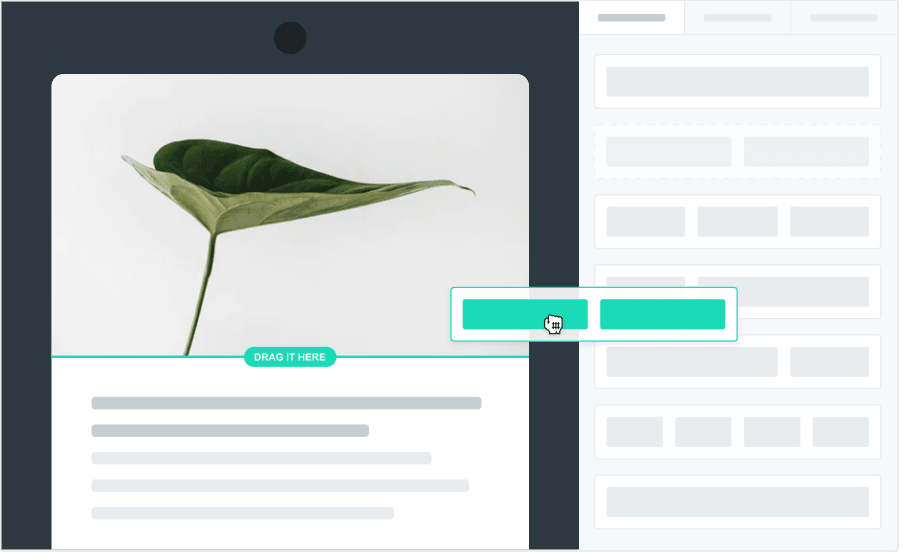 Ortto's email builder runs smoothly in the browser so all you need to do is pull elements from the menu, drop them where you want and customise the styles to suit your design.
You can also preview your emails to see what they'll look like on different devices and fine-tune your designs until you're happy to send them off. You can also create and save your own templates for future use to save time on future designs and maintain stylistic continuity.
Email A/B testing
Any successful email marketing strategy requires some testing and experimentation to pinpoint the most effective message. This means you need solid A/B testing capabilities and Ortto provides this, built into every plan of its software.
You can also integrate with third-party A/B testing software if you're already using another platform, but it's always good to see this natively included in a marketing automation platform.
Ortto makes it easy to test your emails and it also provides the email analytics features you need to measure and compare email opens, clicks, replies, unsubscribes, bounces and conversions.
High email deliverability, guaranteed
Email deliverability is a key component of any email marketing platform and Ortto works with all of the major ISPs to maintain its reputation to maximise deliverability. The company also has policies to ensure its customers are responsibly sending emails, which helps it retain a positive reputation – something that benefits all users of the platform.
You can also take full control over your deliverability and build a clean reputation from scratch by using Ortto's dedicated IP address add-on.
Lead management
The primary role of marketing automation is to turn leads into paying customers and drive growth without any human input. This means managing leads and guiding them along the sales funnel until they commit to the purchase and, then, nurturing them into repeat customers.
So let's take a look at what Ortto has to offer here.
Native CRM integrations
While Ortto doesn't provide its own built-in customer relationship management (CRM) system, you can integrate your existing CRM with its platform. Ortto will pull the data in from your CRM, allowing you to create data-driven, automated campaigns that deliver the most relevant messages to users, based on their needs and position along the buying process.
Lead scoring & segmentation
Ortto allows you to assign scores to leads based on the actions and behaviour with your website or content. This enables you to prioritise the leads that are most valuable to your business and the action-based scoring systems means leads are automatically targeted with higher-priority campaigns when their score increases.
With lead scoring, you waste less time on prospects that are unlikely to buy and you keep your list of contacts from getting clogged up with useless leads (contacts cost money, remember).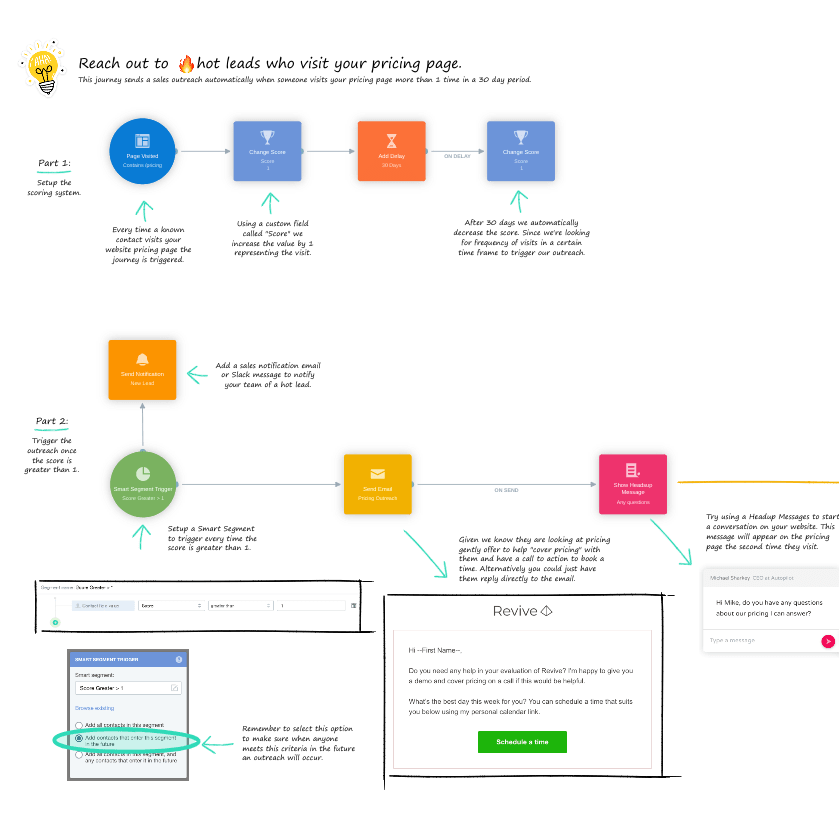 You can also use this feature to follow-up with leads, reactivate customers and track every interaction your customer has with your website or product.
Lead scoring is an important feature for companies that want to align their sales and marketing teams, too. It ensures the right department is always dealing with relevant leads as they progress along the customer journey and helps both teams prioritise their targets.
Lead nurturing
Combine Ortto's lead scoring features with its excellent automation software, you can automate lead nurturing strategies to guide prospects across the entire sales funnel, chase up lost leads and create automated customer retention campaigns designed to turn first-time buyers into loyal customers.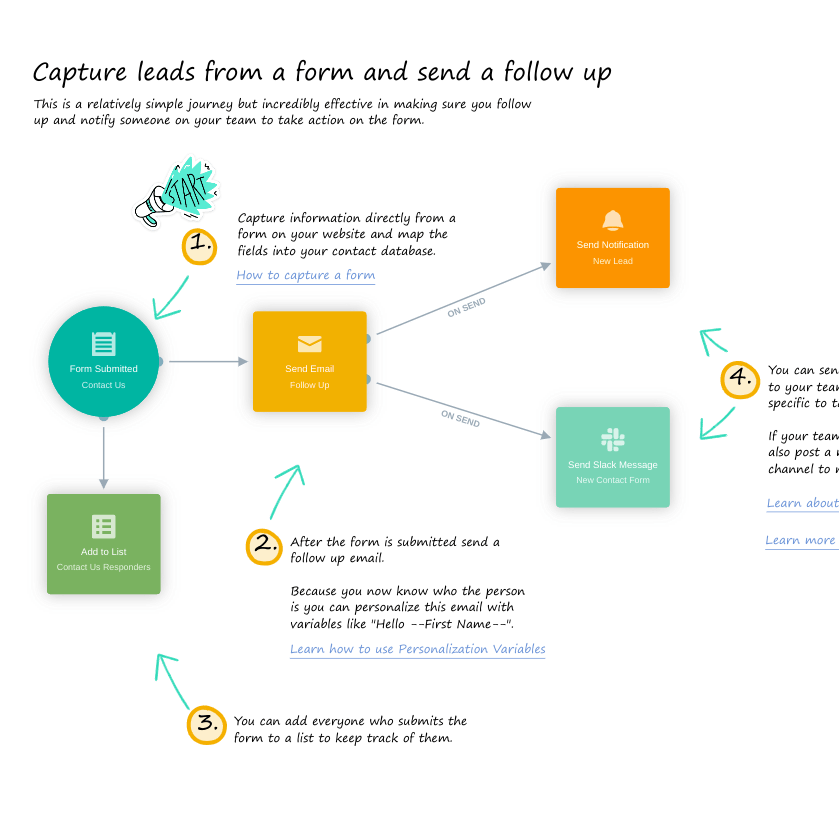 For example, as soon as a lead converts through one of your lead generation forms, you can send a follow-up email and add them to a lead segmentation list, based on the information they provide. You can then track their future visits to your sites and attribute more data to their profile, adapting their lead score as they continue to interact with your brand.
Every time they complete a new action that signifies progress along the sales funnel, they're automatically sent the next email campaign and this new data is added to their profile.
This process continues as you target them with messages encouraging them to take the next step, until they make it all the way to the finishing line.
Multi-channel marketing
Automation platforms like Ortto prioritise email marketing because it's an owned channel where you can compile data for individual prospects and target them with highly relevant messages.
However, Ortto is very much a multi-channel marketing platform and email isn't the only strategy you can automate.
Ortto allows you to collect data and set automation triggers across all of your marketing channels and deliver content to prospects on the platforms that matter most to them:
SMS Marketing: Cut through the noise and directly target your customers on the device they use the most – their smartphones.
In-App Messaging: Connect with your audience on your website and in your app.
Facebook retargeting: Use Ortto to create Facebook retargeting campaigns and follow-up with Facebook leads faster than your competitors.
Google Ads retargeting: When only ~2% of site visits result in conversions, marketers need to find new ways to encourage and persuade their audience to take action.
Postcard Marketing: Give your customers something they can physically hold in their hands and encourage a new form of interaction.
Meanwhile, Ortto's built-in reporting and analytics mean you can track results across every channel and compare performance to find out where your marketing strategies are most effective.
How does Ortto compare to the competition?
To help our readers choose the best marketing automation software for their individual needs, we asked more than 10,000 marketers to give us feedback from their experiences of using the 100 most popular software options.
We compiled all of this data into a spreadsheet and ranked all 100 software tools based on nine key categories:
Ease of use
Cost
Deliverability
Features
CRM
Reporting
Integrations
Support & training
Security
Out of 100 software platforms, Ortto made into the top 10, placing 8th in our 10 Best Email Marketing Software & Email Automation Tools ranking.
Not only that, but Ortto won the title of the best tool for email marketing automation. Above all, this is because it offers some of the most comprehensive marketing automation features alongside an intuitive drag-and-drop builder that genuinely makes teamwork and collaboration easier for companies serious about strategic automation.
Ortto is extremely intuitive and great for teams that need to collaborate on powerful email automation sequences. If we had to move from ActiveCampaign, this is likely where we'd go.

Venture Harbour CEO, Marcus Taylor
As we mentioned earlier, one potential sticking point is that Ortto isn't the cheapest option, based on the contact limits of each plan. To give you an idea of how this compares to the other software options in our top 10 ranking, here's a table for key contact counts:
As you can see, this puts Ortto among the more expensive options but it's worth remembering that the company doesn't throttle features on any of its plans – so you're always getting the best out of the platform, no matter how much you pay.
Perhaps more importantly, you're getting some of the best marketing automation features currently available – if not, the best.
While pricing may not be one of Ortto's strongest points, it ranked 2nd out of 100 in our survey for integrations, thanks to its ability to link your favourite apps together and a solid offering of free Zapier integrations.
Above all, Ortto is unrivalled when it comes to native integrations and only HubSpot was able to beat it in this category, thanks to its extensive list of integrations with major software providers.
Is Ortto the best marketing automation software?
Based on our data and experience with the platform, we have to say that, yes, Ortto is the best marketing automation software – because automation is precisely what it excels at.
The company positions itself as an automation specialist and fires a shot at software providers that try to do everything.
So, if you're looking for an out-and-out marketing automation platform, Ortto is hard to beat. Aside from industry-leading automation features, you get all of the email marketing tools you need to build lead nurturing campaigns and multi-channel coverage to cover the entire customer journey.
The lack of a CRM and pricing might be an issue for some companies but the Silver plan is reasonably priced and gives you access to all of Ortto's features – making it an excellent option for smaller businesses.