Why pay $5/month for something that you can get for free?
When I began building websites this was my perspective on free web hosting. Since then, i've learned that free web hosting is never free. While you won't receive a monthly invoice, you will pay the price in other ways.
If you don't buy that, take a look at the traffic for a website that I recently migrated from a free hosting company to Bluehost. We migrated the website on June 1st, and 3 weeks later our pageviews had increased by 1,100%.

Did we know we were missing out on all of this traffic due to our free hosting? Of course not. Also, the extra advertising revenue from that increase in traffic has already covered the cost of our hosting, so ironically our hosting is essentially still 'free'.
So why should free web hosting be avoided like the plague? I've boiled it down to four reasons.
#1 Free web hosting is bad for user experience
When you visit a website and the first thing you see is this, what impression do you get?
Pretty unprofessional. For years, I was reluctant to promote this website too much as I knew the user experience was pretty bad due to our hosting.
Most free web hosting companies will slap their ads on your website. Whether it's a banner ad at the top or a pop-up, you're likely to have something. Even web hosting companies that claim to not display any ads often do. They get away with this by placing a clause in their T's and C's along the lines of 'we won't place ads until you exceed X amount of bandwidth'.
But it's not just the ads that provide a bad experience.
It's also the slow server speed. With web hosting, you get what you pay for. If you pay nothing, your website will be put on a slow server that was likely a hand-me-down from the free web host's sister company (almost always a paid host).
Here's what happened to our bounce rate when we moved to Bluehost. Bounce rate is the percentage of visitors who leave your website after viewing only one page.

The combination of slow loading times and adverts were causing 94% of our visitors to leave our site without visiting any other pages! This dropped to 53% the day we moved to the paid hosting.
We noticed a similar trend with the average number of pages viewed per user. We increased the average number of pages viewed per visitor from 1.3 to 4.5, over tripling our page views.

#2 Free web hosting is bad for SEO
Your web hosting has in indirect impact on many factors that Google take into consideration when ranking search results.
In 2010, Google announced that page loading speed is a ranking factor. Free hosting is, unsurprisingly, one of the slowest varieties of web hosting.
Since Google introduced their Panda Update, user experience has also played a much larger part in how Google ranks pages. As we saw above, free hosting provides a pretty awful user experience.
On top of this, free web hosting is often less secure, which means you're more likely to have vulnerabilities in your site. Being hacked and having malware injected onto your site is a surefire way to lose your rankings.
Finally, Google looks at the neighbourhood of websites that your site is hosted with. As spammers tend to use free web hosting, you're also more likely to have your website associated with a bad neighbourhood.
Google has hundreds of individual ranking factors. This list could go on and on, but suffice it to say, free web hosting will cost you traffic.
#3 Free web hosting is unreliable
If you use free web hosting, you'll soon become nicely acquainted with this page!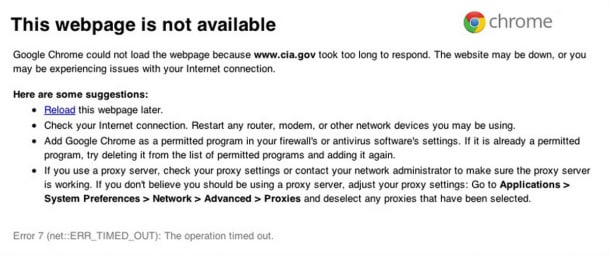 Free web hosting companies tend to use outdated servers that are coming to the end of their days. As such, they're pretty unreliable.
Combine this with the fact that you will be sharing a web server with thousands (sometimes tens of thousands) of other websites. If one website on that server gets attacked or receives a spike in traffic, it can take every website on the server down.
Because free web hosting customers are less important to the company than their paying customers, servers take longer to get attended to. This ultimately means more down time for your website.
On top of this, customer service reps cost money. Free web hosting companies tend to have less representatives, yet more customers having issues. This can result in queries going unanswered for days at a time.
And when they do respond, it's usually with some variant of "please upgrade to our paid service". Which brings us onto our final reason for why free web hosting should be avoided like the plague.
#4 You will eventually have to upgrade
How is it that free web hosting companies stay in business? After all, servers cost money.
Free web hosting companies are owned by paid hosting companies, and they rely on upgrading free customers to paying customers. How do they do this?
Most free web hosting companies deliberately run on outdated software. I've spent hours trying to install plugins and WordPress themes on free web hosting servers only to be told that the theme or plugin requires the latest version of PHP to work. Of course, they will then tell you that you must upgrade to their paid plan in order to make your website work.
They will also likely restrict your bandwidth and web space. Once you exceed these limits the web hosting company can do one of many things. They may take your website offline, or perhaps display more ads. They will of course convince you that you need to upgrade.
What's a better (and cheap) alternative?
You can't go wrong with hosting your website on Bluehost.
Their hosting is extremely affordable at $4.95/month, which includes a free domain name. We use Bluehost for virtually all of the websites in our portfolio, and they're very fast and reliable. In fact, Bluehost are the only hosting company recommended by WordPress.
Another alternative if you have a lot of websites is to hire a VPS (virtual private server) with Bluehost. This is what we do, and it costs about $30/month. For this price we can host as many websites as we want on this server. I believe we currently have about 8 websites on there, which works out at $3.75 per website per month.
If you're unsure about which web host is right for you, we've written a guide on what to look for in a web host here. Whatever you do though, learn from my mistakes and avoid free web hosts like the plague.