It's a common theme among startups.
Develop an idea. Build a product. Drum up excitement. Then, figure out the marketing as you go.
Yet, according to CB Insights, the number one reason why startups fail (42%) over burnout and even running out of cash, is because they tackle problems that may be interesting instead of those that serve a market need.
New product excitement can cause founders to overlook the critical elements that ensure a product's success in its market—an intimate knowledge of your potential customers and the market in which you are launching. Even the most innovative and excellently crafted products may not survive without a clear roadmap to what success looks like and how to achieve it.
Don't develop your products and marketing in isolation from the key elements that are integral to success. Craft a go-to-market strategy and tip the scales in your favour.
What is a Go-to-Market (GTM) Strategy?
A go-to-market strategy is different from your typical marketing strategy. A marketing strategy outlines tactics that satisfy the demand for a product you already introduced to your market. It also morphs over time to adapt to your business.
In contrast, a go-to-market strategy is short-term and involves research, planning, and strategy for a product or service you have not yet launched. It provides a clear roadmap for how to introduce a new product to your ideal customers.
Go-to-market strategies are not just for new product launches, however. They can also help you launch your product into a new market segment, re-launch your brand, or improve existing product sales.
A GTM strategy is beneficial because it can reduce your time to market and also ensure a successful product launch and a clear path for growth. You will also prevent money loss by only executing tactics aligned with your research and targets.
What is a go-to-market strategy? A GTM strategy answers the Who, What, and How:
WHO are you marketing to?
WHAT marketing strategies will help you reach this target market?
WHAT are their goals?
WHAT are their problems?
HOW does your product solve these problems?
HOW does your competition solve these problems?
HOW can you strategically price and position your product for the best results?
Essentially, your go-to-market strategy will outline how you get your product in front of the people who will be willing to buy it.
How do you create a GTM strategy?
This guide will discuss how to formulate a go-to-market strategy. Throughout, we may use the term "product" for brevity, but you can use this interchangeably if you sell services.
7 Steps to Building a Winning Go-to-Market Strategy
Formulating a GTM strategy will require comprehension of several components:
Your ideal customer
Your market, positioning and the demand for your product
Your competition
Your product and its offerings; pricing strategy
Channels to distribute your product and reach your customers
We will walk through each of these below and discuss how to execute each step.
1. Assess Your Market and Product Demand
Do people want and need your product? Is there enough demand for what you are selling?
When you thoroughly research product demand, you can tell if your product will be a hit (or a failure) long before you even launch it.
That's why assessing product demand is such an integral part of your go-to-market strategy. Suppose while you go through this process, you uncover (hesitatingly) that a large market does not exist (which means there will likely not be enough demand to create a viable business). In that case, you can adjust your product and/or marketing to satisfy your market. Hence, it's also a way to validate your product.
Note that if you already have a finished product ready to sell, we hope you have already validated your idea by doing this type of research. If not, it's vital to do this research now before wasting a lot of money on marketing. If you find a product-market mismatch, you can tweak your product to fit your market or vice-versa.
To assess market demand, answer the following questions:
What problems does my product solve?
What proof do I have that my product solves these problems?
If you are unsure if your product will have enough demand to sell, perform some initial research before going ahead with your go-to-market strategy. Talk to potential customers one-on-one and gauge their reaction to your product. Ask them specific questions. Also, run a survey to a segment of your target market.
2. Identify your Ideal Customer and Create Buyer Personas
It might be hard to believe, but not everyone loves chocolate and puppies.
Some people are allergic to puppies. Others are die-hard cat fans. And some don't even care about pets at all (I know, the horror). The point is, we are all different.
Similarly, some people will adore your product, and others won't care about it or consider it valuable. This may sting a little, but not everyone will love your "puppy."
This is OK. In fact, it's good.
The reality is that you can't market to everyone because everyone isn't a target market. If you target people who are not interested in what you are selling, you lose the ability to market to the people who are really interested in what you are selling. In the end, you will end up selling to no one.
Identifying your ideal customer helps you get laser-focused on the customers who fit your product. According to Copyblogger founder Brian Clark, "You don't just accept who you find—you choose who you attract."
Who are your ideal customers? Let's go through the process.
Start the research process by answering some questions about your current customers:
What problems do you solve for them?
Why do they make decisions in favour of your product or service?
How does your product meet your customers' goals?
How is your product different from your competitors?
Leverage your current data to answer these questions. Consult your Google Analytics and gather customer information from their conversations with customer service, marketing and sales teams. Get data on issues, questions, and feedback gleaned from customer conversations. Also, research your customers' interests on social media and notice what profiles they follow and what's important in their interaction with others.
The next step is to determine the physical demographics and psychographics (habits, interests, values) of your ideal customer.
We won't go into much detail on physical demographics as they're straightforward and typically include characteristics such as age, location, gender, and other lifestyle factors.
For psychographic data, answer the following questions about your ideal customer:
Where do they hang out online?
What type of media do they consume?
What type of communication do they prefer?
What are their deepest concerns?
What are their biggest stressors?
What are their pain points, problems and challenges?
What are their motivations?
What are their product preferences?
What relieves their stress?
What triggers them to look for a solution to their problem?
What are their objections to purchasing?
If you don't yet have customers or you want to dig deeper into uncovering customer behaviour and interests, send a survey to target customers and offer an incentive for participation. If you do not have customers, add a pop-up or message on your website, and send a link to the survey via your social media profiles.
Are you launching a new product?
If you already have some customers, you may naturally gravitate toward attracting more of the same people with your new product offering. But, what if your current customers are not the ideal customer for your new venture? New products warrant new research. Start from scratch with a new customer profile and go through the steps as if this was your first product.
What are your goals?
Your ideal customer should also be someone who helps you tap into new markets and expand your business.
For example, let's say your software solution targets startups, but recent improvements allowed you to expand your market to medium-sized businesses. Build a go-to-market strategy to target this new segment so you can scale your business. Just be careful not to tip the scales to favour your business goals more than what the customer segment wants and needs. Balance is key.
Build Customer Personas
Customer personas organise your ideal customer data into customer profiles (personas). Customer personas are critical as they will play a role in every marketing strategy.
Customer personas are realistic representations of your target market. Either based on real customers or fictional, they should embody the traits, characteristics, and behaviours you uncovered from your ideal customer research.
Here is a sample customer persona.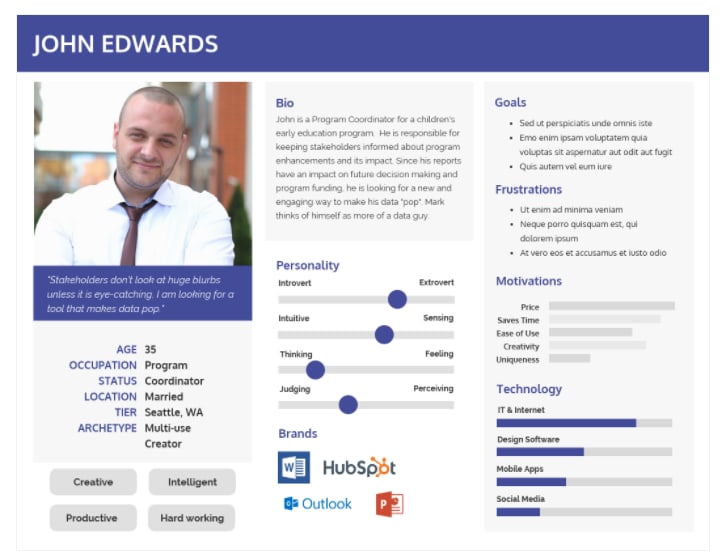 ScriptDoll also has a handy Ideal Customer Worksheet and Profile to help you build a persona.
Tailor Your Messaging
Defining your ideal customer allows you to tailor your messaging to your targets to increase conversions. For example, let's say you sell a software solution that automates marketing. Here is how your persona data connects to your messaging.
3. Create Your Unique Value Proposition (UVP)
How do you differentiate yourself from the competition? Why should your customer buy from you instead of your competitor?
You likely have multiple answers to those questions. But, a unique value proposition isn't just a list of your product's features and benefits. It's a comprehensive, all-encompassing statement that briefly describes the real value your product offers, and why it's better than your competition.
Essentially, your UVP should strike a chord with your audience, and at a glance, answer the question on every customer's mind, "Why should I choose you over your competitors?"
Here is a formula for Unique Value Proposition:
That's a lot to fit into one concise statement, which is why so many marketers have a hard time developing their UVP.
To make the process easier, focus on your top product benefit (the deep benefit) instead of individual features, and use that for inspiration.
For example, a selling feature of a lightweight vacuum may be that it helps consumers deep clean their rugs with its powerful motor. But if we dig deeper into the benefit, we would also discover that because the product is lightweight, it makes cleaning much easier and less of a chore. This deep benefit bypasses the brain (cleans the rug well) and hits the heart, empathising with the customer (less stress while cleaning = happier customer). You are not selling a vacuum; you are selling happiness.
The founder of Revlon Charles Revson acknowledged this when he famously said, "In the factory we make cosmetics. In the store we sell hope."
Need inspiration? Here are some popular UVP examples:
Digit – Save money, without thinking about it.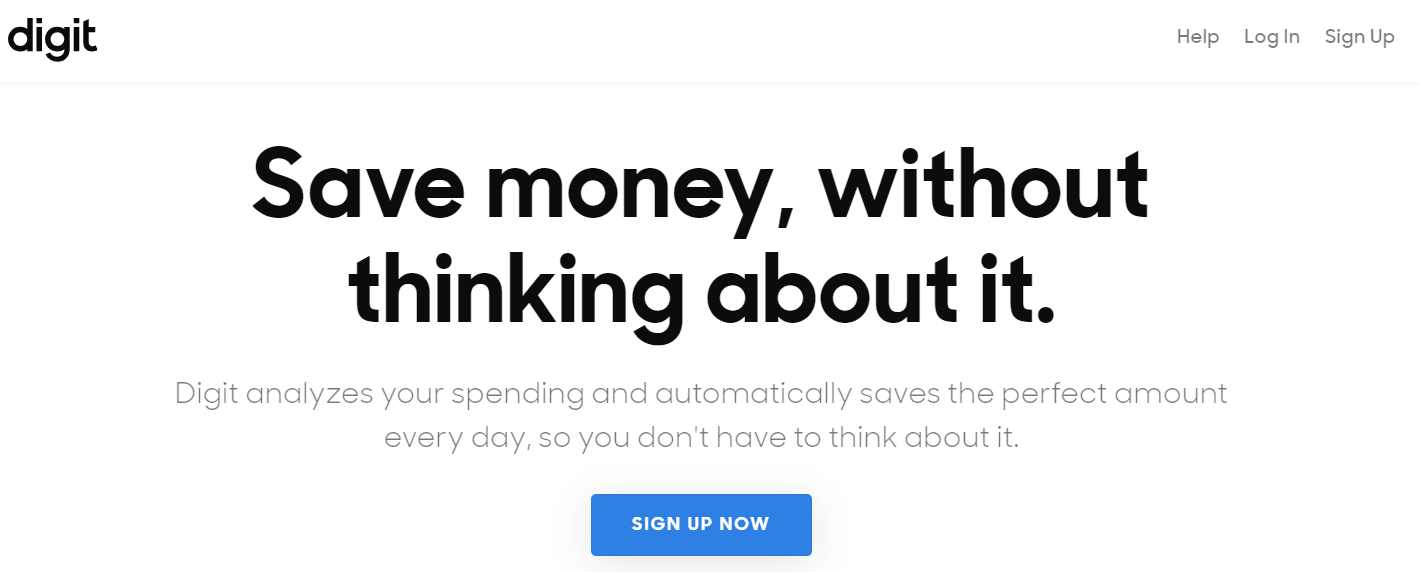 Instead of listing a cool product feature, Digit appeals to a deep benefit or pain point of its audience—it's too difficult to save money. Digit removes the complexity from saving money so consumers can achieve their money goals, well, without even thinking about it.
Intuit – Powering prosperity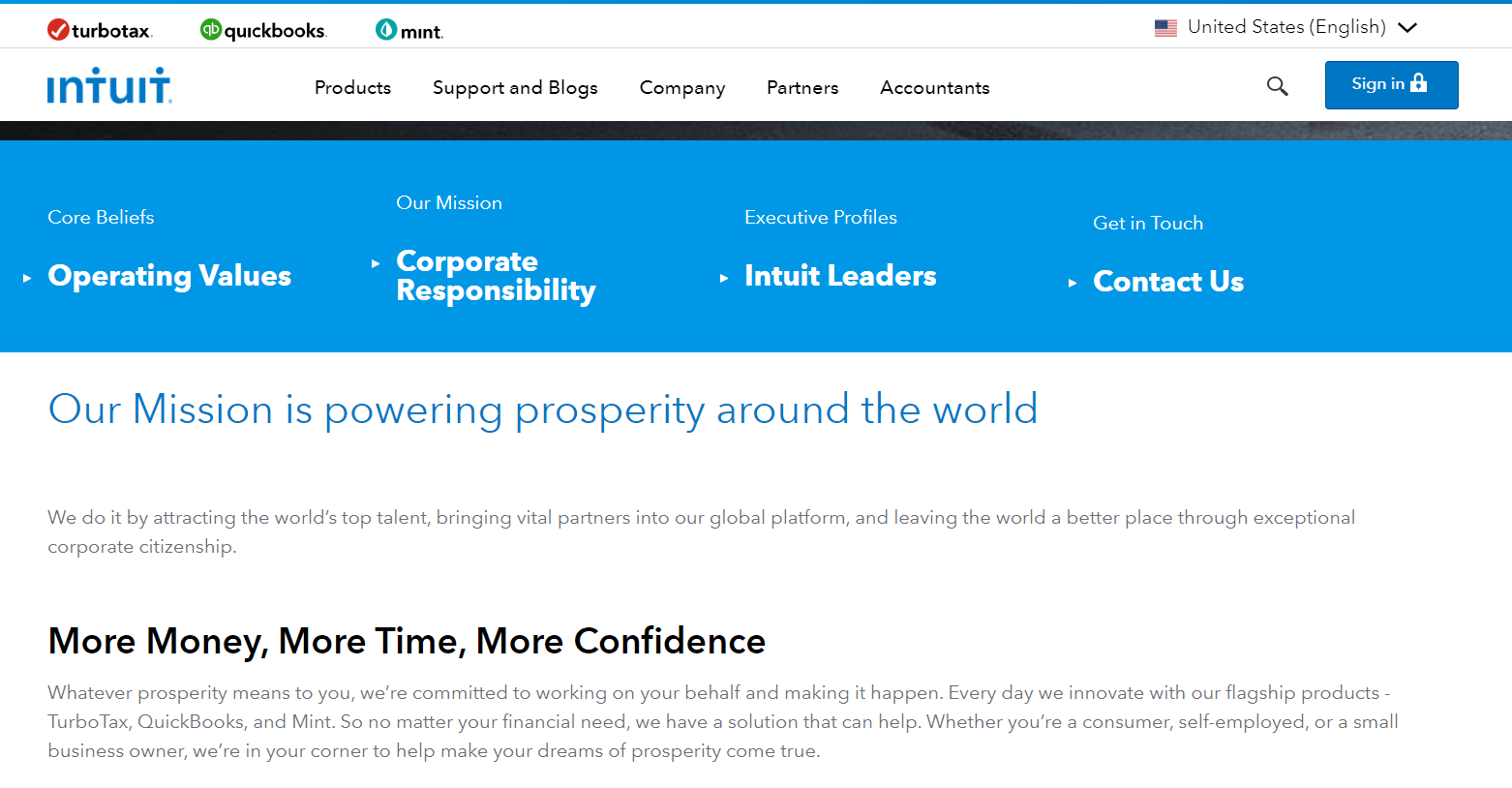 Two simple words are all it takes. Intuit helps individuals and businesses organise and budget their finances with ease, which results in the deep benefit of empowering people to become prosperous.
Squarespace – Helping creative ideas succeed
Website builder Squarespace focuses on the emotional needs of its targets: creatives who may not be tech-savvy but want to get their creation out into the world with a professional website.
4. Define Your Brand Positioning and Messaging
How do you want your customers to perceive you? What do you want them to think when they come across your brand?
Once you define your targets and solidify your unique selling points, determine how you want your market to perceive you. In other words, define your brand positioning.
According to The Branding Journal, positioning is, "the act of designing the company's offering and image to occupy a distinctive place in the mind of the target market".
To successfully position yourself in your market, first, figure out what your customers want (your ideal customer). Next, list the brand's attributes that differentiate you from your competition (what you want to be known for, your UVP), and then research your competition to figure out how your brand fits in your market. The last step is to come up with a brand positioning statement that ties it all together.
Competitive Analysis
We already discussed identifying your ideal target customer and also defining your UVP so you can identify your differentiators. To fully position yourself, you also need to identify and understand your competitors so you can figure out how you fit in your industry.
The goal of a competitive analysis is first to identify your competitors and compare and contrast their marketing with yours to discover better ways to attract your customers. Don't copy their tactics, but uncover their strategy strengths and weaknesses to inform your go-to-market strategy better and position yourself for success.
You can also poll your customers to ask them who they think your competitor is as it may be a company you were unaware of. Get feedback directly from your customers to ensure you are competing against the right companies, and not wasting your time elsewhere. This knowledge can strengthen your marketing and help you outperform.
One last thing to note here is that your competition may change once you target a new segment. The people in each segment will espouse distinct goals and values—that is if you segmented correctly.
Note that competitive analysis is important, but it's not the biggest priority of this process. Businesses set themselves up for failure when they solely rely on competitive data to inform new product ideas. Instead, focus more on customer feedback and insights from your internal team; prioritise this information instead. Leverage competitive analysis to discover how you fit into your current market environment and to find the best ways to reach your ideal customer.
Positioning map
Taking competitors, your customer attributes and product benefits into consideration, create a positioning map for each product differentiator.
Let's say you run a pet grooming service, and two of your key selling attributes are accessibility and quick delivery.
The positioning map will help you see where you fit in the market relative to your competitors.
Once you solidify your positioning, create your positioning statement, "High-quality pet grooming services, delivered to your door, in minutes."
So what you are essentially doing is creating messaging that positions your brand a certain way in your customers' minds, exactly how you want it to be perceived.
A simple way to create your positioning statement is to focus on three words or traits that define your product and brand. For example, in the above statement, we mentioned that the pet grooming service was safe, easy to access (delivered to your door), and delivered quickly (in minutes).
Use your positioning statement to define your messaging and tailor your communication to your targets.
5. Create Your Marketing Strategy
How will you ultimately use this information to reach your customers? This is what your marketing strategy will define.
Everything we have done up until this point feeds into the development of your marketing strategy. While this topic is quite extensive, we will briefly cover the essential elements and how to tie it all together.
The way you target your customer will depend on which stage of the buyer's journey they are in. The buyer's journey outlines the steps your customer takes from discovering your product all the way to purchase. Below are the three primary stages of the buyer's journey and the type of content your prospect may interact with at each stage.
1st stage – Awareness – The consumer or prospect becomes aware of your brand. Awareness can occur via educational content such as blog posts, videos, infographics, or exposure to your social channels. At this stage, the prospect may also opt-in to receive a lead offer and become a subscriber.
2nd stage – Consideration – The prospect evaluates solutions and compares them with each other. At this stage, content and messaging may include case studies, reviews, webinars, or product demos.
3rd stage – Decision – The prospect is ready to make a decision. They may interact with content such as case studies, reviews, proposals, product videos, and tutorials.
The goal here is to identify what the prospect's goals are as they move through the funnel so you can send the right content and messaging to push them further down the funnel.
Marketing Channels
Where will you deliver your messages and interact with your audience? What type of media will your audience consume?
Consumers devour media at a rapid rate. On average, global consumers interact with media over 7.5 hours a day, likely shifting back and forth from online ads and videos to product reviews and social sites, and even offline media such as newspapers and magazines.
Therefore, to successfully reach consumers, brands need to be present on multiple channels. How do you choose the appropriate channels for your brand?
First, assess which channels your targets use the most. Review your competition as well and identify which channels they are using to inform your strategy. Next, match your chosen channels to your customer's journey, and provide a seamless, consistent experience for consumers who access them.
For example, a consumer may find out about your product on LinkedIn, then move to your website to learn more. Finally, they may visit your product tutorial on YouTube and watch your customer reviews on your website. If this were your sales funnel, your channel strategy might include:
[Awareness] Strengthening your product pages and messaging on LinkedIn. Would videos convert better? How can you engage more on LinkedIn to bring more brand awareness?
[Consideration] Optimizing your landing pages. When consumers leave LinkedIn to view your website, how well do your landing pages convert? Do you have a landing page set up or do you lead people directly to your website? Are you logically continuing the conversation from your LinkedIn to the pages on your website?
[Decision] Optimising your YouTube videos. Are your YouTube videos optimised for consumers who are ready to make a decision?
As you enter channels, monitor which ones perform the best, and pump more marketing dollars into the high-performers. Note that even though a product performed well on one channel, doesn't mean a second product will follow suit. Whenever you launch a new product or expand into a new target segment, reassess your strategy and perform more testing.
6. Define Your Pricing Strategy
Pricing is not just a financial decision; it affects many aspects of your business and communicates different messages to your prospects. For one, it can indicate to the customer your product's value. A customer may perceive a lower-priced product as inferior or vice versa. But, the price at which this occurs will be different for each target segment.
Pricing will also influence your sales and marketing. For example, a higher-end, higher-priced product may require a longer sales funnel and more coercing to convince people to invest.
Your brand and product attributes will also affect your pricing strategy. For example, if the price is one of your main selling points, you may want to undercut the competition. If you are focusing on quality more than price, you may want to price your product higher than the competition. You can consult your positioning maps for this step as well.
Consult this in-depth guide for more information on pricing strategies.
7. Additional Considerations (Budget, Metrics, and Resources)
You are almost ready for launch. But, a go-to-market strategy wouldn't be complete without the following:
Budgeting
Prepare a budget and consider all items, including product development (if applicable), personnel, R&D, warehousing, and marketing. Also, account for future cash flow and set aside an additional five to ten per cent for contingencies.
Metrics and KPIs
Your strategy is not complete without metrics that define your launch's success. The metrics should be attainable and quantifiable ("1,000 sales in 60 days" instead of "a lot of sales in the coming months")
Marketing Made Easy: Resources and Support
The right tools can help you automate your tasks and forecast your growth before you even launch.
We are currently developing a new marketing collaboration platform TrueNorth to help marketers plan, test, and gain confidence in their campaigns by simulating them before launch. Save money and time discovering which campaigns will work before you spend your money. If you want to beta test TrueNorth, go here to request early access.
Your Go-to-Market Strategy: Summary of the Steps
We discussed a 7-step process for developing your go-to-market strategy:
Assess your market and product demand
Identify your ideal customer and create buyer personas
Create your unique value proposition
Define your brand positioning and messaging
Create your marketing strategy
Define your pricing strategy
Additional Considerations (budget, metrics, and resources)
Launching a new product or entering a new market is often more chaotic than a step-by-step process would suggest. You can complete these steps out of order or at the same time. Regardless, always focus on your customer and don't shortcut any part of the process. A go-to-market strategy will ensure you have control over your product and its marketing as you go from idea to launch.