Earlier this year I read 'Thick Face Black Heart' by Chin-Ning Chu on Eastern business philosophies. One of the concepts from the book that's stuck with me is the idea of leapfrogging.
In Western cultures, we subscribe to the idea of 'climbing the ladder' or 'working our way to the top'. In some Eastern cultures, there's an opposing belief – that you can leapfrog to the top.
A few months ago, I met Nathan Chan at a launch party in Melbourne. Nathan's a young entrepreneur who has leapfrogged his way to interviewing some of the most influential entrepreneurs on the planet, while building a business that he loves.
I asked Nathan whether he'd be willing to share some lessons on how he did it with us, and being a good sport, he said yes.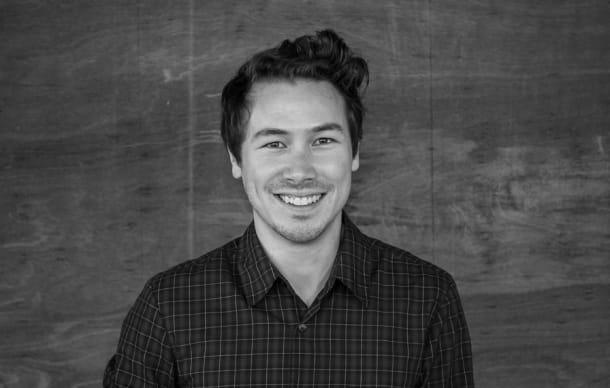 Nathan:
In March 2013, I launched a project that would change my life forever.
If you would have told me back then that in 15 months I would be connecting with Richard Branson and Arianna Huffington, I would have seriously questioned your sobriety.
But that's exactly what happened.
The project is Foundr, a digital magazine for young entrepreneurs that has flourished into a fully fledged business that pays my bills, while allowing me to connect with some of the greatest minds in the business world.
That said, we had humble beginnings.
The picture to the right was the front cover for issue 1. It was a stock image that I ran with as I needed to ship the project. I was working on the first issue for 3 months straight and should've had something out there.
After the first day in the wild, here's what our stats showed: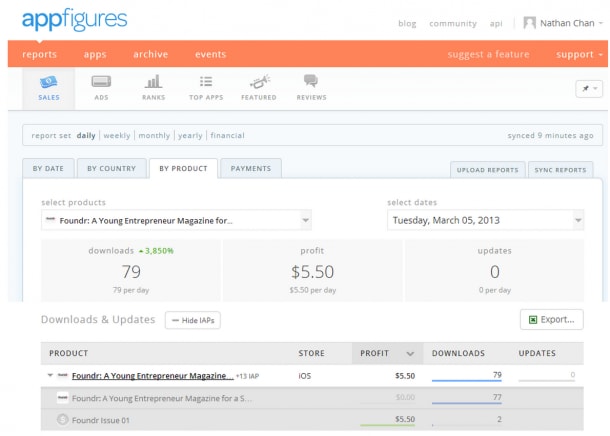 It wasn't much, but it wasn't bad for a first day of earnings.
So, how did I turn this passion project into something that's allowed me to leave my day job and interview authorities all around the world?
Before I share examples of email templates that I used to interview the likes of Richard Branson and Arianna Huffington, let me first explain the theory.
In 2006, Robert Cialdini published a book called Influence. Robert suggested that human behaviour can be influenced by the following principles:
Reciprocity
Social Proof
Liking
Authority
Scarcity
Let me explain each of these in more detail, and how they relate to us.
Reciprocity
"As humans, we generally aim to return favours, pay back debts and treat others as they treat us. According to the idea of reciprocity, this can lead us to feel obliged to offer concessions or discounts to others if they have offered them to us. This is the because we're comfortable with feeling indebted to them."
So how does this relate to us?
It all starts with finding out what people like Richard Branson want. You will not be able to get in contact with them if you have nothing to offer in return.
One of my mentors once taught me something very valuable that I use and apply everywhere:
"Serve first, ask later"
See how you can help that person, then you will receive something in return. In my case I created a digital magazine which interviews successful entrepreneurs.
If you randomly shoot someone an email asking for something, and they do not know you from a bar of soap, why is it in their best interest to respond?
It always come back to the value exchange. Typically, people get an ill feeling if someone asks for something when they don't know them, and they do not feel inclined to help.
You also have to remember what people want. Generally it's more sales, traffic, leads, and eyeballs. All of the above can be generated from press.
Ask yourself the question "Has this person launched a new startup? Have they just launched a new book they are trying to promote? Have they recently invested in a cool company?"
I quickly discovered that I can help influential entrepreneurs with press via Foundr.
Using search filters to find authors about to launch a book
One of the most powerful tricks I use to get Foundr interviews is using search filters on Amazon to find authors about to launch a book.
The first step in the process is finding authors/books that will fit the tone of the show.
A) You can do this by browsing the upcoming books category in Amazon.
B) Look on the left sidebar. You will see categories of all the books being released. Generally, we'll stick to non-fiction. But if there is a fiction book that ties in with our audiences' interests, or the author is a really big name, go for it.
From here, click 'coming soon' and you'll find a list of upcoming books in that niche. You can then reach out to these authors and offer to help them promote their upcoming book.
Social Proof
This principle relies on people's sense of safety in numbers.
"For example, we're more likely to work late if others in your team are doing the same, put a tip in a jar if it already contains money, or eat in a restaurant if its busy. Here we're assuming that if lots of people are doing something, then it must be OK. "Or, if you're selling a service, highlight the number of people using it, use plenty of relevant testimonials, encourage people to talk about it using social media, and publish case studies with current customers to demonstrate its success."
In my instance, I have a digital magazine that covers already-successful entrepreneurs. We have built a reasonable sized audience from simply, "doing the time" and growing.
Once we had a decent size audience, we pitched bigger and better influencers. There is a lot of power in having a magazine because, something about having a work book makes it so much more easier to pitch people on. If you say would you like to be interviewed for a front cover story on our magazine, who wouldn't want to be on one?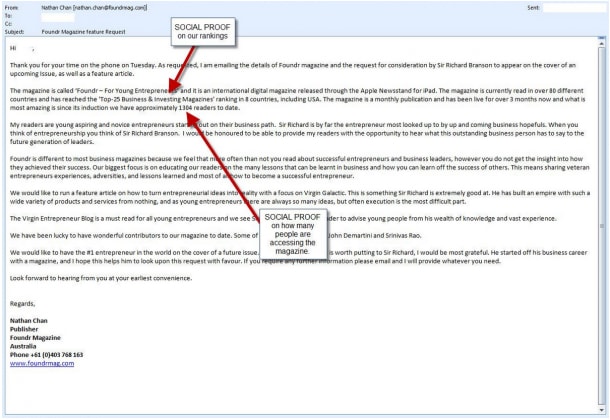 Just like with getting authorities to interview, we did the time, and built our readership one by one. To date, Foundr has been downloaded over 100,000 times.
Liking
Cialdini says that we're more likely to be influenced by people we like. Likeability comes in many forms – people might be similar or familiar to us, they might give us compliments, or we may just simply trust them.
With Richard Branson, I used complements that played on his experiences as a season entrepreneur.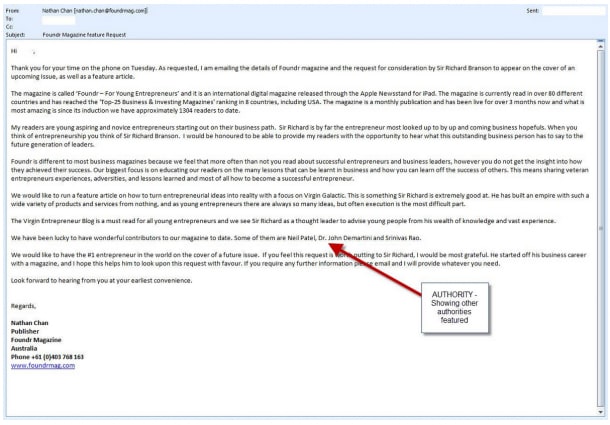 Authority
"If you're marketing a product or service, highlight well-known and respected customers, use comments from industry experts, and talk about impressive research or statistics. Things like well-produced brochures, professional presentations, impressive offices, and smart clothing can also lend authority."
There is no other way to put this. Building authority for Foundr was a case of working my way up, one influencer at at time, until we hit the top of the food chain.
Scarcity
"With this principle, people need to know that they're missing out if they don't act quickly. If you're selling a product, limit the availability of stock, set a closing date for the offer, or create special editions of products.

This principle can be trickier to apply within your organization if you're trying to influence others to support your ideas or projects. You can, however, use urgency to get support for your ideas."
In my case, the front cover is rare. We only have 12 a year, and lets be honest, who wouldn't want to be on the cover of a magazine? It's a status thing. Richard Branson has been on the cover of every business magazine in the world. So why not one more?
When it comes to pitching influencers to be featured on Foundr, it's really a numbers game, and even today many people we contact still say no. However, we constantly do get massive guests always for the magazine. Think of it like sales, you have 100 leads, and of those 100, ten may be interested in what you have to sell.
What we did after Richard Branson said yes
After agreeing to be interviewed, we scheduled everything with his PR team, who're responsible for everything press-related to Branson.
We scheduled in a date that we would send Branson our questions, as well as a go-live date with his cover story & feature. We themed the interview on 'turning ideas into reality' with a focus on all of the ideas that Branson has brought to life.
Here are some of the questions we sent him:
"How we bounce back from our set-backs and failures is often thought as critical to success. What is your advice for young entrepreneurs starting out and facing tough set-backs, and do you have any particularly memorable experiences that have come from failures?"
"Until Virgin Galactic, Virgin brands were usually an alternative to an existing category – offering everyday consumers more than they were accustomed to within the sector – a disruption to the status quo. But with Galactic, Virgin becomes the innovator. Is there a difference in approach to business when switching from 'improver' to 'innovator'?"
"What question would you ask yourself, Sir Richard Branson in 2013, if you were a young entrepreneur starting out? Which question would you most value the answer to?"
Once we had his answers, we structured the feature story.
With the story, and the images, this was the result of the front cover:
Voila! This was the end product. We were extremely happy with how this all turned out, and to the common eye, you would think that Foundr is a massive publication with a ton of staff. However, we're just a small boot-strapped startup with a lean and global team of entrepreneurs around the world.
Conclusion
So there you have it, these are the principles I used to leapfrog my way up to getting in touch with some of the top influencers in my niche. Despite our focus on entrepreneurship, I believe these best practices can most certainly be applied to any niche.
Since applying these principles over the past 18 months, Foundr has become one of the top 10 'Business & Investing' Magazines in the iTunes App Store. As you can see, we sit next to likes of Entrepreneur, Bloomberg, Fortune and many more big time publications.
Remember, you don't have to create a magazine to be able to do this, you just need a voice, and an audience.
If you'd like to get in touch with me or check out the free issue of Foundr magazine featuring Richard Branson, you can visit here for iTunes or here for Google Play.