There are countless ways to build and grow a thriving business. Some startups offer services, while others ship products. For every company that aims at enterprise clients, there are dozens more that concentrate on consumers.
But when you filter out the noise, you soon see a universal trend. Behind every success story is a great sales effort.
Most founders and managers recognise this fundamental truth, but sales isn't an easy nut to crack. Cultivating leads, engaging with potential clients, and closing deals takes a considerable amount of time and effort.
For this reason, most successful startups use dedicated tools in order to create a highly efficient sales workflow.
The results are remarkable. Over 75% of companies using sales enablement tools see increased sales over a 12-month period. Almost 40% of these businesses report 25% growth or better.
To help you follow suit, we have tried and tested the best sales enablement tools currently available. Keep reading to see a breakdown of our top picks, along with some key advice on choosing the right tool for your needs.
What Is a Sales Enablement Tool, Exactly?
The main purpose of any sales enablement tool is to improve your sales workflow. It's a broad definition that can include everything from customer relationship management to chatbots and training platforms.
Some of the most common features in sales enablement software include:
Sales content management
Training and support for reps
Gamification / motivation
Conversation analysis
Document sharing
Process builders
Automation
Email tracking
Many apps in this category are aimed at businesses that have a team of reps or multiple teams, with pricing to match.
Solutions that cater for smaller outfits tend to focus on automating time-consuming tasks, such as sourcing contact information for prospects and sending out contracts.
Best Sales Enablement Tools to Empower Your Sales Team
There are literally thousands of sales enablement tools available today, covering every possible use-case and budget.
To help narrow down the search, we hunted down the best apps for startups and entrepreneurs. Here's our top ten:
(Note: Unless specified, all prices reflect annual billing)
Best sales enablement tool for startups and entrepreneurs
Before you can even think about making calls and closing sales, you need to identify some prospects. At Venture Harbour, we like using Reply to speed up the process.
While this sales enablement tool can handle workflows and outreach, the best feature is undoubtedly email search.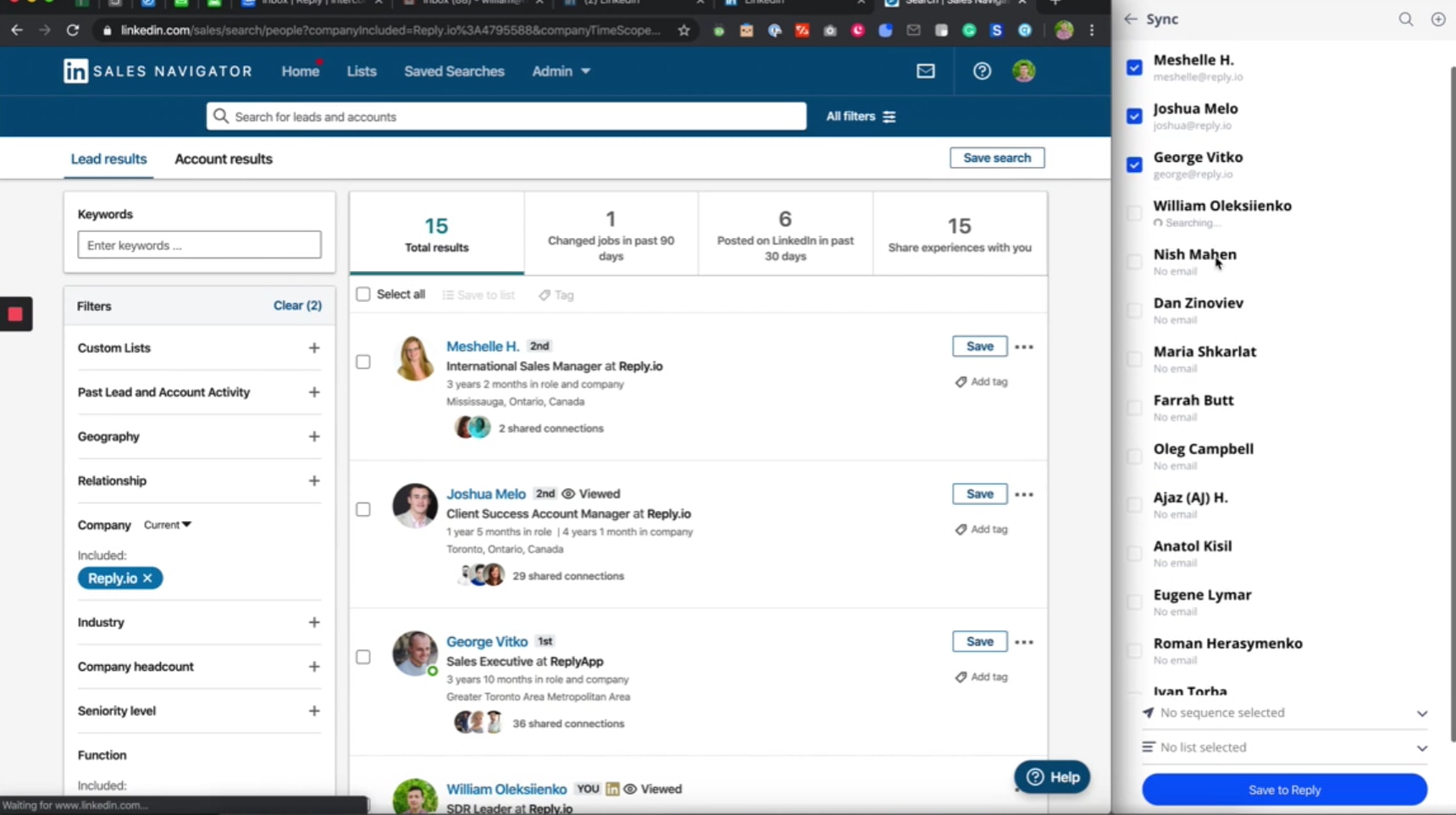 Install the browser extension, and you can quickly scoop up potential clients on LinkedIn. Reply then hunts down their contact details and adds them to your pipeline.
Once you have captured your prospects, you can create an outreach sequence inside Reply. You can make it a manual process involving calls and emails, or automate the entire thing.
If you choose the former option, Reply generates a task list based on your outreach schedule. You are then able to call people right inside the app. With one click, you can open the built-in dialler and view relevant contact information.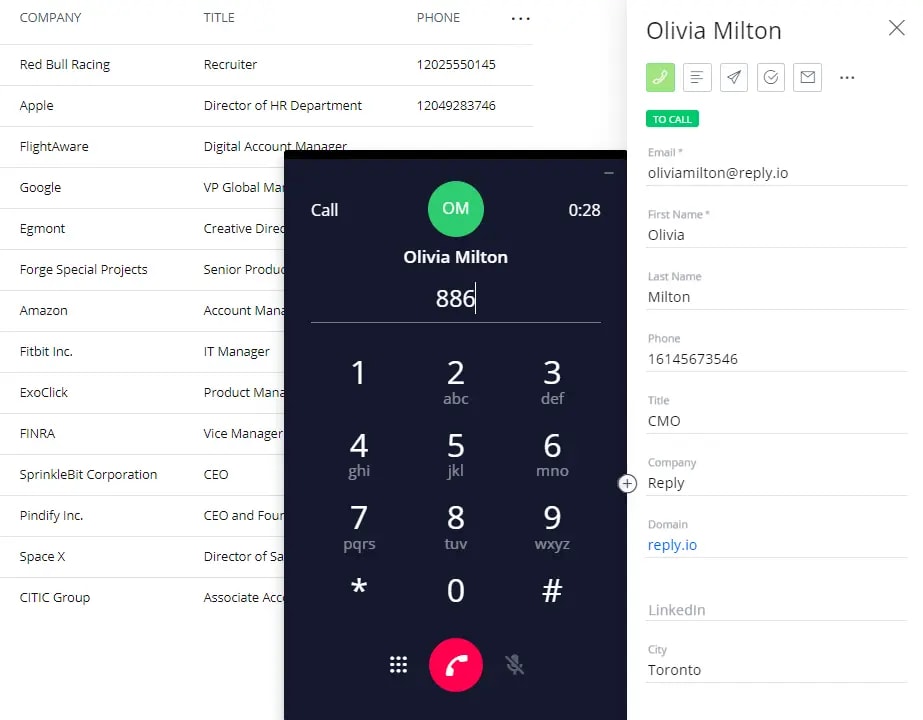 For companies that prefer an automated approach, Reply has a range of useful tools for honing your process. As you compose emails, the app analyses your prose and provides suggestions.
After you hit send, the platform tracks a range of metrics, which you can view in a clean stats dashboard.
Overall, it's an impressive suite.
Key features:
Unlimited email searches via LinkedIn
Create workflows and schedules for outreach campaigns
Built-in dialler for calling contacts inside the app
Automatically builds checklists
Powerful stats to help you analyse performance
Pricing: You can try Reply free for 14 days, and then choose between Individual and Business plans:
Individual – $55/user/month to contact 1,000 prospects, with unlimited follow-ups and A/B copy testing

$70/user/month to contact 3,000 prospects

$90/user/month for unlimited prospects and follow-ups

Business – unlimited emails, with a discounted per-user price as you scale:

$70/user/month for up to three users

$60/user/month for five users

$50/user/month for ten users
Check out Reply to learn more.
Best for workflow management
To hit your sales targets every month, you need to have a consistent workflow. This means following up with leads, sending out welcome packs to new clients, and scheduling meetings. Process Street is our favourite tool for keeping track of such tasks.
We would describe this app as deceptively powerful. Through a simple interface, you can create template checklists with drag-and-drop controls and assign them to colleagues.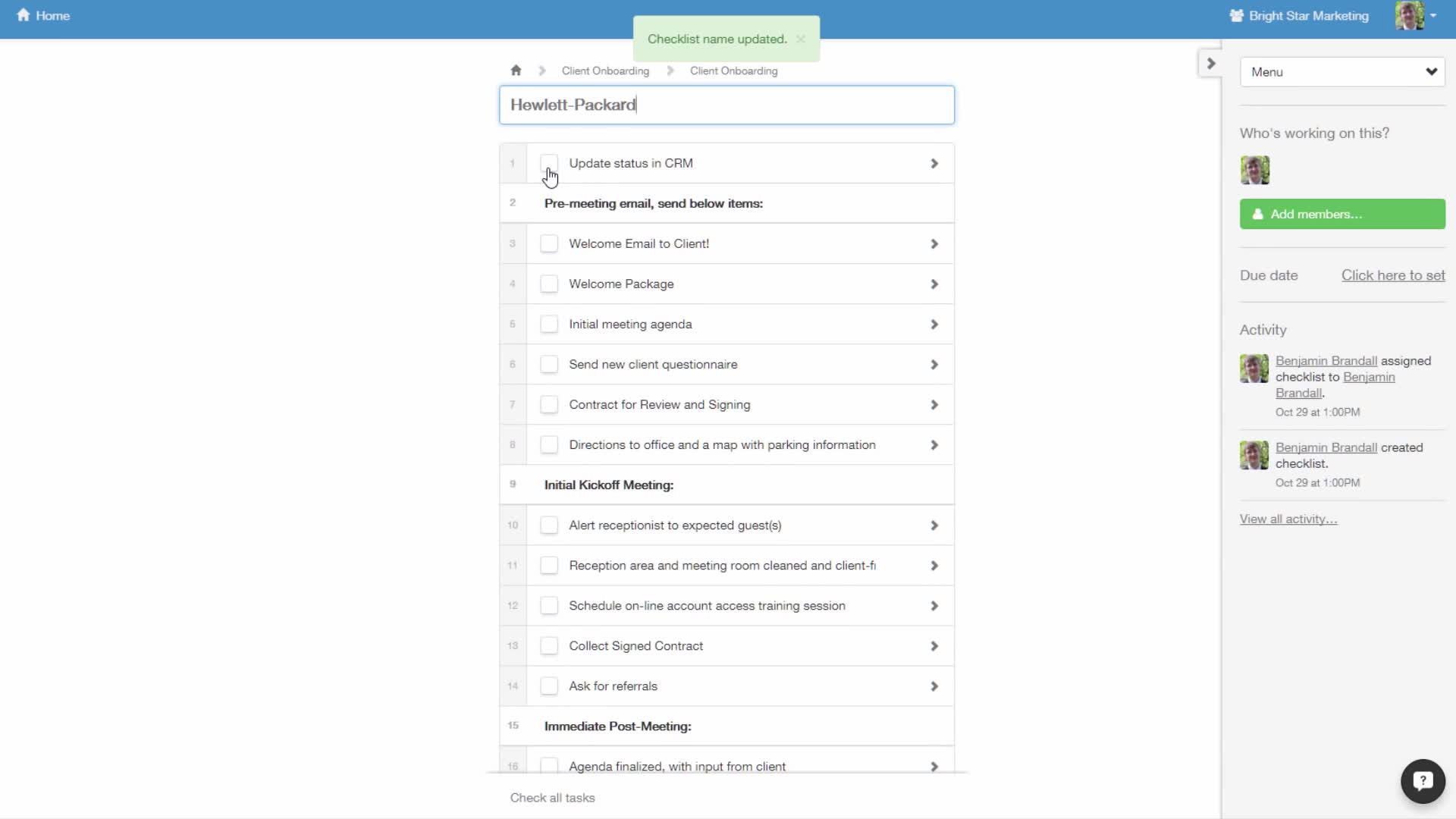 Every time a task is marked as complete, the progress bar for that project fills a little more on your dashboard. You can also choose to receive task-by-task notifications.
But Process Street has much more to offer. Conditional logic allows you to create dynamic checklists that adapt to different projects, and you can build forms for direct data entry.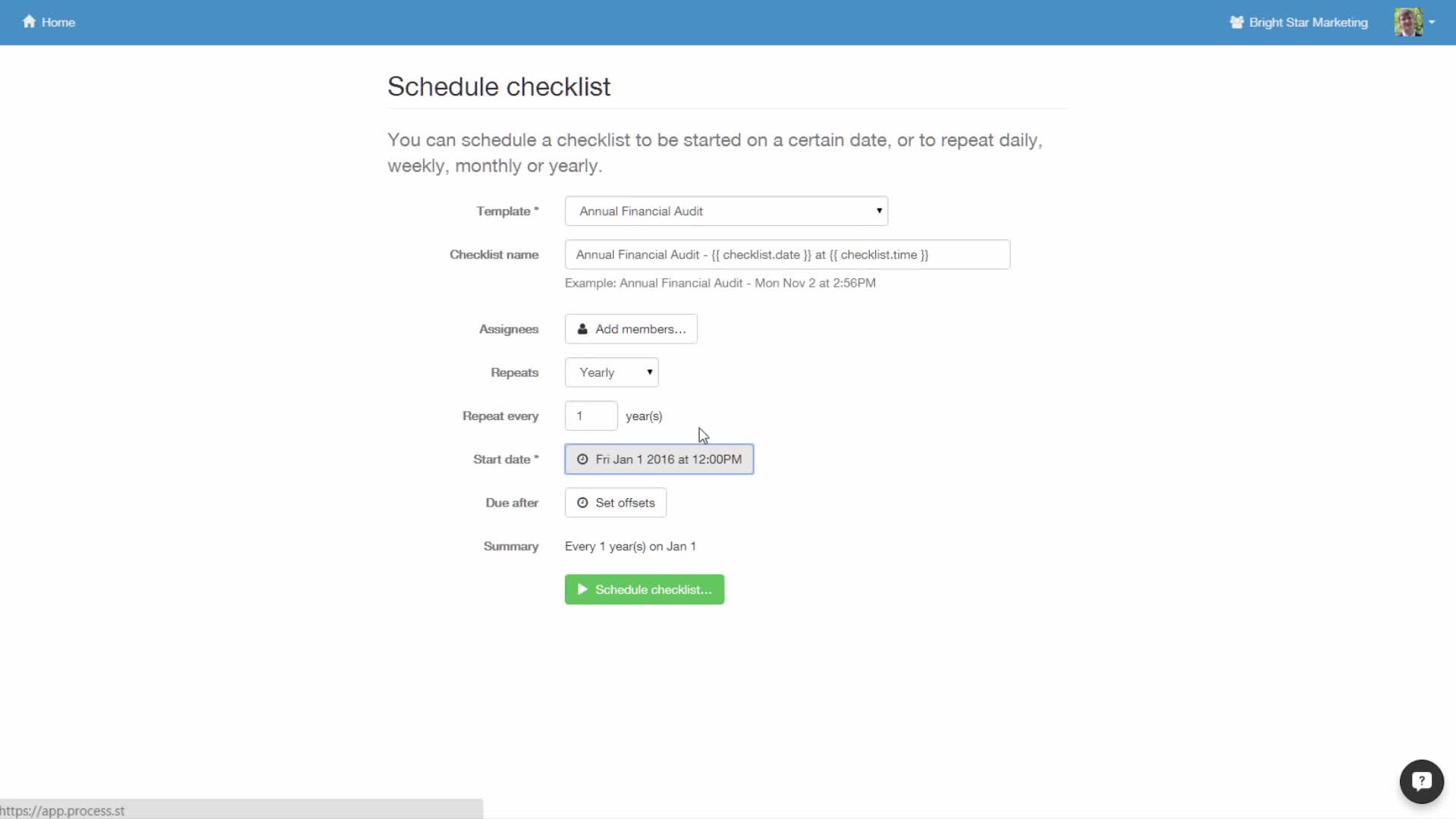 If you prefer, you can pull in content from other apps. Process Street has deep integration with Zapier, which connects to over 1,000 third-party platforms. This means you can easily sync your checklists with your CRM, and automate sending emails for given tasks.
Add an approval system and support for rich media, and you have a tool that can handle almost any sales workflow.
Key features:
Build checklist templates with conditional logic
Collaborate with colleagues and track progress
Form builder for data input
Automation via Zapier integration
Assignment and approval system for managers
Pricing: Process Street is free to try for 14 days. There are two regular paid plans:
Basic – $12.50/user/month for unlimited checklists, plus reporting
Standard – $25/user/month for dynamic due dates, conditional logic, permissions, and approvals
Check out Process Street to learn more.
Best for sending professional proposals and contracts
Sending out proposals and contracts takes time, but these documents need to make a good impression. If you're looking for a shortcut that doesn't compromise on quality, we highly recommend PandaDoc.
Used by the likes of Drift and Hilton, this app focuses entirely on the admin side of sales. Rather than spending hours every week in Word, you can use PandaDoc to create and send out professionally-designed documents in minutes.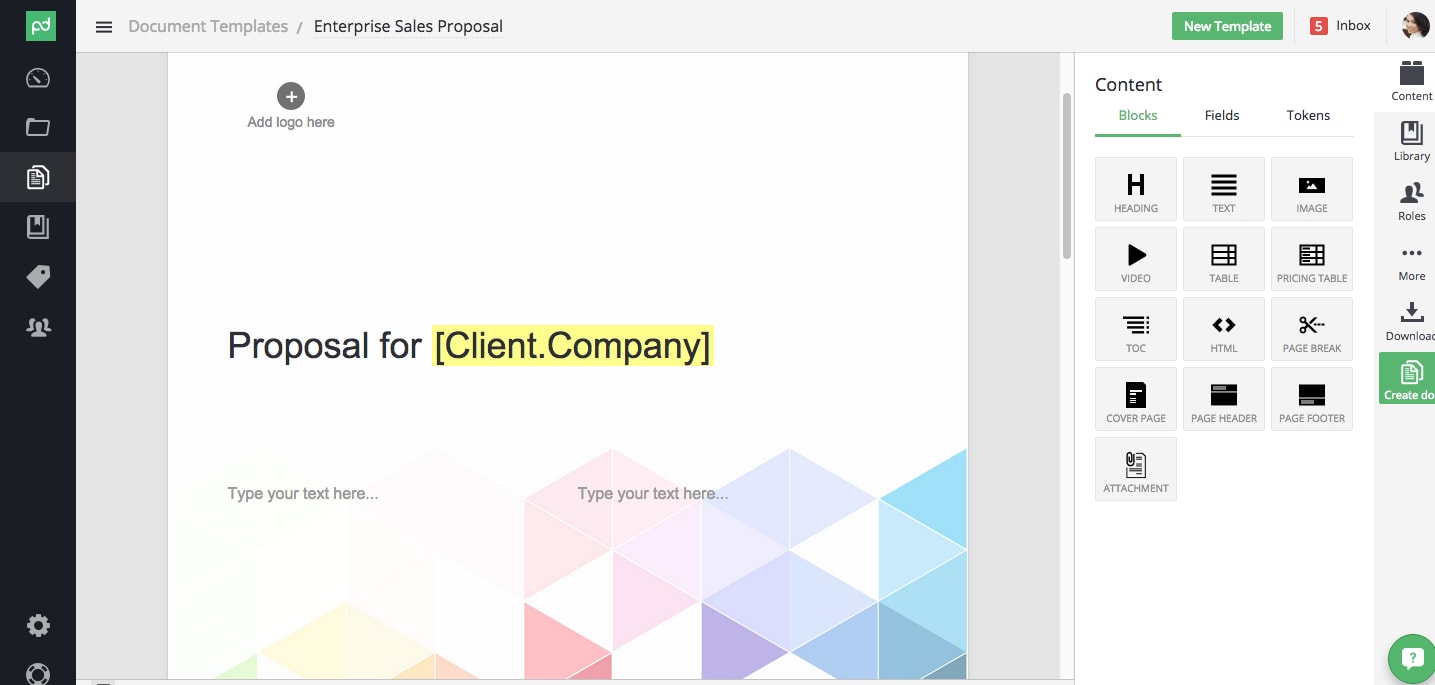 The standout feature here is a library of over 450 templates, covering most industries. Along with proposals and contracts, the selection includes quotes, invoices, and forms. The designs are aesthetically appealing, with crisp modern fonts, high-quality images, and sophisticated colours.
Once you have found a template that suits your needs and branding, you can make some adjustments.
PandaDoc has a drag-and-drop editor, which allows you to add pricing tables, order forms, e-signature boxes, and other important details. The same controls are available for any existing documents that you upload to your account.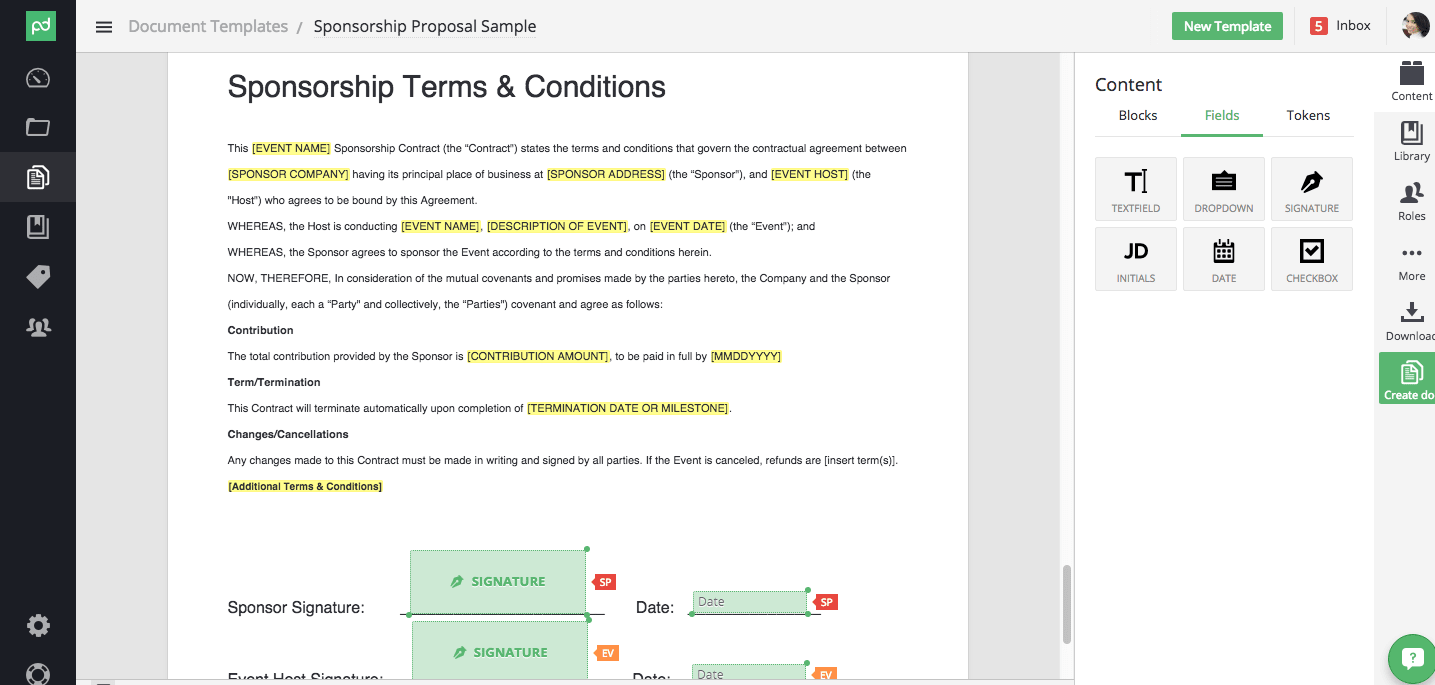 After sending your document, you can keep track of views and interactions with PandaDoc's document analytics. But this sales enablement tool doesn't try to be an all-in-one solution.
Instead, PandaDoc integrates with other popular apps. This means you can easily pull data from HubSpot, Salesforce, Zendesk, Zoho, and Pipedrive. It also works with many payment processors, communication platforms, and cloud backup apps.
Key features:
Create and send polished documents in minutes
Library of 450+ professionally-designed templates
Handle proposals, quotes, contracts, invoices, and more
Easy-to-use editing tools
Integrates with popular CRMs and many other apps
Pricing: You can use PandaDoc free to upload documents and collect e-signatures and payments. After that, you can choose between:
Essentials – $19/user/month for templates, editing, and document analytics
Premium – $49/user/month for CRM integrations, custom branding, approval workflows, and more
Check out PandaDoc to learn more.
Best for email tracking
For any sales team, there is a fine balance between necessary persistence and alienating potential clients. For making informed decisions, Yesware can be a great help.
Designed to work with Gmail and Outlook365, this sales enablement app tracks when your emails are opened, when links are clicked, and when attachments are opened. This data is particularly useful during the outreach stage of sales. It also comes into play as you move through the onboarding process; being able to see when a potential client has seen your message is a valuable insight.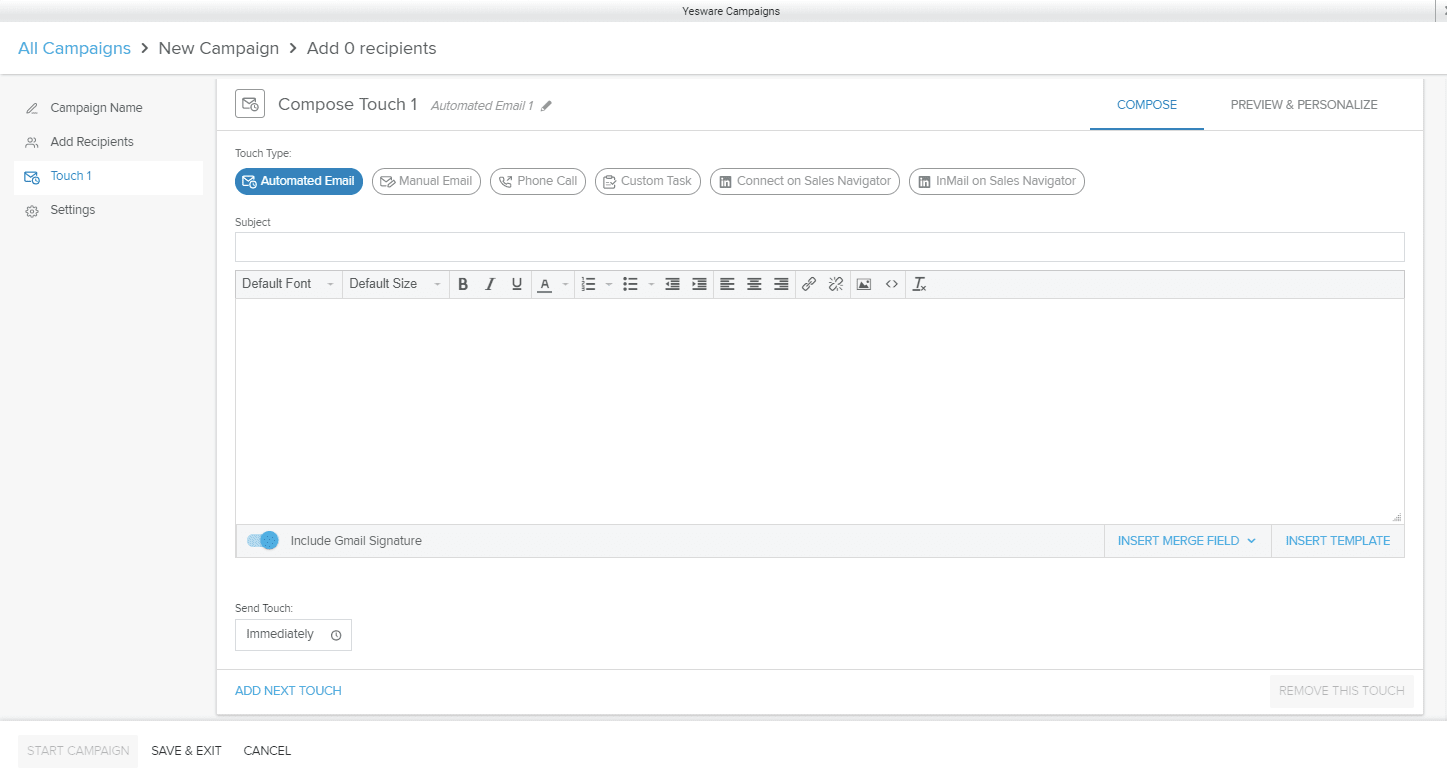 Yesware offers a Chrome browser extension, which gives you access to most of the main features within your inbox. A small icon shows the status of each sent message, much like the ticks you get in Messenger and WhatsApp.
When you open a thread, you can view more details in a pop-up sidebar. Yesware syncs with Salesforce, so you can see all your CRM data for each contact.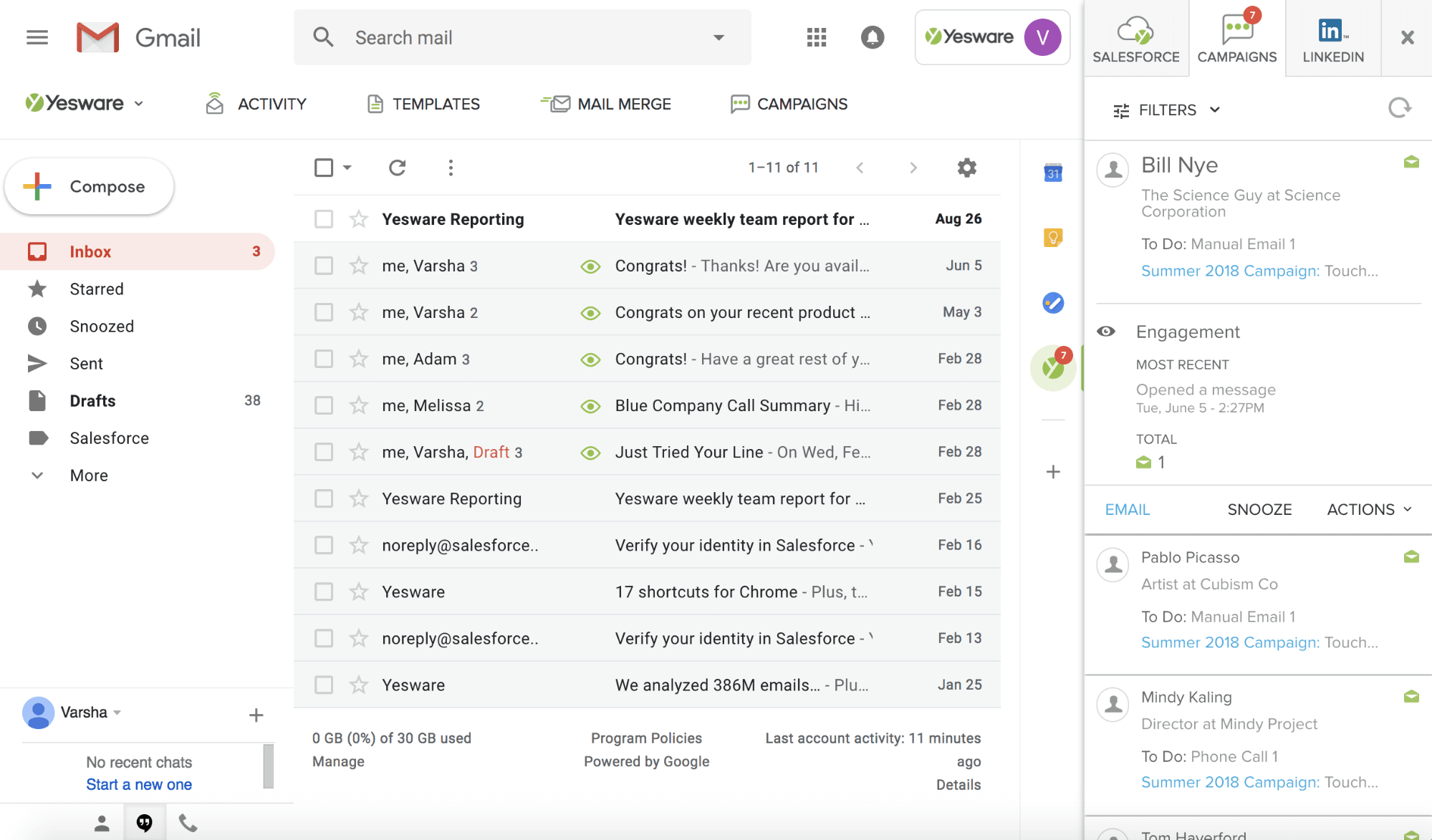 For the full range of stats, you can visit the Yesware web app. Here you have the opportunity to create email templates, which are made available via the compose window in your email app.
For advanced outreach, you can use Yesware to build personalised campaigns for groups of contacts and run A/B testing to find your best copy.
Key features:
Works with Gmail and Outlook (O365)
Tracks email opens, links, and attachments
Create email templates
Run campaigns and A/B testing
Integrates with Salesforce to sync contacts
Pricing: Yesware offers a 14-day free trial. After that, there are three paid plans:
Pro – $12/user/month for tracking, templates, scheduling, dynamic meeting invites
Premium – $25/user/month for campaigns, template sharing, permissions
Enterprise – $55/user/month for Salesforce, CRM, and calendar syncing
Check out Yesware to learn more.
Best for B2B sales management
While individual tools can make life easier, you still need a home for your sales efforts. Membrain is a sales CRM that a lot of people seem to like, including us.
Aimed primarily at the B2B market, this platform was specifically designed for sales teams that have to handle complex deals. Rather than simply offering basic task lists, the app actively guides your staff through the entire process.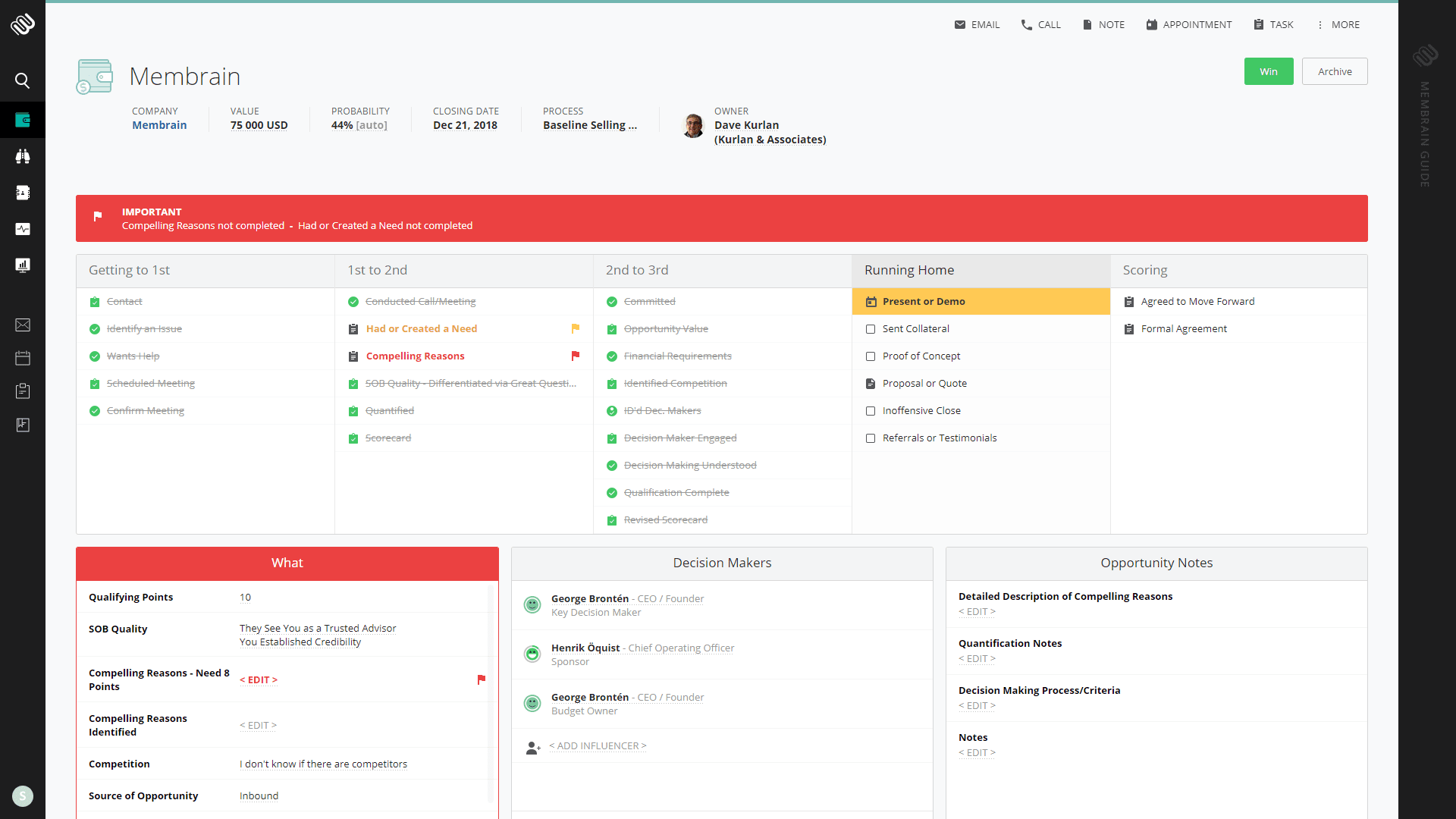 Membrain has its own CRM database which can store contacts and retrieve additional information such as email and website addresses. Custom fields allow you to add extra data, and you can see all your pipelines in a single view.
To help turn prospects into contracts, Membrain allows managers to codify the entire sales process. You can include a variety of steps and milestones, along with shared language and those all-important KPIs.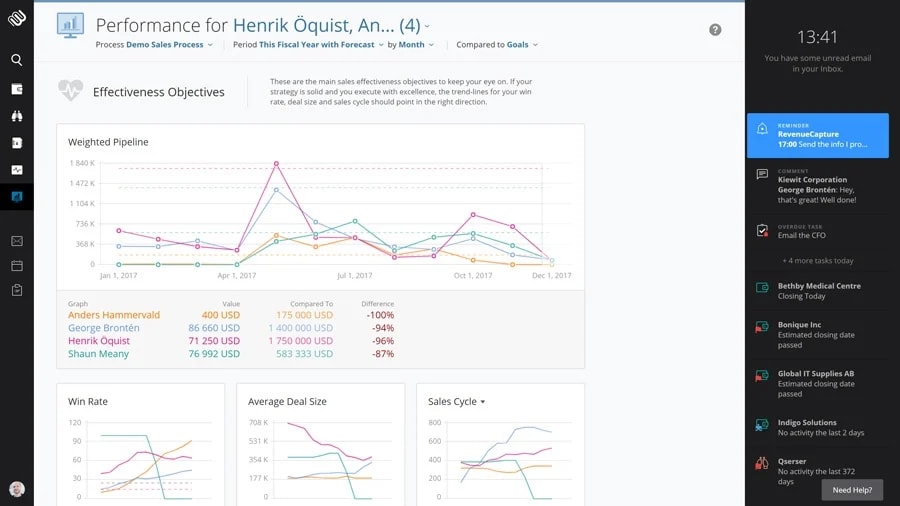 The platform then takes the role of a coach, channelling your staff down the path of least resistance. If they deviate too far from the script, the app displays helpful insights and points out areas for improvement. To speed things up, Membrain has an integrated inbox.
You can see the results through detailed reports, available to view on desktop and mobile devices.
Key features:
Codify your sales process with milestones and KPIs
Guide staff with visual insights
Built-in CRM with automatic data enrichment
In-depth reporting features
Integrated inbox with scheduling and shared templates
Pricing: Available on request; full accounts are priced at €89/user/month after an initial fee.
Check out Membrain to learn more.
Best for boosting sales performance
While data and process are important, business is ultimately about people. LevelEleven is a tool that helps you motivate and coach your reps, with the aim of boosting sales.
This platform is designed to work alongside Salesforce, as a kind of performance-enhancing plugin. The app focuses on the psychological side of sales, combining two powerful forces: competition and support.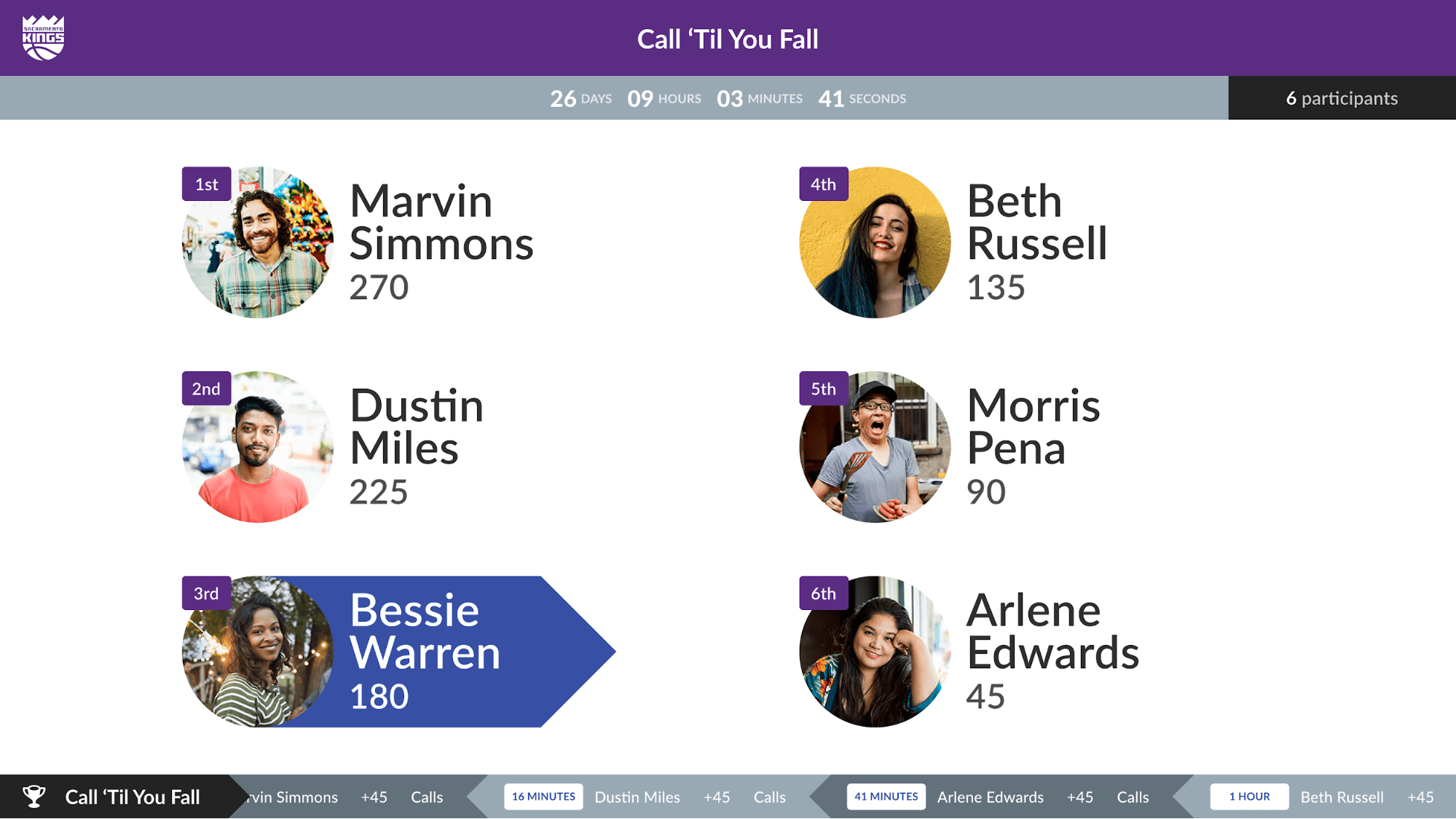 LevelEleven has a polished gamification system, where reps earn virtual points and climb the leaderboard as they make sales. The platform produces live TV broadcasts to enhance the fun, and managers can add prizes to enhance the healthy competition.
While the high flyers jostle for top spot, LevelEleven helps you support the reps who aren't doing so well.
Managers can see a breakdown of stats for each individual, meaning they can provide targeted assistance. You can also set up automated coaching workflows, and see what behaviours are driving sales.
To help you gauge the results of such interventions, LevelEleven has Performance Scorecards.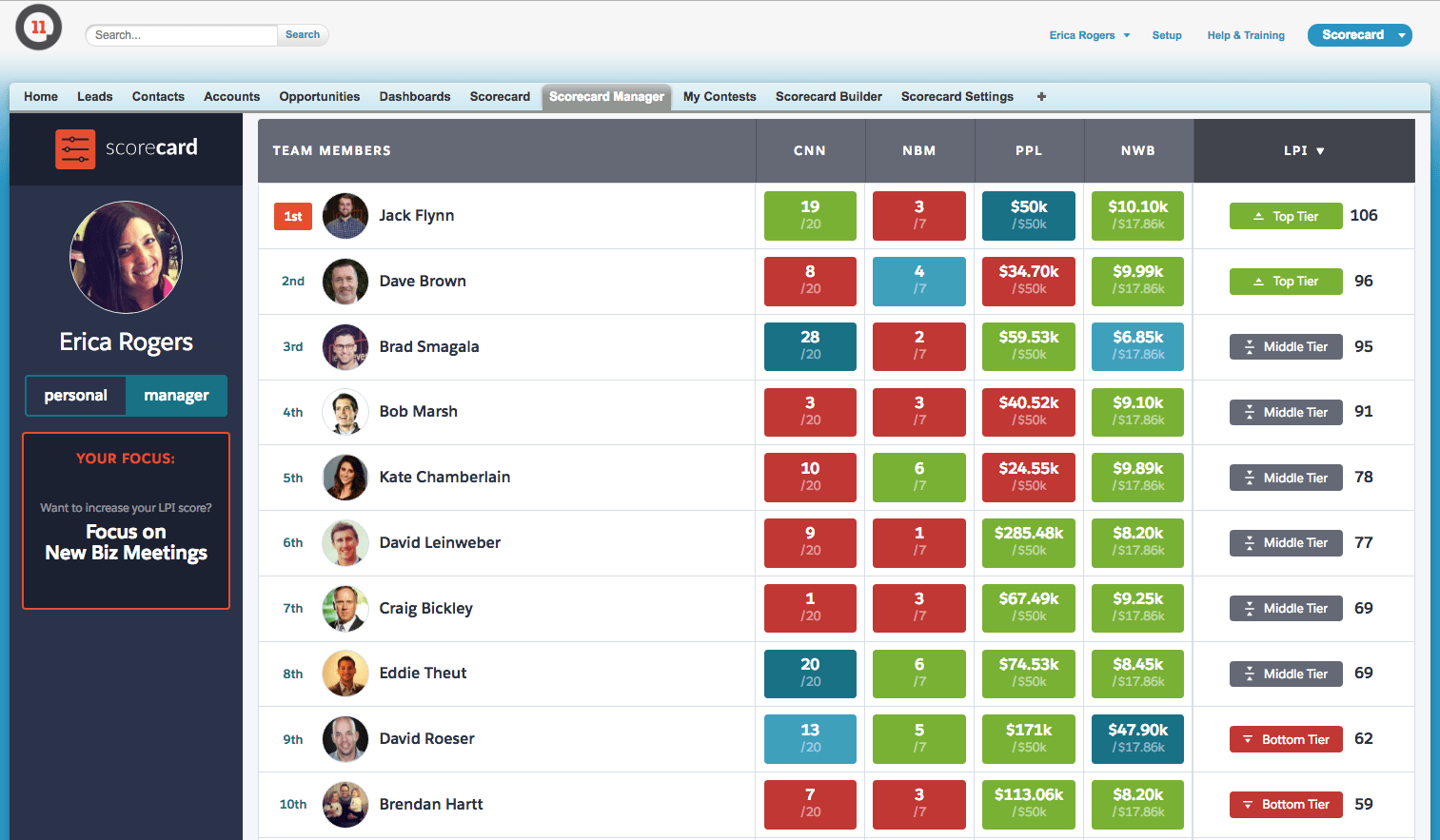 Rather than bombarding you with meaningless figures, the platform uses simple icons to show whether you are on track, ahead of pace, or falling behind on each metric.
Likewise, Executive Scorecards provide an overview of Salesforce and LevelEleven.
Key features:
Designed to work with Salesforce
Gamification system to motivate staff
Detailed analytics for every sales rep
Coaching system that promotes targeted assistance
Tracks progress towards goals through scorecards
Pricing: Available on request after a free demo.
Check out LevelEleven to learn more.
Best for large startups
Many companies experience growing pains. For sales teams, this often equates to a breakdown in effectiveness. Seismic can stop this happening.
Used by the likes of IMB and Allianz, this powerful sales enablement platform lets you handle admin, training, content, and other resources in one single workflow. In addition, your sales team can use Seismic to stay perfectly in sync with the marketing department.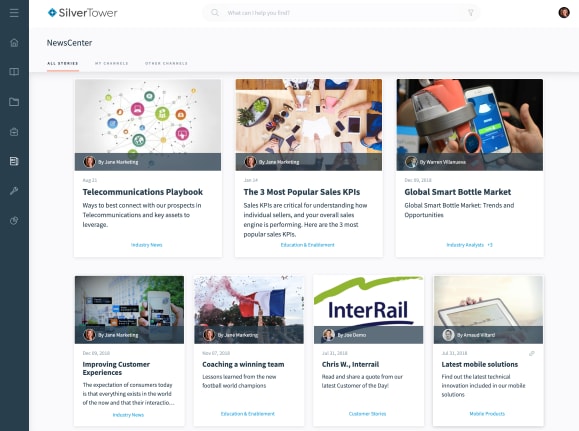 One example of this link is the content delivery feature. While a rep is working on making a sale, Seismic delivers relevant content in real time.
This means your reps have instant access to stats and facts that could secure a contract. To provide this service, the platform uses data from your CRM and marketing database.
Away from the front line, you can use Seismic to set up a training centre for your reps. Along with a searchable library for in-house guides, the platform uses the same content delivery engine to help staff keep up with the latest industry news.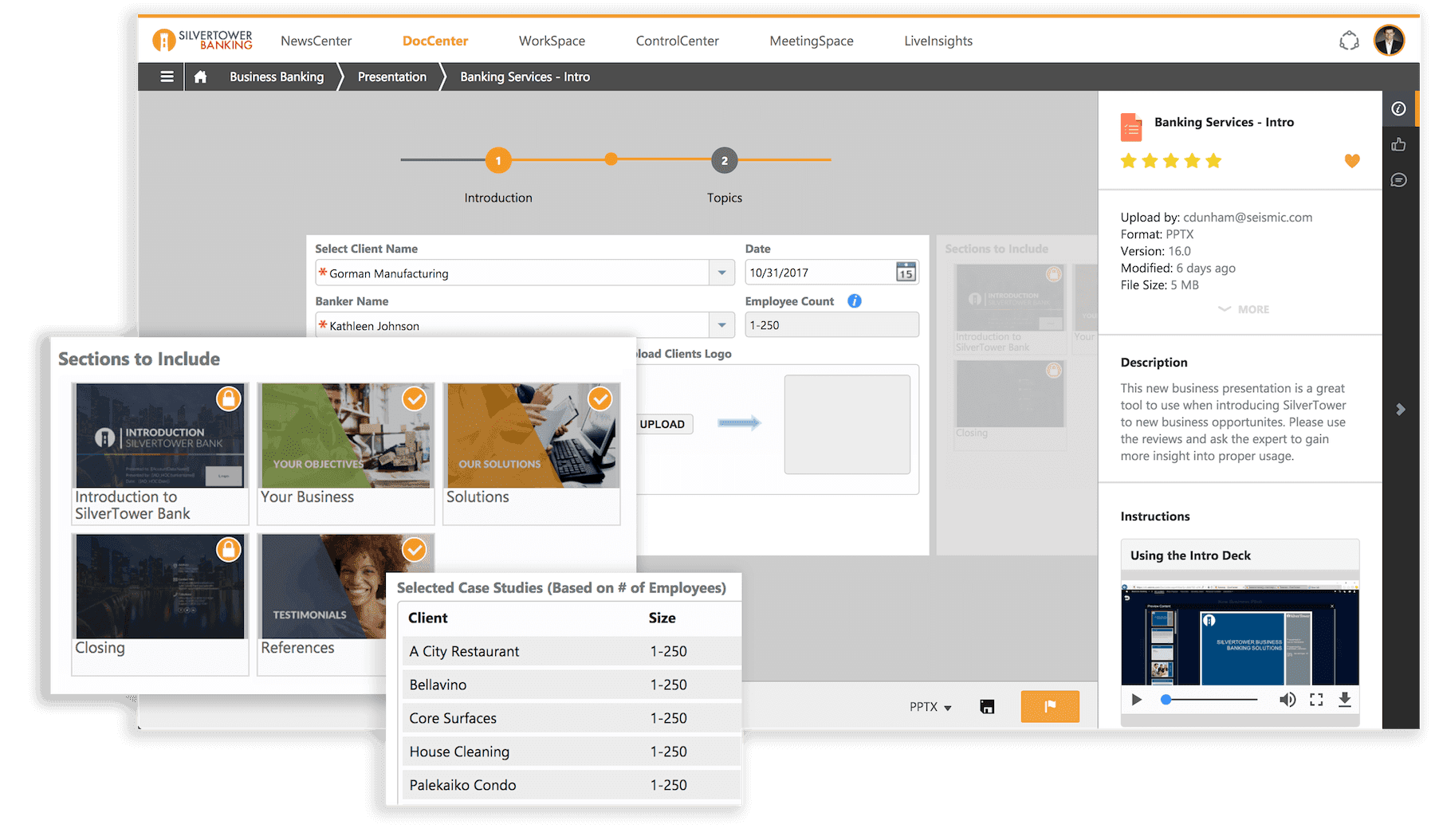 To keep things organised, you can set up separate sales teams on Seismic with custom permissions. This ensures that each member of staff will only see content that is relevant to them. At the same time, individuals have the option to personalise their feeds.
Seismic also offers detailed stats and strong collaboration tools.
Key features:
Smart content delivery to assist sales reps
Live training centre with personalised content
Create sales teams with full access control
Sync your sales and marketing efforts
In-depth sales enablement stats
Pricing: Available on request only.
Check out Seismic to learn more.
Best for painless onboarding
Whenever you bring new people into your sales workforce, it can take a while before you see a return on investment. To make onboarding less painful, we recommend Whatfix.
You know when you open a new app and you get a tour of the interface? This platform lets you create your own version, complete with steps that are relevant to your business. It works with Salesforce, Oracle CRM, Office 365, G-Suite, and many other platforms via a browser extension.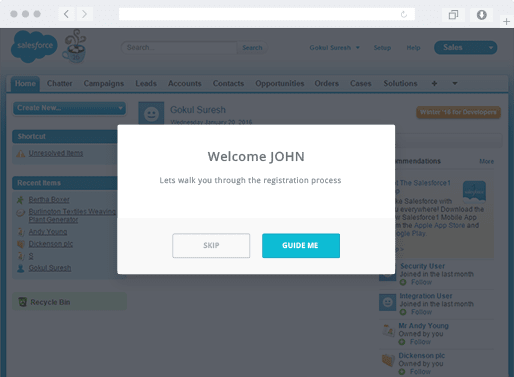 Building your guide is easy. Whatfix recognises every part of your chosen software, meaning you can point out even obscure features. Each new user gets a personalised welcome message, and you can integrate content such as video tutorials.
The training doesn't stop there — you can set up continuous learning that triggers when your staff reach a certain level of software experience. Similarly, when your chosen app adds new features, you can push out an updated guide.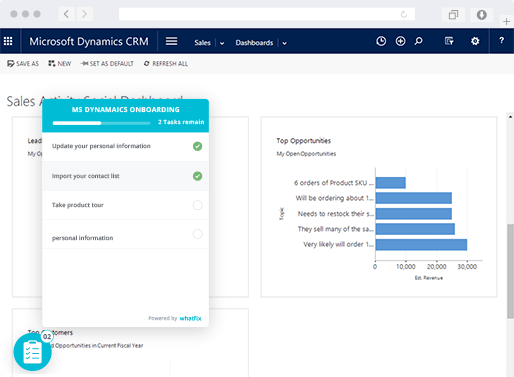 Along with innovative training, Whatfix can host a traditional support library. Smart search allows your staff to find answers quickly, and you can upload walkthroughs to illustrate any point.
Key features:
Create interactive onboarding guides
Personalised training for new users
Continuous learning system that tracks experience
Support library system with smart search
Works with Salesforce, Oracle CRM, Office 365, G-Suite, and more
Pricing: By quote only; a free trial is available.
Check out Whatfix to learn more.
Best for sales content management
Sales reps waste hours every week looking for relevant information. Highspot acts as both an intuitive library for useful content, and a helpful librarian who makes suggestions.
Rather than navigating different folders and apps, reps can just search with Highspot. To help users drill down even further, the platform offers powerful filtering options, much like an e-commerce store.
When your staff are actually selling, Highspot delivers content on a plate.
The platform analyses the current client and conversation, and suggests content that has previously been used successfully in similar situations. These links appear in a sidebar alongside contact information, each with a rating for sales potential.
Along with sales content, Highspot can host all your training materials. A drag-and-drop page builder allows you to design custom support pages, complete with video tutorials. In addition, staff can upload their own content for feedback.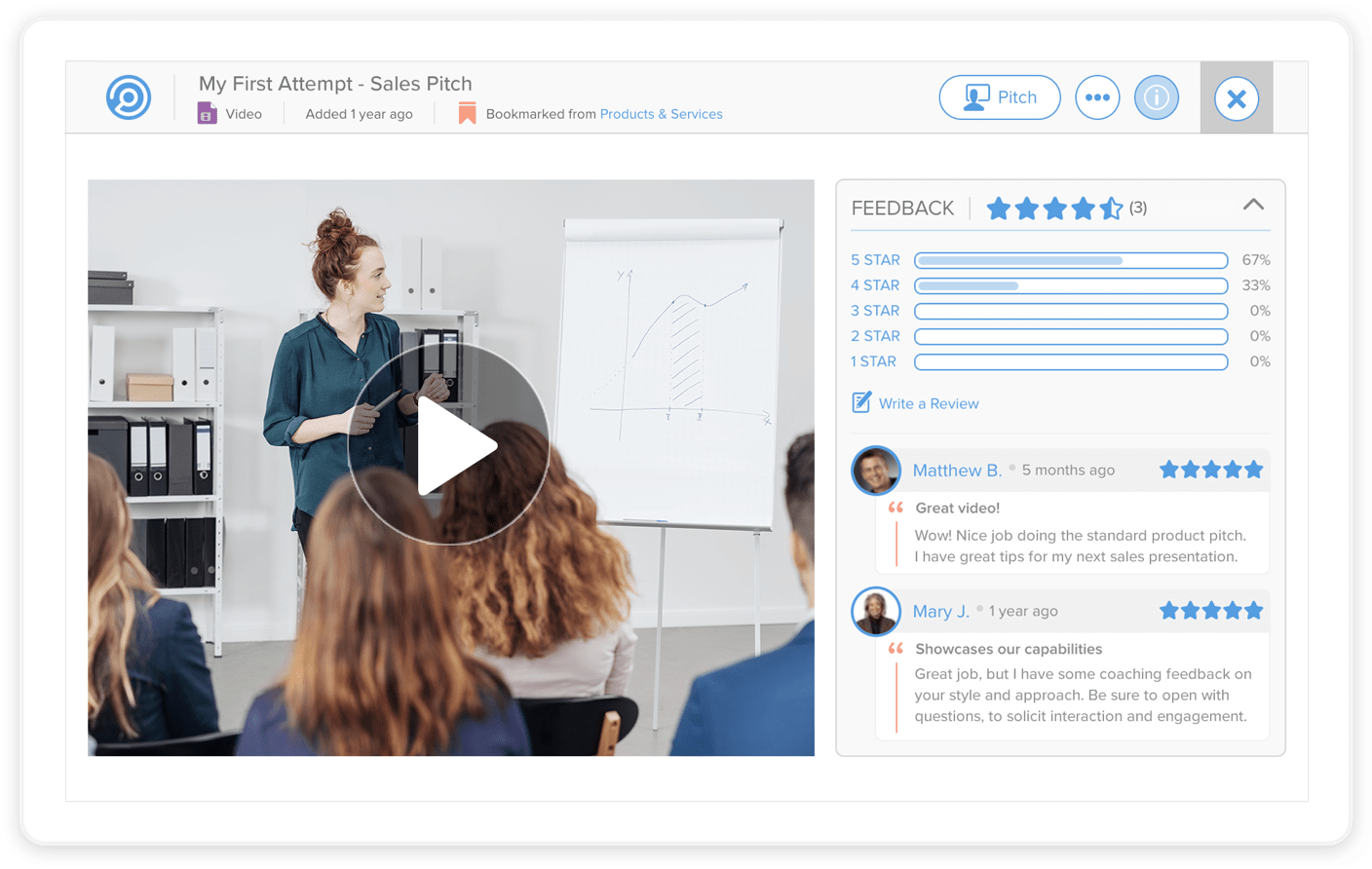 Highspot integrates with over 70 apps, including Salesforce, Outreach, and LinkedIn. This means your staff can access content without leaving their standard workflow.
The platform also offers impressive analytics, and you can hook up various marketing tools for a seamless pipeline.
Key features:
Content library with powerful search
Advanced filters to narrow results
Page builder for training and onboarding sites
Powerful analytics
Integrates with 70 apps incl. Salesforce
Pricing: On request, demo available.
Check out Highspot to learn more.
Best for sales intelligence
Before you can sell to someone, you need to understand them. Chorus uses artificial intelligence to give your reps a head start.
Billed as a "conversation intelligence" platform, Chorus works a bit like a personal assistant.
Rather than writing down copious notes during a sales call, your reps just press record. The app then analyses the conversation in great detail to provide a complete transcript and telling insights.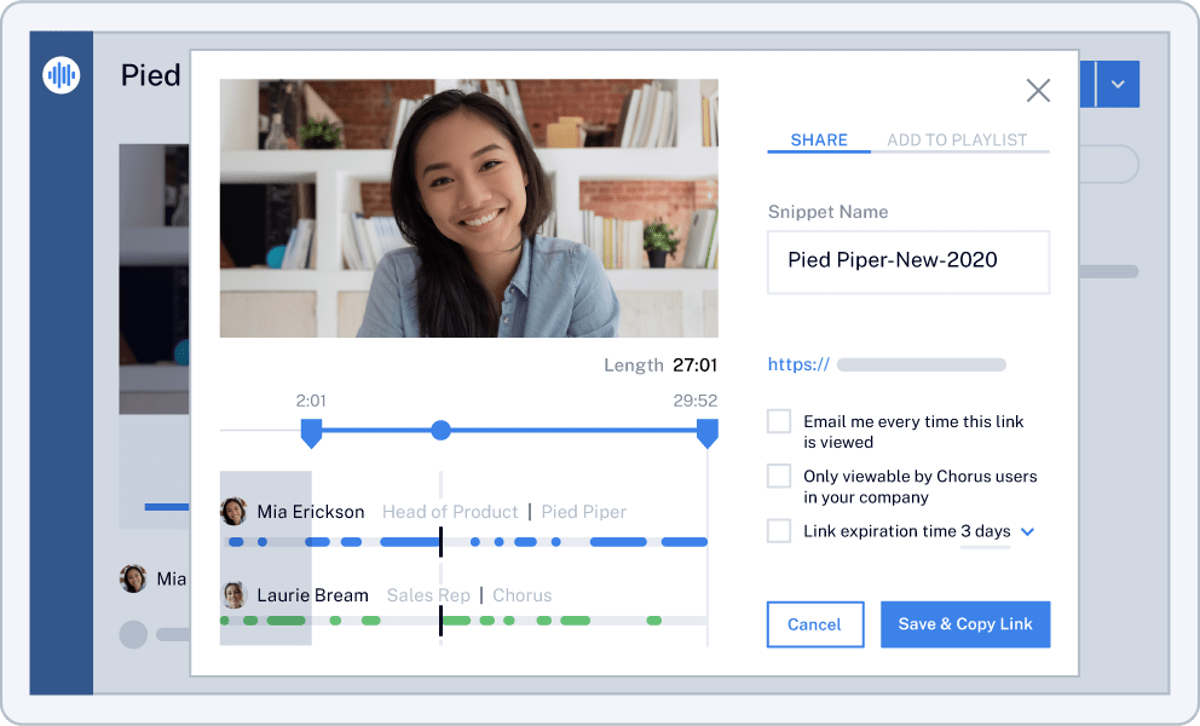 For any call, Chorus can tell you the length of the longest monologue, how many filler words were used per minute, and what next steps were discussed. If a rep mentions following up, the platform automatically creates a reminder, complete with key information from the call.
You can view any previous sales call and use the commenting system to communicate with your team. This is really useful when preparing for future calls and providing feedback.
Chorus also lets you create a library of past calls for virtual shadowing, and you can build specific coaching programmes for each team.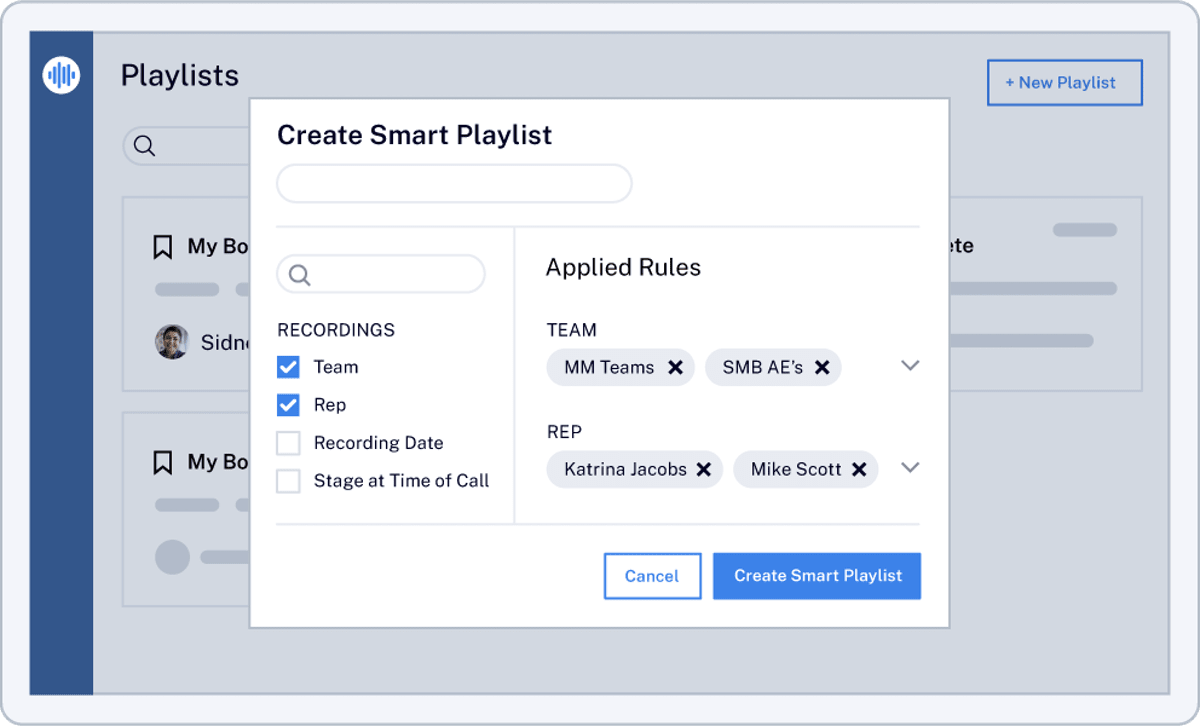 Once again, AI delivers relevant content to each user. Thanks to built-in analytics, you can see the positive impact of your efforts.
Key features:
Call recording and automatic transcription
Actionable insights from every call
Library of past calls for prep and training
Full training suite with team-specific programmes
Pricing: Available on request; demo available.
Check out Chorus to learn more.
Best for linking sales and marketing
By syncing with both your CRM and your CMS, Showpad is designed to keep your marketing and sales departments as one smooth operation.
On the sales enablement side, this platform assists reps by delivering relevant content and actionable buyer insights. You can also set up coaching, and track your progress; independent research has shown that Showpad inspires a 10% lift in sales productivity.
Key features:
Syphons relevant content from marketing to sales
Actionable insights for sales reps
Coaching platform featuring resources library
Works with CRMs and CMSes
Pricing: On request, with four packages to choose from; demo available.
Check out Showpad to learn more.
Best for optimising communication
Well suited to larger sales teams, SalesLoft guides reps through every step of the sales process.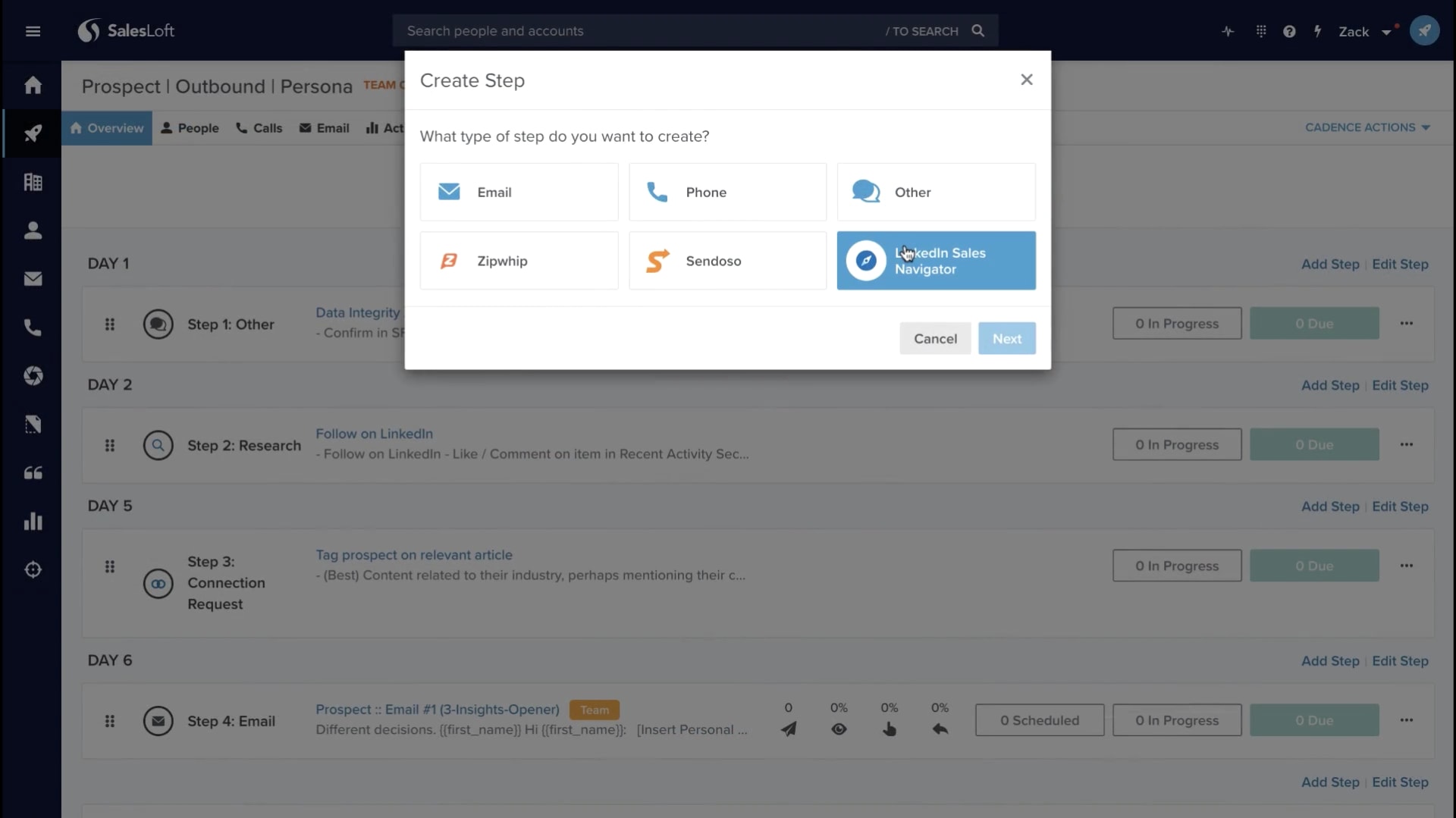 In particular, this sales enablement tool helps to optimise your communication with leads. This includes real-time engagement notifications, and personalised sales processes for every account.
Key features:
Process builder with personalisation for each account
Conversation analysis of recorded calls
Snippets and templates for consistent messaging
Syncs with your CRM and communication apps
Pricing: On request, demo available.
Check out SalesLoft to learn more.
Best for syncing email with Salesforce
Designed to be used inside Gmail or Outlook, this email plugin helps you track when your messages and attachments are opened. It syncs seamlessly with Salesforce, and you can even set up automations based on recipient clicks.
On higher tiers, you can also set up Salesforce-synced drip campaigns and update attachments after you hit send.
Key features:
Works inside Gmail or Outlook
Syncs with Salesforce, incl. contacts, calendar events, apps
Powerful email and attachment tracking
Drip campaigns and online scheduling options
Pricing: After a 14-day free trial, you can choose between Gmail and Outlook for the following plans:
Starter – $27/user/month for email and attachment tracking, meeting scheduling, full Salesforce integration
Closer – $45/user/month for online calendar, permissions, activity tracking
Rainmaker – $75/user/month for document updates after sending, customised drip campaigns, and analytics
Pricing for the Enterprise package, offering single sign-on and customised training, is available on request.
Check out Cirrus Insight to learn more.
Best for motivating remote teams
Much like LevelEleven, Ambition aims to motivate your sales teams using a combination of coaching and gamification.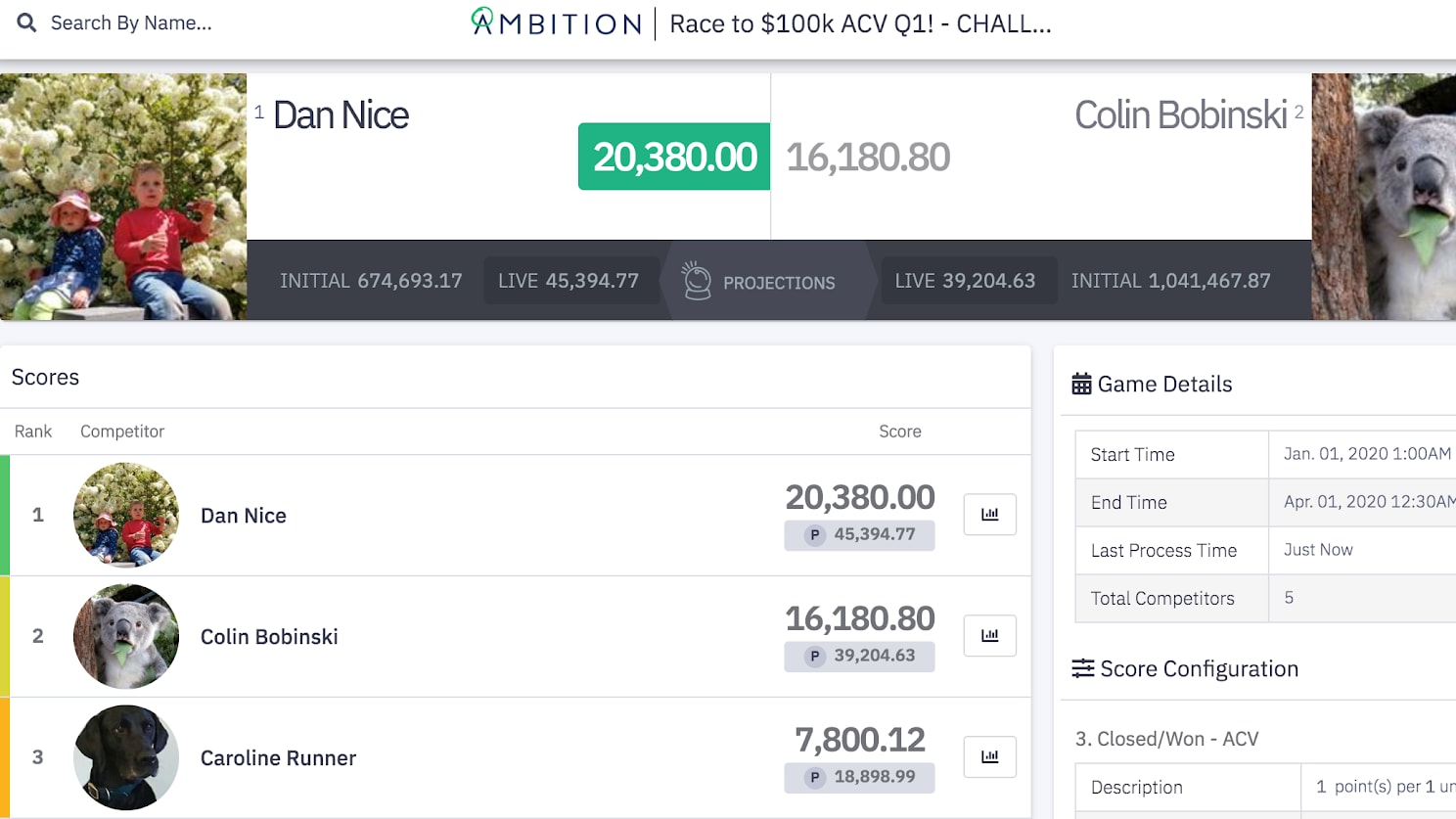 The app lets you create training programs and schedule 1-to-1 sessions through a social media-style interface. You can also set up long-term contests, complete with live leaderboards, while the analytics dash provides insights in a very accessible format.
Key features:
Intuitive tools for training and 1-to-1 coaching
Gamification system that supports long-term contests
Analytics dashboard with user-friendly graphics
Syncs with most CRMs incl. Salesforce
Pricing: Pricing on request, with five tiers available. Plans start from around $570 per month based on 30 seats.
Check out Ambition to learn more.
#15 Unboxed Advisor
Best for in-person sales
While many sales enablement tools focus on remote outreach, Unboxed Advisor helps your sales reps to engage with customers on the spot.
Designed for mobile devices, this app breaks down the sales process into easy steps. By asking questions and selecting suitable options on screen, reps can quickly find the best package for each customer. The app delivers important details in a polished interface, so the customer can be truly involved in the process.
Key features:
Designed for mobile devices
Assists reps during in-person sales
Quick surveys help reps to identify the perfect package
Embed videos and interactive sales content
Pricing: On request; demo available.
Best for data-driven sales training
If you want to give your sales reps the best possible chance to succeed, we would recommend using Brainshark. This app makes it easy to create training and coaching programs for your staff, and you can capture shining examples to encourage peer learning.
Brainshark also measures the progress of each employee and presents the data in colour-coded "Readiness Scorecards".
Key features:
Intuitive tools for creating training content
Progress tracking for individual users
Scorecards show the preparedness of your whole team
Integrates with Salesforce, Outlook, HubSpot, and more
Pricing: On request, demo available.
Check out Brainshark to learn more.
Best for improving engagement
Every feature of Outreach is aimed at making your sales sequence more engaging. The app uses AI to gather useful information on customers and analyse interactions.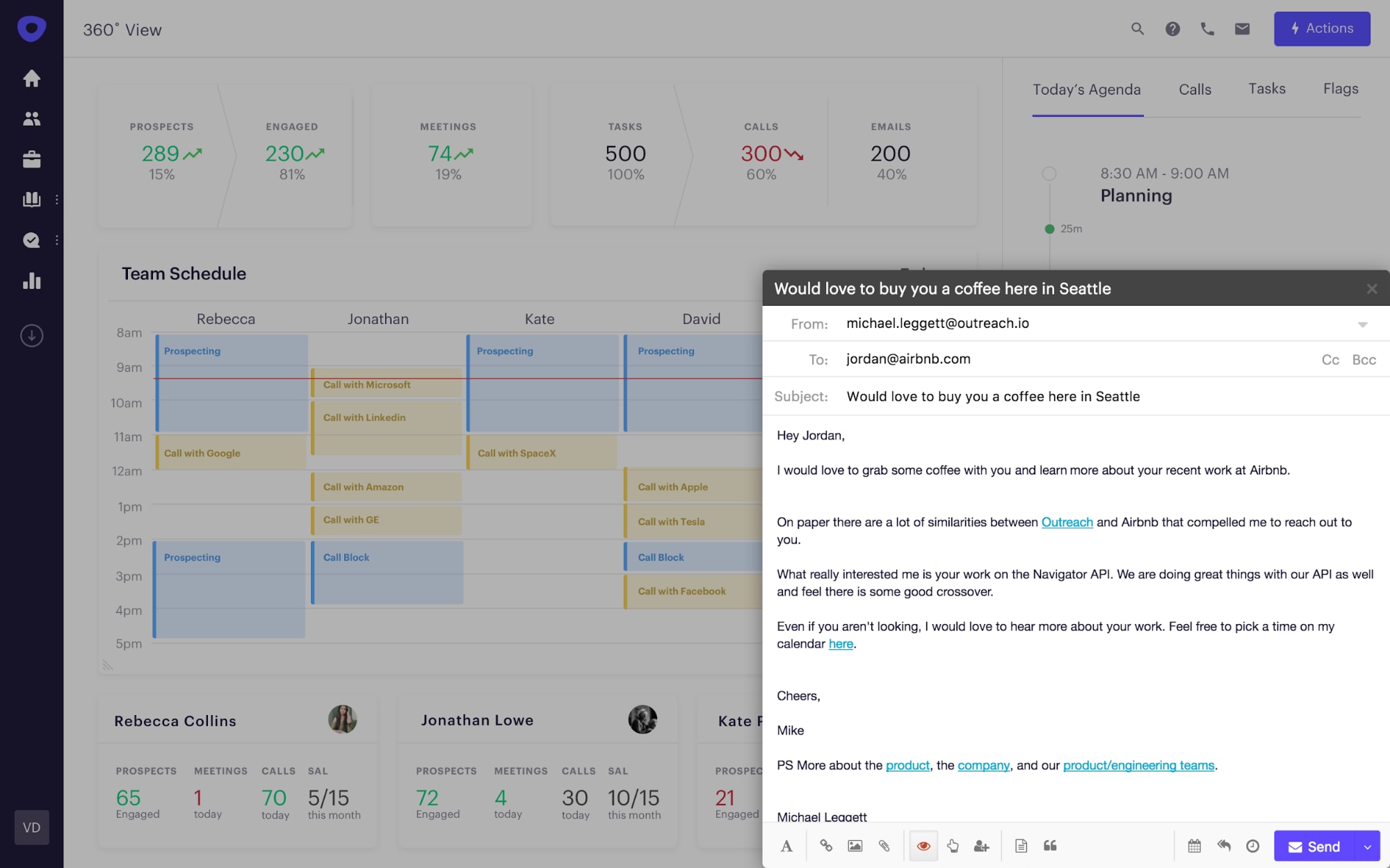 Reps can handle email, calls, messages, and more through the platform. Outreach guides them through every step, telling them when to reach out and what to say.
Key features:
Always-on assistant gathers important client information
AI technology to analyse interactions
Sales sequences to guide reps
Integrates with multiple CRMs and email apps
Pricing: On request; demo available.
Check out Outreach to learn more.
Best for knowledge bases
If you want to create an internal knowledge base for your sales department, Guru is worth your attention.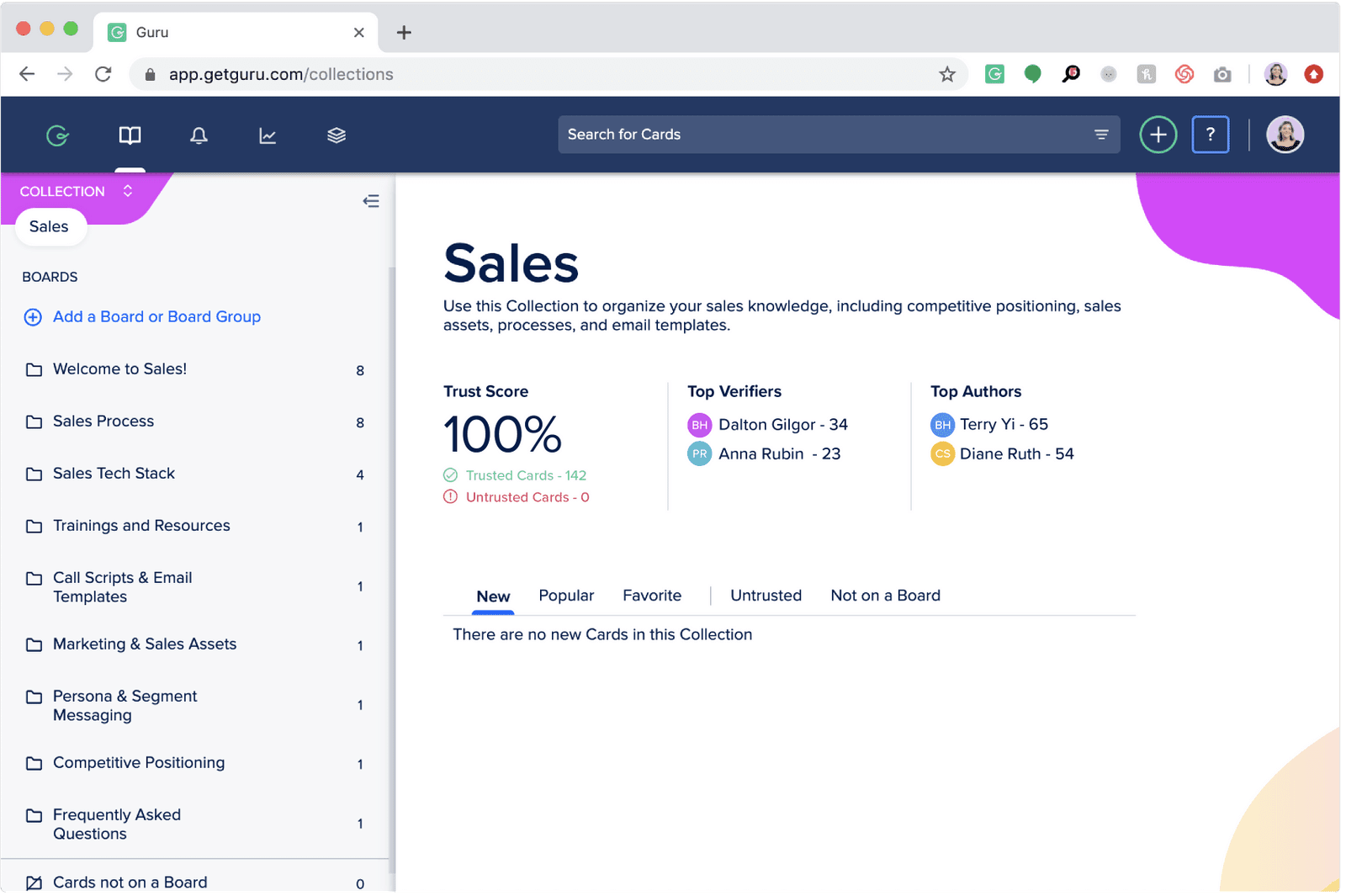 Used by the likes of Spotify and Slack, this software sources experts in your company to verify new entries. It also has a smart AI recommendation system.
Key features:
Capture useful information from dozens of apps
Suggests expert in your company to verify information
Easy access to answers via browser extension or Slack
AI recommendations
Pricing: Guru is free for up to 10 users. There are two standard paid plans:
Starter – $14/user/month for knowledge triggers, analytics, duplicate detection
Expert – $24/user/month for test suggestions, content tracking
Enterprise packages are also available on request.
Best for page-by-page deck analytics
When you send a sales deck to a prospect, wouldn't you like to know what they are looking at? With DocSend, this information is at your fingertips.
This platform offers secure document sharing with full access control and page-by-page analytics. In addition, you can update shared documents at any time.
Key features:
Upload and share documents via your favourite apps
Link analytics incl. viewing time for each page
Live updates and one-click NDAs
Pricing: After a free trial, you can choose from the following plans:
Individual – $10/user/month for basic document tracking up to 300 views per month and some integrations
Standard – $45/user/month for document bundles, tiered access control
Advanced – $150/month (incl. three users) for document folders, one-click NDA
On the latter two plans, you can add Salesforce integration for an extra $20/user/month.
Check out DocSend to learn more.
Best for enhancing sales with live chat
While email is still important, live chat is quickly becoming the go-to channel for sales communication. Intercom enhances the sales experience with automated chatbots that drive better engagement with prospects.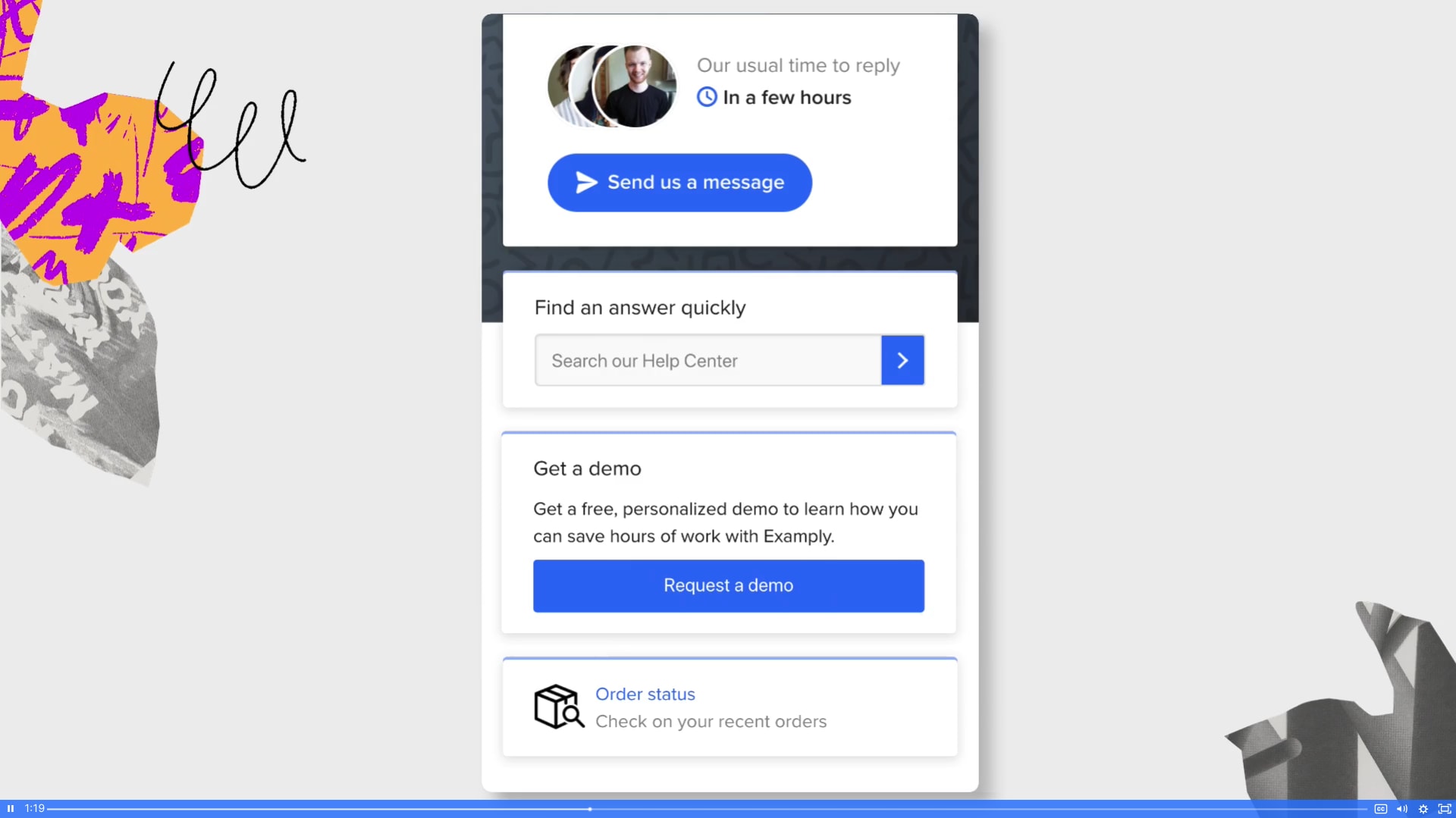 What is even more impressive is that this platform integrates with over 250 apps, so everything is synced.
Key features:
Automated chatbots to engage with prospects
Collect information upfront and set customer expectations
Works with over 250 apps incl. custom builds
Pricing: Intercom has four base plans, ranging from $39/month for one seat to $999/month for 10 seats with full features.
You can pay an extra $199/month to add product tours, $249/month for advanced support, and $499/month for advanced lead generation or smart custom engagement tools.
Check out Intercom Business Messenger to learn more.
Best for running contests
Another platform focused on motivation is Hoopla. Along with the usual sales leaderboard, this platform offers a range of different contests to spark friendly rivalries.
Depending on what you want to achieve, you can create battles between teams, single-player tournaments, and face-offs that compare two reps on a single metric.
Key features:
Range of contests for sales staff
Deal alerts and milestones to highlight success
Live sales leaderboard
Pricing: Custom pricing, available on request.
Check out Hoopla to learn more.
Best for mobile engagement
Although online channels are more fashionable, SMS offers 98% open rates. With VoiceSage, you can use this stat to your advantage.
The platform offers chatbots for automated engagement, while two-way SMS allows sales agents to reach prospects. Thanks to an open API, you can easily create your own automations, too.
Key features:
SMS campaign builder
Chatbots for automated interaction
Open API offers more automation options
Pricing: On request, demo available.
Check out VoiceSage Interactive SMS to learn more.
Choosing Sales Enablement Tools: Which Is Right for You?
Whereas you might only want one CRM and one accounting system, many businesses use multiple sales enablement tools. For instance, you might want to motivate your reps with gamification and help them access relevant content more easily.
When it comes to choosing the right options for your business, there are four key points you need to consider:
Price
Features
Integrations
Complexity
The trade-off between price and complexity is particularly important. While large businesses might want one system to handle everything, such platforms can be overwhelming for smaller outfits.
To help you find the right solution for your business, here's a visual comparison: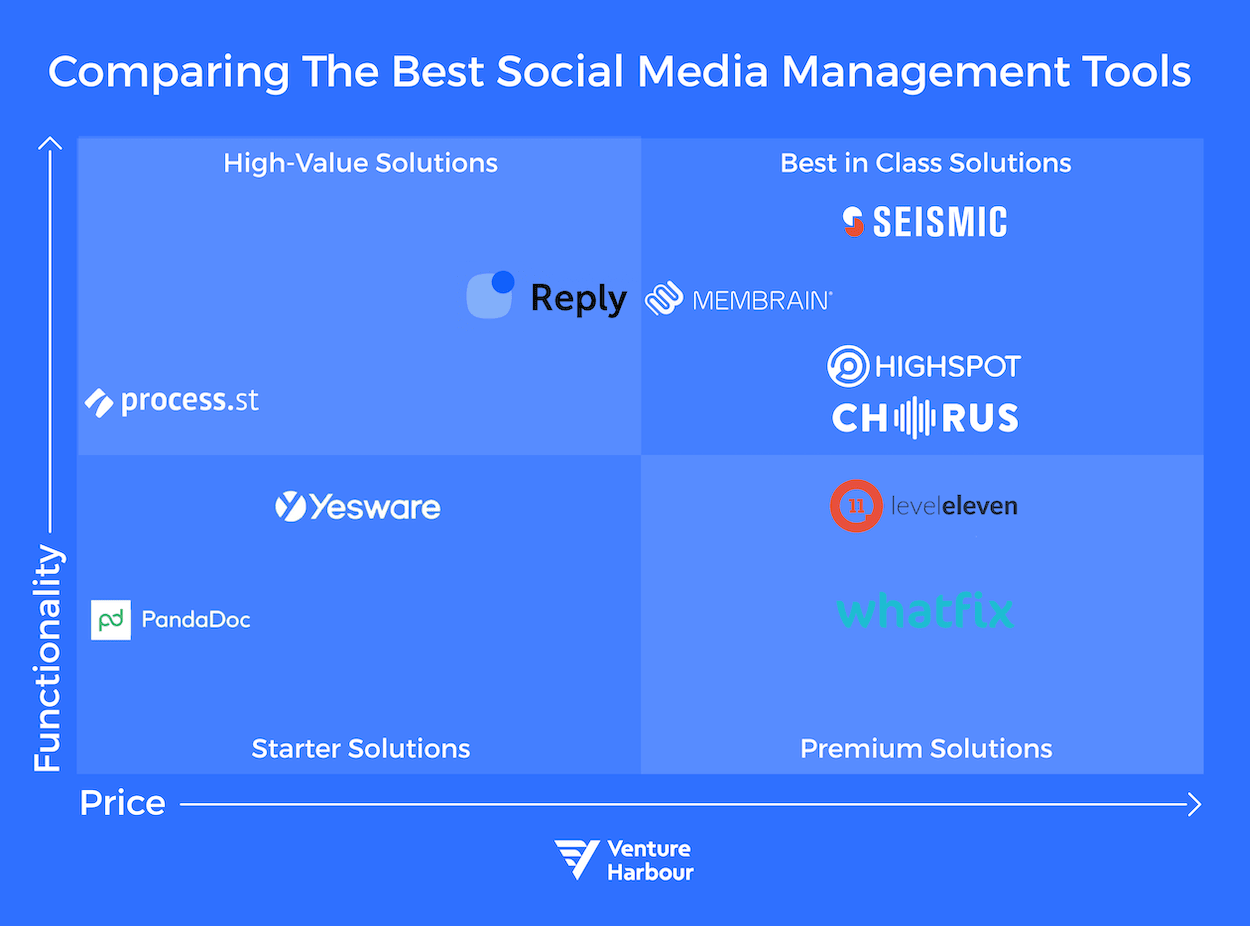 If you choose to adopt a new tool, give it time. Your staff might take a while to learn the system — but once they are up and running, you should see a return on investment.
We look forward to reading about your rocketing sales in the news!